R&D (Philadelphia, PA)
R&D Cocktail Bar
1206 Frankford Ave, Philadelphia, PA 19125
215.515.3452
www.rdphilly.com
Tue 06/07/2022, 10:00p-11:45p + Wed 06/08/2022, 06:20p-07:00p

I'd been visiting Philly over the past couple years for work, but hadn't actually made it out to a proper cocktail bar, so I wanted to change that on this latest trip. After researching a few options online, I decided on R&D ("research and development"), located in the rapidly gentrifying neighborhood of Fishtown. The work of Defined Hospitality group, the place opened back at the start of October 2018, and from what I've read, is oft considered the top cocktail spot in the city.
A bit of history
: The story of R&D begins with Greg Root, who spent over 13 years working for noted Philadelphia restaurateur Stephen Starr, starting out as a manager at Jones in 2002 before ending his career with the company in January 2016 as Director of Restaurants. After leaving Starr Restaurants, he commenced work on opening his own place, and thus partnered with Nathalie Richan (of Café La Maude), real estate developer Roland Kassis (Richan's brother), and Chef Nick Kennedy (
Scott Conant Management
, Del Posto, Oval Room,
Jean Georges
,
Inn at Little Washington
). Together, they debuted Root in March 2016, which was a restaurant/wine bar concept serving Italian-Spanish-American fare.
This was followed up by Suraya (also with Richan/Kassis), a Middle Eastern spot (also in Fishtown) that opened in November 2017. Suraya ended up doing very well for itself, but Root didn't seem able to establish an audience, and ended up closing in August 2018. After a quick flip, the space was re-launched as R&D on October 1st that year, and seemed to do a better job resonating with Philadelphians than its predecessor did. On board as a partner at R&D is barman Aaron Deary, who hails from the UK and also created the cocktail programs at both Root and Suraya, while the day-to-day here is currently the charge of Resa Mueller.
Not long after R&D's debut, in January 2019, Root brought on to his team Al Lucas, a 30-year hospitality veteran who actually hired him into the Starr organization back in '02. With Lucas on board, Defined Hospitality went on to open Pizzeria Beddia 2.0 in Fishtown that March, replacing Joe Beddia's original takeout-only pizza shop, which had shuttered in March 2018. The team then took on a larger challenge: handling the F&B at the new Pod Philly Hotel (now Motto by Hilton) in Penn Center. The hotel opened in September 2019, and along with it came Mexican eatery Condesa, rooftop taqueria El Techo, and the daytime-only El Café. Defined's next play is a second outpost of Nok Suntaranon's much-lauded Thai spot Kalaya, which should open in Fishtown (of course) this summer.

What's pictured above is not R&D. What happened was that, although R&D serves food, the kitchen had already closed by the time I arrived, and not wanting to drink on an empty stomach, I was forced to eat elsewhere. I thus moseyed on over next door to Frankford Hall, a German-style beer garden, to get some grub.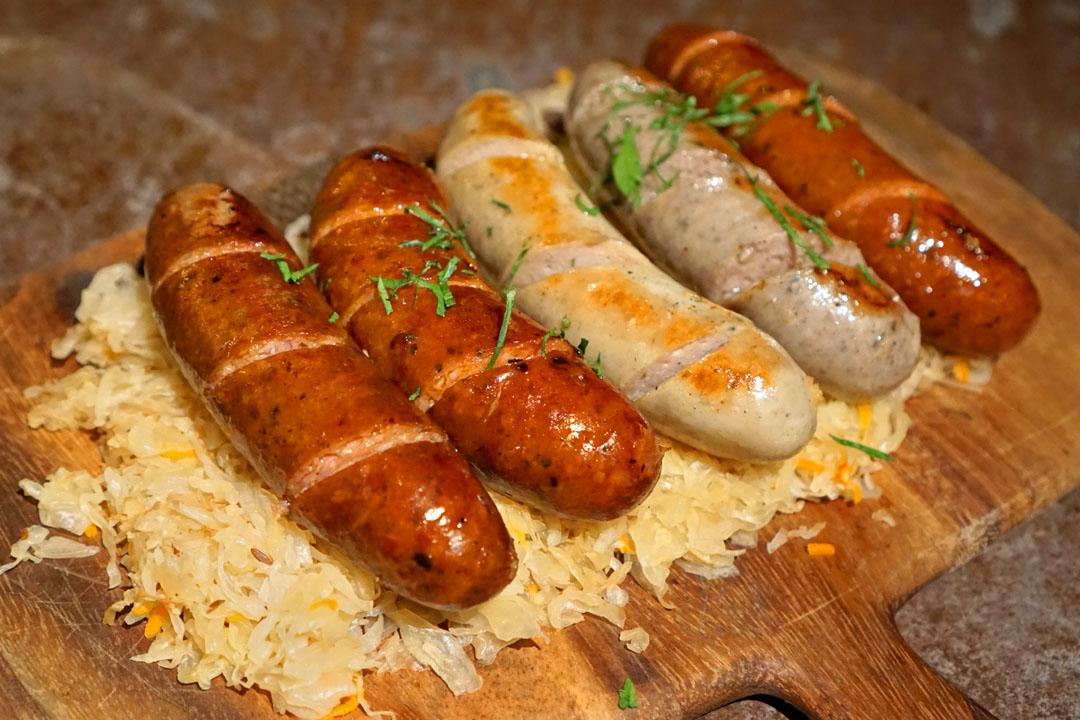 Wurst Sampler [$33.00]
| Bratwurst, Bauernwurst, Käsewurst, Currywurst & Weisswurst, Sauerkraut
Given my penchant for tubed meat, I couldn't resist ordering Frankford Hall's sausage sampler. Left-to-right, we have:
Currywurst (all pork + curry spices) – Super juicy with a great snap on the casing, while flavors really highlighted the aromatic, herby curry seasoning.
Käsekrainer (beef + pork + cheese) – I found this one classic, comforting, and pleasantly smoky, though I actually didn't get much from the advertised cheese.
Weisswurst (veal + pork) – The Weißwurst featured a fine-grained consistency and soft skin, and not surprisingly, was the mildest of the bunch, though it did have a bit of a funk.
Bratwurst (pork) – The brat ate homey and familiar and deeply savory, almost recalling a breakfast sausage link in certain bites. Can't go wrong with this.
Spicy Bauernwurst (beef + pork) – My final sausage had the thickest casing and was the juiciest of the quintet, while its spicing was also the most aggressive, though it did veer hot dog-esque at times.

With my stomach now prepped, I thus returned to R&D and took a seat at the bar. Note that the mid-century-inspired interior really hasn't changed much at all since the Root days.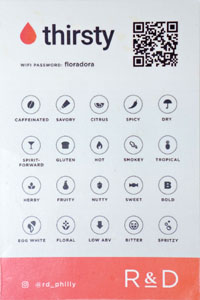 There was no printed menu. Instead, I was given the card above, which had a QR code leading to R&D's web site, and also listed various tasting characteristics meant to help you enjoy your cocktail. Note that the bar's current cocktail menu is entitled "Thirsty," and features a Tinder-inspired theme. Click for a larger version.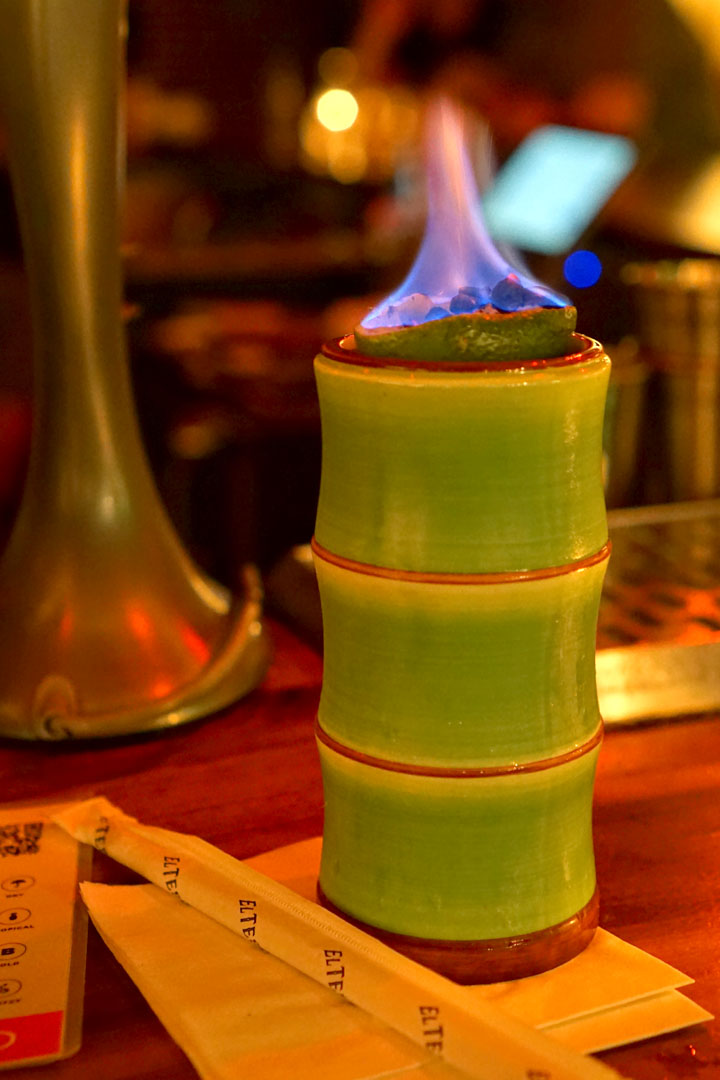 Retrograde [$15.00]
| Reposado tequila, mezcal, ancho, mango, citrus
As you can see from the photo, my first cocktail went in a tiki direction. It did a good job blending the bite of the agave spirits with a backing of fruit and spice, while the finish and aftertaste went in a decidedly floral, tropical direction. However, what really stood out here was how well the drink's smoky aromas were incorporated.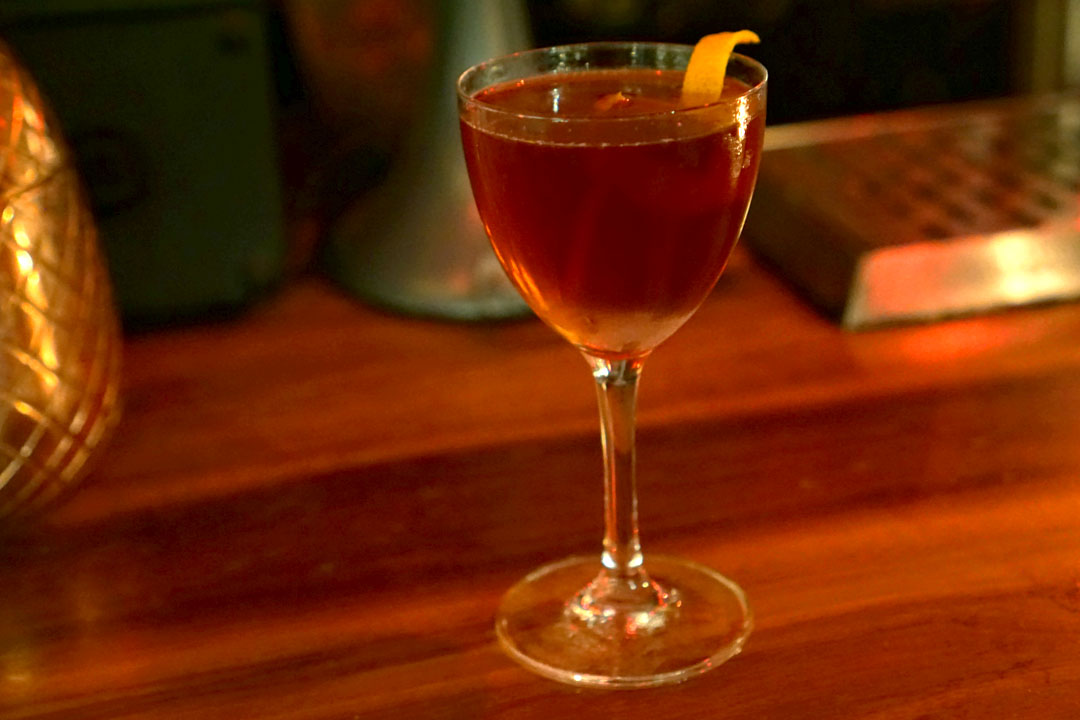 Divide & Conquer [$15.00]
| Cognac, blueberry, alpine herbs, candied grapefruit
My next cocktail was a bit heftier, and deftly combined notes of cacao and smoke with a wonderful layer of herbs. Lovely.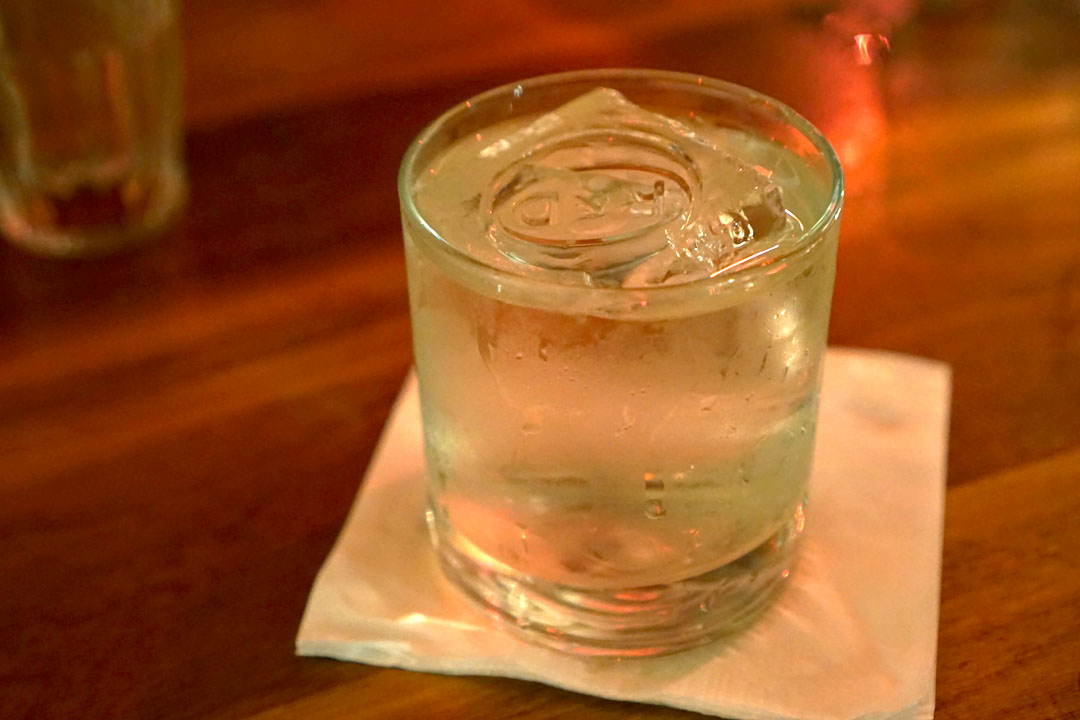 Paloma Milk Punch [$15.00]
| Blanco tequila, grapefruit, poblano, citrus, coconut milk
I almost never turn down a milk punch, and it looks like tonight was no exception to that rule. The cocktail was one of the silkiest, smoothest examples of the drink I've had, with flavors highlighting a carrot-y sweetness commingled with complementary spices.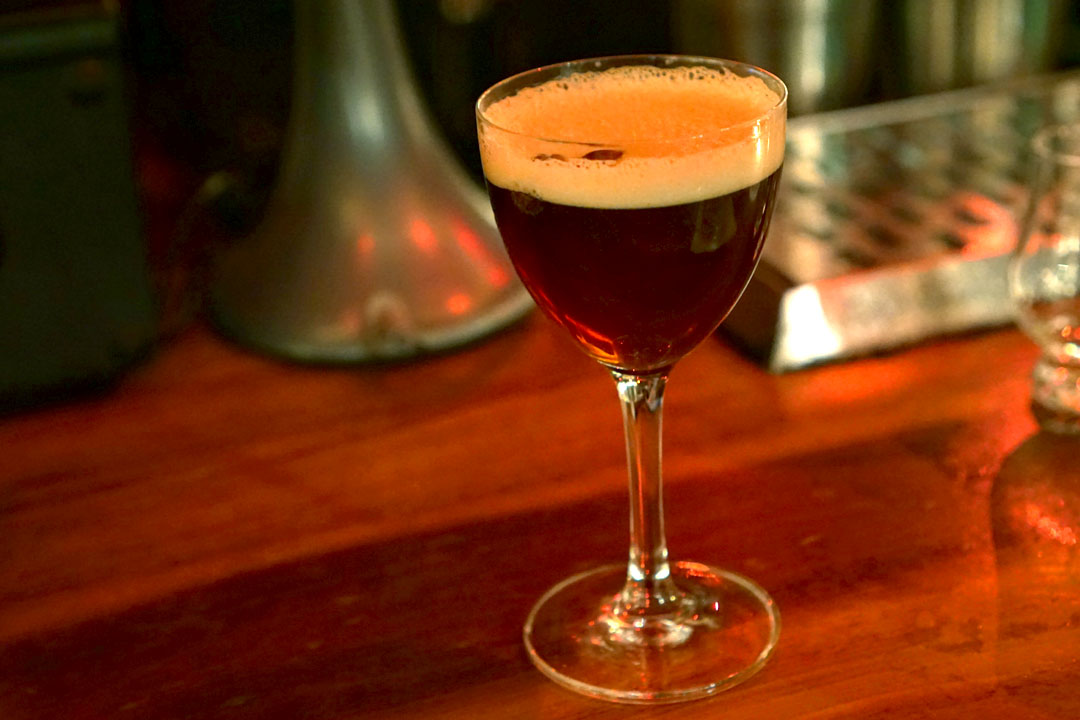 Espresso Martini [$14.00]
| Vodka, amaro, cacao, coffee
My final cocktail was certainly something very apropos to close out the night with. Think classic chocolate-y goodness, but expertly offset by the bitter, roasty notes of the coffee.
---
I didn't feel that I'd sampled enough of the menu at R&D, so I actually returned the next day before dinner to give the place another whirl.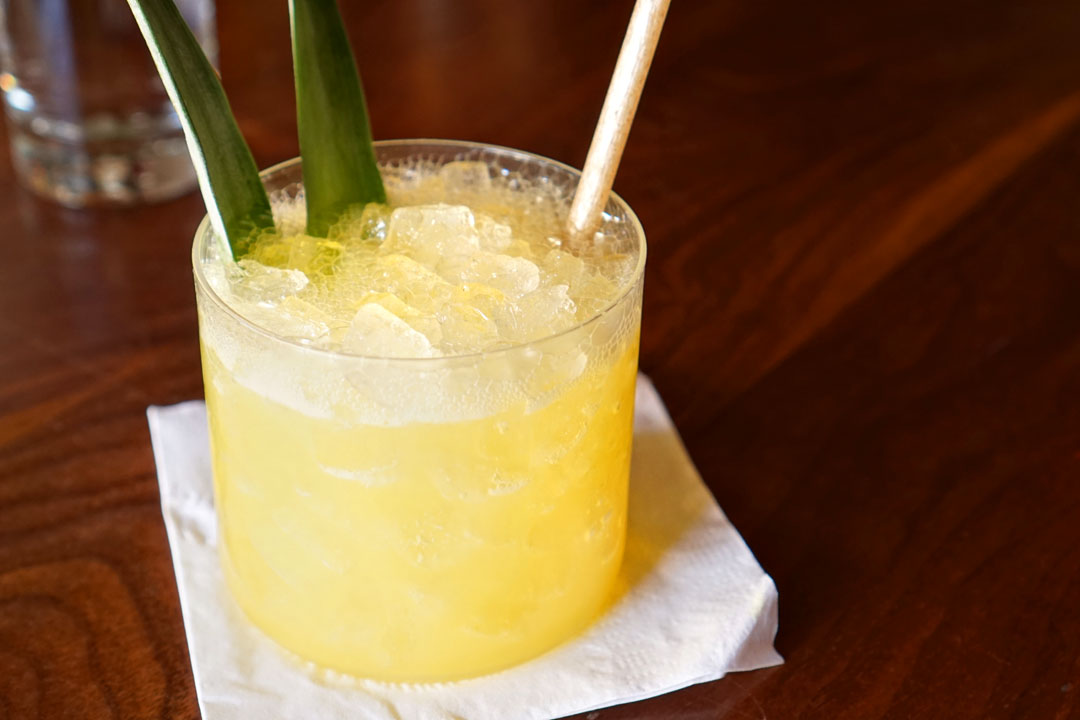 The Sea Is My Bounty [$16.00]
| Navy-strength gin, whiskey, ginger, citrus, pineapple, ocean
Like the previous night, I once again began with something tiki-inspired, and it was a fitting start to my second visit to R&D. The drink showcased tropical fruit in a very apparent manner, but also countered it with a ginger-y zest and an undercurrent of nuttiness that really worked for me.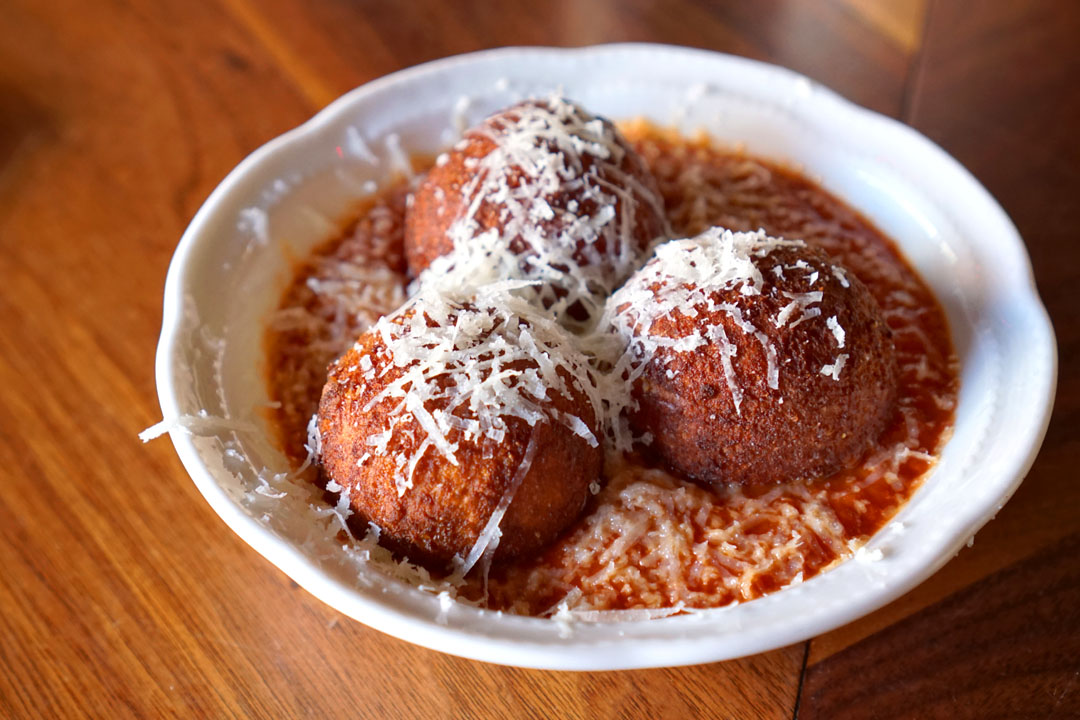 Arancini [$8.00]
| arborio rice, mozzarella, pecorino, spicy marinara
Rice balls featured crisp exteriors and insides filled with rice and cheese, though sadly, said rice was gummier than I'd prefer. Fortunately, the zippy, tangy-sweet nature of the marinara did help salvage the dish.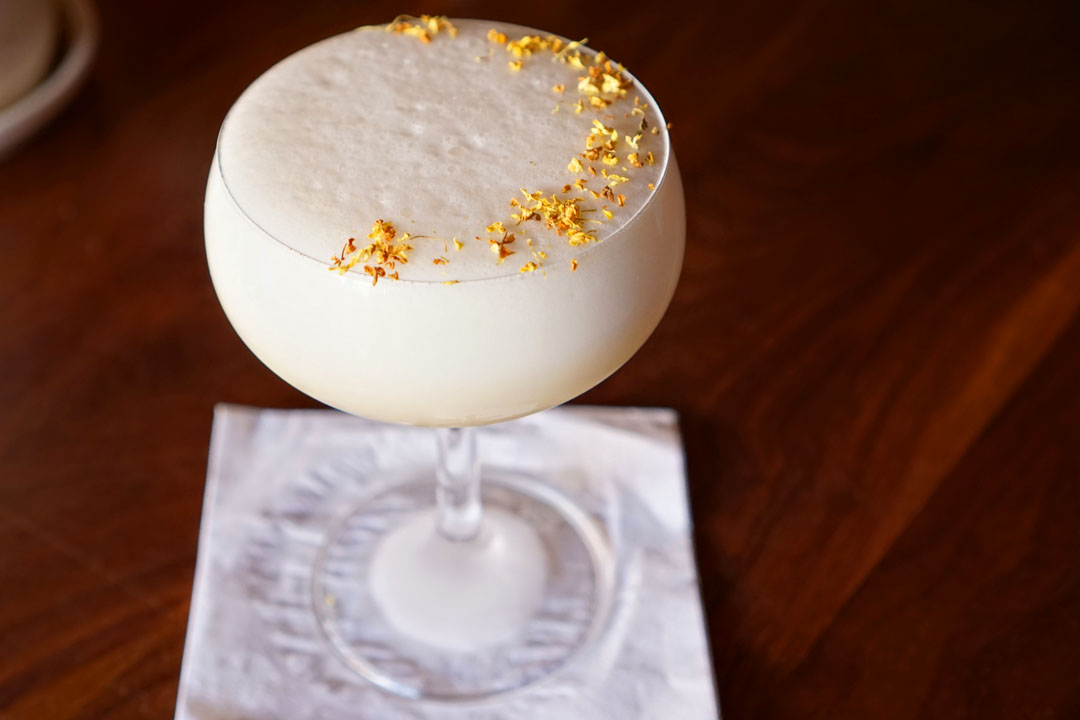 Behind the Bushes [$15.00]
| Terroir gin, apple brandy, honey, chamomile, flowers, lemon and egg white
This rather "fluffy" looking cocktail displayed a delightfully eggy astringency that transitioned beautifully to perfume-y aromatics and just enough booziness. Interestingly, the chamomile actually made me think of the scent of my grandmother's medicine cabinet growing up.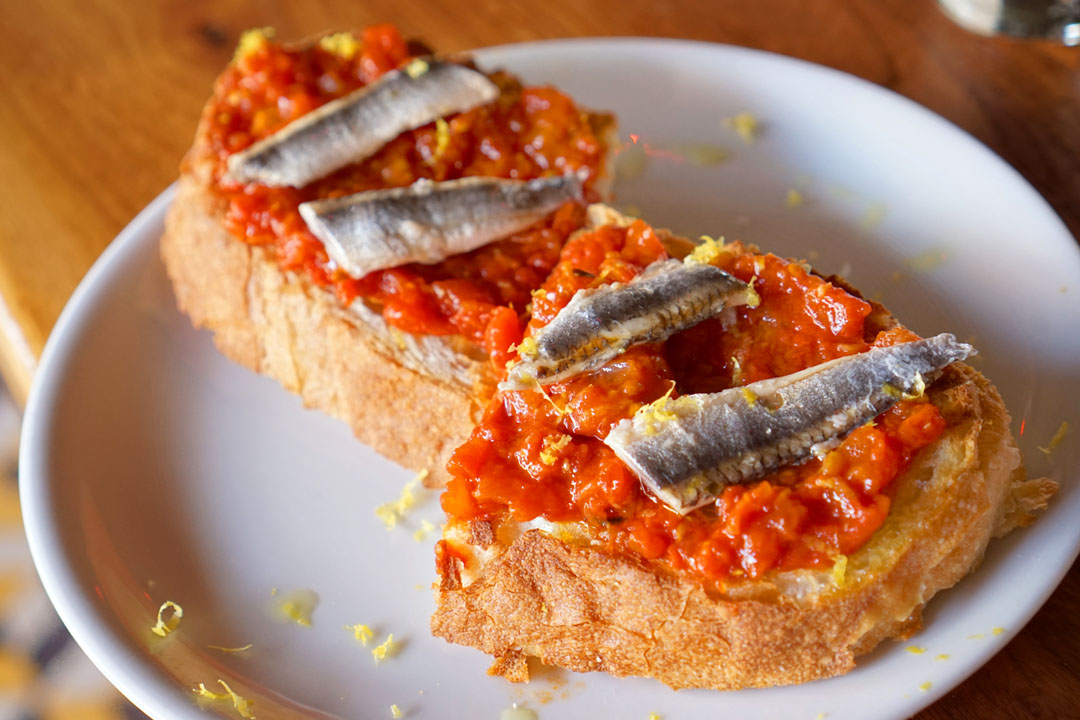 Bruschetta [$5.00 + $3.00]
| smoked tomato jam, Baker St Bread + add Spanish white anchovies
The bruschetta offered up a nice crunch and toastiness, while the tart tomato jam did an admirable job evening out the brine from those anchovies.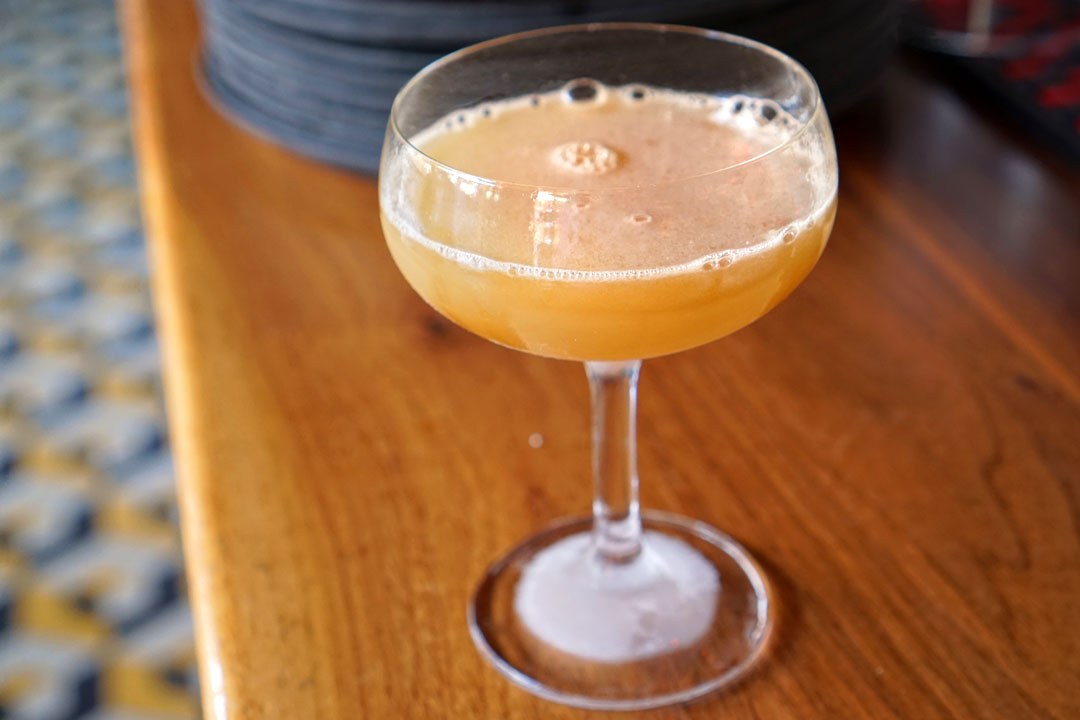 Humdog Millionaire [$14.00]
| Gin, tehina, sumac, pomegranate, citrus
This ostensibly hummus-inspired concoction was probably my favorite of the bunch. The key here was the incorporation of tahini, which provided a fantastic nuttiness that I don't think I'd ever encountered before in a cocktail. The sesame linked up easily with the piquancy of the sumac and pomegranate, while the gin provided the necessary oomph to tie it all together.
Across two visits, R&D satisfied my cocktail cravings in Philly. The drinks were creative and interesting and fun, but also just downright enjoyable, and I can't fault the service, either. I can certainly see why people consider this one of the best bars in the city.