Lark (Bala Cynwyd, PA)
Lark Restaurant at Ironworks at Pencoyd Landing
611 Righters Ferry Rd, Bala Cynwyd, PA 19004
484.434.8766
www.larkpa.com
Thu 06/09/2022, 08:10p-10:35p

I last caught up with
Top Chef
winner Nicholas Elmi back at the start of 2020, when I had a superb meal at his Passyunk spot
Laurel
. Since that time, he's been deemed a "Best Chef: Mid-Atlantic" nominee by James Beard, but also stepped way from his brasserie concept Royal Boucherie (he was replaced by Matt Buehler from
Vetri
). The reason for the departure was ostensibly so that he could focus on his other projects, which include the subject of this post, Lark, as well as its sister eatery, The Landing Kitchen. Both restaurants are located at the Ironworks at Pencoyd Landing development, and were created in partnership with Fia Berisha. The all-day Landing Kitchen opened in March last year, while Lark, a fancier coastal Mediterranean spot, debuted in October with Executive Chef Michael Millon running the day-to-day.
About the Chef
: Millon was born in 1983 and is a Philadelphia area native; he spent his early years in Lansdowne and graduated from Perkiomen Valley High School in 2002. He began his career as a dishwasher at the age of 13 at a place called Tommy's, then moved to Davio's, an Italian steakhouse in Rittenhouse Square. He eventually found his way to Twenty21 in Penn Center circa 2006, where he cooked under Townsend (Tod) Wentz until the spot's closure in June 2008. Following, Millon relocated to Boston, where he helped open Bistro du Midi in late 2009 for the London-based Marlon Abela Restaurant Corporation (MARC). In September 2012, he transitioned to A Voce in NYC, another MARC property, but by April 2014, he was (briefly) back in Philly to help his old boss Wentz with the launch of Townsend. After returning to his post at A Voce, he was cajoled by Wentz to run his new Italian eatery, A Mano, which opened in January 2016 and looks to have been Millon's last post prior to Lark.

Lark actually occupies the top floor of a Residence Inn hotel, and its rooftop location does provide views of the nearby Schuylkill River. The space was penned by Berisha in concert with Donna Galvin of
The Penn Group
.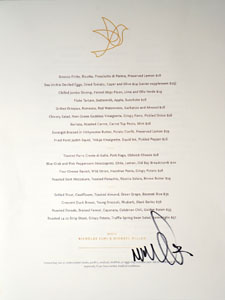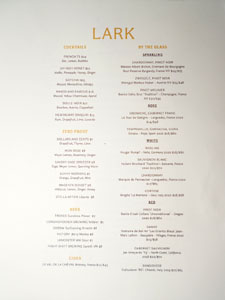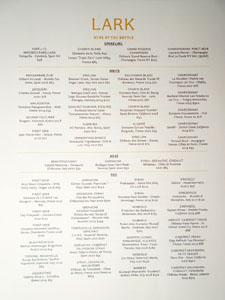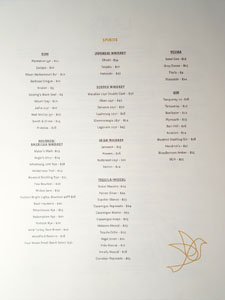 Shown above is Lark's menu, a moderately lengthy affair that plays well to the restaurant's Mediterranean seafood focus. Beverage-wise, you get cocktails, beers, and a relatively compact wine selection, all compiled by Berisha and GM Nicole Sullivan. Click for larger versions.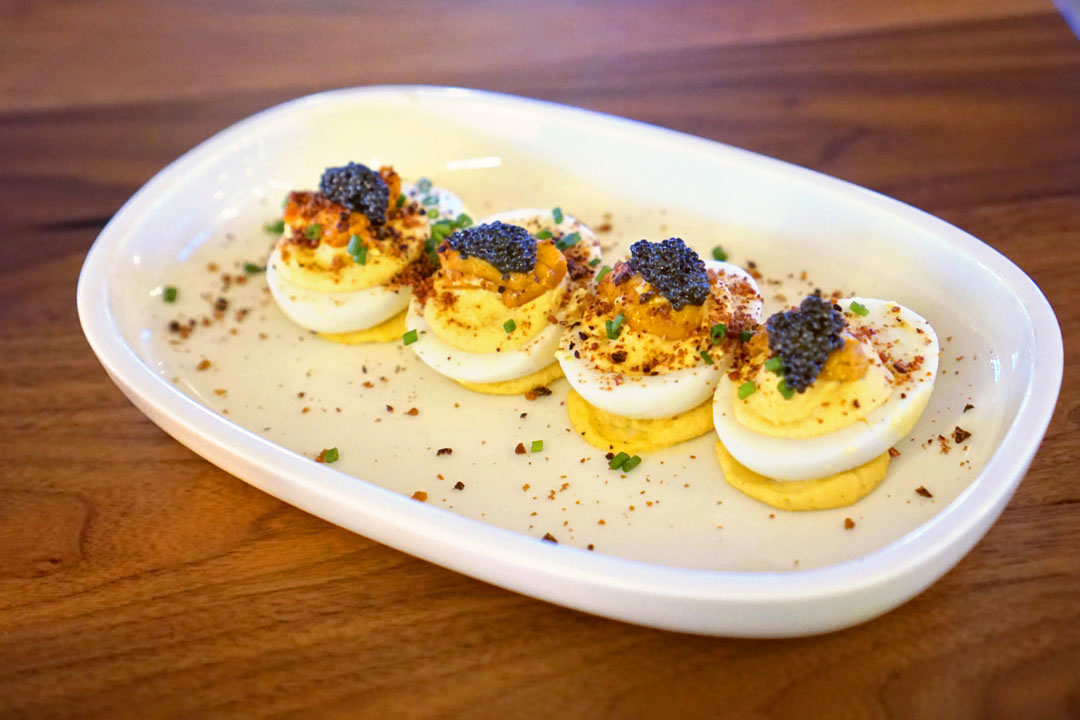 Sea Urchin Deviled Eggs, Dried Tomato, Caper and Olive + caviar supplement [$14.00 + $25.00]
Being a sucker for deviled eggs, there was no way that I could pass up starting with an order. I really liked how initial flavors of sourness, spice, and salt from the bowfin roe led to the lushness of the egg, mixed in with some pickle-y tartness, a pinch of umami, and a trace of heat. Very enjoyable.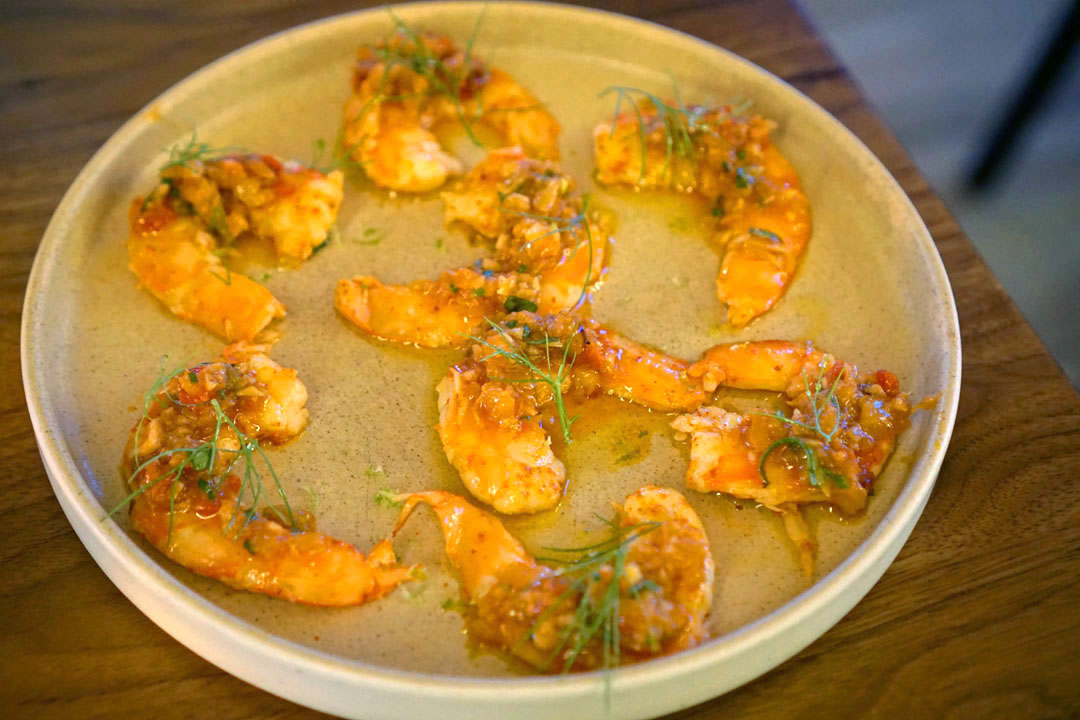 Chilled Jumbo Shrimp, Fennel Mojo Picon, Lime and Olio Verde [$19.00]
Shrimp were satisfyingly textured, their salinity playing easily with that wonderfully spicy, nutty mojo sauce, with just a touch of fennel zing peeking through.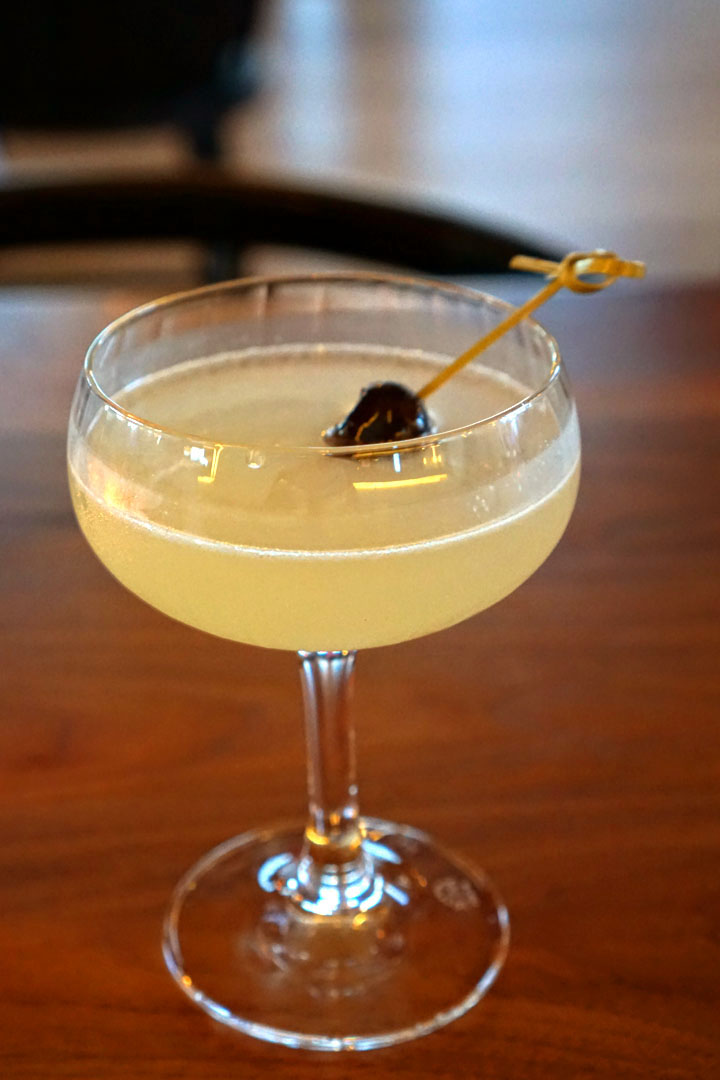 Gotcha! [$15.00]
| Mezcal, Maraschino, Génépy
I had a few cocktails with my meal, and this first one worked pretty well as an apéritif, with its generally bittersweet, herbaceous, floral disposition layered over the smokiness of the mezcal.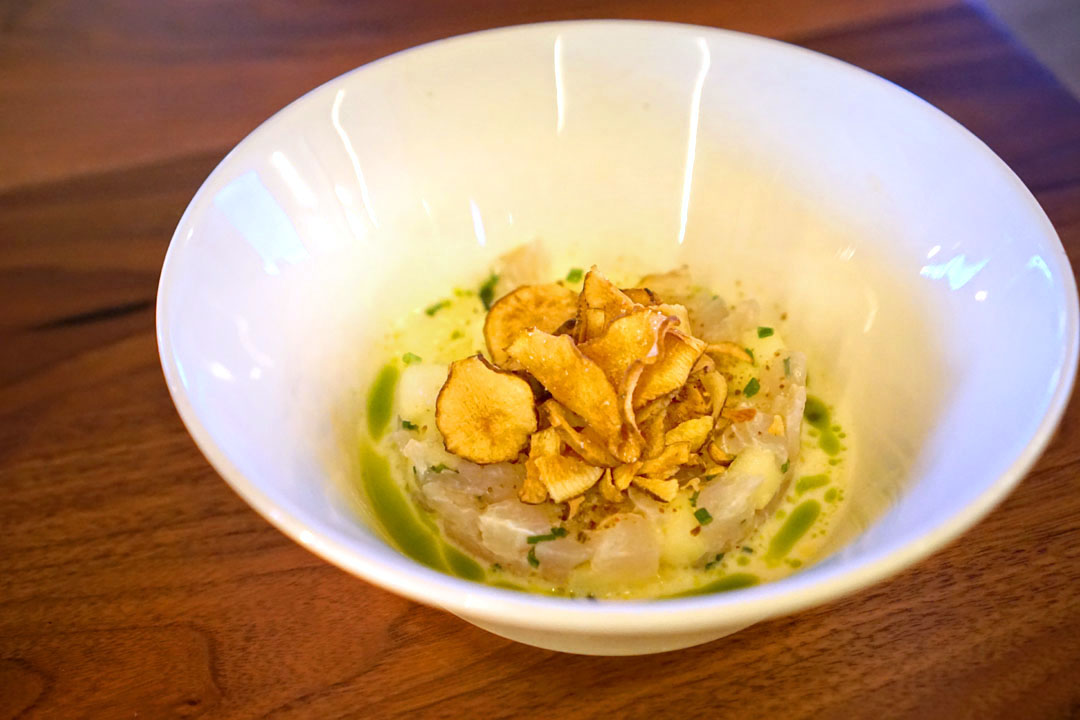 Fluke Tartare, Buttermilk, Apple, Sunchoke [$16.00]
I typically always enjoy a seafood tartar, but this one missed the mark. The fluke itself had a firm consistency, with a surprisingly potent brine, but didn't seem to mesh very well with the other ingredients, neither the apples nor those crunchy, salty sunchoke chips. I think the issue was that the dish lacked enough acidity to tie everything together, and as a result, it ate disjointedly.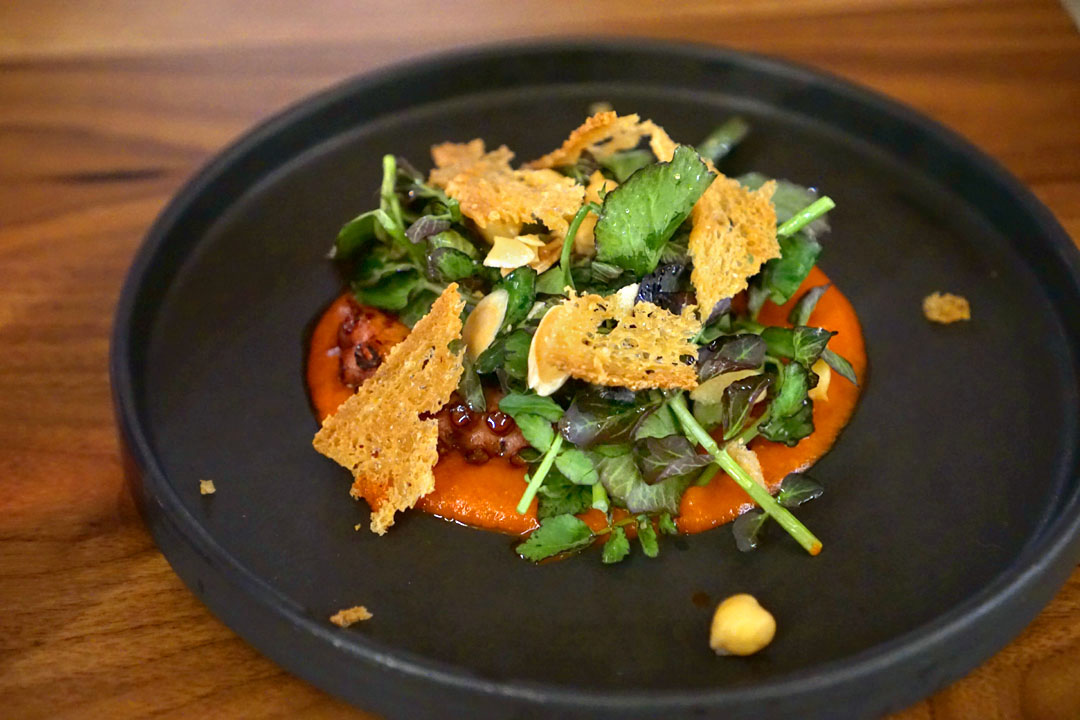 Grilled Octopus, Romesco, Red Watercress, Garbanzo and Almond [$18.00]
Octopus is another one of those things that I always tend to order, and this was a solid rendition. I really wanted the outside of the tentacle to be crispier, but its interior was properly tender, with a nice snap. The sweet, tangy nature of the romesco certainly made sense here, as did the greens, but my favorite accompaniment was actually the chickpea.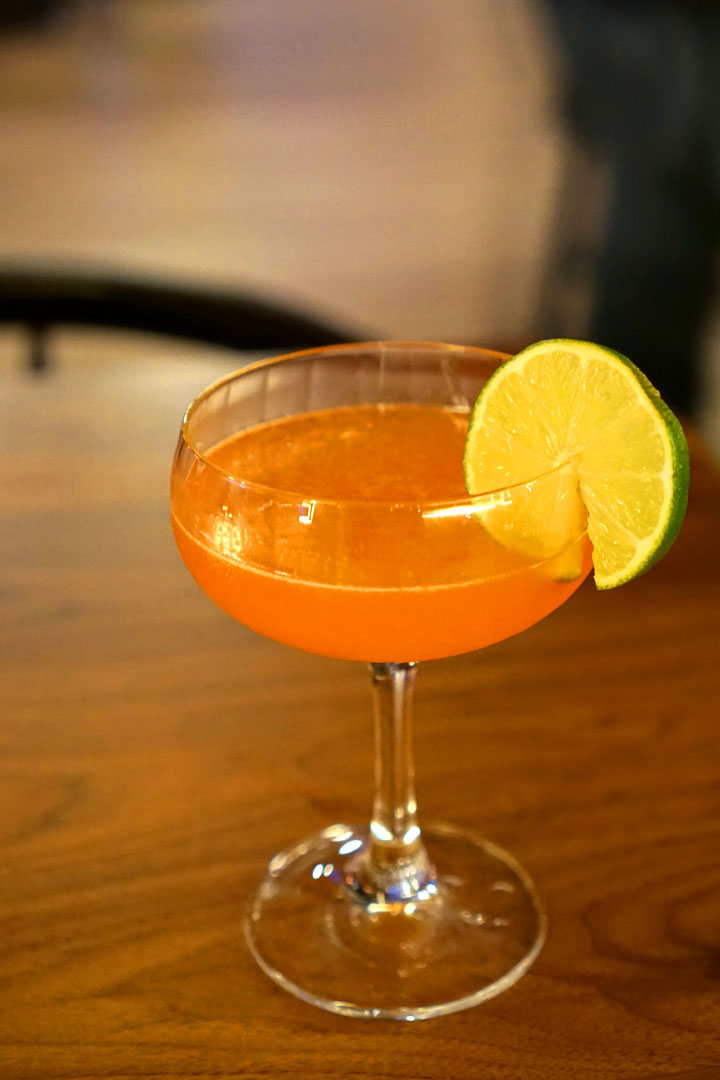 Naked and Famous [$16.00]
| Mezcal, Yellow Chartreuse, Aperol
My second cocktail also featured mezcal, and went in a fresh, herby direction initially, but with the smoke and bitterness of the Aperol coming in later and lingering.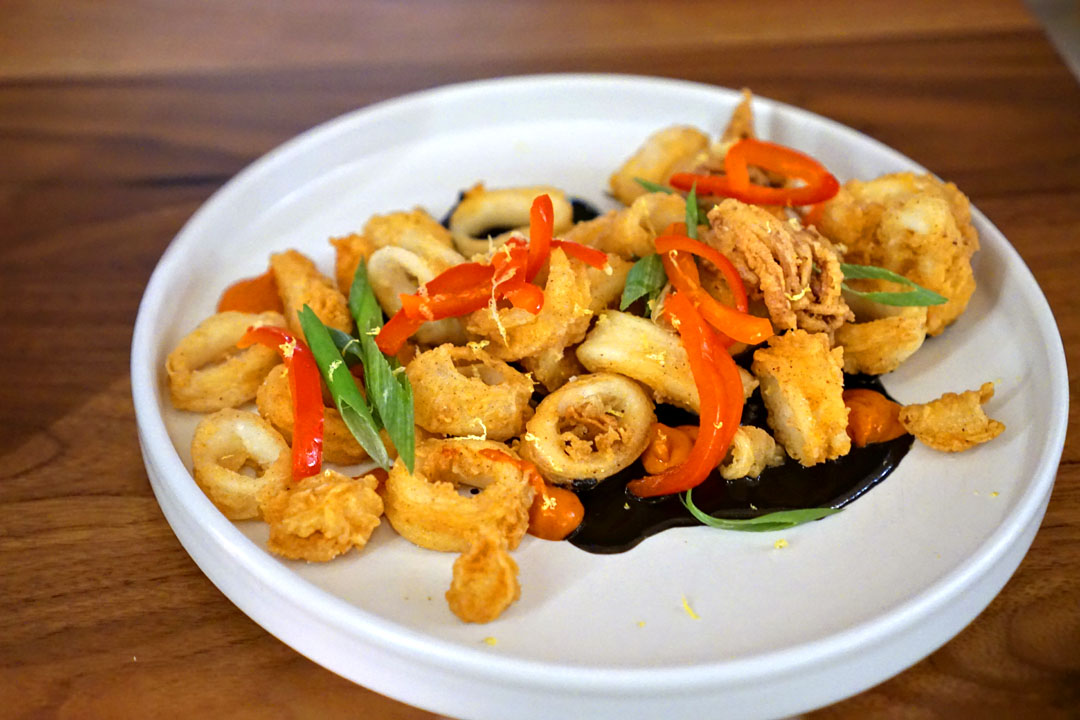 Fried Point Judith Squid, 'Nduja Vinaigrette, Squid Ink, Pickled Pepper [$16.00]
Next came one of the better fried calamari preparations I've had in recent times. The squid was spot-on in terms of texture, and I really enjoyed the heat from the 'nduja, while the tangy peppers worked for contrast. Yum.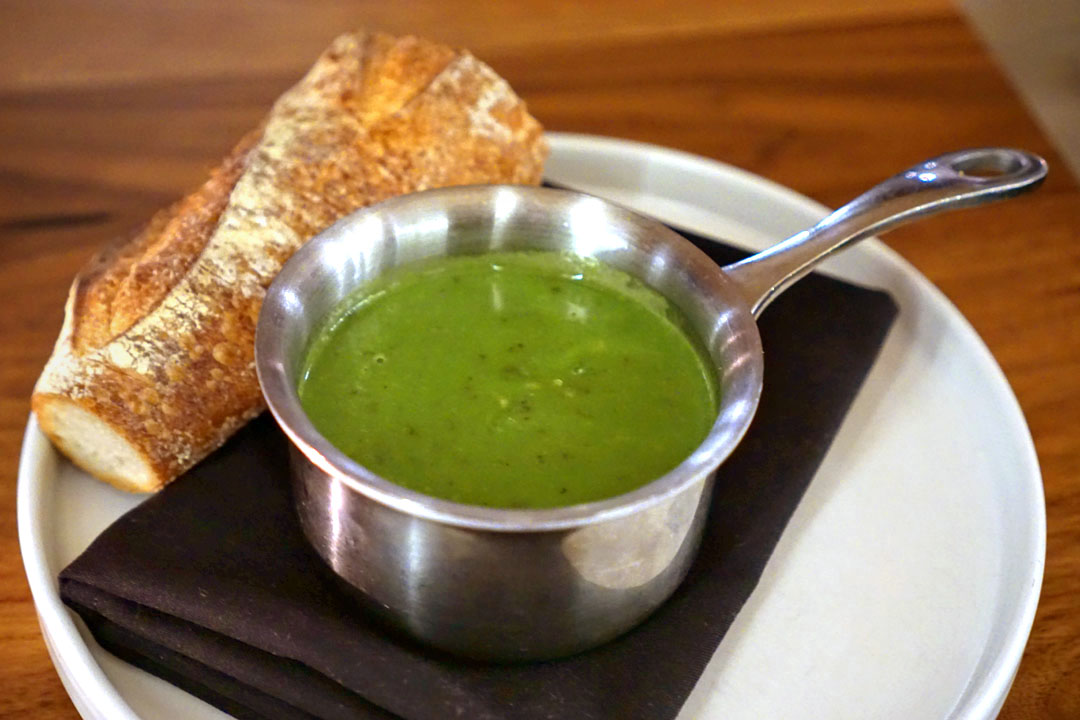 Escargot Braised in Vichyssoise Butter, Potato Confit, Preserved Lemon [$19.00]
Here we have one of the more unique presentations of escargots that I've encountered. It was a tasty take on a classic, the snails pairing well with the rich, buttery flavors present while potatoes imparted a cozy weight that definitely spoke to me. The crusty bread on the side was appreciated as well, and I made sure to use it to sop up all the remaining liquid.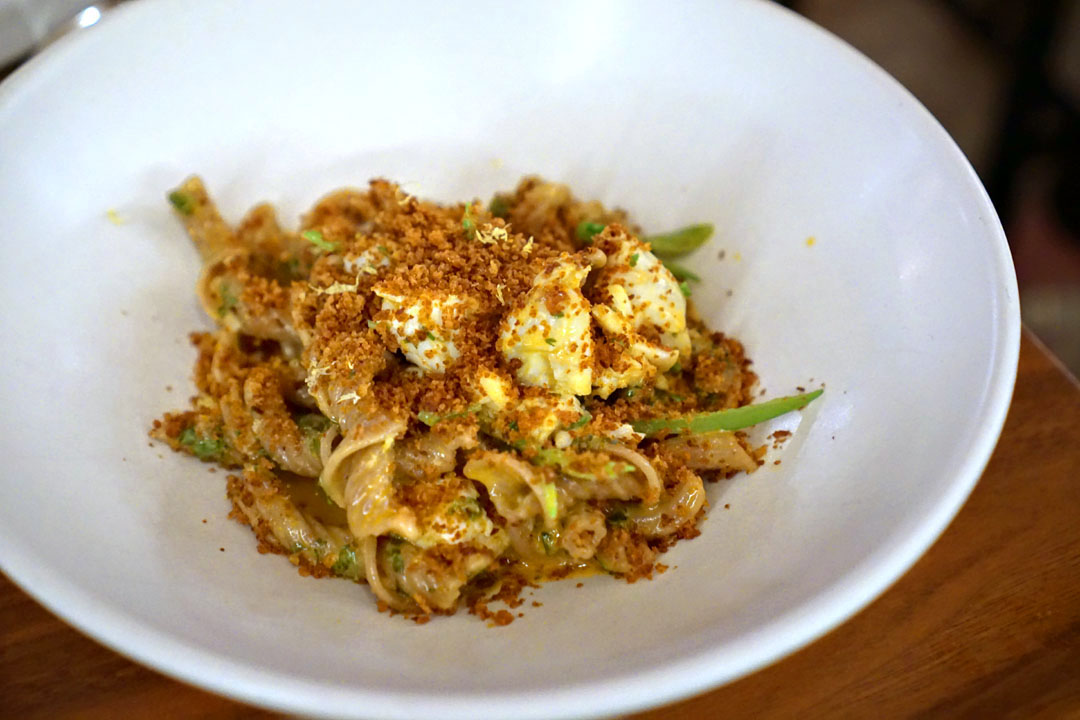 Blue Crab and Pink Peppercorn Strozzapreti, Chile, Lemon, Old Bay Breadcrumb [$20.00]
The strozzapreti was also a standout. The pasta was certainly well-textured, but what really worked here was the back-and-forth between the sweet chunks of crab and the zestiness of the green onion. Also crucial was the multifaceted spice of the Old Bay, which pervaded the dish and really helped bind all the elements together.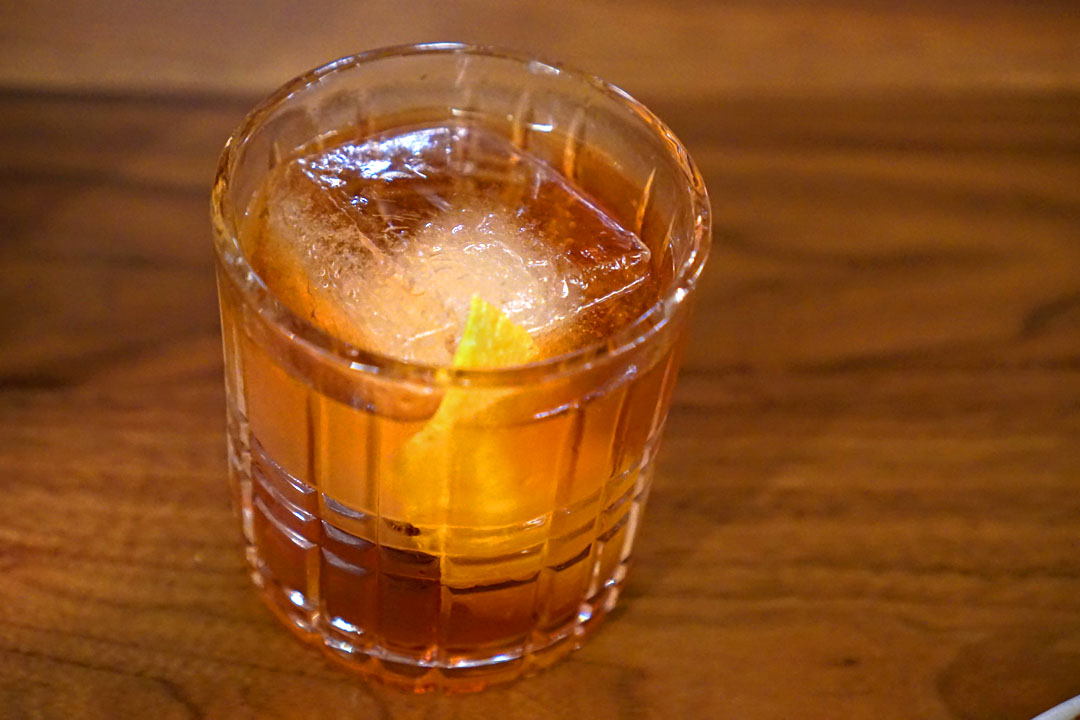 Boule-Noir [$17.00]
| Bourbon, Averna, Cappelletti
My next cocktail was the booziest of the bunch for sure. Think light, bittersweet nose, leading to sweet, fruity, almost candied flavors up front, all kept in check by bitter, herbaceous elements and the heft of the whiskey.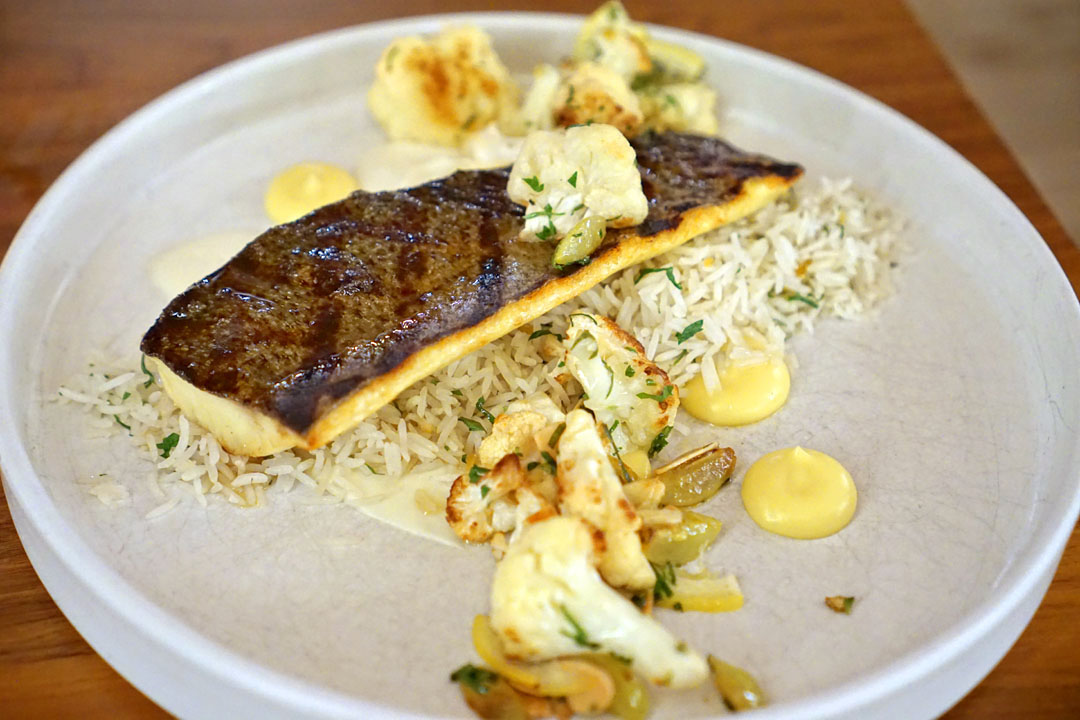 Grilled Trout, Cauliflower, Toasted Almond, Green Grape, Basmati Rice [$31.00]
The evening's final savory course was the trout, which turned out to be a bit of a mixed bag. The fish itself was pretty great, coming out juicy and flavorful, with a delightfully salty skin to boot. However, the rice was overdone, bordering on tough, while even more worrisome was the dish's overbearing use of what seemed like lemon, which was distracting and actually took away from the trout.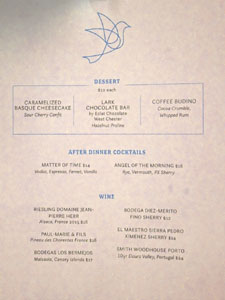 A surprisingly brief dessert menu is joined by a much larger selection of after dinner drinks. Click for larger versions.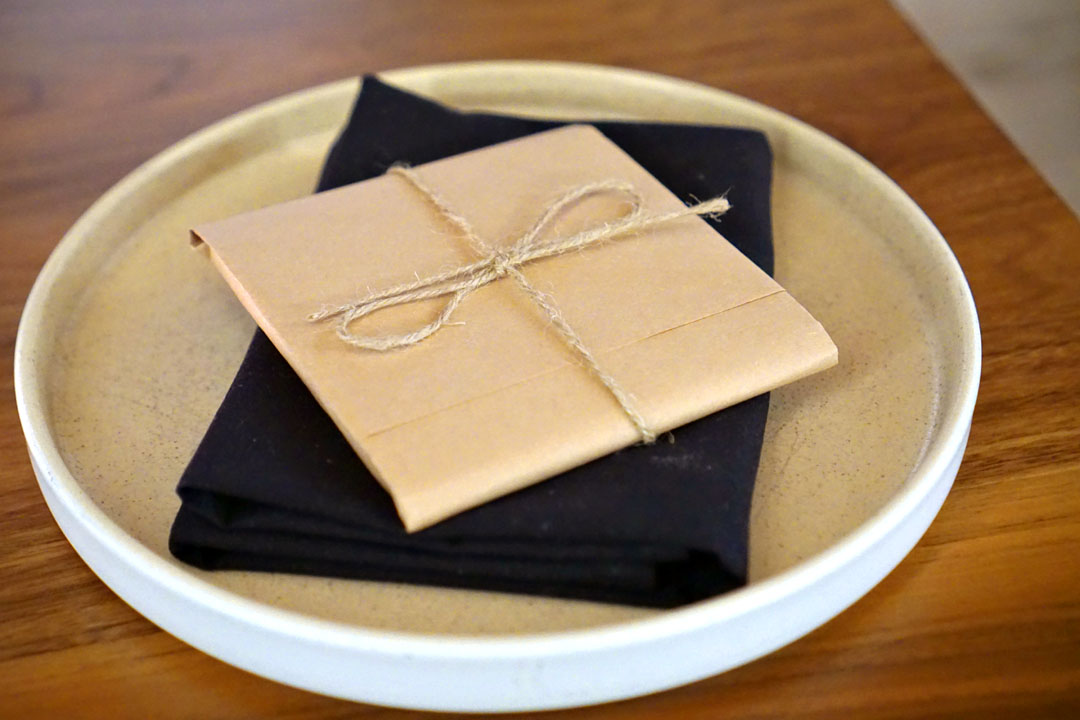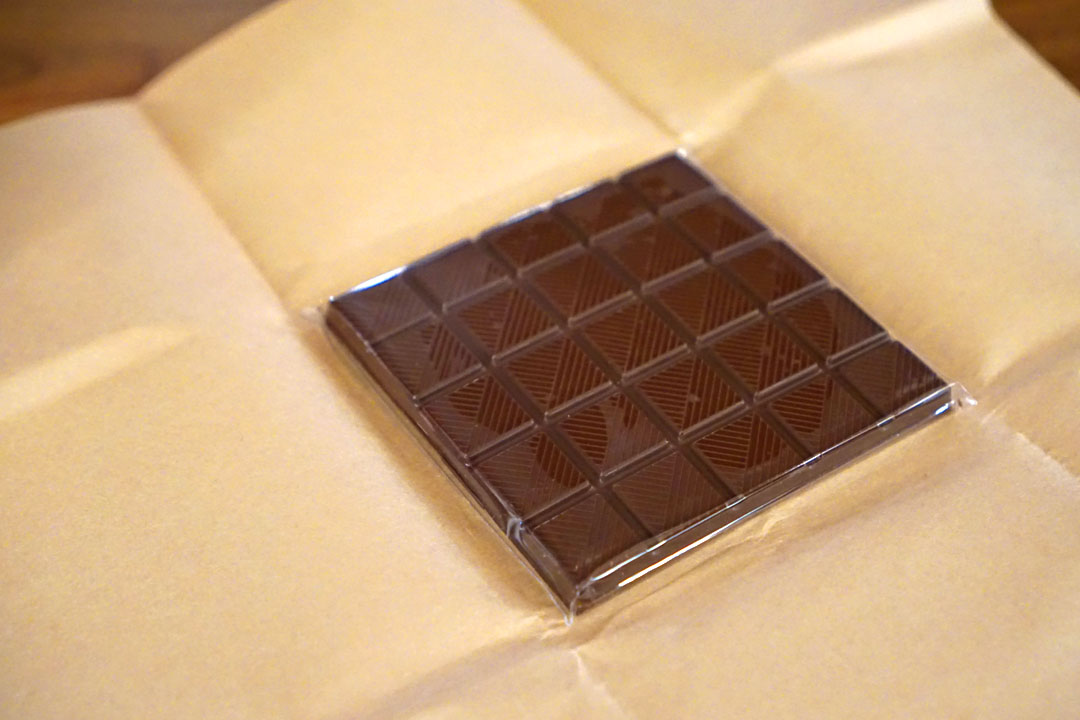 Lark Chocolate Bar (by Eclat Chocolate, West Chester) [$10.00]
| Hazelnut Praline
When I read "chocolate bar" on the menu, I was expecting a composed dessert in the vein of something like
this
, not an
actual
chocolate bar. That being said, the bar was indeed quite enjoyable, and tasted somewhat like a Ferrero Rocher.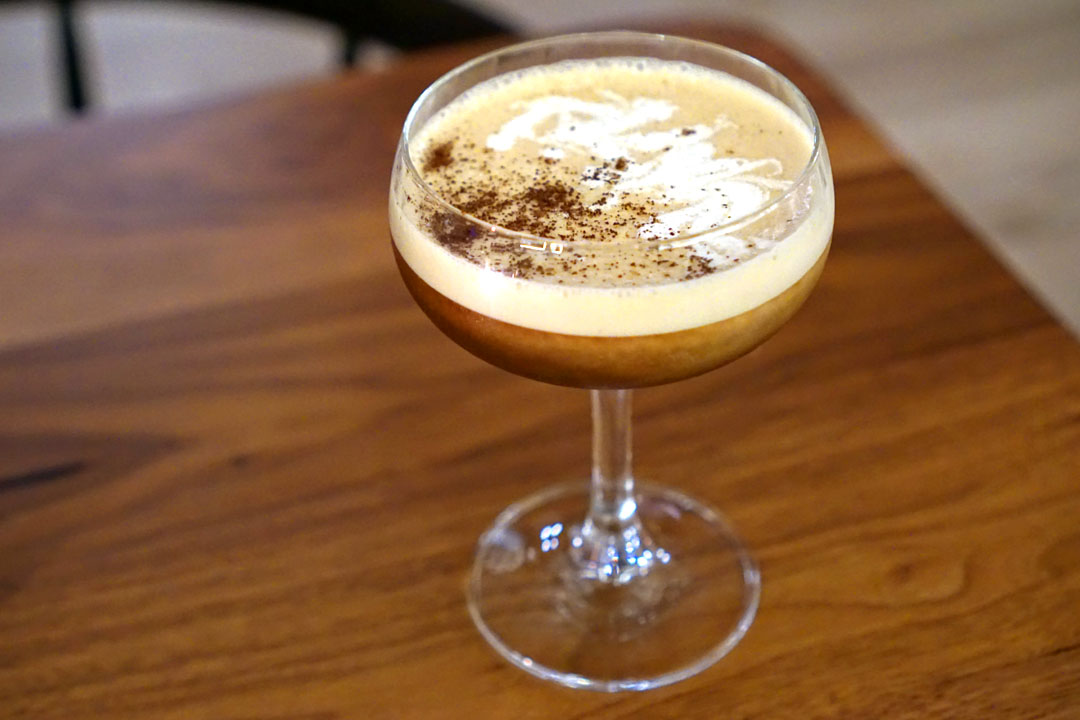 Matter of Time [$14.00]
| Vodka, Espresso, Fernet, Vanilla
Closing out the night was Lark's take on the espresso martini, and what made this stand out was its use of fernet. The amaro gave the drink an intensely minty sensation that linked up easily with the coffee, and actually reminded me of the vapor rubs of my childhood.
I generally enjoyed my meal at Lark, though I definitely had some concerns that hopefully can be addressed. The concept here makes sense, especially given the restaurant's location in Bala Cynwyd, though the place is obviously designed for more mass market appeal vis-à-vis Laurel, which features some decidedly more ambitious cooking. Thus, if you're looking for a Nick Elmi establishment to visit, you'll probably want to check out his original spot in Passyunk first.