Ima (Beverly Hills, CA)
Ima Restaurant
9669 S Santa Monica Blvd, Beverly Hills, CA 90210
310.734.7829
www.imabh.com
Wed 06/15/2022, 08:30p-11:40p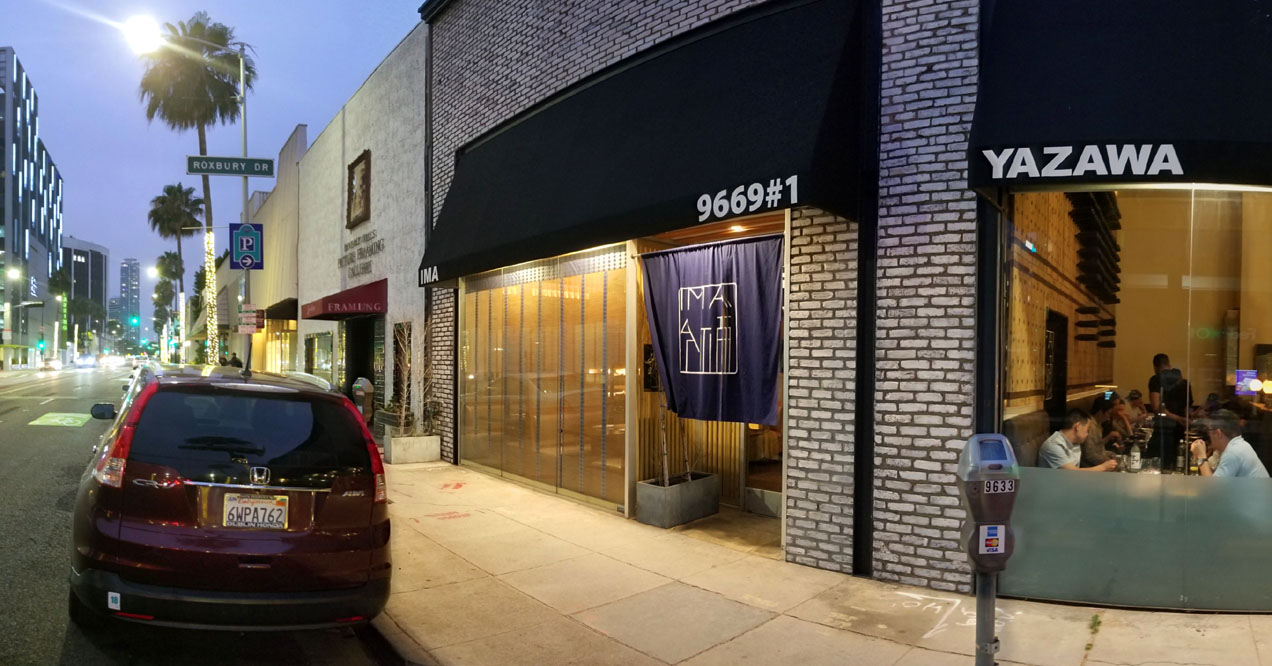 Recently, I was searching for a spot to celebrate my birthday, and after looking at a few options, decided on Ima (今, or "now"), a sukiyaki and shabu-shabu specialist that opened back in September 2019. The restaurant is owned by Tomomi Inada's (稲田 智己)
Yazawa Meat
(ヤザワミート), the same group that operates yakiniku joint
Yazawa
next door. Ima is actually based on the Michelin-starred Imafuku (今福) in Tokyo, which launched in January 2012 as the fifth member of the Yazawa family.
As for the kitchen here, it's run by Executive Chef Keiichi Okubo (大久保 慶一). Born in Tokyo in 1984, he specializes in French cuisine, and from what I understand, his last two posts prior to Ima were at T'suki Sur La Mer in Minato (~2018) and Cenaculum in Chuo (~2016).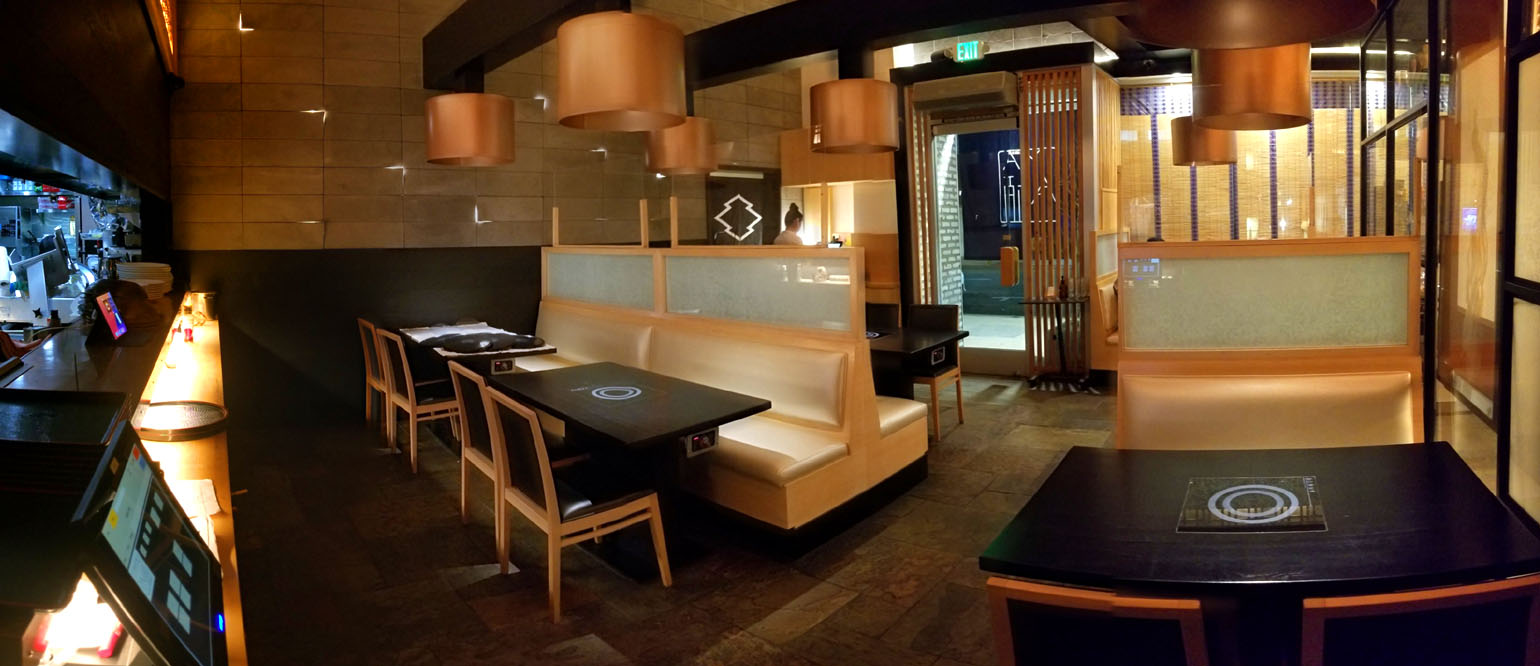 Ima resides in the former home of Top Nail Spa/Nails 2000, and not surprisingly, the space has been completely remodeled to reflect a contemporary Japanese aesthetic, with lots of wood. Capacity is 32, split between eight four-tops, and do also note that the restaurant is actually connected with Yazawa via a passage near the entrance.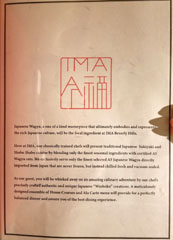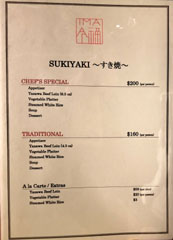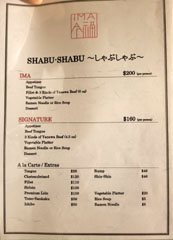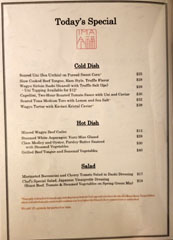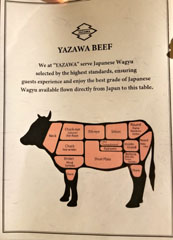 As for Ima's menu, you have your choice of sukiyaki or shabu-shabu prix fixe options, which can be supplemented by a number of à la carte selections. We opted for the flagship Ima shabu-shabu course, priced at $200 per head. Click for larger versions.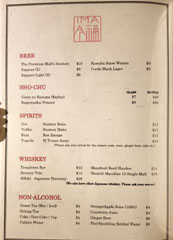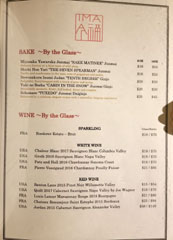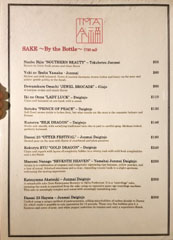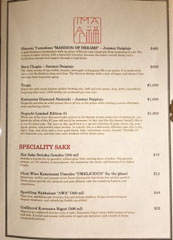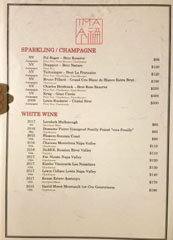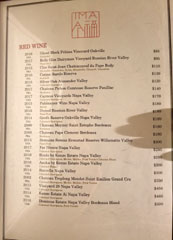 Beverage-wise, Ima offers a reasonably sized wine and sake list, as well as a smattering of beers and spirits, while corkage is $45. Click for larger versions.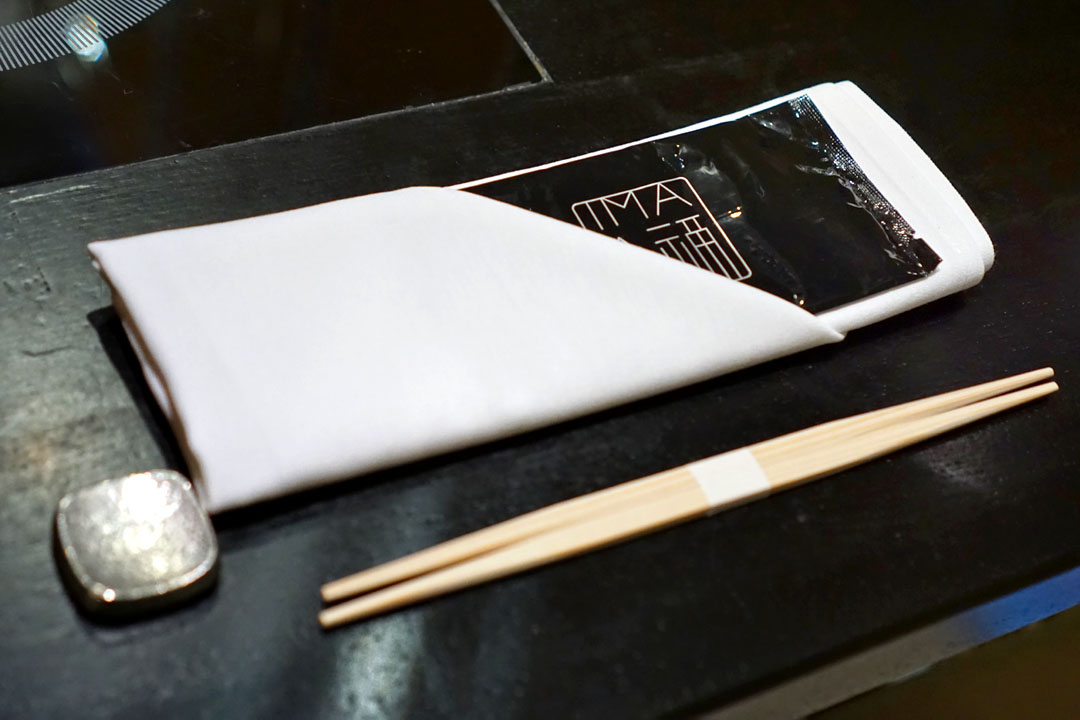 Here we see the place setting, which is straightforward enough.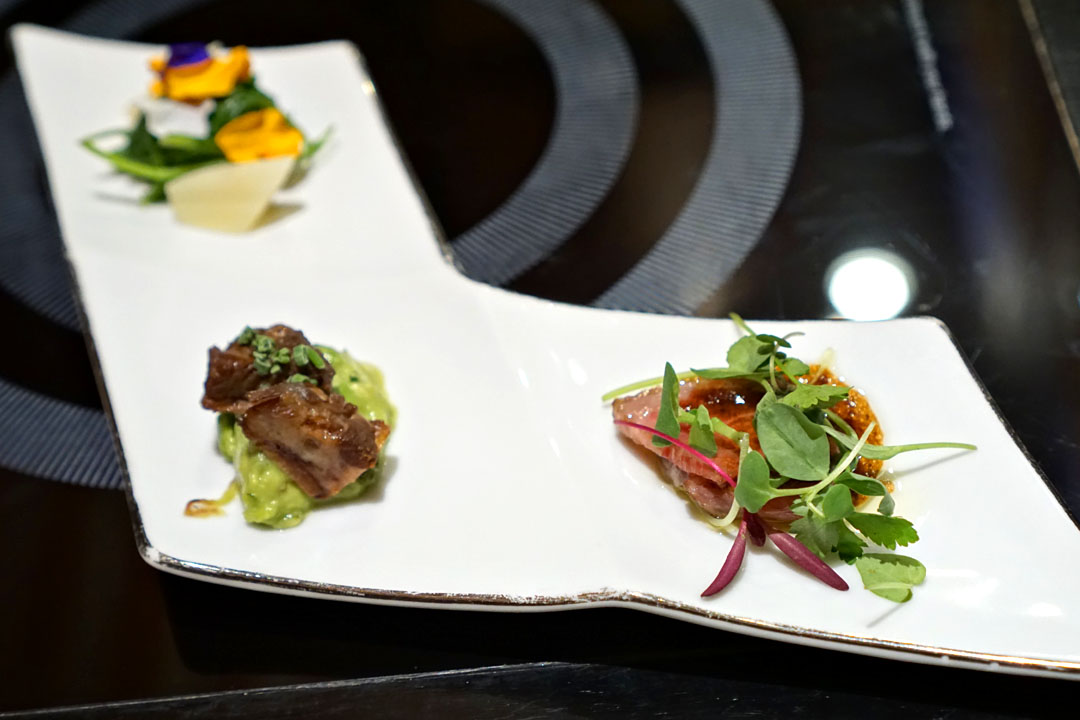 1: Appetizer
Our meal began with a trio of
zensai
:
First up was the ohitashi, which featured refreshingly bitter greens (spinach and arugula?) set against plenty of soy-fueled umami and smoke, while the addition of white asparagus provided a welcomed textural play.
Stewed beef tongue showed off all the dark, sweet, long-cooked flavors I was looking for, but was also uplifted by a zippy, wasabi-infused Japanese-style guacamole.
Lastly, we had heady cuts of roasted A5 ichibo, paired with balsamic-soy, olive oil, and some zesty herbs that helped lighten the mood.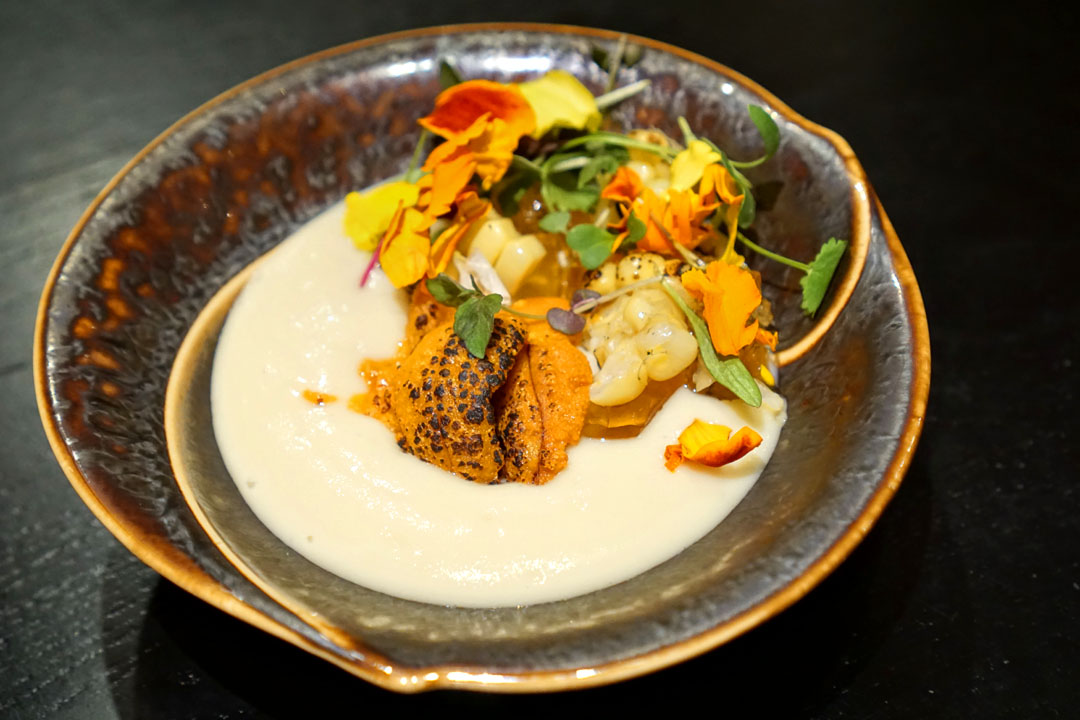 Seared Uni (Sea Urchin) on Pureed Sweet Corn [$25.00]
We added on this sea urchin dish, which ended up being one of the better preparations of the roe I've had in recent times. I was a big fan of how the sweetness of the corn meshed with the sweet-saline nature of the uni, never becoming overly sugary thanks to the smokiness imparted by the searing process.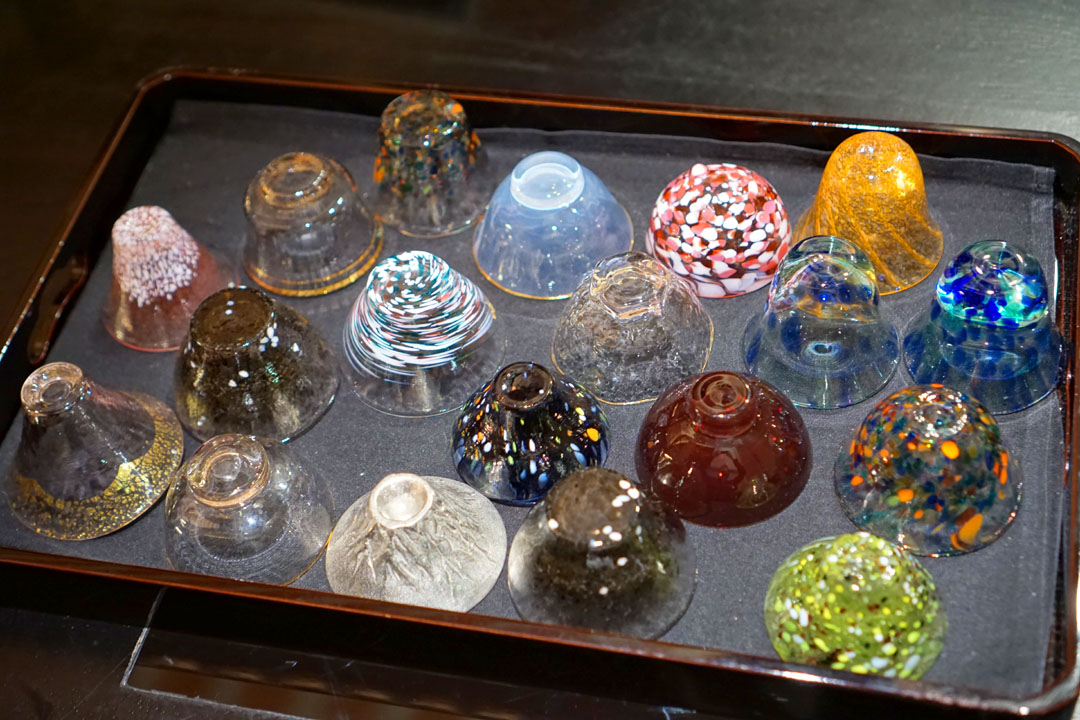 We opted for some sake to start, and were thus given a choice of
ochoko
. I chose the metal one at the bottom of the tray, which, according to our server, is apparently quite popular with male diners.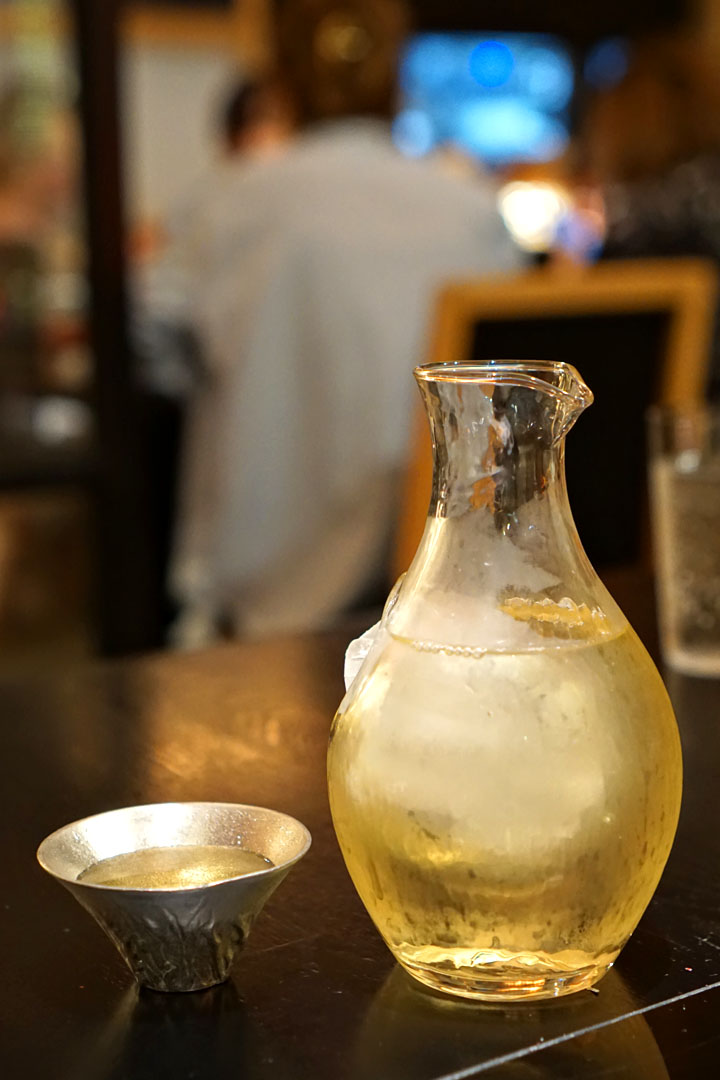 The
Shichi Hon Yari "The Seven Spearman" Junmai [$24]
displayed a distinctly mushroom-y nose, backed by notes of toasted grain. Taste-wise, the sake went in a sweet, ricey, rustic direction, with a potent backbone of earth, though the drink did get noticeably fruitier as it warmed.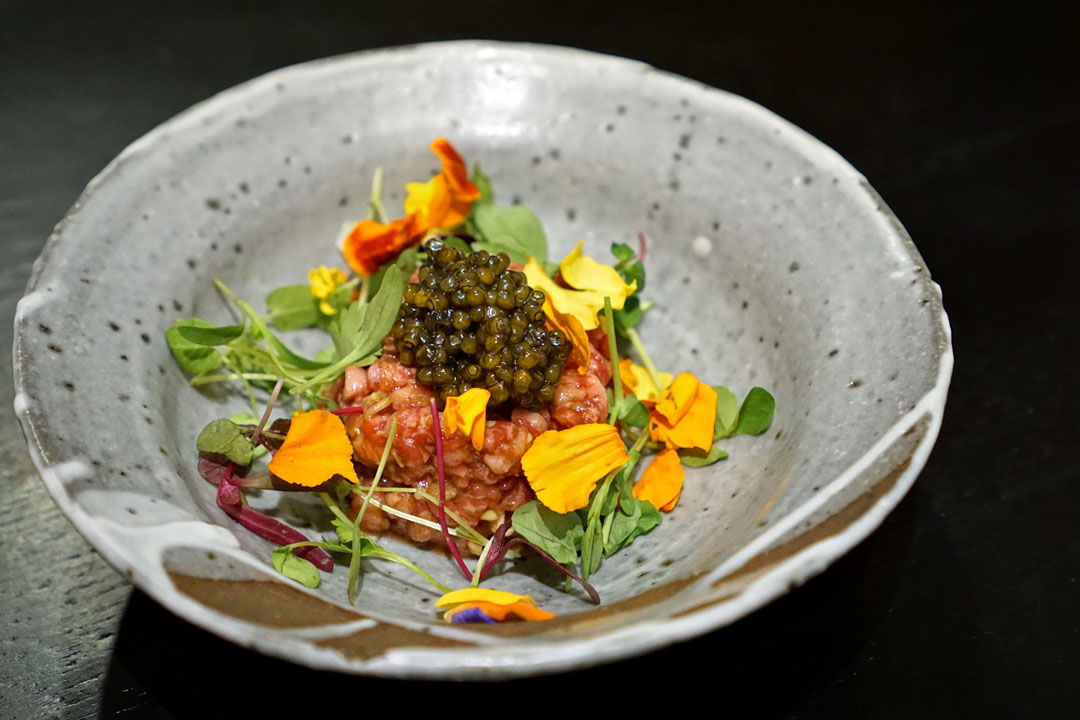 Wagyu Tartar with Kaviari Kristal Caviar [$38.00]
Ima's take on steak tartare was also a winner. The texture on the beef was pretty marvelous, and I liked how the meat married with contrasting elements of soy and wasabi, all while the caviar and herbs served as accent pieces.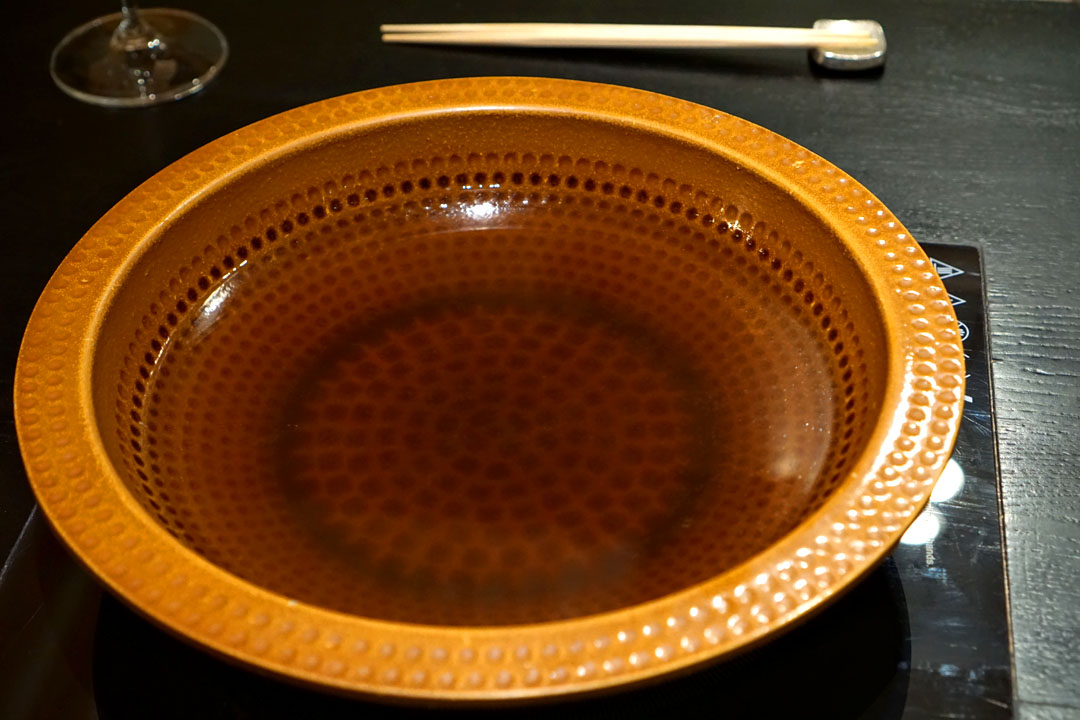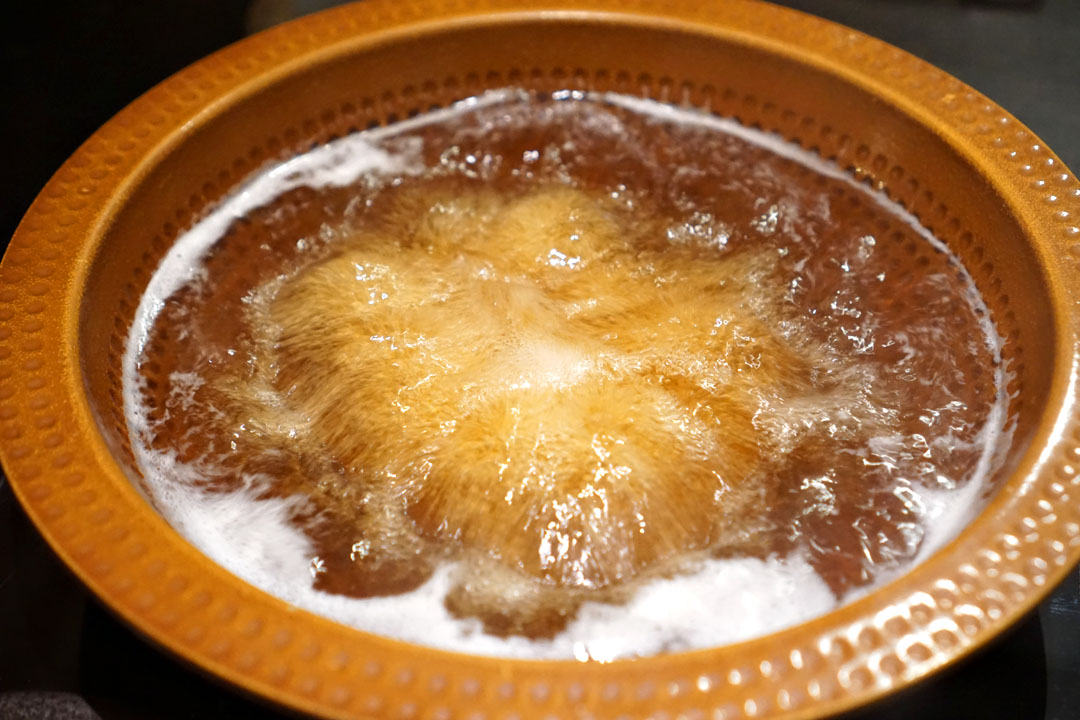 At this point, a pot of dashi broth was brought to the table, placed on the burner, and came to a boil within minutes.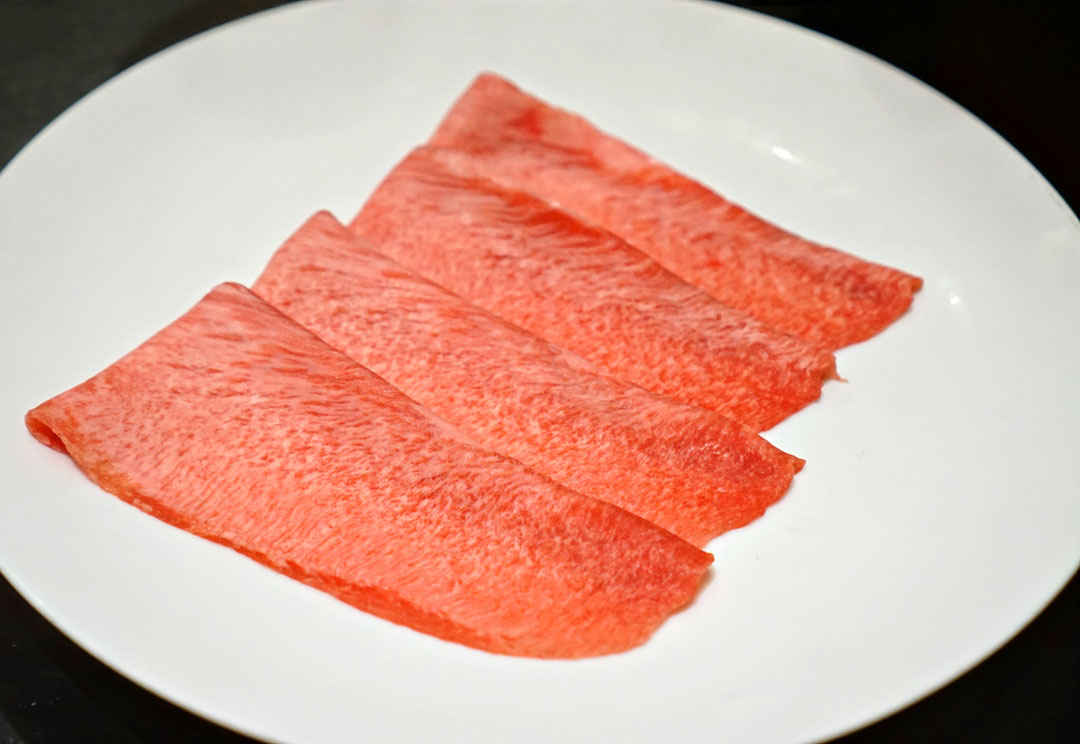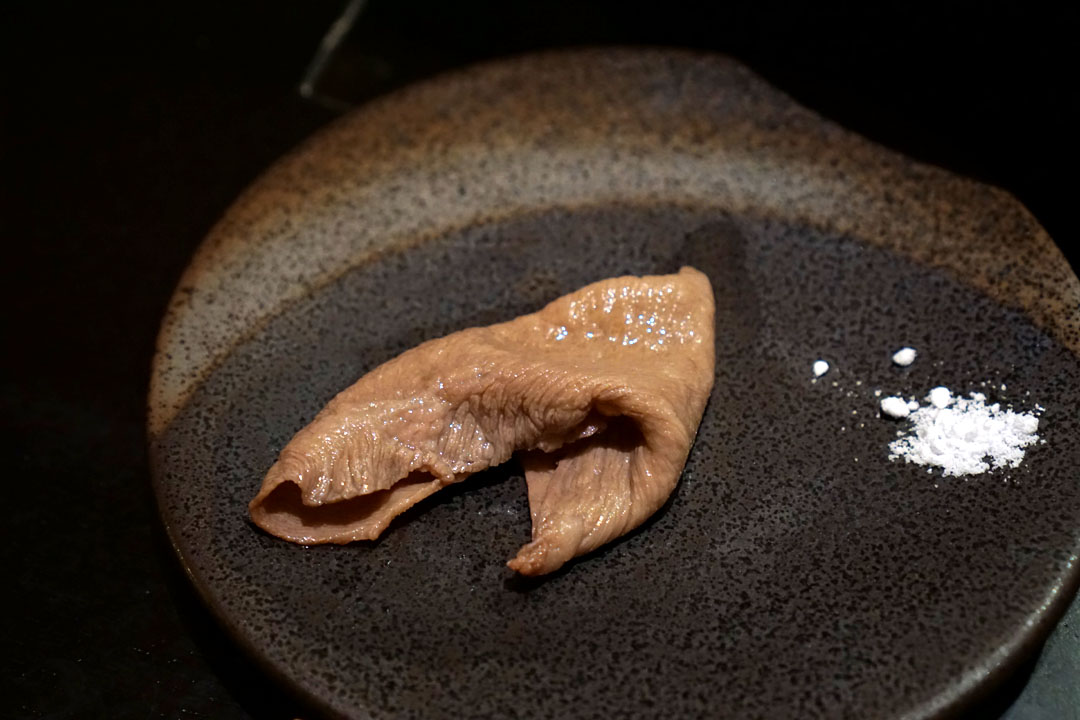 2: Beef Tongue
Up first was the Snake River Farms tongue, which is apparently the only cut of beef served here that's not from Japan, as the restaurant has had issues importing the offal. In any case, the tongue showcased a remarkably finespun consistency, along with a super delicate flavor profile that really opened up beautifully with a dab of the included salt.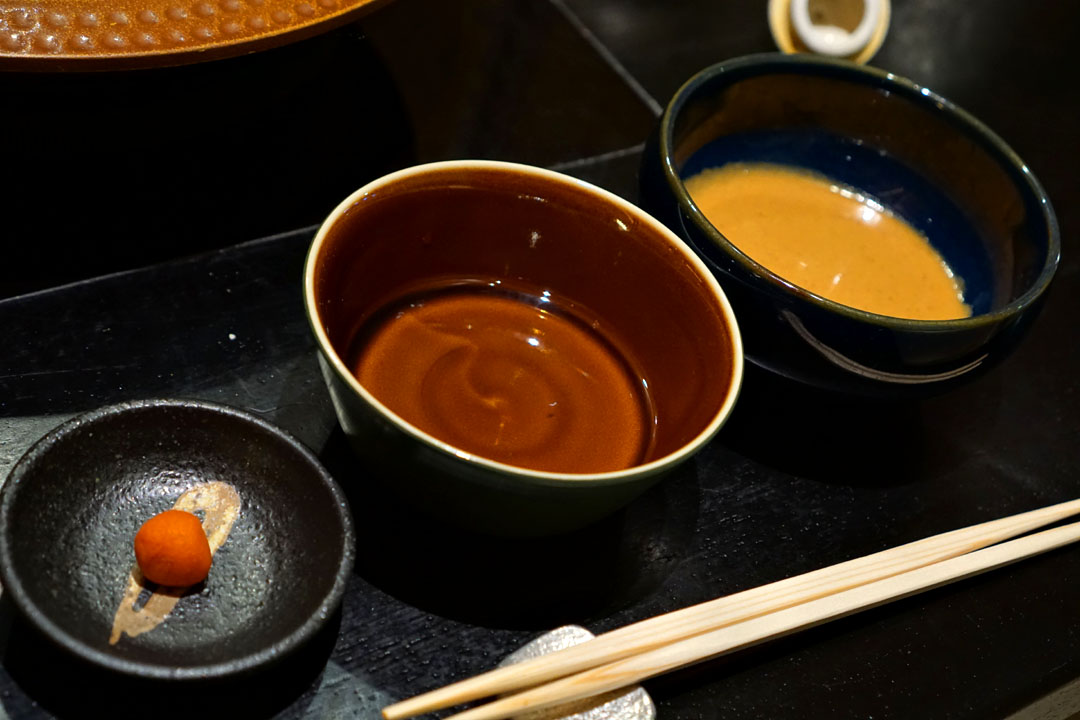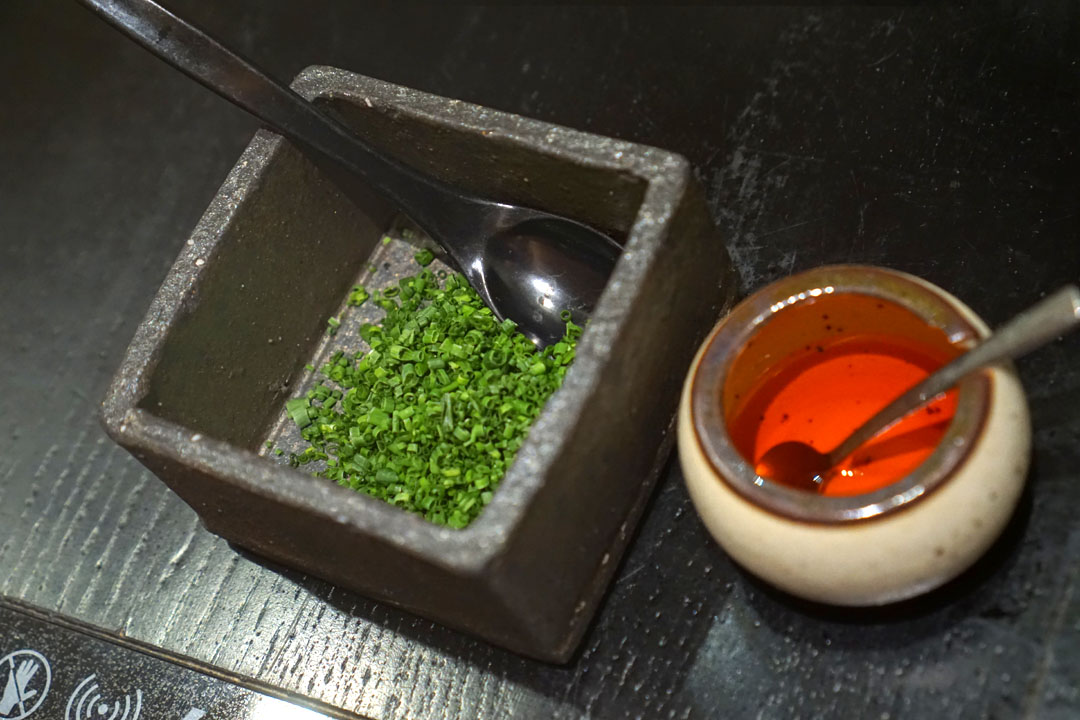 With the tongue dispensed with, the requisite shabu-shabu accompaniments were brought to the table. The homemade goma sauce incorporates 10 kinds of vegetables and three kinds of fruit, along with lots of sesame and a bit of anchovy, while the ponzu utilizes white soy to emphasize the sauce's citrus flavors; a ball of
momiji-oroshi
was also provided to spice up the ponzu if desired. In addition, we had chili oil (
rayu
) to give some added heat to the goma, as well as chives, which could pair with either sauce.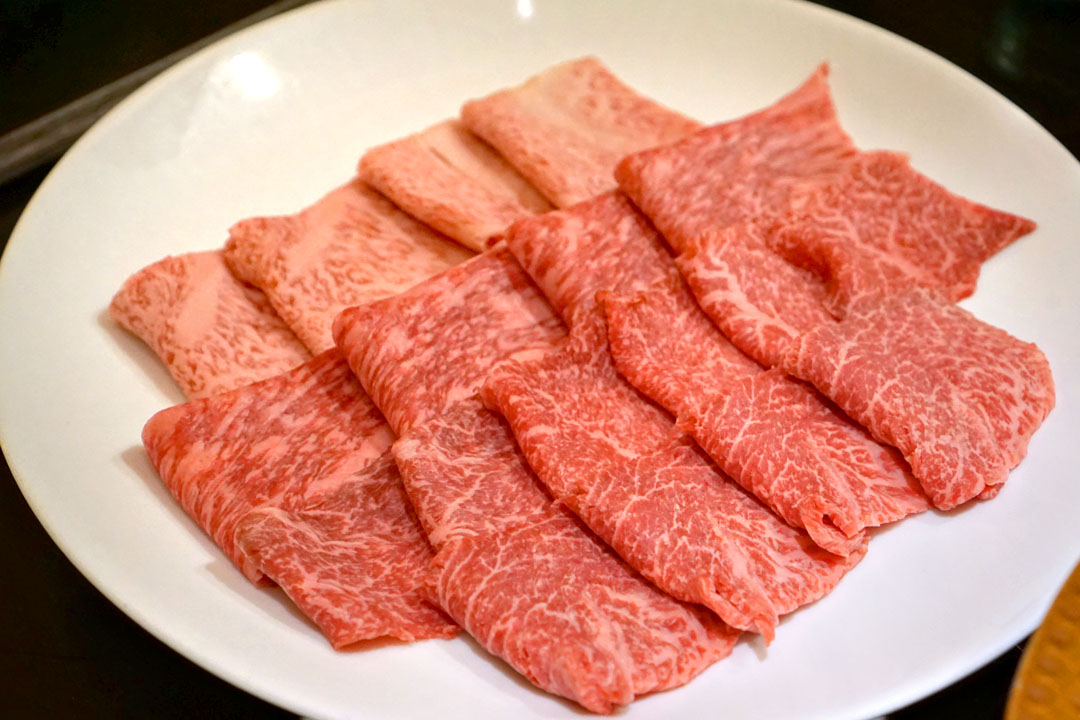 3: Fillet & 3 Kinds of Yazawa Beef (6 oz)
And of course, the stars of the show were the various cuts of well-marbled A5 Wagyu. Front to back, we had filet, rump,
ichibo
, and rib.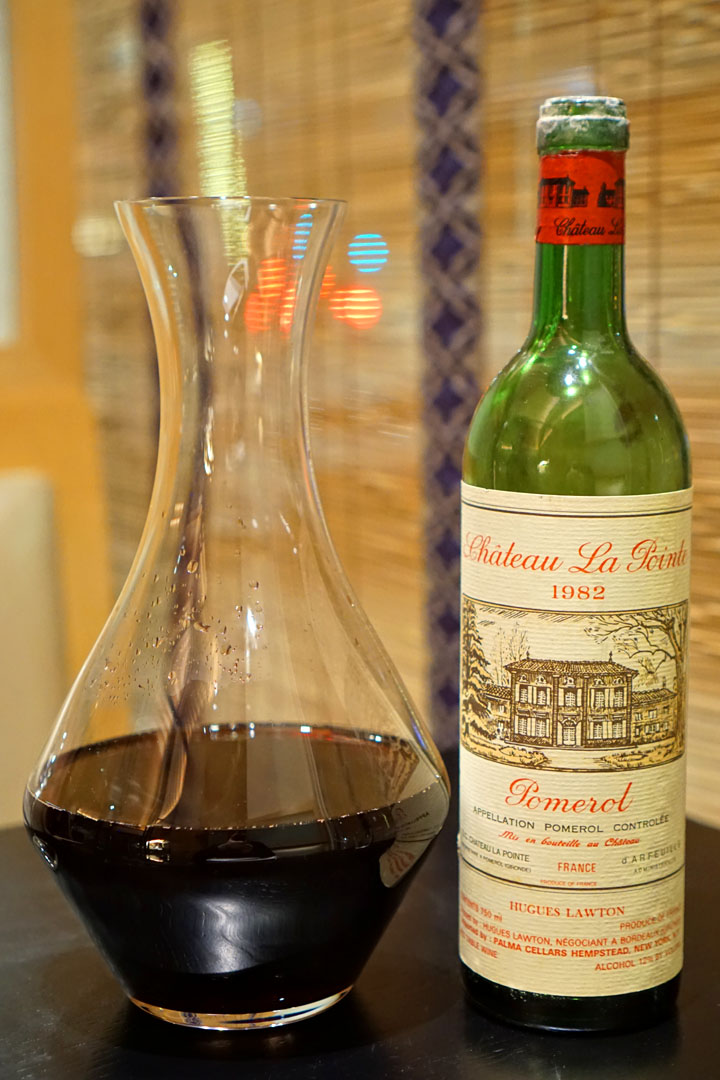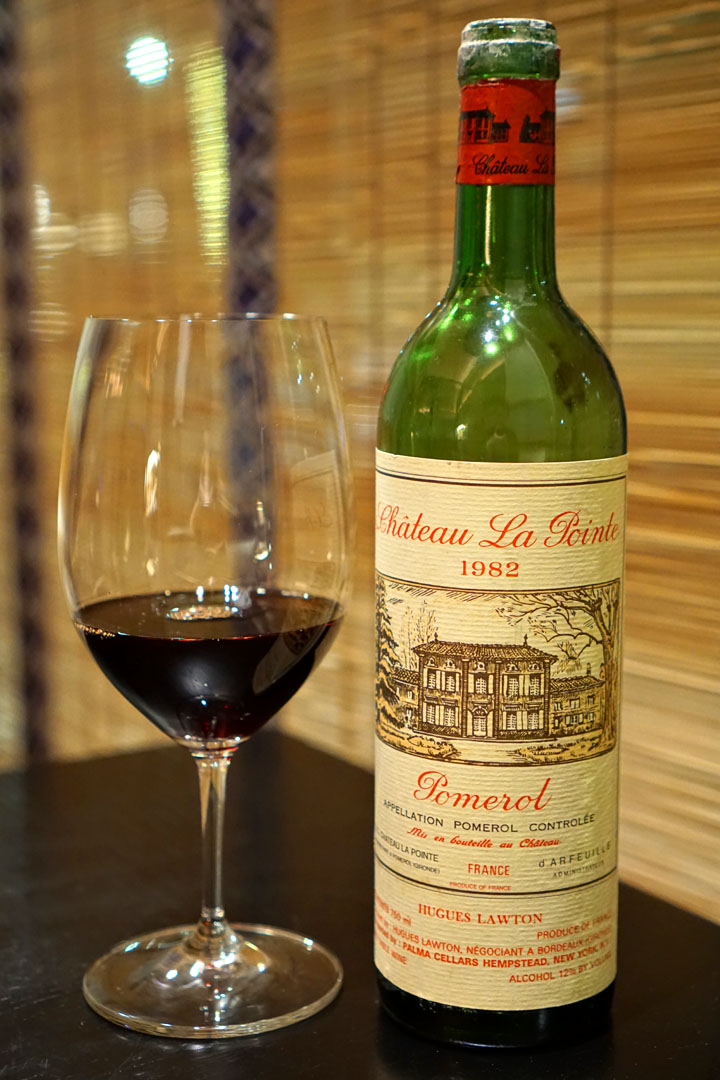 Given that it's my 40th birthday year, I've sort of decided to make it a point to drink '82 wines, and thus brought along a bottle of the
1982 Château La Pointe
from Pomerol. We opened the Bordeaux shortly after being seated, and I was pretty enamored with its wonderfully perfume-y aroma, filled with intense berry jam. The wine was soon decanted, and nosing it in the vessel, the aforementioned fruit subsided, with meaty, smoky, petrichor-like, and distinctly vegetal notes appearing. I then poured the wine in my glass for the first time around the 30-minute mark. At this point, its bouquet demonstrated zippy fruit, must, and lots of leather, while its palate was delightfully smooth and silky, displaying primarily savory and celery-esque nuances, but with dark fruits peeking through. Sometime later, the claret began presenting a nose of steamed vegetables and tannic fruit, and the taste also went in a surprisingly tart, tannic direction, with a healthy amount of leather. With further time, the wine became "calmer" in terms of aroma, with its vegetal qualities joined by hints of mint; the tannins also softened, though leather remained very noticeable. As the evening wound down, I got a palpable sensation of sous bois on the nose to go along with menthol, while the taste of the wine veered in a tea-like direction that I found rather bewitching. Overall, the La Pointe was way better than I thought it'd be, and it was great to see its evolution over the course of the night.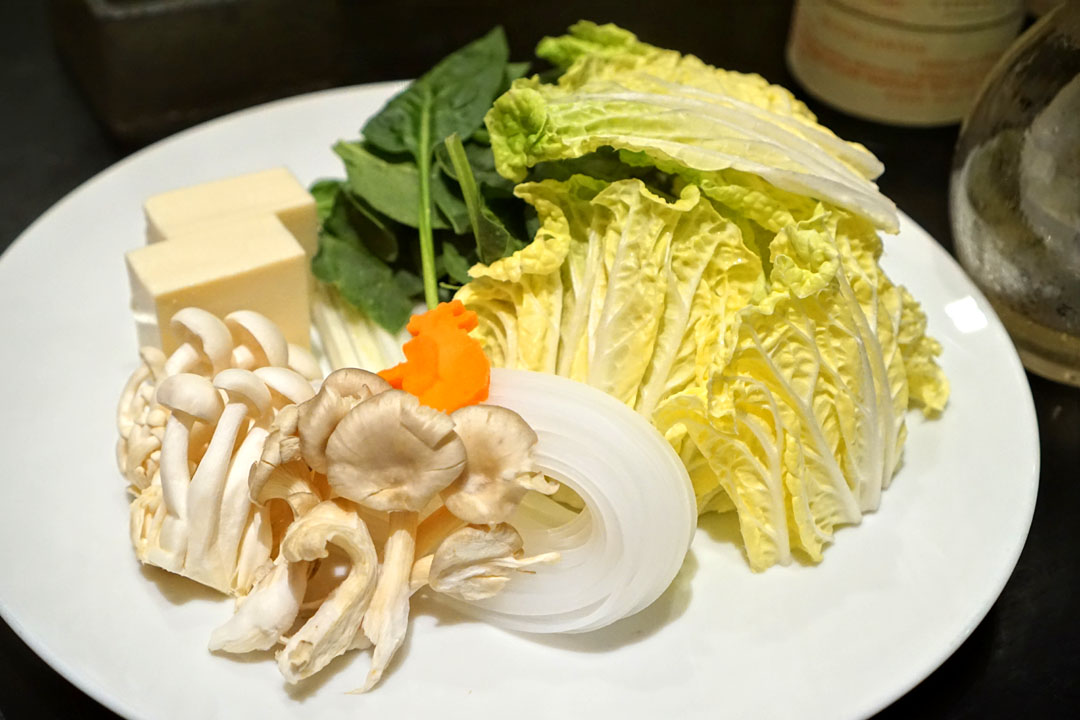 4: Vegetable Platter
Here we see the evening's selection of vegetables and other sundry accoutrements.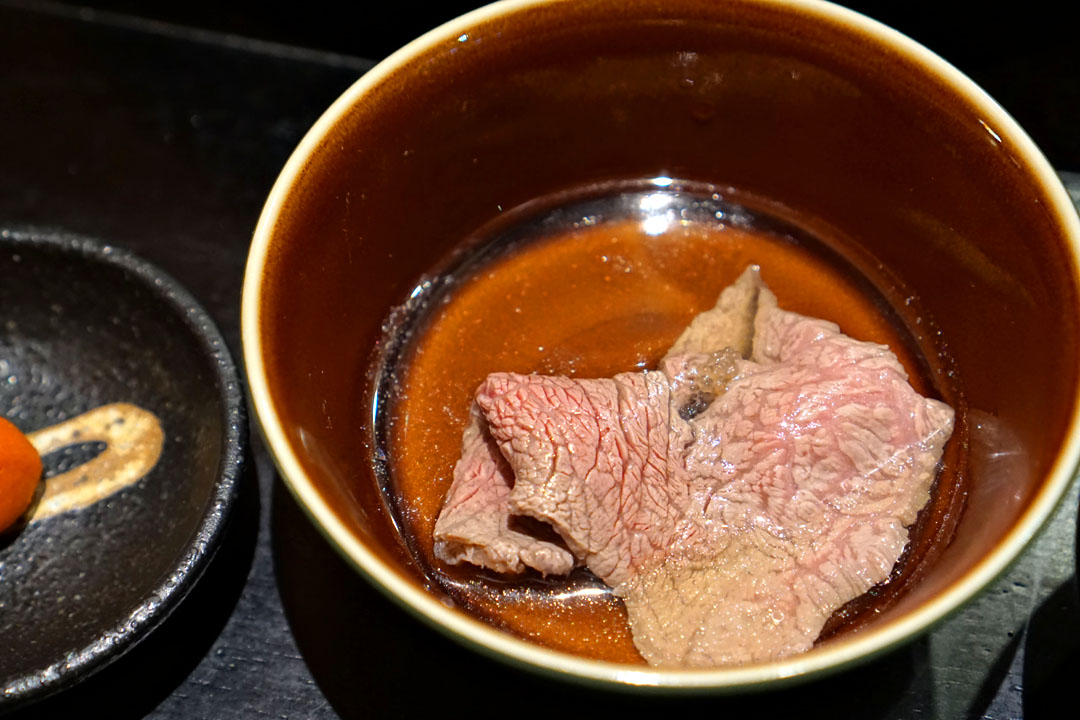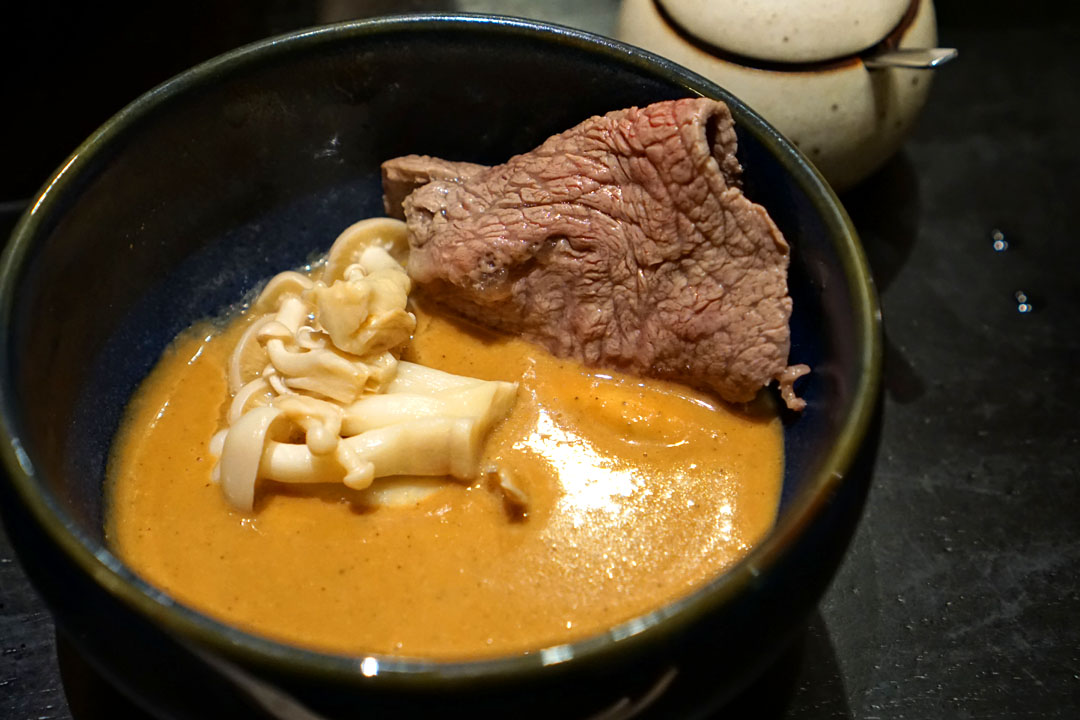 3a: Fillet
Wagyu time. Up first was the filet, which ate sweet and oh-so tender, and linked up pretty flawlessly with the tanginess of the ponzu. However, I found that the meat also worked swimmingly with the sesame sauce (which paired superbly with those
bunapi-shimeji
mushrooms as well).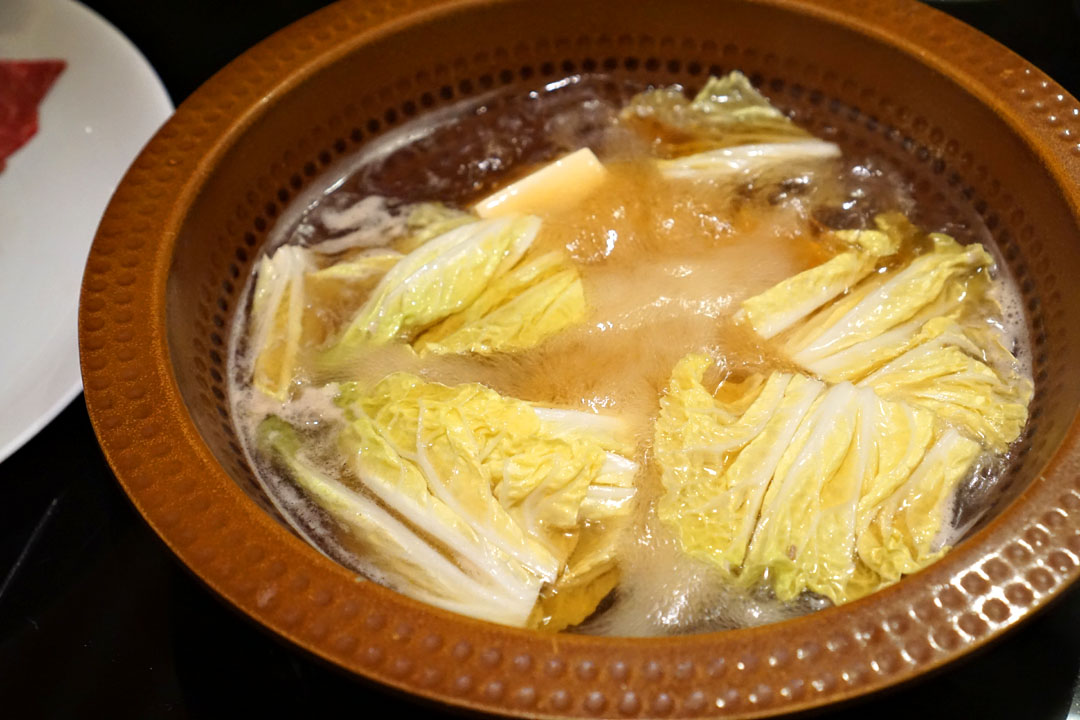 Following the filet, the
hakusai
(napa cabbage) was placed into the pot.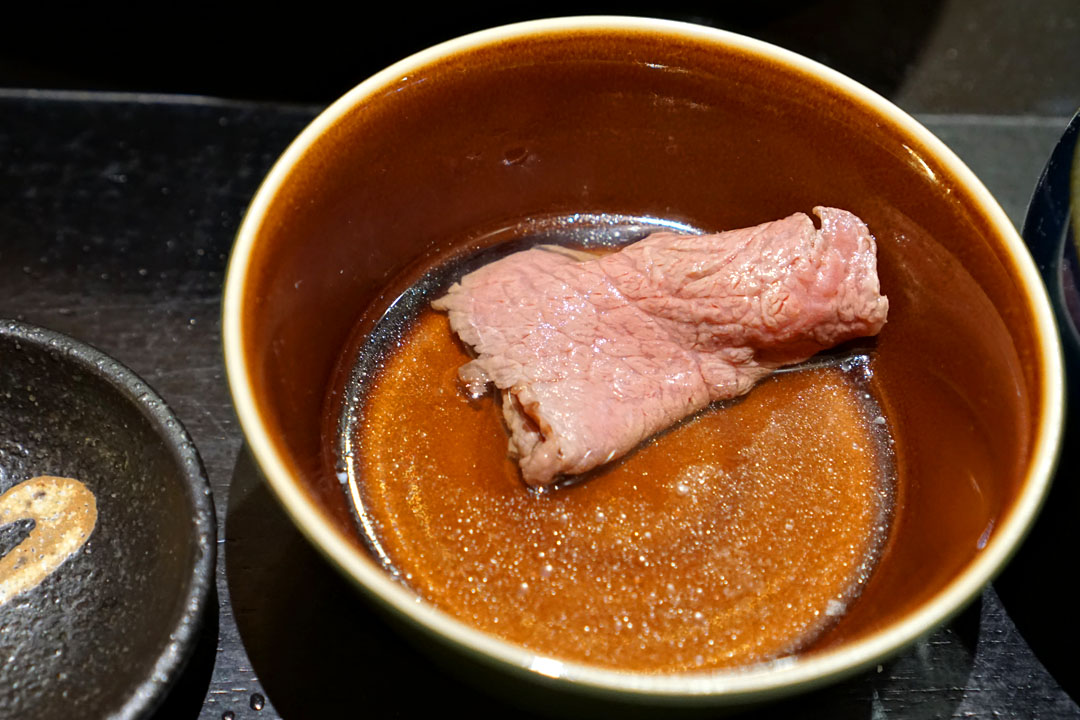 3b: Rump
Rump is one of the leanest cuts served at Ima, yet it was still eminently supple, and offered up a balanced taste and straightforward beefiness that really melded well with the citrusiness of the ponzu.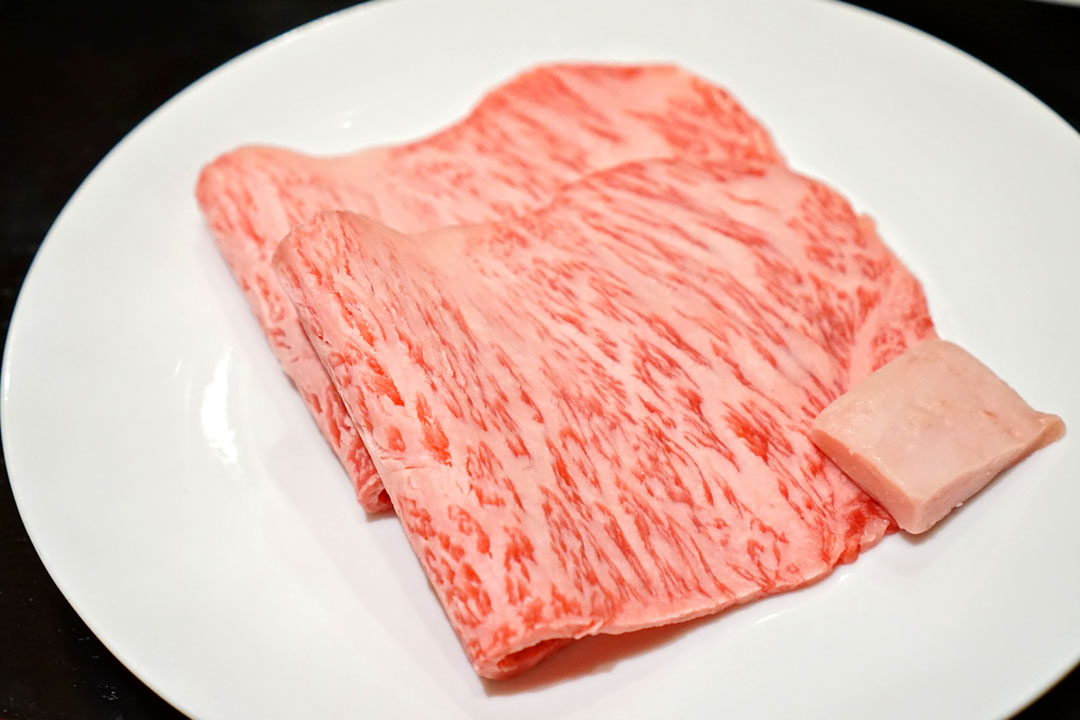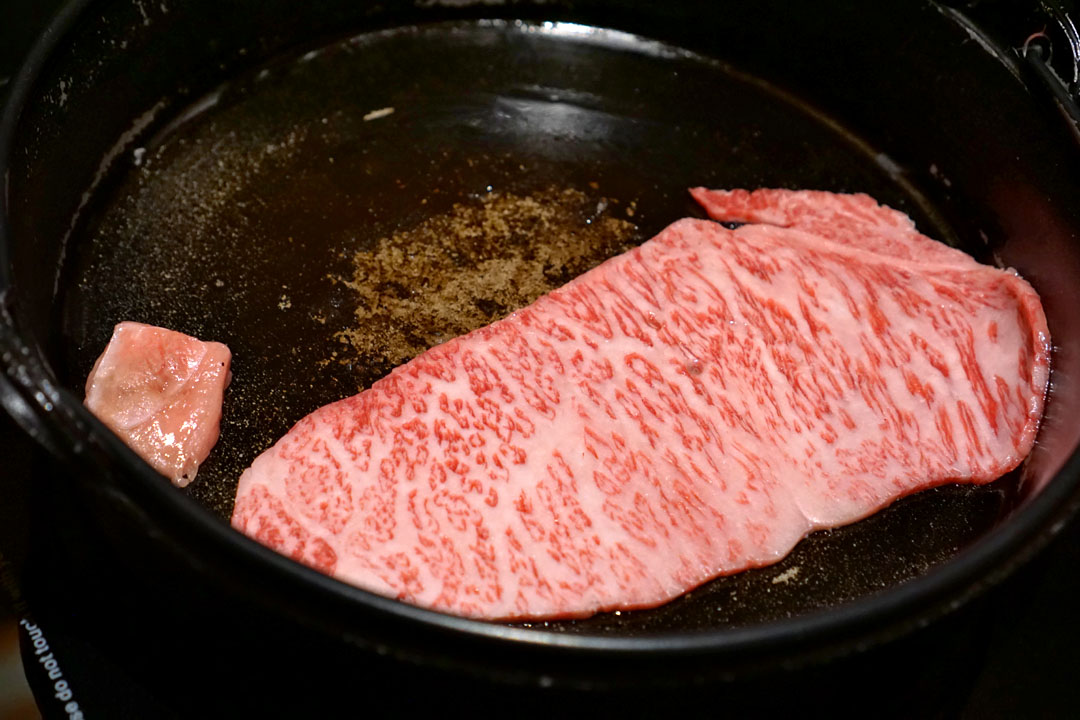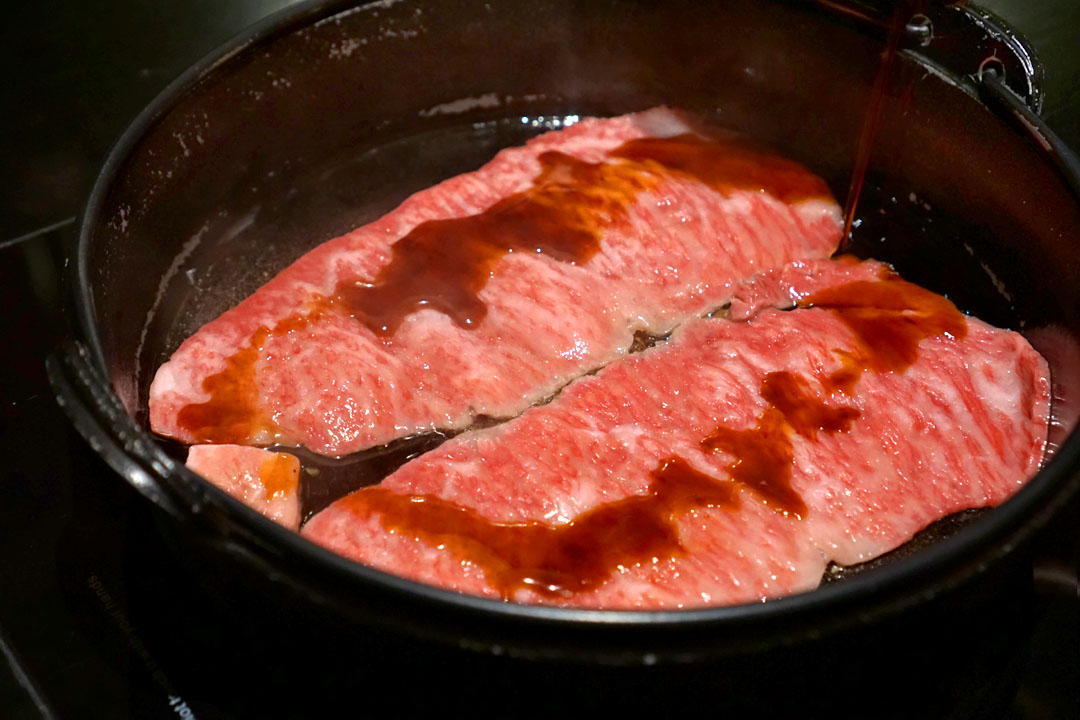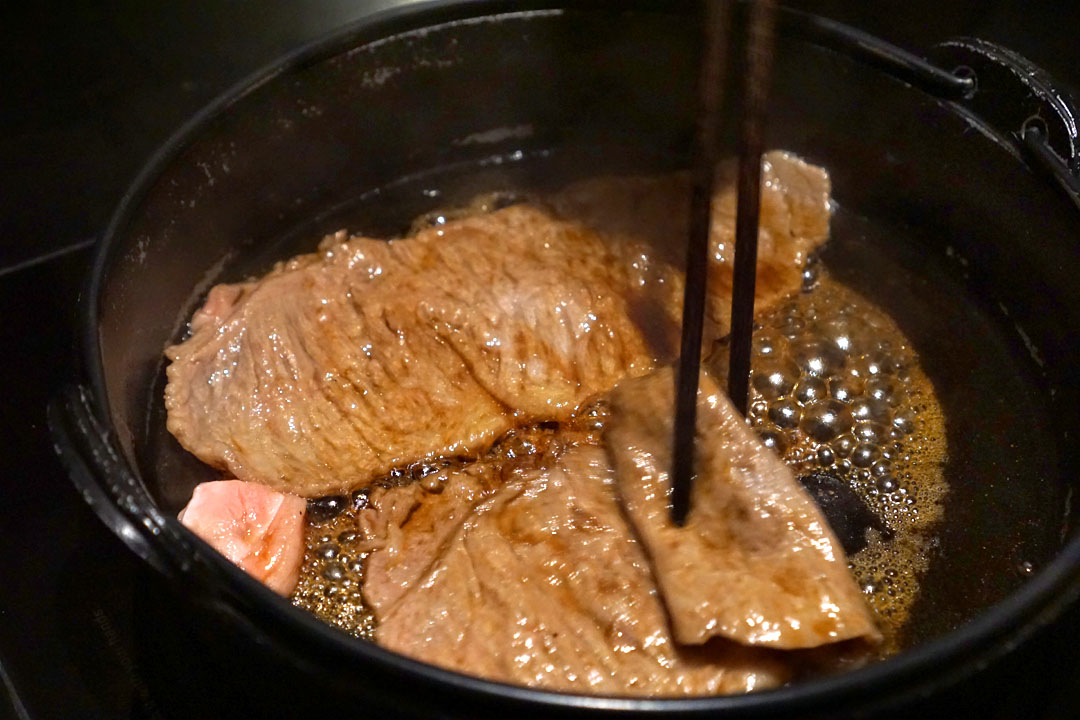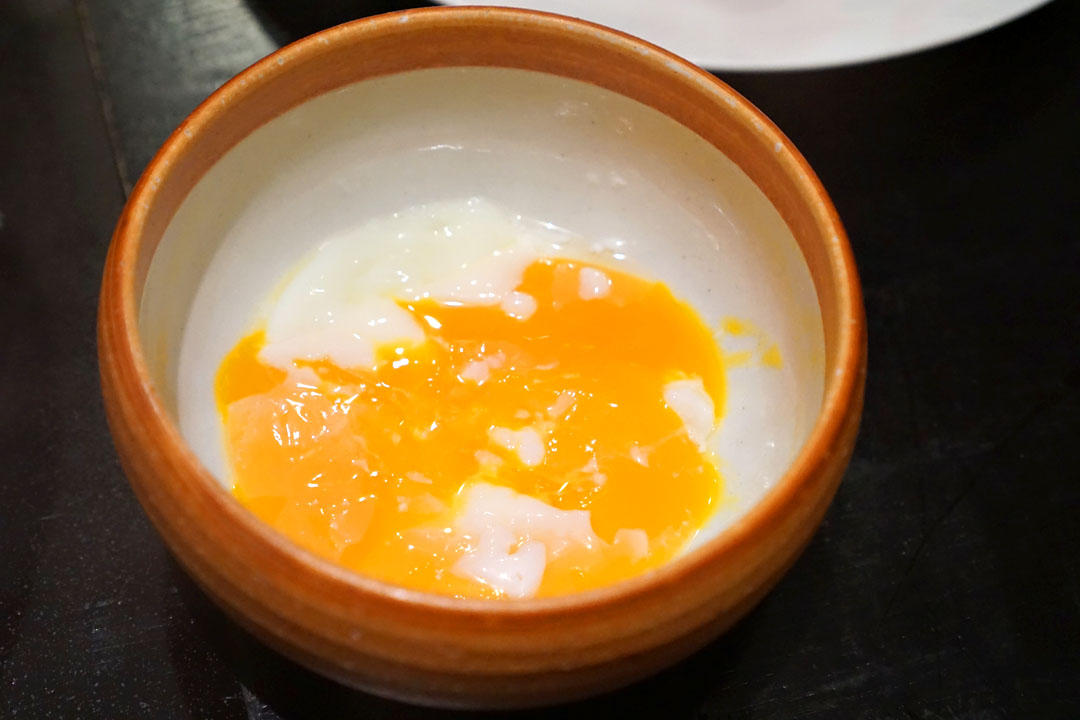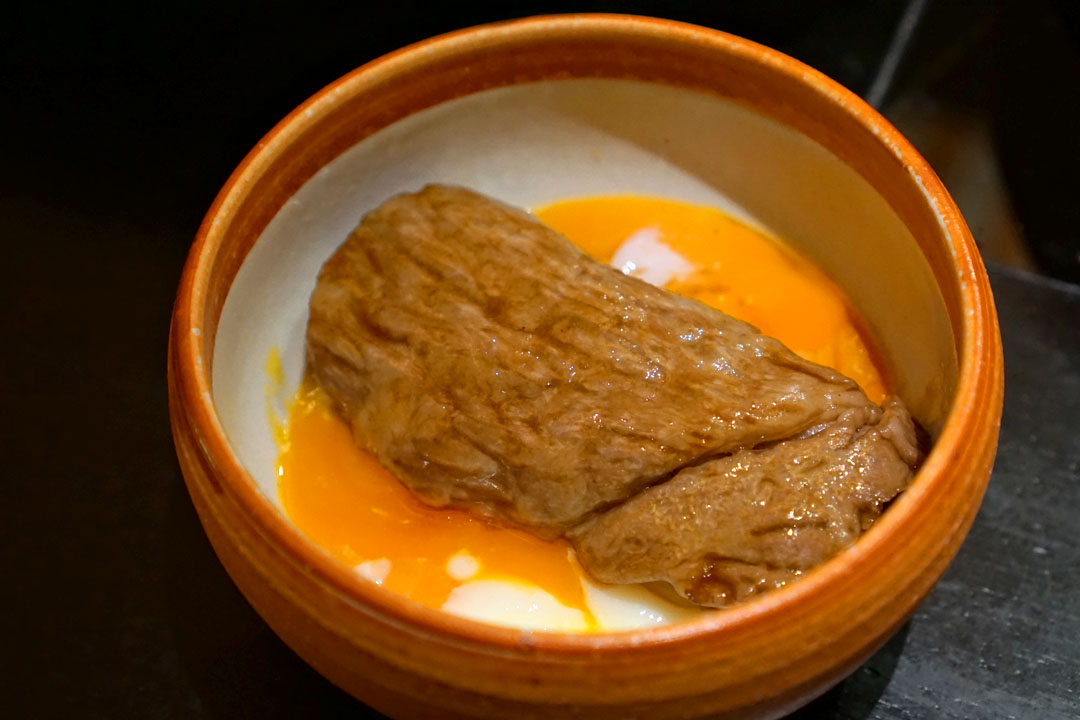 Yazawa Beef Loin [$58.00 per slice]
We were curious about Ima's sukiyaki, so we requested that a serving be added on to our meal (it was actually prepared at another table). The meat was cooked in the Kansai-style, and I can safely say that it was the best sukiyaki I've ever had. I often find the dish overly sweet, but in this case, said sweetness was utterly elegant, and expertly matched by a plethora of savory notes and the sheer decadence of the meat and its raw egg dip. Stupendous.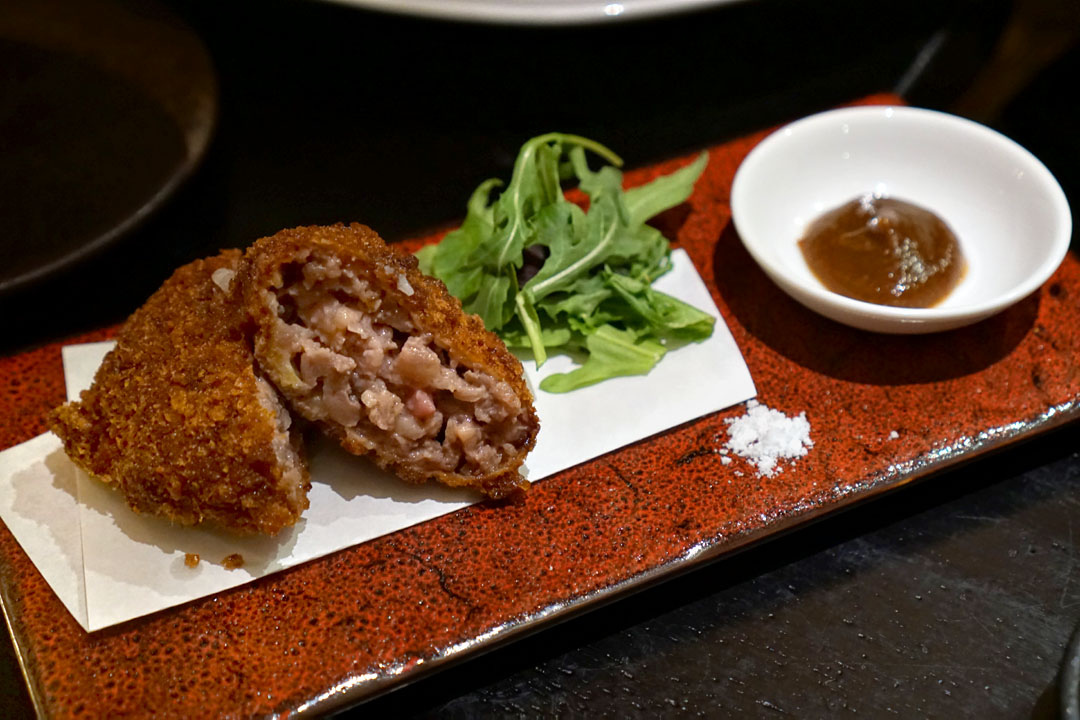 Minced Wagyu Beef Cutlet [$12.00]
Following our sukiyaki interlude, we enjoyed a homey
menchi-katsu
, which arrived with zesty arugula, salt, and a pleasantly piquant tonkatsu sauce.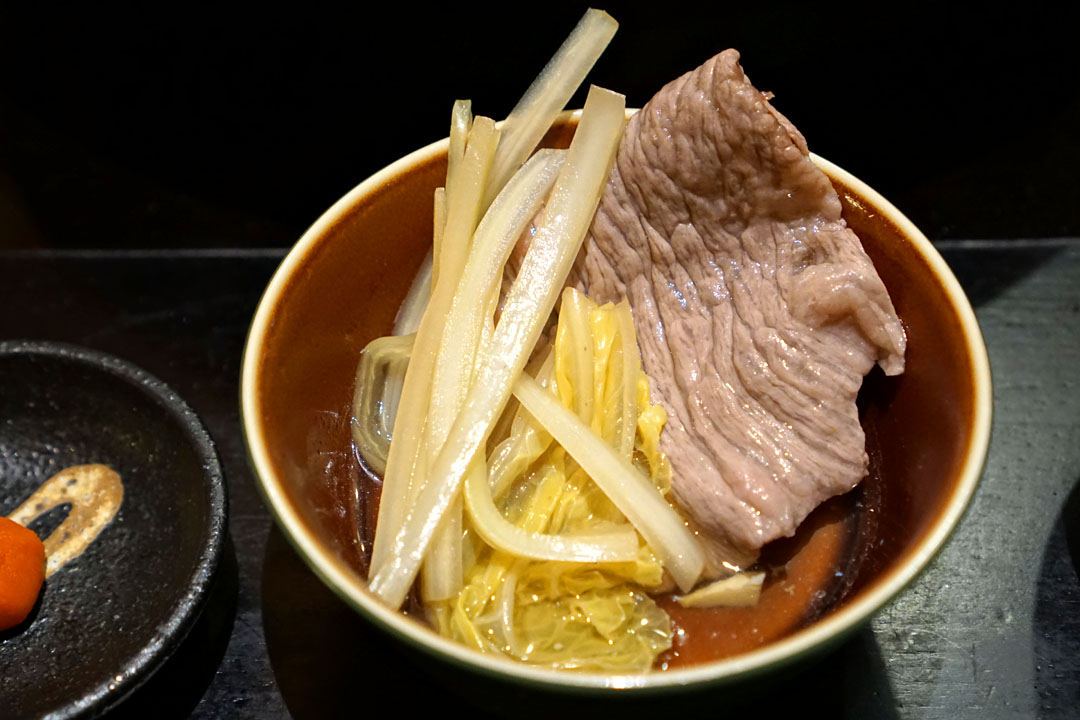 3c: Ichibo
Named after a corruption of the term "aitchbone," the
ichibo
is a rump-adjacent cut that sort of represented a middle ground in the beef hierarchy tonight, with a tender bite and a potent, but not overly fatty flavor profile. Lovely when taken with the Chinese cabbage.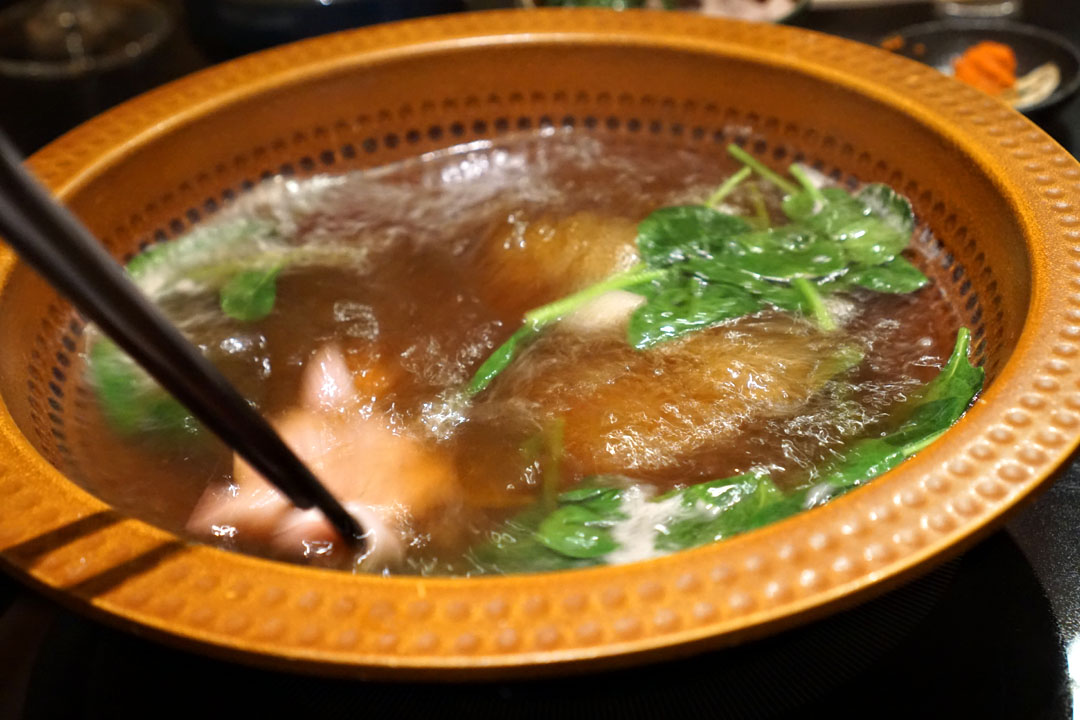 In preparation for our final meat, spinach leaves were tossed into the boil.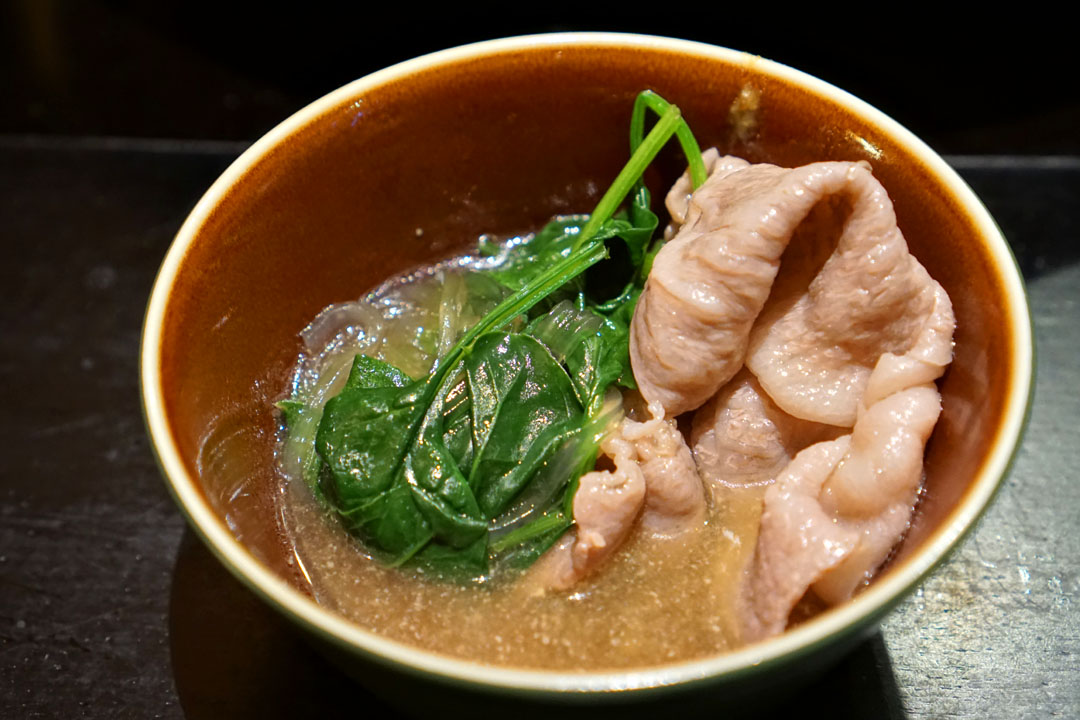 3d: Rib
The beef rib was clearly the most luxurious shabu-shabu cut of the night. Its fat and heft were very much to my liking, but I found things even more enjoyable when the meat was paired with the bitterness of those aforementioned greens. I quite liked the tangy counterpoint provided by the ponzu as well.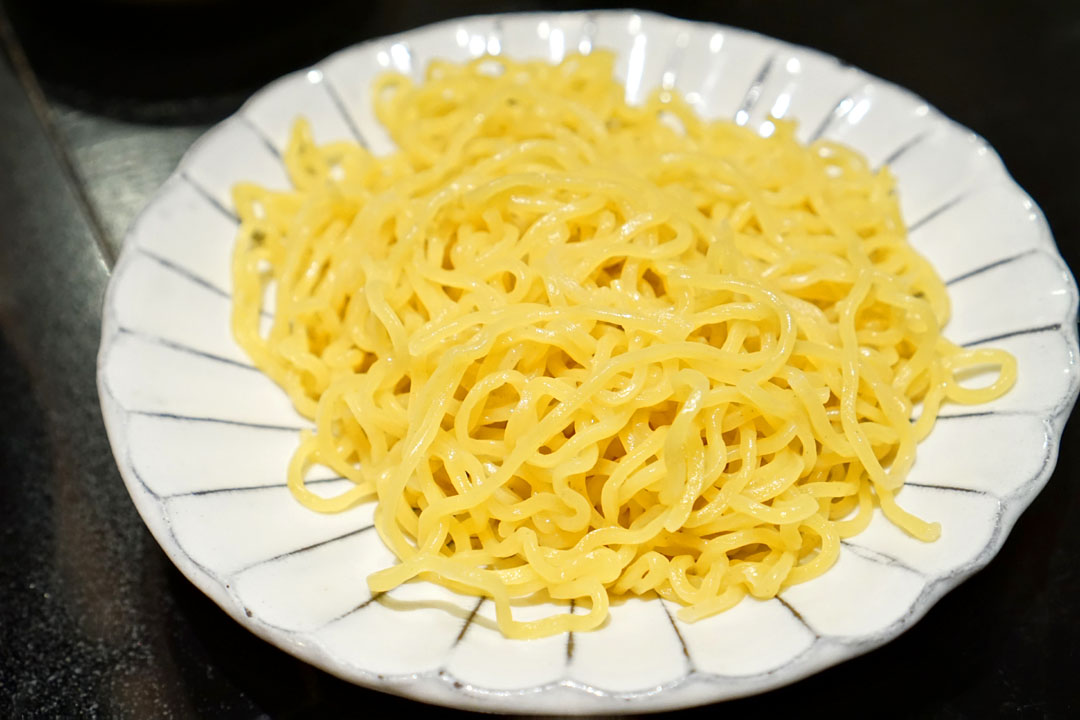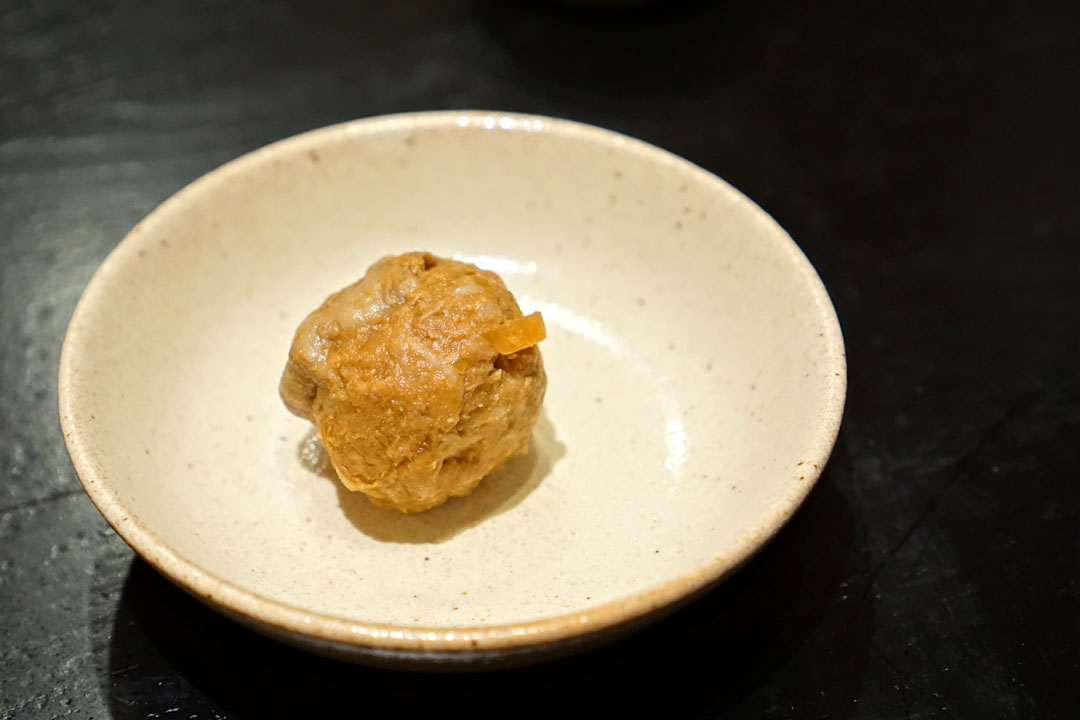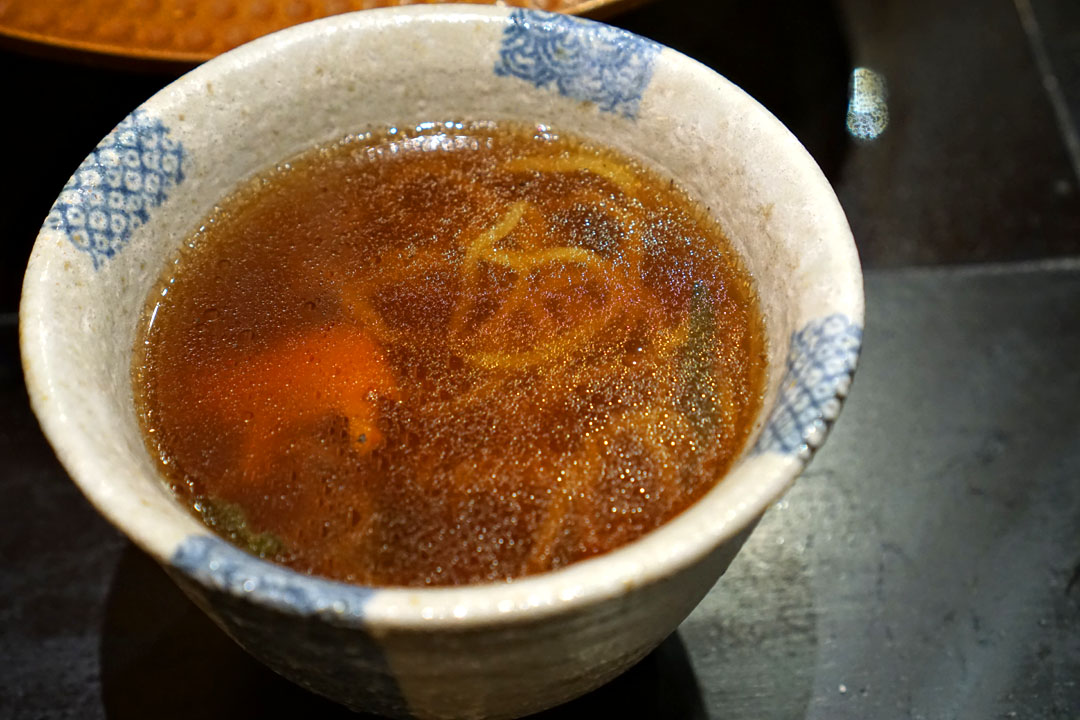 5: Ramen Noodle or Rice Soup
The leftover shabu-shabu liquid can be used to make either a ramen or rice soup (
zosui
), and we went with the former. I found the broth surprisingly hearty, and a fitting match for those bouncy noodles. Also notable was the included "miso ball," which was used to add additional depth to the soup.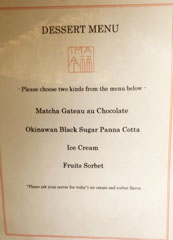 Your choice of dessert is included as part of the meal. Click for a larger version.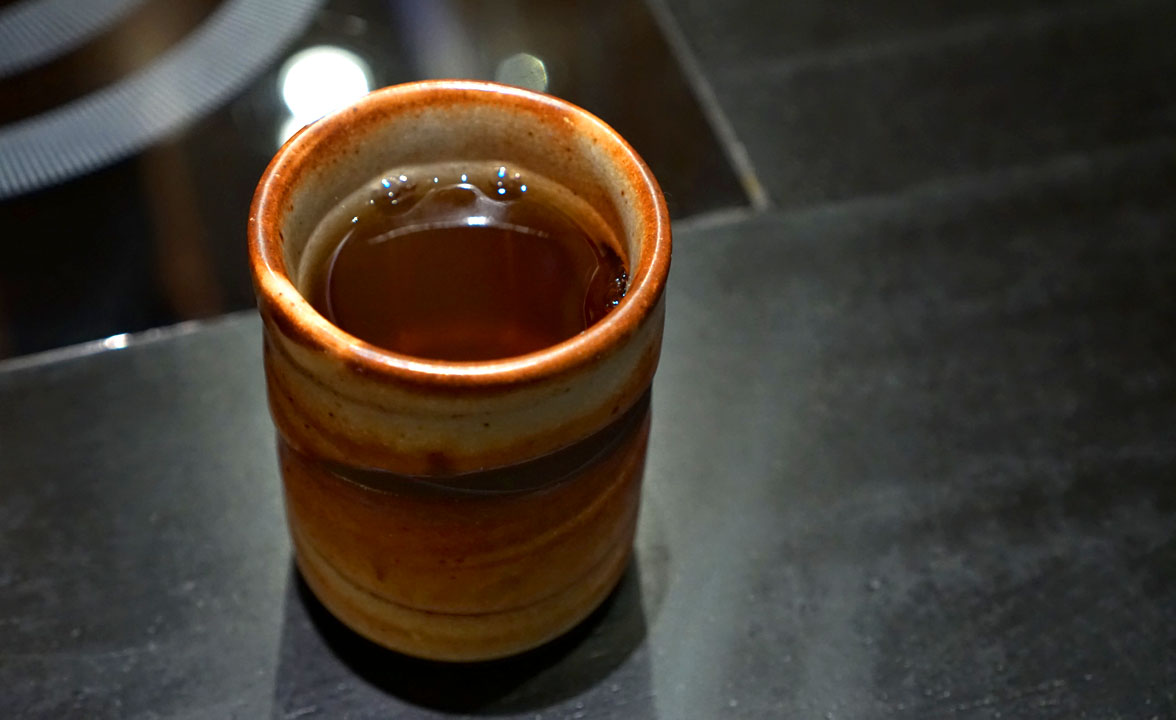 A cup of roasty, toasty
hojicha
certainly made sense with the sweets.
6: Dessert
I wound up trying all four dessert selections. Clock-wise from bottom:
Ice Cream – Think strong, spicy-sweet cinnamon tempered just a tad by the nutty-bitterness of cacao nibs.
Fruits Sorbet – Refreshing, true-to-life cantaloupe flavors that did a great job conveying the essence of the melon.
Okinawan Black Sugar Panna Cotta – Lush and creamy, with an extra bit of oomph from that smoky, caramel-y kokuto.
Matcha Gateau au Chocolate – A surprisingly dense, substantial cake that really highlighted the bittersweet qualities of the green tea.
I love specialist restaurants, which is something the Japanese seem to excel at, and Ima was a pretty superb example of such. In fact, I feel confident saying that this was the best shabu-shabu meal I've ever had. I had no complaints about the food--neither the beef nor the composed dishes--and service, provided by our server Yu (from Osaka), was excellent (she cooked most of the meat for us, and was a joy to talk to). If you're a fan of shabu-shabu or even Japanese cuisine in general, this place is definitely worthy of consideration. Actually, I might have to come back here for the complete sukiyaki experience some time.