Tacos Los Cholos (Anaheim, CA)
Tacos Los Cholos
821 S State College Blvd, Anaheim, CA 92806
833.822.6777
www.tacosloscholos.com
Sun 09/25/2022, 09:15p-11:10p

I was on the search for a Mexican takeout option in the north Orange County area recently, and after looking at a few options, remembered Tacos Los Cholos, a recommendation from reader "BMan1113VR", who'd given me some tasty picks previously. The restaurant certainly looked promising, and I appreciated how the owners try to set the place apart by using higher-end meats, cooked al carbon-style over mesquite charcoal in a Tijuana-meets-Sonora-meets-
the streets
sort of mash-up.
Los Cholos is the creation of Josue Maldonado-Saldivar, an Anaheim native and Cypress College alum, and Michael Alvarado, who originally hails from the Mexican state of Guanajuato but also grew up in the area. The two actually met in 7th grade, and had stayed in contact since that time. They started the business as a pop-up running out of both their respective Anaheim homes back in April 2019, and also served at various events during this period. As their popularity grew via social media, they realized that they needed to move to a more suitable location, and thus, by late 2019, were grilling outside of Mariscos Los Primos, a local seafood spot owned by a family friend of Maldonado's. The partners incorporated in May 2020 (I believe bringing on board Ivan Maldonado in the process) and were able to take over the mariscos joint altogether by the end of that year, transforming it into the Tacos Los Cholos we see today.

Here we see the interior, which has been lightly remodeled since the Mariscos Los Primos days. If we go back even further, the building was home to some combination of Monty's BBQ/Tacos Don Pepe/Montys Restaurant/Montys House/Monty's and Q-Tortas for the better part of two decades, and before that, it was occupied by Fialdini's.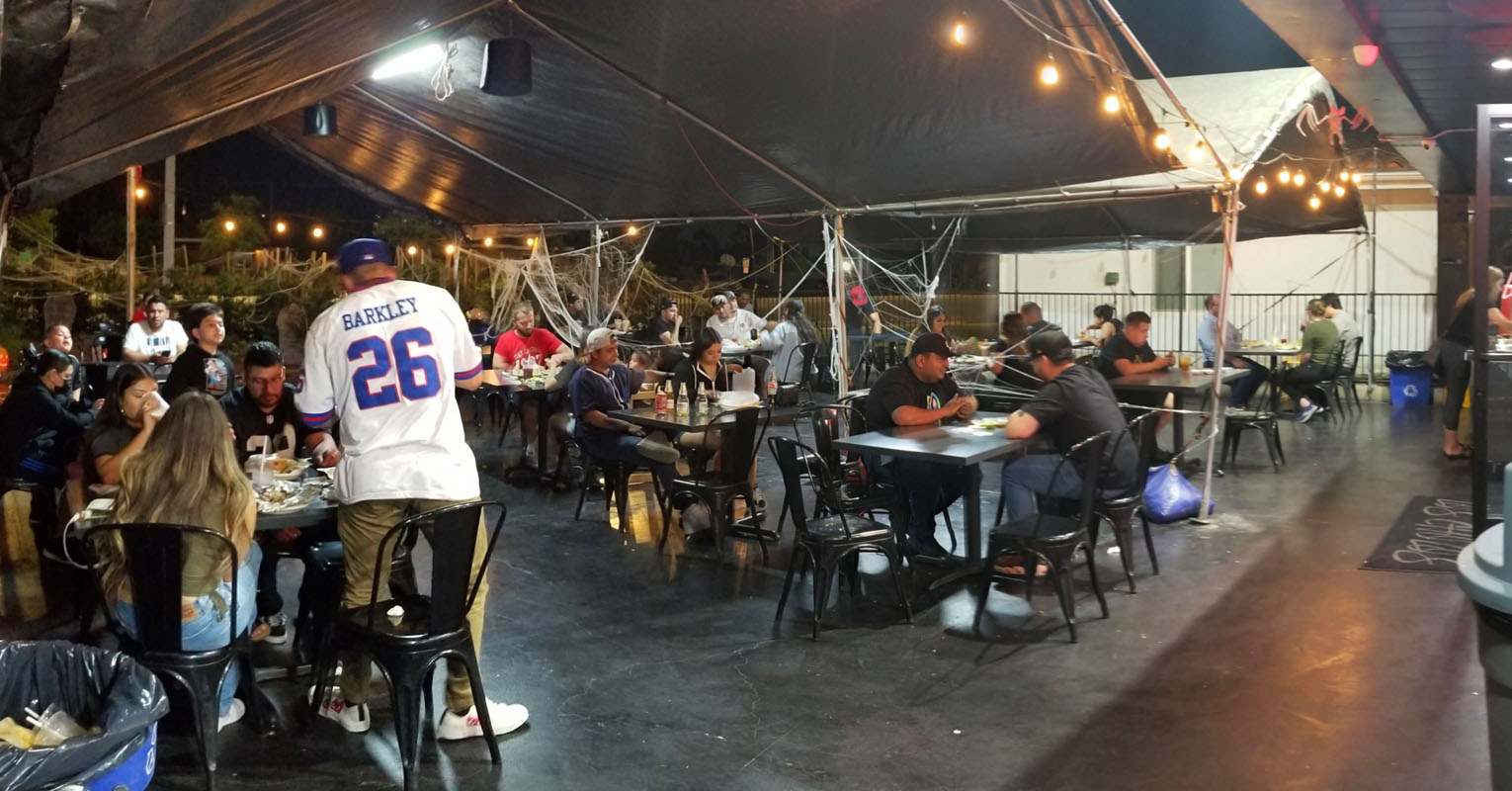 Most of the seating is outdoors, in a makeshift covered patio area.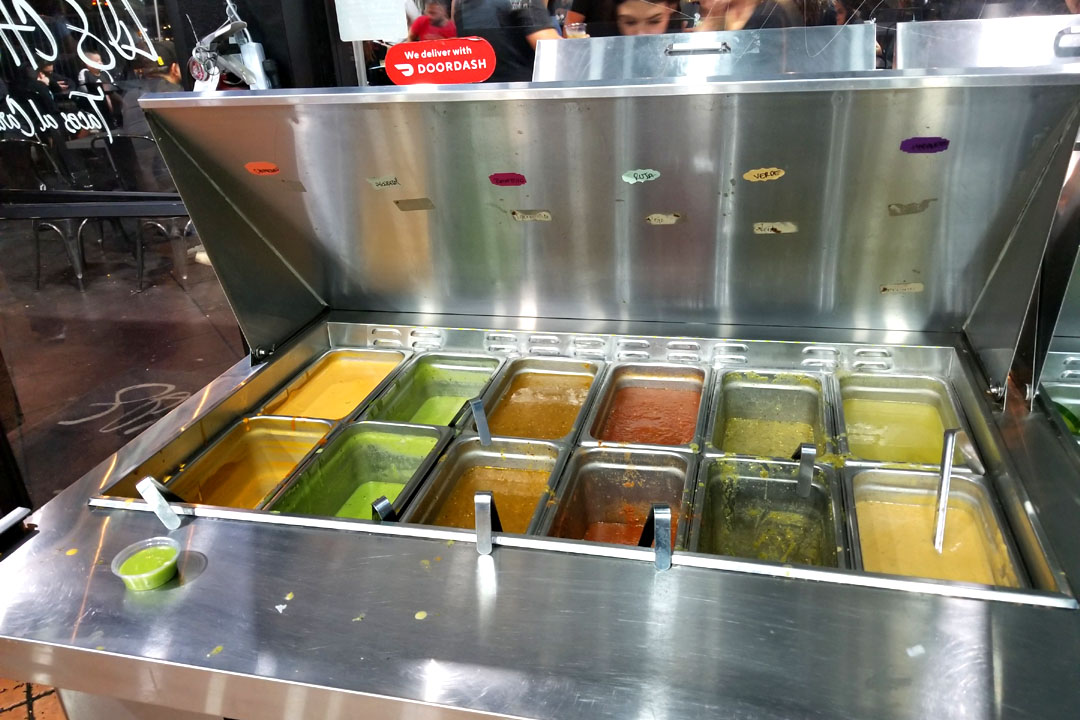 And here's the indoor salsa bar; there's a separate station outside as well.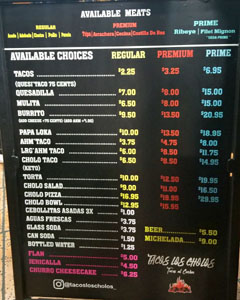 The menu's quite expansive, featuring 11 proteins (in three pricing tiers) available in 11 formats (though strangely, there's no nachos option), some of which are decidedly non-traditional. And yes, I made sure to try 'em all. Click for a larger version.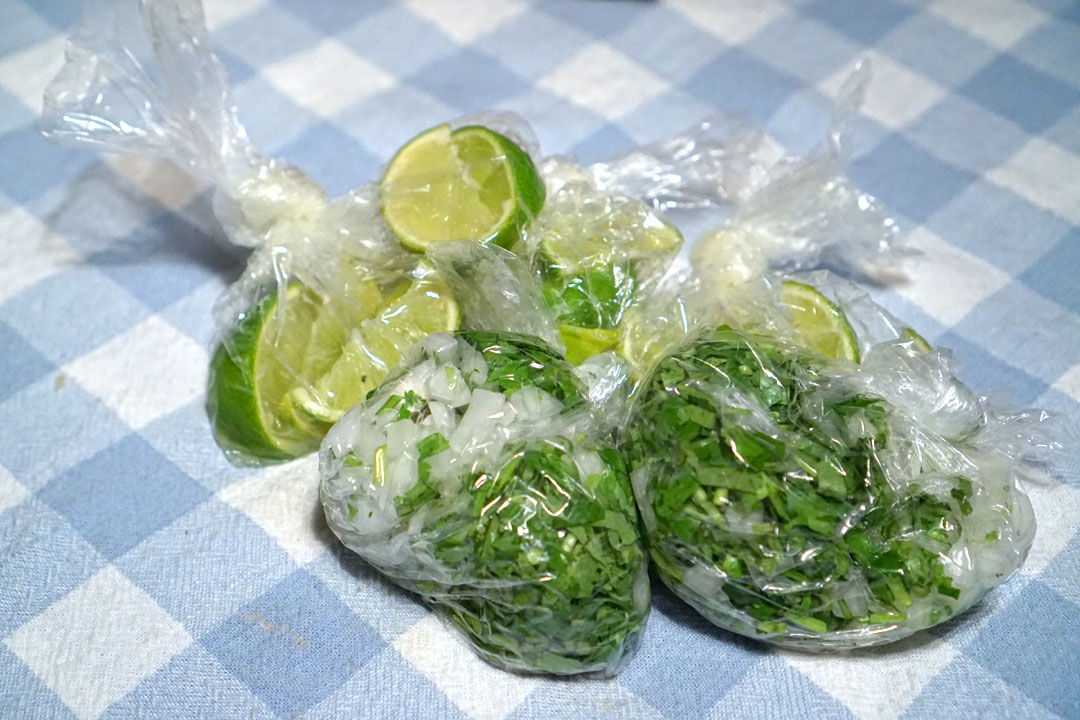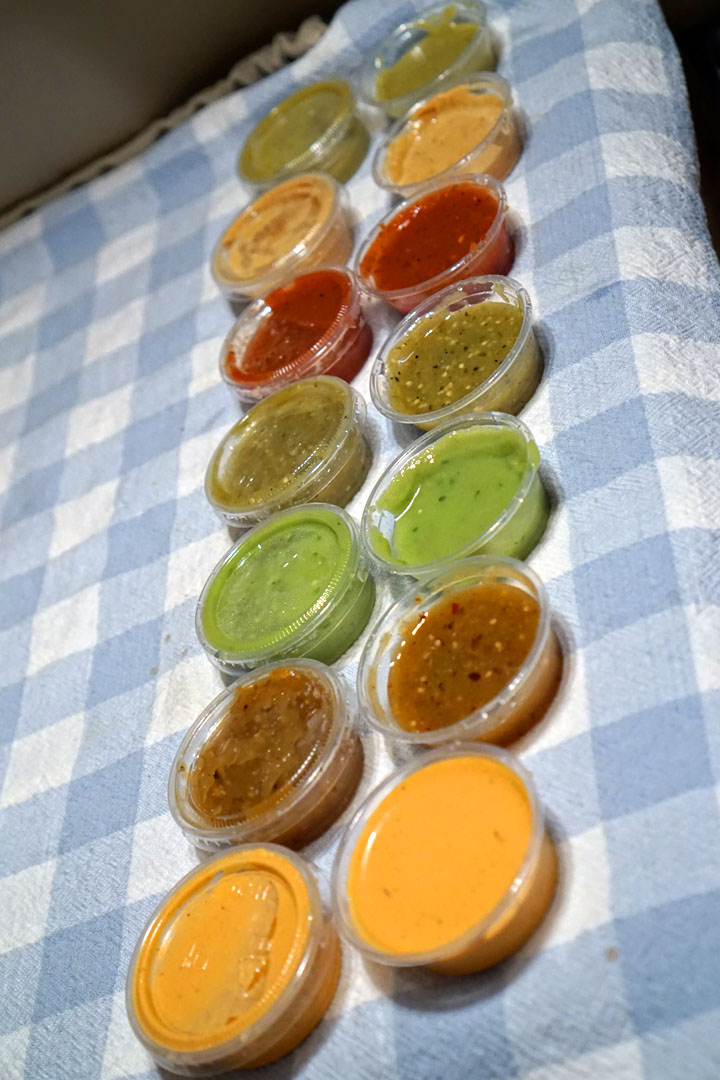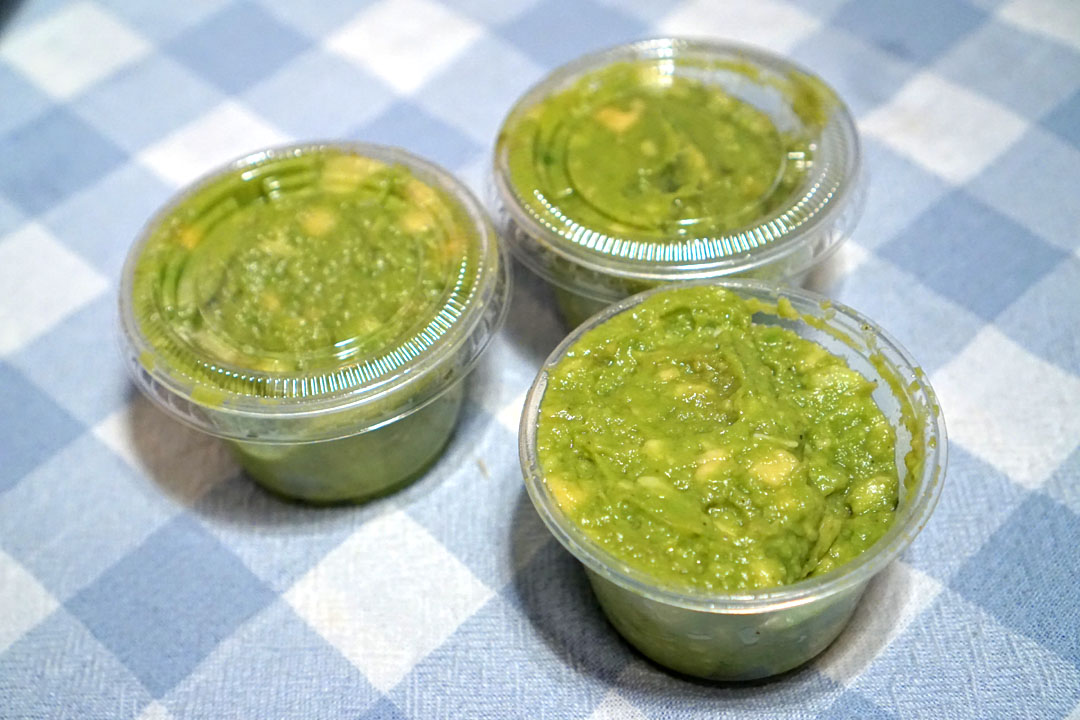 Complimentary bags of onion/cilantro and lime were provided with my order, as were servings of each of the seven (the most I've ever seen) salsas:
Chimmichurri – Not too spicy, though the heat does creep up on you slightly. I also got a touch of smoke, and the sauce even seemed Thousand Island-ish at times.
Tomatillo – Salty and savory with a prickly heat.
Aguacate – Bright and fruity, just as you'd want.
Verde – This one veered especially "green," but also had a distinct salinity on the finish.
Roja – Mildly smoky and sweet.
Habanero – Easily the hottest of the bunch, but perhaps the most interesting due to its multifaceted burn.
Serrano – Last of the septet, this one was sharp and vegetal, with a tomato-y backing.
In addition, I was given three cups of guacamole, which I believe were meant to pair with my salad and papa loka below. It was a solid rendition of the dip, though it could've used more texture and more acid.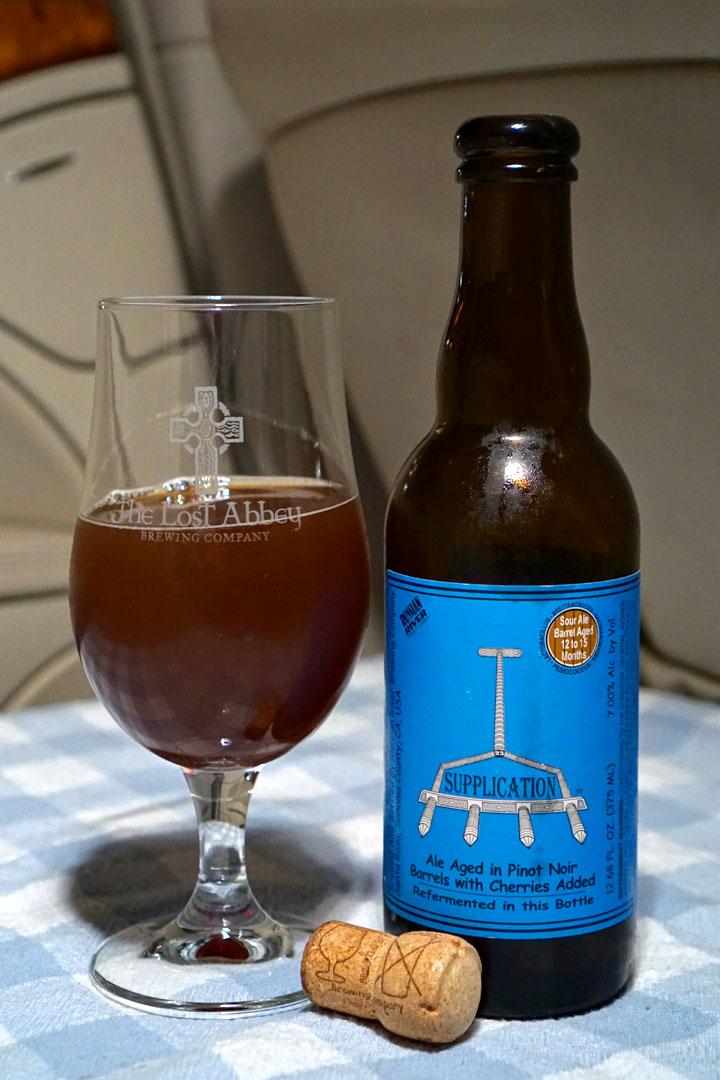 To drink, I brought along two bottles, the first of which was the
2012 Russian River Supplication
, a sour ale with cherries, aged for roughly a year in Pinot Noir barrels. The nose on this one was decidedly vinous at first blush, but with a funky underpinning. On the palate, I found the beer super smooth, its mature cherried flavors linking up nicely with a subdued sourness and acidity, while some oxidative nuances peeked through as well.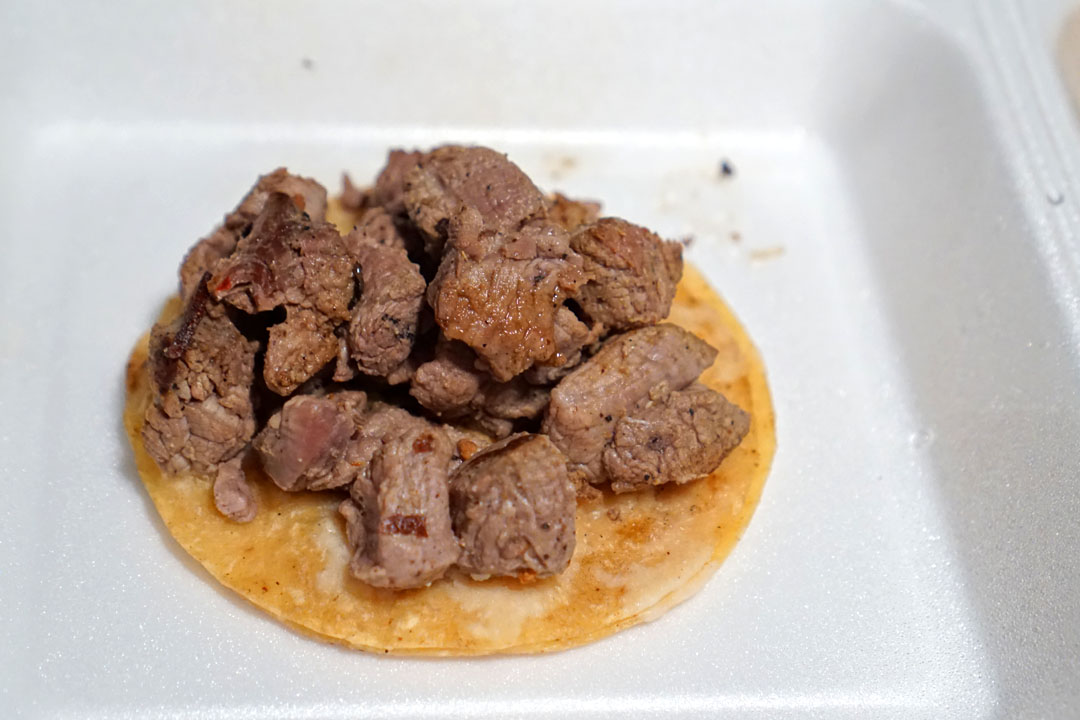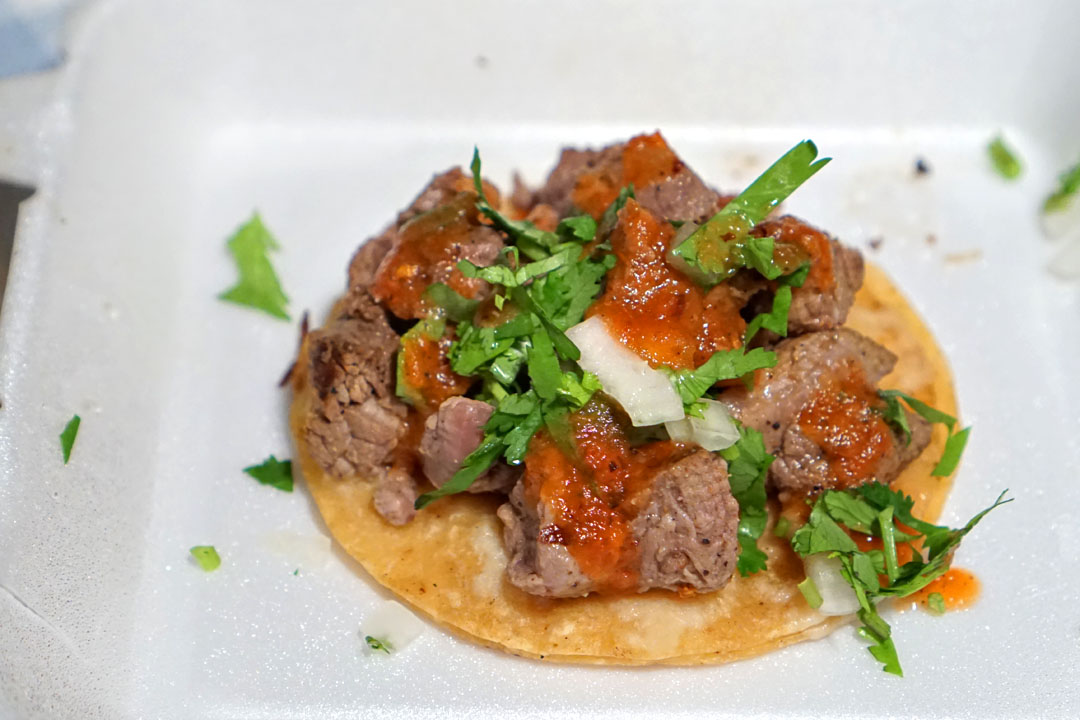 Taco - Filet Mignon [$6.95]
Of all the meats offered at Los Cholos, filet is the most subtle, so I opted to consume it in the most basic format available. According to the restaurant, 1855 Black Angus prime is utilized, and I will say that the beef was properly tender, and texturally, compared favorably to what you might find at most steakhouses. Flavor-wise, I'd say that the meat was actually
tastier
than most steakhouse tenderloin offerings, and I think the key was how its piquant seasoning complemented the subdued nature of the cut without overwhelming it. Of course, the filet took well to the zestiness of cilantro and onion, and really melded seamlessly with the subdued smoke of the salsa roja. This was more impressive than I thought it'd be, and might actually be the best taco I've had all year.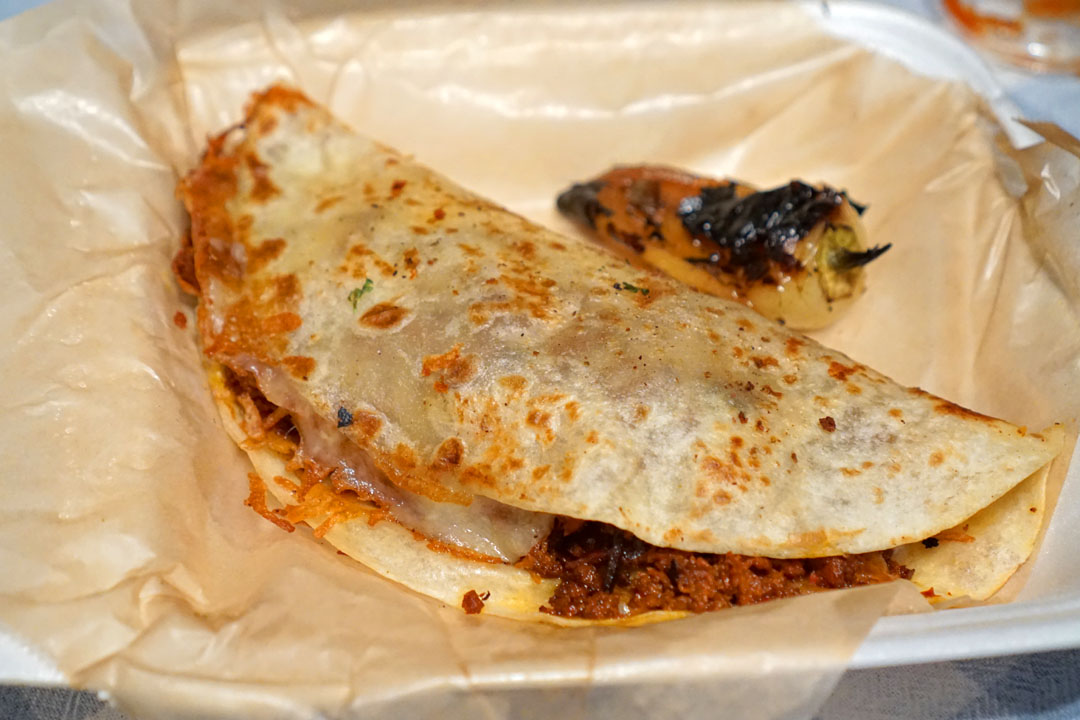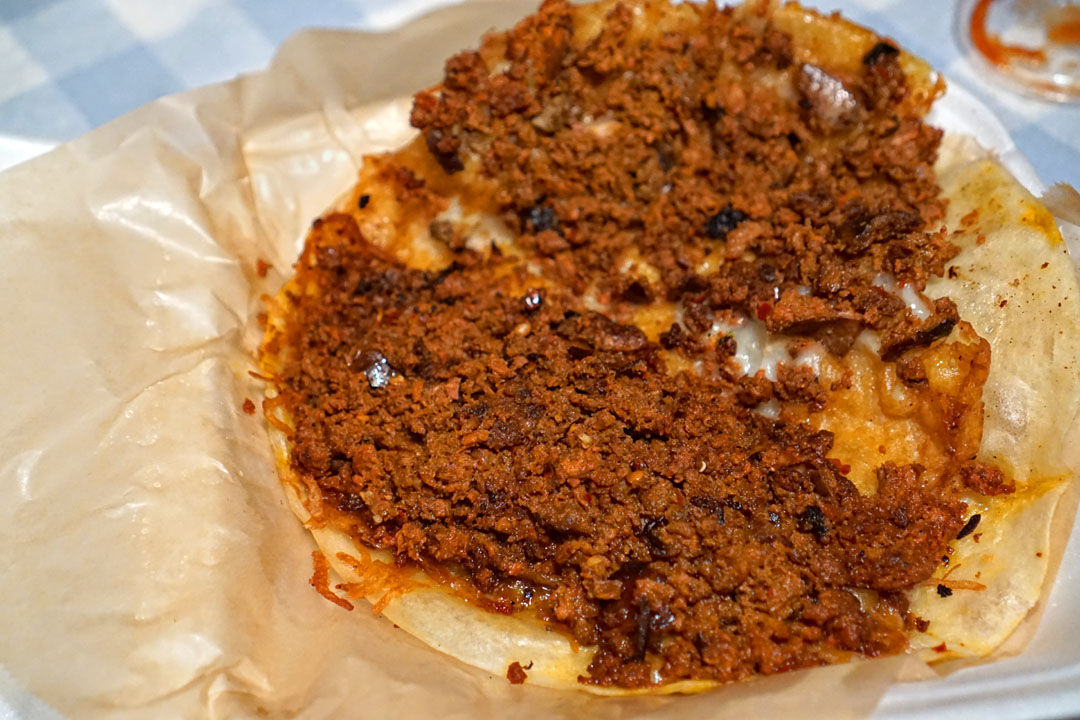 Quesadilla - Chorizo [$7.00]
As usual, I ordered my quesadilla with chorizo, and it turned out to be one of the better versions of the combo that I've had. The crux was the sausage itself, which showed off a fragrant, earthy spice with an almost floral tone, and I liked how bits of snappy casing provided some texture. The kick of the chorizo was softened by cheese and that nicely griddled tortilla, and a splash of aguacate salsa worked beautifully to smooth things out further.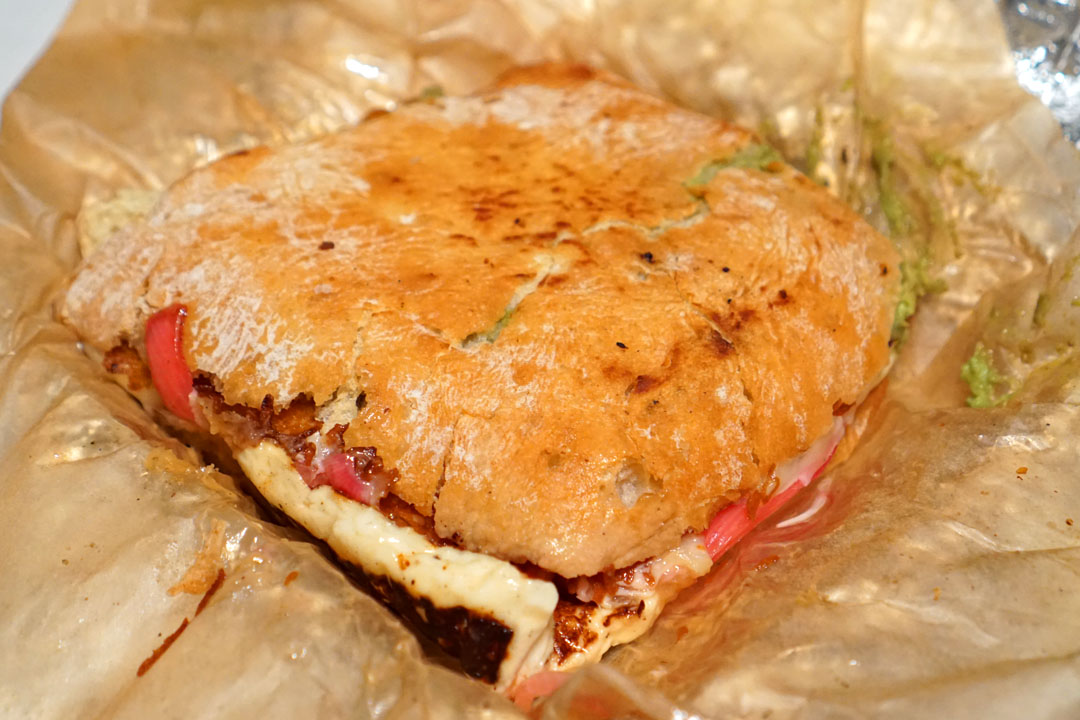 Torta - Panela [$10.00]
This rather massive slab of a sandwich came stuffed with firm, springy slabs of super squeaky cheese. The queso was imbued with both sweetness and salt, and played well with the zippiness of pickled onion, all while a layer of guac helped tie everything together.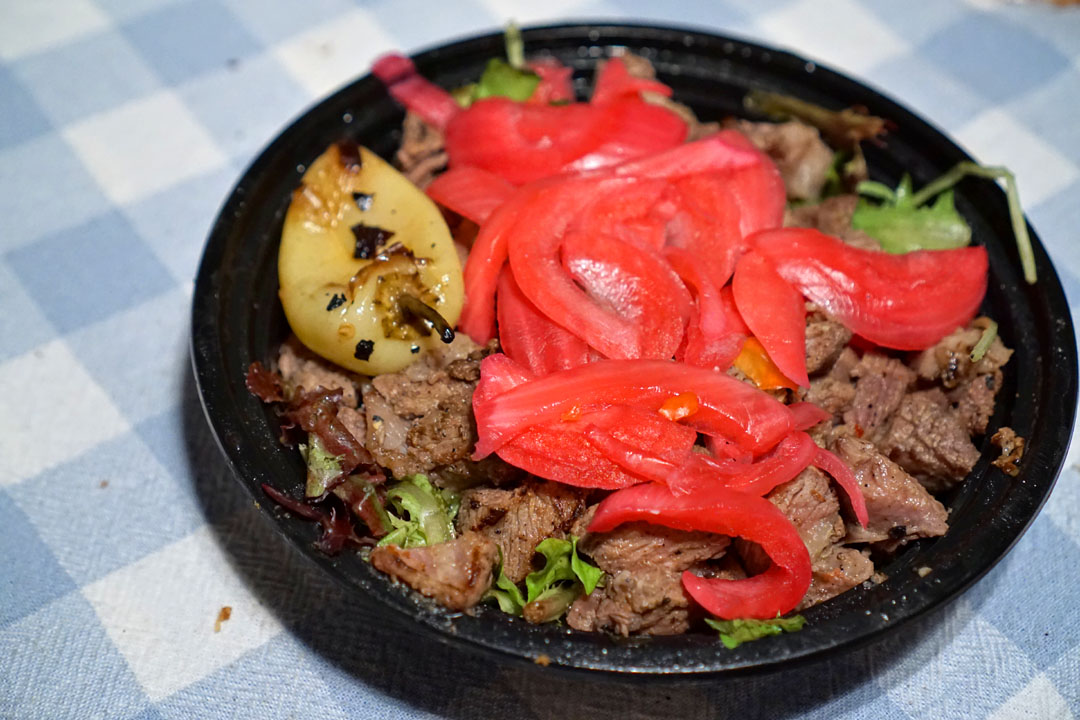 Cholo Salad - Ribeye [$16.50]
The second appearance of prime beef wasn't quite as successful as the first. The rib eye was deftly seasoned, but veered overdone and chewier than I'd prefer. In addition, though I did appreciate the pickle-y onions and tangy-bitter greens, in general, the various components of the salad just didn't seem to coalesce. I think some smoky grilled onions and bell peppers would've made a lot of sense here.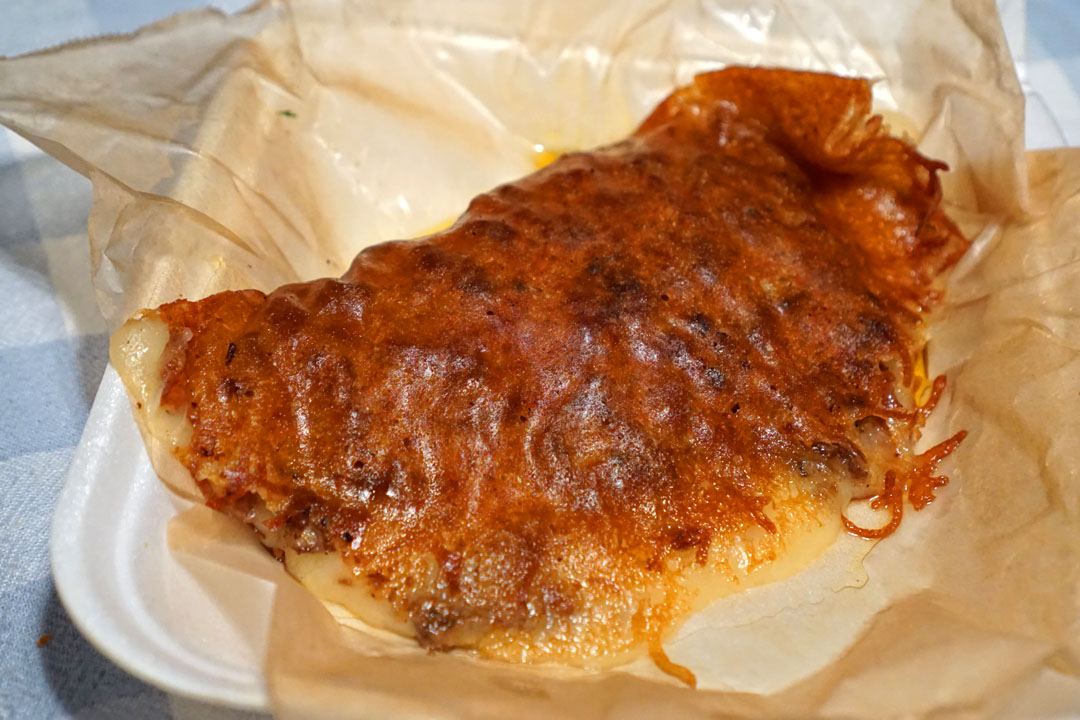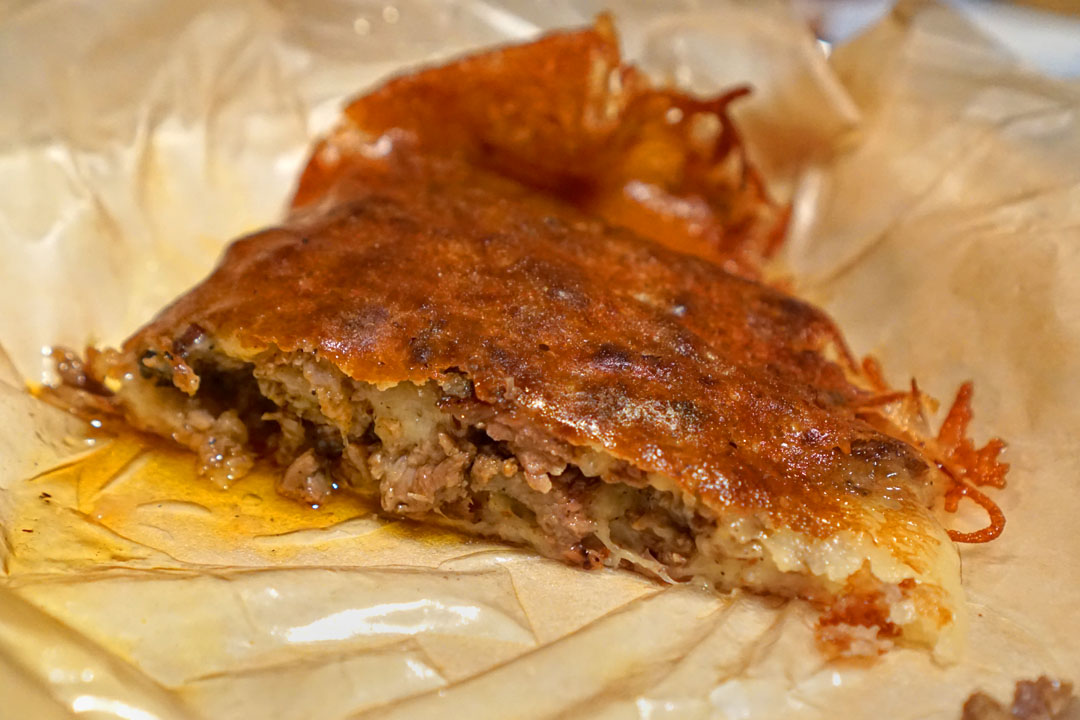 Cholo Taco - Asada [$6.50]
I'm not even sure if this omelet-looking thing should even be called a taco, but it was pretty damn tasty though. The carne asada conveyed a healthy amount of smoke as well as an overtly bovine earthiness that I quite liked. The meat meshed easily with its "tortilla" of griddled shredded cheese, while a dash of salsa definitely completed the experience.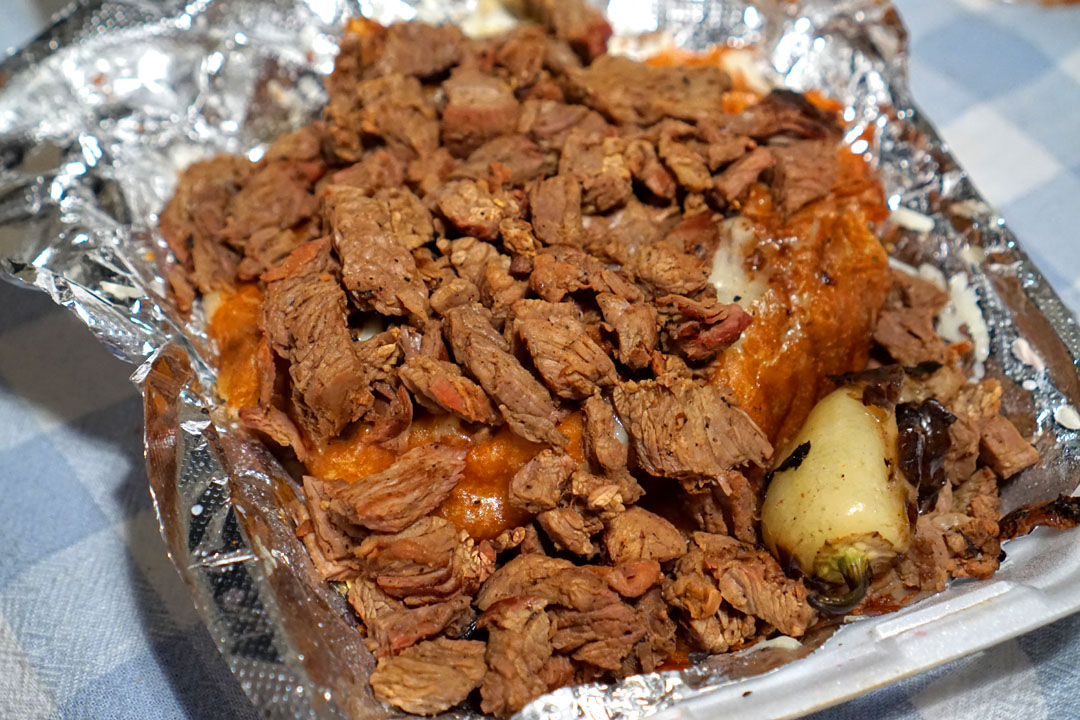 Papa Loka - Arrachera [$13.50]
Outside skirt steak was up next, and though there was a rather generous portion of it as we can see, the meat wasn't as juicy or as tender as I was hoping for. On the plus side, it did have an agreeable amount of smoke and savoriness. The beef linked up pretty well with the butter-, cheese-, and sour cream-enriched baked potato, but a liberal dousing of salsa was called for in order to perk up the dish.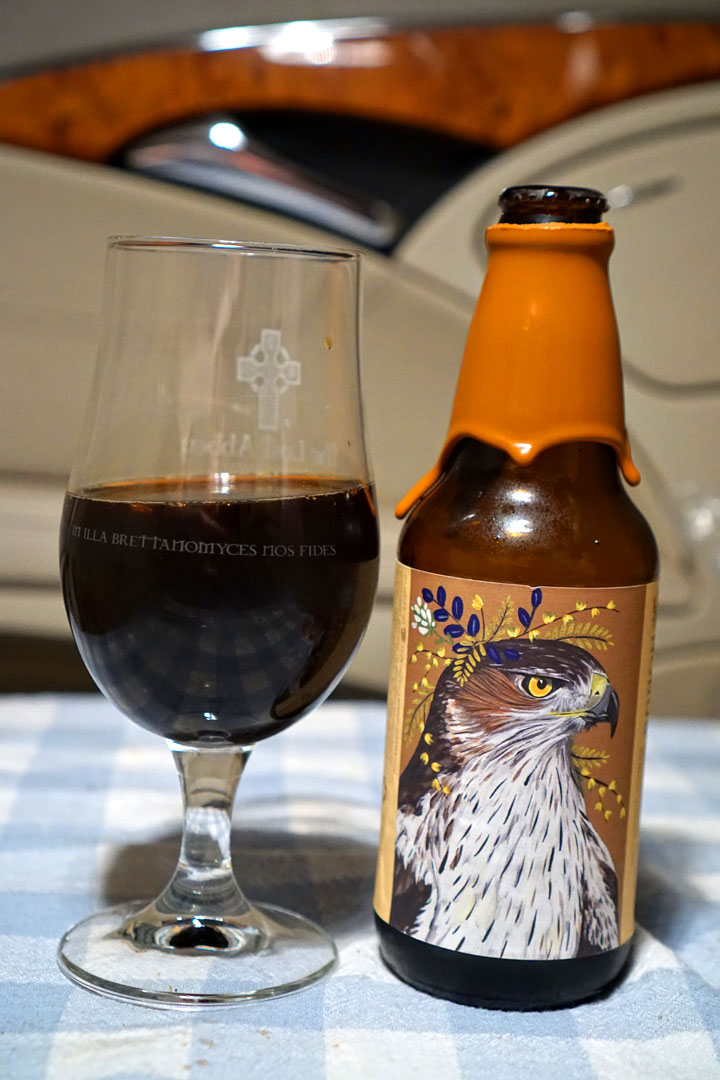 Next to imbibe was the newly-released
2022 Horus Maple Maple Distraction
, an imperial stout with coconut, Geisha coffee, hazelnuts, maple syrup, and Mexican vanilla, aged in maple syrup barrels. Smelling it, this was easily the most intensely aromatic beer I've sniffed in a long, long while, with waves of banana-esque fruitiness layered over coconut and a massive base of sugary hazelnut--a showstopper of a nose for sure. On the palate, I found this one oh-so thick and tongue-coating, its in-your-face flavors of hazelnut and coconut leading to decadent vanilla-laced fudge and maple before coffee nuances appeared toward the finish. It's been a long time since I've tasted a beer this heady, and I was duly impressed by its focus and clarity--this just might be the best pastry stout I've ever had.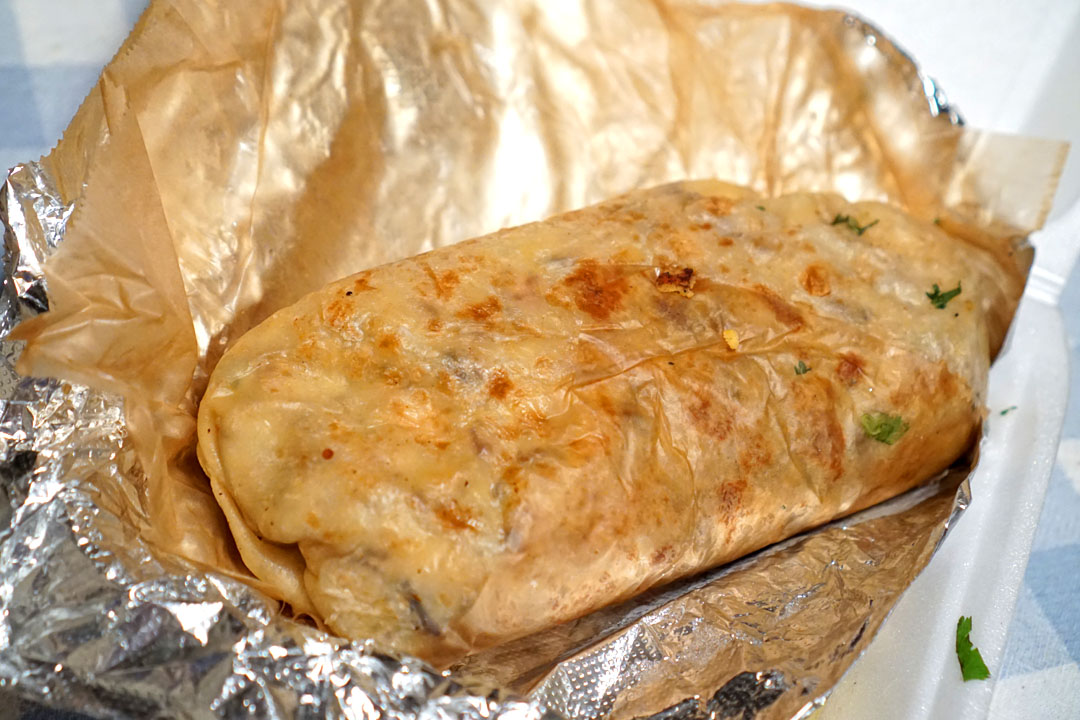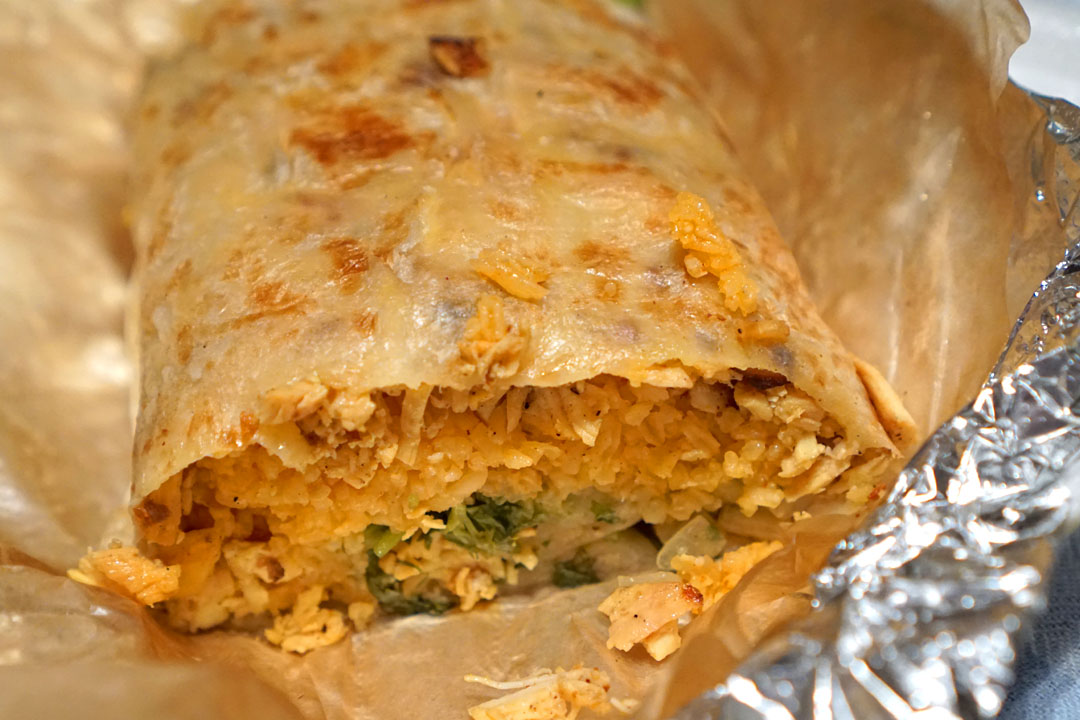 Burrito - Pollo [$9.50]
My burrito was brick-sized and nearly as heavy. Its filling of chicken was smartly seasoned, with a good amount of sear and smoke, but wasn't as succulent as it could've been. That being said, the bird married beautifully with accompaniments of rice, onion, and cilantro, making for a very cohesive package that worked with pretty much any of the salsas.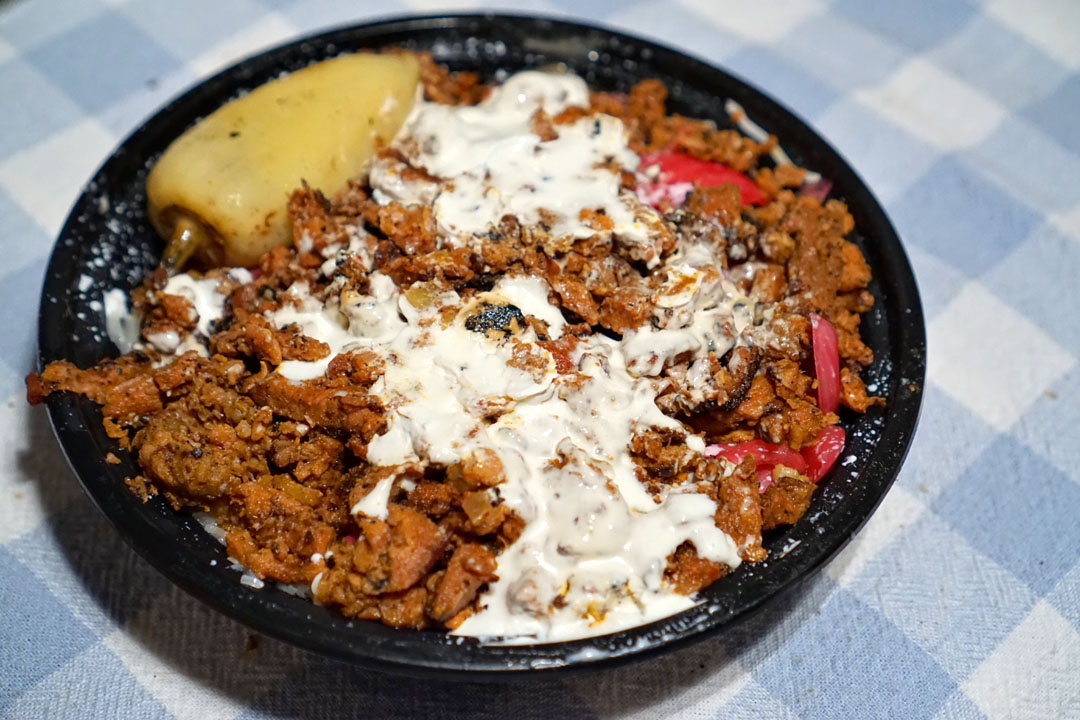 Cholo Bowl - Adobada [$12.95]
Here we have perhaps the most pineapple-forward al pastor I'd ever tried. Fruitiness aside, the meat was well-spiced, and teamed up nicely with the sour cream, pickled onions, your choice of salsa, and especially the beans, though unfortunately, I found the rice too soft, almost gummy in fact. And again, like with the salad above, I think some well-charred onions and bell peppers would take this to the next level.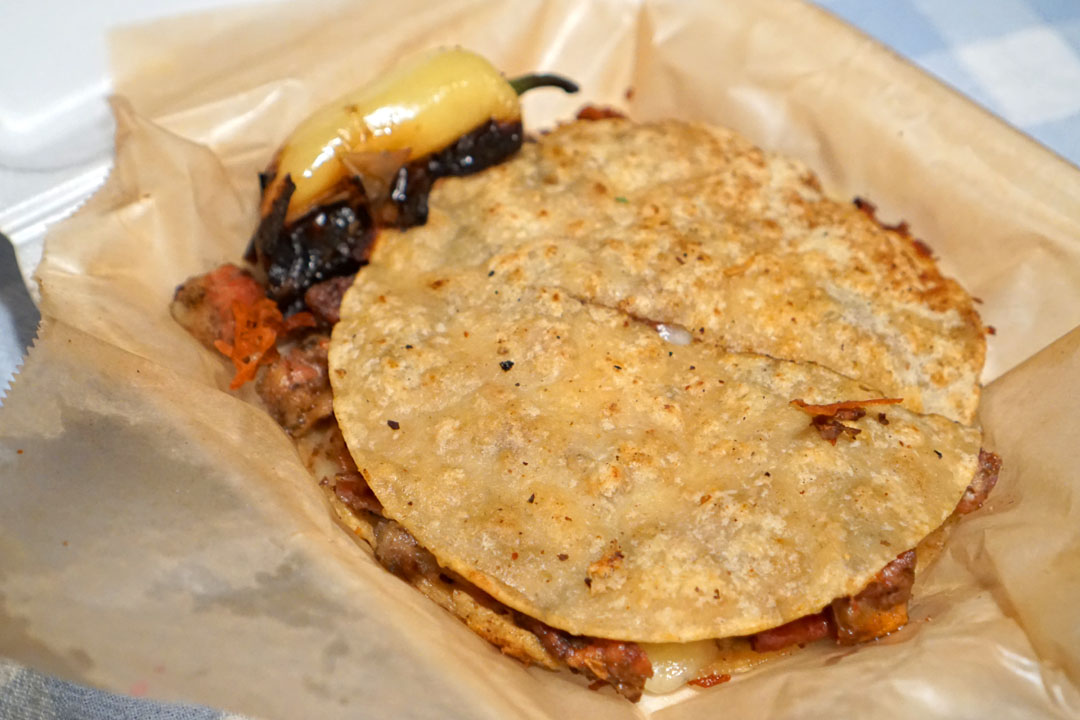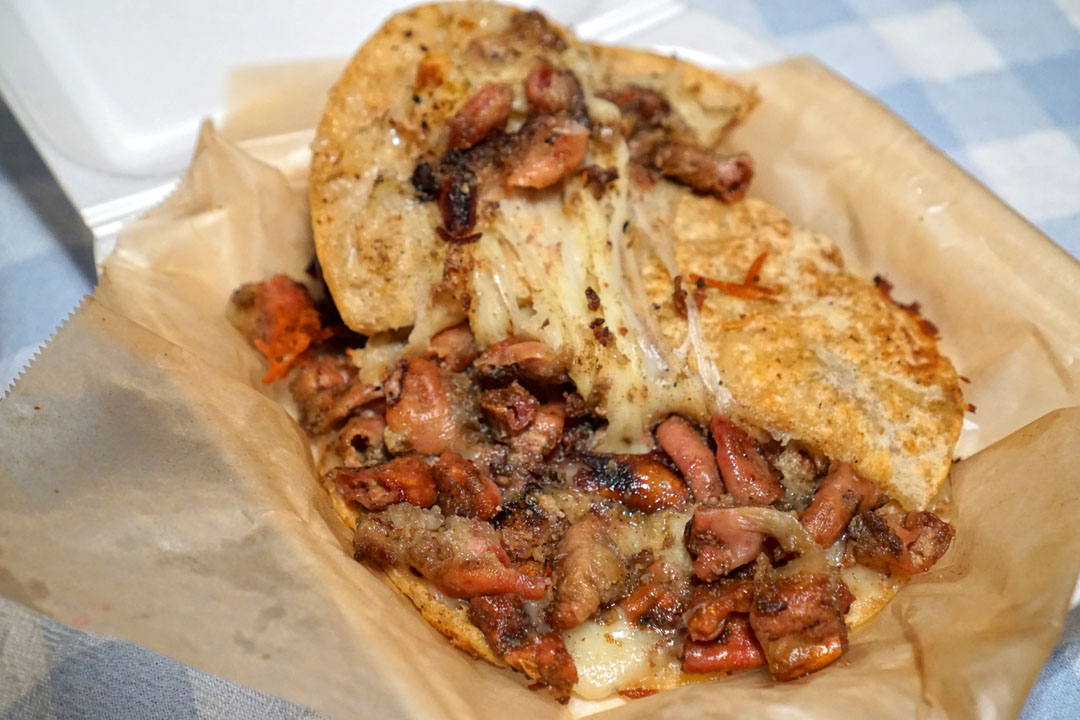 Mulita - Tripa [$8.00]
The beef intestine was a standout thanks to its supple consistency and rich offal-y funk, balanced out by plenty of charred, crispy bits. I also appreciated the contrast imparted by the cheese and corn tortilla, and found this dish a great pairing for the salsa verde.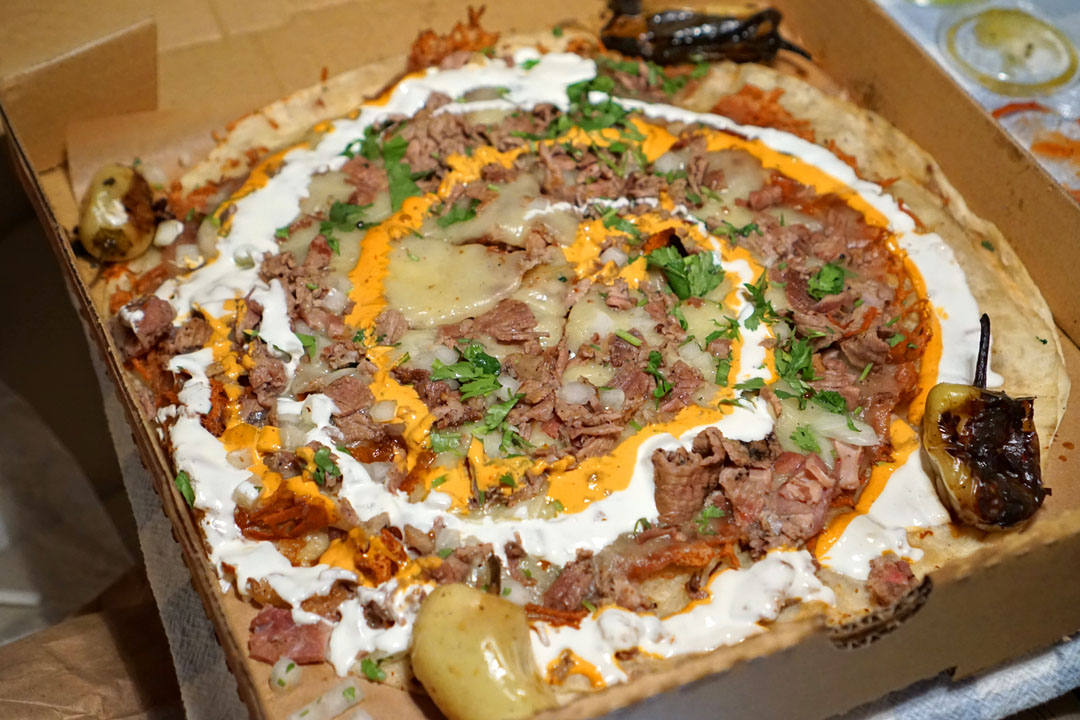 Cholo Pizza - Cecina [$19.95]
Given that this was a vaguely tlayuda-like dish, I opted for a traditional tlayuda topping of cecina. The thin slices of air-dried beef were sweetly spiced and just smoky enough, with a marked earthiness to boot, and worked well with the various toppings. Also crucial was the pie's soft-yet-substantial tortilla crust, while a layer of cheese assisted in bringing it all together.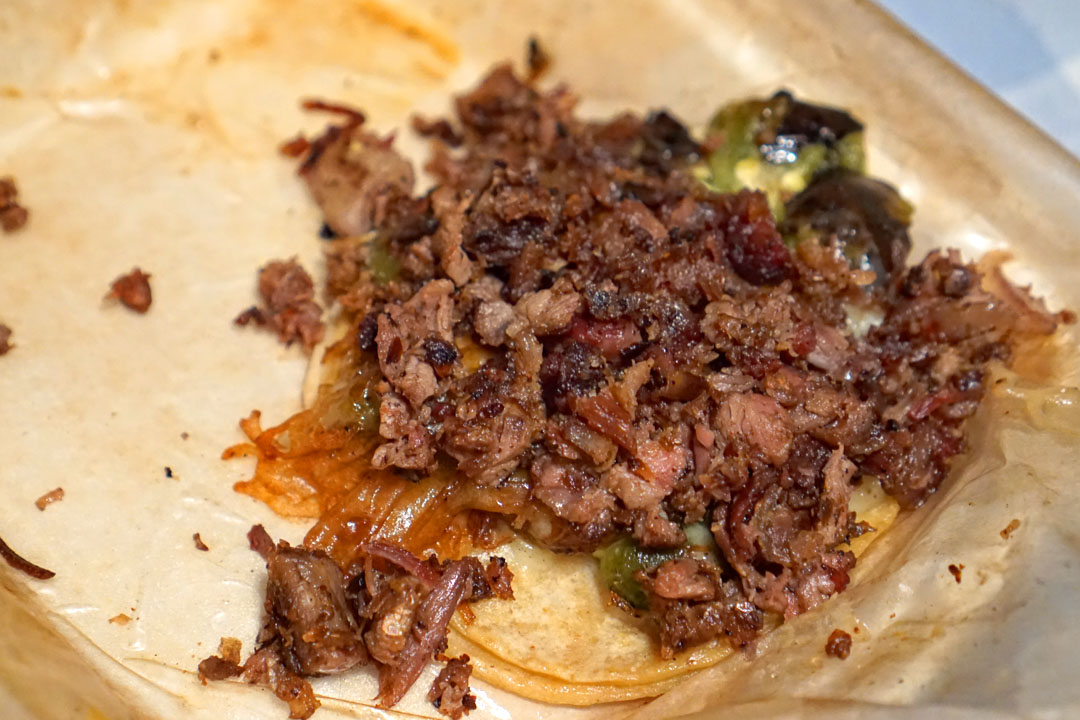 Ahm Taco - Costilla de Res [$4.75]
The curiously-monikered "Ahm" taco was also a winner. The sweet savor of the chopped beef rib was proudly displayed, and combined beautifully with the crispy caramelized bits of the meat, as well as the cheese and especially that grilled Anaheim pepper.
Even though my experience wasn't without its faults, Tacos Los Cholos represented yet another worthwhile reader recommendation. I can see why the place is so popular, but that popularity may also be the restaurant's biggest hindrance, as the whole ordering/pick-up process was a bit chaotic, and wait times can easily exceed 30 minutes. Thus, if you're keen on trying this spot, I'd highly advise you to visit during odd hours. Now, given how successful the business has been, ownership did open up another outpost in Fullerton back in April last year, while there's also one currently in the works in Downtown Huntington Beach, and I wouldn't be surprised if there are further locations on the way, so more to come.