Mother Wolf (Los Angeles, CA)
Mother Wolf Restaurant
1545 Wilcox Ave, Los Angeles, CA 90028
323.410.6060
www.motherwolfla.com
Thu 08/25/2022, 07:50p-11:45p

It's been a while since I checked in with Evan Funke, the previous time being shortly after the debut of his Venice spot
Felix
in 2017. Since then, he's starred in his own Tastemade documentary entitled
Funke
(a James Beard Broadcast Media Award nominee), released a cookbook entitled
American Sfoglino
, and also teased an untitled Beverly Hills eatery that was supposed to be opened in concert with Gagosian Gallery. That BH restaurant never came to fruition, but instead, the Chef debut Fingers Crossed, a Rome-inspired place situated at the former home of Luchini on Cahuenga. Always meant to be a temporary "residency," it ran from August to December 2020, and served as the prototype for the subject of this post.
Grand-opened on December 30th last year, Mother Wolf is Funke's ode to Roman cuisine, and has established itself as a super buzzy spot that's perhaps the most difficult table to score in Hollywood at the moment. I'd been curious to try it for a while, but finally made the effort to snatch a reservation right when they're released at midnight. Interestingly, the restaurant is backed by
Ten Five Hospitality
, the same group behind the Thompson (
Mes Amis
, Bar Lis) and Tommie (Ka'teen, Desert Five Spot) hotels, both of which are located within spitting distance.



Mother Wolf resides inside the Citizen News building, in a capacious ground floor space penned by
Martin Brudnizki Design Studio
(Mes Amis,
The Pendry
). Swathed largely in crimson hues, the restaurant is certainly lively, but also conveys a sense of understated opulence.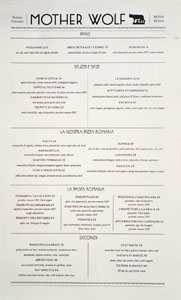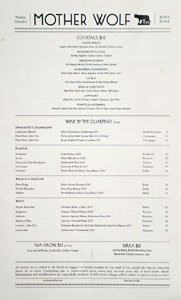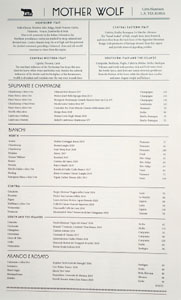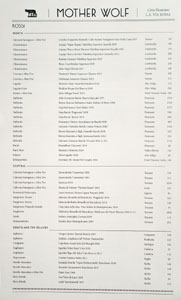 As for Mother Wolf's menu, it sports a fairly lengthy array of Roman-inspired dishes, centered on
tonda
-style pizzas and the Chef's oft bandied about pastas. Drink-wise, you get a handful of cocktails and a mostly Italian wine list; corkage is a reported $40. Click for larger versions.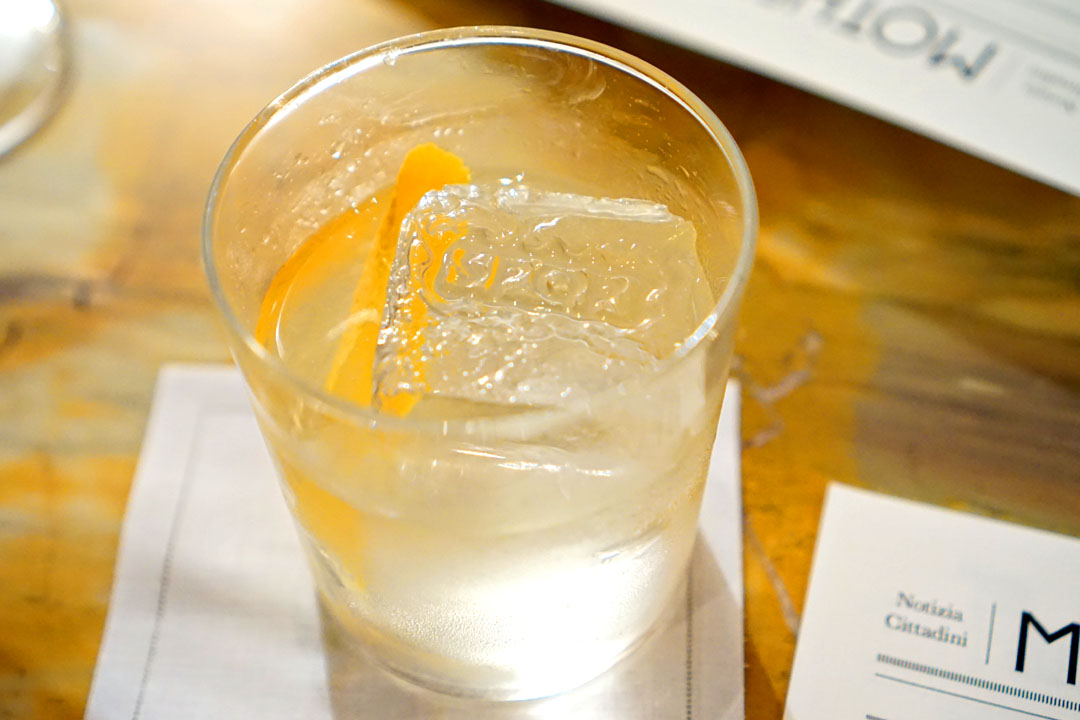 Negroni Vesuvio [$18.00]
| Del Maguey Mezcal, Cocchi Americano, Salers Aperitif
We went with cocktails this evening, and our first was a riff on perhaps the most iconic one to ever come out of Italy. A nose of fresh citrus backed by saline led to a viscous palate that demonstrated a smart interchange between smoky mezcal and aromatic bittersweetness from the Salers/Cocchi combo. An apropos apéritif.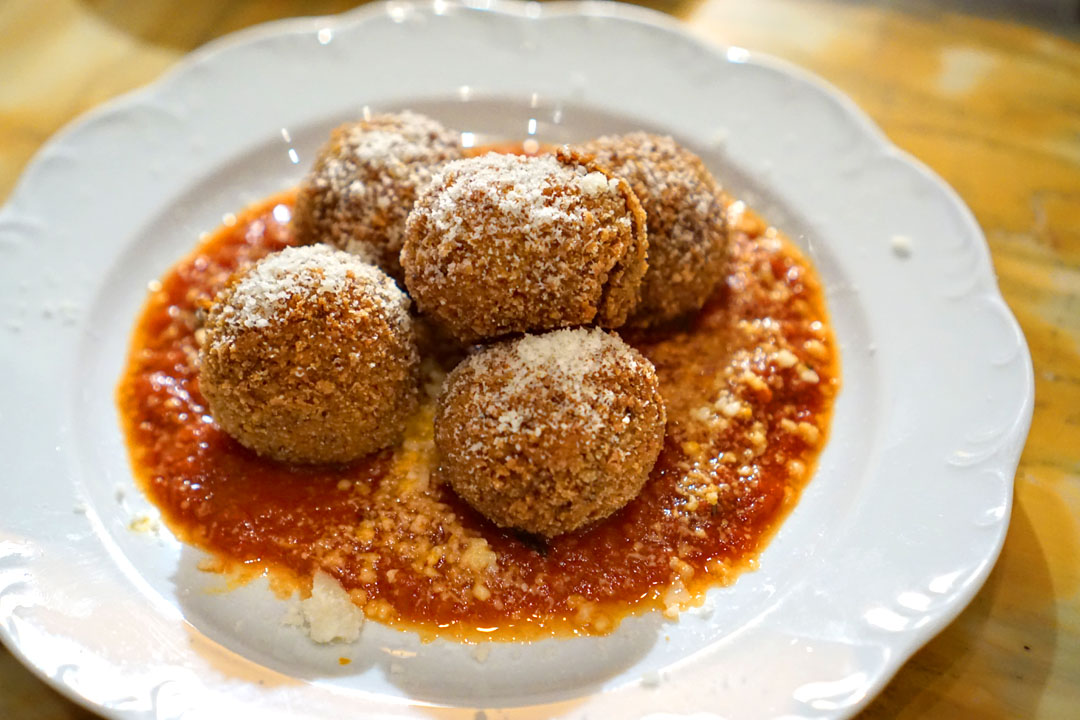 Polpette di Coda [$25.00]
| oxtail meatballs, sugo di pomodoro, pecorino romano DOP
The meatballs were a crowd-pleaser, showing off the dark, savory qualities of long-cooked oxtail in expert fashion. Nice juxtaposition of textures from the crispy exteriors, too.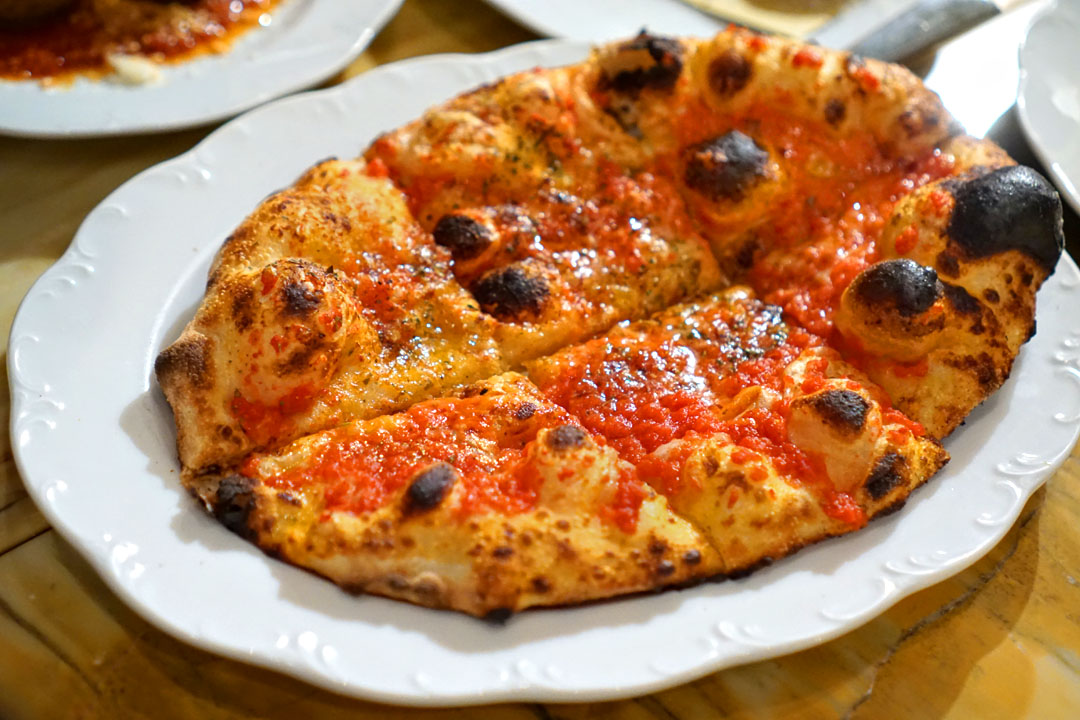 Pizza Rossa [$12.00]
| salsa di pomodoro, pecorino romano DOP, origano selvatico
Our appetizer pizza featured a healthy dosing of oregano, which linked up easily with tart tomatoes and the bitterness from that charred, springy, supple crust. Straightforward, yet oh-so satisfying.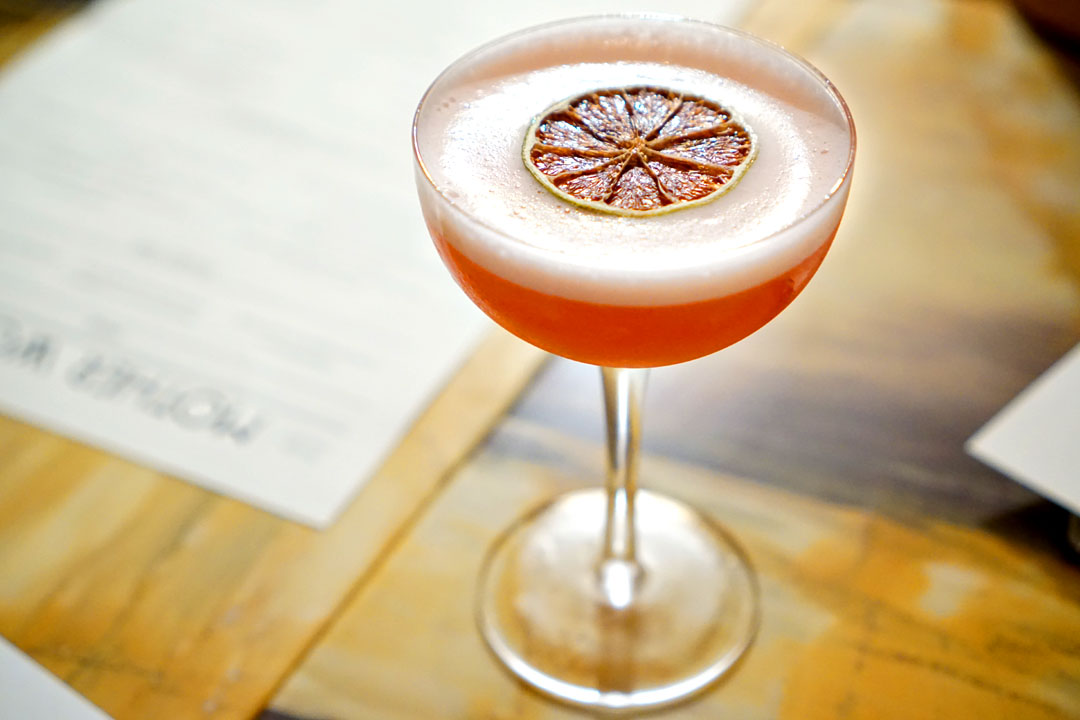 Aspettare [$18.00]
| Malfy Gin, Cocchi di Torino, Campari, Rosemary, Egg White
This next cocktail was easy to enjoy, conveying initial notes of egg whites and rosemary undergirded by fruity nuances and a pert bittersweetness.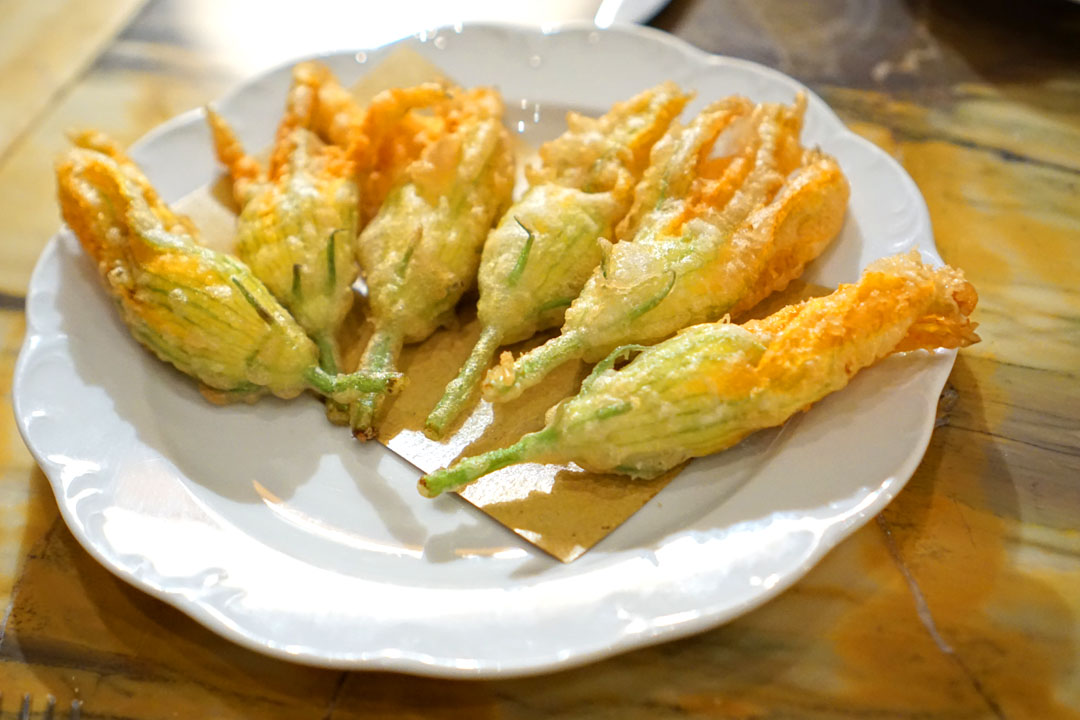 Fiori di Zucca [$25.00]
| squash blossoms, ricotta romana DOP, parmigiano reggiano
Zucchini flowers were spot-on. I was a fan of how the lush, lactic nature of the ricotta so effortlessly meshed with the blossoms' airy, crispy batter and their mild, refreshing taste.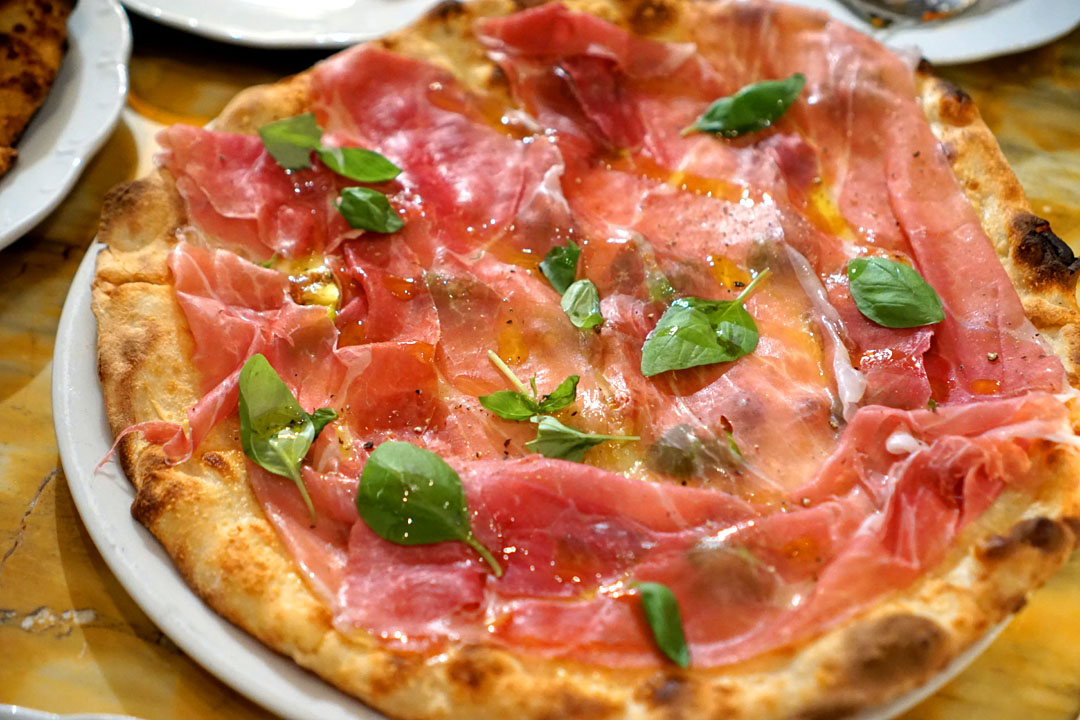 Fichi e Prosciutto [$32.00]
| polito farms adriatic figs, taleggio, prosciutto norcino, aceto balsamico, basil
We ended up trying two of Funke's Roman pizzas, and our first featured a great back-and-forth between salty ham and the unmistakable sweetness of fig, all finished with the salt and funk of the cheese. Meanwhile, the crust here was quite different than what you get with your more common Neapolitan pies, and possessed a marked crispiness and stouter structure that I quite enjoyed.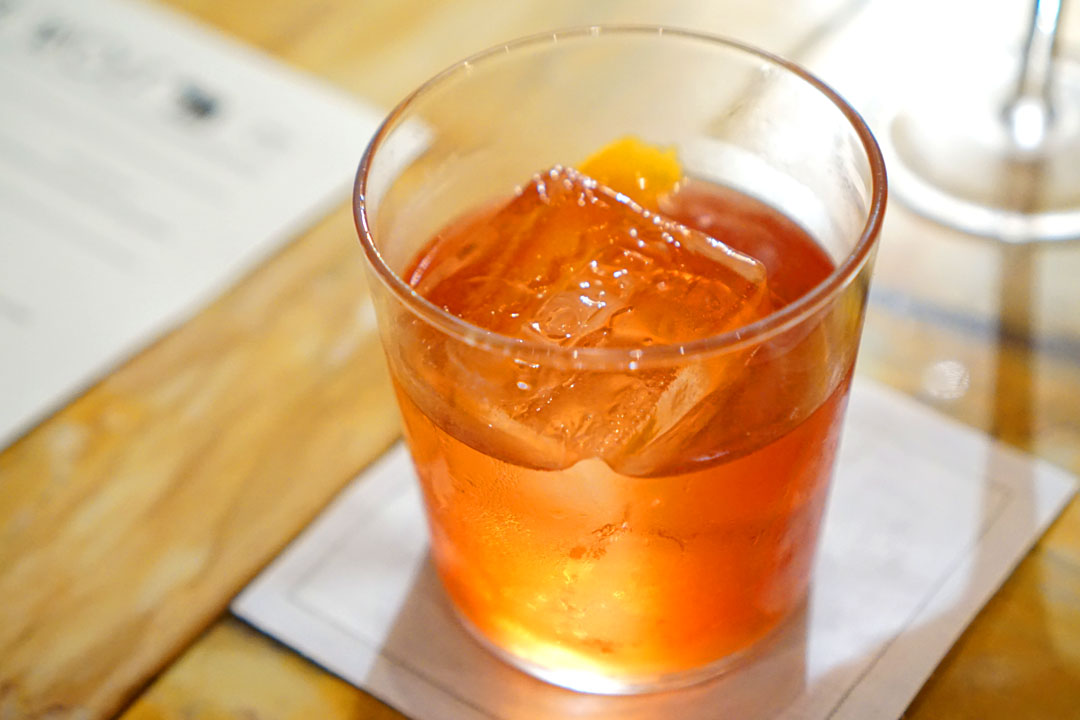 N/A-groni [$12.00]
| Lyre Aperitif Rosso, London Dry, Italian Orange
I also tried a non-alcoholic Negroni, but didn't find it all that similar to the real thing. It veered overly sweet and seemed a bit one-note, I'm guessing because the cocktail lacked the botanical astringency and boozy kick of actual gin.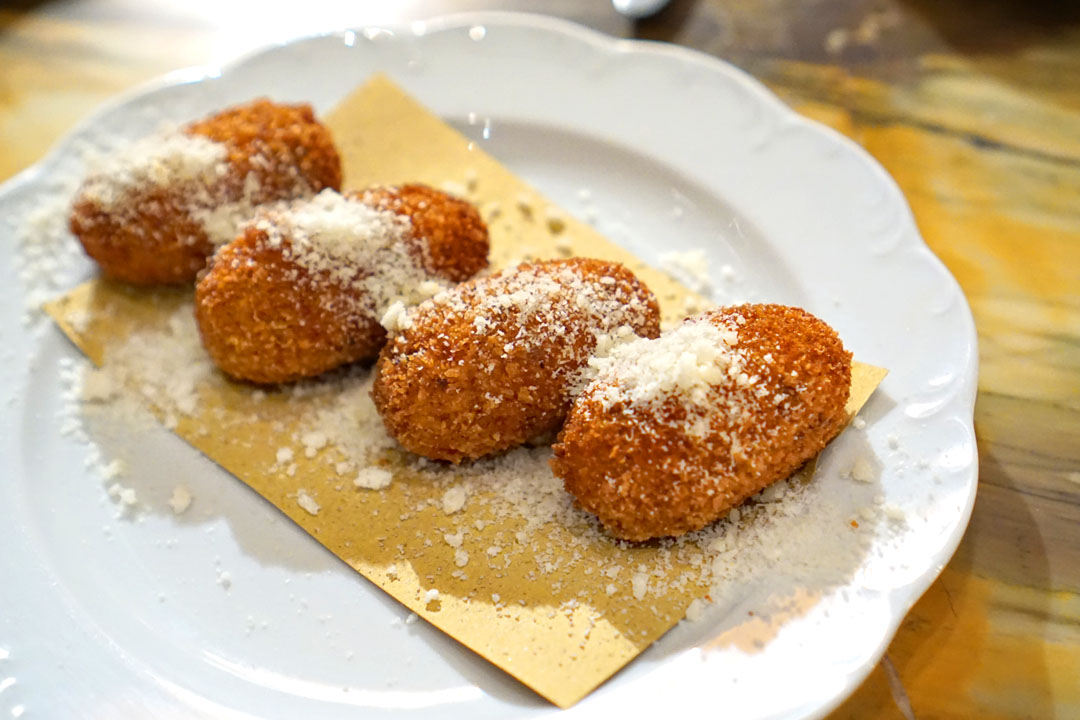 Supplì al Telefono [$14.00 + $5.00]
| risotto croquette, guanciale, pomodoro, mozzarella di bufala, pecorino romano DOP
Rice croquettes displayed a homey, cozy, "meaty/cheesy" sort of flavor profile that reminded me of the Italian fare of my childhood, but in a good way. They were great texturally as well, with a lovely interaction between the creamy rice and crunchy breaded outsides.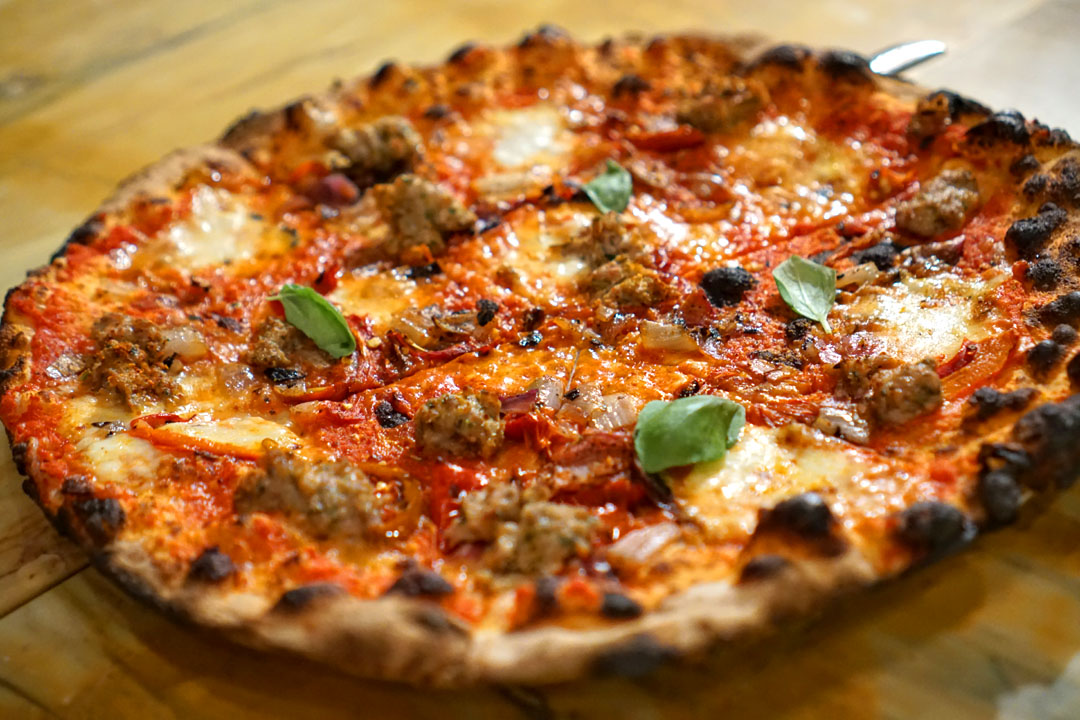 Salsiccia [$30.00]
| mozzarella di bufala, salsiccia, sweet peppers, spring onion, pomodoro, origano selvatico
The sausage pizza certainly delivered. I loved the in-your-face savor and herbaceousness of the meat, but even better was how that all worked with the piquancy of the onion/pepper and the aromatics from the oregano, with the whole thing brightened by basil on the finish.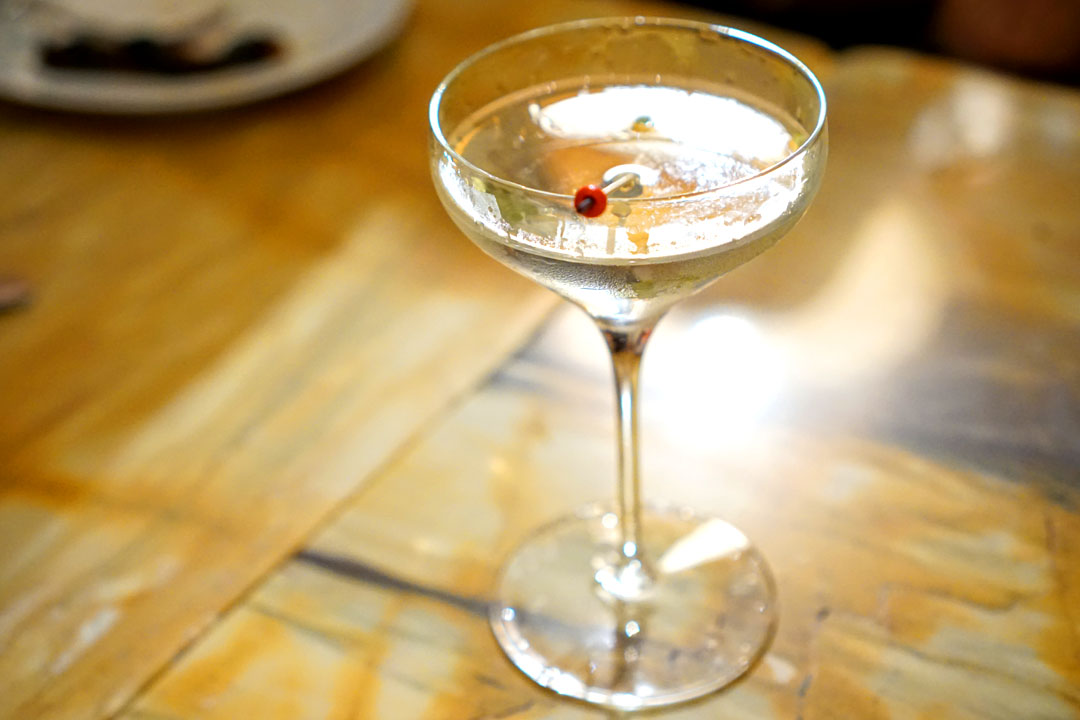 S.P.Q.R. [$18.00]
| Grey Goose Vodka, Castelvetrano Cocchi, Orange Blossom
This cocktail managed to be one of the better martini variations that I've had. I loved its notes of warm, sweet spice that almost recalled brown sugar, and how those nuances played with the fragrance from the orange blossom, all while the vodka provided the necessary oomph.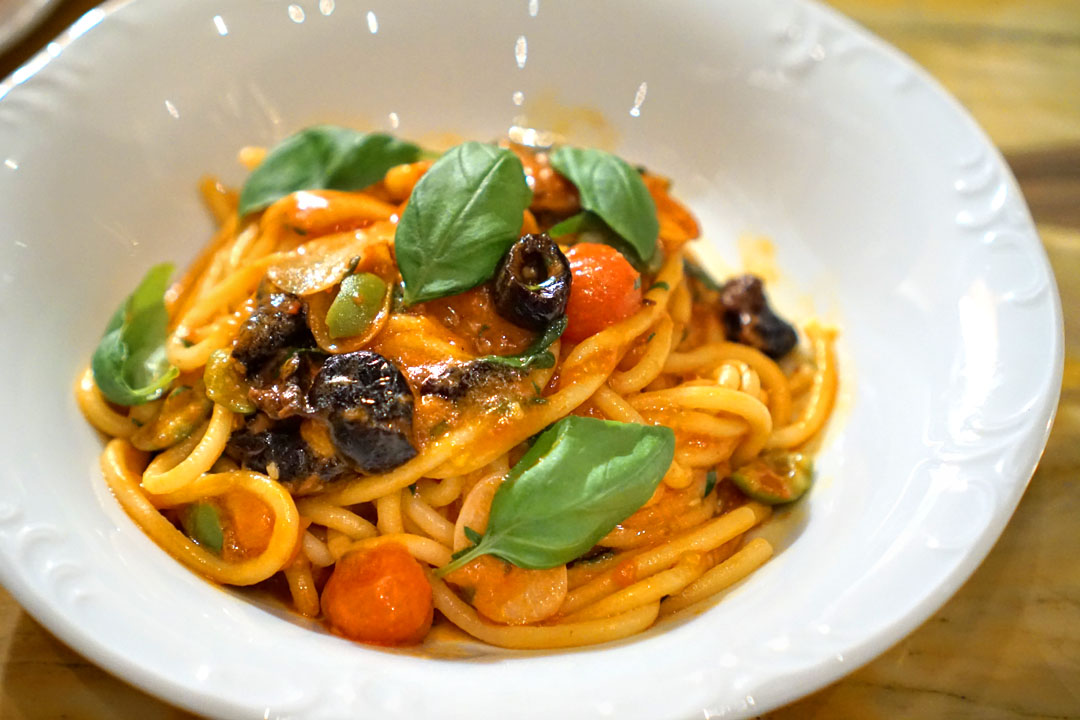 Putanesca [$26.00]
| sugo di pomodoro, pomodorini, acciughe, green & black olives, basil
We tried four pastas this evening, and the first was Funk's version of puttanesca. It featured the Chef's famously firm noodles, along with an assertive presentation of olive-y tang, underpinned by hints of anchovy, while basil worked to uplift things.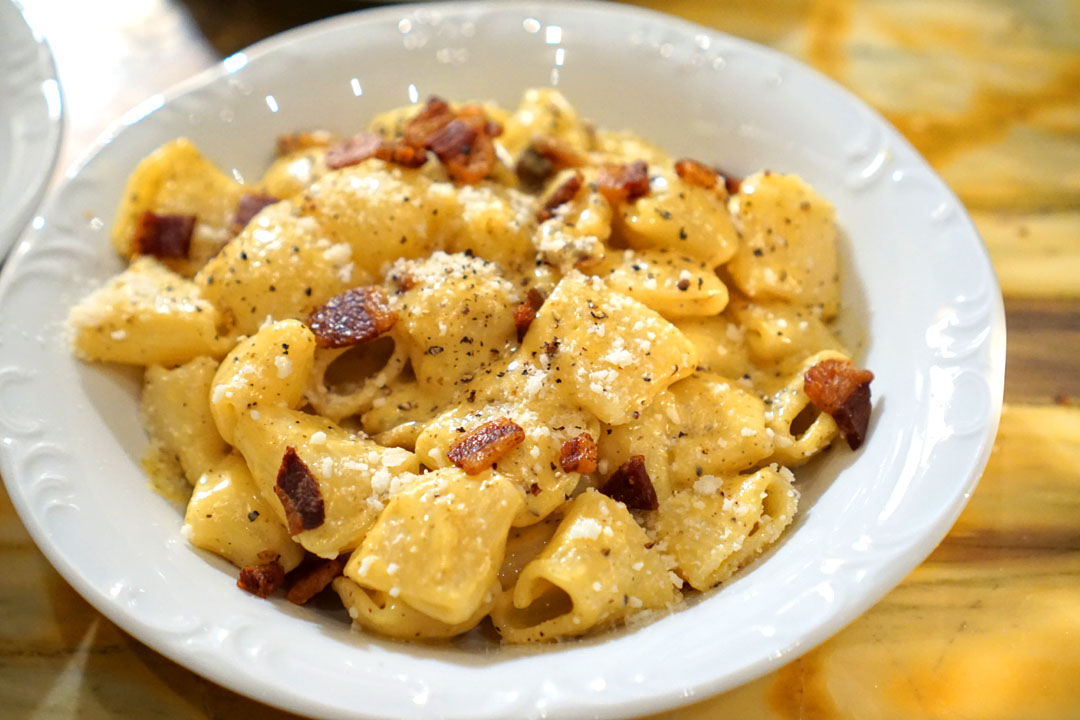 Mezzi Rigatoni alla Carbonara [$32.00]
| guanciale, egg, black pepper, pecorino romano DOP
Of course, we also had to sample the carbonara, and the dish actually featured a somewhat softer-than-expected texture on the rigatoni, which I think made sense here. I loved the sheer saltiness, richness, and crispiness of the pork jowl, and how that melded so seamlessly with the classic egg/cheese/pepper combination.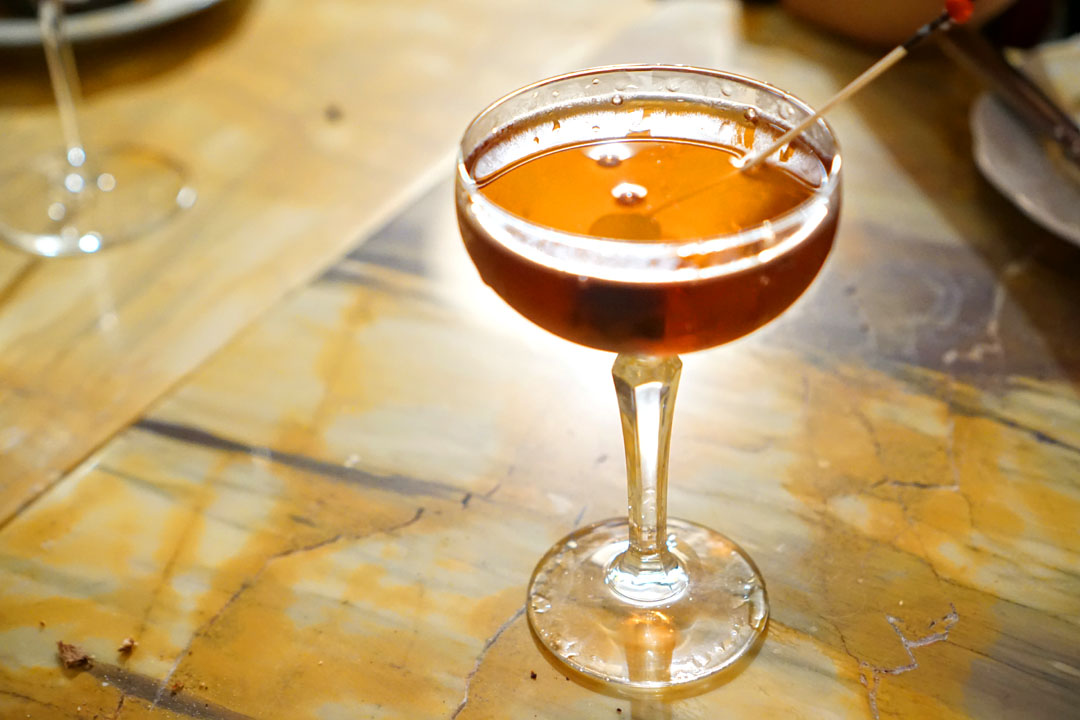 Quello Contorto [$18.00]
| High West Double Rye, Cocchi Barolo Chinato, Montenegro
This Manhattan-esque cocktail was to my liking as well. I enjoyed its sweet, almost candied flavors up front, which were balanced out by a plethora of herby, bitter notes, as well as spiciness from the whiskey.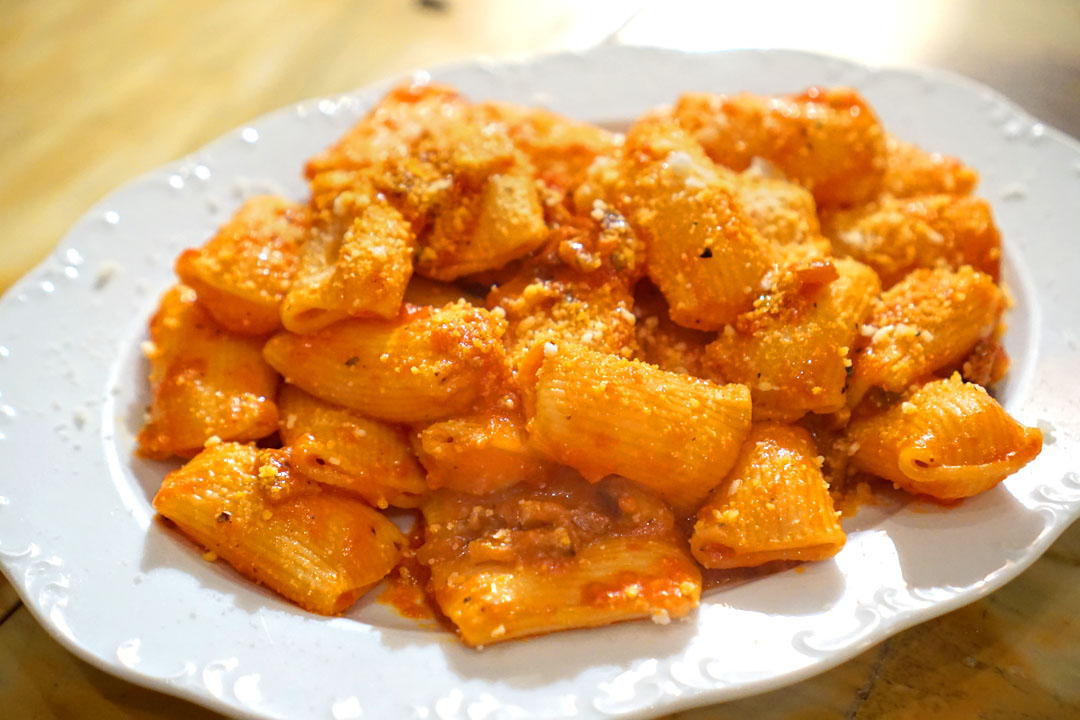 Rigatoni all'Amatriciana [$28.00]
| guanciale, salsa di pomodoro, pecorino romano DOP
Compared with what we had in the carbonara above, the rigatoni here were firmer, more substantial. The pasta married beautifully with the Amatriciana sauce, and I especially appreciated how the tomatoes tempered the guanciale's overt porcine funk.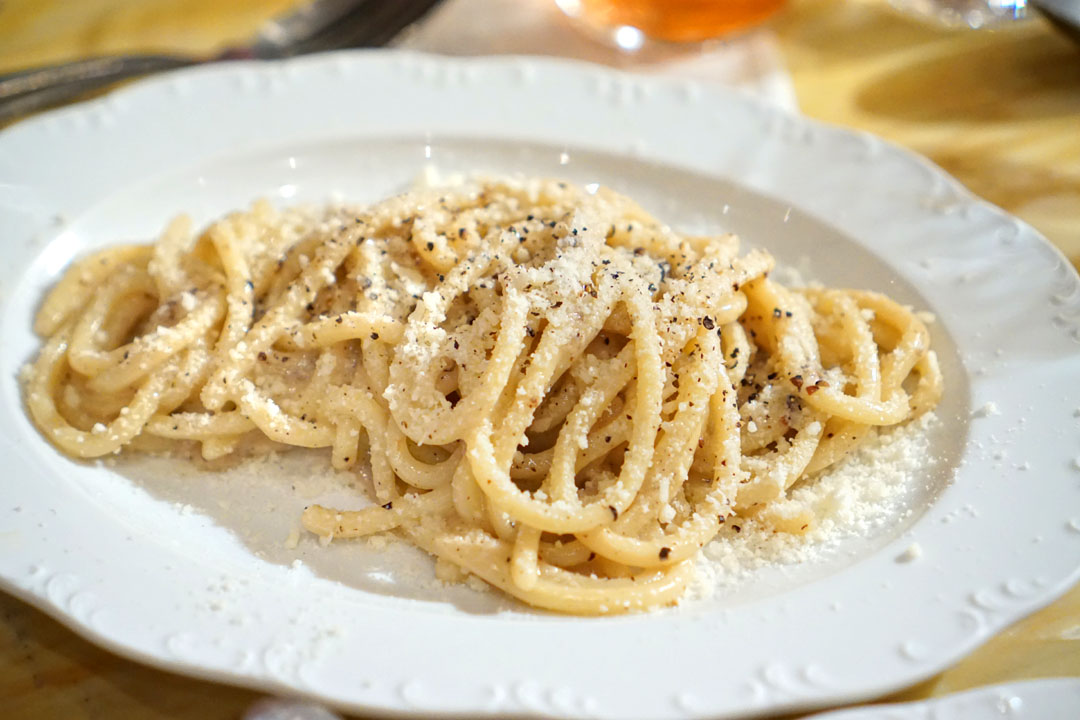 Tonnarelli Cacio e Pepe [$25.00]
| pecorino romano DOP, black pepper
Last up was perhaps the most famous pasta to come out of Rome. The mouthfeel on the tonnarelli was just what I was looking for, and I was a big fan of how aggressive the pepper was, especially since a lot of kitchens seem to shy away from it. Uncomplicated, but eminently gratifying.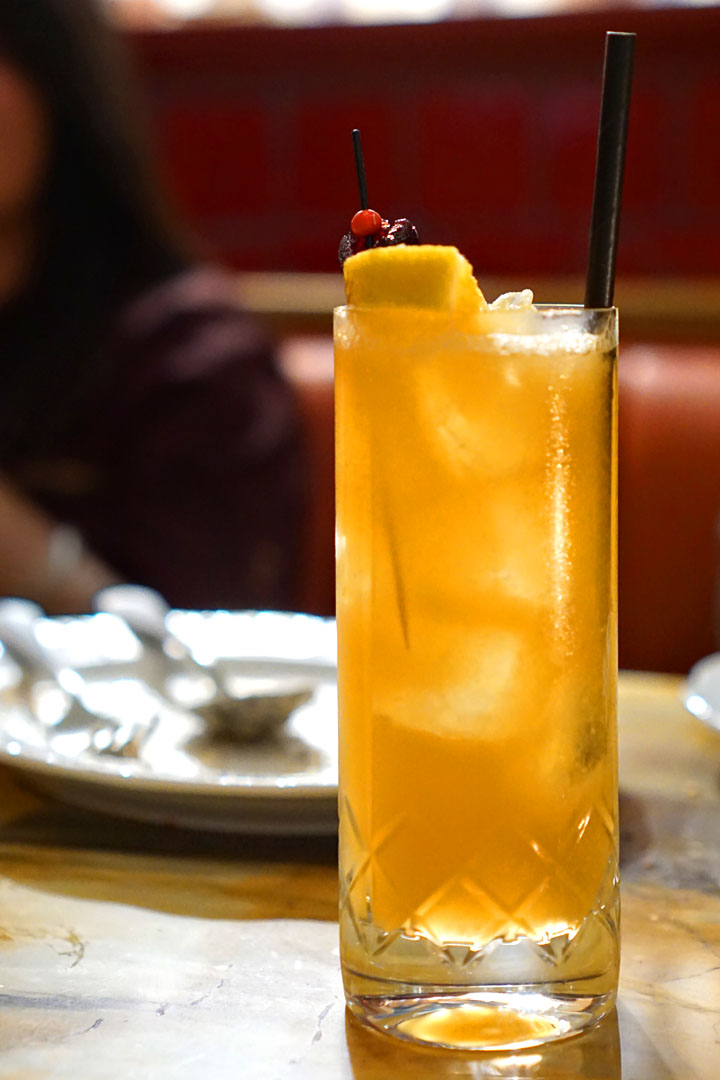 Ponce alla Romana [$18.00]
| Plantation Original Dark Rum, Hennessy VS Cognac, Peche de Vigne, Lemon, Orange, Angostura
The meal's lone long cocktail revealed loads of tropical fruit flavors, but evened out by a bevy of bitter, herbaceous, and anise-like notes. Quite quaffable.
Branzino alla Brace [$78.00]
| grilled whole sea bass, insalata di finocchi, castelvetrano olives, pomodorini, origano selvatico, mint, salmoriglio
The branzino was one of the better preparations I've had in a while. The fish was pretty much flawless in terms of texture and succulence, while its taste had that saline-sweet interplay I was looking for. The use of fennel imparted a zippy counterpoint to the bass, but even better was the refreshing accent from the mint.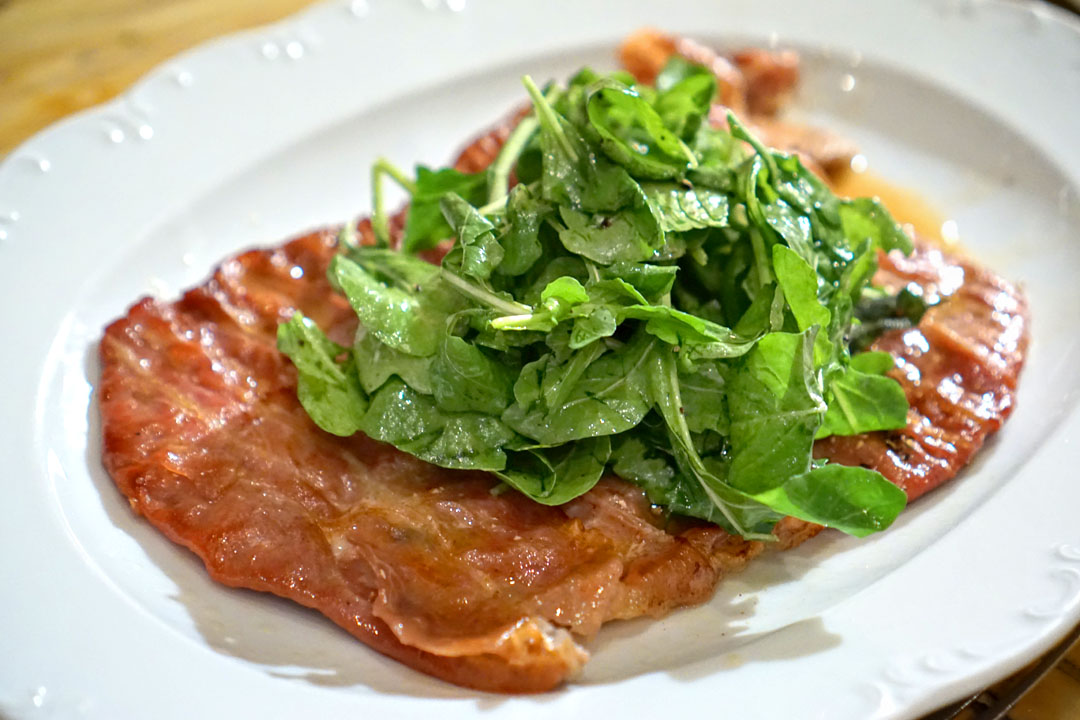 Saltimbocca [$48.00]
| vitellone, prosciutto norcino, sage, wild arugula, burro fuso
Surprisingly, I believe that this was actually my first time having saltimbocca, and thankfully, it was a pleasant experience. I really appreciated how contrasting forces of salty ham and aromatic sage played with the veal, while the zestiness of arugula served as the perfect finishing touch.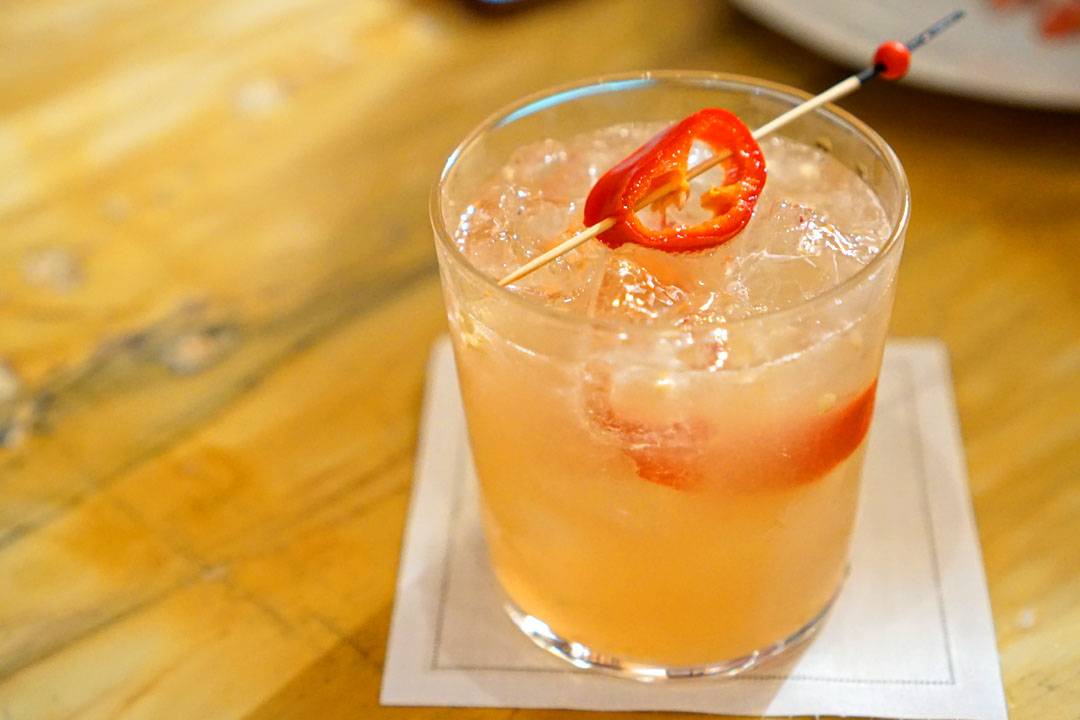 Margherita d'Angeleno [$18.00]
| Pueblo Viejo Blanco, Amaro Angeleno, Fresno Chili, Agave, Lime
This take on the margarita was likely the spiciest version of the cocktail I've encountered, offering up a lingering tingle on the lips to go along with its union of sweet, sour, and smoky flavors.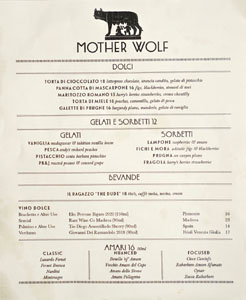 For dessert, you get five composed selections joined by the requisite ice creams and sorbets, as well as after-dinner drinks. Click for a larger version.
On a related note, I was surprised to find out that Pastry Chef responsibilities here are being handled by Shannon Swindle, whom I first came across over a decade ago when he was still at Craft. He left Tom Colicchio's side at the end of 2018, after 13 years, with the goal of starting his own bakery/restaurant. However, by the following May, he'd already begun a new job heading up pastry for
Lucques
Group. Swindle even helped open the new AOC in Brentwood in June 2021, but left shortly afterward, taking up a server position at Felix, as he needed a break from the kitchen. I have to imagine that's how he got connected with Funke.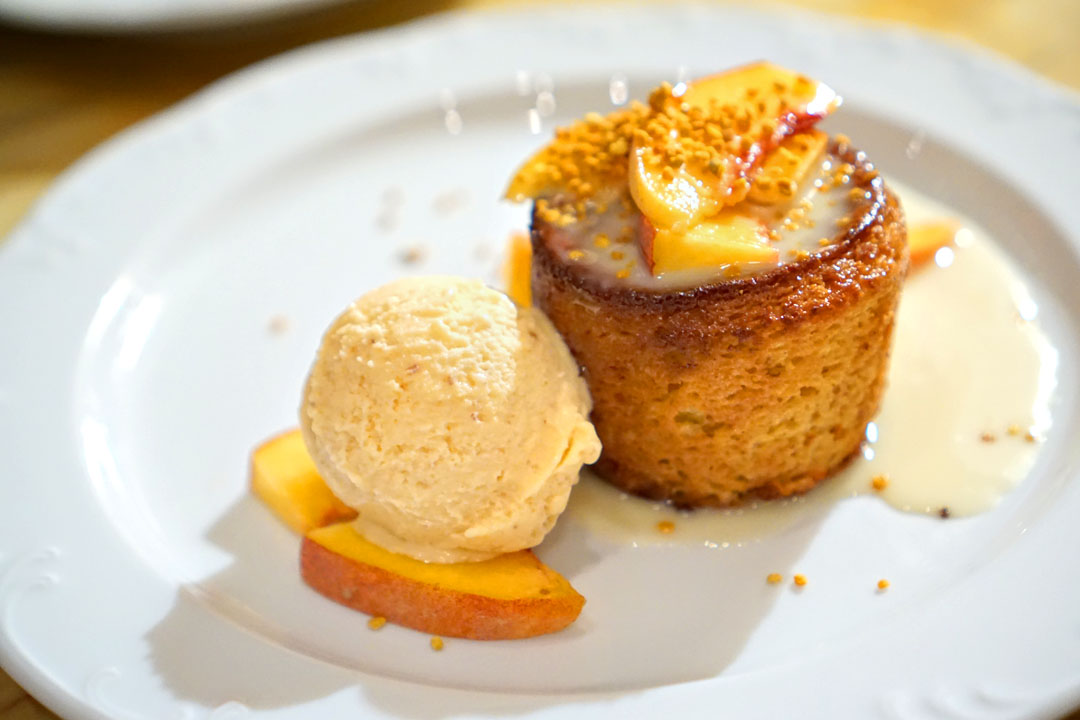 Torta di Miele [$16.00]
| peaches, camomilla, gelato di pesca
Our honey cake came out supple and saturated, and positively teeming with honeyed goodness. It worked hand-in-hand with the peaches and peach ice cream, and somehow, I even detected a "ricey" taste in there. Yum.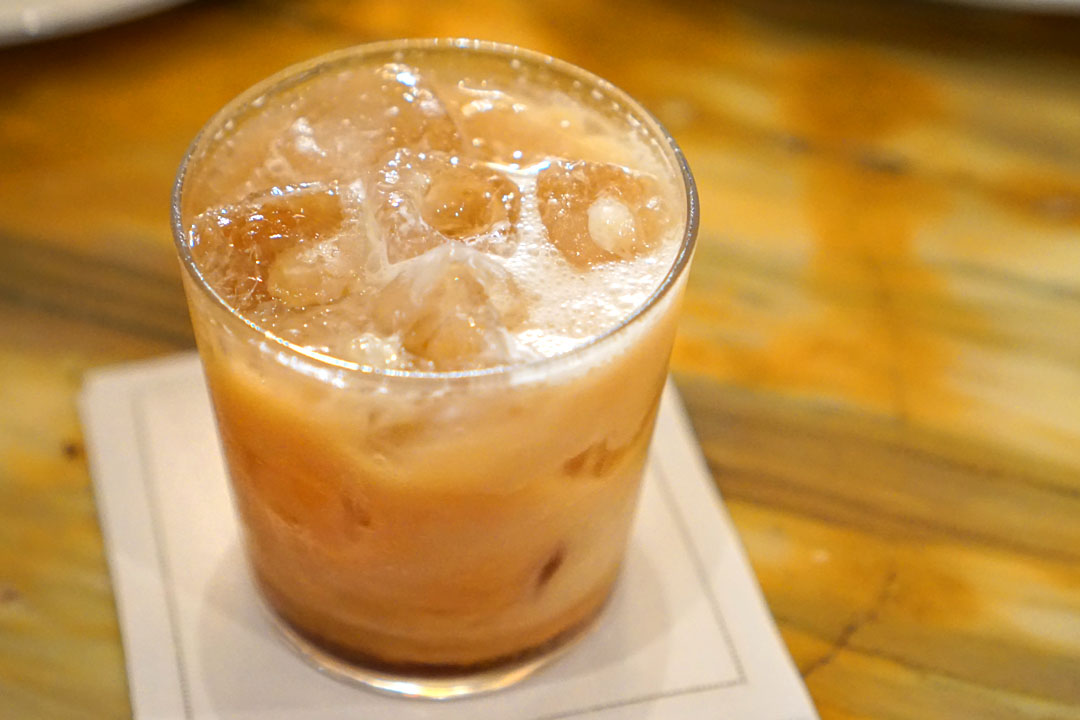 Il Ragazzo 'The Dude' [$18.00]
| tito's, caffè moka, nocino, cream
Dessert cocktail duties were handled by what was essentially a white Russian enriched with nocino (a.k.a. walnut liqueur), which added a spicy, nutty element to go along with the classic drink's creamy, coffee-tinged character.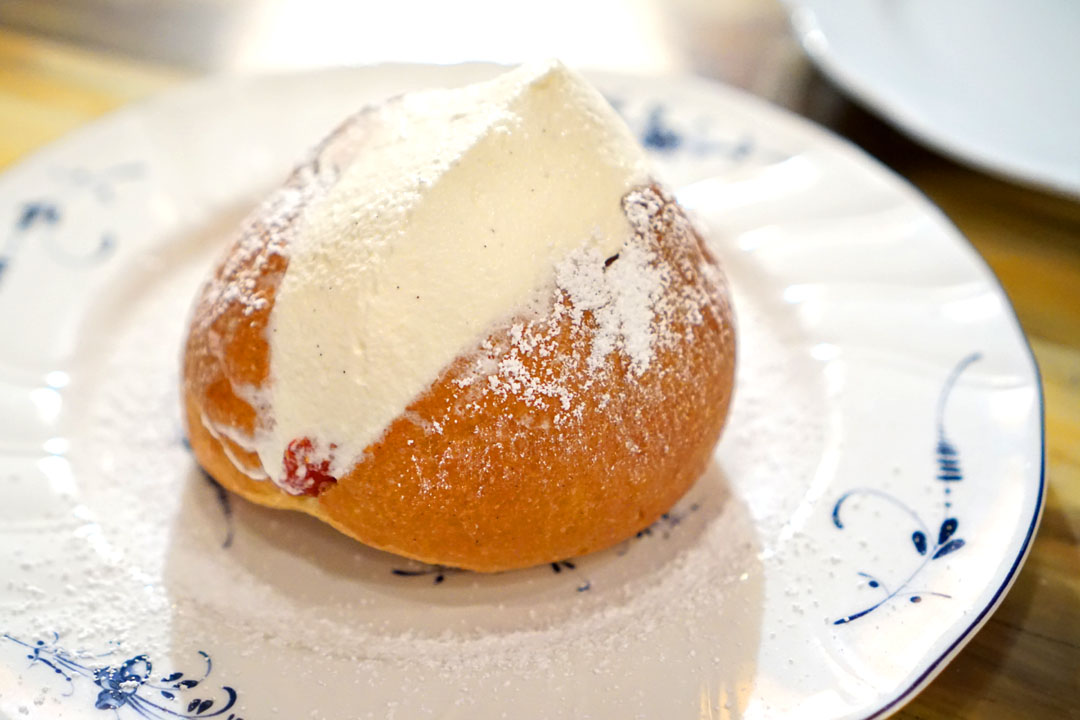 Maritozzo Romano [$15.00]
| harry's berries strawberries, crema chantilly
This was my first time trying a maritozzo, which in this incarnation, featured a soft, sweet bun, stuffed with a winning combination of strawberries and cream.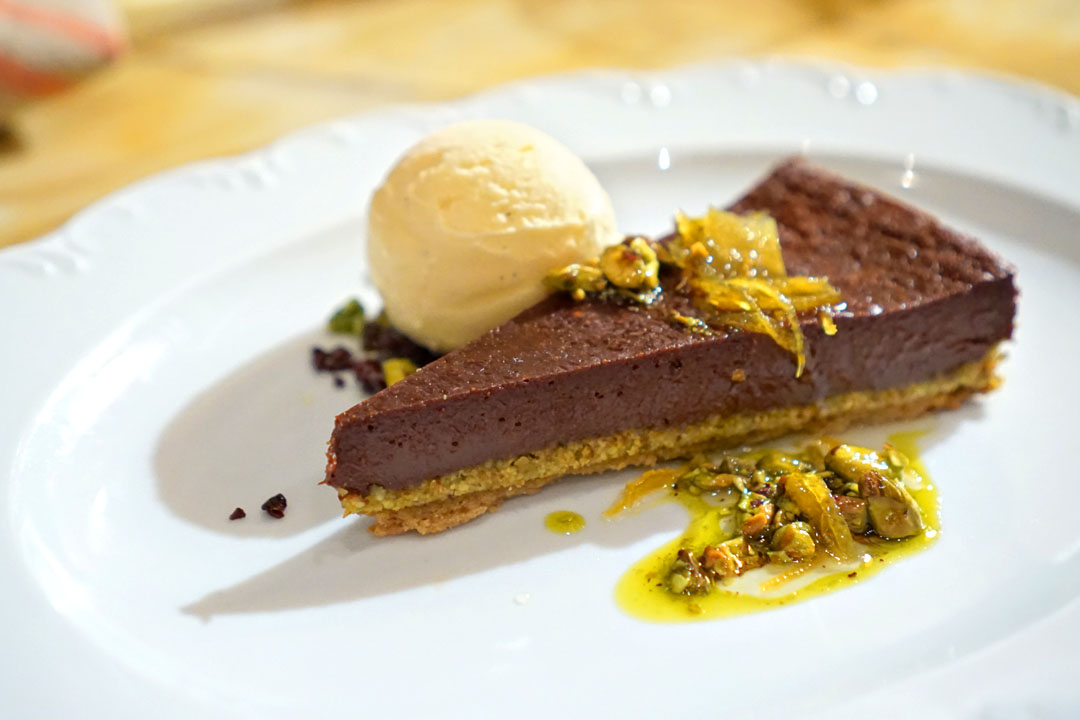 Torta di Cioccolato [$18.00]
| letterpress chocolate, arancia candita, gelato di pistacchio
I quite liked the chocolate cake as well. The crux here was the use of nuts, citrus, and salt to counteract the sheer richness of the chocolate, and I also appreciated the moderating effect of the vanilla ice cream (they ran out of pistachio), too.
I was a touch skeptical coming in to the restaurant given all the hype surrounding Mother Wolf, but left very pleasantly surprised. By my estimation, Funke's doing the best cooking of his career here. This is largely thanks to the focus of the cuisine, both in terms of concept and actual taste and execution, and overall, I found a successful, delicious amalgamation of the Chef's sometimes "severe" aesthetic with the right amount of indulgence. This was likely my strongest Italian meal of 2022, so I can see why the place is so consistently busy.