The Wolves (Los Angeles, CA)
The Wolves Bar
519 S Spring St, Los Angeles, CA 90013
213.265.7952
www.thewolvesdtla.com
Thu 09/08/2022, 08:35p-11:30p

Back in the mid-2010s, one of my preferred drinking spots was Puzzle Bar, a super crafty cocktail-type of joint that definitely seemed out of place in its sleepy location in a La Mirada strip mall. It was run by a bartender by the name of
Kevin Lee
, who made somewhat of a name for himself due to his steadfast adherence to creating his own amari/bitters/vermouths/etc. Puzzle was basically my go-to bar for a few years, so I was certainly saddened when it eventually shuttered in May 2018. However, my spirits were lifted when it was announced that Lee would be behind the stick at The Wolves, a brand-new cocktail destination in Downtown.
Spearheaded by co-owners Al Almeida and Daniel Salin, as well as managing partner Isaac Mejia, the bar debuted on September 13 2018 after three years of planning and effort. Meanwhile, a more exclusive, omakase-inspired experience in the back of the space called Le Néant launched that December. Sadly, I never made it out to Le Néant, but thankfully I was able to try the standard bar offerings a few times before Lee decamped in October 2019 (to head up the beverage programs at both
Clifton's
Republic and The Edison). He was replaced by Adri Reyna, whom Lee actually trained at Puzzle Bar. Not long after the departure, The Wolves had to shut down due to pandemic restrictions.
During that period, the team experiment with offering cocktails/bottles to-go, slanging soups and tamales, running a lemonade stand, and even unloading their barware and furnishings. They were able to re-open on June 26th, but had to close the following week due to state orders. Outdoor brunch came in November, but went not long after, once again due to government mandates. With the improving COVID-19 situation in early 2021, many businesses were able to resume operation, but The Wolves was delayed, possibly due to dueling lawsuits between Salin and the rest of the bar's ownership LLC. Fortunately, the team was able to work through all that, and re-launched The Wolves on November 12th last year with Bar Director Nathan McCullough (Mezcalero, Padre, Bracero Cocina de Raiz and La Puerta in San Diego) at the helm.
Far more unexpected, though, was who was put in charge of the food program. The bar initially had a menu by Matthew Poley of catering company Heirloom LA, who was later succeeded by Tyler Bonacotti. However, with the re-opening, it was none other than
Laurent Quenioux
who was tapped to create the menu. I last caught up with the longstanding LA chef back in 2014, when he was still holding his
LQ Fooding
pop-ups at Vertical Wine Bistro. Since then, he's been making appearances at various events (e.g. Disco Dining Club), but for the most part, the bulk of his cooking has been done at private dinners held at the Chef's own home. During the pandemic, he offered takeout, as well as patio dining under the "Ma Maison" banner, so I believe this is the first time that Quenioux's cuisine has been available in a proper restaurant setting in years.

The Wolves resides on the ground floor of the Hotel Alexandria, in a storefront that was previously home to F Square Printing. One of the bar's charms has always been its decor, which is apparently modeled after a Parisian salon of the early 1900s, so I'm glad to see that things have largely remained the same over the past few turbulent years.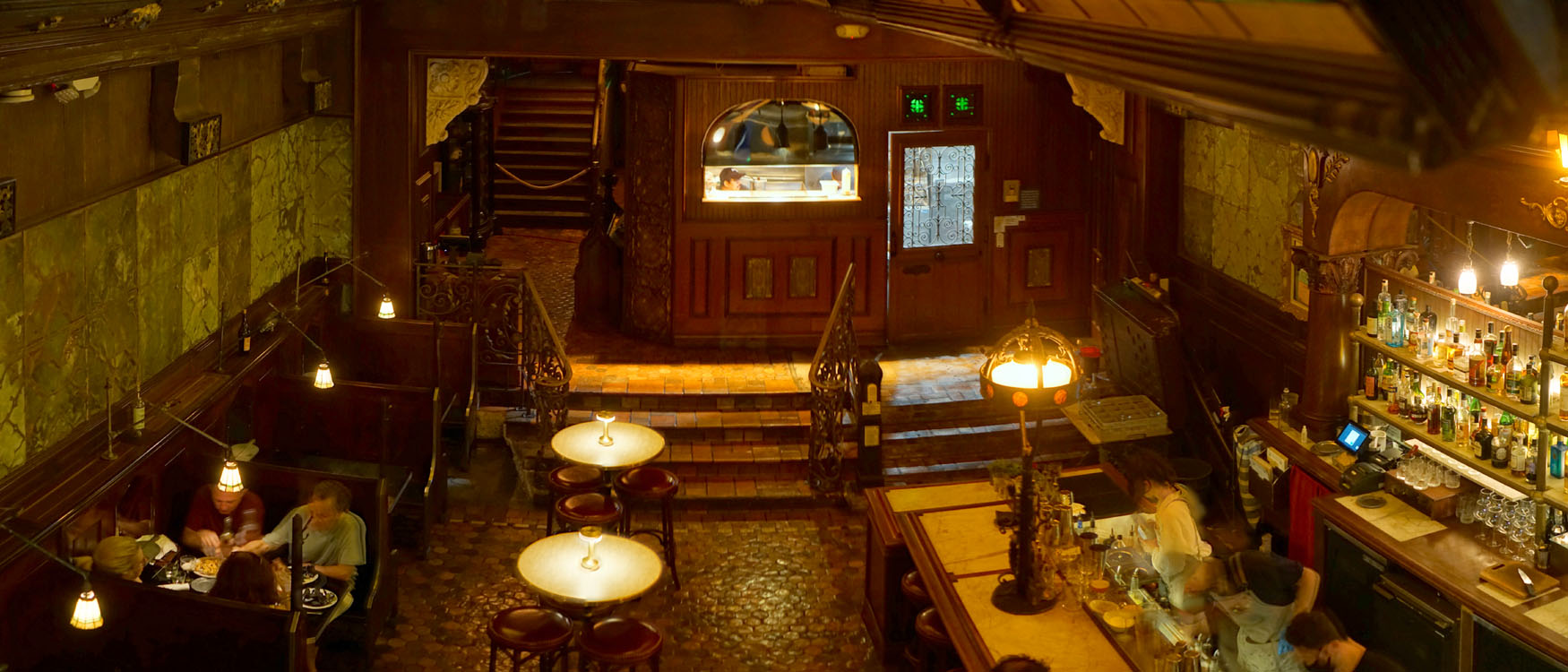 One of the quaint features of the interior is the tiny balcony up front. Shown above is the view from said balcony.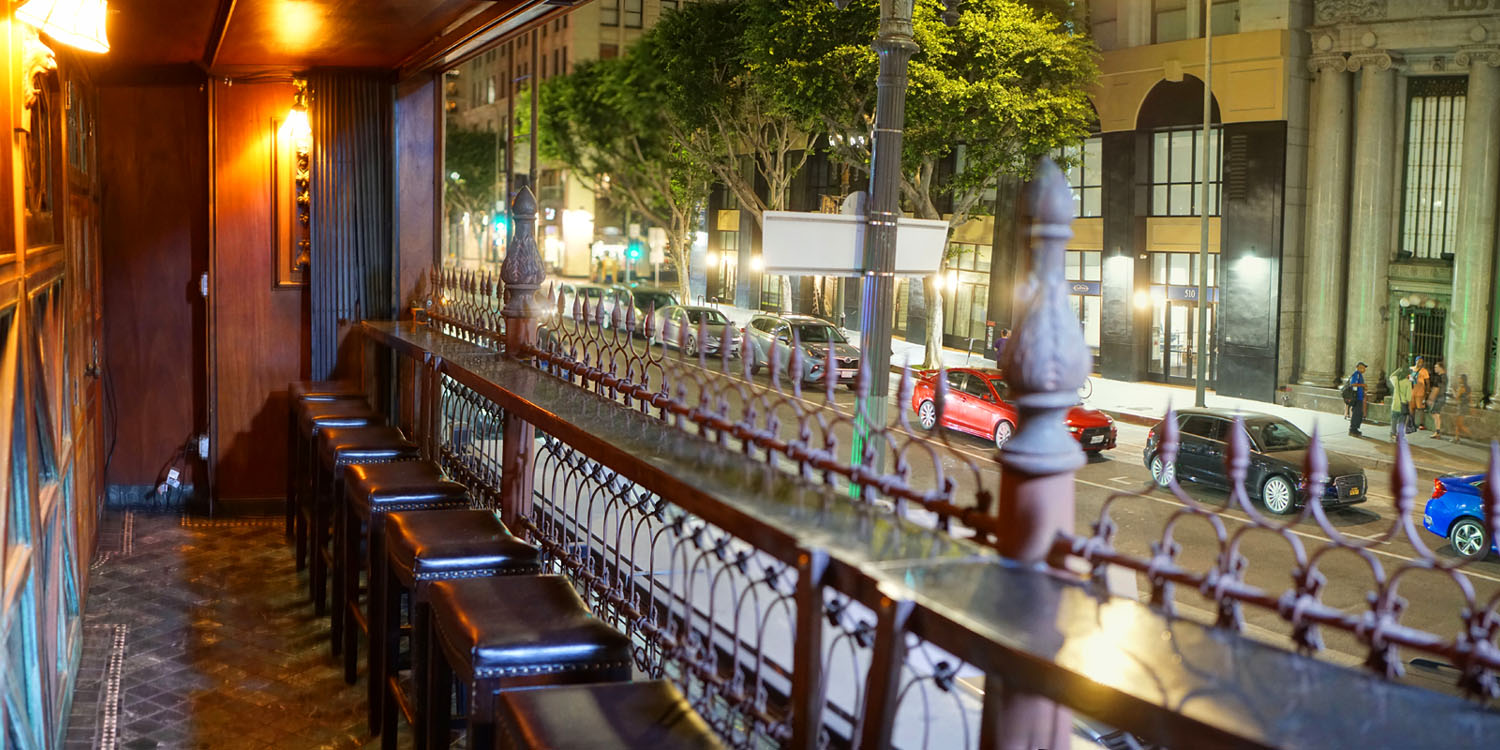 The balcony even has an outdoor portion facing Spring Street, which I imagine not too many people know about.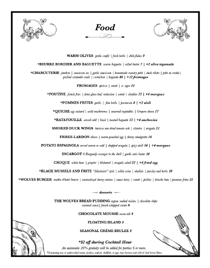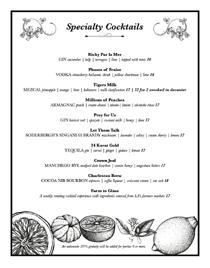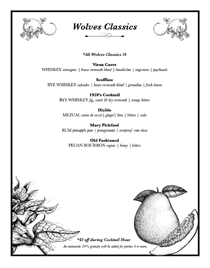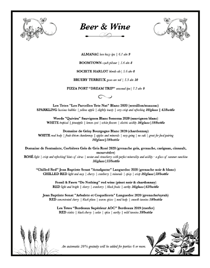 And here we see McCullough's selection of cocktails, along with a handful of wines and beers, as well as Quenioux's menu of homey French fare (executed on a day-to-day basis by a fellow named Mauricio). Click for larger versions.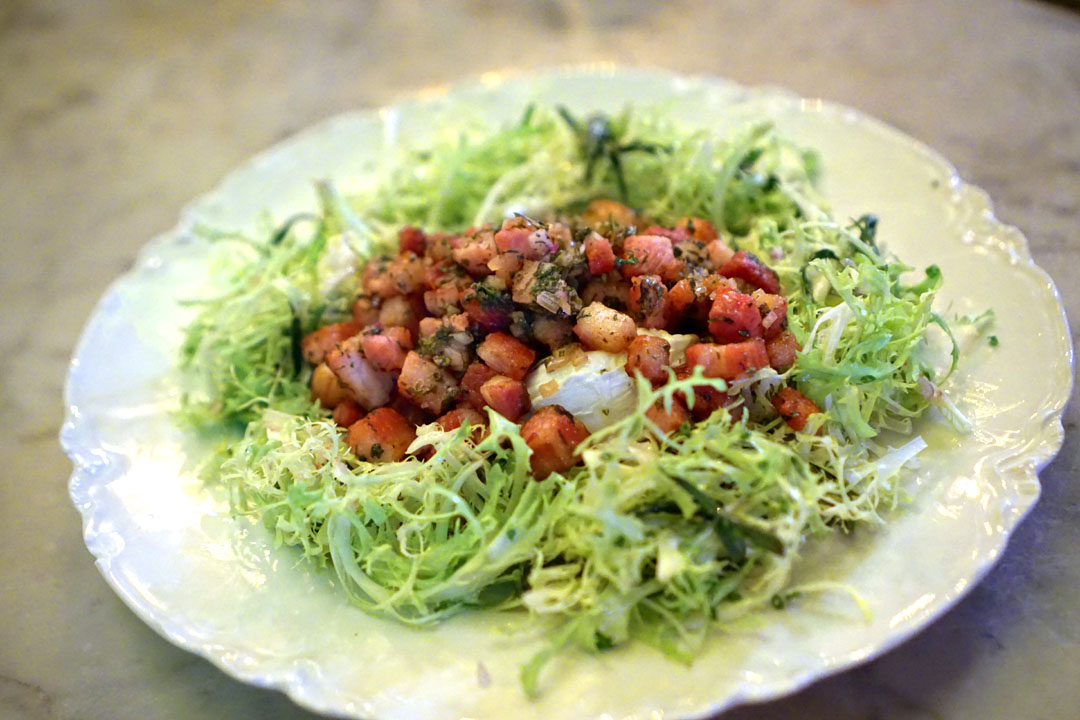 Frisee-Lardon [$16.00]
| chives, warm poached egg, sherry vinaigrette
I began with The Wolves' take on the classic salade Lyonnaise, and it was a strong one. I really appreciated the balancing act between that perfectly poached egg, salty-fatty bacon, and bitter veggies, while a tangy vinaigrette tied everything together. I believe I even detected a hint of fennel here, which was a pleasant surprise.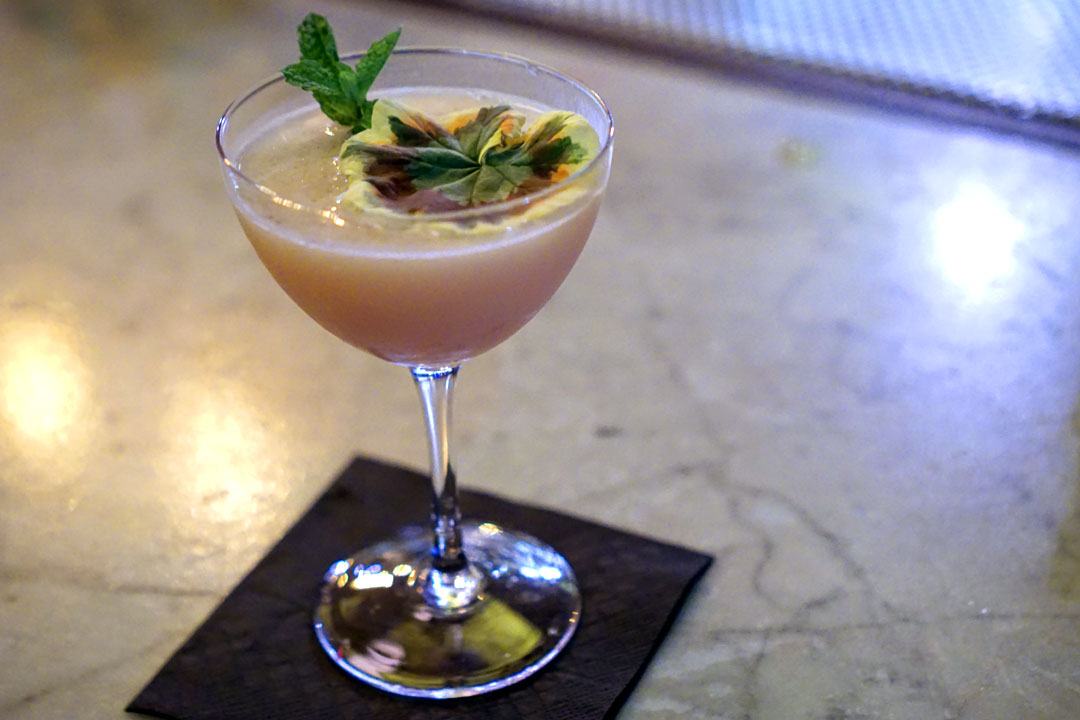 Millions of Peaches [$17.00]
| Armagnac, peach, cream cheese, amaro, lemon, absinthe rinse
The evening's first cocktail was on the easy-drinking side, and featured loads of refreshing, vibrant stone fruit backed by just enough bitterness and a whisper of anise from the absinthe.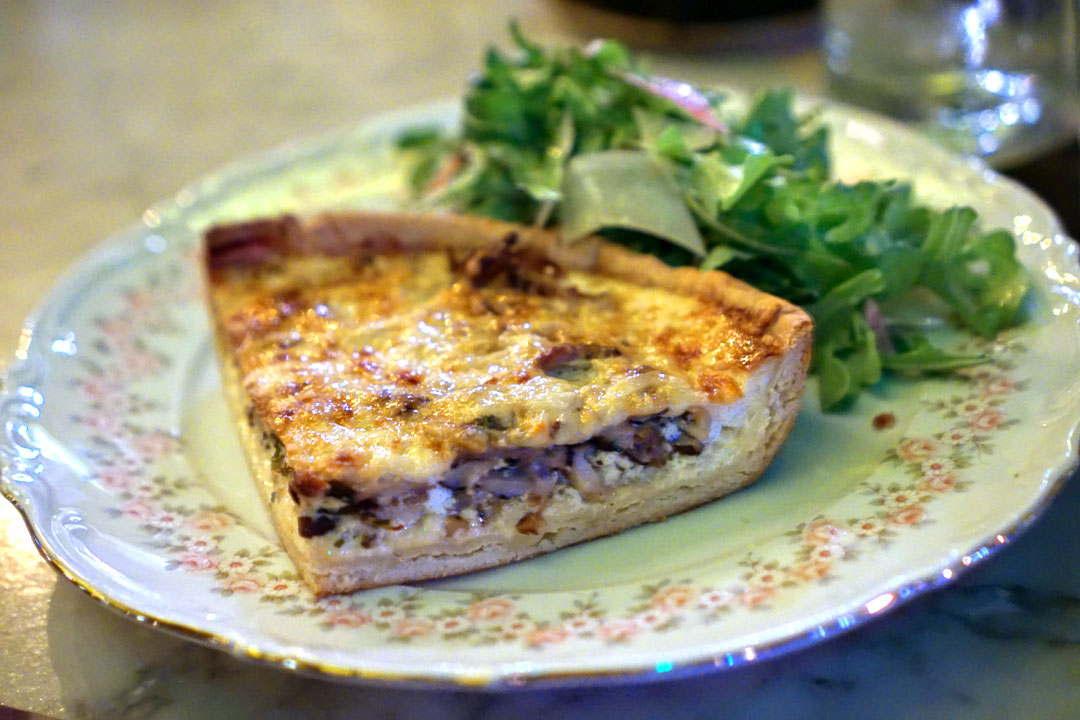 Quiche [$17.00]
| egg custard, wild mushrooms, seasonal vegetables, Gruyere cheese
I feel like it's been ages since I last had quiche, so I was happy to see it on the menu tonight. The back-and-forth between cheese, egg, and mushroom really hit the spot for me, and made a lot of sense with the tart's crisp pastry crust. The accompanying salad, meanwhile, was perked up by shards of salty cheese and what I believe was an olive oil-based dressing.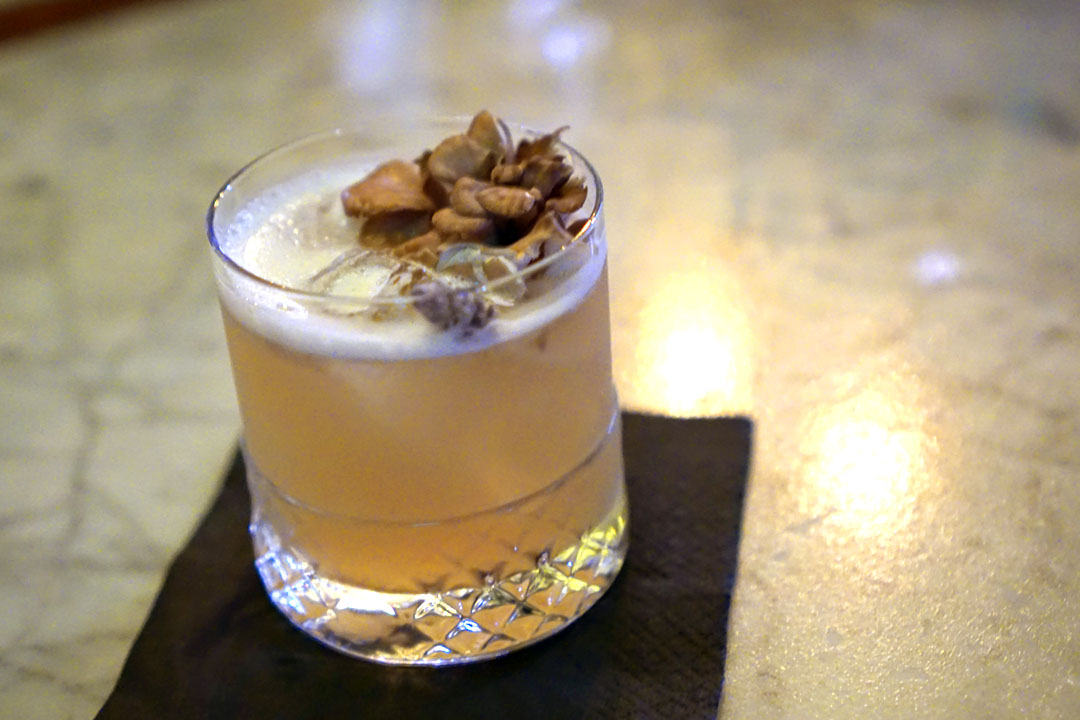 Let Them Talk [$18.00]
| Soderbergh's Singani 63 Brandy, mushroom, lavender, celery, cream sherry, lemon
This cocktail was the most intriguing of the bunch. Regular readers will know that I generally dislike celery, but the veggie's sharp, bracing flavors really worked beautifully here in concert with the drink's astringent, spicy notes, and I was a big fan of the overarching floral nuances from the lavender. Very cool.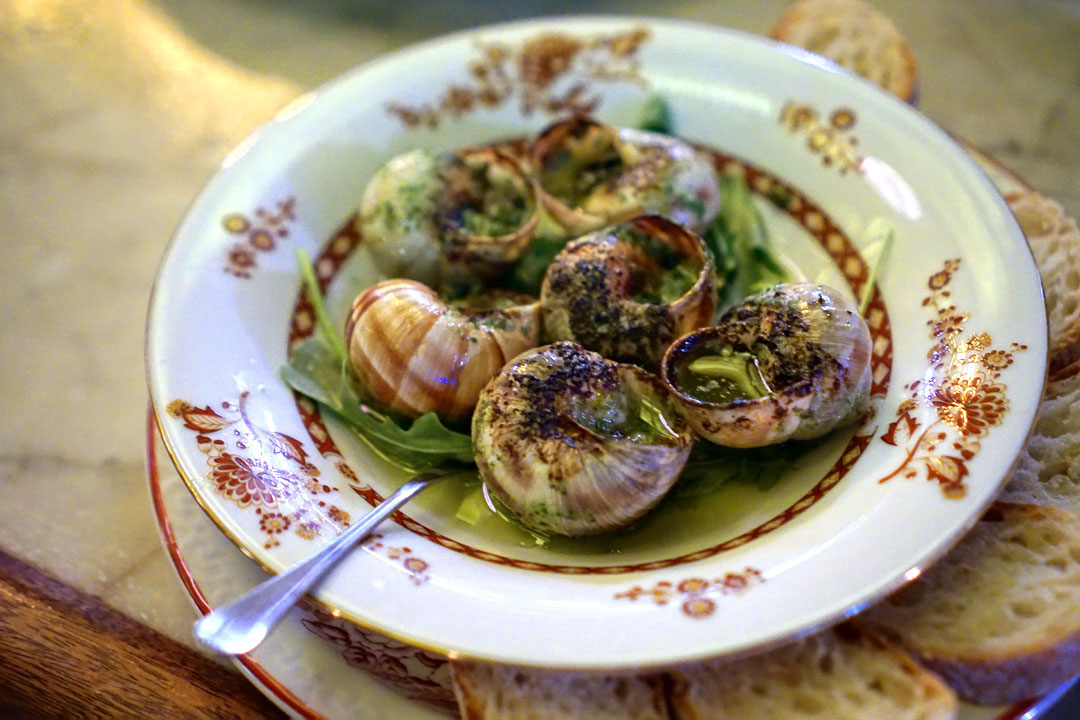 Escargot [$18.00]
| 6 Burgundy escargot in the shell, garlic anis butter
Escargot is perhaps the most iconic of French dishes, and I often have a hard time resisting it, as was the case this evening. The snails were spot-on texturally, and meshed easily with the super buttery/garlicky flavors present, perked up by plenty of zesty greens.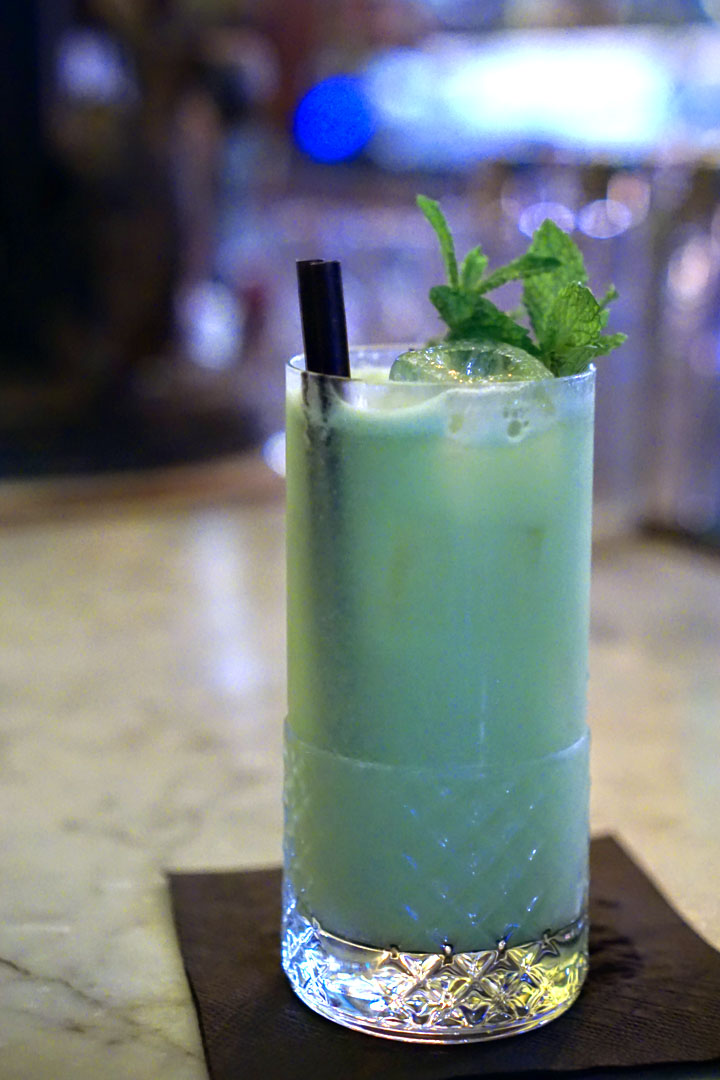 Prey for Us [$17.00]
| Gin, haricot vert, epazote, coconut milk, honey, lime
This aquamarine-hued cocktail showed off a smart balance of vegetal, grassy, and refreshingly citric components, all effectively moderated by the sweetness of honey and coconut. A fun one for sure.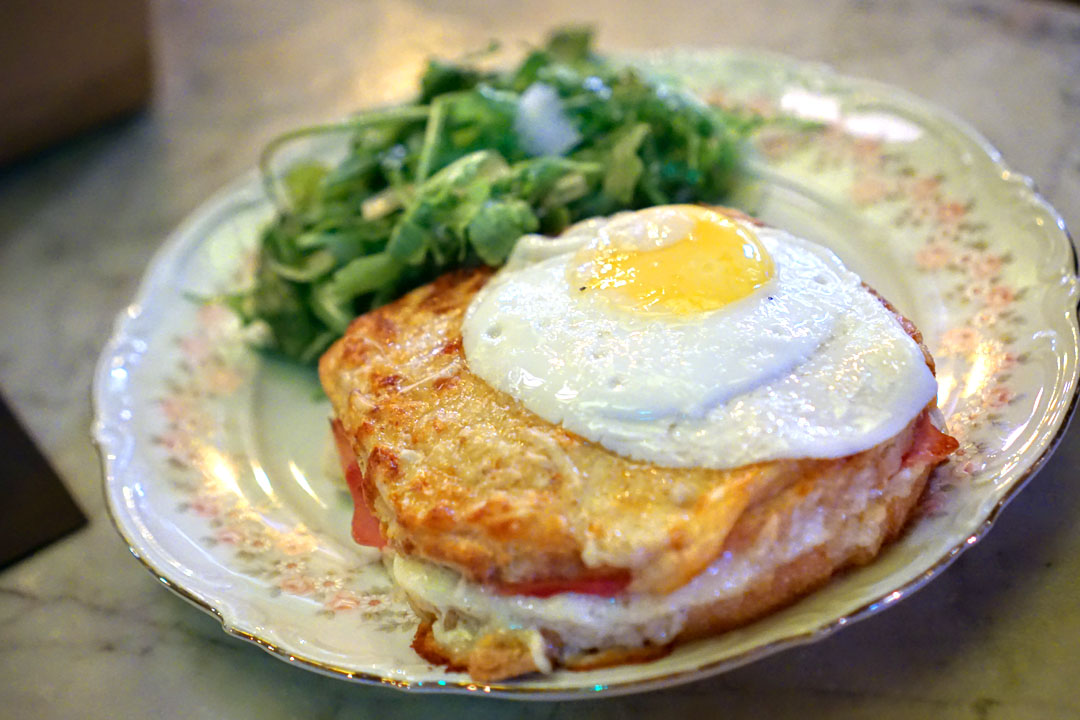 Croque [$22.00 + $4.00]
| white ham, gruyère, béchamel, arugula salad + fried egg
The croque madame was superb, one of the best I've had. The key here was the interplay between salty ham, cheese, toasty bread, and the dish's crispy caramelized bits, while the runny egg was icing on the cake. At the same time, the zippiness of the arugula on the side worked for contrast.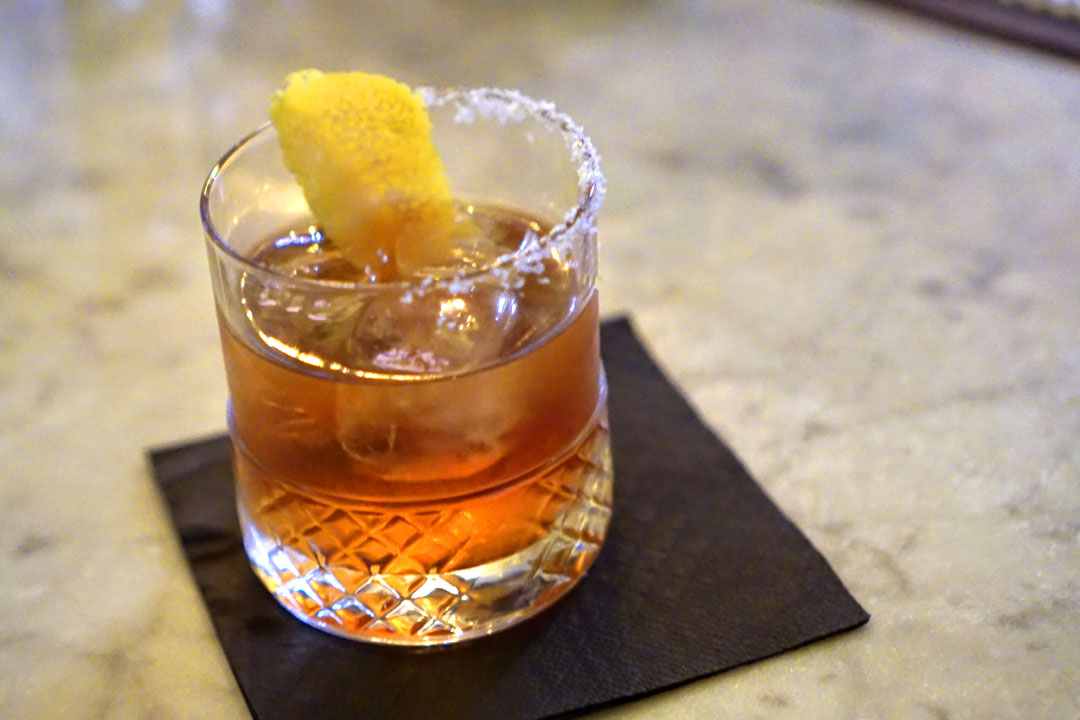 Salted Caramel Old Fashioned
Head barman Kevin T looked after me for most of the night. A transplant from the DC area (he used to work at Wild Tomato), he actually started out as a bar-back at The Wolves when it opened, and thus trained under Kevin Lee. Upon hearing that I was an old patron of Lee's, he made me a complimentary version of a drink he'd been working on, and it was pretty great. The cocktail showcased the typical brown sugar and caramel flavors that you might expect to find, though boosted to another level. Some bitter, medicinal notes worked as counterpoints, but the crux here was that rim, which cut through all the sweetness and really did complete the salted caramel experience.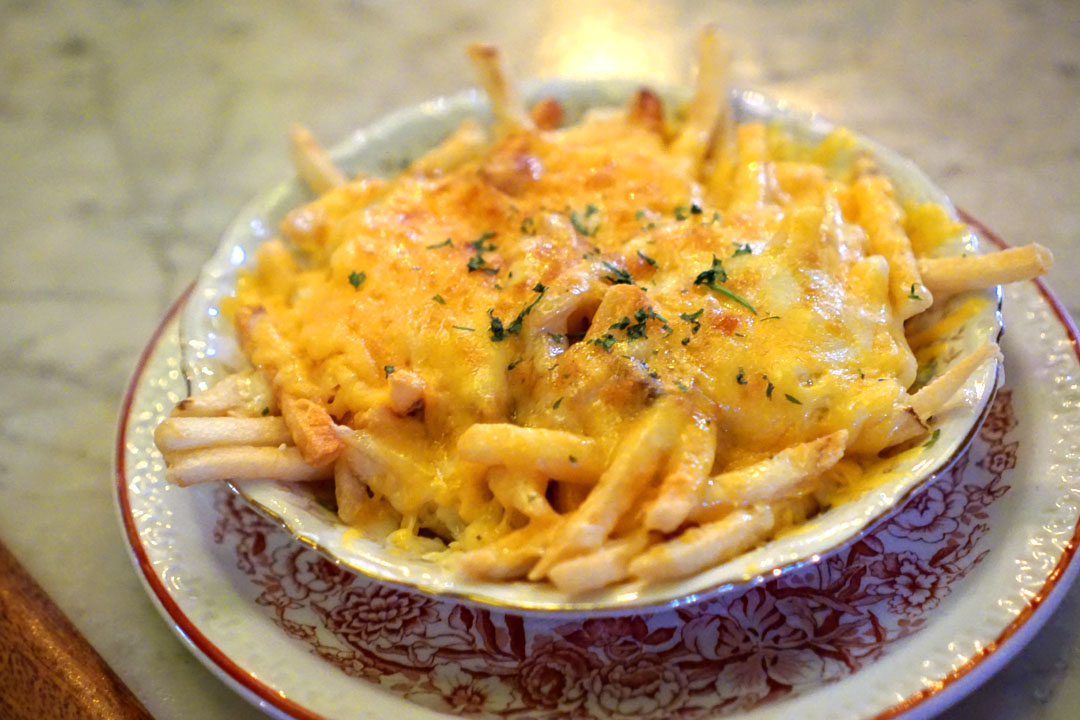 Poutine [$15.00]
| french fries, demi glace beef reduction, comté, cheddar
This somewhat nontraditional poutine met the mark as well. The fries here were McDonald's-esque I'd say, and I mean that in the best way possible. They actually melded seamlessly with the unusually flavorful cheese, and the "gravy" had a dark, deep savor that reminded me a bit of French onion soup.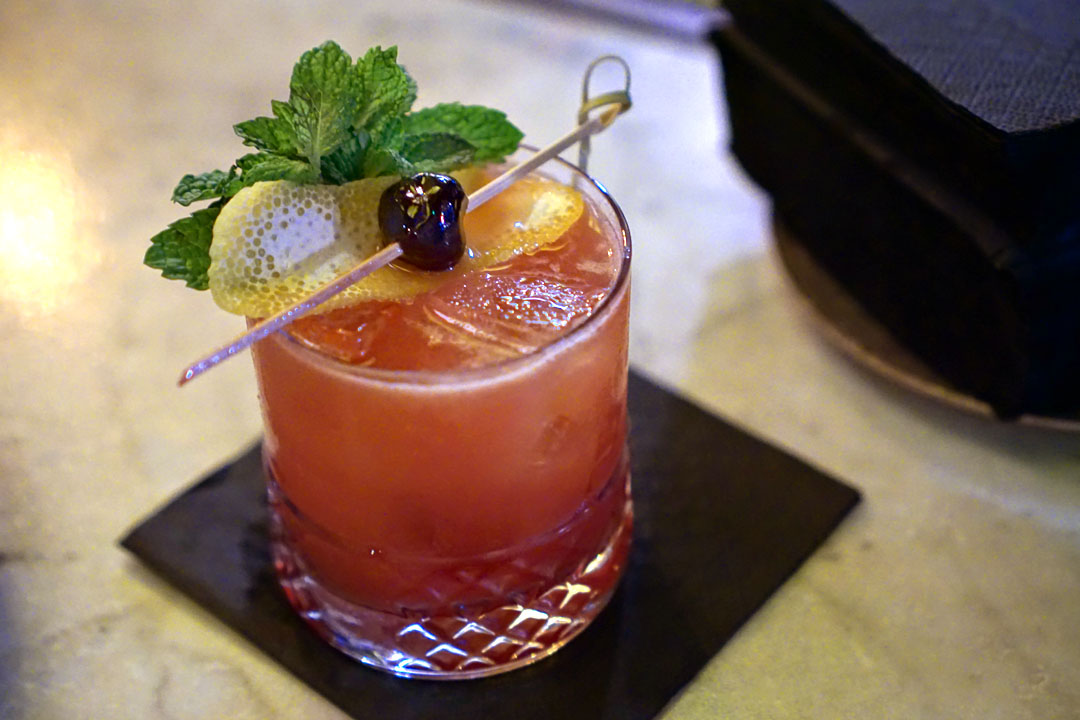 Flight of Passion [$16.00]
Another Kevin T creation, this was comprised of rhum agricole, agave honey, habanero bitters, ginger, strawberry balsamic, and a couple other ingredients I'm forgetting. I got a healthy amount of rich tropical fruits countered by a gingery burn and a prickly heat on the back end that worked out rather well. What was interesting, though, is that on certain sips, I detected an almost soy sauce-like element that took the drink in a nearly sushi rice sort of direction.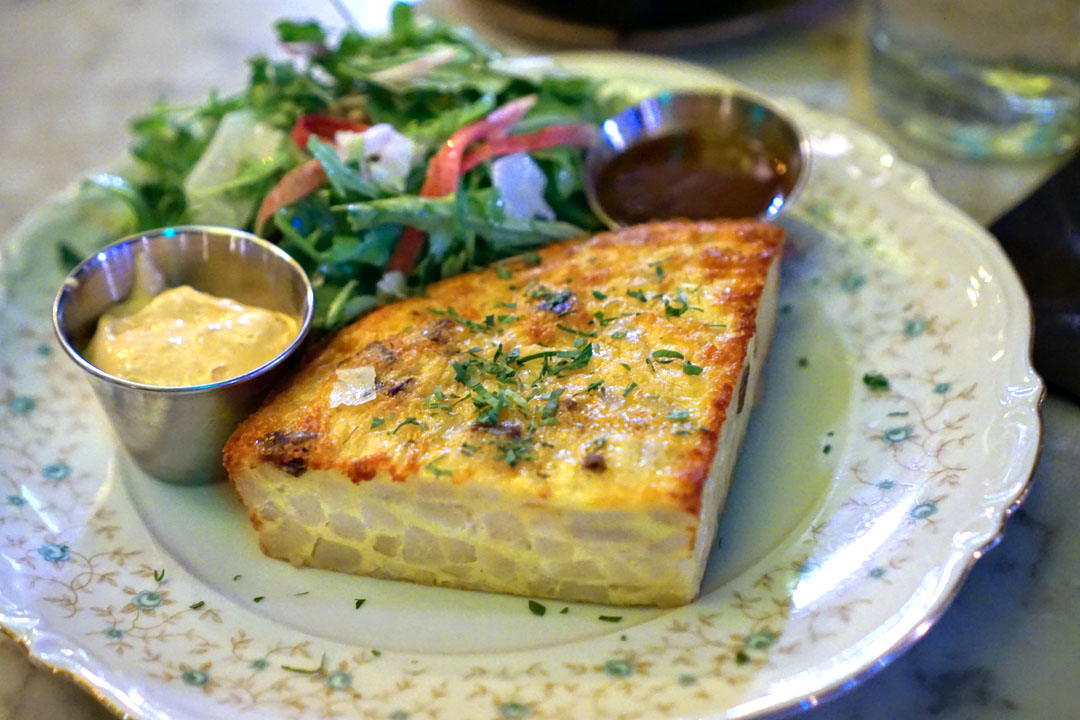 Potato Espagnola [$14.00]
| served warm or cold, chopped arugula, spicy aioli
I almost always order the tortilla española if I see it on a menu, and tonight was no exception to that rule. Served warm, the omelette ate dense and hearty, with a classic marriage of potato and egg that paired swimmingly with the dish's browned crust. Two sauces were included--a creamy, piquant aioli and a thinner, rather savory brown sauce--but neither was strictly necessary.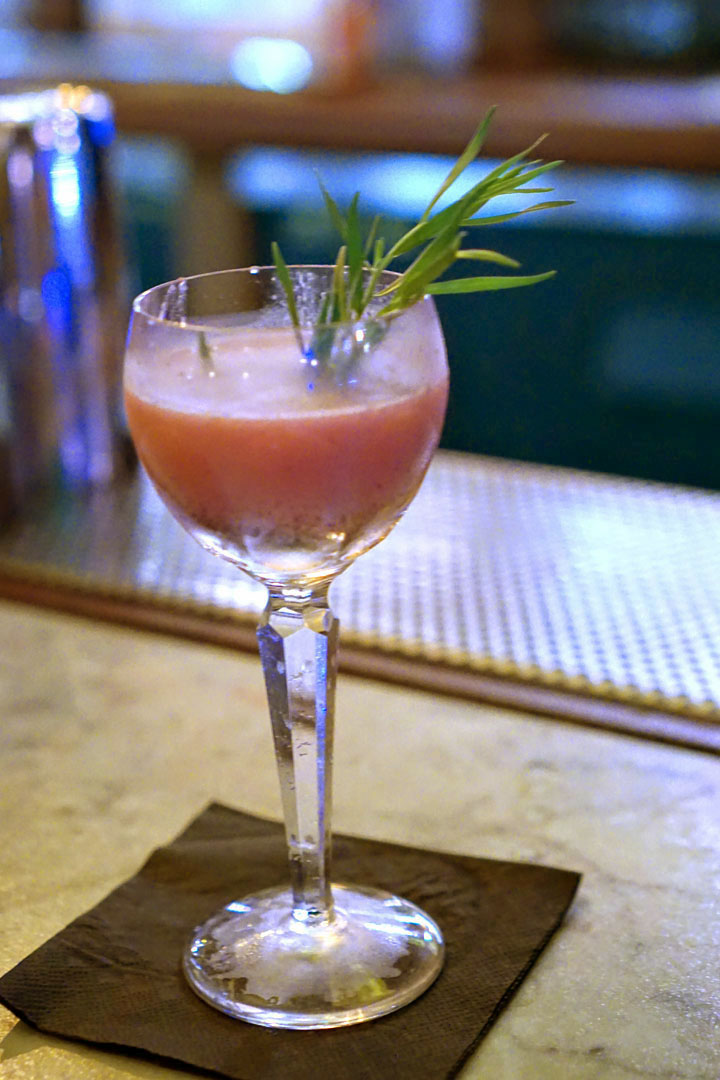 Dragon Tail
We ended with another gratis in-work cocktail from Kevin T, one that he apparently just started experimenting with today. If I recall correctly, it was composed of Armagnac, dragon fruit, coconut, honey, and tarragon, and was inspired by the desire to incorporate dragon fruit into a drink. The end result was an unabashedly fruity, quaffable concoction that went in a tropical, melon-like direction, but with a honeyed underpinning and a pleasantly "gritty" mouthfeel.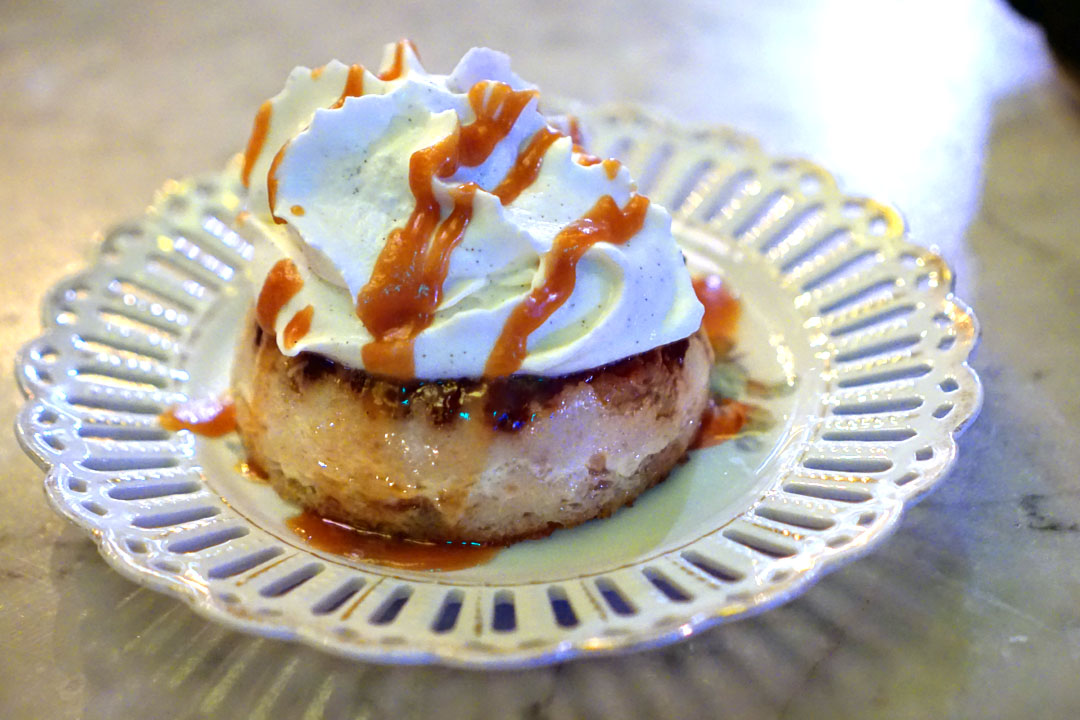 The Wolves Bread Pudding [$9.00]
| cognac soaked raisins, chocolate chips, caramel sauce, fresh whipped cream
I ended with the bread pudding, which managed to be one of the better preparations I've had in recent times. What stood out here was the interaction between the dessert's boozy and dark fruit notes, and how those combined with the very apparent chocolate chips, while the whipped cream definitely lightened the mood. Yum.
It was great to be back at The Wolves after so long, and I had a lovely time here this evening. The drinks were well-crafted and very tasty, while the rustic French cooking certainly delivered in spades as well. This is one of my favorite bars in town, and I think it deserves more attention than it gets. Now, I am curious as to what the team is going to do with the old Le Néant mezzanine in the back. From what I've heard, they're planning to use the space for more "bespoke" cocktail experiences, as well as for LQ Fooding events from Quenioux, so perhaps a revisit will be called for when those get instituted.