Kogane (Alhambra, CA)
Kogane Sushi
1129 S Fremont Ave, Alhambra, CA 91803
626.703.4148
www.instagram.com/kogane_la/
Thu 09/15/2022, 08:15p-10:50p

I feel like there have been a number of high-end,
edomae
-style sushi restaurants that have popped up in the Southland over the last couple years, and one of the latest entrants in that arena is Kogane (黄金, or "gold"), which opened right at the end of 2021 and comes to us from Chefs Fumio Azumi and Kwan Gong. What's somewhat unusual about this place is that it's located in an oddly-configured, difficult-to-access strip mall in the San Gabriel Valley, one that I've driven by countless times without paying much attention to. Kogane immediately piqued my interest when I found out about it a while ago--it seemed like it could be the "next great sushi spot"--but I only made it out recently.
About the Chefs
:
Azumi Fumio
hails from Tokyo, and was born in 1975 to a father who was also a chef. After starting out in Japan, he eventually immigrated to the United States in the early 2000s and settled in the Los Angeles area. He worked at a number of places in LA, including notably at
Asanebo
and
Mori
. At the latter restaurant, he left not too long after the place was sold to Masanori "Maru" Nagano in March 2011, and interestingly enough, was actually replaced by Yoshiyuki "Yoshi" Inoue, who now runs
Kaneyoshi
. From there, Azumi eventually helped open
Sushi of Gari
in Hollywood in May 2016, and actually worked there with his brother, Taketoshi "Take" Azumi of Shin Sushi in Encino.
After Gari shuttered in the middle of 2018, the Chef was able to join the team at Keizo Seki's
Sushi Zo
, and was later tapped to debut the restaurant's new outpost in Hong Kong, which bowed in August 2019. Azumi made his way back to the US after the opening, but then the pandemic hit, and he worked briefly with Inoue preparing takeout boxes out of
Sushi I-naba
. He later got a job at Luxe Seafood, a wholesaler in DTLA, which is where he and Gong started formulating plans for Kogane.
Kwan Gong
, meanwhile, comes to us from Jakarta. He actually worked in the automobile industry back in Indonesia, but wound up relocating to the States in 2014. Now in SoCal, he quickly immersed himself in the world of Japanese cuisine, and really got his start at H2O Sushi & Izakaya up in Northridge in early 2015. There, he was trained by
I Gusti Mahendra
, a fellow Indonesian who goes by the mononym "Roe." He left H2O in April 2017 and transitioned over to posts at Iroha Sushi of Tokyo in Studio City and Sasabune in Glendale, and was working at Geisha Japanese Restaurant in Koreatown by early 2019. When the pandemic struck, the Chef teamed up with Roe to launch
Bali Sushi Catering
, and of course, also began a job at Luxe.
Gong and Azumi were at the wholesale seafood company for over a year, and during this period, cemented their desire to start a business together. Gong was able to find a group of Indonesian investors to help fund the project, and Kogane was thus first teased in April 2021. After starting construction that September, the restaurant grand-opened on December 28th, just in time for the New Year.
As for the rest of the team at Kogane, Roe was actually behind the scenes in the kitchen, preparing many of the cooked dishes we enjoyed tonight, while the front-of-the-house is the charge of Jon Tran, who curiously enough, previously worked at Mori as a sushi chef.

Kogane takes over a storefront that was, at one point or another, previously home to the likes of Aku Poke, Qdoba, and Moe's Southwest Grill. Pictured above is the view from the restaurant's seven-seater bar. There are also four two-top tables, but those are only used for lunch service from what I understand.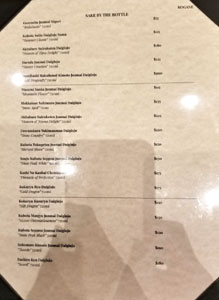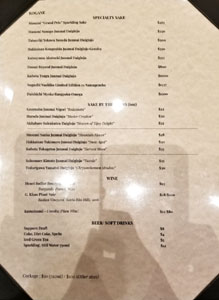 The menu is strictly an omakase affair, one spanning roughly 22 courses and priced at $300 a head (up from the $250 charged when the place first opened). A printed copy of the evening's bill of fare was provided, a rare sight at high-end sushi-ya, and it was even signed by all four staff members. As for beverages, you get a pretty decent sake selection alongside a smattering of wine and beer. Corkage is $50 a bottle, or $100 for larger formats. Click for larger versions.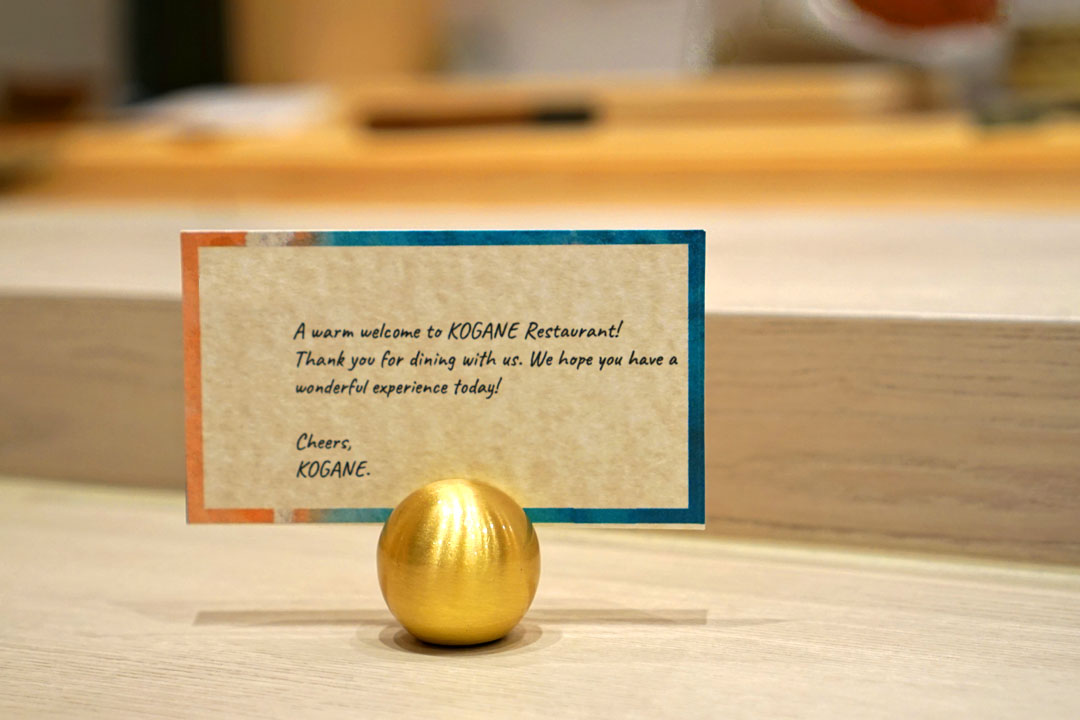 Upon being seated, we were greeted with a welcome card, a nice touch that you don't find all that often these days.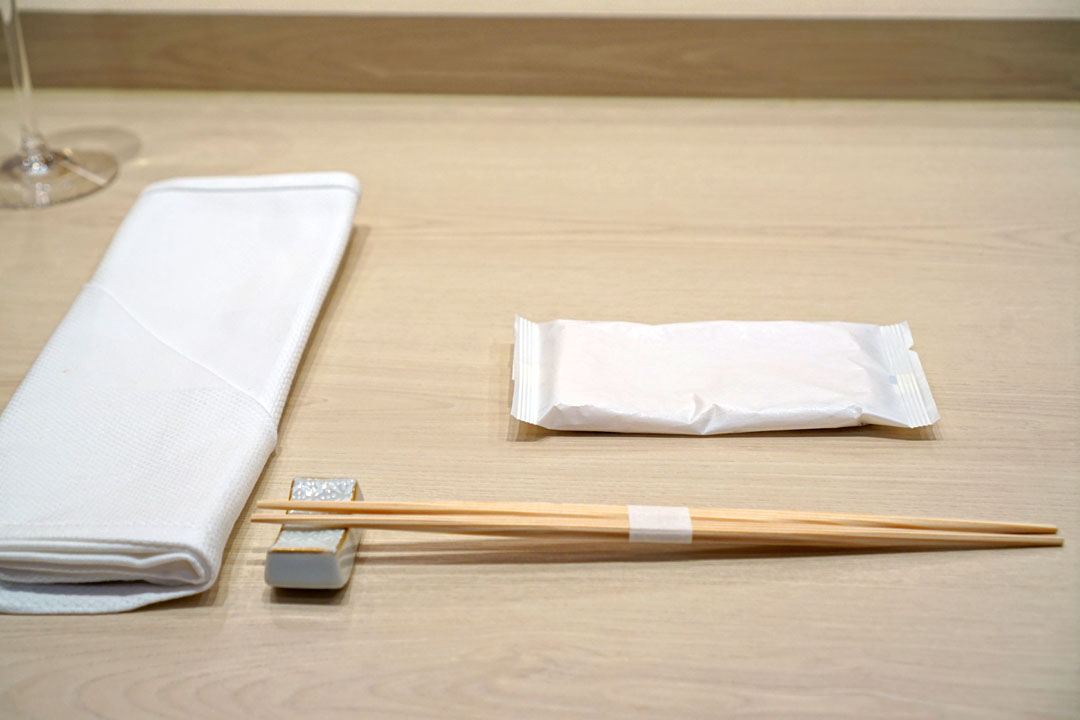 And here we see the place setting. Do note that the
oshibori
was warm tonight, perhaps signaling a change in the seasons.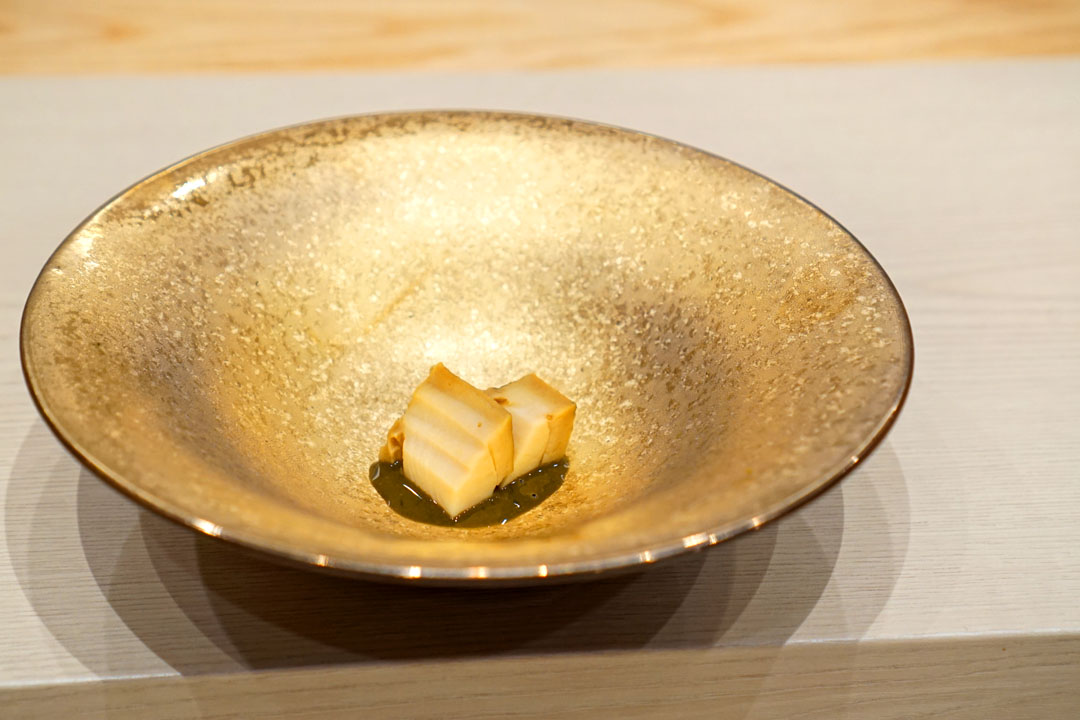 1: Mushi Awabi, Abalone liver sauce
The evening's first bites comprised pieces of beautifully-textured, slow-simmered abalone that were just bursting with umami, but were made even better when boosted by the depth and intensity of a
kimo
sauce made from the mollusc's innards. We even requested some rice to sop up the remainder of the condiment with (à la
Takeda
).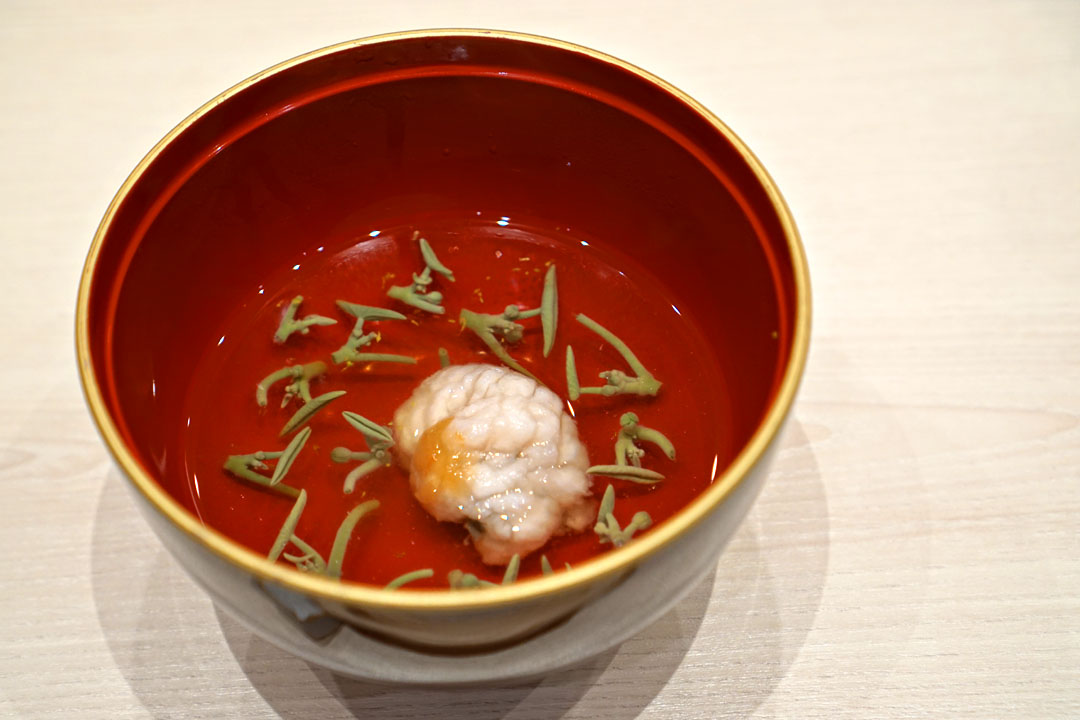 2: Hamo (Pike eel), Junsai, Ume
Our
osuimono
course featured a wonderfully smoky broth with undertones of citrus, and paired like clockwork with the almost "fluffy" pike conger eel, which had just the faintest of bones. The traditional accoutrement of plum paste added a trace of piquancy to the fray, but the crux of the dish for me was that water-shield, which had a wonderfully mucilaginous consistency that was just a joy in terms of mouthfeel.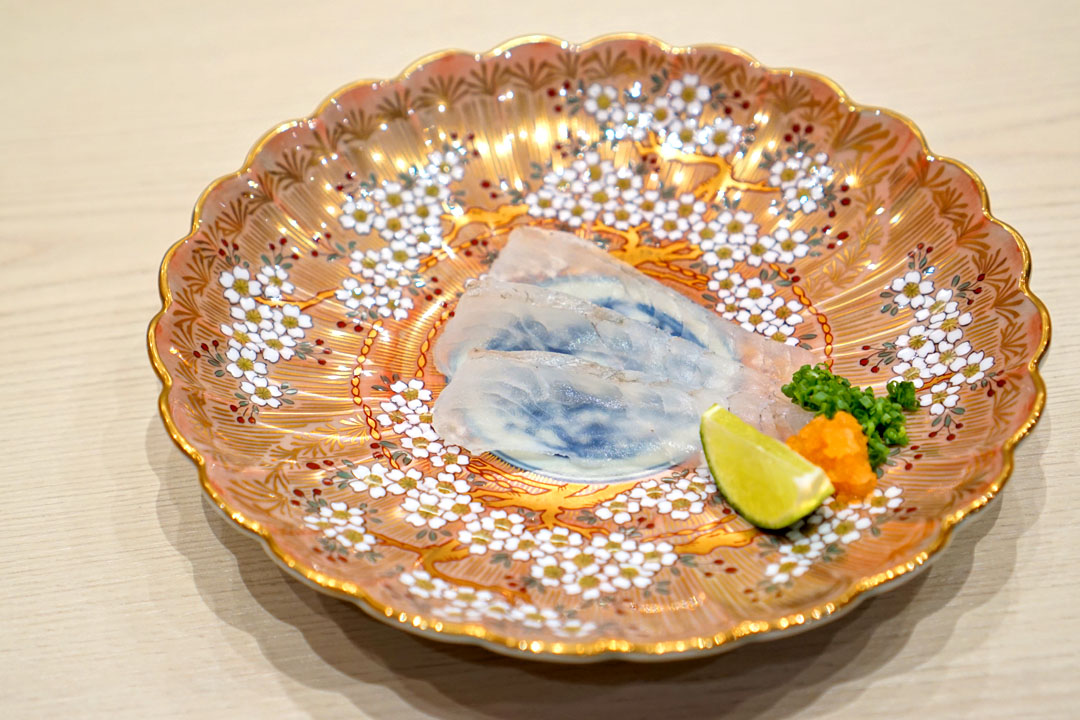 3: Mako Karei Usuzukuri
This end-of-season
mako garei
was a real treat, and one of the best
shiromi
I've had. What really stood out was its surprisingly deep savor, as well as its eminently delicate, thin-sliced texture. The marbled flounder certainly meshed well with its various accompaniments, but really opened up with a dab of ponzu, which seemed to further draw out the fish's flavor.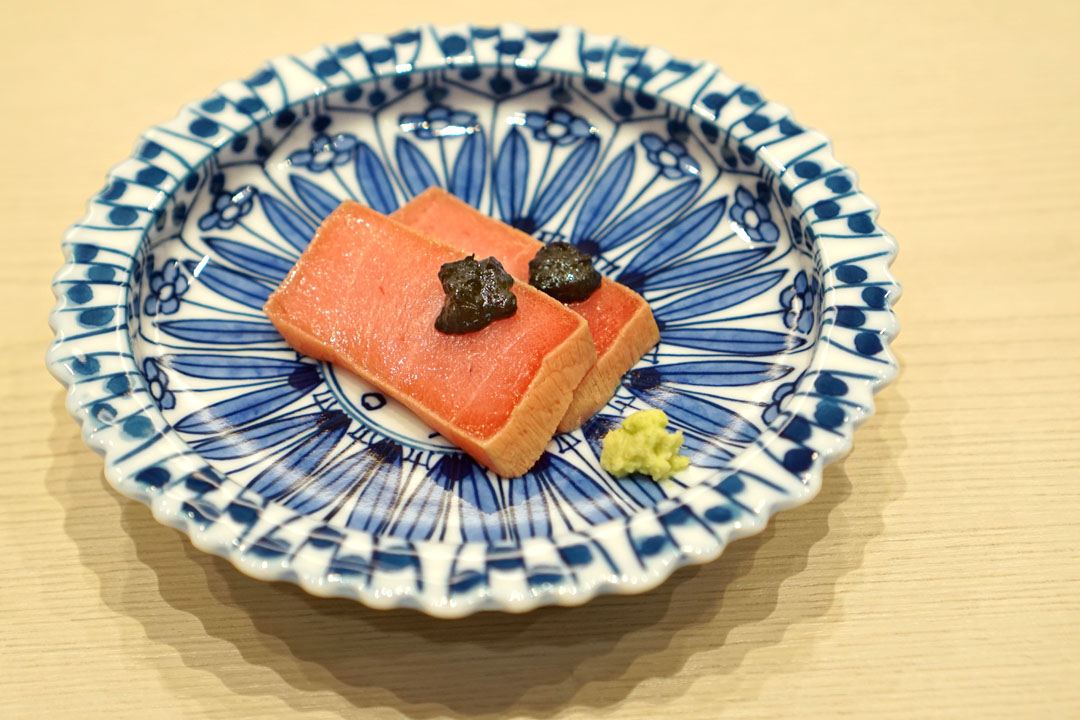 4: Dry Aged Zuke Chutoro, Nori Sauce
Dry-aged chu-toro demonstrated both potency and finesse, along with a supple, yet satisfying bite. The tuna really sang when paired with all the umami from that seaweed sauce, while wasabi heat offered up a well-placed accent.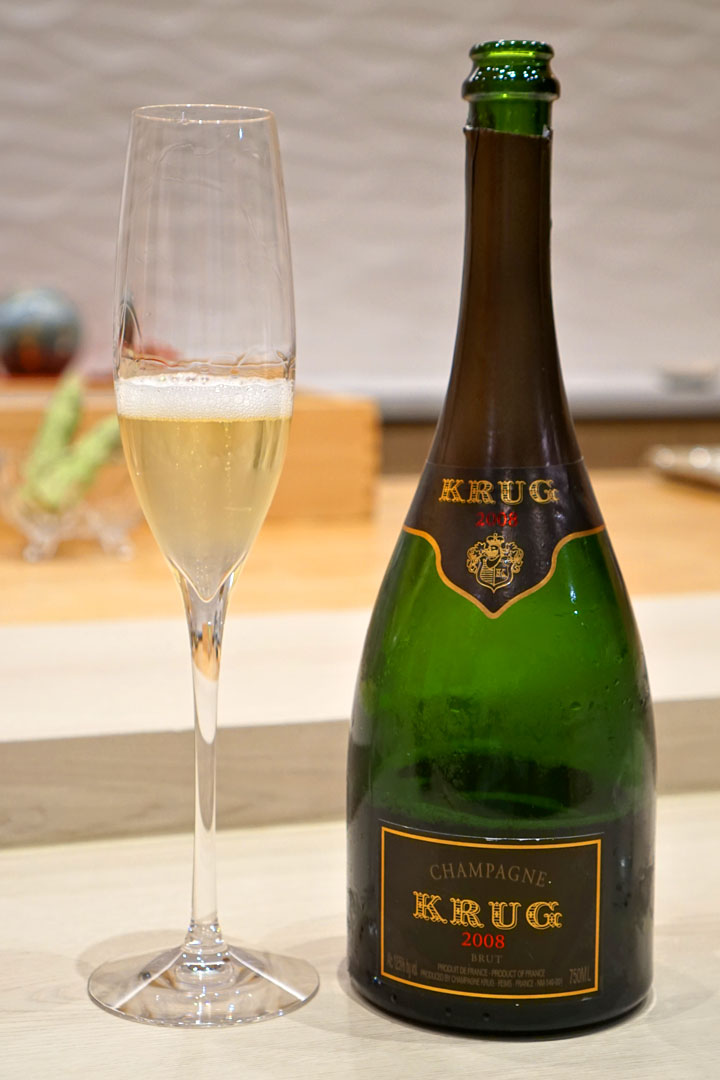 To drink, we brought a bottle of the acclaimed
2008 Krug Champagne Vintage Brut
. Initial whiffs revealed massive lemon undergirded by a cheesy funk, while on the palate, I got loads of pert, acidic citrus and apple, but preciously little toast, which is sort of a hallmark of the house. After letting the wine warm, the nose improved, and displayed more complexity, depth, and a backbone of barnyard. The taste was also enhanced, and I detected that toastiness I was looking for, commixed with rich, round fruit. Further time resulted in an even more intense bouquet and the revealing of some bittersweet, mineral-driven flavors. Overall, this wasn't as tasty as I was hoping for, and I suspect it was because the sparkler is simply too young, even at 14 years of age, so I'd like to revisit in a decade or so. Of all the '08 Champs I've tried, the clear winner is Louis Roederer's Cristal (at
Kaneyoshi
), and I don't see anyone else unseating it from the top spot anytime soon.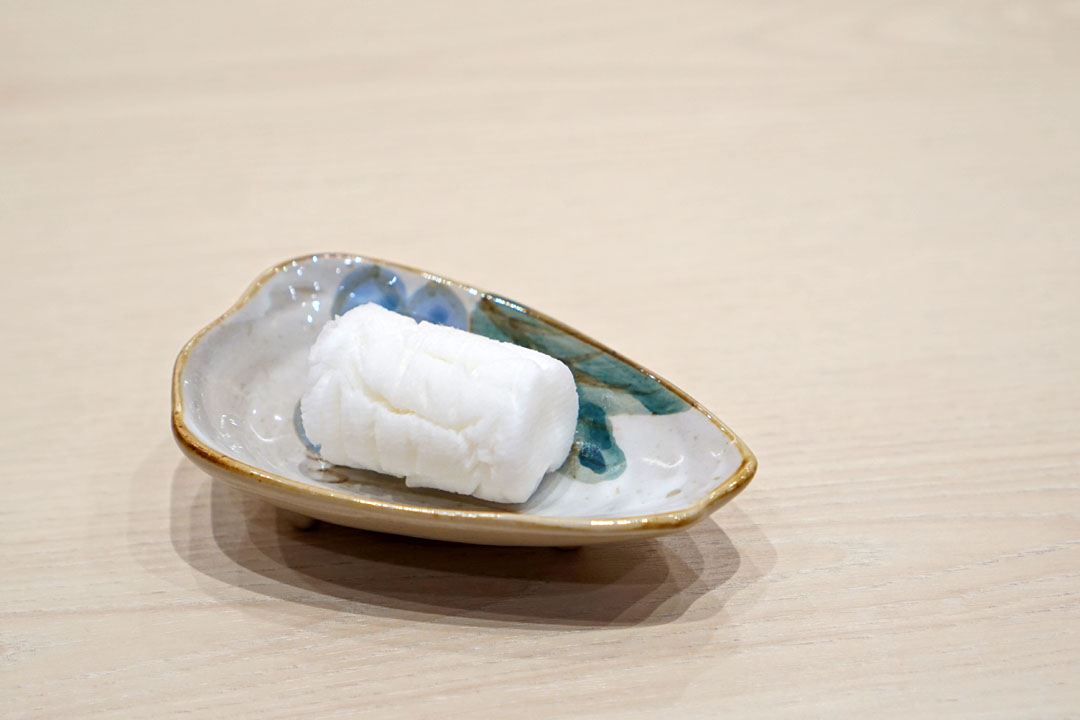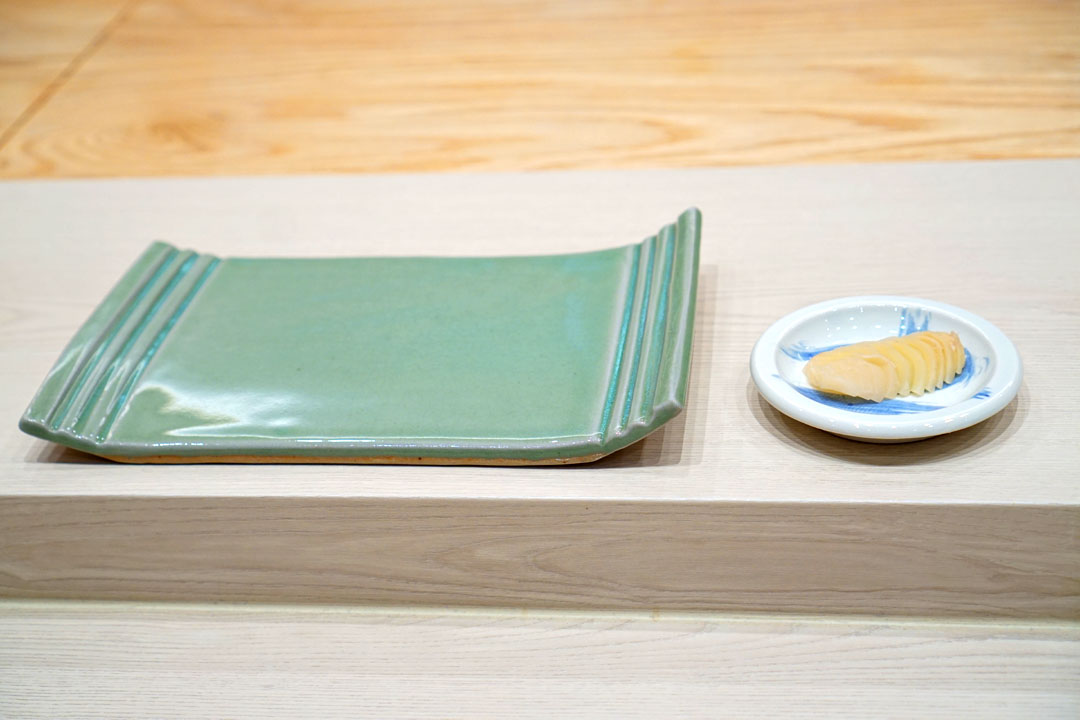 With the arrival of the finger napkin,
geta
, and ginger, it was now clearly time for our parade of nigiri to begin. I will point out that the teal sushi plate, along with many of the ceramics here, was created by
Yuko Yenser
, a Mori/
Echigo
/Sushi Sushi alum who was actually my server at
Masakazu
. Small world!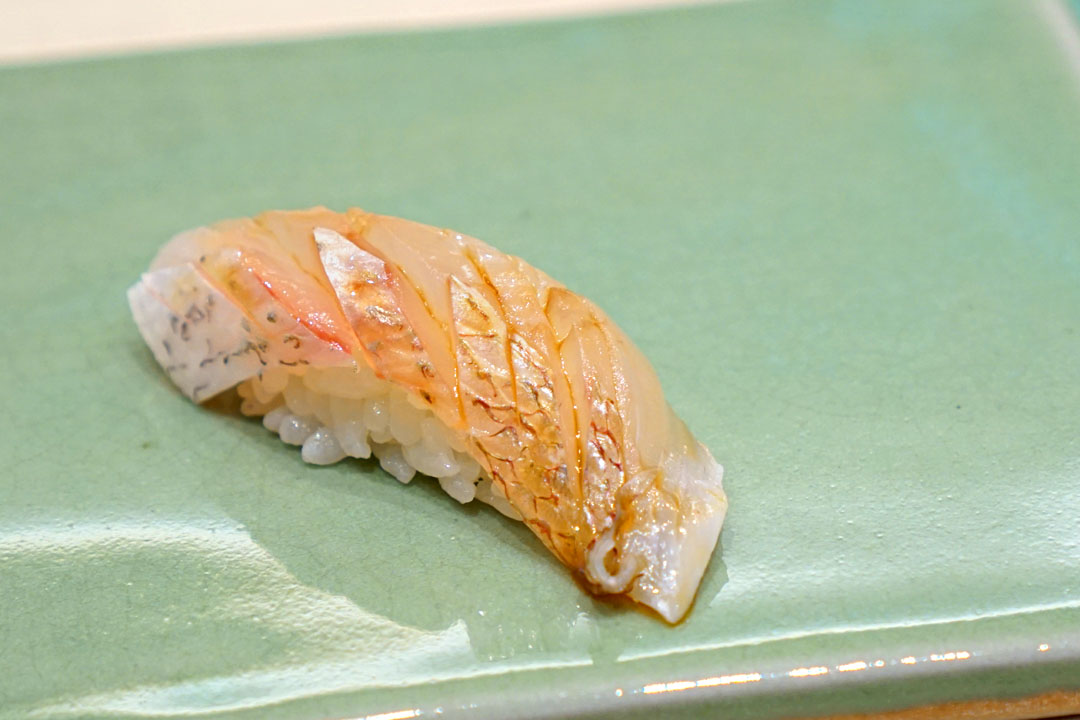 5: Kasugo Dai (Baby Snapper, Hyogo)
We got off to a stellar start with young sea bream, which I believe had been quickly scalded with kombu dashi. The fish was a favorite, and probably the best rendition of the
neta
I've tried, thanks to its surprisingly potent savor and complexity, all flawlessly countered by the rice.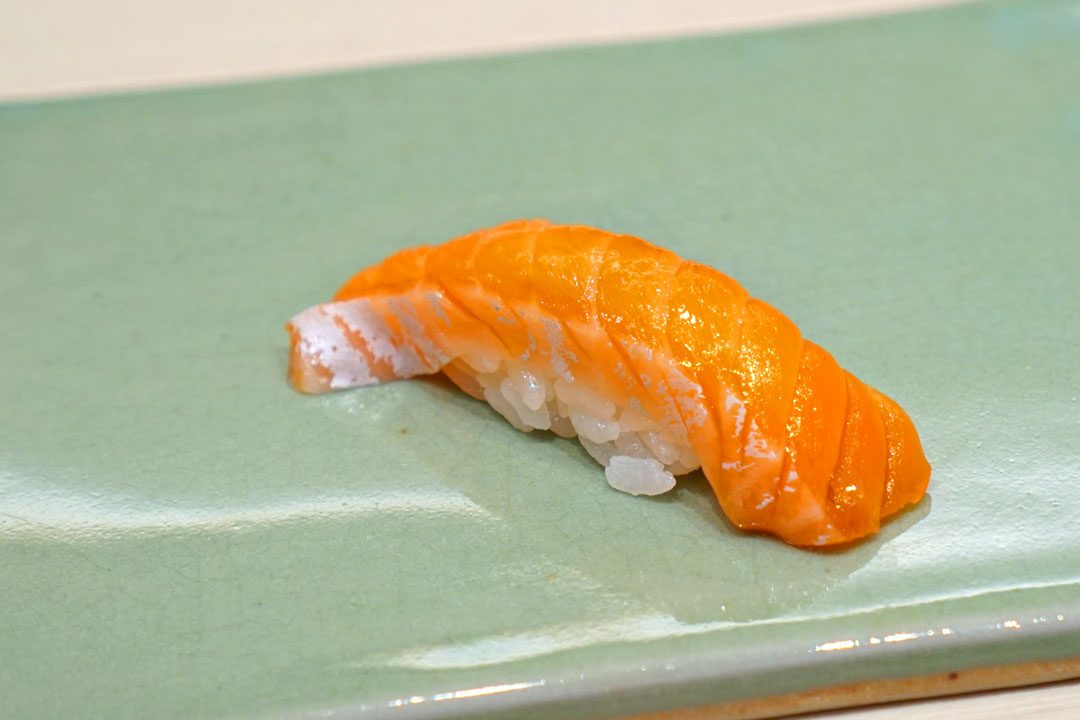 6: Shinshu Trout (Nagano)
Next came a lush, creamy cut of freshwater
masu
that delivered a healthy dosing of umami, so the juxtaposition of the
shari
was crucial.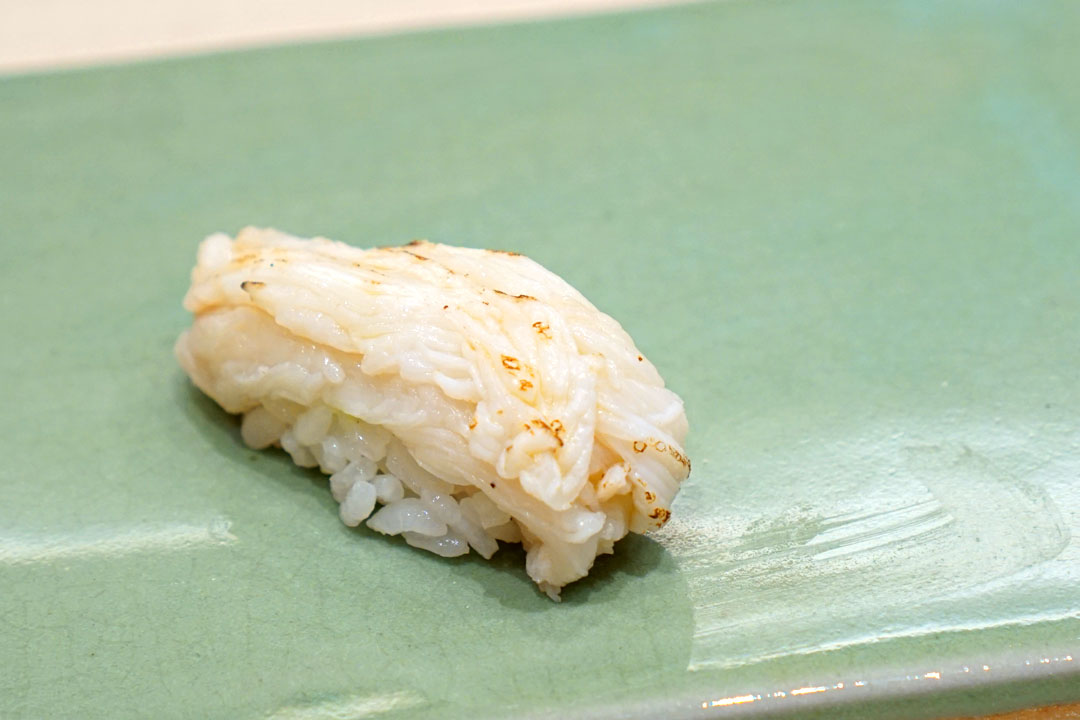 7: Zuwai kani (Snow Crab, Hokkaido)
The
zuwaigani
was a standout. What really clicked here was how perfectly the smokiness present married with the inherent sweetness of the crab, the whole bite finishing with a lingering heat from the wasabi.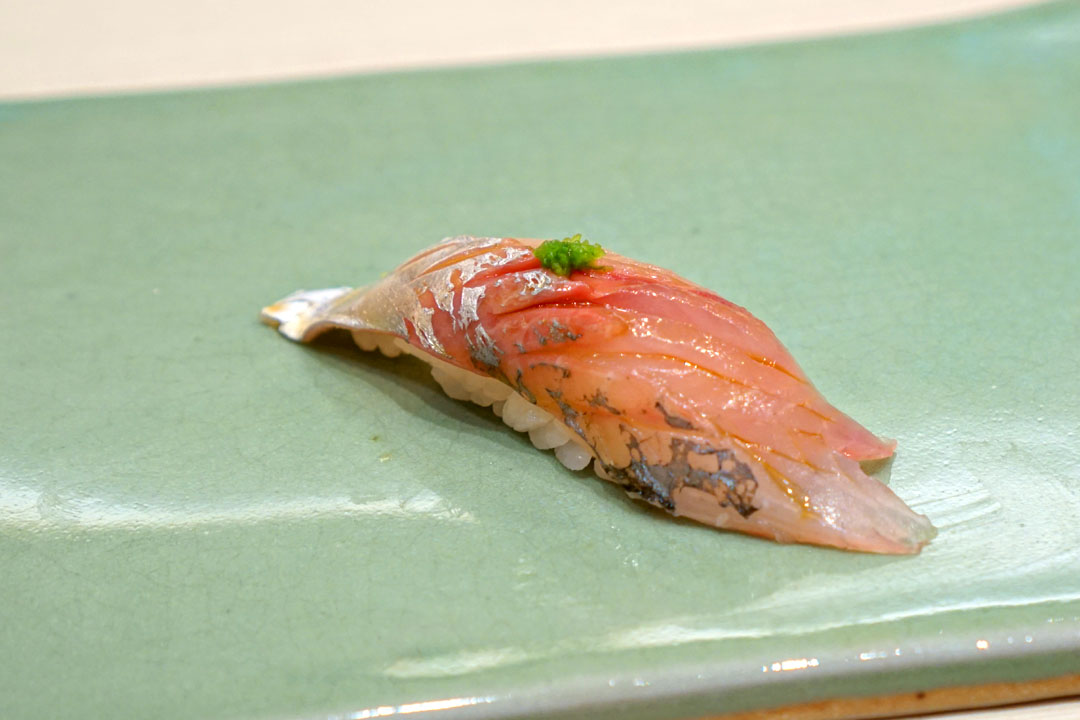 8: Aji (Hyogo)
A ruby-hued cut of Spanish mackerel was a definite winner. I loved its slick, slightly "snappy" consistency, while the fish's refined brine melded seamlessly with the bit of scallion up top. And again, the sushi rice made itself known and really worked great as a counterbalance.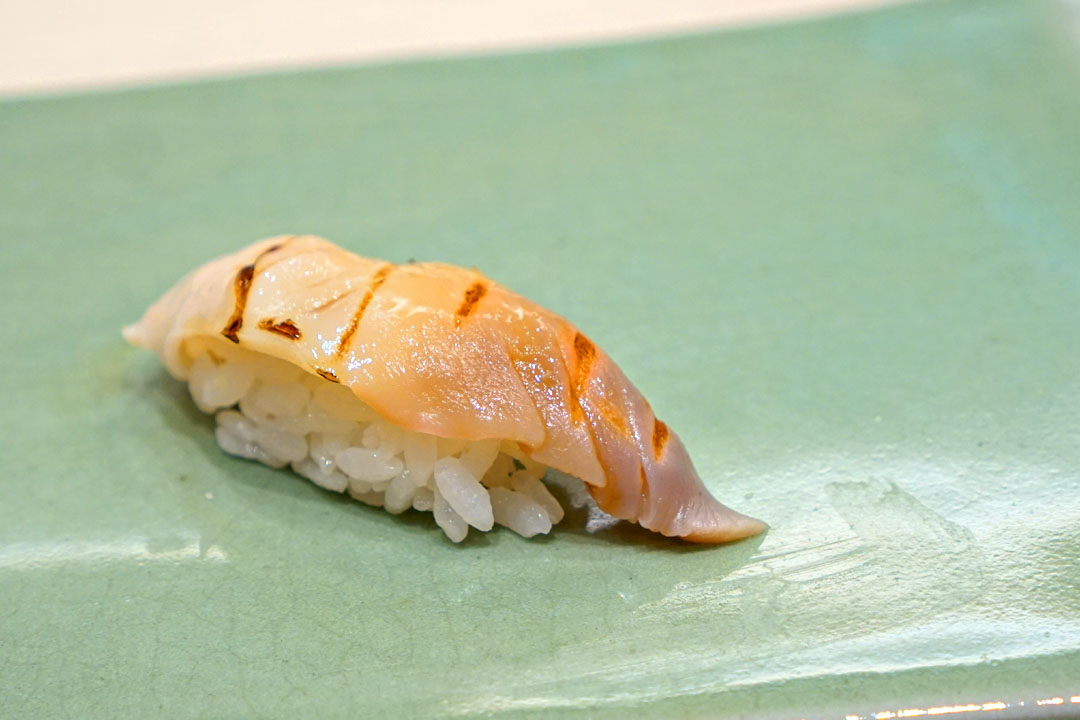 9: Hokkigai (Surf Clam, Hokkaido)
Hokkigai
is an uncommon sight at sushi restaurants, so it was a treat to have it tonight. The clam had a super gratifying bite, while its taste combined a smoky savor with a mouthwatering saline-sweetness.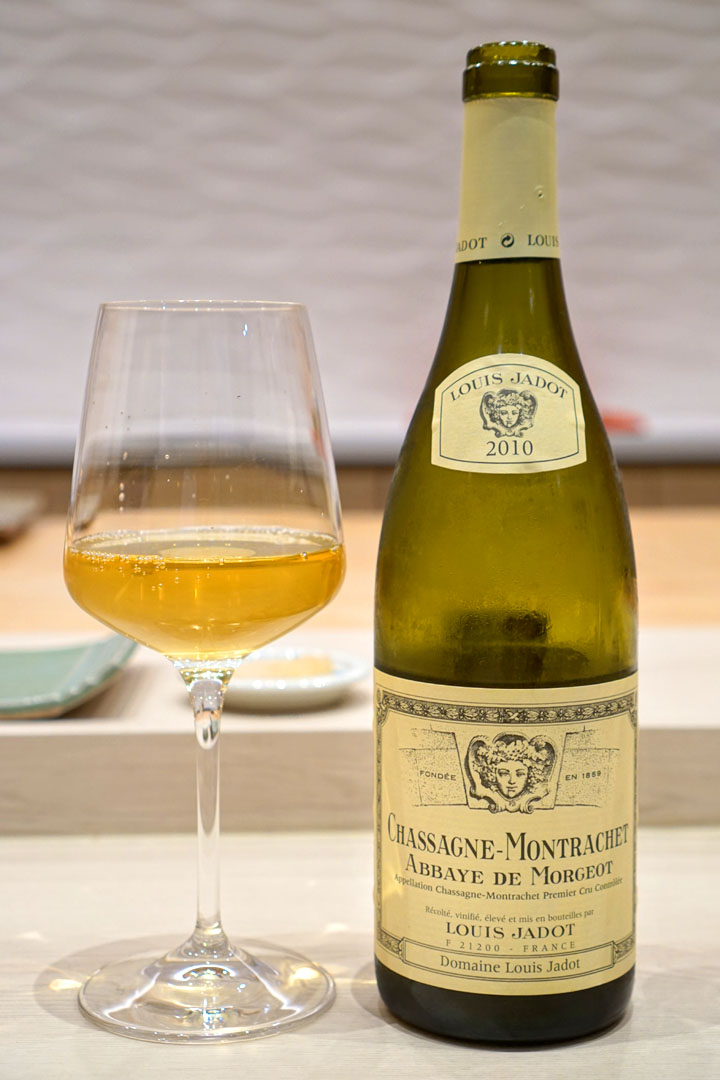 Our second BYOB bottle was some white Burgundy, the
2010 Louis Jadot Chassagne-Montrachet 1er Cru Abbaye de Morgeot
. The wine had a grassy, somewhat medicinal nose laced with hints of flowers and citrus fruits. On the palate, I found the Burg on the round, luscious side, yet still nicely acidic, its rich base of yellow fruit joined by notes of caramel, smoke, lemon, and oak.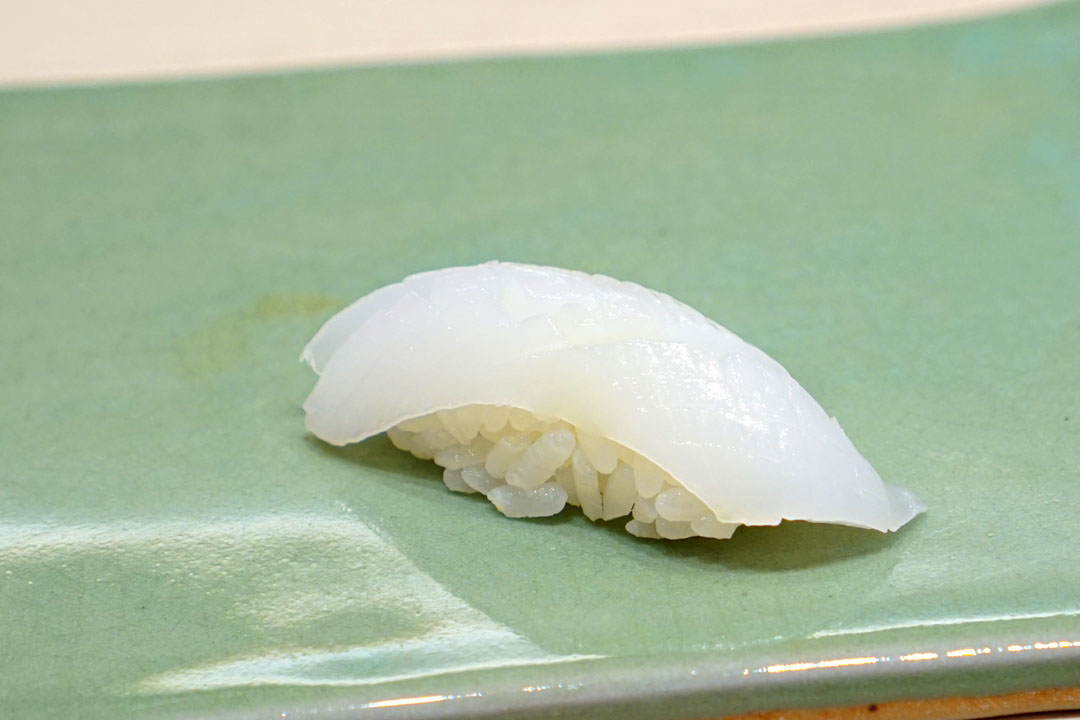 10: Aori Ika (Bigfin Reef Squid, Hyogo)
The squid was spot-on, with a sweeter taste than most, and I was pleased with its subtly sticky texture to boot.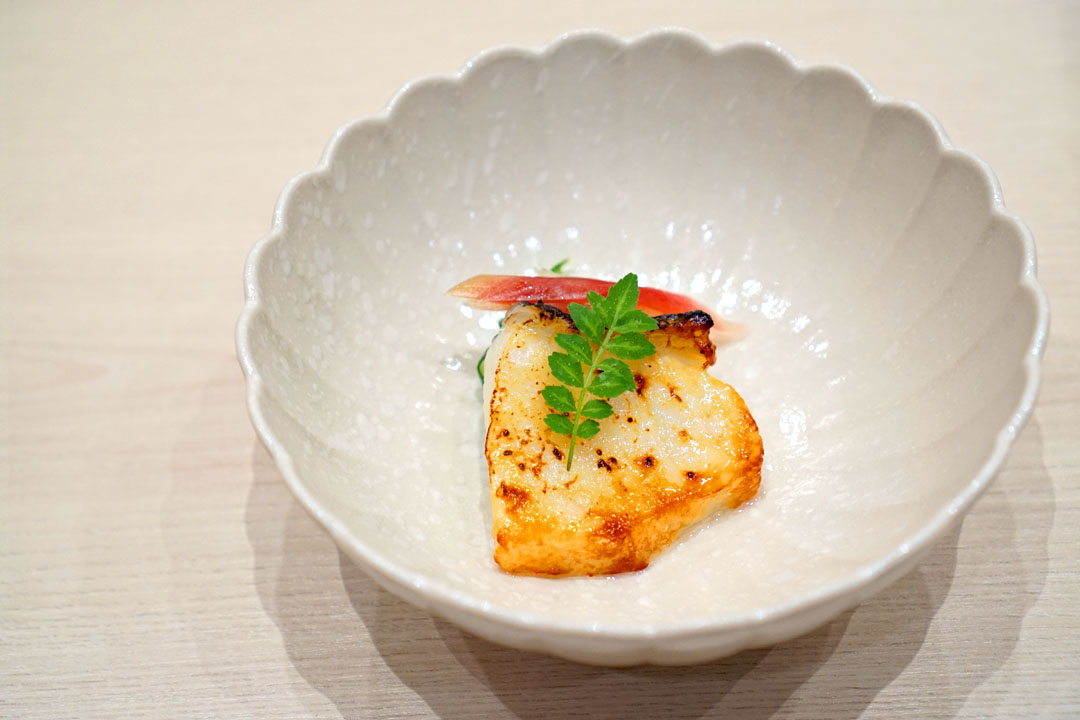 11: Chilean Sea Bass, Yuzu Miso, Kinome
A cooked fish interlude featured a delightfully soft, succulent, flaky cut of toothfish, one with a delectable savory-sweet flavor profile that paired perfectly with the Bourgogne above. I quite liked the brightness from the cucumber at the bottom of the bowl, too.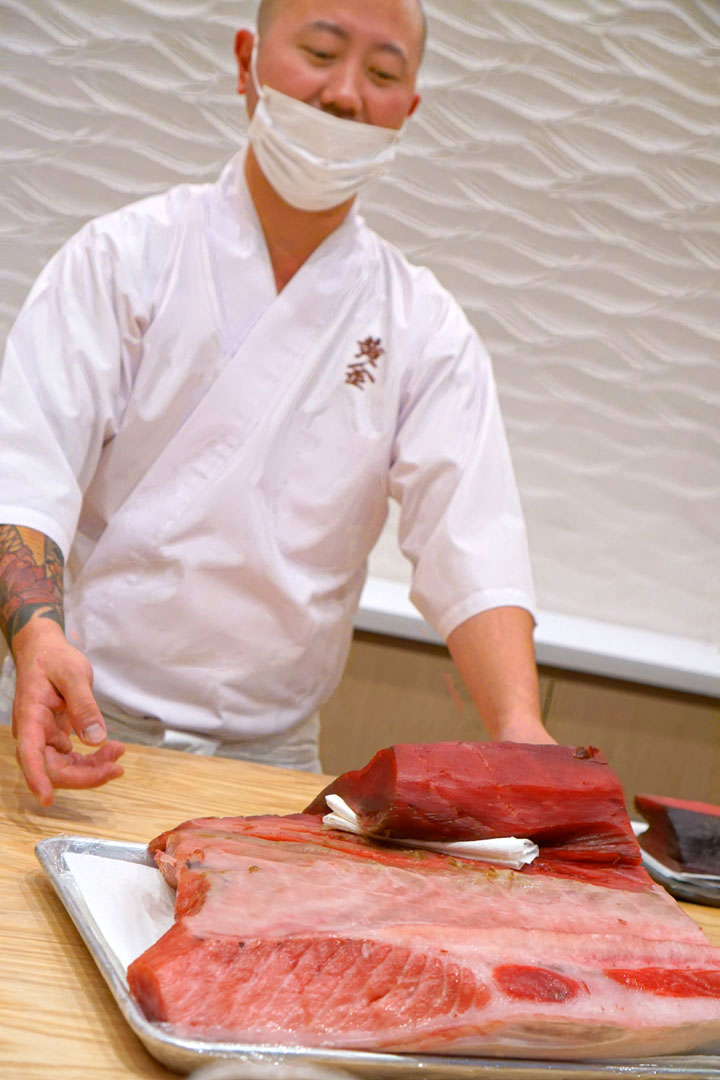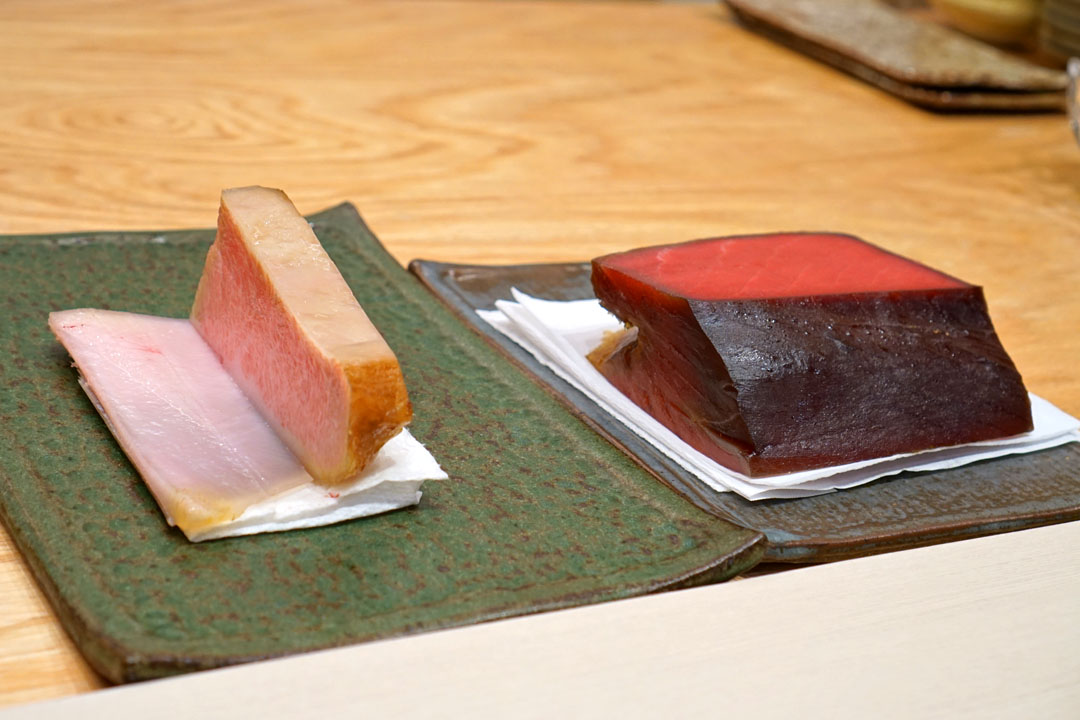 In preparation for a couple upcoming courses, Kwan-san brought out some tuna for us to see. The photo on the left shows the fish in the process of the being aged, while the one on the right shows the two 27-day aged cuts we consumed below. Note that Mexican bluefin was utilized, which, according to Fumio-san, is actually the most appropriate variety for the type of dry-aging that they're doing here.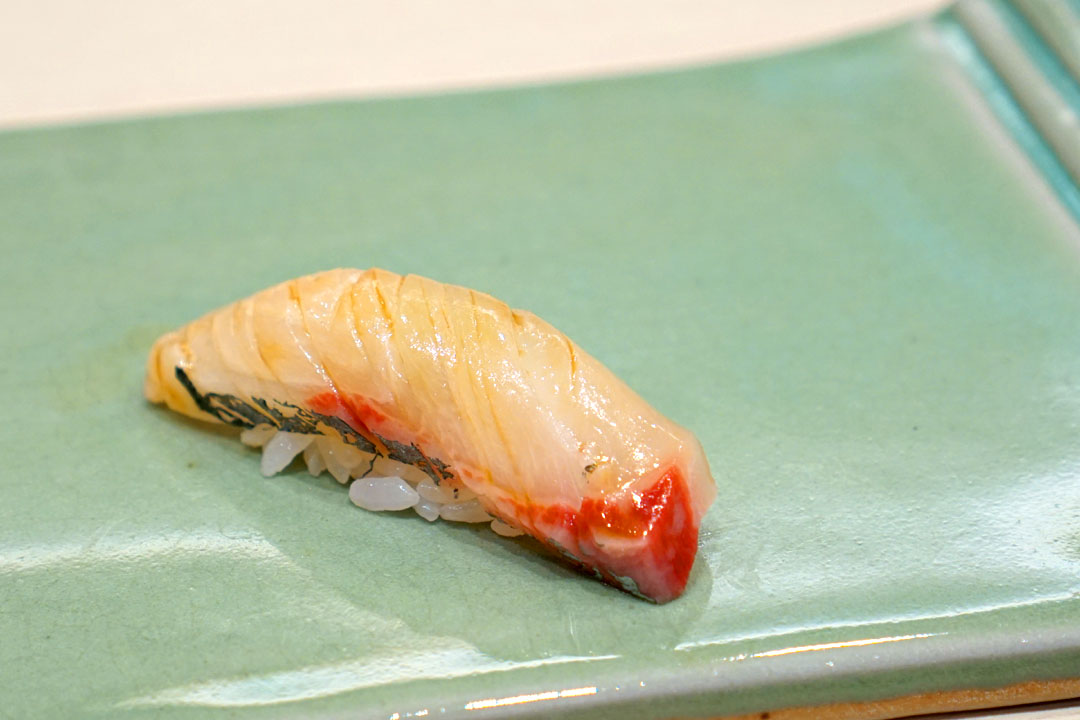 12: Shima Aji (Stripe Jack, Chiba)
Striped jack had the firm, springy texture that I was expecting from the fish, while its taste was uncommonly fruity, which was a pleasant surprise.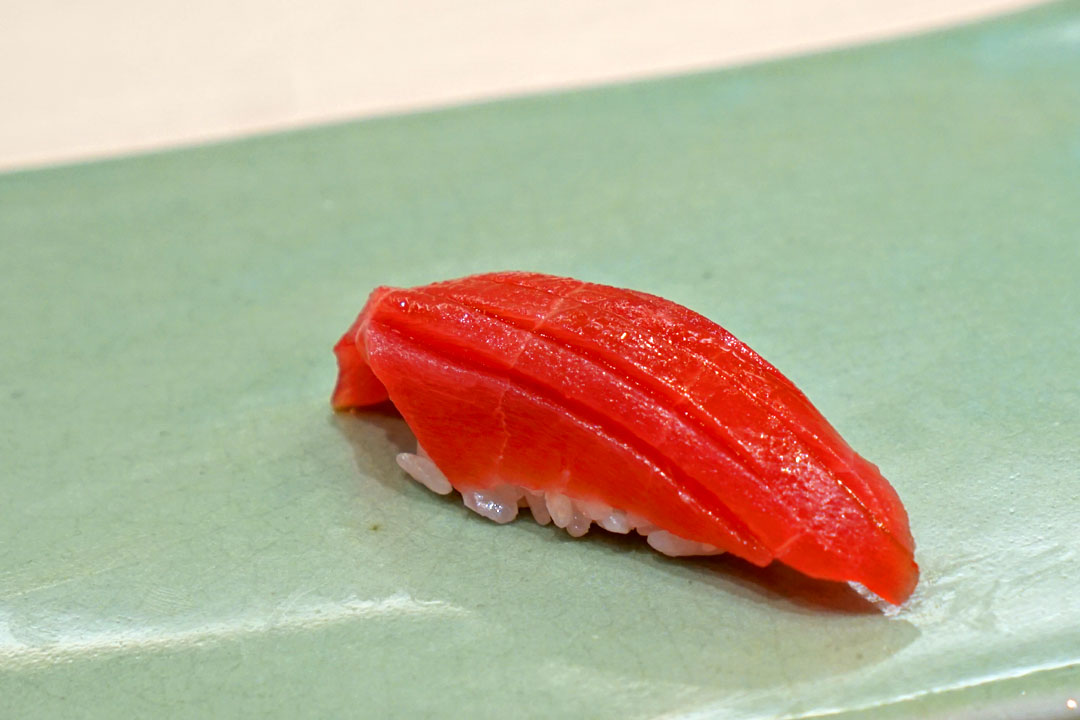 13: 27 days Dry Aged Hon Maguro Akami
And here we see a slice of tuna from the block above. The cut had a really nice depth of flavor to it, but was also somehow "airy" in its presentation, while the countering effect provided by the rice was crucial.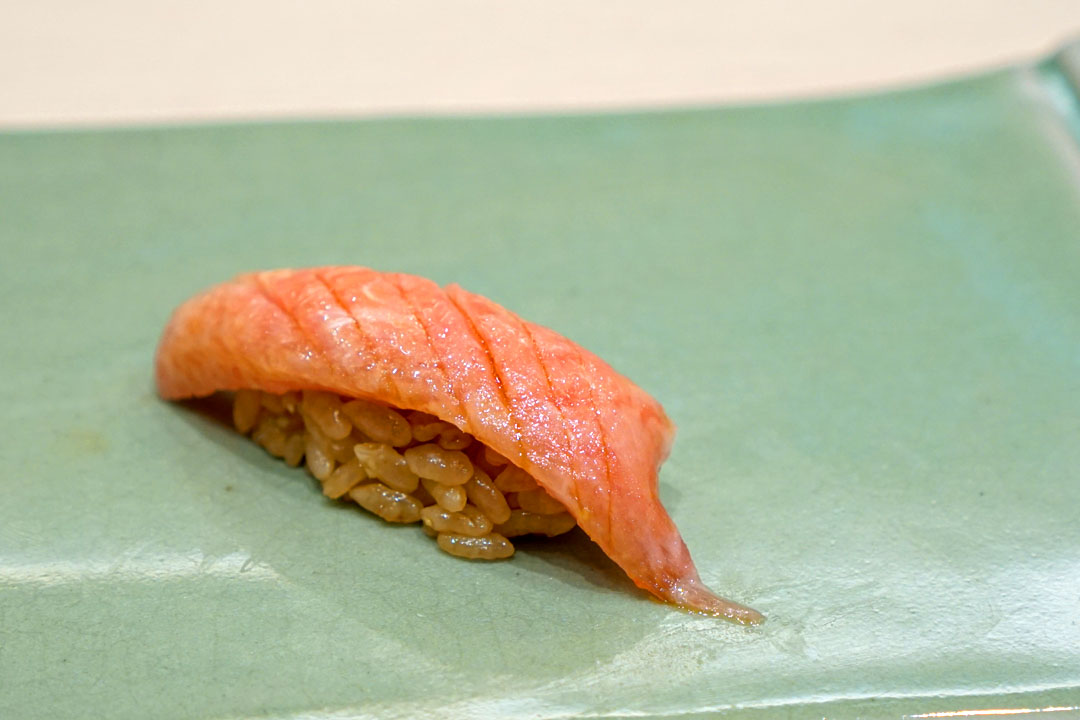 14: 27 days Dry Aged Hon Maguro Otoro
Next up was the
kamatoro
, which was altogether a different beast. Taken from the fish's collar area, the tuna was ridiculously lush and melt-in-my-mouth, its potent, fatty savor duly evened out by the tanginess of dark-tinted
shari
, made with five-year aged vinegar.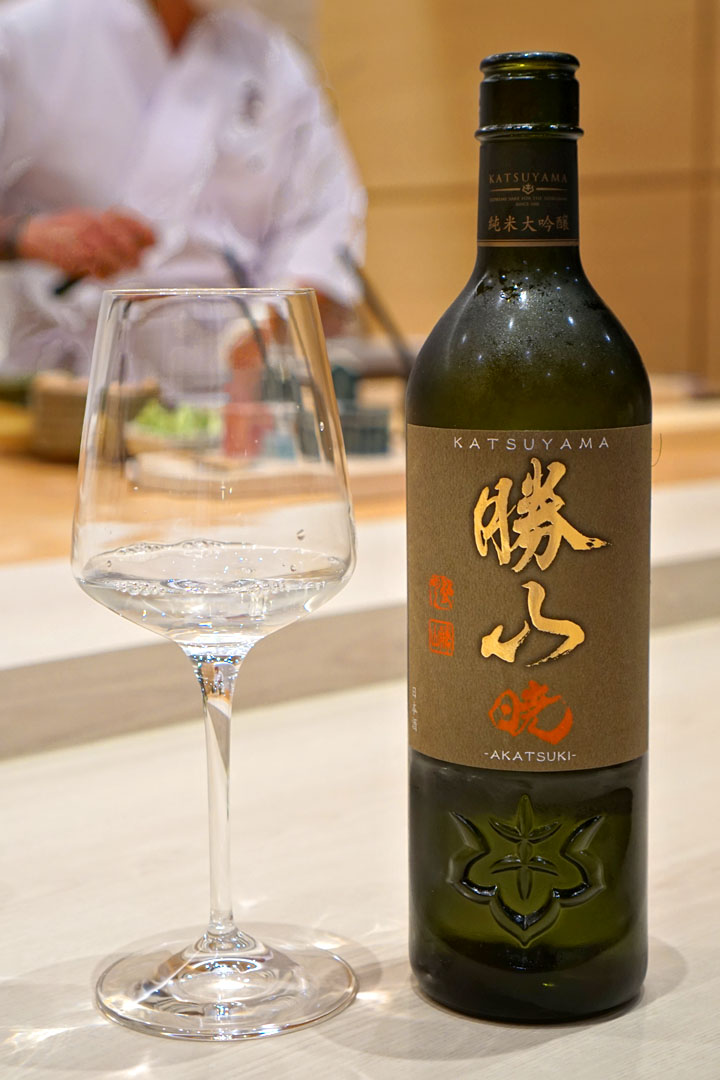 With the wine dispensed with, we moved on to a bottle of the
2022 Katsuyama Akatsuki Junmai Daiginjo [$375]
, which is apparently a favorite of the chefs. Brewed in Miyagi Prefecture, the sake had a bouquet teeming with fruity, nearly bubble gum-esque notes. Tasting it, I got loads of honeydew melon and peach up front, leading to floral nuances, some minerality, and a bit of ricey heat on the back end.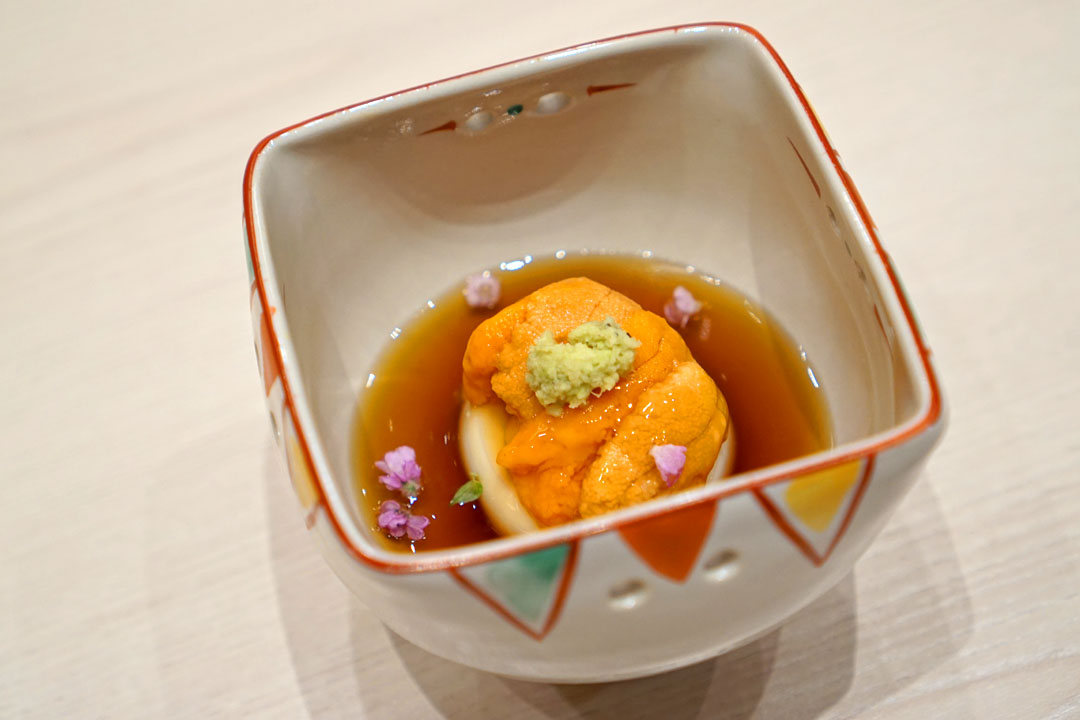 15: Goma Tofu, Hokkaido Uni, Shiso Blossoms
Hokkaido sea urchin showed off a balanced presentation of sweetness and minerality that paired swimmingly with the mildly nutty taste of that substantial housemade sesame tofu, all while a viscous dashi broth contributed a sweet-savoriness that really completed the package.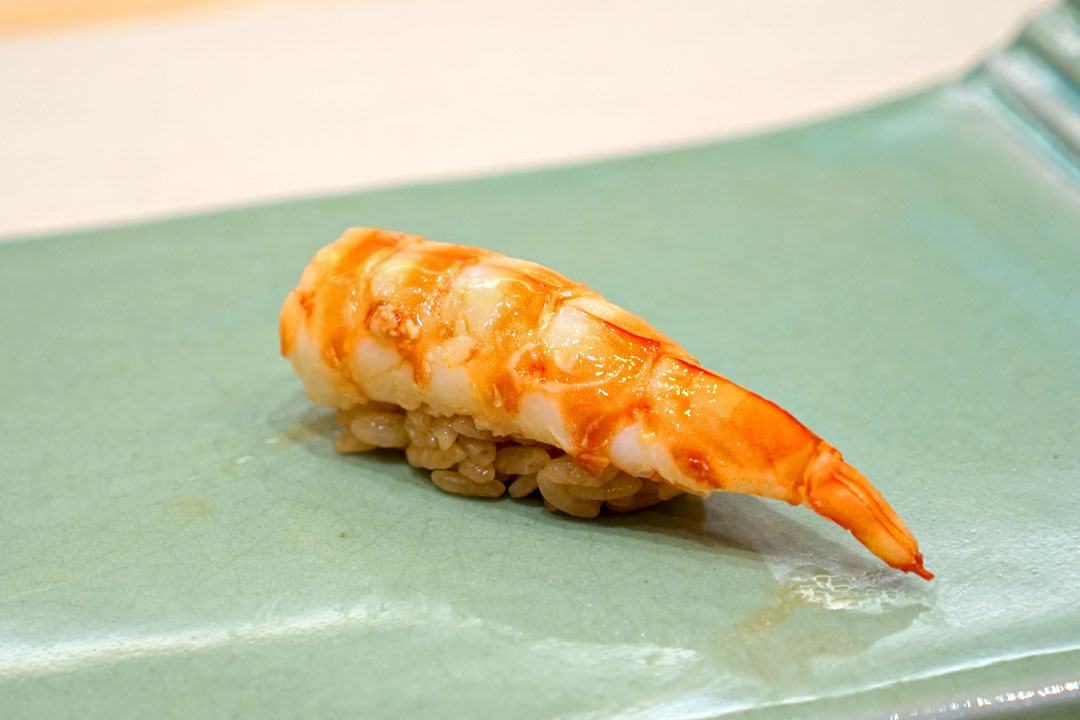 16: Kuruma Ebi (Kumamoto)
Tiger prawn was superb texturally, and displayed a mouthwateringly sweet brine that linked up well with the robustly-flavored rice.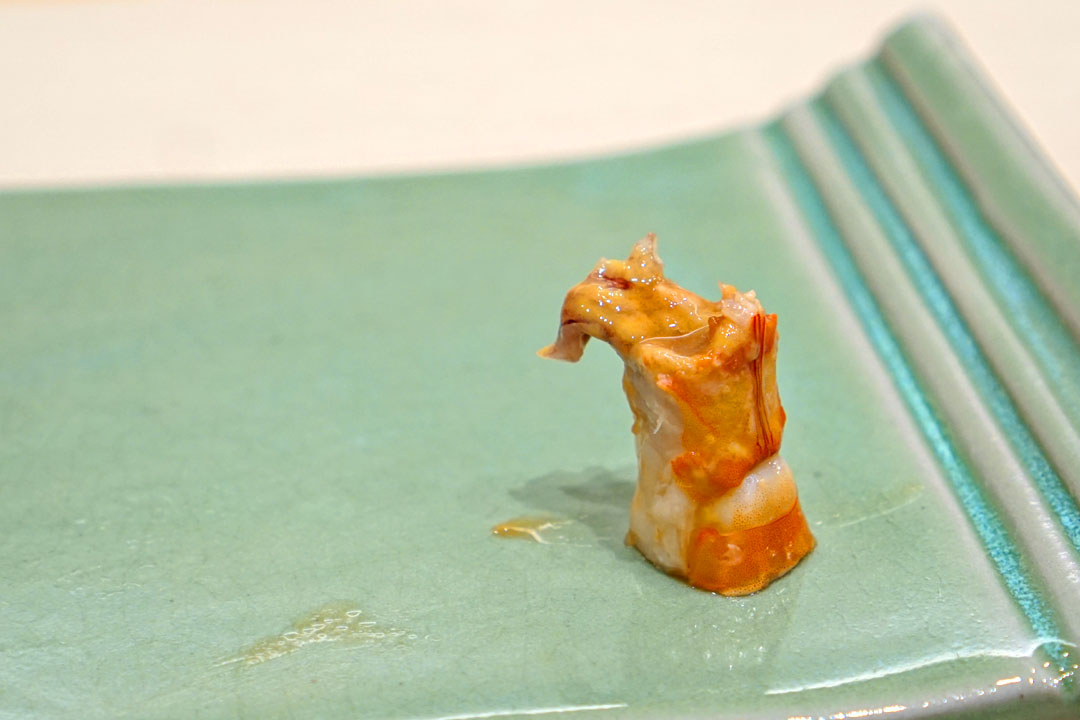 The shrimp's intensely saline innards were presented as a sort of bonus bite.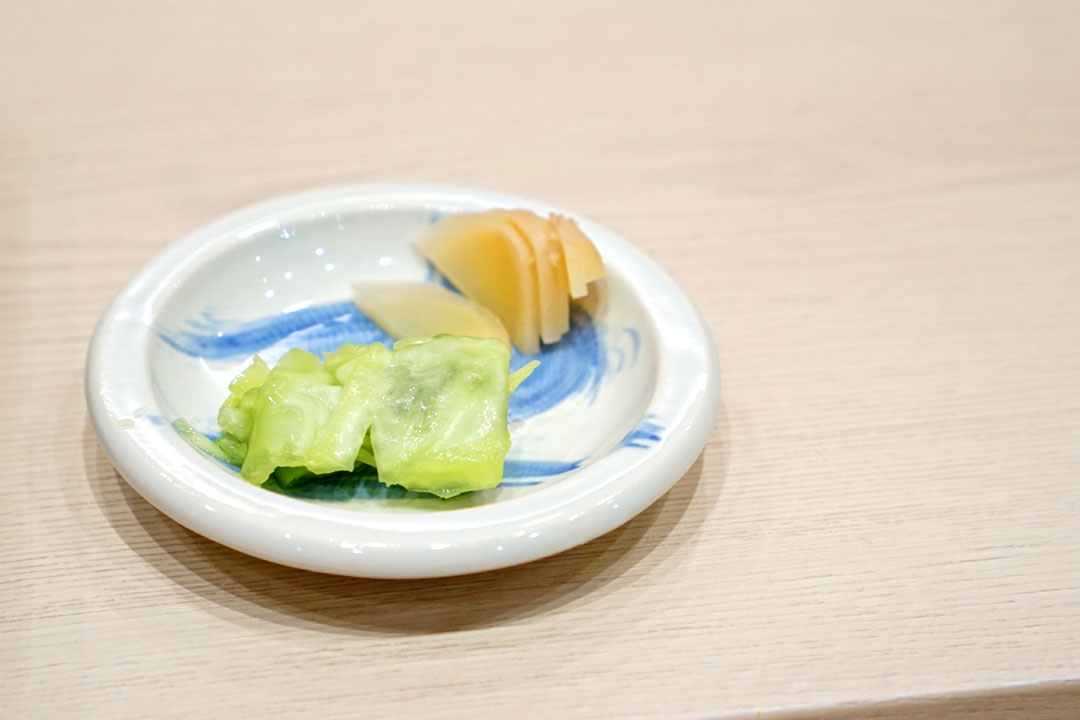 At this point, Fumio-san brought out some almost
pao cai
-esque pickled veggies to accompany the standard
gari
.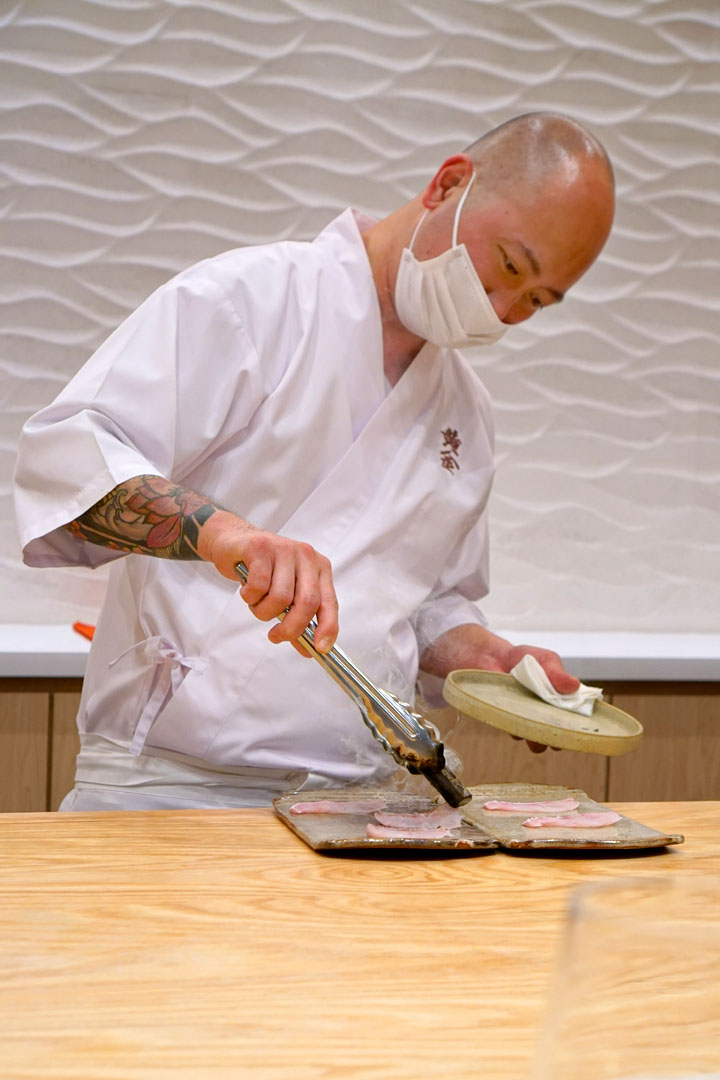 Here we see Kwan-san using binchotan charcoal to sear some
akamutsu
for the course below.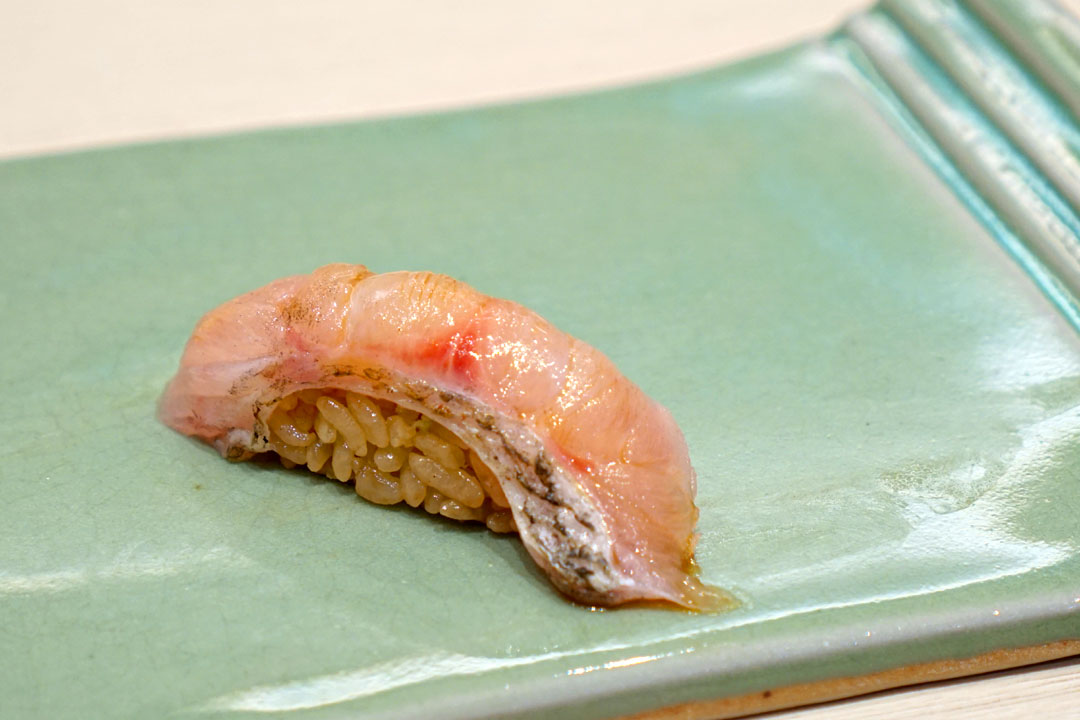 17: Nodoguro (Nagasaki)
Blackthroat seaperch is my favorite fish, so I was happy to see it tonight. It was a joy to eat, as always, and had a great smokiness to pair with the cut's inherent fatty, full-flavored, yet finespun nature. There was quite a bit of a temperature contrast going on here as well.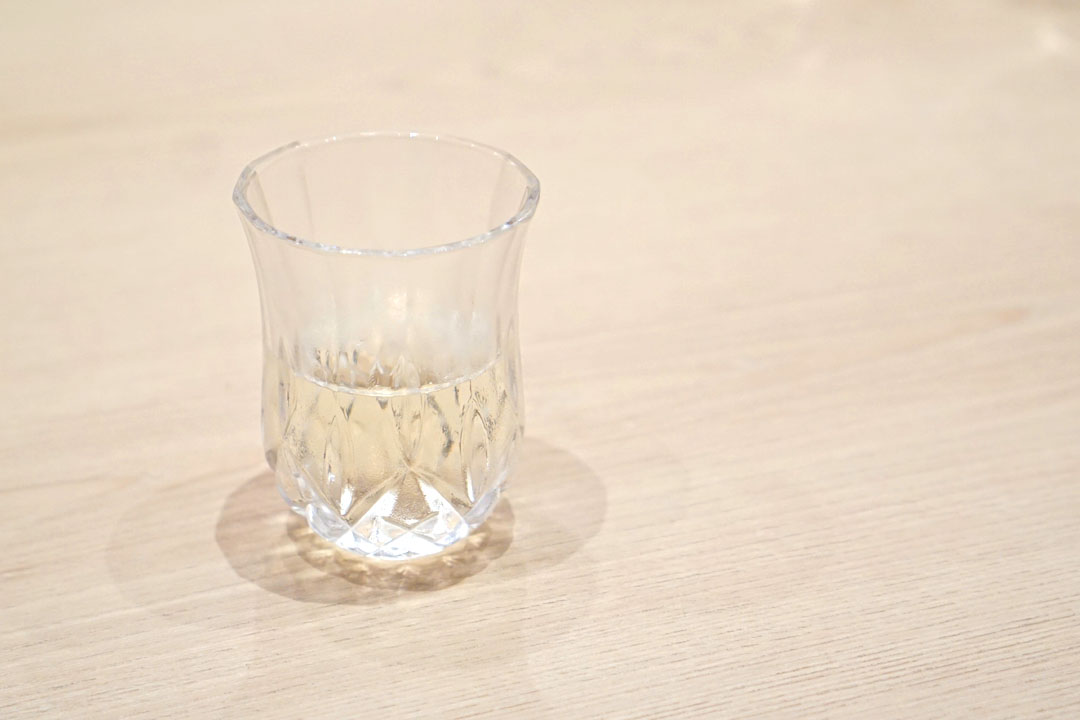 Tran then proceeded to pour us a complimentary sample of the
Tedorigawa Yamahai Daiginjo
to pair with the uni to follow. The sake was on the rich, velvety side, with a super melon-y character at the forefront that really seemed to draw out the sweeter notes of the sea urchin.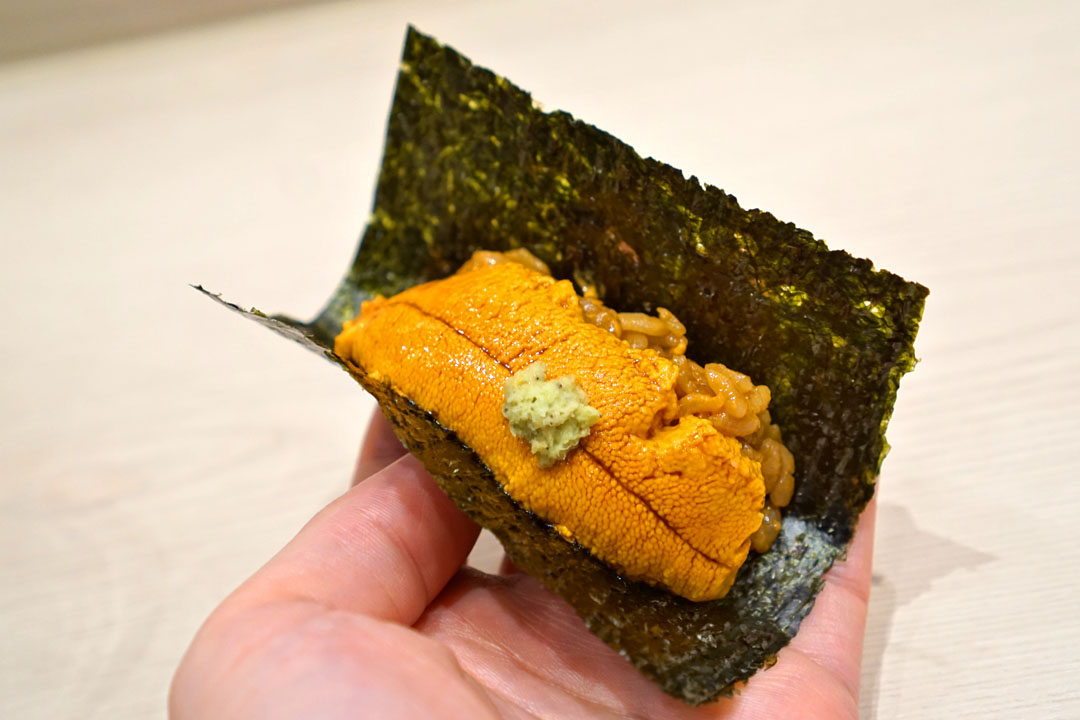 18: Uni Gohan Temaki (Santa Barbara)
This hand roll was a fun course that really highlighted the unabashed sweetness of the uni, set against rice and a crispy sheet of oh-so grassy nori. Do note that, although the menu states that Santa Barbara sea urchin was used, I believe the roe was actually sourced off the coast of Mexico.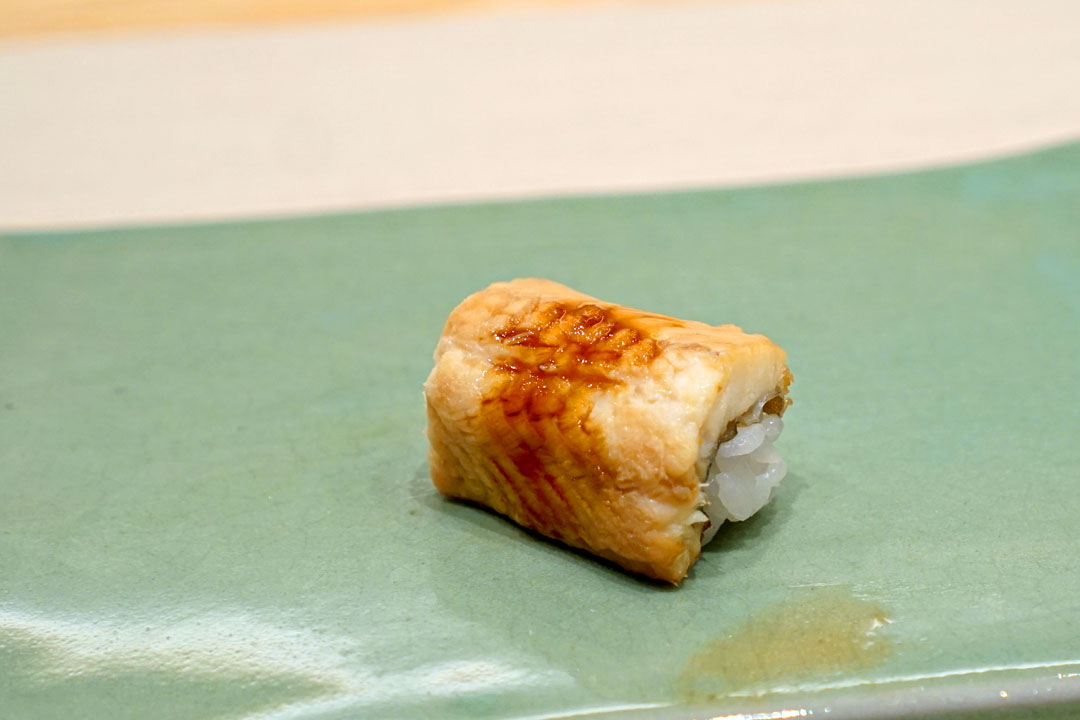 19: Anago (Nagasaki)
Long-cooked sea eel demonstrated the super soft texture that you'd expect, along with a saline-sweetness that was heightened by the application of
nitsume
sauce.
20: Clam Ushiojiru, Sudachi
A clear soup drank super clean, yet forcefully conveyed the salinity of the clams. Quite snug.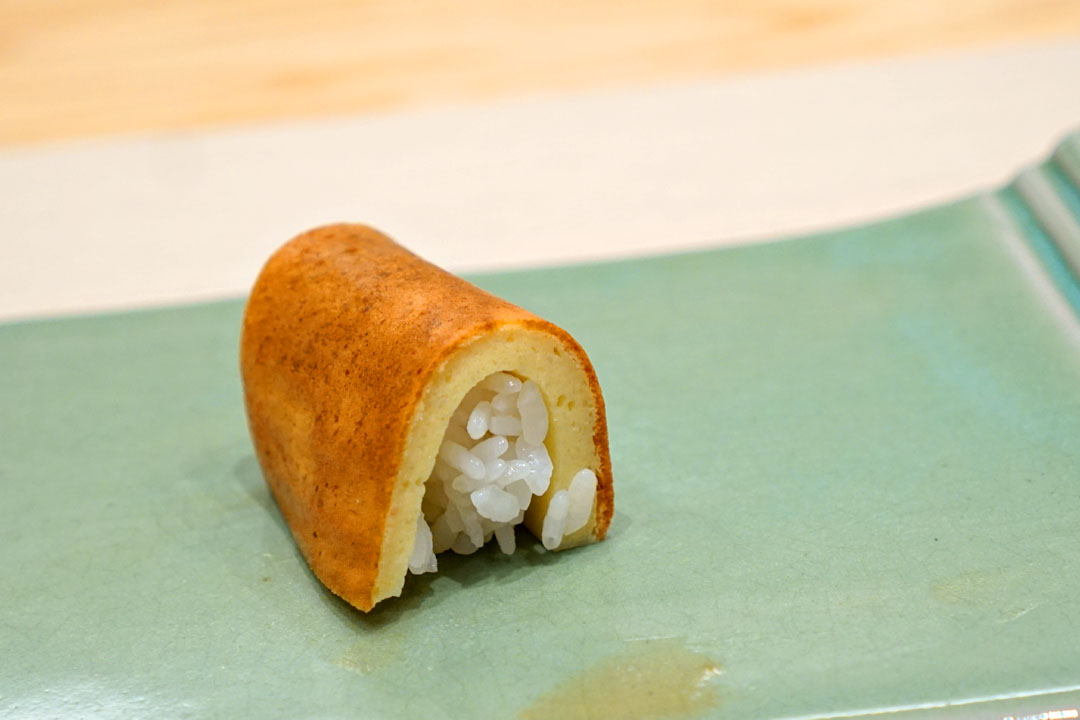 21: Tamago
The arrival of
gyoku
meant that we were nearing the end of our meal. Kogane's version of tamagoyaki was far more flavorful than most, and its extra dose of sugar was effectively evened out by a shrimp-y brine. I was even reminded of
rousong
due to the bite's sweet-savory interplay.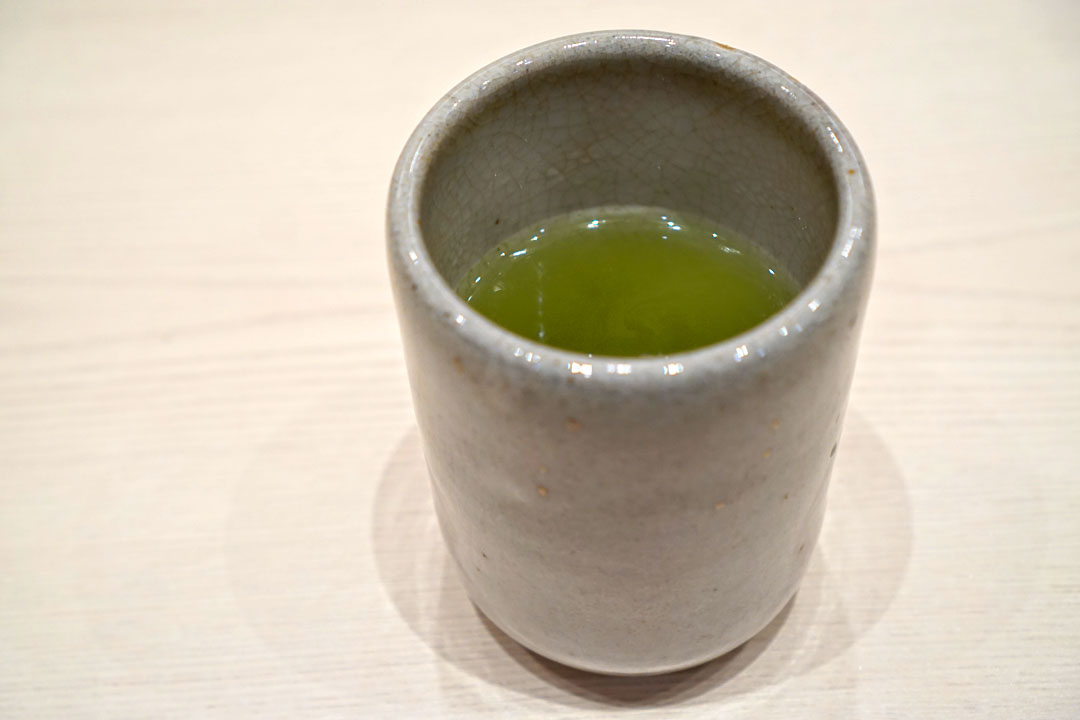 We were then provided a cup of hot, homey, roasty green tea.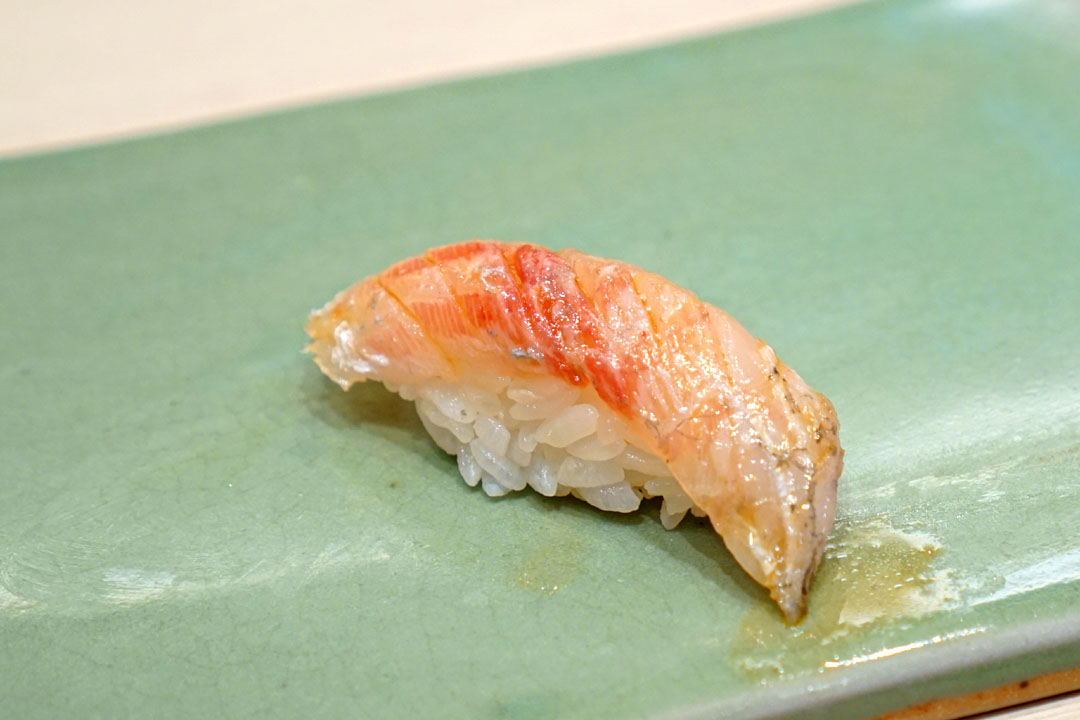 Supplement: Kamasu
We then asked for any
neta
that we didn't get to try, and were offered the barracuda free of charge. The fish is often served skin-on and seared, but the chefs decided to go flesh-only tonight in order to emphasize the essence of the meat itself. I found the cut super soft, with a subtle taste that nevertheless stood up to the rice.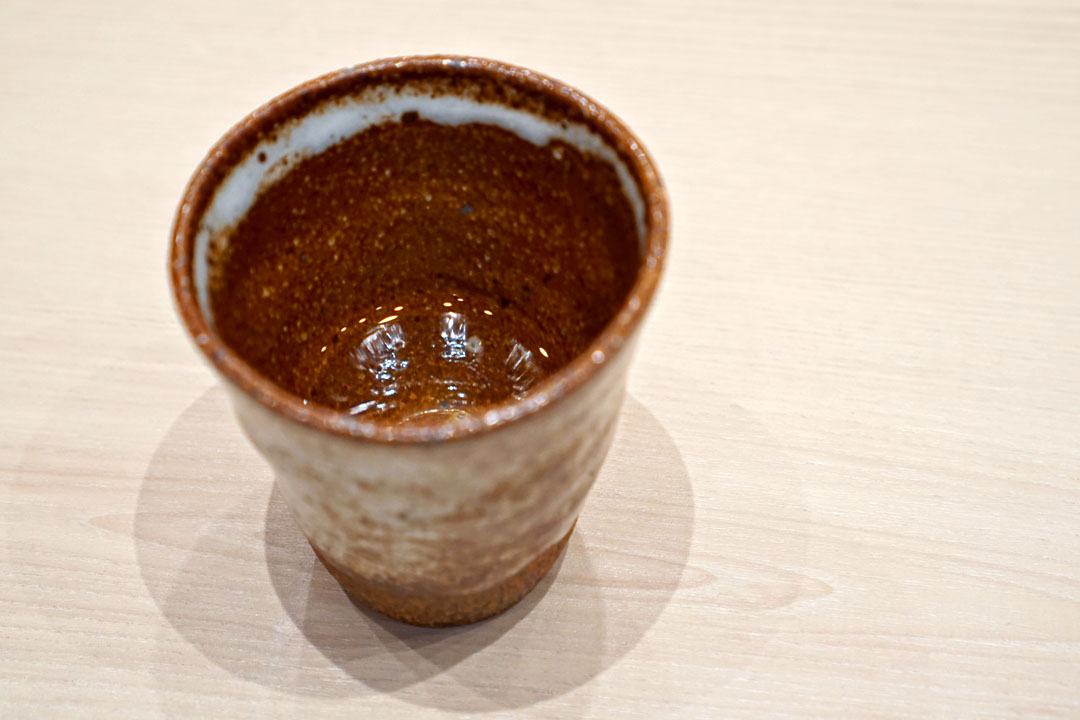 The
Tedorigawa Yamahai Daiginjo
from above made another appearance, but this time in warm form. I typically only consume sake cold, but didn't mind this, as the temperature seemed to soften the flavors at hand, making this a cozier sort of drink.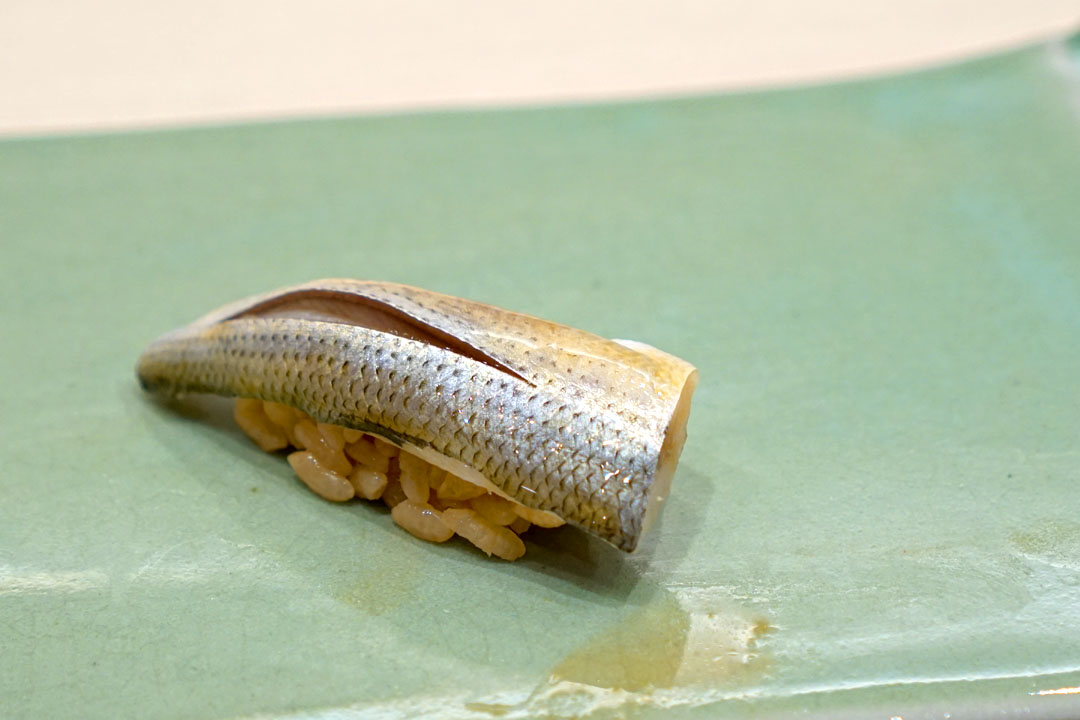 Supplement: Kohada
The gizzard shad (which I feel is becoming one of my go-to sushi fish) was also gratis, and showcased an intense fruitiness and salinity offset by the tanginess of that
akasu
-laden rice.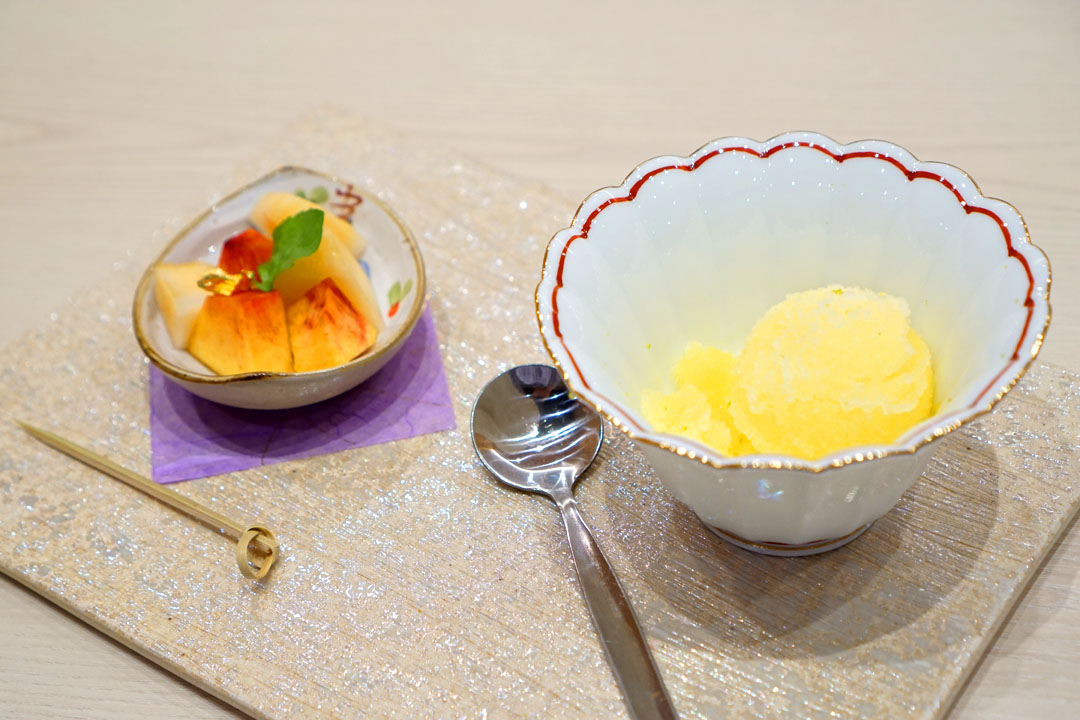 22: Weiser Farms Melon, KnK Farms Nectarine, Navel Orange & Daidai Citrus Sorbet
Dessert comprised cut fruit and a refreshing triple citrus sorbet made with yuzu, daidai, and oranges sourced right from Kwan-san's backyard in the SGV.
I had high expectations coming into this meal, and Kogane actually managed to exceed them. I'm having a hard time finding fault with the food, and especially appreciated how two types of sushi rice--both with their own charms--were employed. There were no complaints regarding the service or overall experience either, and in fact, I really enjoyed the intimacy of the place, as well as the ample, lighthearted interaction with both chefs. I have no qualms declaring Kogane the best sushi spot in the San Gabriel Valley, and certainly place it among the pantheon of such restaurants in Southern California as a whole.