Mignon (Los Angeles, CA)
Mignon Wine Bar
128 E 6th St, Los Angeles, CA 90014
213.489.0131
www.mignonla.com
Mon 09/19/2022, 08:25p-10:10p

It's been a while since I reported on the whereabouts of restaurateur Santos Uy. The last time was six years ago when I visited
Lost at Sea
, though sadly, the Pasadena seafooder wound up closing in August 2018. Since then, Uy has had to shutter his flagship Papilles bistro as a result of the pandemic, but ended up transforming the restaurant into a smash burger concept called For the Win, which has actually spawned a couple more locations in Whittier and Glendale. In December last year, he helped open Avner Lavi's Cento Pasta Bar, a former pop-up that was born inside Mignon, Uy's wine bar in Downtown's Historic Core.
And indeed, it's Mignon that I wish to focus on here. As far as I know, it's the longest-running dedicated wine bar in DTLA, so I decided that I should finally give a try. The place is one of Uy's early efforts. Work began all the way back in 2009, though the spot grand-opened on June 10th the next year, boasting a French-leaning wine selection and cheese/charcuterie/light bites from Chef Beth Creasey-Griffiths (Green Truck,
AOC
). Uy actually teamed up with Daniel Kronfli (his partner from Bacaro LA) on project, but the two went their separate ways in April 2011, leaving Uy with Mignon and Kronfli with Bacaro. At the start of 2013, Tim Carey (of Papilles) redid the menu at Mignon to focus on more bistrot-type fare, though those changes were upended in March 2016, when Johnny Palomino (also of Papilles, as well as
Republique
and
Smoke.Oil.Salt
) instituted a Mexican-leaning bill of fare. Palomino's cooking, however, quickly faded away, and these days, the team has largely reverted back to prototypical wine bar-friendly food.

Mignon resides in a compact storefront in the Pacific Electric Building (a couple doors down from
Cole's
), one that was reportedly home to a tailoring shop back in the day. Thus, there's a bit of a sartorial inspiration in the design of the space, which was penned by Ana Henton of
MASS Architecture
and is dominated by a U-shaped bar, as pictured above.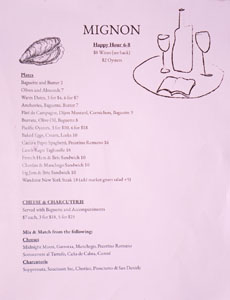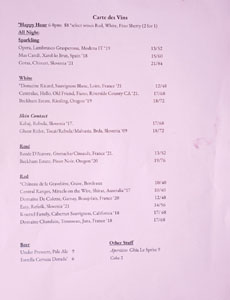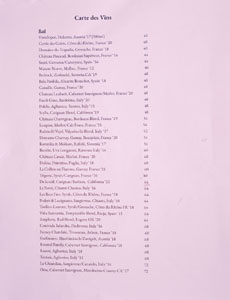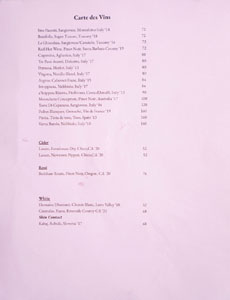 Here we see Mignon's Old World-centric, somewhat esoteric selection of wines, while food-wise, you get casual, wine-friendly fare. Click for larger versions.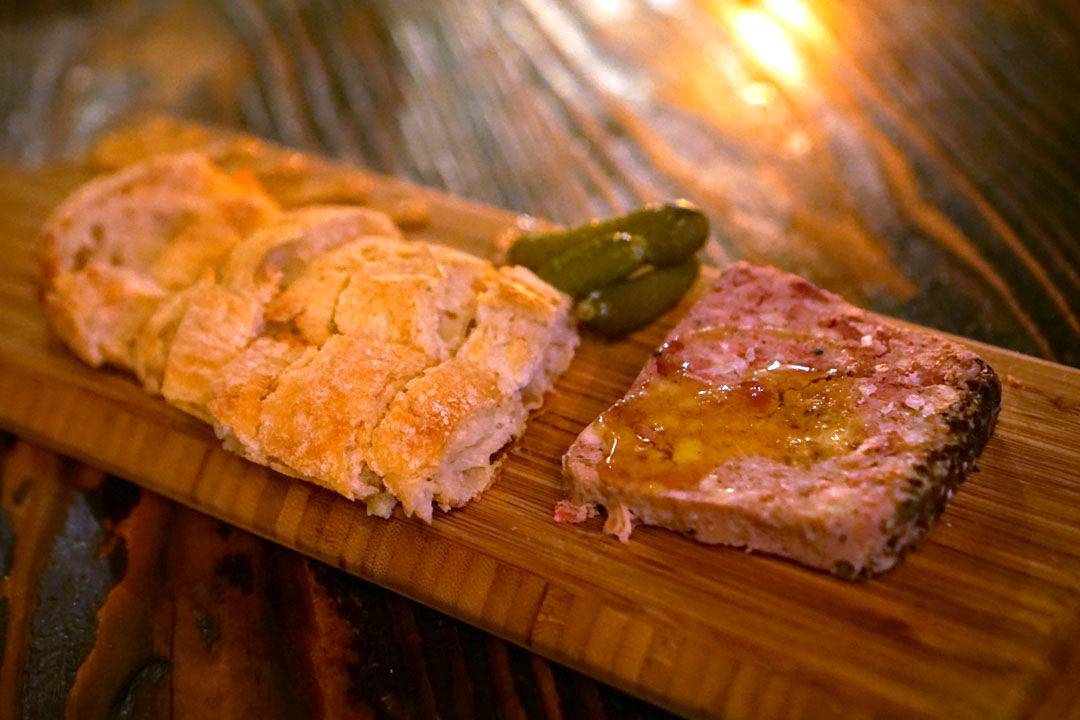 Pâté de Campagne, Dijon Mustard, Cornichon, Baguette [$9.00]
The country terrine is a forcemeat favorite of mine, so naturally I couldn't resist ordering it tonight. I enjoyed the aggressive black pepper notes here, as well as its touch of offal-y funk, while texturally, I found the pâté dense and hearty, though I would've liked a coarser, more rustic consistency. Accoutrements of mustard and gherkins offered up some very appropriate contrast, but I was even more impressed by the bread, which arrived properly crisp and toasty.
For my first pour, I went with something sparkling, the
Mas Candí, Xarel-lo Brut, Spain '18 [$15]
. The wine had a dry, fresh, cider-like nose that was quite appealing, and even displayed a bit of butteriness as it warmed. On the palate, I found the sparkler dry and oh-so crisp, its notes of yellow fruits leading to a nutty bitterness on the back end. A first-rate apéritif.
Note: I had issues with my camera corrupting some of the photos I took this evening, hence the lack of one here.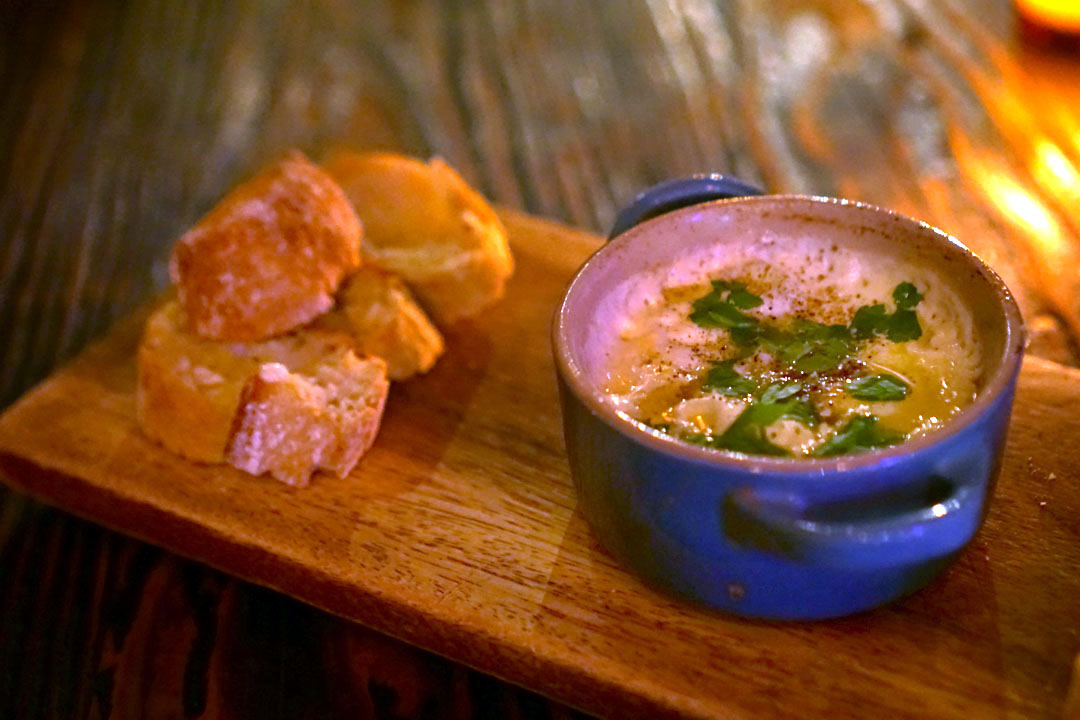 Baked Eggs, Cream, Leeks [$10.00]
The baked egg was a favorite of mine for sure, a hot, homey, luscious and salty concoction that just begged for a dip from that delightfully crusty, crispy, buttered baguette. I loved the zippy accent from the leeks, too.
My second glass was from the skin contact (i.e. orange) section of the list, the
Ghost Rider, Tocai/Rebula/Malvasia, Brda, Slovenia '09 [$18]
. The wine smelled of juicy, almost candied red berries, with a touch of floral and oxidation. Tasting it, I got some decidedly beer-like characteristics, while its bone-dry, fruit-flowery qualities transitioned to potpourri and saline toward the finish. Very cool.
Note: See the note above concerning the lack of a photo.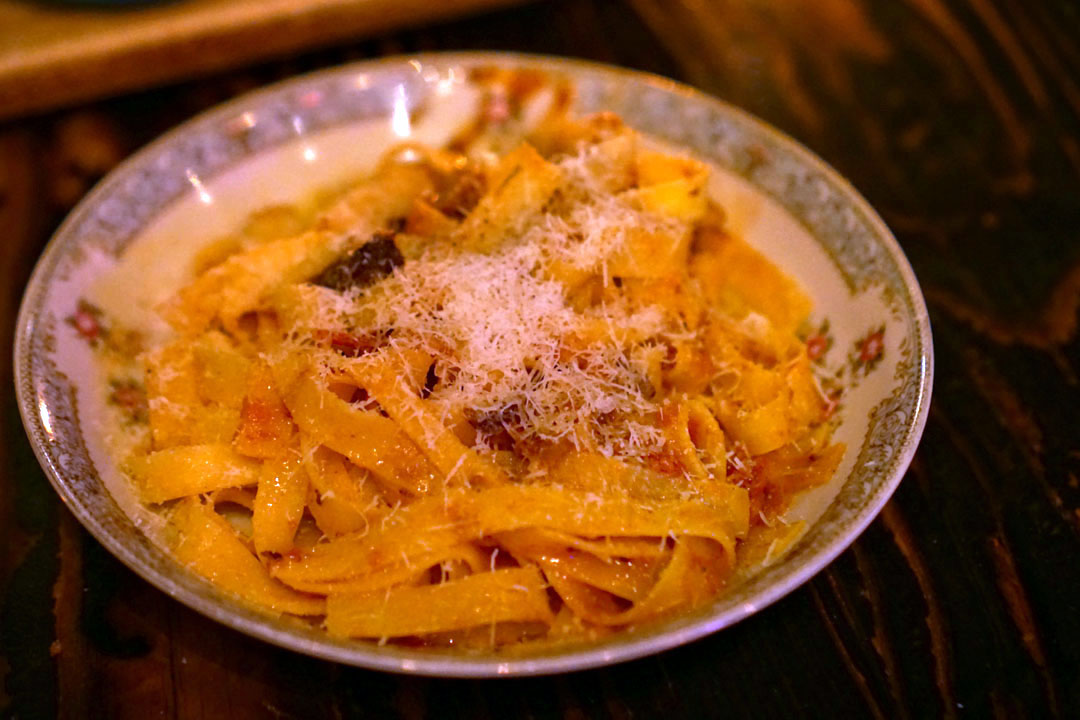 Lamb Ragu Tagliatelle [$18.00]
Tagliatelle arrived surprisingly well-textured, with a nice al dente-ish bite. The pasta made sense with the ragù, which featured supple, savory shards of long-cooked lamb set against just enough tart tomato.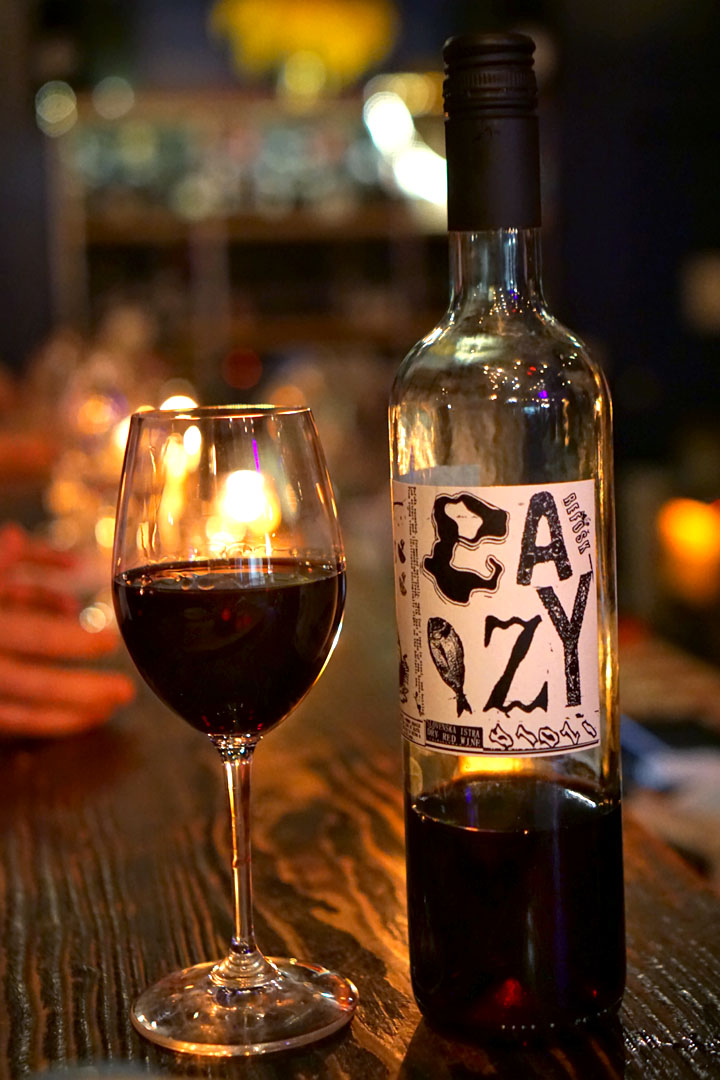 Next to drink was a red, the
Eazy, Refošk, Slovenia '20 [$14]
. Aromas were primarily rich dark fruits backed by black pepper and minerals. Taste-wise, I found the wine soft and smooth, demonstrating spice and herb right up front, but commingled with ripe plums and flowers.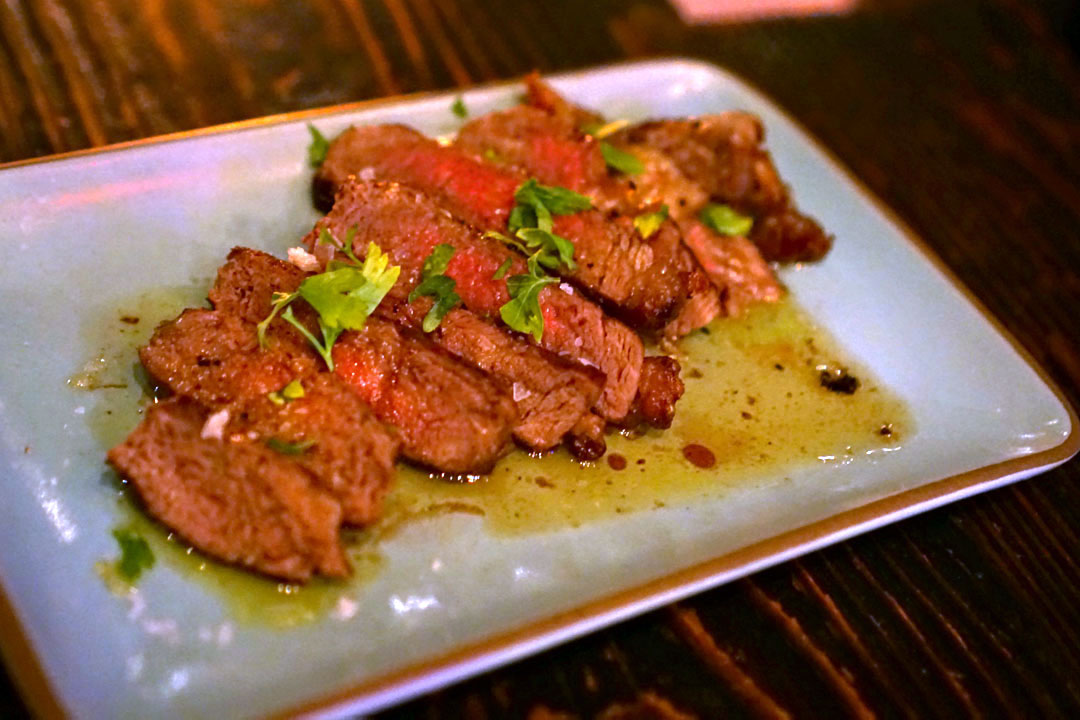 Wanderer New York Steak [$18.00]
This was my first time trying barley-fed beef from Australia, and it was pretty damn tasty. I found the steak robustly flavored and deeply bovine, not to mention aggressively seasoned. Its fat was also well rendered, and I really enjoyed the heavy sear and char going on.
My rosé selection tonight was the
Beckham Estate, Pinot Noir, Oregon '21 [$19]
. The bouquet on this one was super bright, and showcased boatloads of fresh peach and lemon. The wine's refreshing nature continued on to the palate, where I found candied stone fruit flavors joined by a pert acidity, making this quite appropriate for summer quaffing.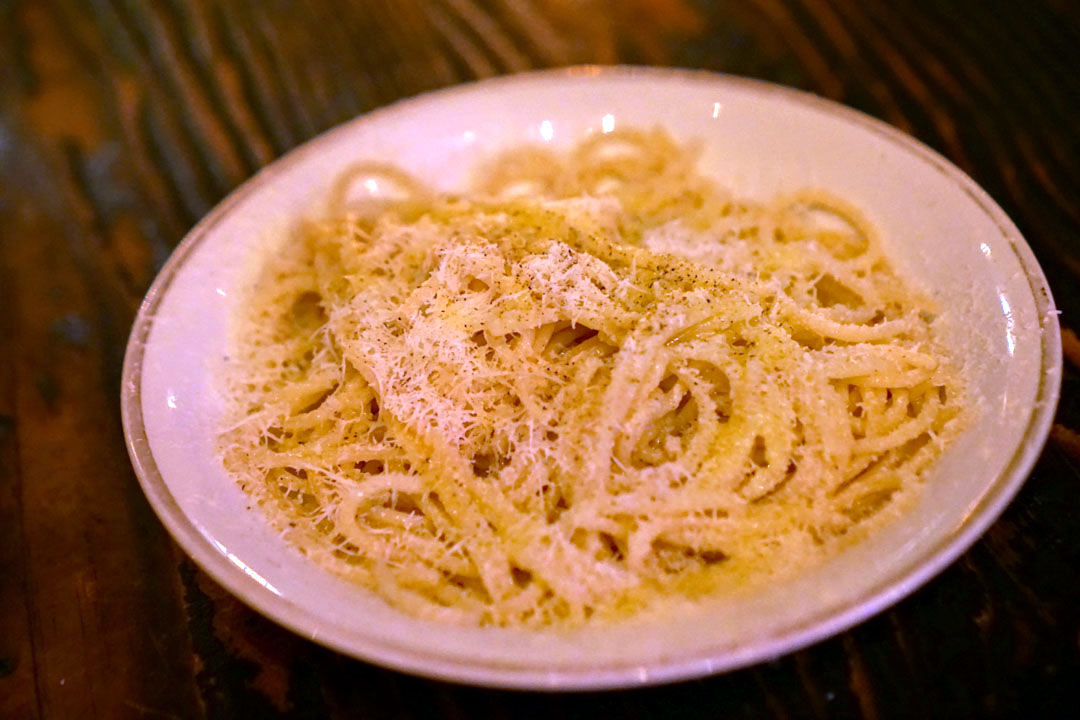 Cacio e Pepe: Spaghetti, Pecorino Romano [$16.00]
The cacio e pepe was calling my name as well, so I felt compelled to give it a go. I found the pasta pleasantly firm, and appreciated how the dish wasn't shy with the black pepper, while the cheese of course toned things down.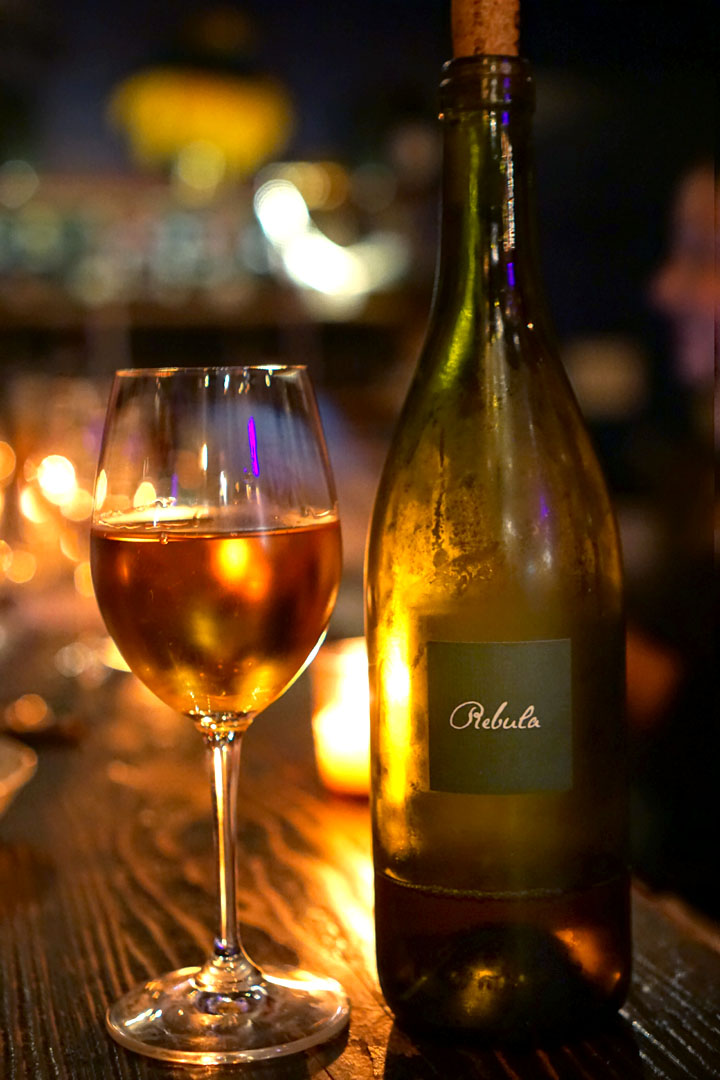 Last to imbibe was another orange wine, the
Kabaj, Rebula, Slovenia '17 [$17]
. The nose on this one definitely grabbed my attention with its barnyard-y, tangy, astringent aromas that recalled a sour beer. Similar, the palate was dry and ale-esque, displaying a distinct tart cherry flavor alongside some tea-like nuances. Lovely.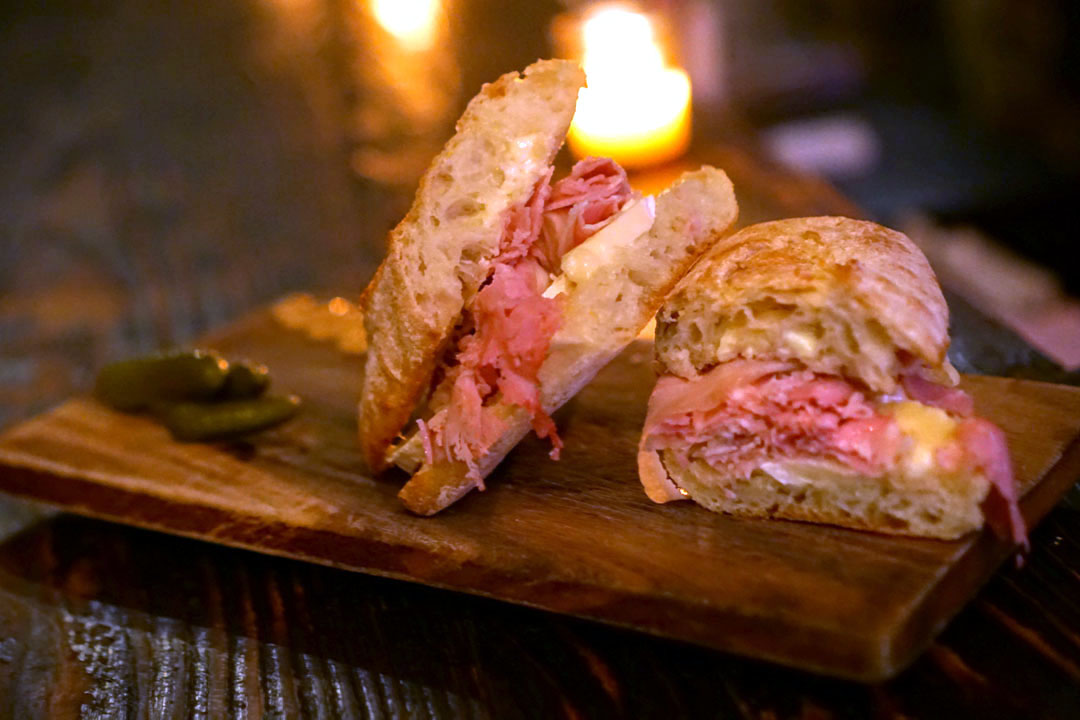 French Ham & Brie Sandwich [$10.00]
Last up was the classic ham and brie sandwich, and it was also a winner. I was definitely a fan of the back-and-forth between that salty ham and the sweet, buttery goodness of the cheese, while the toasty bread certainly completed the package.
It's a shame that it took me over a decade to check out Mignon, since it offered me a superb wine bar experience. The wines here are on the neat, hip, somewhat funky side, and I was pretty happy with the food as well. This was somewhat surprising given that there's no actual kitchen, with the dishes being prepared behind the bar using an induction burner and what seemed like a toaster oven. I was also fond of the service and the general vibe here, so I'll certainly have to keep the place in mind for future outings.