Asadero Chikali (Los Angeles, CA)
Asadero Chikali
1321 S Atlantic Blvd, Los Angeles, CA 90022
323.396.1563
www.asadero-chikali.com
Sun 09/11/2022, 08:25p-09:50p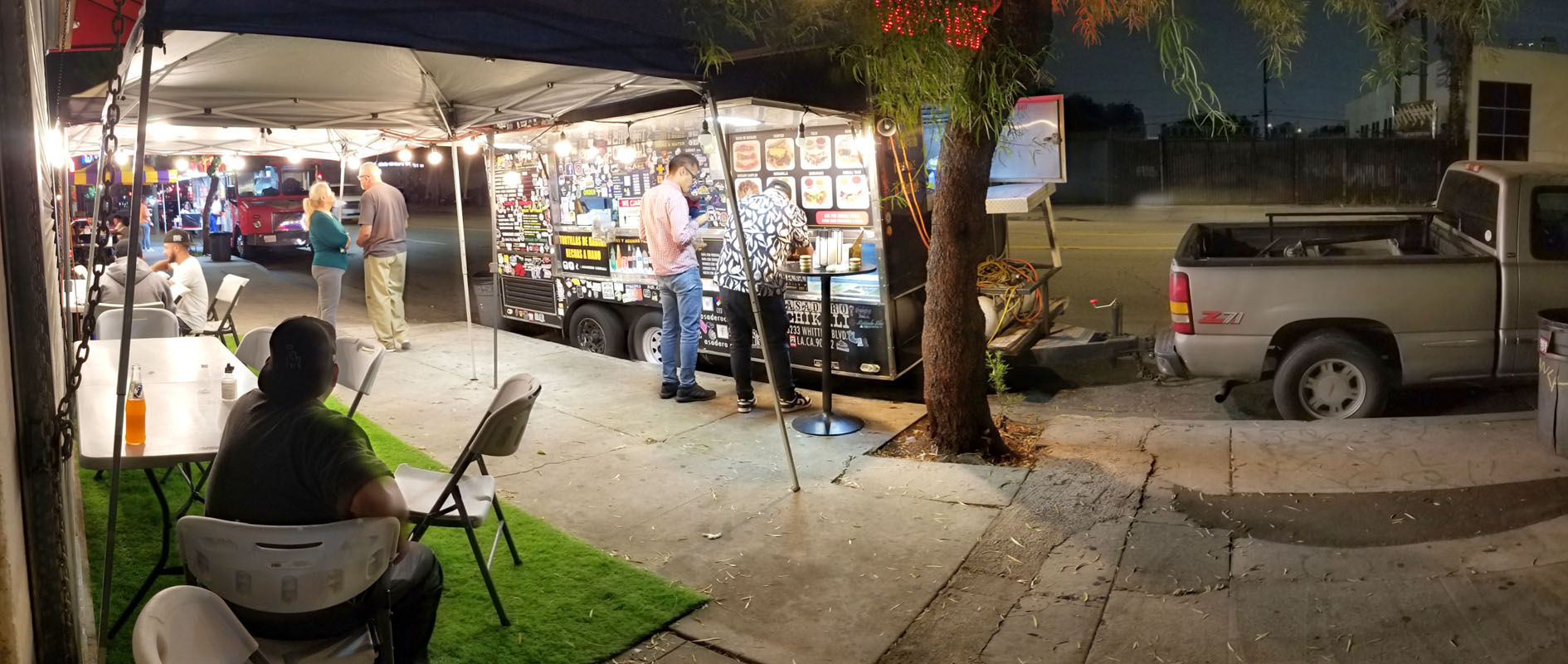 If we're talking about Mexicali-style tacos in LA, I think the place that often comes to mind first is
Mexicali Taco & Co
in Chinatown. After all, Mexicali
is in the name
. However, a purveyor that I've been hearing more and more about over the past few years is Asadero Chikali, which proudly boasts about its handmade flour tortillas, ostensibly created from flour imported from the Baja California capital.
The business traces its roots to the Perez family, who are indeed from Mexicali. Matriarch Rosa Pérez and her husband actually ran a lonchera back around 2002, but it only managed to survive for about a year. However, in 2015, her son Jose Pérez came up with the idea of using his mom's recipes to give food service another shot, but this time with the power of social media behind it. Thus, that June, the family began vending tacos once a month in front of their apartment in East Los Angeles.
Jose's wife Melva Pérez was recruited to help (she's in charge of the tortillas), as was Jose's sister Ana Pérez, and her husband Juan Mojarro. The team eventually saved up enough money to purchase a truck, and subsequently launched it in October 2017, situated on a used car dealership lot at 401 S Atlantic Blvd in East LA. Boosted by newfound Instagram fame, Chikali continued to grow, expanding to a second "pop-up" truck and a taco cart in Cudahy. Meanwhile, earlier this year, the main truck moved from its original spot to its current location a mile down the street.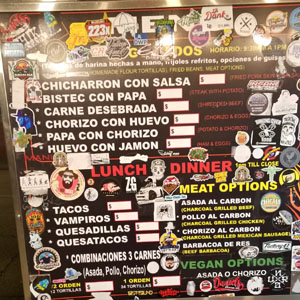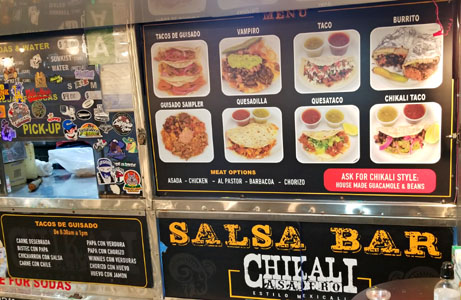 Pictured above is Asadero Chikali's menu. The thing to note here is that there are actually two separate sets of offerings. Guisados (various braises and stew-like dishes, which were actually not part of the opening menu) are only available for breakfast/lunch up until 1:00pm. On the other hand, the grilled meats and such come after that cut-off, but no matter which option you pick, you're gonna get the family's much-touted housemade tortillas de harina. I will point out that prices are not listed, which is a bit irksome. Click for larger versions.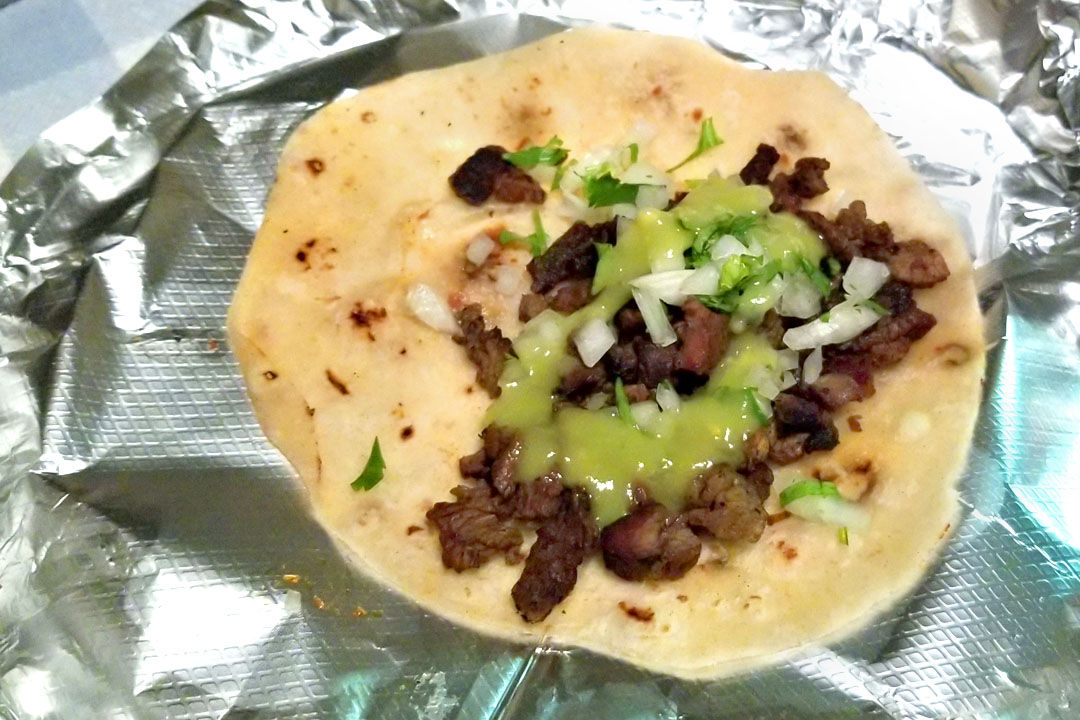 Taco - Asada
It just seems right to commence with the quintessential taco filling that is carne asada. I really enjoyed how smoky the beef was, and was definitely a fan of all the crispy charred bits as well, though the meat could've been juicier. That being said, the asada melded beautifully with the onion and cilantro, and made a lot of sense with its floppy, slightly browned flour tortilla. A promising start.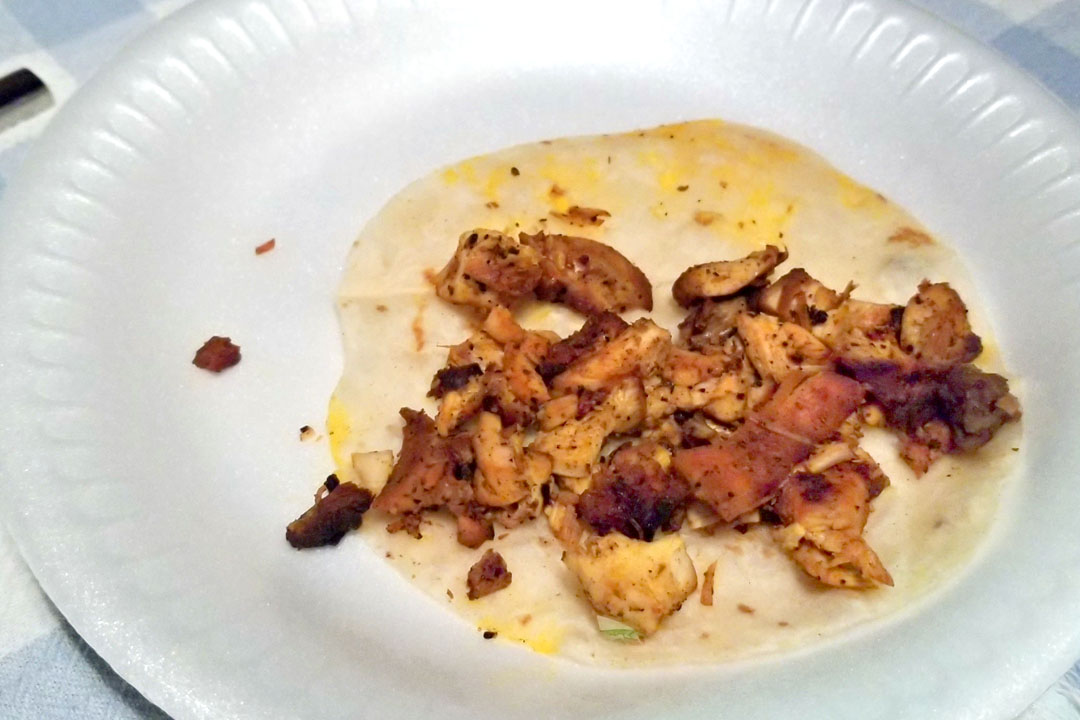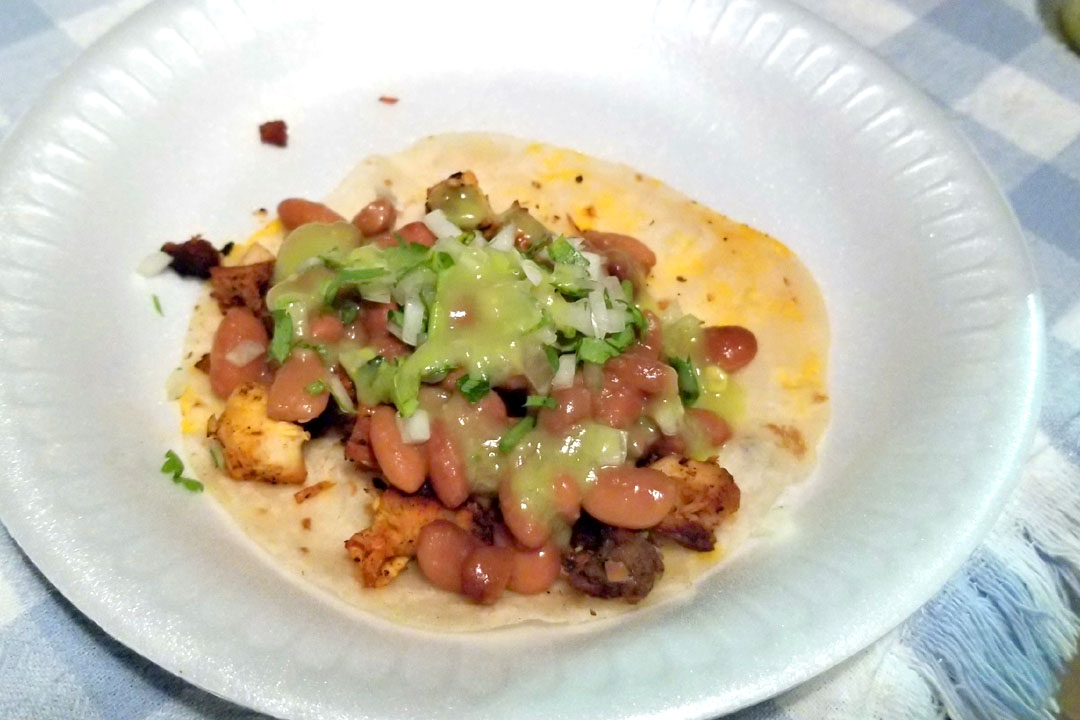 Chikali Taco - Chicken
The pollo wasn't shy about its smoke either, which was obviously a big plus for me, though again, I wanted more succulence to the meat. The bird's sear was nicely tempered by the beans, and the guacasalsa (a substitute for guacamole, which the kitchen had run out of) served as a welcomed accent, all while that flour tortilla completed the package.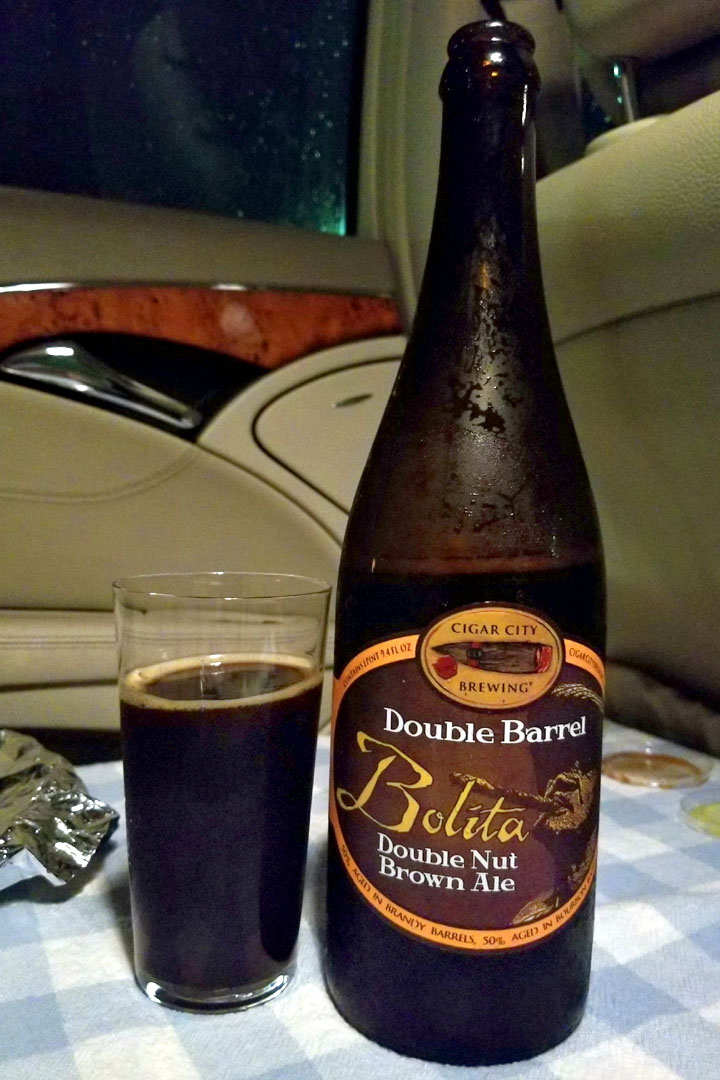 To imbibe, I brought along a bottle of the
2016 Cigar City Double Barrel Bolita
, a double northern English-style brown ale aged in bourbon and brandy barrels. The nose on this one was all about boatloads of dark fruits, backed by cacao and a persistent nuttiness. On the palate, the beer veered in an unabashedly sweet, malty, raisin-y, toffee-esque direction, but was also evened out by hop bitterness and a slight floral-astringent element. Quite nice.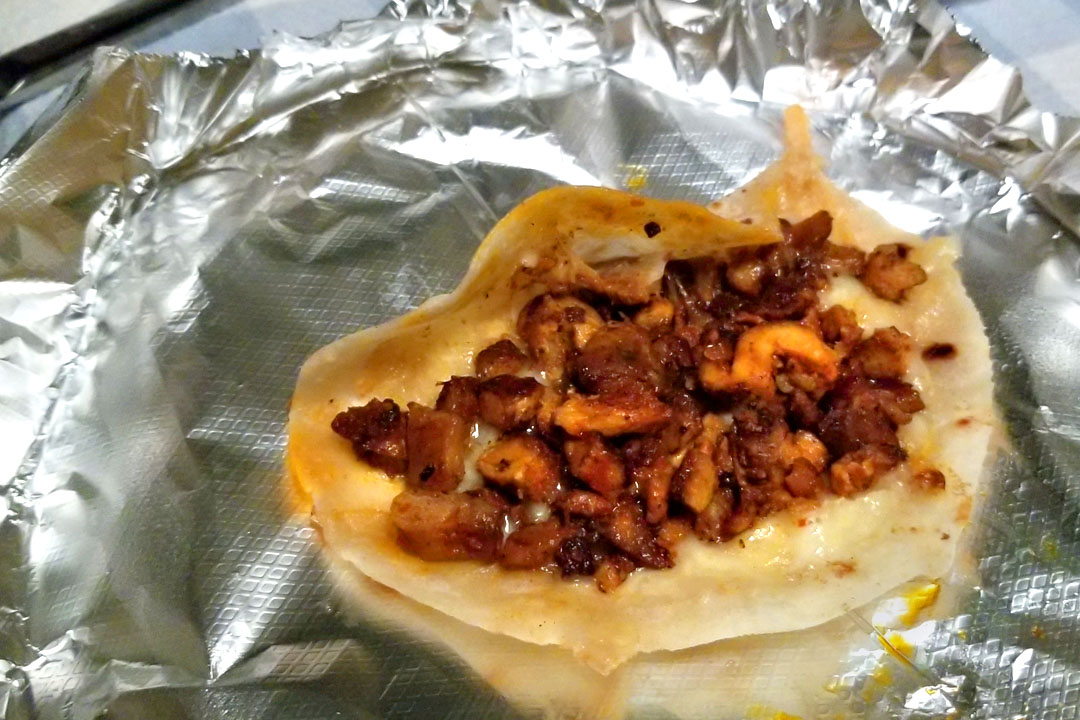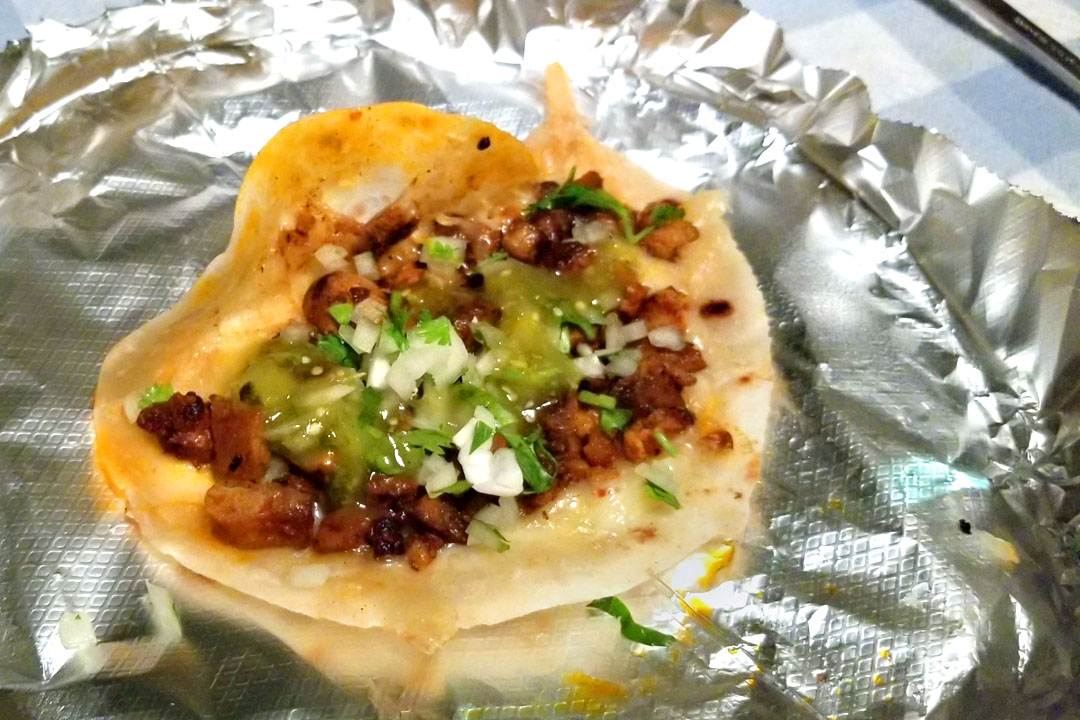 Quesataco - Al Pastor
The al pastor delivered, showing off a homey, familiar spicing that really hit the spot for me. The pork married easily with the melted cheese, while the salsa verde worked to uplift the whole experience.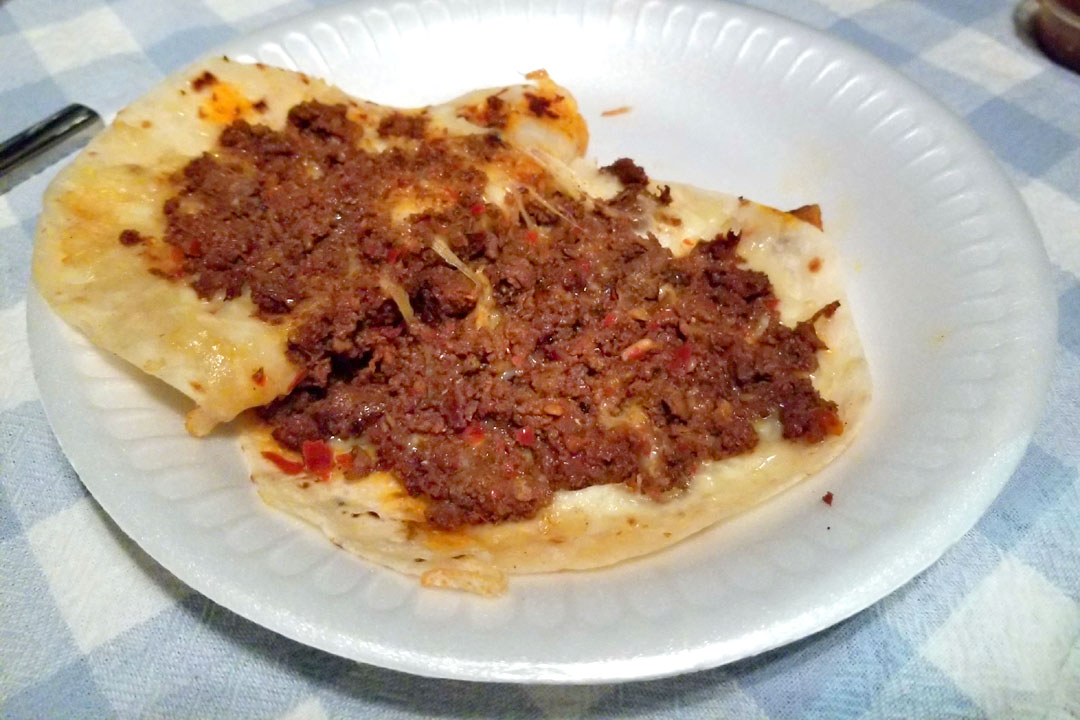 Quesadilla - Chorizo
Chorizo is usually my preferred filling for quesadillas, and it didn't disappoint me tonight. The meat had an assertive seasoning that was a bit different than what I'm accustomed to, but in a good, intriguing way that I couldn't quite put my finger on. At the same time, the meat's spicing meshed easily with the cheese, and I liked the moderating effect from that thin, delicate tortilla, too.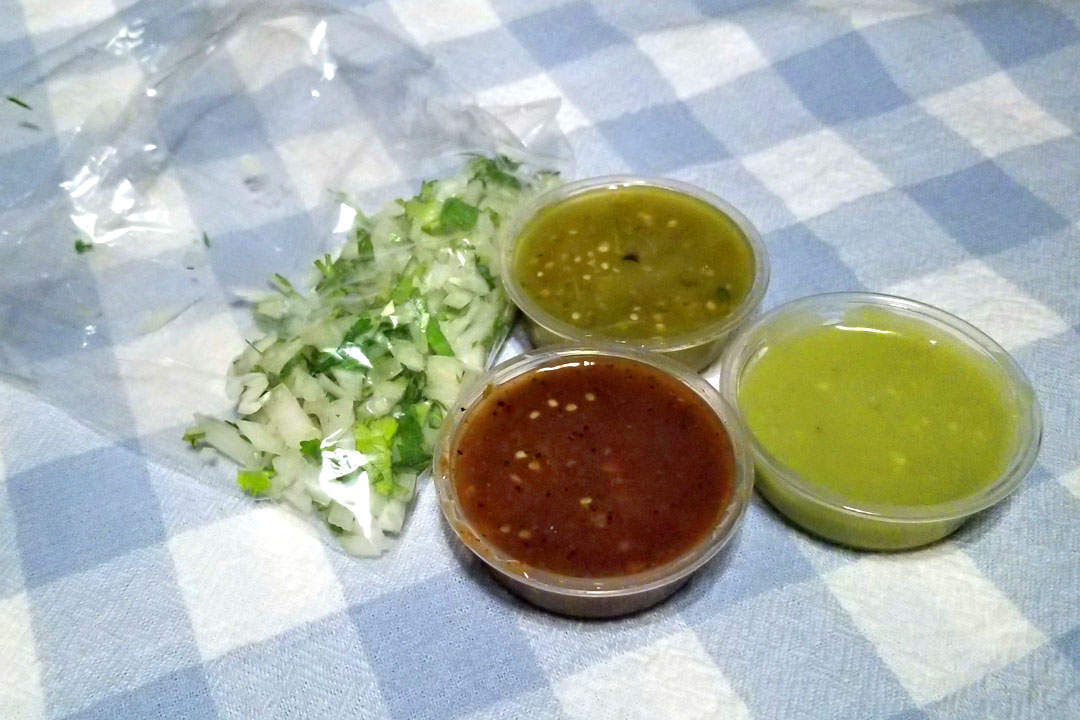 Complimentary condiments included the requisite cebolla/cilantro, as well as a tomato-forward salsa roja with a kick, a fruity salsa verde with a creeping heat, and a relatively subdued, yet tangy guacasalsa.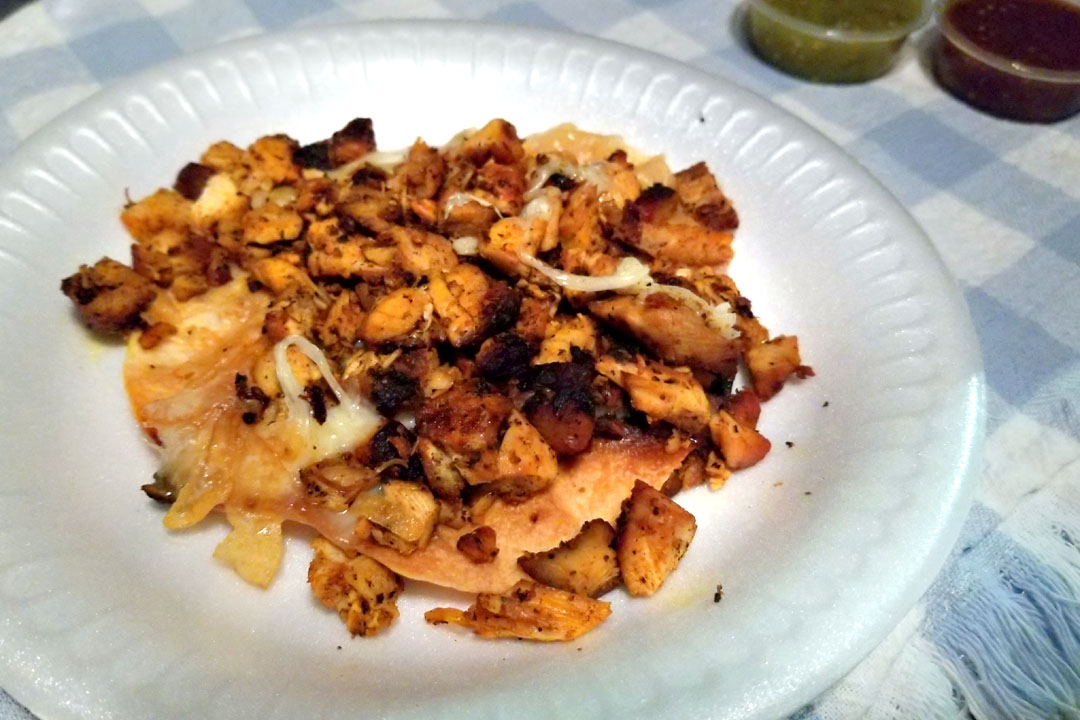 Vampiro - BarbacoaChicken
I had ordered my vampiro with barbacoa (I wanted to try all the meats, after all), but unfortunately, I somehow ended up with chicken. The bird was pretty much the same as above, but really shined when juxtaposed against the crispy cheese and even crispier tortilla here, all while the red sauce tied everything together with its potency and depth. Quite lovely--this is probably the dish to get.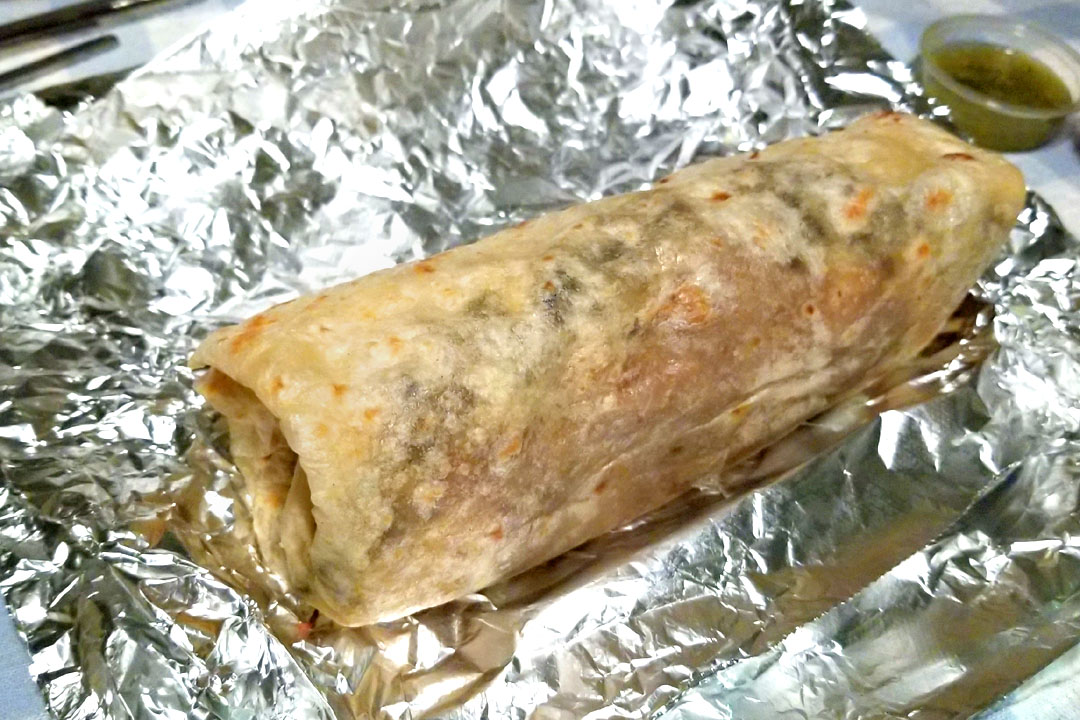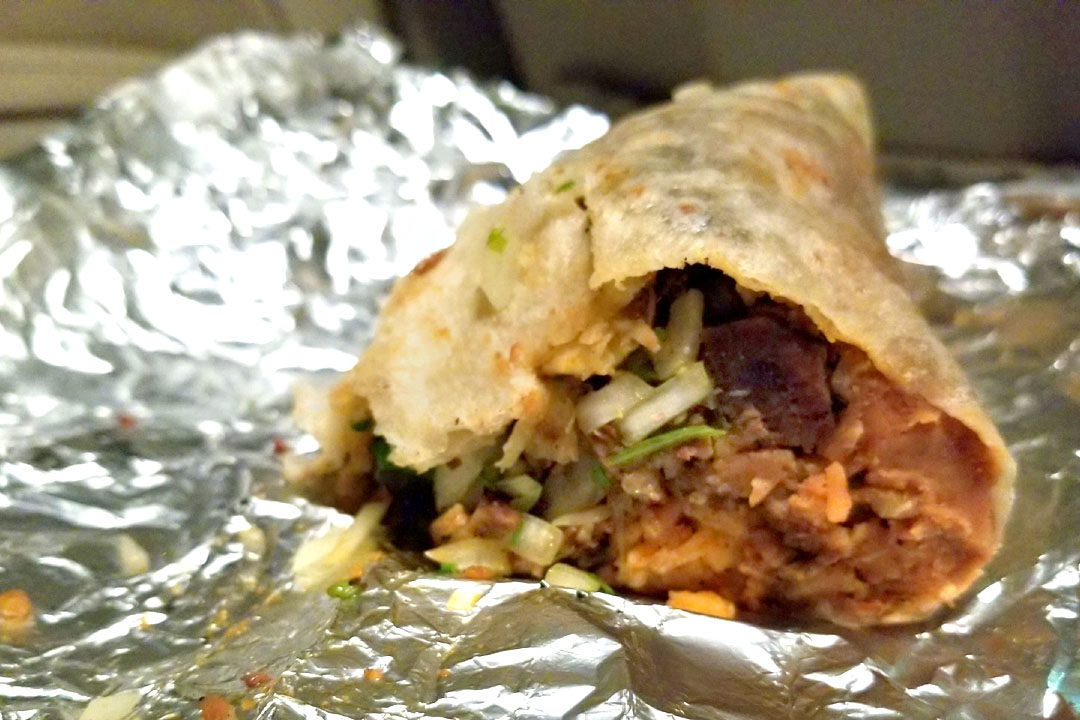 Burrito - Asada
Last up was the burrito, a fairly hefty specimen that once again conveyed the mouthwatering smoke and sear of the beef. This all combined rather well with the rice and beans, and I found the zestiness of the onions particularly crucial. This was even better when taken with any of the three salsas above.
Despite a couple of quibbles here and there, I was generally happy with my meal at Asadero Chikali. I appreciated the smoky character of the meats and their aggressive spicing, while the much bandied about flour tortillas met the mark as well. Overall, this is a solid entry to LA's taco lexicon that's worth a try.
Note: The camera that I normally employ for blogging purposes decided to malfunction shortly after I picked up my food, so I was forced to use the camera on my cell phone for these photos, hence the somewhat reduced quality.