Los Dorados LA (Los Angeles, CA)
Los Dorados LA
5373 Alhambra Ave, Los Angeles, CA 90032
213.793.1444
www.instagram.com/losdoradosla/
Fri 10/07/2022, 09:35p-11:05p

I recently posted about my experience at
Tacos Los Cholos
, but during that meal, I was lamenting the fact that, despite its wide-ranging menu, the restaurant didn't offer flautas (a.k.a. taquitos, rolled tacos, or tacos dorados), which is definitely a favorite of mine among the antojito pantheon. Thus, in order to satisfying this peculiar craving, I decided to pay a visit to Los Dorados LA, a new-ish food truck/trailer serving up Mexico City-style flautas that's made a bit of a name for itself over the past couple years.
Los Dorados LA is the creation of "Steven" Estiven Orozco Torres, a 37-year-old who spent many of his formative years in LA. However, the business likely wouldn't have come to fruition if he hadn't married Gloria Martinez, the daughter of Adolfo Martinez-Ortega, who happens to be one of the partners behind the longstanding (1980) El Taurino in Pico-Union (the other was his late brother Raul, the founder of King Taco). Apparently, the elder Martinez had whipped up a batch of flautas to serve at a baptism back in 2018. They were so tasty that, after eating them, Torres was inspired to learn the family recipe and began selling them himself. He first started in July 2019 when he replaced a no-show taquero outside of Holiday Bar in Boyle Heights one night. From there, he expanded to La Cuevita, a bar in Highland Park where he used to work, and has since moved his operation to a few locations, including the Arts District. Currently, Los Dorados LA is still in front of La Cuevita, but also serves at Brewjeria Company in Pico Rivera, at Smorgasburg, and at a spot in El Sereno, which is the location I tried this evening (and which also functions as the outfit's base of operations).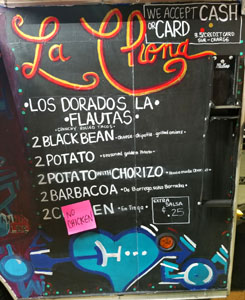 The menu is simple enough: five varieties of flautas, all priced at $8 a pair (up from $6 when they first started). And if you're wondering about the "La Chona" written on the menu board, it's actually the name of the trailer (fun fact: the converted mail truck they used to employ was called "La Chaparrita"). Click for a larger version.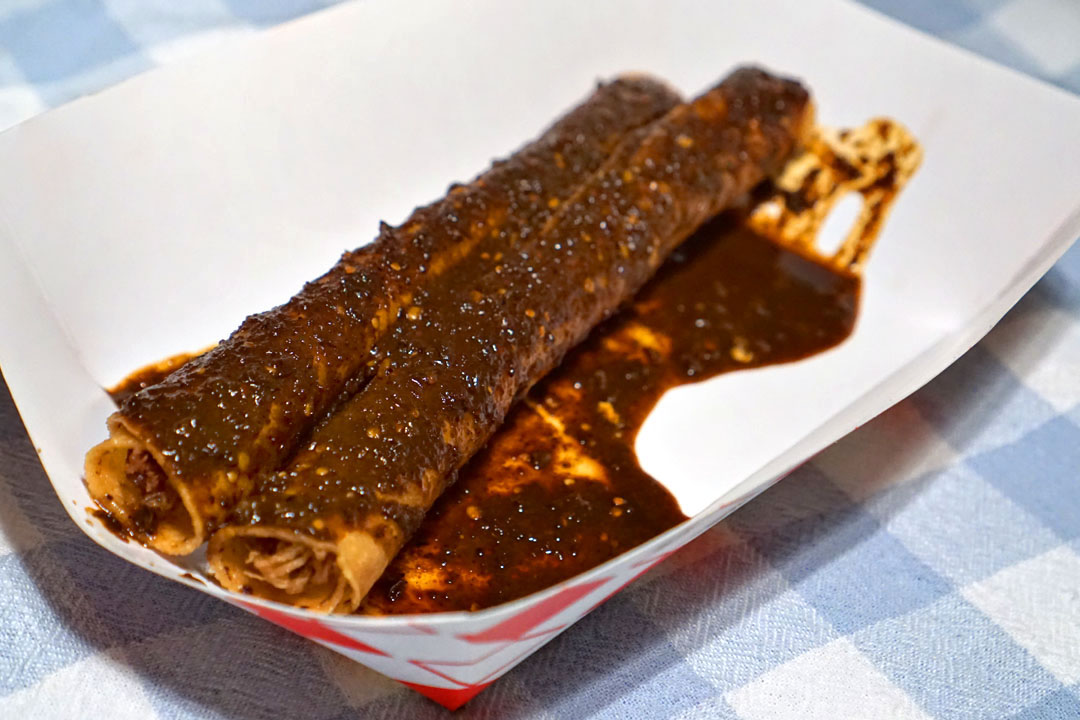 When I arrived, I was informed that due to some delivery issues, they'd run out of not only chicken, but also cheese and cream, and that it'd be around half an hour before they would be resupplied. I decided to wait it out, and in the meantime, the person running the trailer (Christina) was gracious enough to offer me a complimentary topping-less serving of the barbacoa flauta (her favorite). It was a very promising start. The lamb was ostensibly prepared in the style of the Texcoco region (where Martinez's family is from), and showed off a tender chew along with a smart amount of seasoning and a great herbaceous component. The meat meshed seamlessly with its crisp, shattery, yet still substantial tortilla, while the dark salsa borracha contributed a plethora of nutty, sweet, and earthy nuances, backed up by a tingly, building heat.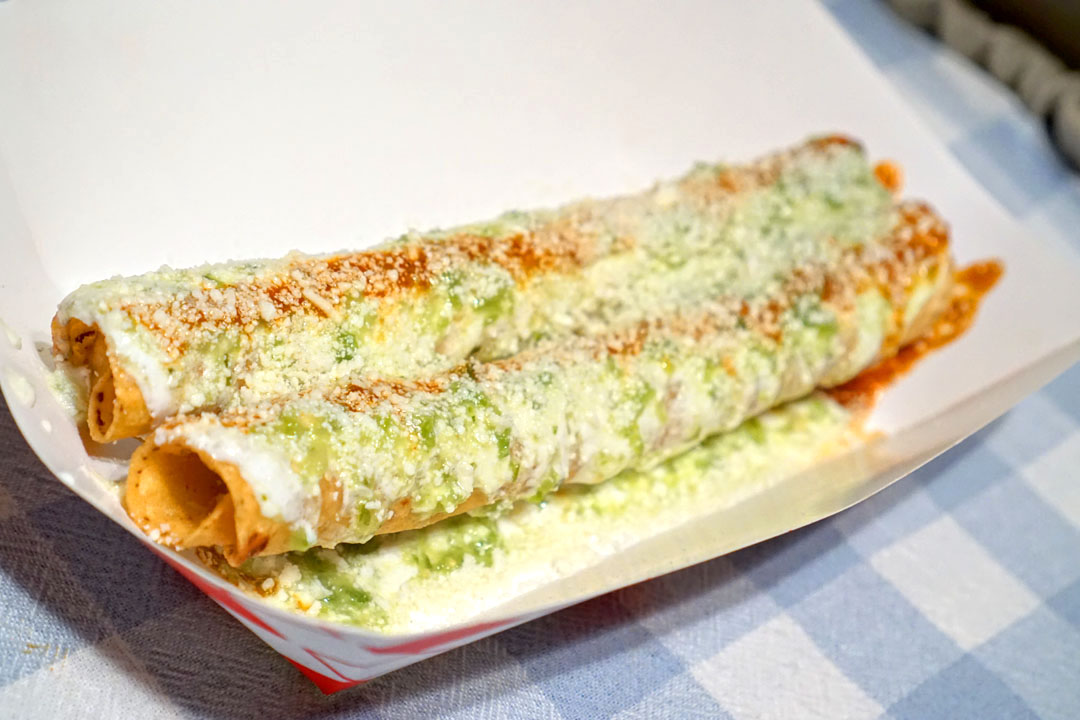 Potato [$8.00]
| seasoned golden potato
With the trailer freshly restocked, I was now able to try all five of Los Dorados LA's flauta variations. I'll begin with the most basic of the bunch, which featured a filling of fluffy, mildly-spiced potato. The taters married effortlessly with the maíz-forward tortillas, which again, showed off a delicate, yet very satisfying crunch, and are reportedly custom-made for frying due to their minimal oil absorption. They definitely serve their purpose well, as did the various toppings here. I certainly liked the bright, tangy nature of the tomatillo- and guacamole-based salsa verde, which was punctuated by a spicy, zesty red sauce, all while crema and a slightly salty queso cotija helped smooth things out. Yum.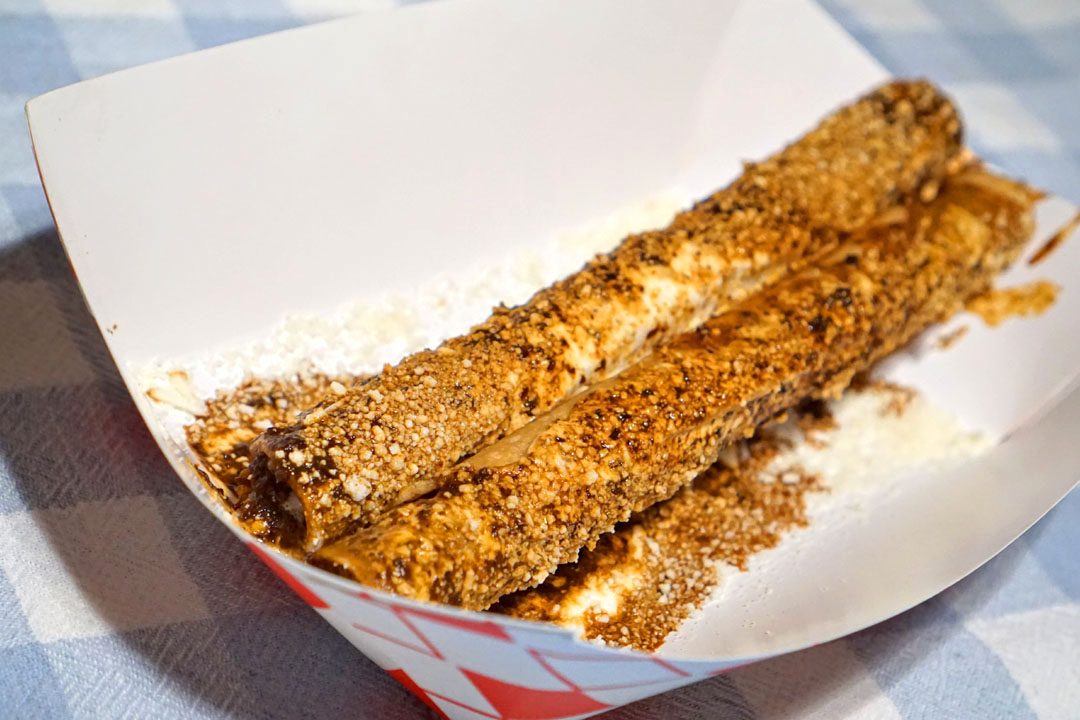 Barbacoa [$8.00]
| de borrego, salsa borracha
And now back to the barbacoa, this time done properly. The flautas had the same depth and complexity from their dark-toned, dried chile-fueled dressing, but this time around, the cheese and crema really completed the experience by serving as a counterbalance to the robust, mole-esque sauce.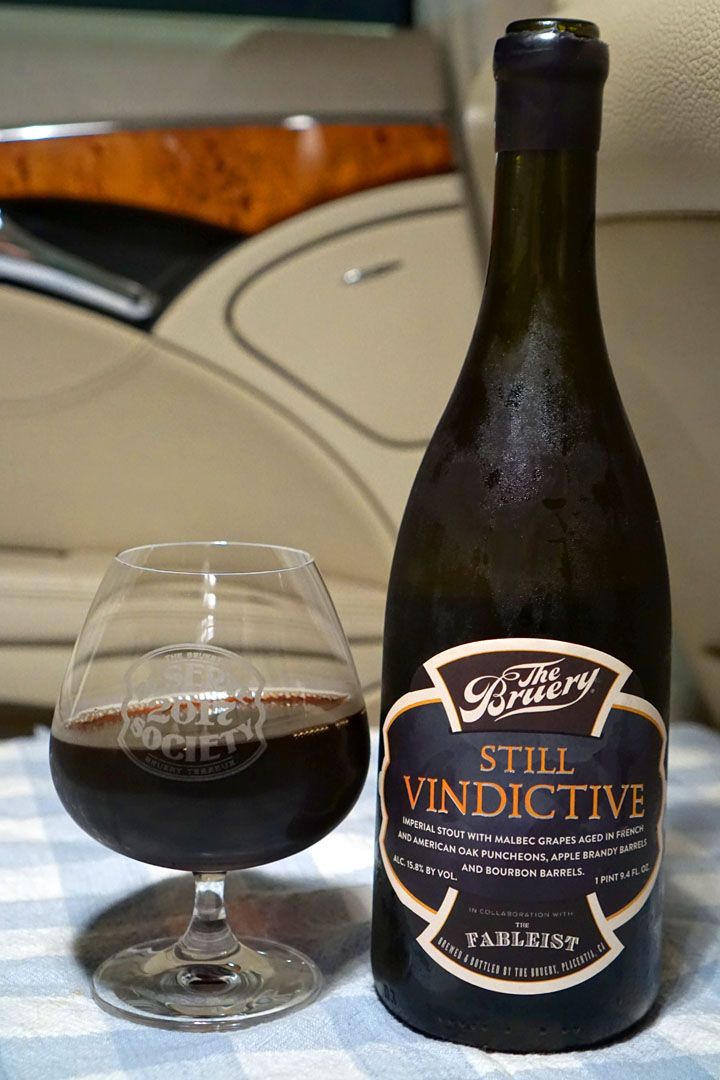 To drink, we have here the
2020 The Bruery Still Vindictive
, an imperial stout with Malbec grapes, aged 18 months in a combination of French and American oak puncheons, apple brandy barrels, and bourbon barrels, created in collaboration with The Fableist. The beer has a distinctly vinous nose, with a grapey sort of mustiness supported by an undercurrent of chocolate. On the palate, this showed off a thin, wine-like mouthfeel, while flavors went in a smoky, cacao-laced direction at first before transitioning to a background of berry fruit.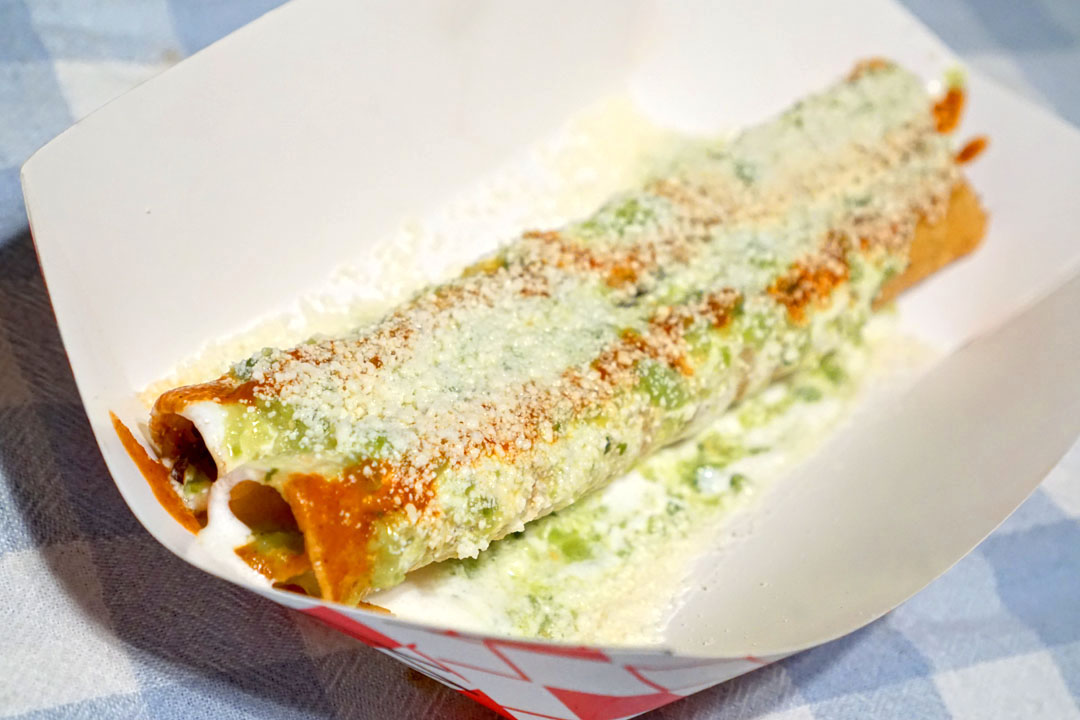 Chicken [$8.00]
| en tinga
My fourth flauta was stuffed with soft shreds of tinga de pollo, a particularly homey, cozy preparation that conveyed distinct notes of tomato and what I believe was chipotle. The bird made a lot of sense with a coating of green sauce and a streak of salsa roja, but what I found especially crucial here was the tang of the crema.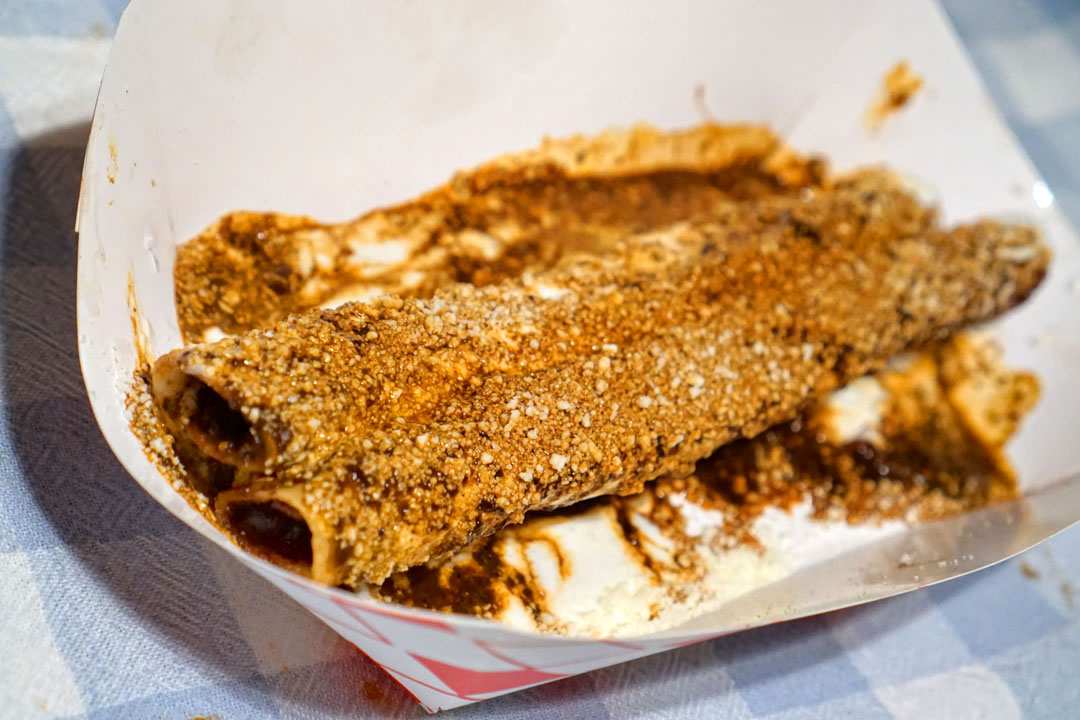 Black Bean [$8.00]
| cheese, chipotle, grilled onions
Next up was the newest addition to the flauta menu, one which was introduced in June as far as I know. The frijoles negros had a hefty, gratifying consistency, and showcased an earthiness that melded well with the richness of caramelized onion and the in-your-face flavors of that salsa borracha.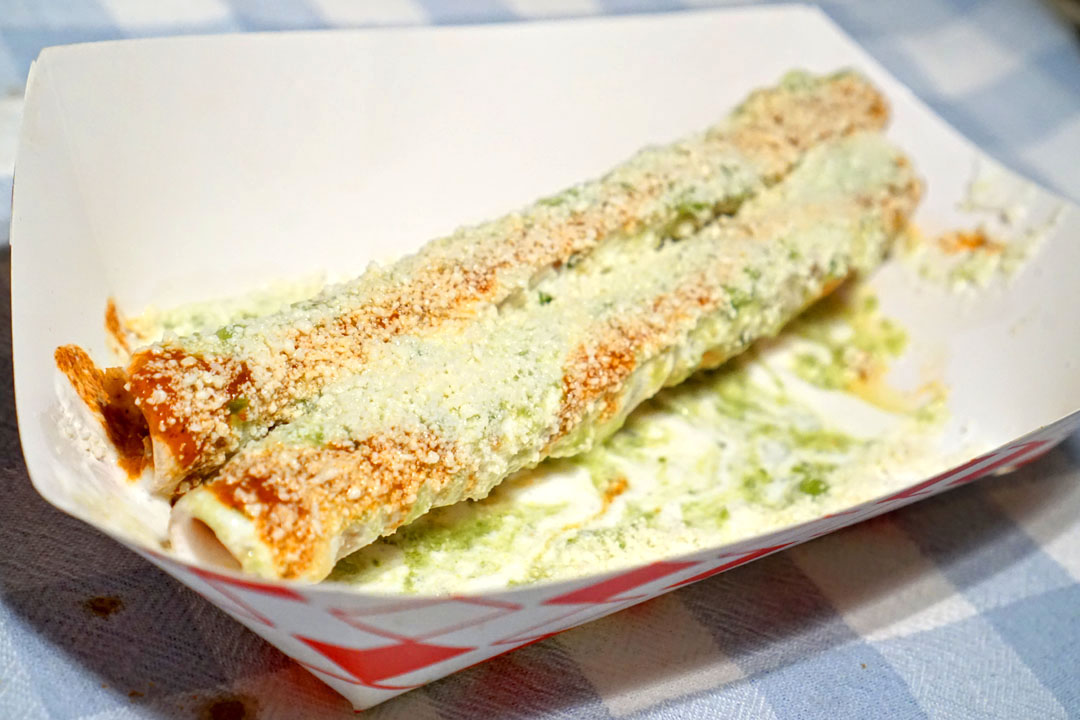 Potato with Chorizo [$8.00]
| housemade chorizo
I'm a sucker for chorizo, and I believe the variety used here was a dry-aged longaniza. The sausage imparted a nice bit of chew and a spicy complexity to the potatoes, really elevating the flauta. In fact, this just might be my favorite of the quintet.
I really appreciate the singular focus that Torres and his team are demonstrating, as I haven't seen a place concentrate so intensely on flautas since, well,
Flautas
(Ramiro Arvizu and Jaime Martin del Campo's now-shuttered food stall at the Baldwin Hills Crenshaw Plaza mall). The dorados were some of the best I've had, and I'm curious to taste more from the crew here. It remains to be seen if Torres will open up a permanent location, but word is that he's considering doing so at the very address I visited tonight, so keep an eye out.