Hasu (Torrance, CA) [2]
Hasu Japanese Izakaya & Grill
2120 Artesia Blvd, Torrance, CA 90504
310.819.8042
www.hasudining.com
Sat 10/01/2022, 08:15p-10:20p

You might recall that I filed a dining report on
Hasu
(蓮) a little more than a year ago. Managed by the husband-and-wife team of Chef Takashi "Taka" Tsuma and Chie Tsuma, the place grilled up some great yakitori for me back then, some of the best in the Los Angeles area in fact. Thus, I made a mental note to return to the spot in order to try some of their non-skewered, izakaya-style dishes, so here we are.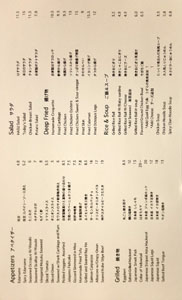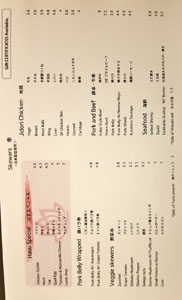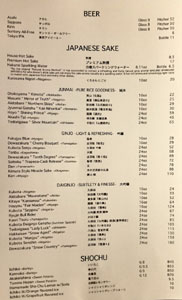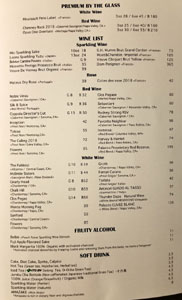 As was the case before, Hasu's menu features a fairly wide array of dishes appropriate for the concept, while beverage-wise, you'll find a pretty decent sake selection along with beer, shochu, and a better-than-expected wine list. Click for larger versions.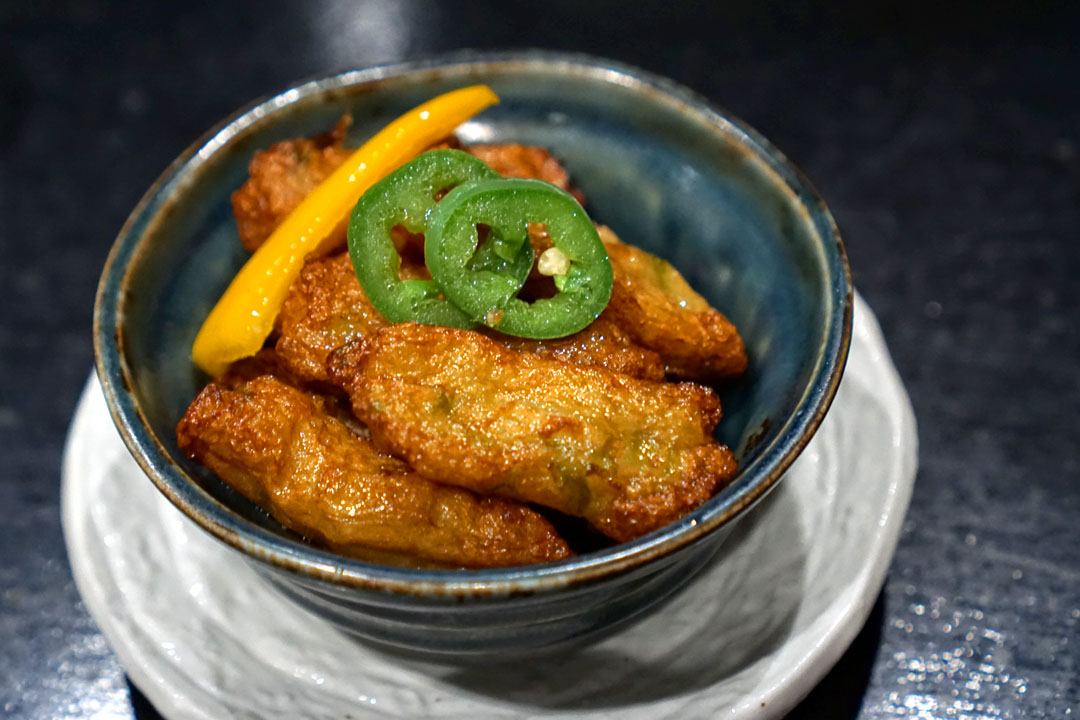 元祖ハラペーニョさつま揚げ - Jalapeño Fishcake [$7.50]
We started with the
satsuma-age
, which I was actually curious about from my last visit. The fish cake had this soft, springy consistency that I quite liked, and also displayed a creeping heat that played well with its sweetness.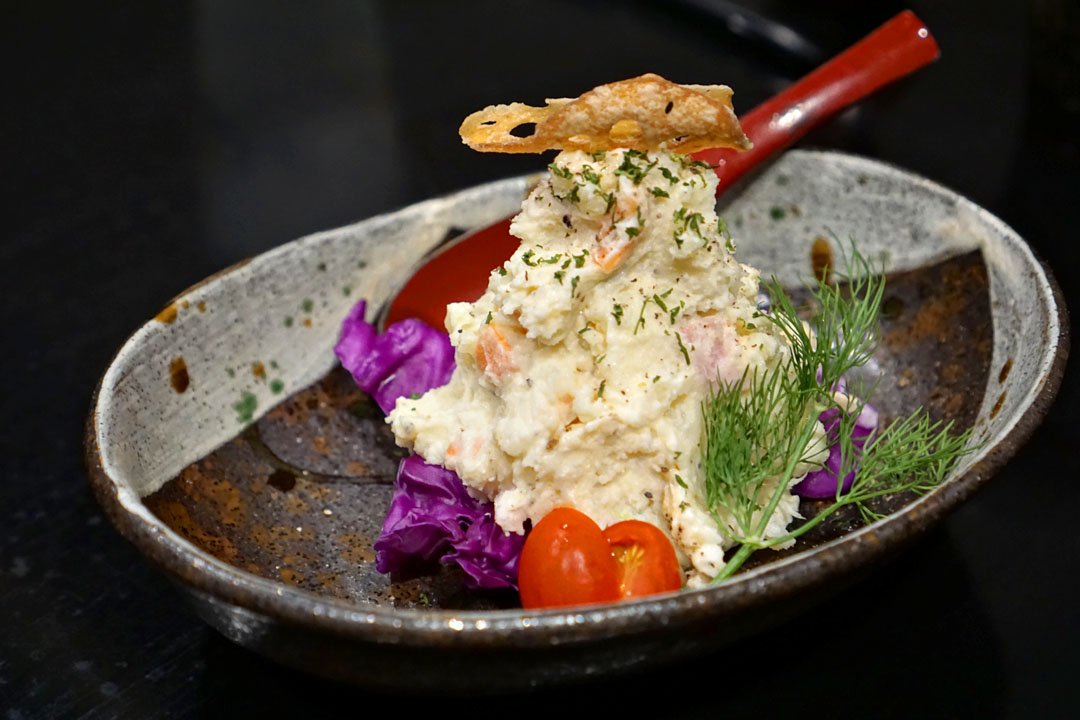 自家製ポテトサラダ - Potato Salad [$7.90]
Being the potato salad slut that I am, Hasu's
jikasei
(homemade) version was a must-try for me. The salad has a generally light, vegetal sort of disposition, with a generally smooth texture punctuated by crunchy, pickle-y bits. This was even better when eaten with the included dill and red cabbage.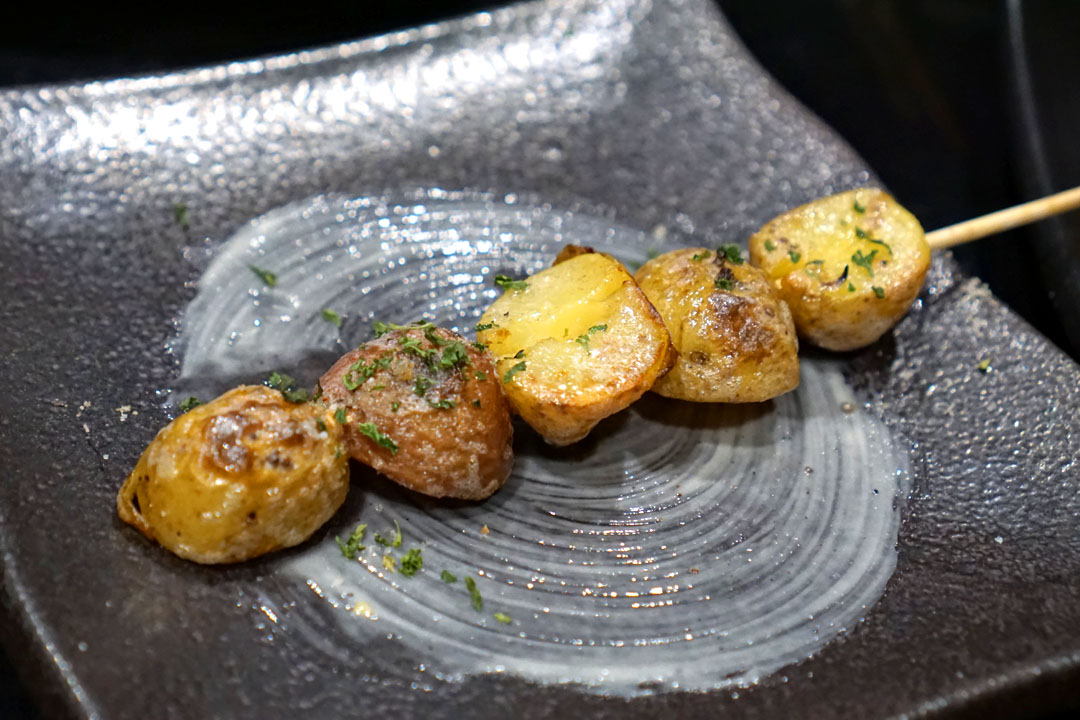 小ジャガ - Small Potato w/Butter [$4.00]
Speaking of potatoes,
ko jaga
had that "roasty" texture I like, along with some well-placed hits of salt. This would be great as a brunch-y sort of side dish.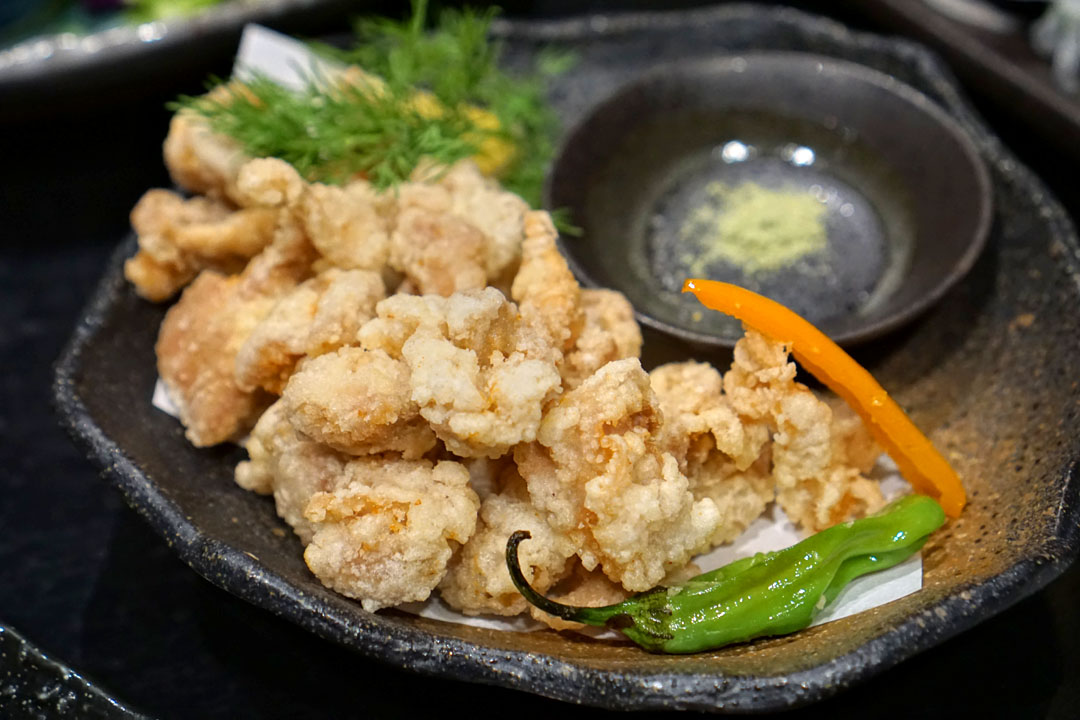 ソリレスから揚げ - Fried Chicken Oysters [$13.00]
Soriresu karaage
came out pretty spot-on texturally, though I could've used some more aggressive seasoning on the bird. That being said, the fritters were certainly perked up by a squirt of lemon, and really opened up with a dab of that wasabi salt. And again, nice use of dill here.
日本産 イカ下足焼き - Japanese Squid Legs [$12.00]
I'm typically a fan of
ika geso
, and the legs didn't disappoint me tonight. I really enjoyed the squid's "snappy" texture and its bitter char, and how that paired with the mild creaminess of the accompanying dipping sauce. A favorite.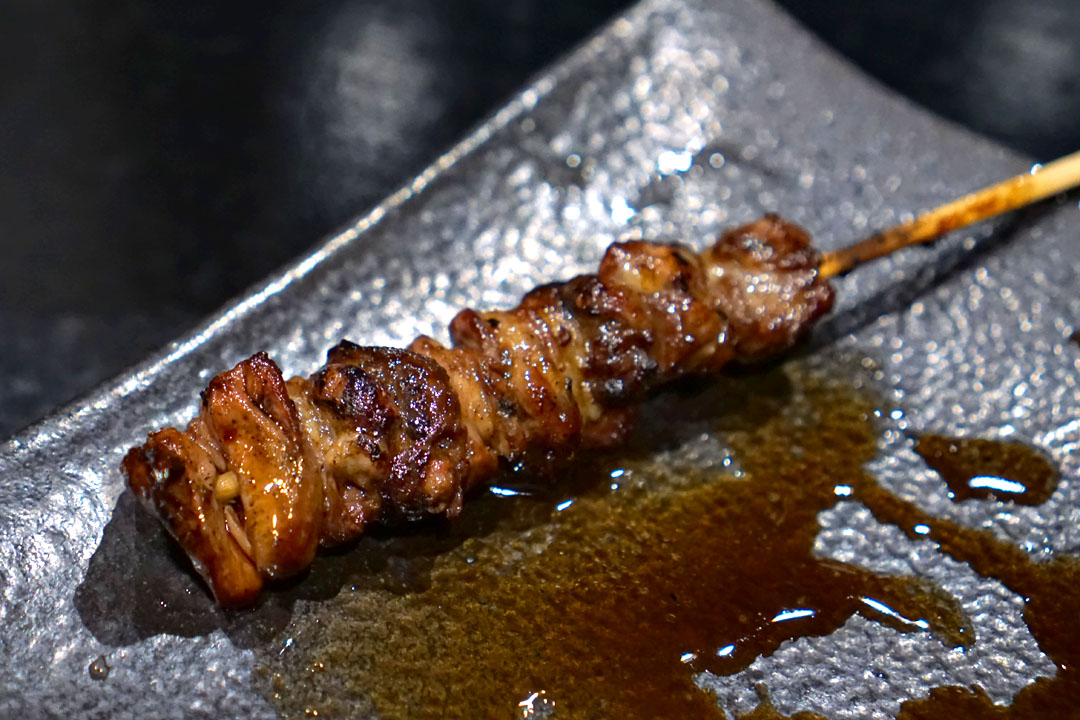 特ハツ - SP Hearts [$4.30]
Toku hatsu
showed off a soft, springy bite that was just a joy in terms of mouthfeel, while its taste married sweet and smoky in deft fashion.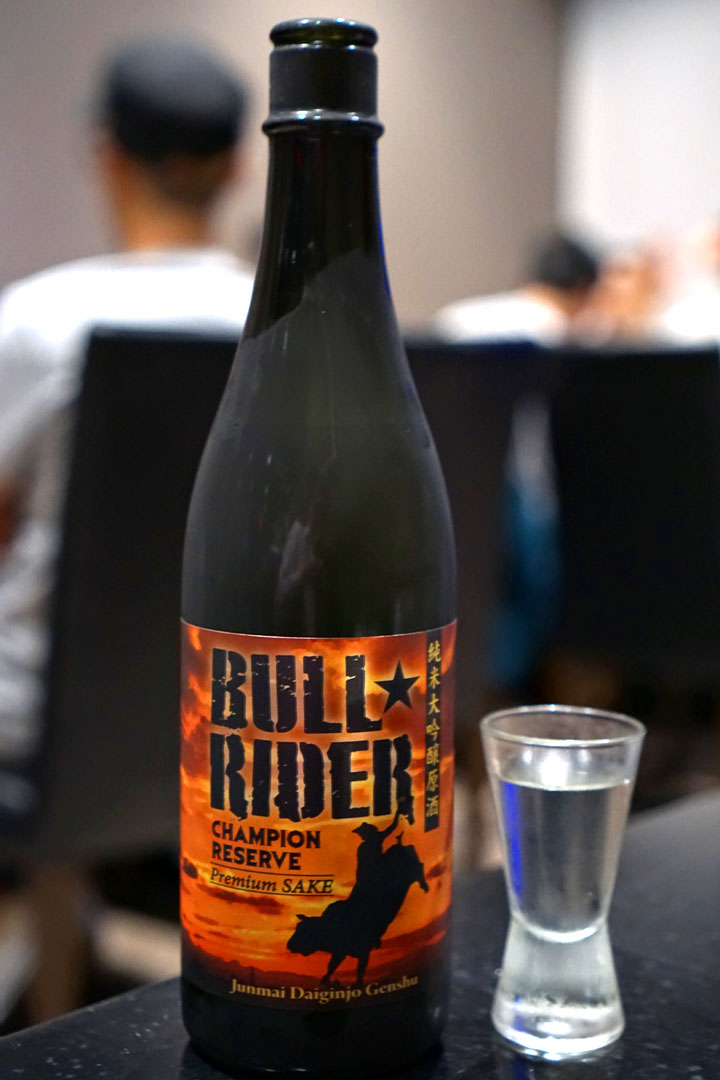 Given that it happened to be
World Sake Day
, it felt appropriate to go with a bottle of the curiously-labeled
Ryujin Bull Rider Junmai Daiginjo Genshu (大吟醸 原酒 龍神) [$67]
this evening. The nose here was a full-throated expression of tropical fruits and floral nuances, and nearly veered candy-like at times. Taste-wise, the sake was similarly robust, and demonstrated more of those sweet, lush fruit flavors, but evened out by a backbone of acidic, dry, mineral-driven, and even vegetal elements. This one stood up quite well to all the food we were having.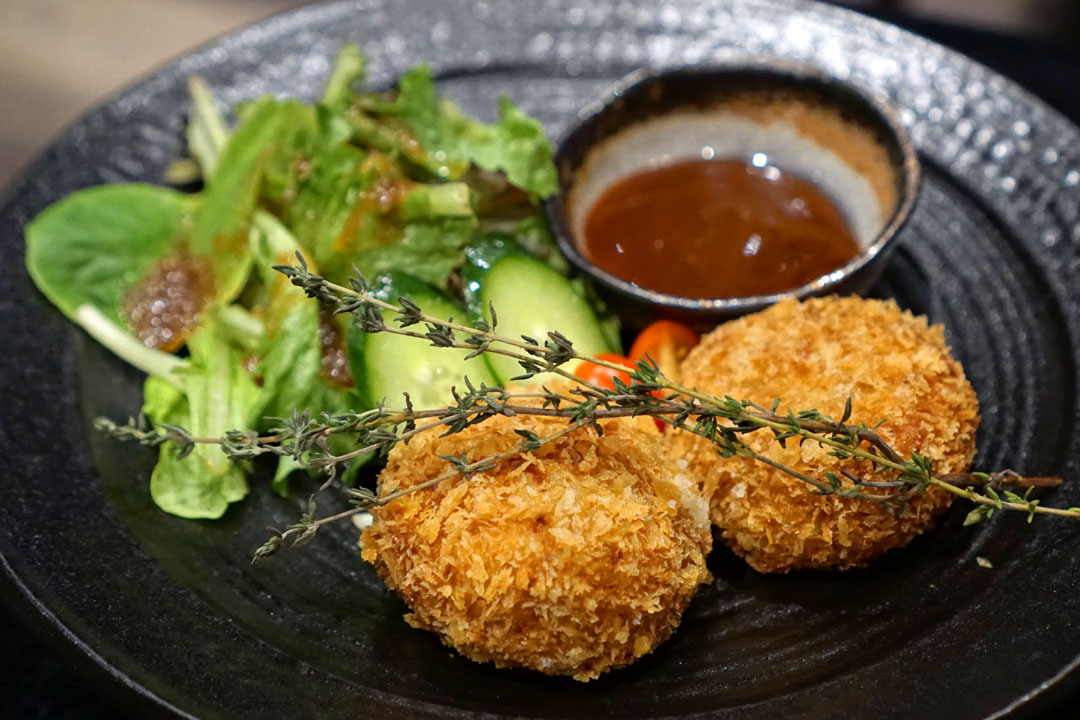 自家製はすコロッケ - Homemade Croquette [$10.50]
The
korokke
were another standout thanks to their cozy, familiar, deeply savory flavors, derived from what I believe was a mixture of potato, onion, and beef. They were also superb texturally, with crispy panko-coated outsides hiding fluffy interiors, and were served with a tangy, tonkatsu-esque sauce and a salad of bitter, zippy greens.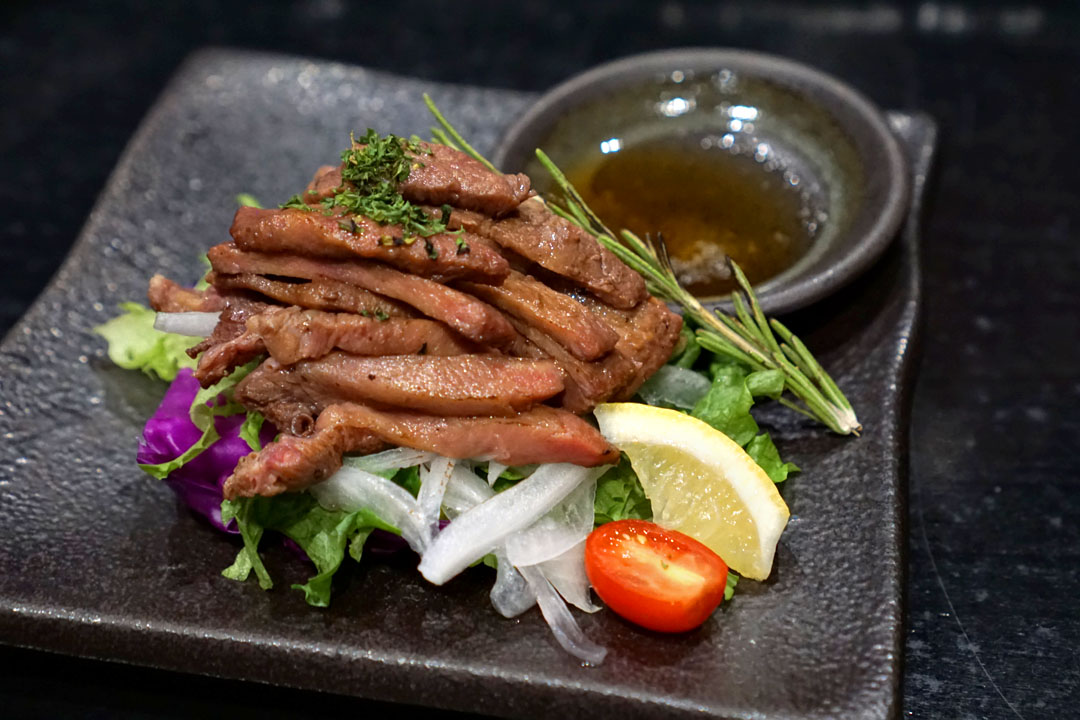 牛タン塩焼き - Salted Beef Tongue [$13.00]
Gyūtan shioyaki
showcased a delectable marriage of salt and pepper flavors, and matched up beautifully with an aggressively sesame-forward dipping sauce, while veggies lighted the mood considerably. My only complaint here was that some pieces of the tongue were chewier than I would've liked.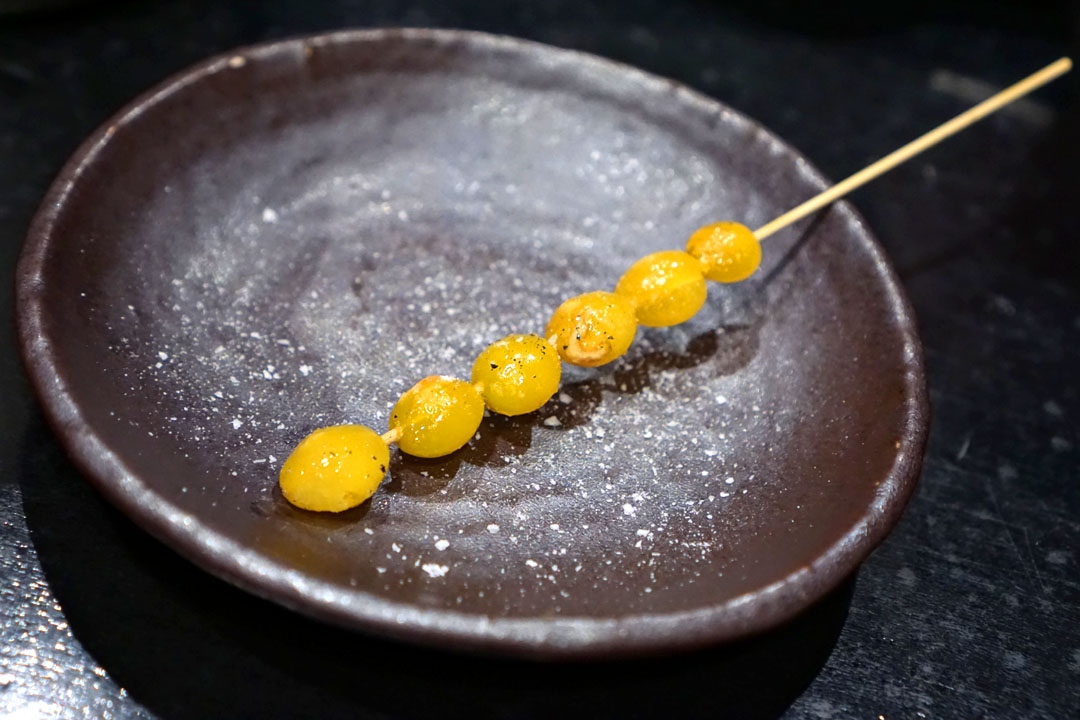 銀杏 - Ginkgo Nuts [$3.50]
It was the start of
ichō
season, so it felt right to order this. The ginkgo seeds were just what I wanted texturally, and conveyed a superb bit of saltiness to boot.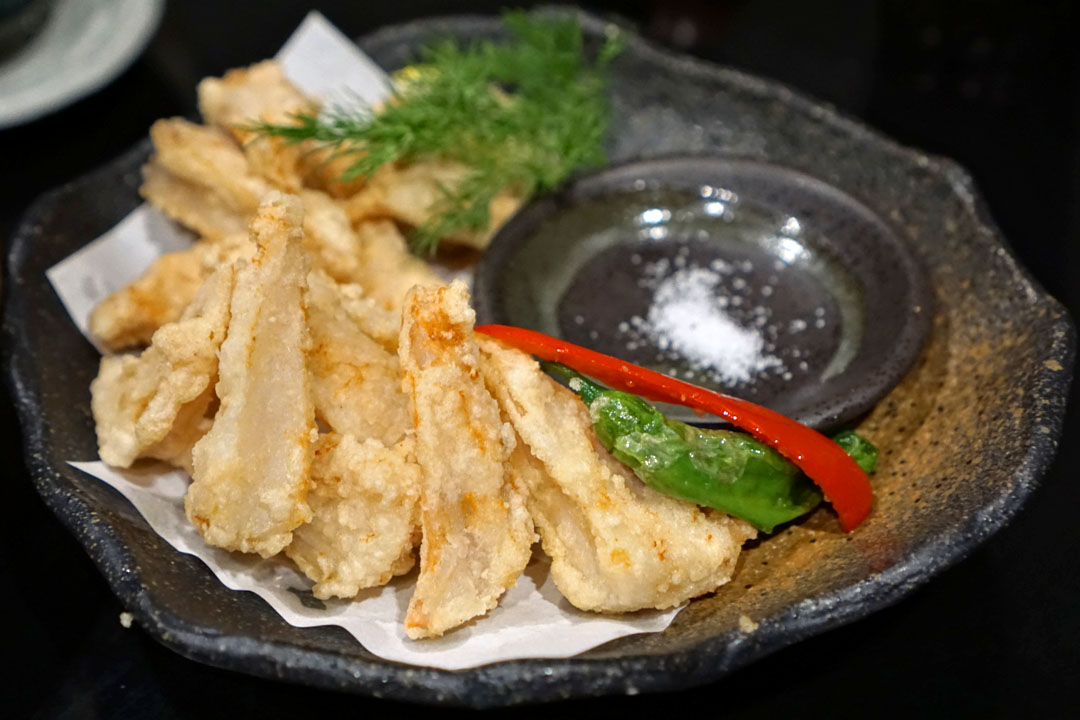 軟骨から揚げ - Fried Cartilage [$9.50]
I'm a sucker for cartilage, and the
nankotsu kara-age
definitely hit the spot with its perfectly crunchy-yet-yielding bite, while a touch of salt or a sprig of dill enlivened things taste-wise.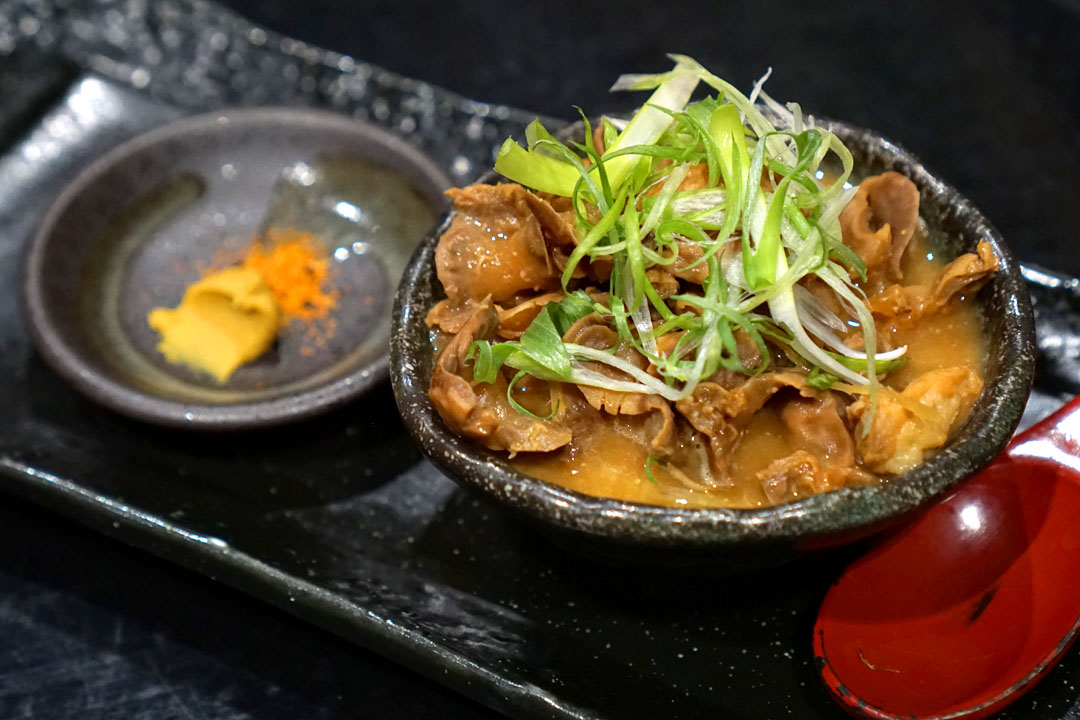 砂肝味噌煮 - Gizzard Simmered in Miso [$7.50]
Gizzard is a yakitori staple of mine, but I don't think I'd ever had it in this form before. The
sunagimo misoni
was a rustic sort of dish, one that exhibited an offal-y funk intertwined with the savory depth of miso. At the same time, the scallions worked beautifully for contrast, and I got a welcomed heat from the
karashi
mustard, too.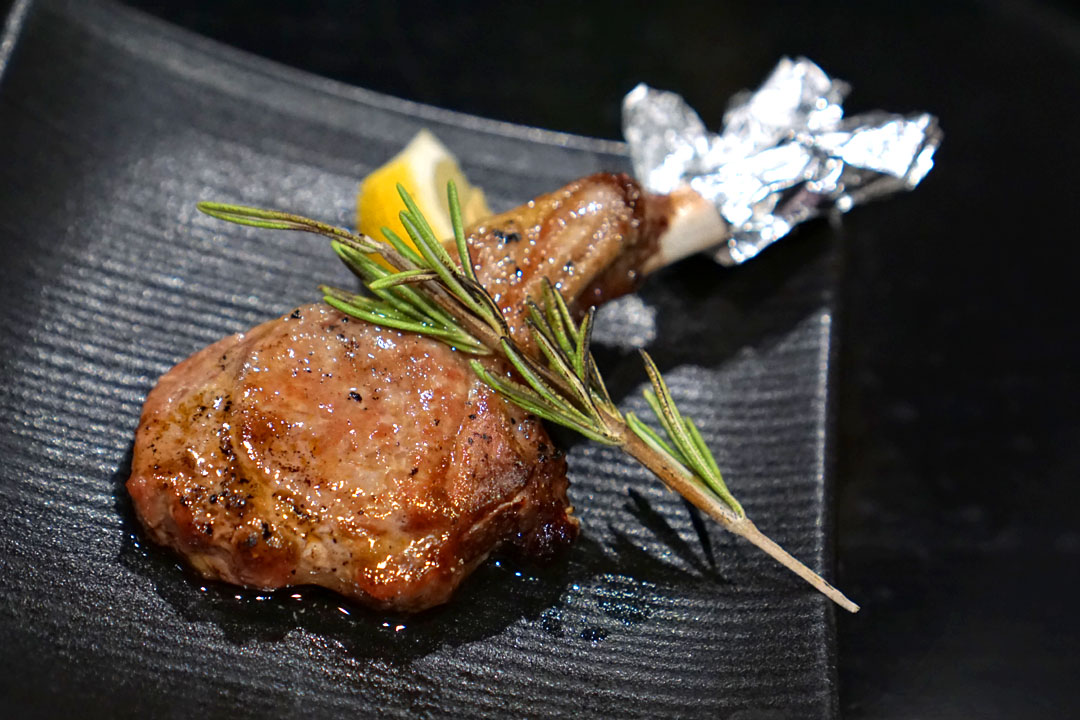 ラムチョップ - Lamb Chop [$7.00]
The lamb chop was a delight, arriving super juicy and tender, with a robust ovine oomph juxtaposed against just enough herbiness.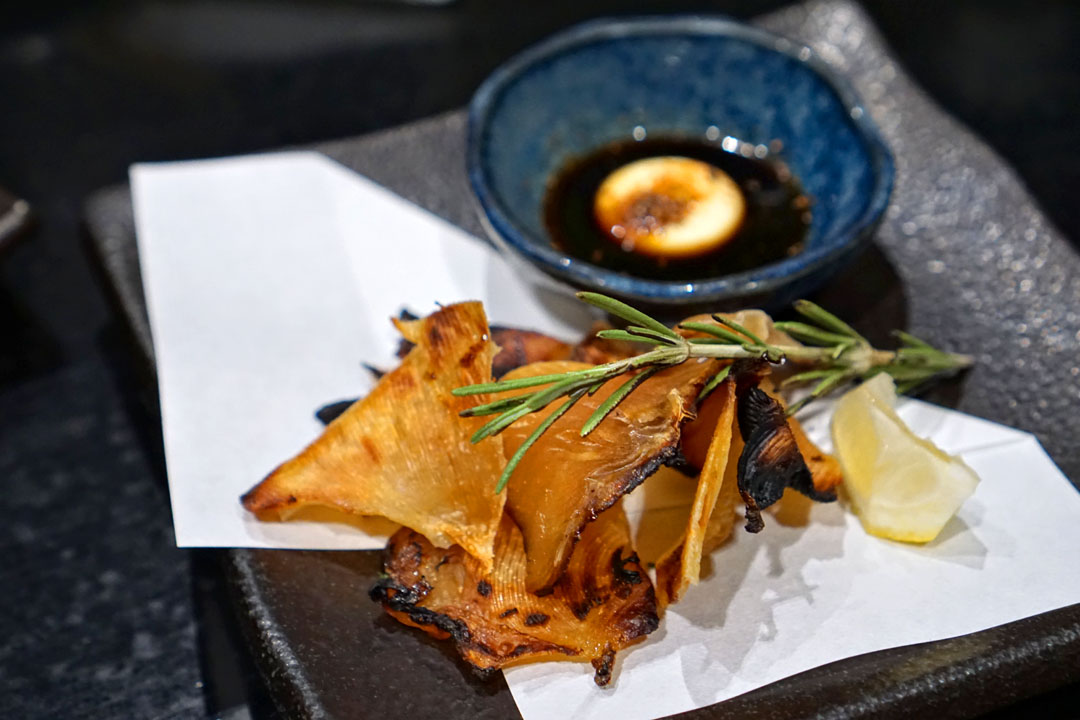 エイヒレの炙り焼き - Grilled and Seared Ray Fin [$8.50]
Eihire
is a dish that I don't have too often, but I quite enjoyed it this evening. The dehydrated fins had a slight sweetness that made sense with their generally smoky, salty taste, and in fact, they reminded me of the dried shredded squid snacks of my childhood. Accoutrements included lemon and a sauce of what I believe was mayo and soy, but they weren't strictly necessary.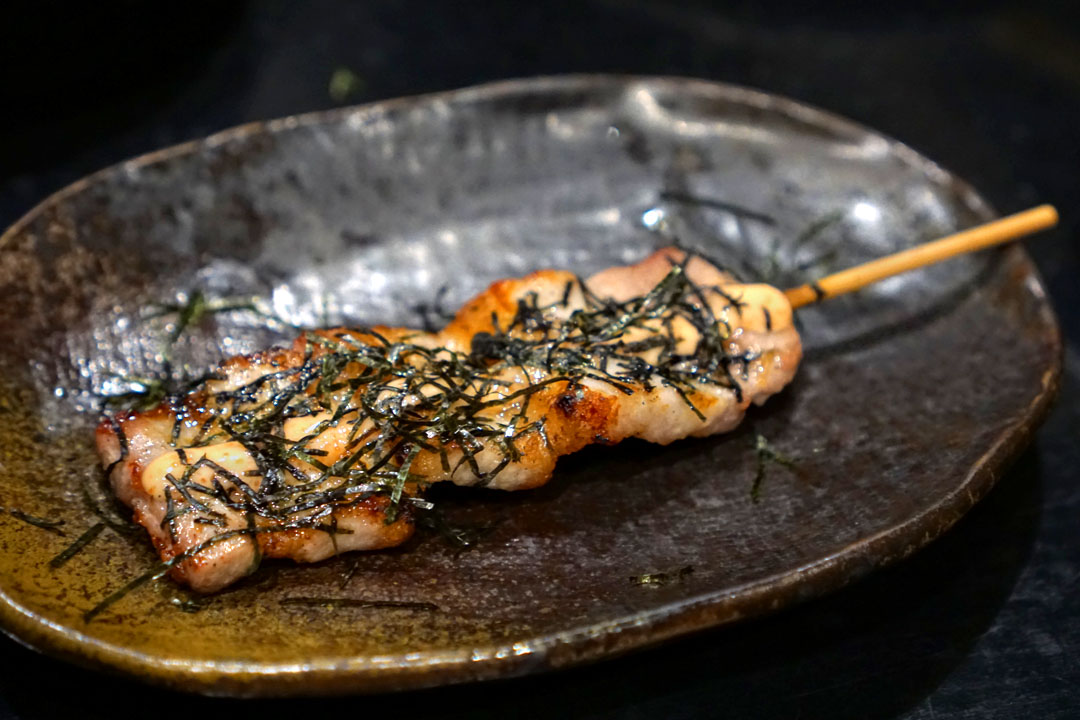 豚バラ明太マヨ - Pork Belly w/Mentai Mayo [$4.40]
Well-charred, fatty-lean cuts of
tonbara
melded seamlessly with both the piquancy of mentaiko and the grassiness of nori seaweed. Yum.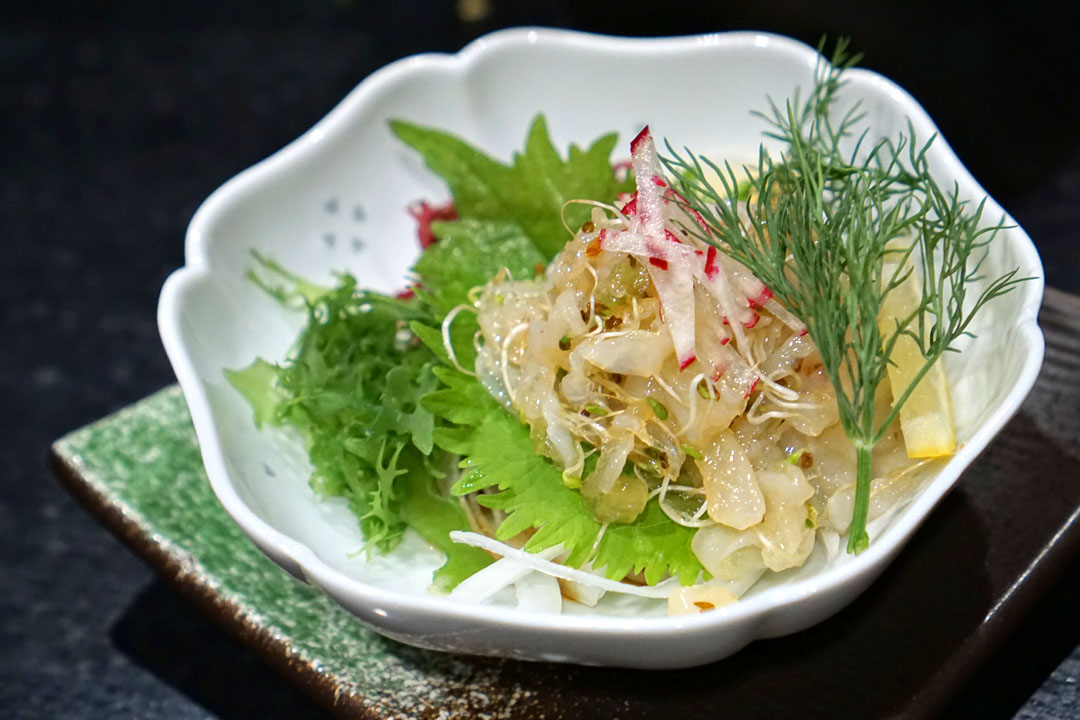 ホタテわさび - Seasoned Scallop w/Wasabi [$7.00]
A dish of
hotate wasabi
featured surprisingly chewy shreds of scallop imbued with sweetness, salinity, and a subtle burn from the wasabi. Great counterpoint from all that greenery, too.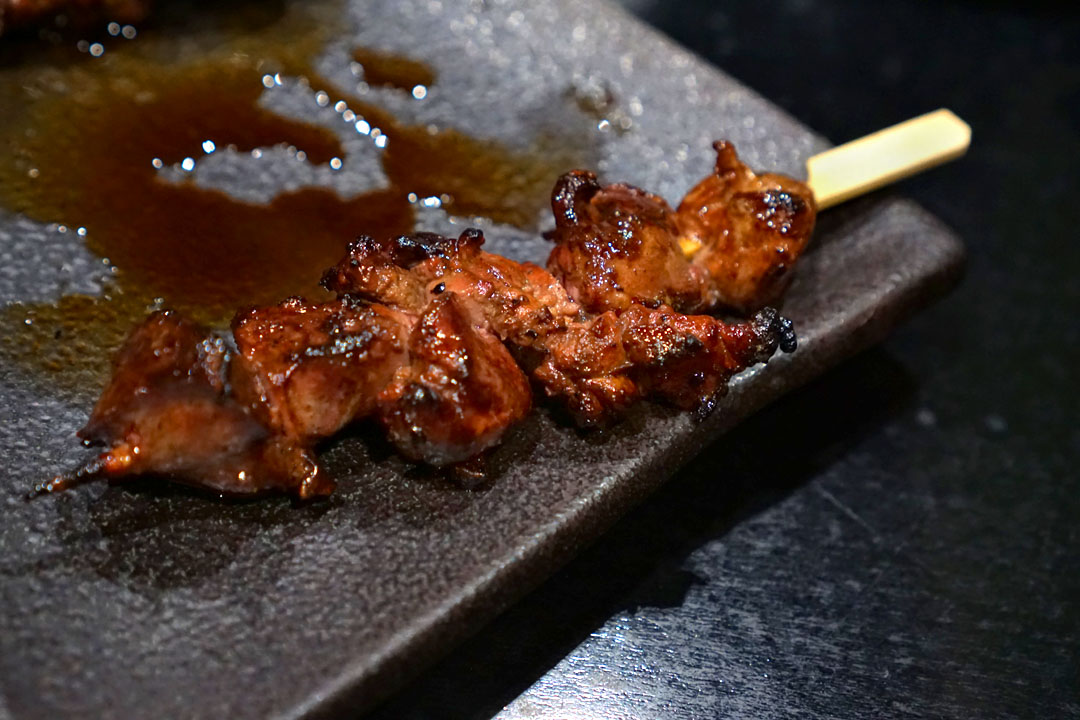 筋レバー - Liver Muscle [$3.90]
Our last yakitori skewer of the night was the
suji rebā
. I enjoyed the assertive smoke and crispy charred bits here, and how that all meshed with the earthy, slightly gritty nature of the chicken liver.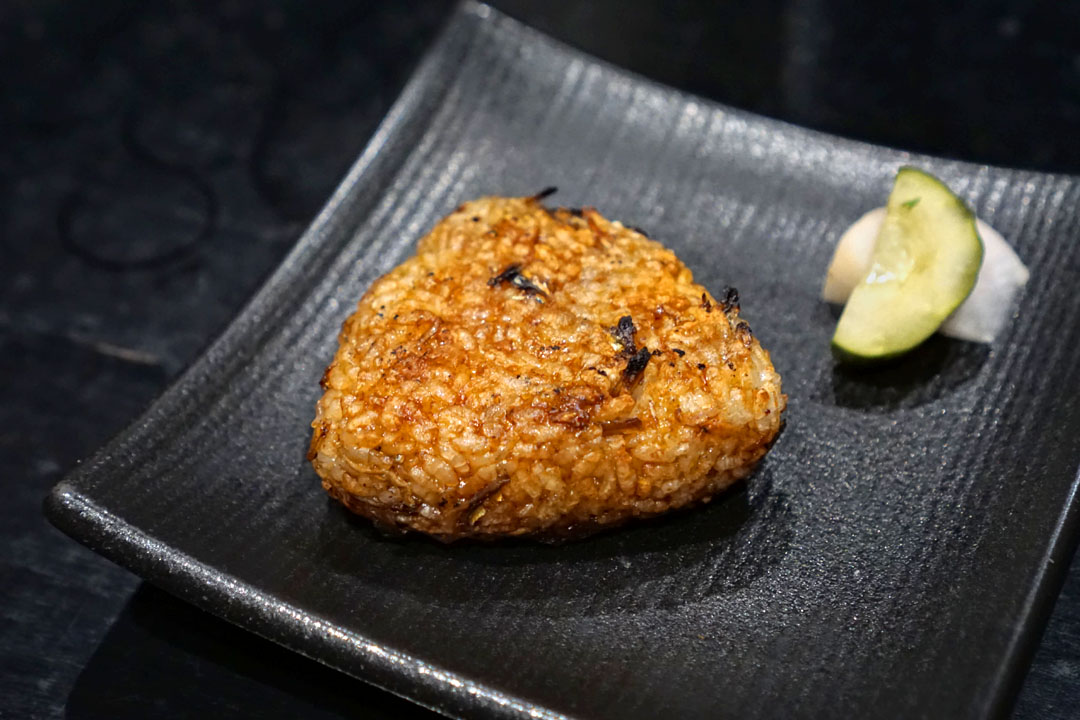 焼きじゃこおにぎり - Grilled Rice Ball w/Baby Sardine [$4.90]
It made sense to close with a rice dish, so we went with the
yaki ja ko onigiri
. I was a big fan of the sheer toastiness of the rice, but even more memorable was the familiar brine of the dehydrated fish, which was somewhat reminiscent of the dried anchovy snacks I often ate as a kid.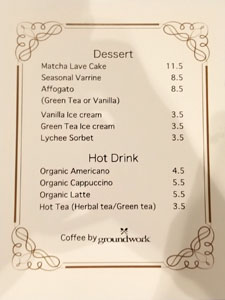 I didn't have any of the desserts on my last visit here, so I made to give 'em a shot this time around. Click for a larger version.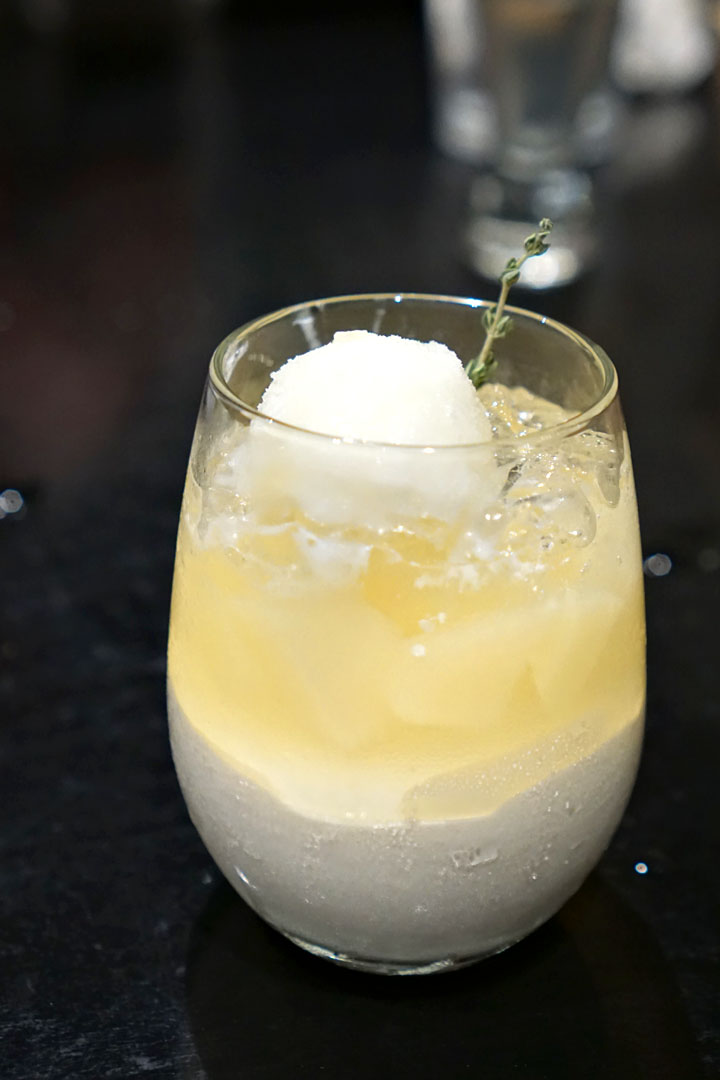 Seasonal Verrine [$8.50]
Our verrine combined panna cotta with pear jelly to make for a refreshing sort of dessert with a nice mix of textures. Interestingly, the jelly portion in particular really reminded me of the lychee cups I used to consume on occasion during my early teenage years.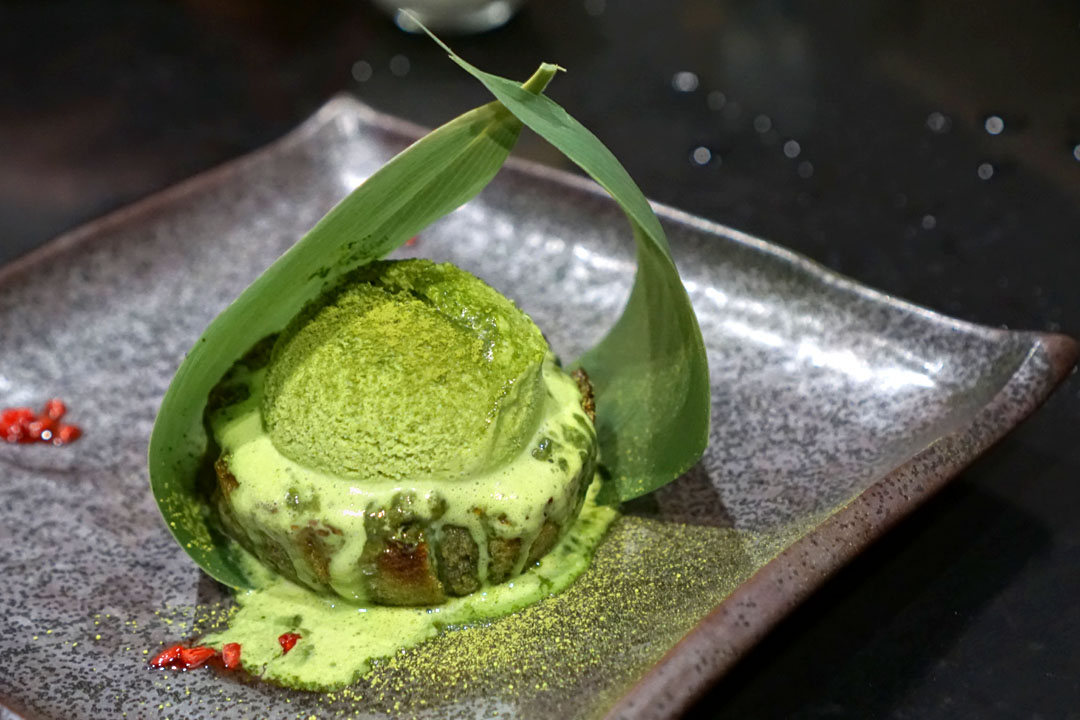 Matcha Lava Cake [$11.50]
Last up was a matcha-enhanced version of your classic
coulant
. It was largely a winner, with a welcomed temperature contrast and the grassy bitterness of the green tea working well with the sweet, saturated nature of the cake.
I'm happy to report that this meal at Hasu was yet another success, and I was generally very satisfied with the cooking across the board here. I'd definitely consider this place among the top izakaya-type spots in LA, and if you're a denizen of the South Bay, it should be on your list to try if you haven't already.