Kali (Los Angeles, CA) [2]
Kali Restaurant
5722 Melrose Ave, Los Angeles, CA 90038
323.871.4160
www.kalirestaurant.com
Sun 12/16/2022, 06:45p-09:45p

I recently braved some truly horrendous holiday crowds at The Grove (my advice: stay far, far away), and after the ordeal, a meal was certainly called for. The choice of restaurant ended up being
Kali
, which I hadn't dined at for a while. Recall that the Larchmont spot was opened in January 2016 by Chef Kevin Meehan and wine guy Drew Langley. The place has largely stayed out the headlines, though it did land a Michelin star in June 2019, which the team has retained through the 2021 and 2022 guides.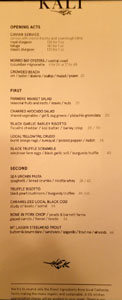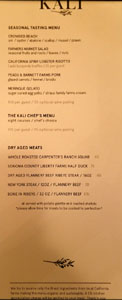 Shown above is Kali's current menu. We went à la carte this evening, but there are also tasting options available at $150 and $195 a head. Click for larger versions.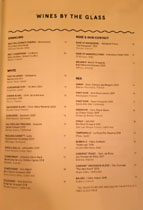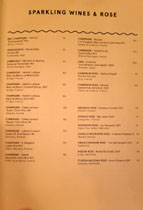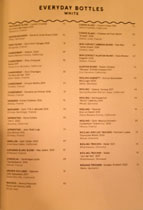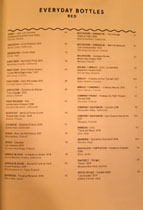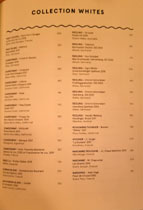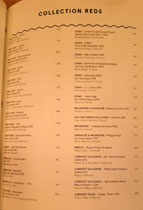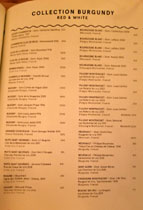 And here's Kali's cocktail/beer/cider selection as well as its mostly French and Californian wine list, which has definitely grown since my last visit. Click for larger versions.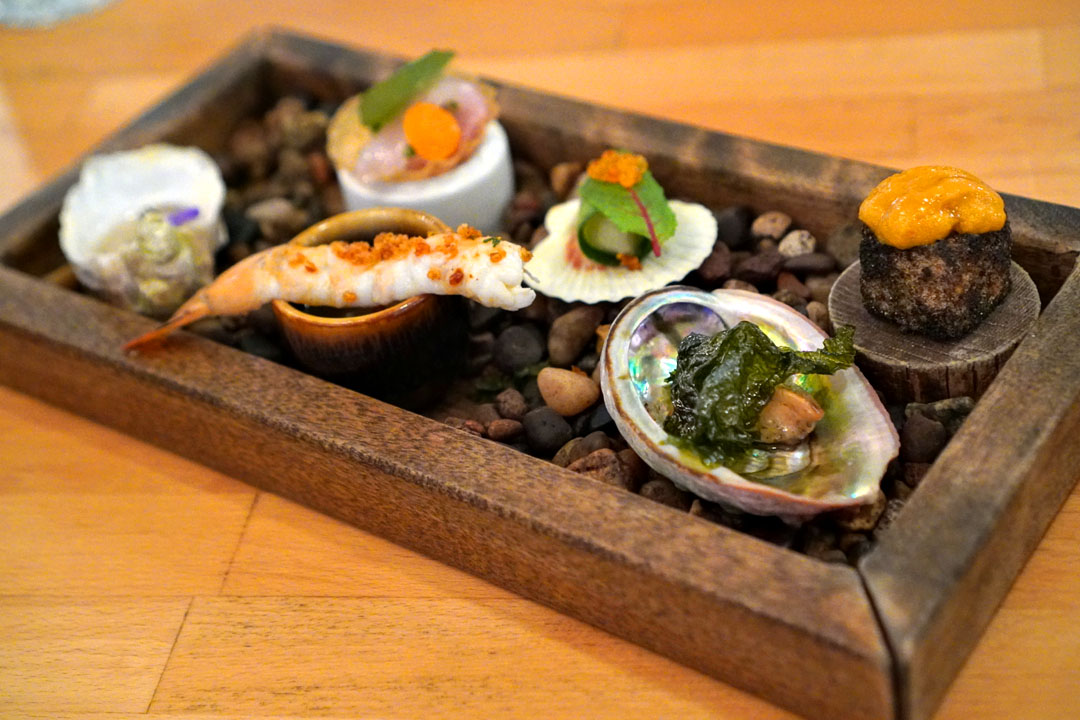 Crowded Beach [$20.00]
| uni, oyster, abalone, scallop, mussel, prawn
Our evening commenced with this seafood sextet. Going left to right, we have:
A Morro Bay oyster demonstrated a briny, melon-laced character that meshed well with the levity and acidity from a cucumber mignonette.
Yellowtail crudo featured thin-sliced kumquat and nasturtium, but interestingly, had a bit of an Indian-esque flavor profile that I found quite familiar.
A sweet local prawn was topped with savory, crispy quinoa, while a shot of cioppino made for a warm, cozy finish.
Cucumber-wrapped scallop showed off its signature sweetness, but juxtaposed against tangy red sorrel and the salinity of trout roe.
Abalone came out with a spot-on chew, while its healthy dosing of umami was joined by the bitterness of fried kale and some almost truffle-like notes.
Last up was the uni, which had its saline-sweetness offset by a savory, crispy seaweed powder-dusted polenta cake.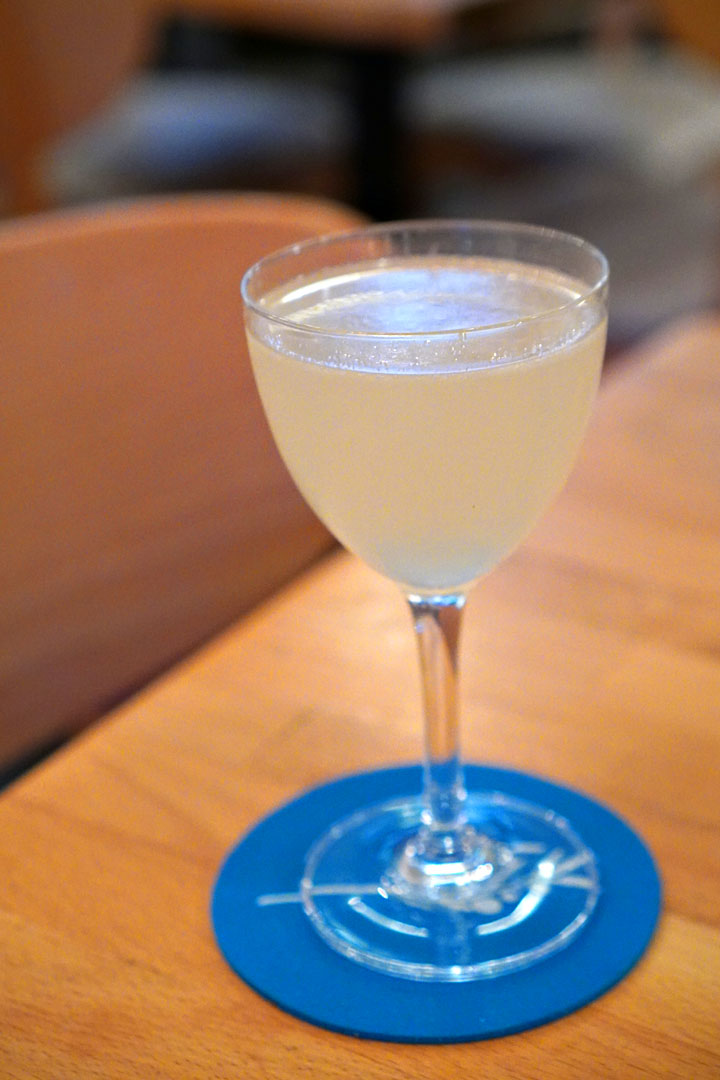 Say Less [$18.00]
| mezcal, grapefruit, cranberry bitters, cinnamon
We went with cocktails this evening, and this first one was pretty easy-going, with a nice balance of citrus and smoke overarched by warm cinnamon spice.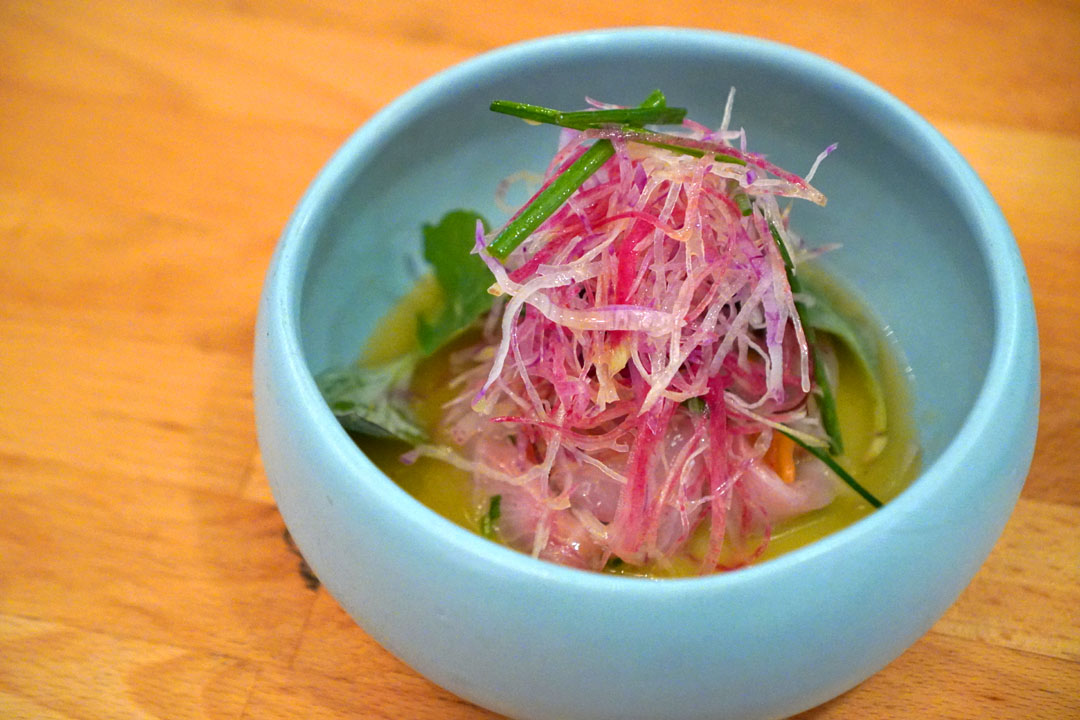 Local Yellowtail Crudo [$24.00]
| burnt orange nage, kumquat, pickled pepper, radish
Cuts of yellowtail were on point texturally, and made a lot of sense with the lightness of the radish, but the crux here was that burnt citrus, which imparted a complexity to the dish that really tied everything together.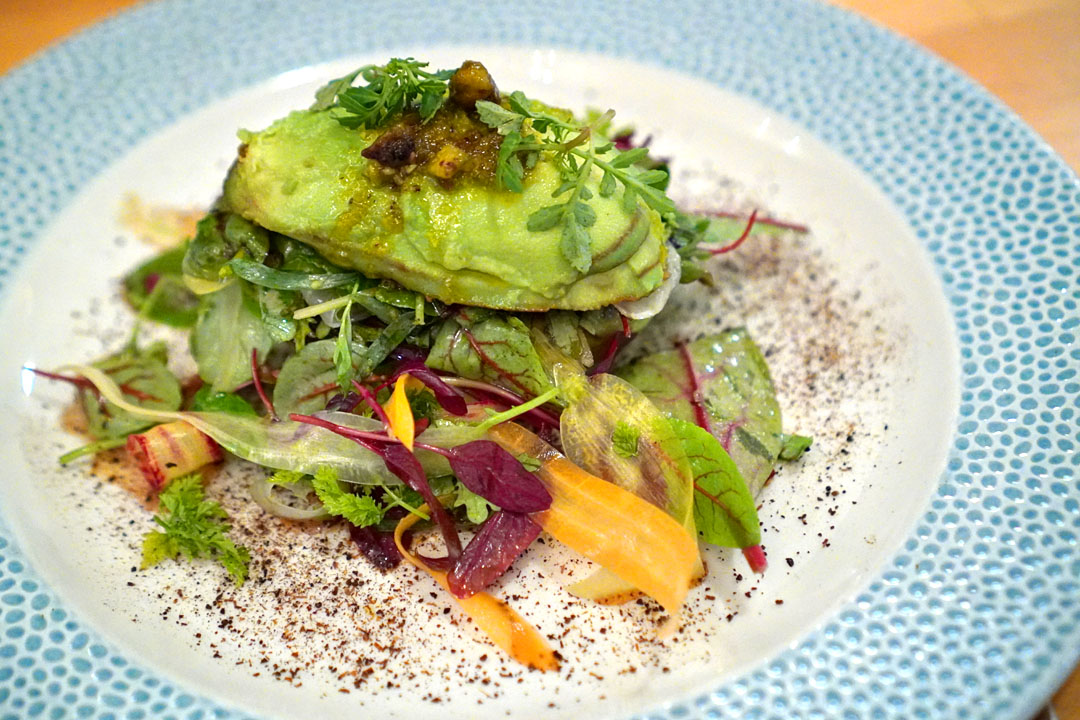 Charred Avocado Salad [$20.00]
| shaved vegetables, girl & dug greens, pistachio gremolata
Kali is somewhat known for this avocado dish, and with good reason. The key really is the back-and-forth between the lush, creamy nature of the avocado and the nutty, crunchy pistachios, tempered by the bitter, herby notes from the greens. You'll probably want to try this if you haven't already.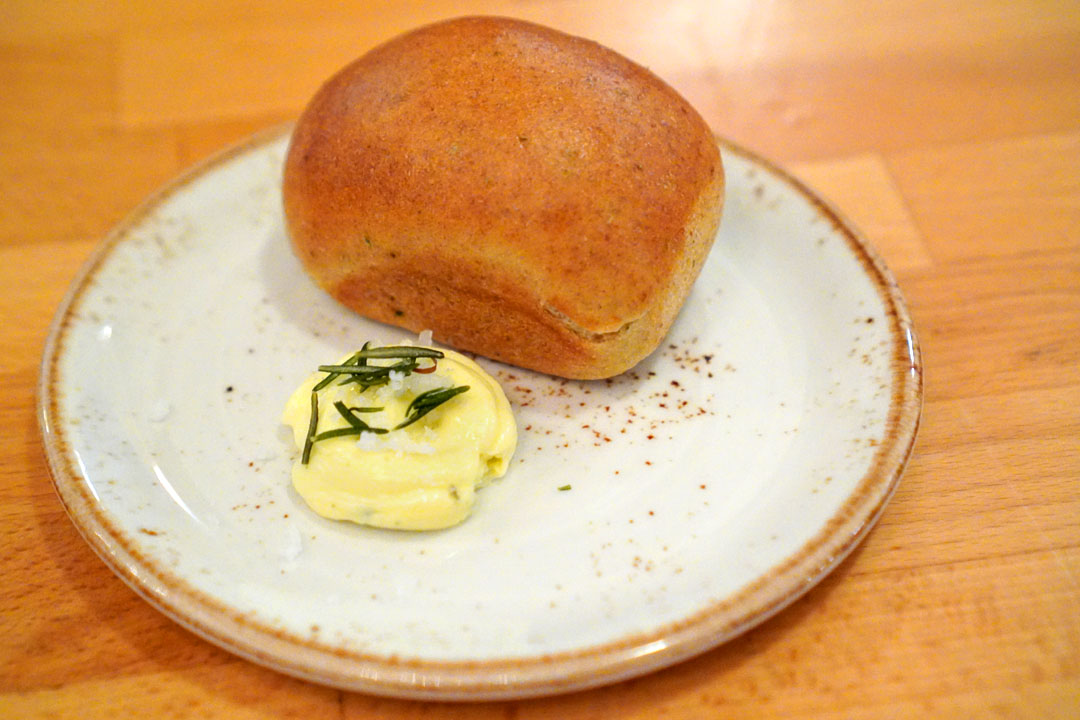 Bread service featured a fluffy rosemary sourdough that I was quite enamored with, along with some wonderfully light, salty homemade cultured butter.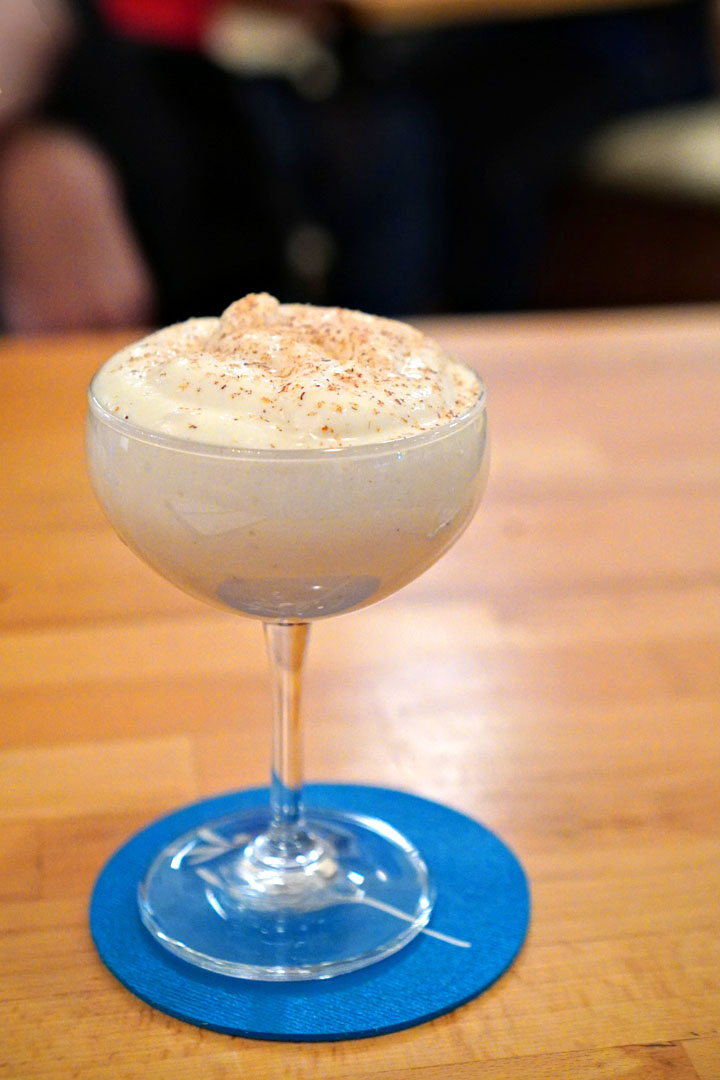 Bad Santa [$18.00]
| bourbon, brandy, jamaican rum, egg nog
Given the holiday season, it felt appropriate to have some eggnog, and this was a particularly rich, creamy, frothy preparation, with plenty of warm winter spices.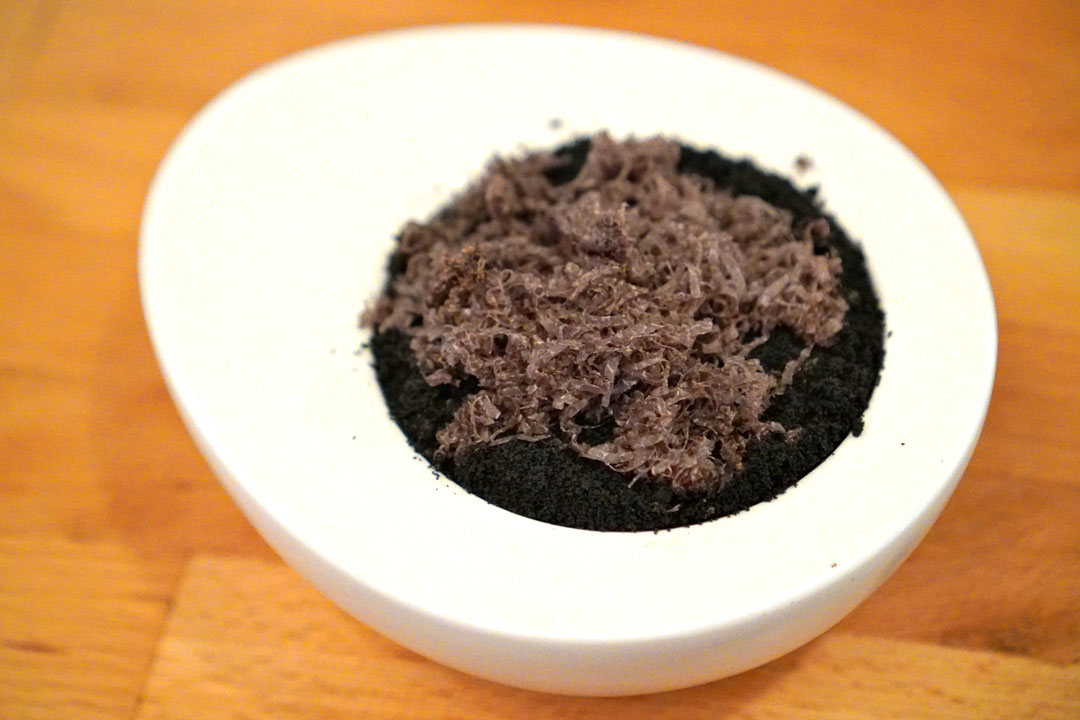 Black Truffle Scramble [$40.00]
| windrose farm eggs, black garlic soil, burgundy truffle
It's hard to go too wrong with the combo of fluffy egg and microplaned truffle, but what surprised me here were the black garlic breadcrumbs, which provided an unexpectedly sweet base to the dish.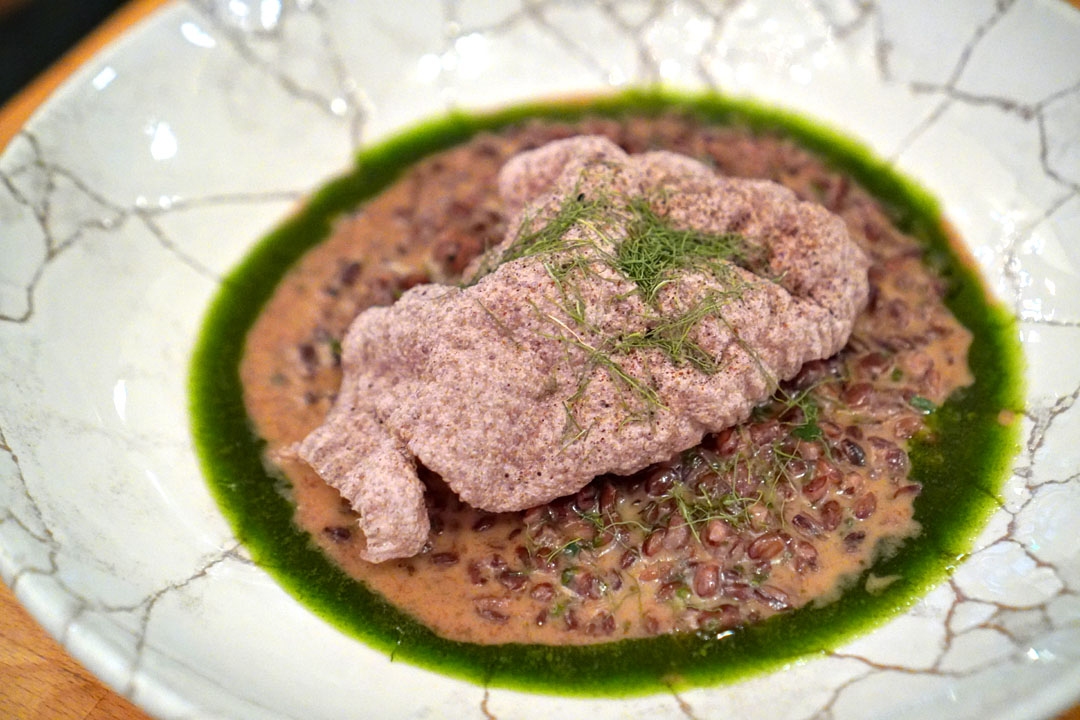 Black Garlic Barley Risotto [$20.00]
| fiscalini cheddar, koji butter, barley crisp
Cooked in fermented black garlic jus, the barley grains showed off a satisfying chew and a pleasantly nutty taste that played nicely with the herb jus and dehydrated micro chives. At the same time, Fiscalini cheddar and
koji
added further depth to the dish, while that barley crisp offered up some textural variation.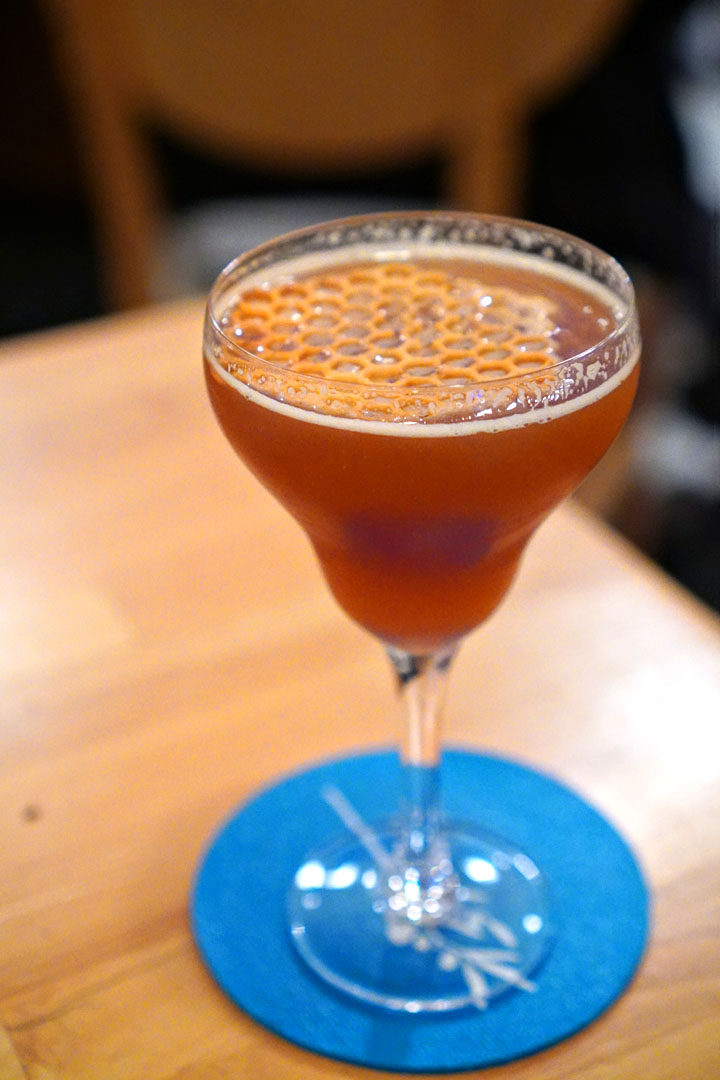 Ginny Bee [$18.00]
| barr hill tom cat gin, averna, honey, clove
Here was one of the more intriguing gin cocktails I've had as of late. The actual botanicals were relatively muted, but instead, I got this amalgam of warm clove spices, sugary homey, and herby, bittersweet amaro. Quite tasty.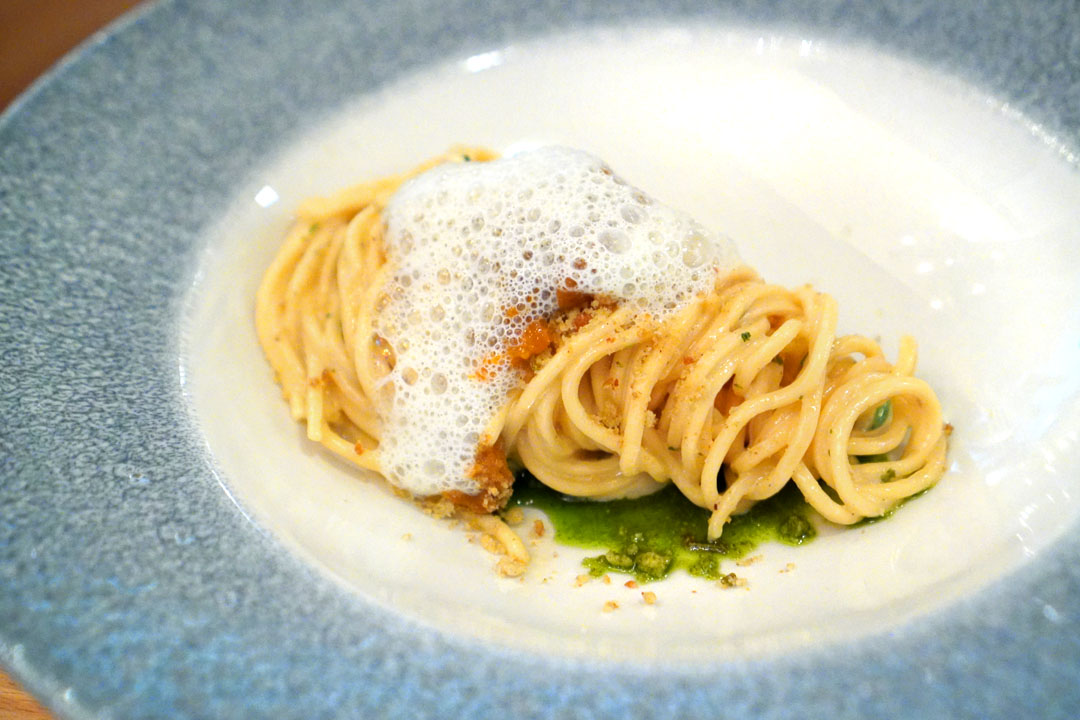 Sea Urchin Pasta [$28.00]
| spaghetti, bread crumbs, ricotta whey
Strands of handmade spaghetti were great texturally, with that firm-ish bite that I like. The use of ricotta whey lent a lushness to the dish that linked up well with the uni, thought I would've liked the actual urchin's taste to have been more assertive.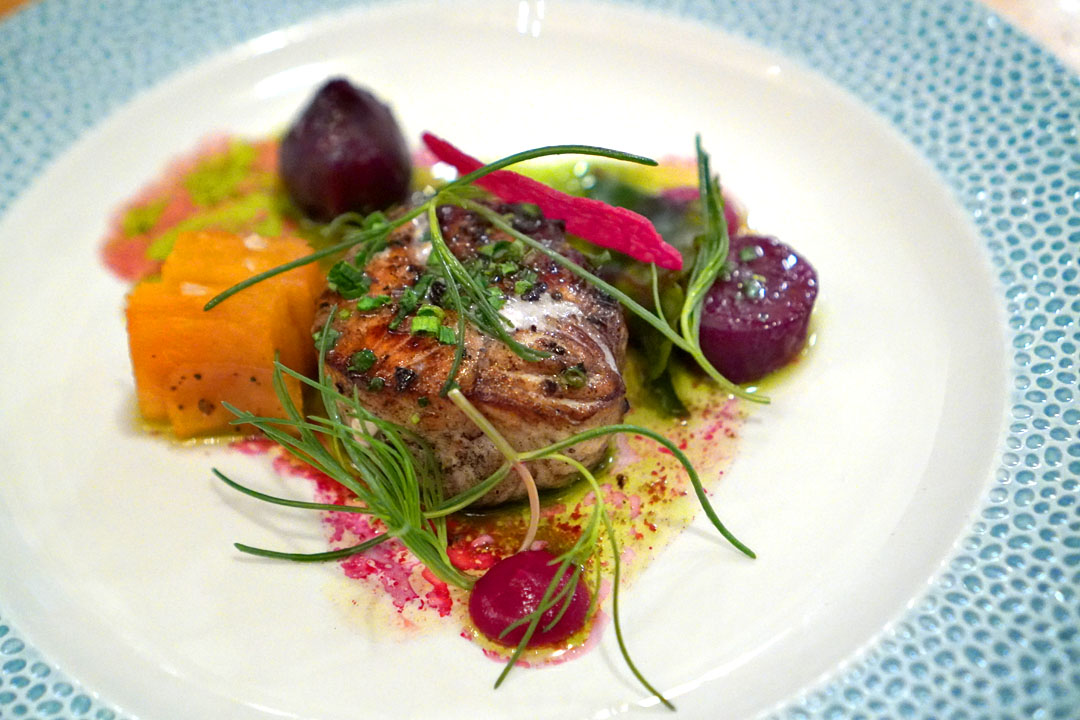 Caramelized Local Black Cod [$44.00]
| study of beets, sorrel
The black cod managed to be my favorite dish of the night. I loved how juicy the fish was, as well as how its delicate, yet robust flavors melded with the filet's caramelized exterior. The earthy-sweet beets also worked surprisingly well for contrast, while the herbs served as a great finishing touch.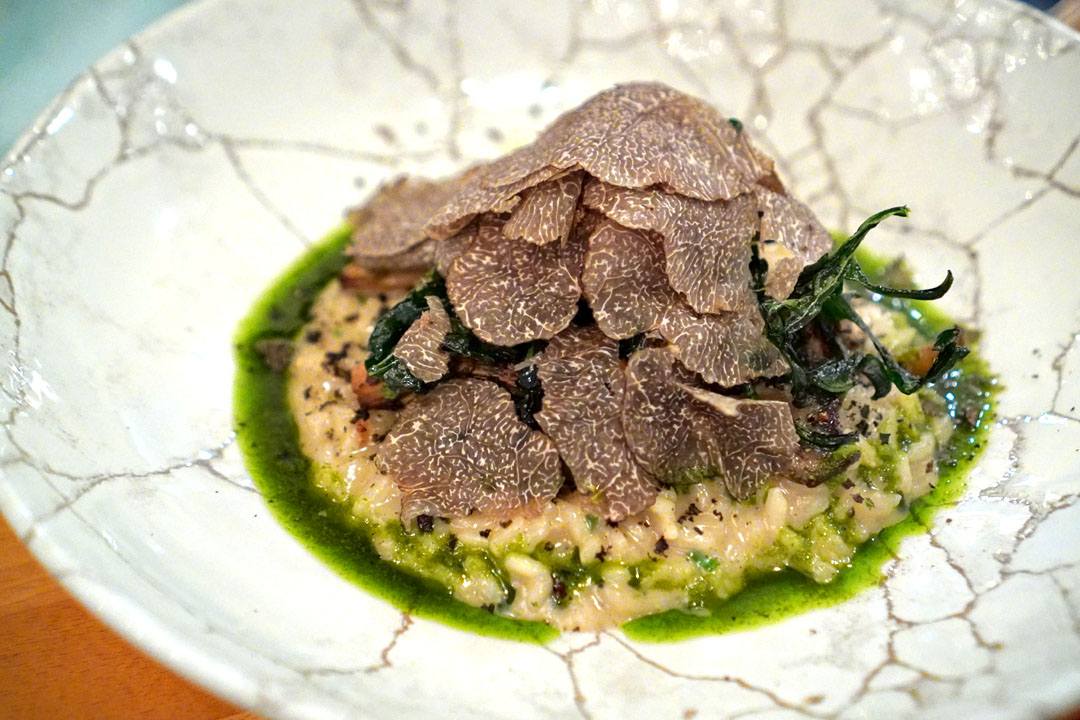 Truffle Risotto [$40.00]
| black pearl mushroom, burgundy truffles
Risotto was pretty classic, a creamy, cheesy example that had the woodsiness of those pearl mushrooms joined by the unmistakable musk of black truffle.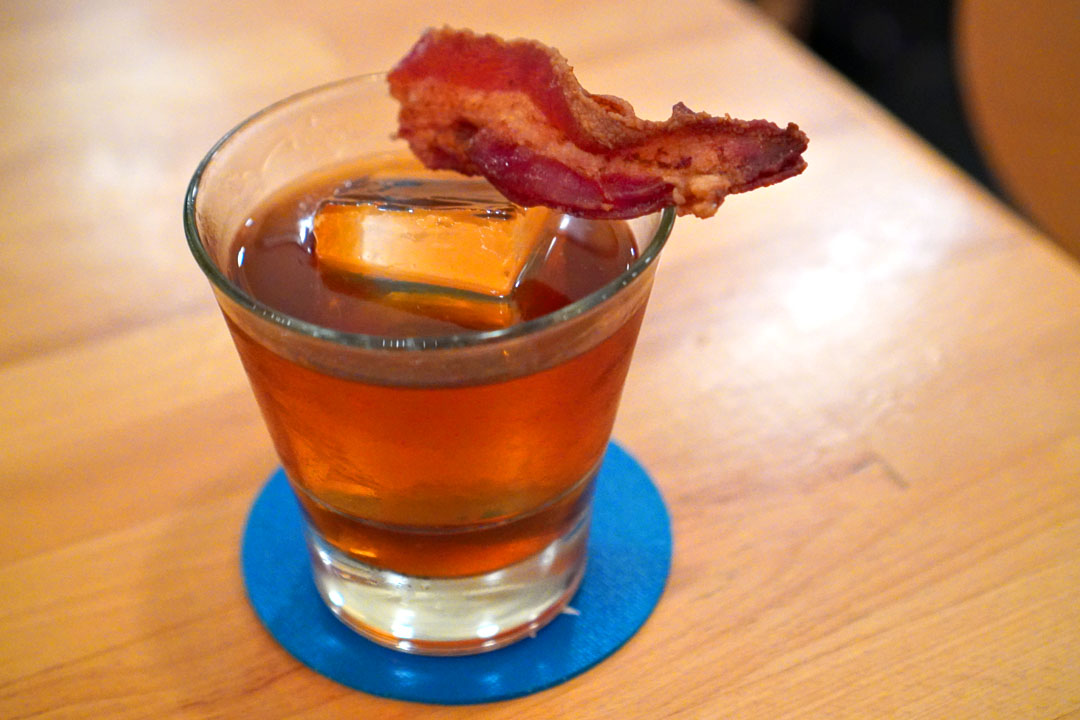 Smoke & Boar [$18.00]
| bacon washed bourbon, hazelnut, scotch, averna
I think this next cocktail featured the most robust "washed bourbon" I've ever had. The smoke and the fat of the bacon were
aggressively
conveyed, but evened out just enough by the drink's nutty, bittersweet components.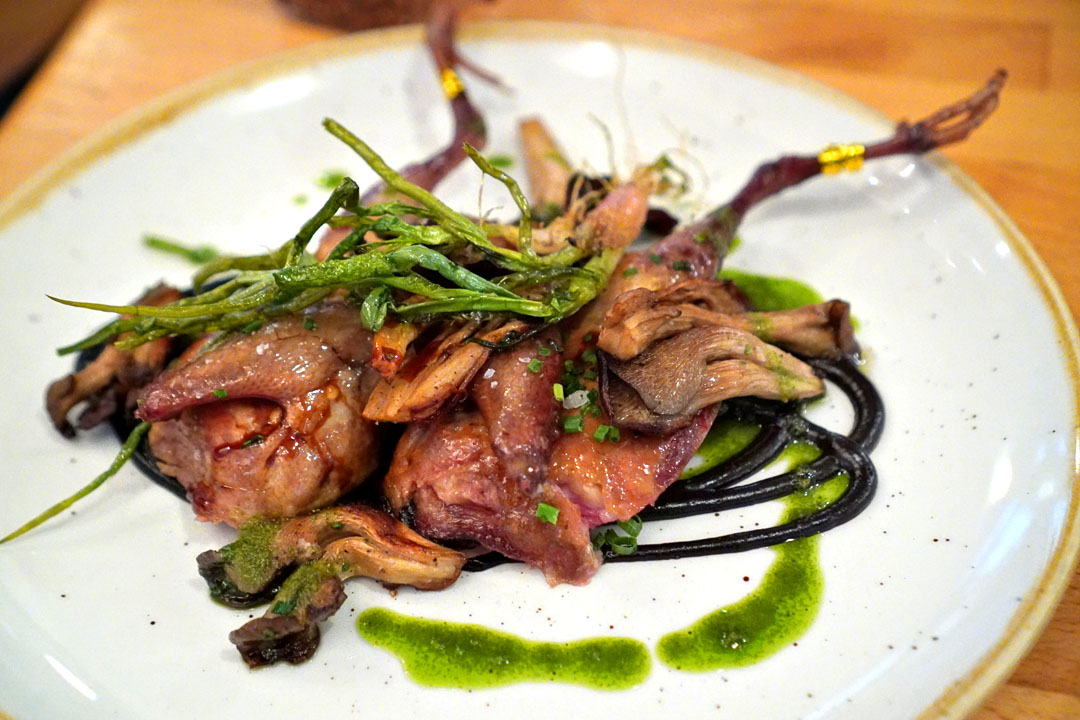 Whole Roasted Carpenter's Ranch Squab [$60.00]
| served with potato galette and roasted shallots
A whole squab served as our final savory. I appreciated how juicy and flavorful the breast was, but the leg might've been even better due to its deep, almost "hammy" flavor profile. Black garlic provided a touch of countering piquancy, and I think I even got a bit of ginger in there.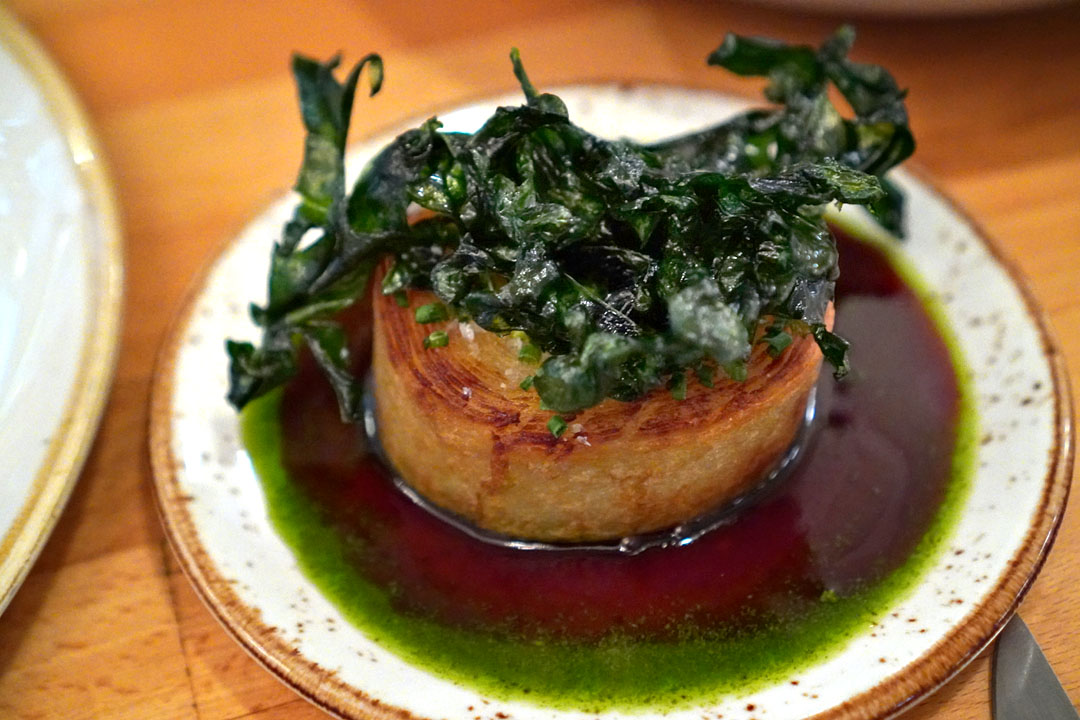 The bird was served with an excellent potato galette, which had a wonderfully finespun texture thanks to how thin-sliced the taters were.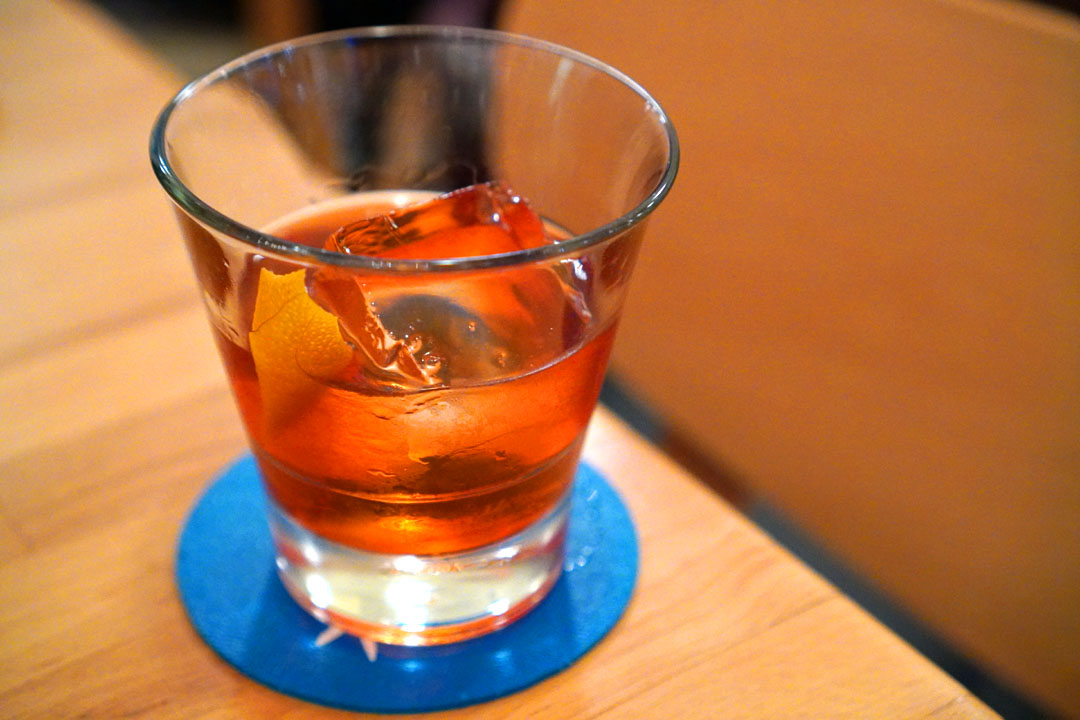 Potent Paradox - Solera Aged [$22.00]
| bourbon, apple brandy, aperol, bianco vermouth, bitters
The final cocktail was also my favorite. Sweet and nearly candied on the nose, the drink possessed a palate that veered thick, rich, viscous, with tasty apple nuances leading to a medicinal bittersweetness that really worked for me.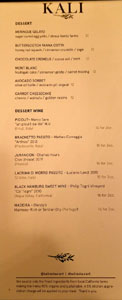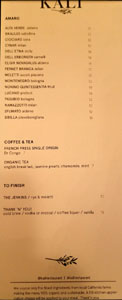 And now we have Kali's menu of desserts and after-dinner libations. Click for larger versions.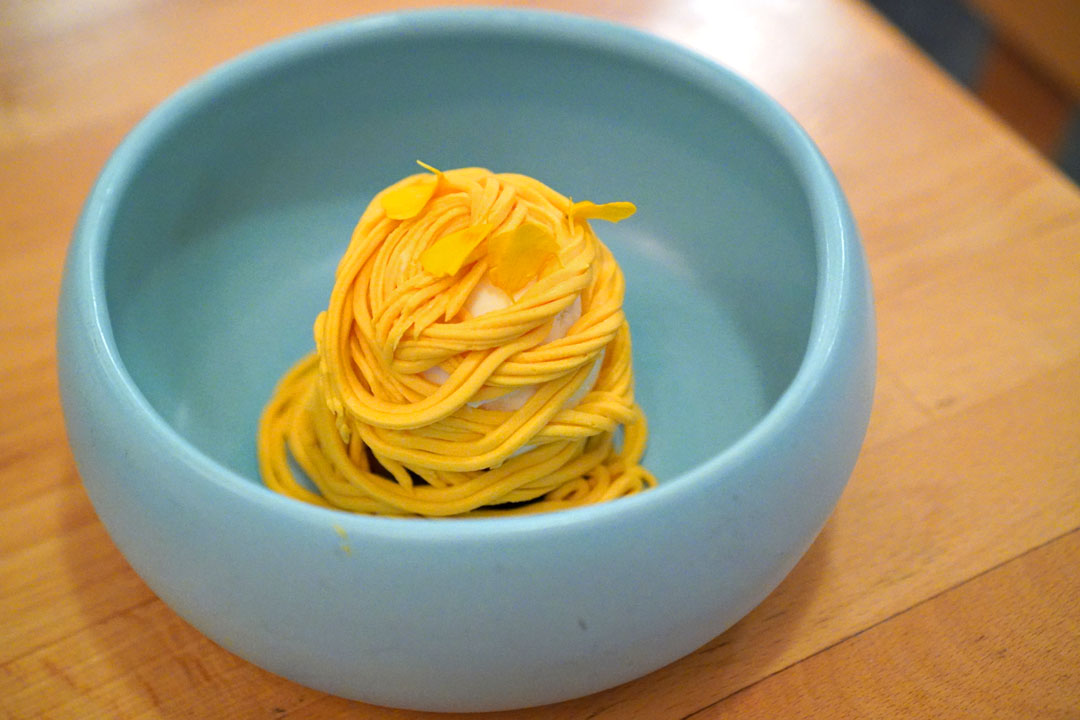 Mont Blanc [$12.00]
| hoshigaki cake, cinnamon gelato, carrot frosting
A reimagined Mont-Blanc incorporating dried persimmon was a winner. I was a fan of the dessert's dense, sticky components, as well as its hits of salt, and overall, the dish recalled carrot cake, which was certainly apropos for the season.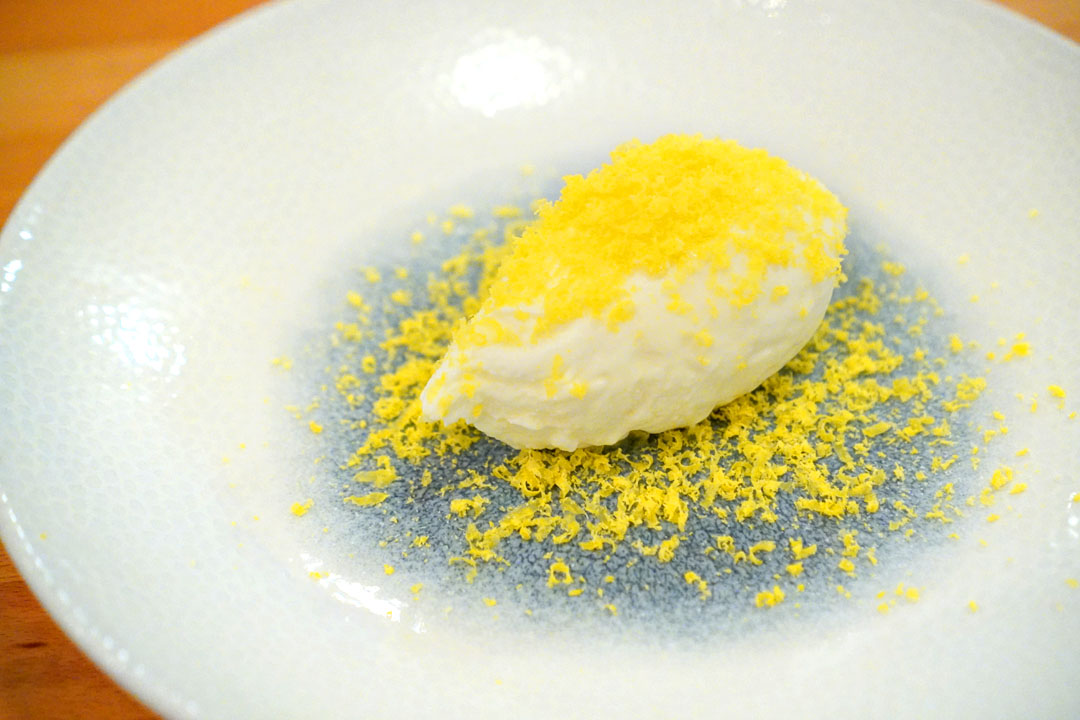 Meringue Gelato [$12.00]
| sugar cured egg yolks, straus family farms
A dessert of aerated, frozen meringue is Kali's signature, and it's easy to see why. I loved the sweet, lactic notes here, which almost recalled Chinese
dounai
, but what really made this work was the shaved egg yolk, which offered up a sharp, lingering saltiness that served as the perfect complement to the gelato. A must-try.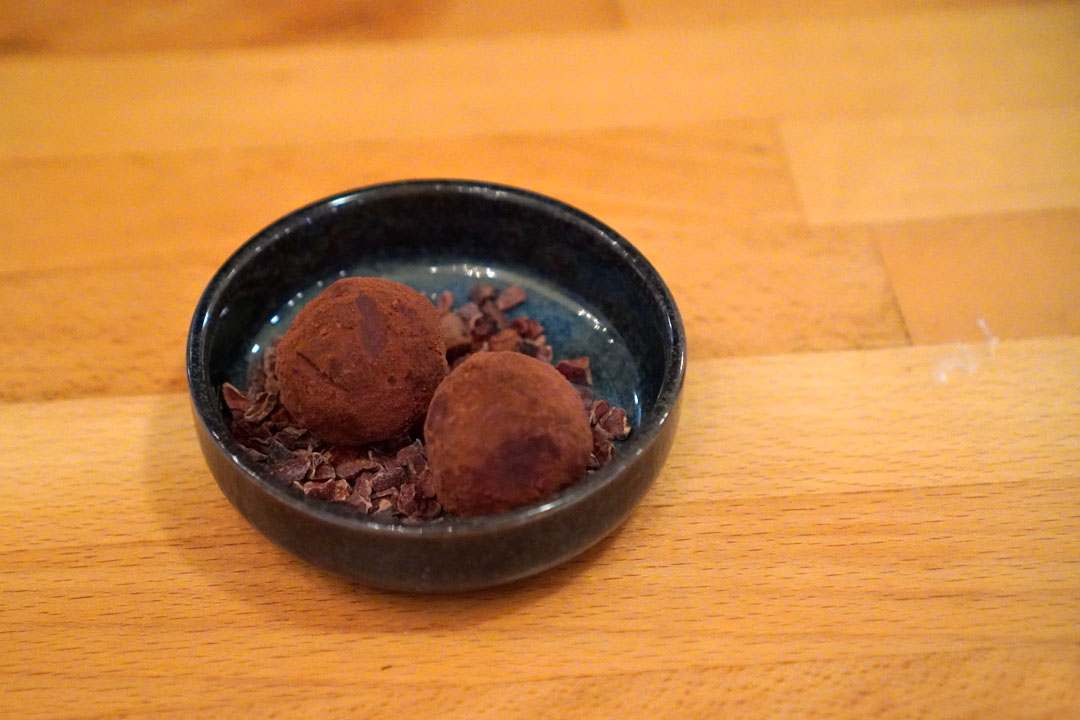 To close: a pair of unabashedly decadent chocolate truffles.
It's been a while, but I'm glad to report that Kali appears to be chugging along nicely, and has kept up the standards that I expected given my previous experiences with Meehan and his team. The restaurant is sort of a blend of the upscale and the casual, and this is reflected in the cooking, which represents this marriage of the familiar and the fancy that keeps people coming back. I can see why the place has remained popular over the years.