Toronado (San Francisco, CA)
Toronado Pub
547 Haight St, San Francisco, CA 94117
415.863.2276
www.toronado.com
Thu 12/15/2022, 11:50a-12:15p

I began really getting interested in craft beer around a decade ago, and one of the legendary beer bars that I'd always wanted to visit since then was Toronado (yes, named after the Oldsmobile model), situated in San Francisco's Lower Haight neighborhood. Given that I recently found myself in the City during the middle of the day, I finally had the opportunity to pay the spot a long overdue visit.
The brainchild of owner David Keene, the dive-ish bar opened its doors in August 1987, and though the place got off to a slow start, Toronado eventually became one of the most important beer-focused establishments in the country. Its success resulted in the debut of two other locations: San Diego, opened in May 2008 by Ian Black (a former employee of Dave Keene's), and Seattle, opened in August 2014 by Matt Bonney. Sadly however, in February 2020, the SD location announced that it was closing due to declining sales, while Seattle shuttered in March that year because of the pandemic, so unfortunately, we're back down to just one Toronado.

Pictured above is Toronado's tap list, which features around four dozen options, and of course, there's a healthy bottle selection as well. Do also note that this is a cash-only business, so be prepared.
A French oak-aged wild ale with cherries, the beautifully ruby-hued, Toronado-exclusive
2021 The Lost Abbey Cable Car Kriek [$90]
was the main reason for my visit today, a revival of a near-mythical beer brewed back in 2011 that I'd been wanting to try for the better part of a decade. The nose here was classic, familiar kriek, with the advertised cherry commingled with sweet, warming spices, touches of citrus, and faint funk. On the palate, I found the beer tart, acidic, a bit puckering, but never overwhelming, its dry-ish cherry syrup flavors joined by that aforementioned cinnamon-y spice, hints of barnyard, and oak. I'm glad that I finally got to taste this!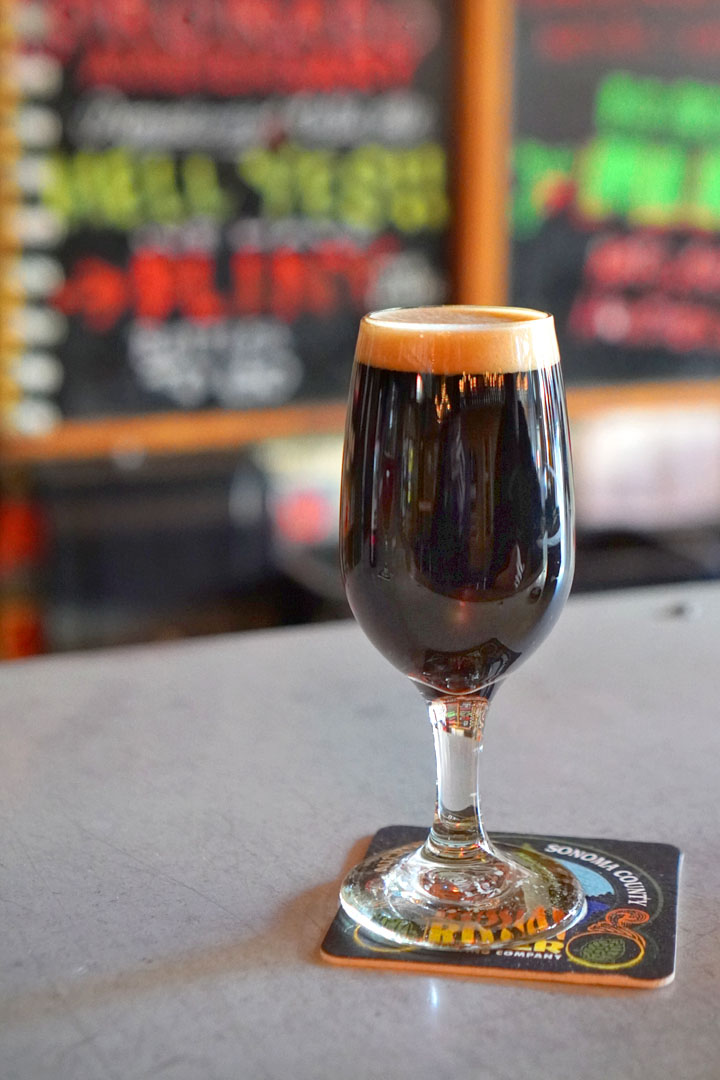 And for something completely different, I also sampled the
Firestone Walker Parabolita [$7]
, a bourbon barrel-aged stout/milk stout blend with Madagascar vanilla beans, cocoa nibs, and sea salt. The beer smelled intense, with boatloads of what seemed like hazelnut commixed with coffee-esque elements. This was silky smooth on the palate, though its flavors weren't as heady as its aroma would imply; I found it generally bittersweet, roasty, nutty, and cacao-forward, with the vanilla being a bit muted.
I'm happy that I made it out to Toronado at last, though I'm a bit bummed that I didn't have the time to sample more beers here. I can see why the place is an institution, and hope it can avoid the fate of its San Diego and Seattle brethren and can keep going for years to come. I wish we had a bar like this in LA (well, I guess
we did
), so I could slowly work my way through all the great beers on offer.
---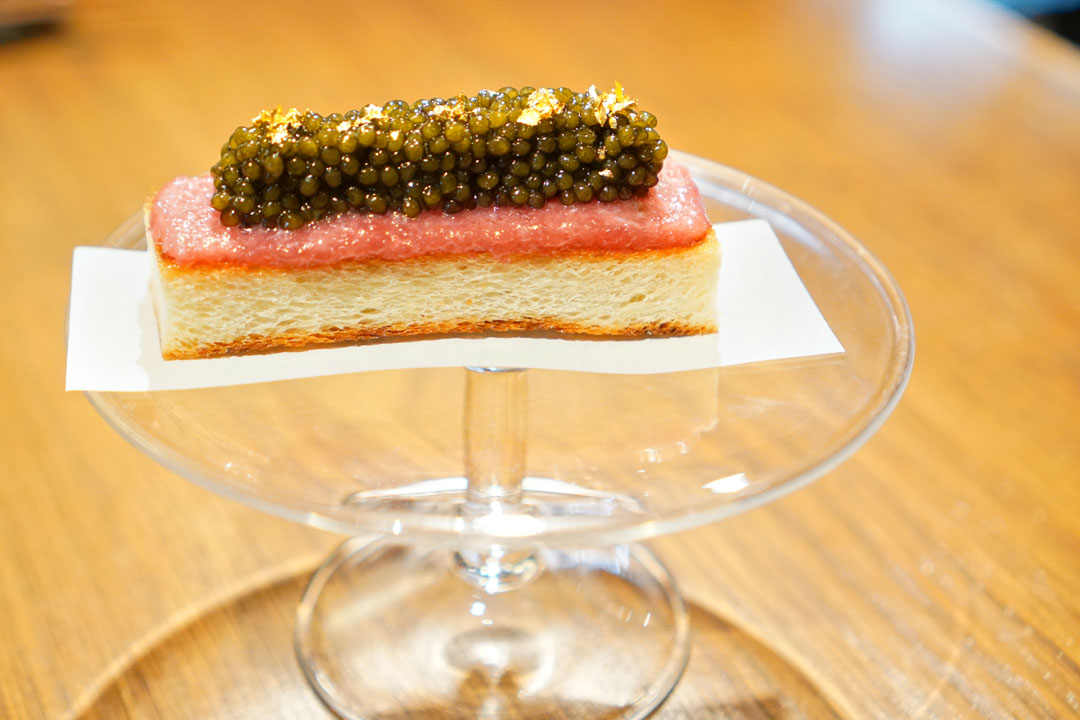 Shokupan
| milk toast, toro, golden kaluga caviar
After Toronado, we headed over to Akiko's, a semi-nearby Japanese spot. Given that I had a big dinner planned later, I didn't eat much for fear of filling myself up. Now, my dining companion did enjoy the restaurant's lunch omakase, and I was given the chance to sample some of the courses, with this unabashedly luxurious take on shokupan being a standout.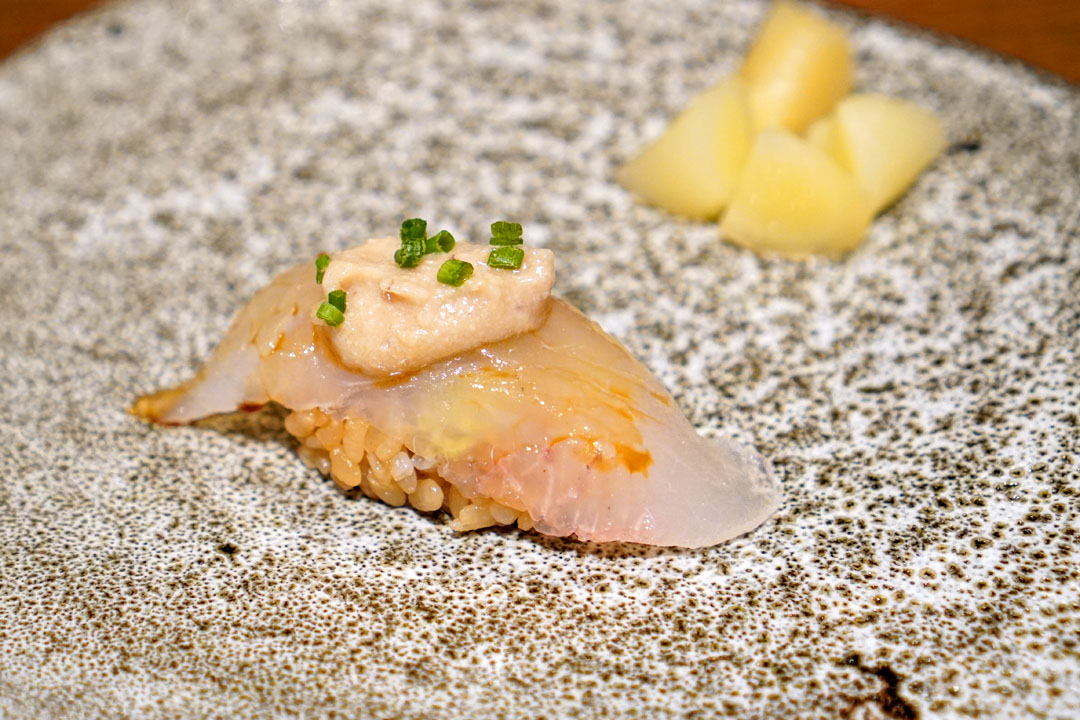 Kawahagi [$10.00]
| trigger fish
I also tried three orders of nigiri. Thread-sail filefish is an uncommon find at sushi bars, so I was glad to see it offered today. The fish had a generally firm, satisfying consistency, while its mild taste was amped up big time by the richness of a creamy sauce made from its liver.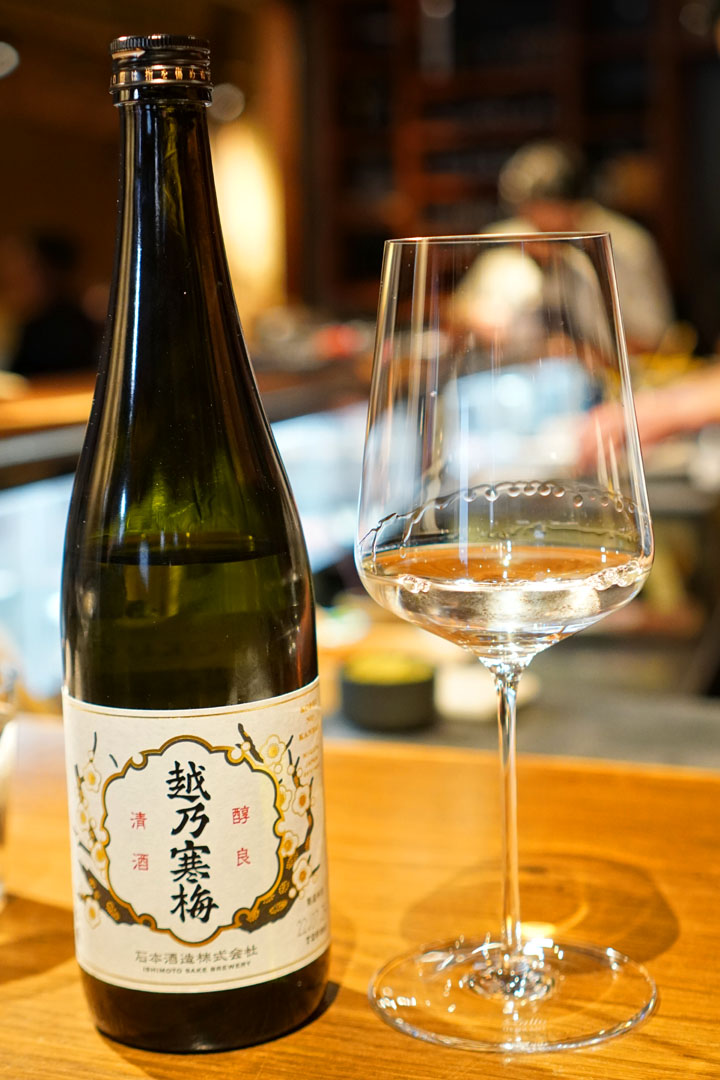 To drink, we had a bottle of the
2022 Koshi No Kanbai Chotokusen "Pinnacle of Perfection" Daiginjo [$250]
, from Niigata Prefecture. Aromas here were super intense, with massive amounts of honeydew melon combined with tropical banana nuances. Taste-wise though, the sake wasn't nearly as in-my-face, offering up a zippy acidity and a generally dry disposition, offset by distinct bubble gum-esque flavors.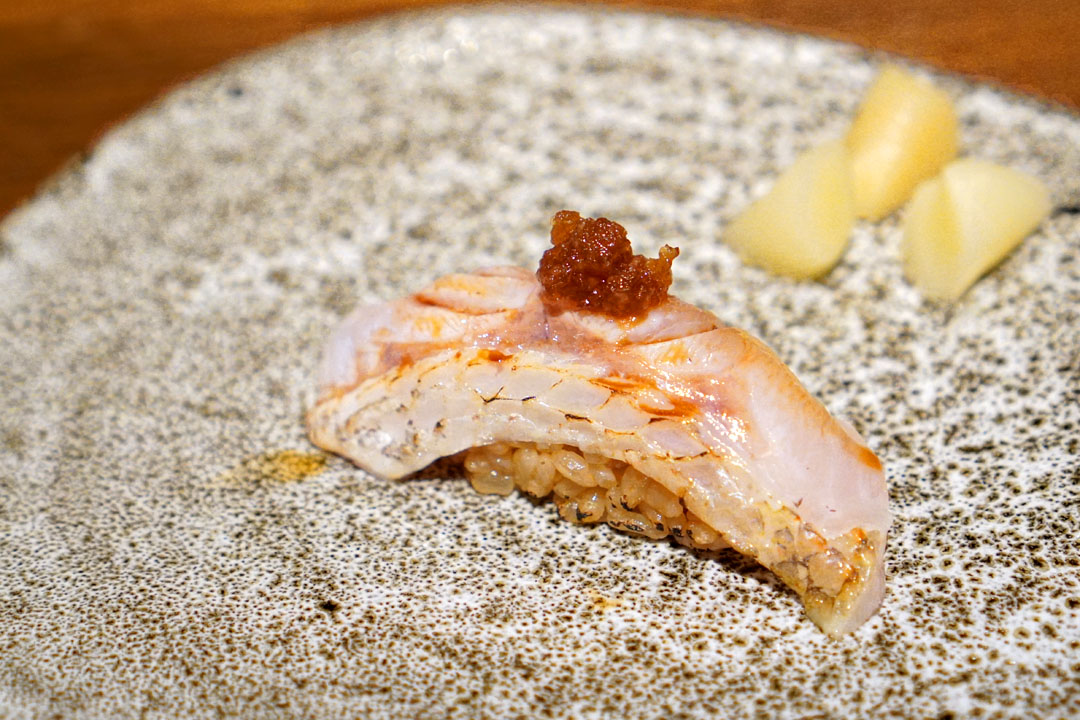 Akamutsu [$12.00]
| deep sea perch
Blackthroat seaperch arrived with a marriage of brine, smoke, and fat on display, though it wasn't nearly as revelatory as some other preparations of
nodoguro
I've had.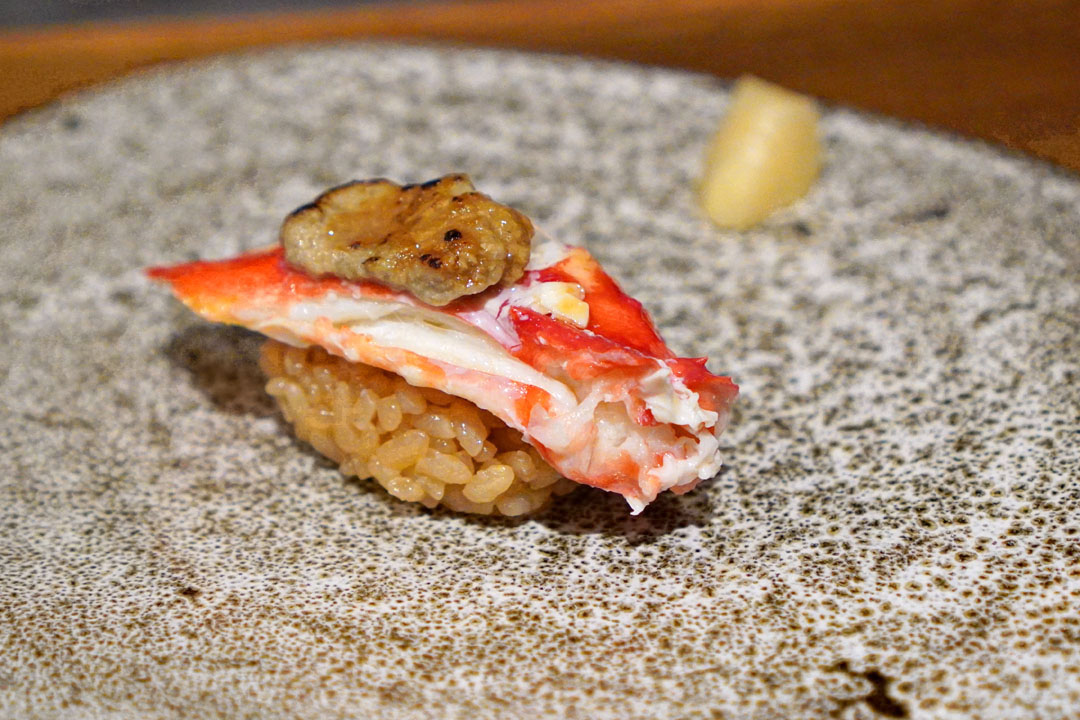 Tarabagani [$20.00]
| hokkaido king crab
Last up was the king crab, which demonstrated a great
kanimiso
-fueled depth to go along with its inherent saline-sweetness.