Lasita (Los Angeles, CA)
Lasita Filipino Rotisserie & Natural Wine
727 N Broadway, Los Angeles, CA 90012
213.443.6163
www.lasita-la.com
Wed 11/16/2022, 07:55p-09:50p

Lasa was perhaps LA's most lauded Filipino eatery of the past decade or so, and one of my personal favorites as well. The creation of brothers Chad and Chase Valencia, it actually started as a backyard pop-up back in 2013 before moving into "culinary incubator"
Unit 120
at Chinatown's Far East Plaza (遠東商場) in 2016. Lasa wound up taking over the space and becoming a
permanent restaurant
in 2017. However, COVID-19 would be the place's undoing.
During the pandemic, the Valencias sold takeout in the form of rotisserie chicken, lechon, and natural wine, which actually worked out quite well, too well in fact. It inspired Chase to transform Lasa into Lasita, a more casual spot focused on that aforementioned chicken/lechon/wine (it was a concept that he'd wanted to explore since at least 2019). Chef Chad actually left the partnership in order to focus on his family (he's now at Panda Restaurant Group), and in his stead came a familiar face: Nico De Leon, Lasa's opening sous and later CdC who was also key in the conceptualization of Lasita (Chase's wife Steff Barros Valencia is also onboard as a partner). The new restaurant formally debuted in February 2021 for takeaway, while on-site dining arrived that July.
About the Chef
: Nico Ian De Leon was born in May 1989 and grew up in the SFV suburb of Granada Hills. He started experimenting in the kitchen at an early age, and his interest in cooking only grew over the years. After graduating from Bishop Alemany High School in 2007, he pursued art for a bit while working in sales at Boarders Sports in Northridge, but eventually gave in and enrolled at the Le Cordon Bleu College of Culinary Arts in Pasadena. Following completion of his degree in 2010, De Leon began working for Sunlight Catering in Canyon Country, then moved over to Hotel Bel-Air in August 2011, where he was at Wolfgang Puck's eponymous spot. It wasn't a positive experience though, and he left the hotel in December 2012 in order to move up to San Francisco, where he secured employment at Italian eatery Chiaroscuro as well as at Jason Fox's much-lauded Commonwealth. It was at this point where he would meet Chad Valencia, who got him interested in reexploring and reinventing Filipino cuisine.
De Leon thus became opening sous at Lasa that year, commuting back and forth between NorCal and SoCal, and also went on to cook at Blue Plate (starting August 2014) and Black Sands (he helped open the place in October 2014) in SF. However, he ended up moving back to LA in early 2015, and started working at
Ria Barbosa
/Matt Wilson's Wild at Canelé lunch residency as well as at Ryan Garlitos'
Irenia
, in addition to Lasa of course. He was made CdC at Lasa in 2019, but moved back up to the Bay Area in November that year, taking on a gig at Fort Point Beer Company. The pandemic threw things for a loop though, and during that period, he began selling food via Instagram (there was even a lechon concept called
Ako
), and also got engaged to girlfriend Kaylie Miraflores (they got married in November last year). De Leon relocated back to the Southland in 2021 for the launch of Lasita, and in August that year, debuted
Tito Rudy's
, a halo-halo specialist that operated out of Lasita (and a couple spots in SF) before moving into a kiosk at Far East Plaza this July.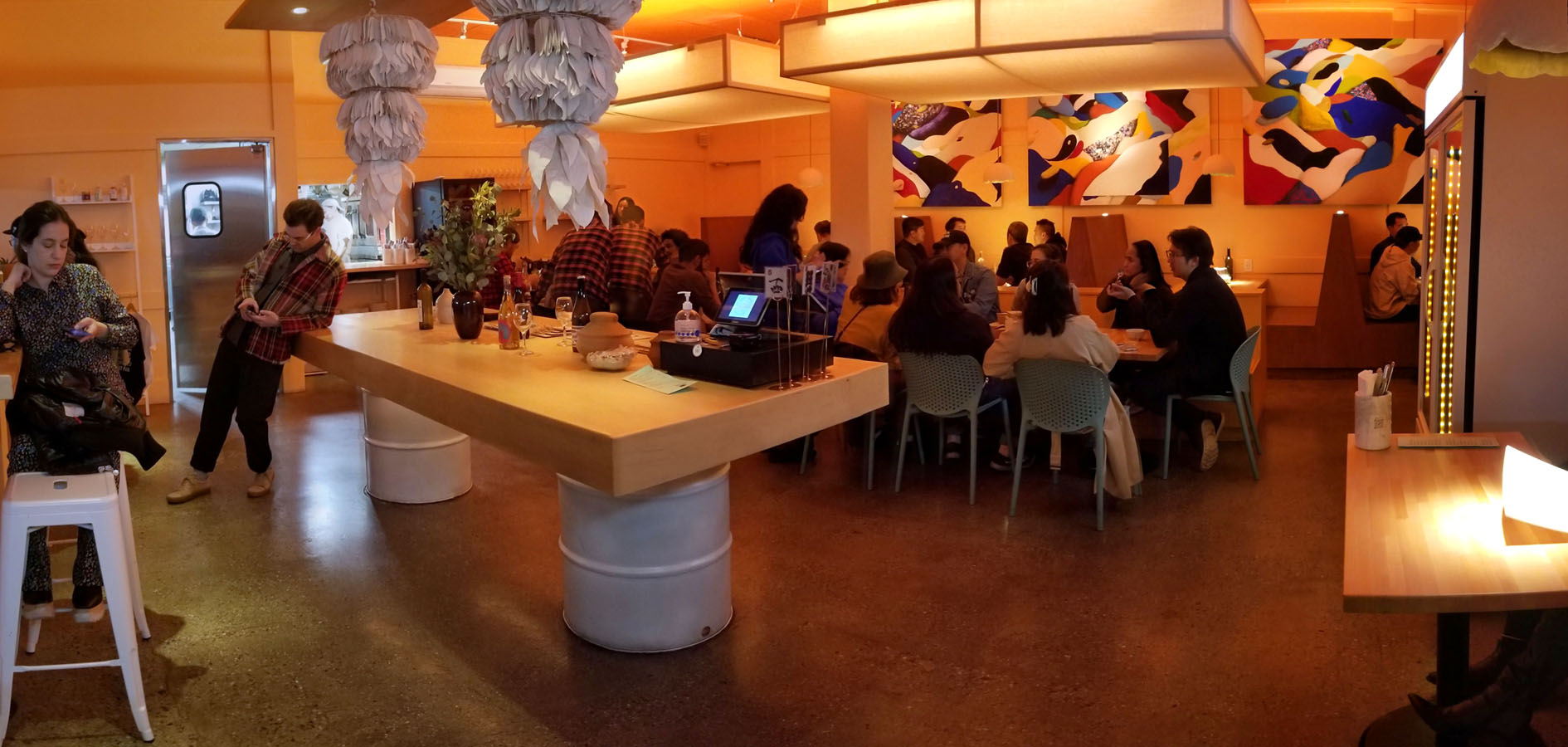 Inside, things have changed quite a bit since the Lasa days. The room was redone by local firm
Preen Inc
(
Caboco
,
Piccalilli
,
Tesse
,
Odys + Penelope
,
Alimento
,
Hatfield's
), and now features a brighter, breezier, livelier feel. There's also quite a bit of patio seating out front.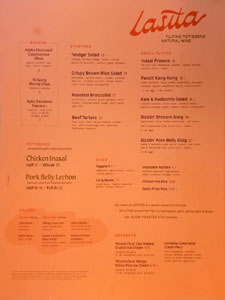 Here we see the menu, which has been expanded since the place opened, as well as the far-better-than-expected wine list, which tends toward natural, off-the-beaten-path bottlings. Click for larger versions.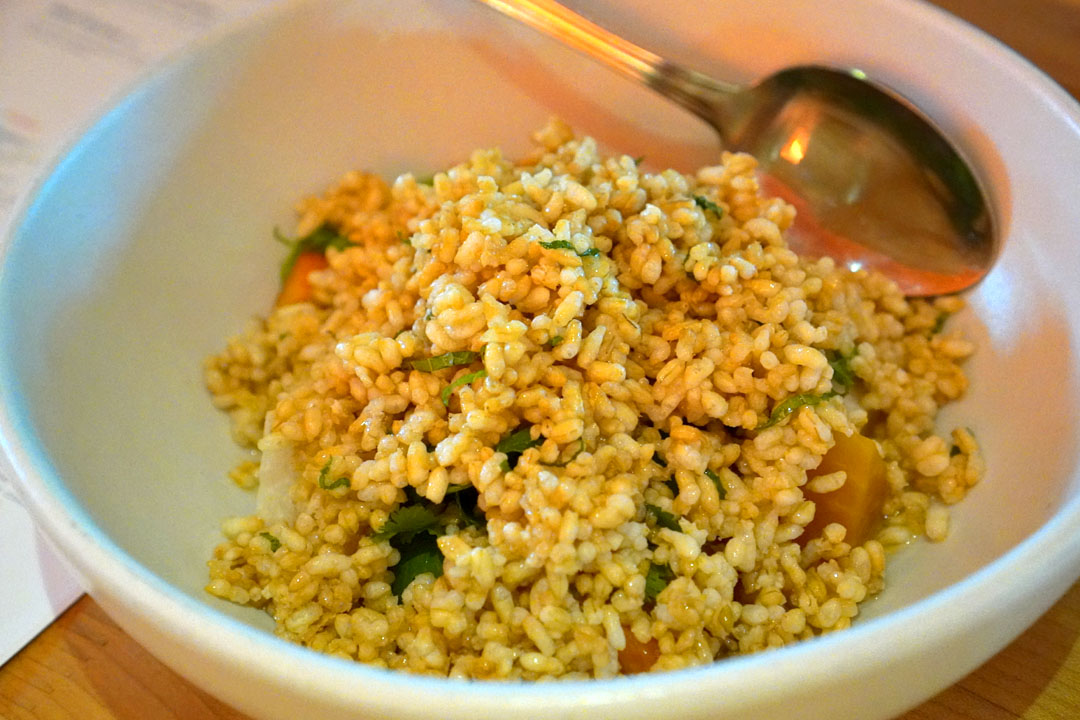 Crispy Brown Rice Salad [$19.00]
| persimmon, golden beets, jicama, pickled shallot, cilantro & mint, crispy brown rice, fish sauce vinaigrette
Given my penchant for crispy rice, this dish was hard to resist, and thankfully, the rice was indeed as crispy as advertised. However, just as crucial was the fish sauce, which imparted this combination of funk, umami, and sourness that really sang when balanced out by all the herbs. Meanwhile, the persimmon/beet/jicama trio provided a juxtaposition of both taste and texture that kept things from becoming too monotonous.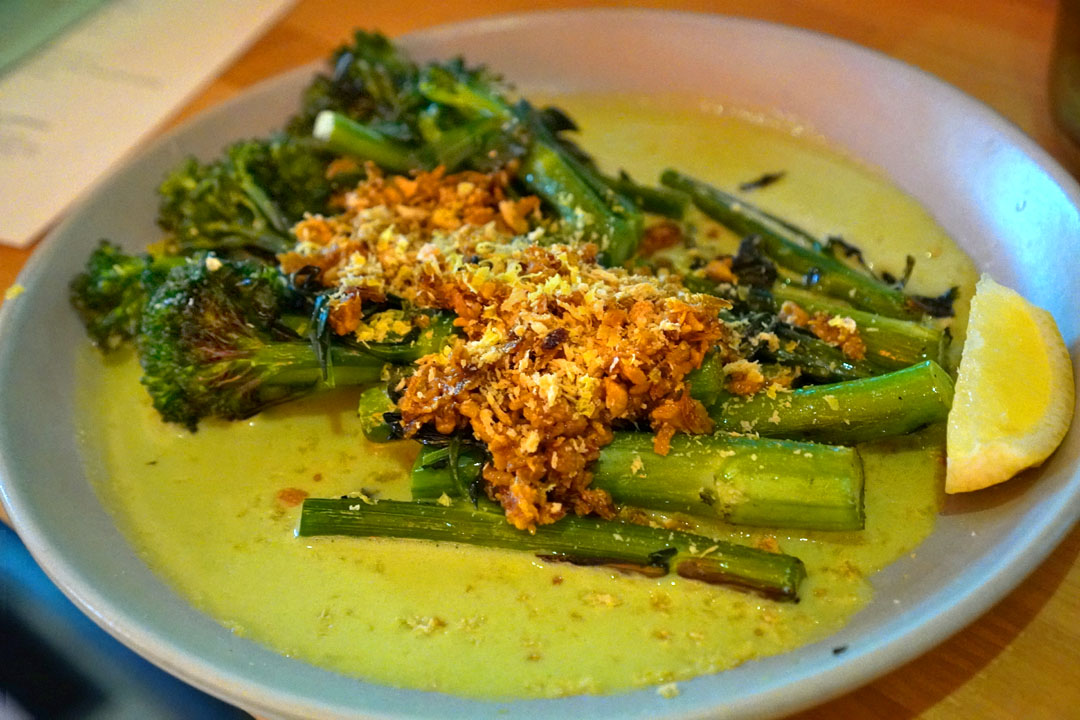 Roasted Broccolini [$17.00]
| broccolini, coconut green goddess, chili crunch, toasted bread crumb, salt cured egg yolk
Hearty stalks of broccolini delivered plenty of crunch and bitterness, melding easily with all those savory, spicy bits on top, while the green goddess offered an offsetting sweetness from the coconut.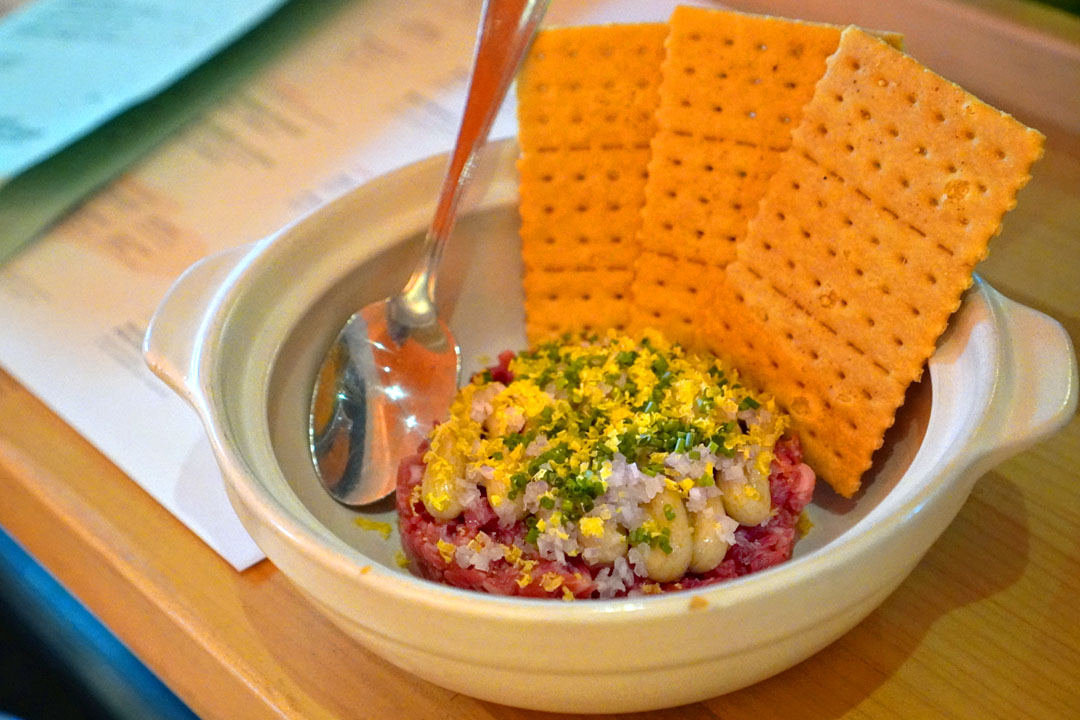 Beef Tartare [$22.00]
| flat iron, beef tallow shallot confit, soy, patis-cured egg yolk, garlicky Skyflakes crackers
Lasita's tartar featured springy dices of beef, but the star of the show was that shallot confit, which had this delightfully intense pungency and onion-y savor that really complemented the lightly-seasoned meat. This piquancy and depth were countered just a touch by the raw alliums, while the crackers supplied sweetness as well as some textural variation.
To drink, I opted for a bottle of the
Raimones, Engrescada, Marina + Pansa Blanca, Catalunya, Spain 2020 [$60]
. On the nose, this one was a bit barnyard-y, a bit oxidative, with a citrus backing. Tasting it, the sparkler went in a fun, fresh, quaffable direction, its floral and orchard fruit notes joined by more barnyard, lemon, and a hint of minerality. It was actually quite beer-like at times.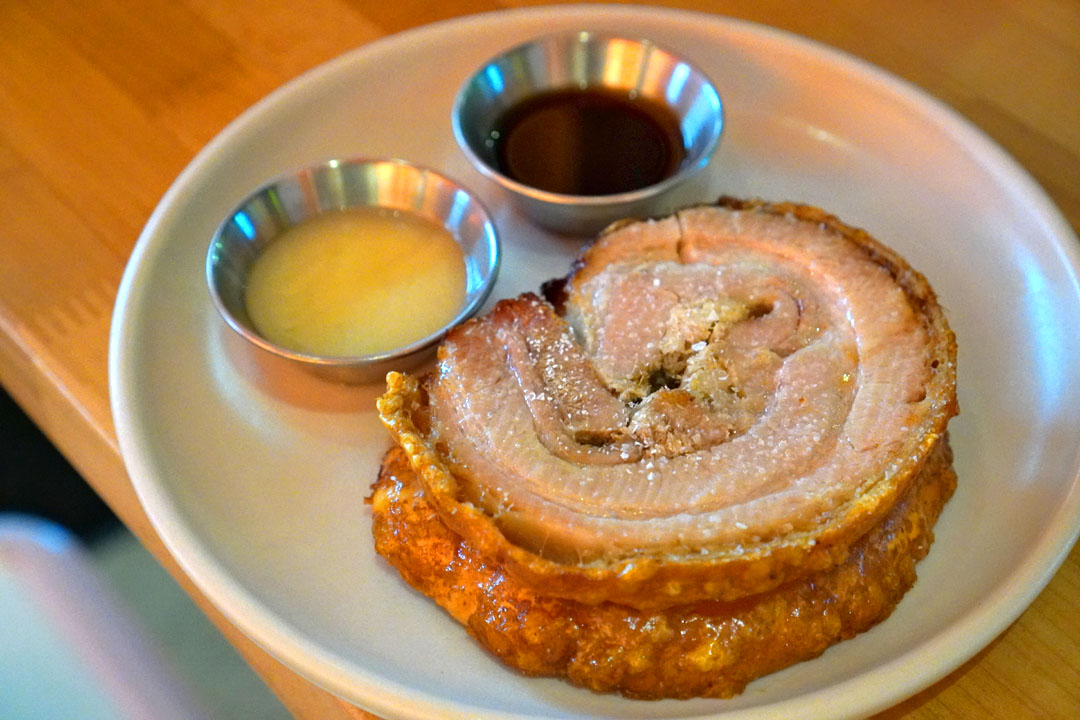 Pork Belly Lechon (Half lb) [$16.00]
| heirloom pork from Peads & Barnetts
De Leon's Cebu-style, porchetta-looking lechon was a bit of a showstopper, and probably the best I've had. What struck me first was the skin, which came out fantastically crispy 'n' crackly and full of salty-savory goodness. However, the meat was even better thanks to its tenderness, succulence, and deeply porcine flavors, which worked hand-in-hand with the lechon's stuffing of lemongrass, garlic, spring onion, and ginger.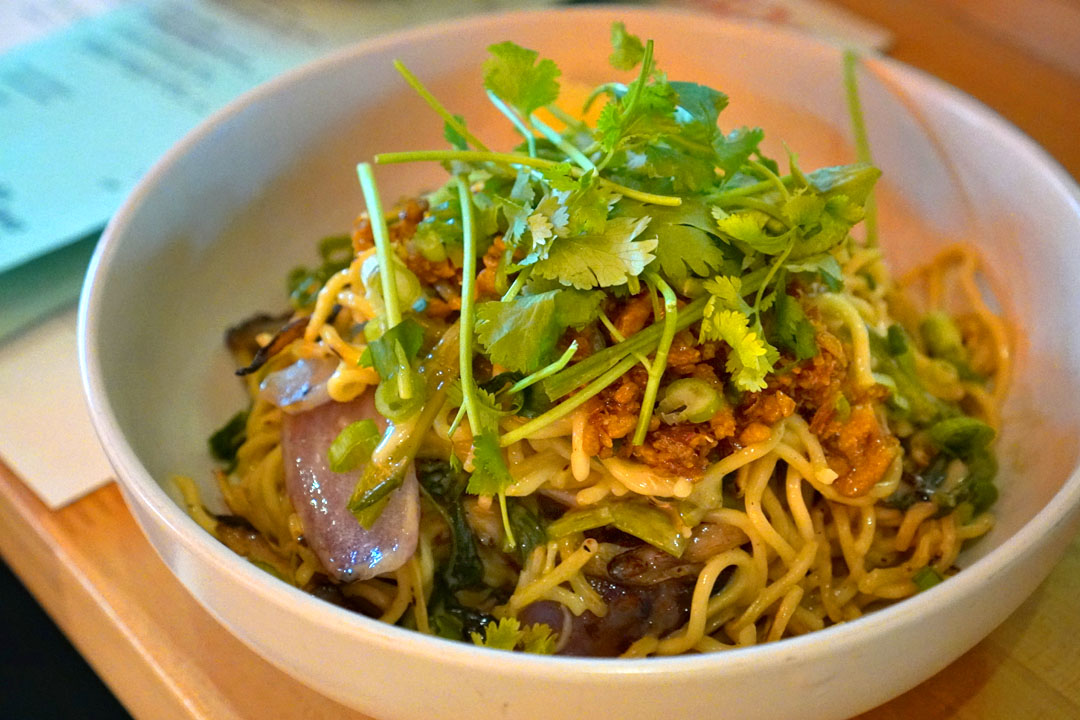 Pancit Kang Kong [$18.00]
| water spinach, blue oyster mushrooms, yakisoba noodles, garlic-calamansi sauce, chili crunch
I felt compelled to order the vegan pansít as well, and wasn't disappointed. The noodles had a nice "bounce" to 'em, and made a lot of sense with the bitter greens, 'shrooms, and tangy calamansi, all while the chili crunch functioned as a much-appreciated finishing touch.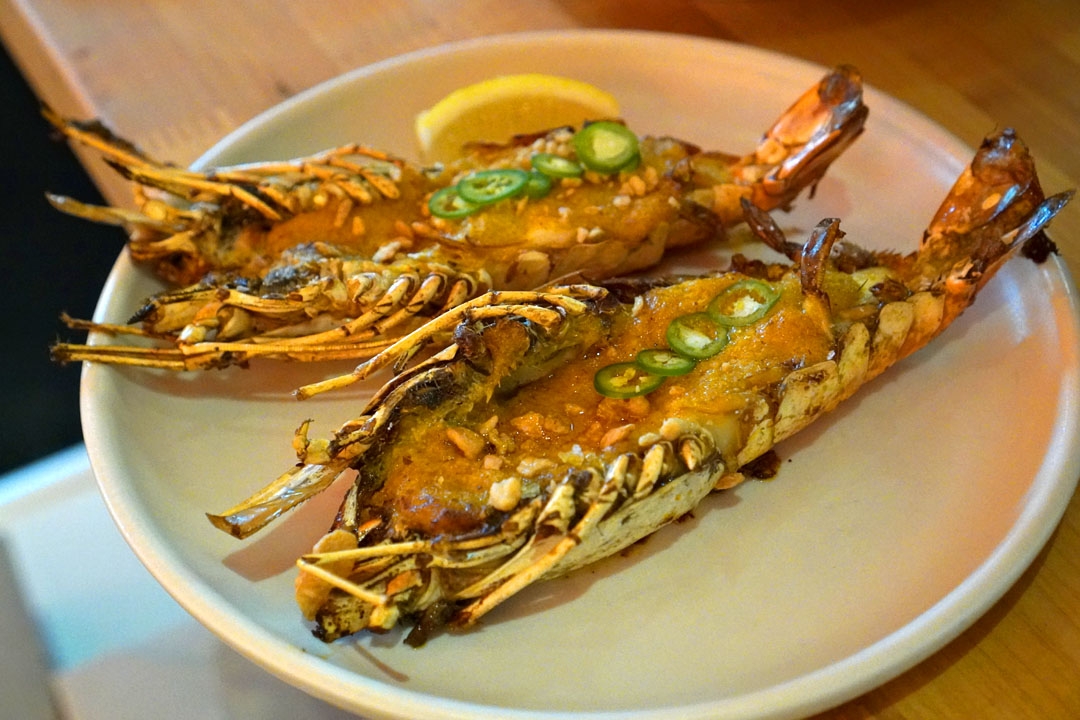 Inasal Prawns [$16.00]
| two grilled freshwater prawns, inasal butter, serrano chili, lemon
Prawns displayed a harmony of brine, smoke, and coconut-y sweetness that really worked for me, especially with that touch of heat from the serranos. However, my concern was that I would've liked a "snappier" consistency on my shrimp.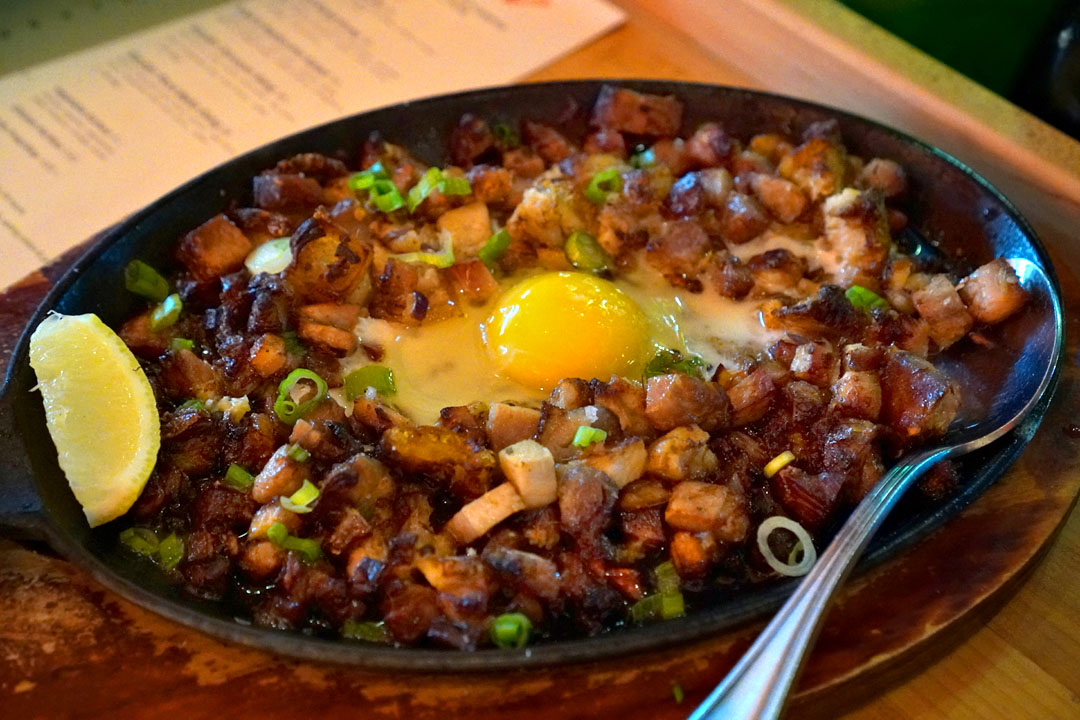 Sizzlin' Pork Belly Sisig [$20.00 + $2.00]
| Peads & Barnetts pork belly lechon, red onion, raw & fermented thai bird chili, lemon + egg
Lasita's version of sisig was a winner. I liked the use of lechon here instead of the usual cuts, and the pork had this lovely char and crispness, along with an unabashedly piggy funk that took well to the addition of chilies and onion. Also key was that egg, which integrated way better than I thought it would, adding an extra facet to the dish that actually worked to even out the heft of that belly.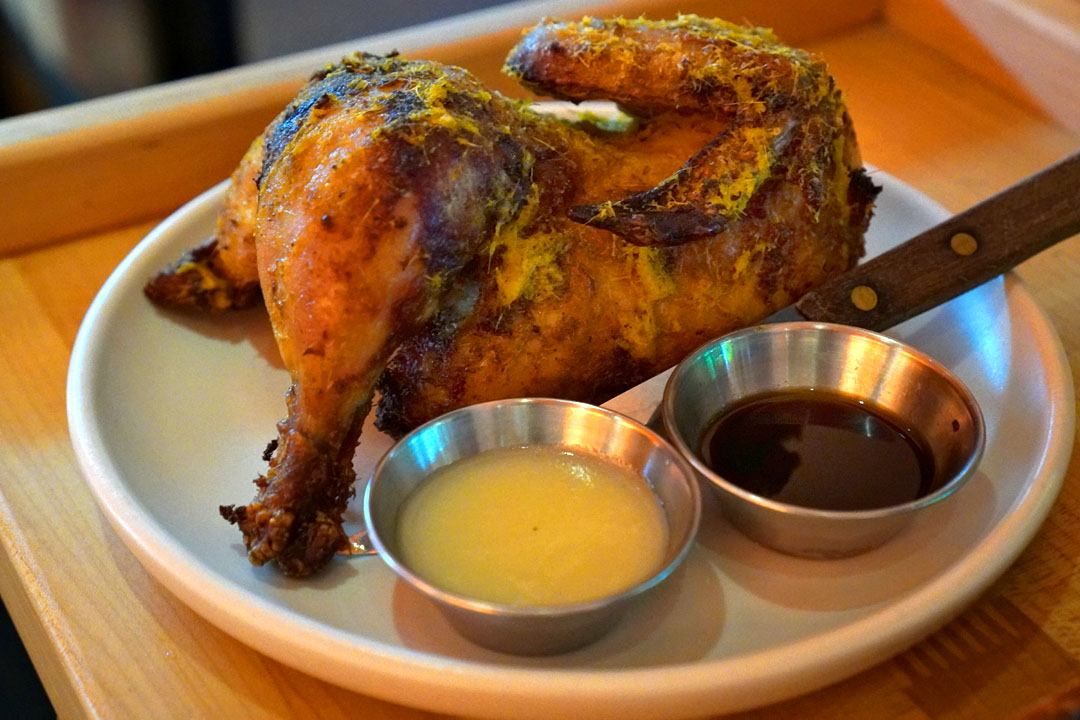 Chicken Inasal (Half) [$16.00]
My final savory was the restaurant's signature
inasal manok
. The bird showed off an impressive juiciness and tenderness, even the breast, and of course the skin was a joy to eat, too. This was a formidable rotisserie chicken with some super robust, super fragrant, herb-driven flavors, and didn't even need any of the accompanying sauces. That being said, I quite enjoyed the considerable burn of that garlic mojo, while toyomansi combined a salty savor with citric sourness.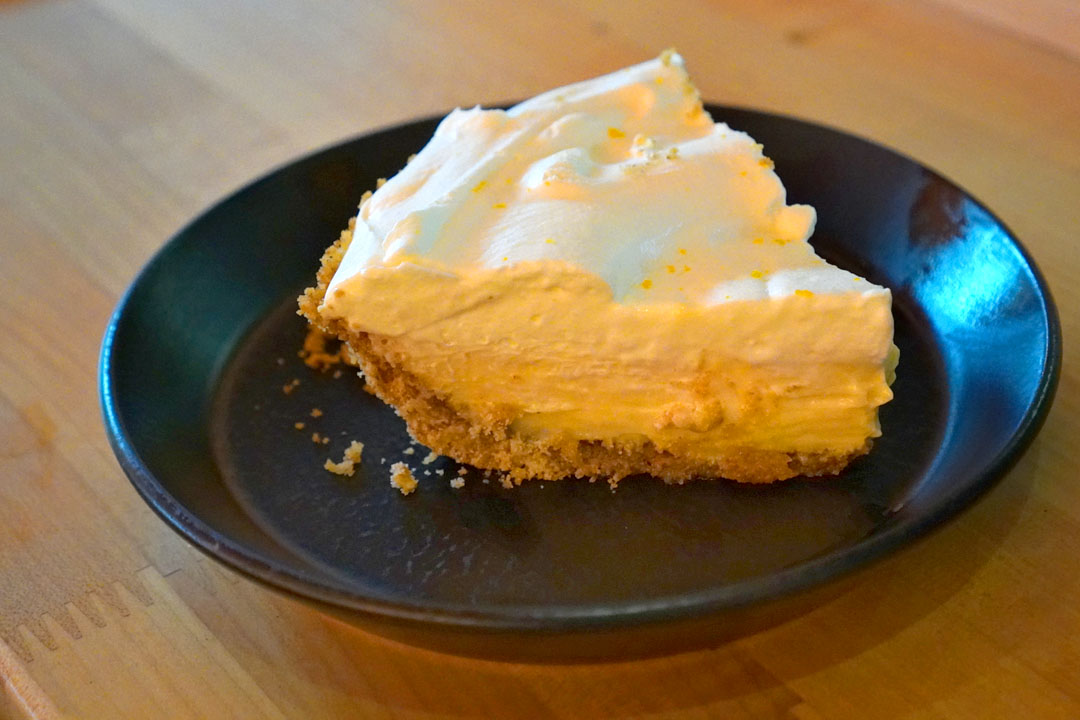 Laroolou Calamansi Cream Pie [$9.00]
| tart calamansi custard, butter graham cracker crust, salty & sweet whipped cream, fresh zest
A pie from fellow Far East Plaza tenant
Laroolou
married the very apparent zippiness of calamansi with a sweet, buttery crust, the whipped cream moderating the interaction.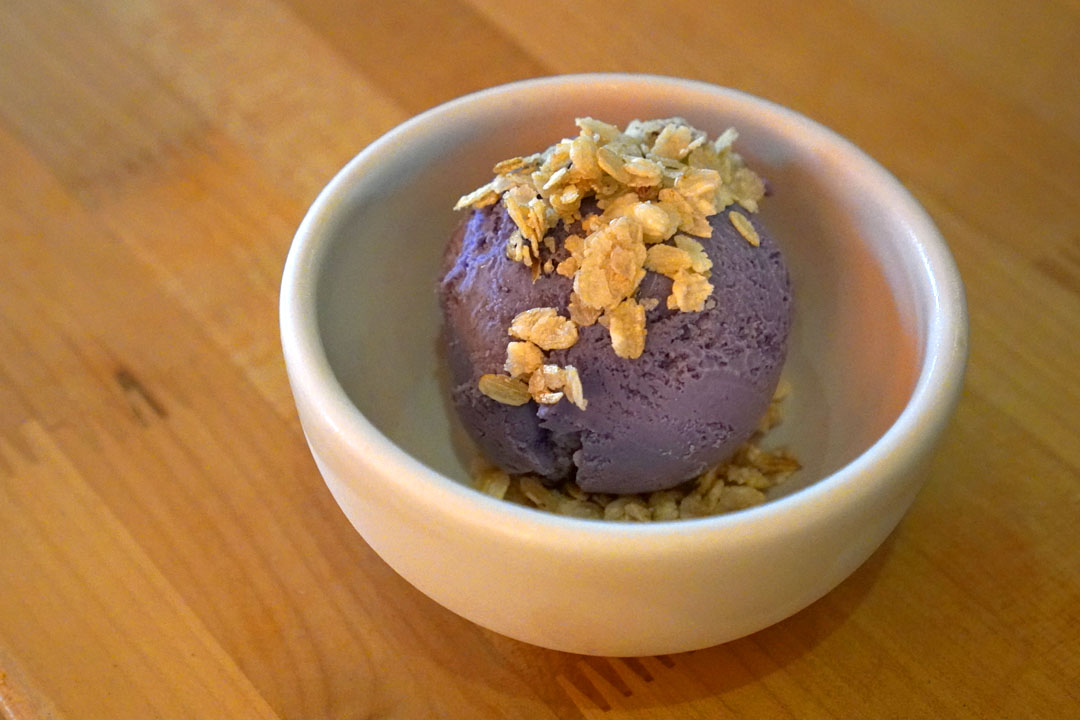 Wanderlust Ube Malted Crunch Ice Cream [$6.75]
| candied pinipig
An ube ice cream from local favorite
Wanderlust Creamery
hit the spot thanks to the scoop's sweet, slightly nutty flavors, and I liked the textural play provided by the rice topping.
I was definitely bummed when I heard of Lasa's closure, but I'm glad to report that Lasita is a worthy replacement. The food is more casual, more modest, but still much in the spirit of the original restaurant in the way that it interprets Philippine cooking through a Filipino-American-slash-Cal cuisine perspective. The wine program's also pretty neat, deserving of exploration even by itself, and overall, Lasita's a fun place that looks to have carved out a nice little niche.