Populaire (Costa Mesa, CA)
Populaire Modern Bistro
3333 Bristol St, Costa Mesa, CA 92626
714.760.4555
www.populaireoc.com
Sat 11/19/2022, 08:20p-10:40p

The last time I reported on Ross Pangilinan was back in April 2017, not too long after the debut of his (now-shuttered) DTSA restaurant
Mix Mix
. The place was one of my go-to spots in Orange County, and its success allowed the Chef to launch two related follow-on eateries: Terrace by Mix Mix, opened September 2018 at South Coast Plaza, and ReMix Kitchen Bar, opened March 2020 at Long Beach Exchange. Meanwhile, his next project, Populaire (also located at SCP), dropped on June 1st this year with a menu of Cal-French, bistro-inspired cooking. However, Pangilinan isn't running the kitchen here. Instead, steering the ship is Executive Chef Nicholas Weber, a longtime friend who's also on board as a co-owner.
About the Chef
: Nicholas Keith Weber was born in December 1977, and grew up in Southern California, Riverside County in particular. He didn't go to culinary school, and actually began his hospitality career at the age of 16 when he landed a dishwasher position at the nearby Thornton Winery in Temecula. He quickly fell in love with the kitchen, and soon transitioned to a cooking role there. In 1997, Weber secured employment at
Patina
Restaurant Group, and within the company, he catered, worked at Pinot Bistro in Studio City, helped open Pinot Brasserie in Las Vegas (he also spent time at Aqua at the Bellagio), and then joined
Florent Marneau
at Pinot Provence in Costa Mesa. He was sous there for three years, and it's where he first met Pangilinan back in 2004.
Following Marneau's departure in 2006, Weber became EC at Pinot Provence, and served a similar role for another one of the company's properties,
Catal
at Downtown Disney. From there, he left PRG and, in 2008, opened
Blanca
, installing Pangilinan as Chef de Cuisine there. However, he decamped from the troubled Newport Beach restaurant after only a few months (it folded after about a year in business), and actually found himself back at Catal, again as Exec Chef. Weber stayed there until fall 2012, when he departed in order to take on the task of revamping the menu at The Cannery, a longstanding Newport eatery. In August 2017, he became Executive Chef at 24 Carrots Catering, where he remained until taking the reins at Populaire.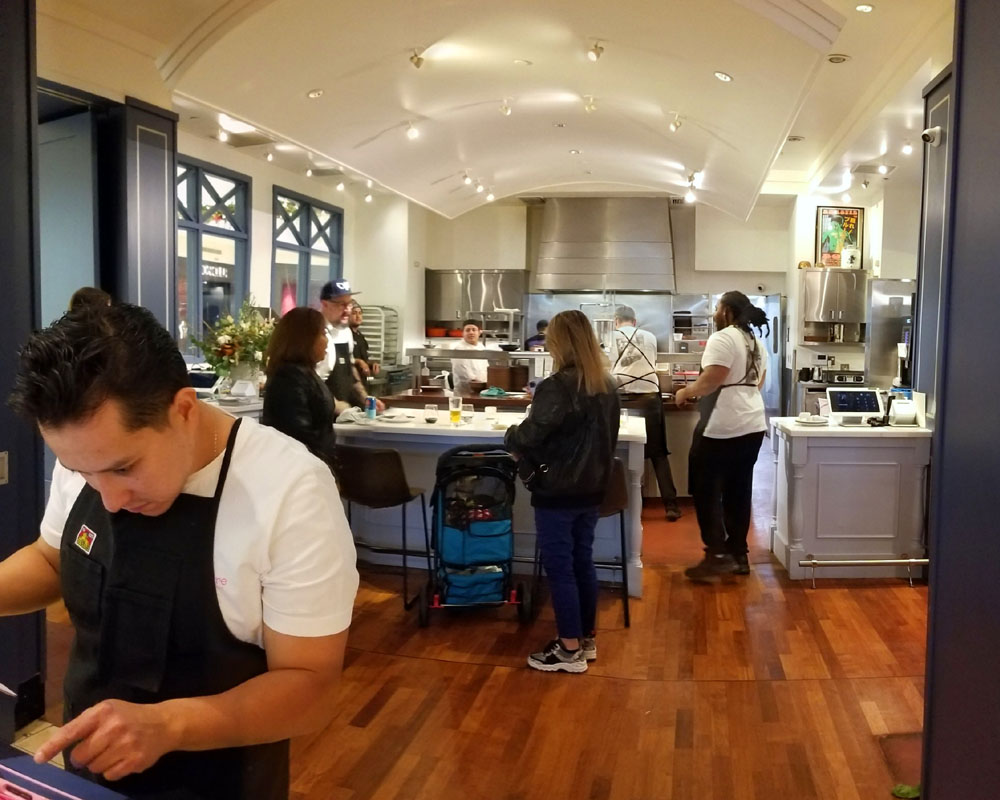 As we can see above, the restaurant's entrance leads directly into the kitchen, a rather uncommon setup that's a holdover from the space's previous tenant.

Speaking of that previous tenant, Populaire takes over the former home of Lawry's Carvery, which closed on January 17th after nearly 20 years in business. The same basic layout remains, but the place has been given a blue-tinted makeover befitting Populaire's concept. Indoor seating accommodates around three dozen, while there are also two patios (one inside the mall and one outside) that expand total capacity to around 90.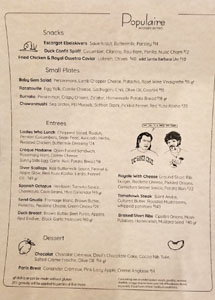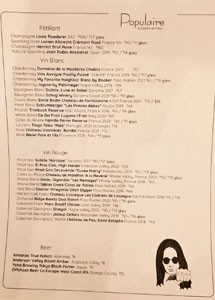 Here we see Populaire's menu, which is a tad irreverent and isn't afraid to venture outside the Cal-French bistro box and pull in some decidedly Asian influences. In addition to these à la carte selections, there's also a seven-course tasting menu option at $160, served at a counter in the kitchen. Drink-wise, you get a French-leaning wine list from GM Alyssa McDiarmid (Louie's by the Bay, The Cannery, Marché Moderne, Pinot Provence), along with a handful of beers. However, the real news here is that the restaurant
doesn't charge a corkage fee
(!). Click for larger versions.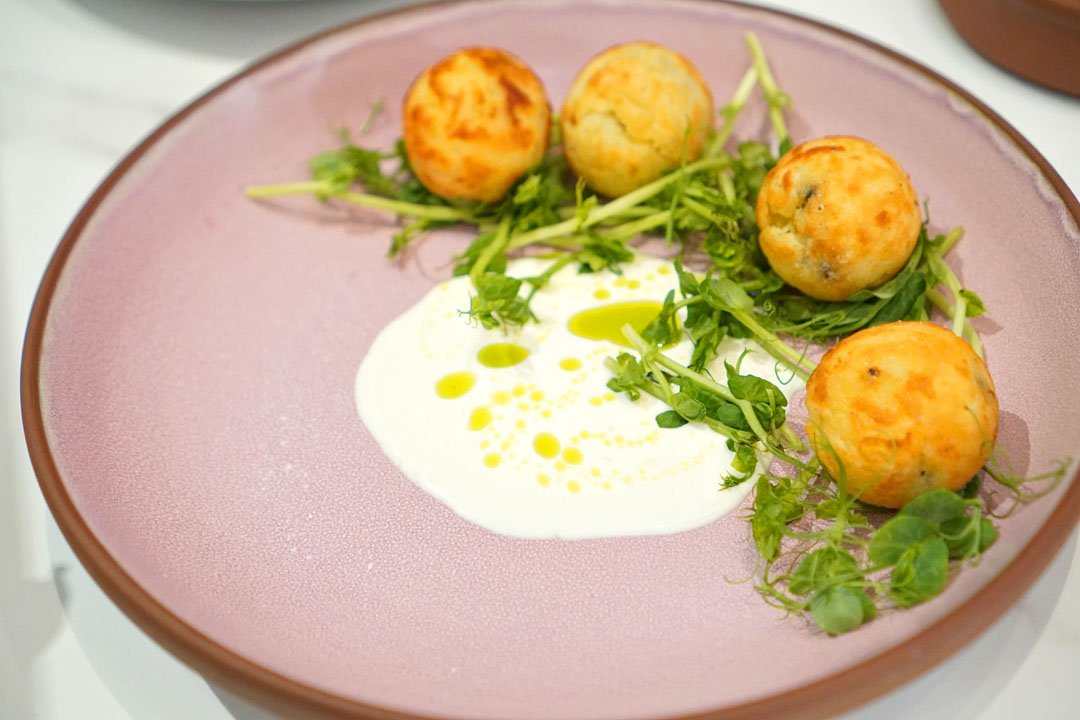 Escargot Ebelskivers [$14.00]
| Sauerkraut, Buttermilk, Parsley
We began with probably the most approachable preparation of escargots I'd ever encountered. The snails were encased in an airy, fluffy batter, and the resulting æbleskiver made a lot of sense when juxtaposed against the dish's lactic, herbaceous components, though I could've used more from the advertised sauerkraut.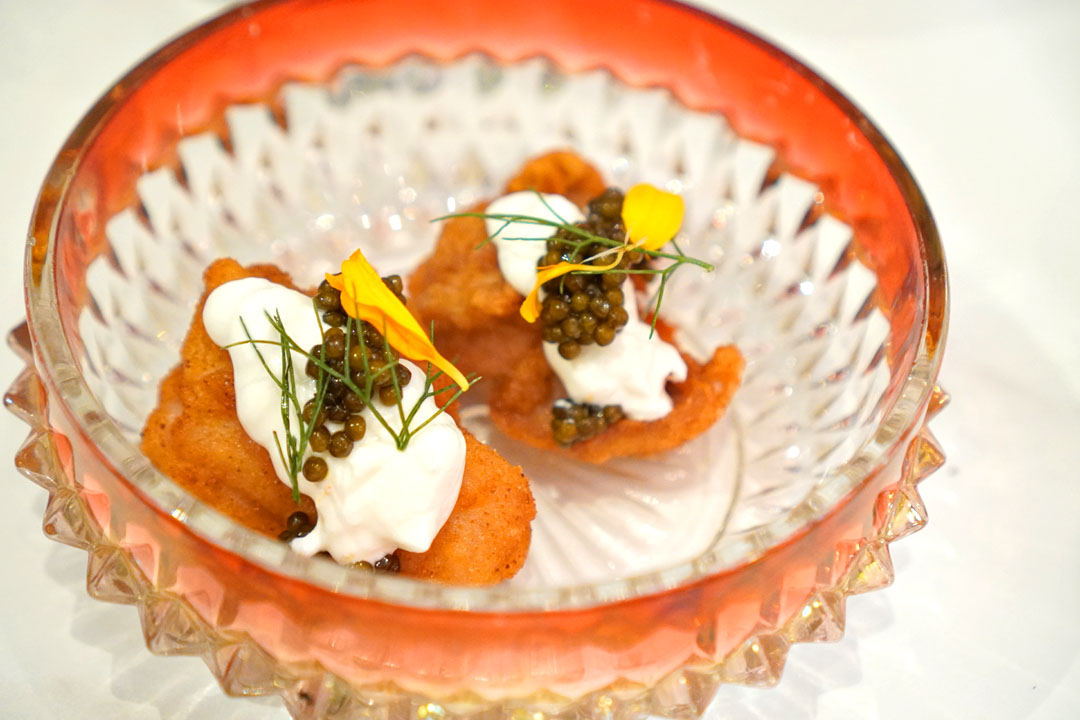 Fried Chicken & Royal Ossetra Caviar [$40.00]
| Labneh, Chives
I have a hard time turning down fried chicken, and tonight's was super flavorful, and quite enjoyable just by itself. Nevertheless, the bird was indeed even better when paired with the contrasting flavors of yogurt and caviar, though I do have to note that the amount of roe included seemed a touch light.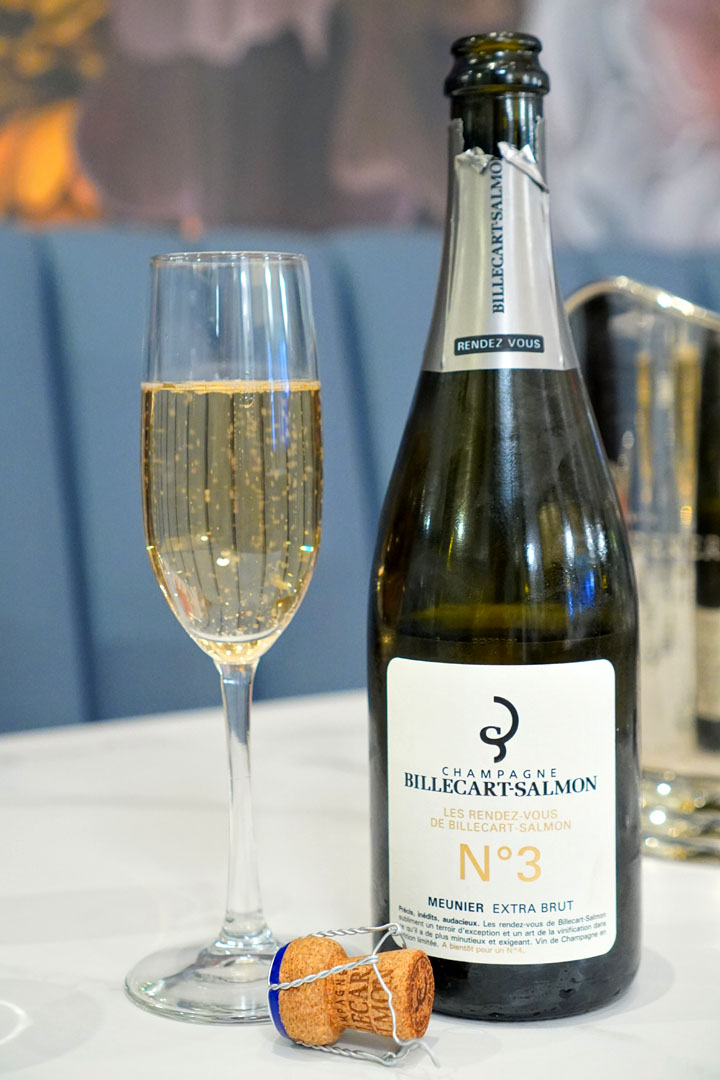 Naturally, I made sure to take advantage of the BYOB policy here, and thus brought along two bottles, the first of which was the limited-edition
NV Billecart-Salmon Rendez-Vous N°3 Meunier Extra Brut
. Composed of 100% Pinot Meunier (an uncommon sight), the Champagne was based on the 2015 vintage, with a third consisting of reserve juice from 2013, and spent over five years on the lees. The nose here was utterly powerful, and teeming with robust pome fruits and florals. On the palate, I found assertive bubbles and a luxuriant mouthfeel, while concentrated flavors of apples (think Martinelli's), tinged with citrus, played with saline elements and a touch of barnyard. In addition, as the wine warmed, I began detecting more and more brioche, which I very much appreciated as well. I don't think I've had an all-Meunier Champ before, which is a shame, because this was a real crowd-pleaser.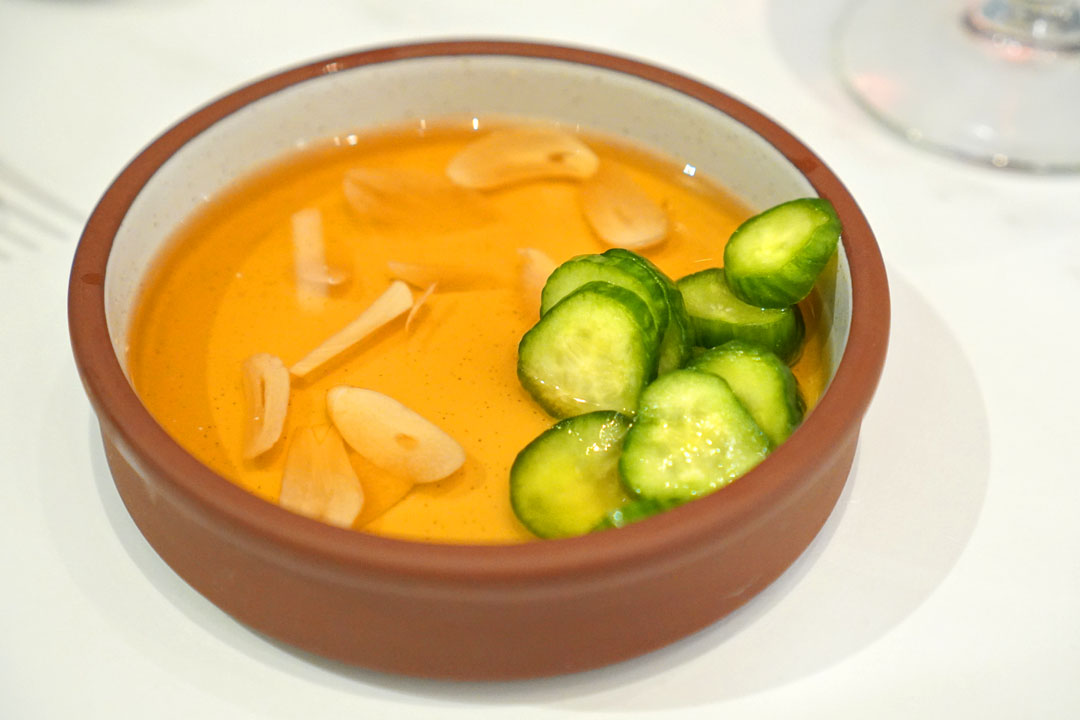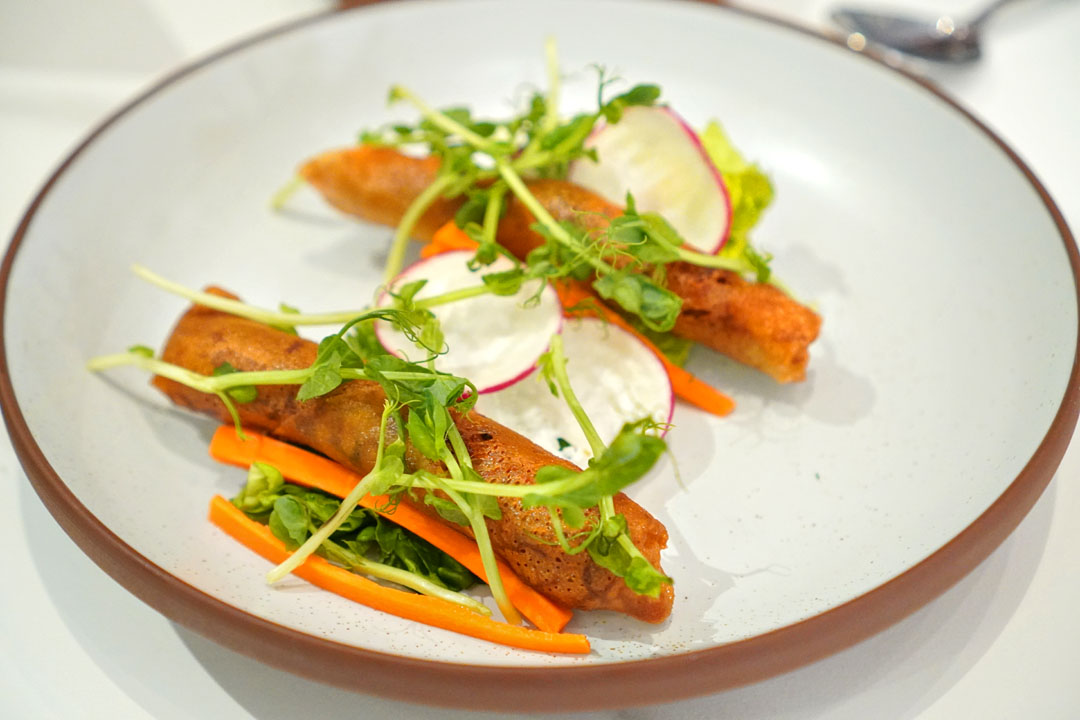 Duck Confit Spliff [$12.00]
| Cucumber, Cilantro, Rau Ram, Perilla, Nuoc Cham
I'm generally a fan of duck confit, and fortunately, the bird's deep, gamey flavors were on proud display tonight, melding beautifully with the zestiness of the herbs. However, the "spliffs" were definitely improved with a dab of fish sauce, which imparted a sour, savory funk that really elevated and completed the dish. Great crunch from those fried wrappers, too.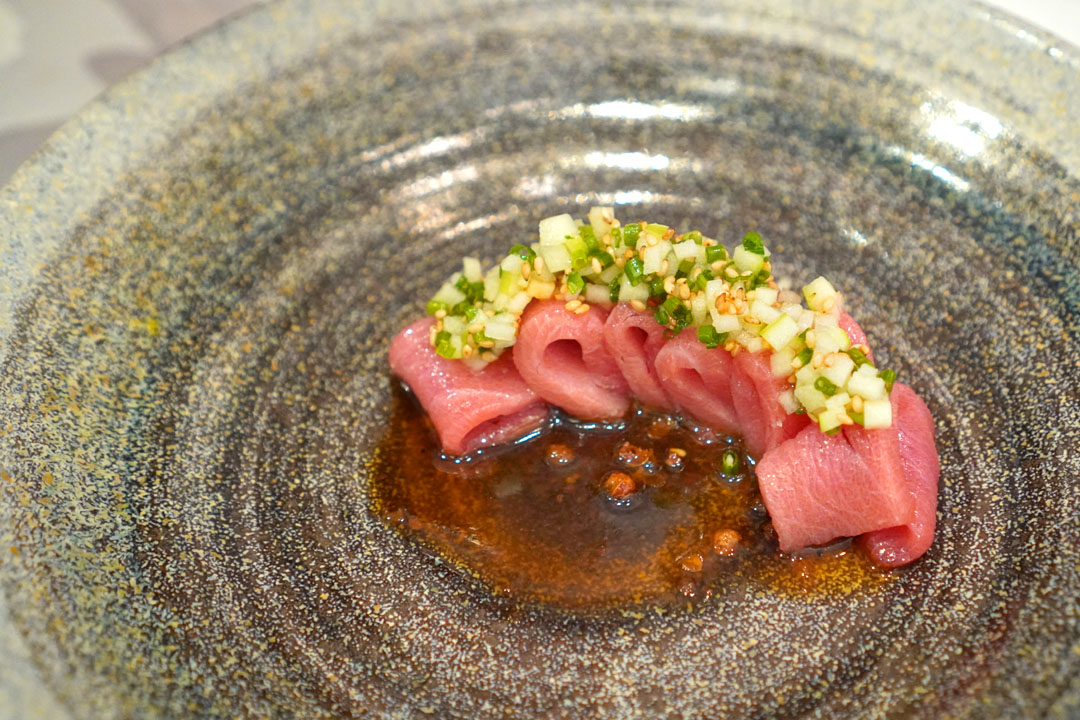 Given that we'd shared our wine generously with the staff, we were presented with a bonus dish of bluefin toro. The tuna's slick, lush, fatty qualities were deftly conveyed, and I loved how it married with the nutty, sesame-boosted spice of the Sichuan oil, which had just the slightest hint of
mala
. At the same time, dices of apple provided a tart, juicy crunch that worked as an effective accent piece.
Ratatouille [$16.00]
| Egg Yolk, Comte Cheese, Gochugaru Chili, Olive Oil, Crostini
Up next was no doubt one of the better renditions of ratatouille I've had. I was certainly a fan of the dish's cozy, familiar flavors, enriched by the use of egg and Comté, and those toasty slices of bread were a perfect complement.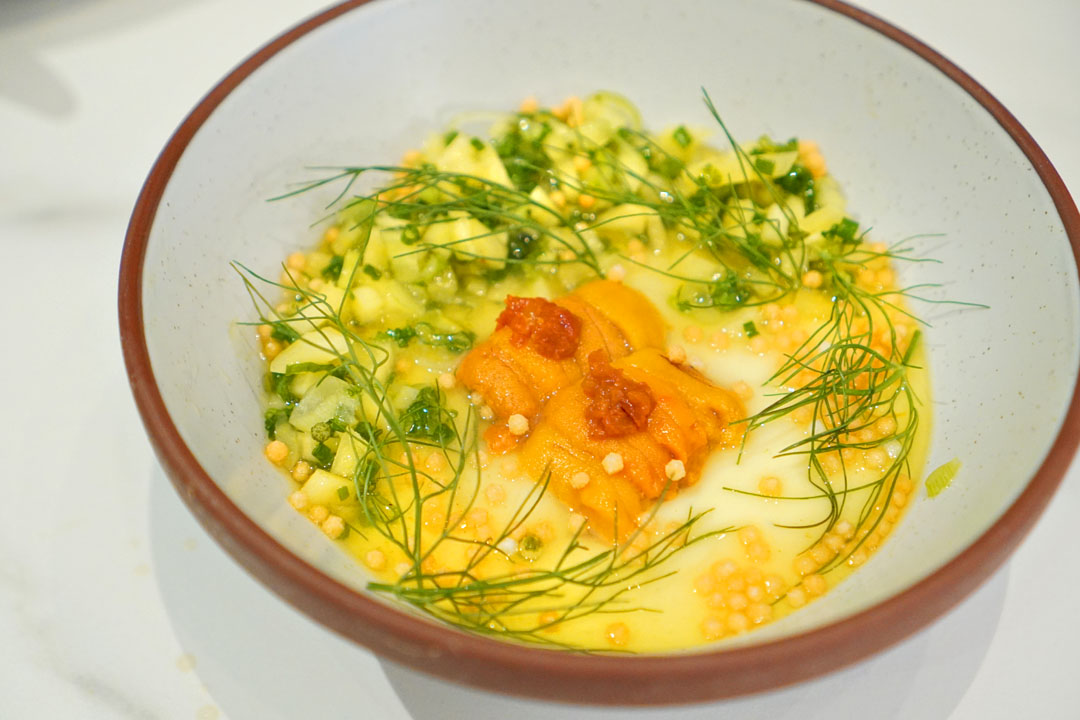 Chawanmushi [$25.00]
| Sea Urchin, PEI Mussels, Saffron Dashi, Pickled Fennel, Red Yuzu Kosho
This non-traditional chawanmushi showed off a lovely temperature contrast, and I liked the back-and-forth between the silky egg custard and all those crunchy bits. Also crucial was the sharp brine imparted by those mussels, but my favorite element here was actually the overarching punch of fennel, which was really smart. That being said, I wanted the yuzukosho to be more assertive.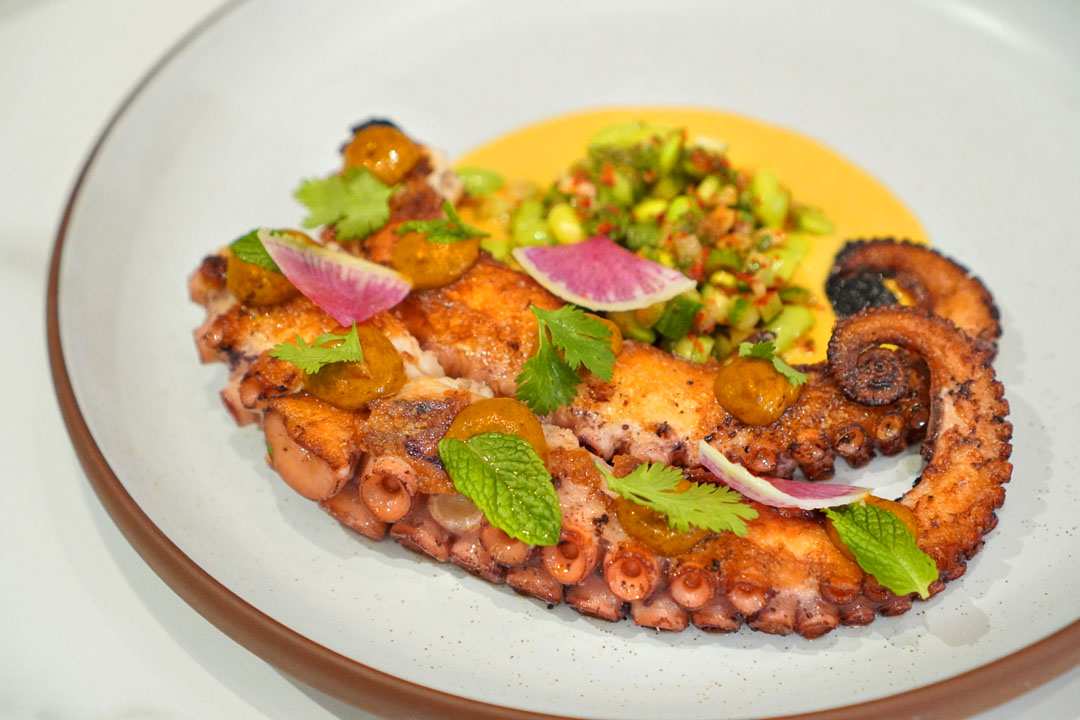 Spanish Octopus [$49.00]
| Heirloom Tomato Sauce, Chermoula, Coco Beans, Mint Coriander
The octopus was my favorite dish tonight, and some of the best I've had all year. I loved its spot-on tenderness and crisp, full-flavored exterior, but what made this all the more interesting was that chermoula, which contributed a warm spice that really elevated the octo. At the same time, you also had the beans, which helped temper the strong flavors at play and imparted some textural variation.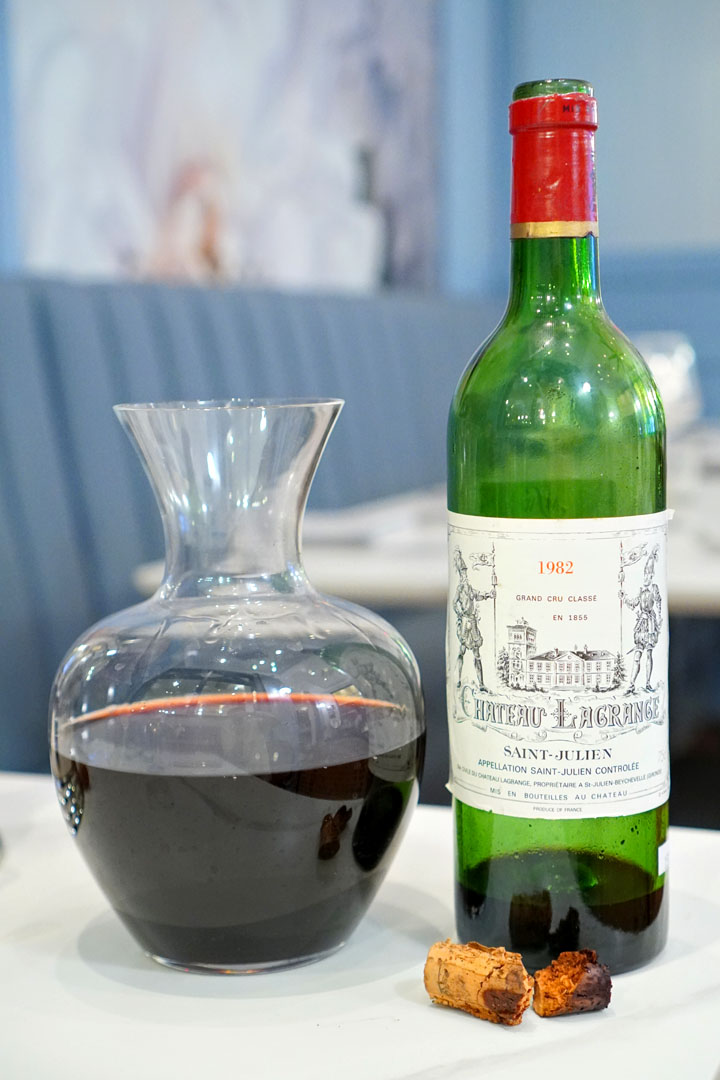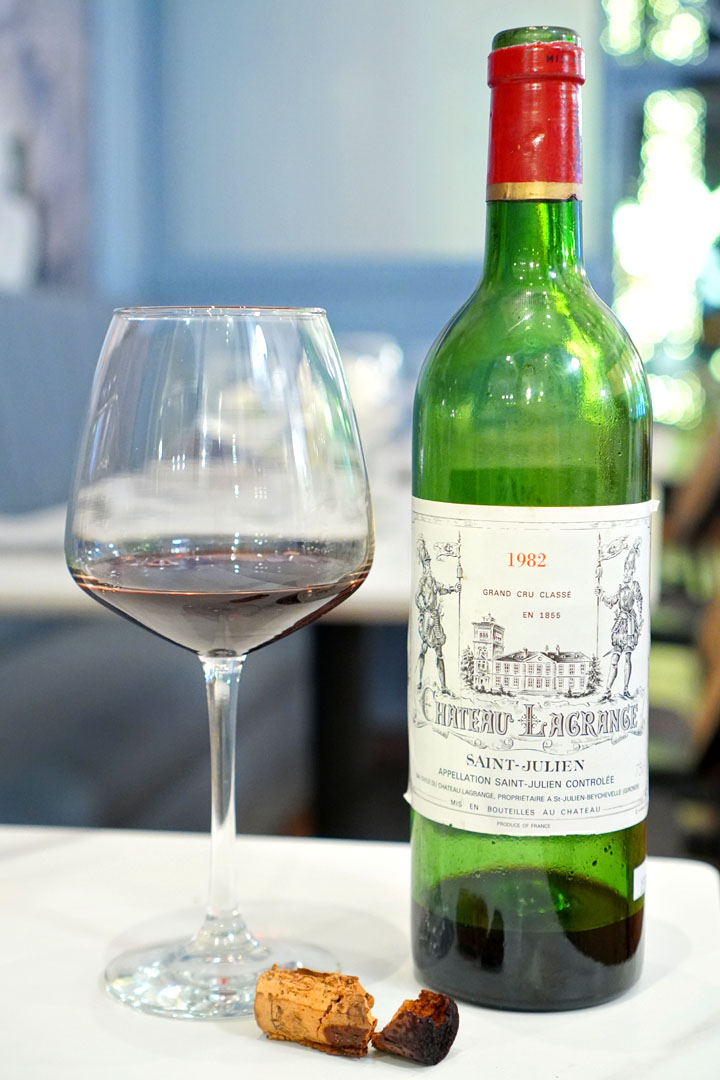 Our second bottle was the
1982 Château Lagrange
from St. Julien, which, given its age, we decanted right when we sat down. In the decanter, the Bordeaux smelled of moist soil leading to a heady sensation of roasted meat, particularly smoked beef short ribs or charred tri-tip. In the glass, the bouquet was actually quite different, and was all about boatloads of mushrooms (the most I'd experienced in any wine), commingled with damp wood. On the palate, I found the claret soft and smooth, its initial notes of musty cherries giving way to an amalgam of earthy, spicy, and herbal flavors. Quite pleasing overall--this one actually held up pretty well I gotta say.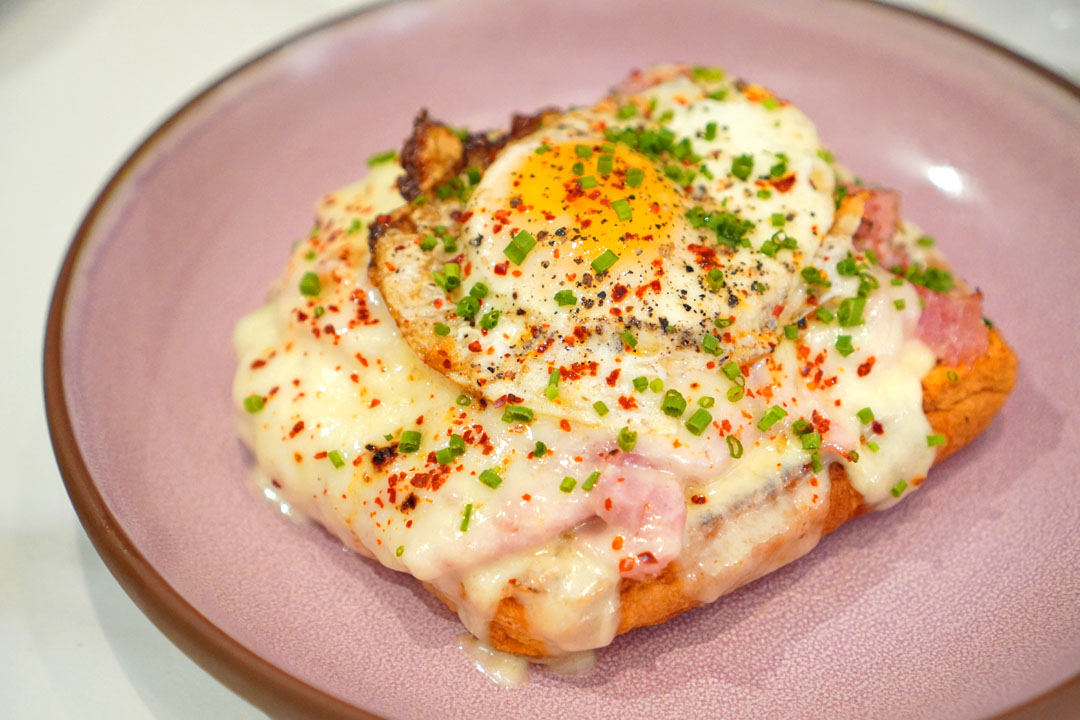 Croque Madame [$18.00]
| Open Faced Sandwich, Rosemary Ham, Comte Cheese, Sunny Side Egg, Garlic Aioli, Potato Bread
Weber's take on the iconic croque was pure comfort: delectably salty-herby ham, plenty of cheese, a nice enveloping pepperiness, that runny egg, and some fantastically-textured potato bread.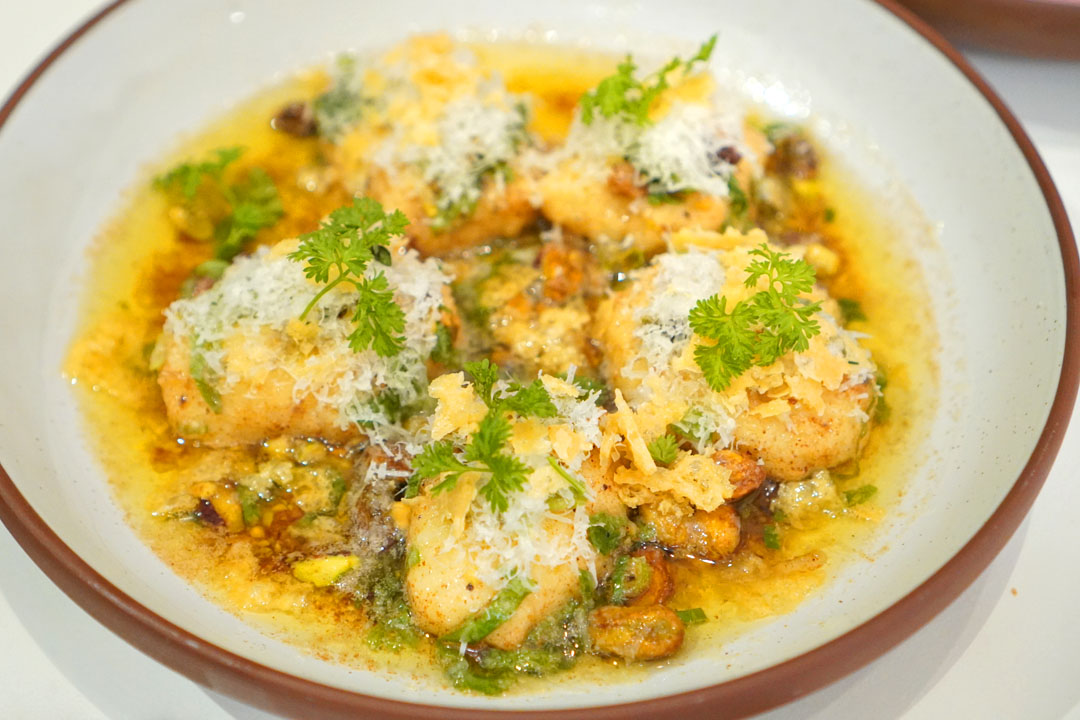 Send Gnudis [$26.00]
| Fromage Blanc, Brown Butter, Pistachio, Pecorino Cheese, Green Onions
This cheekily-named dish featured super soft, pillowy dumplings imbued with the unmistakable warming richness of brown butter. Pistachios provided both crunch and a countering nuttiness, and overall, this definitely had a homey sort of feel to it.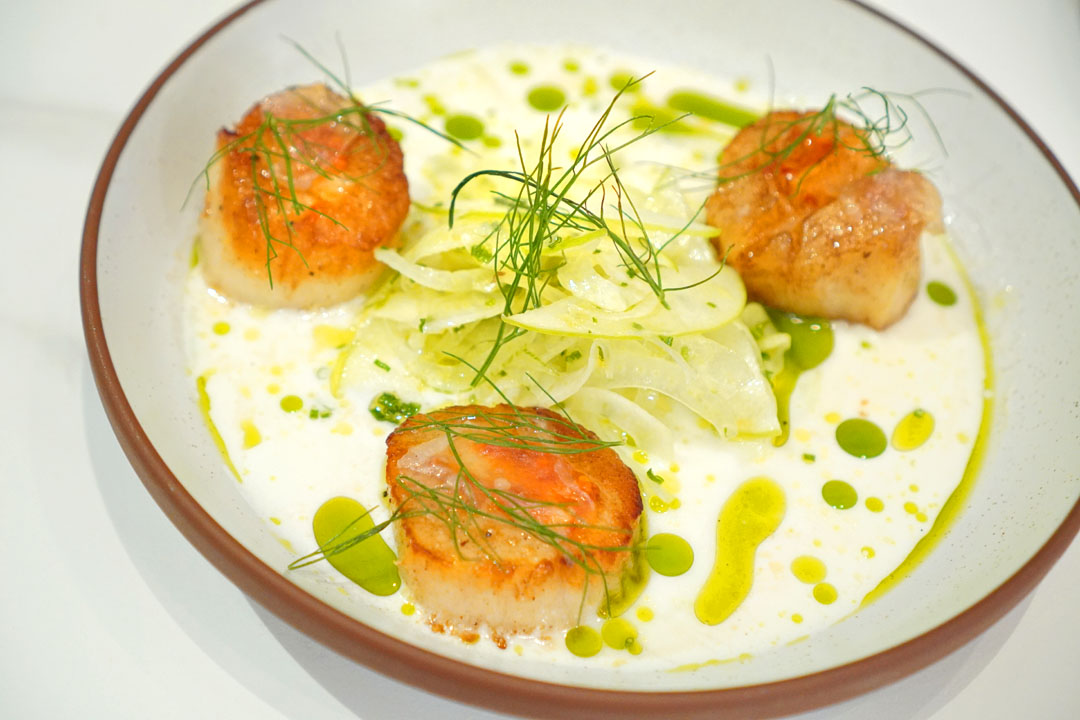 Diver Scallops [$49.00]
| Koji Buttermilk Sauce, Fennel & Apple Slaw, Red Yuzu Kosho, Lardo, Fennel Oil
In our final savory, scallops arrived well textured and well caramelized, their innate salinity taken up a notch by the incorporation of lardo. Given those hefty flavors, the zing from the fennel and the brightness from the apple were absolutely crucial for balance.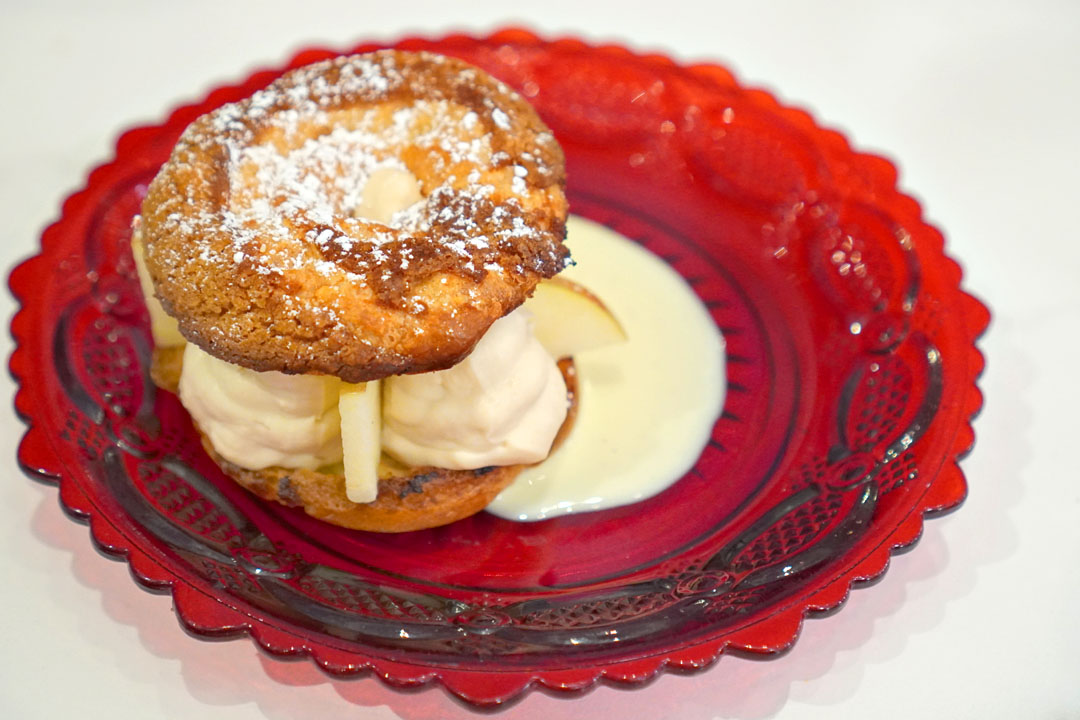 Paris Brest [$14.00]
| Coriander Crèmeux, Pink Lady Apple, Creme Anglaise
It was now time for dessert, which comes to us from Pastry Chef Margeaux Aragon (24 Carrots,
The Tasting Kitchen
, Ledlow/Pete's,
Mozza
). Up first was her delicious version of the classic Paris–Brest. I was a fan of the texture on the pastry here, but the key was that crèmeux, which had this delightful coriander-fueled spice that really meshed well with the sweetness of the dish.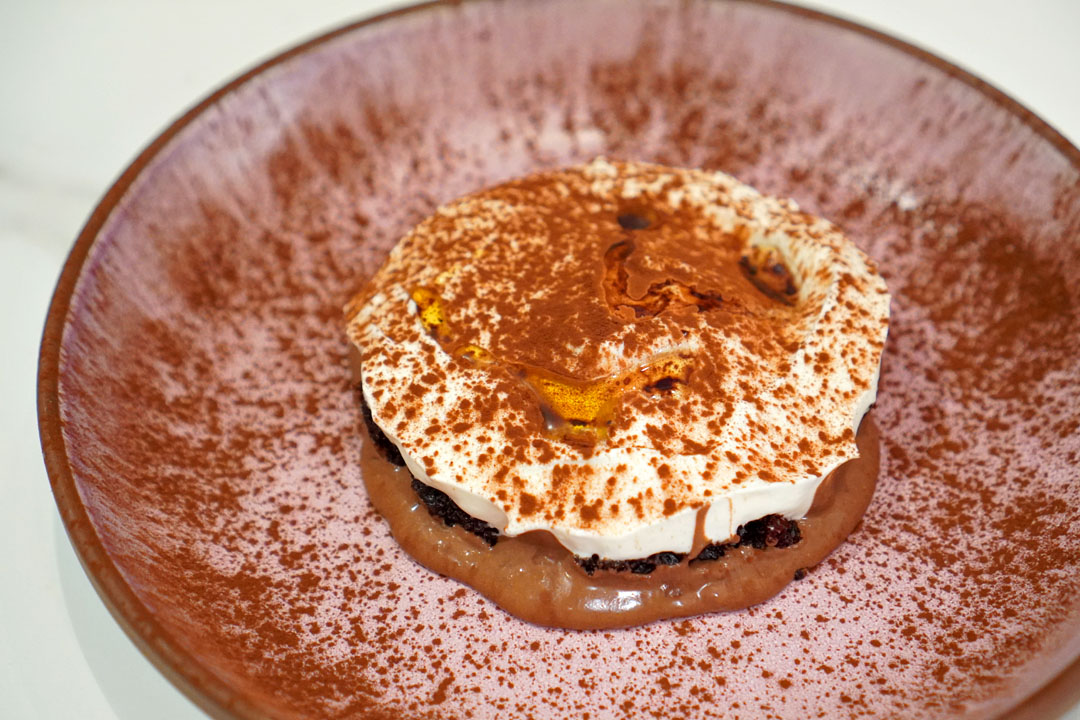 Chocolat [$14.00]
| Chocolate Crèmeux, Devil's Chocolate Cake, Cocoa Nib Tuile, Salted Creme Fraiche, Olive Oil
Our second dessert was even tastier. Here, I was pretty enamored with how the richness of the chocolate combined with the wonderfully nutty crunch from the tuiles, while crème fraîche and olive oil imparted further interest to the dish. Yum.
Populaire is a much welcomed, much needed addition to the OC restaurant scene. Nick Weber's non-traditional bistro-ish cooking represents a bit of a breath of fresh air for the County's often staid dining landscape, so I hope that the Chef and his team can keep pushing. I might have to come back to give the aforementioned tasting menu a go, and actually, the free corkage policy here is reason enough for a revisit. As for next steps, I don't think we've seen the end of the Weber-Pangilinan partnership. They recently (October 8th) launched a café/coffee bar called Verdant at the brand-new Orange County Museum of Art, and I wouldn't be surprised to see the two team up for even more projects down the line.