Manresa (Los Gatos, CA) [3]
Manresa Restaurant
320 Village Ln, Los Gatos, CA 95030
408.354.4330
www.manresarestaurant.com
Thu 12/15/2022, 08:25p-11:35p

The last time I reported on
David Kinch
was back in November 2013, when he participated in a collaborative dinner at
Rustic Canyon
, in celebration of the Chef's new cookbook. Since that time, he's kept pretty busy. That aforementioned cookbook landed a James Beard nomination in 2014, as did Kinch's appearance on
The Mind of Chef
, while he also received no fewer than six "Outstanding Chef" nods from Beard from 2014 to 2020.
The Mind of Chef
resulted in an "Outstanding Culinary Host" win at the 43rd Daytime Creative Arts Emmy Awards, and also in the realm of entertainment, Kinch was featured in a documentary entitled
The Farmer & The Chef
in 2014.
In terms of restaurants, Kinch expanded his footprint with the New Orleans-inspired The Bywater in Los Gatos in January 2016 and the Cal-French-Italian Mentone in Aptos in March 2020. Along with Avery Ruzicka and Andrew Burnham, he also opened multiple locations of Manresa Bread (which started as a pop-up at the Campbell Farmer's Market in March 2013): Los Gatos (February 2015; moved to a new location this October), Los Altos (June 2016), Campbell (November 2018), Palo Alto (April 2022), and Santa Cruz (November 2022).
Kinch's flagship Manresa, meanwhile, suffered a pretty serious fire in July 2014, but reopened at the end of that year following a significant remodel. A second, less damaging fire occurred in July 2018, knocking the place out of commission for two months. Most significantly, the restaurant was finally awarded three Michelin stars in October 2015, which have been successfully maintained since then.
Thus, things all seemed to be going pretty well for Kinch and company, so it came as a surprise to me when it was announced earlier this year that Manresa would be closing at the end of 2022, after two decades in operation. The reason for the closure is apparently due to the Chef's desire to work at a more relaxed, less strenuous pace, which would allow him to focus on his other interests and his other restaurants. Given how instrumental Manresa has been in shaping the Northern California dining scene and Californian cuisine in general, I wanted to pay the place one final visit before its impending shutter.

Upon arriving, we were asked to wait in the restaurant's lounge area, near the entrance and adjacent to the rear dining room, shown above.

Here we see Manresa's main dining room, which is now on its third (and final) iteration if I'm not mistaken.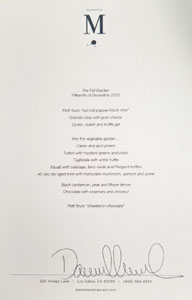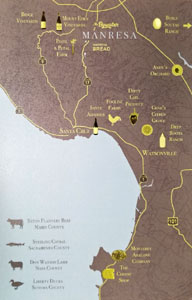 And here's tonight's menu, entitled "The Fall Garden," which was priced at an unusually high $595 a head (it was $425 as late as November), plus 9.25% tax and a $2.25 Tock fee. Wine pairings were available at $255, and corkage was offered at $75 (limit three), but we opted to purchase a couple well-priced bottles off of Manresa's ample wine list, which is managed by Wine Director Jim Rollston, MS (
Baumé
, The Lodge at Pebble Beach,
Cyrus
, Farmhouse Inn). Click for larger versions.
1: Petit fours "red bell pepper-black olive"
The meal commenced with Manresa's signature duet of savory petit fours. Mini madeleines played the subdued piquancy of black olive against a sweet-n-spicy backbone, while pâte de fruits did a wonderful job conveying the vegetal zing of red bell pepper.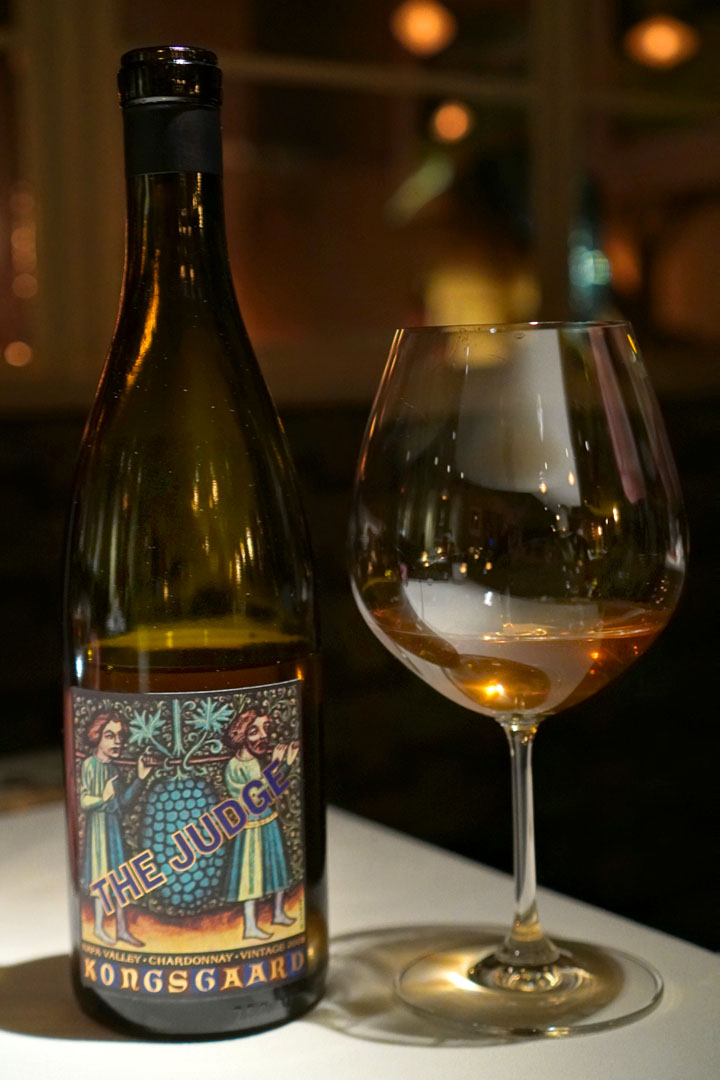 Our first bottle tonight was one that I'd been curious about for some time now, the
Kongsgaard The Judge 2008 [$475]
. The Napa Valley Chardonnay demonstrated a super nutty, oxidative, caramel-laced nose that was decidedly sherry-esque in presentation. Taking a sip, I found it rich and round, with more of those caramel-y, almond-y nuances leading to an underlying sensation of sweet raisin, with spice in the background. With time, the wine developed some pear-like flavors, and near the end of the meal, a distinct buttered popcorn character began showing up.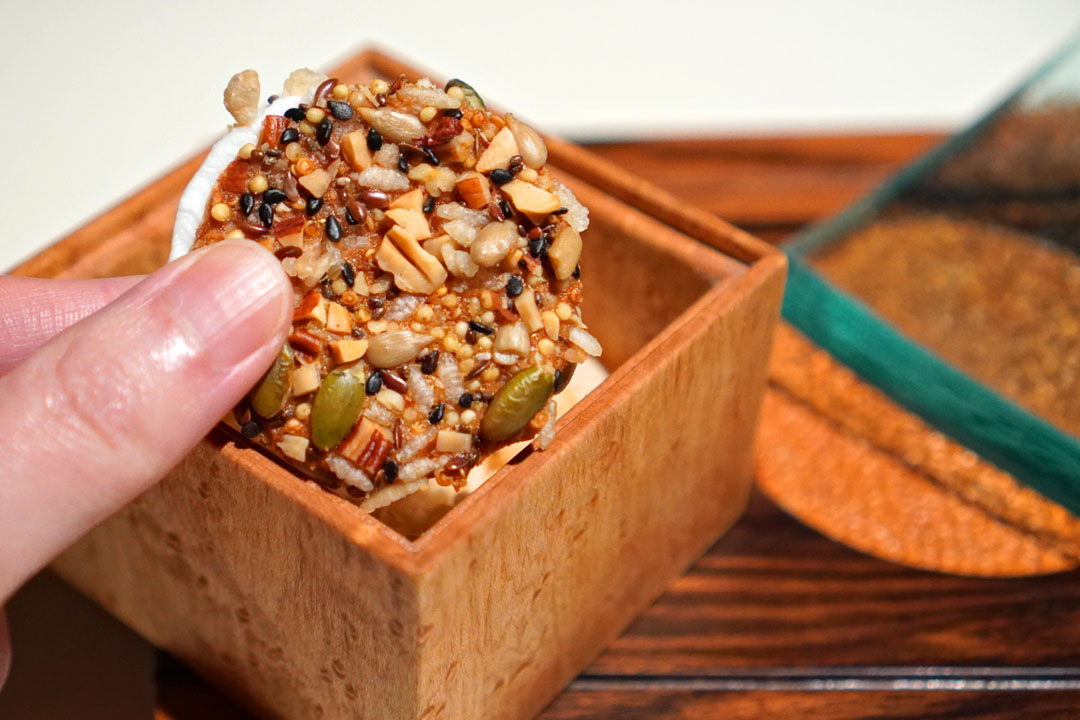 2: Granola crisp with goat cheese
This next amuse bouche set a plethora of salty, nutty, crunchy elements against a base of creamy, tangy goat cheese mousse. A delectable juxtaposition of both tastes and textures.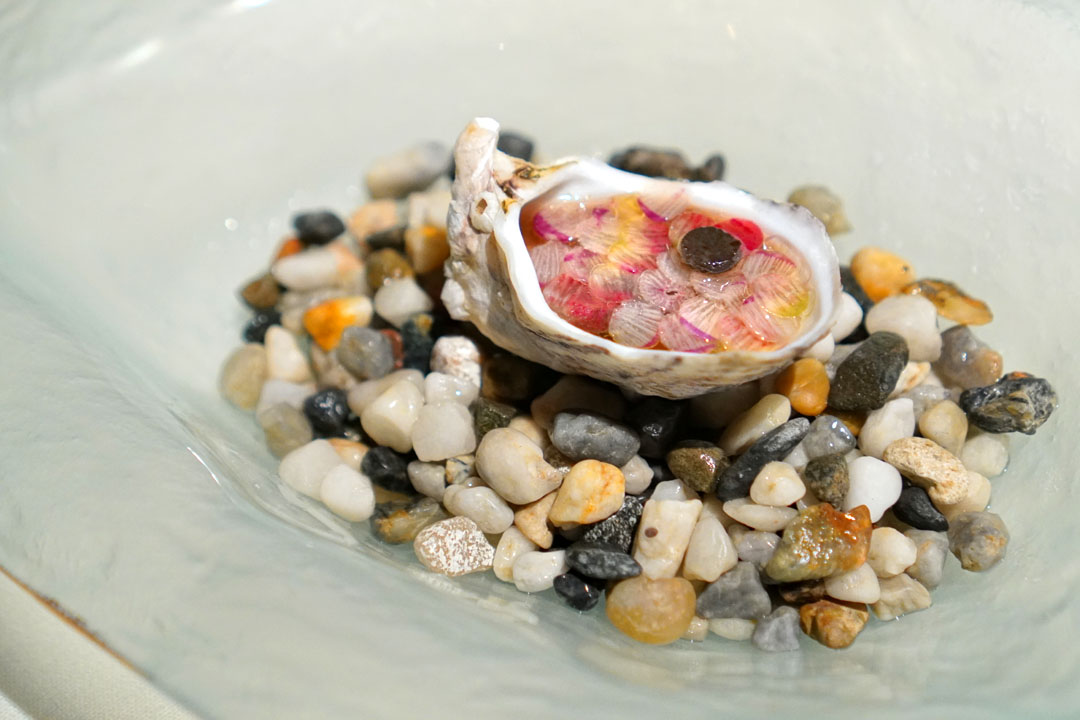 3: Oyster, radish and truffle gel
Saint Simon oysters are apparently Kinch's favorite, and the example tonight certainly delivered. Initial impressions were all about the savory tang of the toasted nori mignonette and fermented black truffle, which combined seamlessly with the refined minerality of the bivalve. However, what really made this dish for me was the levity and crunch offered up by the watermelon radish, while more interestingly, the long, long finish here recalled sour cream and onion potato chips for some reason.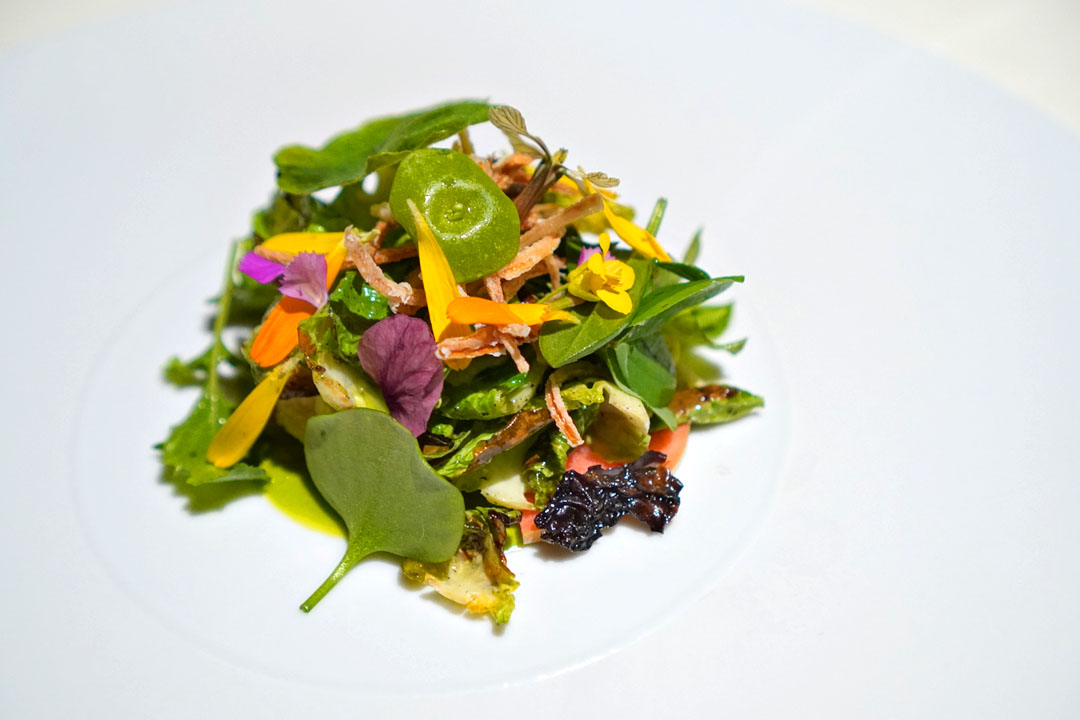 4: Into the vegetable garden...
What we have here just might be one of the best salads I've ever had. For me, it all starts with the dehydrated/rehydrated beets and their sticky, earthy sweetness. To that, we add crisp, juicy Mountain Rose apple, tart huckleberries, and bitter Brussels, all while a nasturtium aioli helped bind everything together. That being said, my favorite component was actually the crispy shallots, which imparted a crunch and savoriness that served as the perfect finishing touch. Everything just came together beautifully.
Two types of bread were offered. I preferred the whole wheat, with its almost rye-like spiciness and toffee-ish notes, while the levain demonstrated classic sourdough characteristics, though it could've been crustier. I was a big fan of that wonderfully airy herb-infused butter as well.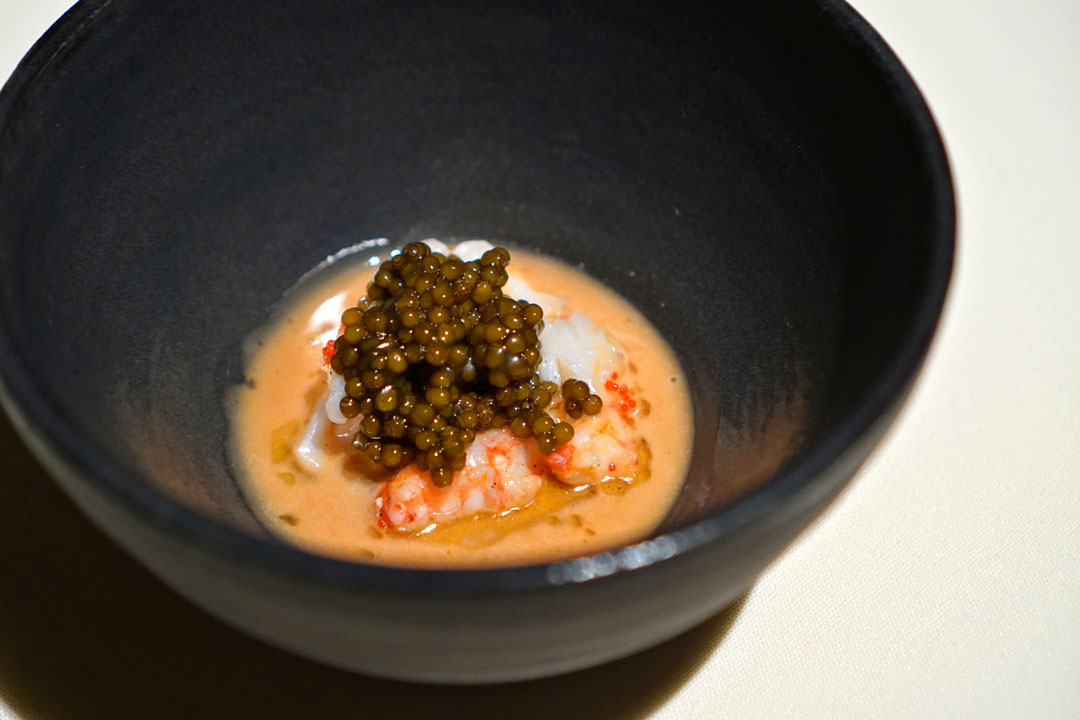 5: Caviar and spot prawn
This was my favorite course of the night, and one of the best spot prawn preparations I've ever had. Sourced from Monterey Bay, the shrimp were superbly textured, and married flawlessly with the deeply-gratifying, umami-laden combination of prawn jus and truffle butter. Even better, though, was the dish's pervasive, enveloping smoke, which was crucial, and I loved the salty finish provided by the golden Ossetra caviar, too. This one sort of wowed me.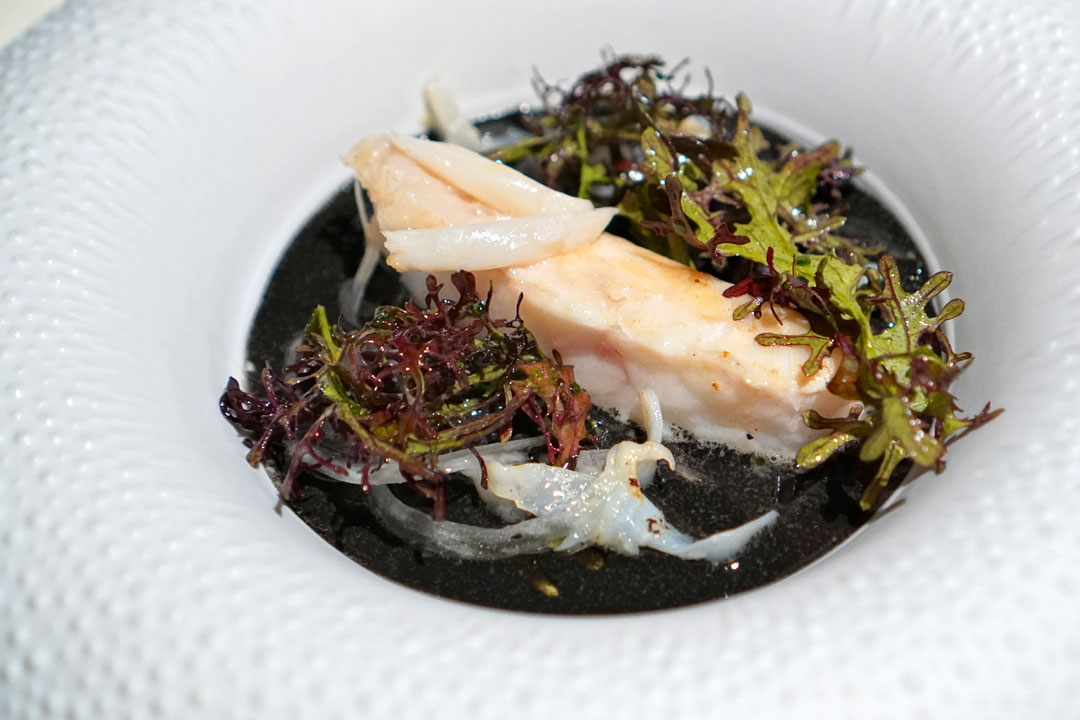 6: Turbot with mustard greens and onion
The turbot was a winner as well, no doubt. The fish had a finespun, semi-flaky consistency that I was pretty enamored with, as well as a sophisticated, sweet brine that made a whole lot of sense with the bitterness of the greens. Very smart.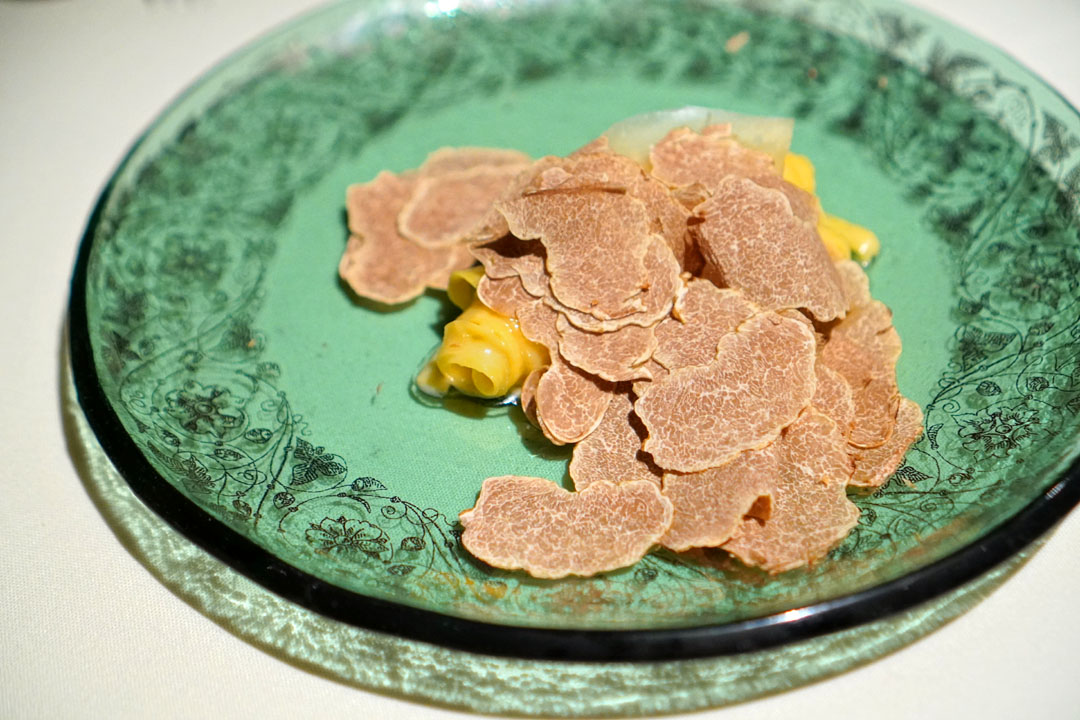 7: Tagliatelle with white truffle [$225.00]
We were in the midst of white truffle season, so we felt compelled to add on this supplemental course to our meal. The truffles showed off their signature musk, which seemed particularly heady and invigorating this evening, and paired perfectly with the funk of aged gouda and
koji
cream sauce. The pasta worked to moderate all these strong flavors at play, and had just enough chew.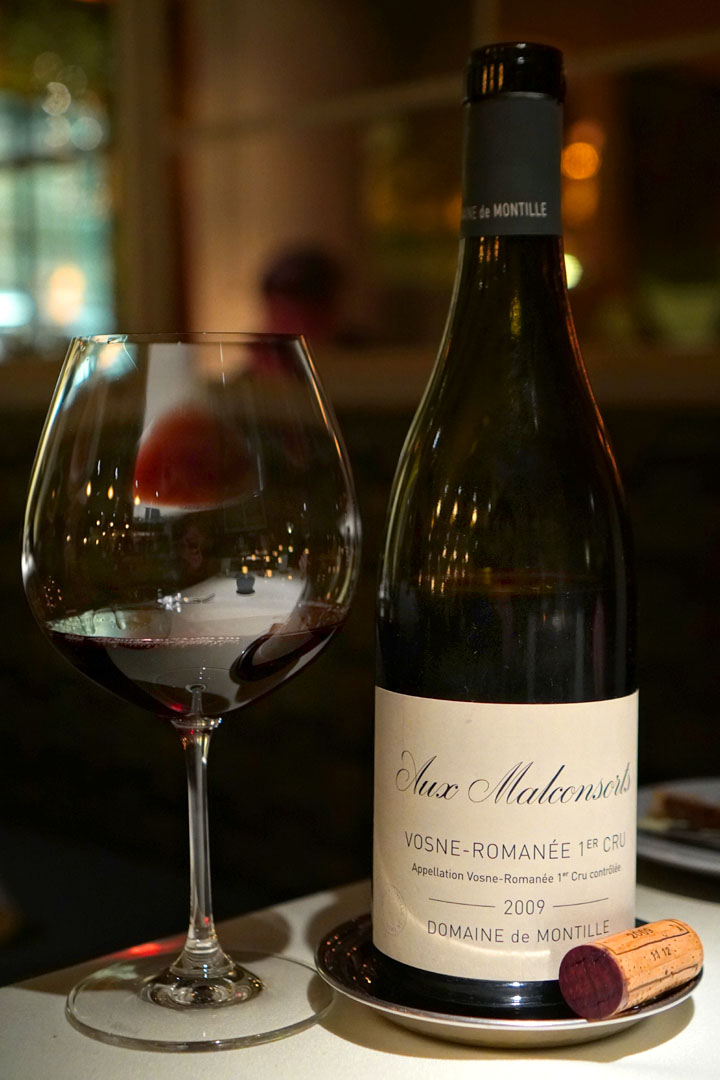 Next to imbibe came some red Burgundy, the
de Montille Aux Malconsorts 2009 [$525]
. Hailing from the Vosne-Romanée Premier Cru, the wine featured a soft, yet showstopping bouquet filled with flowers and strawberries. On the palate, I found more of those eminently floral, perfume-y nuances, joined by ripe strawberries and tart cherries in utter harmony. As the night progressed, the nose became more bramble-forward, while flavors moved in a spicier, more herbaceous direction. Absolutely delish, and one of my most memorable wines of 2022.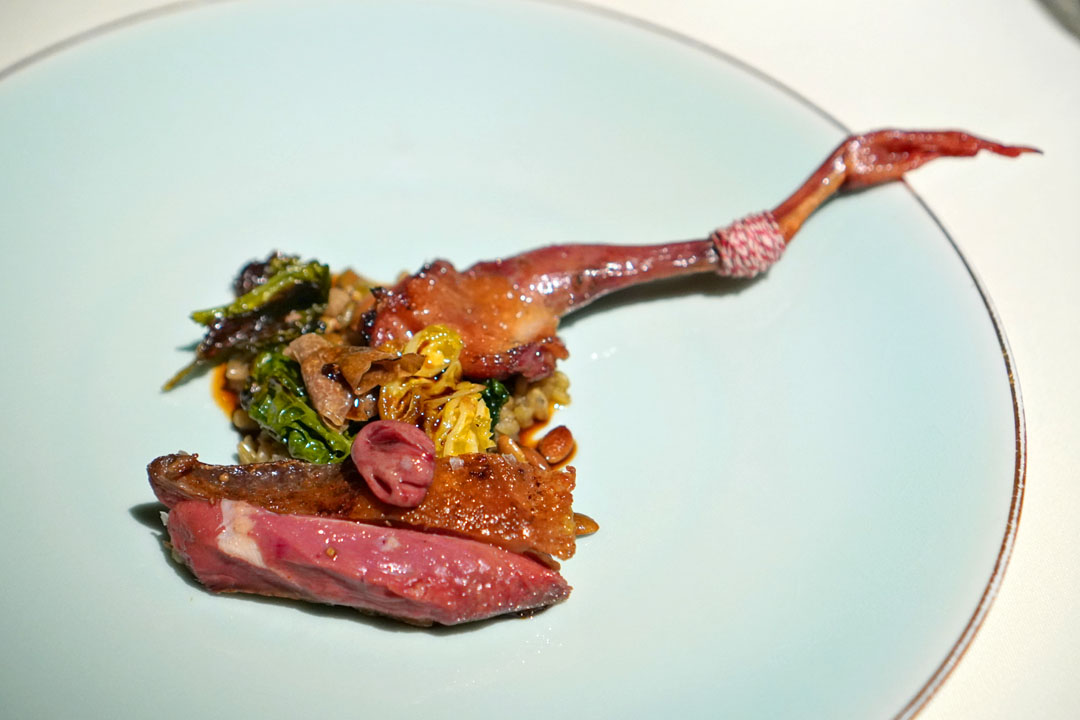 8: Squab with cabbage, farro verde and Périgord truffles
The squab (breast, leg, heart) was another standout, and one of the best preparations of the protein I've ever tasted. I began with the breast, which I found dense and juicy, with fantastic depth and concentration, as well as an immensely flavorful skin. As good as that was, the leg might've been even better thanks to how it just exploded with succulence and savor. Also much appreciated was the nutty crunch of toasted pumpkin seeds and the slight bitterness of mini Savoy cabbage, while the accompanying sauce imparted a smidge of sweetness that helped bring it all together.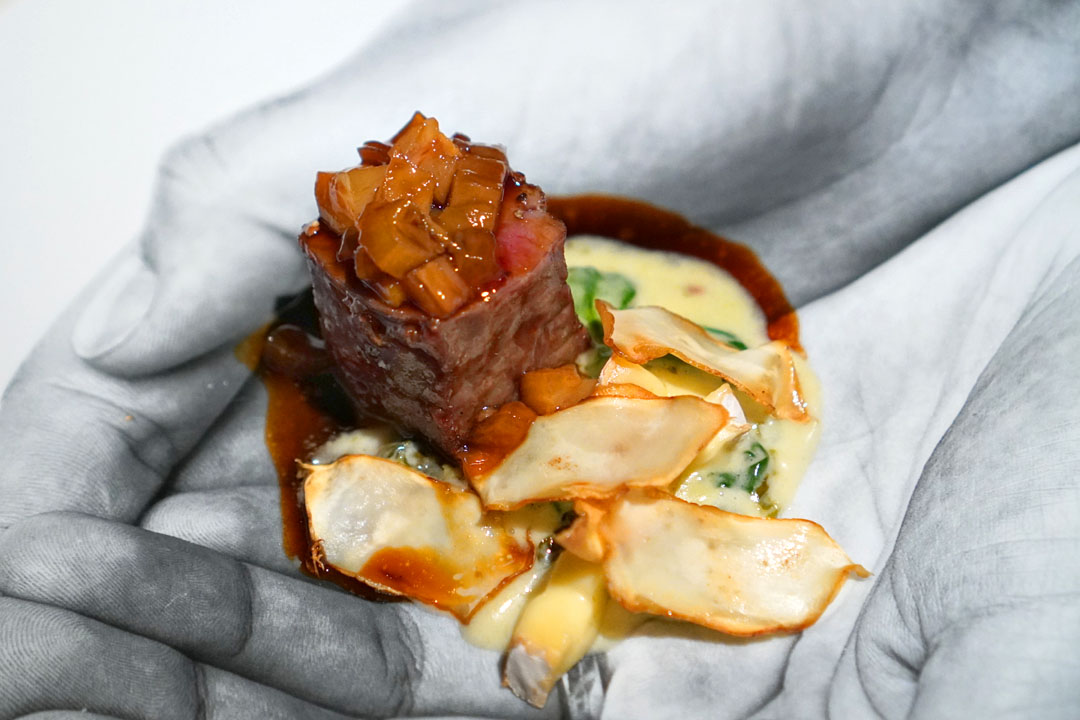 9: 45-day dry aged beef with matsutake mushrooms, spinach and sorrel
Flannery steak arrived uncommonly hefty, with plenty of that dry-aged funk I was looking for, but kicked up a notch by the 'shrooms and a tendon-boosted beef fat jus. Sorrel cream and a potent Wisconsin cheese served as apt contrasts to the meat, but my favorite element here was the spinach, which possessed a bitterness that was absolutely key and really made the dish for me.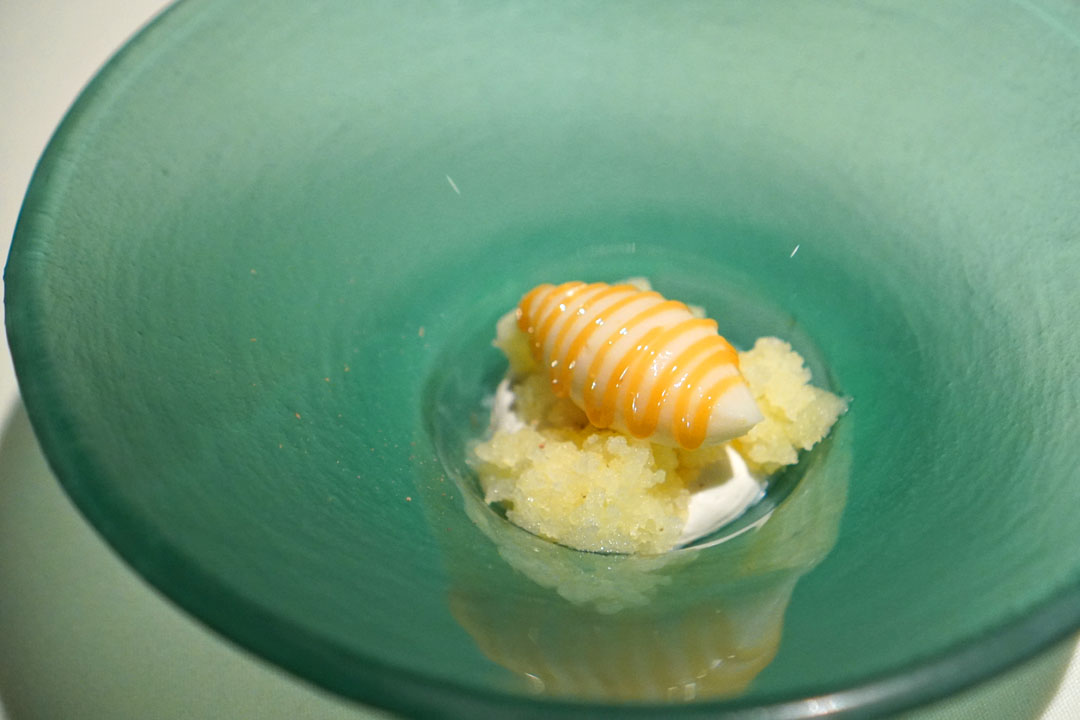 10: Black cardamom, pear and Meyer lemon
Desserts at Manresa come to us from Pastry Chef Courtney Moisant (
wd~50
, Gotham Bar and Grill, Cyrus, Daniel,
Spago
), and her first creation combined a Meyer lemon sorbet with pear granita and caramelized whey. I really enjoyed the lactic funk of this course, and strangely enough, it seemed to have a "hammy" savor that tended to draw out the smokiness of our Pinot Noir.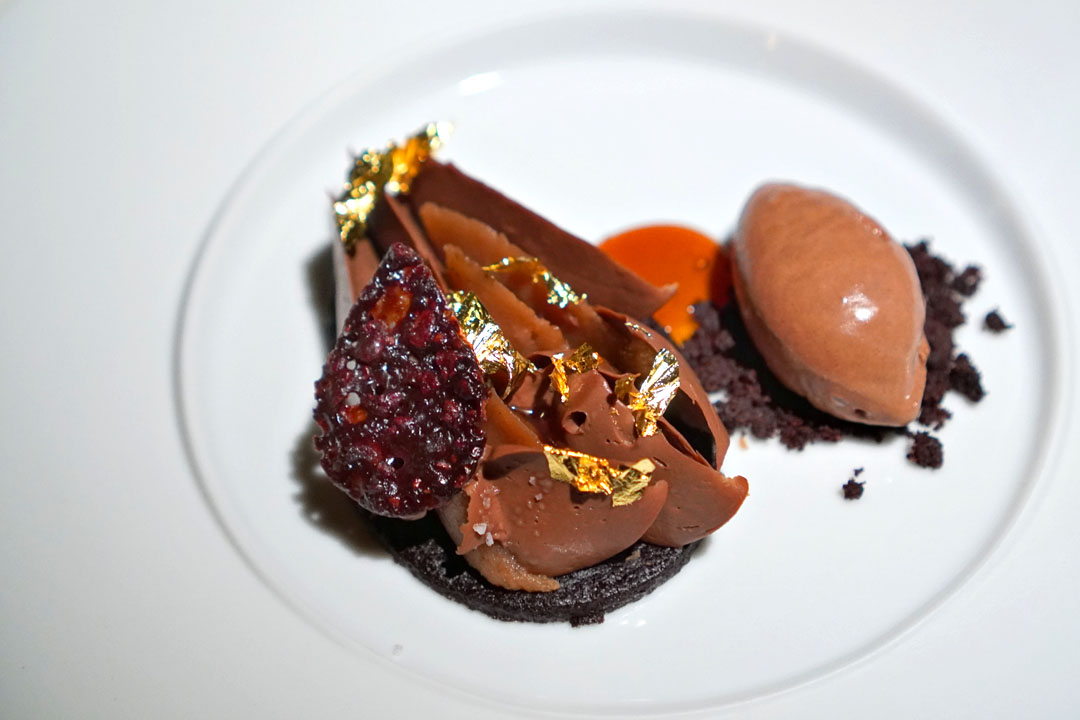 11: Chocolate with rosemary and chestnut
Dessert proper did a great job showcasing the richness of chocolate, but in an especially finessed manner, especially with that gelato. Especially key was the contrast provided by all the crunchy, nutty bits in the dish, and I was a big fan of the overarching herbiness from the rosemary, too.
12: Petit fours "strawberry-chocolate"
Petit fours hearkened back to our first course of the night, but this time flavors comprised classic chocolate and jammy strawberry.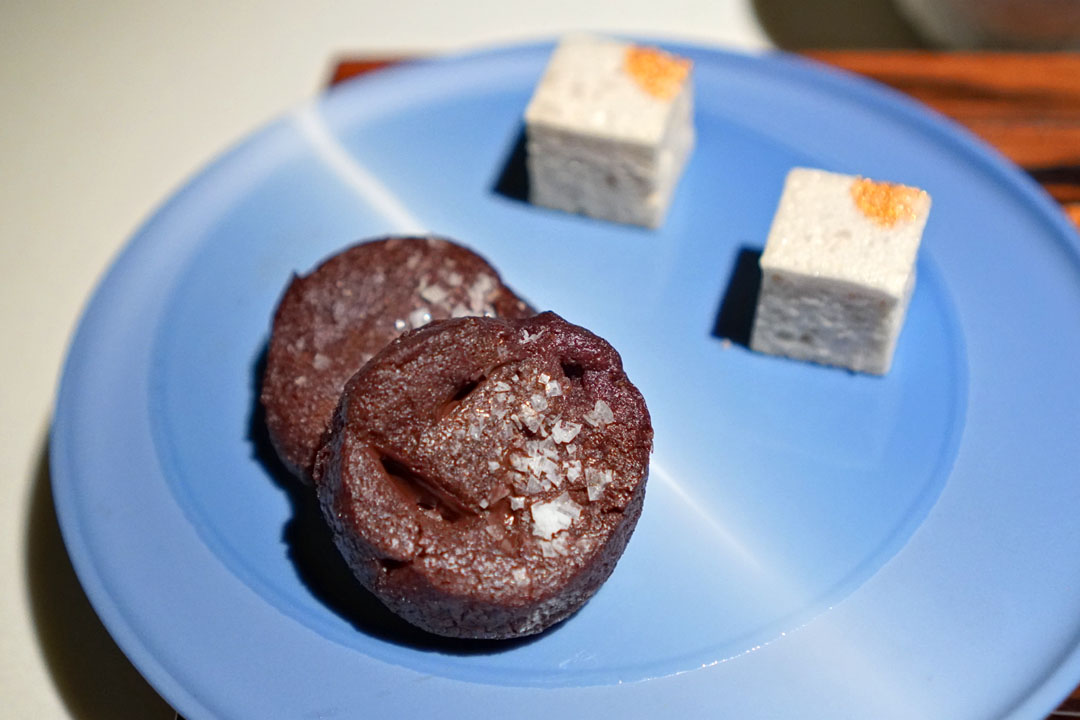 Double chocolate salted cookies were salty and savory in a familiar manner, while fluffy maple marshmallows seemed to feature an almost lychee-like note.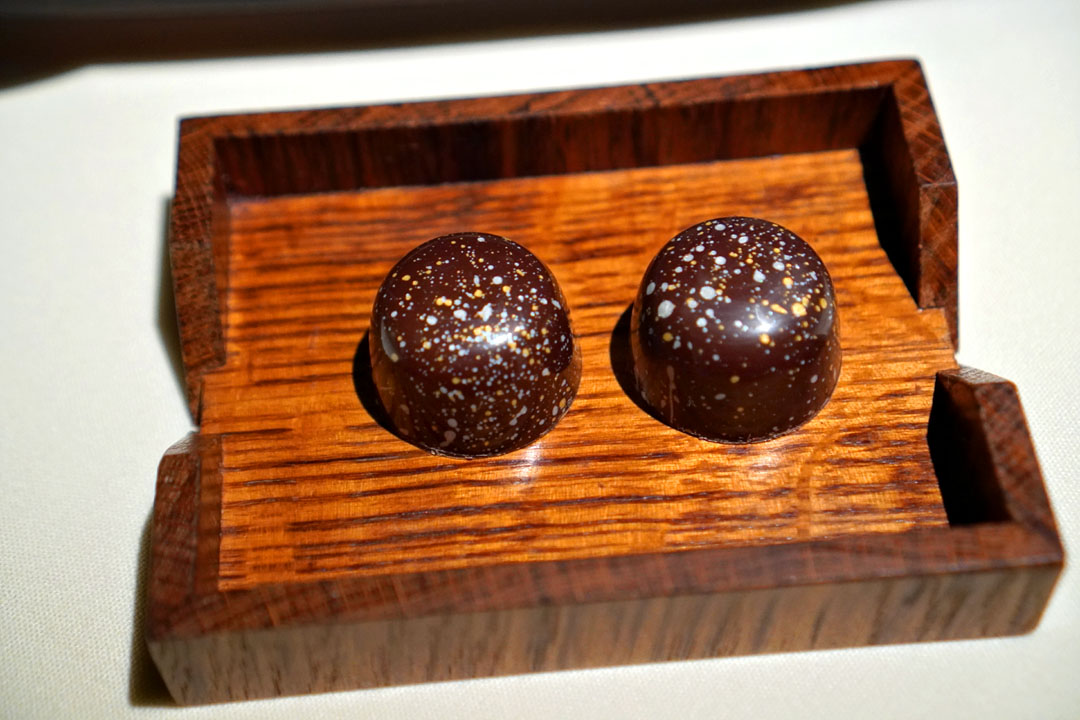 Bonbons displayed a strong smoke alongside fragrant flavors of vanilla.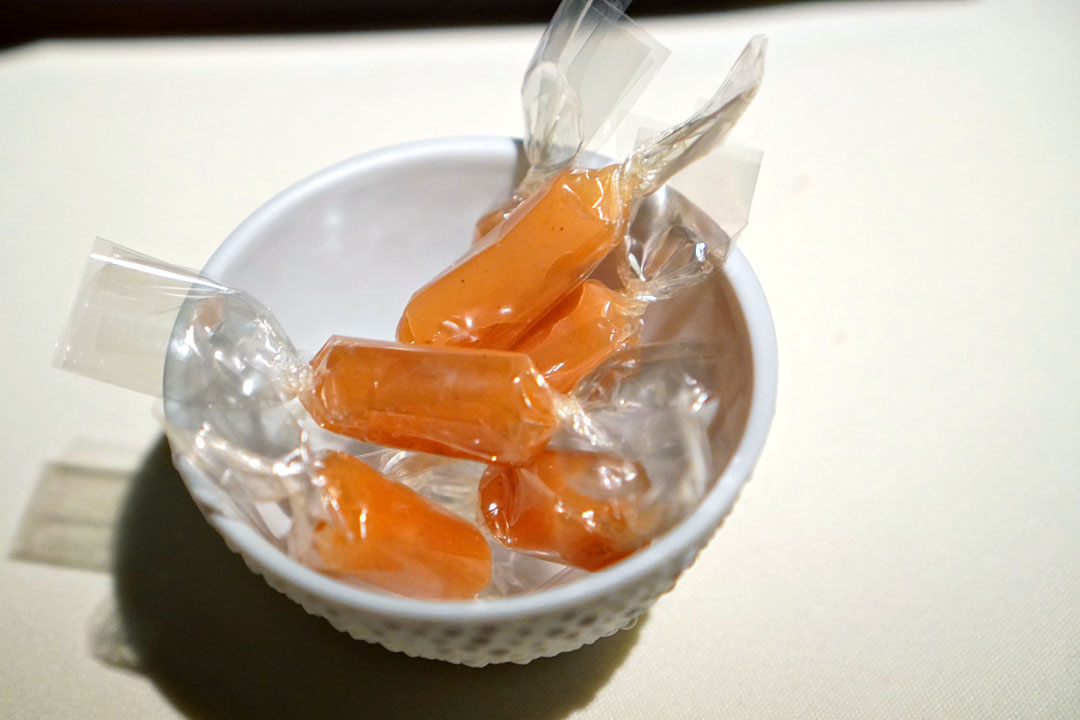 Soft, gooey salted vanilla caramels were an absolute delight.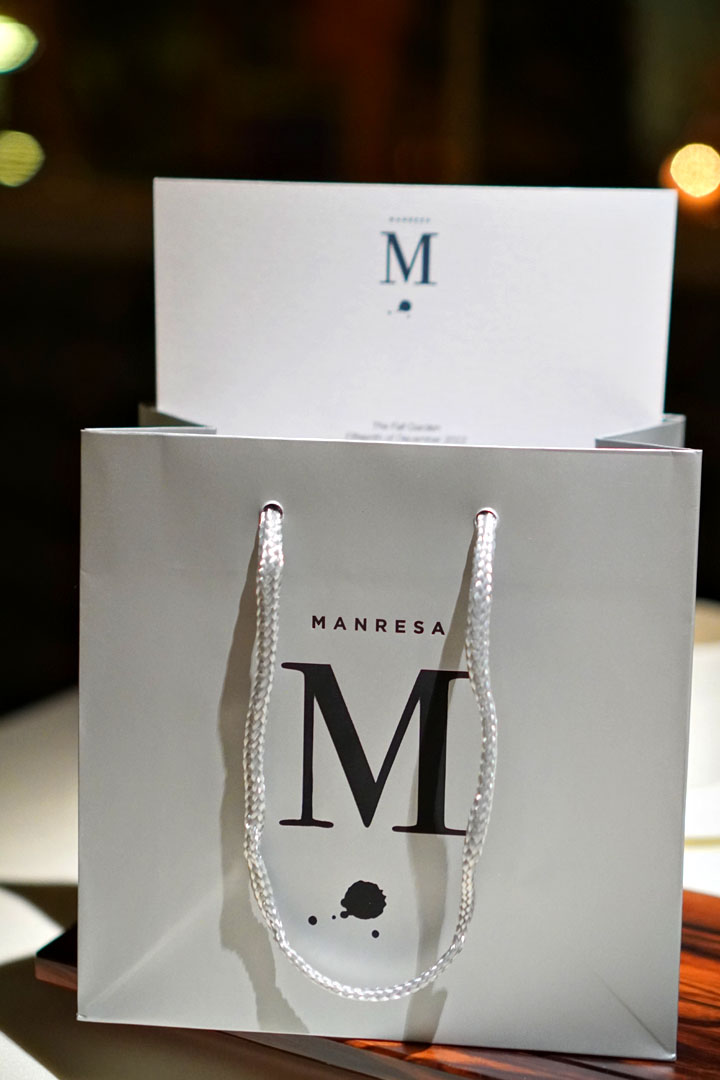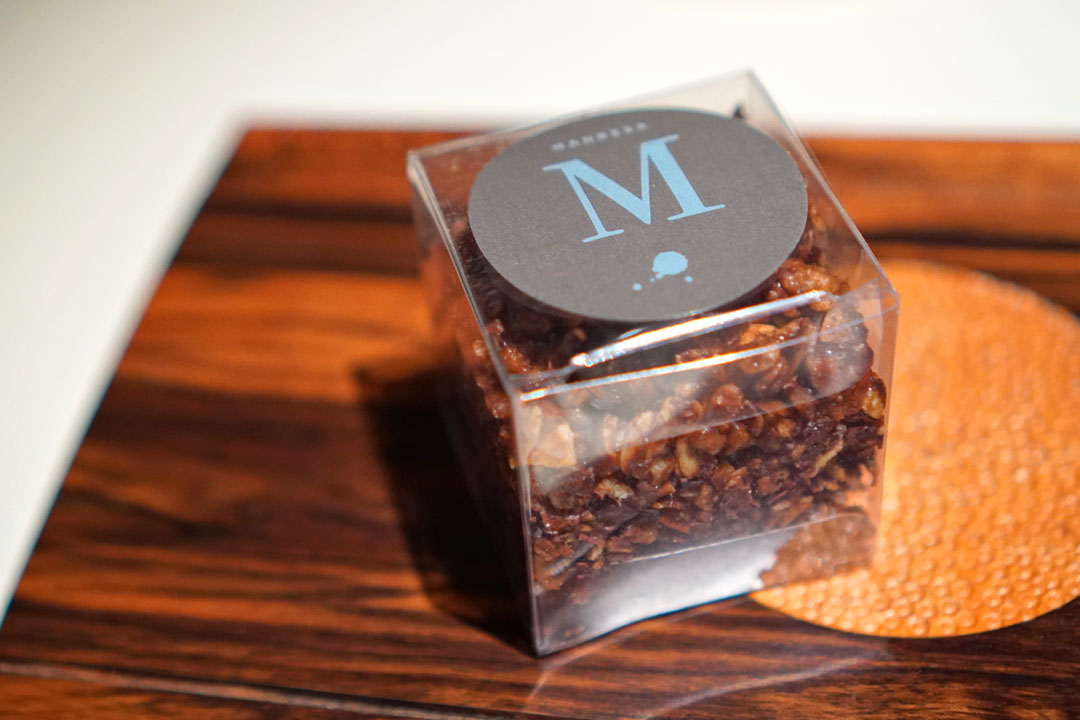 Along with our menus, we were given boxes of Manresa's excellent chocolate granola to take home.
This was a great dinner, certainly one of my best of the year, but also a bittersweet one, since it marked the end of an era. My experience tonight served as a delicious reminder as to why Manresa is considered such a bastion of Bay Area fine dining. The cooking really did channel the essence of the terroir-driven, ingredient-centric California cuisine that Kinch is known for, and was simultaneously straightforward yet a tad intellectual, classic in a sense yet imbued with a certain modernity. And while Manresa will be no longer, I'm curious to see what will happen with the space, and the team. The place will be missed.