Next-Kitchen (Long Beach, CA)
Next Kitchen
245 Pine Ave, Long Beach, CA 90802
562.349.0225
www.next-kitchen.com
Sun 11/13/2022, 08:45p-10:10p

As I've alluded to in a couple
recent
posts
, I've been having some issues with the camera I use for this blog. These problems have only gotten worse, so I finally bit the bullet and purchased a replacement from the Best Buy in Signal Hill. After picking it up, I needed to eat dinner, and thus decided to get some takeout from Next-Kitchen, which I actually photographed with the new camera. The generically-monikered restaurant opened in August 2021 and had been on my radar for over a year, initially piquing my interest for its oddball menu of "contemporary Asian fusion" combined with
beef Wellington
of all things. Next-Kitchen represents the most unexpected culinary mash-up since
King's Burger & Got Sushi?
up in Northridge, and comes to us from the mind of Chef You "Victor" Zhou.
About the Chef
: Chef You Zhou is a native of Changsha, the capital of Hunan Province. He actually played soccer at a professional level in his younger years, but also trained in Chinese cookery and ran a franchised eatery back in China. He immigrated to the United States in 2015 with the goal of opening a restaurant in Irvine with some partners. However, once in the US, he took a keen interest in Western cooking and thus decided to attend culinary school. Zhou initially wanted to go to the Culinary Institute of America, but lacked the necessary English skills, and thus enrolled at Chicago's Kendall College in 2017 instead. He only spent about one-and-a-half years at the school (since he'd already attained an undergraduate degree back home), and during his tenure there, externed at
Grant Achatz
's ground-breaking Next for six months, starting in October 2018.
He subsequently relocated to the San Francisco Bay Area, settling in Daly City, and was able to
stage
at some impressive places:
Atelier Crenn
,
Benu
, and Quince. Zhou eventually got sick of the weather and the cost of living up north, and thus moved back down to SoCal, securing employment at
Vespertine
in August 2019. Following the start of pandemic shutdowns, he stayed at
Jordan Kahn
's side for a bit, but soon decamped. He went back to China for a while, then returned and started a high-end Chinese delivery concept called
Yishan Gastronomy
. Yishan appears to have debuted in May 2020, and I believe it ran until around autumn that year, but by early 2021, Zhou had already begun work on Next-Kitchen. After signing paperwork for the space in May 2021 (after almost a year of searching), the restaurant would eventually soft-open on August 11th after a relatively quick turnaround.

Next-Kitchen resides in a small storefront at the sleepy Pine Square complex that was previously home to the likes of Poki Star, 186°F Bakery, Tasty Pasty, and L & L Italian Ice. The decor really hasn't changed much at all since the Poki Star days, which isn't a bad thing.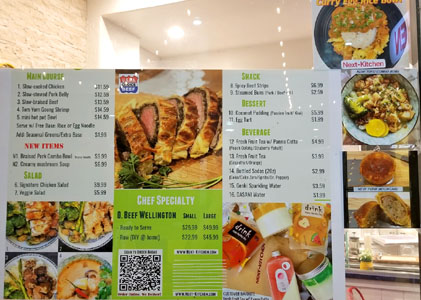 As for the menu, you get a motley collection of mostly casual Chinese-leaning fare, joined of course by Chef Zhou's signature Wellingtons. Click for a larger version.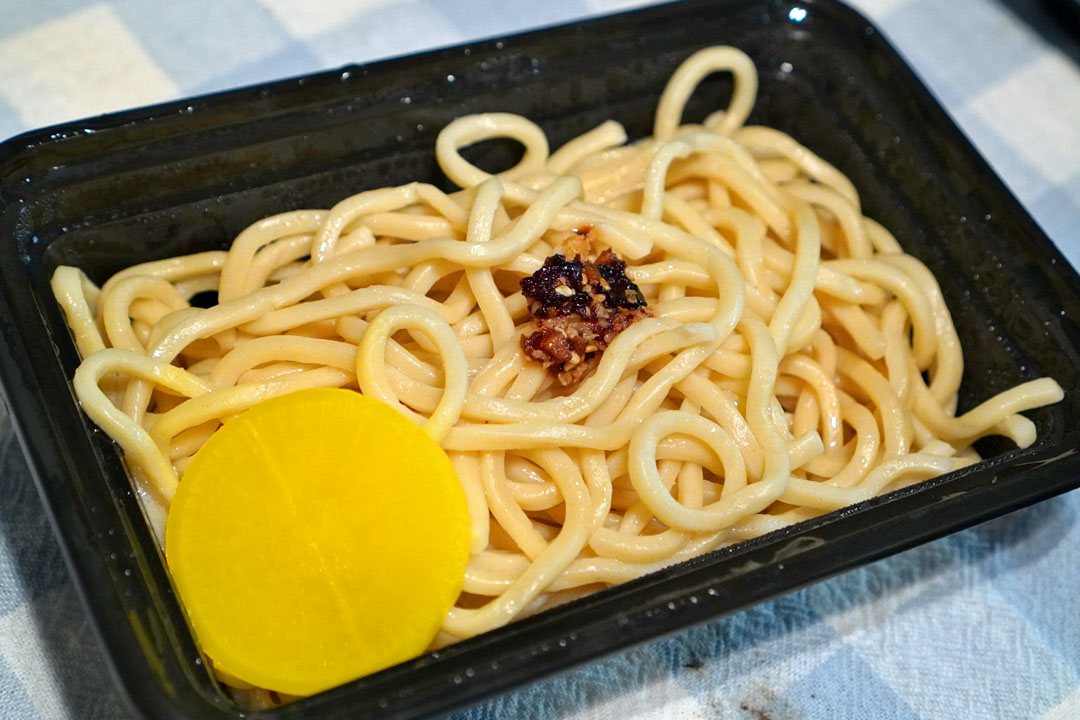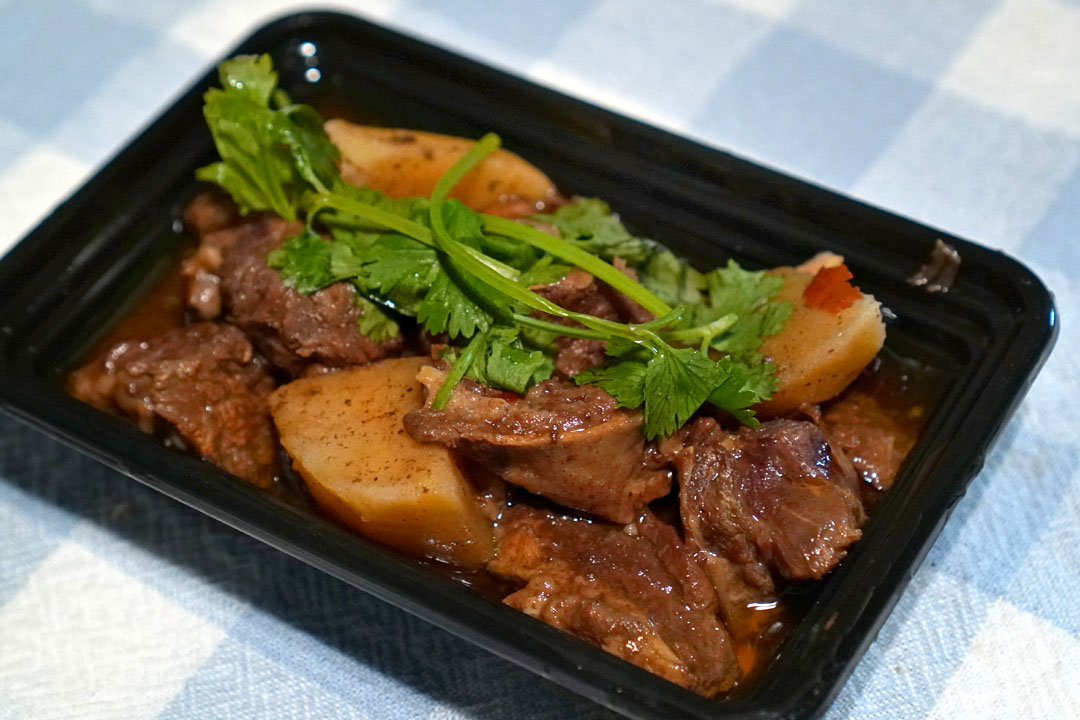 Slow-Braised Beef [$13.59]
| Beef Chuck, Carrots, Onion, Garlic, Ginger, Pixian Bean Paste, Soy Sauce, Chef's Spices
My meal got off to a tasty start thanks to this almost
niurou mian
-esque preparation of beef. The chuck arrived tender and "flossy," with some comfortingly warm spicing and a
doubanjiang
-boosted savor that was offset by the cilantro. I was also a fan of the heft provided by the potato, while the noodles had a great bite to 'em.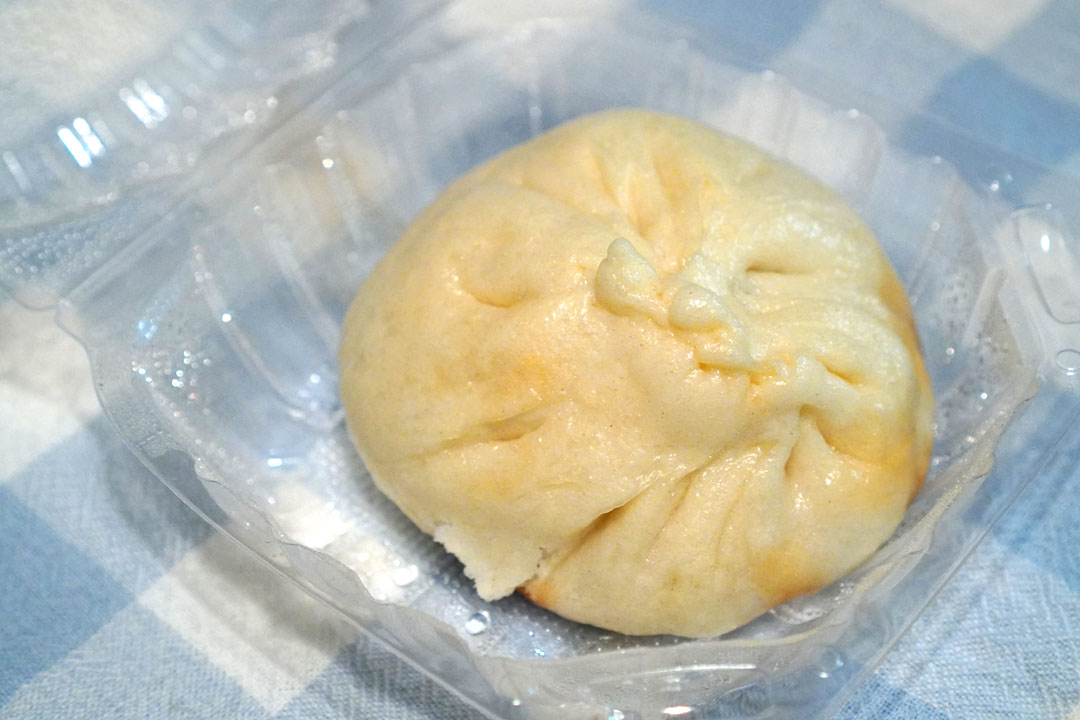 Steamed Buns [$2.59]
| Pork or Beef, Soy Sauce, Chef's Seasoning and Mix of Flour
A pork-stuffed baozi showed off a classic, homey savory-sweetness, while the bun itself displayed a nice "bounce."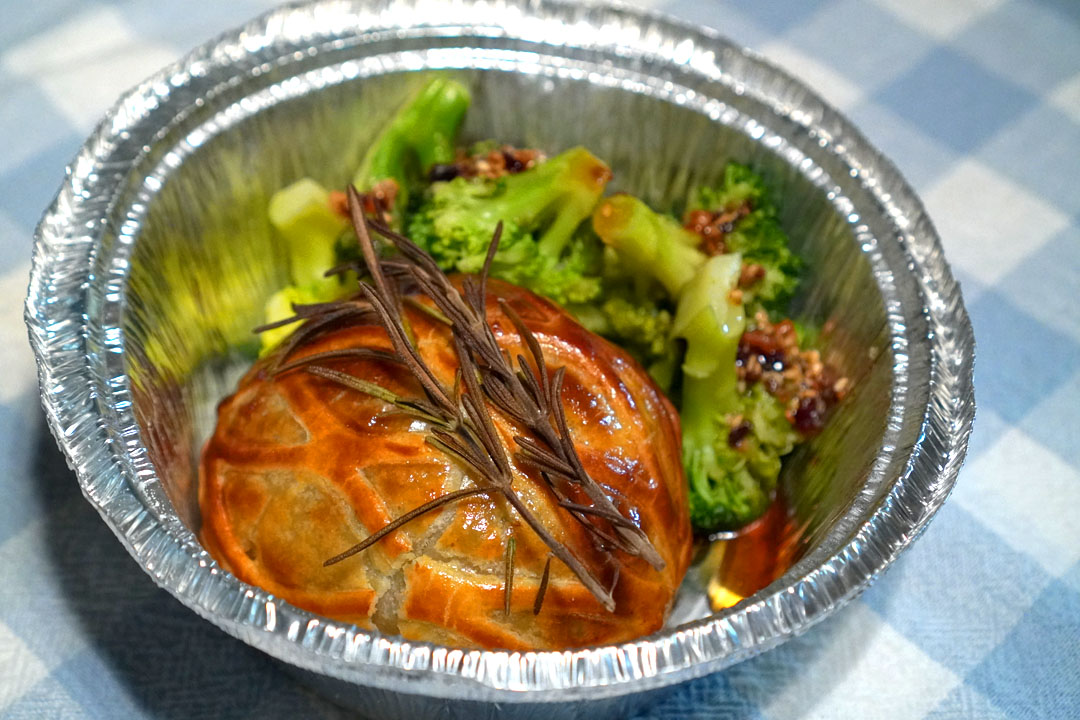 Beef Wellington [$25.99]
| Beef Tenderloin (Single Size ~4 oz, Double Size ~8 oz), Puff Pastry, Mushroom, Prosciutto
Naturally, I had to give Next-Kitchen's signature dish a try, and I'm happy to report that it didn't disappoint. Cooked rare, the filet was as juicy and as tender as I was hoping for, with some spot-on seasoning that went in a pleasantly peppery direction. The steak harmonized beautifully with the strong mushroom-y notes at play, and I also appreciated the browned, flaky pastry crust, not to mention the herby accents from the rosemary. This was a legit Wellington, and compared favorably to any I've had at a proper restaurant.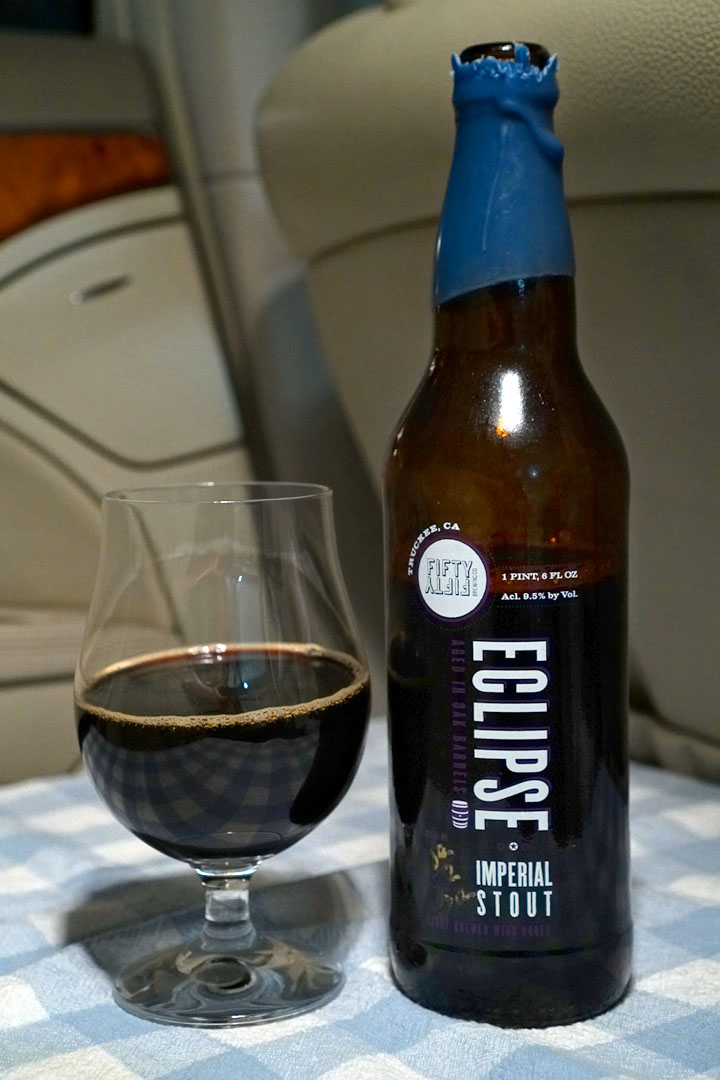 Beverage duties tonight were handled by a bottle of
2012 FiftyFifty Eclipse Imperial Stout - Old Fitzgerald Barrel-Aged
. The beer was brewed with honey, and this was quite apparent on the nose, where it was joined by loads of smooth, dark malt. Taking a sip, I got plenty of roasty malts commingled with cocoa, all with a sugary, honeyed backing. This one was surprisingly easy-drinking, and actually held up really well over the past decade.
Curry Egg Rice Bowl [$11.59]
| Vegetable Curry (Onion, Carrots, Celery and Cream...), Fried Egg, Broccoli and Steamed Rice
I'm a bit of a sucker for curry, so this was a must-try for me. I wasn't let down by the dish's comfy, familiar flavors, evened out by those zesty scallions, and quite enjoyed the textural variation of the egg, too. Broccoli and
takuan
provided further interest, and the base of rice was just what I wanted to moderate everything.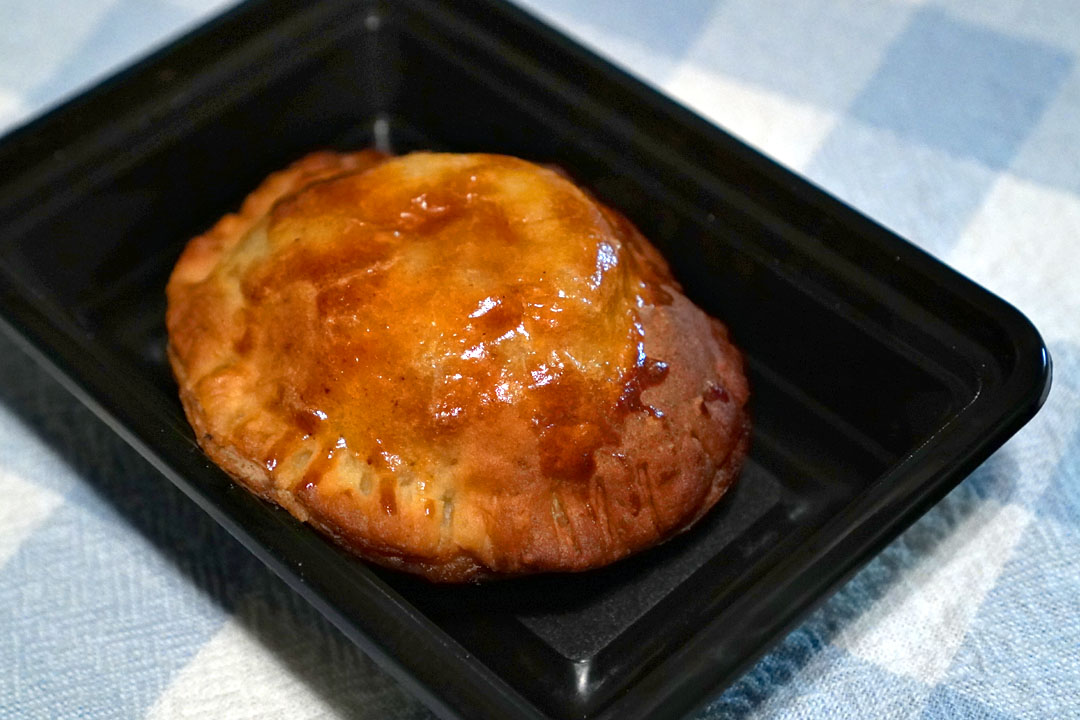 Pork Moon Cake [$3.99]
| Puff Pastry, Ground Pork, Tuber Mustard
Puff pastry made another appearance this evening, and was even more buttery this time around. The pastry bun did a great job balancing out its springy, savory pork filling, which was accented by a lovely tang from the
zha cai
.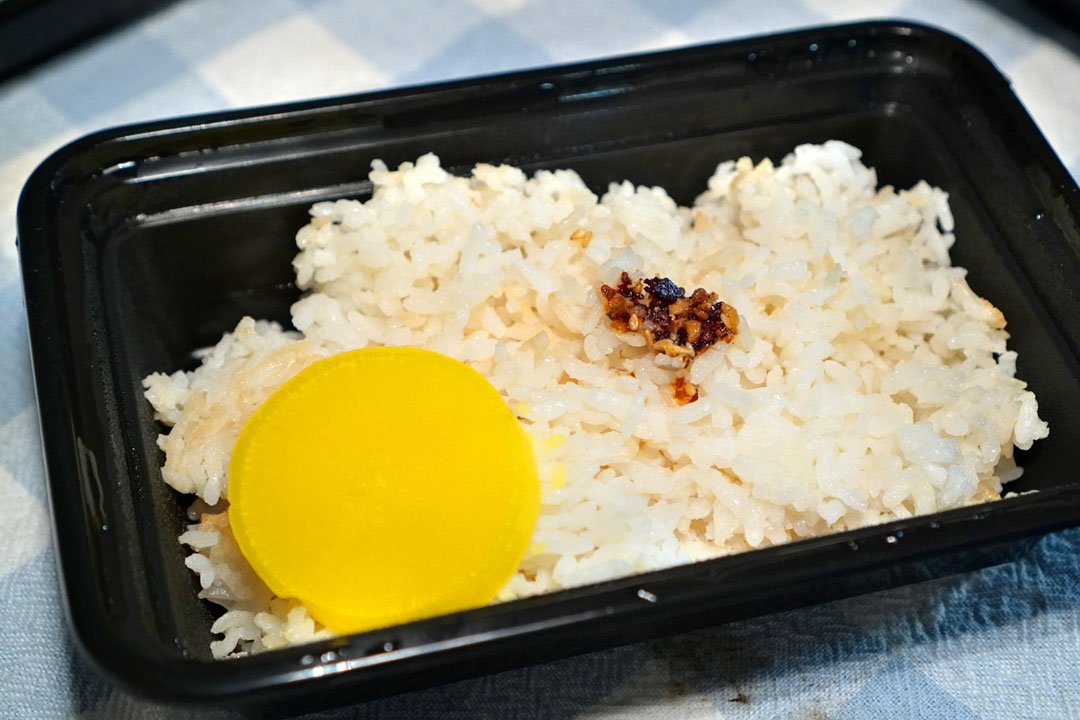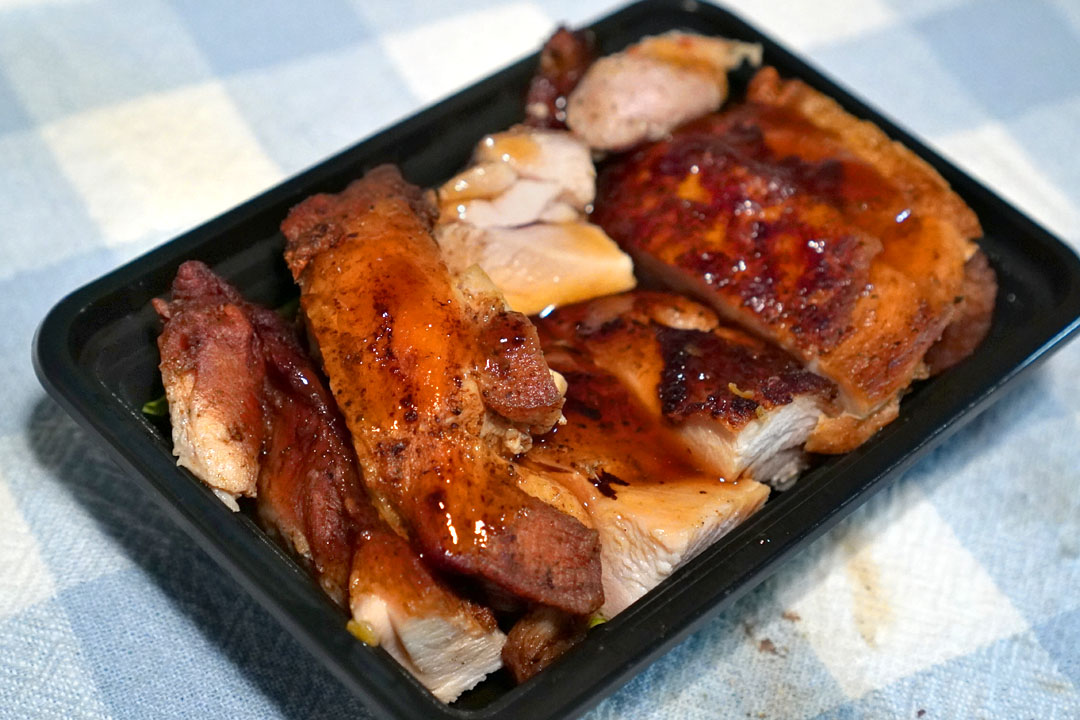 Slow-Cooked Chicken [$11.59]
| Chicken Leg (Boneless), Scallion, Ginger, Chef's Secret Seasoning
Sous vide-d chicken showcased a succulent, satisfying consistency with a nice "flake," as well as a layer of crisp-charred skin. The bird's robust flavors worked hand-in-hand with the rice, which came out with just enough "stick" to it. My one quibble was that I could've used more from the advertised ginger and scallion.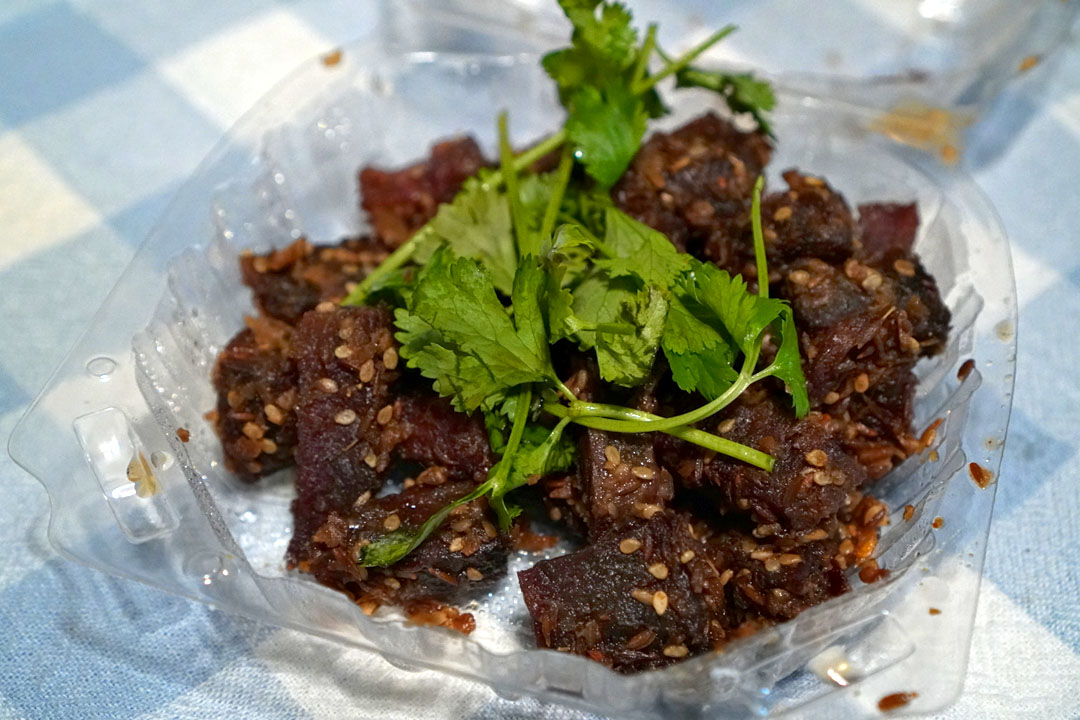 Spicy Beef Strips [$6.99]
| Beef Shank, Sesame, Chilies, Oyster Sauce, Chef's Secret Brine
This jerky-like preparation of beef displayed a chewy, gratifying bite, and I loved the warm, dark spicing here. I believe I even detected a hint of
mala
.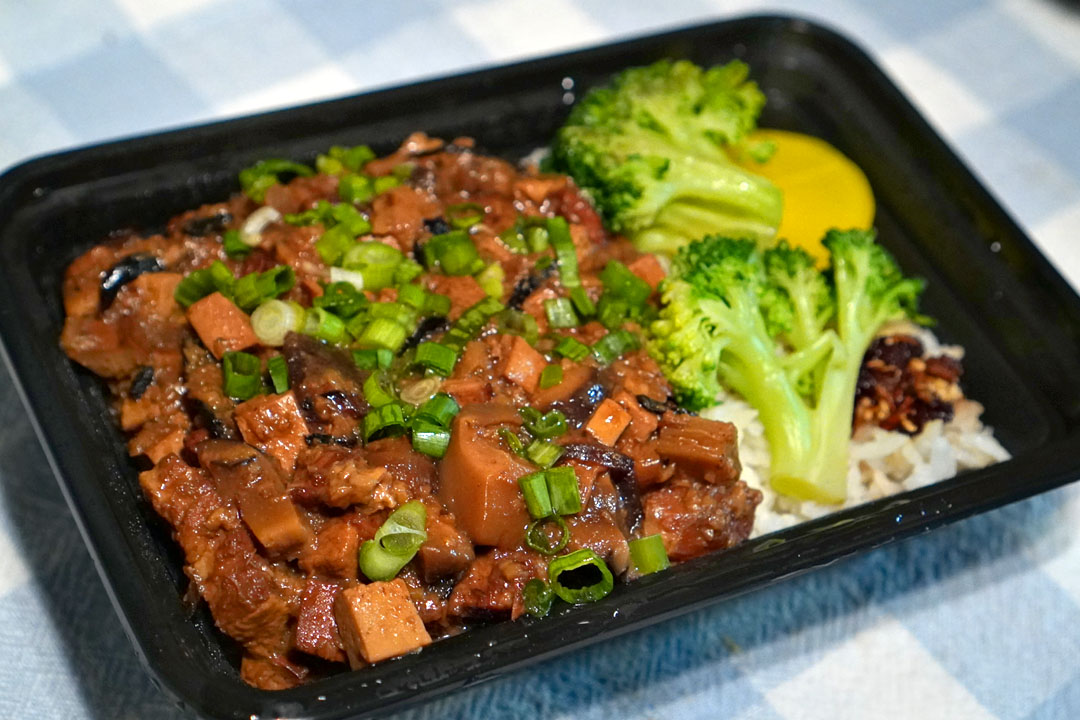 Braised Pork Combo Bowl [$9.99]
| Braised Pork, Half Egg, Broccoli and Choice of Rice or Noodle
Zhou's slow-cooked pork was also a winner. I was pretty enamored with the dish's familiar, sweet-ish spice, as well as the textural interplay between the meaty cuts of pork, supple tofu, and slippery dices of mushroom. Rice was, of course, the perfect complement to it all. However, I do have to point out that the advertised half egg appears to have been left out for some reason.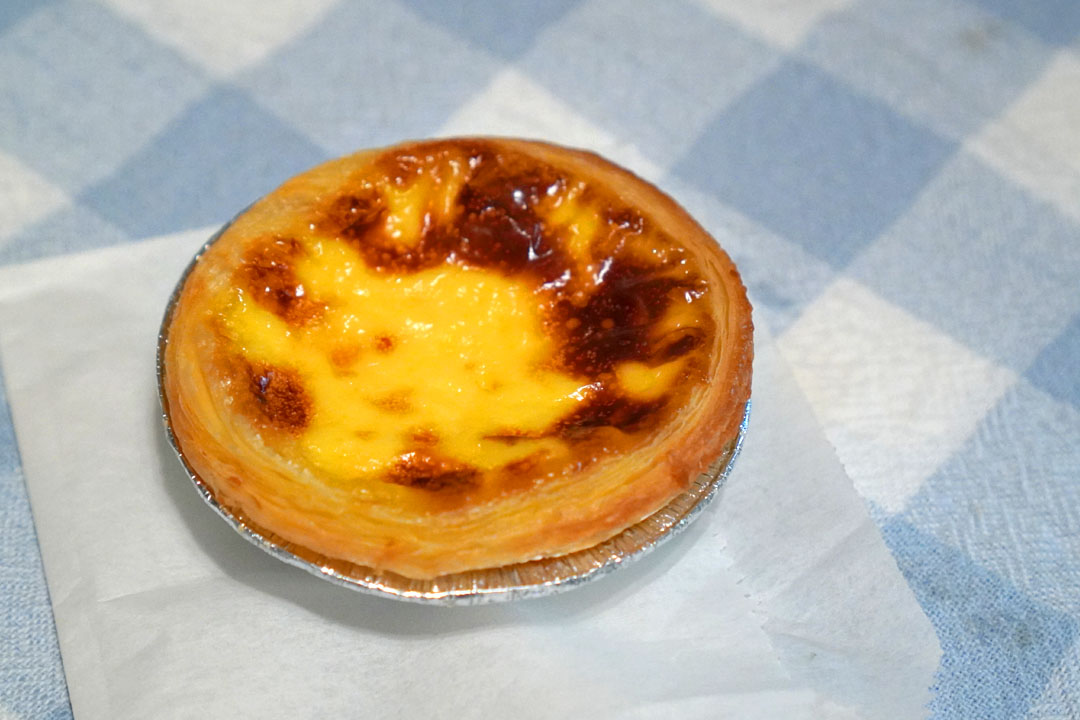 Egg Tart [$1.89]
| Mix of Flour, Egg, Milk, Sugar
Next-Kitchen's
danta
was likely as good as any I've had at dim sum. The pastry crust arrived delicate and shattery, while the actual custard conveyed a refined sort of sweetness that lingered long and strong.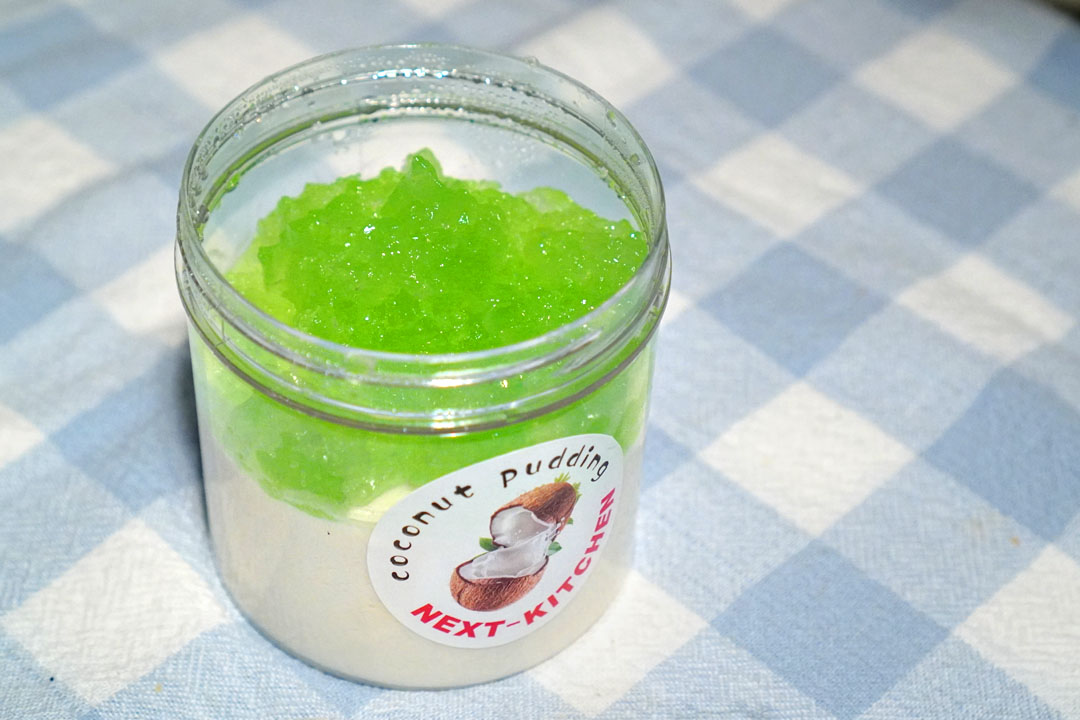 Coconut Pudding [$5.99]
| Coconut Milk, Heavy Cream, Fruit Jelly
For dessert, a dense, substantial pudding teemed with assertive coconut flavors, all set against a tart, jiggly kiwi jelly.
Next-Kitchen was one of the more unusual dining concepts I've experienced as of late, but it was also surprisingly impressive. This was seriously some of the best Chinese food I've had all year, and the Wellington was top-notch, too, so hats off to Zhou for making this work. If you live in or around Long Beach, this spot definitely should be on your list to check out. As for next steps, the Chef is thinking about opening a higher-end, dine-in spot in the future, probably closer to home in Irvine, so I'm certainly looking forward to visiting if it ever comes to fruition. In the meantime, I wouldn't mind seeing a few more outposts of Next-Kitchen either, since I think it could work in a variety of locales.