Osito (San Francisco, CA)
Osito Restaurant
2875 18th St, San Francisco, CA 94110
415.817.1585
www.ositosf.co
Fri 12/16/2022, 06:00p-09:00p

Following my dinner at
Manresa
, I had time for one more meal in the Bay Area, and opted to check out the newly-Michelin-starred Osito, which actually came recommended by a reader of mine
on Instagram
. Located in the Mission District, the place opened back in December last year, and is the creation of Chef/Owner Seth Stowaway and business partner Jennifer Yoo. It's apparently the first restaurant in SF to feature a 100% live fire-based tasting menu, centered on the bounty of the Northern California coast. And if you're wondering about the name Osito, it's Spanish for "little bear," and is Stowaway's nickname in the kitchen.
About the Chef
: Seth Aaron Stowaway (a.k.a. Seth Cone) was born in February 1984 in Texas and grew up in San Antonio. As a child, he was influenced by both his hometown's history of Tex-Mex cuisine and his father's propensity for hunting and outdoor cookery. He graduated from James Madison High School in 2002, spent some time in Oregon, then moved to San Francisco. However, around the time of his arrival, he was a drug addict and occasionally homeless, but turned his life around through cooking. He worked as garde manger at
Wolfgang Puck
's Postrio under Jordan Grosser, and was later able to connect with Brandon Jew and join the inaugural team at Thad Vogler's Bar Agricole, which opened in August 2010 and soon established itself as an essential SF eatery. In March 2011, Stowaway finally became sober (and has remained so), and in December that year, helped his friend Phil Stefani (of rock band Flexx Bronco) launch a food truck called Voodoo Van.
August 2012 saw the Chef start a pop-up called Mission Soul, and during Christmas that year, he got engaged to girlfriend Danielle Gary. They got married in March 2013, shortly after it was announced that Brandon Jew would be leaving Bar Agricole; he was succeeded by his sous, Reina Talanoa. Stowaway then helped open Agricole spin-off Trou Normand (where he honed his butchery skills), which debuted in March 2014, right around the time that Talanoa was replaced by new EC (and partner) Melissa Reitz. By 2015, he was back at Bar Agricole as CdC, and subsequently became Exec Chef there in November 2016 following Reitz's departure. Then, in January 2019, he opened a rum bar-slash-Caribbean eatery called Obispo for Vogler.
Despite that, he decamped from the company just months later and began working on Osito, founding Oso Pequeno LLC in June that year. However, Stowaway quickly took on a sous chef role at his mentor's new spot Mister Jiu's in order to earn some money while conceptualizing his first solo project. The Chef began running Osito pop-ups in October 2019, and by May the following year, he'd signed a lease on a space in the Mission. In addition to traditional funding methods, he launched
a Kickstarter
in June 2020, and more interestingly, also instituted
a $250K bond offering
. Stowaway left Mister Jiu's in October 2020 (while still doing pop-ups), and Osito finally ended up opening on December 17th, 2021, about a week before his son Levon was born.
On the opening team were Chef de Cuisine Bethany Hunt (a Bar Agricole alum), Head Baker/Pastry Chef Gabrielle Pabonan (Tartine, Craftsman and Wolves, Boulevard, RN74), Director of Operations Lucia Camarda (Flour + Water), Service Director Madison Michael (Merchant Roots), Beverage Director Jonathan Prange (Almond and Oak, Wildhawk, Flora), and Wine Director Maz Naba (Nico, Rich Table,
Coi
, RN74).
Fun fact: Stowaway is an accomplished musician, and has been involved in the music scene around these parts pretty much since arriving to the Bay Area. In addition to a number of other acts he's been involved with (e.g. A Lovely Black), he's the co-founder of Sweetwater Black, which he started with wife Daneille in June 2013 and has since grown into a five-piece rock band.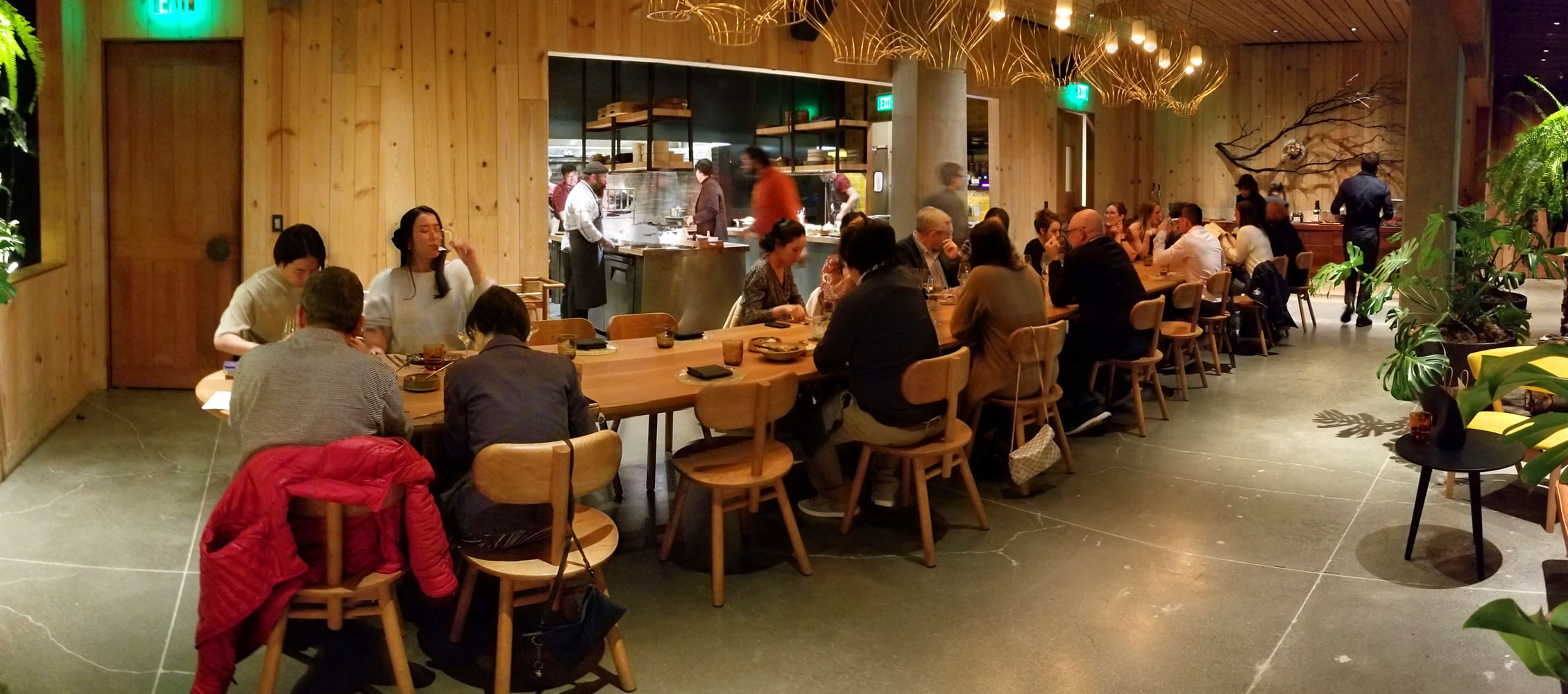 Osito resides on the ground floor of The Madelon, a newly-constructed apartment complex. The space was penned by local firm
Studio Terpeluk
, and features walls and ceilings clad in Douglas fir, sugar pine, and redwood, giving the room a warm, rustic feel. Dining happens at a 29-footer, 26-seater oak communal table created by Yvonne Mouser, and under some groovy brass chandeliers from Kurtis Major, but the focus remains the open kitchen, replete with its almond- and oak-burning oven and hearth built by Jorgen Harle. Do note that Osito is connected to Liliana, a high-concept cocktail bar next door that opened at the same time as the restaurant. The combined floor area of the two is around 3,000 square-feet.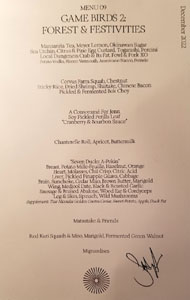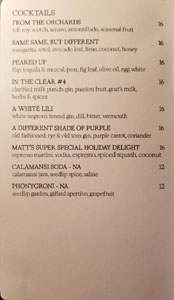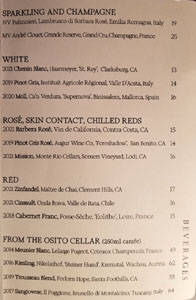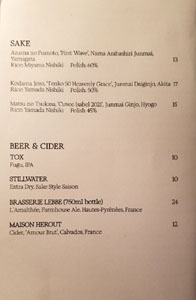 Osito's menu changes every six weeks or so, and each iteration is inspired by a singular theme. Tonight's, the ninth so far, was entitled "Game Birds 2: Forest & Festivities," and functions as a continuation of the restaurant's first menu, "Game Birds." The cost was a prepaid $215 a head, plus 20% service, 8.625% tax, and a $2.25 Tock fee. Drink-wise, you'll find natural/biodynamic-leaning wines along with beers/ciders/sakes, and there are also Classic/Reserve/Nonalcoholic pairings offered at $115/$165/$65. Corkage, meanwhile, was $75. Click for larger versions.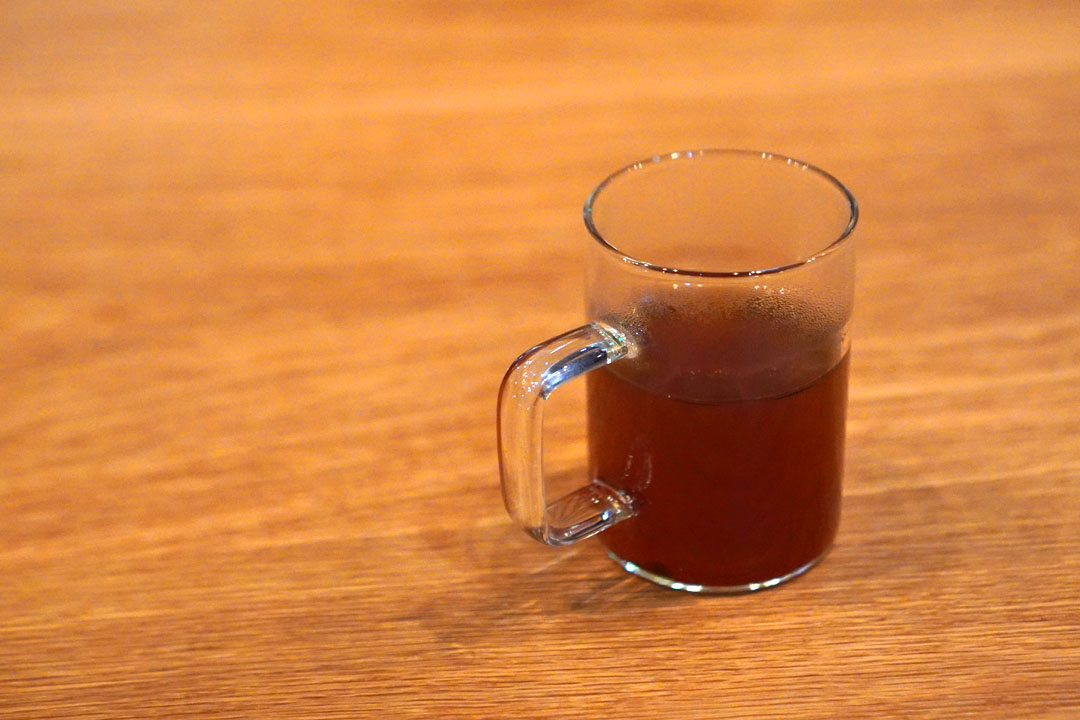 1a: Manzanita Tea, Meyer Lemon, Okinawan Sugar
Serving as a bit of an apéritif was a tiny mug of manzanita bark tea that incorporated, among other ingredients, vinegar and
kokuto
. I found the mixture simultaneously tart, toasty, and fruit-forward, with a familiar rye-like spice. A neat start to the meal.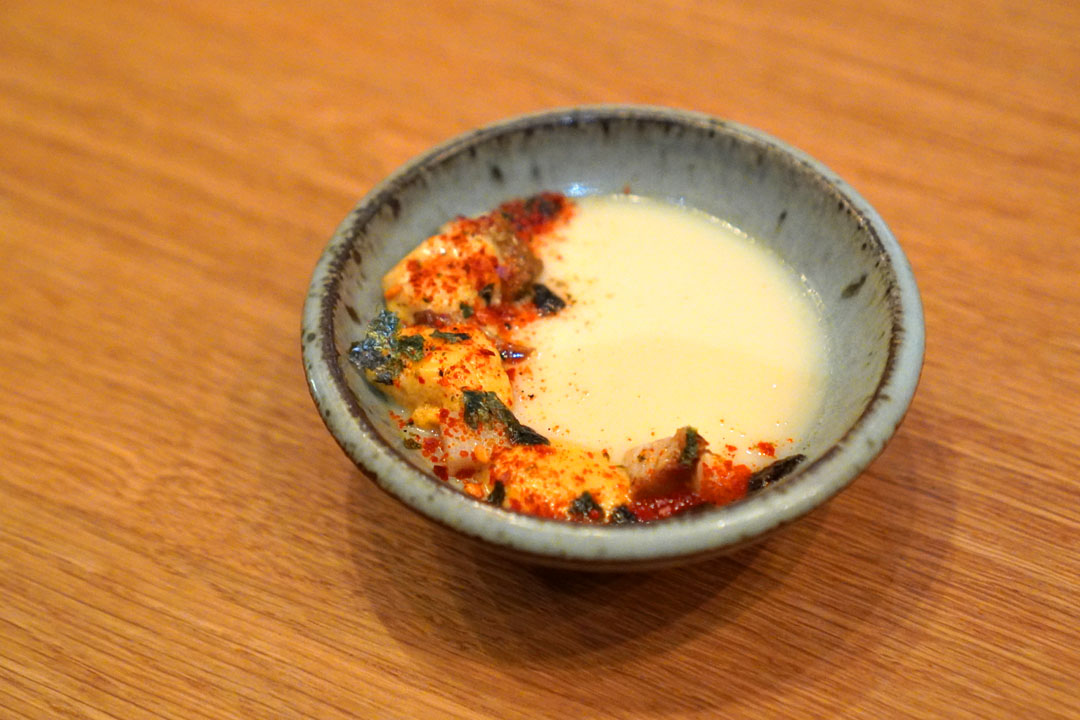 1b: Sea Urchin, Citrus & Pine Egg Custard, Togarashi, Porcini
My first course brought out probably the most unique take on chawanmushi I've had. Due to the use of century egg, the custard had this almost indescribable pungency to it that was absolutely fascinating, but worked really well with the firm, woodsy cuts of mushroom. At the same time, Fort Bragg uni imparted a saline-sweetness that linked up beautifully with the heat from that
shichimi
.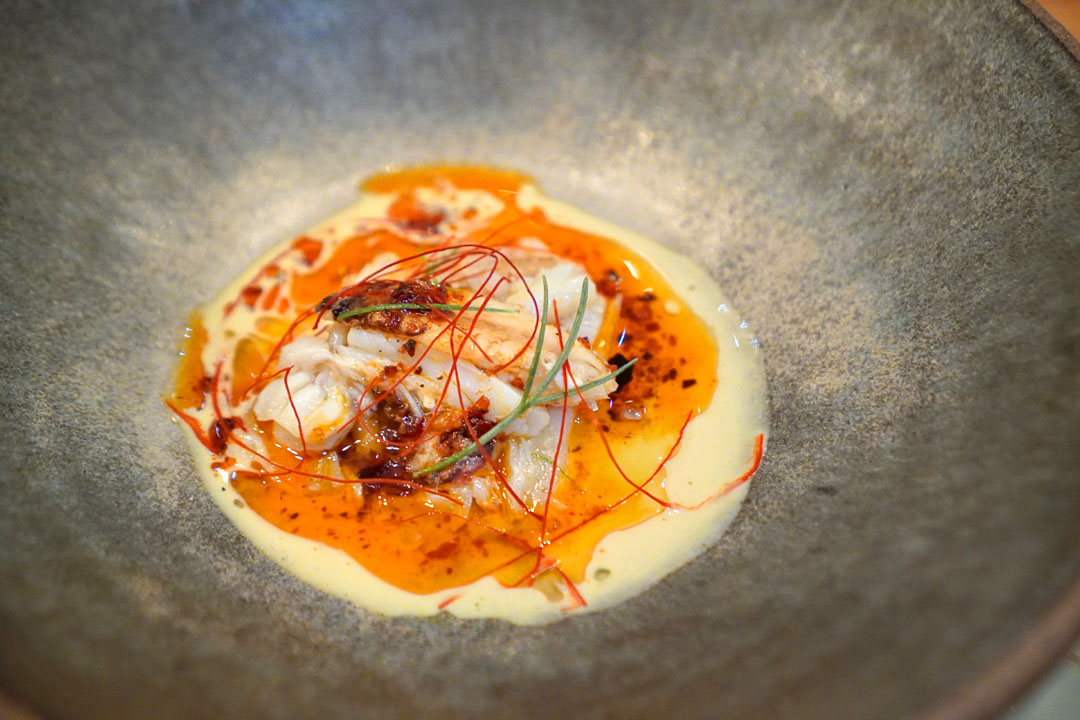 1c: Local Dungeness Crab & Its Fat, Fowl & Pork XO
This was a standout for sure. The crab itself was spot-on, its intrinsic sweetness proudly displayed, yet perfectly combined with the deep, dark heat of the XO (which incorporated duck) without ever being overshadowed. Yum.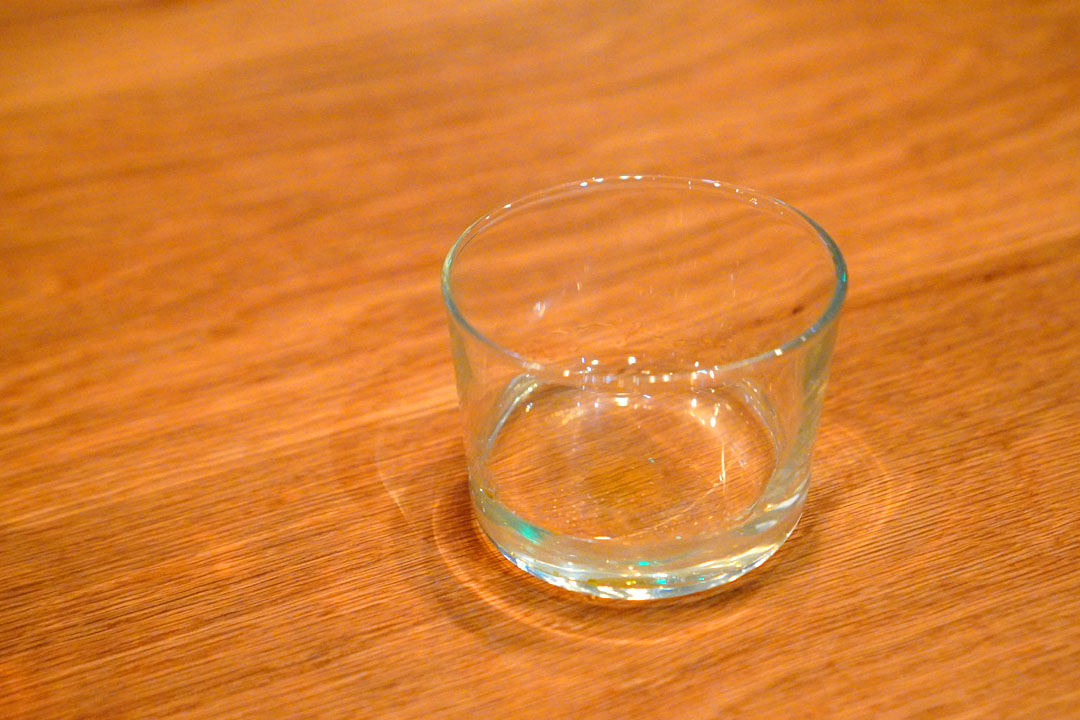 Potato Vodka, Blanco Vermouth, Americano Bianco, Pomelo
Along with the two courses above came this riff on the classic Vesper. The cocktail definitely met the mark thanks to its multifaceted, floral, fruity flavors, offset just enough by the oomph of that vodka.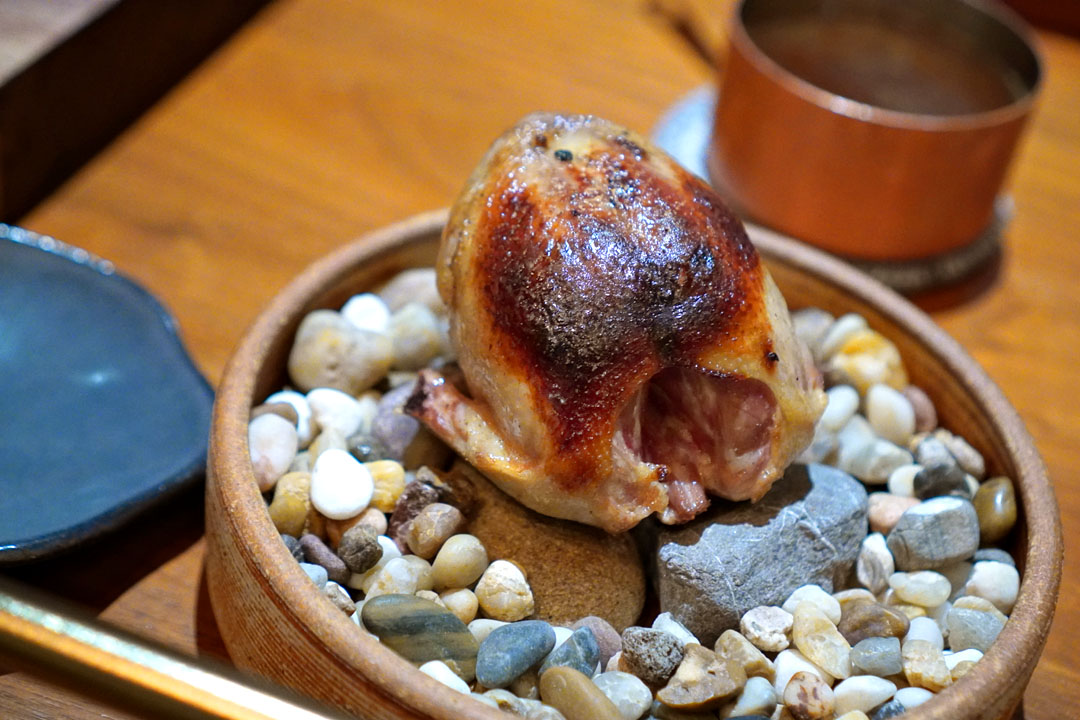 At this point, a whole roasted squab was brought out and presented tableside, then carved in front of me.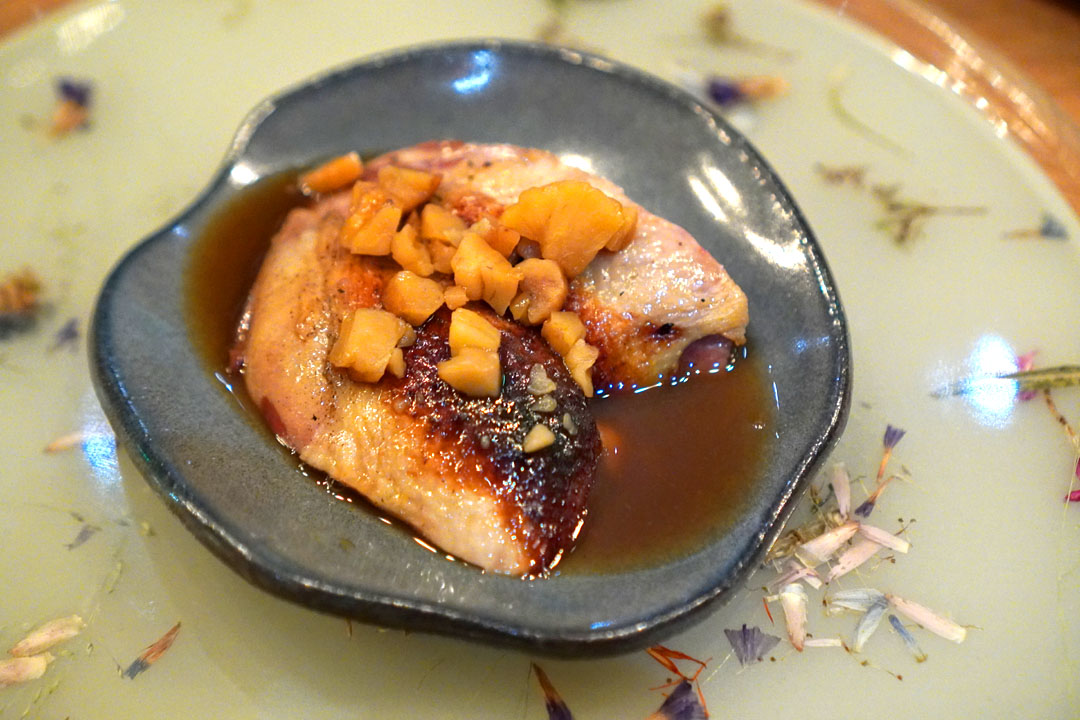 2a: Corvus Farm Squab, Chestnut
The resulting breast meat was excellent. Think super juicy, silky, and utterly flavorful, with a restrained sweetness that linked up swimmingly with the richness of that chestnut sauce. This was probably one of the best versions of squab I've ever had.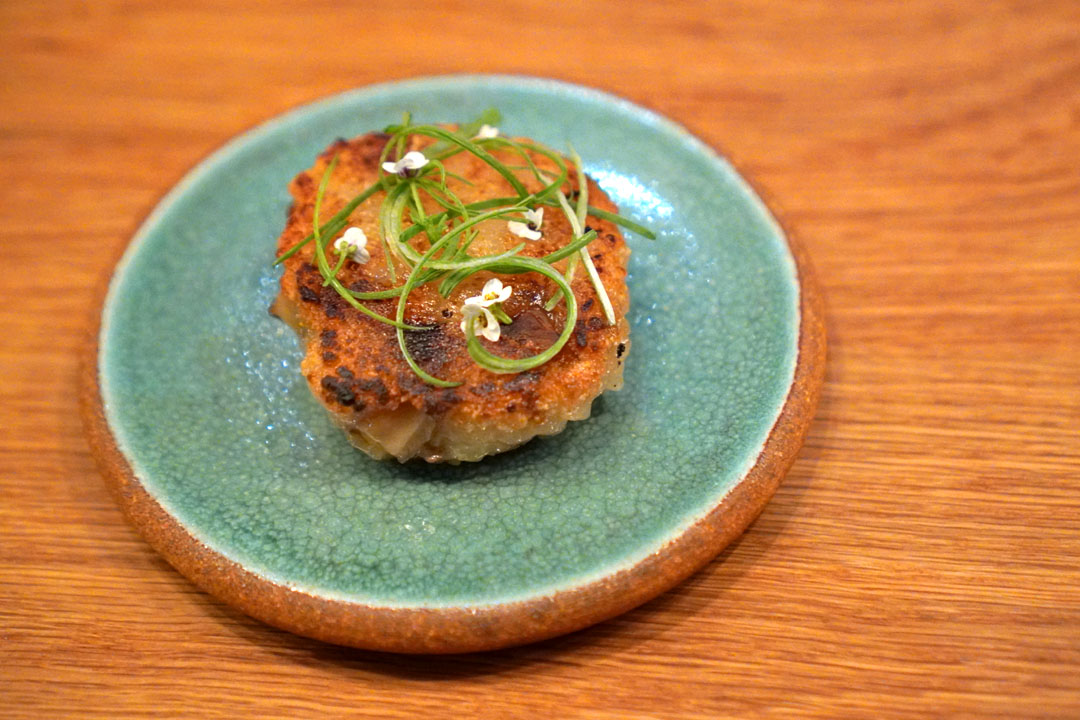 2b: Sticky Rice, Dried Shrimp, Shiitake, Chinese Bacon
The bird above was accompanied by this puck of rice, which was fantastic. It had just the right amount of softness and "stick," along with some crispy caramelized bits, and I loved the salt and umami provided by the mushroom-bacon-
xiami
combo.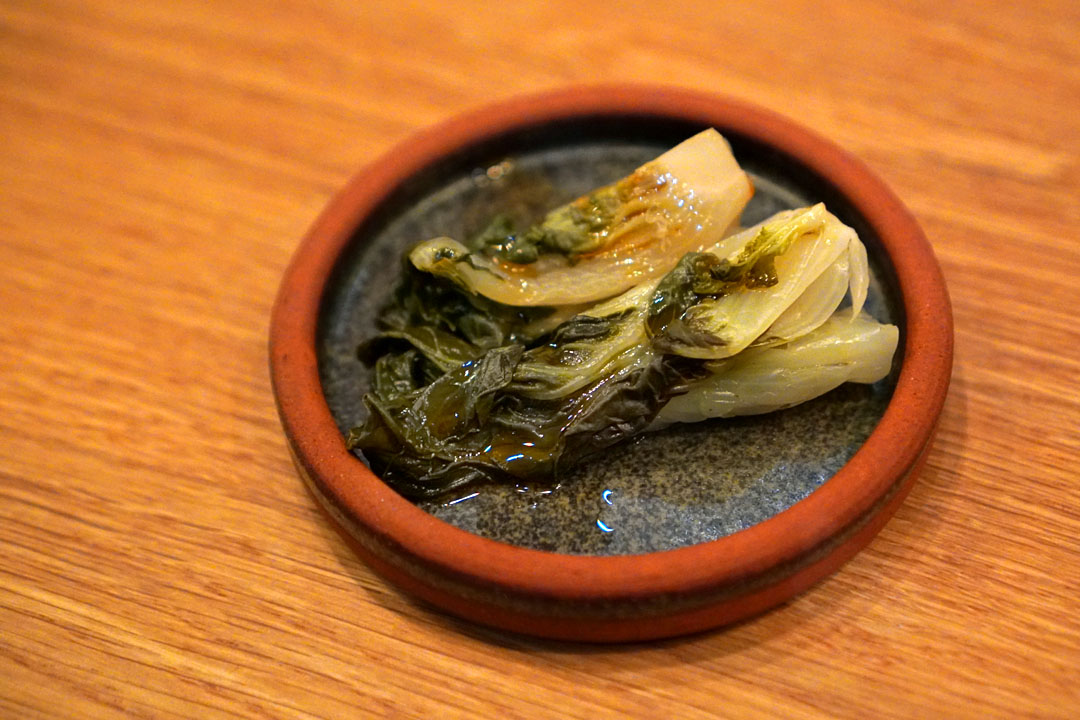 2c: Pickled & Fermented Bok Choy
Two preparations of bok choy offered up acidity and zip to counteract all the strong flavors at play.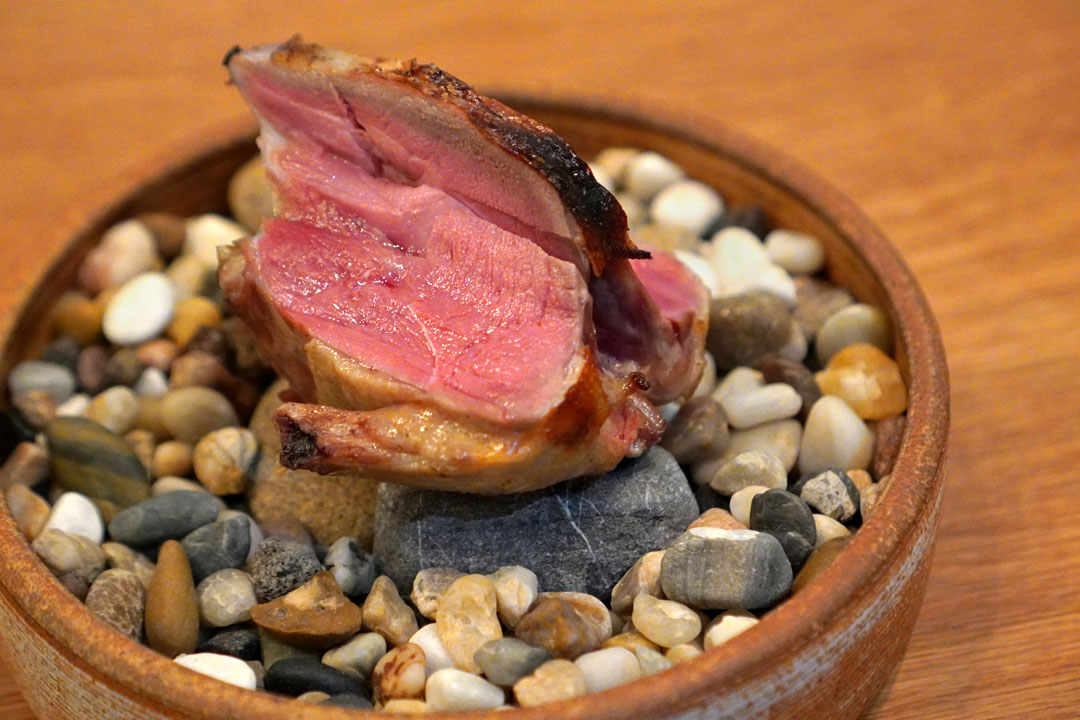 I also requested that the carcass of the squab be left at the table for me to pick at.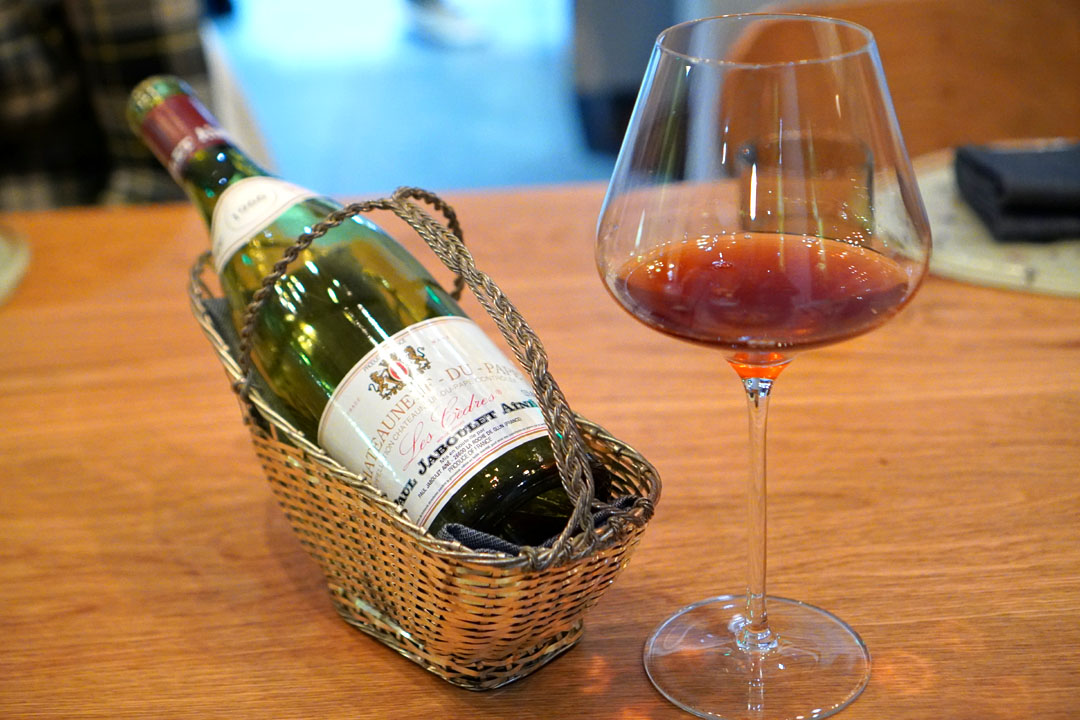 Since I knew that tonight's dinner was focused on game birds, my mind instantly went to Rhône, and so I brought along a bottle of the
1966 Paul Jaboulet Aîné Châteauneuf-du-Pape Les Cèdres
(a.k.a. La Grappe des Papes) to pair with the food. An ex-domaine bottling, this was released in 2016 following 50 years of maturation at the winery, and the resulting Grenache-dominated juice was absolutely stupendous. The nose here was incredibly heady, yet finessed, drawing me in with its fantastic, flawless blend of red fruit and
animale
--such clarity, such focus. The palate was just as breathtaking, and I remember saying "wow" to myself after my first sip. I got so much vivacious fruit right up in my face, joined by lively tannins, a perfect juxtaposition of gamy nuances, and a distinct mintiness bringing up the rear; this was so harmonious, so balanced, so damn good. With time, the wine got even fruitier and even more perfumed. By the end of the night, the bouquet began demonstrating more herbaceousness, while the palate presented itself as jammy, with
garrigue
and some
suanmei
-esque notes becoming apparent. I was super impressed by how exquisitely vibrant this was, even after 56 years, as well as how the maturity of the bottle showed, and I think it still has quite a few years ahead of it. This was not only the best CdP I've had, it was also the best Rhône wine I've had, and one of the best overall wines I've had in my life. Hell, even Osito's Wine Director Maz Naba deemed it in his top three of all-time!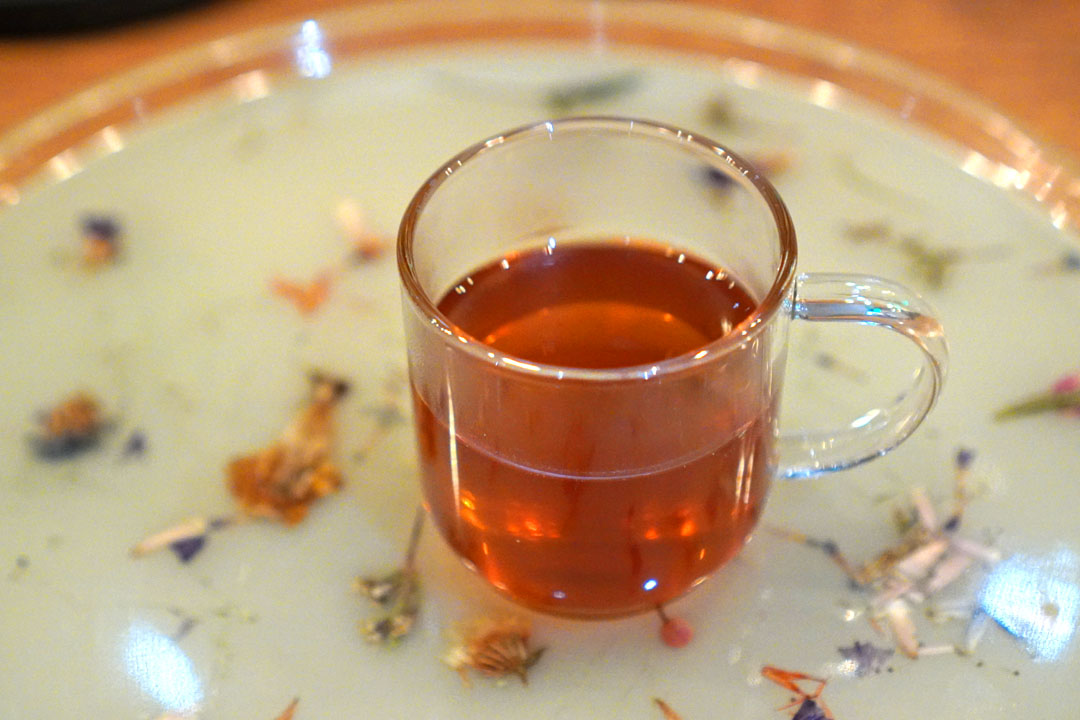 3a: A Consommé For Jenn
I don't know who Jenn is, but she lent her name to a mighty fine consommé, one based on kimchi, ember'd mirepoix, and chicken stock. I found it remarkably clean-tasting, fine-spun almost, but with the spice of the kimchi building and building toward the finish.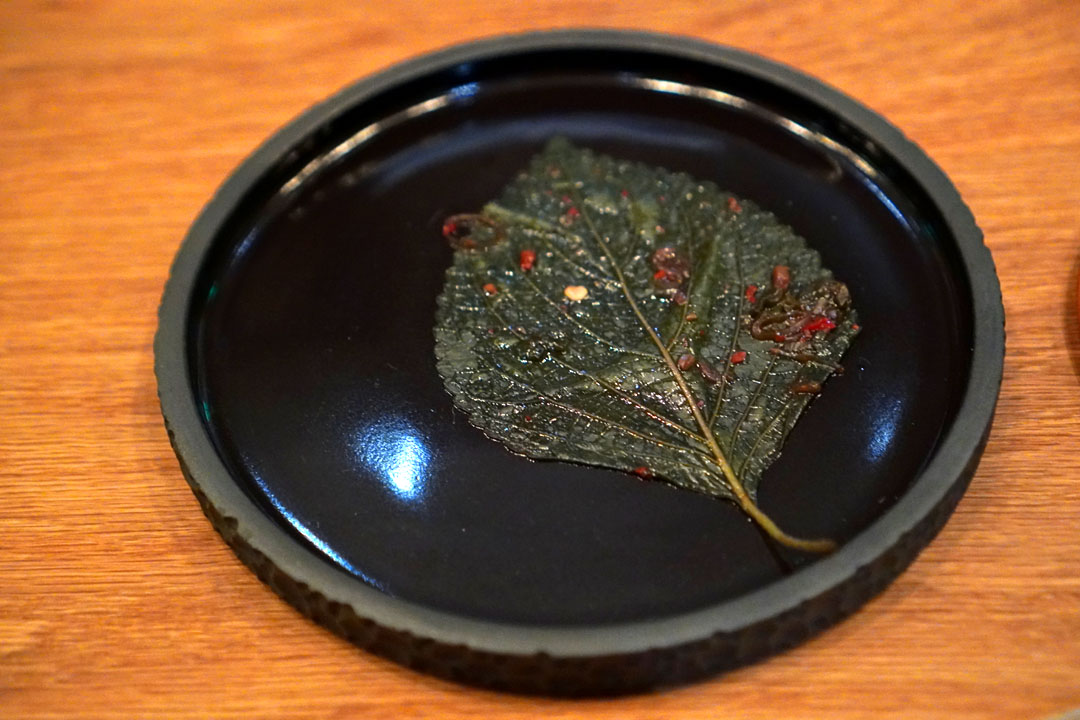 3b: Soy Pickled Perilla Leaf
In keeping with the Korean theme, here was
kkaennip
, pickled with what I believe were various chilies, sugar, and vinegar. The leaf showed off a sweet heat that made surprising sense with the kimchi notes of the broth above.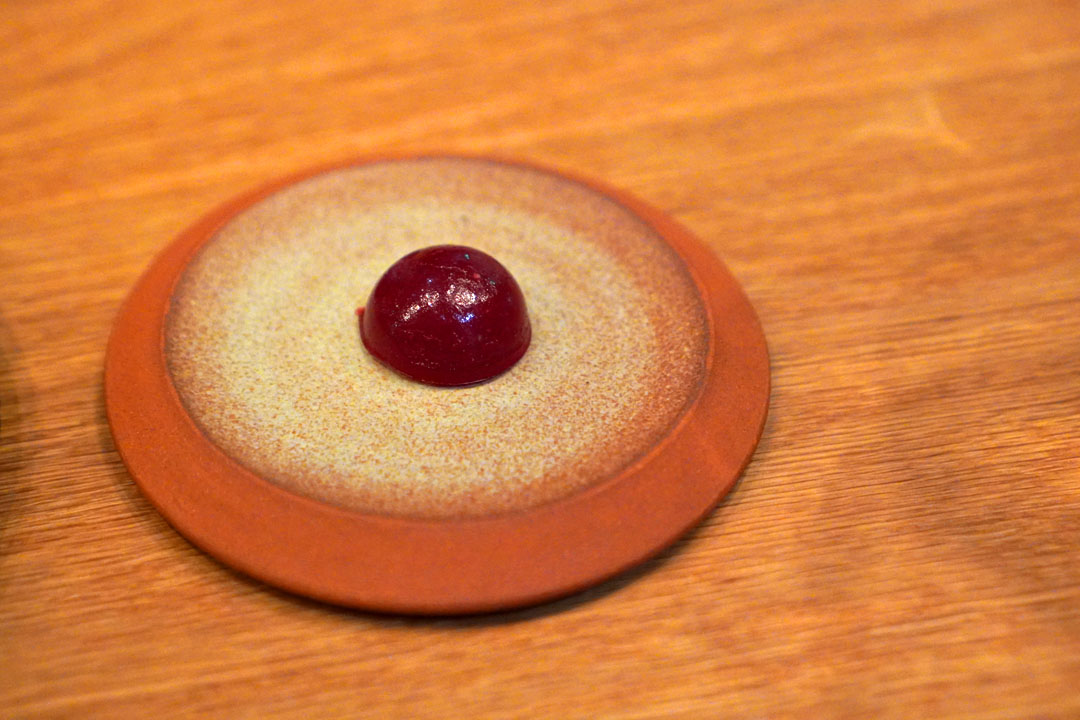 3c: "Cranberry & Bourbon Sauce"
A demisphere of cranberry-bourbon offered up a fruitiness that tempered the strong flavors of the preceding courses.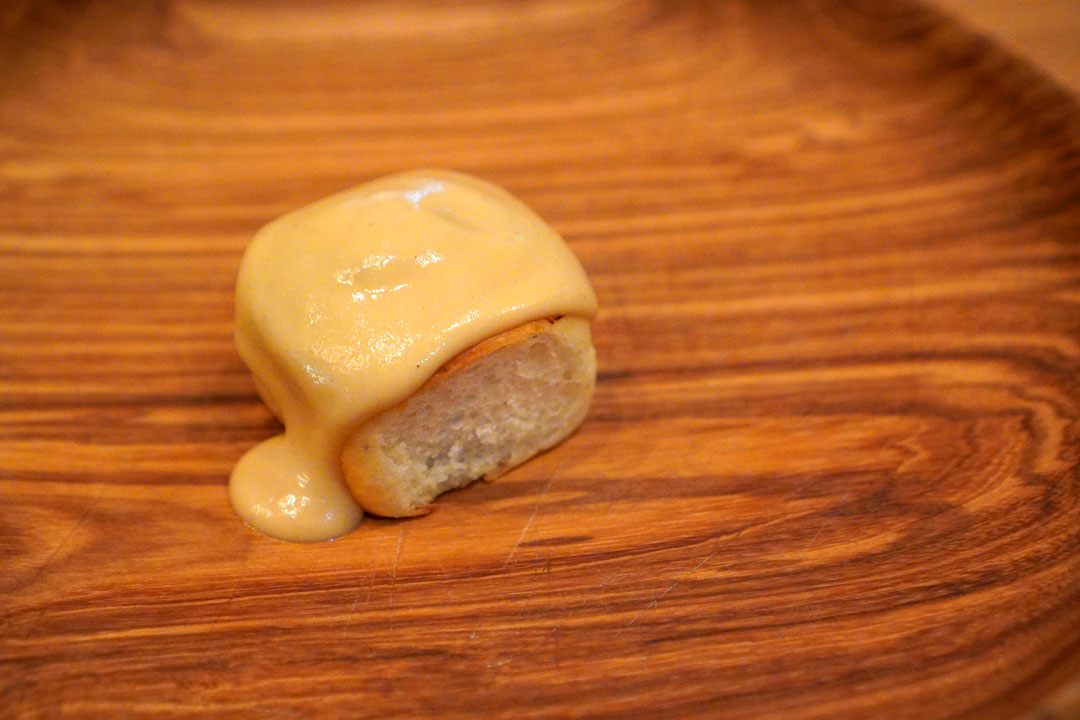 4: Chanterelle Roll, Apricot, Buttermilk
Bread arrived with a delightfully fruity, lactic dressing that was somehow quite beguiling.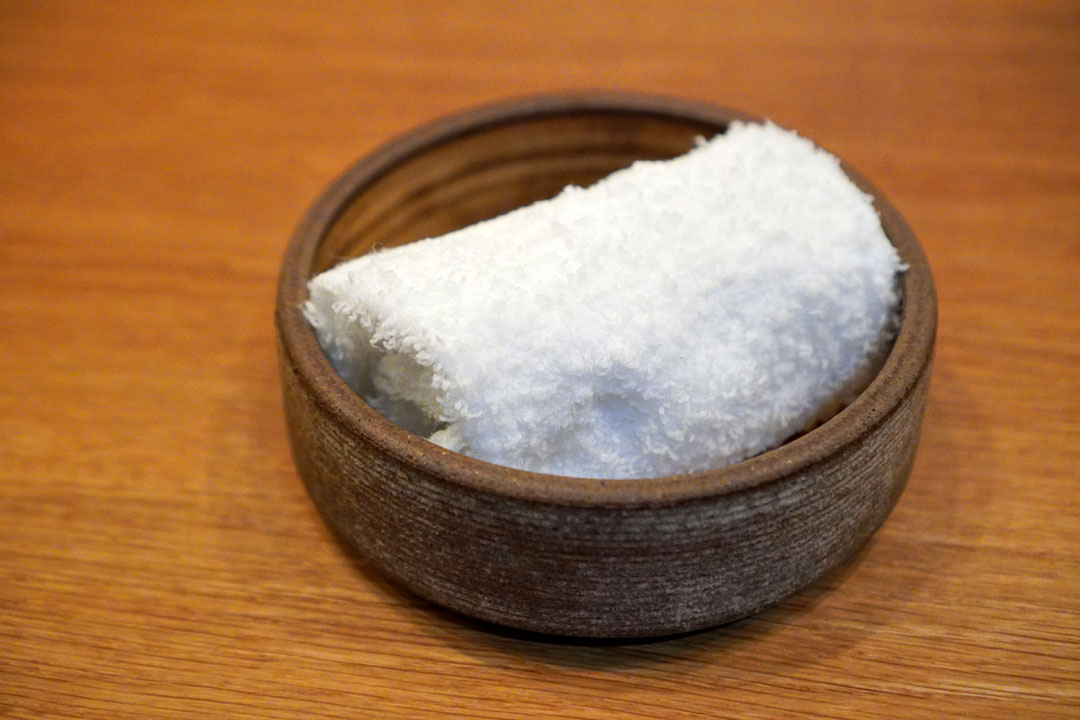 A lemongrass-scented
oshibori
was a nice touch.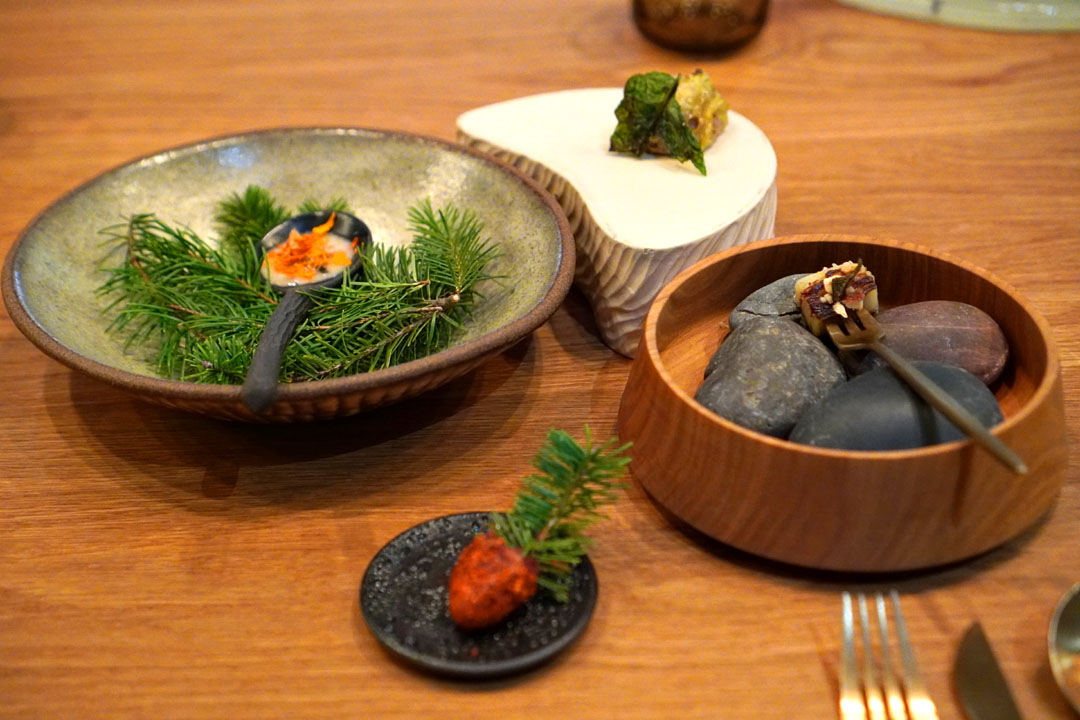 Entitled "Seven Ducks A-Pekin," the main portion of my meal comprised seven different preparations of duck, and the first four arrived together.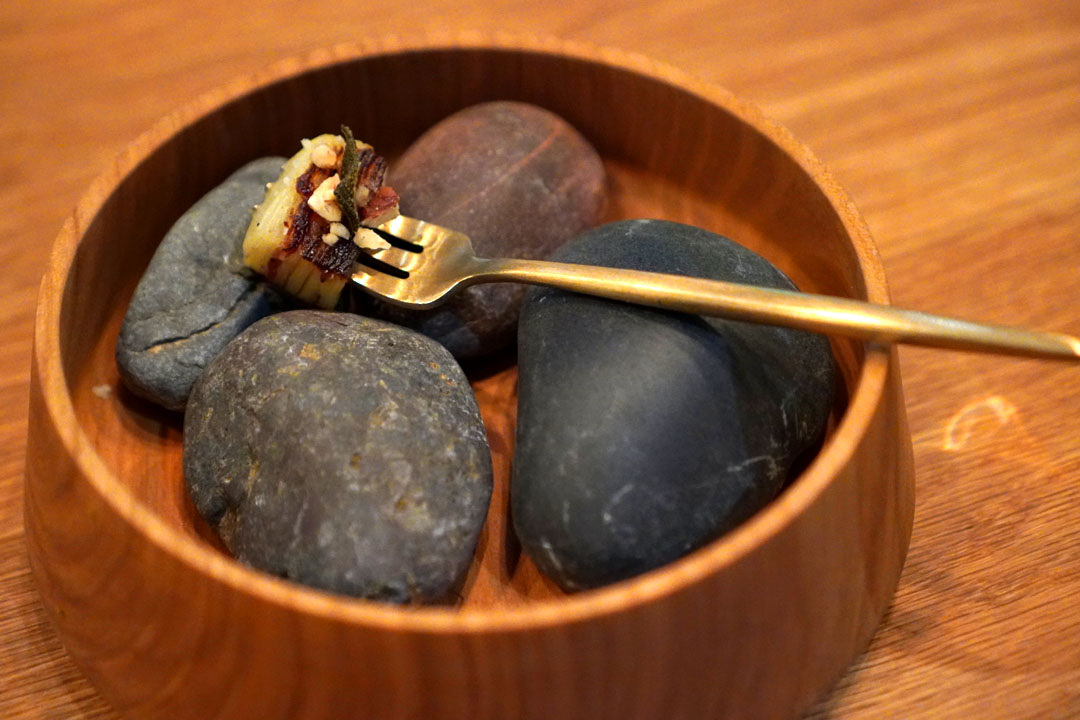 5a: Breast, Potato Mille-Feuille, Hazelnut, Orange
The "safest" of the septet married duck breast with thin cuts of potato and a sweet, warming character from what I believe were holiday spices.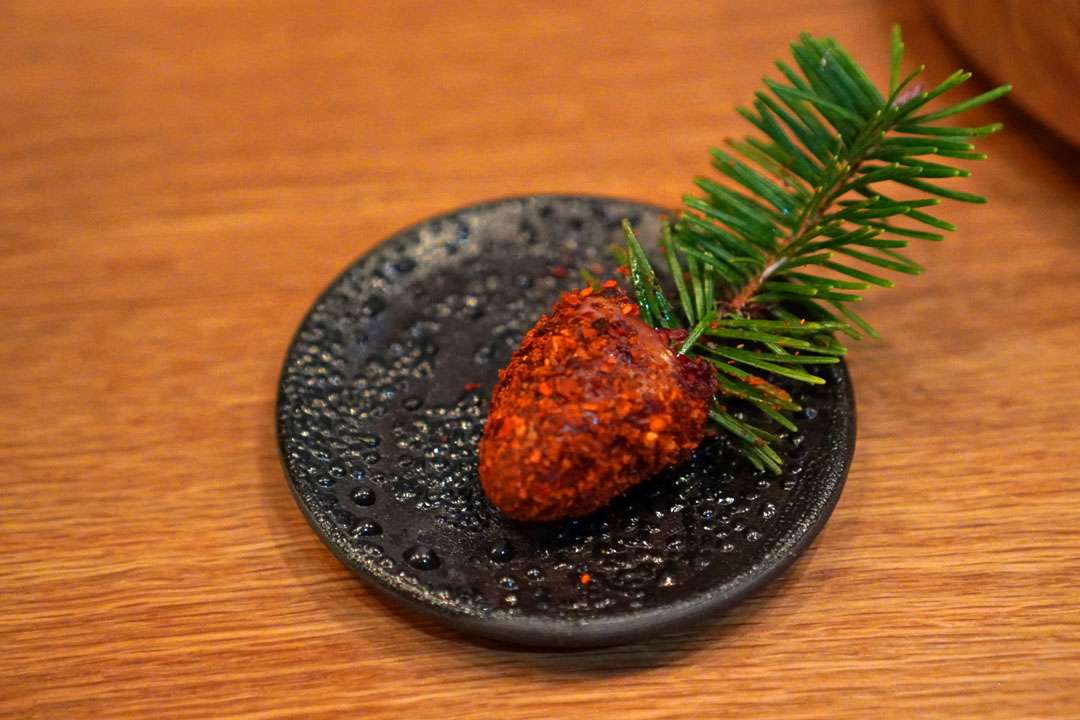 5b: Heart, Molasses, Chili Crisp, Citric Acid
Duck heart was a treat. I thoroughly enjoyed how the earthiness of the heart melded with the sweet heat of that molasses-chili crisp combo, and there was this lingering,
mala
-like sensation on the back end that served as a great finishing touch.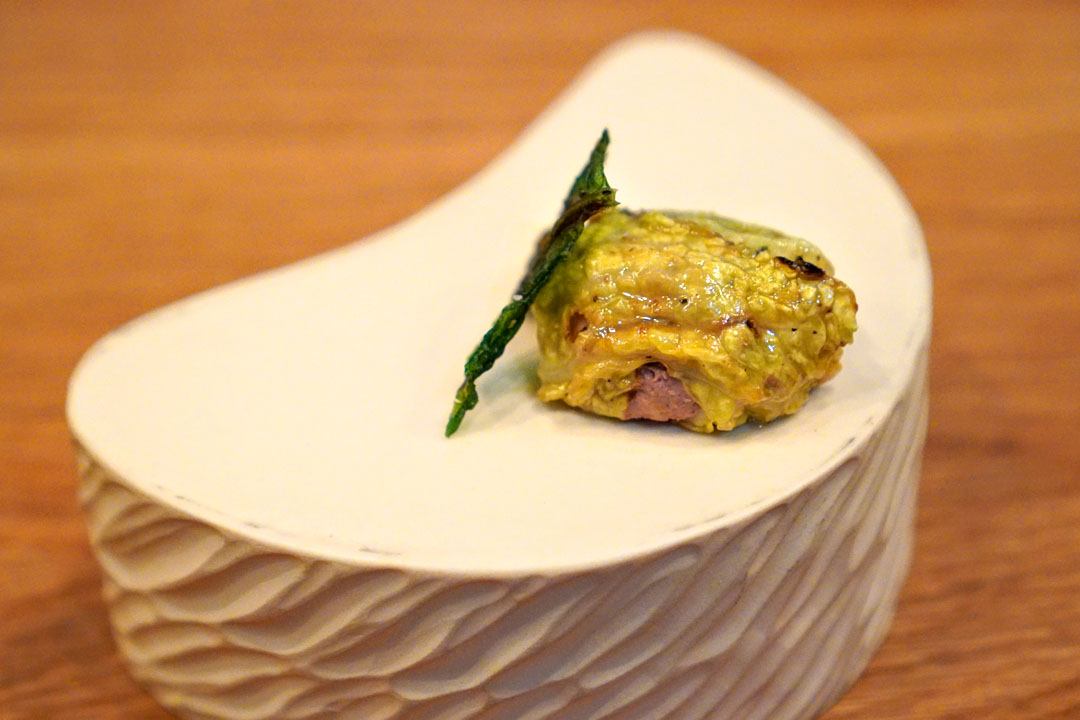 5c: Liver, Pickled Pineapple Guava, Cabbage
Potent flavors of duck liver were offset by the tropical notes of a pineapple gel as well as a charred cabbage wrapper, and I really liked the nuttiness and crunch present in the course, too.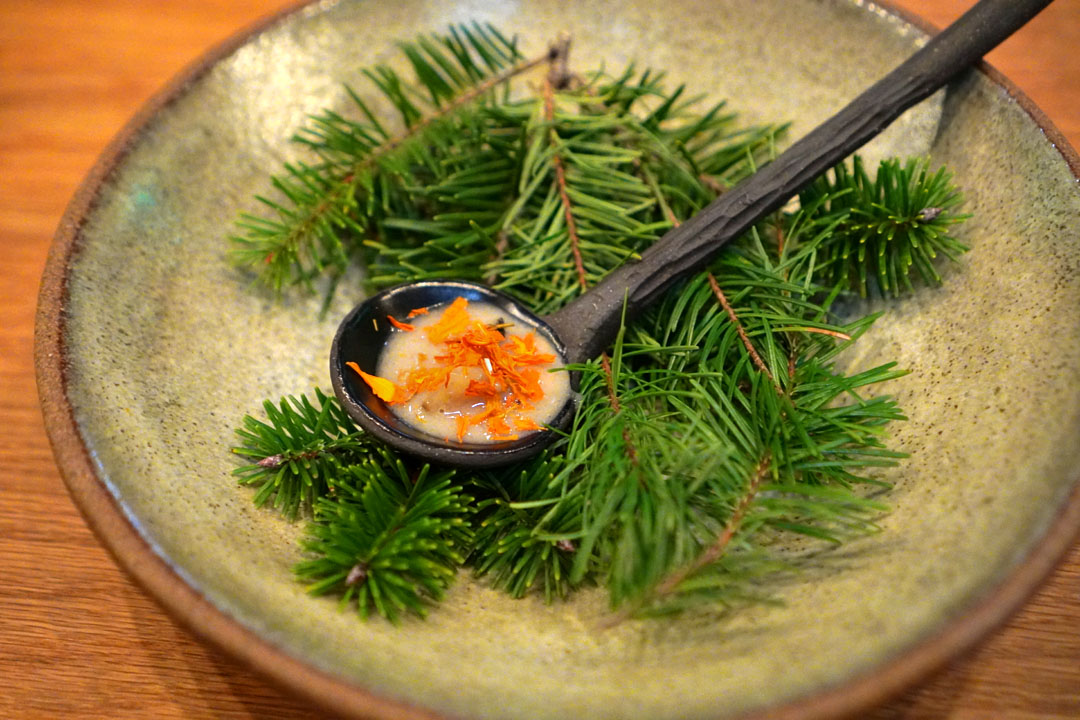 5d: Brain, Sunchoke, Cedar Miso, Brown Butter, Marigold
I believe that this was my first time having duck brain, and the organ came emulsified and combined with ash-cooked sunchoke and squash, giving the bite a generally sweet disposition.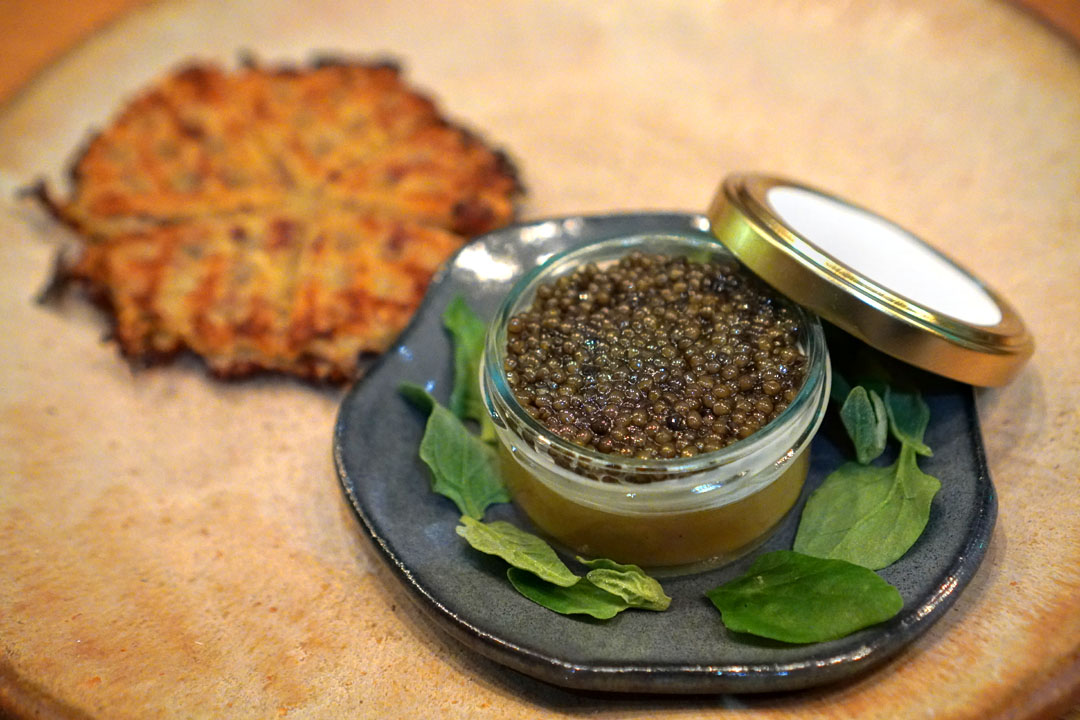 Supplement: Tsar Nicoulai Golden Osetra Caviar, Sweet Potato, Apple, Duck Fat [$75.00]
This was a supplemental course, but I'm sure glad I got it, since it was a pretty masterful presentation of caviar. I loved how the saltiness of the Ossetra coalesced with the creaminess of a Meyer lemon-scented crème fraîche and the sugariness of apple butter; it was like a match made in heaven that I never knew I needed in my life. A sweet potato waffle, meanwhile, provided some textural variation and worked to moderate the roe, while New Zealand spinach served as a zippy accent piece.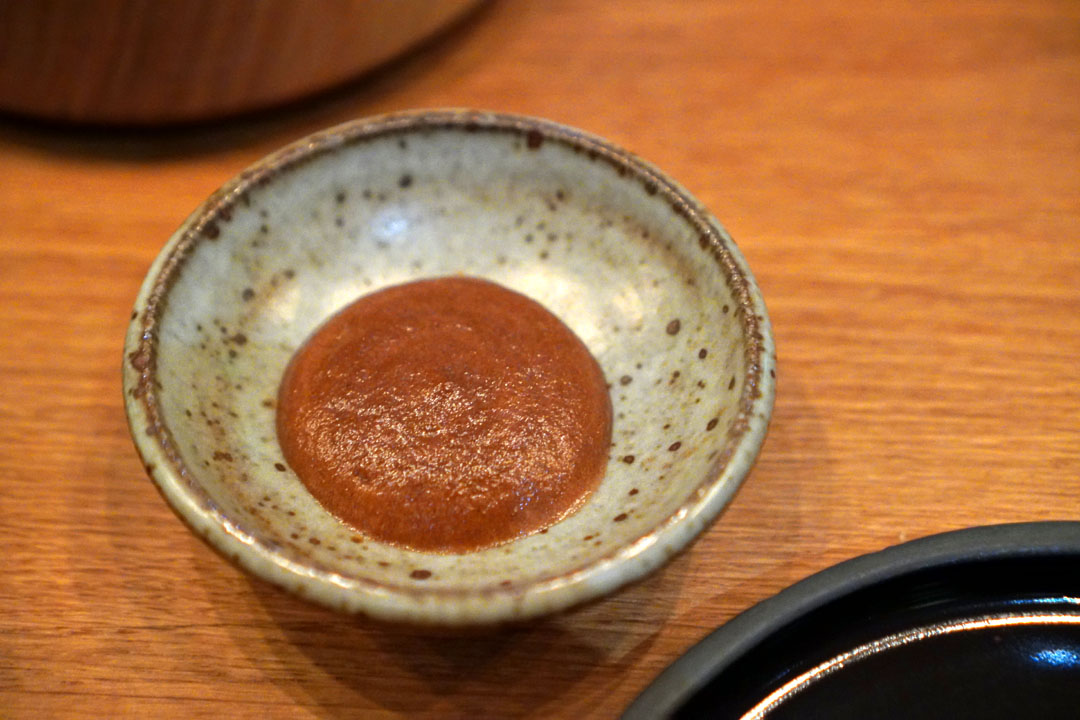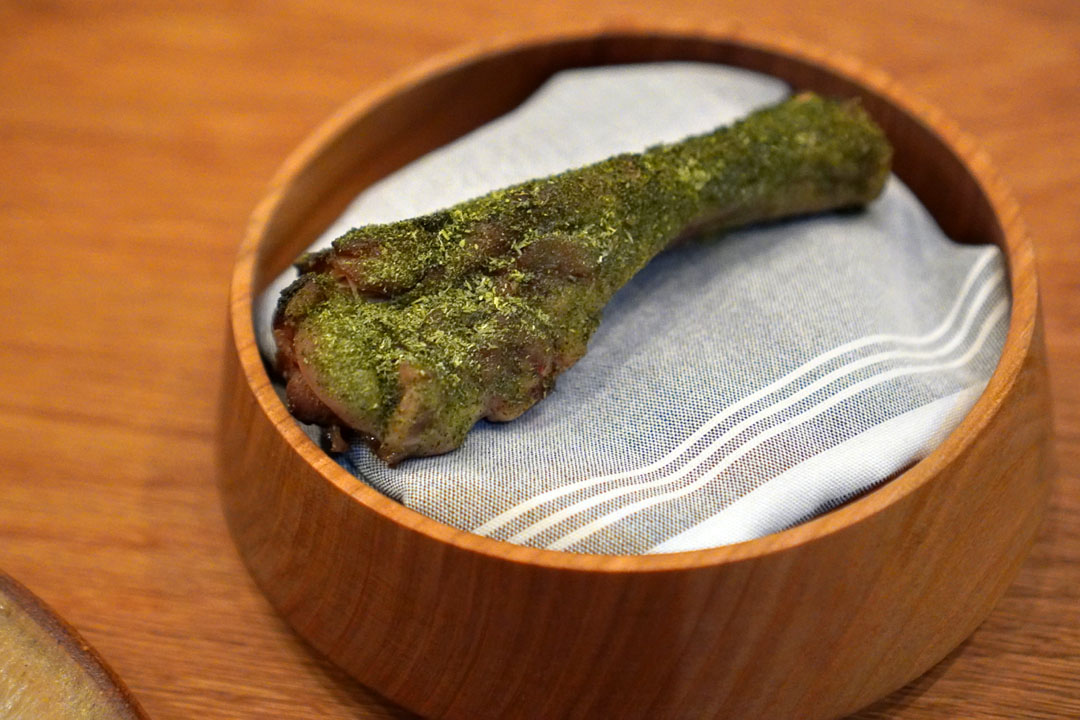 5e: Wing, Medjool Date, Black & Roasted Garlic
A fibrous portion of duck wing showcased smoky, herbaceous qualities that operated as a counterpoint to the sweeter, more piquant notes of a date-black garlic dip.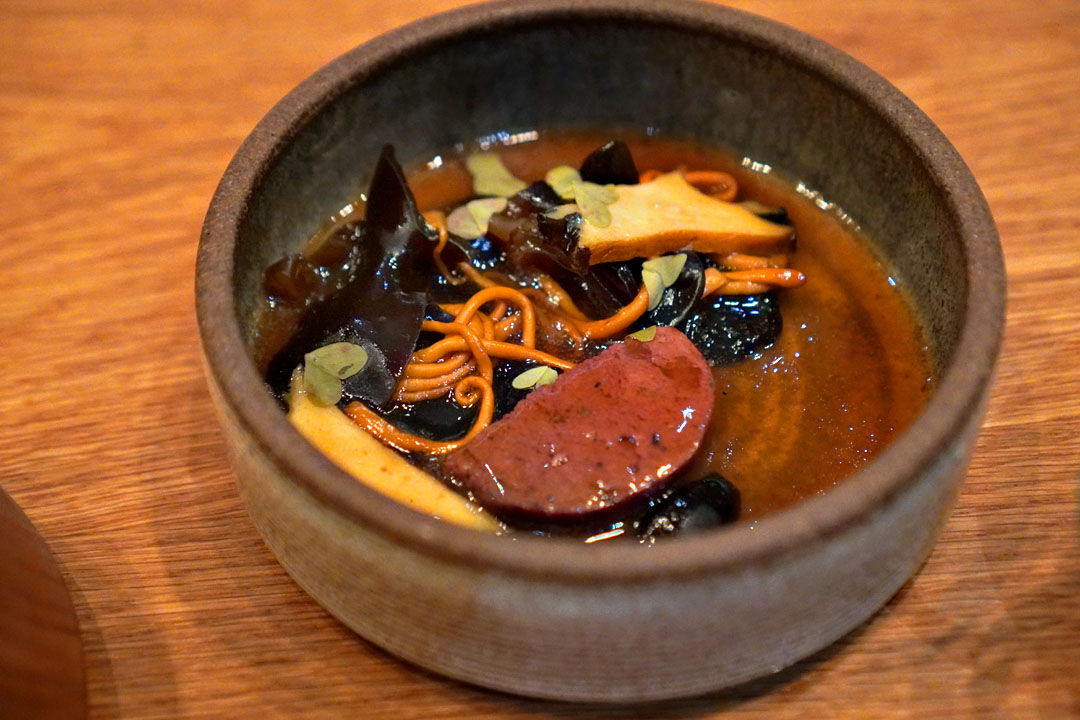 5f: Sausage & Braised Abalone, Wood Ear & Cordyceps
The duck sausage was a definite favorite of mine, which I guess can't be too surprising given my penchant for tubed meats. However, just as delicious here was that braised abalone, with its toothsome texture and healthy dosing of umami. I was a big fan of the wood ear as well, which had a crunch-slippery consistency that really worked for me.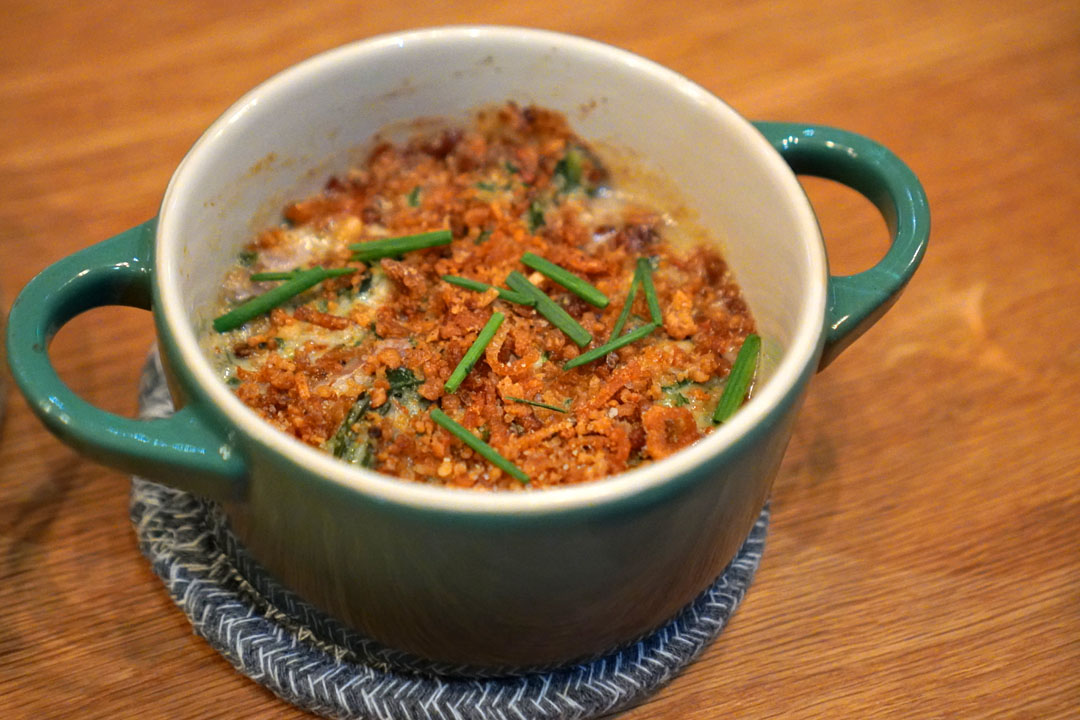 5g: Leg & Skin, Spinach, Wild Mushrooms
Last up was the duck leg, which conveyed all the salty, savory flavors I was looking for, smartly set against the bitterness of spinach while a sprinkle of duck skin on top contributed a very welcomed crunch. Another favorite.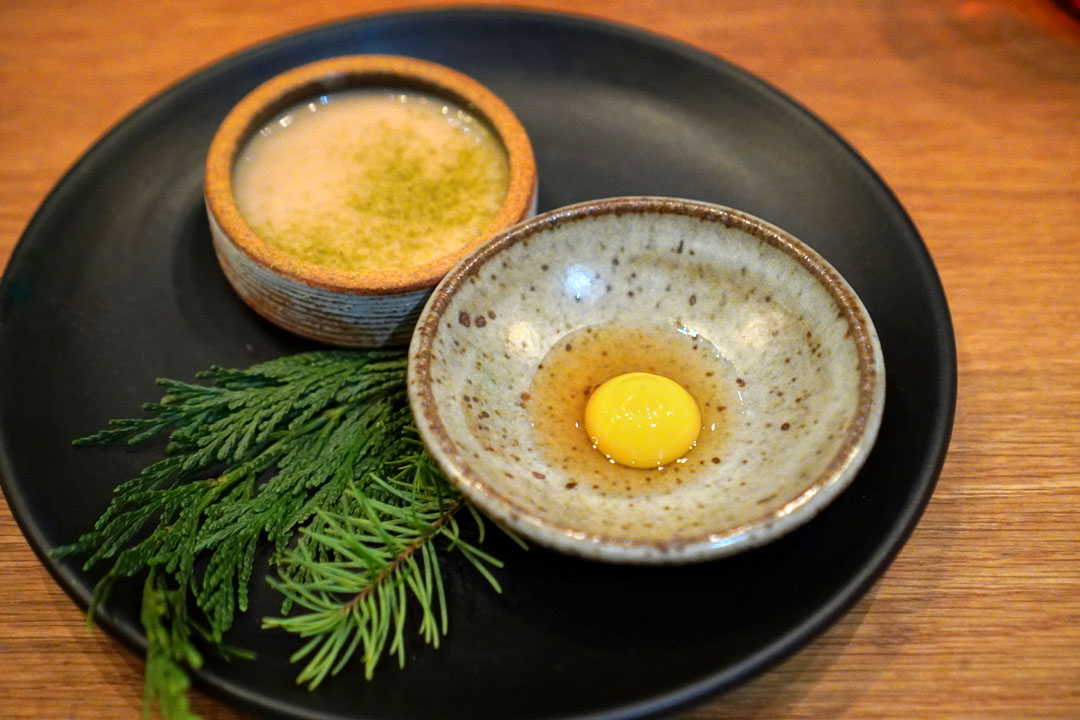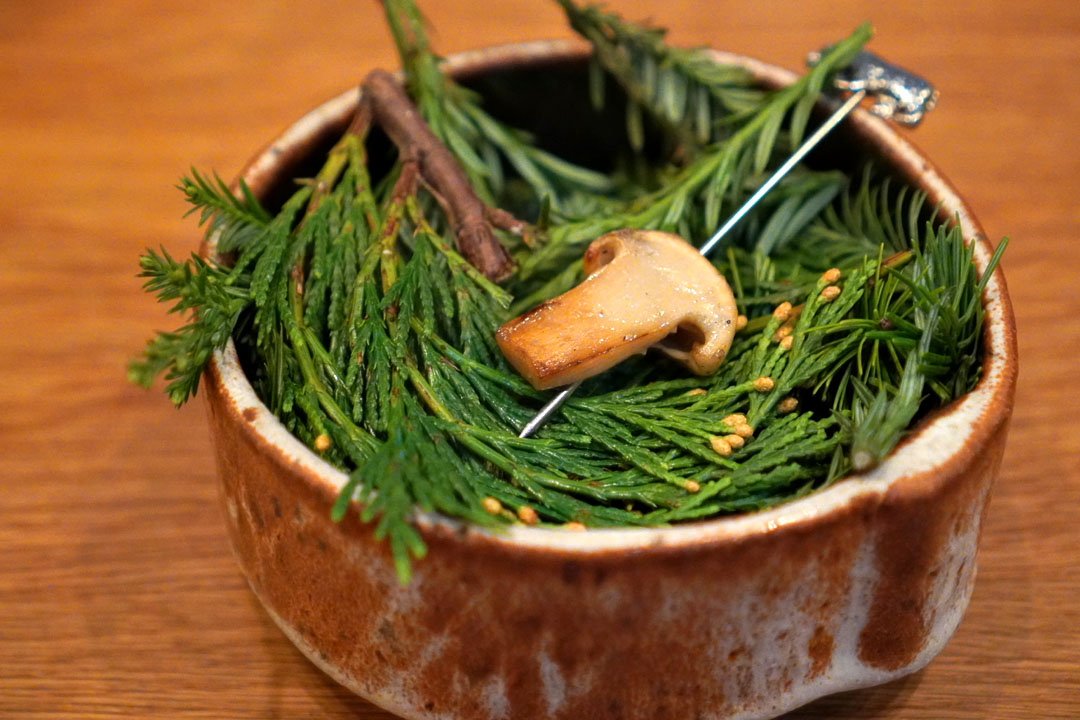 6: Matsutake & Friends
I feel like this next course served as a bit of a transition to dessert. A grilled matsutake highlighted the pungent smokiness of the mushroom, contrasted against a dip consisting of egg, yuzu, and maple syrup. We also had a custard of sorts, which had this sweet, woodsy, nearly briny character that mimicked some of those same flavors.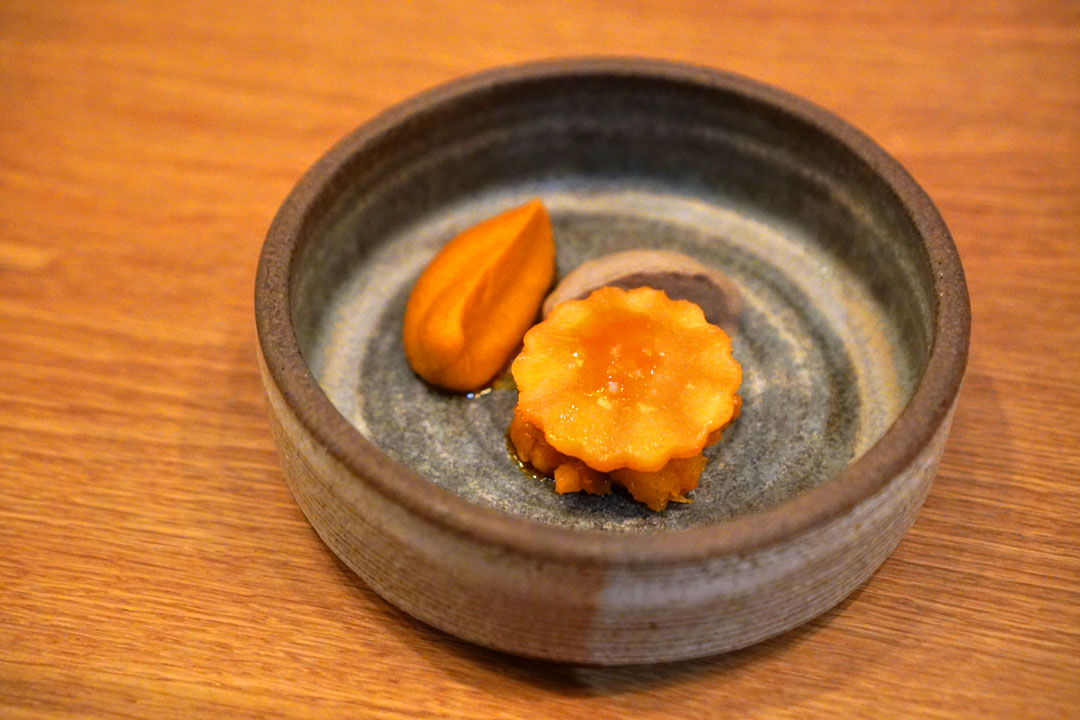 7: Red Kuri Squash & Miso, Marigold, Fermented Green Walnut
Dessert proper presented the fresh, nutty, sugary nature of
uchikikuri
in intriguing fashion, accompanied by two purées: persimmon and marigold oil (if I recall correctly) and a wonderfully sweet-bracing green walnut.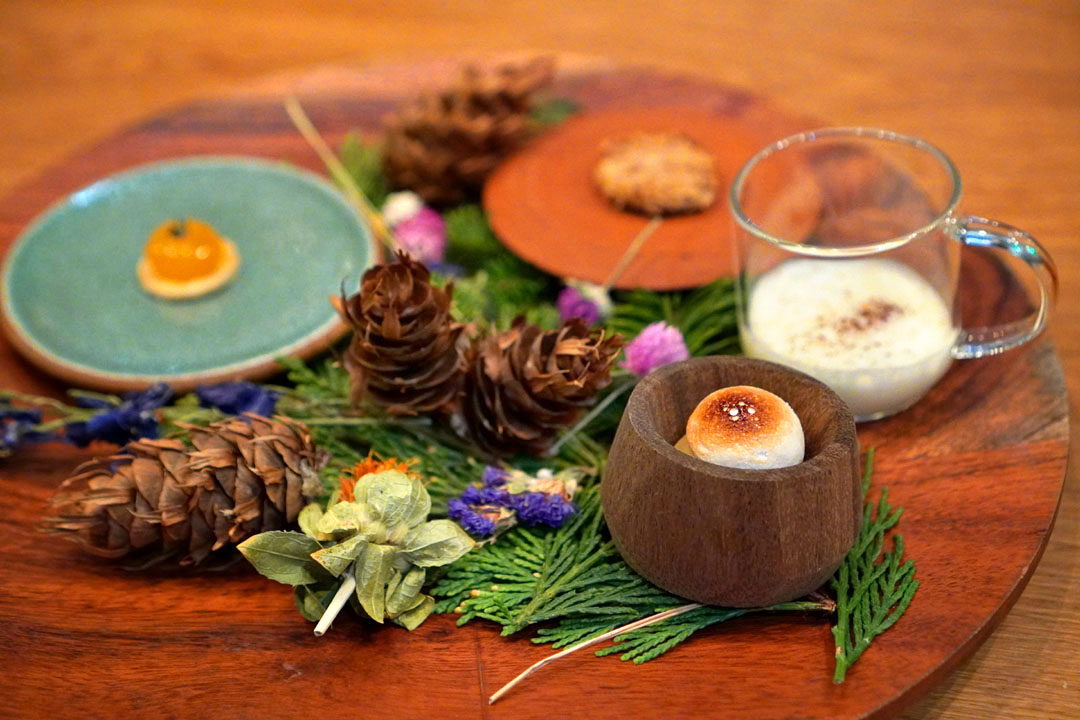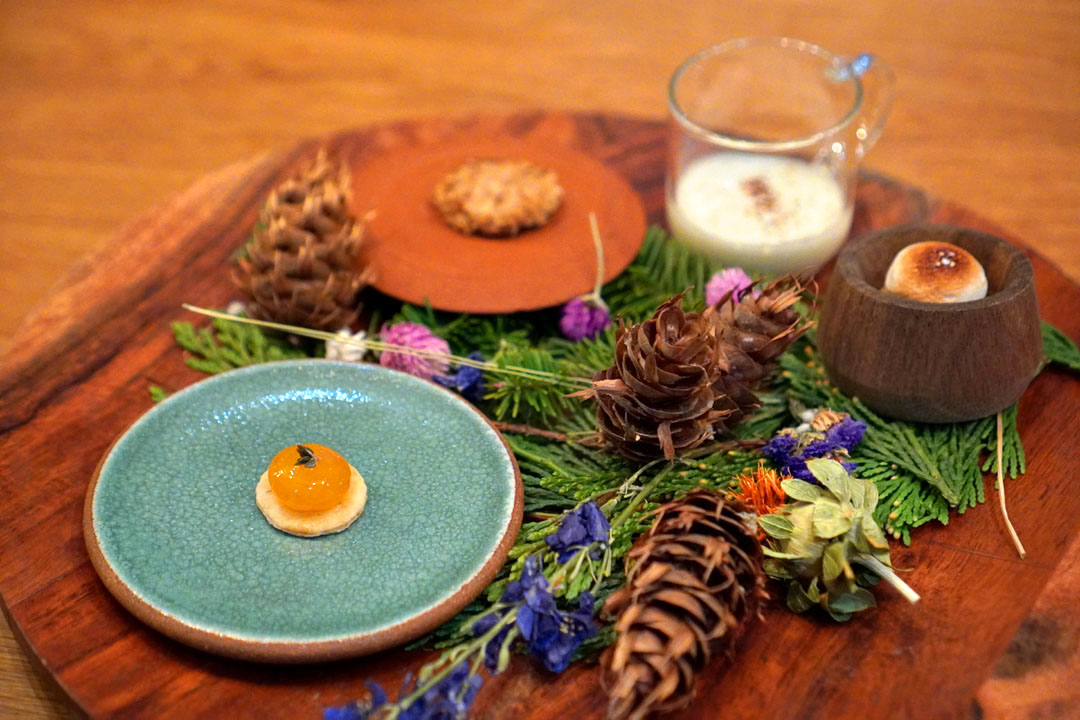 8: Mignardises
We ended with an artful arrangement of mignardises:
The Wild Turkey bourbon-boosted eggnog was delish, and displayed plenty of sweet-n-spicy notes along with some banana-esque elements.
Meanwhile, a fluffy, toasted marshmallow demonstrated a holiday-like spice from its yam base.
Lemon-salt-sugar-cured egg yolk had some savory-sweet-sticky flavors to pair with its duck fat cracker.
Finally, a duck skin butter cookie was pleasantly fruity, and was even better when dunked into the nog.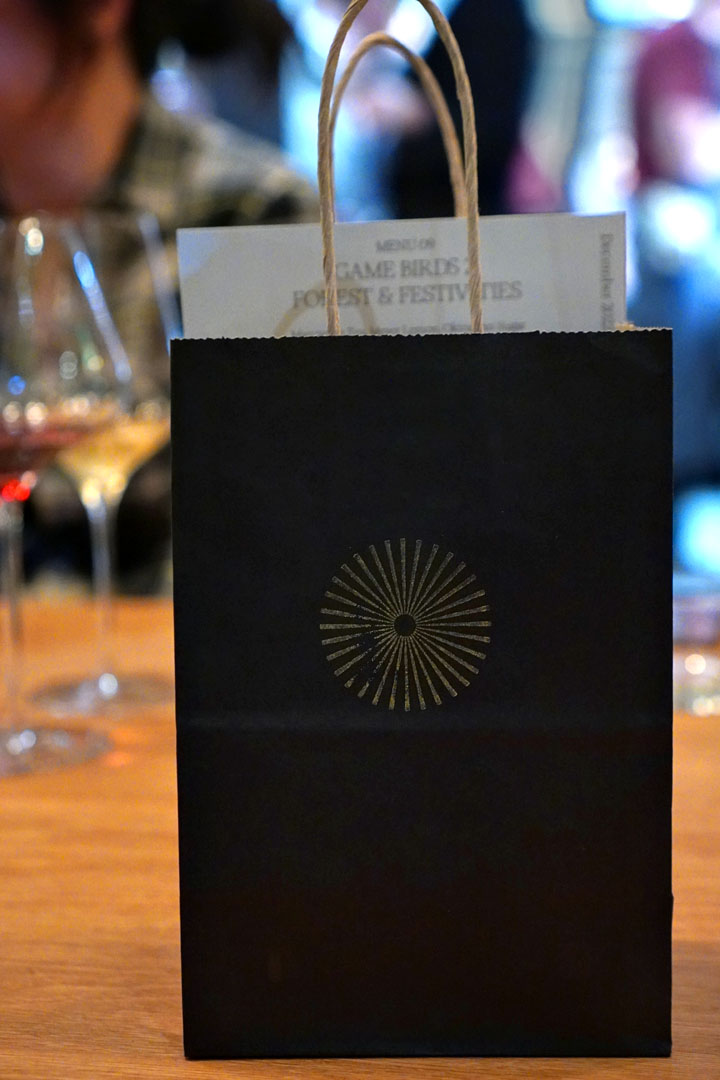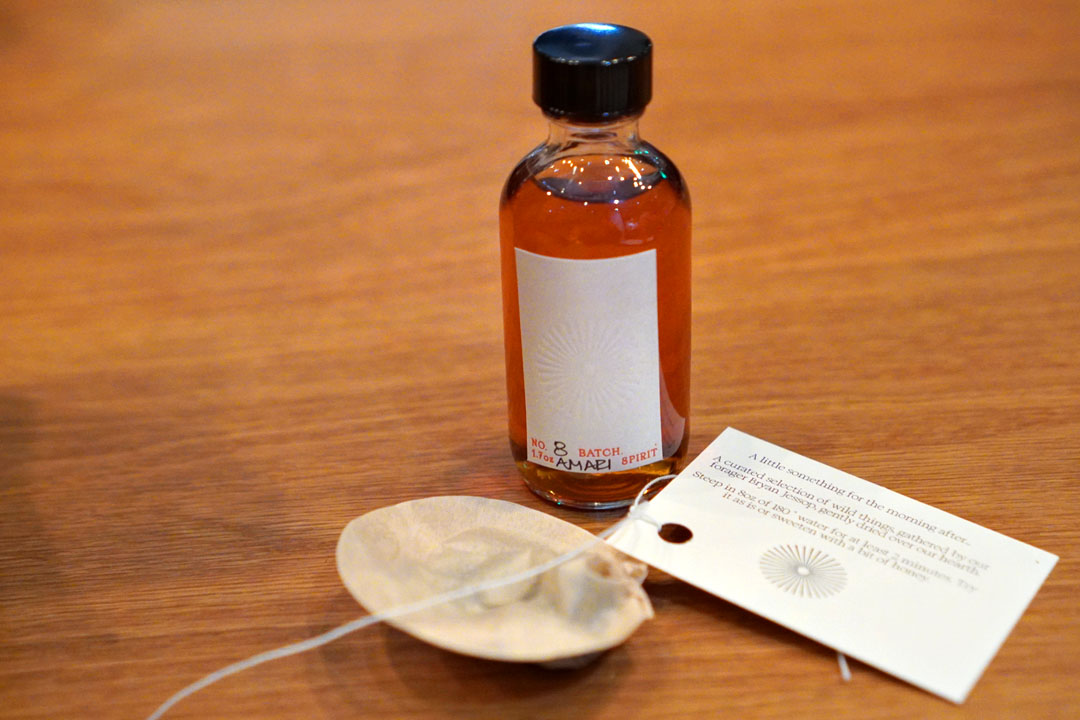 At the conclusion of the meal, I was presented with a gift bag containing the night's menu, along with a bottled cocktail and a bag of foraged items (meant for tisane purposes) collected by Bryan Jessop.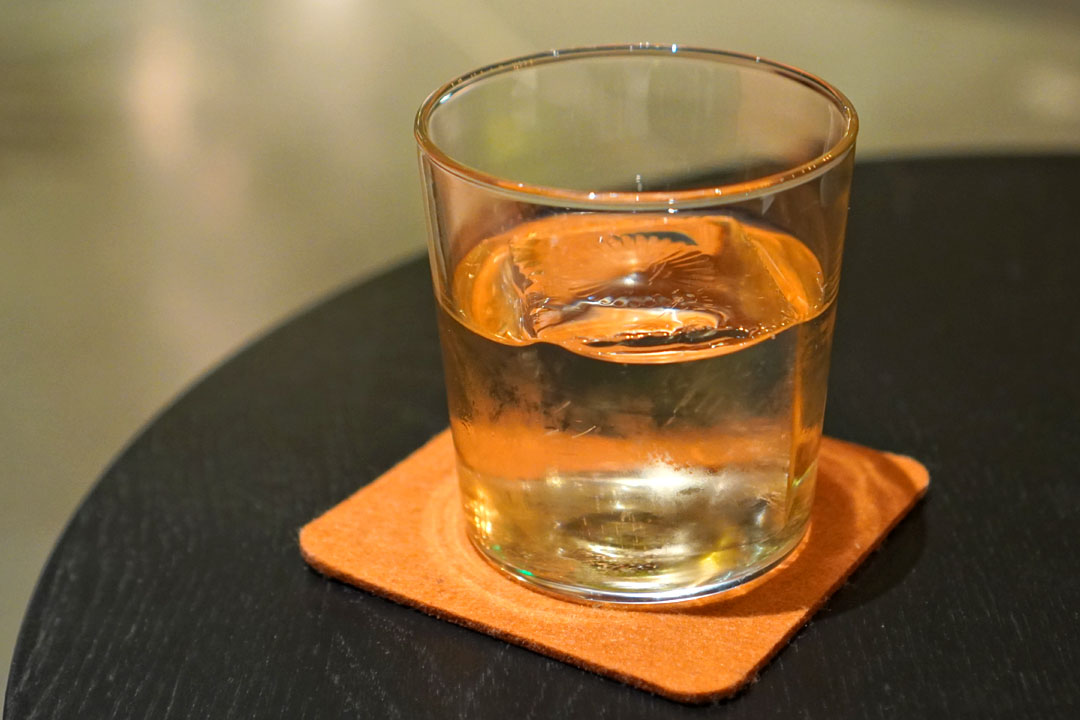 In the Clear #4 [$16.00]
| clarified milk punch: gin, passion fruit, goat's milk, herbs & spices
Given that I had some time to kill before having to depart for my flight back to LAX, I took a seat at Osito's newly-installed lounge area (off to the side of the dining room) and ordered a couple cocktails. My first was silky smooth, and did a great job conveying a plethora of sweet, winter-y spices, joined by minty nuances and delectable passion fruit.
A Different Shade of Purple [$16.00]
| old fashioned: rye & old tom gin, purple carrot, coriander
This garnet-hued cocktail had a perfume-y, almost grape-y nose, while taste-wise, the botanicals from the gin combined effortlessly with rye spice, the coriander peeking through just a tad.
I made my reservation for Osito in November, and knowing that Michelin would be revealing their newly-starred restaurants soon, I remember thinking to myself: "I bet this place is going to get a star." And sure enough, that's exactly what happened on December 5th, and boy, is it deserved. Live fire cooking has been a bit of a trend over the past few years, but I've never seen it done like this before. I was expecting some aggressive char and sear in the food, but instead, Stowaway's cooking was much more inventive and playful and technique-forward than anticipated, and really revealed a world of possibilities with the format. This was one of my top meals of the year, and in fact, I think there's the potential here for the place to get upgraded to two stars somewhere down the line.
---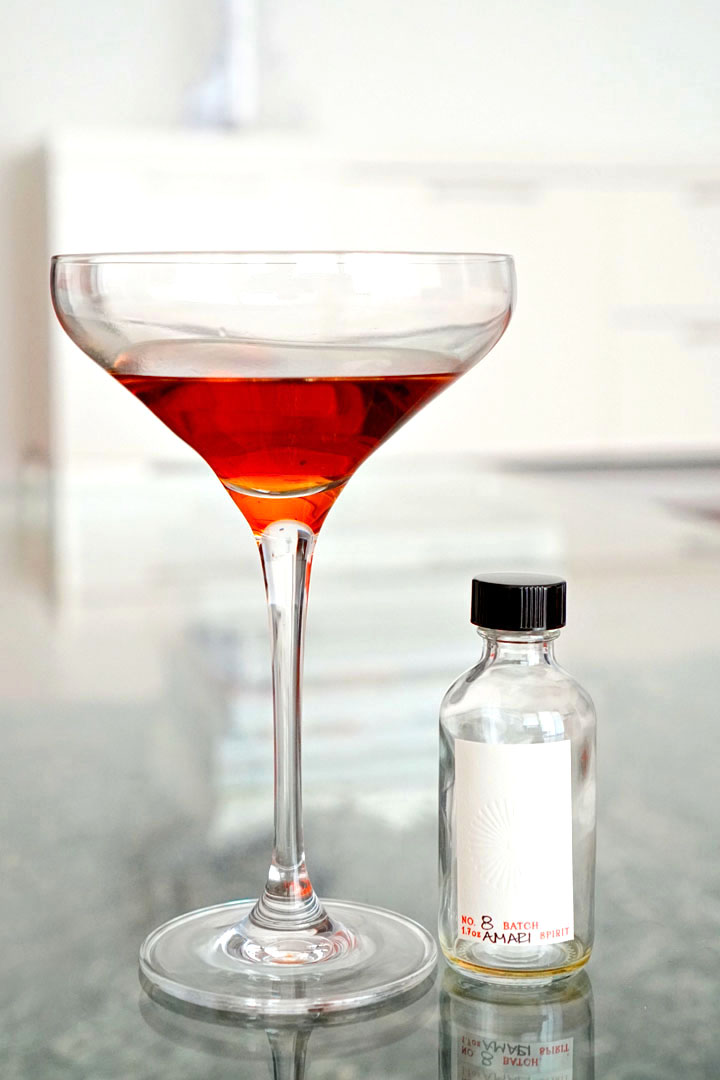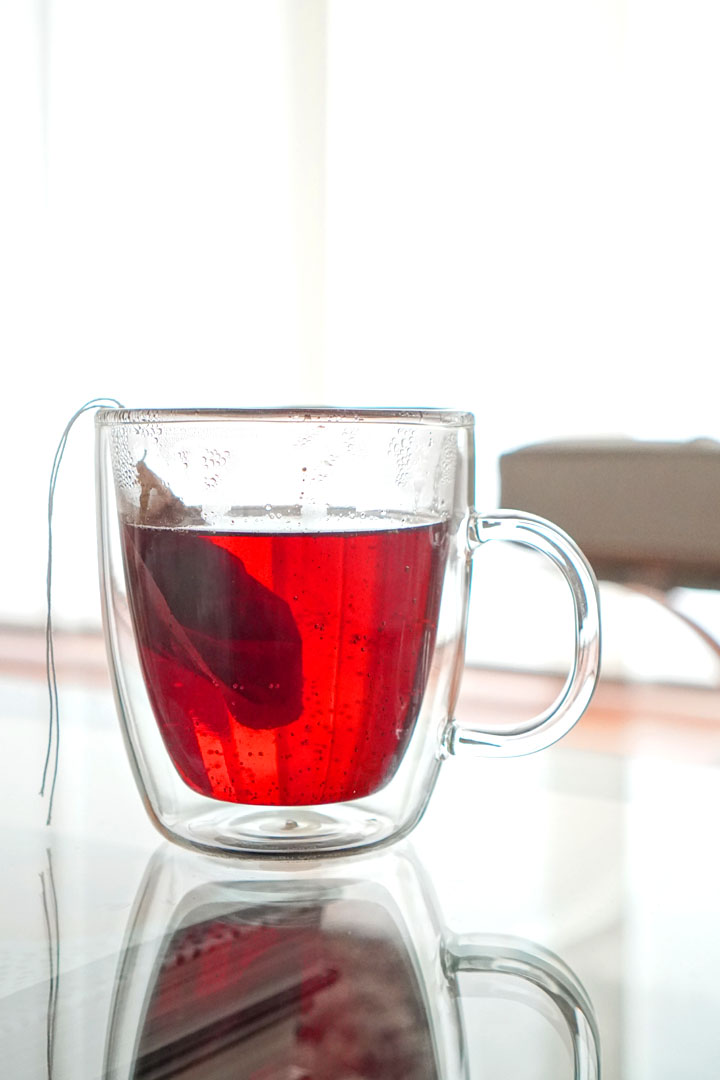 I ended up enjoying Osito's bottled cocktail at home a few days later. Its aroma was of ripe cherry and sweet, warming spices, with a bitter undertone and hints of mint; it smelled fantastic, and with time, I began getting notes of brown sugar. On the palate, think soft and smooth, the drink's bittersweet, nutty, medicinal, and fruity components meshing with baking spices and more cherries on the back end. Very impressive, and better than most made-to-order cocktails I've had.
As for the herbal tea, I tried it two days after the cocktail, and liked it much more than I thought I would. It was a snug drink, perfect for the cold weather we've been having, and featured a bevy of floral, herbaceous, and holiday spice notes set over a slightly tart, fruity backbone.