Oriel (Los Angeles, CA)
Oriel Restaurant
1135 N Alameda St, Los Angeles, CA 90012
213.253.9419
www.orielchinatown.com
Tue 11/29/2022, 08:05p-09:50p

As you might remember, I visited
Lasita
not too long ago, and during my time in Chinatown, I was reminded that there was another place I needed to report on: Oriel. Apparently named after a type of bay window, the restaurant is a French bistro type of joint, and opened on October 21st, 2017. The main backer behind the spot is none other than Dustin Lancaster, a rather prolific figure in the LA dining scene whose company
An Eastside Establishment
is responsible for the likes of Maciel's Plant-Based Butcher Shop, Capri Club, Bear Cupboards Market in Big Bear, Odie's, Sōgo, Holcomb,
Firehouse Hotel
, Bar Arbolada in Oklahoma City, Crawford's Pass,
Crawfords
, Hi-Hat, Augustine, Hotel Covell,
El Condor
,
The Hermosillo
,
L&E Oyster Bar
, Bar Covell, and probably a few more I'm missing. Also on board as partners are Lancaster's frequent collaborator Michael Blackman as well as Frenchman Alain Jeu, a Lyon native and former San Franciscan who was previously the manager of Bar/Hotel Covell and Bar Marmont.
Now as for who's in the kitchen, Oriel opened with Chef Evan Algorri at the helm, a Pasadena native and Chico State grad who ditched a career in law to attend the French Culinary Institute and later worked at Lupa Osteria Romana, Union Square Cafe, and Bouley in NYC before becoming Exec Chef at Augustine. However, Algorri's position didn't survive the pandemic, as the restaurant actually shuttered temporarily in December 2020, despite instituting an outdoor dining program that summer. When it re-opened in March last year, there was a new chef from France in place, though in late September, Ralph Johnson (Llewelyn's in London, The Pikey, The Spotted Pig in NY) was reworking the menu, and now, I'm told that Algorri is actually back helping out.

Oriel resides in a roughly 1,250 square-foot, oddly-shaped edifice in the shadow of the Gold Line tracks, previously home to an acupuncture/Chinese medicine business and massage joint, and before that, an automotive repair shop. The space was redone by
Sally Breer
, a local designer responsible for the likes of Firehouse Hotel,
Cafe Birdie
, Hotel Covell, and Bar Angeles. Shown above is the main bar/dining room. There's also a separate eating area off to the side, as well as seating in the glass-enclosed foyer and the patio.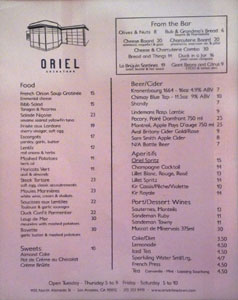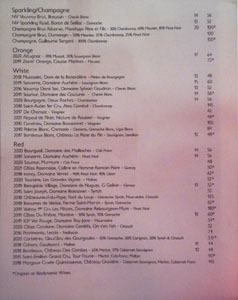 The menu at Oriel features fairly straightforward, bistrot-inspired fare, as well as a pretty much all-French wine list joined by a smattering of beers/ciders. Corkage, meanwhile, was $25. Click for larger versions.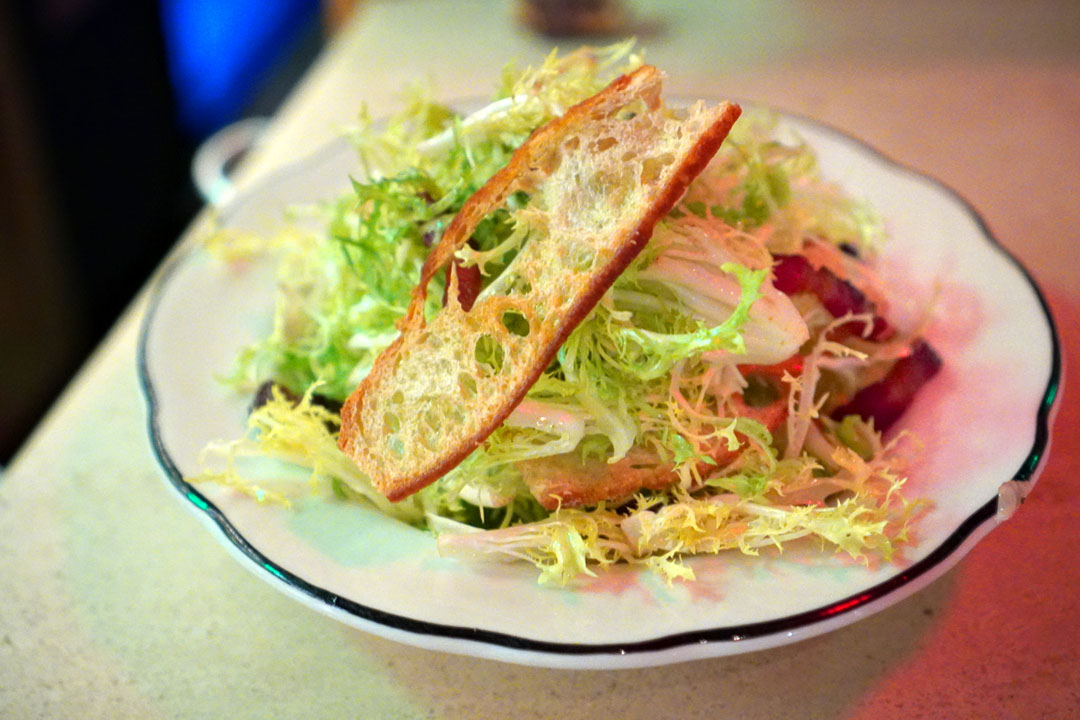 Frisée aux Lardons [$19.00]
| sherry vinegar, soft egg
I began with Oriel's take on the ubiquitous
salade lyonnaise
. The thing that stood out to me was the enveloping sweet-sourness of the vinegar, which worked hand-in-hand with the endive and salty bacon. I also liked the sharp crunch of the bread here, though unfortunately, the soft egg wasn't as soft or as runny as I was hoping for.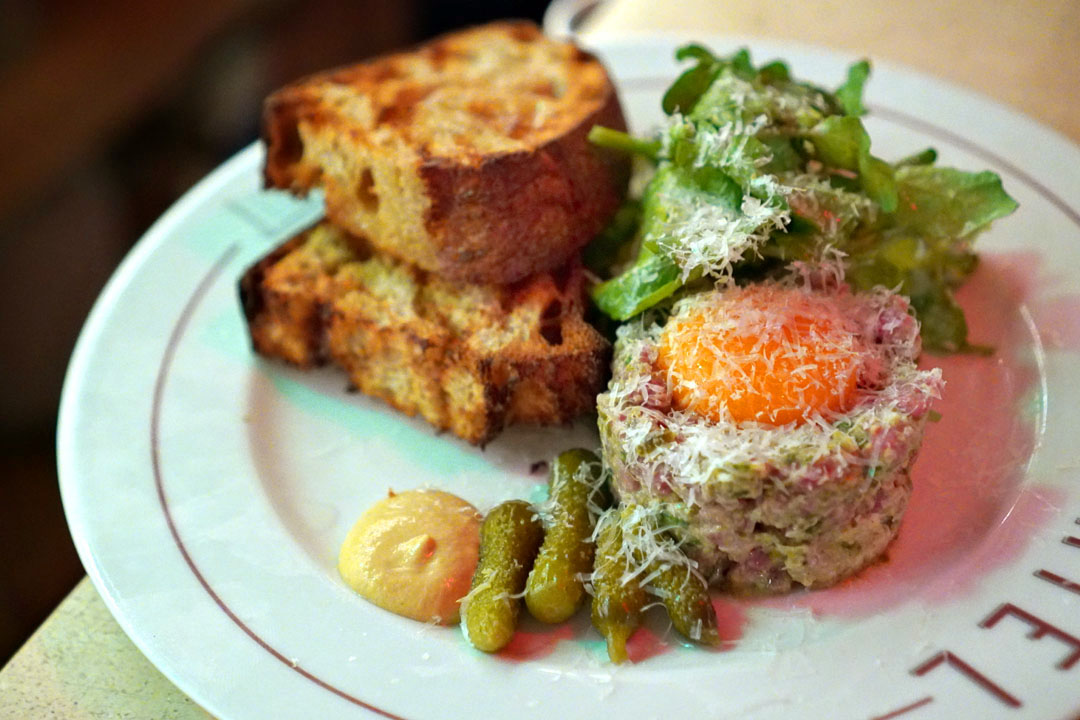 Steak Tartare [$23.00]
| soft egg, classic accoutrements
The tartar was one of the better ones I've had in recent times. I loved the springy, supple chew of the beef, as well as its tanginess, not to mention how beautifully that lush, liquid-y egg melded with the meat. Cornichons and mustard provided further accentuation for the dish, and I appreciated the slight sweetness of that toasty bread, too.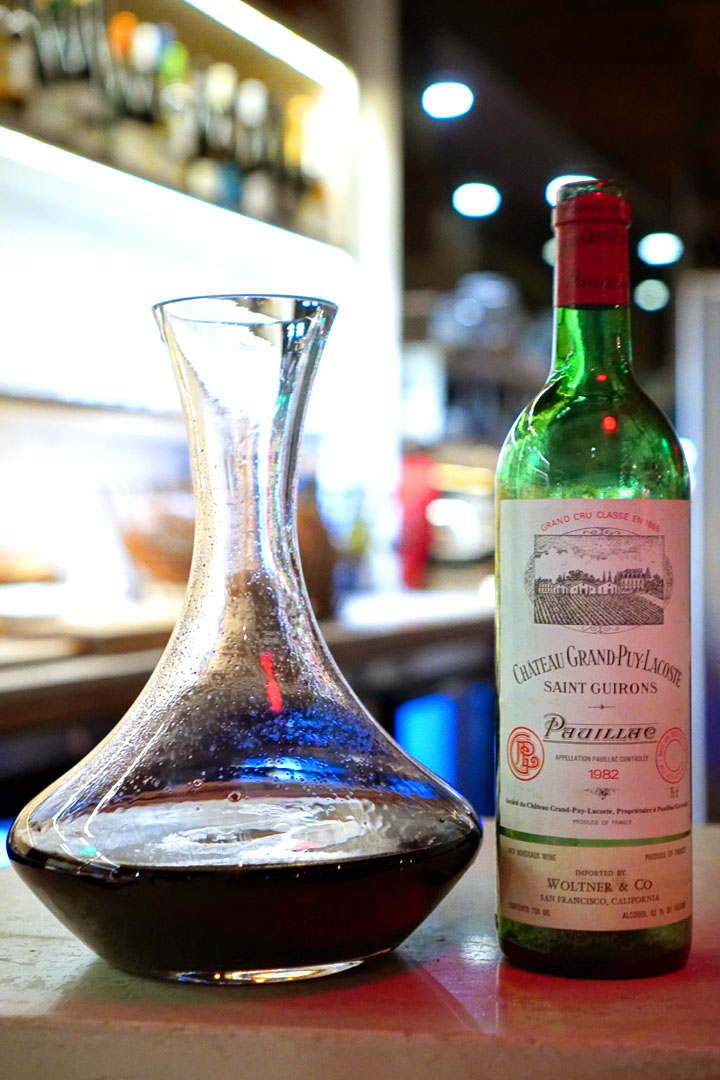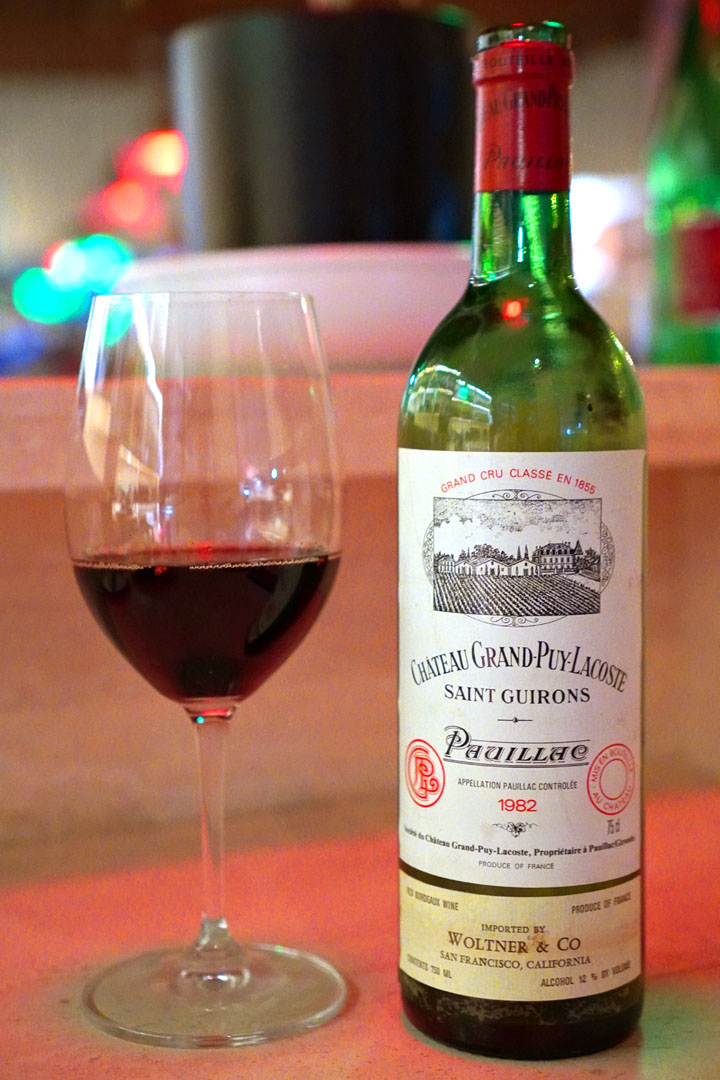 Continuing on in my attempt to drink more birthyear wines this year, I brought along a bottle of the
1982 Château Grand-Puy-Lacoste
, which was decanted soon after I sat down and enjoyed throughout the course of the evening. In the decanter, the Bordeaux showed off a marked mustiness at first blush, but soon, I got delectable notes of juicy dark fruits, fall leaves, balsamic, and
suanmei
. In the glass, the nose became much herbier and mint-forward, with a very apparent meatiness taking center stage ahead of the fruit. On the palate, the wine was undoubtedly silken, yet a bit puckering up front, while flavors of berry fruit and leather followed, joined by dry herbs, olive, and earth on the back end, especially as the liquid warmed. Overall, I found the claret quite well integrated, with a mature, but still vivacious vibe, and I think it still has some good years ahead.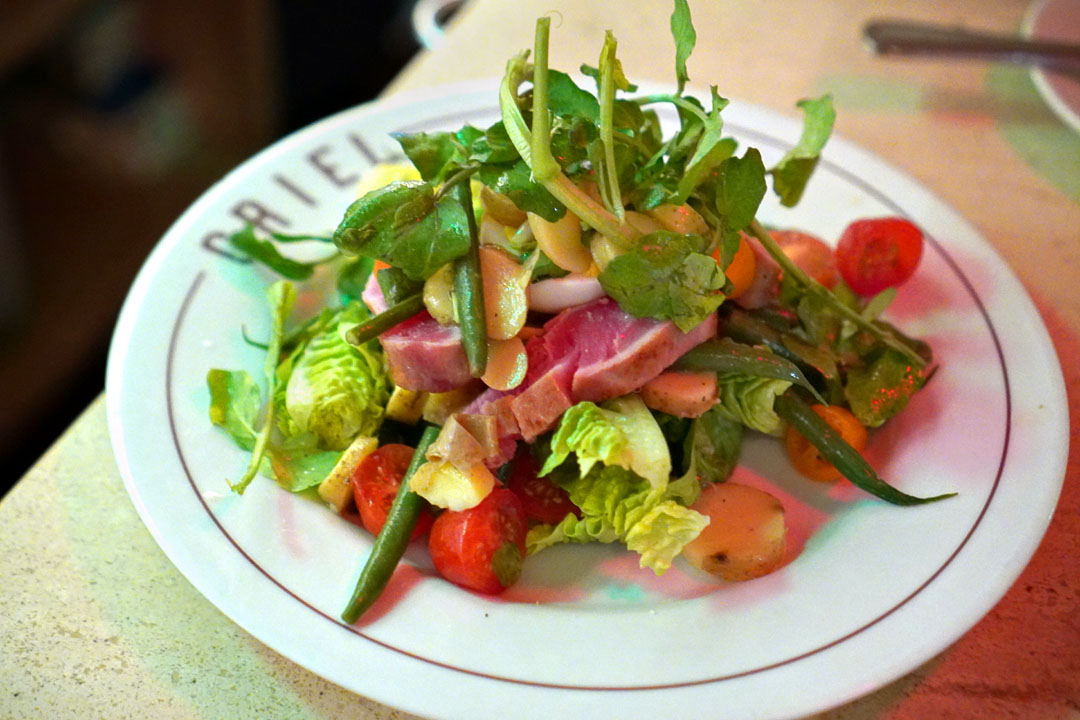 Salade Niçoise [$23.00]
| sesame seared yellowfin tuna
My Niçoise salad featured cuts of seared tuna that were quite nice, though seemingly devoid of any of the advertised sesame. I liked the back-and-forth between the juicy tomatoes and those hearty potatoes, tied together by the tartness of the dressing, though some of the greens weren't quite as necessary of an addition.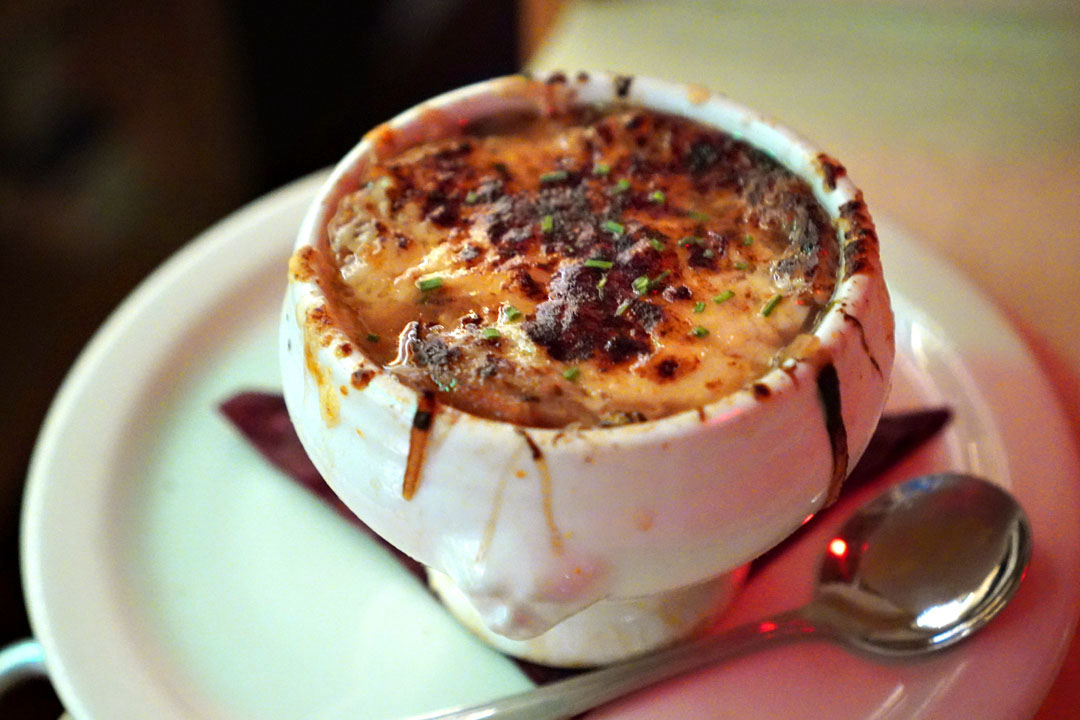 French Onion Soup Gratinée [$15.00]
| Emmental cheese
Given the nippy weather we've been having, the
soupe à l'oignon
seemed like an apropos choice. It showed off the unmistakable savory-sweetness of caramelized onion, combined with plenty of gooey Emmental and tender chunks of bread.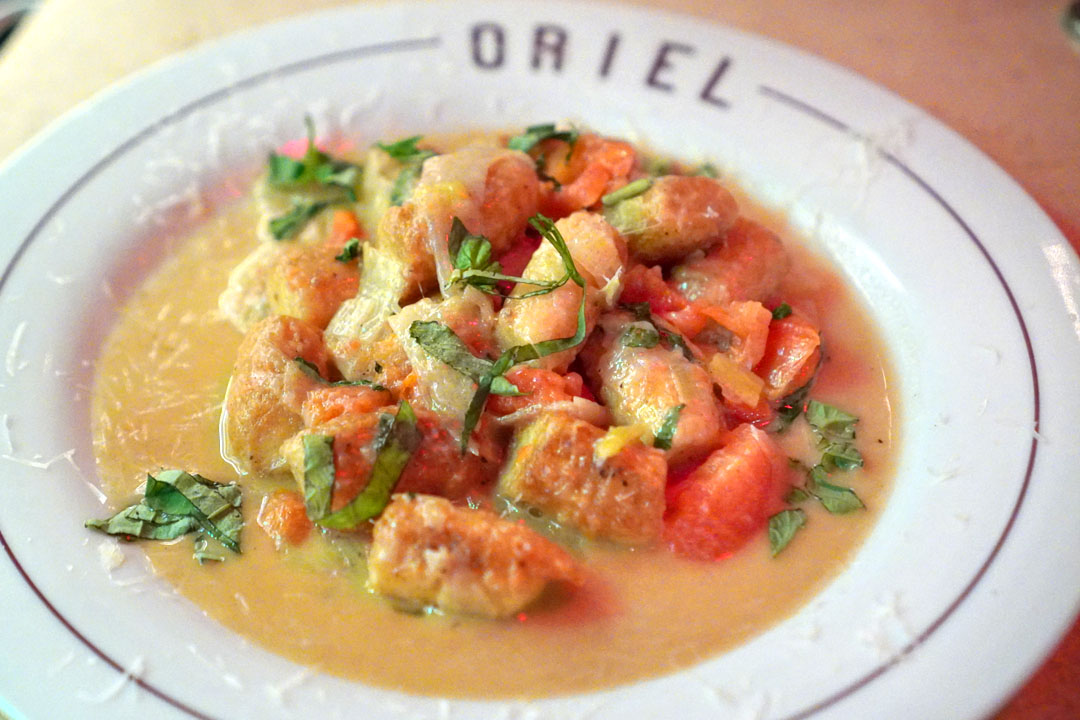 Gnocchi [$20.00]
A special for the evening, the gnocchi managed to be a surprise standout. The dumplings were on-point texturally, but what really made this sing was the combination of tart tomato and zippy onion, accented by the brightness of the herbs.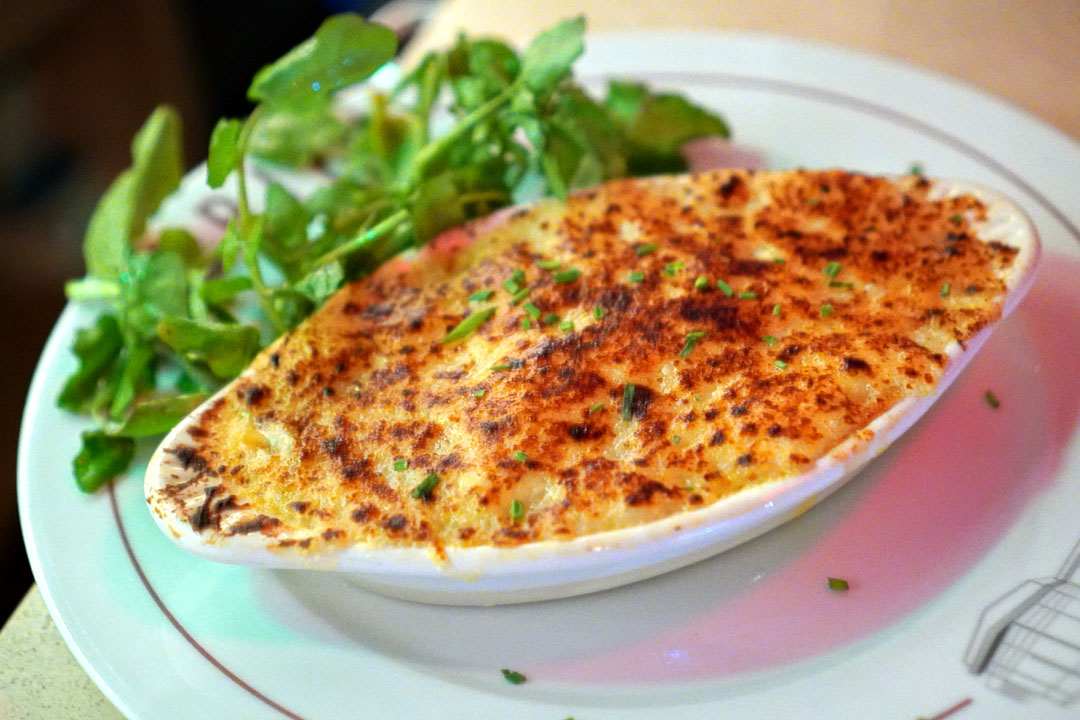 Duck Confit Parmentier [$22.00]
Oriel's riff on hachis Parmentier featured rich, salty shreds of confit'd duck, all moderated by a browned layer of finely mashed potato, with a side of greens supplying a bit of levity.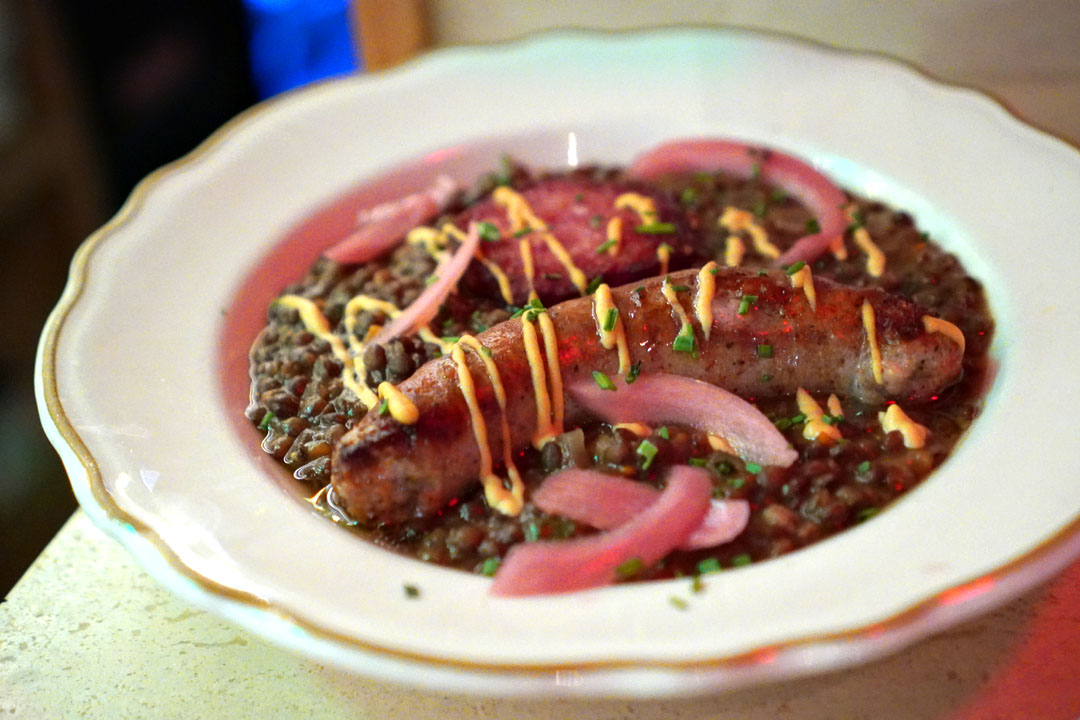 Saucisses aux Lentilles [$22.00]
| Toulouse & garlic sausages
My final savory plate was a homey, satisfying affair thanks to that rustic, full-flavored sausage and additional parcel of salty pork. The lentils were softer than I'd like, but did a good job balancing out the potency of the meat, while even better was the inclusion of onion, which offered a piquancy that really lifted the dish.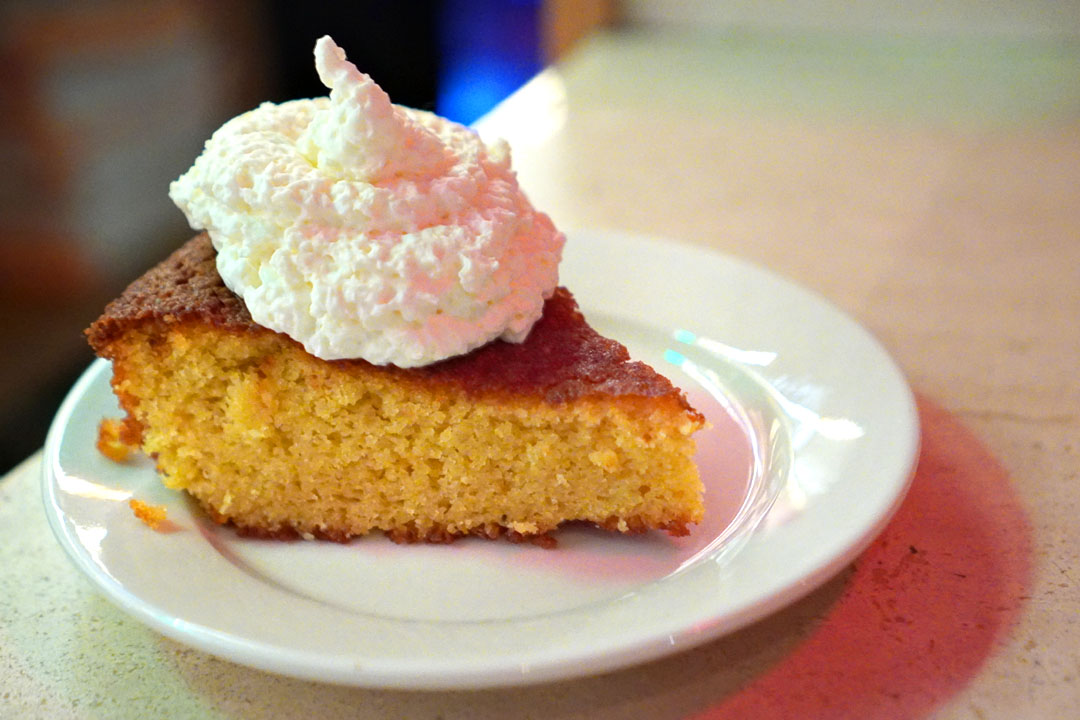 Almond Cake [$10.00]
I ended up trying two desserts. The
gateau au amandes
arrived delightfully moist, and conveyed a refined sweetness that certainly made sense with the cake's citrusy nuances.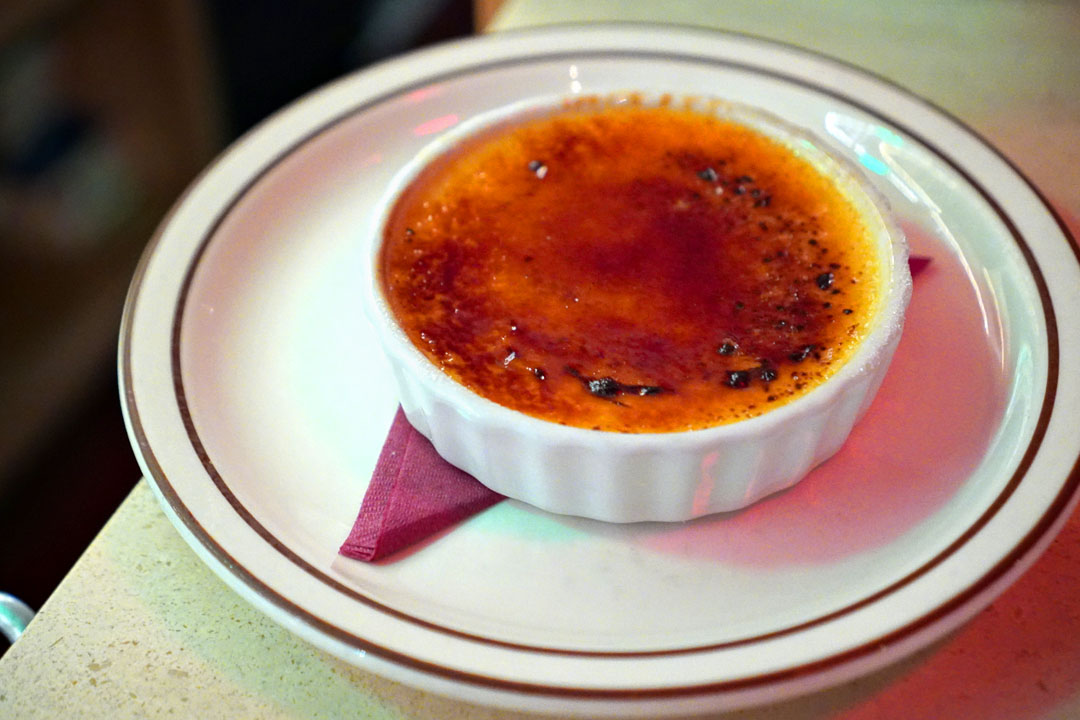 Crème Brûlée [$10.00]
Last up was a classic crème brulée, a dessert that I actually hadn't had in a while. It came with a properly crunchy, caramelized layer that was fun to crack through, and also provided a bitterness that worked to offset the richness of that custard base.
Even though I'd been to Oriel before, I had been meaning to file a proper dining report on the place for a while now, and I'm glad I finally did. There's some pretty solid bistro-ish cooking going on here, and at the same time, service from Scott Kuza and Mikhail "Mick" Kennedy (
Sawyer
, Chateau Marmont) was welcoming and convivial. This is a popular neighborhood-y type of spot, and I can see why.