Cento Pasta Bar (Los Angeles, CA)
Cento Pasta Bar
4921 W Adams Blvd, Los Angeles, CA 90016
323.998.0404
www.centopasta.com
Sun 12/04/2022, 08:05p-10:20p

I hadn't dined in West Adams since a takeout meal at
Mizlala
during the height of the pandemic, so I figured that it was time for a revisit. Thus, I decided to check out Cento, Chef Avner Lavi's oft-lauded, pasta-centric spot that opened in December 2021 after spending six years operating as a pop-up. If you're wondering about the name, "cento" translates to 100 in Italian, and refers to a standard pasta serving size of 100 grams.
About the Chef
: Avner Lavi (a.k.a. Avner Levi) was born and raised in LA in a Persian Jewish family, and cemented his desire to pursue a cooking career after graduating high school, during a visit to Israel. He thus enrolled at Johnson & Wales University, but dropped out of the culinary program when he was 20. After moving back home, he worked for LA Cafe for a bit, but was soon able to secure a garde manger job at
Sotto
, which had just debuted in March 2011. Training under
Steve Samson
and
Zach Pollack
really opened his eyes, and from there, he went on to cook with
Jason Neroni
at Osteria La Buca (Neroni departed at the start of 2012). During this period, Lavi also worked for six months at
Santos Uy
's French bistro Papilles (open December 2011) and helped Neroni start
Superba Snack Bar
in July 2012. In August 2012, he was able to secure a slot on the opening team for
Ori Menashe
's seminal Italian eatery
Bestia
, which dropped that November. His experience at the Arts District hot spot was intense, but highly instructive, and he ended up staying for two years.
From there, Lavi went over to
Osteria Mozza
as a sous, and also assisted with the September 2014 opening of Neroni's B Side Pizza & Wine Bar in NYC. He left Mozza in 2015, and that fall, visited Italy. Upon returning, he and his old friend Santos Uy teamed up to form Cento Pasta Bar, which launched in December 2015 inside Uy's wine bar
Mignon
. Cento proved to be popular, and the daytime pasta residency expanded to
Brendan Collins
'
Birch
in Hollywood in October 2016 (under the moniker Andare), though it only seemed to last a few months. In 2017, Lavi helped revamp the menu at Louise's Trattoria, all while still running Cento. During the pandemic, the Chef conceptualized Cento Pizzeria, which debuted in November 2020 inside Tartine Sycamore but ceased operations around March 2021. Then, in June 2021, it was announced that Cento would be becoming a permanent restaurant in West Adams, and the place ended up grand-opening on December 15th last year.

Shown above is Cento's namesake pasta bar, which surrounds a very open kitchen. There's also an olive tree-shaded patio outside, but it was somewhat off-limits tonight given the rain.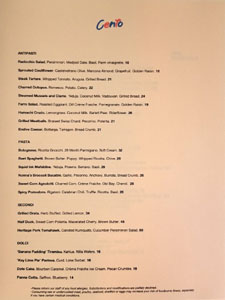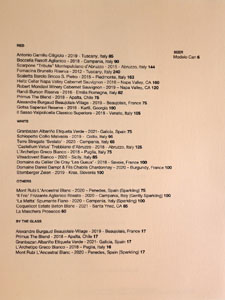 Here's Cento's menu, and not surprisingly, the focus is on housemade pasta, though it's also been expanded from the pop-up days to include a selection of antipasti and mains. Beverage-wise, there's a compact wine list focused on newer, Old World bottlings, curated by none other than Santos Uy; corkage is $35. Click for larger versions.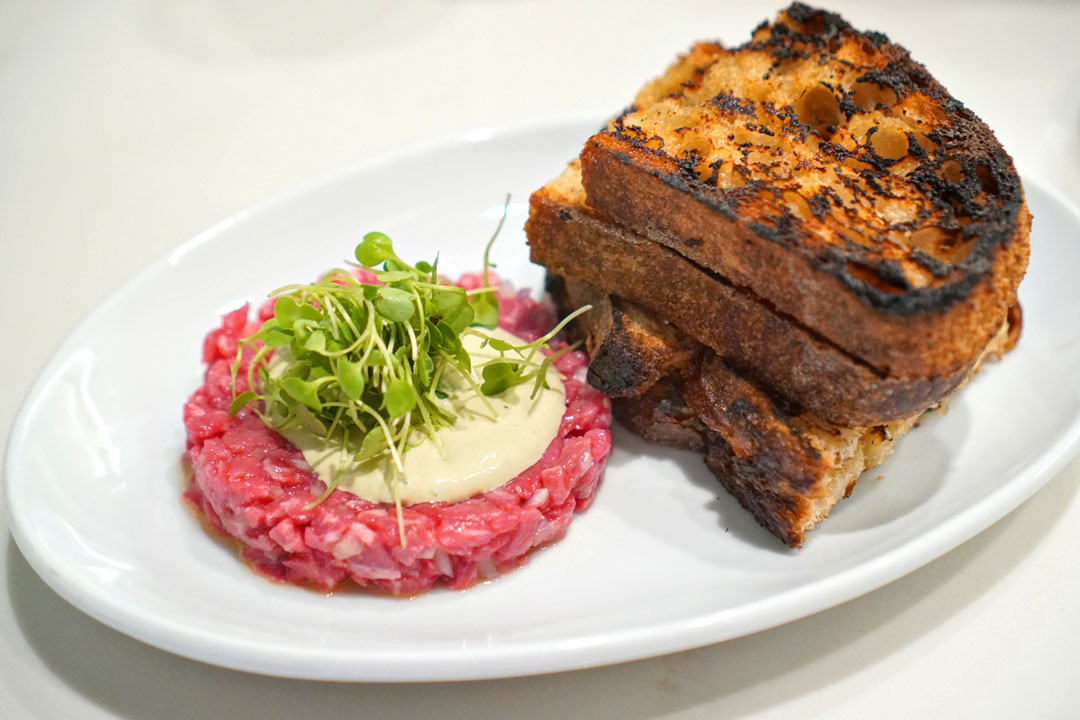 Steak Tartare [$21.00]
| Whipped Tonnato. Arugula. Grilled Bread.
I'm a sucker for a steak tartar, and Cento's version made for a promising start to the meal. I was definitely a fan of the filet's soft, sticky consistency, as well as the bit of onion mixed in, which, along with the greens, gave the meat a welcomed zing. However, my favorite thing here was that tonnato, which showed off a salinity and depth that did a wonderful job enhancing the comparatively restrained flavors of the beef.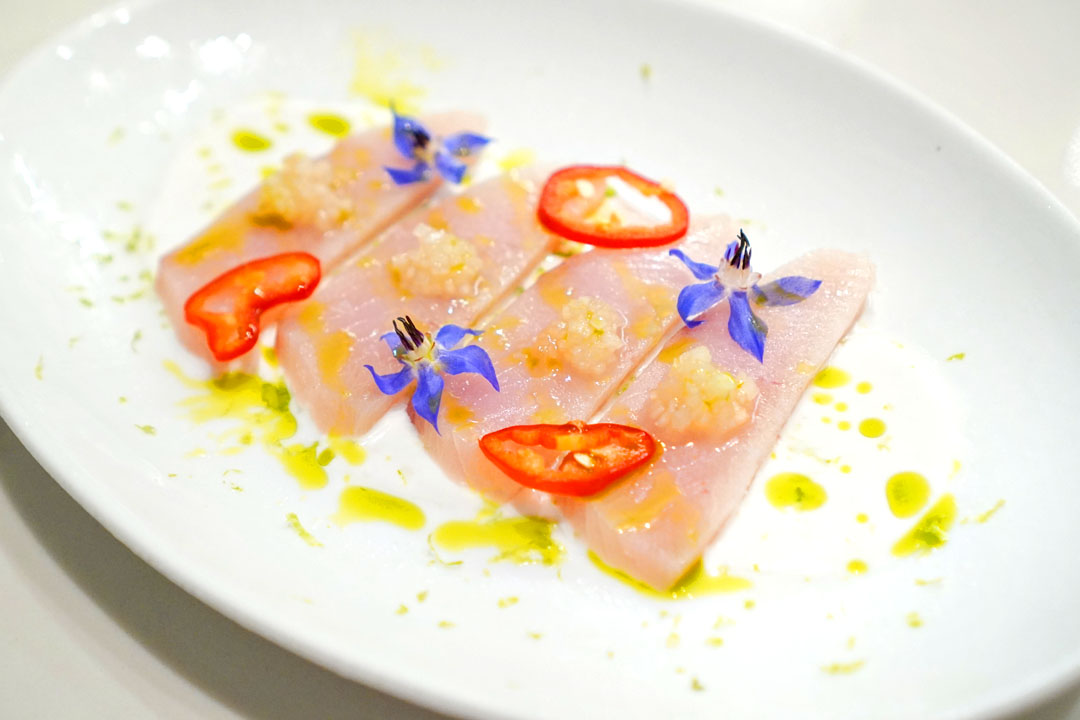 Hamachi Crudo [$26.00]
| Lemongrass. Coconut Milk. Barlett Pear. Elderflower.
Supple, fatty slices of yellowtail served as a stage for this dish's creamier, fruitier elements. Also crucial was the underlying layer of astringency from the lemongrass, and I appreciated the heat on the finish from those chilis, too.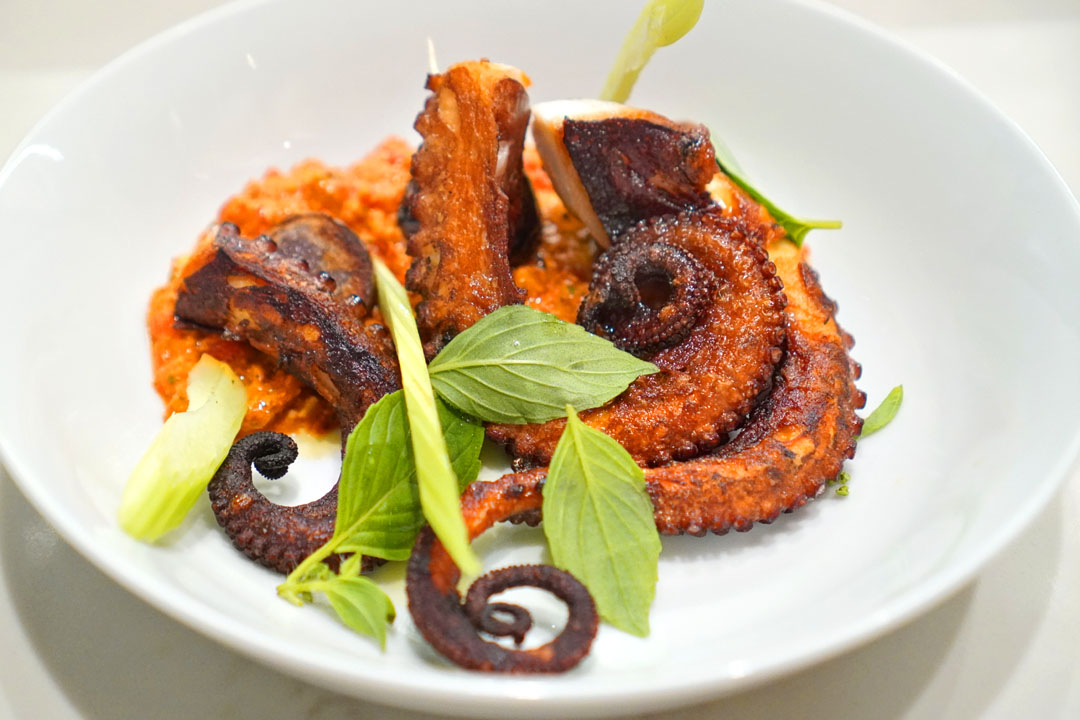 Charred Octopus [$22.00]
| Romesco. Potato. Celery.
The octo was undoubtedly a standout, and perhaps the best preparation of the ingredient I've had all year. I found it flawless texturally thanks to its tender insides and crispy, super flavorful exterior, and especially enjoyed the crunchy, heavily charred "tail" sections. At the same time, the romesco offered up a sweet, nutty, peppery complement to the octopus, and I liked how the basil brightened up the dish.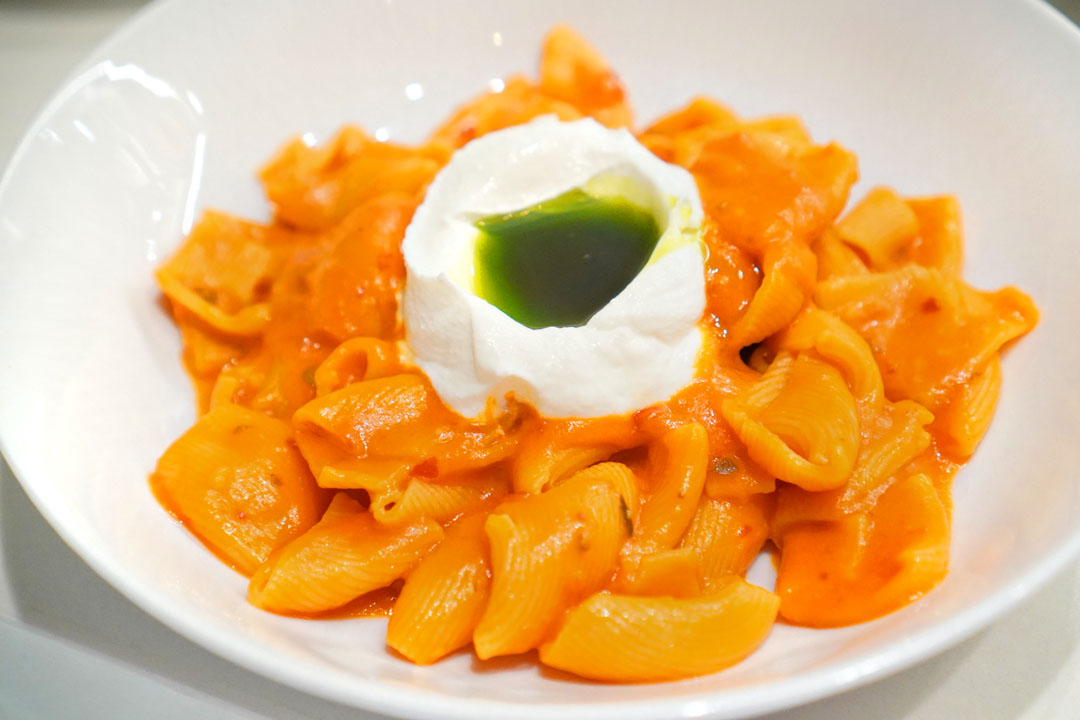 Spicy Pomodoro [$26.00]
| Rigatoni. Calabrian Chili. Truffle. Ricotta. Basil.
It was now time to move into the pasta portion of the meal. Rigatoni were just what I wanted in terms of consistency, and I really enjoyed how the sweetness of the tomato married with the heat from those chilies, all while ricotta smoothed out the interaction. However, I have to note that I didn't really taste much from the advertised truffle, though fortunately, the dish didn't really need it.
To drink, I brought along the
2015 Caiarossa "Caiarossa" Toscana IGT
, a seven-grape blend that was decanted upon arrival (I was concerned that it might be "tight") and enjoyed throughout the night. Initial whiffs brought notes of inky dark fruits, balsamic, and herb, while the palate featured grippy tannins and a distinct fireworks-esque smoke, but without much else worth noting. The Super Tuscan was too cold at this point, and I suspect that was a big part of the reason why it seemed so "closed." However, with time, things improved dramatically. The nose became noticeably more floral-driven, though with the fruit and herb still there supporting. However, it's the taste that really opened up; I got a lot more of those dark berry flavors I was expecting, joined by oak, peppery spices, cedar, and leather, with those aforementioned tannins still in play. The wine was quite enjoyable, and paired especially well with the duck below, but could probably benefit from more years in the cellar.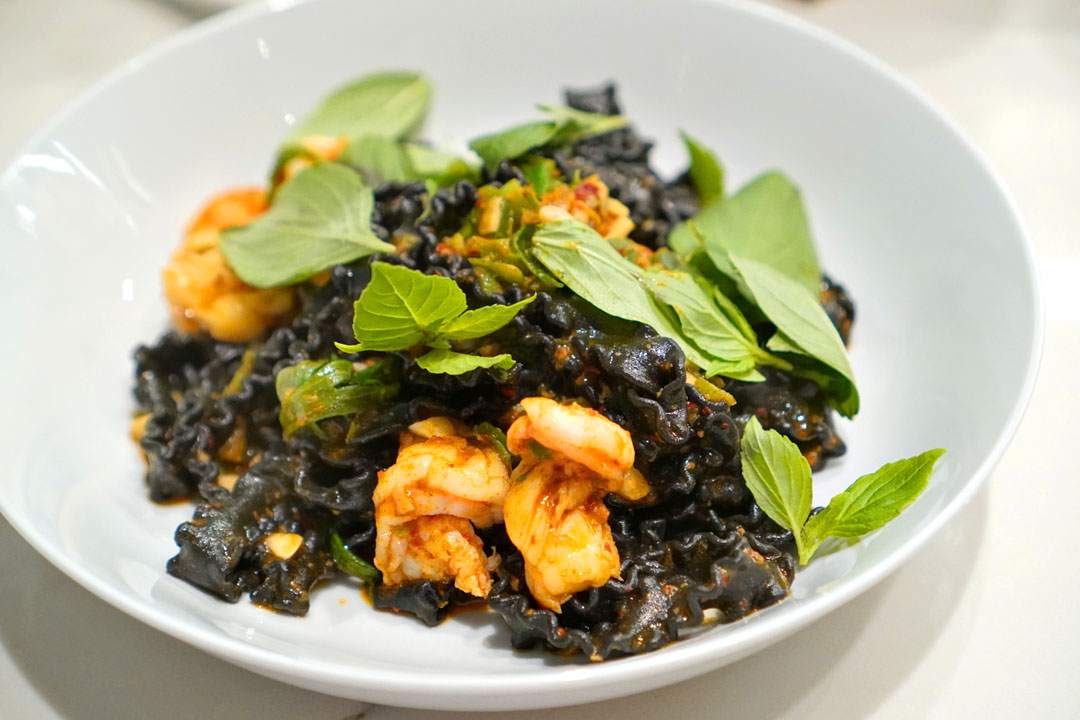 Squid Ink Mafaldine [$28.00]
| 'Nduja. Prawns. Serrano. Basil.
The mafaldine was my favorite of the pastas, and actually one of the best pastas I've had in a while. The key here was that 'nduja, which had this combo of umami and creeping heat that really sang when taken with the faultlessly-textured, just-briny-enough shrimp. The fragrant, zippy nuances from the basil, meanwhile, formed the perfect finishing touch. A must try.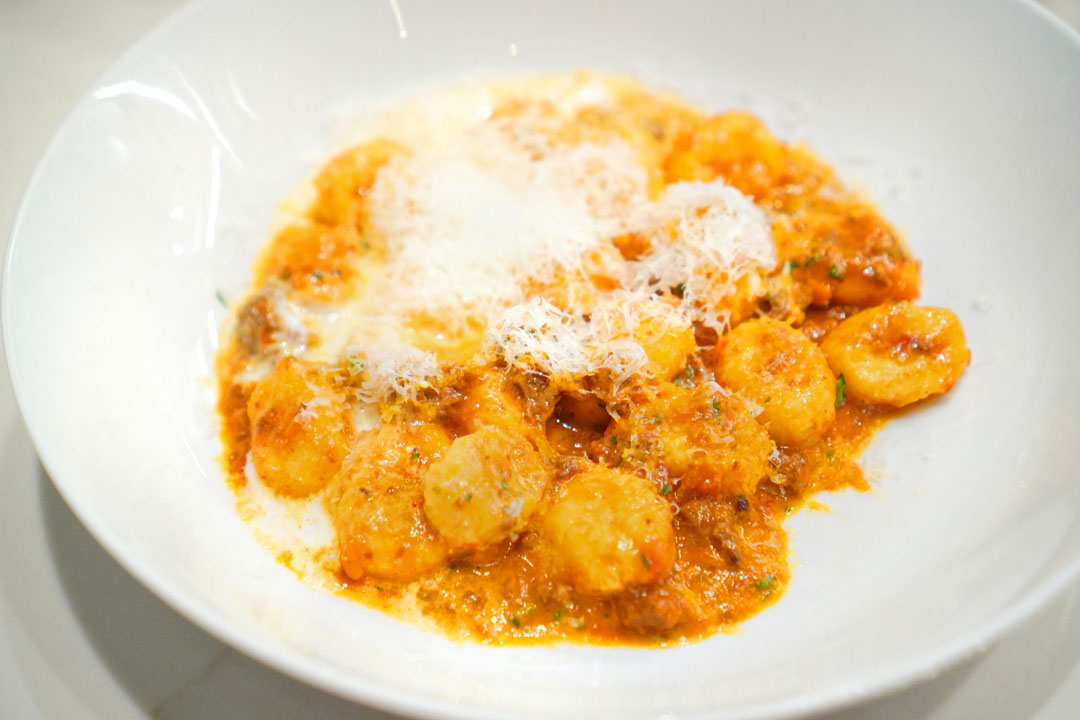 Bolognese [$32.00]
| Ricotta Gnocchi. 28 Month Parmigiano. Soft Cream.
Gnocchi were exquisite in terms of texture, showing off the lightness and "fluffiness" that I prefer. The dumplings meshed beautifully with the bolognese sauce, with the super meaty, homey flavors of the ragù taking center stage, offset just a smidge by the aged Parmesan.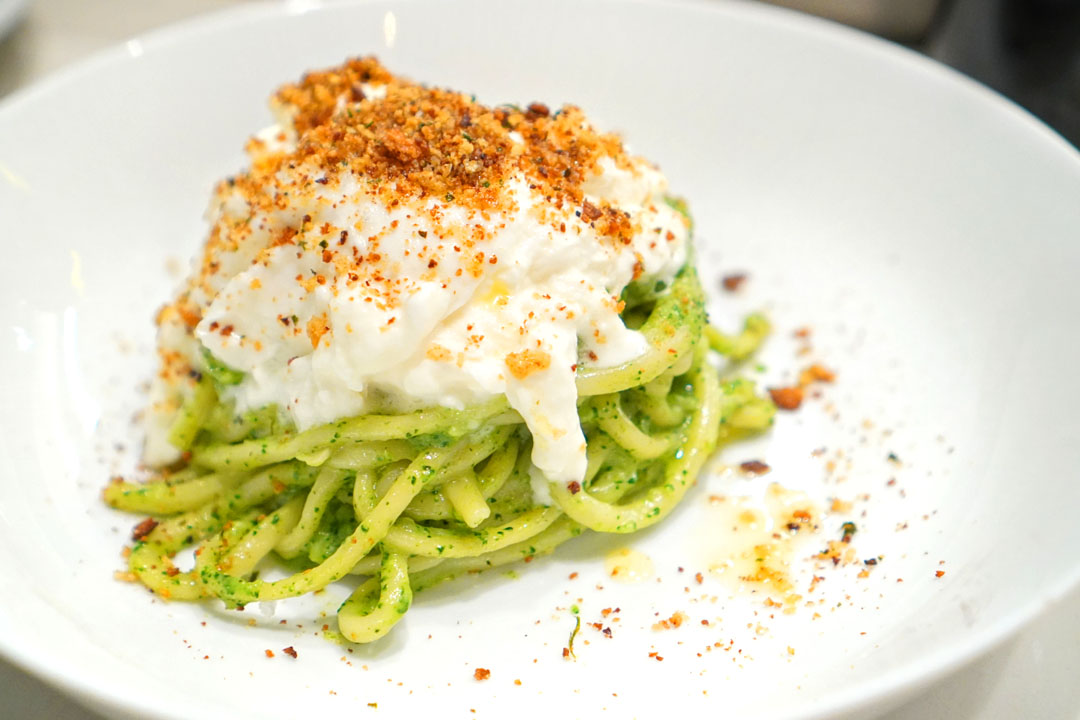 Nonna's Broccoli Bucatini [$26.00]
| Garlic. Pecorino. Anchovy. Burrata. Bread Crumb.
Strands of green-tinted bucatini were great texturally, and truly did convey the unmistakably sweet-vegetal notes of broccoli. A mixture of breadcrumbs and anchovy served as a salty-crunchy component, while a dollop of creamy burrata softened the flavors at play.
Half Duck [$45.00]
| Sweet Corn Polenta. Macerated Cherry. Brown Butter.
Last up was the duck, which I was a big fan of. I started with the breast, which came out super juicy, substantial to the bite, and loaded with plenty of deep anatine funk, while its skin was wonderfully sweet-savory and crispy. The leg was equally as enjoyable thanks to its even greater succulence, shattery skin, and fuller flavors. Meanwhile, the subdued sweetness of the polenta worked to ground the dish, and I didn't mind the tartness from those cherries, either.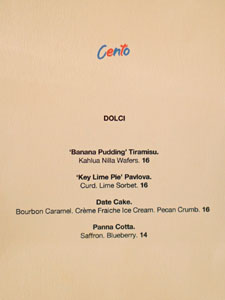 We were quite full by this point, but made sure to save room for one of Cento's desserts. Click for a larger version.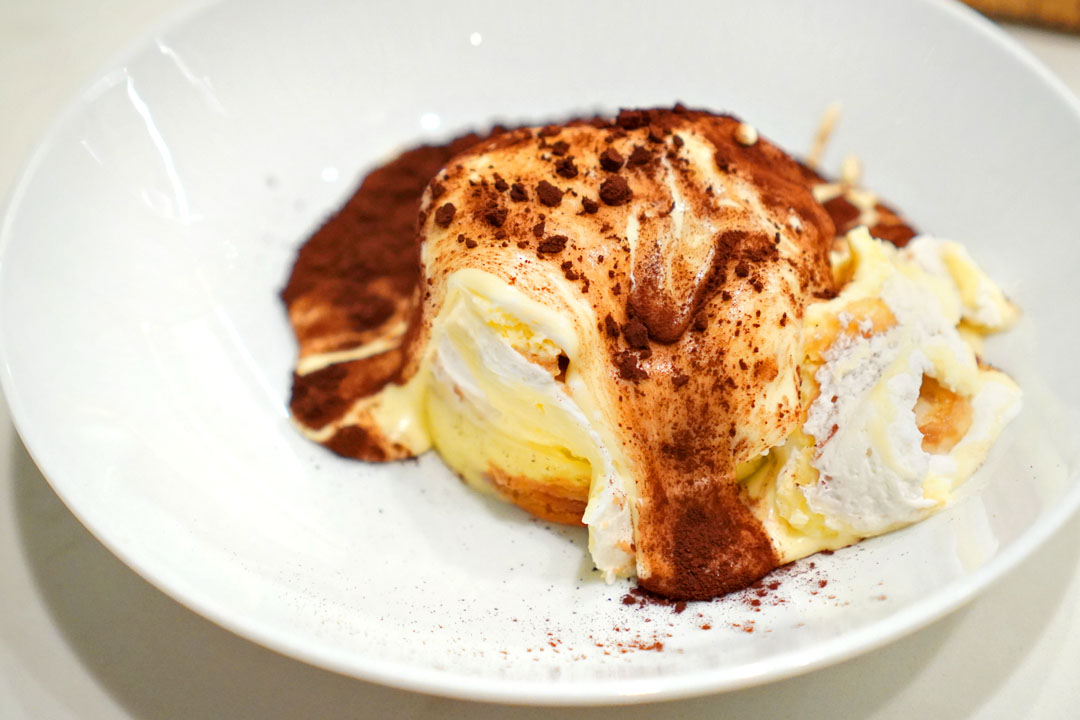 'Banana Pudding' Tiramisu [$16.00]
| Kahlua. Nilla Wafers.
We opted for this mash-up of tiramisu and banana pudding, which was a definite hit thanks to how seamlessly the dessert's banana flavors melded with the unmistakable fragrance of coffee. This is apparently Cento's signature dessert, and I can see why.
I'd been curious about checking out Cento ever since it first started popping up at Mignon years ago. It took me this long to finally pay the place a visit, but I'm sure happy I did, since this was an impressive dinner, one of my top Italian meals of 2022 in fact. Lavi's pasta has to be among the City's best I imagine, but the rest of his menu is a force to be reckoned with as well, and I appreciate how the Chef isn't afraid to venture outside the confines of traditional Italian cookery when called for. Overall, an extremely welcomed addition to the West Adams dining scene, and LA's restaurant landscape in general.