L'Appart (Los Angeles, CA)
L'Appart by Air Food
130 E 6th St, Los Angeles, CA 90014
213.628.3158
www.air-food.com
Sun 12/11/2022, 08:10p-10:10p

You might recall that I checked out Downtown's
Mignon
back in September. During my visit, I noticed L'Appart ("The Apartment") next door, a cozy-looking French spot that I wasn't familiar with, so I decided to give the place a try tonight. The restaurant is the creation of Marc Moubarak and Chef Thierry Babet, both of whom hail from France. An occasional DJ, Moubarak comes from a non-culinary background, but had always had an interest in hospitality, while Babet worked in kitchens across both London and Paris. Apparently, the duo met in 2012 at a sneaker sale at the Place de la République, and immediately bonded over their shared love of both streetwear and food.
They soon started hosting pop-up dinners together, then relocated to LA in late 2016. Moubarak and Babet began conceptualizing a modern French eatery called Air Food, and the restaurant was able to debut in Santa Monica on May 24th, 2017. Unfortunately, the restaurant didn't really connect with the locals, and had shut down by November the following year (the space is now home to
Interstellar
). Humbled, the pair regrouped and began work on L'Appart, which opened on September 17th, 2019 serving a more modest menu of bistro-type fare. The restaurant has been fairly well-received, and in 2020, the two even teamed up with Adama Kone to launch
Air Food Catering
. Babet, meanwhile, also competed on Food Network's
Supermarket Stakeout
in February 2021, and ended up as runner-up in the competition.

L'Appart is situated on the ground floor of the Historic Core's landmark Pacific Electric Building, in a storefront that was once home to the likes of Palikao,
Ohana Poke
,
Hero Shop
, and Babycakes. The space has been given a complete makeover, and now boasts a much homier decor that's meant to recall a Parisian apartment. There's a smattering of seating outdoors as well.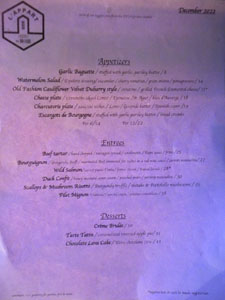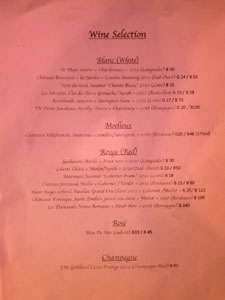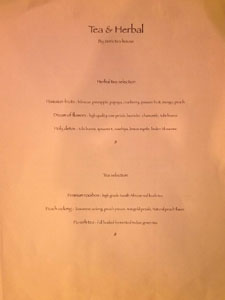 Above we see L'Appart's menu, which comprises a relatively brief array of mostly traditional French dishes. To drink, you get a compact, all-French wine list, and surprisingly, a dedicated tea selection. Corkage was advertised at $35, though I didn't end up being charged (I'm assuming because I shared my bottle with the Chef and server). Click for larger versions.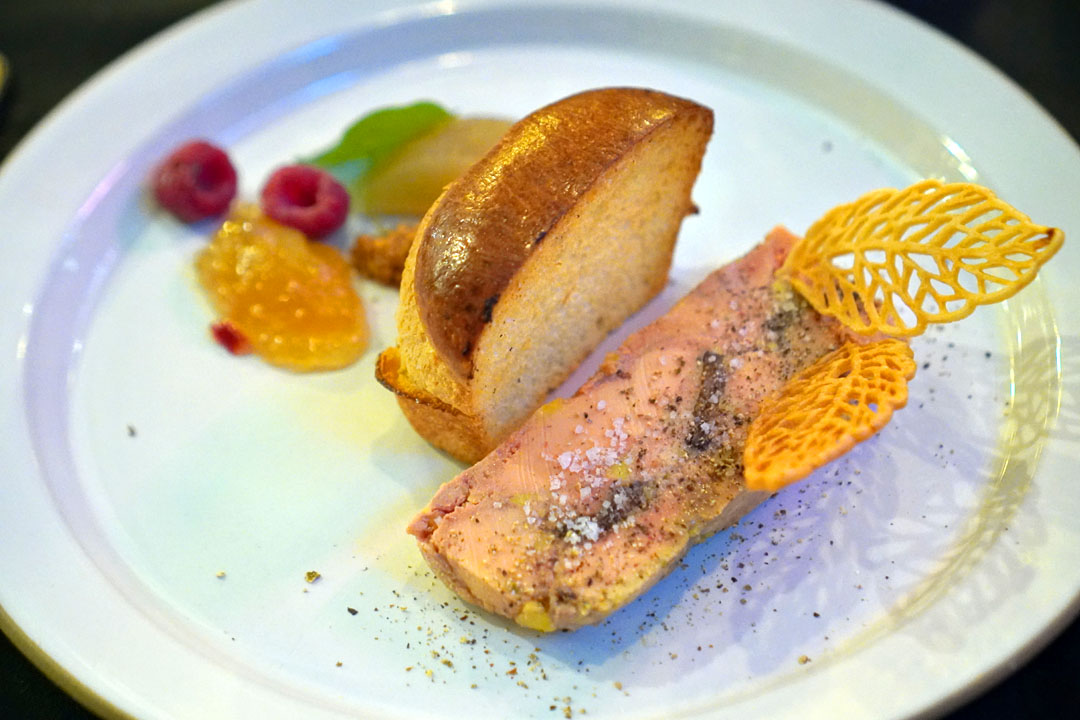 Foie Gras [$28.00]
It'd been a while since I last had foie gras, so I felt compelled to order the liver given that it was the evening's special. The foie was a classic, creamy preparation, with the lush, buttery nature of the terrine playing well with pricks of salt and pepper, while sweeter notes from all the fruit certainly made sense as well. Great texture on the toasty brioche, too.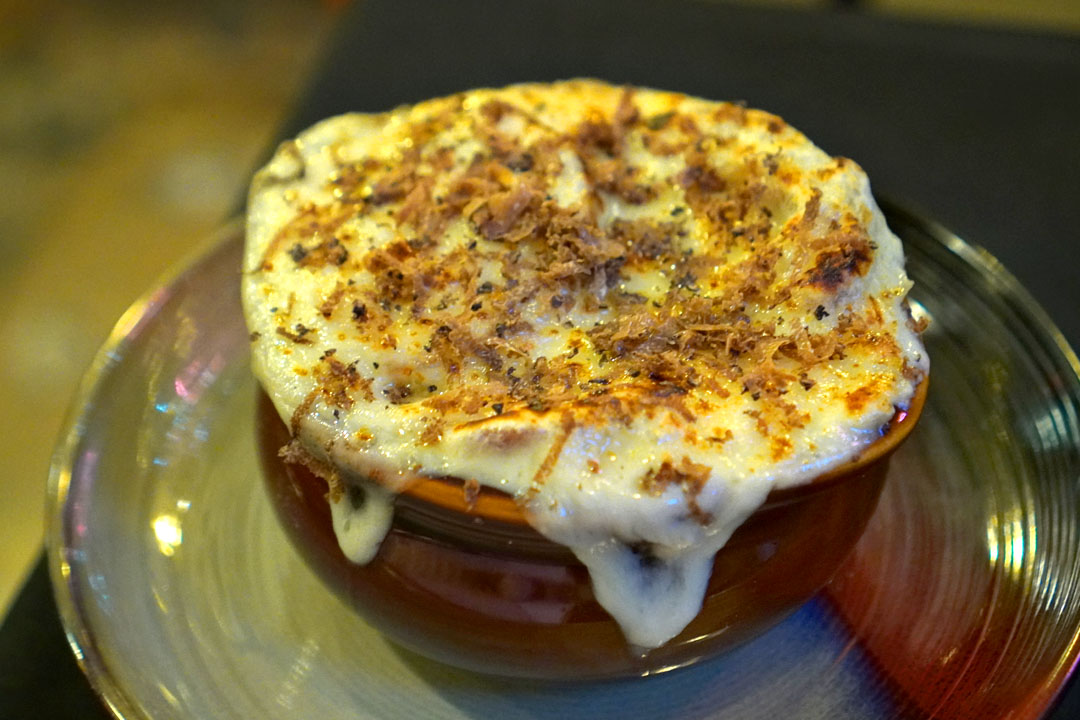 Old Fashion Cauliflower Velvet Dubarry Style [$15.00 + $5.00]
| croutons, grilled French Emmental cheese + black truffles
The Chef's take on soup du Barry showed off soft, silky notes of cauliflower, set against plenty of runny cheese, crusty croutons, and the subdued musk of black truffle. Quite snug, and appropriate for the cold weather we've been having.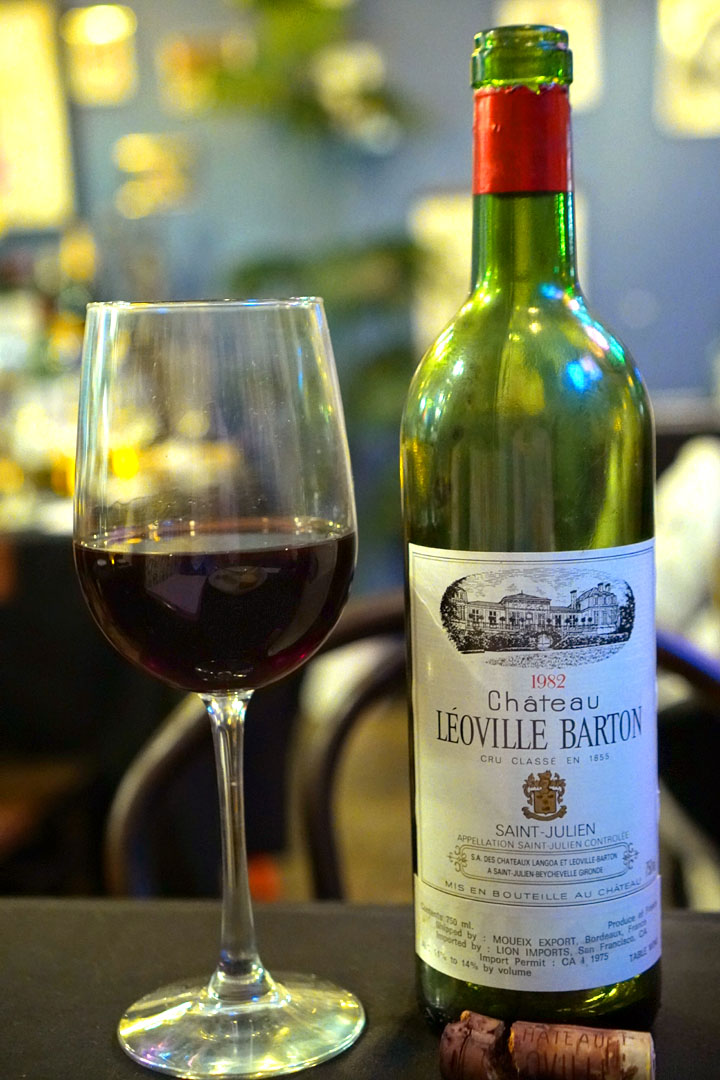 Libation-wise, I brought along a bottle of the
1982 Château Léoville Barton
, which was decanted (using a water carafe, since they didn't have a proper decanter) upon arrival. In the carafe, the Bordeaux demonstrated clear-cut aromas of barnyard, smoke, and spice, but with a juicy fruit backing. My first whiffs in the glass unveiled cedar, cigar box, and tobacco nuances, with fruit in the background, while the palate was velvety, its initial bursts of berries leading to further notes of smoke, wood, and spices. Mid-way through the dinner, the nose became noticeably mustier, though there were still underlying elements of ash and fruit; at the same time, the wine got more tannin-forward, though its purple fruit character also heightened--it was excellent with the beef tartare at this point. Finally, at the end of the meal, the claret revealed a distinct sour plum component on the nose, along with a touch of alcoholic heat, and sipping it, I got even more tannins, along with a pert pepperiness. It was great to see the wine evolve over the course of the meal.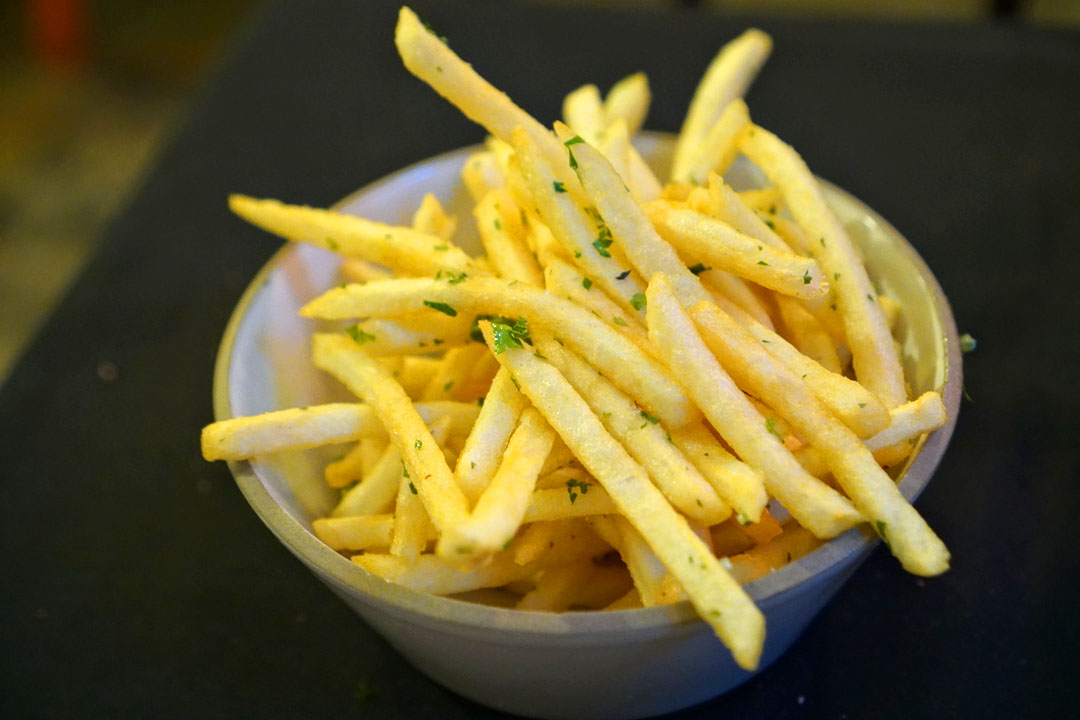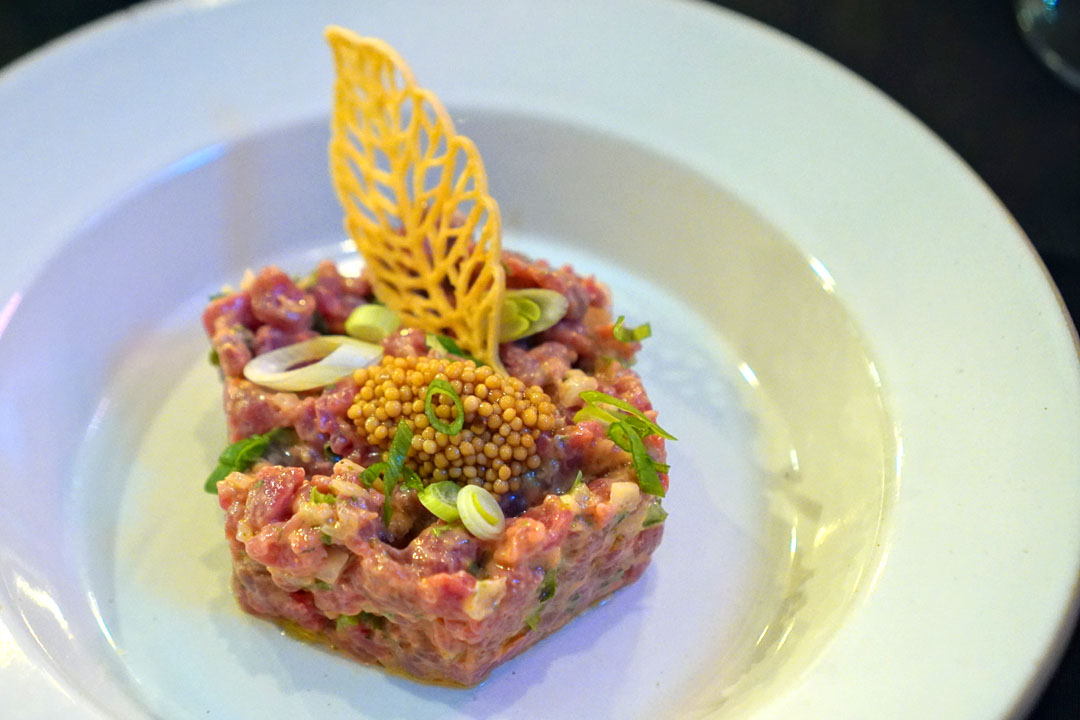 Beef Tartar [$25.00]
| hand chopped, tarragon spread, condiments, Papa sauce, frites
The steak tartare was excellent, and managed to be my favorite dish of the night. I appreciated the meat's supple, springy, satisfying consistency, and was a big fan of all the scallion mixed in, while mustard provided additional zestiness. As for the accompanying French fries, they were basically perfect thanks to their spot-on crispness and balance of salt and herb.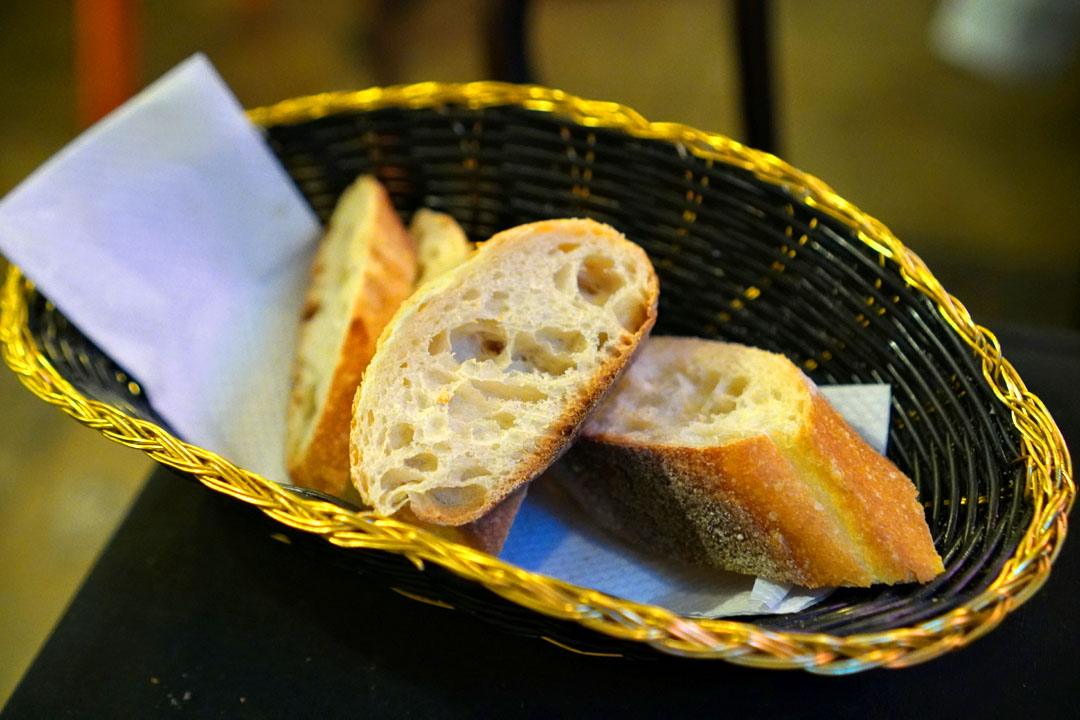 I was also offered some sliced baguette at this point. The bread was about par for the course, though I would've preferred it warmer and toastier.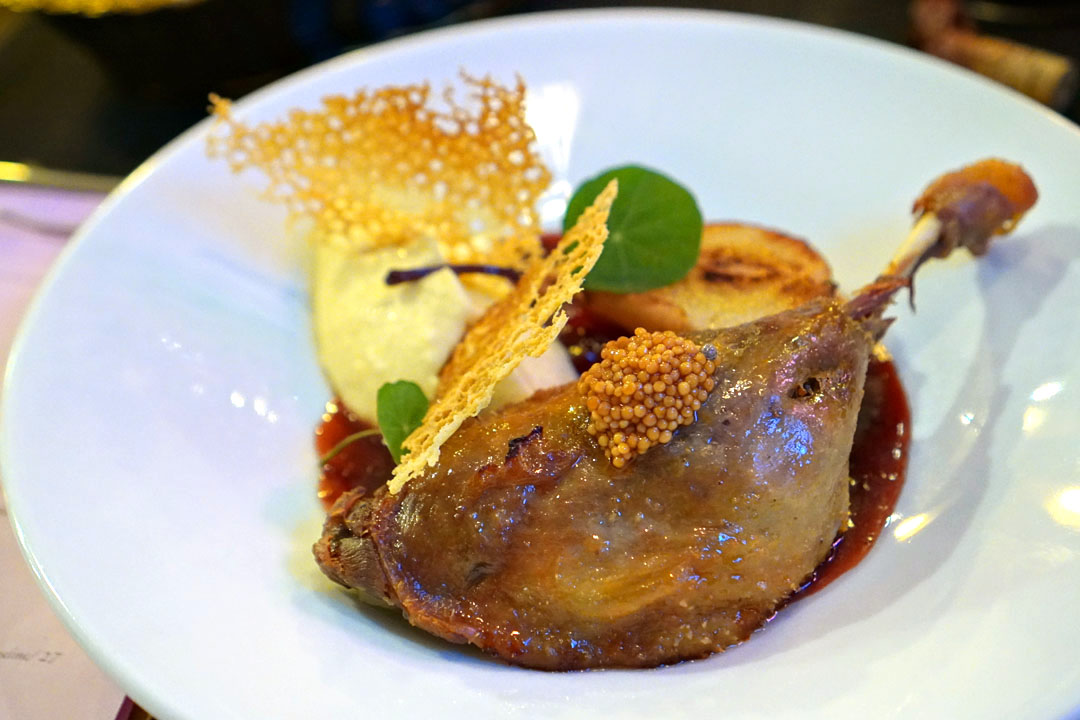 Duck Confit [$30.00]
| honey mustard caper cream, poached pears, parsnip mousseline
A meltingly tender confit'd duck leg showed off all the dark, sticky, earthy, and unabashedly anatine flavors I expected. The parsnip worked to soften the headindess of the dish, and the bird also matched up well with the fruitier notes of its accompanying sauce. In fact, said sauce was actually adjusted by the Chef to match my wine, and indeed, it really seemed to emphasize the purple fruit elements of the Bordeaux. My criticism here was that I wanted a crispier skin.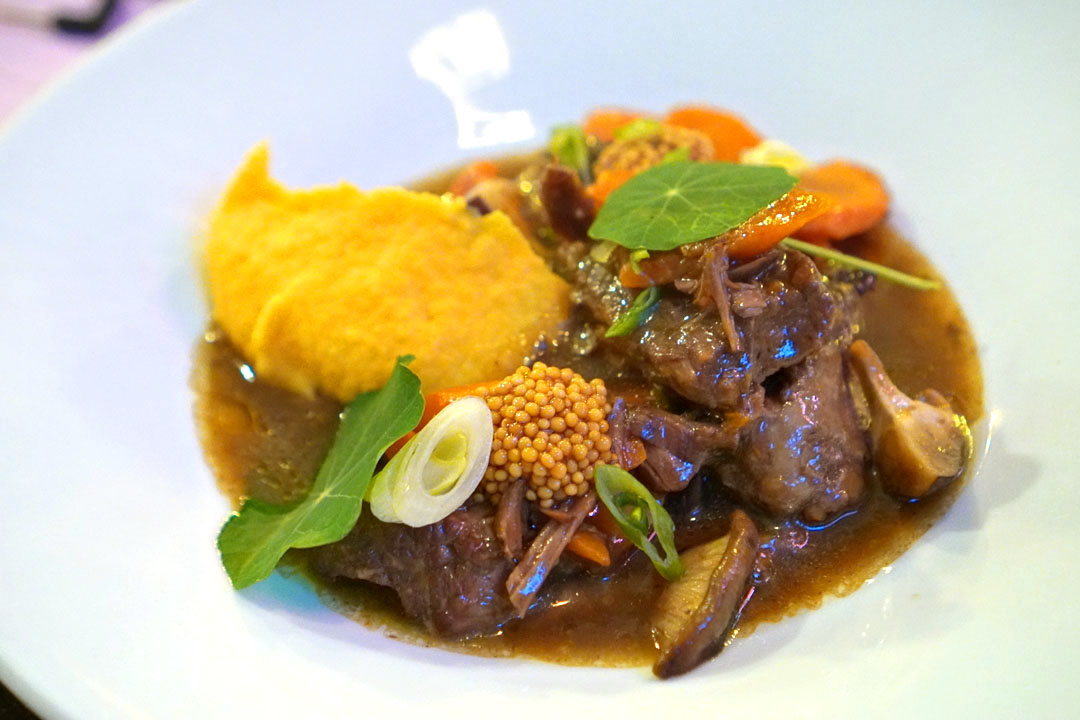 Bourguignon (Burgundy Beef) [$27.00]
| marinated beef simmered for 24hrs in a red wine sauce, carrots mousseline
A plate of beef bourguignon featured soft, flossy chunks of long-cooked meat, while flavors were deep and hearty. The coziness of the dish was further bolstered by the inclusion of carrot, potato, and mushroom, and I quite liked the addition of green onion, too. My one complaint here was that the carrot mousseline veered overly sweet; I would've preferred potato be used instead. Not surprisingly, this dish paired beautifully with the wine, and tended to draw out mintier notes from the claret.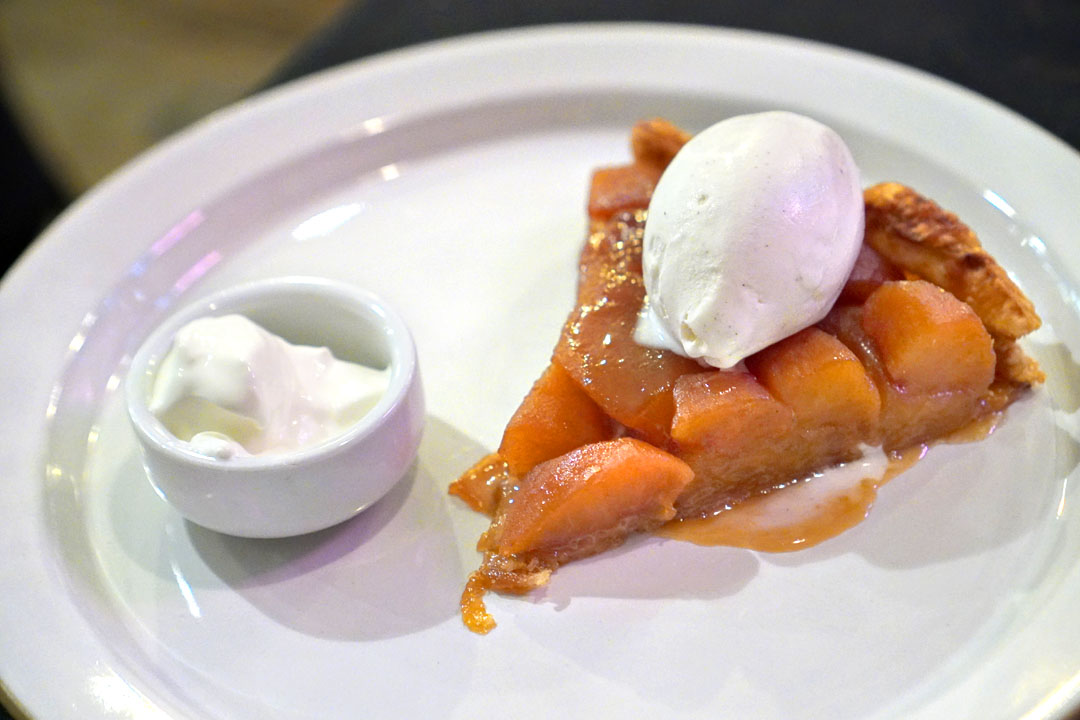 Tarte Tatin [$11.00]
| caramelized reversed apple pie
We ended with the tarte Tatin, one that showcased rich, sugary, caramelized apple flavors, offset by the almost floral nature of vanilla ice cream, not to mention that tangy crème fraîche on the side.
I'm glad I gave L'Appart a chance, since I was pretty happy with my experience tonight. This is a charming, homey sort of spot, and Babet's rustic-refined cooking generally met the mark as well. It's a worthwhile inclusion to the DTLA dining scene. Now on a related note, I'd be interested to see the Chef get back into some of the more elevated, contemporary cuisine he was putting out at Air Food, maybe as part of a special menu at L'Appart served on one of the days when the restaurant's normally closed. I'm not holding my breath though.