Mom's Touch (Gardena, CA)
Mom's Touch Chicken & Sandwiches
1400 W Redondo Beach Blvd, Gardena, CA 90247
310.400.7305
www.momstouchusa.com / momstouch.co.kr
Sat 12/10/2022, 08:20p-09:20p

I recently had a hankering for fried chicken, and after considering a few options, opted to check out the curiously-named Mom's Touch (맘스터치), a fried chicken-slash-burger chain with over 1,300 locations, the vast majority of which are situated in the company's home base of South Korea. This Gardena restaurant is the first in the Los Angeles region, and had been on my list to try ever since it opened back in June last year.
A bit of history
: Interestingly, the story of Mom's Touch actually starts with another, much more familiar fried chicken chain: Popeyes. The first Popeyes in South Korea was opened in 1994 by TS Haemaro (TS해마로), now known as TS Food & System (TS푸드앤시스템), a subsidiary of Daehan Jedang (대한제당), a sugar refining firm founded in 1956. In 1997, the company launched Mom's Touch in Seoul as a spin-off of Popeyes, but the new chain had poor results in its early years. Thus, in March 2004, it was subjected to a management buyout led by Chung Hyun-sik (정현식), TS's managing director of food procurement, who assumed Mom's Touch's debt load and formed a new company to run the restaurants: Haemaro Food Service (해마로푸드서비스).
However, even after the MBO, the chain still struggled, but CEO Chung was eventually able to turn things around, with the business really taking off in 2013. It was in February that year when Mom's Touch opened its 300th store, while the 500th came just 19 months later. In April 2016, the first international location debuted in Tainan, Taiwan (followed by an outpost in Vietnam), and that October, the company went public on the KOSDAQ, a couple months before the chain's 1000th location opened. Further expansion came at the very start of 2018, when the first American store launched in Concord, California.
That Concord store only lasted about six months though, but was followed up by one in Queens in July 2019, as well as the first Mom's Touch in Singapore, which dropped in August that year. In November 2019, it was announced that Haemaro Food Service would be sold to private equity firm KL & Partners for roughly 200 billion won. Financial performance improved under KL's ownership, and in December 2020, the company celebrated the opening of its 1,300th location. The Gardena restaurant premiered in June 2021, followed by Long Beach in February this year, and both are actually backed by Andrew Kim's WaBa Restaurant Group, the company behind the WaBa Grill rice bowl chain.

Mom's Touch takes over a Gardena Plaza storefront that was previously home to a BurgerIM. There's been some light remodeling, but the same overall layout remains. On-site seating is fairly limited, so this definitely seems like a takeout-focused sort of joint.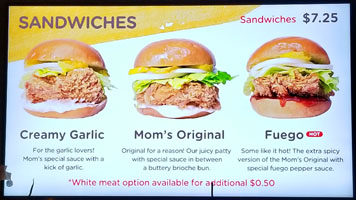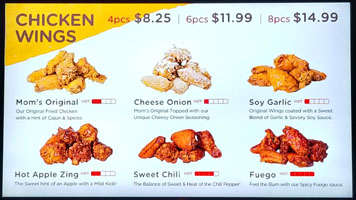 And here we see the menu, which has been adjusted and abbreviated from what you'd find back in South Korea. Click for larger versions.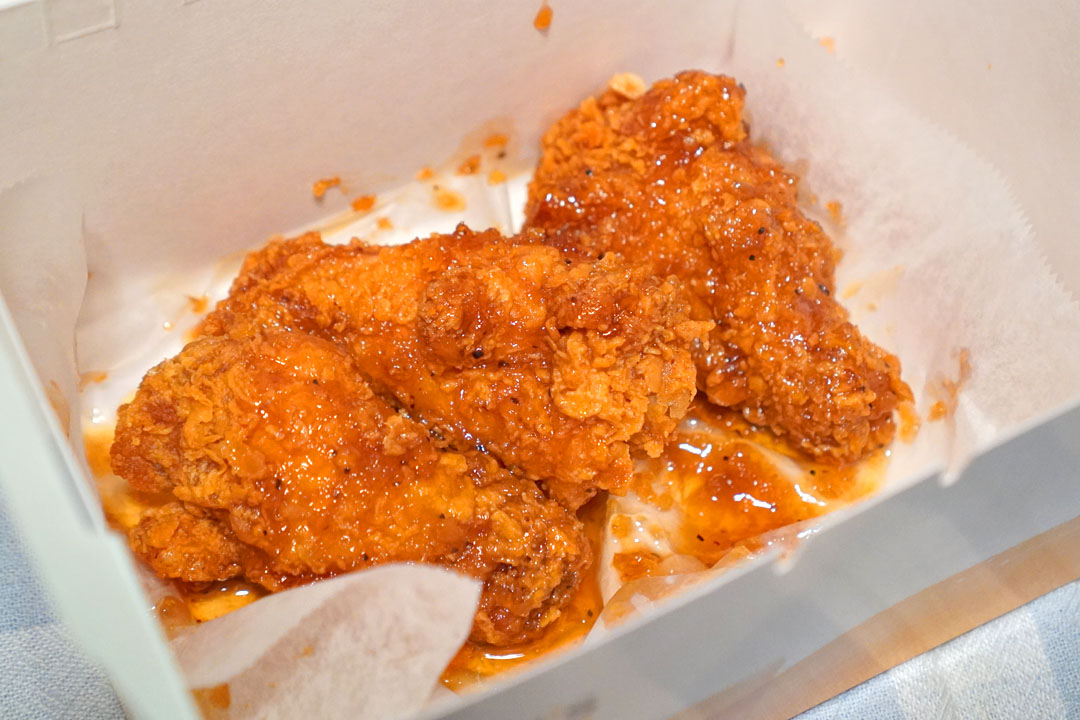 Chicken Wings - Soy Garlic (4pcs) [$8.25]
| Original Wings coated with a Sweet Blend of Garlic & Savory Soy Sauce.
I began with one of Mom's Touch's five varieties of
yangnyeom
chicken, and it was pretty spot on. The bird came out as juicy and tender as I was hoping for, with a crispy crust to boot, and I liked the back-and-forth between the sauce's subdued savoriness and its overarching notes of garlic, all set over a smidge of sweetness. Do note that there were indeed four pieces here originally; I simply ate one accidentally before I could photograph the dish.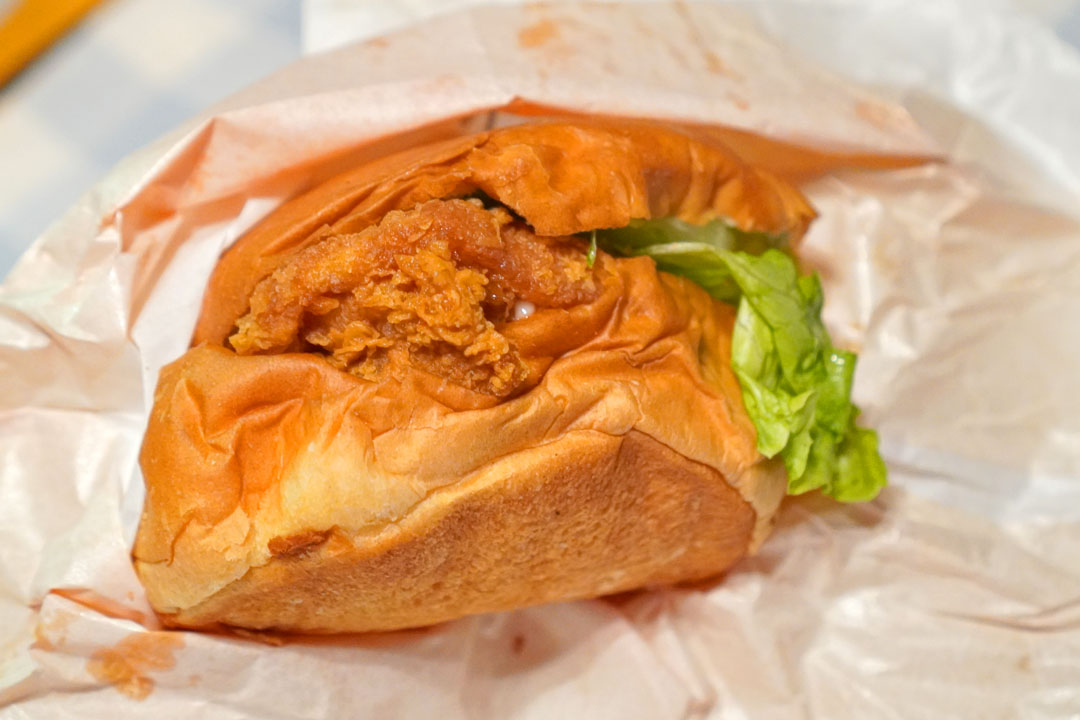 Mom's Original [$7.25]
| Original for a reason! Our juicy patty with a special sauce in between a buttery brioche bun.
Naturally, I had to give the restaurant's signature sandwich a go. I could've used a tad more seasoning and succulence on the thigh, though it was still quite tasty, and meshed well with the zing of the pickles and onions. At the same time, the so-called "special sauce" helped tie everything together, while that soft, springy bun offered up a slight sweetness that made sense.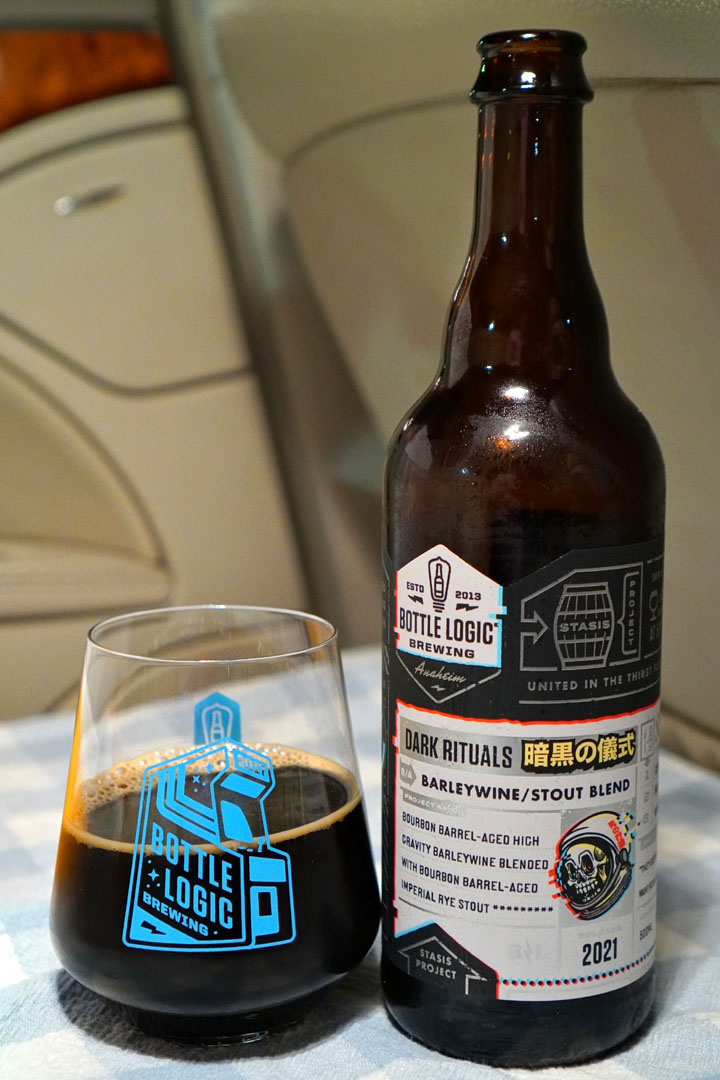 Beverage duties tonight were handled by the
2021 Bottle Logic Dark Rituals
, a blend of barley wine and imperial rye stout, both aged in bourbon barrels. The beer smelled strongly of dark, sticky fruits, with supporting elements of toffee and nuts. On the palate, I found the ale on the thicker side, its pronounced flavors of prunes and raisins joined by malty, caramel-y notes, with countering hints of oak and rye. Very enjoyable, and a rather pleasant surprise.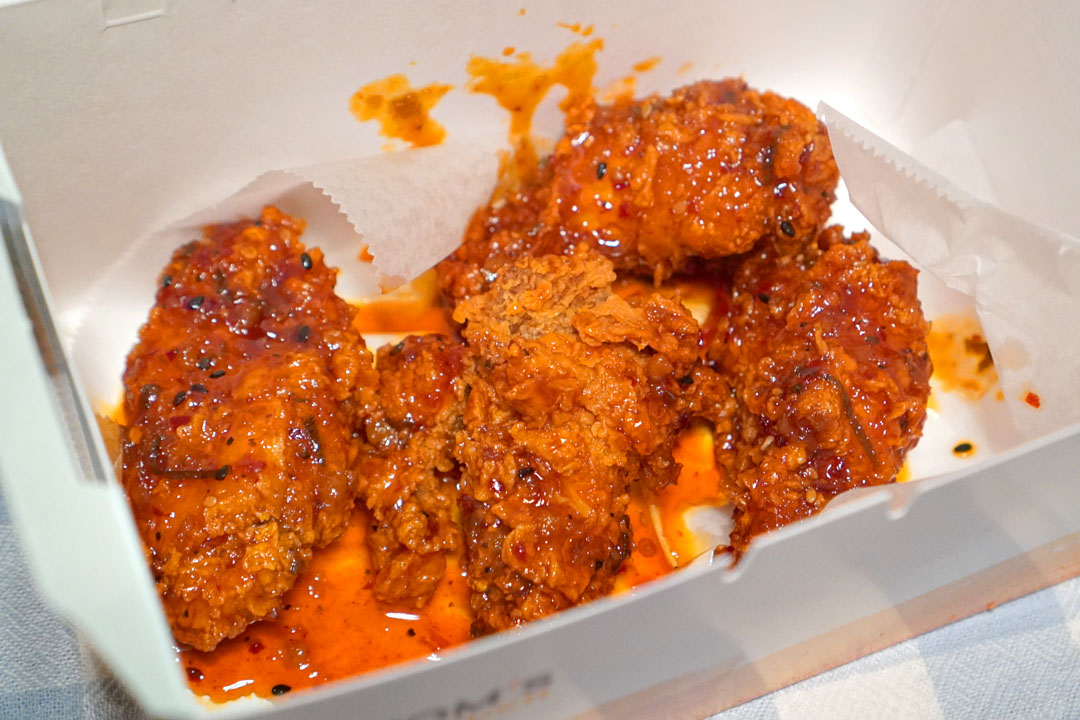 Chicken Wings - Sweet Chili (4pcs) [$8.25]
| The Balance of Sweet & Heat of the Chili Pepper!
As good as the Soy Garlic wings above were, these were even better. I was a big fan of the sauce's "dry spice" character and restrained, yet lingering heat, evened out by just enough sweetness. Yum.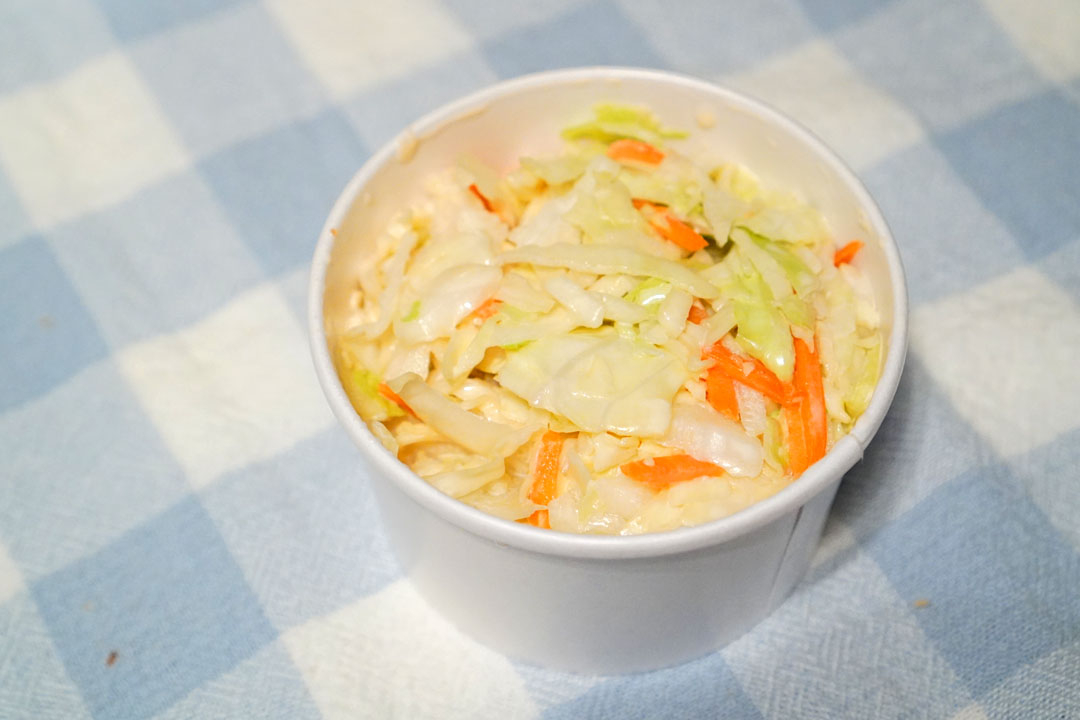 Coleslaw [$3.25]
The slaw was about par for the course, and almost KFC-like. Think creamy and sweet, but balanced out by the crisp, bitter nature of the veggies.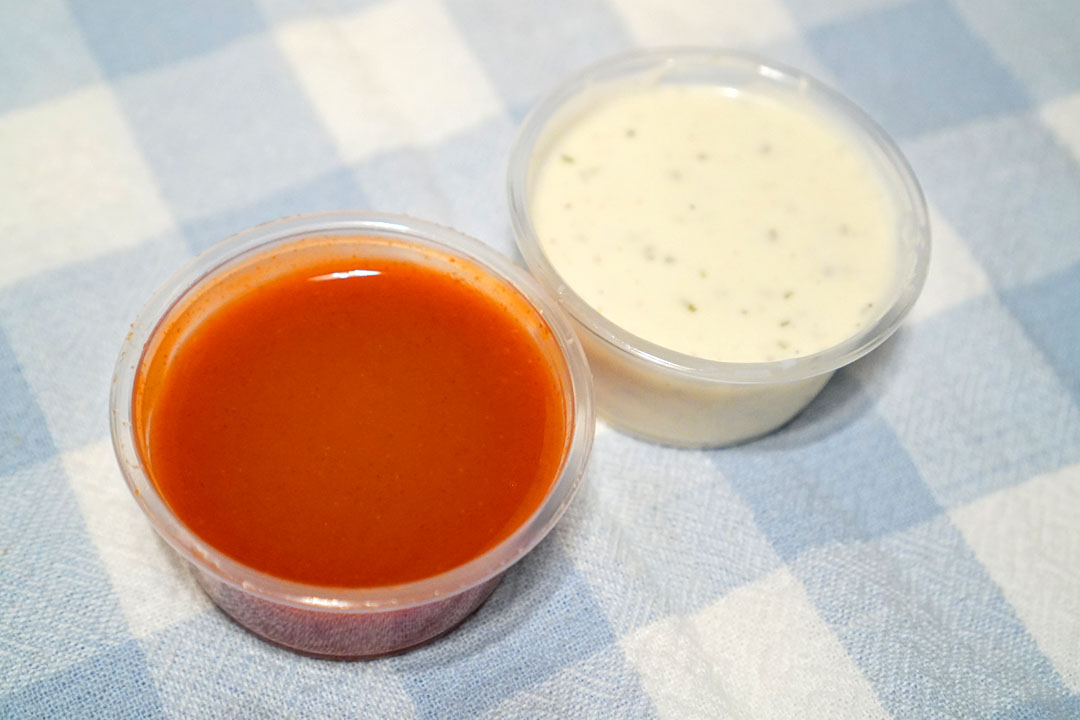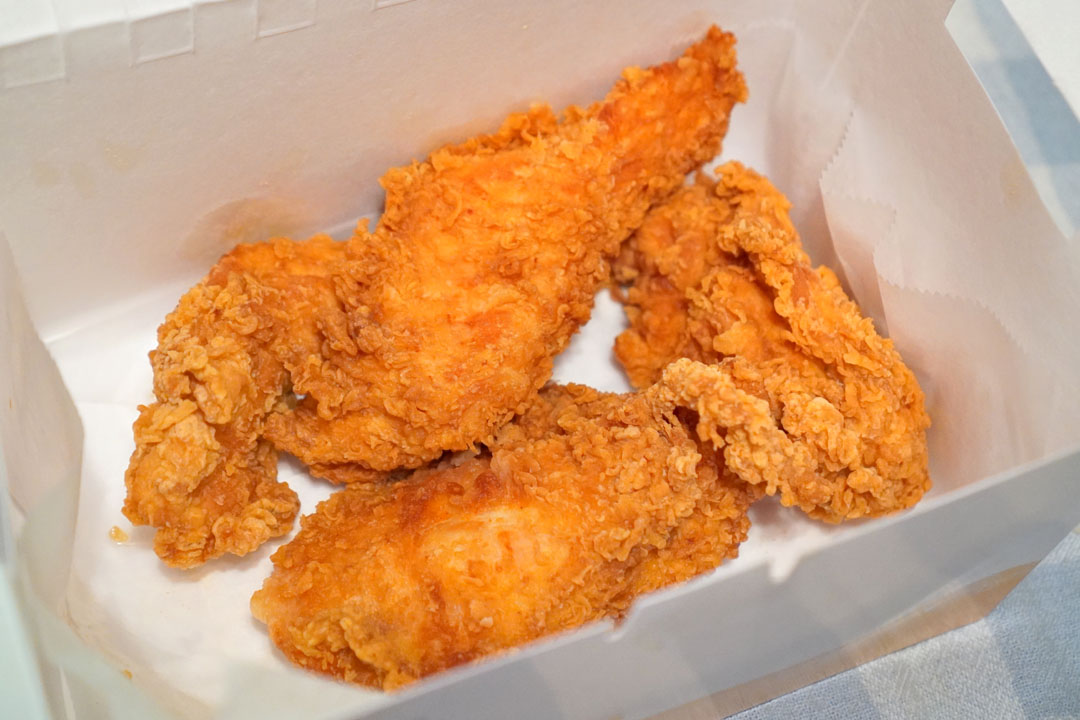 Chicken Fingers (4pcs) [$7.25]
Thankfully, chicken tenders weren't as dry or as tough as I'd feared, and featured nicely crispy exteriors, too. My concern was that the bird needed some more aggressive seasoning or perhaps a more robust marinade. Fortunately, the strips did come with my choice of two sauces, which helped. I opted for the sharp, sour, spicy
Louisiana
, which contrasted swimmingly with the cool, creamy, vegetal nature of the
Ranch
.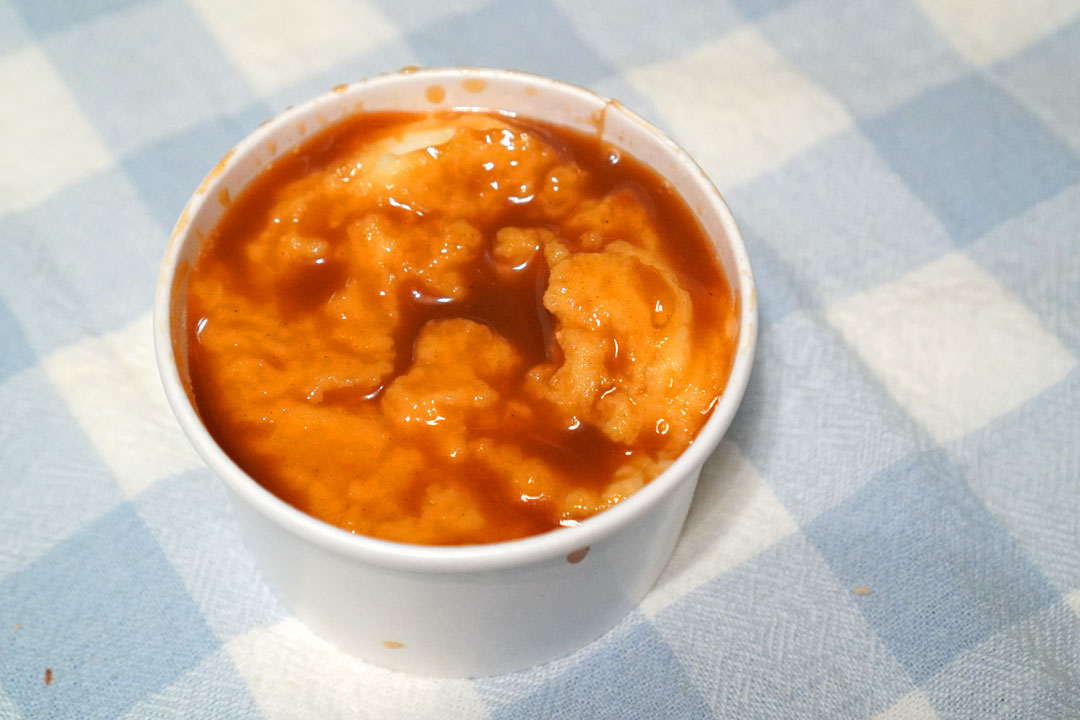 Mashed Potato [$3.25]
The mashed taters were also a bit KFC-esque (not necessarily a bad thing) due to their smooth, homogenous texture and familiar-tasting gravy, though said gravy was indeed more richly flavored than what you'd typically find at the American chain.
I was generally pretty satisfied with my dinner at Mom's Touch, and my fried chicken craving was certainly satiated. If I had a location close to me, I might visit somewhat regularly when looking for a quick, casual meal. And speaking of closer locations, the WaBa group is definitely looking to expand, and is planning to make use of its existing WaBa Grill franchisee base. Their next location is slated to be in the City of Industry, but from there, they plan to grow to other parts of California, and eventually out of state.
Now what might throw a wrench into these expansion plans is the health of Mom's Touch (the parent company). From what I've read, a lot of chicken restaurants aren't doing too well in Korea currently, with the lingering effects of COVID-19 making things even worse. As I mentioned above, Mom's Touch owes its genesis to Popeyes, but Popeyes itself pulled out of the Korean market in December 2020 due to declining sales. Perhaps worryingly, in June this year, KL & Partners put Mom's Touch up for sale after delisting its shares from the KOSDAQ in May. The sale price is an estimated 1 trillion won, and as of this writing, they've yet to find a buyer, so more to come...