715 Sushi (Los Angeles, CA)
Sushi 715
738 E 3rd St, Los Angeles, CA 90013
213.572.8745
www.715sushi.com
Fri 11/04/2022, 08:00p-10:30p

My last proper meal before the start of pandemic shutdowns was at
Kakurega
, a sushi joint in Costa Mesa. Toward the end of my dinner there, the customer next to me at the counter recommended that I try 715 (七一五), an underground sushi restaurant run by Chef Seigo Tamura out of his home in Bellflower. After looking into 715 a bit, I inserted the spot into my Excel spreadsheet of places to try, but it subsequently slipped my mind. That was the case until last year, when I found out that 715 would be transforming into a permanent restaurant in Downtown, which of course piqued my interest, hence this visit. And if you're wondering about the odd numerical nomenclature, 715 is derived from the Chef's first name in the following manner: Seigo = se + i + go ≈ seven +
ichi
(one in Japanese) +
go
(five in Japanese) = 7 + 1 + 5.
About the Chef
: Tamura Seigo was born in July 1992 in Sakai, Osaka Prefecture. His grandparents were in the restaurant business, with grandma running a café and grandpa a sushi-ya, which the young Chef was particularly intrigued by. However, Tamura didn't pursue culinary training in Japan, instead focusing much of his energy on basketball. He immigrated to the US in 2013, at age 20, taking up residence in the Southland, and actually began his sushi education Stateside at Yuki Takishima's
Shunka
in Costa Mesa. He started out there working various tasks, including front-of-the-house, but soon settled into a sushi chef position, which he quickly fell in love with.
In 2019, Tamura was confident enough in his skills to start running sushi pop-ups out of his apartment, and soon commenced work on opening his own restaurant. However, the pandemic certainly put a damper on things. He left his post at Shunka, but continued his pop-ups, and also began selling takeout boxes via Instagram and running "home-kase" private sushi dinners at customers' residences. Tamura also found employment at Jae Woo's Otosan Sushi in Long Beach, which he helped open in August 2020. Major construction on 715 began in March 2022, while an
associated Kickstarter
launched at the start of May and well-exceeded its funding goal. The restaurant ended up quietly grand-opening on August 23rd this year, eight months after its originally scheduled December 2021 debut.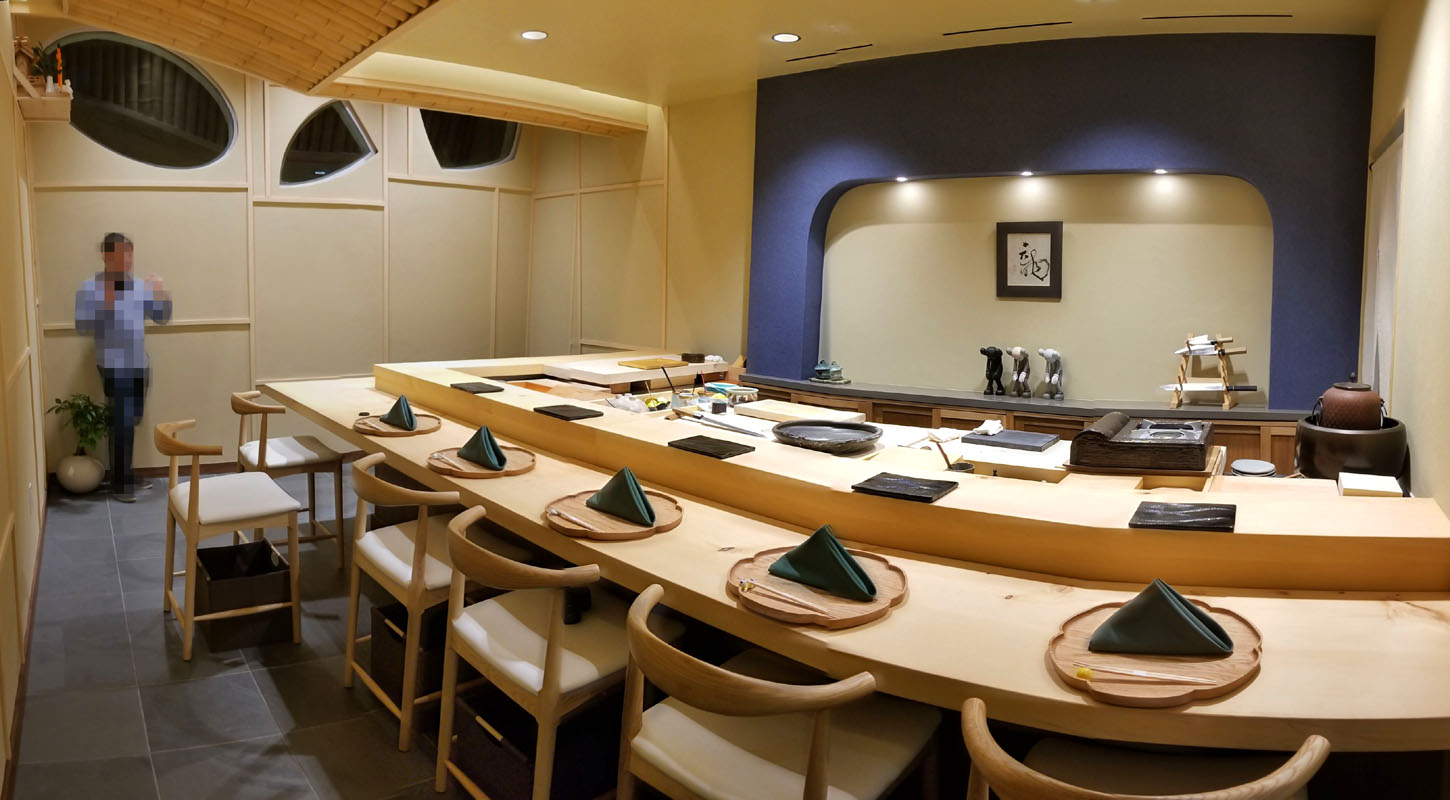 715 is located in an Arts District storefront that previously held the likes of Umami Burger, District BBQ & Lounge, K-Town BBQ, Blue Dahlia, and InSol Café, and as we can see, has been completely transformed into an intimate eight-seater space befitting Tamura's vision. Apparently, he chose to open in this location since he noticed that many of his pandemic takeout customers came from the area.

And here's the view from the sushi bar. That's Chef Tamura in the middle there.
Note that tonight's menu was priced at $300 a head, and we also added on $50pp worth of supplements to round out the meal.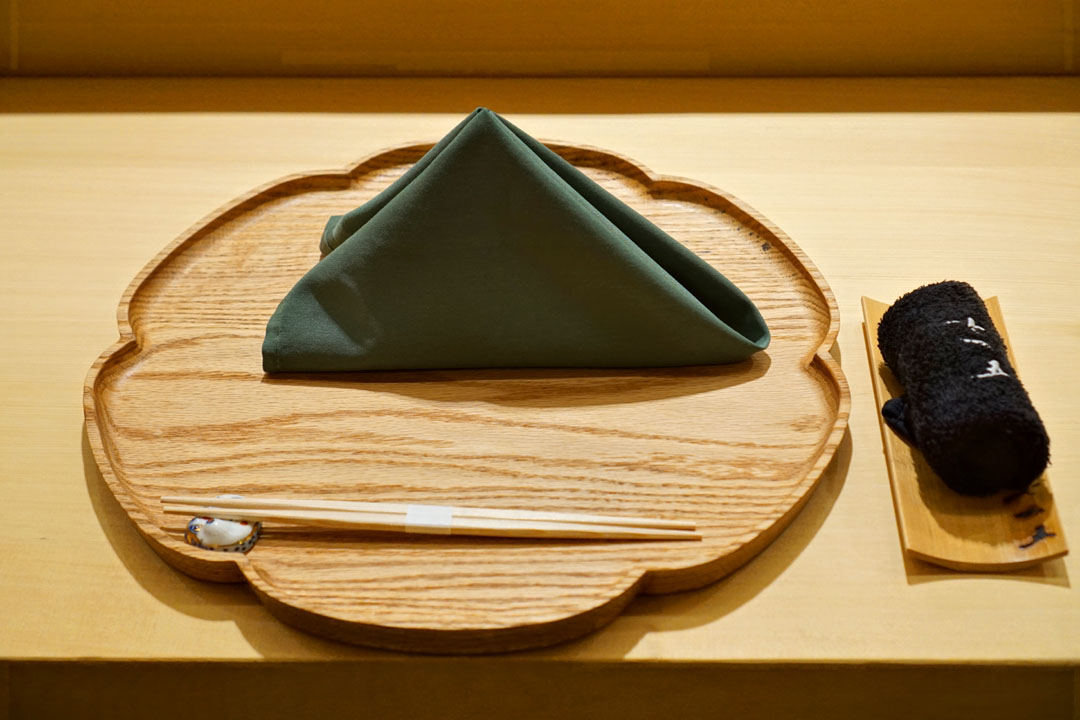 715's place setting was notable for its inclusion of a black
oshibori
(warm, stitched with the restaurant's name, and sitting on a custom tray), which I'm not sure if I've encountered before.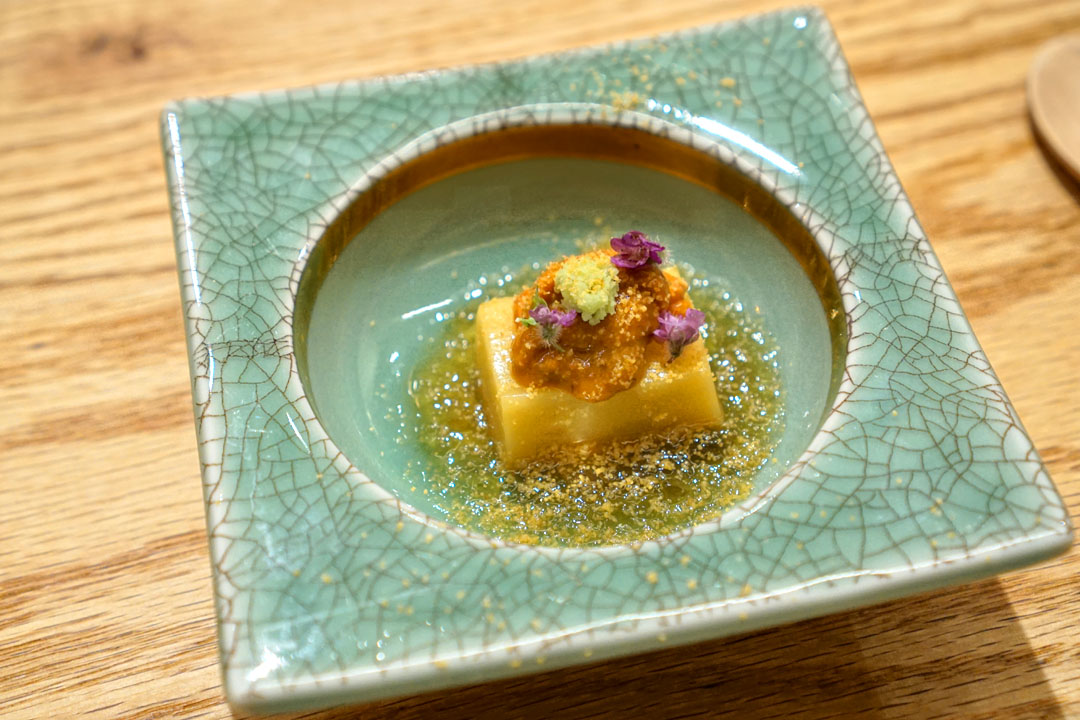 1: うに豆腐 / Uni Tofu
Our first
sakizuke
course did a fantastic job conveying the sweetness of sea urchin, but at the same time melding it with the immense savoriness of a dashi broth, all while a finish of wasabi heat and herb provided balance. A superb start to the meal that really set the tone for the rest of our dinner.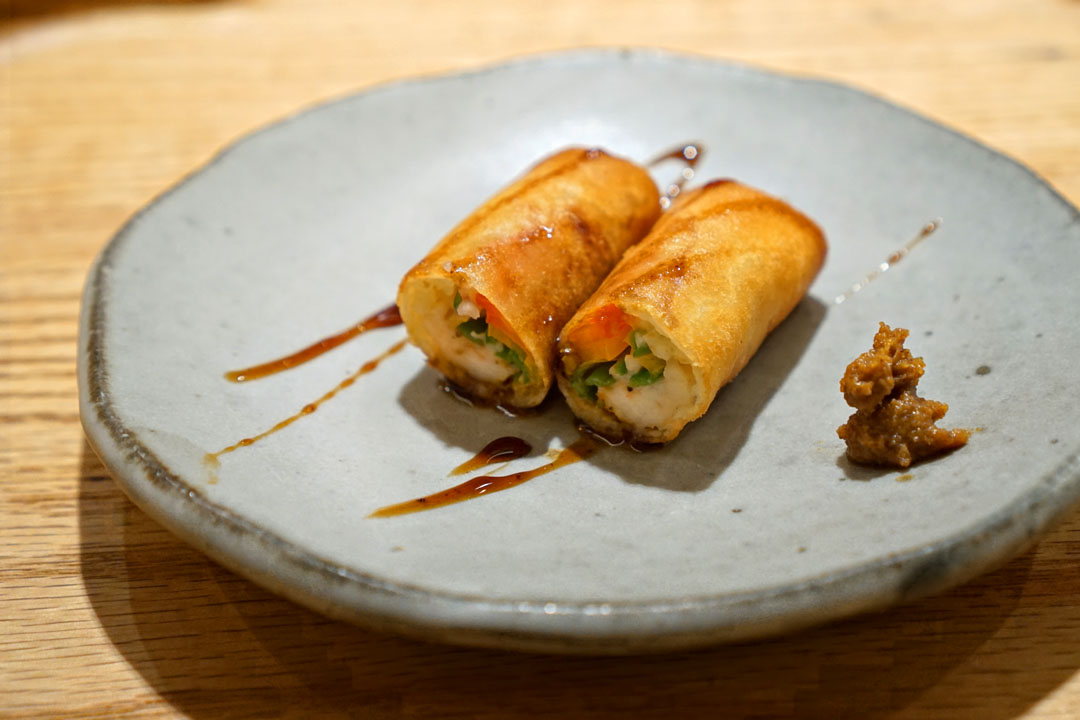 2: 春巻き / Harumaki
I believe this was the first time I've seen
harumaki
offered as part of a sushi omakase, but fortunately, the spring roll turned out to be one of the best I've had. Made with three types of bell pepper, the roll had a sweet, piquant quality that married easily with the subdued brine from the shrimp, and I liked the moderating effect of the mountain yam, too. A drizzle of balsamic imparted some tanginess to the mix, and I can't fault the crispness of the wrapper, either. However, what took this over the top was that small mound of housemade, shrimp head-boosted miso, which had a profound helping of oceany umami that really served as the perfect finishing touch here. We also found that this course tended to really draw out the saline notes of our Champagne below.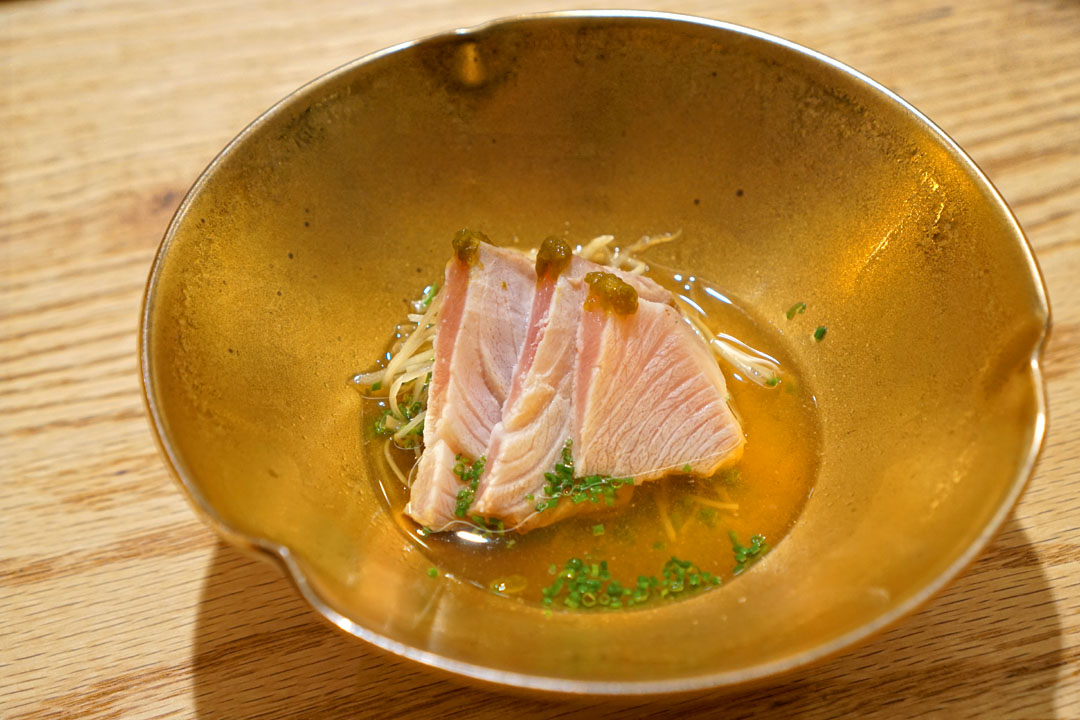 3: 鰤のしゃぶしゃぶ / Buri Shabu-shabu
Wild Japanese yellowtail was served in a manner that I typically don't encounter. Dipped briefly in a shabushabu broth, the fish had this hot-cold temperature contrast as well as a tactile contrast that I quite appreciated. I also fancied the sour-salty-spicy notes from the
yuzukosho
, but my favorite element was probably the shredded
gobo
, which provided both a texture and a mildly sweet-vegetal taste that really complemented the buri.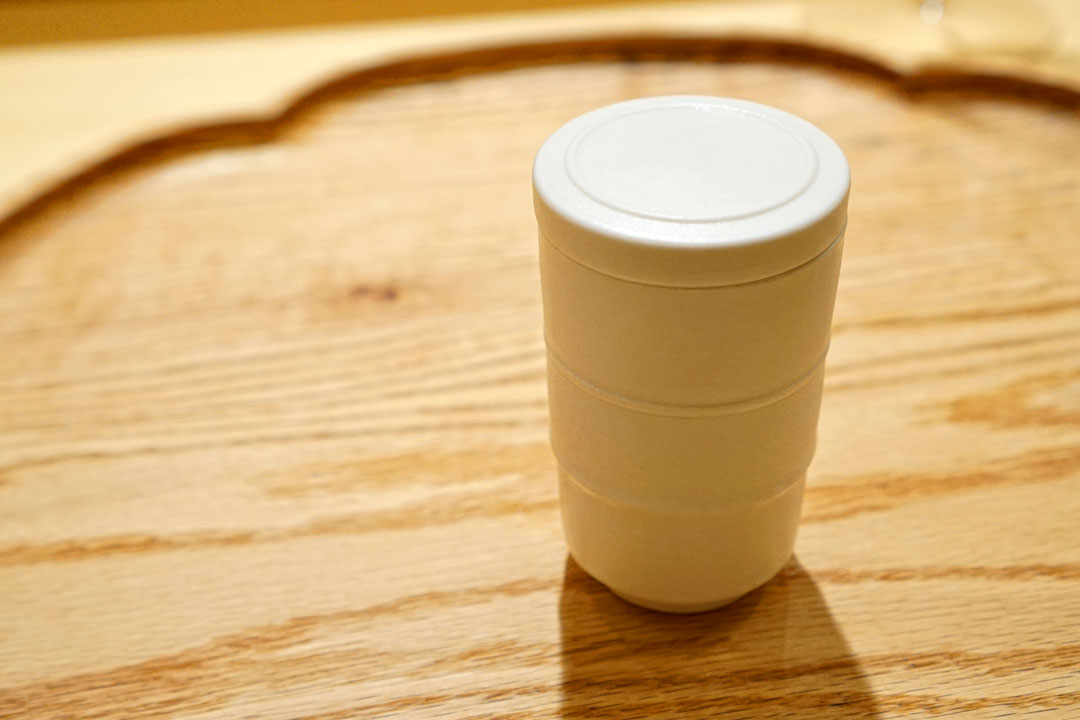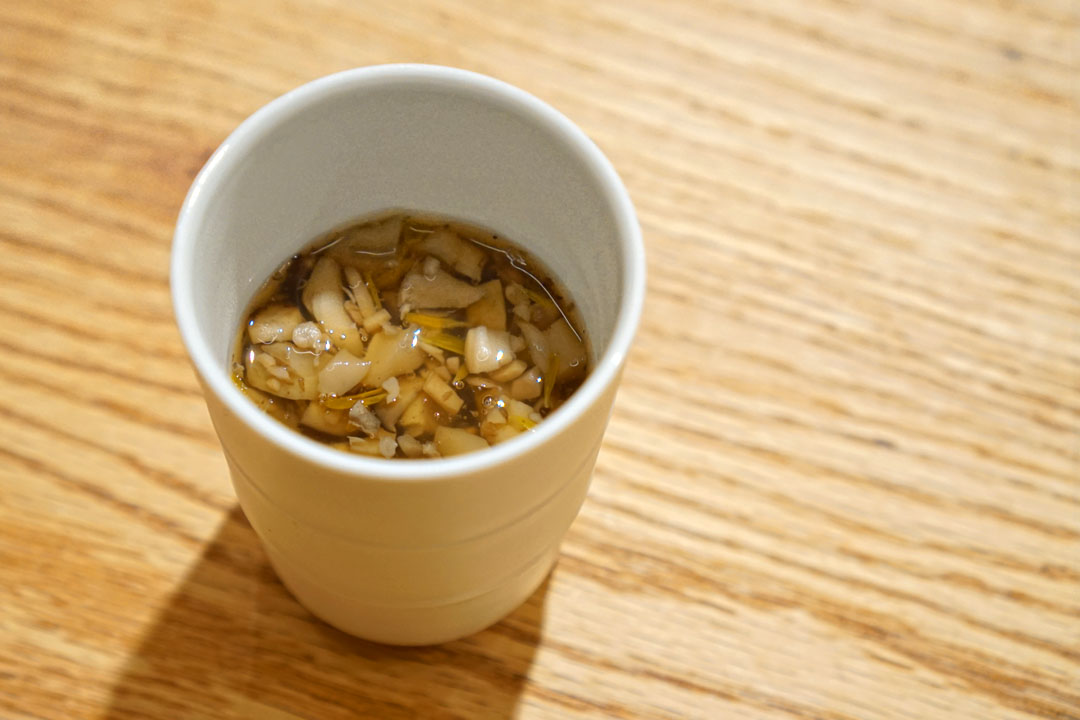 4: きのこの茶碗蒸し / Kinoko Chawanmushi
Next up was easily the most mushroom-forward chawanmushi I'd ever had. Featuring shiitake, shimeji, maitake, and eringi varieties, this was an hot, homey dish that really put the woodsy, umami-laden character of the 'shrooms on proud display.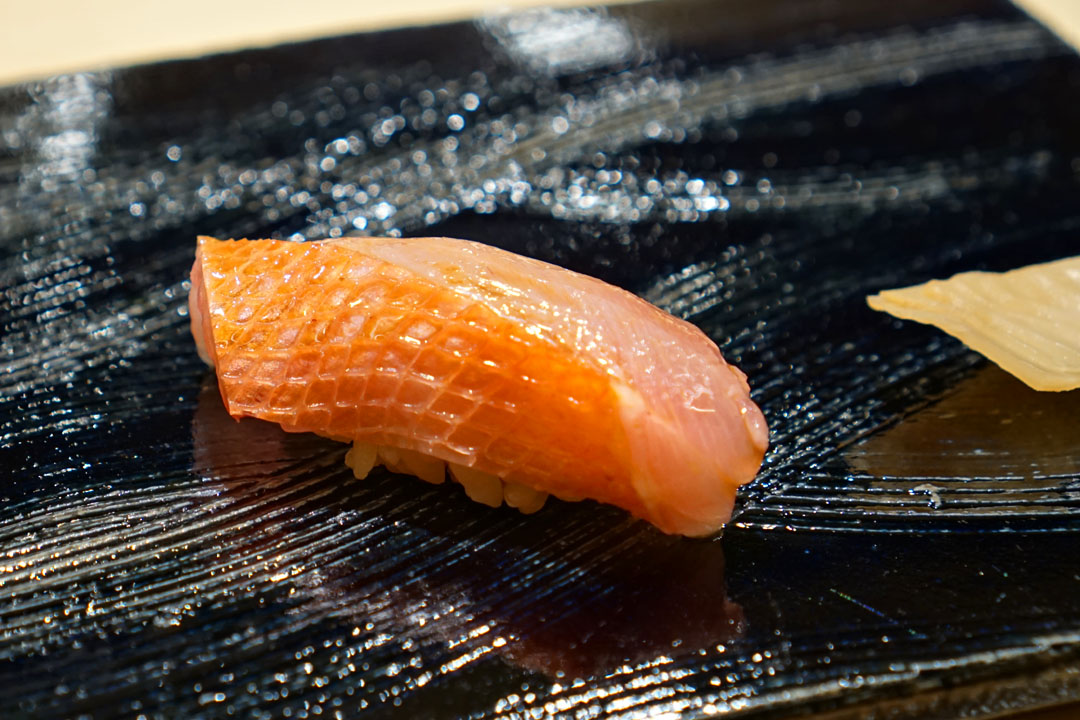 5: 金目鯛 / Kinmedai
Our parade of nigiri began with splendid alfonsino, one of my preferred
neta
. What was unique here was that the fish arrived without its usual sear, which actually made me focus on its slick, supple consistency, and how that commingled with Tamura's very texturally-apparent
shari
.
To drink, we brought along a few bottles (we weren't charged a corkage fee!), starting with the
2008 Laurent-Perrier Champagne Brut Millésimé
. Taking a sniff, I got a nose of apple, lemon curd, and pastry crust that was inviting and straightforward. Taking a sip, the wine displayed a lovely amount of acidity at first blush, joined by plenty of citrus and orchard fruits, though nary any toast. Interestingly, I took my second pour in a chilled glass (as offered by our server), and this seemed to emphasize the citrus pith qualities of the sparkler. Overall, this was easy to enjoy, and I'm curious to see how it'll evolve with time, since it was indeed drinking on the "younger" side this evening.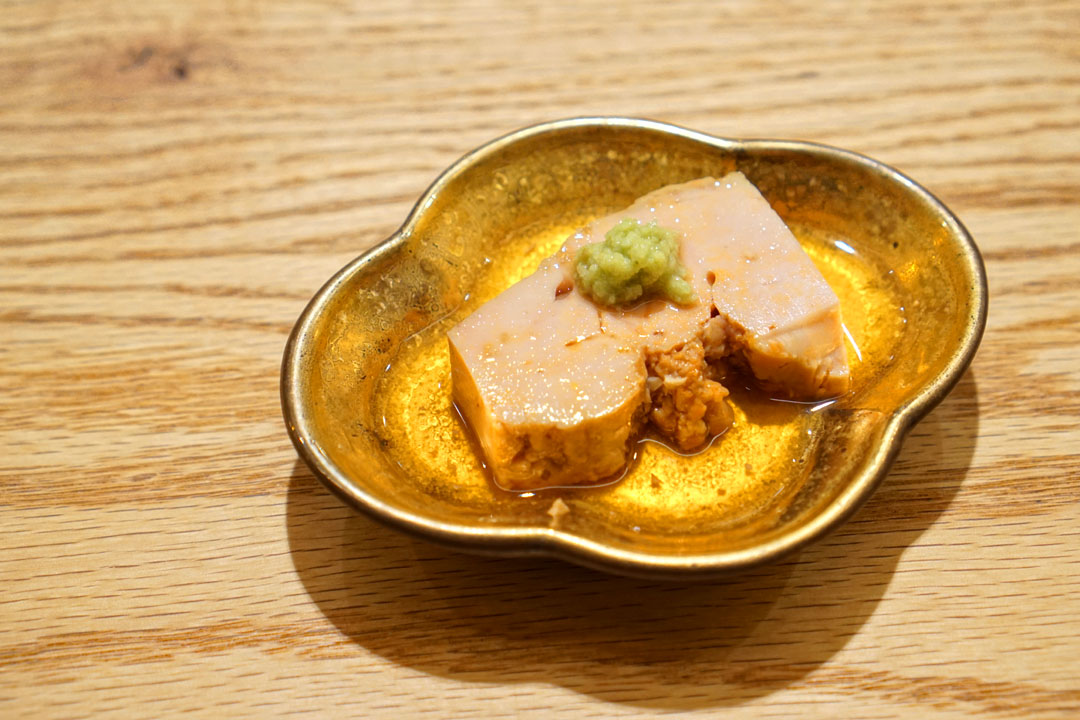 6: 鮟肝 / Ankimo
The monkfish liver was excellent, some of the best I've had in fact. I was a big fan of its delicate, almost tofu-like consistency, while its perfect combo of sweet and savory worked hand-in-hand with the burn of wasabi.
7: 白子の天ぷら / Shirako Tempura
Given that we were in cod milt season, I was looking forward to seeing the ingredient on the menu tonight, and I was not disappointed. I loved the back-and-forth between the soft roe's creamy, custard-y mouthfeel and its surprisingly airy rice flour batter, while its subtle, refined brine worked great with accents of salt, citrus, and shishito.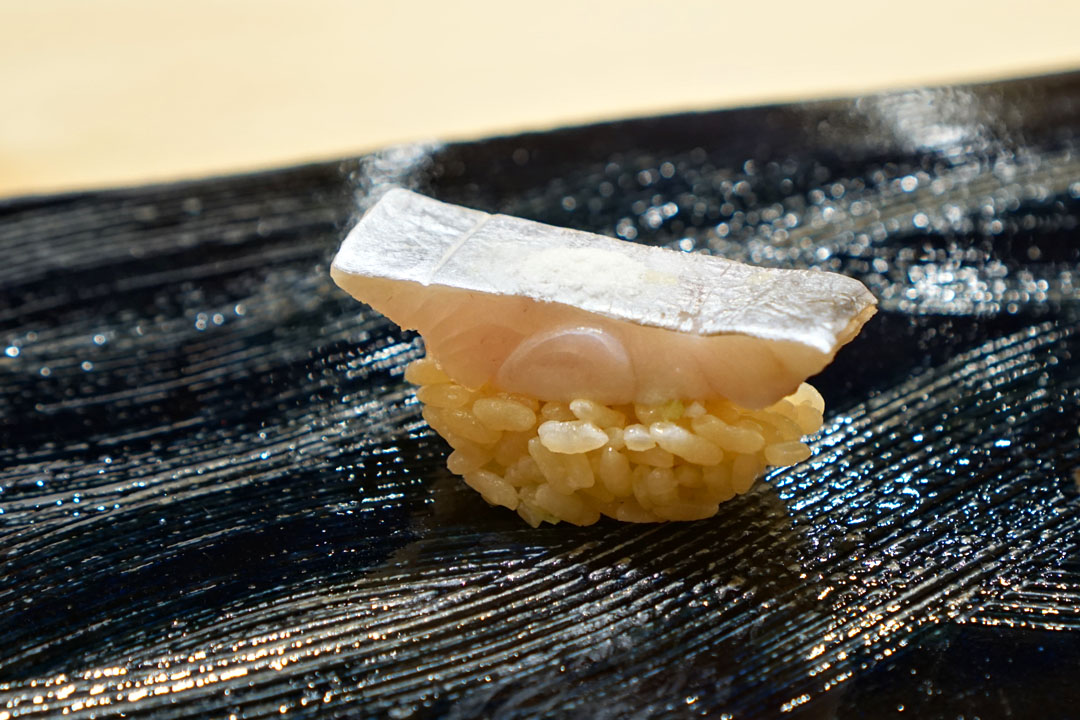 8: タチウオ / Tachiuo
Beltfish is a somewhat more uncommon sushi topping, but managed to be a highlight this evening. Its taste was simultaneously restrained yet robust, but what I enjoyed even more was the fish's soft, super fine-grained texture, and how that played with Tamura-san's very distinctly-grained rice.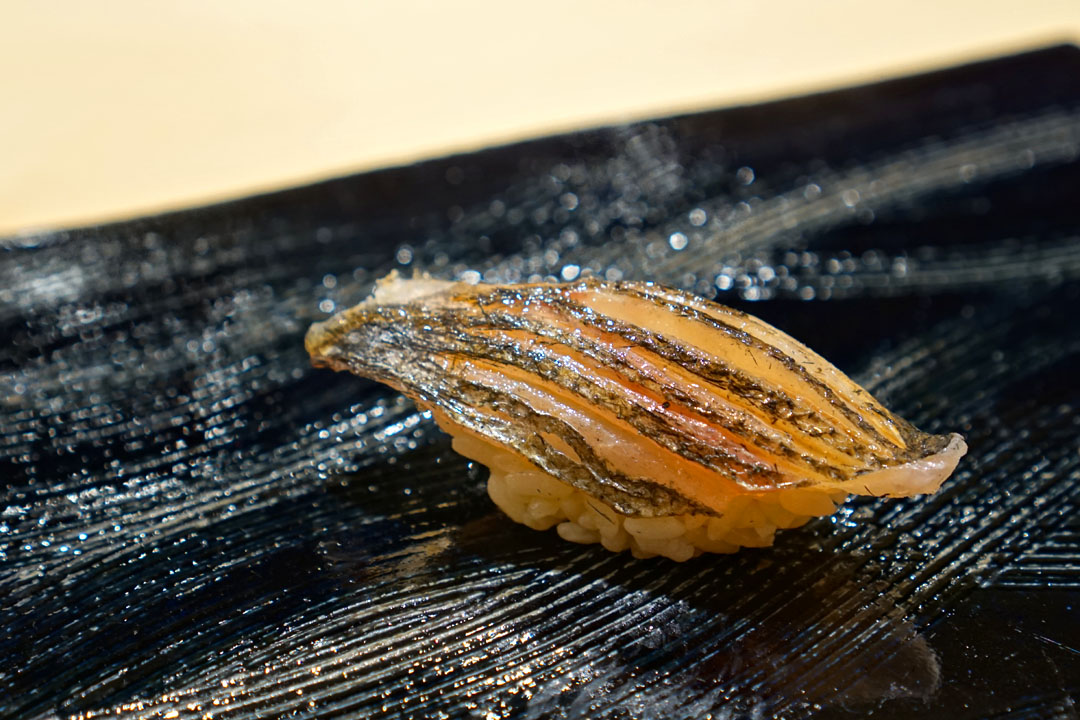 9: カマス / Kamasu
The barracuda was great to look at, and even better to eat. The key was its flawless amalgamation of smoke and fat, and how that interacted with the slight tanginess of the rice and the burn of wasabi on the back end. Another standout.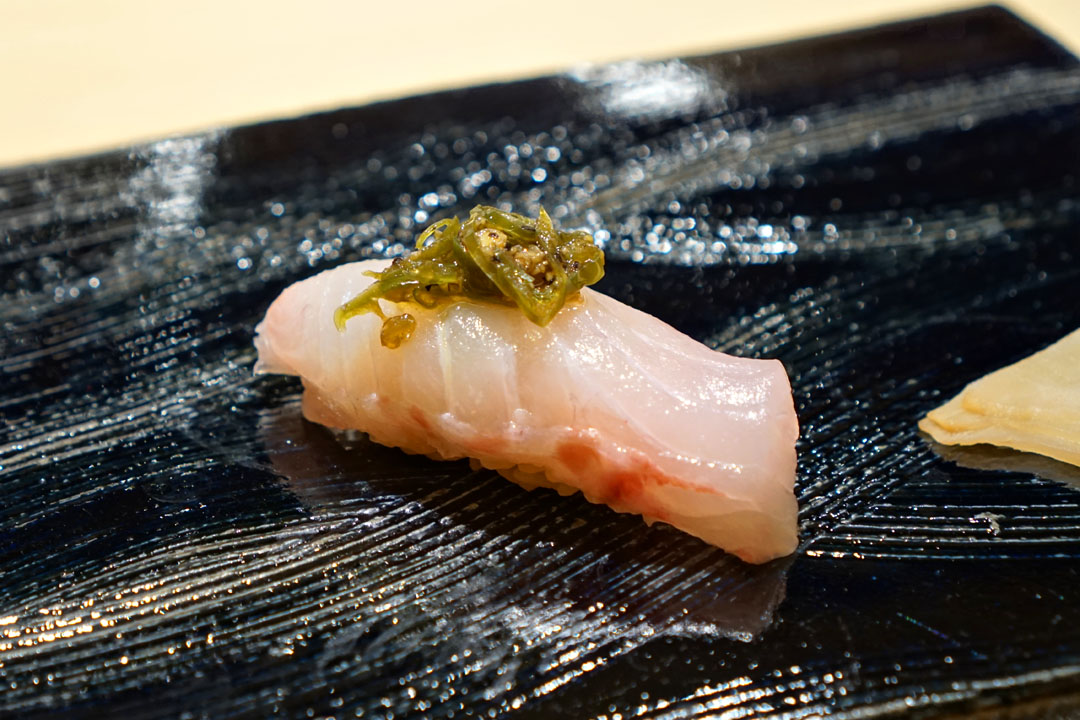 10: イシダイ / Ishidai
Stone snapper (a.k.a. striped beakfish) is another relatively rare
neta
, so I was happy to see it on the menu tonight. I quite enjoyed its soft, springy bite, but what was even better was the fish's wonderfully piquant, grassy topping, which truly completed the package.
Our second bottle was some white Burgundy, the
2015 Chartron et Trébuchet Chassagne-Montrachet Premier Cru Blanchots Dessus
. The bouquet here was all about yellow fruits intertwined with a touch of barnyard. The wine was soft and smooth on the palate, its core of citrus joined by traces of peppery spice, minerals, oak, and a "greenness" that I was quite fond of. Just lovely.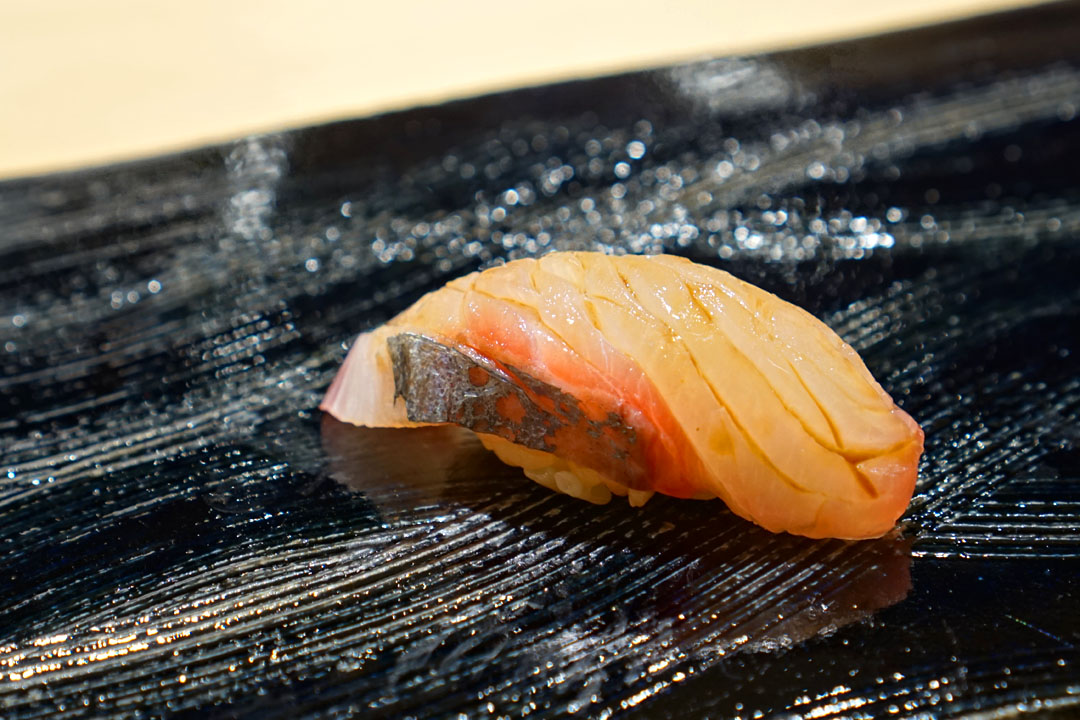 11: しま鯵 / Shima Aji
Striped jack showed off a delightfully firm, almost "crunchy" bite, and its taste worked beautifully with the rich umami flavors from the soy, all while the rice worked to temper things on the back end.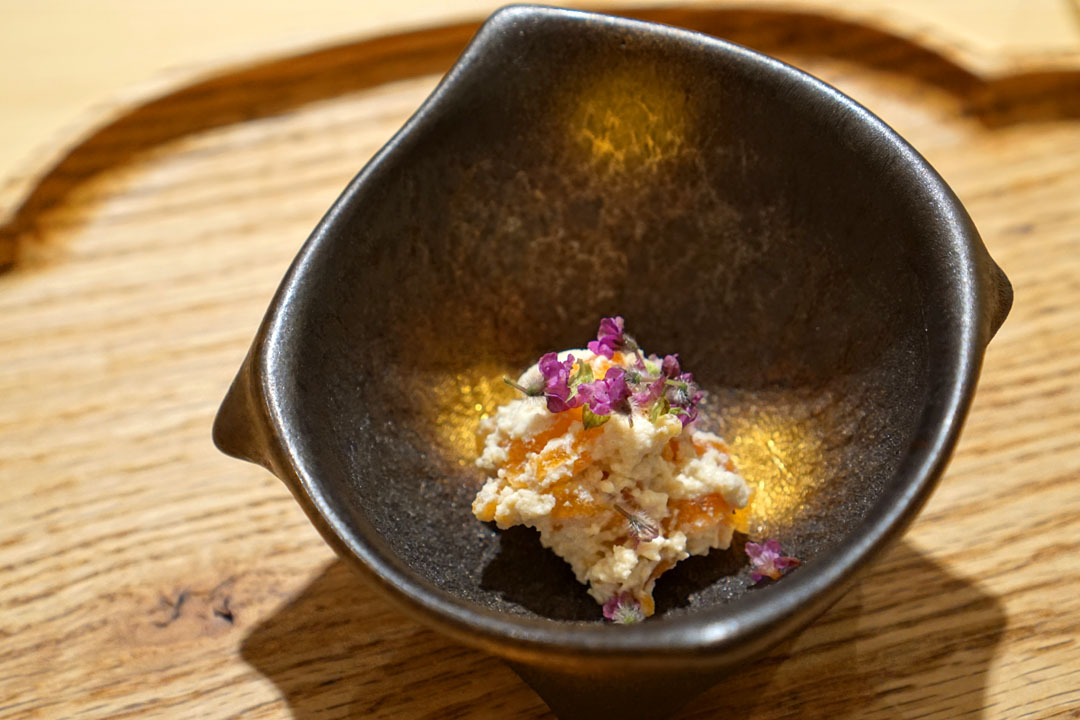 12: 柿の白和え / Kaki Shira-ae
This next course was an unexpected treat. It almost served as a palate cleanser, and did an admirable job playing the sweetness of persimmon against the nuttiness of its tofu accompaniment.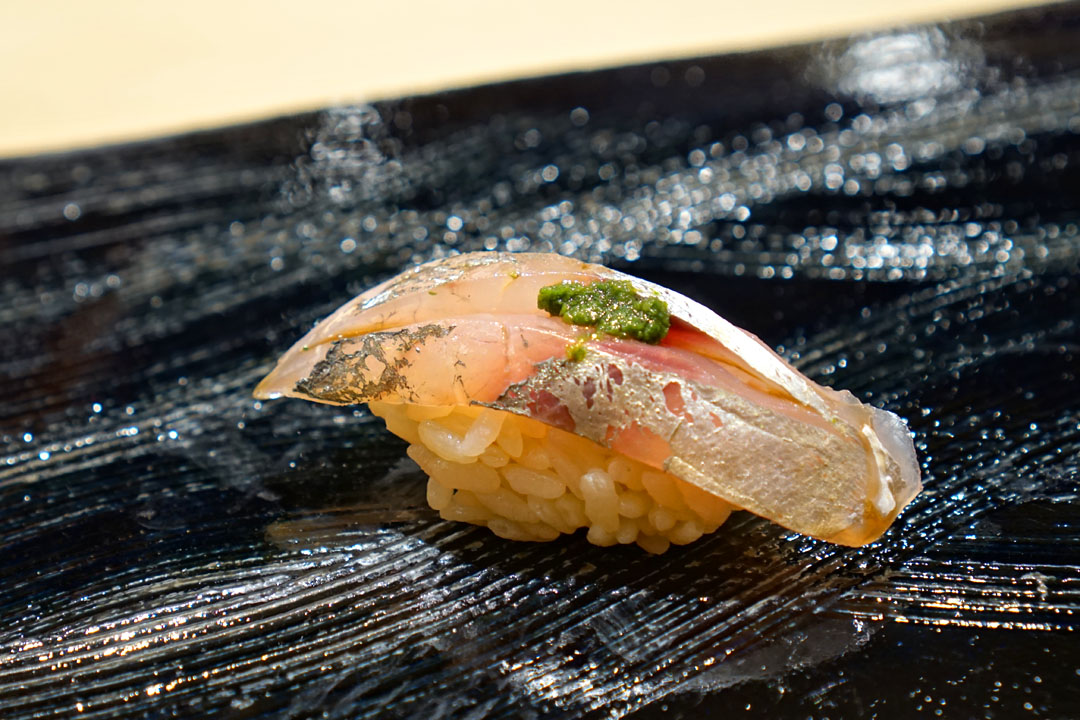 13: 鯵 / Aji
I've often wondered why aji is so often incorrectly referred to as Spanish mackerel, so I was pleasantly surprised when the Chef was adamant that it should really be called horse mackerel. In any case, this was a spot-on rendition of the ingredient, and I was impressed by its "snappy" texture and how the fish's subtle brine melded with the herbiness of its topping. Can't go wrong with this.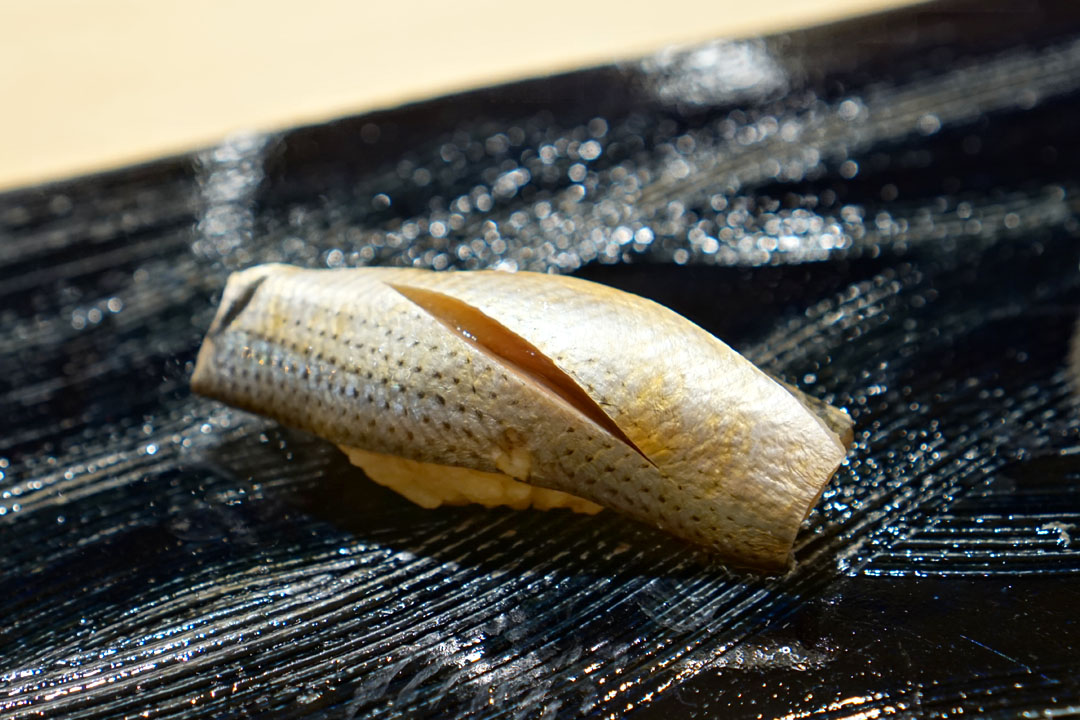 14: 小鰭 / Kohada
I always look forward to gizzard shad, perhaps the king of
hikarimono
, and Tamura's didn't let me down. I appreciated the fish's substantial bite, as well as its forceful, yet finessed brine.
15: 赤身 / Akami
Aged bluefin tuna showcased a deep, deep level of umami that's quite uncommon, as well as an almost seaweed-esque character that worked as a counterpoint.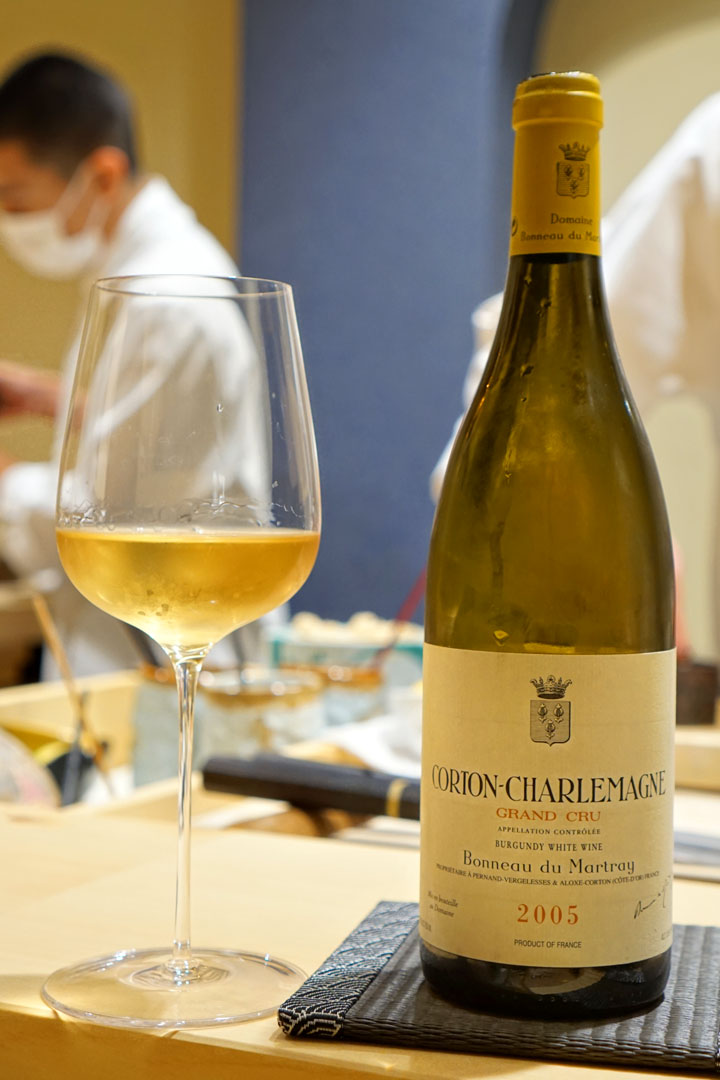 Next to imbibe was another white Burgundy, the
2005 Bonneau du Martray Corton-Charlemagne Grand Cru
. The wine displayed an unusually tart, acidic nose with hints of balsamic vinegar and corn. Tasting it, I got a blend of musty and oxidative notes overarched by smidges of spice, stone, and yellow fruits, making for a not particularly enjoyable drinking experience. I believe this bottle was flawed, sadly.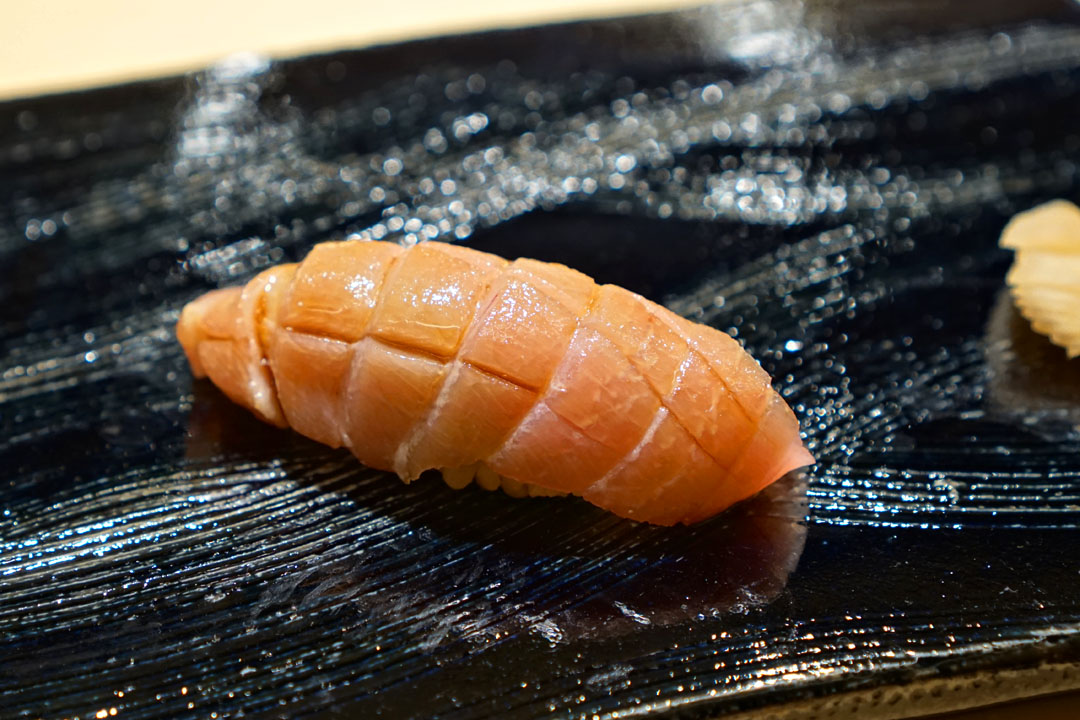 16: とろ / Toro
Japanese toro was superb texturally, arriving lush and luxurious, but not
too
melt-in-your-mouth, while the cut's sheer fattiness really took well to the application of soy.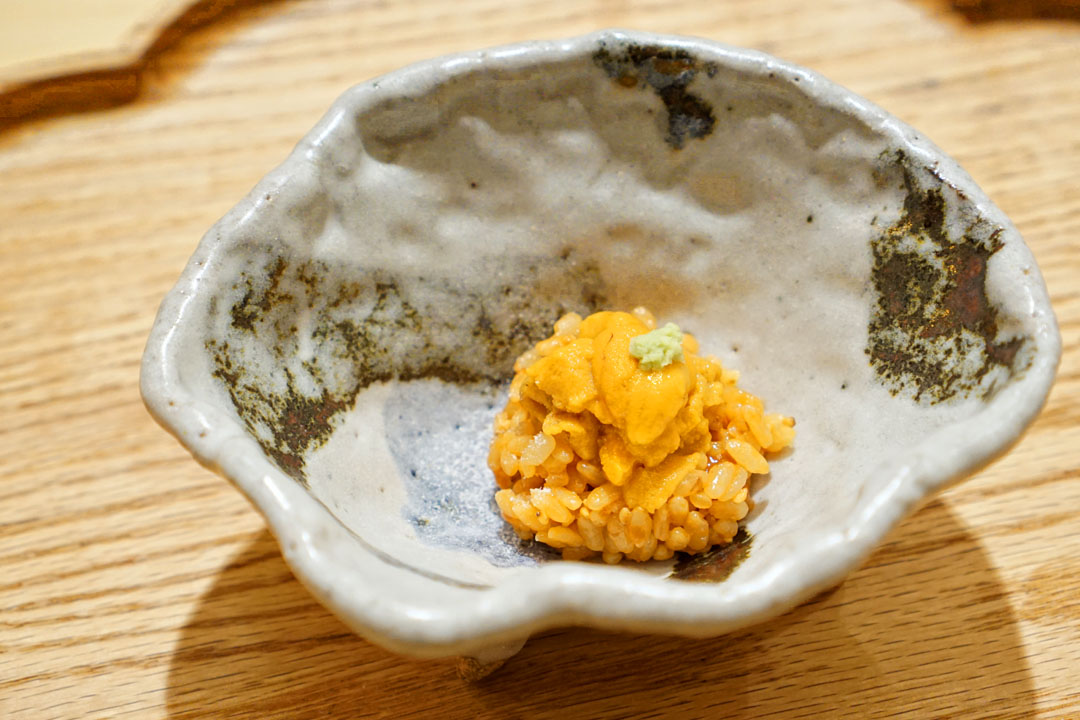 17: 雲丹 / Uni
Hokkaido sea urchin was a winner thanks to its sweet-n-saline nature, but even more so due to how deftly the nuttiness of the rice (from sesame I believe) worked as a juxtaposition. Delish.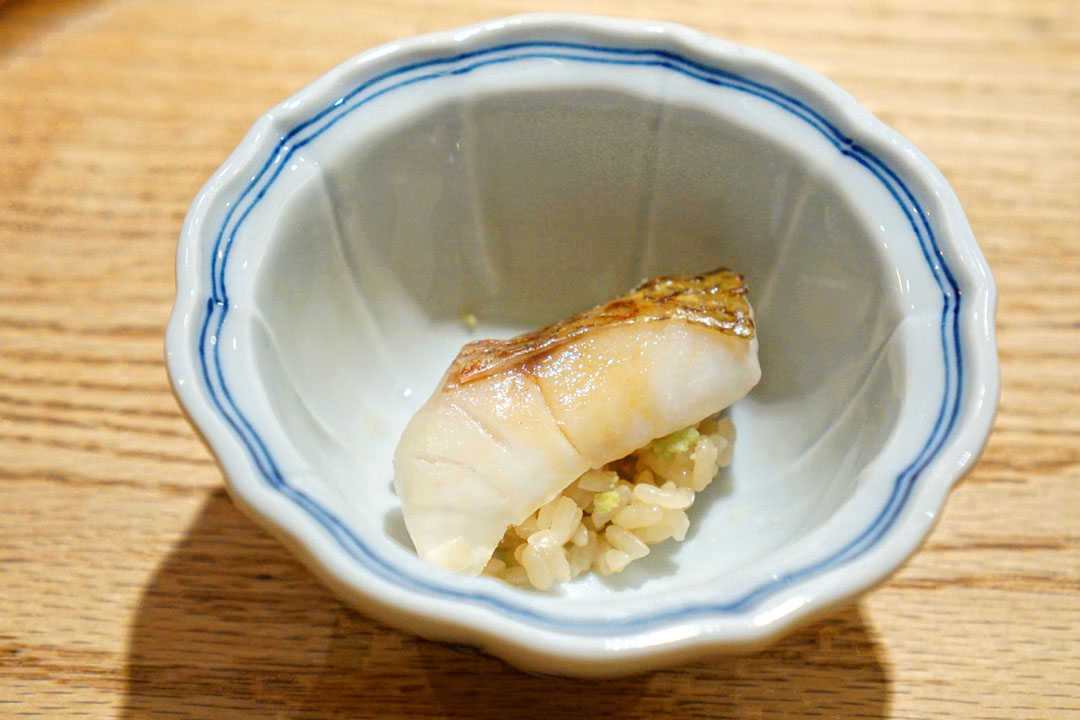 18: アカムツ / Akamutsu
Blackthroat seaperch made its first appearance here, and I loved its utterly elegant texture and taste, while the rice imparted a coziness to the course that I reveled in.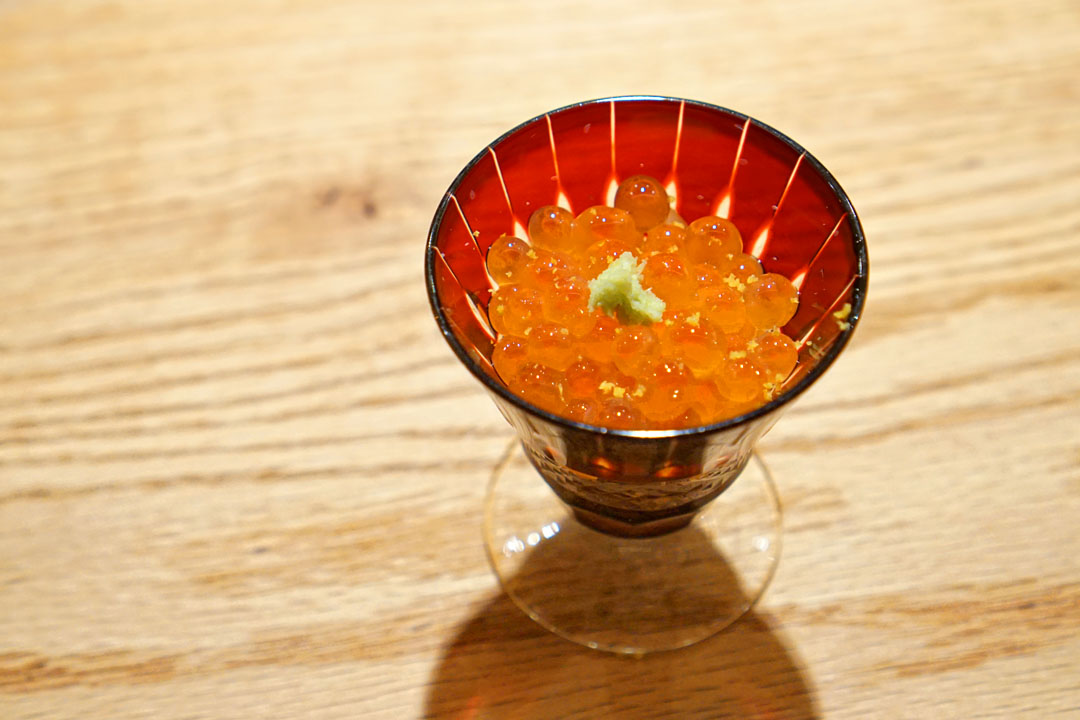 19: イクラ / Ikura
Served in a
kiriko
-style cup, salmon roe offered up its signature pops of saline, all evened out by a base of more-flavorful-than-usual rice.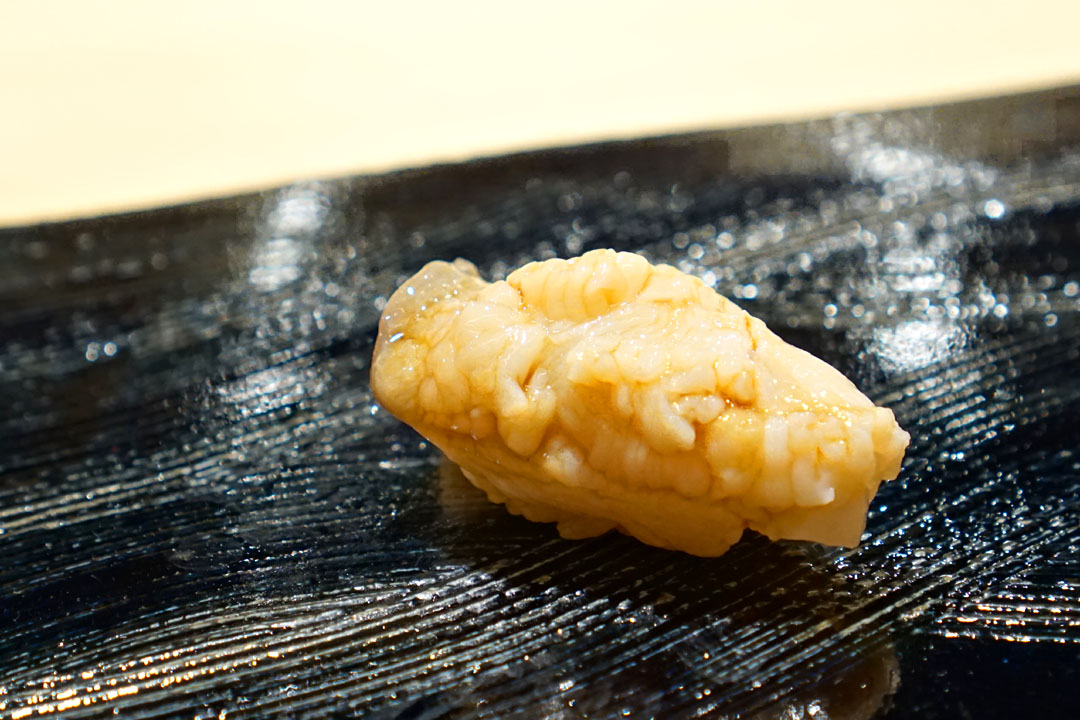 20: ホッキ貝 / Hokkigai
Surf clam is yet another relatively uncommon topping for nigiri, so I was glad to see it. The clam had this spongy consistency that certainly worked for me, and demonstrated a restrained salinity offset by a dash of citrus.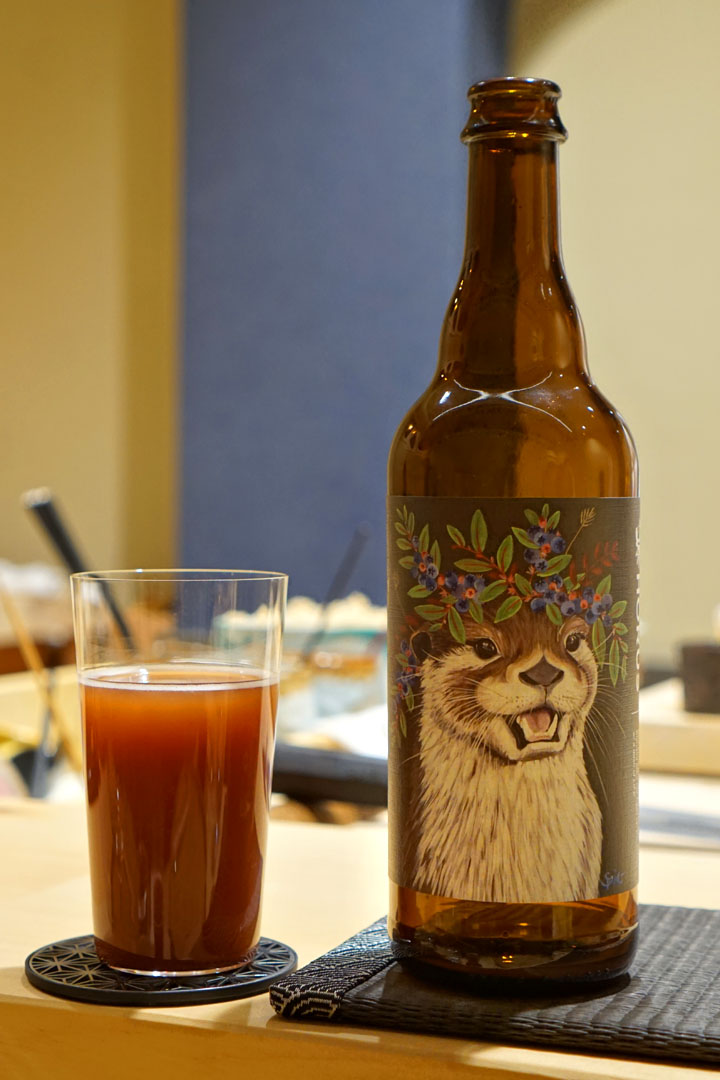 Our final tipple was something that we actually didn't plan on drinking with the meal, but just happened to have in the car: the
2022 Horus #bilBerry
, a red wine barrel-aged blended sour ale with bilberries. I found the beer quite funky, sour, and pungently astringent, and overall, it seemed rather one-note, without much nuance. A bit of a disappointment given how much I've liked some of the brewery's other creations.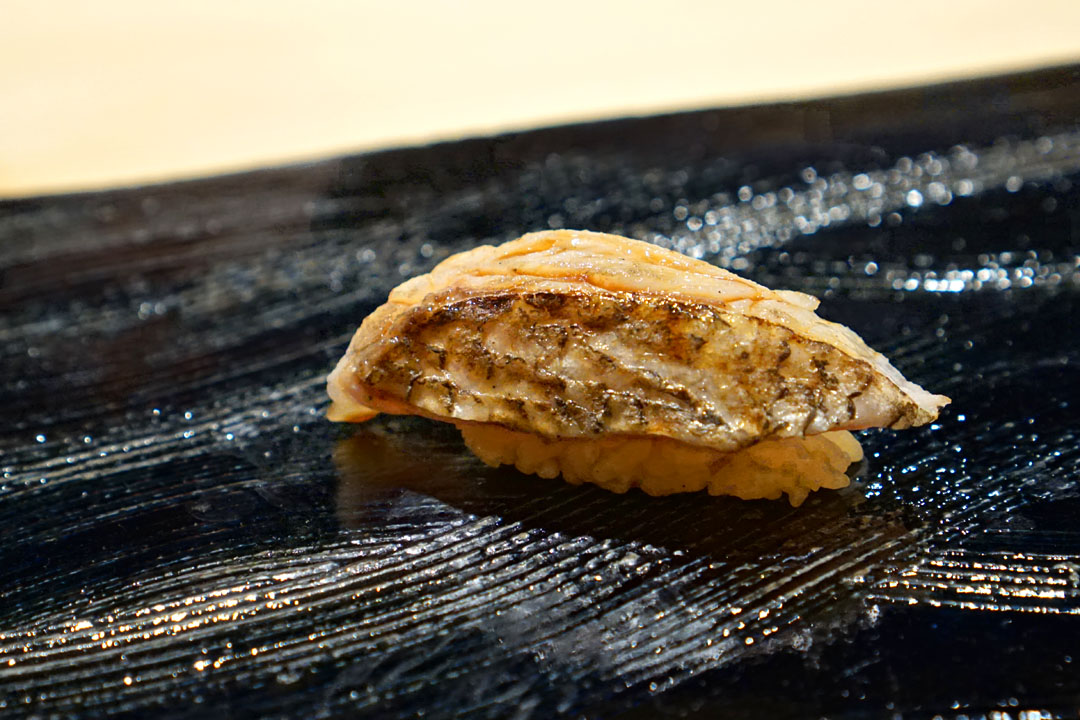 21: アカムツ / Akamutsu
Nodoguro
made its second appearance in nigiri form at our request, and it was even better than the first. In fact, it was one of the strongest sushi preparations of the fish I've had, mostly due to how well its smoke, fat, and full-throated flavors coalesced with the rice. Yum.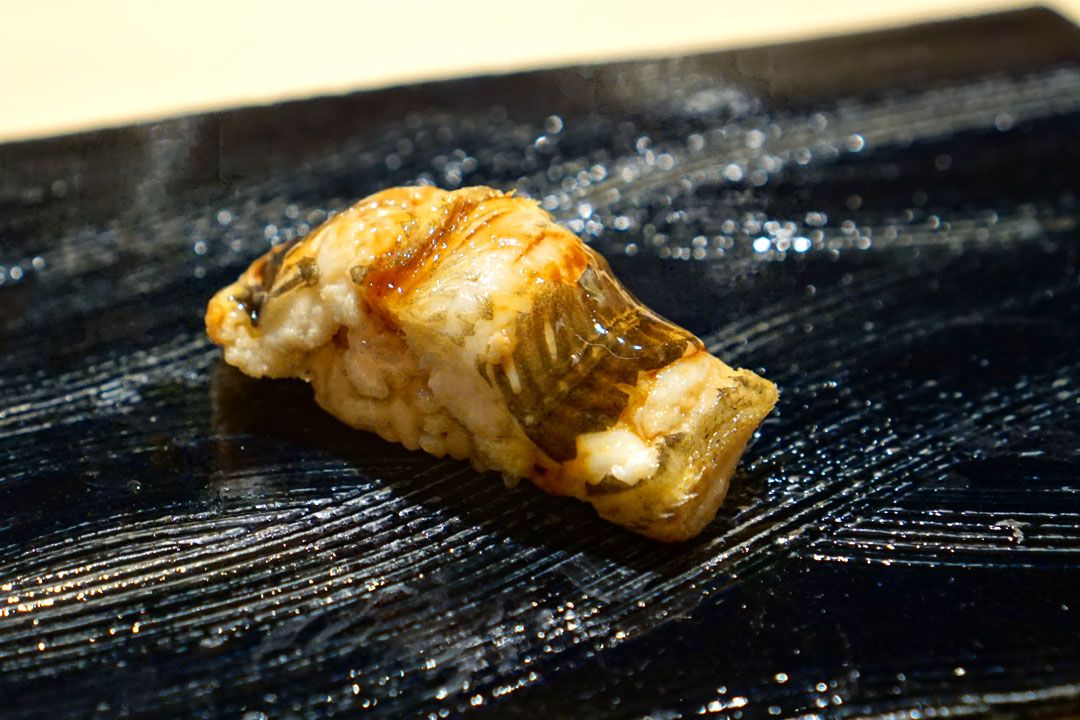 22: 穴子 / Anago
Saltwater eel came out super soft, almost airy, its trademark sweetness amplified by a brushing of
tsume
sauce.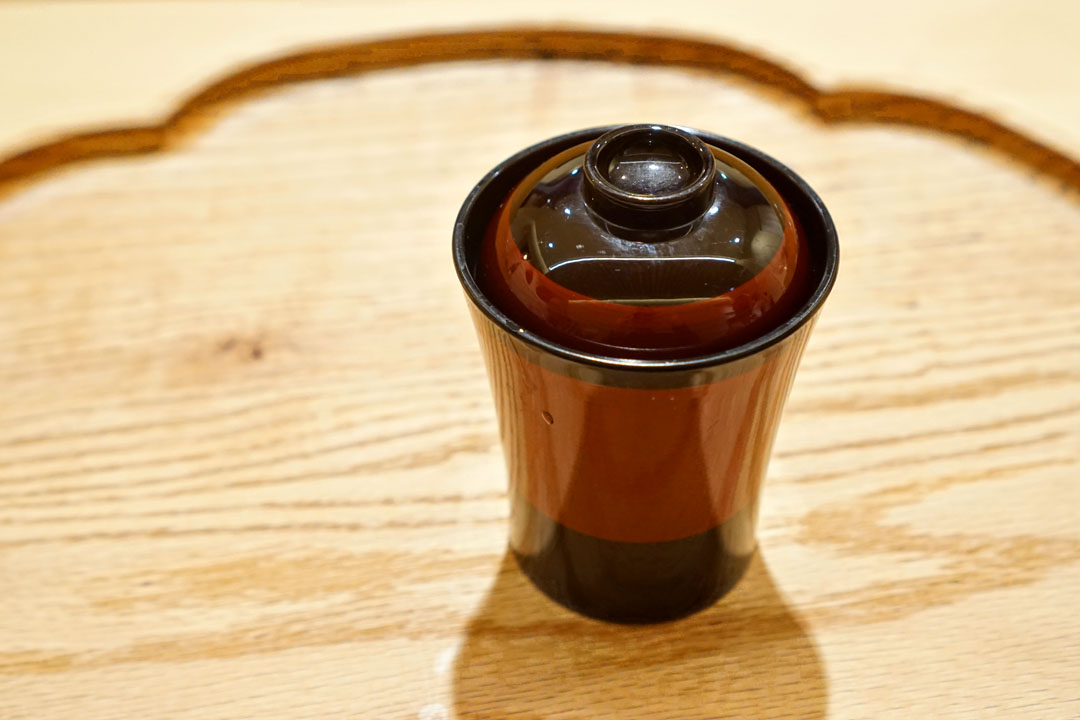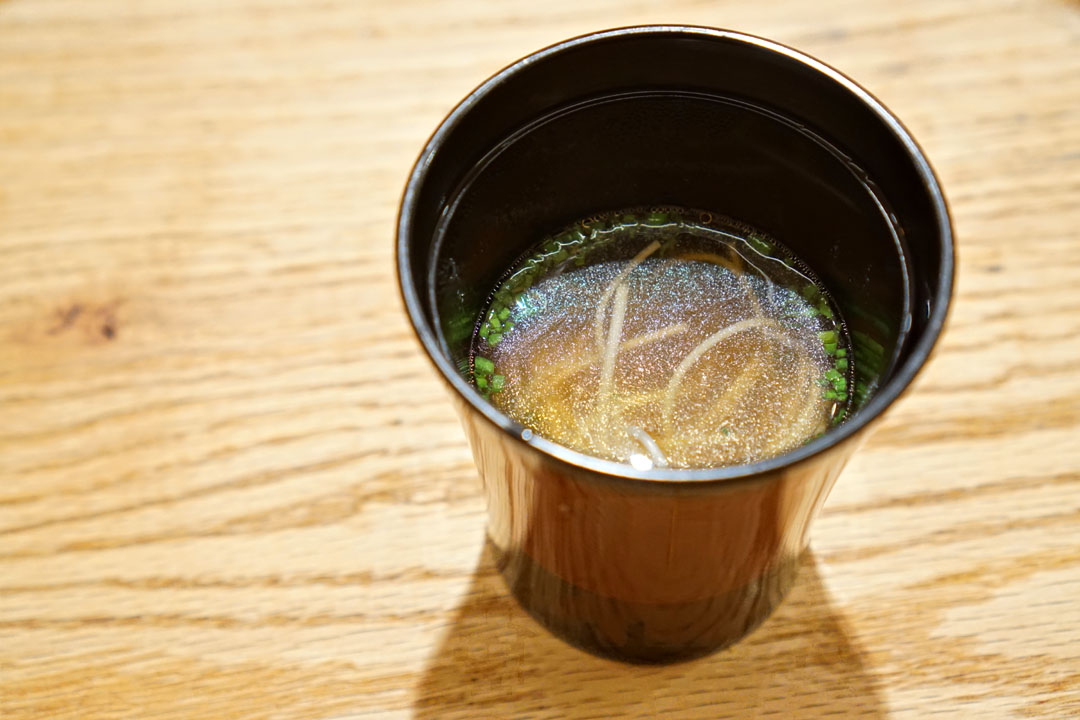 23: アカムツのスープ / Akamutsu Soup
The final appearance of rosy seabass was in liquid form, and the fish made for a cozy, comforting broth that was brightened up by onions, while noodles gave the soup a welcomed textural variation. I could've easily taken a bigger bowl of the stuff.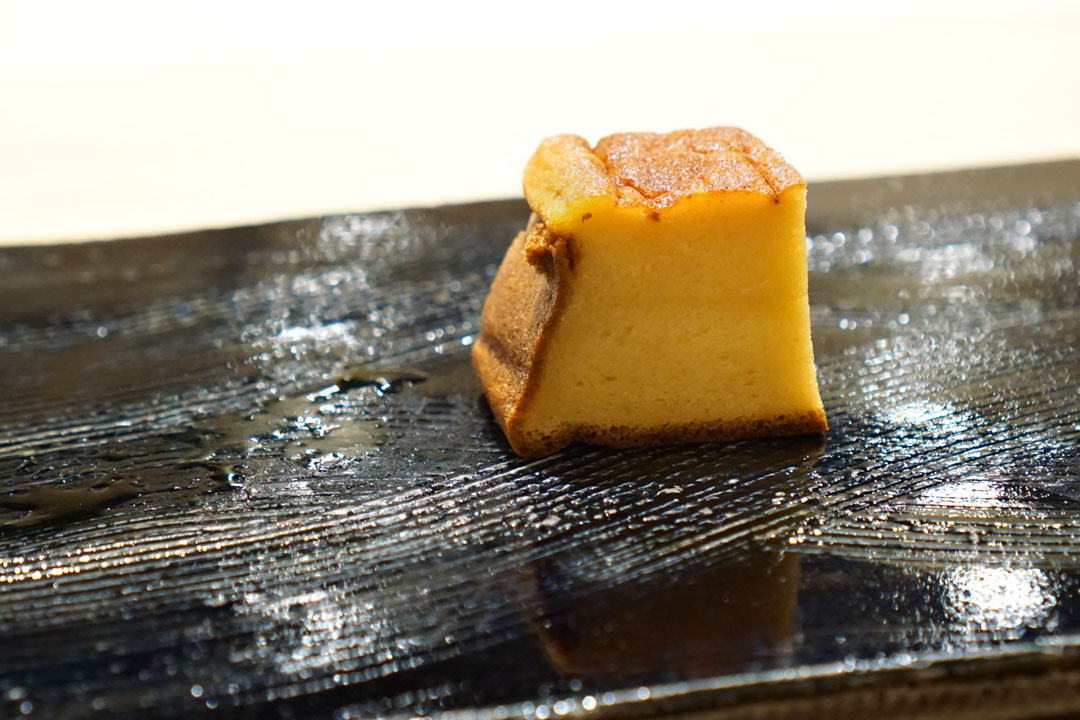 24: 卵焼き / Tamagoyaki
Tamura's cake-style tamago had a relatively light, moist, semi-fluffy mouthfeel and the right amount of sweetness.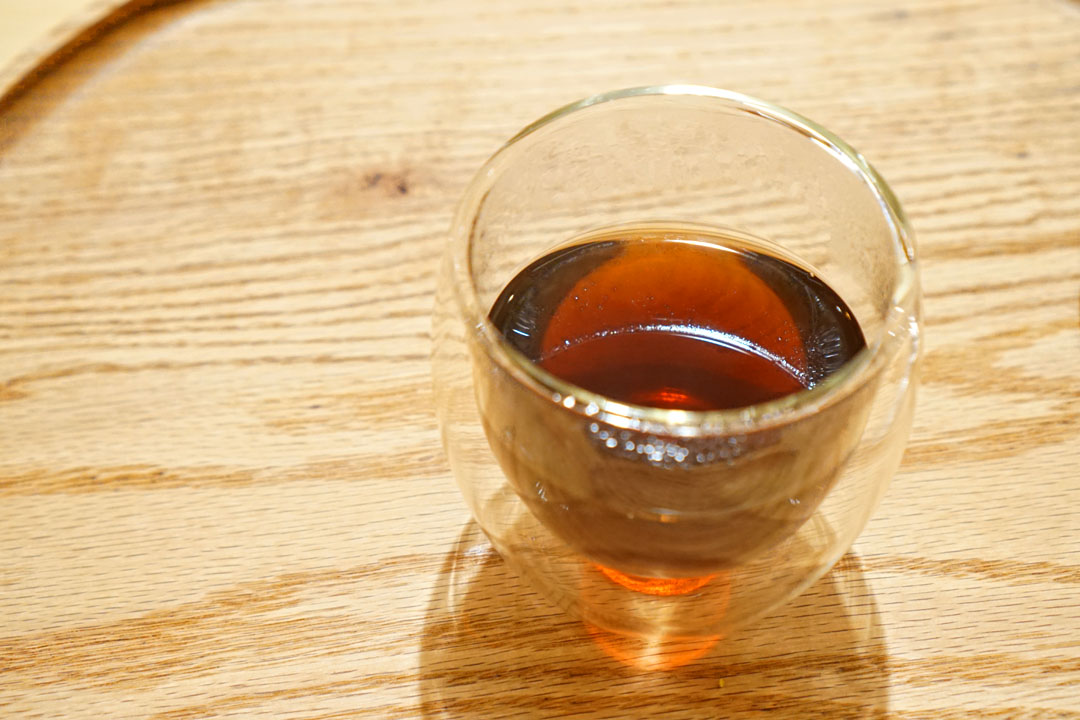 A hot 'n' toasty cup of
hojicha
made a lot of sense with the dessert below.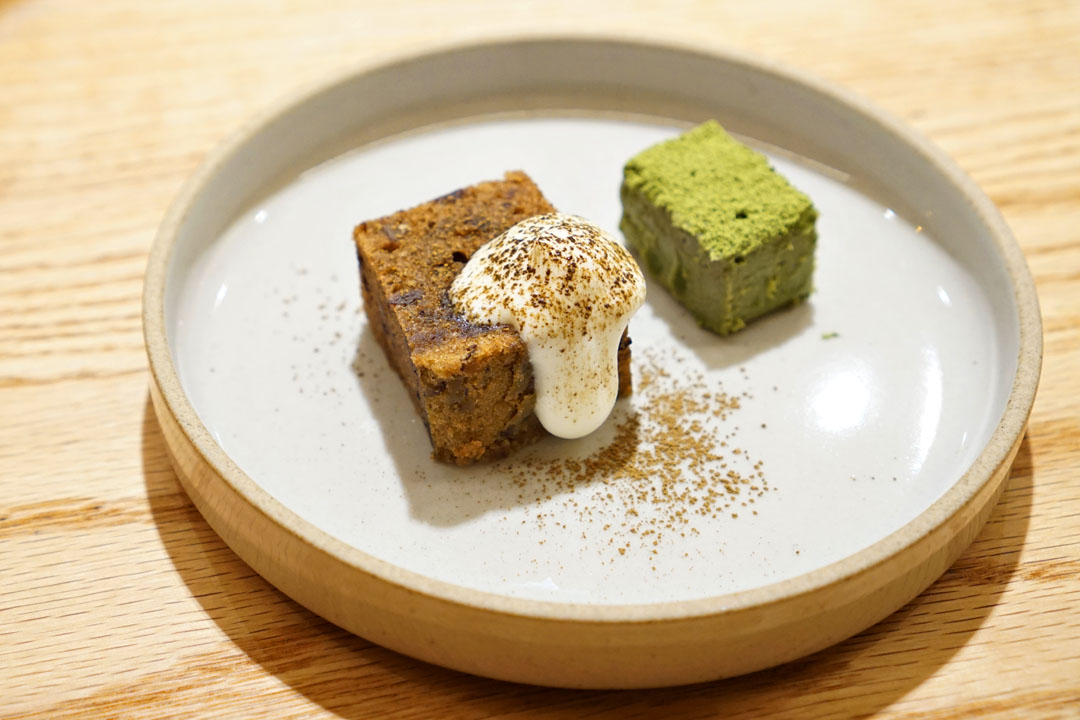 25: ほうじ茶ケーキ & 抹茶チョコレート / Hojicha Cake & Matcha Chocolate
Homemade desserts included a nutty roasted tea cake with chestnut (very apropos for the fall), as well as a bittersweet matcha-flavored chocolate.
My meal at 715 was one of my best of the year. What stood out to me was how Tamura's approach is just a tad different than what you'd find at most
edomae
-type sushi spots in LA. I think he's willing to veer a bit more outside the box, while his rice was more assertive than most, and I get the sense that he places a touch more emphasis on textural play. I don't know if this is due to the Chef's Kansai upbringing or perhaps just his youth, but it was a nice change of pace. In any case, I have no problem putting 715 in the top echelon of sushi restaurants in SoCal, and I really think that the place deserves more attention than it gets.