Omaniku (San Gabriel, CA)
Omaniku Restaurant at Sheraton Los Angeles San Gabriel
303 E Valley Blvd, San Gabriel, CA 91776
626.607.2023
www.omaniku.com
Sat 10/22/2022, 06:15p-09:00p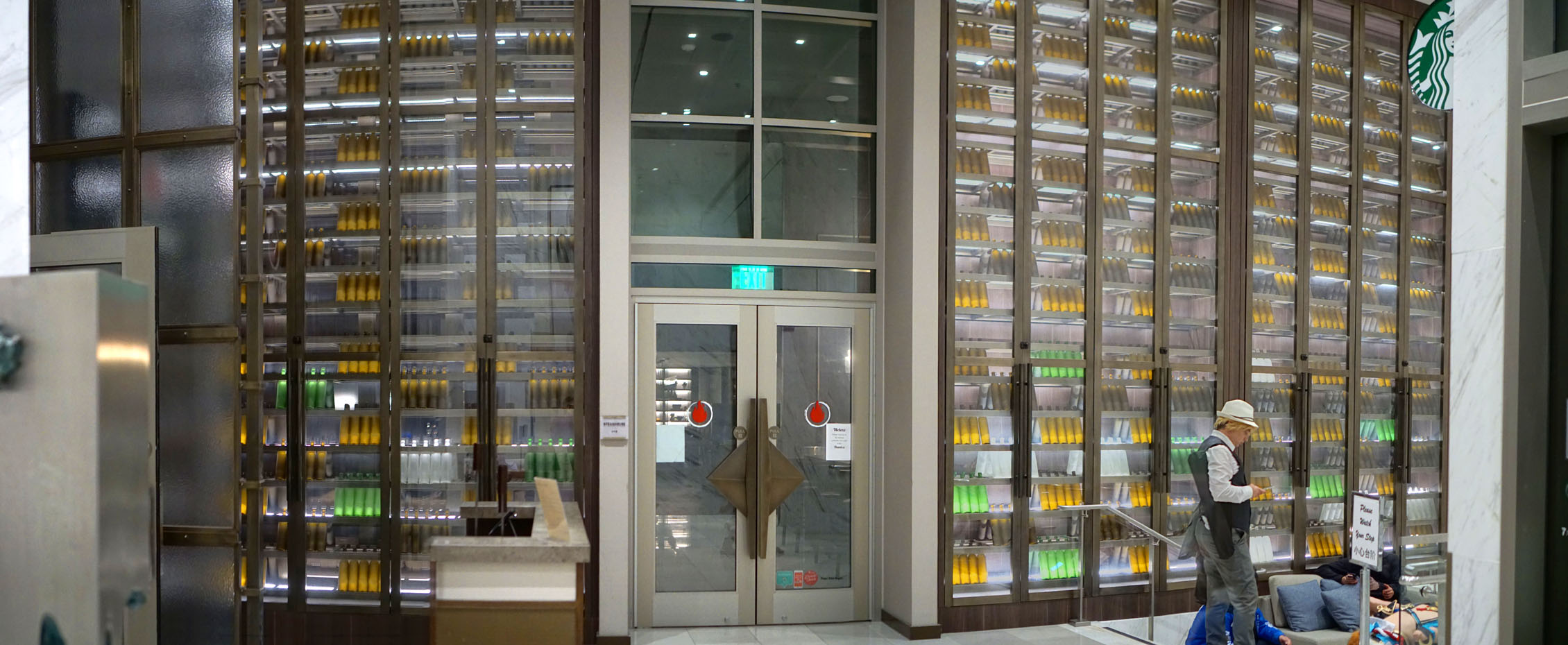 If you've spent any significant time eating in the eastern stretches of the San Gabriel Valley, you'll probably have heard of
Yakiya
, a "fusion" yakiniku-style place in Hacienda Heights with roots in Taipei. It's actually one of the few "nice" spots in the area, and has done quite well for itself, so I guess I shouldn't be too surprised that it's spawned an imitator in the form of Omaniku (a portmanteau of "omakase" and "niku"). The creation of Wai Yin Chu's Charcoal Niku Restaurant Group, I believe the first Omaniku location debuted in March 2021 in the City of Industry, while the San Gabriel outpost I visited tonight opened back in October last year, set inside a Sheraton hotel.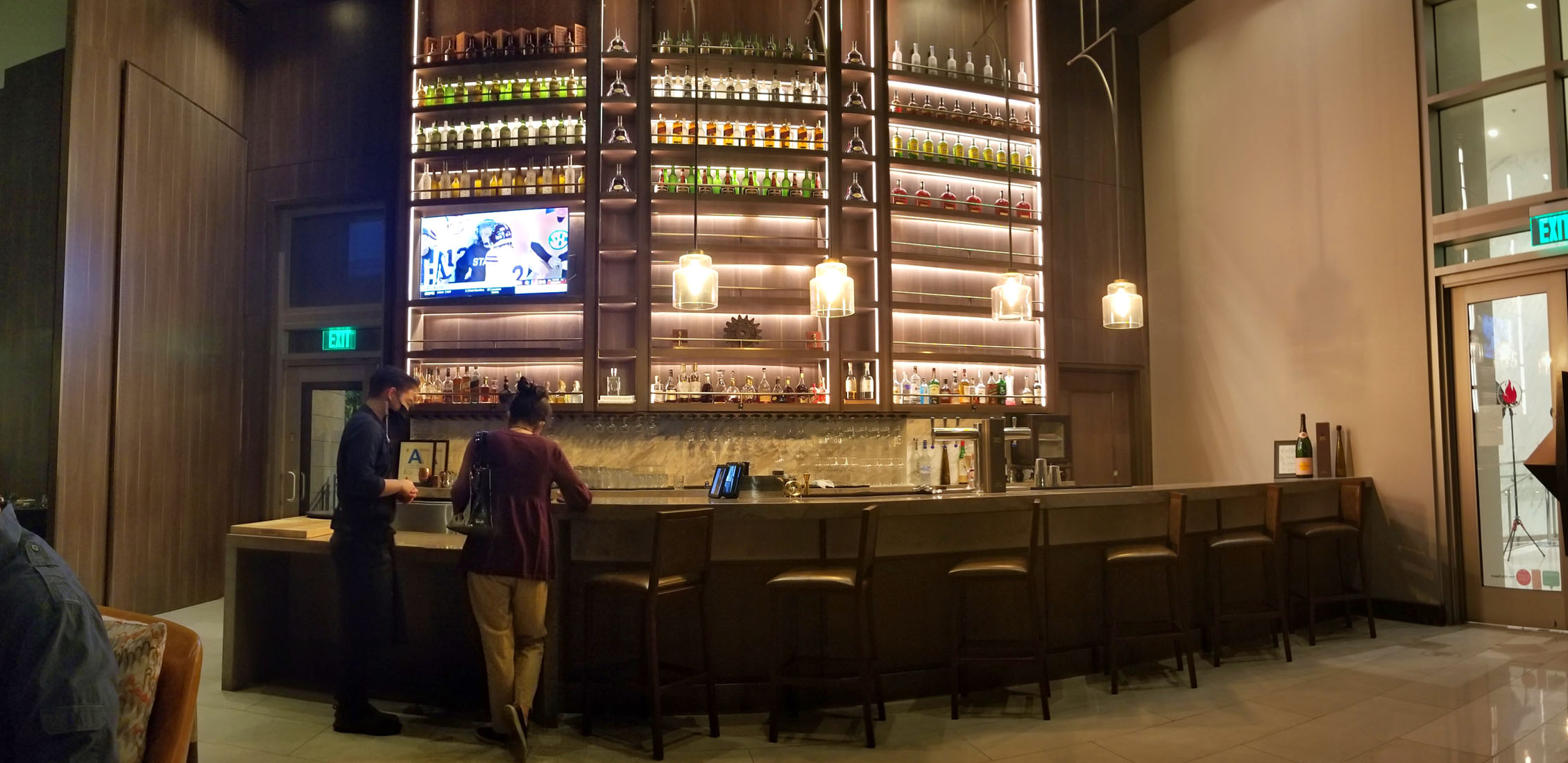 Omaniku takes over the former home of EST Prime Steakhouse, and the decor really hasn't changed much at all, which isn't a bad thing, since the space is quite handsome. Pictured above is the bar area near the entrance.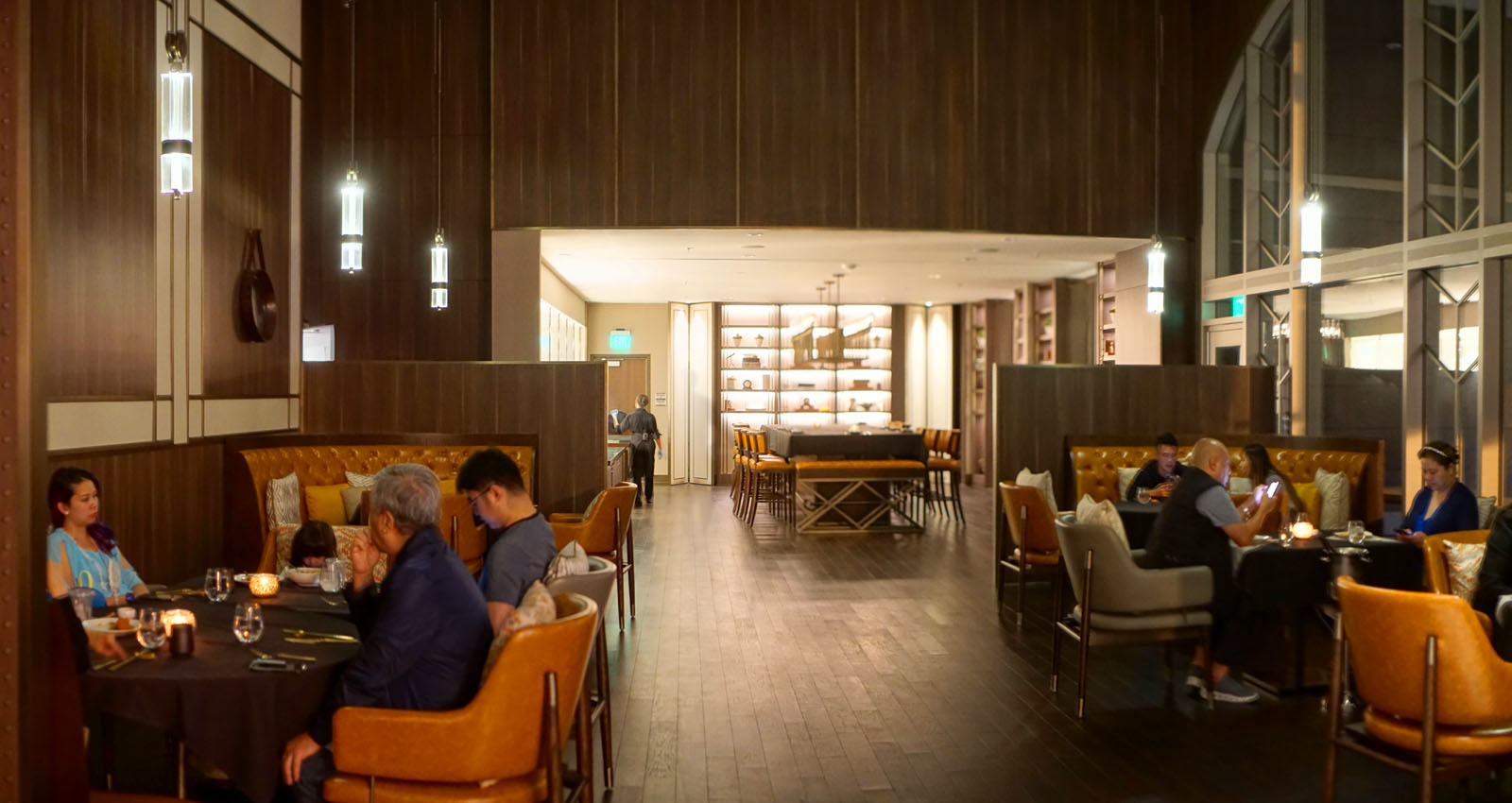 And here we see the main dining room, which actually isn't very big. The rear area holds a large group dining table as well as two private dining rooms.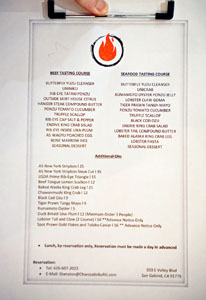 As for the menu, you get two "omakase" options, a beef-focused one at $108 a head or a seafood option at $125 per person (we tried both, of course), along with a selection of supplemental courses. Click for a larger version.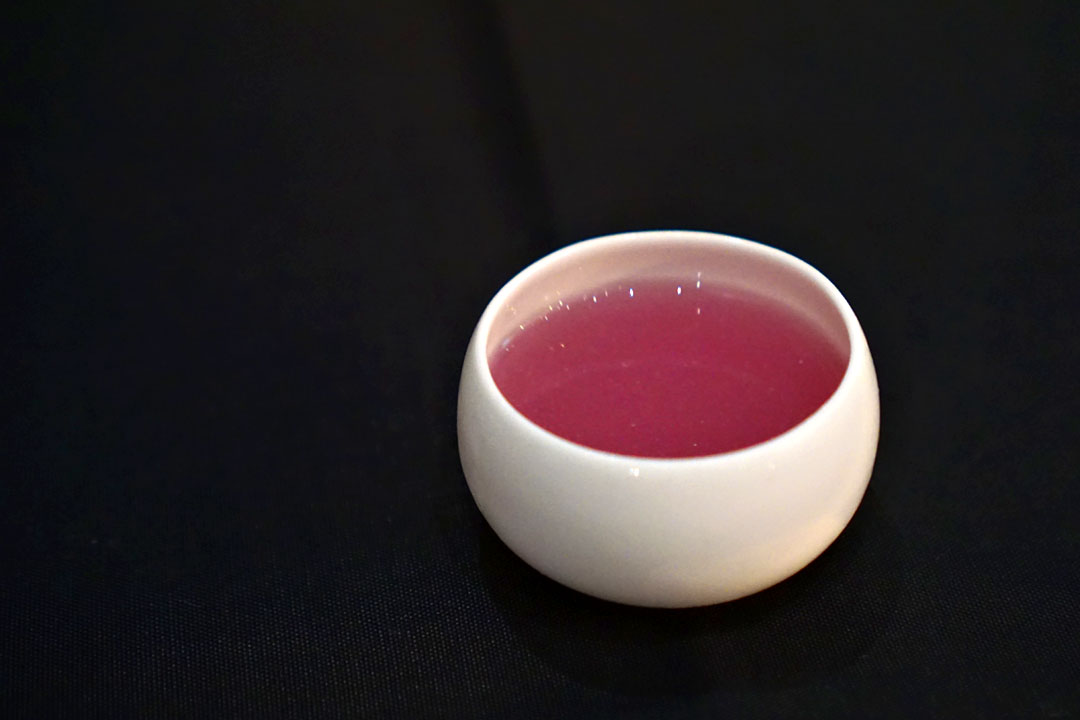 1: Butterfly Yuzu Cleanser
| Blend of Butterfly Pea Flower Tea and Japanese Yuzu
A small pour of butterfly pea flower tea served as our apéritif. It was tarted up by the addition of yuzu juice, which imparted an intense citrusy finish to the drink and also turned the liquid purple (from its natural blue).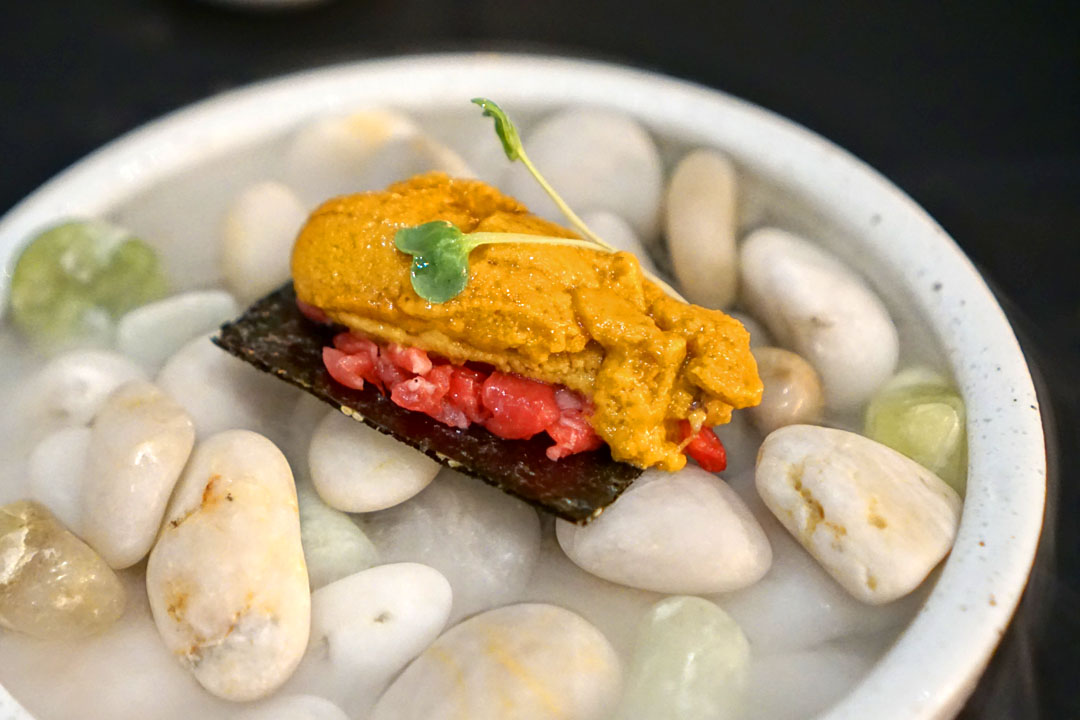 2a: Uniniku
| USDA Prime Ribeye Tartare served with yakiniku sauce infused with truffle, crispy nori cracker and Santa Barbara Uni
Our first canapé course really showed off the creamy, sweet-saline nature of the uni, though unfortunately the beef was a tad overshadowed. Nevertheless, I enjoyed the truffle notes that appeared on the mid-palate, as well as the unmistakable savor of the seaweed on the back end.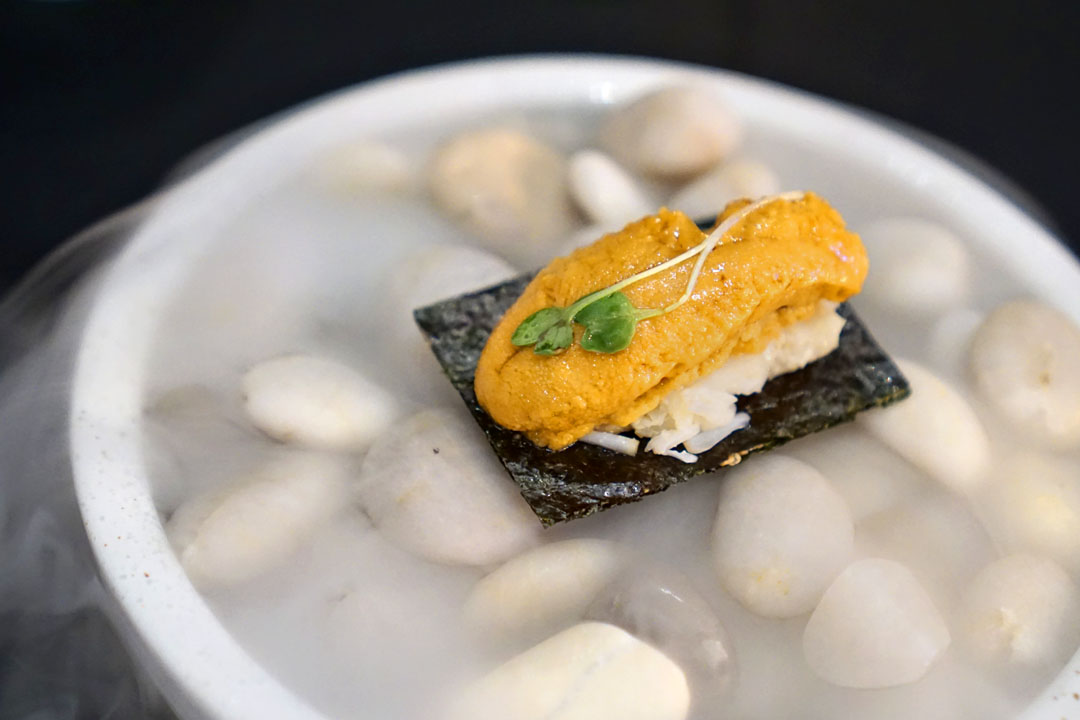 2b: Unicrab
| Alaskan King Crab served with yakiniku sauce infused with truffle, crispy nori cracker and Santa Barbara Uni
In the seafood version of the amuse bouche, the sweetness of the urchin did a nice job marrying with the sweetness of the crab, and both ingredients ended up being well conveyed. The truffle wasn't very discernable though, which was probably alright, and again, I appreciated the counterpoint from the nori coming in on the finish.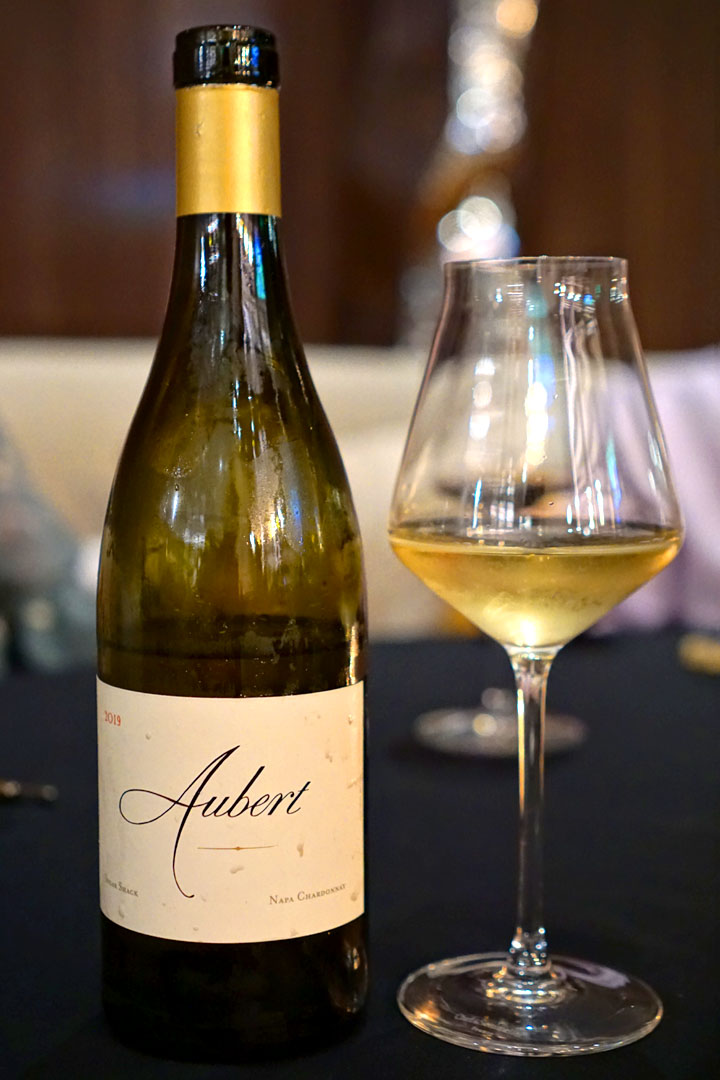 We ended up bringing a bottle of both white and red this evening (corkage was a reasonable $20 each), and kicking things off was the
2019 Aubert Chardonnay Sugar Shack
from Napa Valley's Rutherford appellation. The wine had a lush nose filled with tropical fruits and oak, with some offsetting grassiness hiding out in the background--lovely. On the palate, I found this one on the heftier side, but with an appealing acidity, its juicy tropical notes combining with elements of citrus and light touches of herb to make for a thoroughly enjoyable Chard that paired up swimmingly with many of our seafood courses.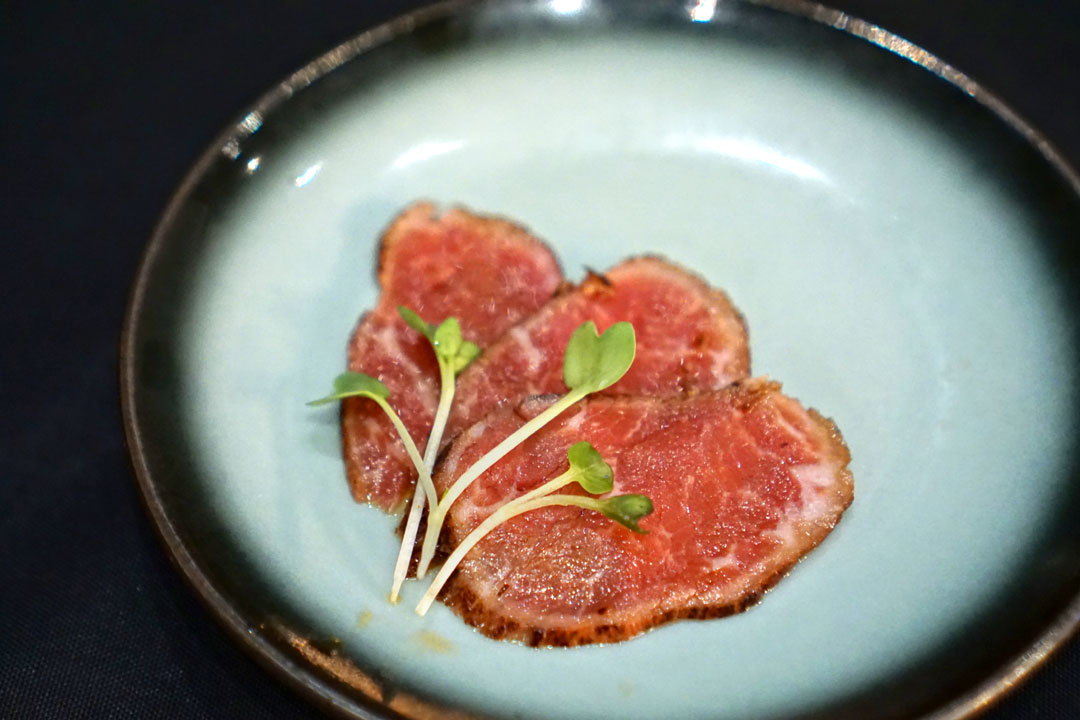 3a: Rib-Eye Tataki Ponzu
| USDA Prime Ribeye Tataki marinated with house-made citrus sauce
Slices of ribeye arrived imbued with a subdued smoke as well as the signature sweet-savoriness of ponzu, but didn't make much of an impression overall.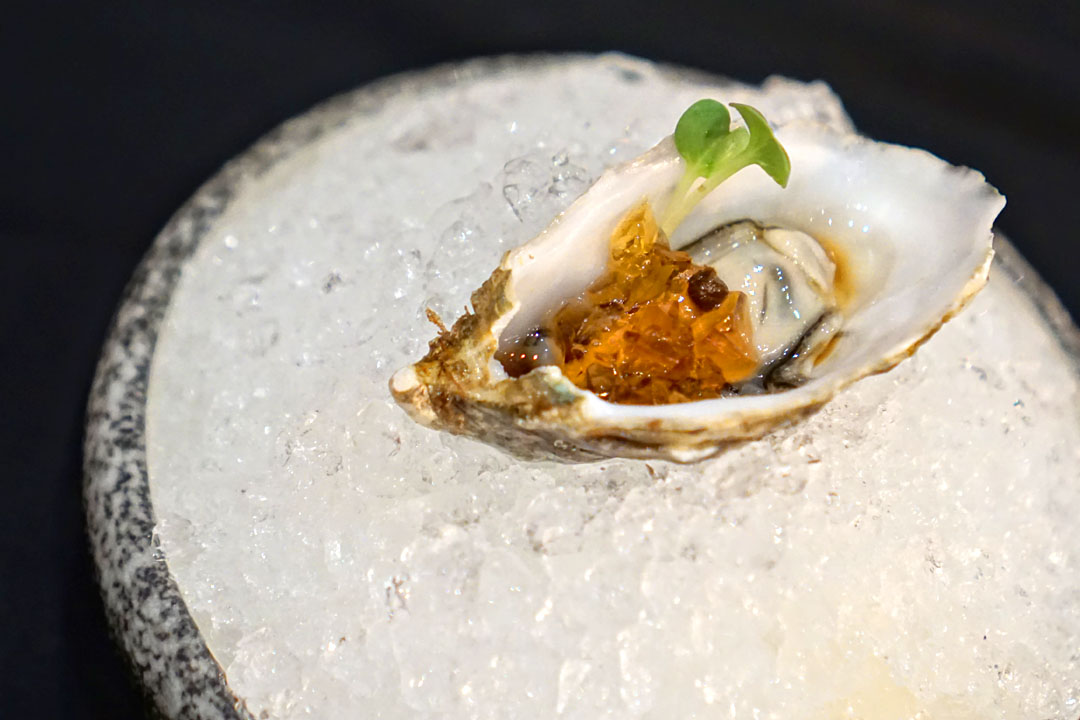 3b: Kumamoto Oyster Ponzu Jelly
| Japanese Oyster topped with ponzu jelly and Arima Sansho pepper
The Kumamoto is one of my favorite oyster varietals, and its refined brine played well with the tangy, acidic nature of the ponzu jelly, though I didn't taste much from the sansho.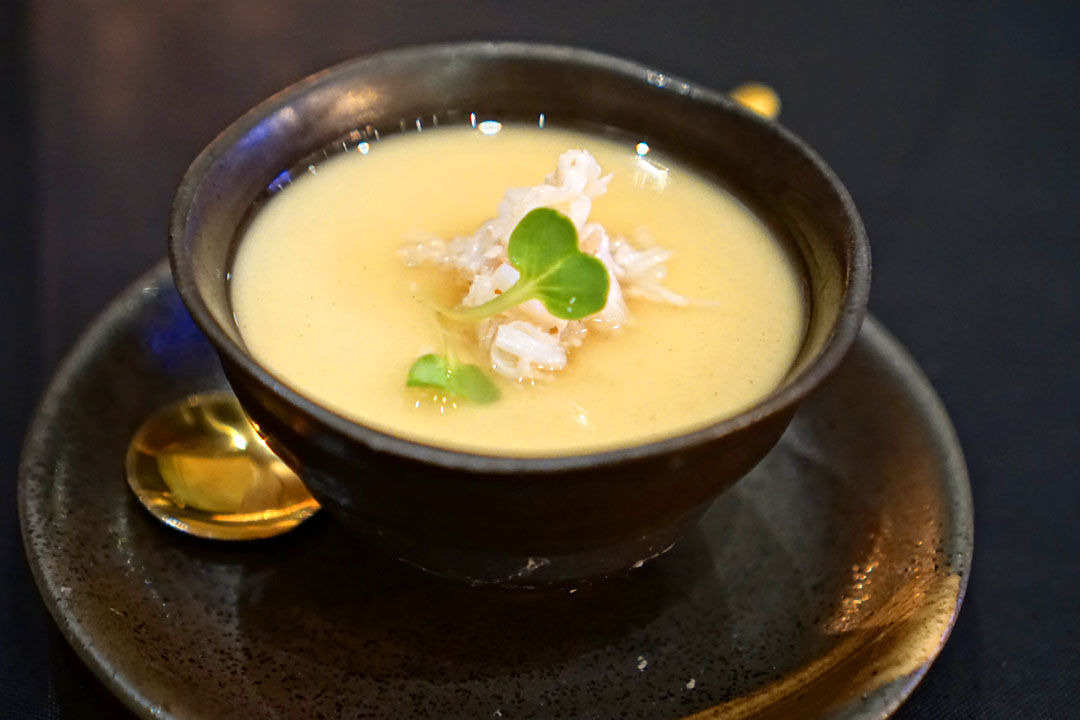 Chawanmushi King Crab [$12.00]
| A creamy Japanese egg-steamed custard topped off with delicious Alaskan King Crab
A supple steamed egg custard displayed cozy, savory qualities that made a lot of sense with the sweetness of king crab, and the dish worked wonders in drawing out the caramel notes of the Chard. My complaint here was that I found a rather large shell fragment in my bowl.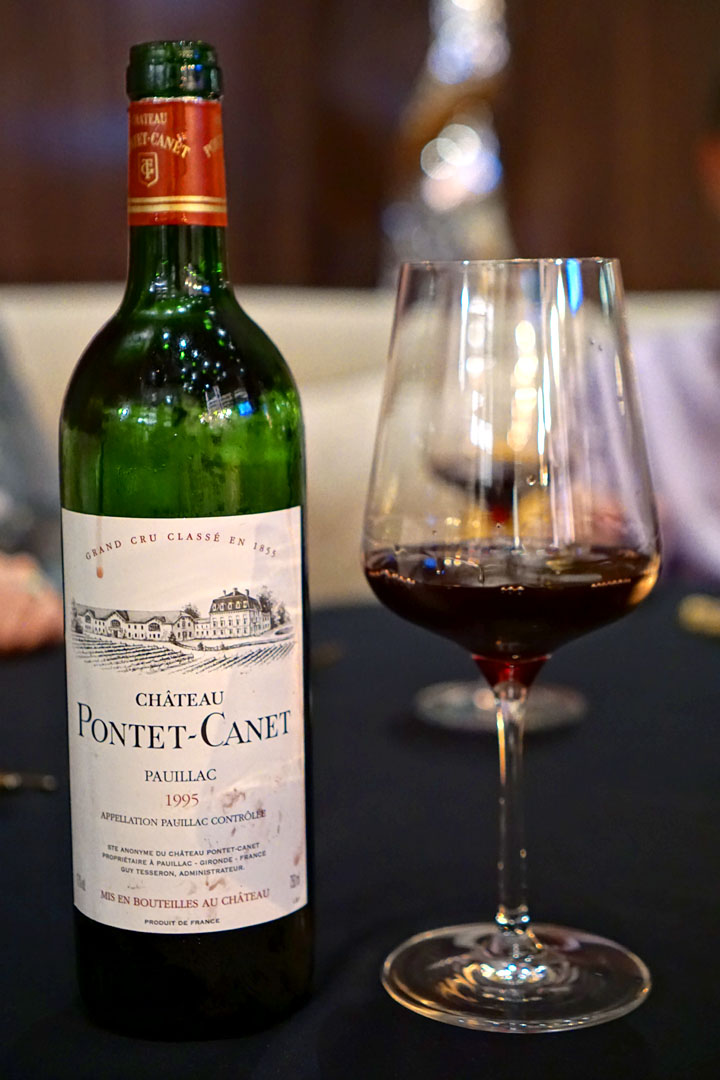 Red duties were handled by a bottle of Bordeaux, the
1995 Château Pontet-Canet
, which we did not decant. I got a powerful, perfumed nose bursting with lush black fruit, barnyard, and tobacco that softened a tad as the night progressed. Taking a sip, the wine was assertively tannic, while flavors of smoked meats and mint were at the fore, but commixed with dark-toned berries and earth.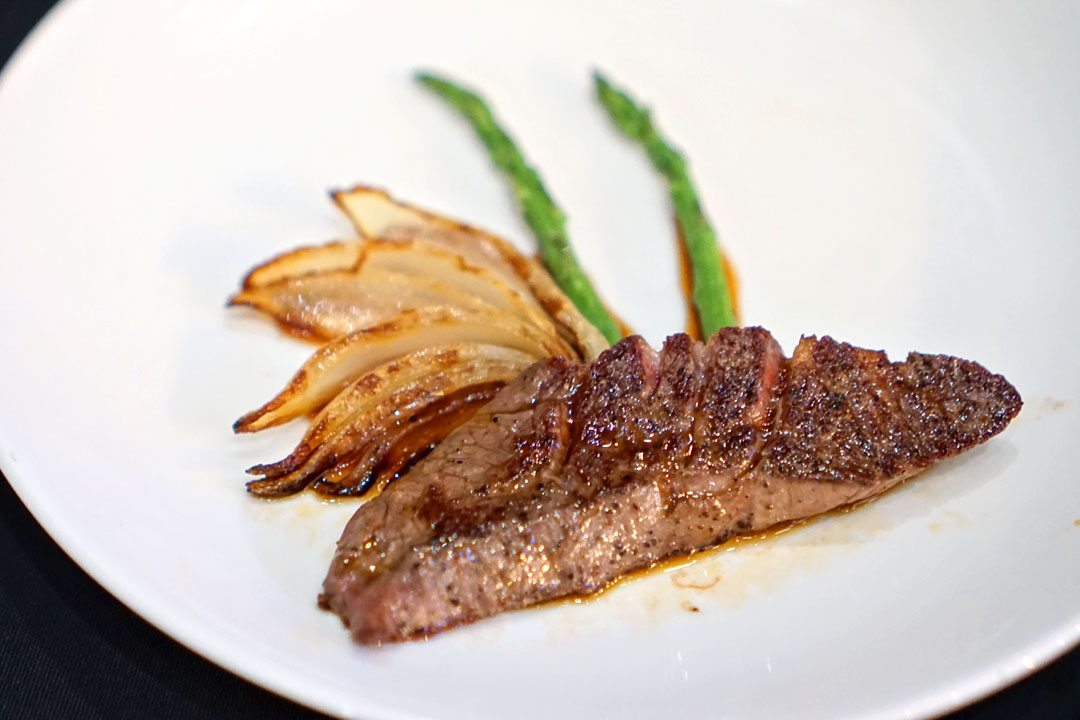 4a: Outside Skirt House Citrus
| USDA Prime outside skirt cut served with seared onions, asparagus, glazed with house-made ponzu sauce
Our first proper cut of steak delivered with both its robust beefiness and tenderness, and linked up beautifully with those caramelized onions. A great pairing with the claret above.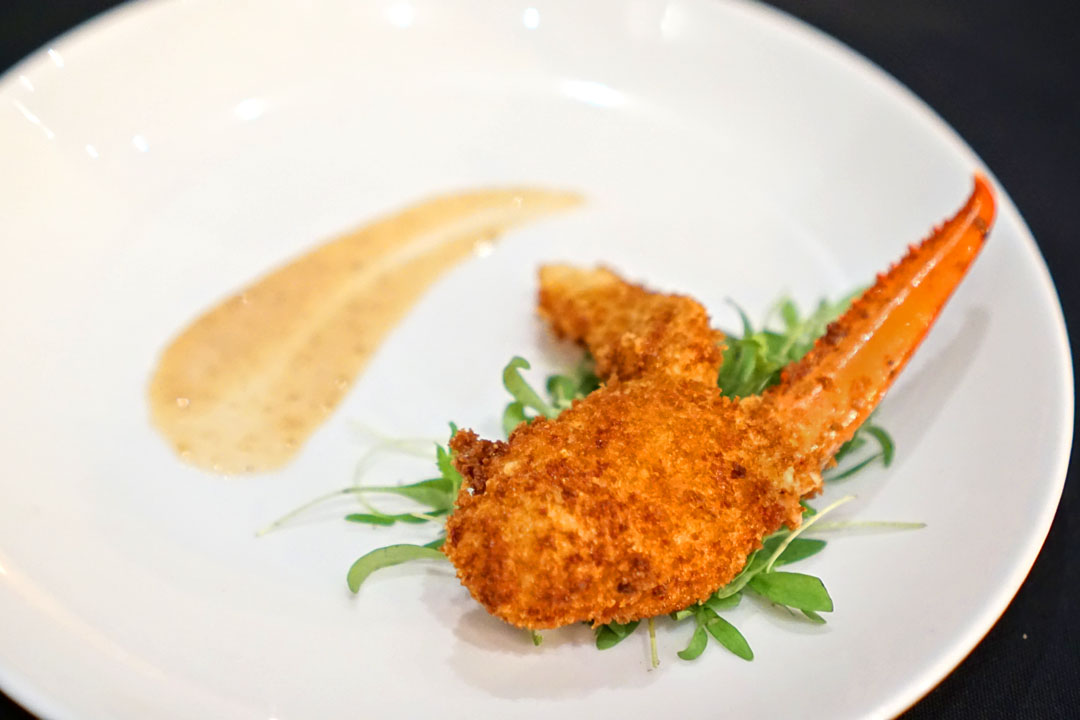 4b: Lobster Claw Goma
| Deep Fried Lobster Claw served with rich white sesame sauce
Fried lobster had what I'll describe as an "old school American" sort of flavor profile that worked surprisingly well when juxtaposed against the greenery here. It was enjoyable in a familiar sort of way, though I didn't get much from the sesame.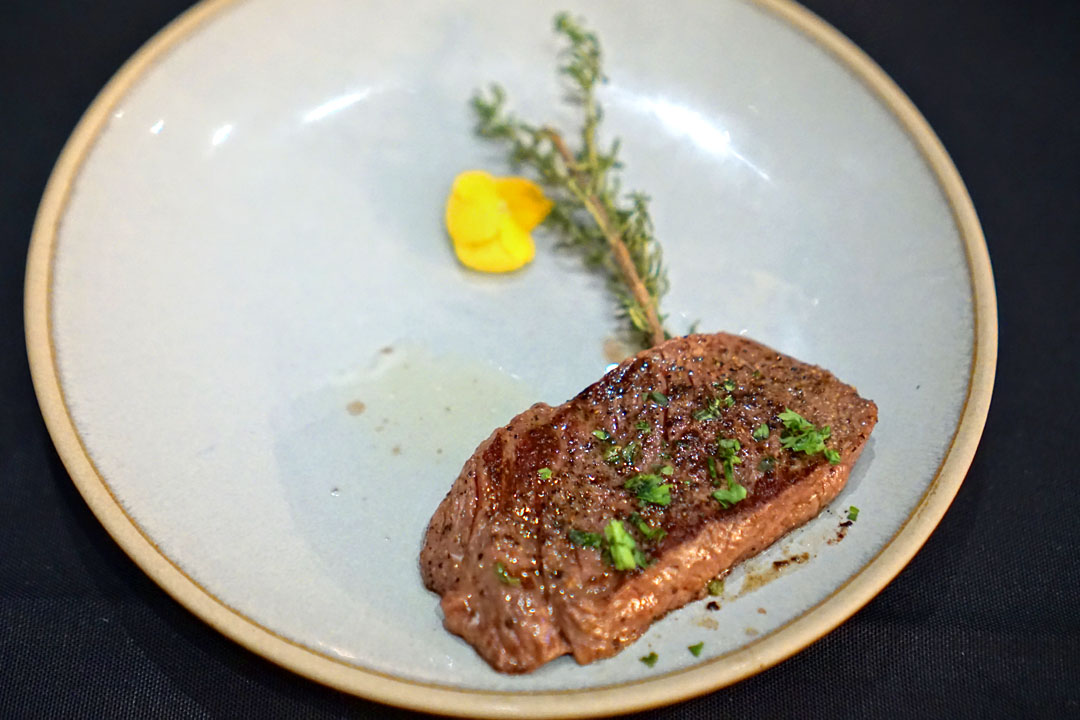 5a: Hanger Steak Compound Butter
| USDA Prime hanger cut "often praised for its flavor," served with compound butter (cooked with various spices, herbs and other flavorful ingredients)
The hanger was a winner as well thanks to its robust taste, aggressive pepperiness, and tender texture. A standout.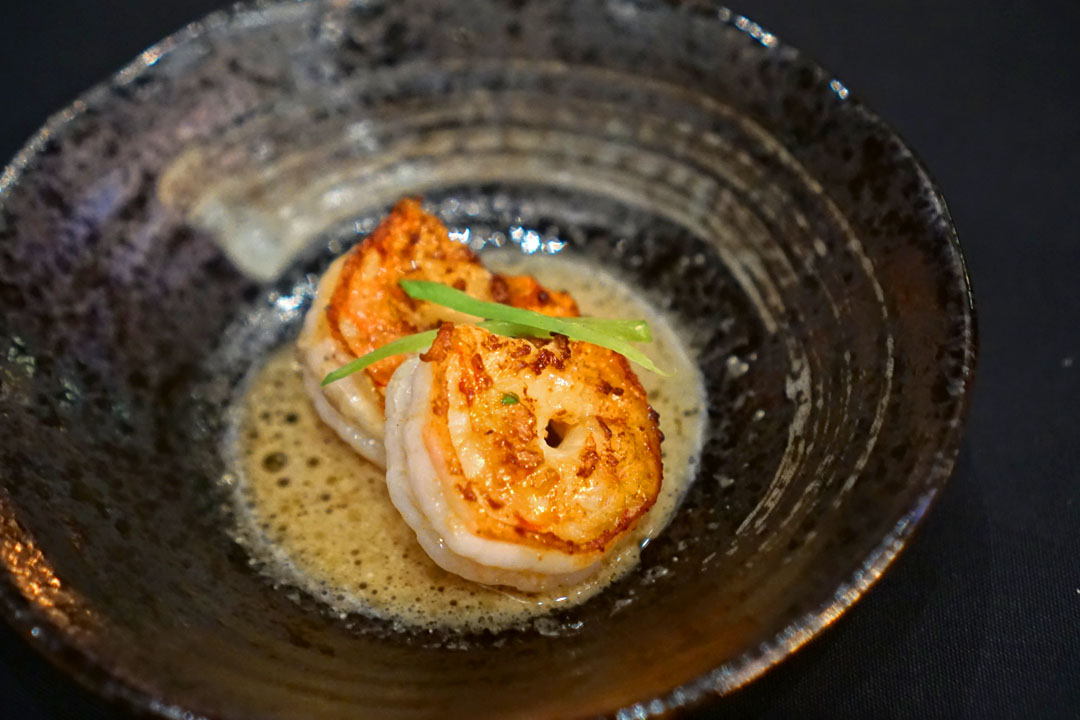 5b: Tiger Prawn Tangy-Mayo
| Seared Tiger Prawn served with tangy mayo and garnished with snow peas
Shrimp arrived more cooked than I would've preferred, though they did show off an appealing
rousong
-esque savory-sweetness that meshed seamlessly with their smoky-saline notes.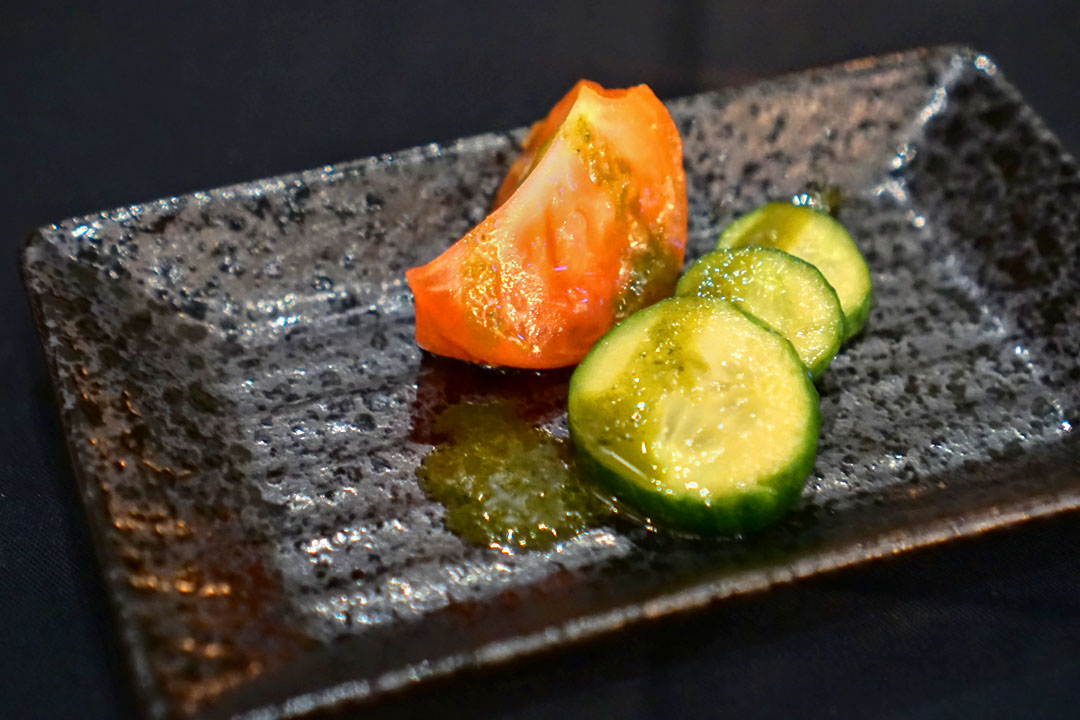 6: Ponzu Tomato Cucumber
| Ponzu-marinated tomatoes and cucumbers drizzled in basil sauce
A serving of tart, tangy veggies worked as a palate cleanser, and really brought out the melon-y nuances in our Chardonnay.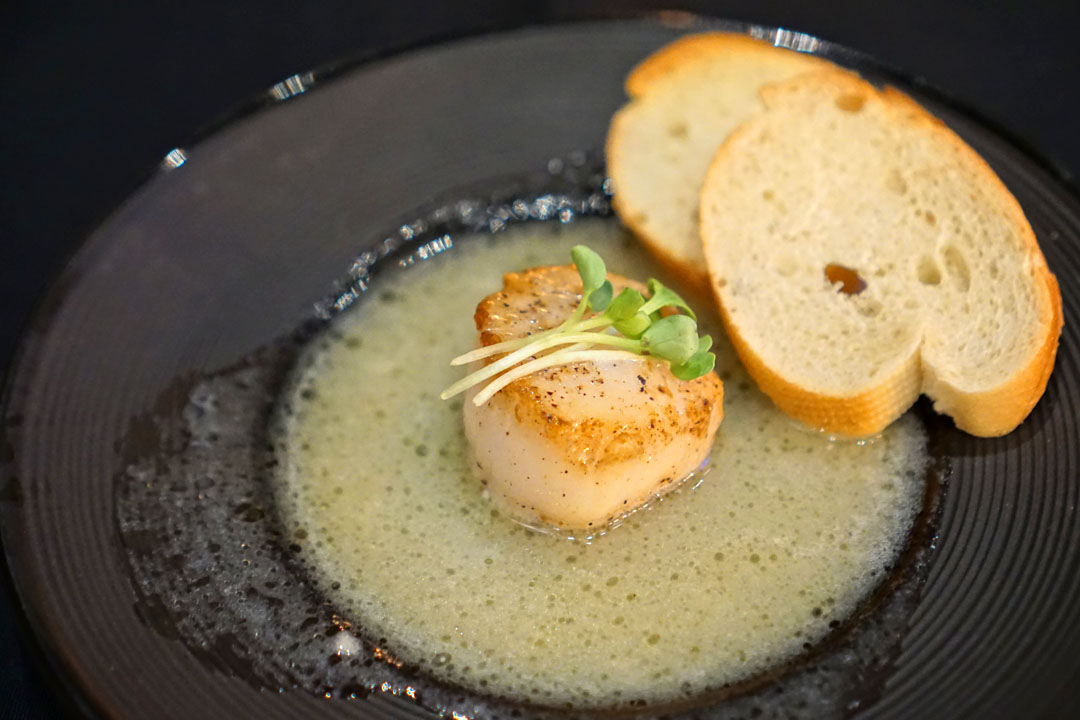 7: Truffle Scallop
| Pan seared scallop, truffle butter sauce, served with crispy toasted French baguette
We were told that this is the restaurant's signature dish, which seemed a bit strange given that Omaniku is ostensibly a beef-focused spot. That being said, the scallop was pretty enjoyable thanks to its texture, caramelization, and palpably sweet brine. I also liked the sheer butteriness of the accompanying sauce, which I soaked up with the provided bread.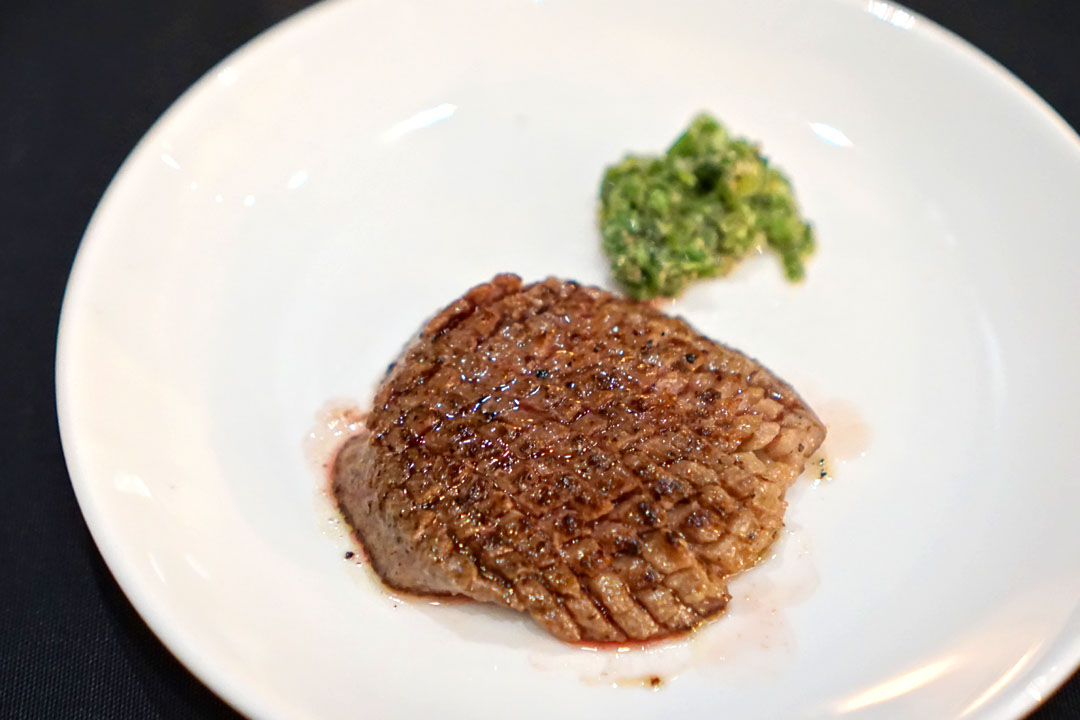 Beef Tongue Lemon Scallion [$12.00]
| Black Angus Beef Tongue mixed with yuzu kosho and lemon scallions
Tongue came out with a spot-on consistency and a good amount of sear, its full-throated,
yuzukosho
-boosted flavors matching up perfectly with the sharp zestiness of those scallions. A favorite of the night, and a great complement to our Bordeaux.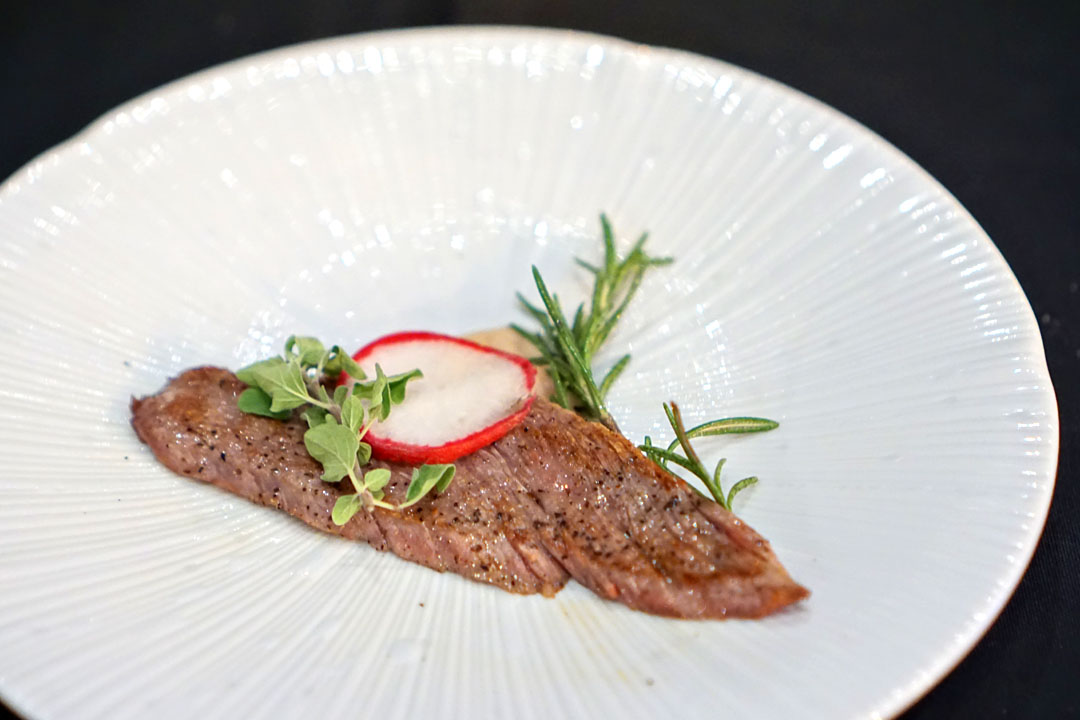 8a: Rib-Eye Cap Salt & Pepper
| USDA Prime Ribeye Cap with sesame radish
Next up came ribeye cap, a particularly supple preparation of the cut that was simply, yet effectively seasoned with just enough S&P. I was a big fan of the herbaceousness from the rosemary, too.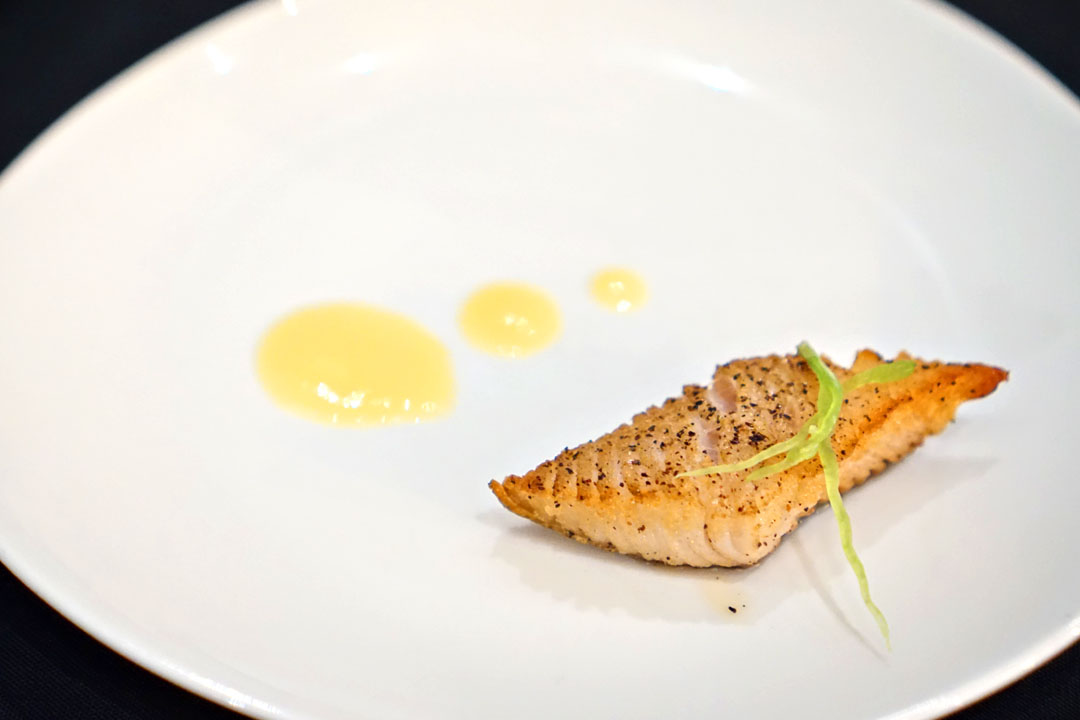 8b: Black Cod Ozu
| Freshly caught black cod, pan-seared and served with snow pea and ozu (citrus-based) sauce
A filet of black cod had a crisp, savory crust that I quite enjoyed, while its flesh was mild and flaky, though unfortunately on the dry side.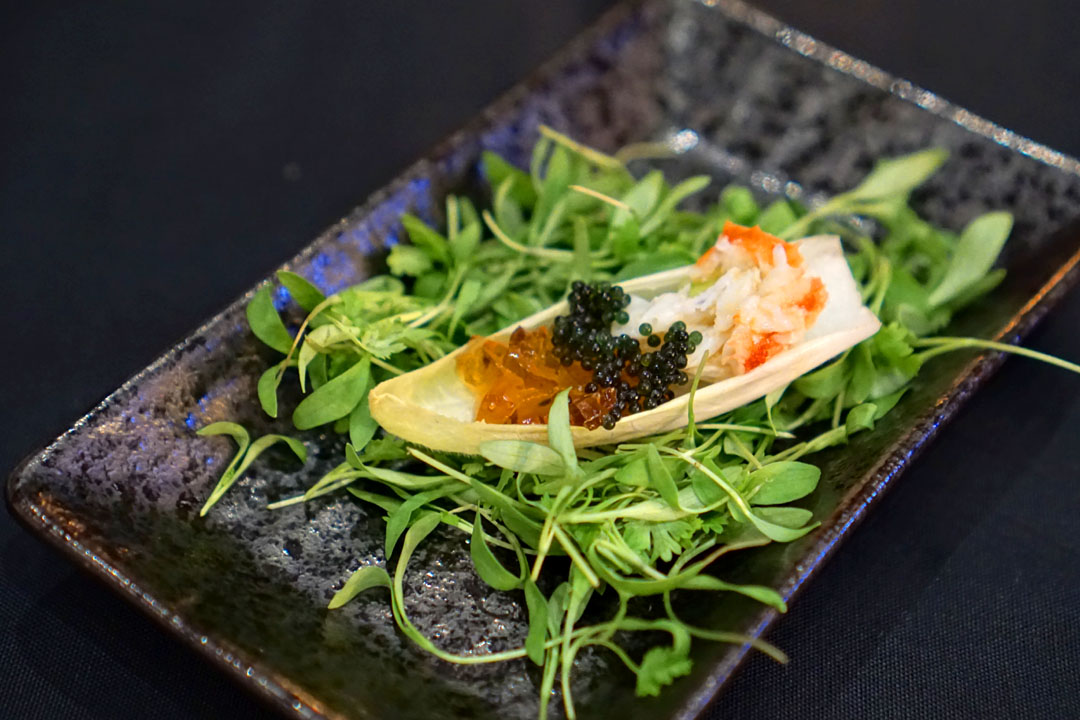 9: Endive King Crab Salad
| Alaskan King crab served on an endive, topped with ponzu jelly and tobiko caviar
Serving as a bit of an intermezzo was this one-biter, which attempted to combine the sweetness of king crab with contrasty notes of salty and bitter, but was only partially successful.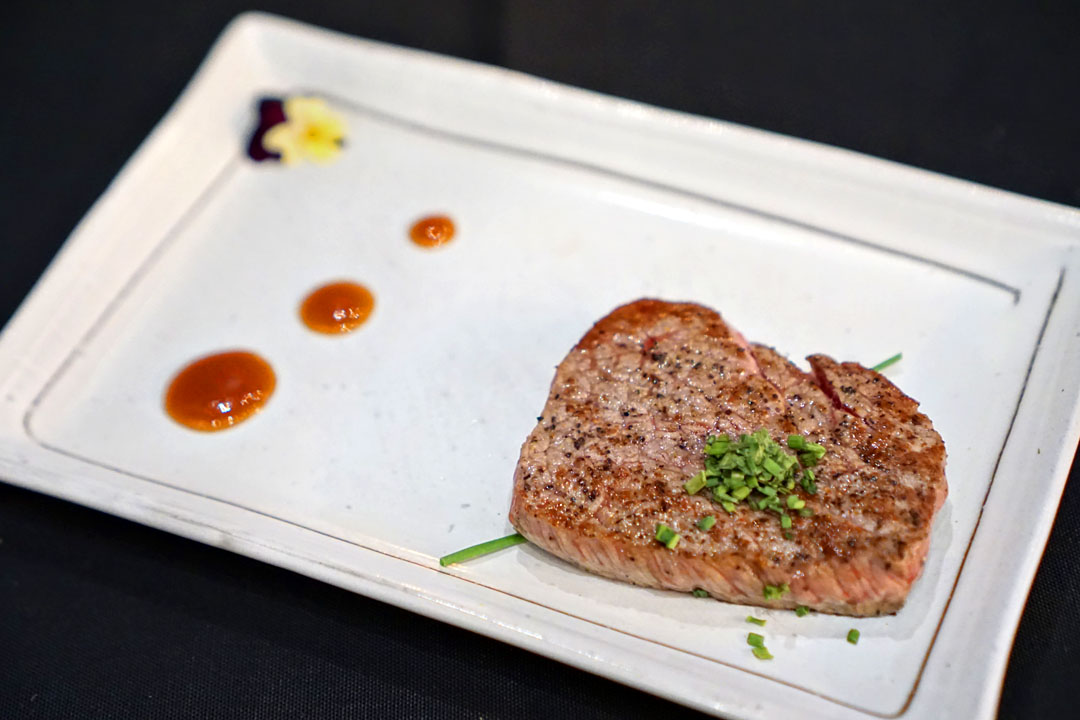 10a: Rib-Eye Inside Una-Plum
| USDA Prime Center cut of the Ribeye served with a sweet and tangy una-plum sauce
The eye of the ribeye was perhaps the most tender cut yet, and displayed a marked sweetness that melded well with the beef's light sear.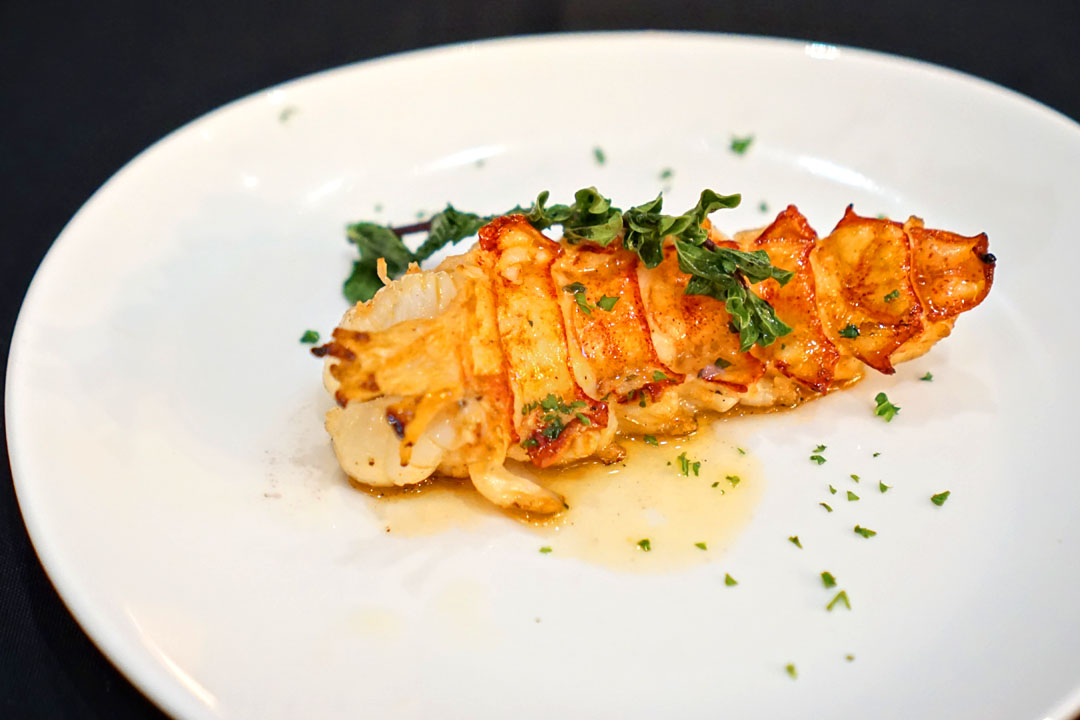 10b: Lobster Tail Compound Butter
| Fresh Lobster tail served with compound butter (cooked with various spices, herbs and other flavorful ingredients)
The lobster was another highlight due to its supple, snappy consistency and delectable combination of herb, sweetness, and smoke.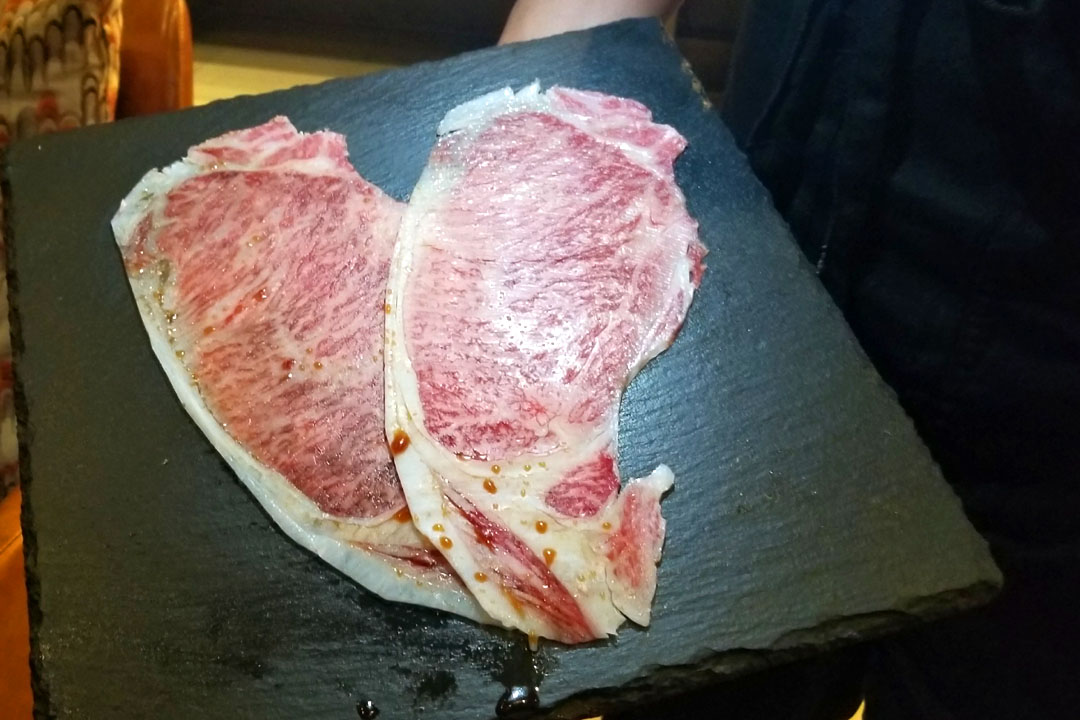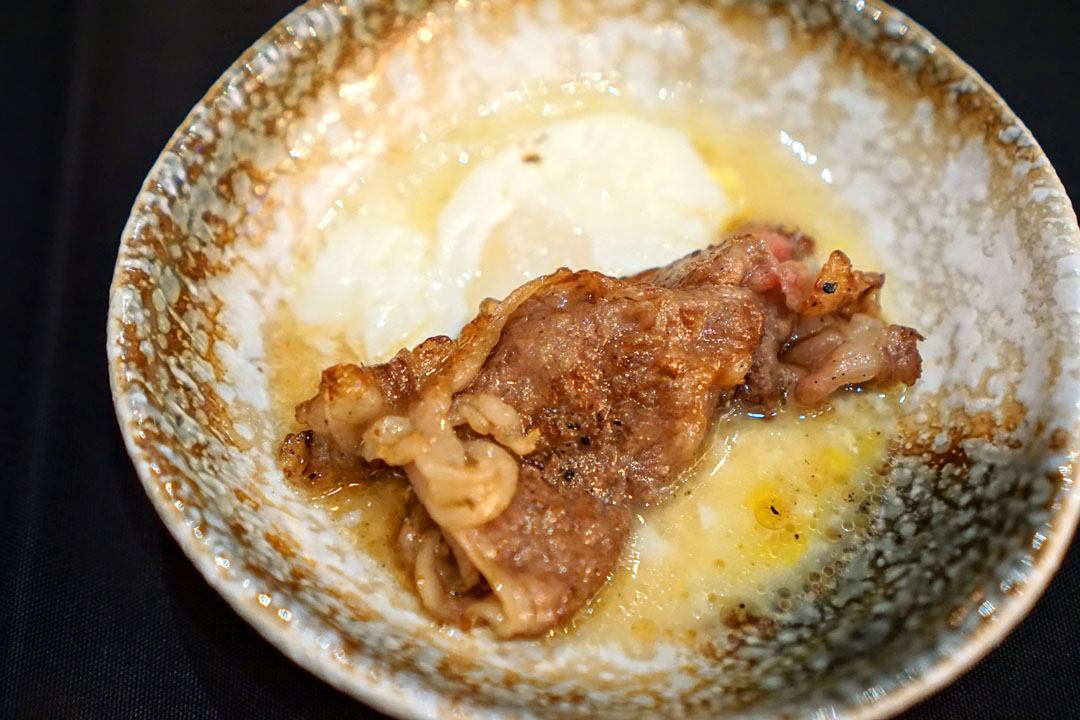 11a: A5 Wagyu Poached Egg
| A5 Wagyu from the Miyazaki prefecture, famous for the high degree of marbling and extraordinary depth of flavor, perfectly sliced, cooked to perfection, and served with poached egg
A serving of Miyazaki wagyu was certainly a high point of the meal. The A5 was clearly the richest, fattiest, most full-flavored cut we had tonight, as expected, and took well to a bit of moderation from that runny egg. Interestingly, the beef really seemed to emphasize the mintiness of our Bordeaux, which I didn't necessarily mind.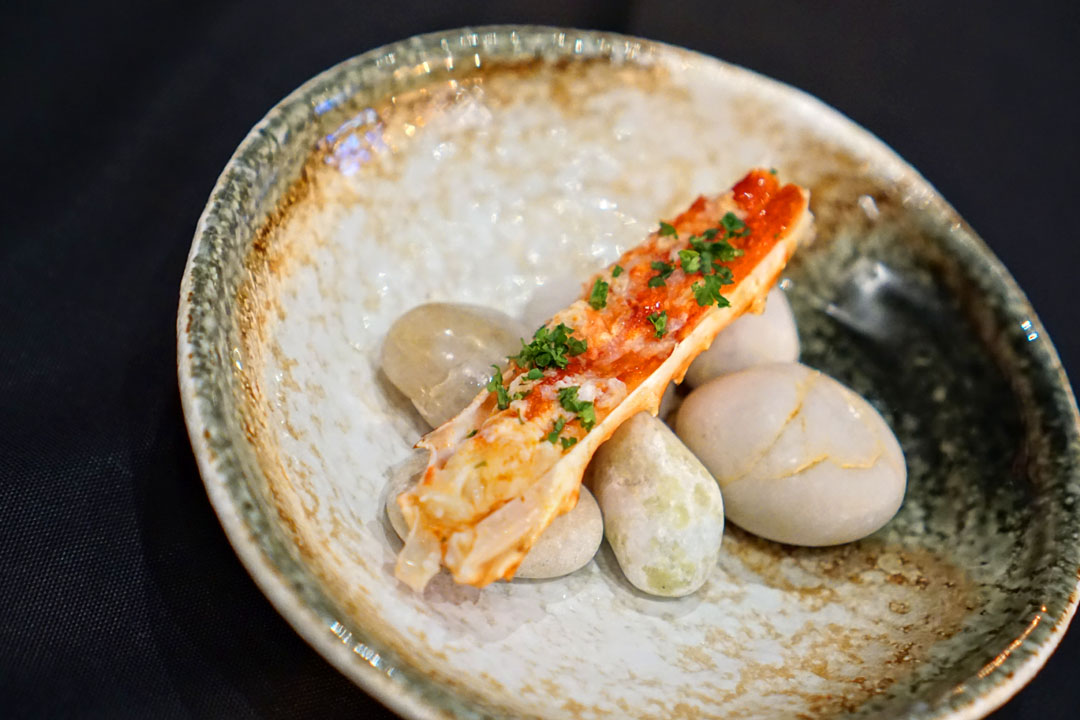 11b: Baked Alaska King Crab Leg
| Naturally sweet crab meat baked with savory Sriracha based butter
The king crab was what I was looking for texturally, and its inherent sweetness combined better than I thought it would with the heat from the Sriracha. Pretty tasty, though I will say that the portion size was somewhat unsatisfying.
12a: Bone Marrow Rice
| Bone marrow rice loaded with prime beef cuts, spinach, kimchi, and garnished with sesame seeds. Served in a hot stone bowl, each mouthwatering bite will leave an explosion of flavor
The stone pot rice was a favorite, and some of the best I've had all year in fact. The rice was just how I like it texturally, and had this savory-sweet-spicy, almost funky depth of flavor that really spoke to me. Great counterbalance from the zippy kimchi, too. I could've easily eaten a couple more bowls.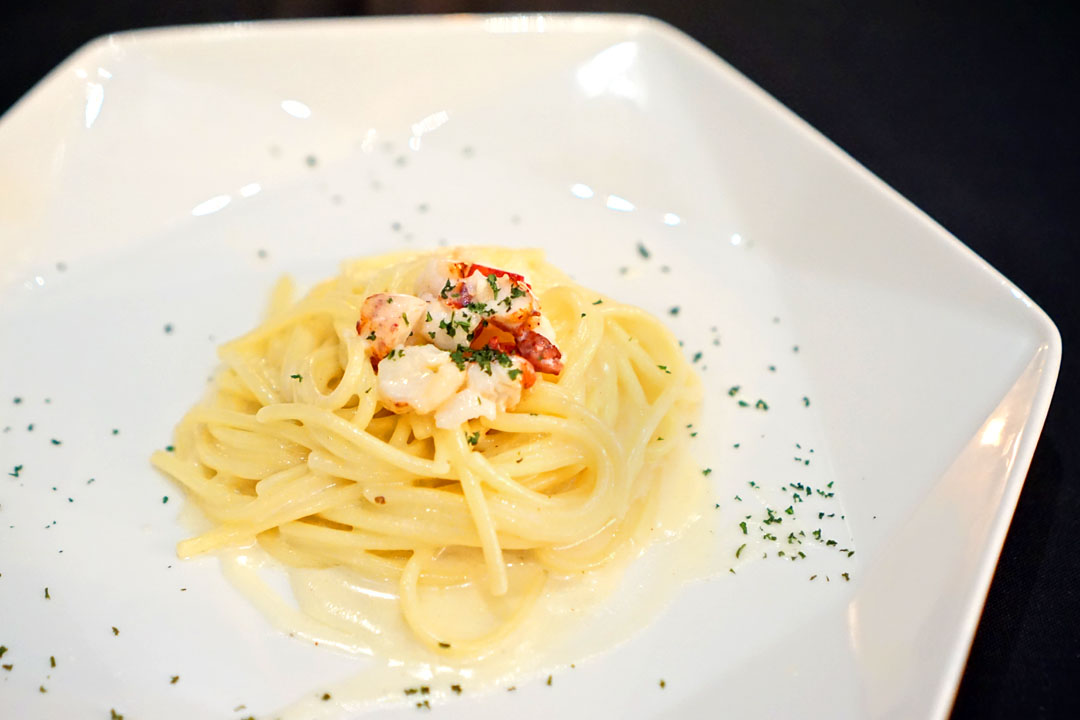 12b: Lobster Pasta
| Creamy and savory pasta complemented with delectable bites of lobster
The analogous seafood course wasn't nearly as showstopping, but worked well enough. I was pleasantly surprised at how al dente the pasta was, and appreciated the sweetness of the lobster, though I wish there were more of it.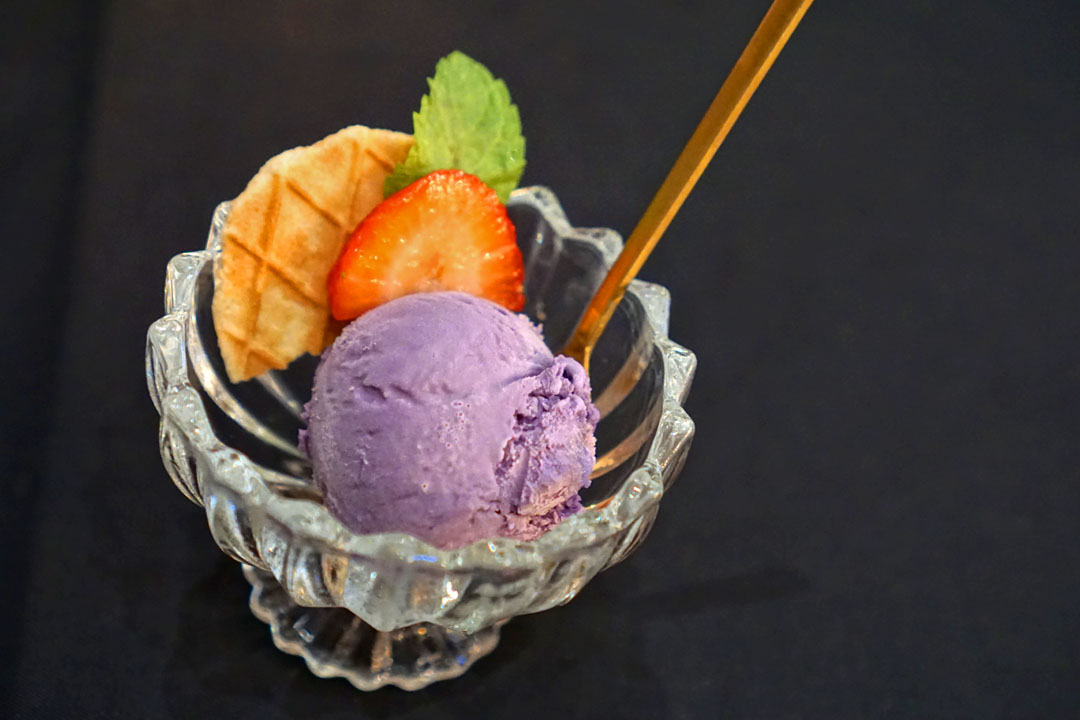 13: Seasonal Dessert
Closing out the meal was a rather dense scoop of ube gelato that nonetheless did an admirable job conveying the uniquely sweet, nutty character of the yam. I got a welcomed crunch from the honey-butter cookie, too.
I had somewhat ambivalent feelings about my meal here. The grilled preparations of beef were very good, and we had a couple standout dishes such as the lobster tail and rice, making for a reasonable rendition of a "Taiwanese-style" yakiniku spot. However, I couldn't help but get the impression that the overall experience was a bit lacking in polish. It's like the place had the trappings of a "fancy" restaurant, but for some reason, just seemed to fall short, if that makes sense.