Californios (San Francisco, CA)
Californios Restaurant
355 11th St, San Francisco, CA 94103
415.757.0994
www.californiossf.com
Thu 10/13/2022, 08:15p-12:10a

I stayed in the SoMa neighborhood for the second meal of my recent visit to SF. The venue of choice for this evening was Californios, a modern Mexican restaurant that I'd been hearing and seeing some great things about. It's the brainchild of Chef/Owner Val M. Cantu, along with his wife (and high school sweetheart) Carolyn Cantu (née Randolph) and sister-in-law Charlotte Randolph (ex-
French Laundry
). And if you're wondering about the name of the place, it's a reference to people of Mexican or Spanish descent who lived in California when the state was still part of Mexico, which is fitting given the cuisine served here.
About the Chef
: Val Michael Cantú was born in July 1984 in San Angelo, Texas to a Mexican father and a Venezuelan mother. When he was five, his family moved to the (relatively) nearby city of Brownwood, where his dad operated a Mexican eatery-slash-tortilleria. He was thus exposed to the kitchen at a young age, but didn't initially set out to pursue a career in the industry, instead enrolling at UT Austin and earning a bachelor's degree in English literature in 2006. Following graduation, Cantú decided to follow his heart and study culinary arts at Austin Community College in lieu of going to grad school for business or law. In 2009, he began cooking at Tyson Cole's Austin mainstay Uchi under CdC Paul Qui, but eventually moved to the Bay Area, where he
staged
at both
Benu
and
Saison
. Following, he secured a job at
Sons & Daughters
, where he served as sous chef. His stint there wasn't long though, as in 2012, Cantú left,
staged
at Mexico City's famed Pujol, then launched Californios as a pop-up series.
Californios became a permanent restaurant with the January 2015 grand-opening of its first location at 3115 22nd Street, inside the former Mission District home of Manos Nouveau/Panchita's 3. The place was generally well-received, and earned Cantú a Michelin star in October 2015, while a "
Rising Star Chef
" nod from the
San Francisco Chronicle
came in March the following year. April 2017 saw the awarding of "
Best New Chef
" from
Food & Wine
, and Californios received a
four-star review
from the
Chronicle
that October, not long after the place was upgraded to two Michelin stars. A "Best Chef: West" semifinalist nomination from James Beard arrived in February 2018, while "Best Chef: California" semifinalist honors came in March 2020. However, the restaurant was forced to shutter shortly afterward due to the pandemic. Cantú used this time off as an opportunity to move Californios to a larger space (the old Bar Agricole), which he'd actually wanted to do even before the closure. The new location opened in March 2021 to considerable excitement, and in February this year, the Chef was once again deemed a Beard "Best Chef: California" semifinalist.
Given that we arrived early for our reservation, we decided to give Californios' bar/lounge area a whirl while our table was being readied. The restaurant was penned by Carolyn Cantu (who also designed the original location), and as we can clearly see, the former Bar Agricole has been redone to a much darker aesthetic.
Bourbon is Corn [$25.00]
| Michter's US-1 Bourbon, Masa water, Salted Candy Cap Mushroom bitters
Our first cocktail certainly seemed appropriate given the importance of corn in Mexican cuisine. Initial whiffs revealed a bit of an oxidative bent, but backed by sugary, banana-like aromas. Tasting it, I got a healthy dosing of sweet spice right up front, which then led to an intriguing amalgam of bitter, boozy, and corn-y notes, tinged with a subtle mustiness.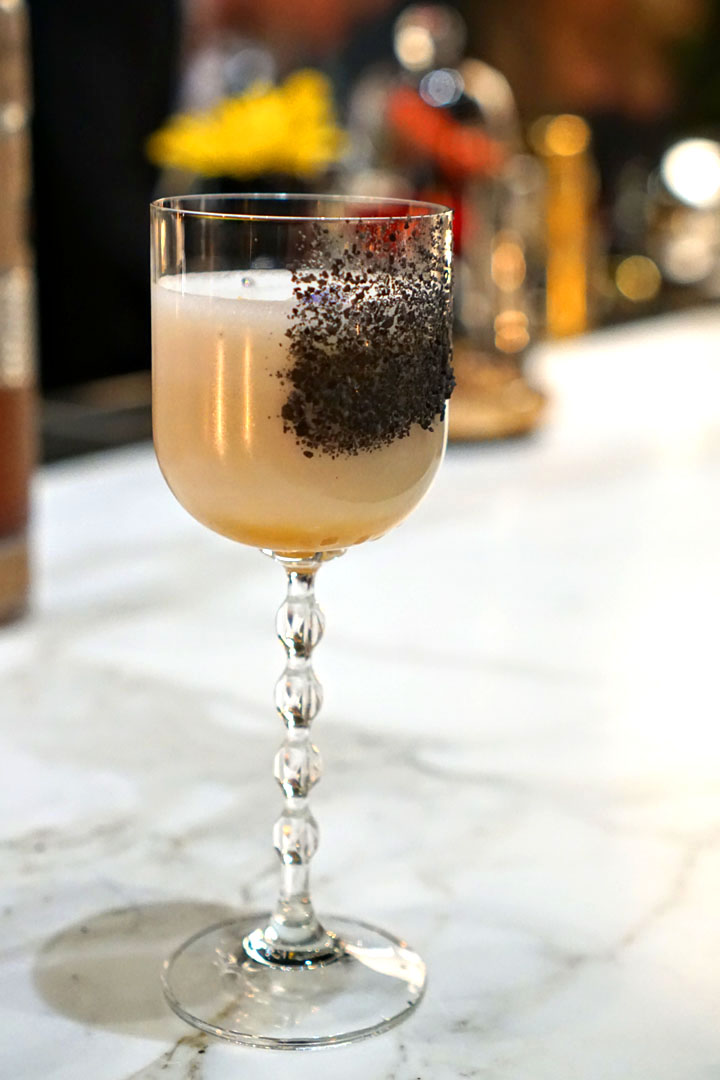 Bartender's Choice [$20.00]
Bartender Ross Katzenberg then whipped up his experimental take on the tequila sour, one utilizing Manzanilla sherry in place of citrus and incorporating sweet potato liqueur. The resulting cocktail was quite unlike any sour I've had, and demonstrated loads of prickly, autumnal spice commingled with robust
camote
and a surprisingly palpable funk, with the tequila peeking through just a tad.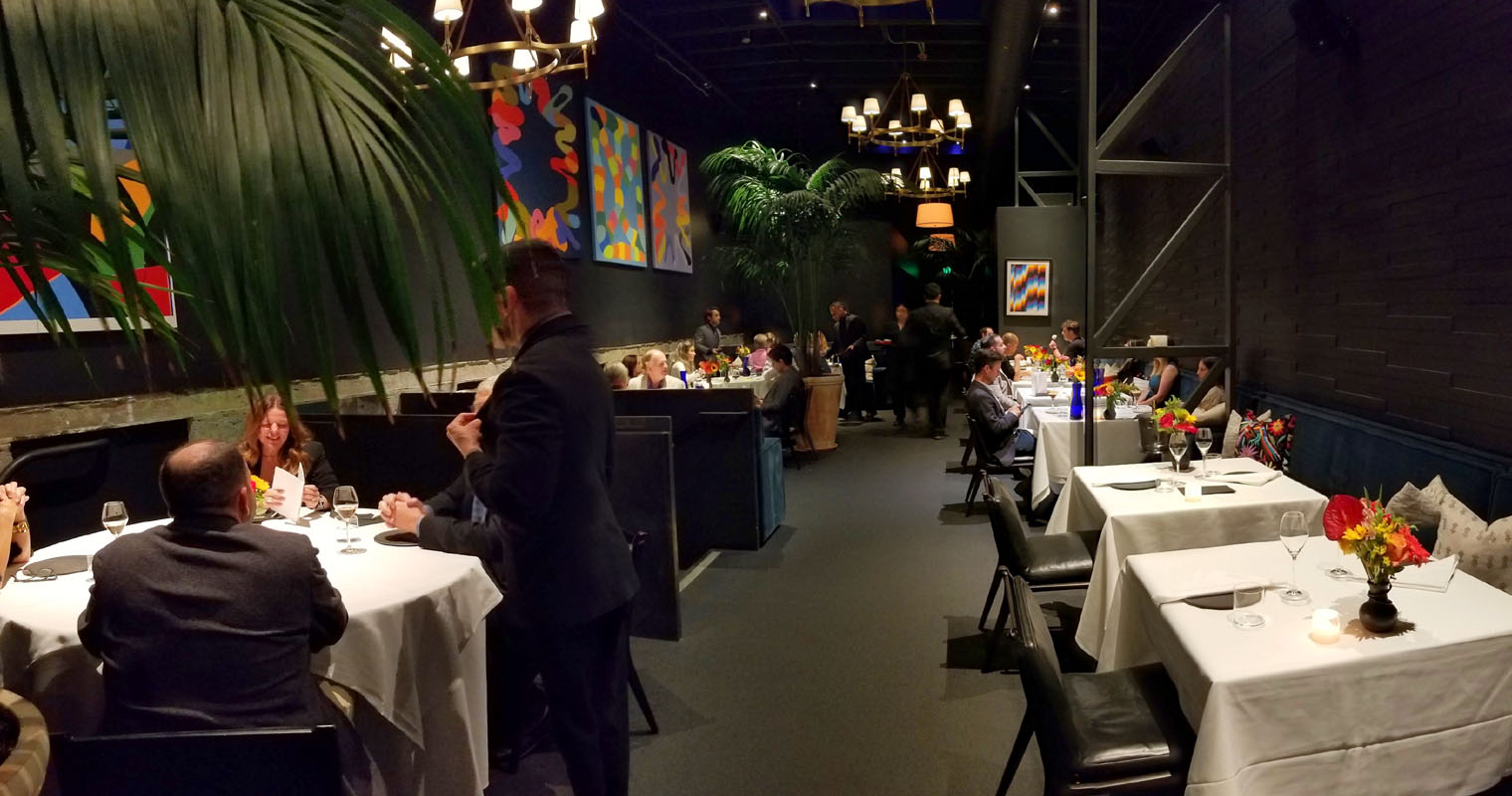 While at the bar, I also wandered into the dining room, which is this sleek, somewhat clubby affair that, to me, has a bit of a late 1980s/early 1990s feel. I dig it.

However, we were actually seated in the enclosed patio, which offers its own charms.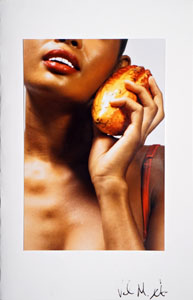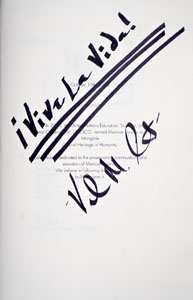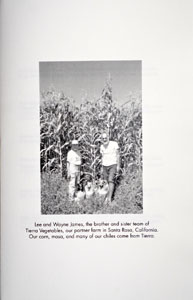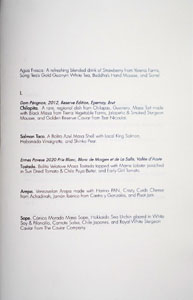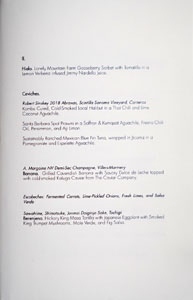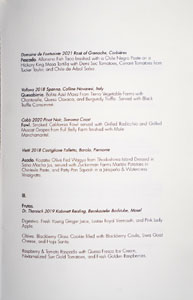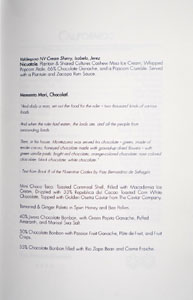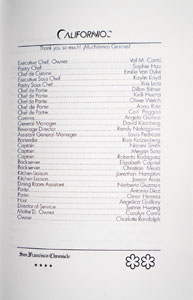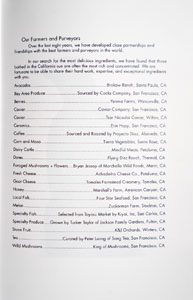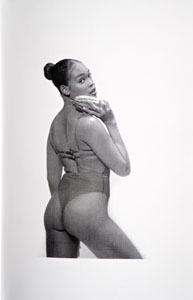 Waiting at the table in an envelope was the night's menu, which was one of the most thoughtful I've ever encountered. Pay special attention to the description of the courses as well as how the restaurant's staff and purveyors are recognized (note also the signature of Chef Val Cantu). As for the cost of tonight's dinner, it was a prepaid $287 per person (up from $223pp when the place re-opened), plus 20% service, 8.625% tax, and a small Tock fee. To imbibe, pairings by Beverage Director Randy Nakagawa are available at $95 (non-alcoholic) and $200, but of course, we brought our own wines and paid a corkage fee of $60 a bottle (limit two). Click for larger versions.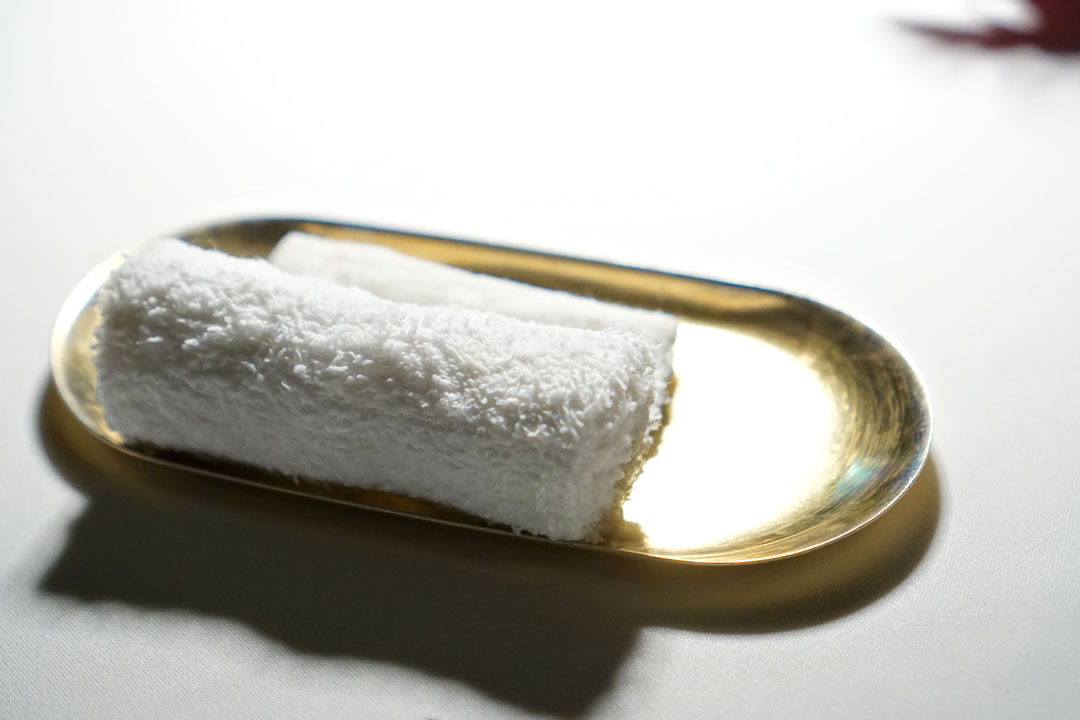 An
oshibori
-style warm towel was quickly presented after we sat down--a nice touch.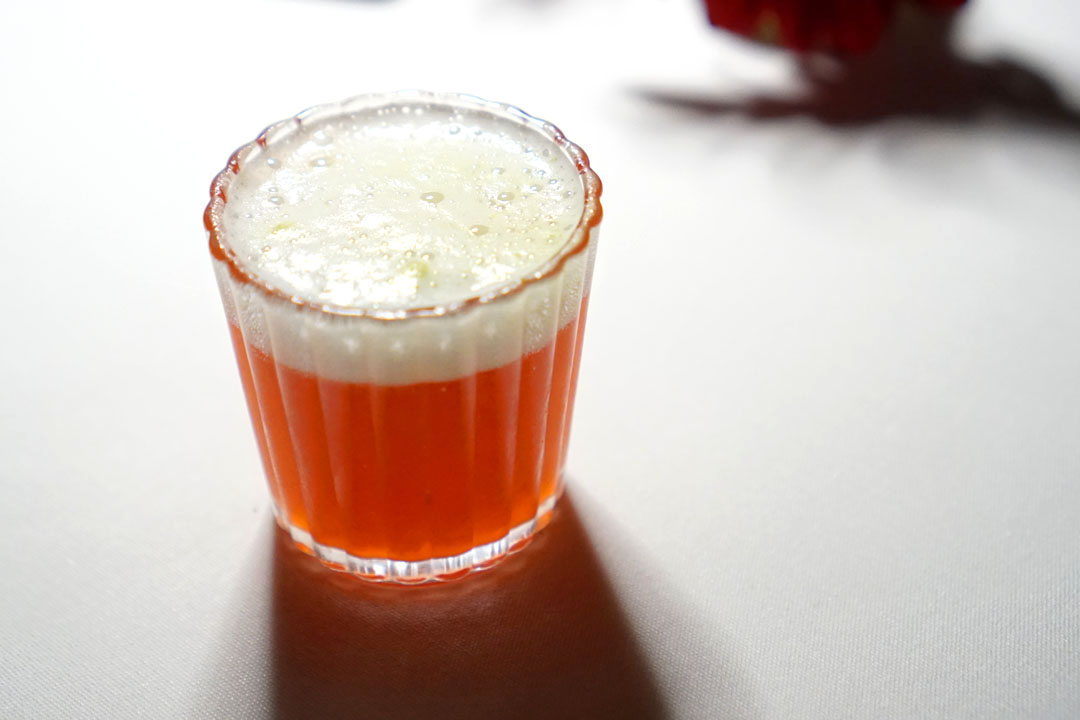 Agua Fresca
| A refreshing blended drink of Strawberry from Yerena Farms, Song Tea's Gold Guanyin White Tea, Buddha's Hand Mousse, and Sorrel.
A shot of agua fresca served as a bit of an apéritif, showing off pure, focused strawberry flavors boosted by the aromatics of the tea, while citrus and sorrel perked things up.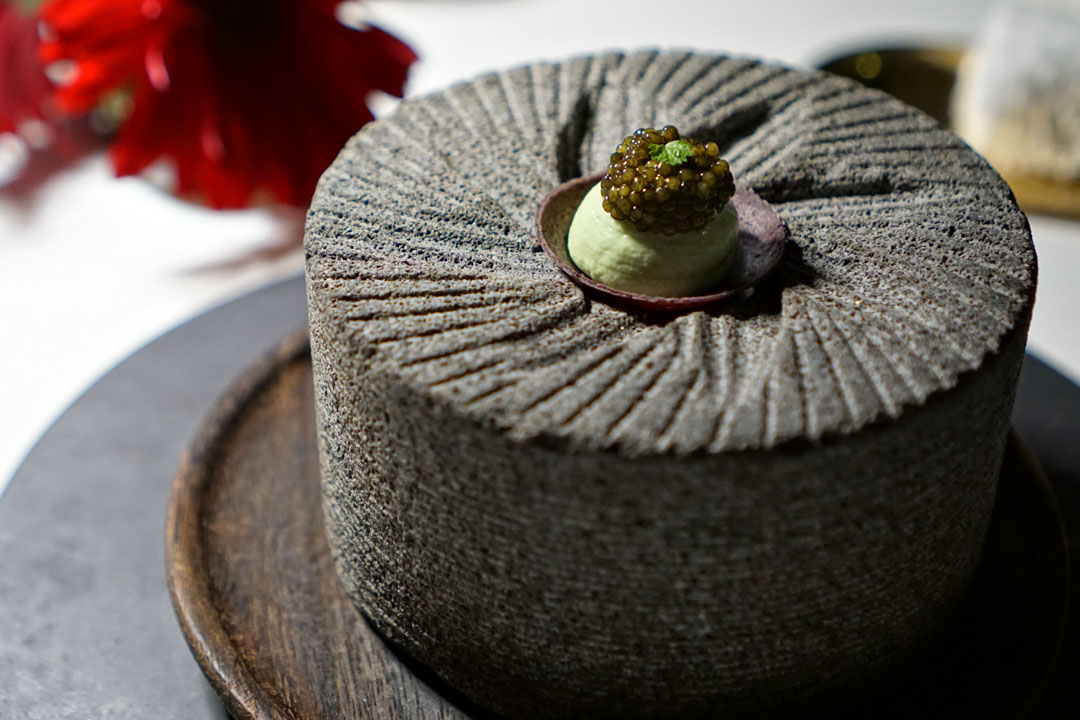 1: Chilapita
| A rare, regional dish from Chilapas, Guerrero. Masa Tart made with Black Masa from Tierra Vegetable Farms, Jalapeño & Smoked Sturgeon Mousse, and Golden Reserve Caviar from Tsar Nicoulai.
Serving as an amuse bouche of sorts was Californios' riff on a Guerrerense dish that I'd never even heard of before, let alone eaten. I got the unmistakable taste of masa at the forefront, leading to countervailing forces of smoke, saline, and prickly heat, all making for a very neat, cohesive bite that really packed a punch and served as a great statement of intent. Note also that the course was served on a
molino
stone that the kitchen ostensibly uses to grind their own corn.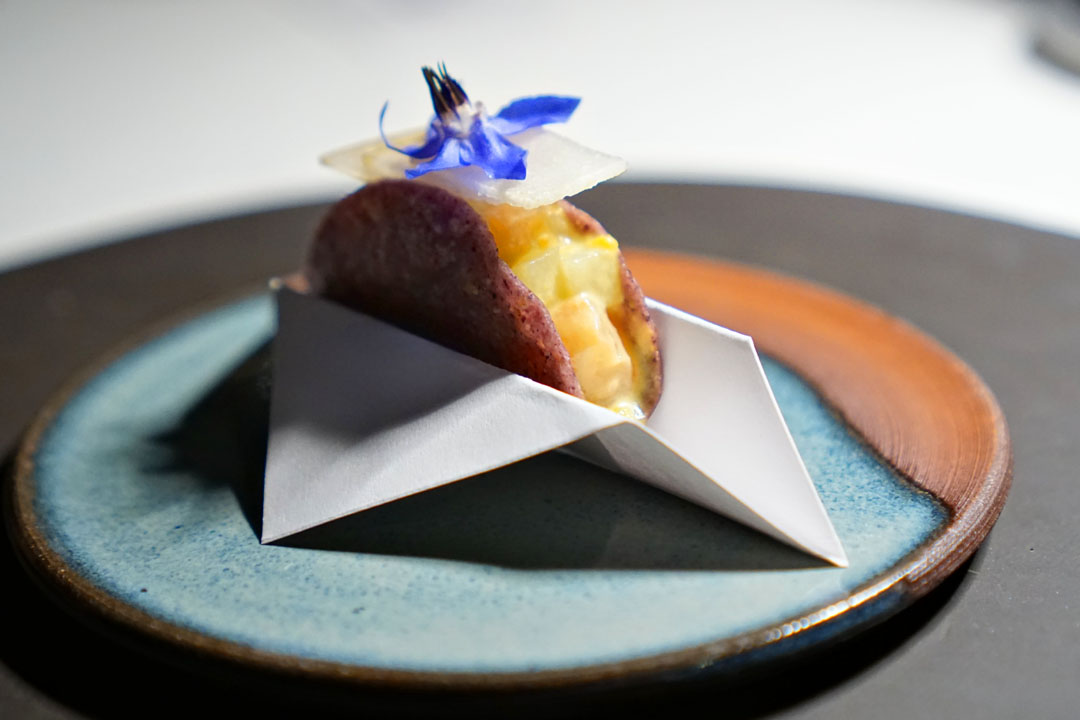 2: Salmon Taco
| A Bolita Azul Masa Shell with Local King Salmon, Habanada Vinaigrette, and Shinko Pear.
This was perhaps the tiniest taco I'd ever seen, and offered a super crunchy blue corn shell that was nearly tortilla chip-esque in terms of texture. However, I did find the pear here a bit much, as it tended to overwhelm the salmon, though the piquancy of the Habanada did help even things out.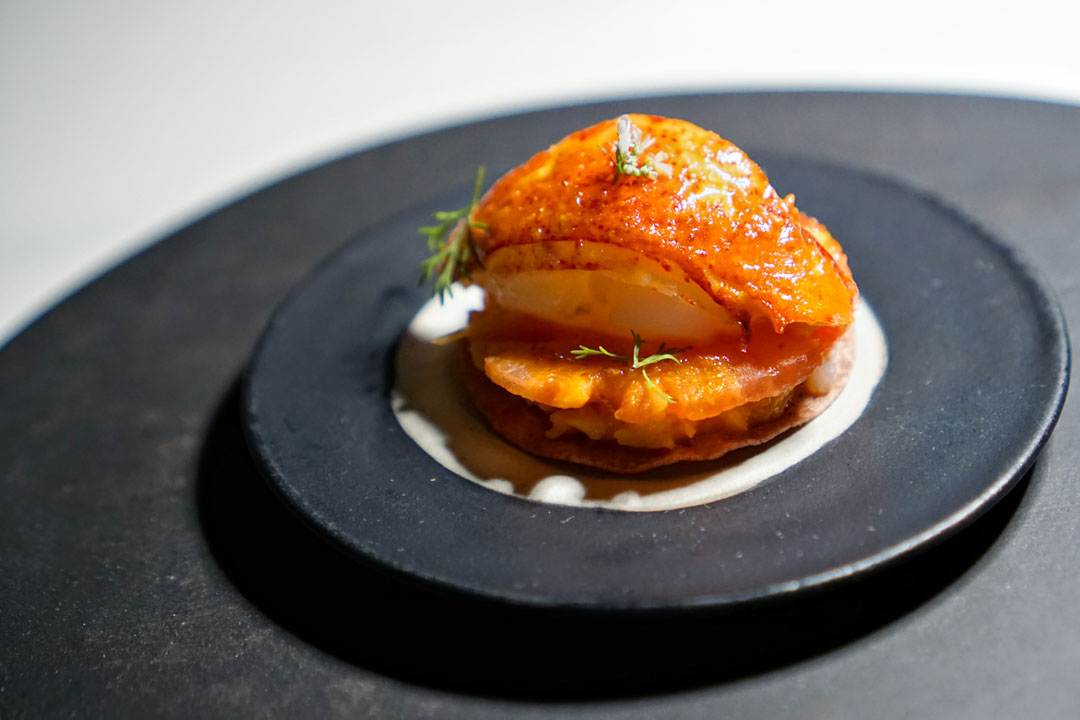 3: Tostada
| Bolita Velatove Masa Tostada topped with Maine Lobster poached in Sun Dried Tomato & Chile Puya Butter, and Early Girl Tomato.
The
langosta
, meanwhile, was simply the best lobster I've eaten all year, and probably one of my favorites of all-time. The meat was perfectly textured, and had its sweetness beautifully accented by the spicing from the chile butter, all while the tomato served as a juicy counterpoint. I loved the corn-laden crunch from the pink-tinted tostada too, not to mention the slight traces of cilantro present. A clear standout.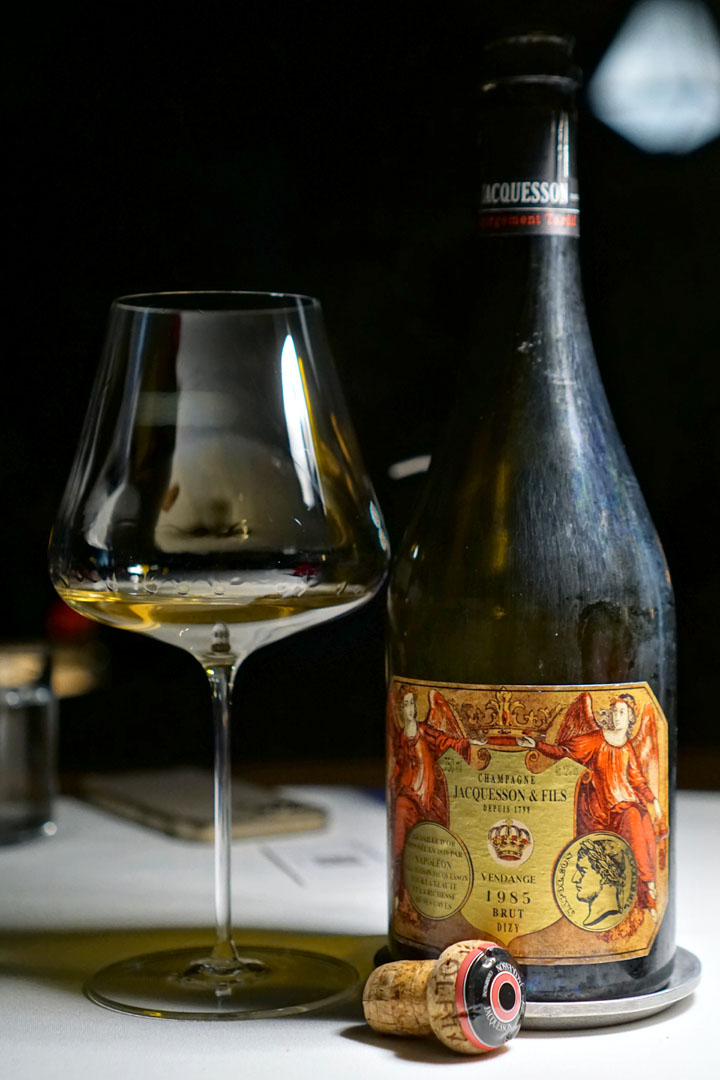 Our first bottle was the
1985 Jacquesson Champagne Grand Vin Signature Dégorgement Tardif
, a 50/50 blend of Chardonnay from Avize and Pinot Noir from Aÿ/Dizy, disgorged in June 2017 after 31 years(!) on the lees. The wine had a fully mature nose filled with oxidative, nutty nuances set over a base of lactic funk and fruit. On the palate, I found just enough bubbles remaining, while the acidity was more bracing than I'd anticipated. Sherry-like flavors danced with omnipresent citrus and saline, making for a contemplative sort of sparkler that's definitely not for everyone.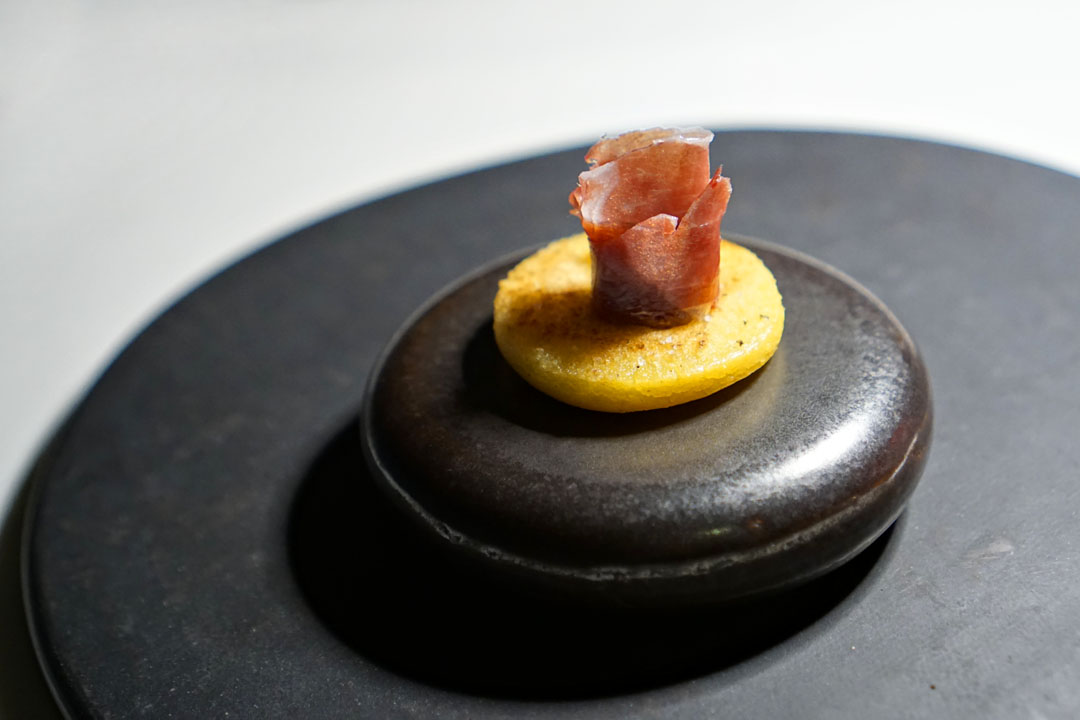 4: Arepa
| Venezuelan Arepa made with Harina PAN, Crazy Curds Cheese from Achadinha, Jamón Ibérico from Castro y Gonzales, and Pluot Jam.
An ode to the Chef's Venezuelan mother, a delightfully "fluffy," maize-forward, cheese-stuffed arepa worked as a flawless foil to the sweet-n-salty smack of the pluot/ham combo. Very tasty and super cozy.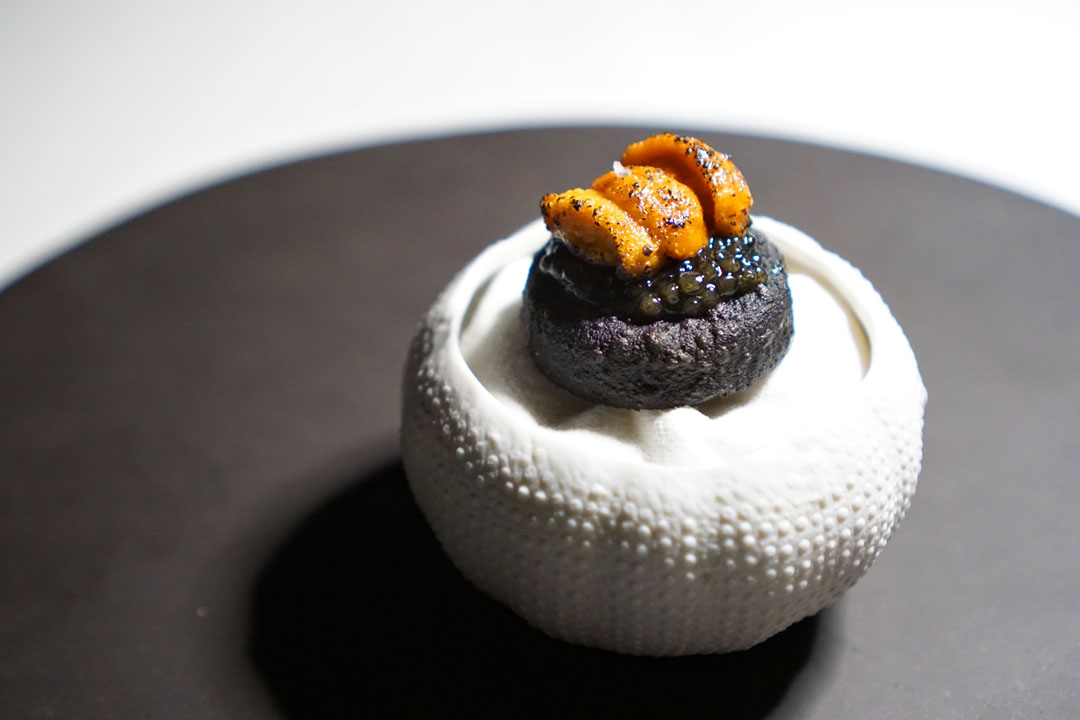 5: Sope
| Cónico Morado Masa Sope, Hokkaido Sea Urchin glazed in White Soy & Piloncillo, Camote Salsa, Chile Japones, and Royal White Sturgeon Caviar from The Caviar Company.
I'm pretty sure that this was the best sope I've ever had. I loved the texture of the fried masa and how it balanced out the sweet and saline nature of the urchin. At the same time, the sweet potato-piloncillo boosted the inherent flavors of the uni further, but without overwhelming the inherent delicacy of the roe, and the same could be said about the caviar. A very complete, well-integrated bite that left me wanting more.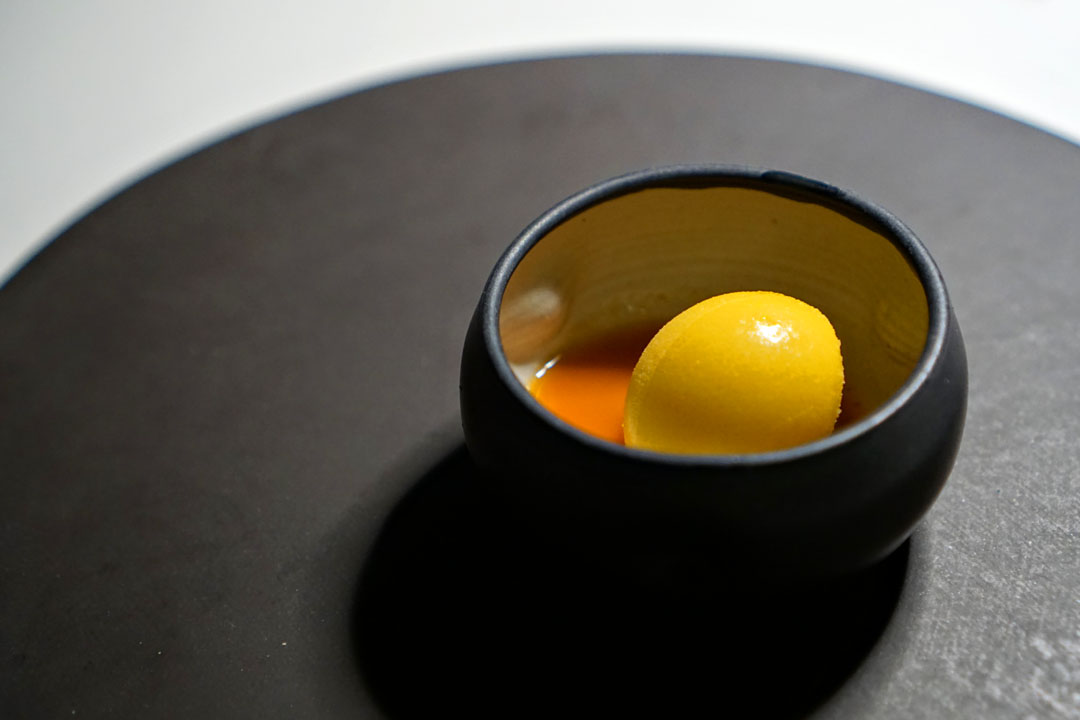 6: Hielo
| Lonely Mountain Farm Gooseberry Sorbet with Tomatillo in a Lemon Verbena infused Jimmy Nardello Juice.
We were then presented with an intermezzo course, as we were shifting gears and getting into some lighter dishes. A ground cherry sorbet featured a restrained sweetness that linked up surprisingly well with the vegetal heat and astringency of the lemon verbena-infused pepper sauce, and whole thing definitely worked as a palate cleanser.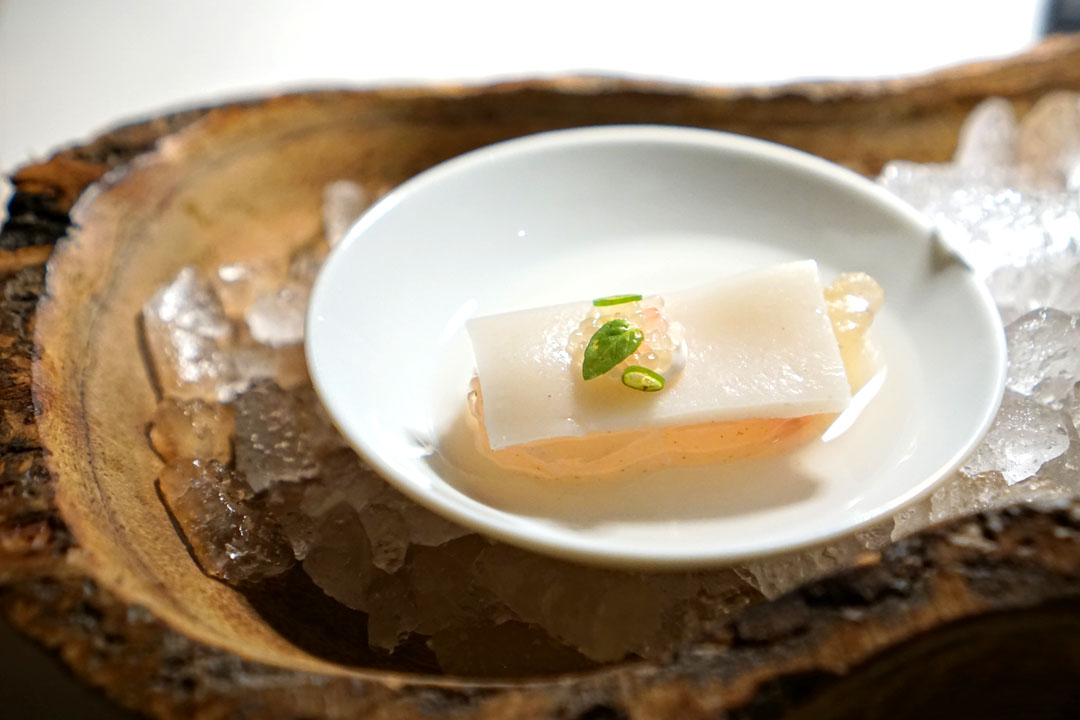 7a: Ceviches
| Kombu Cured, Cold-Smoked Local Halibut in a Thai Chili and Lime Coconut Aguachile.
Up next was a trio of ceviche.
Kobujime
-style halibut had an unusually soft, satisfying consistency, and the fish married unexpectedly easily with the sweetness from the coconut, while the lime's sourness was surprisingly crucial.
7b: Ceviches
| Santa Barbara Spot Prawns in a Saffron & Kumquat Aguachile, Fresno Chili Oil, Persimmon, and Aji Limon.
Spot prawn arrived soft yet snappy, with a pretty potent salinity that had this fascinating interaction with the saffron, which made the course more interesting than expected.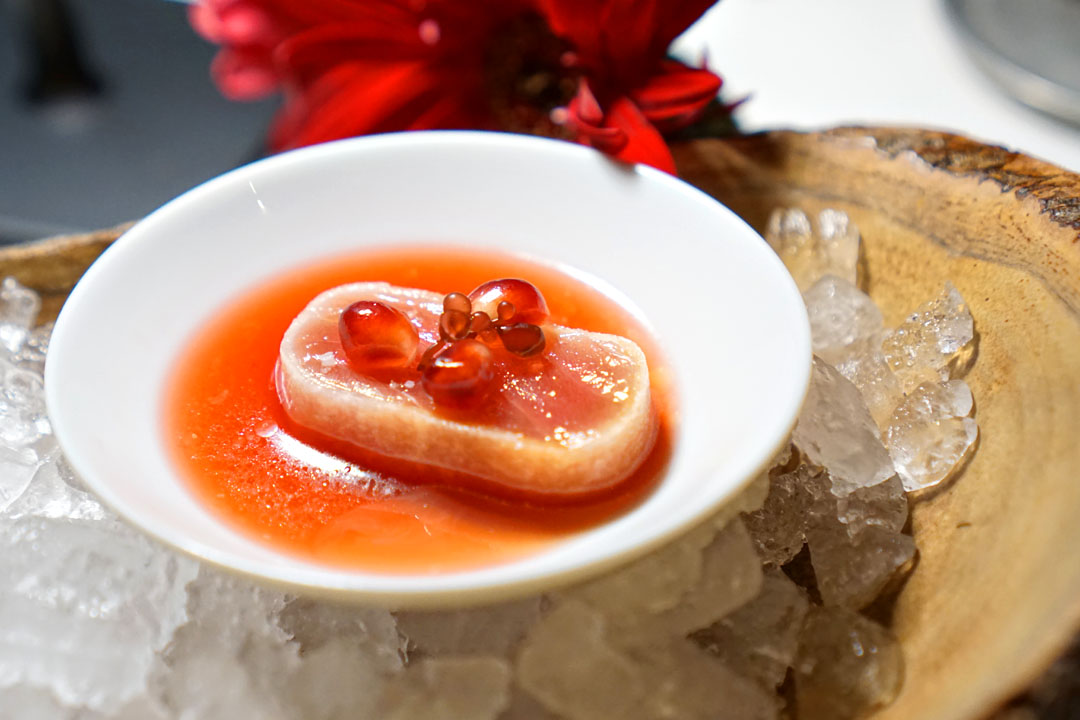 7c: Ceviches
| Sustainably Ranched Mexican Blue Fin Tuna, wrapped in Jicama in a Pomegranate and Espelette Aguachile.
This was probably my favorite of the ceviche threesome given how seamlessly the oceany, umami-filled qualities of the bluefin meshed with the aguachile's floral heat.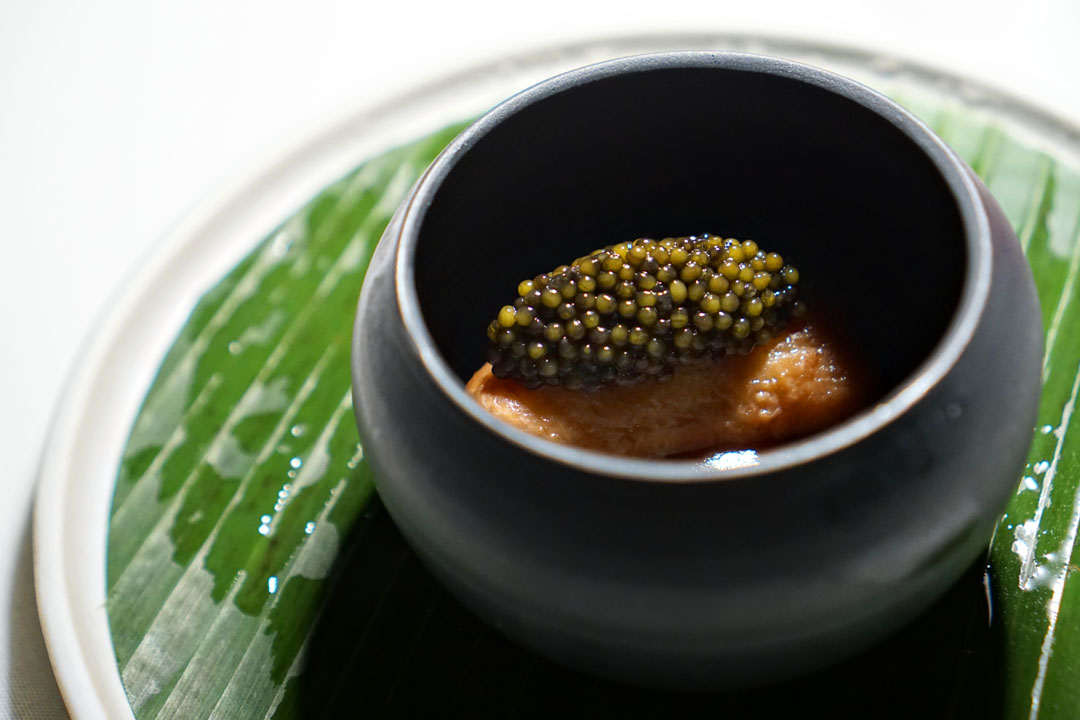 8: Banana
| Grilled Cavendish Banana with Savory Dulce de Leche topped with cold-smoked Kaluga Caviar from The Caviar Company.
The next course was a showstopper, and very likely the best banana dish I've ever eaten thanks to how masterfully the sweetness from the Cavendish was paired with the sharp salinity from the kaluga, while at the same time, the dulce de leche had this savory-sugary thing going on that helped tied it all together perfectly. A bit unusual perhaps, yet everything just seemed so right. This is apparently one of Californios' most well-known dishes, and I can certainly see why.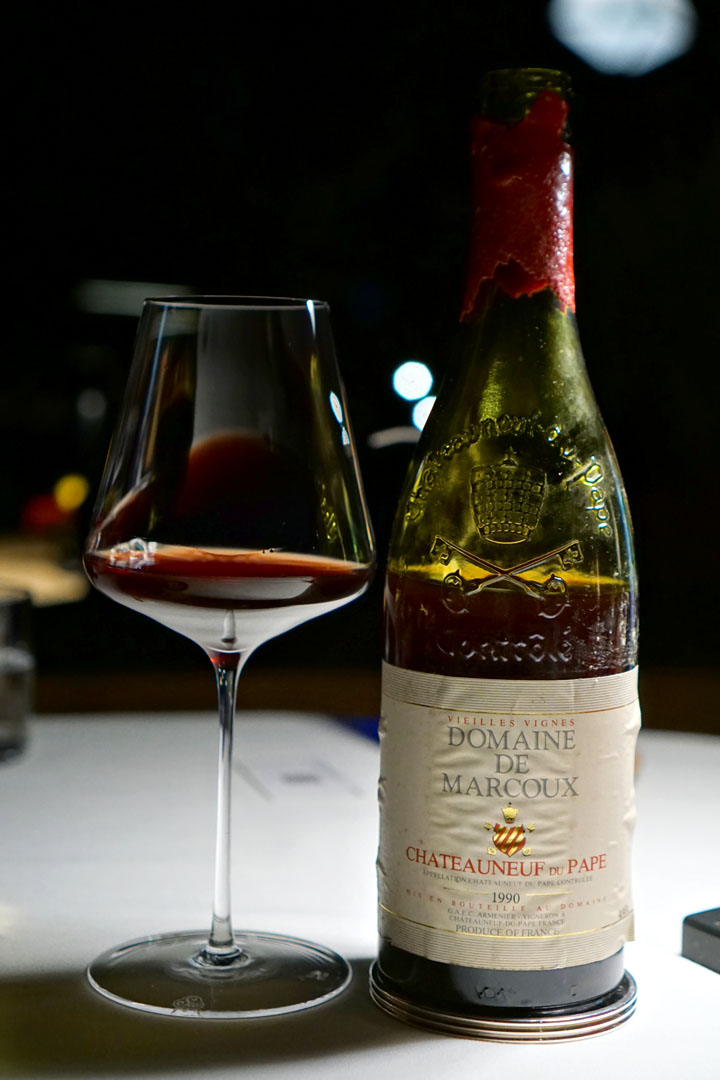 To pair with the heartier courses to follow, we opened up the
1990 Domaine de Marcoux Châteauneuf-du-Pape Vieilles Vignes
. The wine was definitely not shy, serving up loads of barnyard on the nose alongside herbaceous, nearly onion-y notes, with olive and mint becoming more apparent as the night progressed. Taking a sip, I found boatloads of earthy,
animale
flavors softened just a smidge by mature red fruits, with more herbs in the background. As bold of a CdP as I've seen.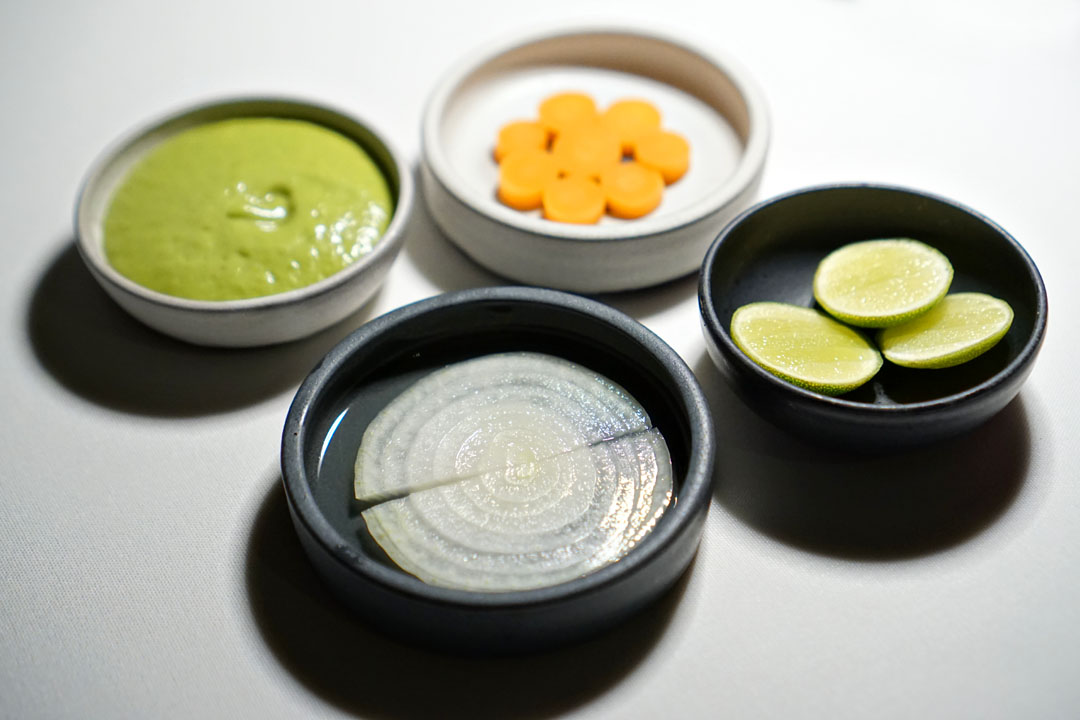 The next phase of our meal comprised three variations of the taco, so we were thus proffered appropriate accoutrements: salsa verde done in the style of guacamole, fermented carrots, key limes, and lime-pickled onions.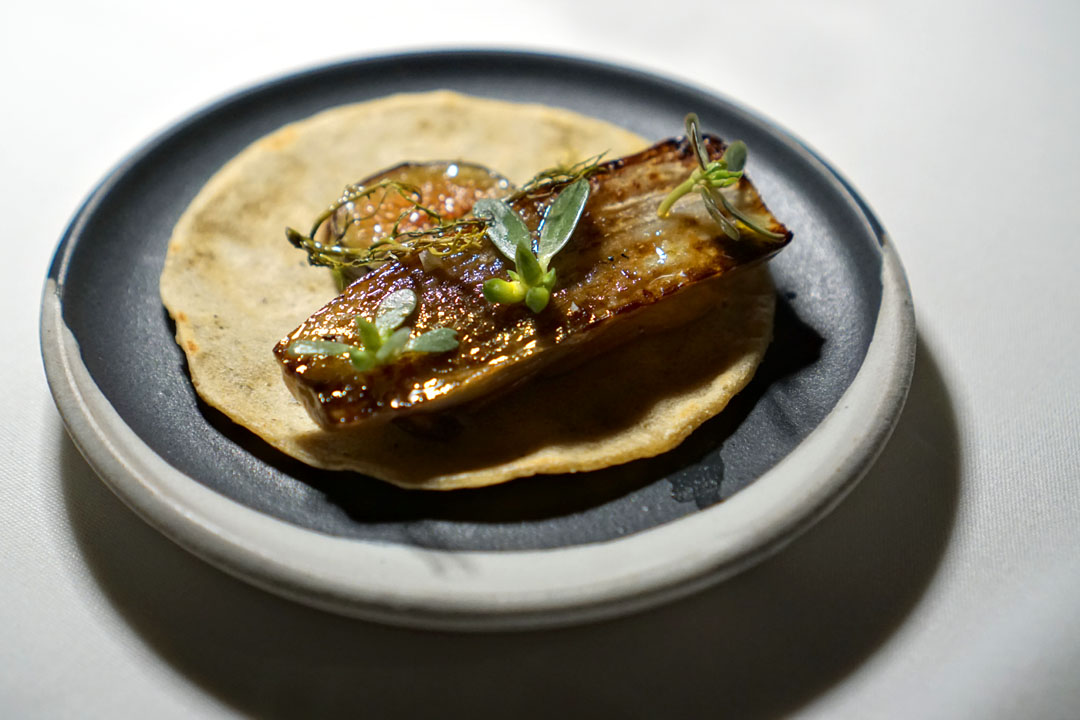 9: Berenjena
| Hickory King Masa Tortilla with Japanese Eggplant with Smoked King Trumpet Mushrooms, Mole Verde, and Fig Salsa.
As regular readers will know, I'm no fan of eggplant, but was definitely a fan of
this
eggplant. I was sort of enamored with the fantastic smoky depth of the
berenjena
here, and even more so with how it melded with the even smokier 'shrooms. Simultaneously, the masa-rich flavors of the tortilla worked as a counterweight, and I really enjoyed how that mole/salsa bound it all together. Some nice accent pieces from the seaweed and purslane sprinkled on top, too. Interestingly, we were told that this dish just debuted last week, and was created by "prodigy" line cook Oliver Welch, who's a mere 20 years-old.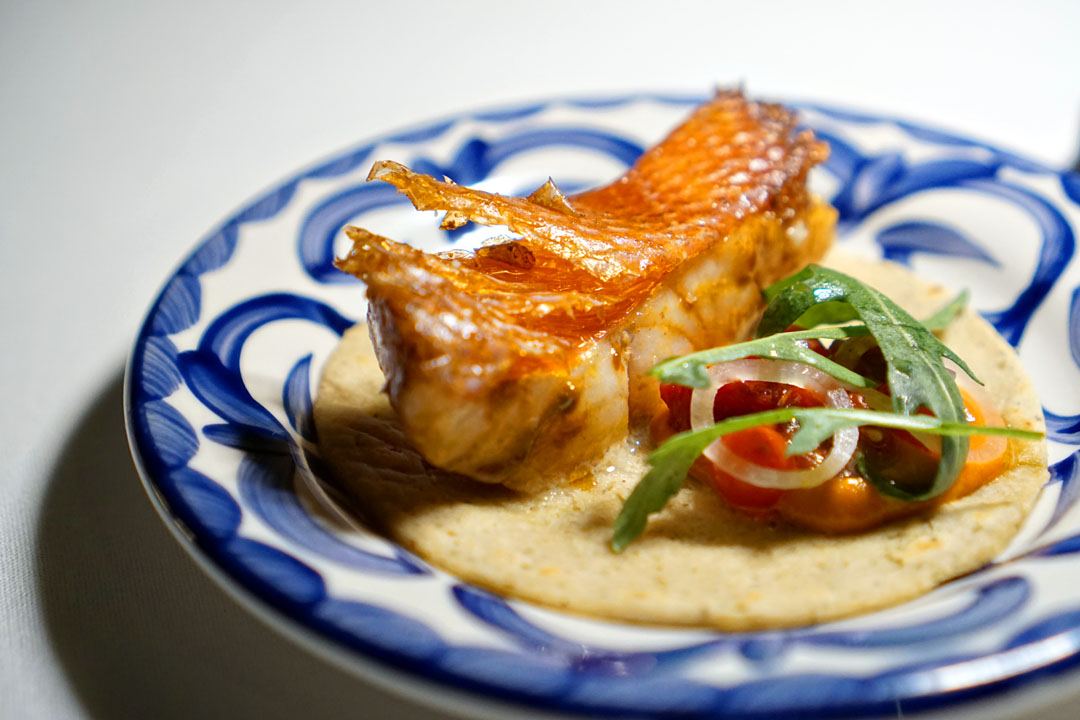 10: Pescado
| Alfonsino Fish Taco brushed with a Chile Negro Paste on a Hickory King Masa Tortilla with Demi Sec Tomatoes, Currant Tomatoes from Tucker Taylor, and Chile de Árbol Salsa.
As regular readers will also know,
kinmedai
is one of my favorite toppings for sushi, but I think this preparation might exceed them all. What struck me first was the fish's super dainty, shattery, flavorful skin, made possible with a dousing of hot oil. The meat, meanwhile, took beautifully to a brushing of chile paste, which imparted a lovely depth and heat and was further accentuated by a light char, and lightening the mood was the combo of arugula, pickled onions, tomatoes, and that zingy salsa.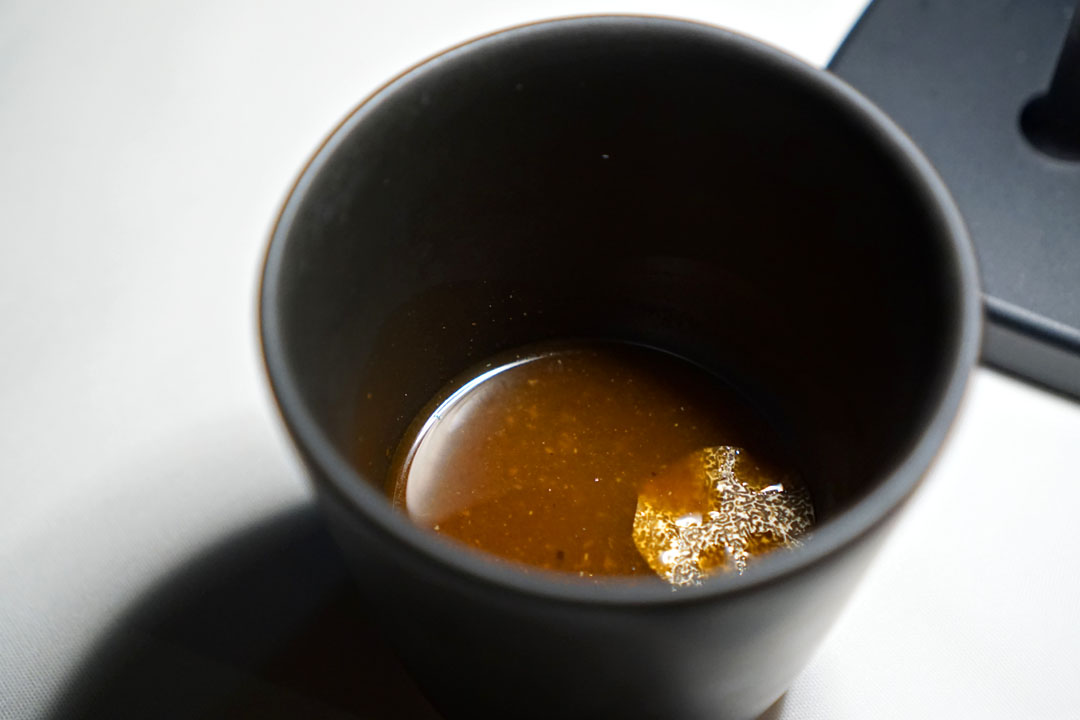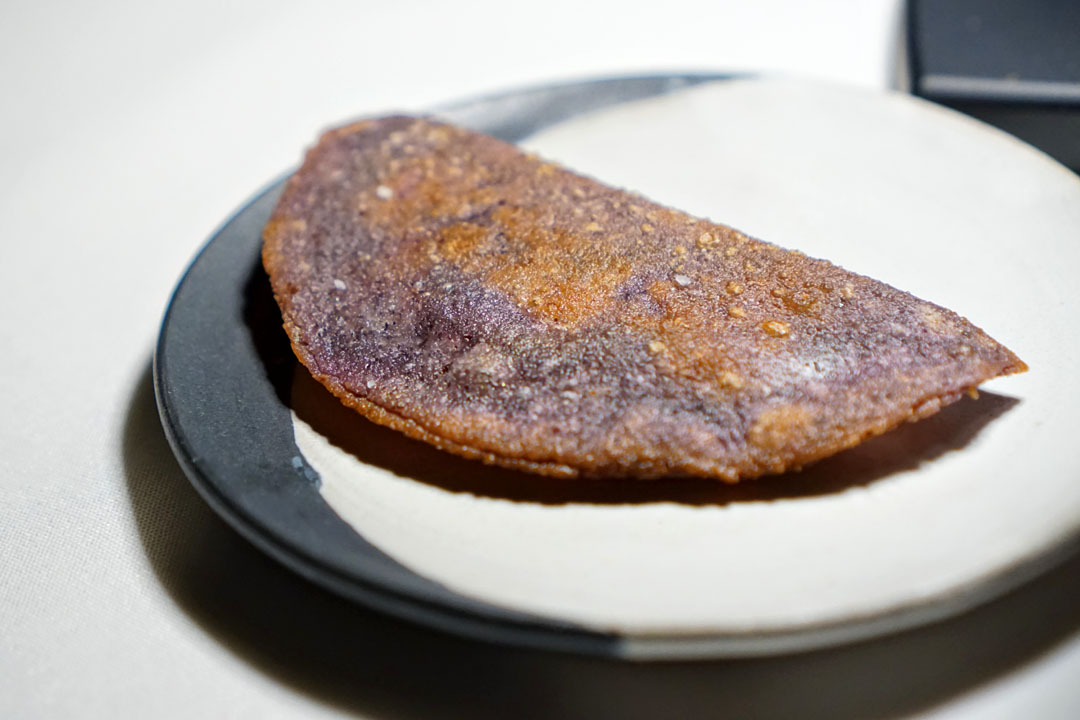 11: Quesabirria
| Bolita Azul Masa From Tierra Vegetable Farms with Chanterelle, Queso Oaxaca, and Burgundy Truffle. Served with Black Truffle Consommé.
Our final taco was an unabashedly polished version of quesabirria, a dish that was actually popularized in LA. What really stood out to me here was the crispness of the well-griddled tortilla, and how effortlessly the smokiness from the cheese and chanterelles functioned. But as tasty as the taco was, that beef jus consommé might've been even tastier due to its utter coziness, fancified just a smidge by the inclusion of Burgundy truffle.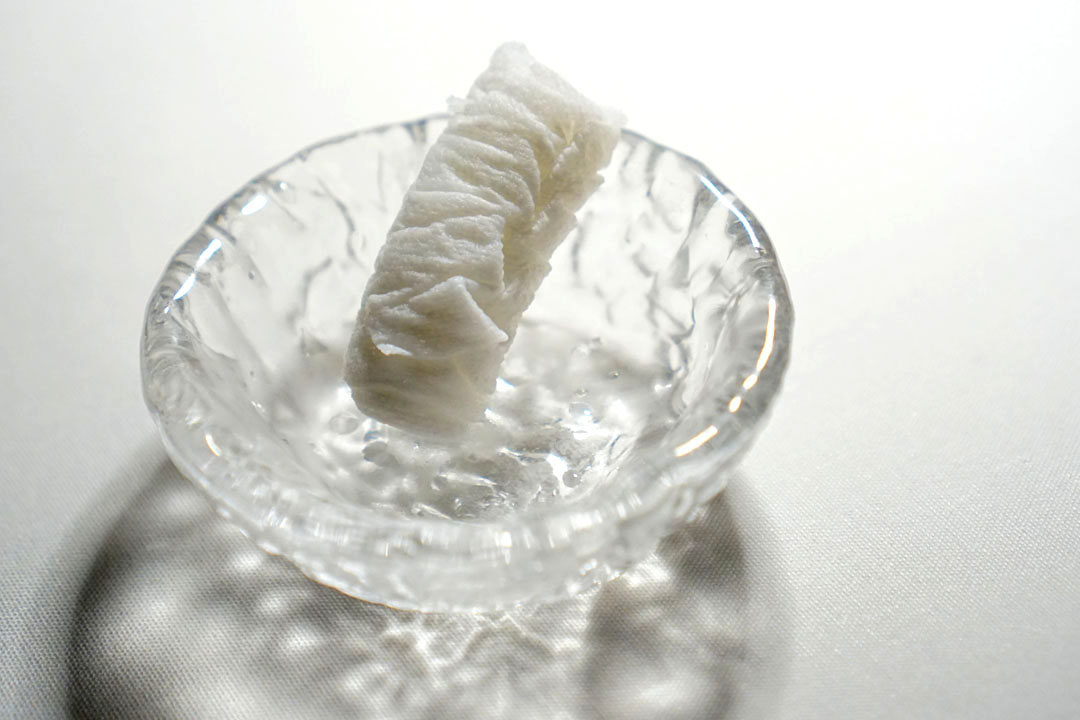 A finger napkin marked the conclusion of the evening's taco troika.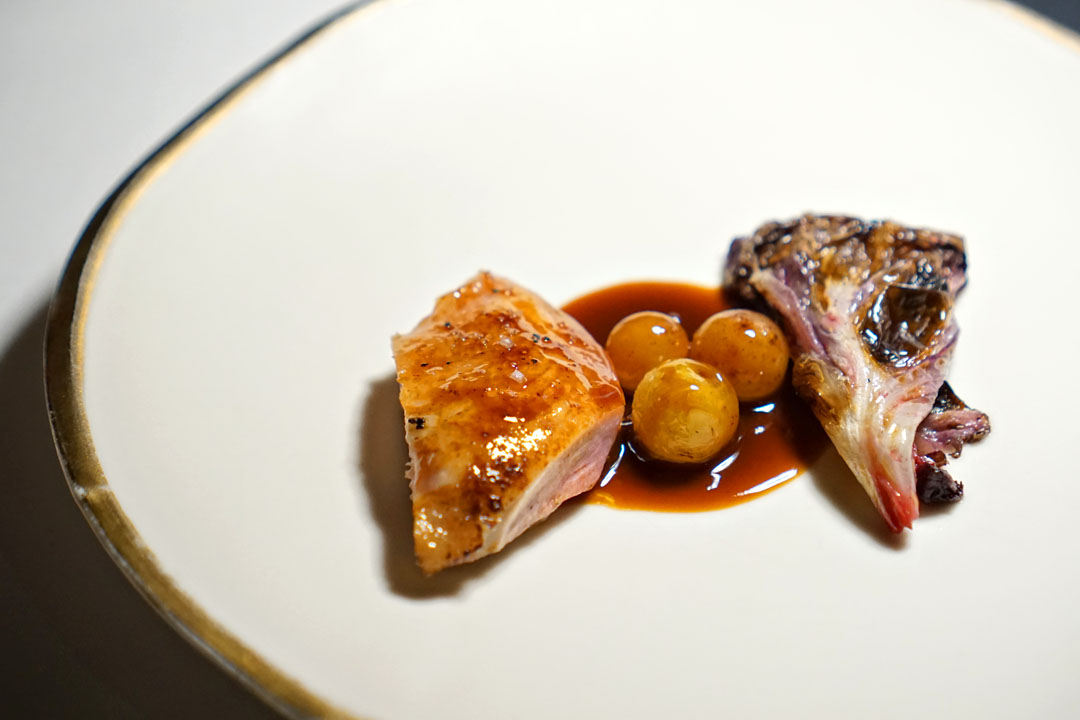 12: Fowl
| Smoked California Fowl served with Grilled Radicchio and Grilled Muscat Grapes from Full Belly Farm finished with Mole Manchamantel.
At this point, we moved into our "main" courses, and first up was this superb rendition of thick-skinned, tender-fleshed quail. Thanks to a pasting of
manchamantel
incorporating GSM grapes and ancho chile, the bird had a wonderful depth of flavor to it, along with an almost BBQ-esque character that I reveled in. Grilled grapes provided a bit of tart-sweetness, and even better was the bitterness from the grilled radicchio.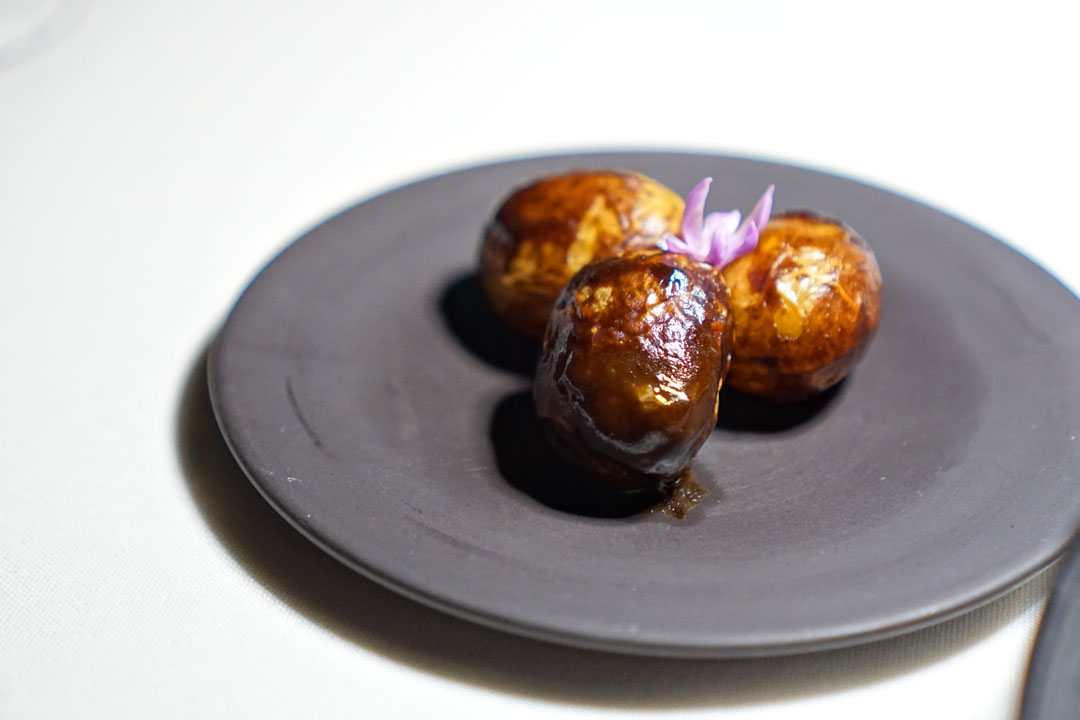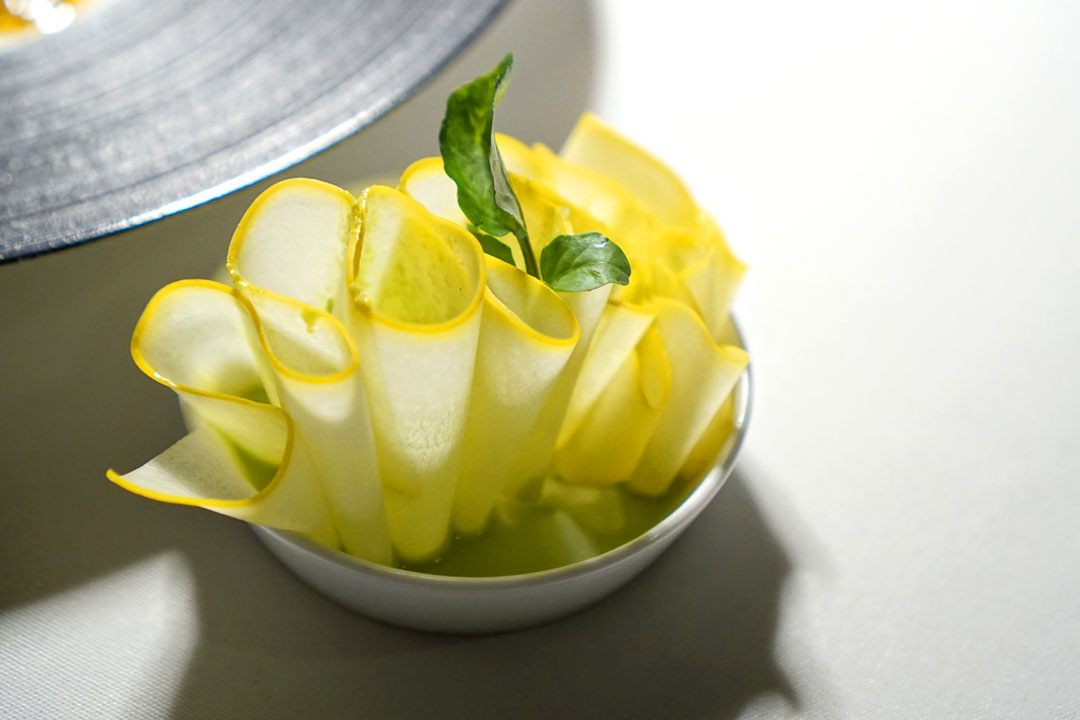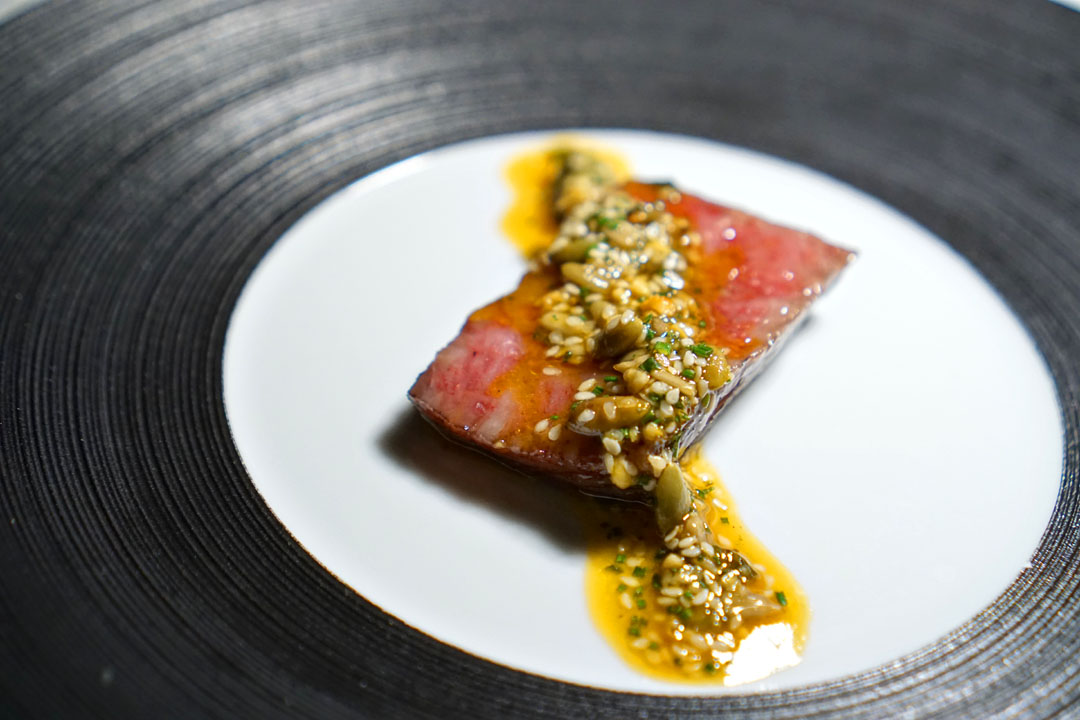 13: Asado
| Kozatsu Olive Fed Wagyu from Shodoshima Island Dressed in Salsa Macha Jus, served with Zuckerman Farms Marble Potatoes in Chintextle Paste, and Patty Pan Squash in a Jalapeño & Watercress Vinaigrette.
The evening's final savory comprised a stellar presentation of olive wagyu, a brazenly rich, fatty, sumptuous cut that actually might've been too much on its own. Fortunately, the beef was laced with a brilliant salsa macha (which included fermented ramps, chives, sesame seeds, and garlic) that had a nuttiness and deepness that really spoke to me--it's the type of sauce I sort of want on everything now. Accompaniments to the steak included some sticky-sweet potatoes tossed in a heady Oaxacan chile paste and topped with a garlic blossom, as well as ribbons of pattypan that helped lighten things up a tad.
Our head server tonight was Naomi Smith, and I have to note that she graciously poured us a complementary serving of 2018 Barolo (unfortunately I didn't get the name) to go with the wagyu. It was a pretty great pairing, and I was amazed by how much strawberry there was in the wine; it was just super jammy, and really stood up to the heft of the beef.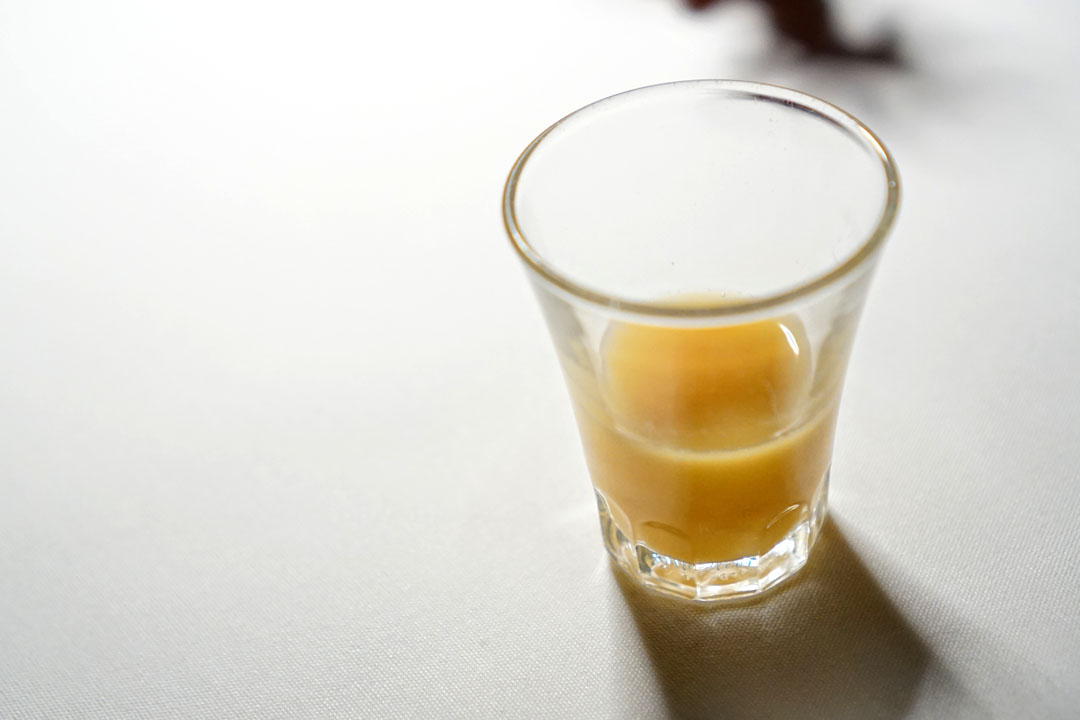 14a: Frutas
| Digestivo. Fresh Young Ginger Juice, Lustau Royal Vermouth, and Pink Lady Apple.
It was now time to move into some desserts from Pastry Chef Sophie Hau (Eleven Madison Park), and first up was a digestif comprising pungent, hot, almost briny fresh-pressed ginger, commixed with apple and a touch of vermouth. This one undoubtedly perked up the palate.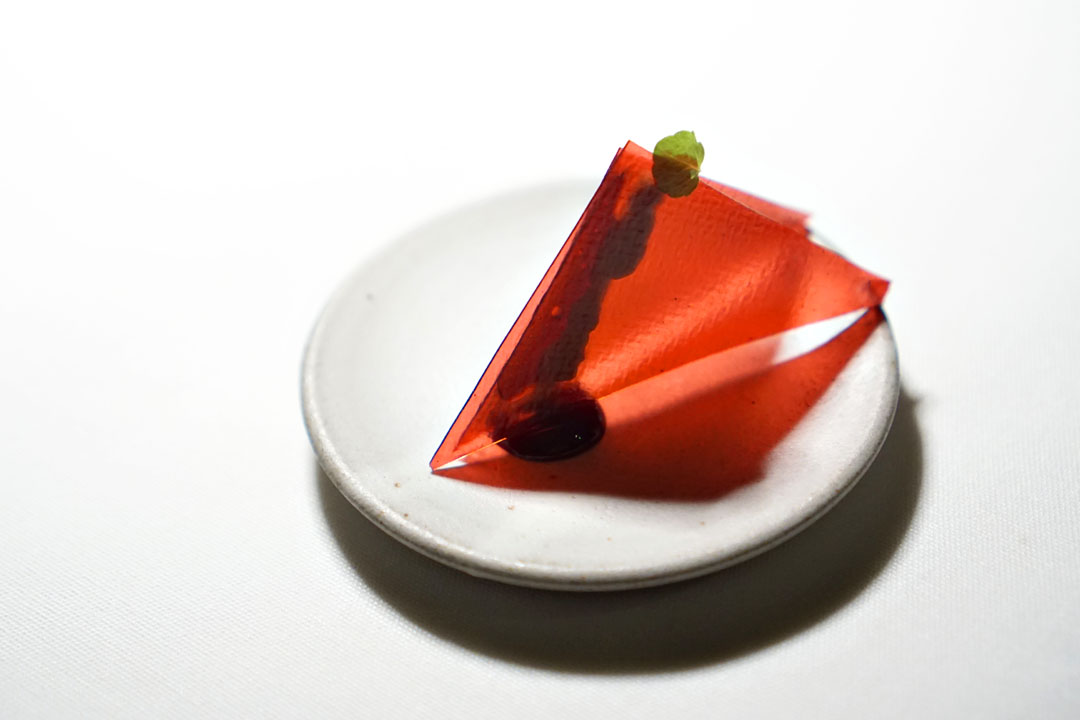 14b: Frutas
| Oblea. Blackberry Glass Cookie filled with Blackberry Coulis, Liwa Goat Cheese, and Hoja Santa.
Next was a rather striking bite comprising dehydrated fruit leather stuffed with tangy coulis and a fresh, milky smear of goat cheese, with the yerba santa imparting just a smidgen of spice to the fray.
14c: Frutas
| Raspberry & Tomato Raspado with Queso Fresco Ice Cream, Nixtamalized Sun Gold Tomatoes, and Fresh Golden Raspberries.
Californios' rendition of shaved ice did a bang-up job incorporating tomato with raspberry. The raspado commingled effortlessly with the lush, lactic nature of the ice cream, and I was a fan of the dish's slight savory twang, too.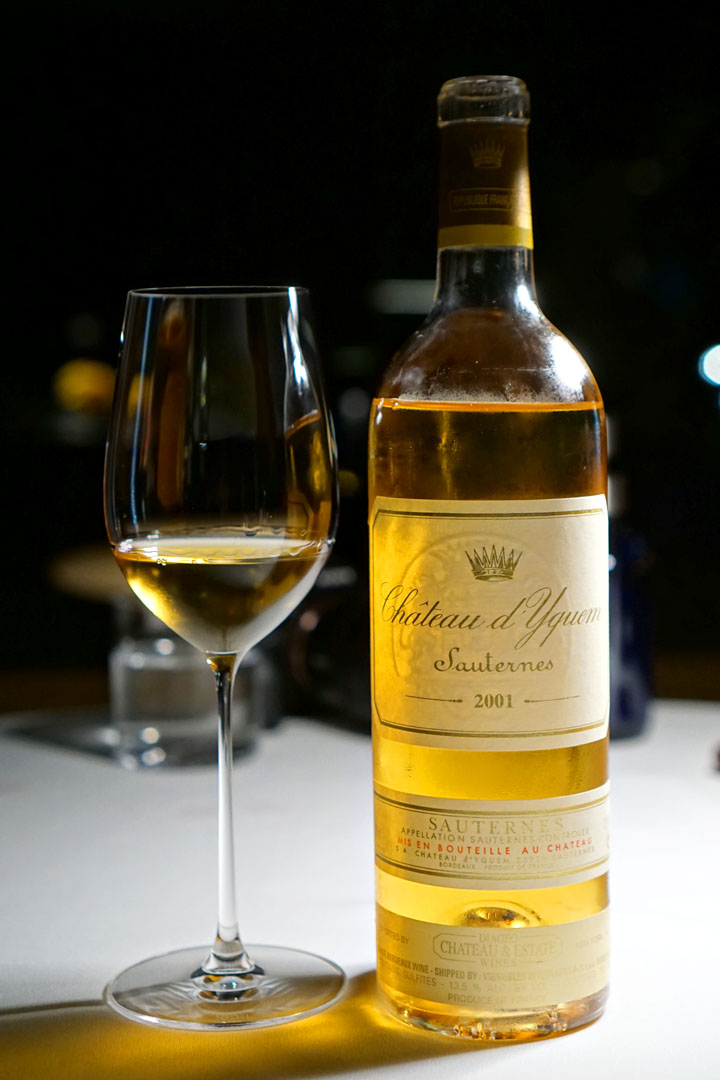 It's quite uncommon to find the legendary
2001 Château d'Yquem [$95]
offered by the glass, especially at a reasonable price, so we felt compelled to give it a go. The wine had an amazing bouquet that was astonishingly vivacious and absolutely teeming with honeyed pineapples, florals, and a "green" herbiness. On the palate, the liquid was dense and lush, its flavors of fresh apricot, white flowers, light caramel, and even more pineapple juxtaposed against a pert, lively acidity. There's so much more life left in this wine, and it's a bottle that will outlive us all--I'm glad I still have some in my cellar! A perfect Sauternes.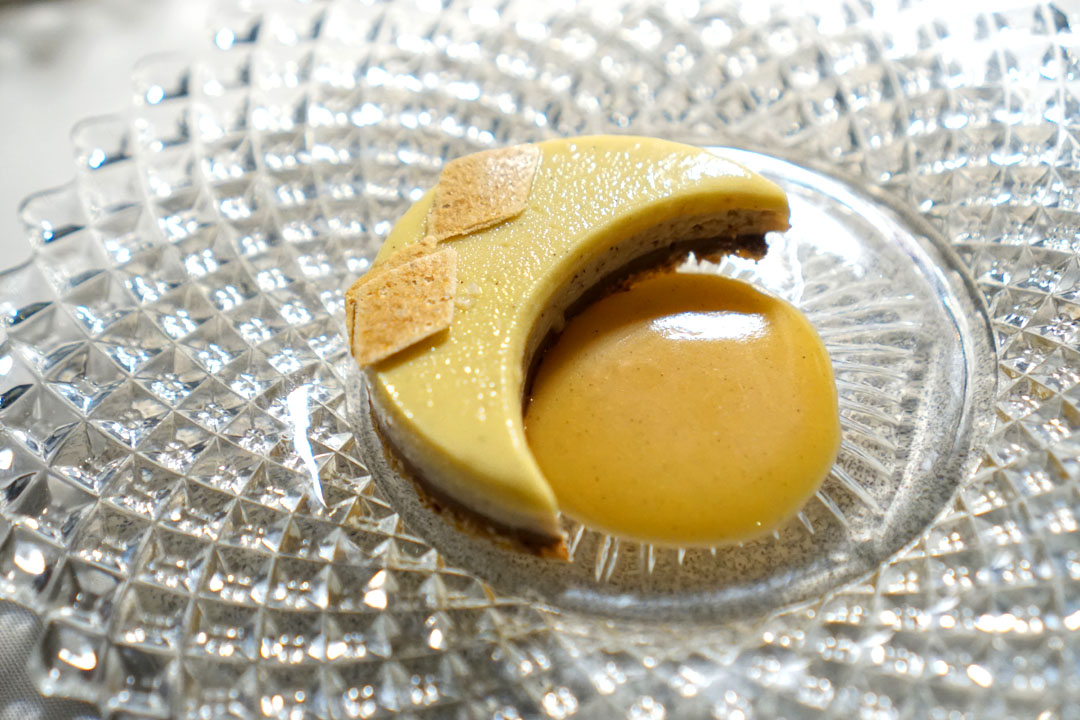 15: Nicuatole
| Plantain & Shared Cultures Cashew Miso Ice Cream, Whipped Popcorn Atole, 66% Chocolate Ganache, and a Popcorn Crumble. Served with a Plantain and Zacapa Rum Sauce.
Our "main" dessert was, again, something that I'd never heard of before, but boy was it delicious. It was a multilayered creation comprising a brown butter-popcorn crumble, chocolate ganache, whipped
atole
, plantain ice cream, and plantain crispies, all accompanied by a rum-plantain sauce. I was just impressed by how well the fruit harmonized with the nutty-sweet nature of the corn. Some great textures to boot.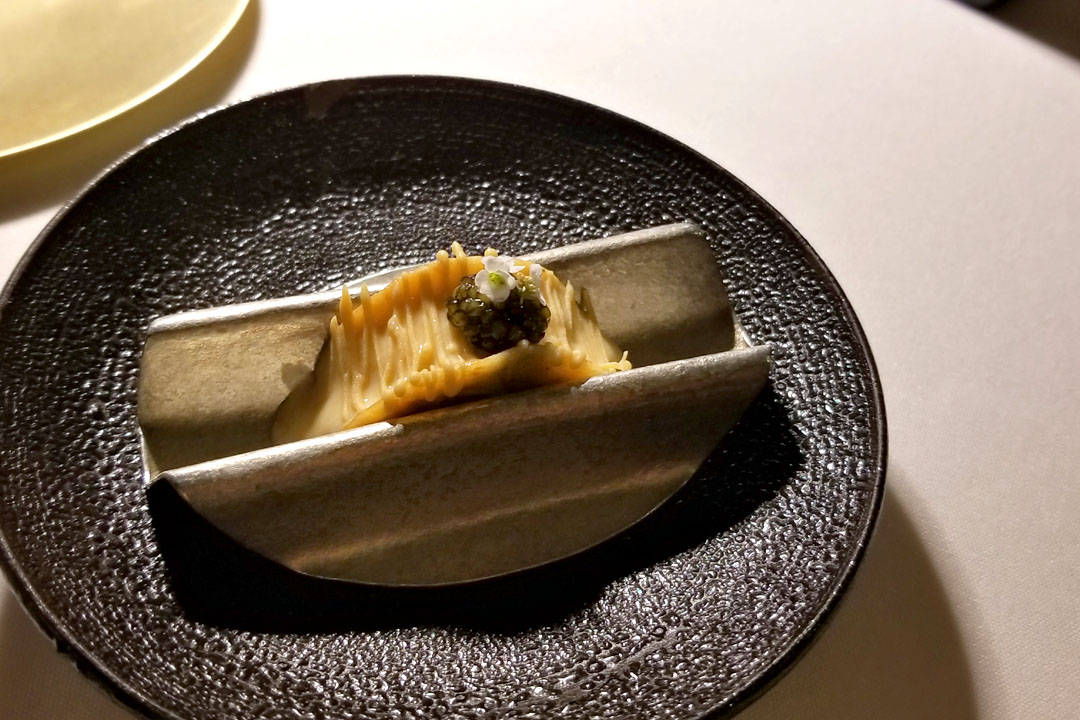 16a: Memento Mori, Chocolatl
| Mini Choco Taco. Toasted Cornmeal Shell, Filled with Macadamia Ice Cream, Drizzled with 33% Republica del Cacao Toasted Corn White Chocolate, Topped with Golden Osetra Caviar from The Caviar Company.
This homage to the recently-discontinued Choco Taco was a fun little bite that presented familiar nutty, chocolatey flavors, but set against the saltiness of caviar and the savory crunch of the corn shell.
Note: my camera actually ran out of batteries at this point, so I was forced to snap a photo with my cell phone before the taco melted, hence the reduced quality here.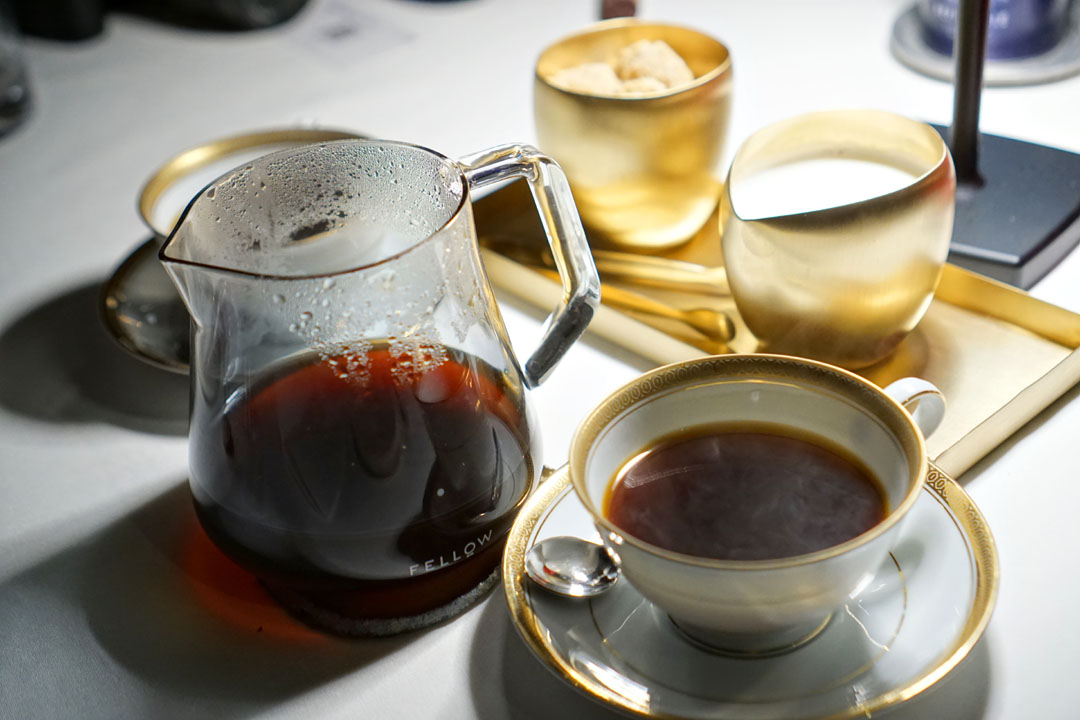 Coffee was unusually nutty (not necessarily a bad thing), and was offered at a very reasonable $6 a person.
Note: by this point, I was able to swap out my camera's battery with a backup.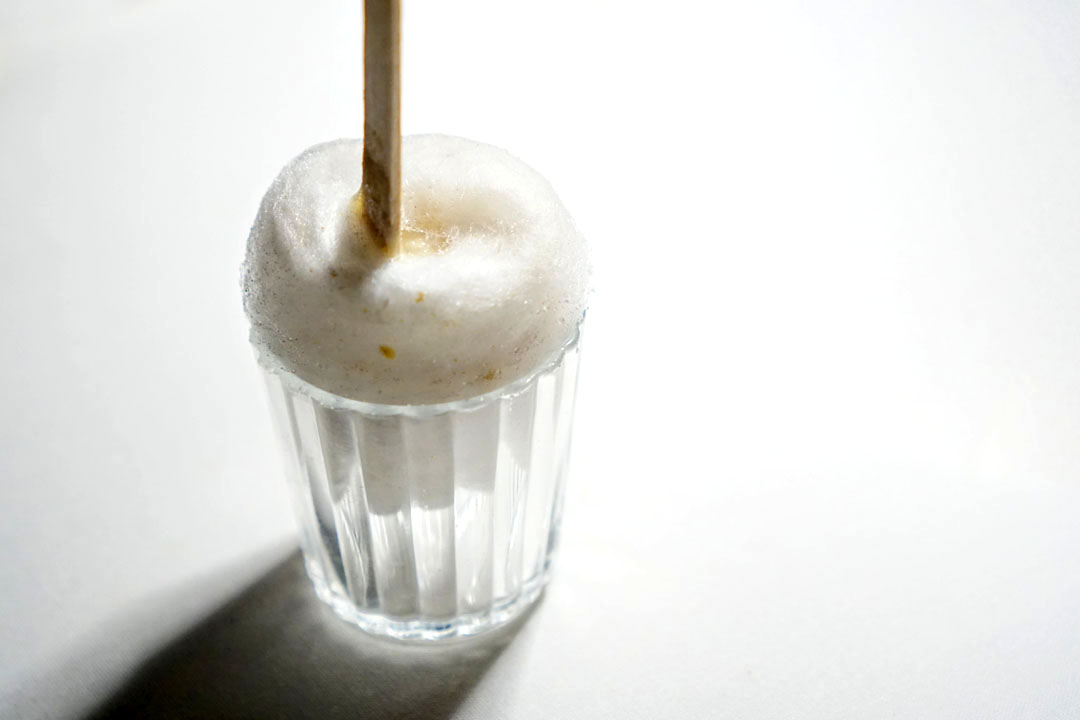 16b: Memento Mori, Chocolatl
| Tamarind & Ginger Paleta in Spun Honey and Bee Pollen.
Another fun end-of-meal treat was this ice pop, which showcased zesty ginger paired with sweet-n-sour tamarind, all set in a sugary cotton candy-like nest.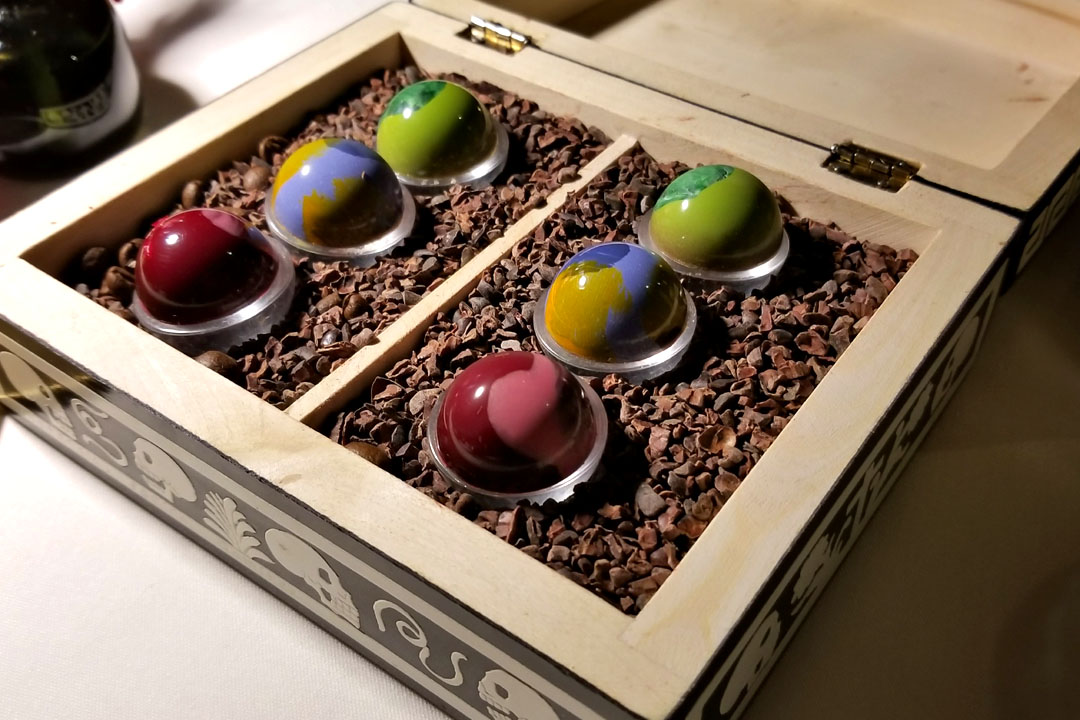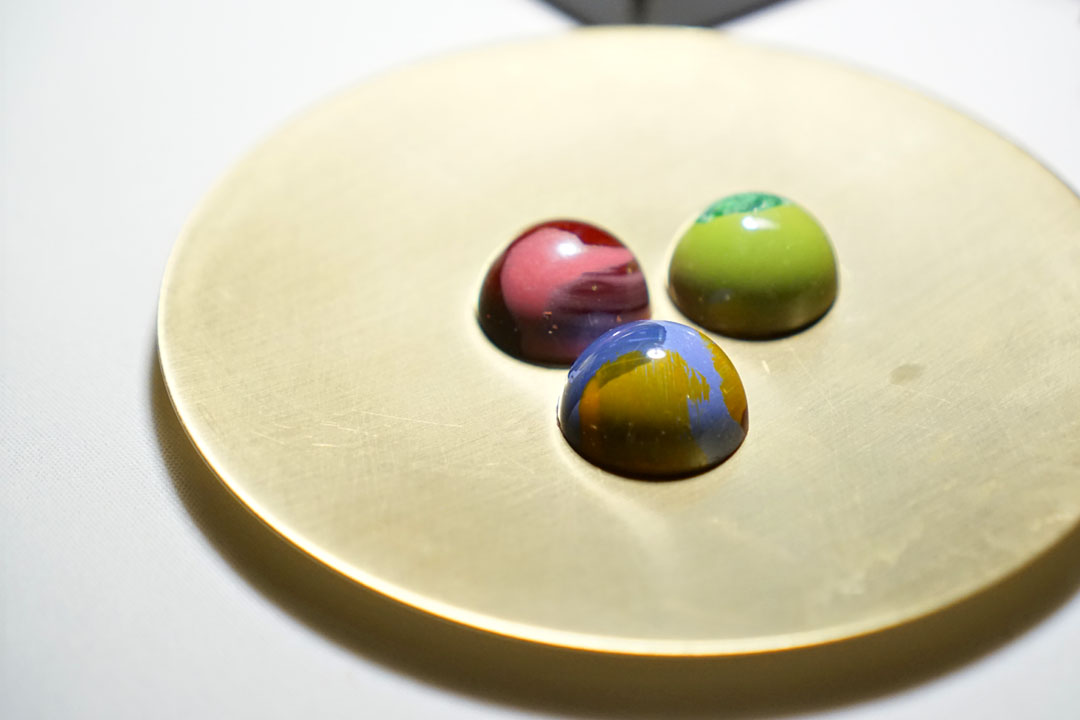 16c: Memento Mori, Chocolatl
Our meal concluded with a serving of glossy, colorful bonbons:
40% Jivara Chocolate Bonbon, with Green Pepita Ganache, Puffed Amaranth, and Marisal Sea Salt. – I started with this one, which showcased a lovely nuttiness from the pepitas, while the amaranth resulted in a texture that was somewhat akin to a Nestlé Crunch bar.
50% Chocolate Bonbon with Passion Fruit Ganache, Pâte de Fruit, and Fruit Crisps. – This blue-orange-tinted bonbon did an admirable job highlighting the tropical notes of the passionfruit, and there was even this bit of funkiness that I was quite fond of, too.
55% Chocolate Bonbon filled with Rio Zape Bean and Creme Fraiche. – Here, I was surprised at how apparent the nutty, coffee-like taste of the bean was, smoothed out a touch by the crème fraîche.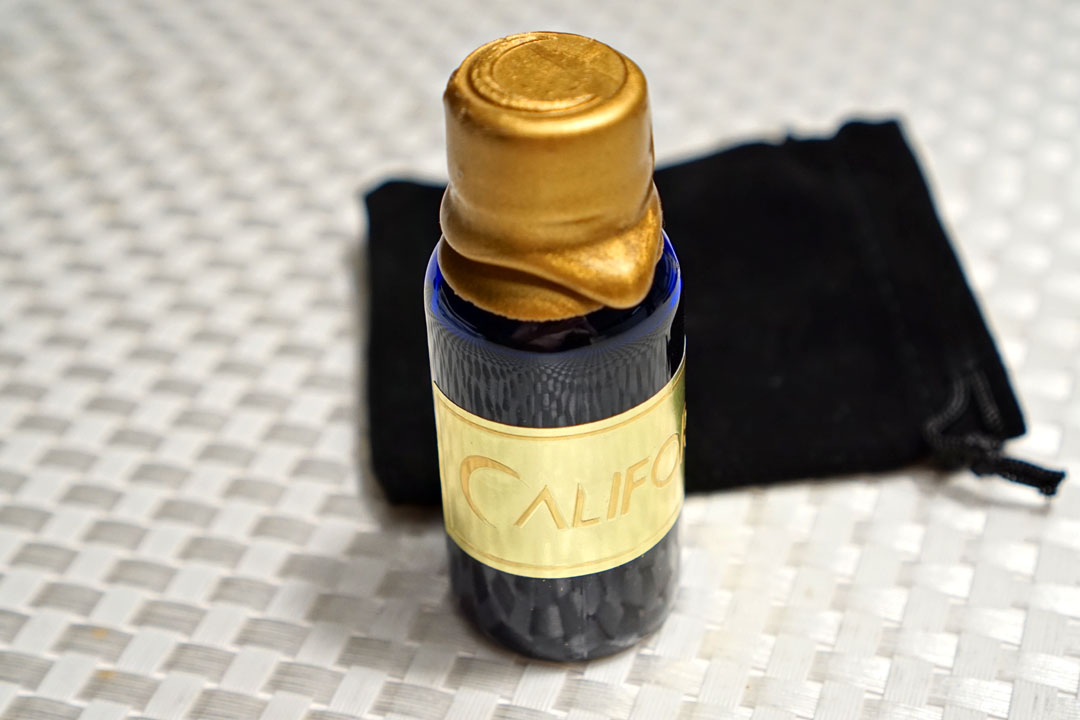 As a parting gift, we were given wax-topped vials of vanilla extract, made in-house with a blend of beans from Tahiti, Madagascar, and Veracruz, then aged in oak barrels for added complexity.
This was another outstanding dinner, so hats off to the team here, both in the front and back of the house. Mexican is arguably the food that I consume the most often, but I'd never experienced anything quite like what Californios had to offer. Tonight, Cantú and company presented a clear, focused, personal, playful expression of the cuisine, one that's undoubtedly contemporary in its tone and incorporation of Californian influences, yet also represents the core, the quintessence of the Mexican kitchen. The cooking pays respect to tradition, but also builds on it, and by the end of the night, both my dining companion and I agreed that this was the best Mexican meal that we'd ever had.