Ssal (San Francisco, CA)
Ssal Restaurant
2226 Polk St, San Francisco, CA 94109
415.814.2704
www.ssalsf.com
Fri 10/14/2022, 06:15p-08:40p

For my final meal in SF, I opted for Ssal (쌀, "rice"), a somewhat under-the-radar Russian Hill spot that came recommended by a friend. The restaurant is the creation of Chef Jungsoo Bae and wife Hyunyoung Bae, and serves contemporary Korean cuisine. I actually hadn't heard of Ssal prior to this trip, but after looking into the place a bit, I was intrigued, and wanted to give it a go.
About the Chef
: Bae Jun-soo (배준수) hails from Seoul, but moved to New York to attend The Culinary Institute of America at Hyde Park. He was at the CIA from 2009 to 2012, and during his time there, externed at Blue Hill at Stone Barns before
staging
at both
Per Se
and Noma. He then returned to Blue Hill as a cook, and also participated in the 2012 Bocuse d'Or USA competition. After graduating with his BPS degree, he soon secured a job at Danny Meyer's iconic Gramercy Tavern, where he achieved the rank of sous. It was at the Manhattan restaurant where Bae would meet Hyunyoung Jung, a fellow Seoulite and CIA BPS grad (culinary arts, c/o 2016) who'd also worked at Bouley. The two soon fell in love, and in the fall of 2017, they relocated to the Napa Valley.
Now in NorCal, Bae got a line cook job at
The Restaurant at Meadowood
while Jung secured a server position at
The French Laundry
. However, the Chef ended up leaving Meadowood in 2018 after claims arose of alleged misconduct from his days in New York. The pair got married in the autumn, then began working on the launch of their first solo project, Ssal, which grand-opened on April 19th, 2019. The restaurant was actually more casual when it first debuted, and sported a relatively compact à la carte menu, though the cooking did gradually fancify. Like many others, the business was forced to shift gears due to the pandemic and began offering takeout, most famously in the form of Korean fried chicken. With the improving COVID-19 situation, Ssal re-opened for on-site dining in August last year (shortly before the couple's son Ian was born), but with revamped decor, artisanal service pieces, and a decidedly more luxurious, fine dining focus.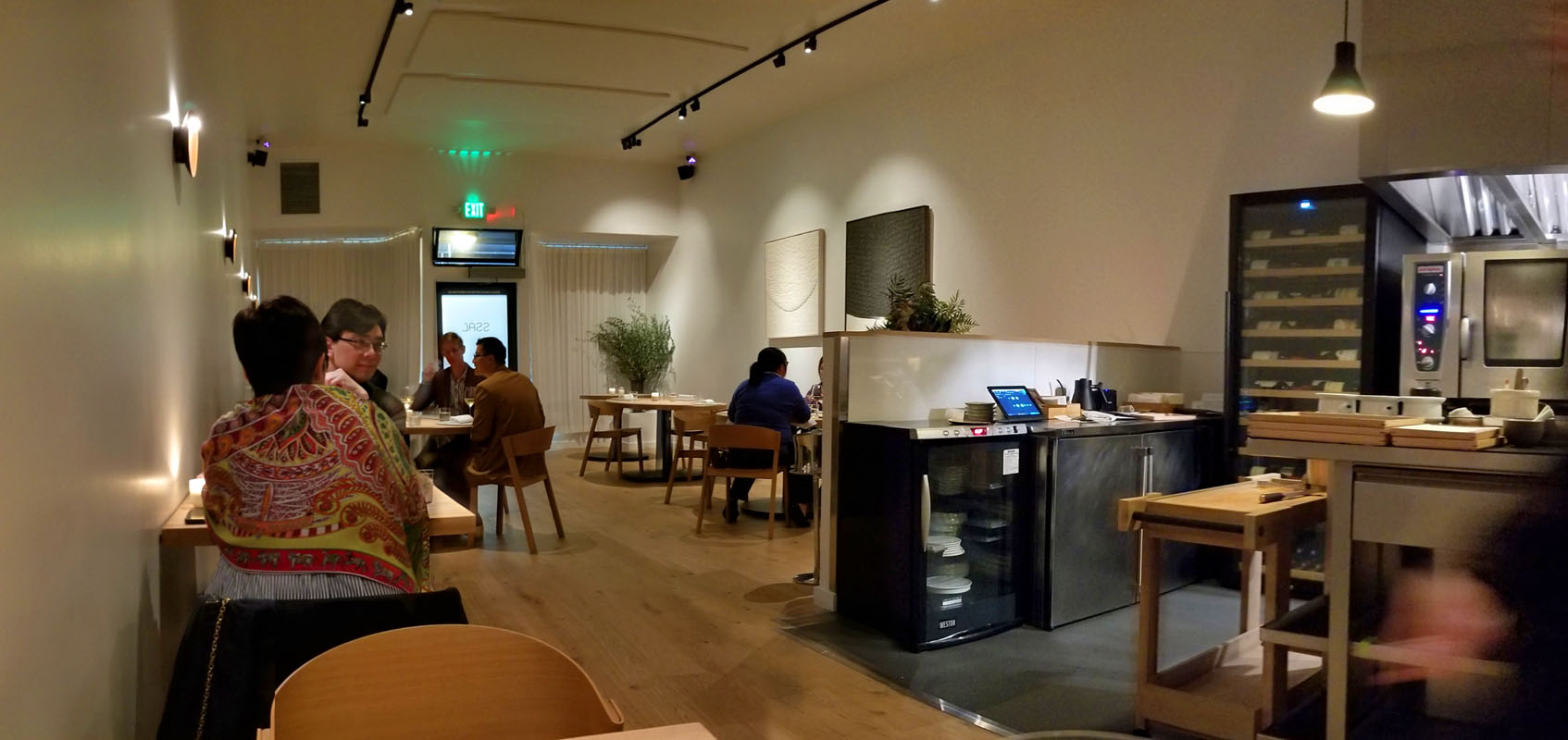 Pictured above is the view from my seat, facing the entrance. Ssal takes over a storefront that was previously home to Troy Greek Cuisine, and the longstanding Polker's Gourmet Burgers before that. It's actually a pretty small space, with much of the room taken up by the kitchen.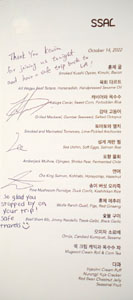 Here we see the evening's tasting menu, with spans 13 courses and an optional supplement. Pricing was a prepaid $175 a head, plus 20% service, 8.625% tax, and Tock fees. Note the signatures of Chef Bae and his two cooks, as well as messages from the FOH staff. Meanwhile, to drink, I brought along a bottle and paid a corkage fee of $50 (limit two), but there's actually a surprisingly good wine list that's worth a look, not to mention a $110pp beverage pairing. Click for a larger version.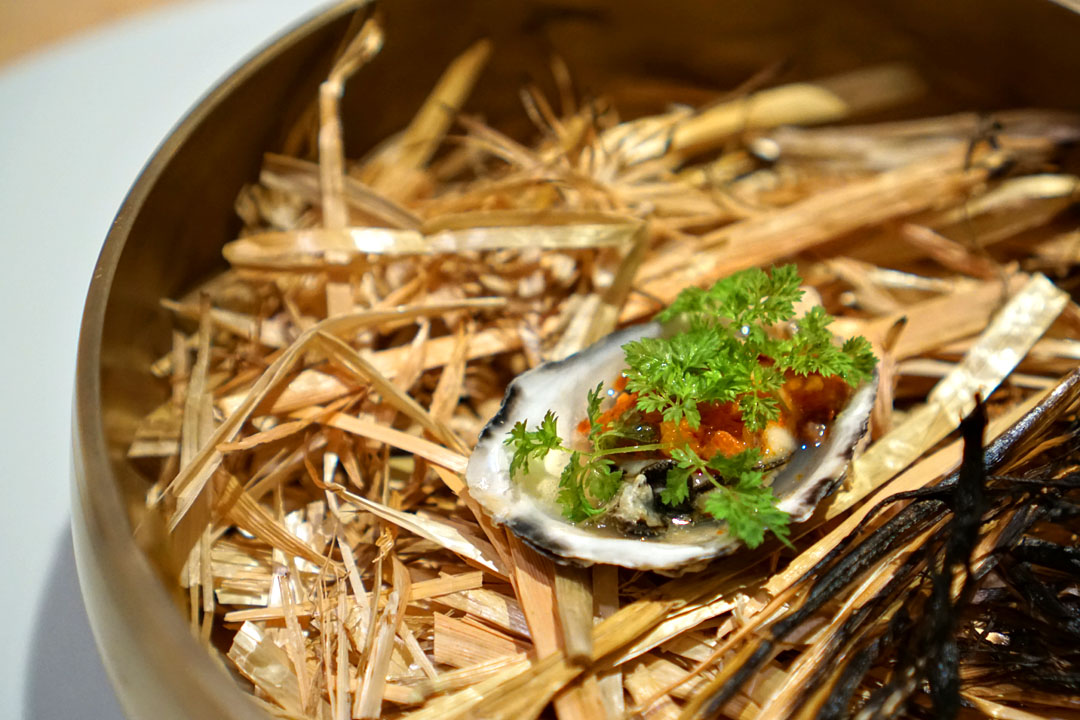 1: 훈제 굴 (Smoked Kusshi Oyster, Kimchi, Bacon)
My meal commenced with an amuse bouche course that was both homey, with its familiar notes of savory pork belly set against the pungent kick of kimchi, and smart, thanks to how that aforementioned combo so effectively complemented the brine and smoke of the oyster without overwhelming it. A promising start.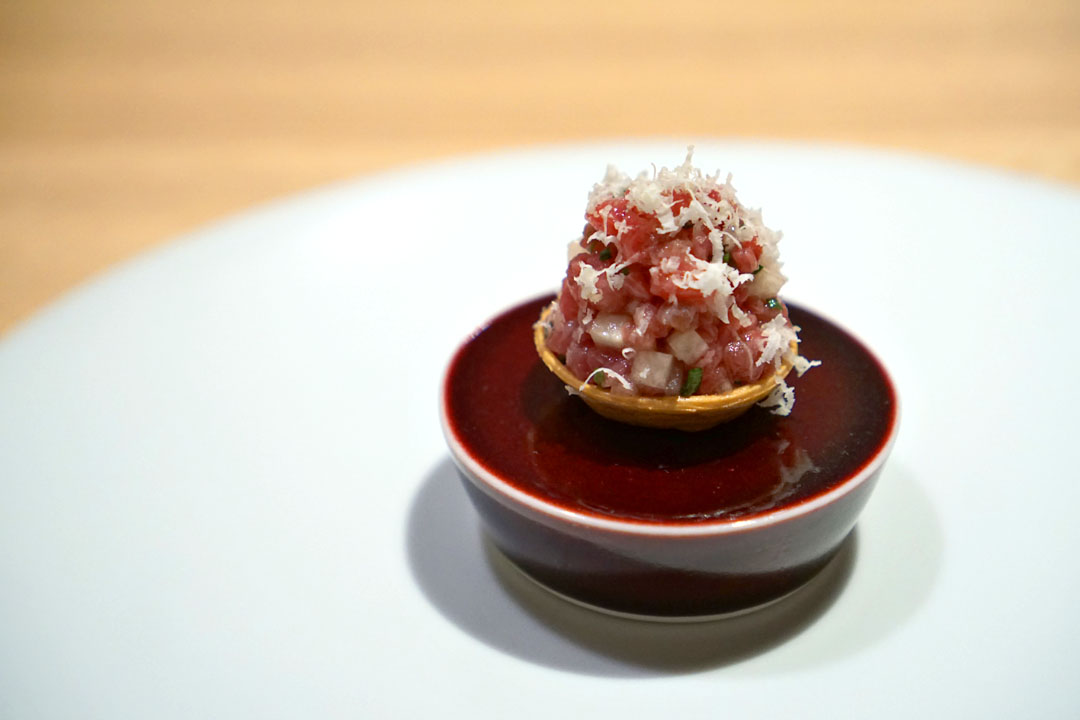 2: 육회 타르트 (A5 Wagyu Beef Tartare, Horseradish, Handpressed Sesame Oil)
This reworked version of
yukhoe
was a definite winner. I was a fan of how the nuttiness of the sesame oil enveloped the dish, but still let the superbly textured beef shine through. Zingy horseradish and what I believe was jícama worked for contrast as well, and I can't forget about the sheer crunch of the tart shell, either. One of the better steak tartares I've had.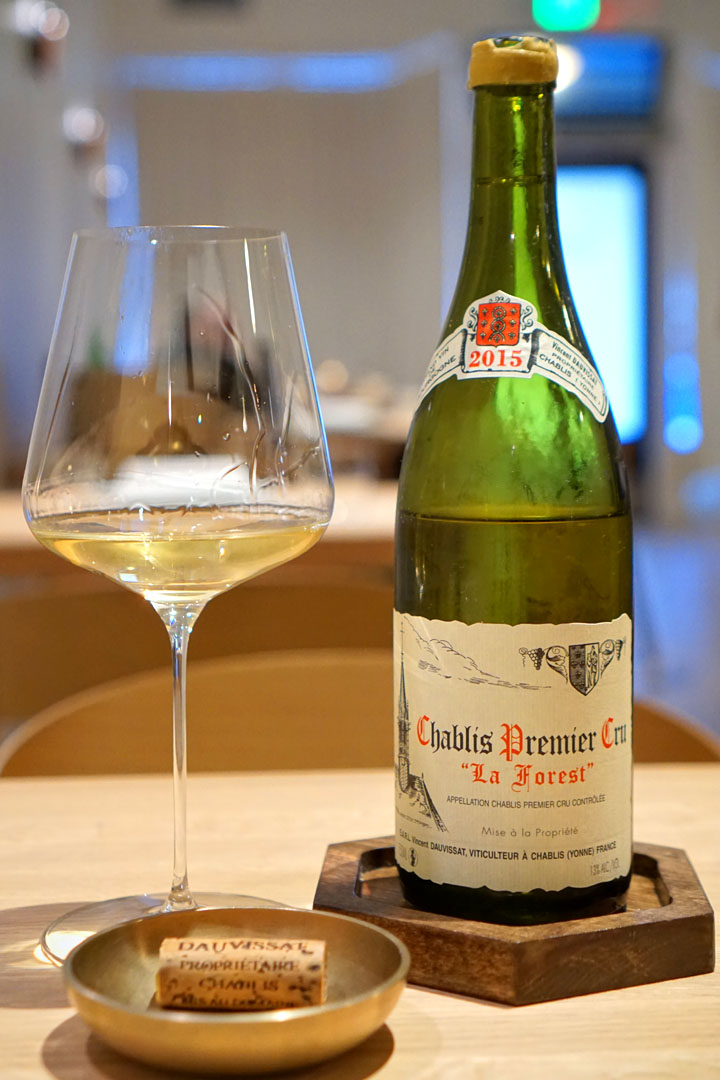 To drink, I brought along a bottle of the
2015 René & Vincent Dauvissat Chablis Premier Cru "La Forest"
. The wine had a very, very stony and saline nose, with undercurrents of juicy yellow fruit, and as it warmed, said fruit only became more apparent. On the palate, this one was on the rounder side, its initial hits of spice transitioning to buttery, caramel-y nuances, then to succulent orchard fruits intertwined with minerality. Lovely.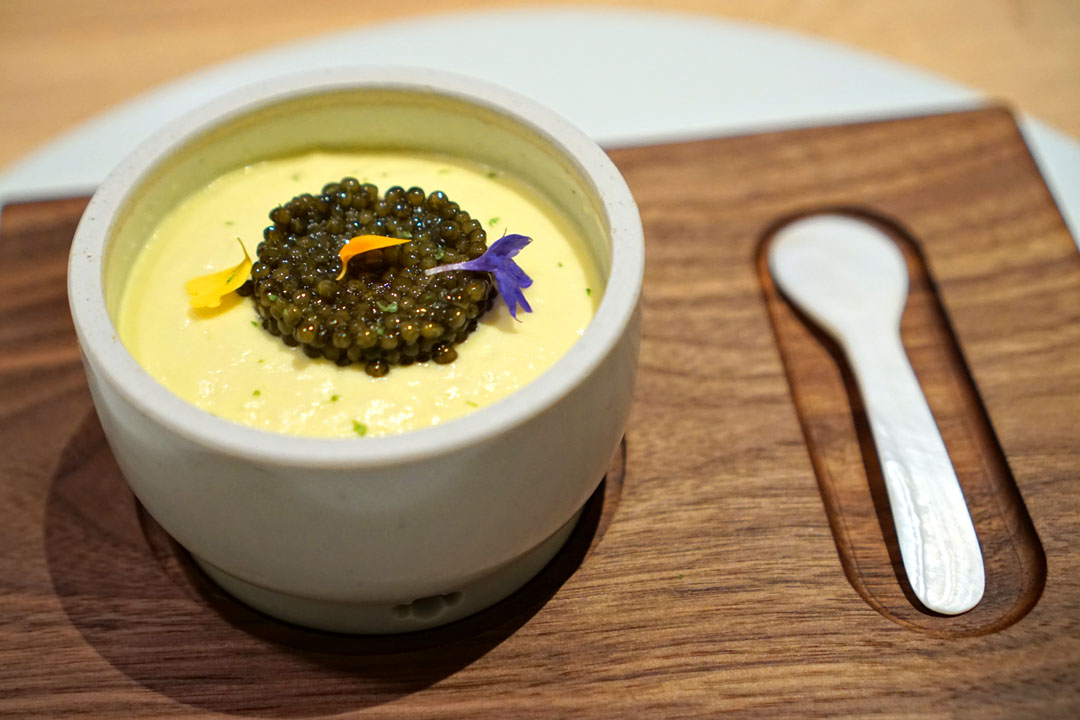 3: 캐비어와 옥수수 (Kaluga Caviar, Sweet Corn, Forbidden Rice)
The unmistakable, potent sweetness of corn was the star of the show here, yet it was an elegant presentation, and never too in-my-face. The saltiness from the caviar worked wonders in offsetting said sweetness, and I appreciated how the Hokkaido scallop moderated everything and provided some textural juxtaposition. However, my favorite element was actually the toasted rice, which offered a fantastic crunch and savor that really grounded the dish.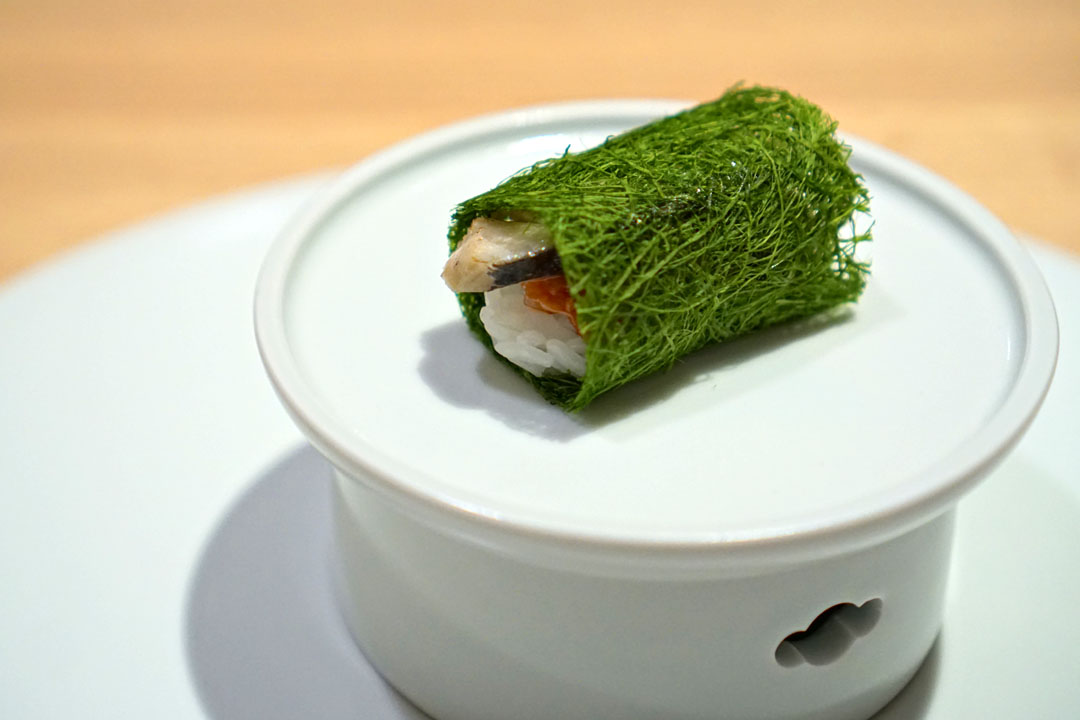 4: 감태 고등어 (Grilled Mackerel, Gamtae Seaweed, Salted Octopus)
I really enjoyed the
gamtae
here, both for its briny, bitter, grassy, and even funky taste as well as its intriguing mouthfeel. The seaweed served as a great foil to the full-flavored salinity of the mackerel and somewhat milder octopus, and the bite finished long and strong with a very familiar savory-sweetness from what seemed like gochujang. Delish.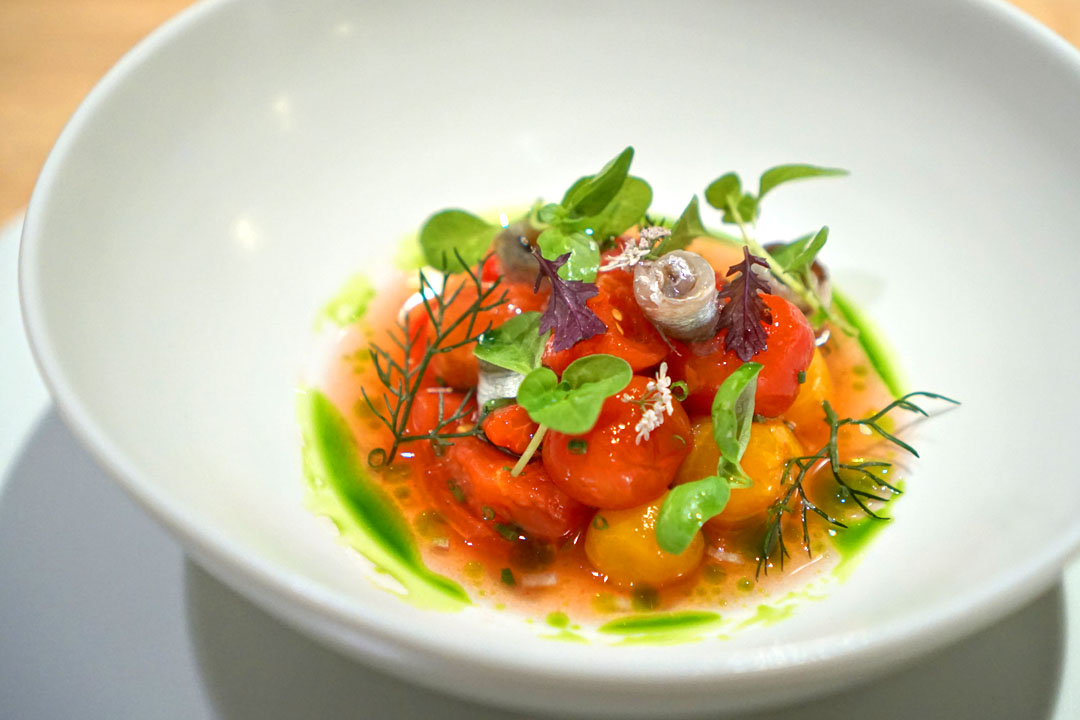 5: 토마토와 멸치 (Smoked and Marinated Tomatoes, Lime-Pickled Anchovies)
Next came a colorful dish that did a wonderful job combining smoky-yet-juicy tomatoes with the sharp saltiness of anchovy, a bright acidity, some prickly heat, and a touch of herbaceousness to finish things off with.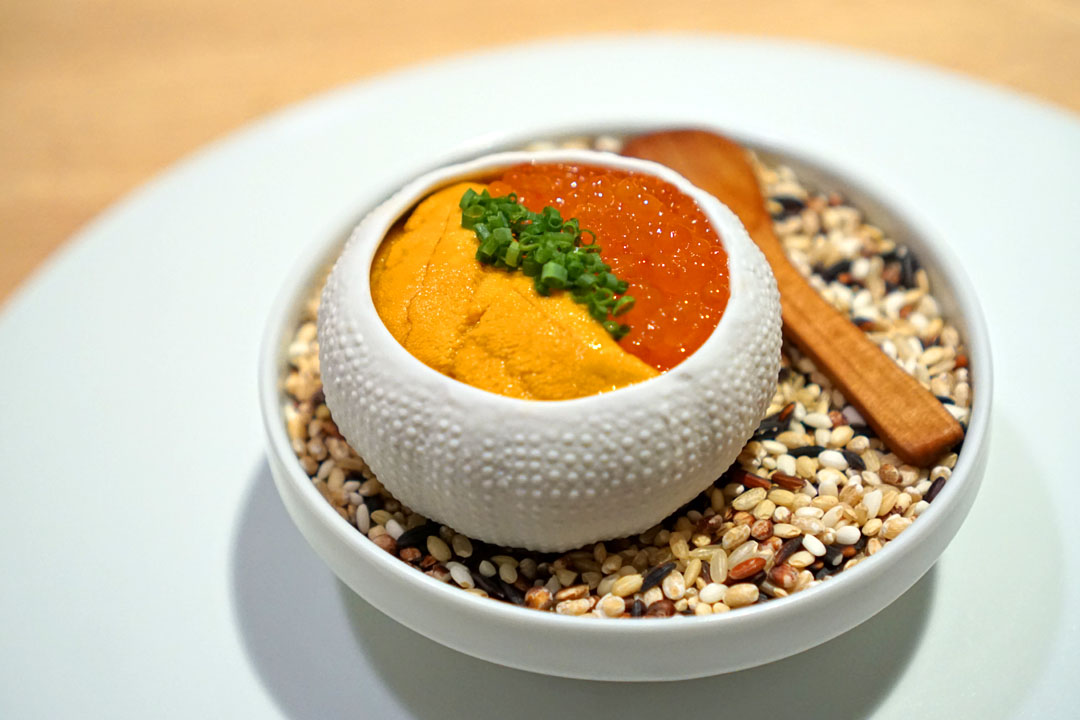 Supplement: 성게 계란 찜 (Sea Urchin, Soft Eggs, Salmon Roe) [$35.00]
Here, two types of roe combined in effortless fashion, conveying an amalgam of sweet and saline that meshed in delicious manner with the airy, fluffy steamed egg. However, even better was the rice at the bottom of the bowl, which presented a deep, snug savor that really brought the dish together and served as a perfect finishing touch--yum. And interestingly, having the dish with the Chablis above resulted in the wine taking on an almost candied character, which I didn't mind.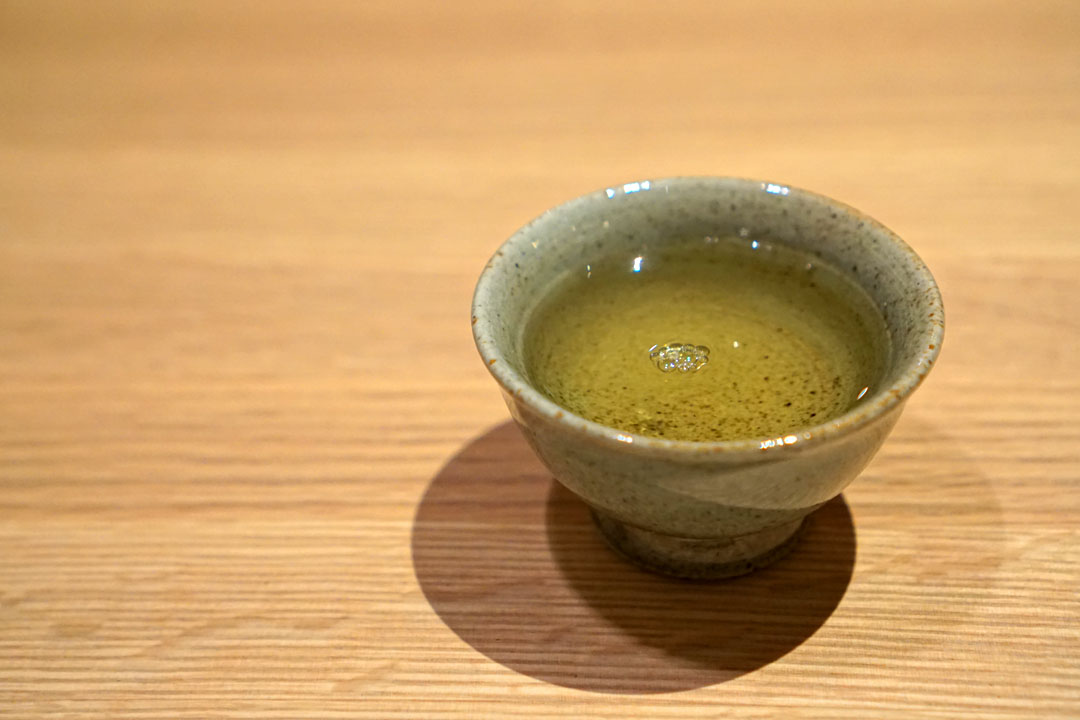 At this point, I was provided a complimentary pour of the
Yangchon Chungju, Nonsan, South Korea
. The rice wine was smooth and round on the palate, and showed off a distinctly sweet, ricey quality at first blush, but joined by oxidative notes and a smidgen of barnyard. It was meant to pair with the
mulhoe
below, and seemingly emphasized the dish's sweetness.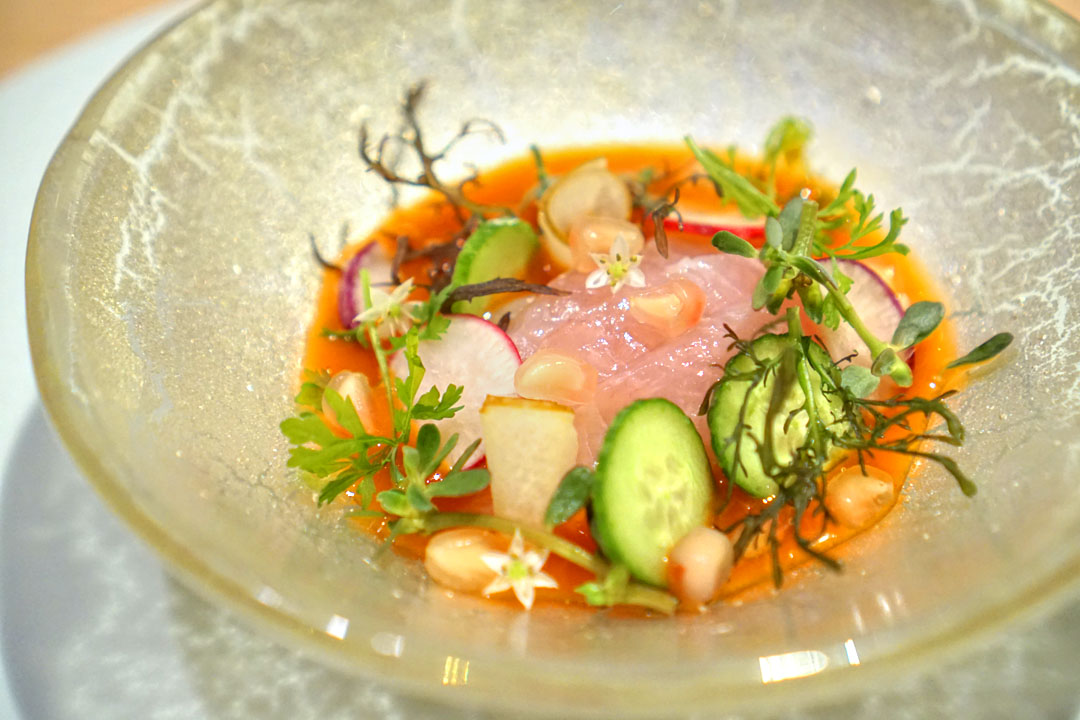 6: 포항 물회 (Amberjack Mulhoe, Ojingeo, Shinko Pear, Fermented Chile)
The Chef's
mulhwe
definitely delivered as well. The amberjack itself was spot-on, and I was impressed by its sticky, satisfying consistency and healthy dose of
gamchilmat
. The fish made a lot of sense with the comforting sweet heat of its chili broth, and I was certainly fond of the brightness imparted by all those herbs as well as the juicy crunch of Korean pear.
7: 연어 (Ōra King Salmon, Kohlrabi, Honeycrisp, Hazelnut)
Salmon had that slightly rare cook that I prefer, along with the right amount of fat, savor, and brine. The fish combined way better than I thought it would with the radish-wrapped, hazelnut-topped kale on the side, while a lemon-Honeycrisp reduction helped tie the two components together.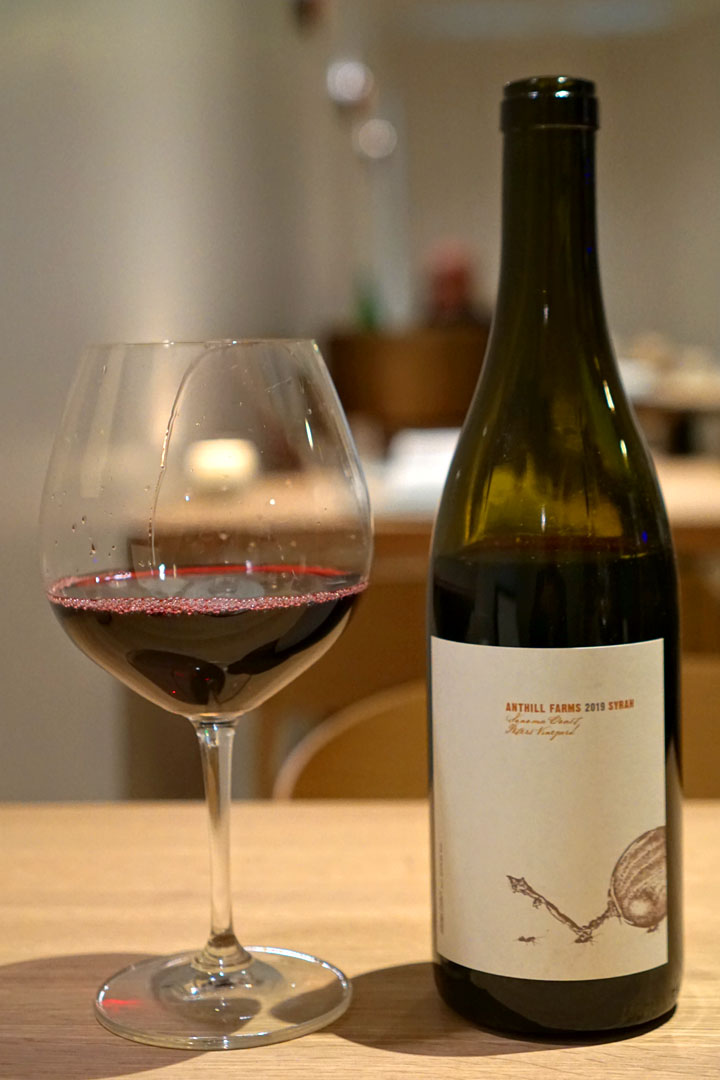 To pair with the heftier courses to follow, I ordered a glass of the
Anthill Farms, Syrah, Peters Vineyard, Sebastopol, California 2019 [$26]
at the recommendation of my server. The wine was super perfume-y on the nose, with boatloads of lush berries all over the place, countered by just enough herb and earth. I found the Syrah quite lively on the palate as well thanks to its palpable acidity and refined tannins, while flavors of dark-toned fruits danced with spices and soil.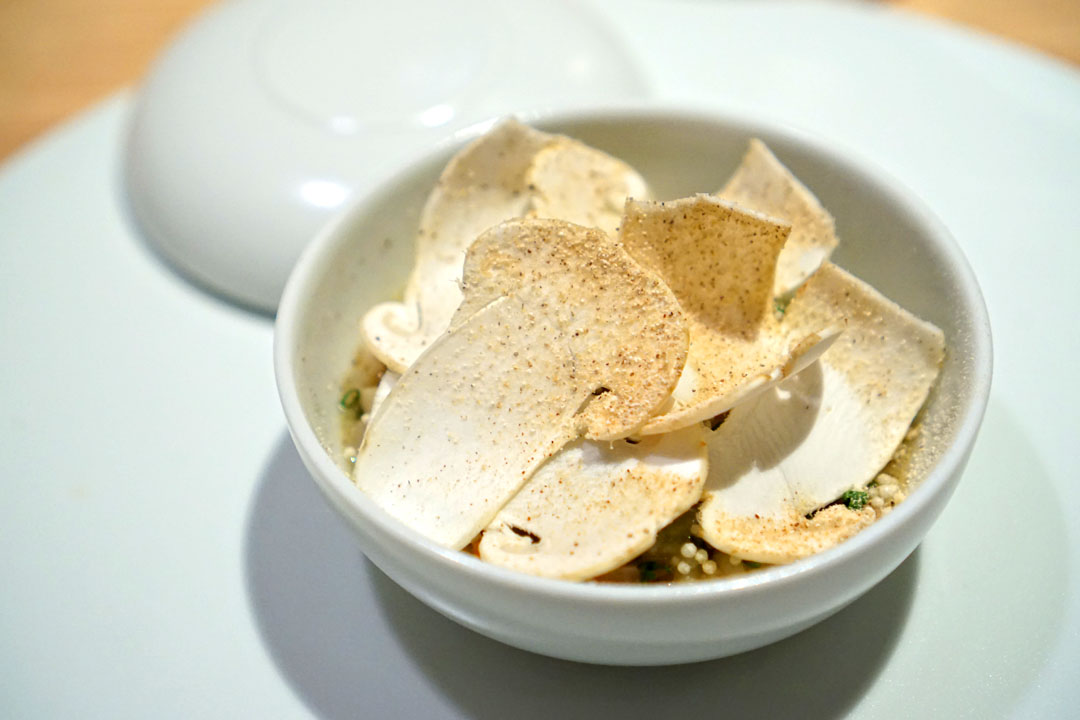 8: 송이 버섯 오리죽 (Pine Mushroom Porridge, Duck Confit, Koshihikari Rice)
We were in the middle of
song-i
(a.k.a. matsutake) season, so I was happy to see it on the menu tonight. The mushroom's woodsy astringency was on proud display here, and melded perfectly with the salty duck confit and flawlessly-textured rice, all while what I believe was chive lightened the mood. Comfy yet finessed--this was something I just wanted to eat a big bowl of.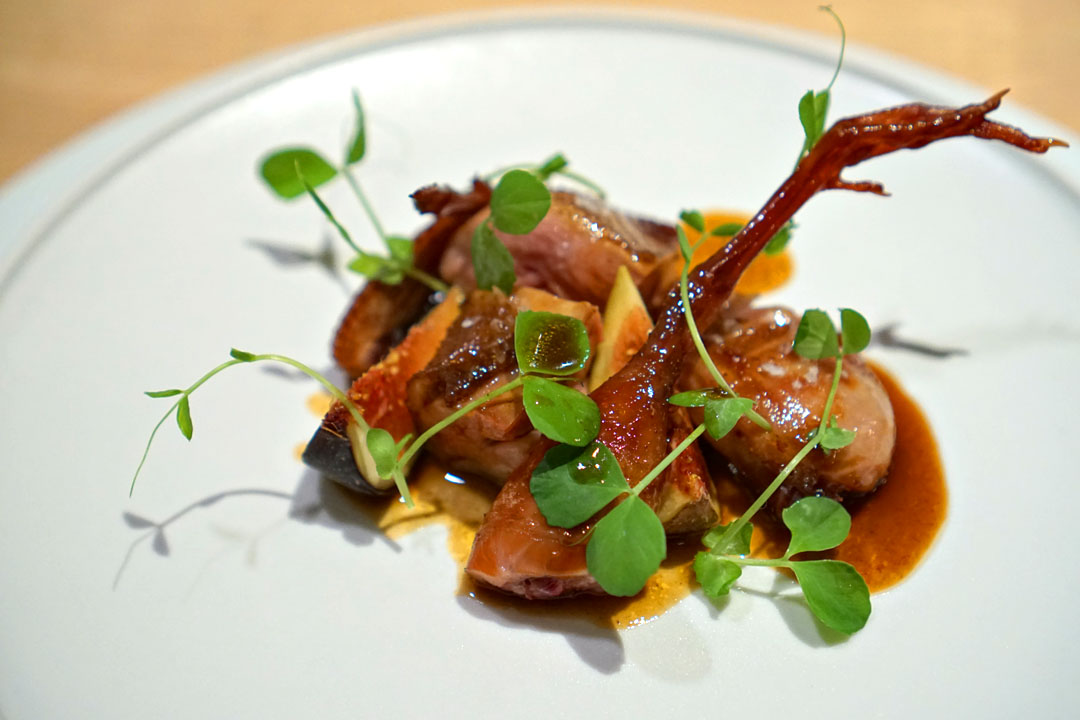 9: 훈제 메추리 (Wolfe Ranch Quail, Figs, Red Ginseng)
This was one of the best preparations of quail that I've had. I was a bit dazzled by the bird's almost "hammy" smoke and depth, offset by a touch of sweetness, as well as its sheer juiciness and tenderness. At the same time, figs added further fruitiness to the fray, while a sauce of quail bone and red ginseng imparted an earthy richness that help tie it all together.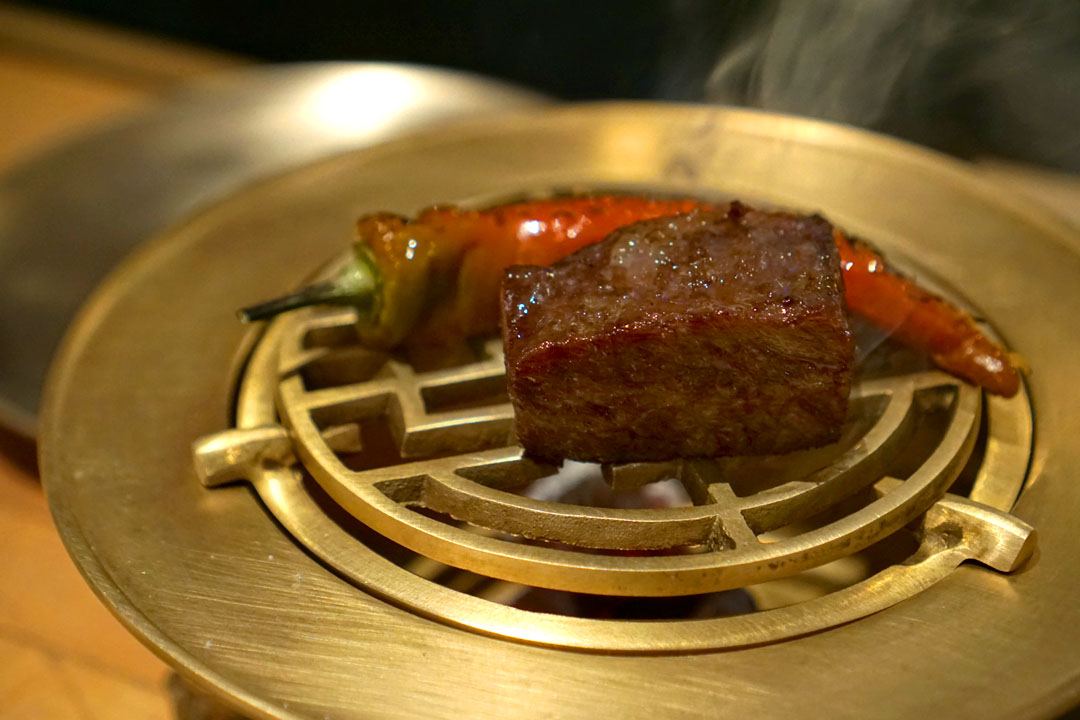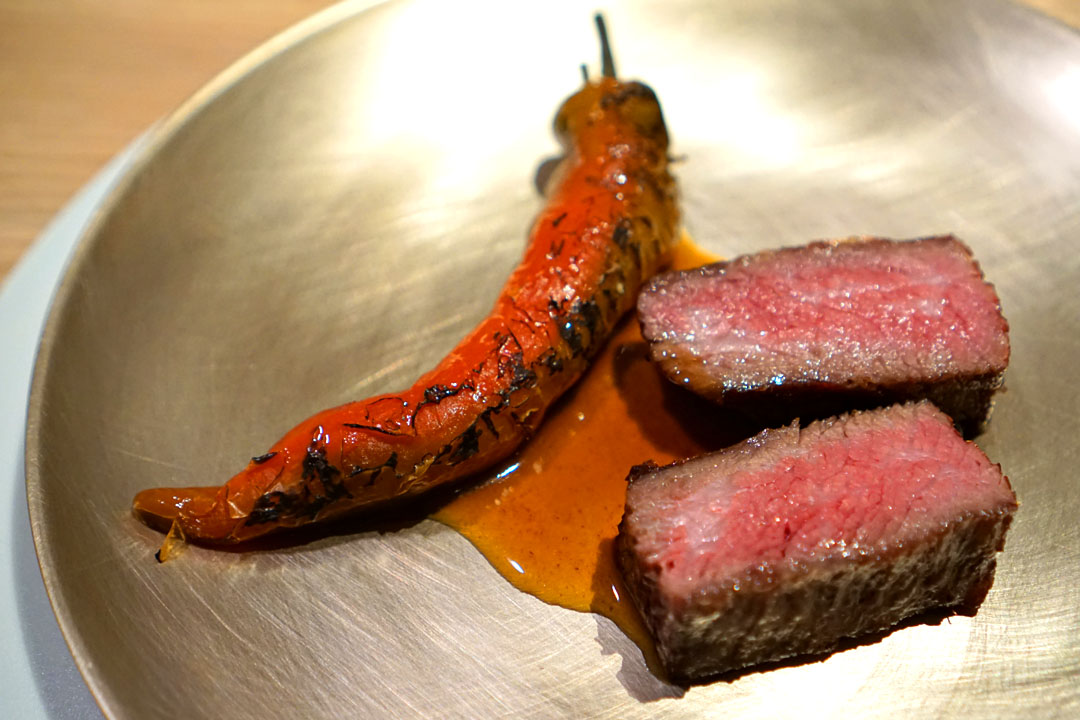 10: 숯불 구이 (Beef Short Rib, Jimmy Nardello Tteok-Galbi, Black Garlic)
My final savory course was Bae's take on Korean short rib, and boy was it tasty. In fact, it might just be the tastiest galbi I've tried. The meat perfectly conveyed the sweet-savoriness that you expect from the dish, yet it was more overtly beefy than most, with a superbly satisfying texture to boot. Meanwhile, the
tteok-galbi
might've been even better. The meat was markedly sweeter, but this sweetness was so beautifully offset by the piquancy of that charred pepper--fantastic.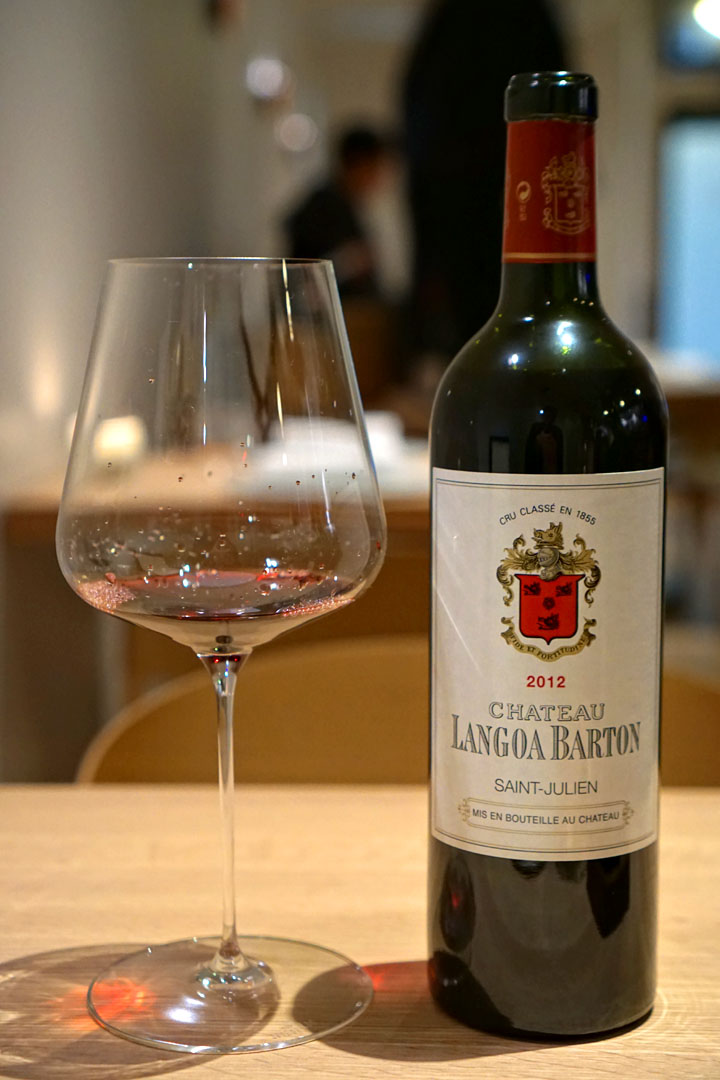 To go along with the beef above, I was given a pour of the
2012 Château Langoa Barton
gratis. The wine demonstrated a bouquet that was on the muskier side, with supporting notes of dark fruits and herbs. Tasting it, I got smoky, earthy flavors at the fore, but layered over smooth, ripe berries. Slightly austere overall, but the Bordeaux certainly stood up to the potency of the meat.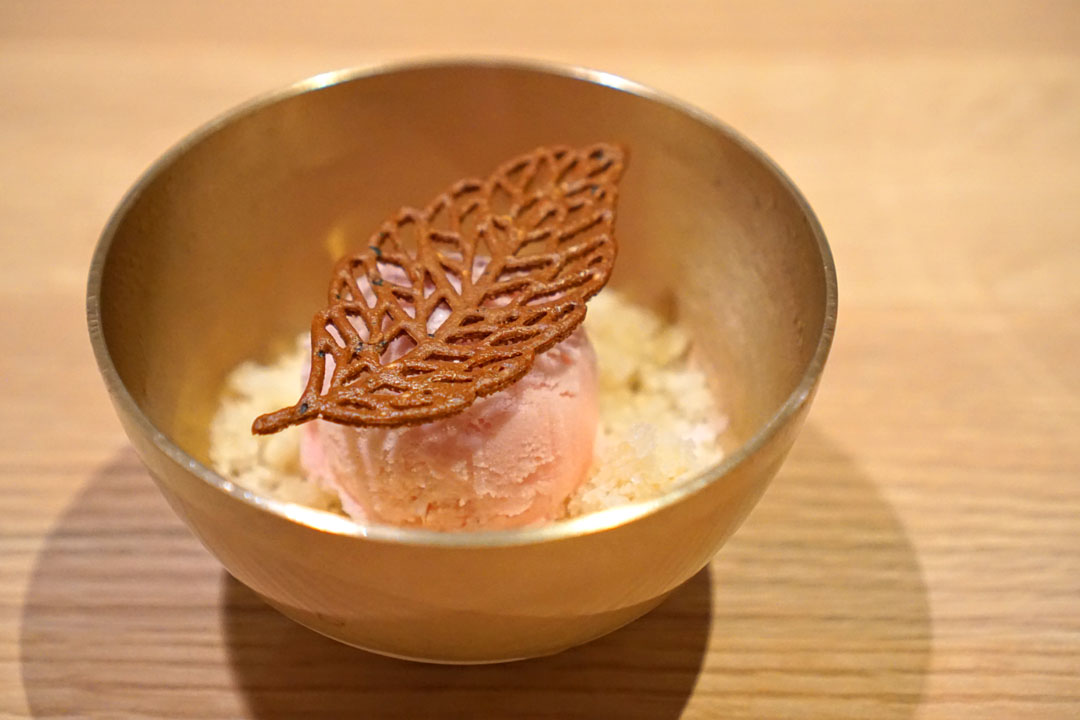 11: 오미자 소르베 (Omija, Candied Kumquat, Sesame)
It was now time for dessert, and my first served as a bit of a palate cleanser. I was impressed by the super floral, perfumey qualities of the
omija
sorbet and how that contrasted with the nutty, savory nature of the sesame tuile up top, all while kumquat ice provided a bit of a bracing bite.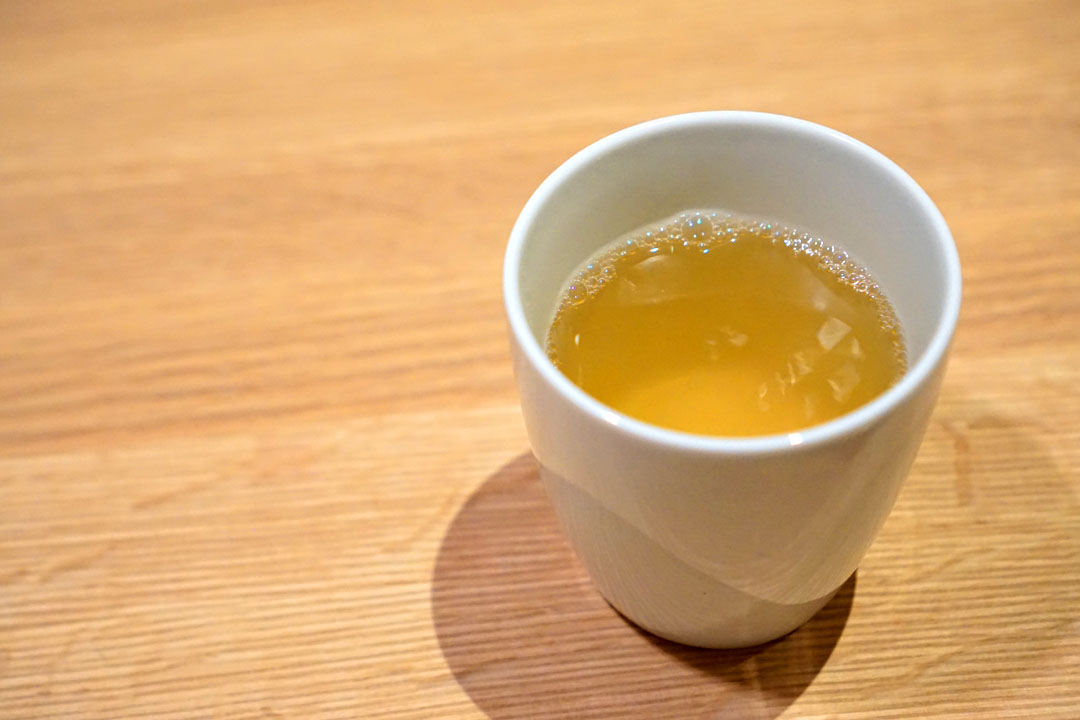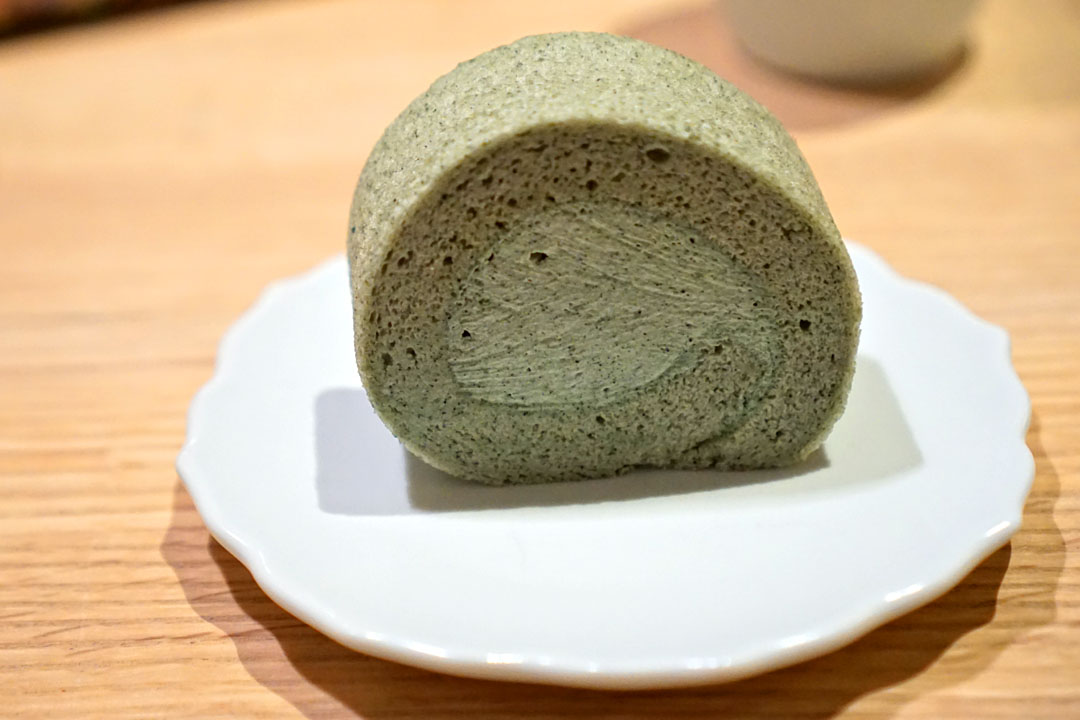 12: 쑥 크림 케익과 옥수수 차 (Mugwort Cream Roll & Corn Tea)
A
ssuk
-boosted cream cake was excellent, showcasing a properly airy texture and a great grassy bittersweetness. The dessert was served with a cup of cozy, roasty, unabashedly corn-forward
oksusu cha
that helped even out the lusciousness of the cake.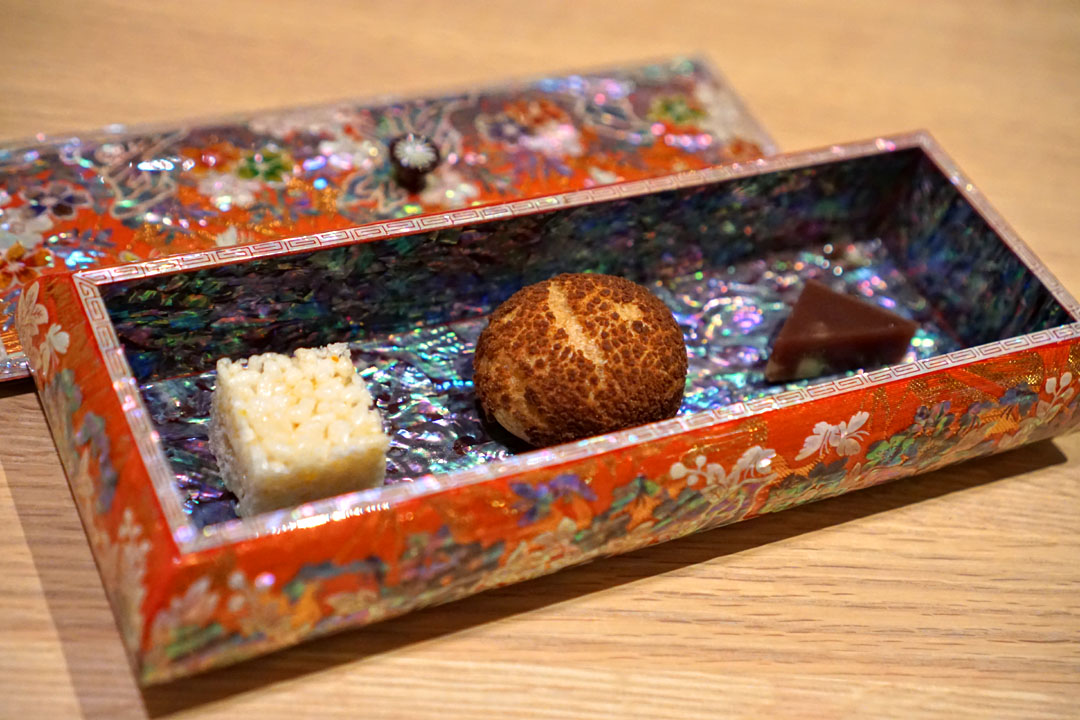 13a: 다과 (Injeolmi Cream Puff + Nurungji Yuja Cracker + Red Bean Chestnut Jelly)
Arriving in a
najeonchilgi
-style jewelry box were three bites to close out the meal with:
Red Bean Chestnut Jelly – A triangle of yanggaeng featured restrained red bean flavors and a surprisingly gratifying texture.
Injeolmi Cream Puff – Filled with soybean cream, this was my favorite of the trio thanks to its almost rousong-esque sweet savor.
Nurungji Yuja Cracker – Super crispy with a slight citrusy zing and a touch of umami.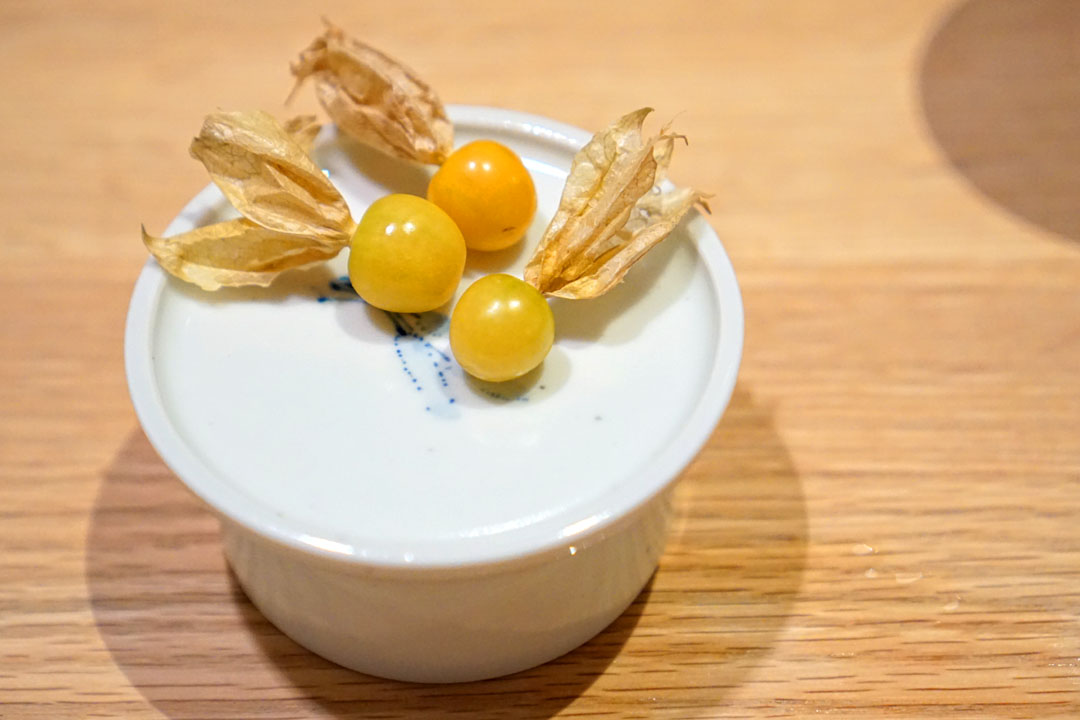 13b: 다과 (Seasonal Fruit)
Last up were tangy gooseberries, which ended things on a lighter note.
I'm really glad that I decided to check out Ssal, since this was a superb meal that managed to exceed expectations, and, in fact, stands out as one of my top meals of the year. Bae and his team delivered hit after hit, making for a deliciously cohesive menu that was non-traditional in its approach, aesthetic, and incorporation of Cal cuisine influences, yet still captured the spirit of Korean cookery. I feel like Ssal warrants more attention than it receives, and I think the place deserves to get starred when Michelin releases its next California guide, so I guess we'll see if they get it right.