M Korean BBQ (Buena Park, CA)
M Korean BBQ at The Source OC
6982 Beach Blvd, Buena Park, CA 90621
657.436.3966
www.mkoreanbbq.com
Sun 10/30/2022, 02:00p-04:10p

A group of us were recently on the lookout for a large party-capable, birthday-friendly lunch place in north Orange County, and since KBBQ spots are often suitable for this purpose, we wound up choosing the new-ish M. Located at The Source shopping complex, the place actually started life in July 2020 as an outpost of K-town's
Magal
. However, the restaurant was renamed to just M around November last year when the business changed owners. The new owner appears to be one Sang-hyun Cha (a.k.a. Sam Cha), who looks to also be involved with Il Fiora (an Italian joint at The Source) and the now-shuttered AMG Korean BBQ House in Lynwood.


Inside, things haven't changed much since the Magal days, and I think that's perfectly fine. Note that attached to the restaurant is a retro-style
suljib
(Korean pub) by the name of Misoolkwan OC, which opened up with Magal and now shares the same ownership with M.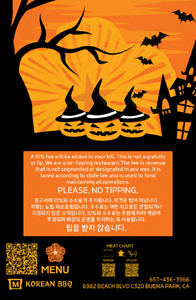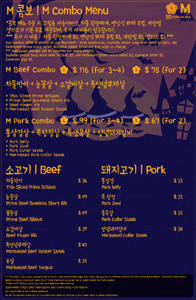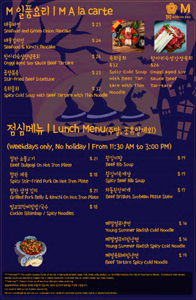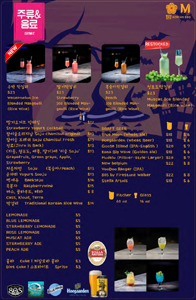 M's menu is relatively brief, listing a couple combos, some à la carte meats (no galbi however), and a smattering of other dishes. Drink-wise, the focus is on beer and a selection of Korean booze, while corkage was $35 according to our server, though we didn't end up being charged. Click for larger versions.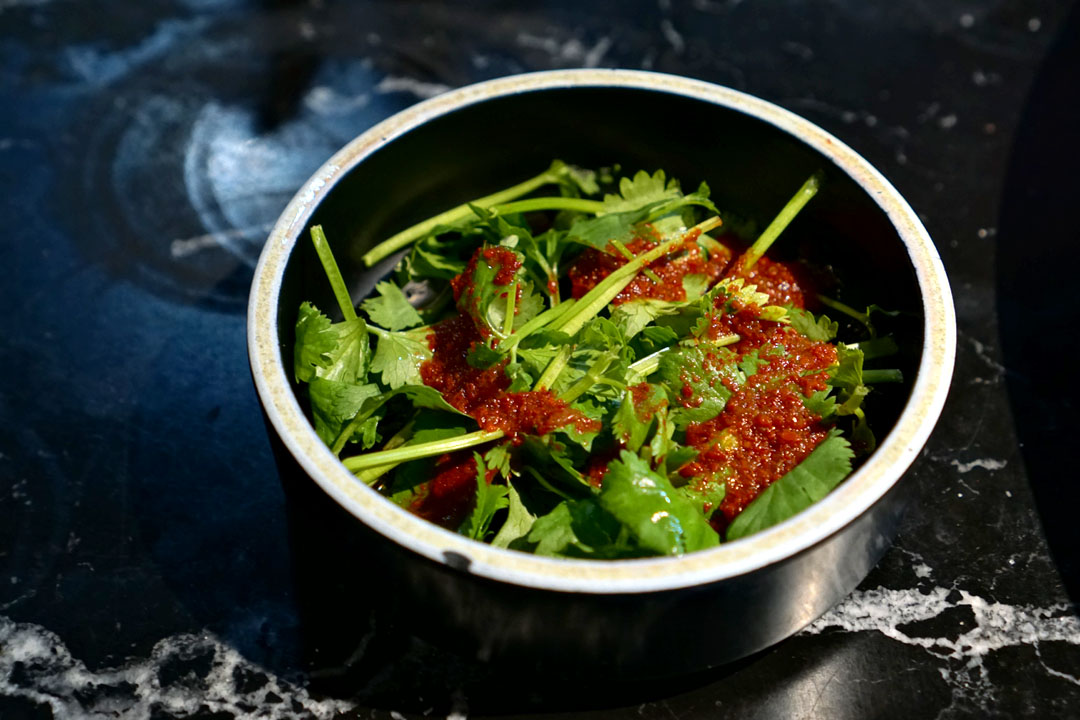 There were already a few banchan at the table before we even sat down, including this seasoned
gosu
(cilantro).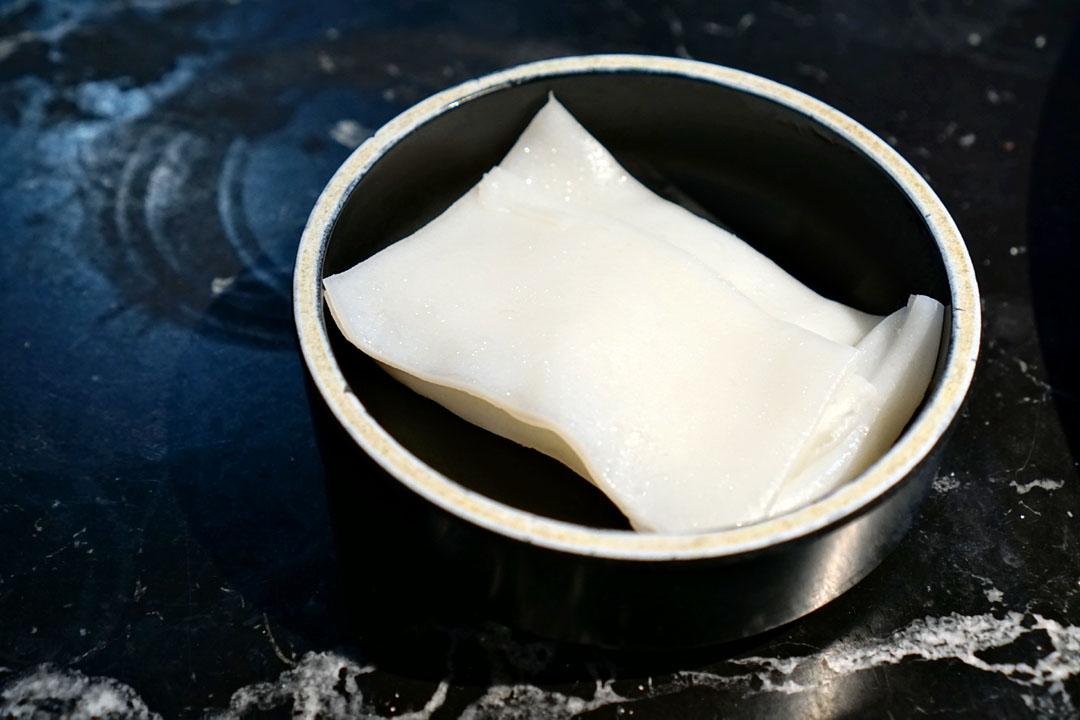 Also present was the
wolnam tteok bossam
, or sheets of rice paper meant for wrapping your meat.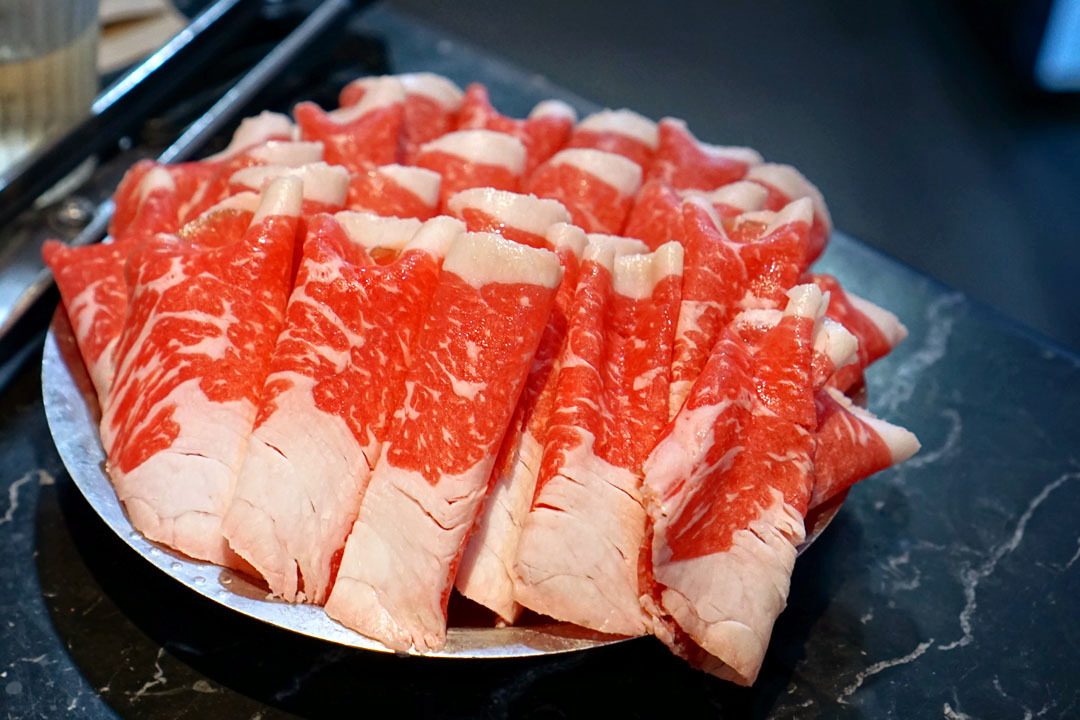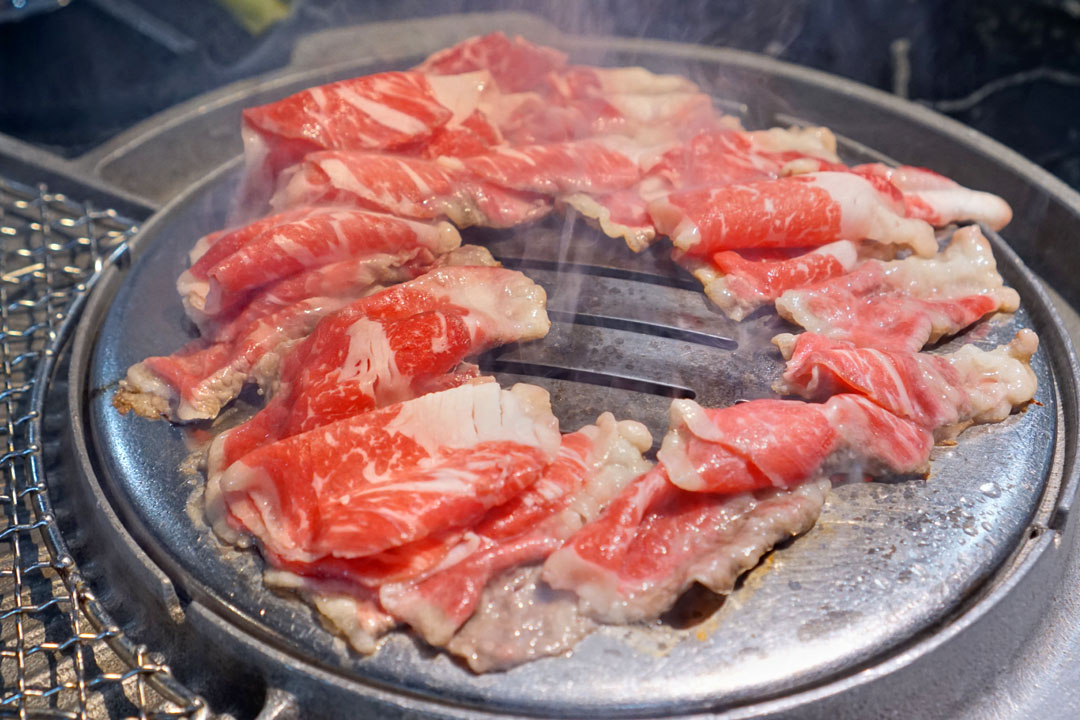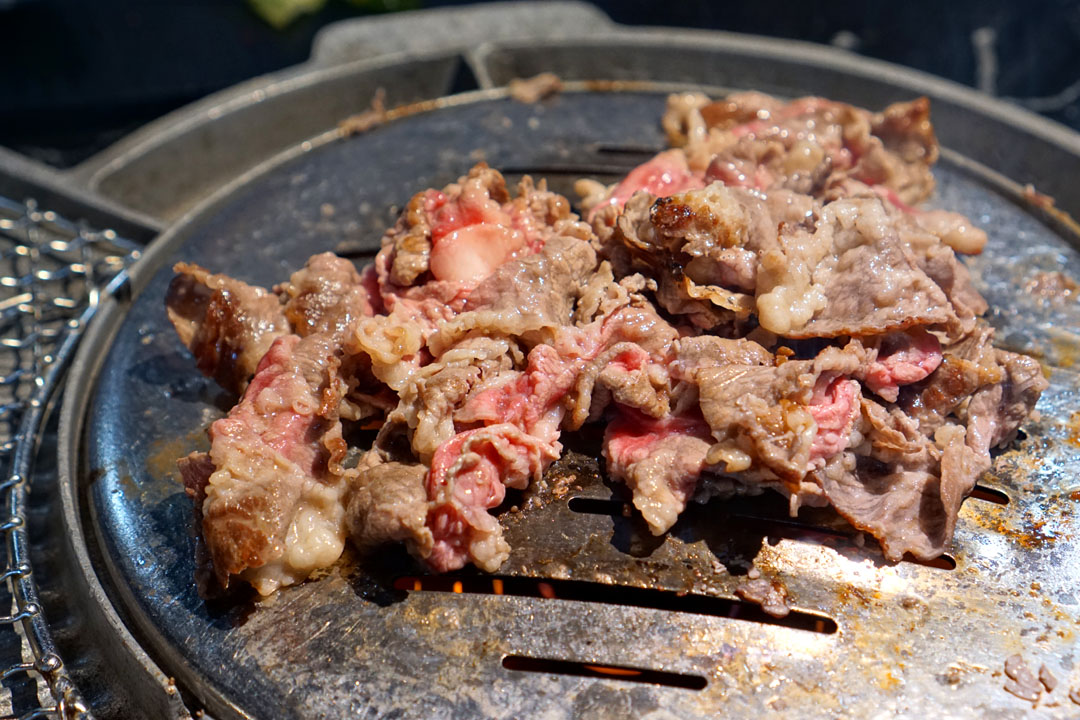 차돌박이 (Thin Sliced Prime Brisket)
We ended up starting with a couple orders of the
Large M Beef Combo [$116]
, and first up was the classic opener of
chadol
. The meat was as tender as I was hoping for, with some great charred bits to boot, and had a deeper, earthier flavor than most preparations. An encouraging start.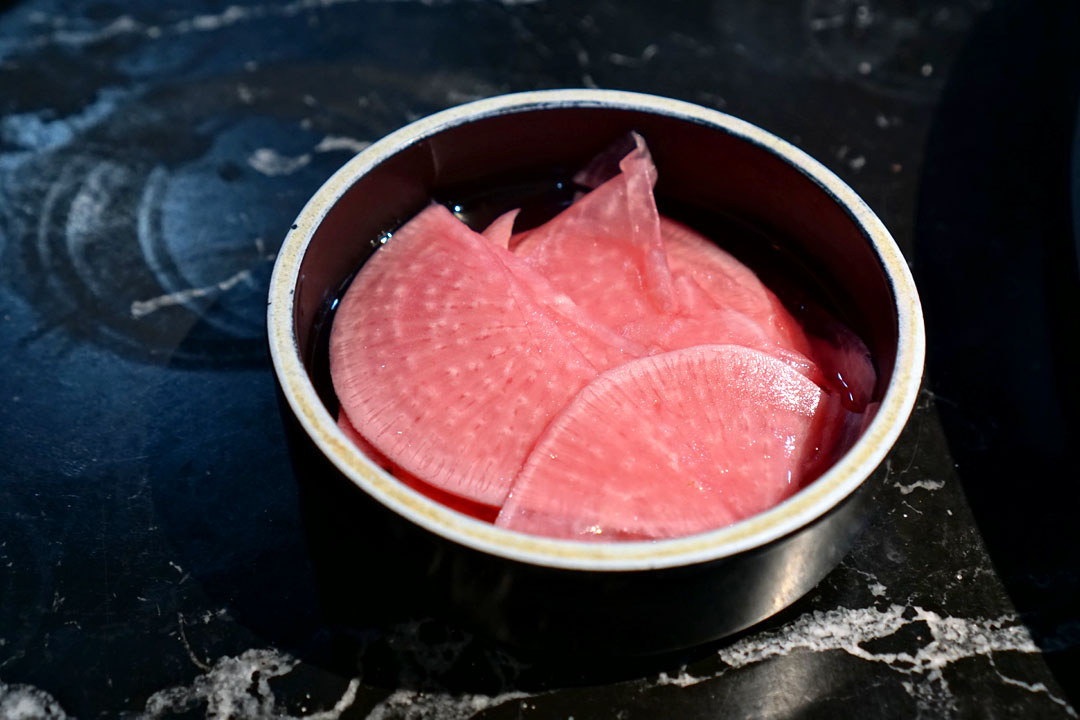 Crunchy, pint-tinted slices of
ssam mu
(pickled radish) were also provided.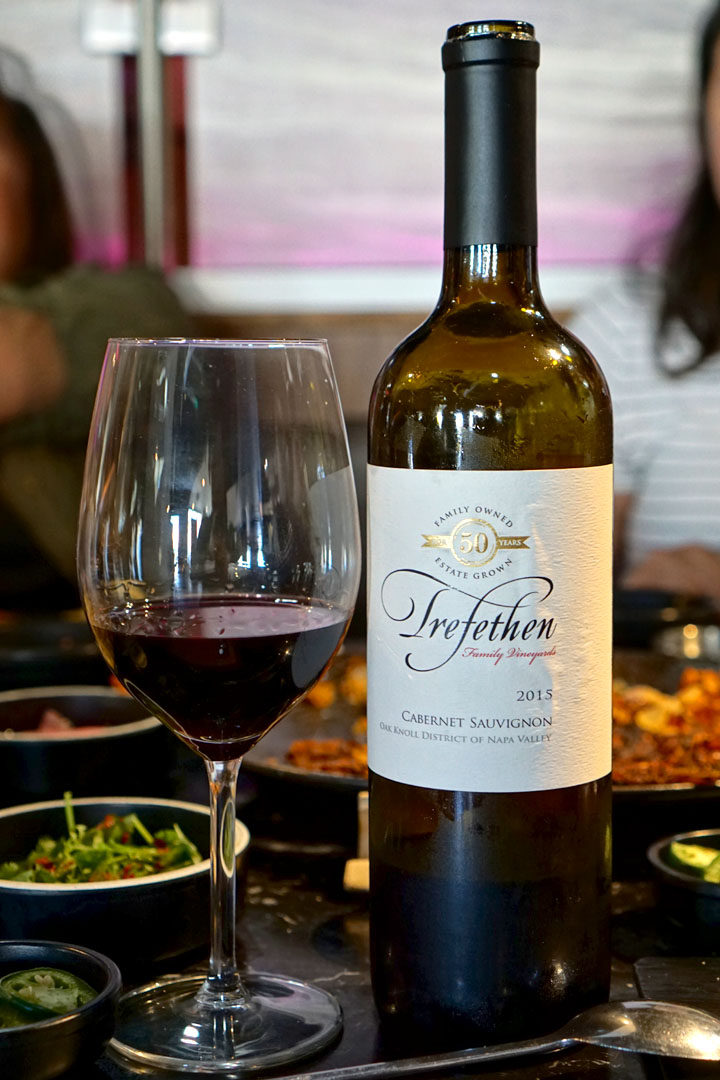 Our first beverage was a Napa Cab, the
2015 Trefethen Cabernet Sauvignon Oak Knoll District
. The bottle felt appropriate given all the meat we were having, and showed off an appealing nose loaded with sticky berries and florals. The wine had a silkier sort of mouthfeel, while flavors demonstrated robust dark-toned fruit alongside earth, dry herb, and baking spice. Pretty nice.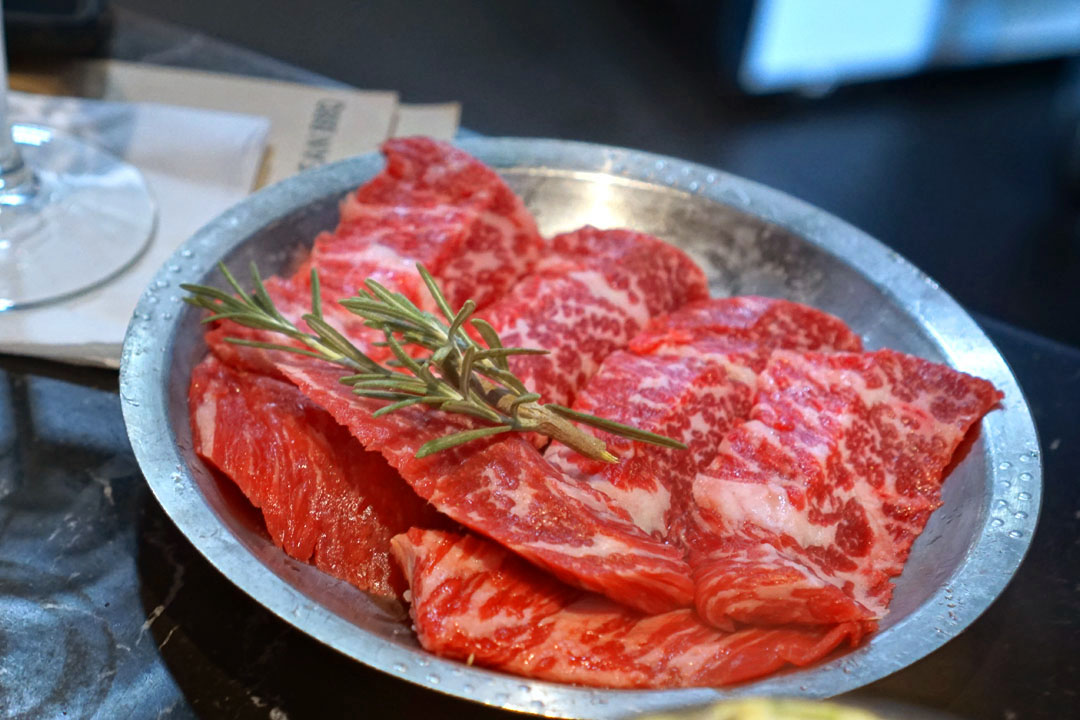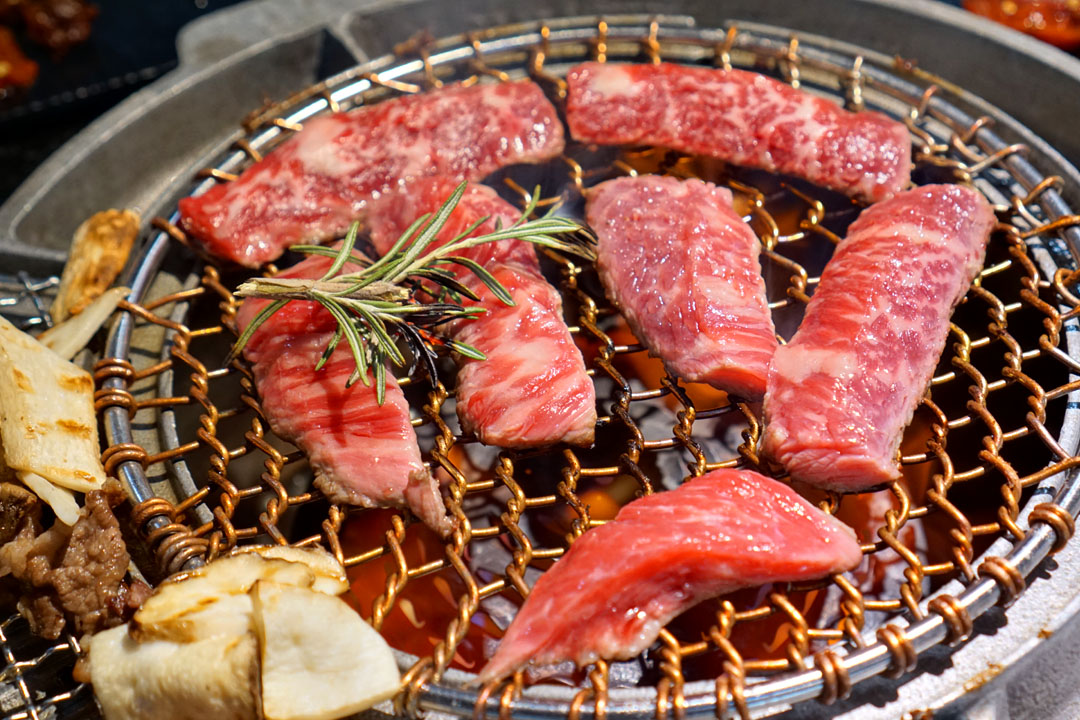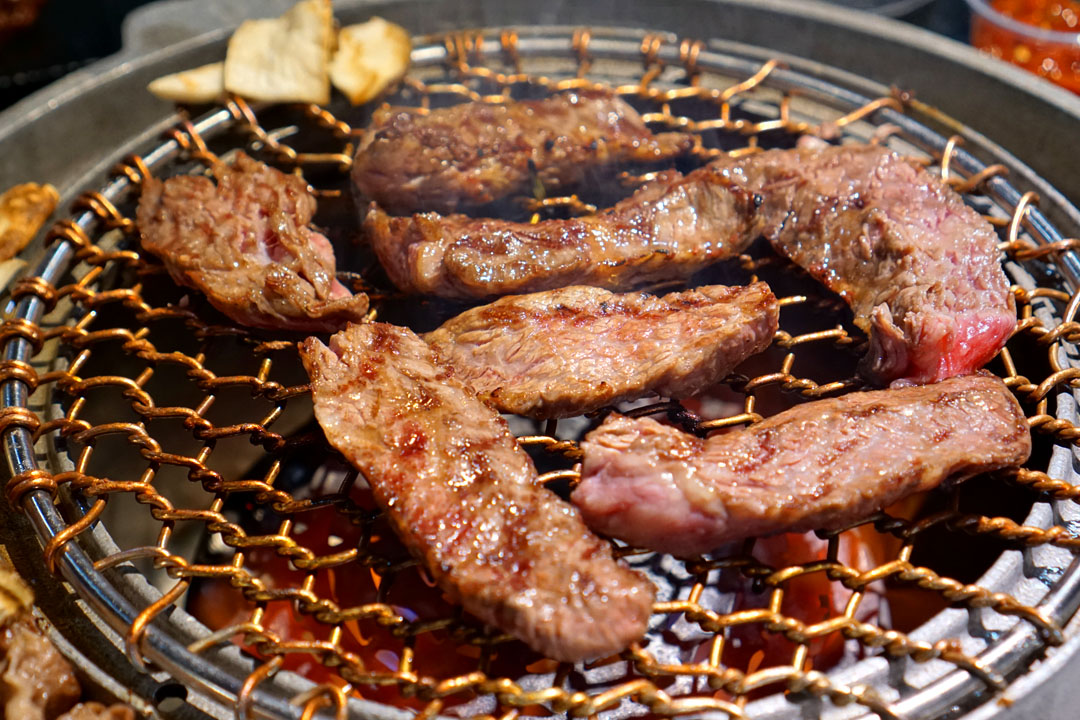 눈꽃살 (Prime Beef Boneless Short Rib)
The
kkotsal
was easily the most elegant of the meats, a high-class cut with a supple texture and a refined beefiness that took well to a kiss of sear from the grill.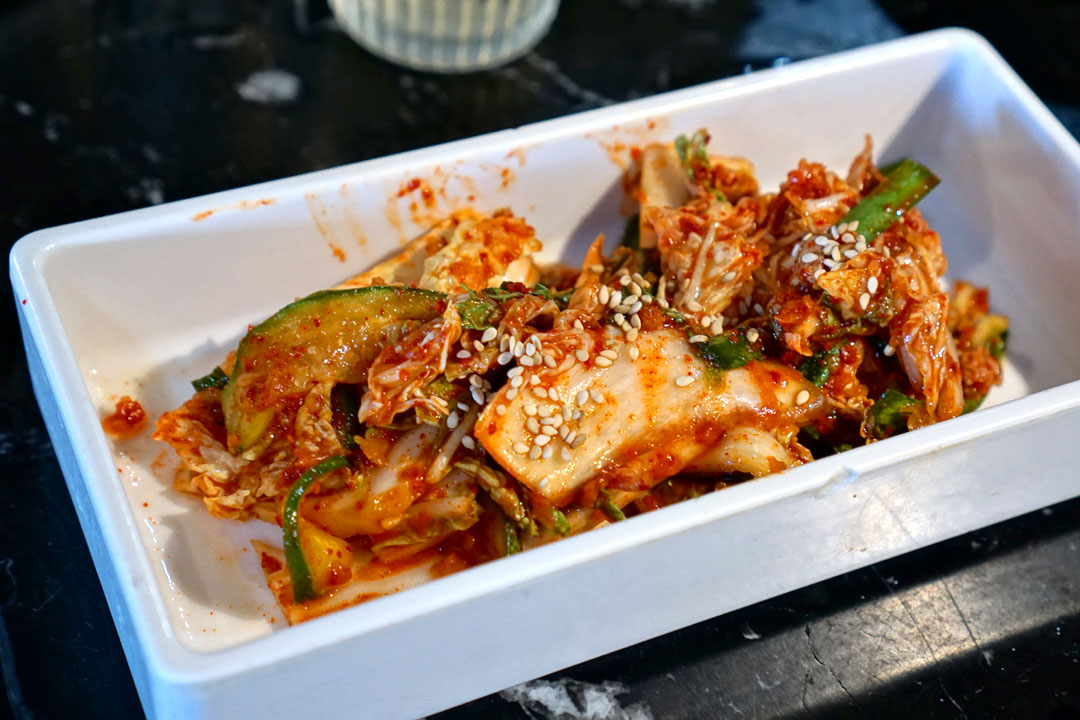 I was quite fond of M's kimchi given its extra earthy taste and creeping heat, all balanced out by the brightness of cucumber and some aggressive sesame.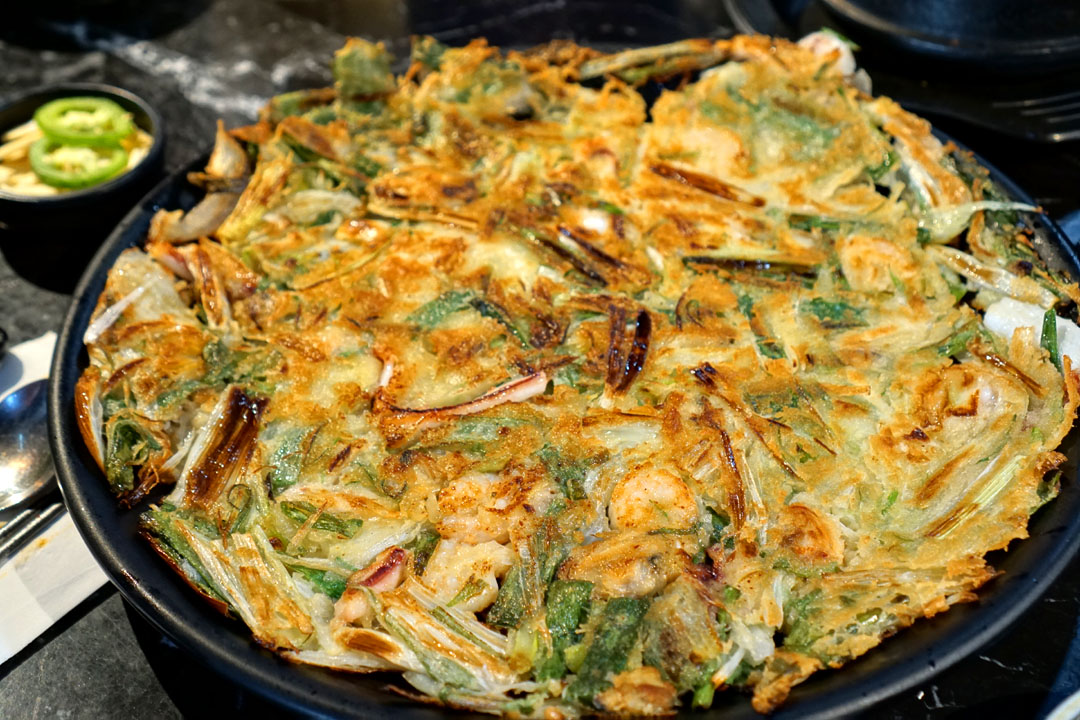 해물파전 (Seafood and Green Onion Pancake) [$23.00]
The
haemul pajeon
was a must-try for me, and delivered a spot-on combination of well-textured bits of seafood and zesty scallion. My one quibble here was that I would've liked a firmer consistency on the pancake.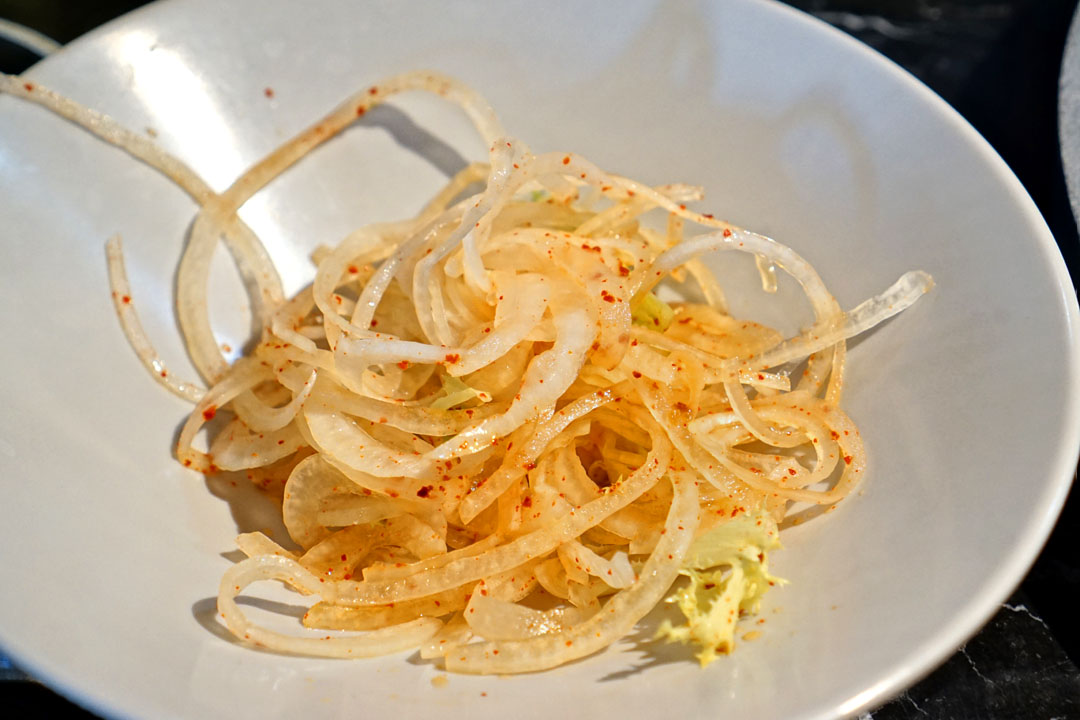 옛날식 파채 무침 (Old Fashioned Green Onion Salad)
The onion salad brought some sharp, piquant flavors to even out the heftiness of the meal.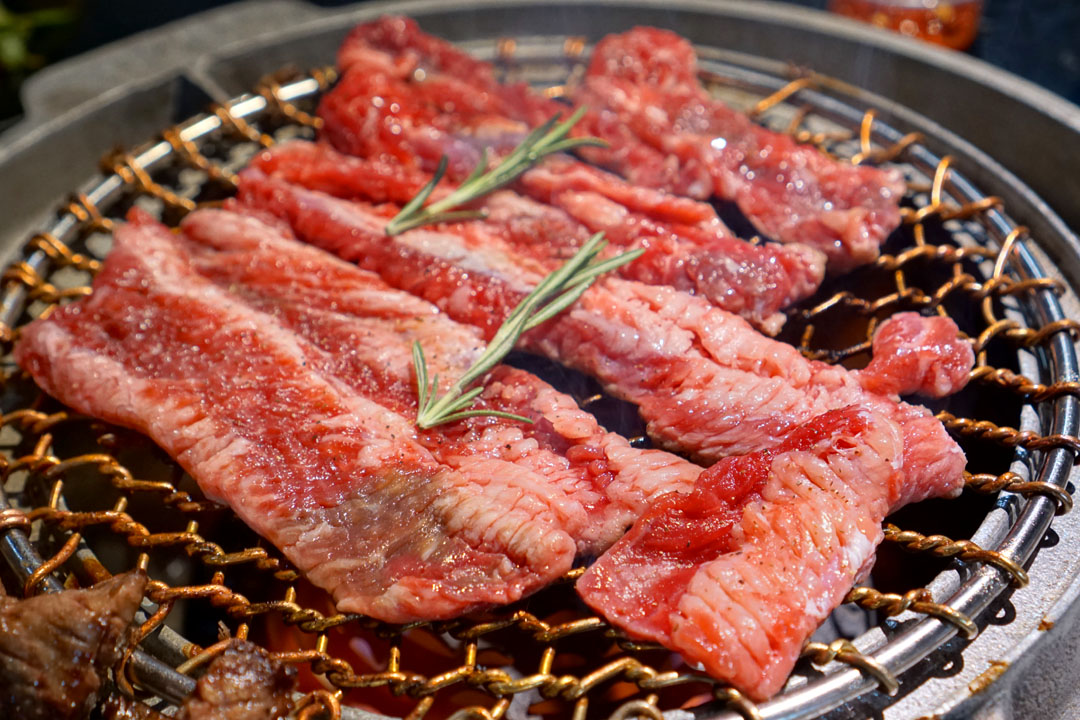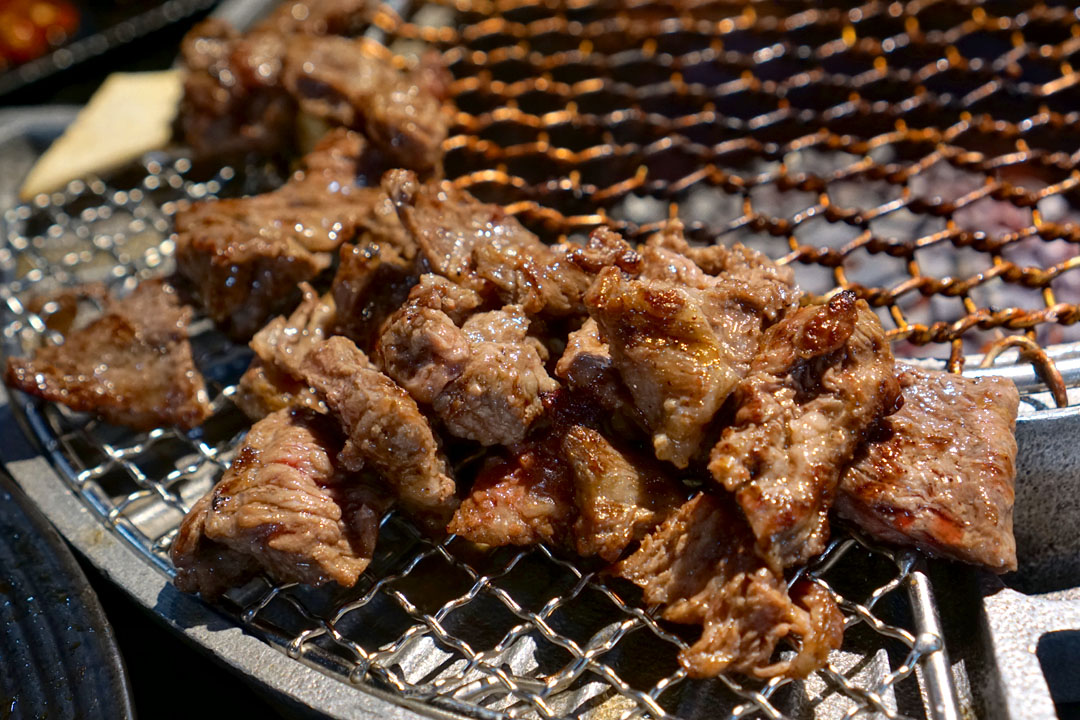 소갈비살 (Beef Finger Rib)
The
sogalbisal
is a somewhat more uncommon cut, and was definitely the chewiest of the meats we tried. It was arguably the most flavorful as well, and certainly soaked up the most smoke from the grill.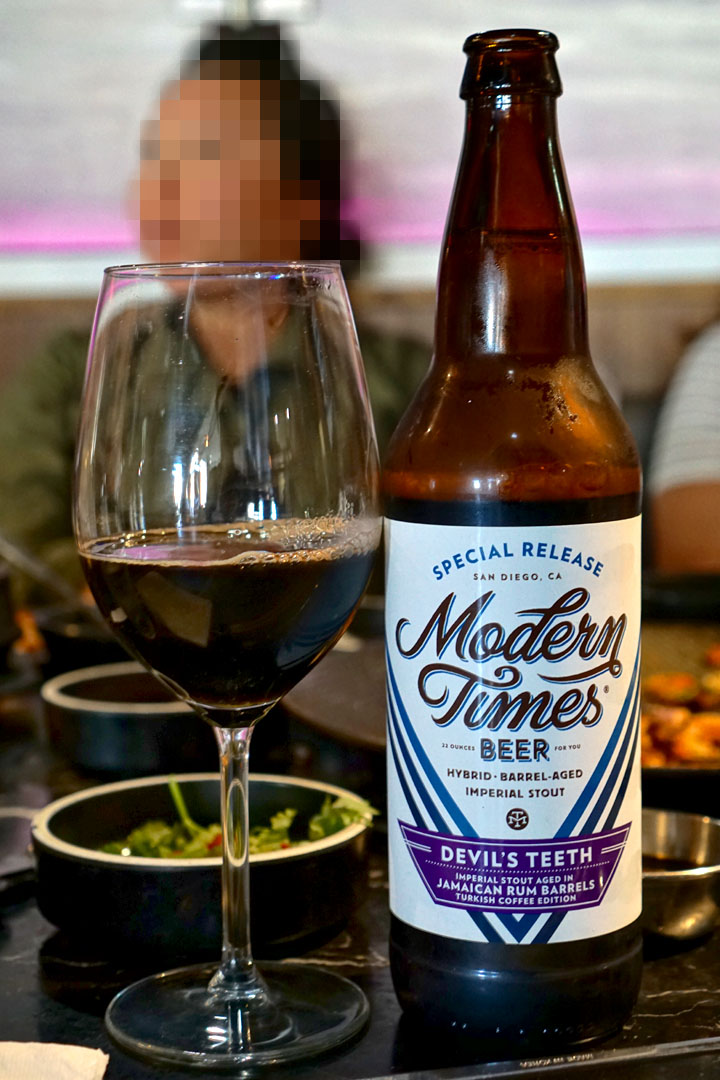 Next to drink came the
2017 Modern Times Devil's Teeth Aged in Jamaican Rum Barrels: Turkish Coffee Edition
, an old ale-imperial stout hybrid with cardamom, coffee, and vanilla. I got an attractive bouquet of rich malt and chocolate overarched by warm spices. Taking a sip, I was reminded of the Nesquik cocoa powder of my childhood, but with more of those baking spices mixed in, along with roasty malts and a touch of coffee astringency. I last had this beer in February 2018, and it was definitely tastier and more well-integrated than I remember.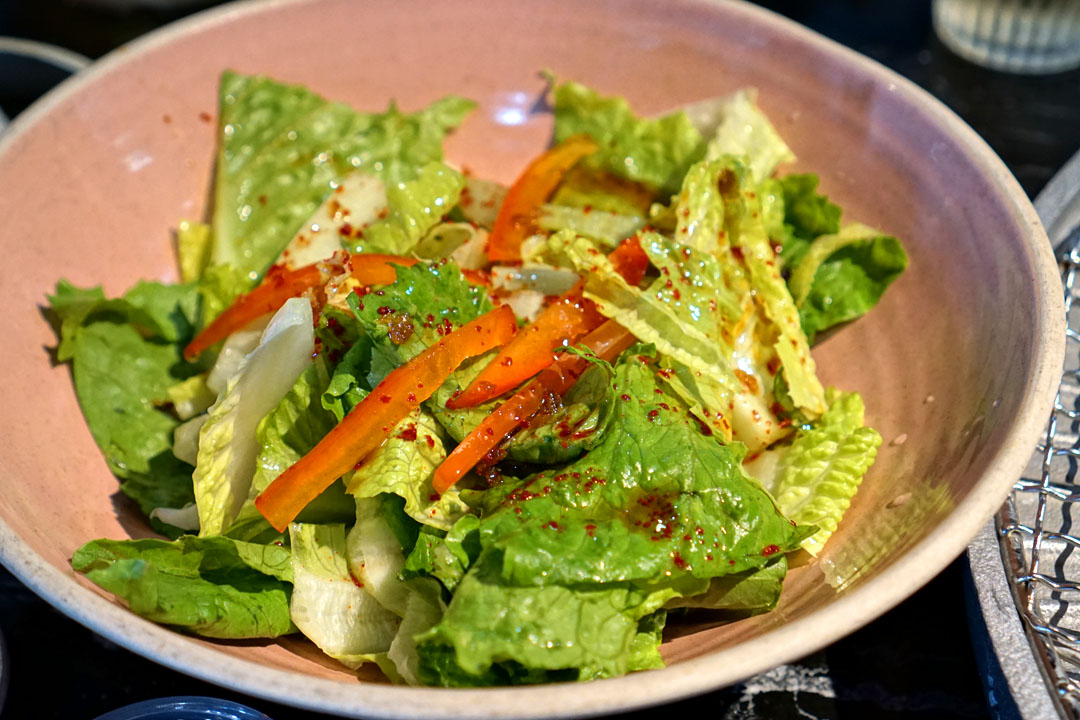 샐러드 (Romaine Salad)
The requisite salad was as crisp and refreshing as I was hoping for, and arrived with a particularly tangy, nutty dressing.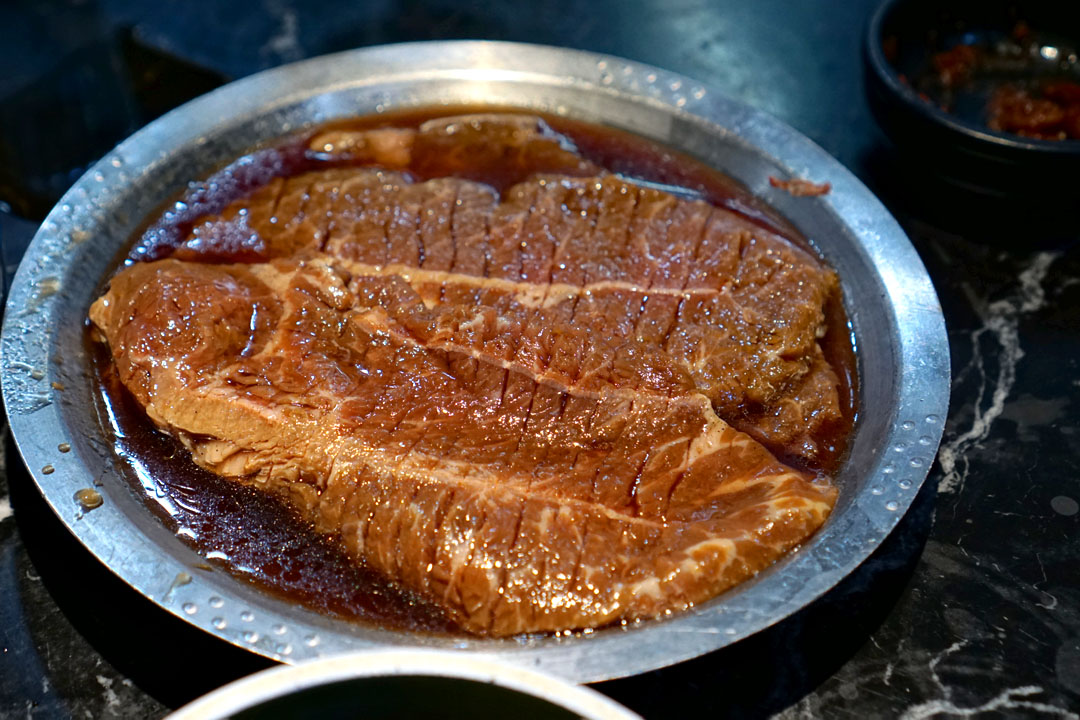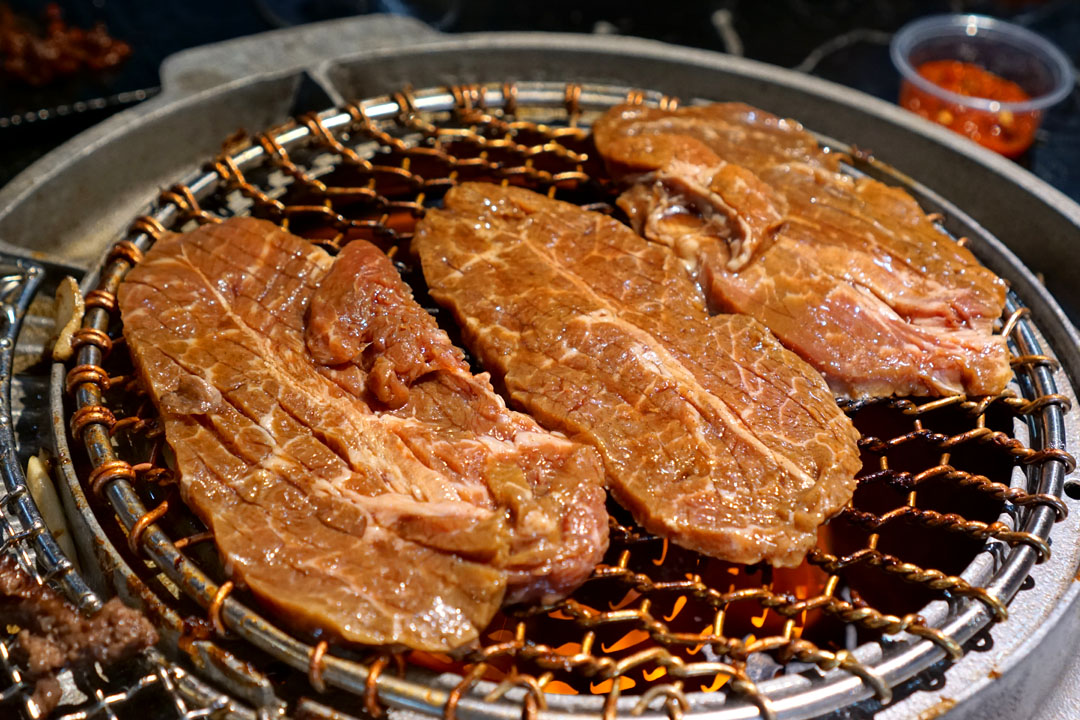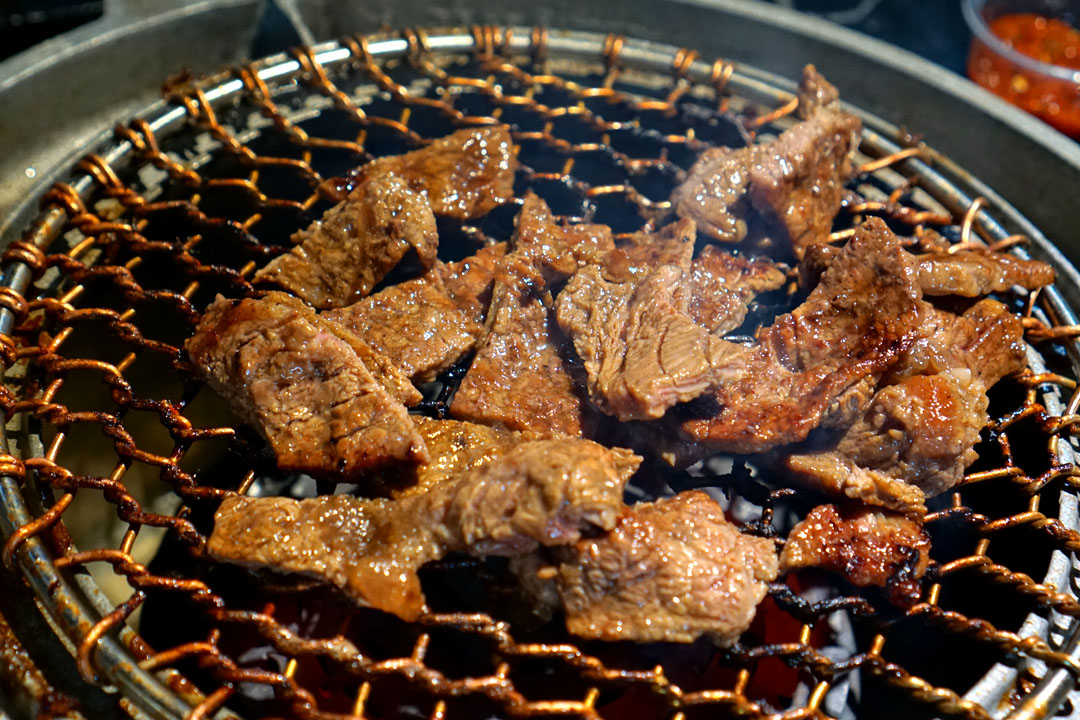 특양념부채살 (Marinated Beef Oyster Steak)
The
yangnyeom buchaesal
(marinated top blade) was properly tender, as well as quite sweet, but fortunately, said sweetness was kept in check by the deft application of sear and smoke, and never got overwhelming.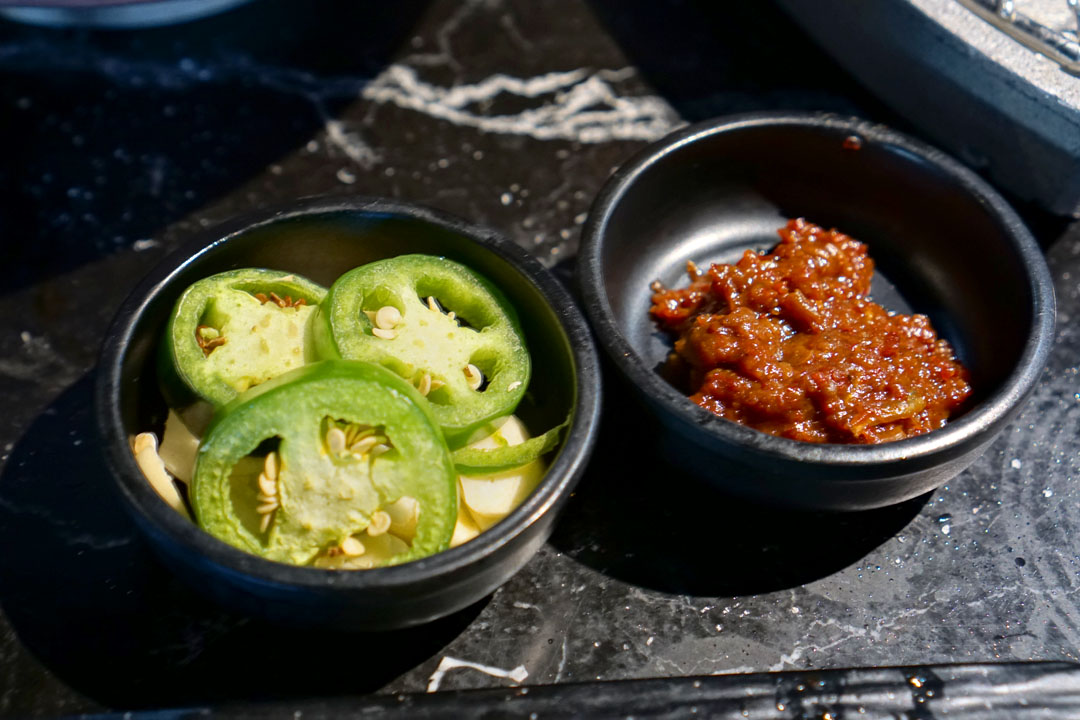 Further condiments included jalapeño, garlic, and ssamjang.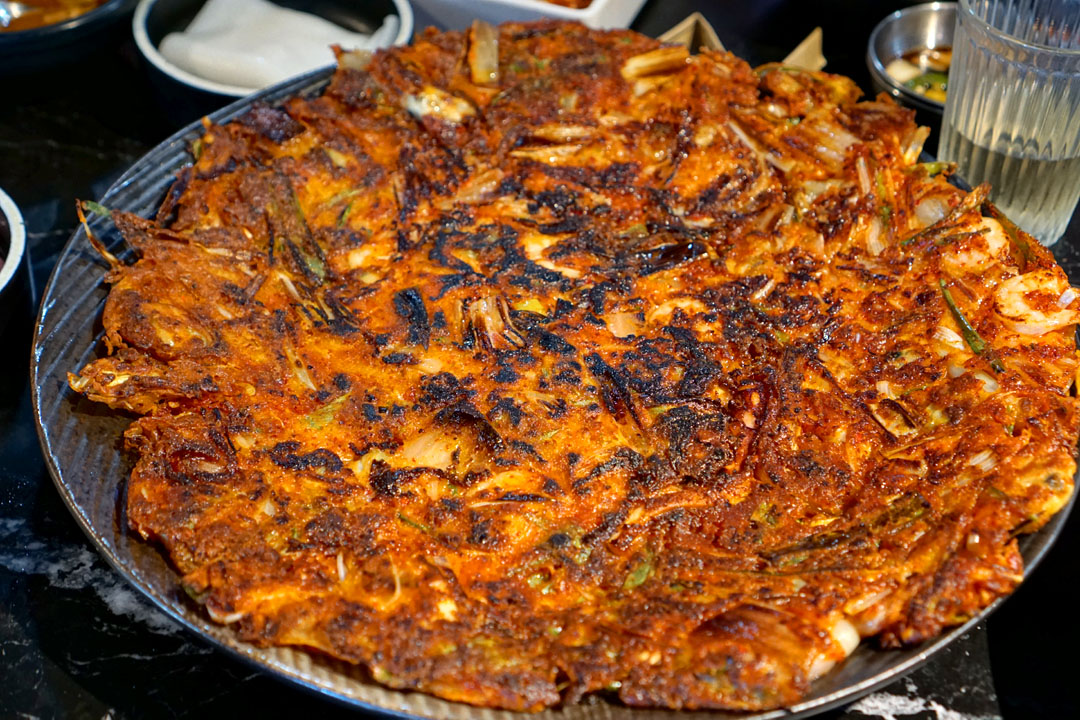 해물김치전 (Seafood & Kimchi Pancake) [$24.00]
The
haemul kimchijeon
delivered the signature funky heat of kimchi, but tempered just a tad by the onion, and I enjoyed all the char going on as well. I just would've liked the seafood to have been a bit more apparent.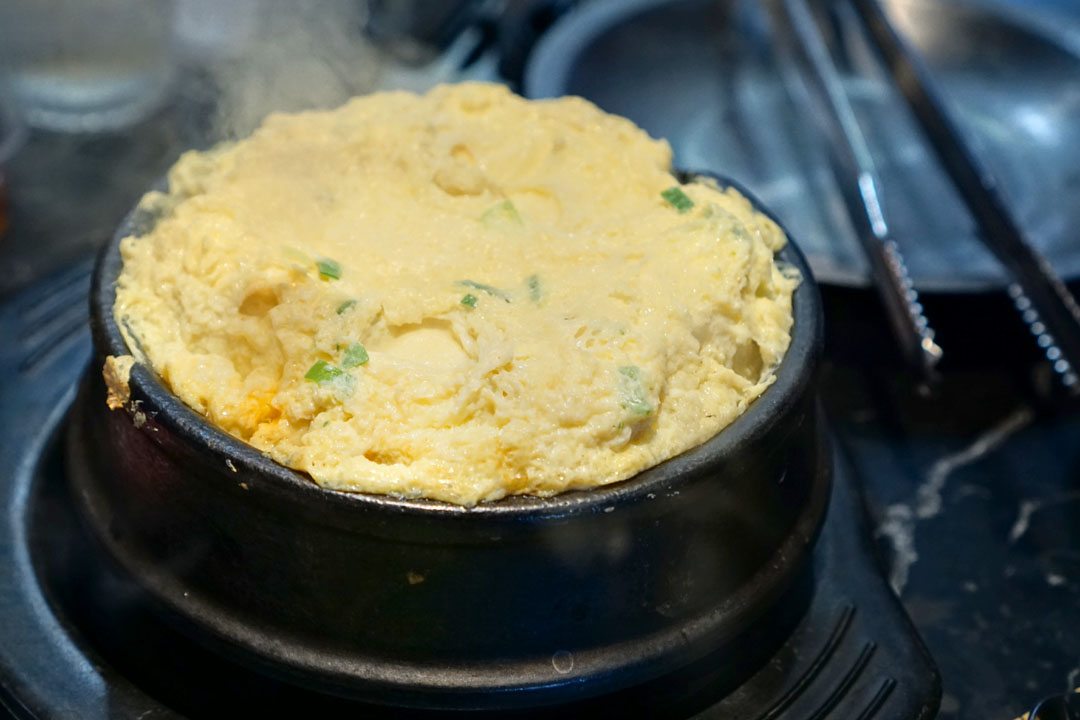 계란찜 (Steamed Egg)
Gyeran jjim
arrived with the fluffy texture I was looking for, along with a surprisingly potent brine.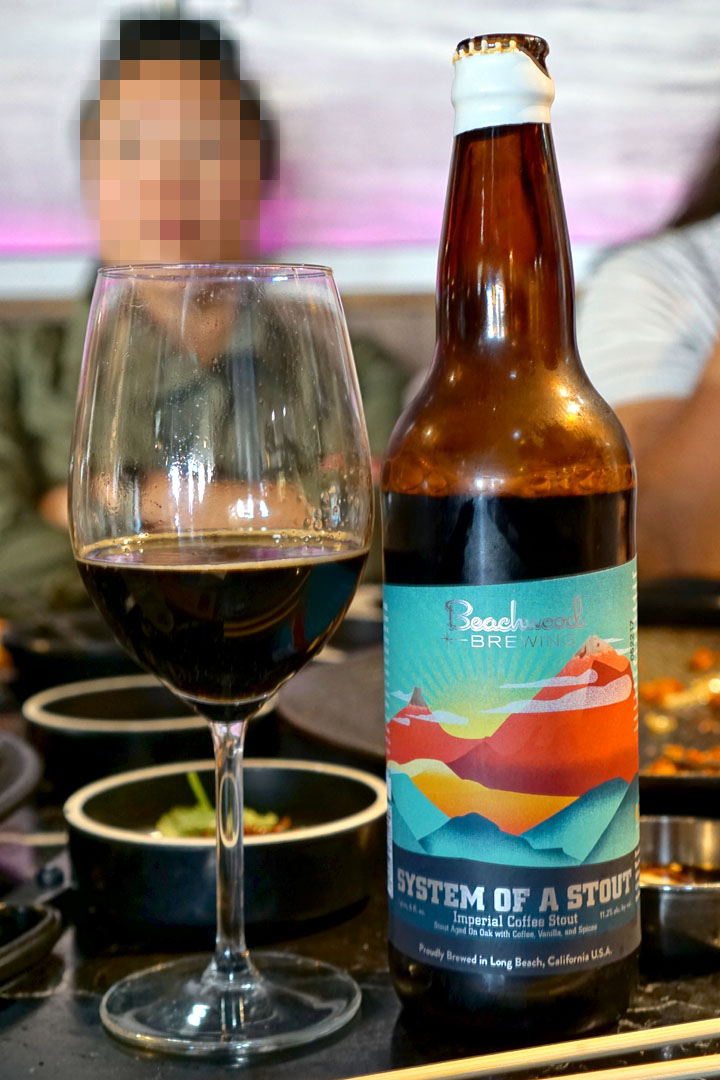 Our second beer was also coffee-inspired, the
2017 Beachwood Vanilla System of a Stout
, an oak-aged imperial stout with Portola coffee, vanilla, cardamom, and molasses. The nose on this one was more restrained compared with the Modern Times above, but still conveyed a healthy amount of cocoa laced with warming spices. Taste-wise, I found a backbone of bitter, astringent, roasty notes, but didn't get much from the cardamom, and could barely detect any vanilla at all. The last time I had this brew was at
Hip Hot
back in August 2017, and unfortunately it's definitely fallen off since then.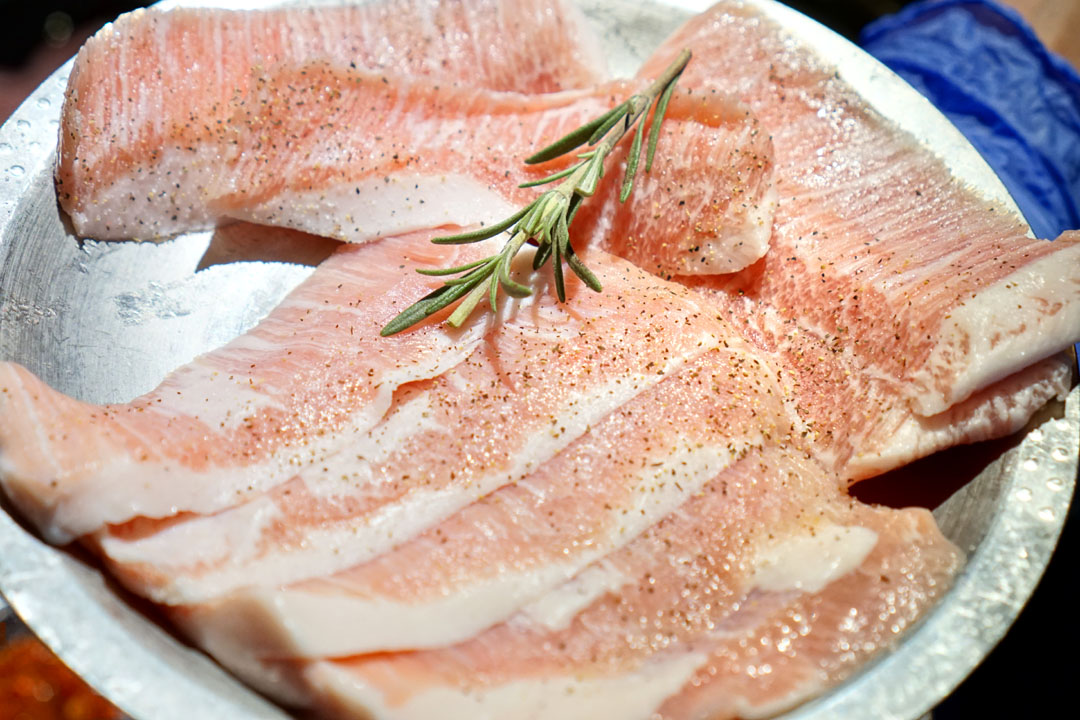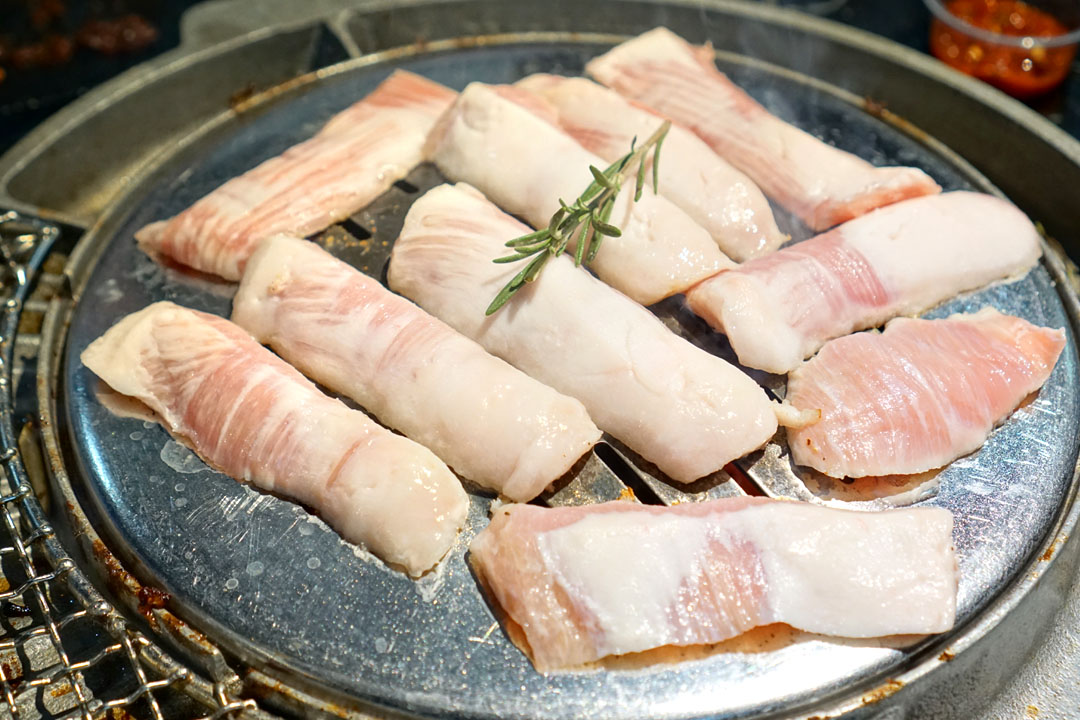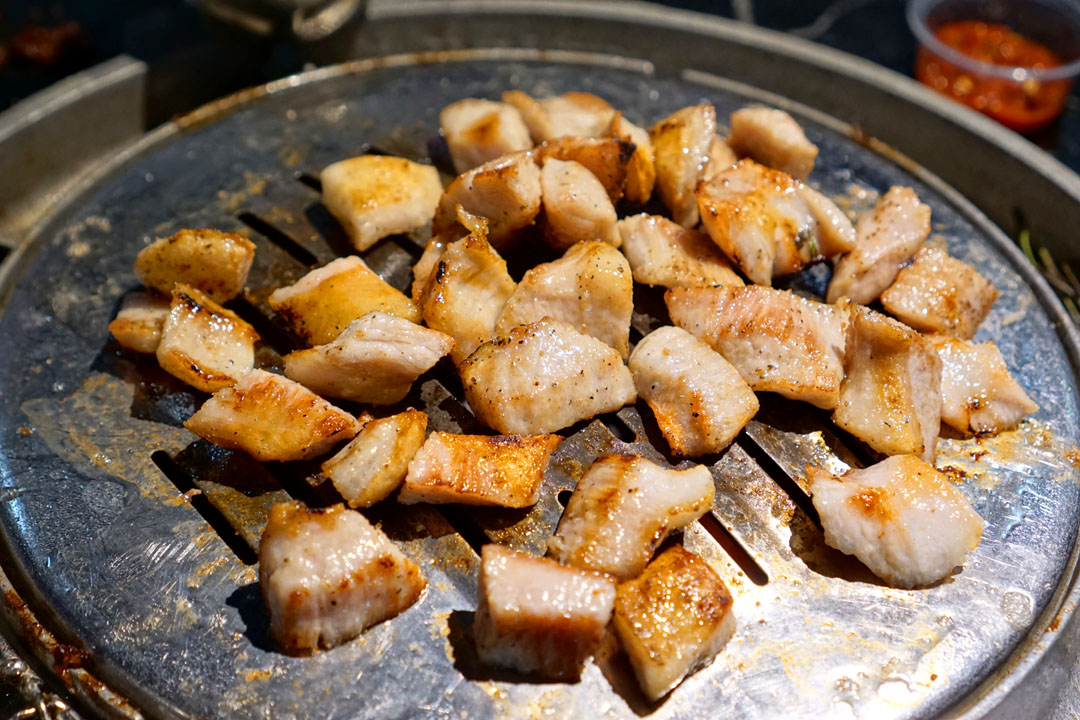 특 항정 (Pork Jowl) [$33.00]
With our beef combos dispensed with, we moved on to some pork, starting with an order of my favorite:
hangjeongsal
. It showed off the cut's firm, satisfyingly chewy bite that I always look forward to, while flavors were deep and unabashedly porcine. Yum.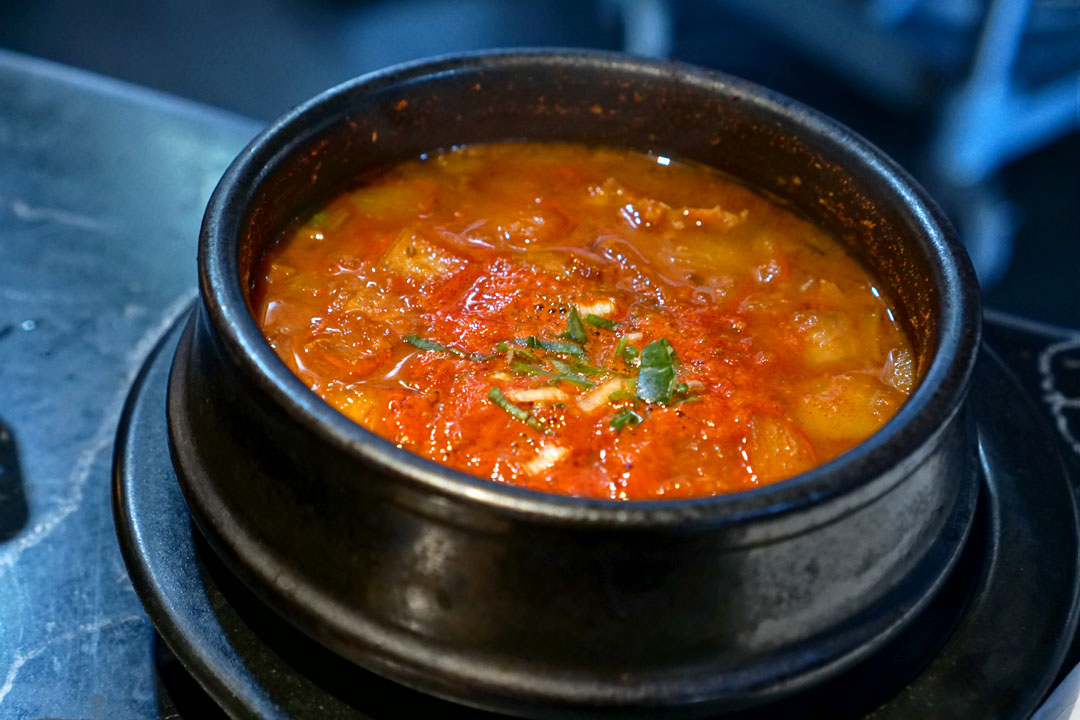 차돌 된장찌개 (Soybean Paste Soup with Beef Brisket)
A bowl of
chadol doenjang jjigae
displayed all the cozy, classic, earthy flavors I wanted, but tempered just a touch by all the veggies.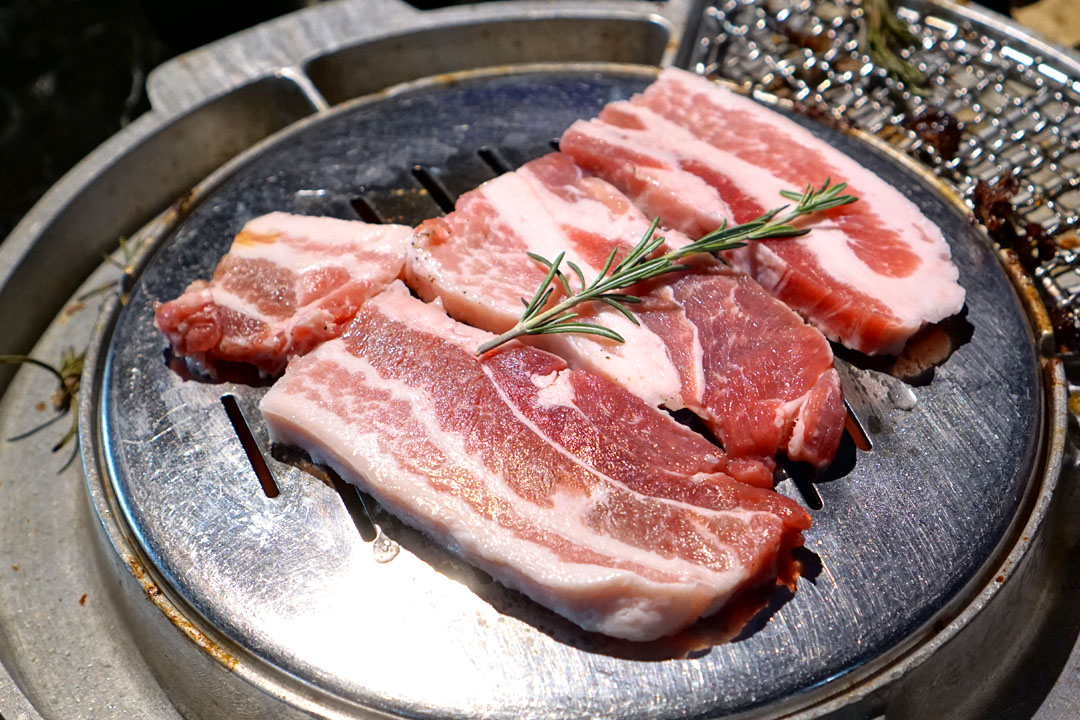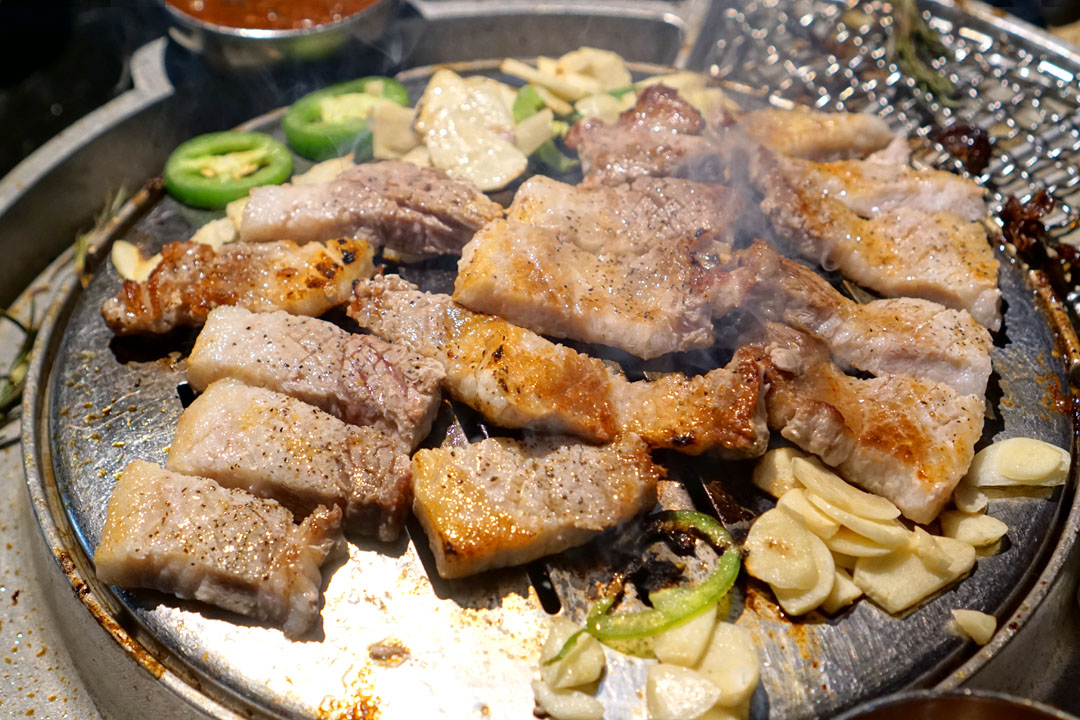 통삼겹 (Pork Belly) [$33.00]
Last up was good ol'
samgyeopsal
, a thick-cut portion with a definite heft and a spot-on interplay between lean and fat. Can't go wrong with this.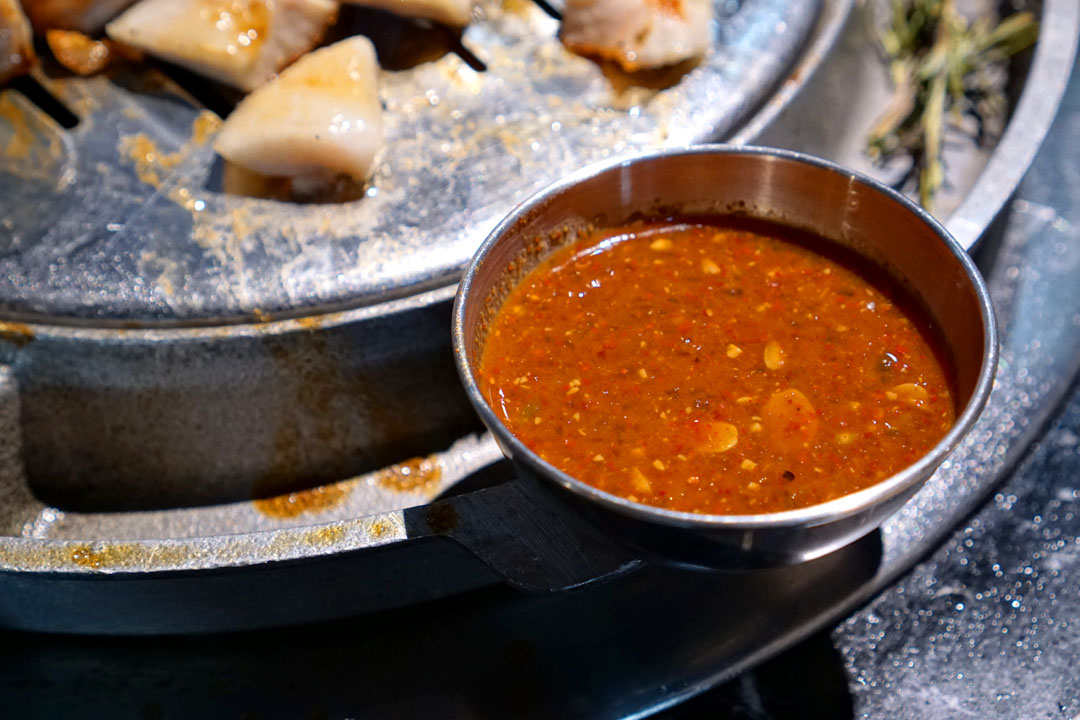 Along with the two meats above came what our server described as "pork sauce." I'm not quite sure what this was, but the dip had a pungency that almost recalled fish sauce, which I didn't mind.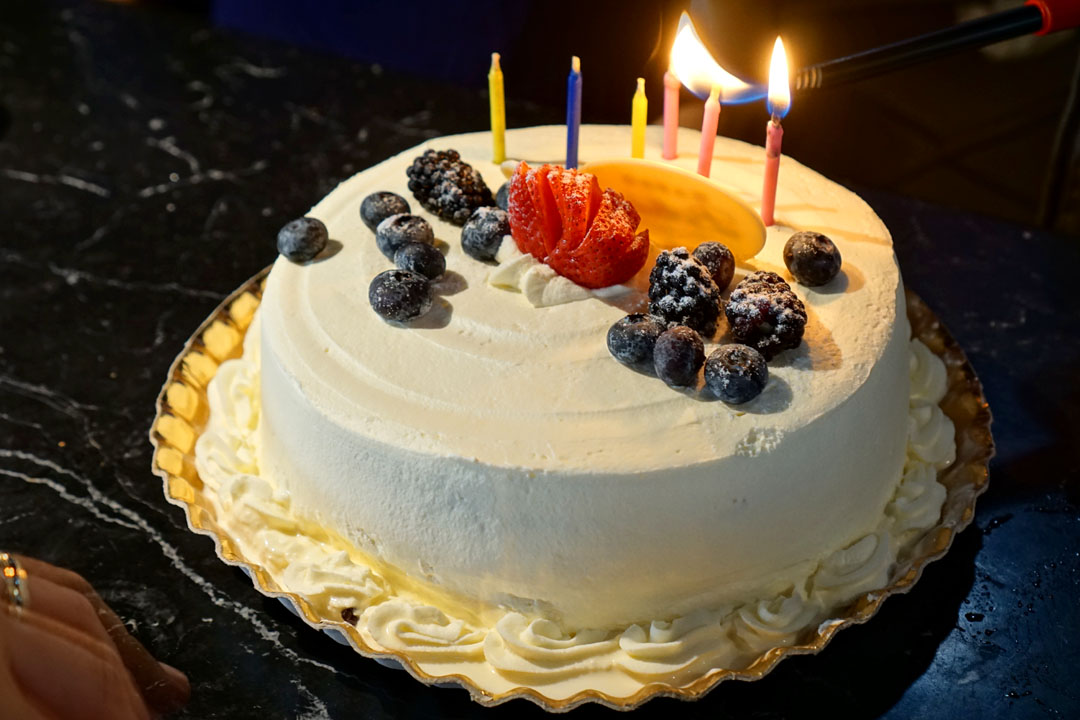 Since this was a birthday, we of course had to end with cake, and today's pick was a Milk'N Berries cake from Porto's, which is basically a tres leches. Do note that we were not charged a cake cutting fee.
M fit the bill just about perfectly for our casual birthday gathering. Overall, I was generally pretty satisfied with the food, and can't complain about the service, either. This is yet another worthwhile Korean barbeque option for Buena Park, and I'd put the place on your list for consideration if you're looking for KBBQ in this stretch of Orange County.
---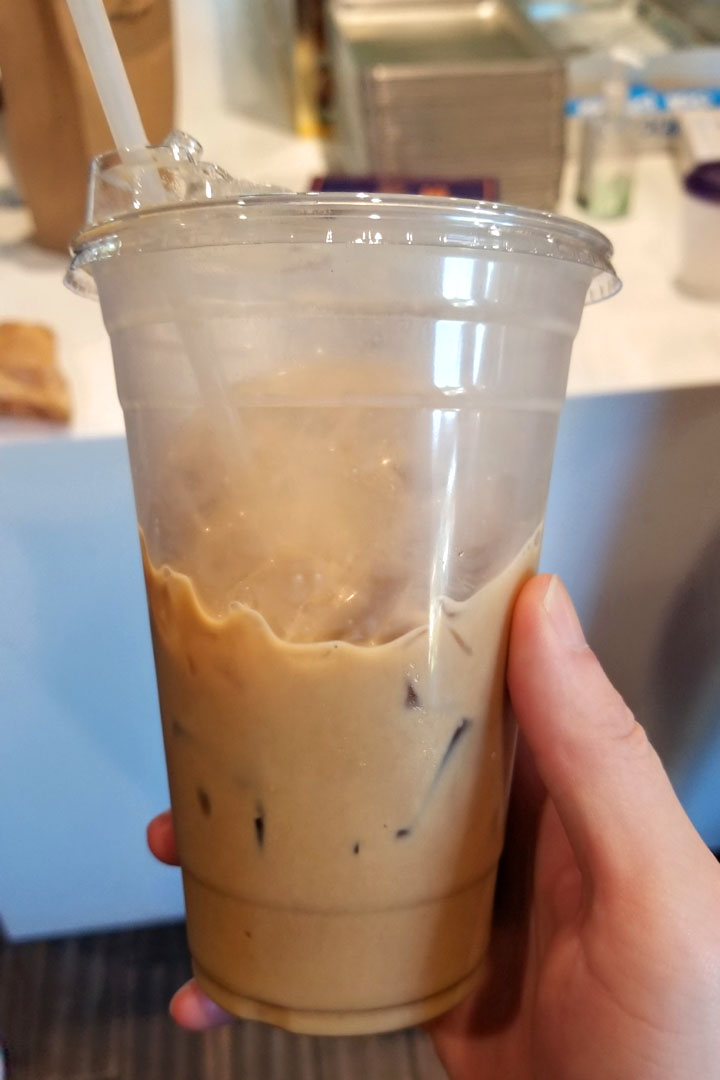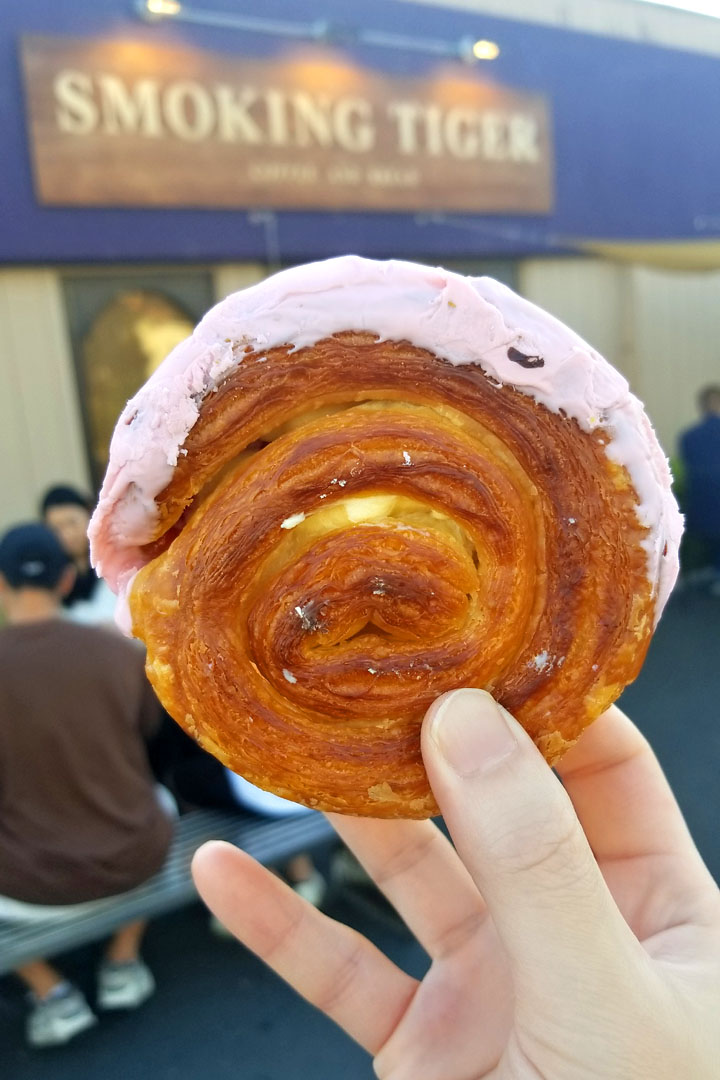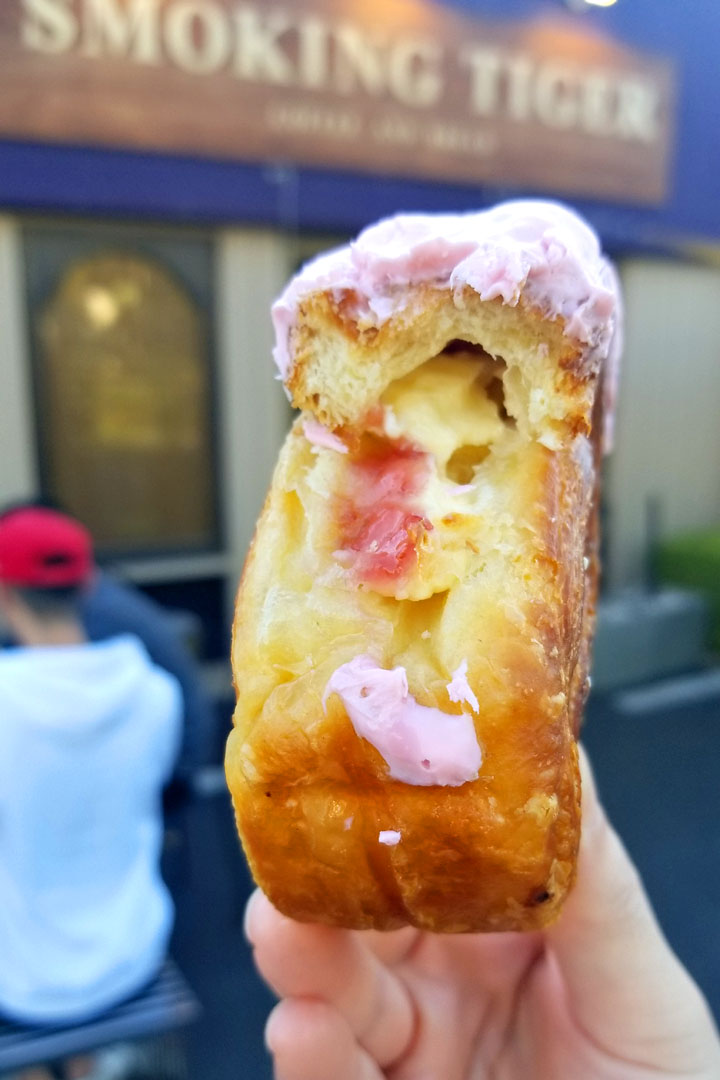 After our meal at M, we headed up the street to Smoking Tiger Coffee & Bread, where I enjoyed an iced
London Fog [$6.50]
(Earl Grey tea with vanilla) and a tastier-than-anticipated
Strawberry Milk Cream Croissant [$4.50]
.