Arandinos Tacos El Patron (San Gabriel, CA)
Arandinos Tacos El Patrón
608 E Valley Blvd, San Gabriel, CA 91776
323.434.9212 / 626.271.7333
Thu 01/05/2023, 08:30p-09:55p

I experienced a power outage at my house a little while back, and since I didn't want to sit around in darkness, I ventured out to get some food while the electricity was being restored. I was in a Mexican sort of mood, so I went over to check out the somewhat awkwardly-monikered Arandinos Tacos El Patron, which actually came recommended to me by a friend.
The business appears to be run by Julio Navarro and Martiniano Efrain Navarro-Villagrana, and they launched their first truck (the subject of this post) in November 2012, situated in front of the San Gabriel Superstore market. A second location opened in May 2016 at the Ralphs at 330 N Atlantic Blvd in Monterey Park, while a third dropped in June 2018 at the Aldi at 723 E Huntington Dr in Monrovia. From what I can tell, there were also trucks at Huntington/Rosemead in East San Gabriel, Huntington/Myrtle in Monrovia, and Broadway/Rosemead in Temple City at certain points, but they seem to have disappeared. The Navarros also had a concept called
Arandinos Churro Spot
, which debuted in November 2017, but was very short-lived. Finally, do note that there seem to exist Tacos Arandinos in both East LA and Whittier, but these aren't affiliated.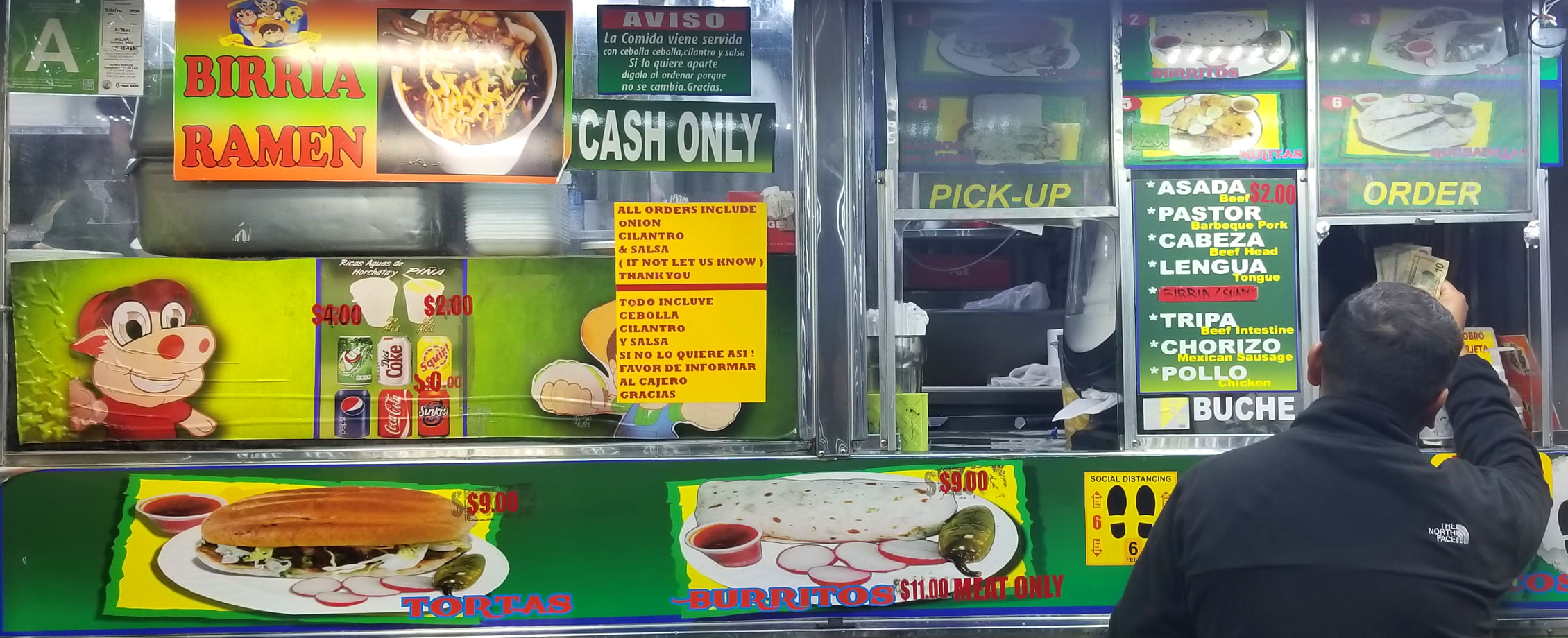 As for the menu, you get a choice of ten meats (they were out of chorizo tonight) available in six formats, though there are some new items available, e.g. quesatacos and the curious "birria ramen."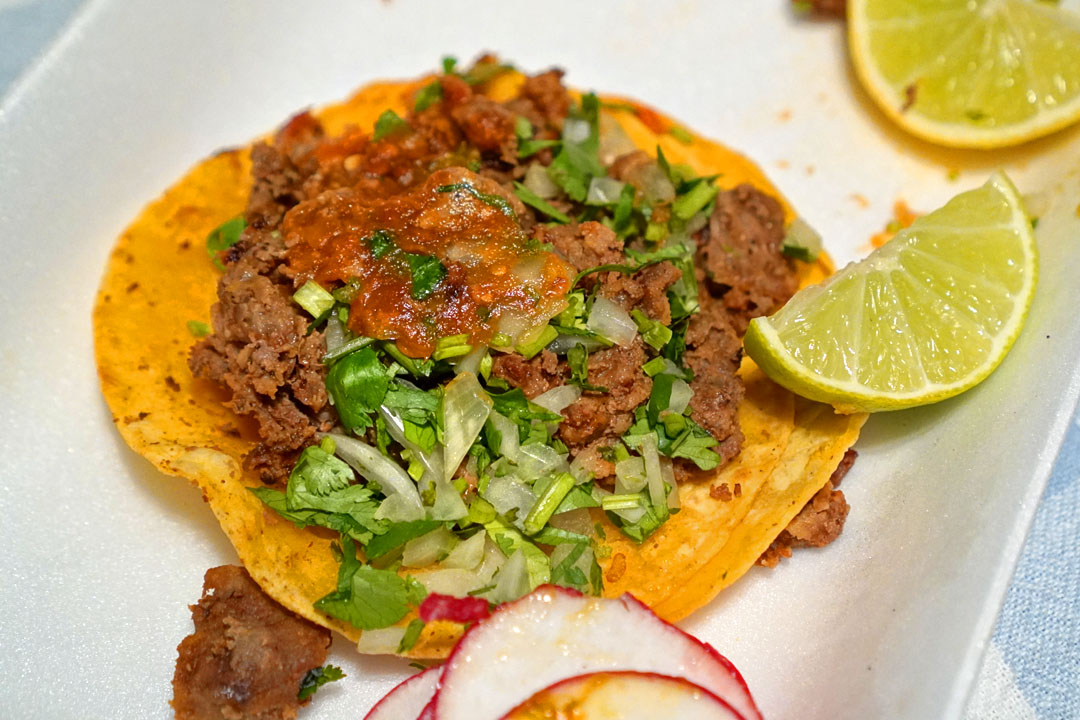 Taco - Asada [$2.00]
I'll begin with the most fundamental unit of consumption here: the ubiquitous carne asada taco. It actually didn't make for a particularly auspicious start given that the meat ate drier and tougher than I would've liked. On the plus side, the beef was well seasoned, and made a lot of sense with the cilantro and cebolla, so it was still relatively enjoyable.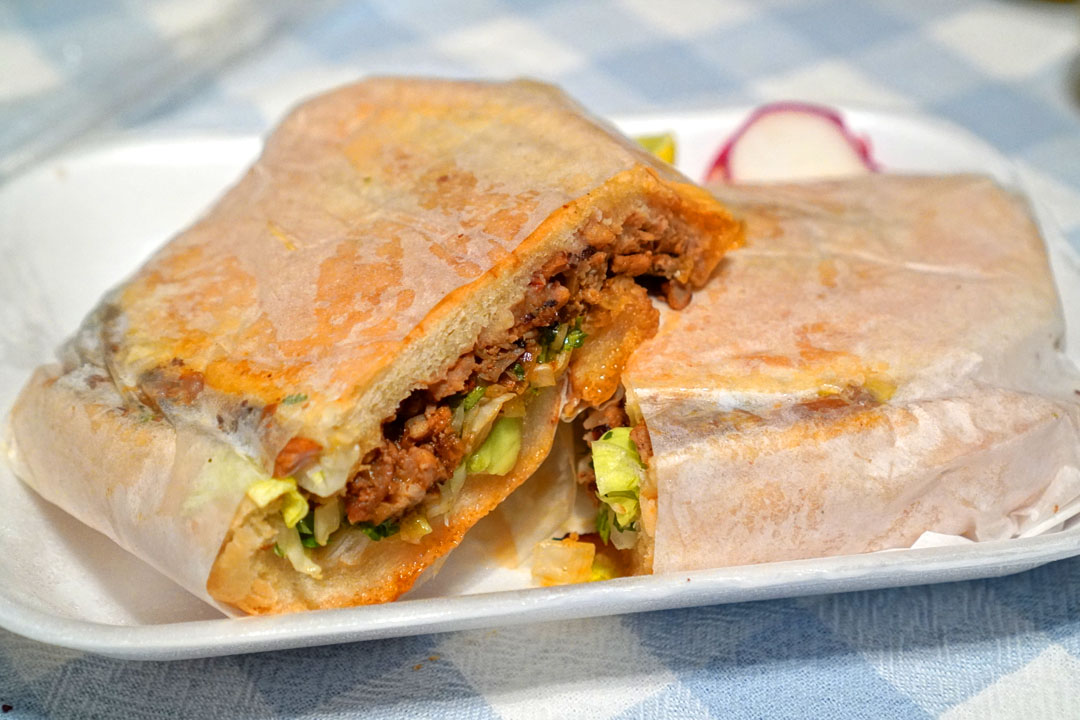 Torta - Pastor [$9.00]
Stuffed with tender, delectably-spiced al pastor, the torta fared better. I especially appreciated how the bean and avocado contrasted with the pork, while the soft bread served as the perfect vessel. Pretty satisfying when taken all together I have to say.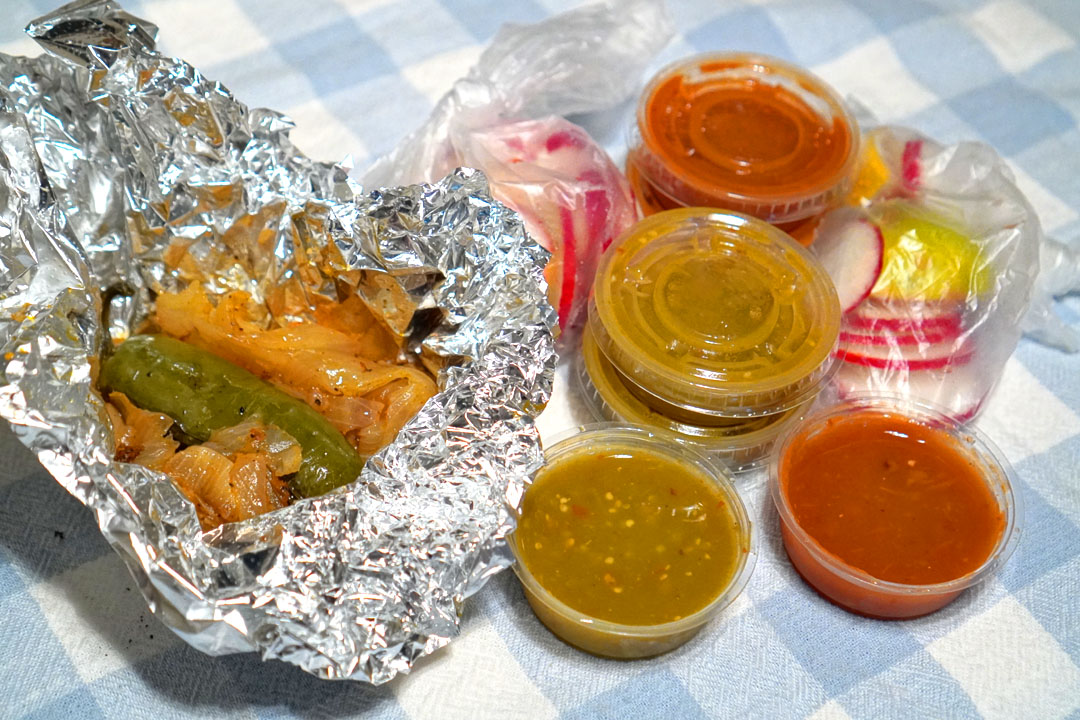 Complimentary accompaniments included grilled onions/pepper, limes, radishes, and two types of salsa. The verde was thicker than most, with a sour, vegetal heat that was more potent than expected, while I found the roja on the thin, sweeter side, but with a touch of smoke.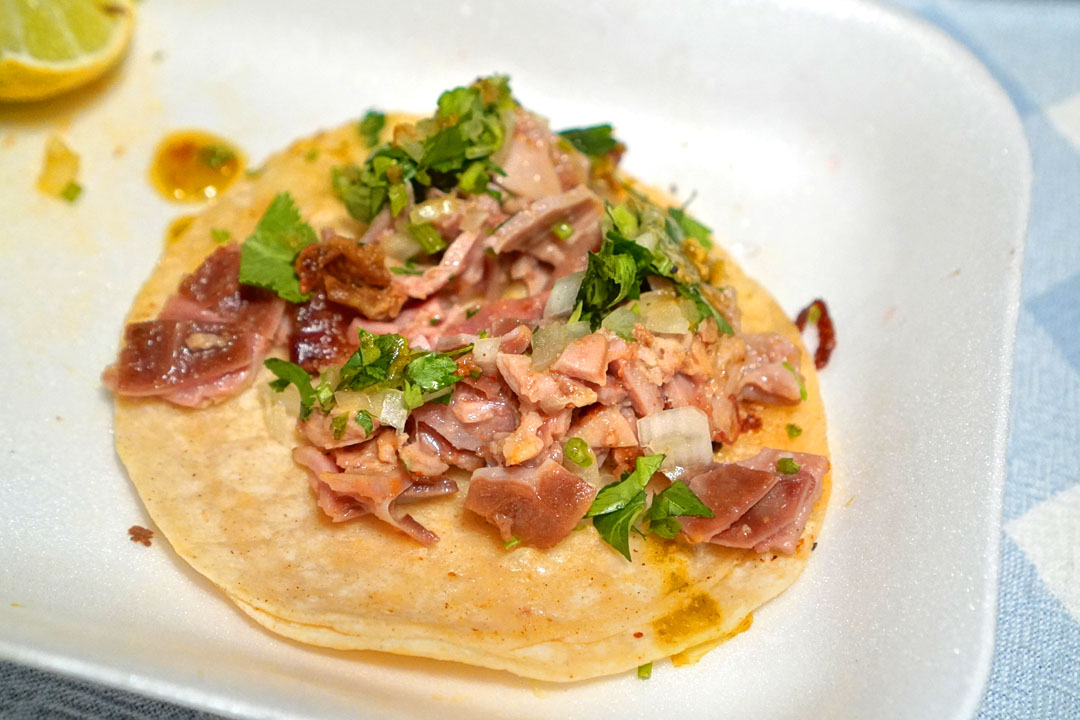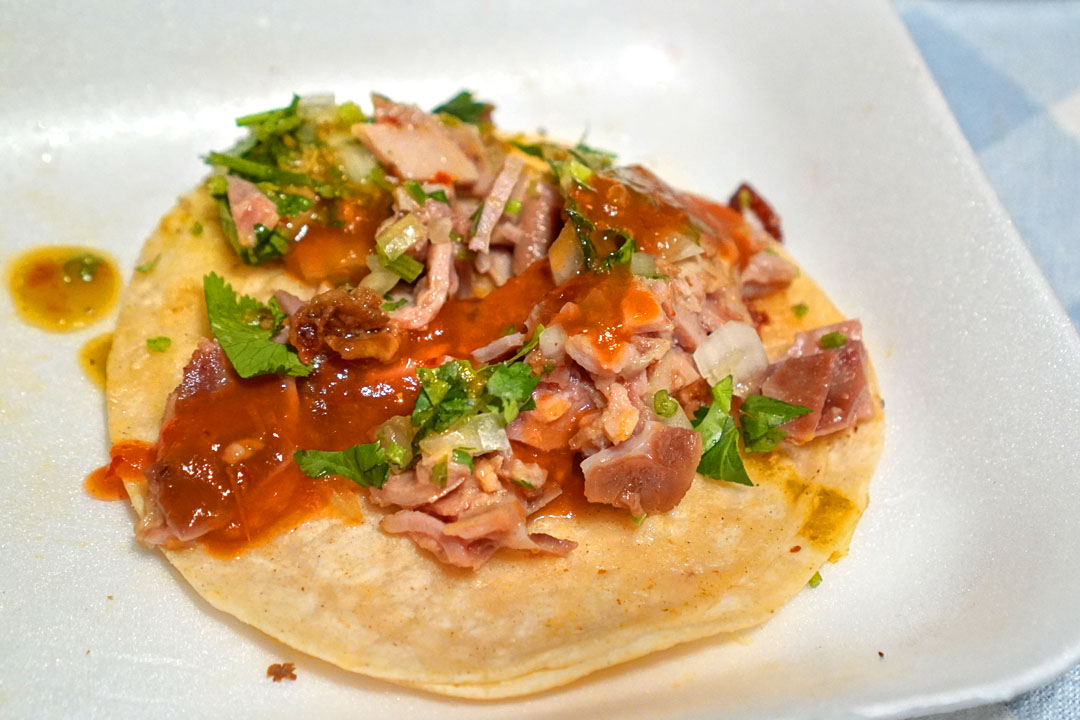 Taco - Buche [$2.00]
Pig stomach is a protein option that's seemingly not always available at the truck, so I was glad that it was being offered this evening. The meat had a supple, yet slightly chewy bite that I quite liked, along with a familiar porkiness that really sang when taken with the acidity from a squirt of lime.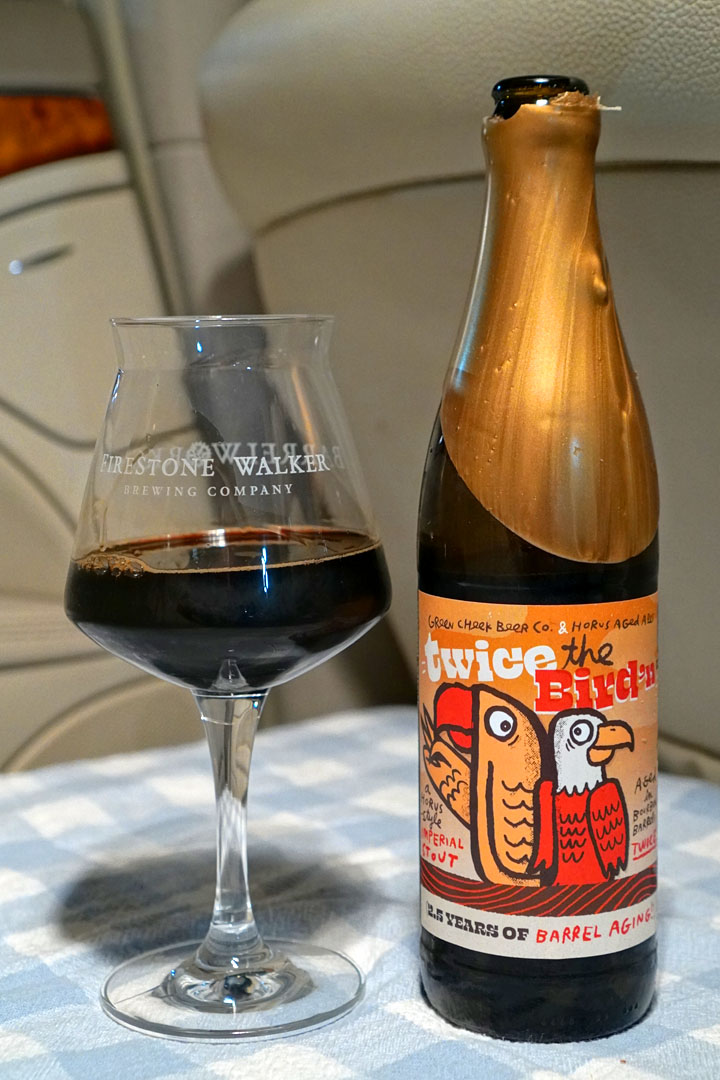 Beverage duties tonight were taken care of by the newly-released
2022 Green Cheek Twice the Bird'n
. Created in collaboration with Horus Aged Ales, this was an imperial stout aged two years in bourbon barrels, then another six months in another set of bourbon barrels. The beer had a massive nose brimming with chocolate-covered raisins and a whisper of oak. On the palate, this was pleasingly chewy, its initial blasts of dark fruit flavors joined by a marked nuttiness (hazelnut?), cocoa, and a touch of bourbon. As the brew warmed, the chocolate notes only intensified, and I just felt that there was a lot of complexity going on from the barrels that I couldn't quite put my finger on. A superb effort, and the best non-adjunct stout I've had in a while.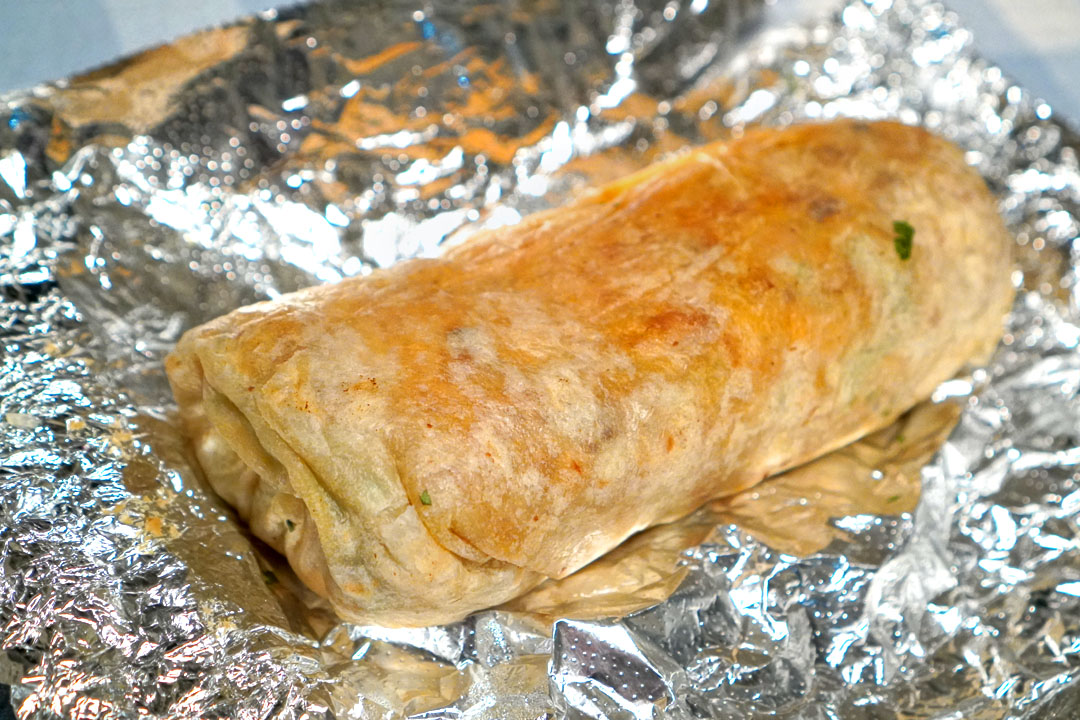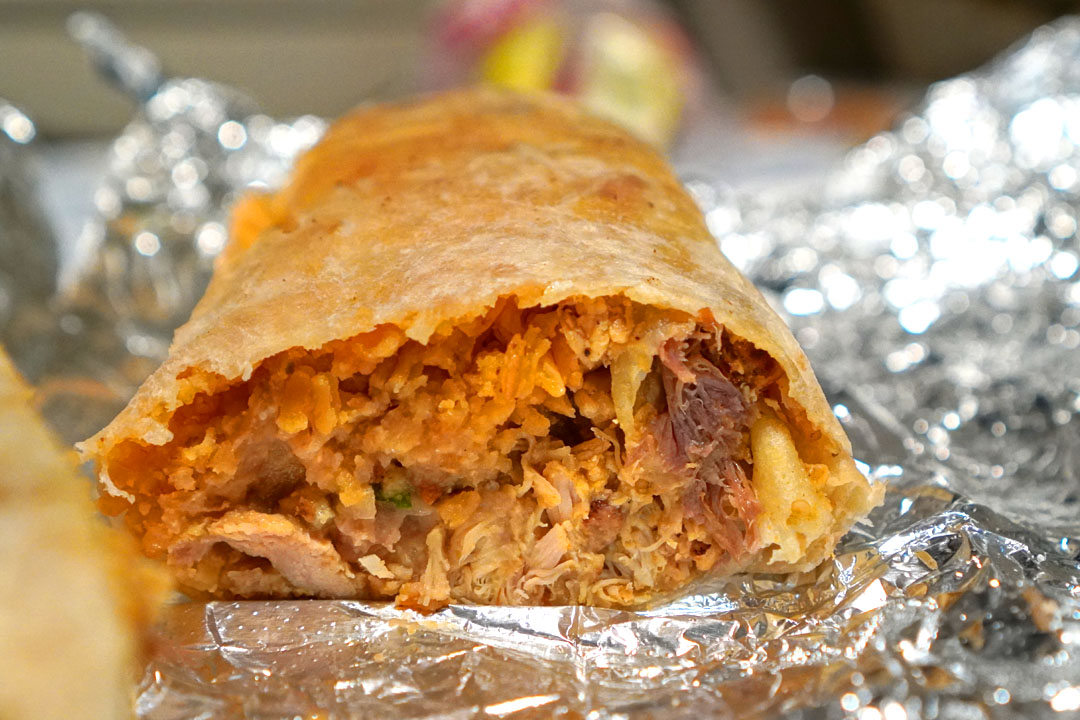 Burrito - Pollo [$9.00]
The burrito was acceptable, though it could've been improved. The chicken itself arrived decently spiced, but ate on the drier side, so I made sure to saturate it with salsa--either red or green will do. At the same time, the rice served its purpose, and I had no complaints about the tortilla, but I really wanted some more onion and cilantro to brighten things up.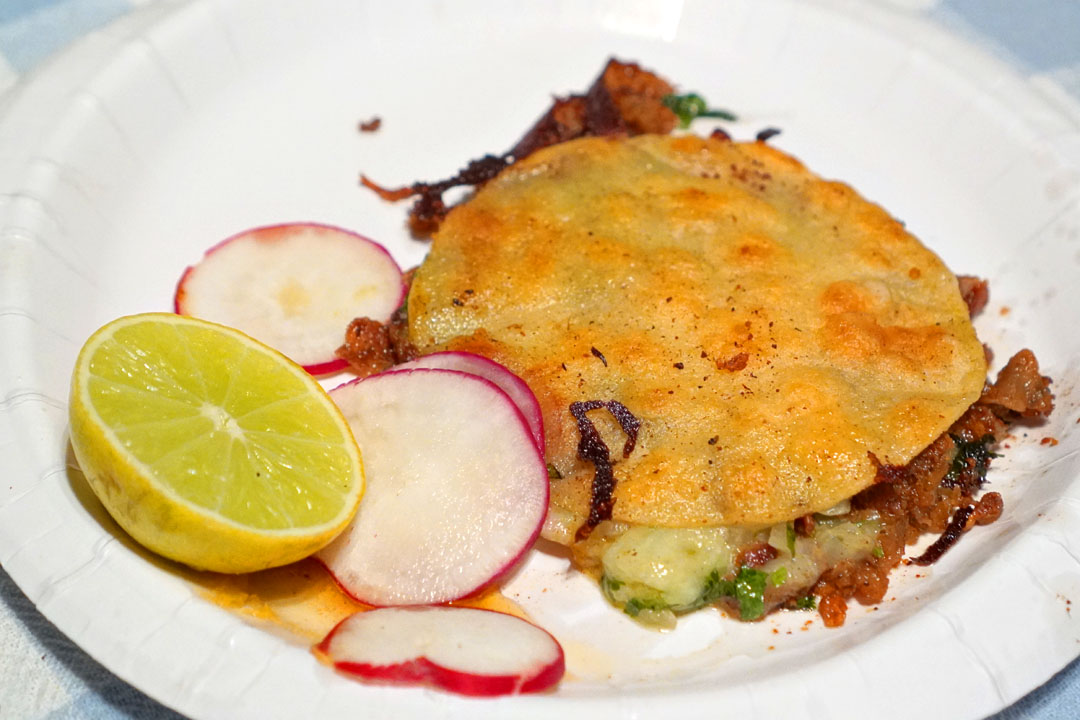 Mulita - Tripa [$3.00]
The mulita was a definite winner, and my favorite item of the night. I loved all the crispy bits of tripe here, which had this char and smoke that worked beautifully with the funkiness of the intestine. Simultaneously, the heft of the cheese helped bring everything together, and I really enjoyed the texture on those tortillas, too. Great with a squirt of lime and the salsa verde.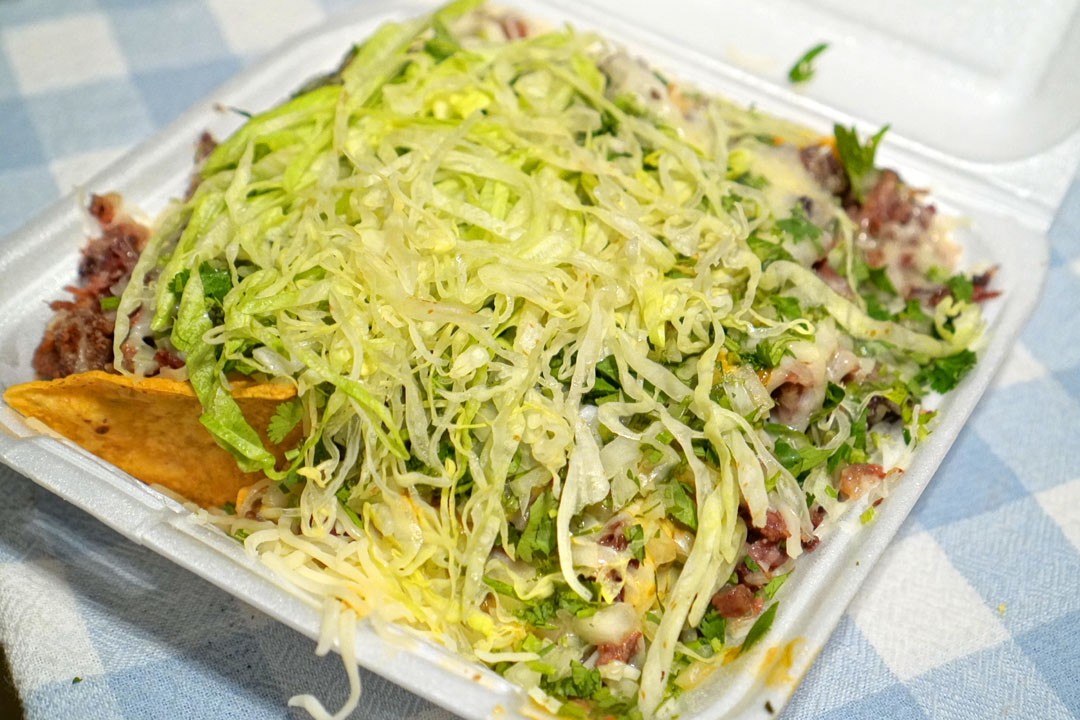 Nachos con Carne - Cabeza [$9.00]
This was probably the most lettuce I've ever seen on a serving of nachos, but I didn't mind it, since the veggie did a great job tempering the dark-toned flavors of the sticky, gelatinous shards of head meat. The melty cheese was also crucial here as an integrating sort of force, but be sure to give this a healthy splash of salsa, too.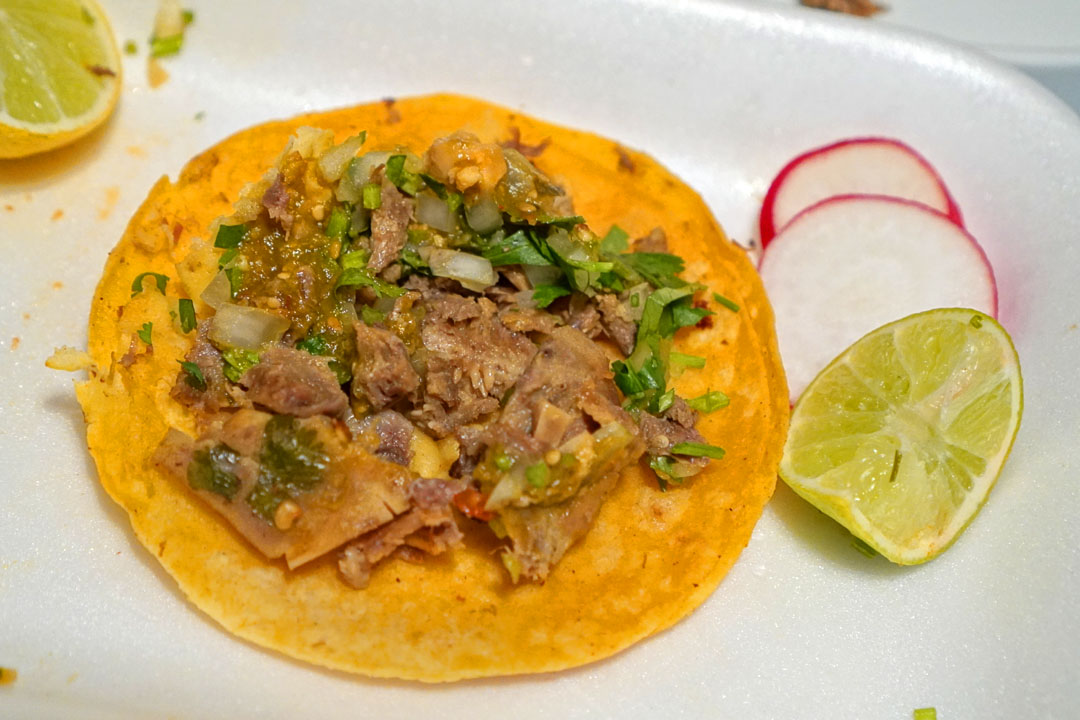 Taco - Lengua [$2.00]
As expected, chunks of tongue ate soft and earthy, and really opened up with a dash of that green sauce.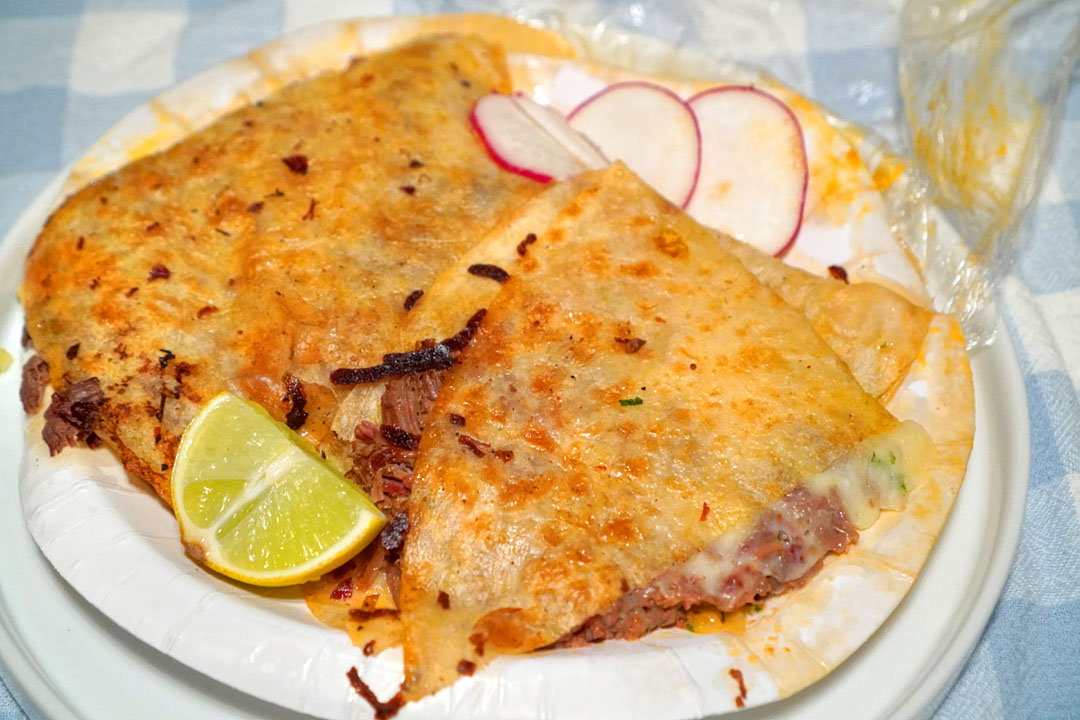 Quesadilla - Birria [$9.00]
A new protein option, long-cooked, flossy shreds of birria showed off an almost floral spicing that I quite liked, while the actual cheese worked hand-in-hand with the meat, making for quite the effective quesadilla indeed.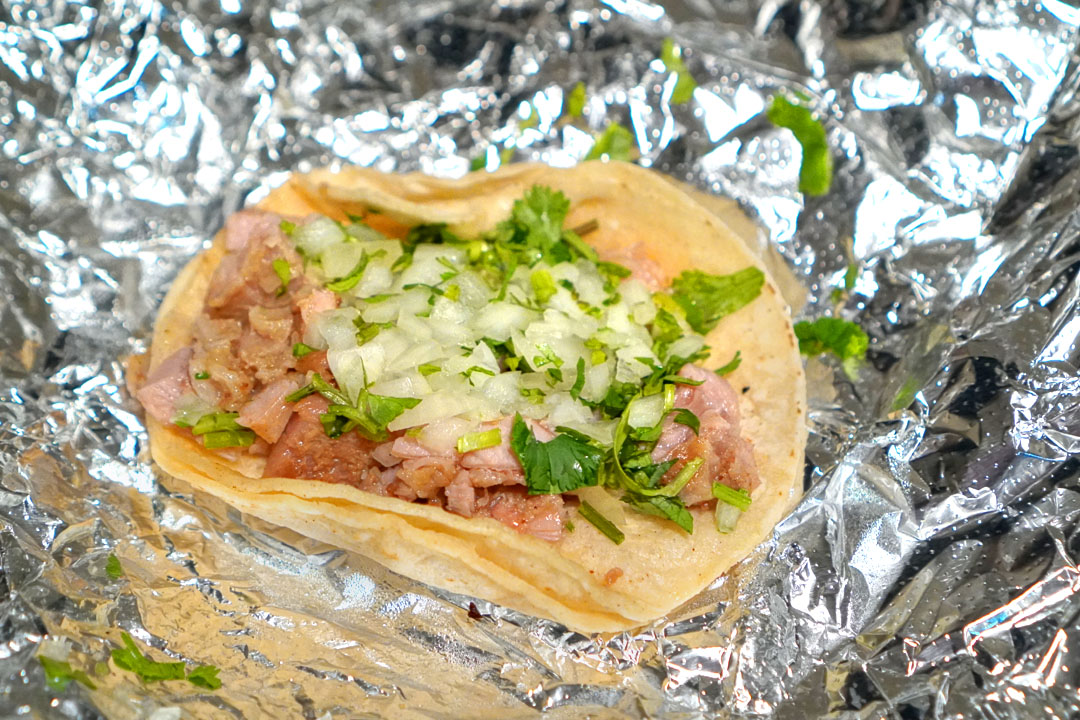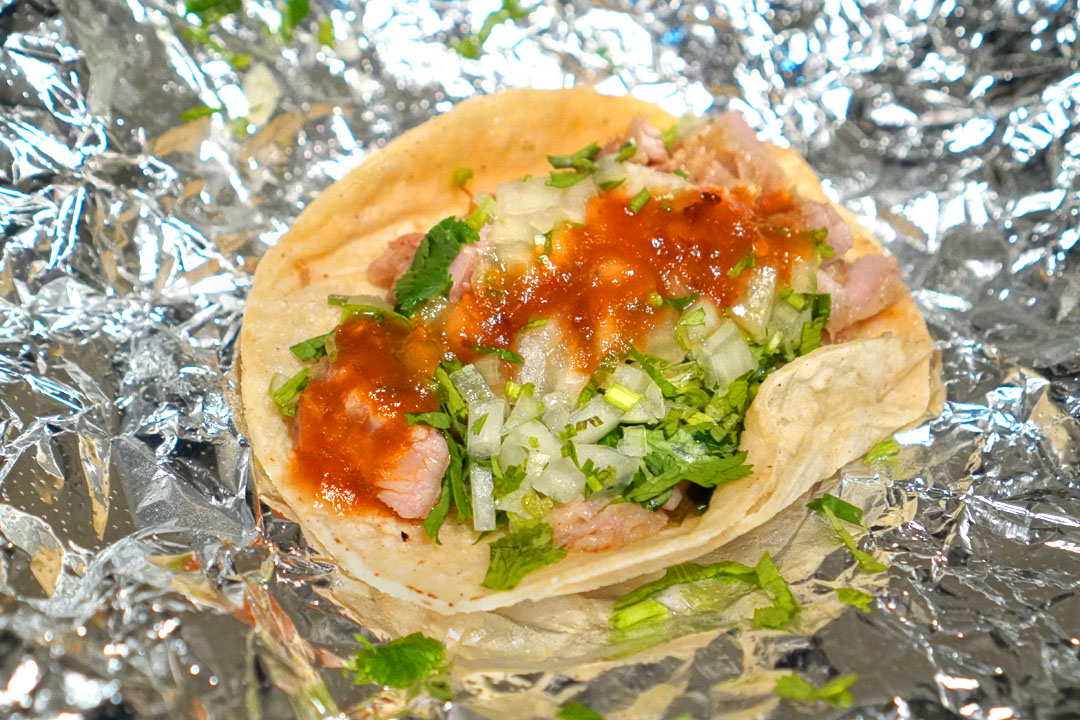 Taco - Suadero [$2.00]
We'll conclude with another new meat option. Suadero had a pleasingly slick texture and a slight, satisfying chew, while its taste was surprisingly delicate, and worked seamlessly with the cilantro in particular. A splash of the salsa roja, meanwhile, completed the package.
I'd been somewhat curious about this place for four years now, so I'm glad that this recent power outage finally forced me to give the truck a try. I had a couple quibbles, but was pretty satisfied with my experience overall, and Arandinos looks to be a worthwhile casual, late-night Mexican option in the San Gabriel Valley. I can see why my friend recommended it.