Sushi I-Naba (Torrance, CA) [3]
Sushi Inaba
20920 Hawthorne Blvd, Torrance, CA 90503
310.686.1878
www.sushiinabamanhattanbeach.com
Wed 12/28/2022, 07:00p-10:20p

Ever since my first meal at Yasuhiro Hirano's
Sushi I-Naba
(寿司 稲葉), I'd always felt that it was among the top
edomae
-style sushi spots in the Los Angeles region. I'd been meaning to return, but the pandemic certainly put a damper in those plans. The restaurant was basically limited to
takeout
from March 2020 to the end of last year, though it was still able to land a Michelin star in October 2021 (the star was retained in the latest version of the guide, released at the start of December). On-site dining resumed on February 16th this year after the operation moved from its original Manhattan Beach digs to a temporary location in Torrance, so I was finally able to pay the place a long overdue revisit.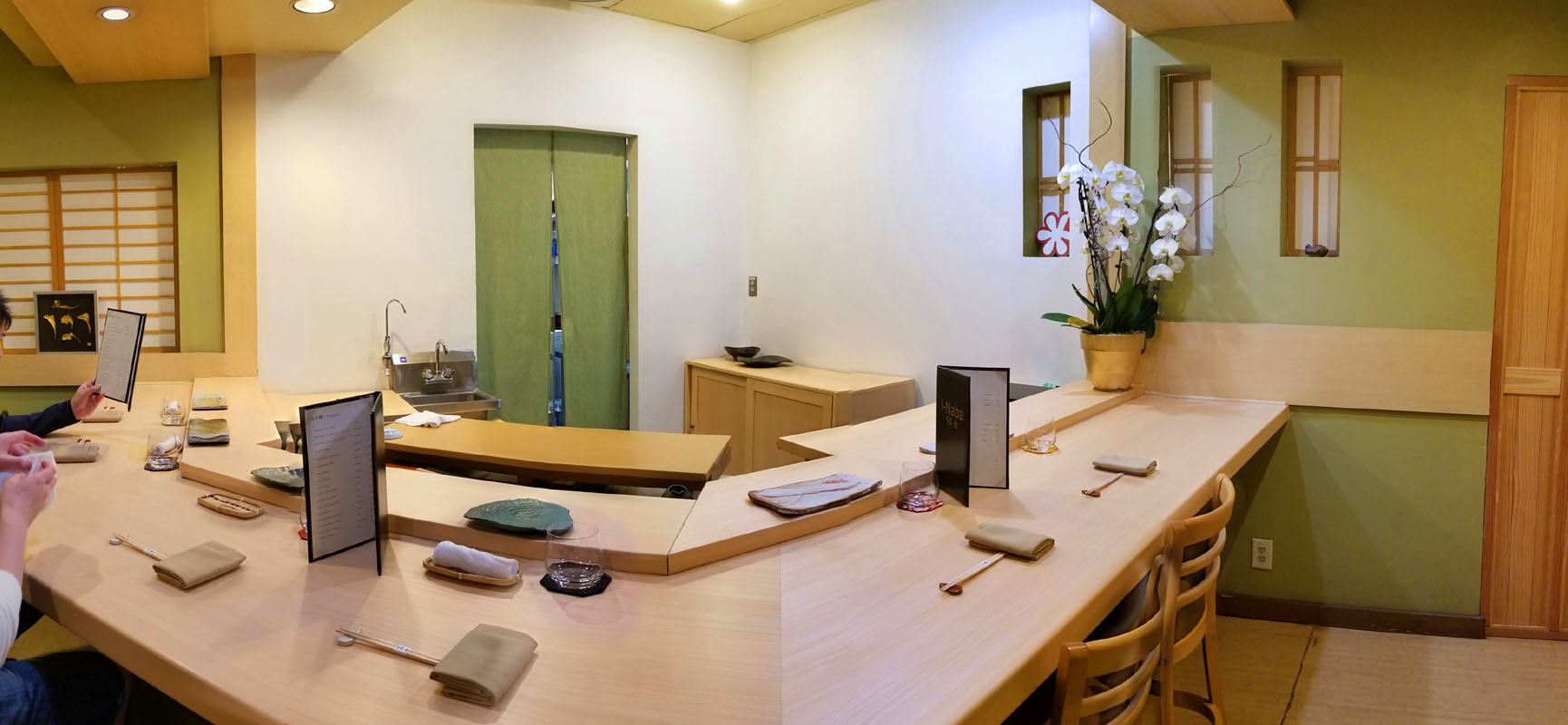 That aforementioned temporary location is actually inside a small room at
Inaba
in Torrance, a longstanding restaurant with which Sushi I-Naba shares ownership. Specifically, it takes over the former home of the extremely short-lived Tempura Nagomi (a high-end tempura bar concept), which itself took over the spot's original sushi bar. The sushi counter seats six normally, but can be expanded to eight guests if needed.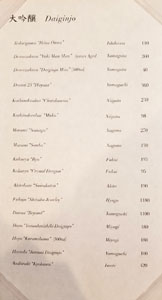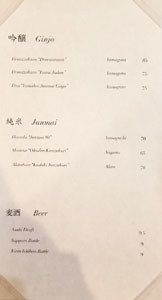 Of course, Sushi I-Naba is an omakase-only sort of place, and tonight's menu was priced at $280 per person, with a $150 deposit required at booking. Pictured above is the sake selection, while corkage was $45 a bottle. Click for larger versions.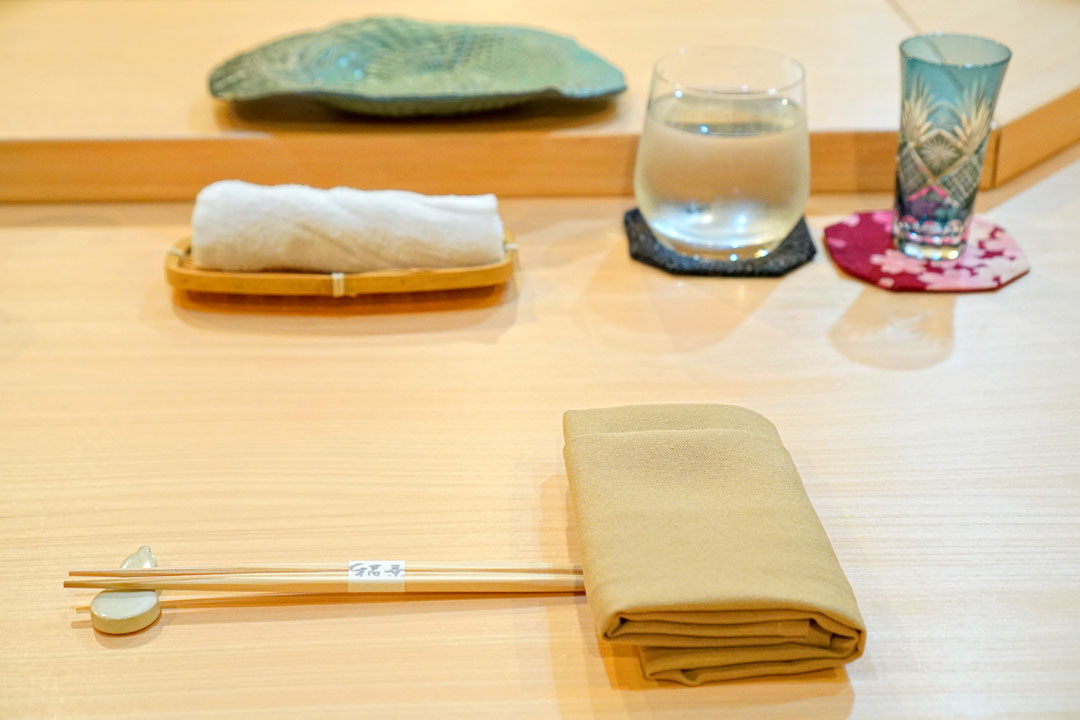 My place setting, replete with warm
oshibori
and what appeared to be a gourd-shaped
hashioki
.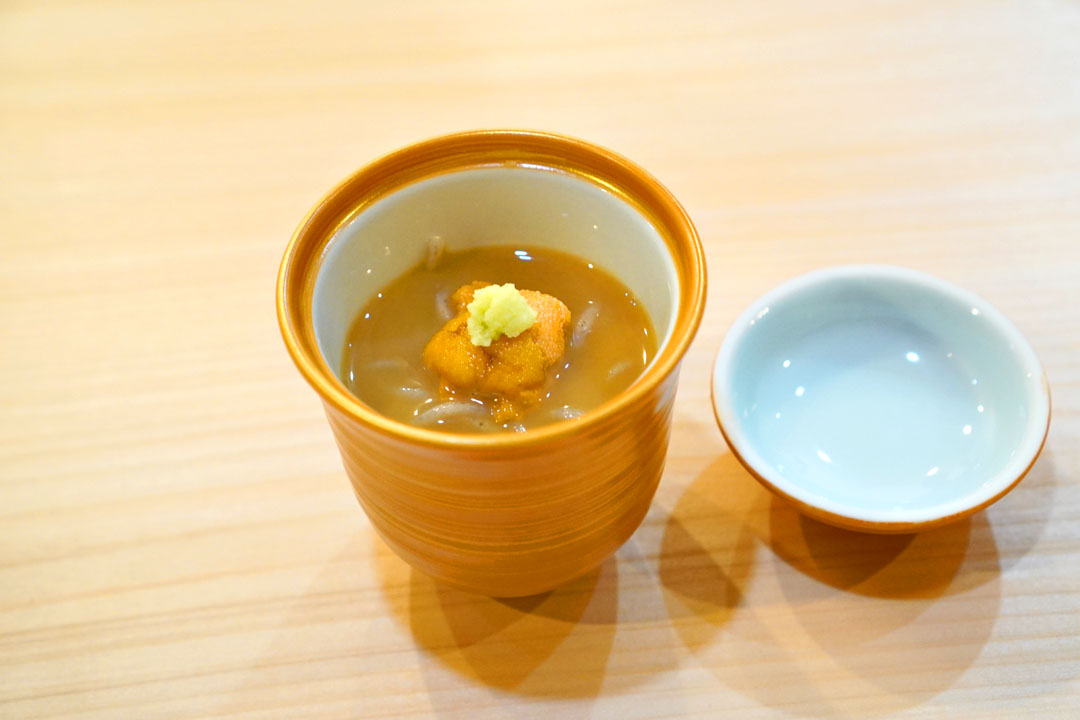 1: ウニ 蕎麦 / Uni Soba
We were told that the Inaba restaurant group makes soba every morning from scratch, and those buckwheat noodles were put to good use in our first course. They showed off a gratifying chew and a nutty taste, and paired well with the savoriness of the
murasaki
uni-boosted soup as well as the sweetness of the
bafun
uni on top. This was a promising start to our meal, and actually worked to soften and sweeten our first sake below.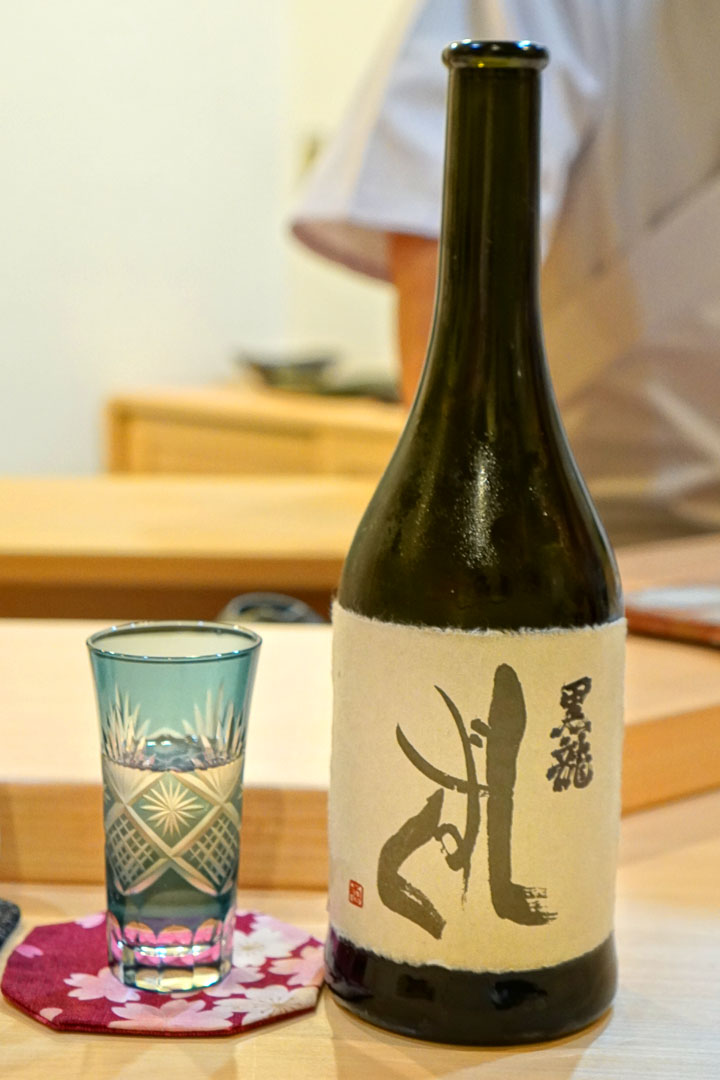 We brought along two bottles of sake, and the first was the
2021 Kokuryu Shizuku Daiginjo (黒龍 しずく 大吟醸)
, from the city of Eiheiji, Fukui Prefecture. Made using the
fukurozuri
method, this 35%
seimaibuai
shizukuzake
conveyed a sweet, rich, nearly perfumed nose brimming with honeydew and stone fruits. The palate was similarly lush, and displayed more of those massive, yet elegant melon notes, offset by smidges of minerality and just a touch of heat bringing up the rear.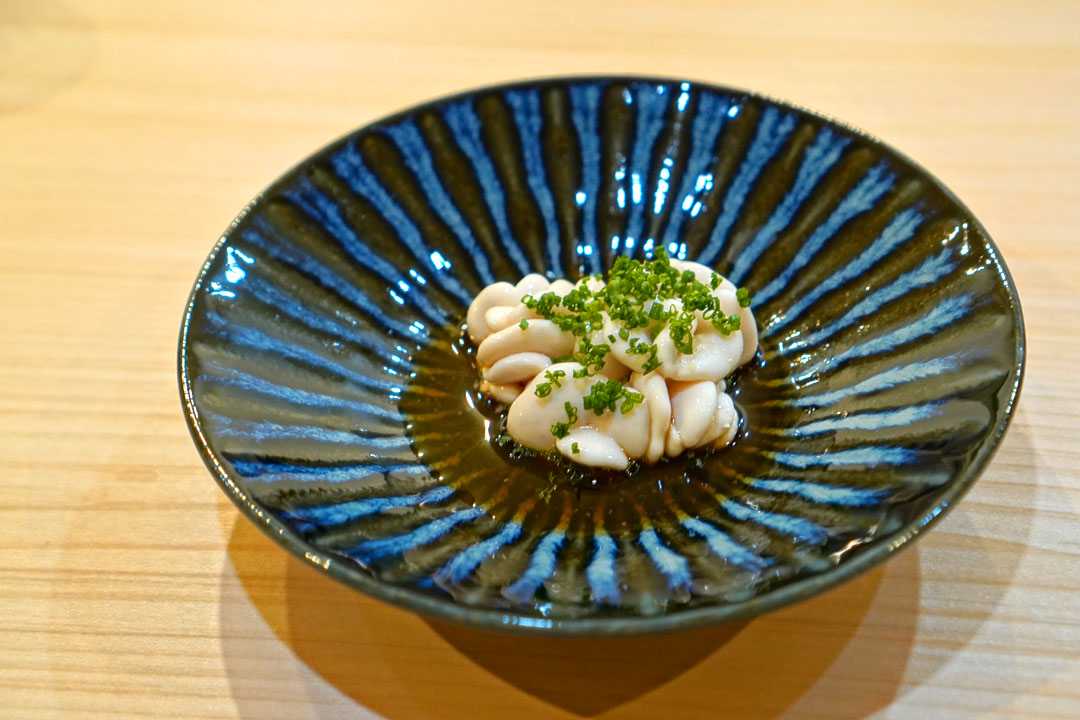 2: 白子ポン酢 / Shirako Ponzu
Harvested from Hokkaido cod, this was undoubtedly one of the purest presentations of milt I've had. The soft roe demonstrated a super delicate, creamy consistency and a finessed brine that meshed beautifully with tangy ponzu and zesty green onion.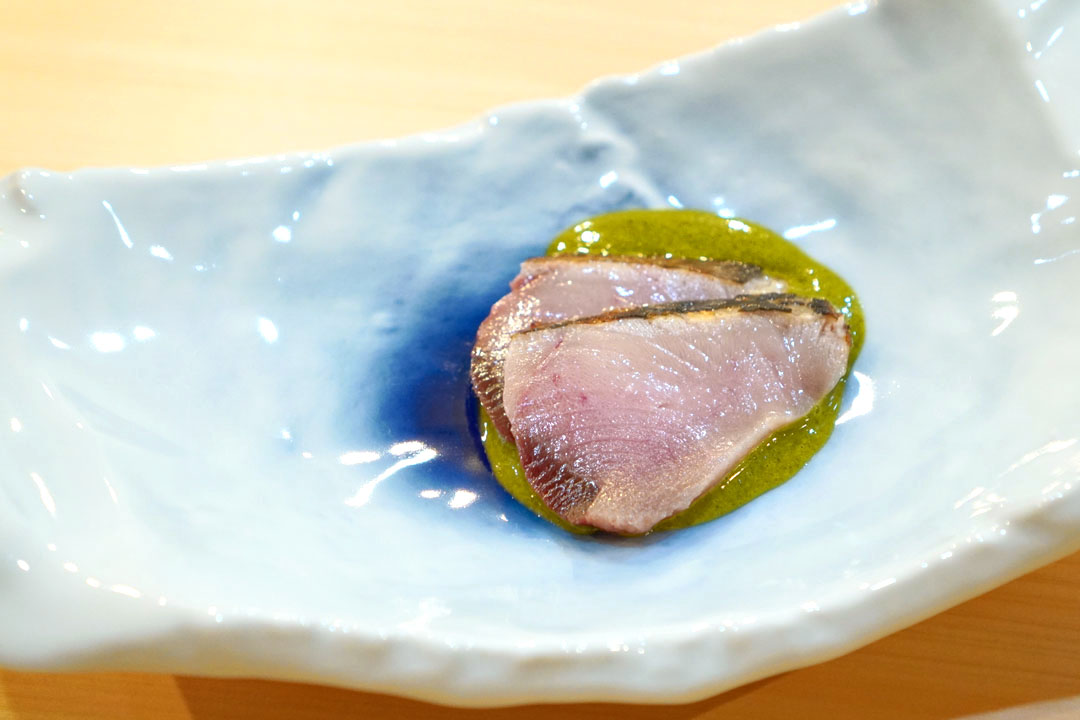 3: スマガツオ / Suma Katsuo
This was my first time trying this rather uncommon fish, also known as
yaito katsuo
or black skipjack. It was quite the showstopper though. I was enamored with its sheer fattiness, which was almost toro-esque, while its briny, smoky, yet sweet flavors were eminently pleasing, and matched up swimmingly with that zippy shiso sauce.
4: 鰯巻き / Iwashi Maki
Up next was easily one of the best preparations of sardine ever. The key was how effortlessly the ginger moderated the aggressive flavors of the fish, while shiso and chive (
asatsuki
) offered a herbaceousness that served as the perfect accent.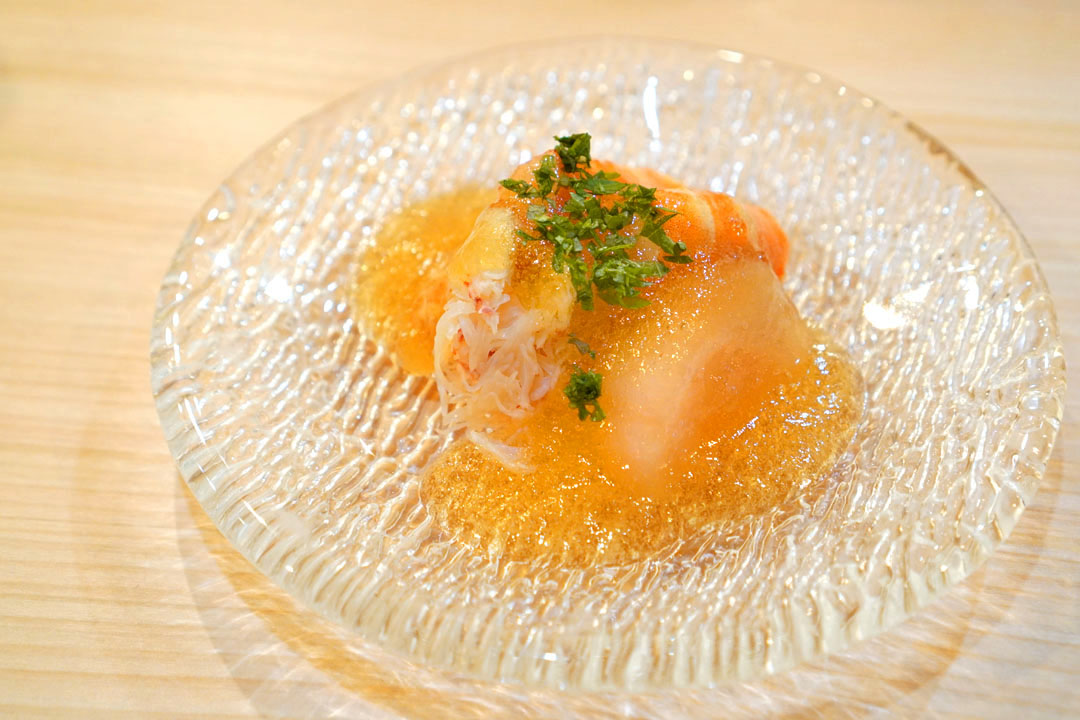 5: 酢の物 / Sunomono
Here was a
sunomono
dish unlike any other I've had. It highlighted a jelly-like preparation of
sanbaizu
, which possessed this assertive tanginess that played with three disparate types of sweetness: a mound of delectable Hokkaido hairy crab, supple cuts of Okinawan blue prawn, and a surprisingly firm medallion of Iwate scallop.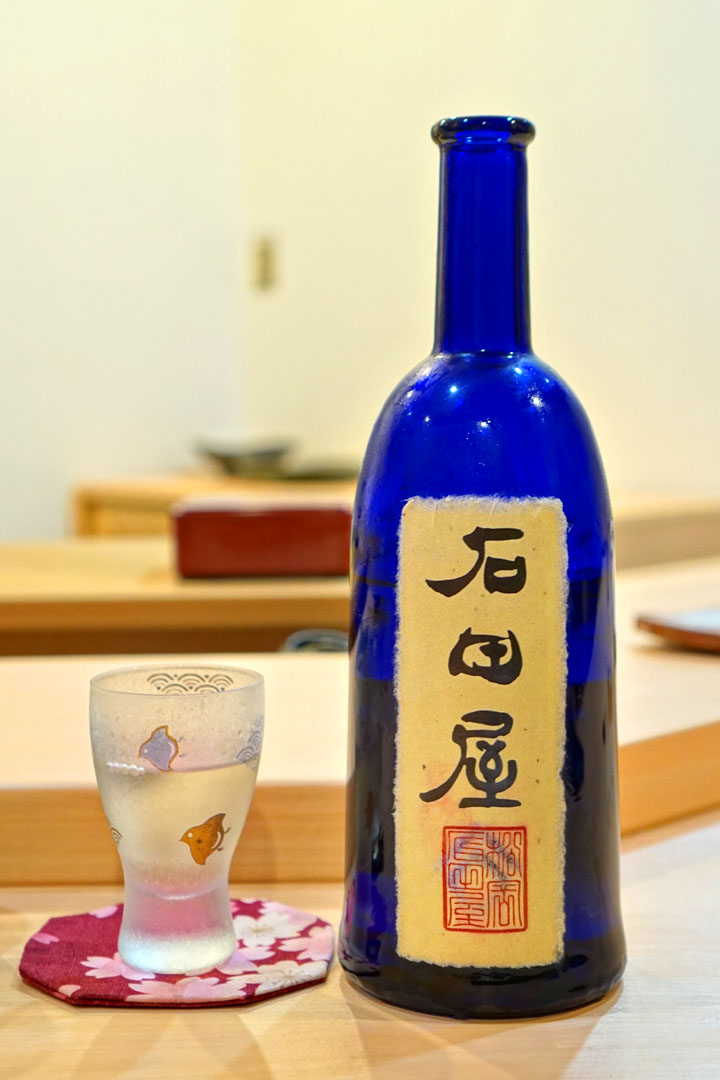 Our second sake was the
Kokuryu Ishidaya Junmai Daiginjo (黒龍 石田屋 純米大吟醸)
(bottled October 2020, so 2018 vintage
I think
), the flagship product from Kokuryu Shuzo. An aged expression made from 35% polished
Yamada Nishiki
, this was a much more nuanced libation compared to the Shizuku above. Its nose was certainly less overt, but still displayed elements of sweet stone fruits, with a subdued grassiness in the background. Tasting it, I got delicious notes of honeydew, but tempered by a slight umami quality and a zippy spice. I sipped this throughout most of the meal, and with time, the sake's fruit aromas became more apparent, while its palate got softer, and also emphasized more of the underlying rice. With even more time, the bouquet started showing off a distinct banana character, while the palate turned even smoother, displaying bubble gum flavors alongside a slight heat on the back end. A multifaceted, contemplative sake for sure--I'm happy that I finally got to try this.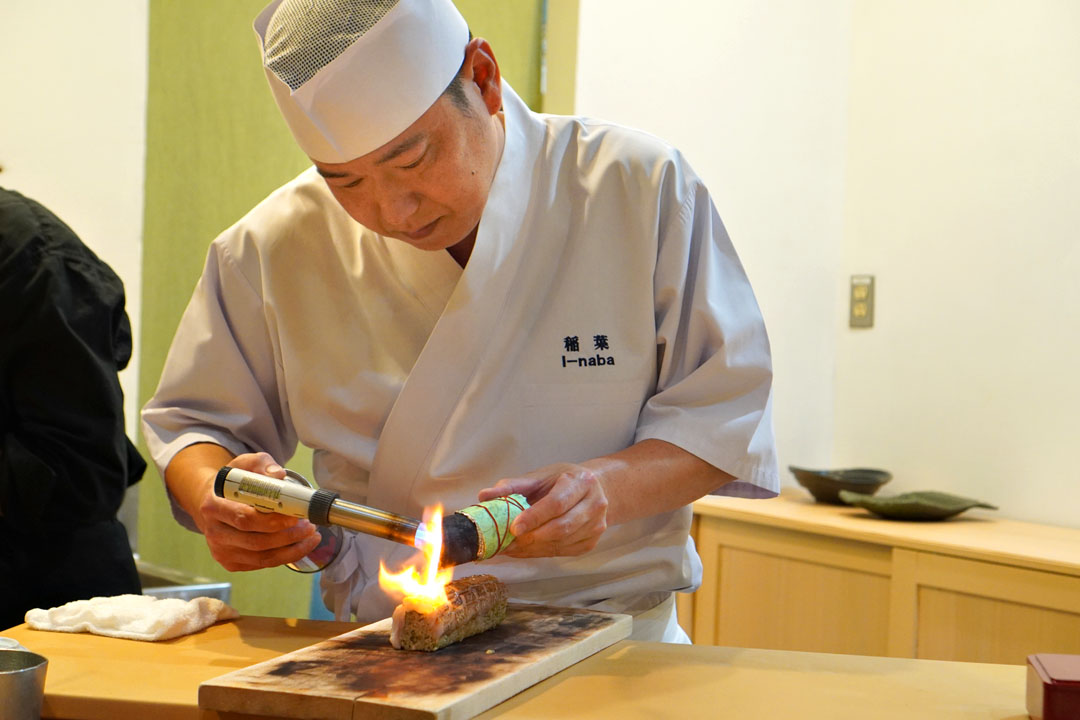 Pictured above is Hirano-san using a blowtorch and binchotan to sear blackthroat seaperch for our next course...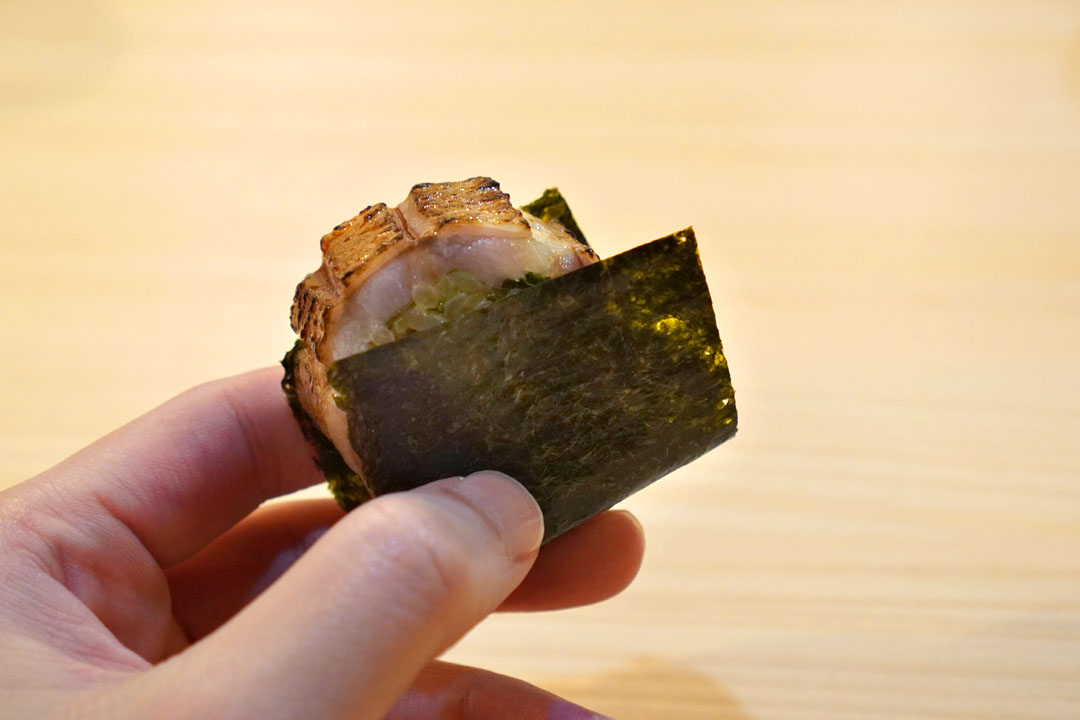 6: ノドグロ 棒寿司 / Nodoguro Bozushi
...Which was simply marvelous. As I've stated before,
akamutsu
is my favorite fish, and this was one of the best preparations of it I've ever had, and one of my favorite things I've eaten all year. I loved how forcefully its combination of fat, brine, smoke, and umami were conveyed, but what really made this sing was that offsetting grassiness from the nori seaweed, and strangely enough, I even tasted sour cream and onion on the finish. I remember actually saying "damn" out loud after eating this.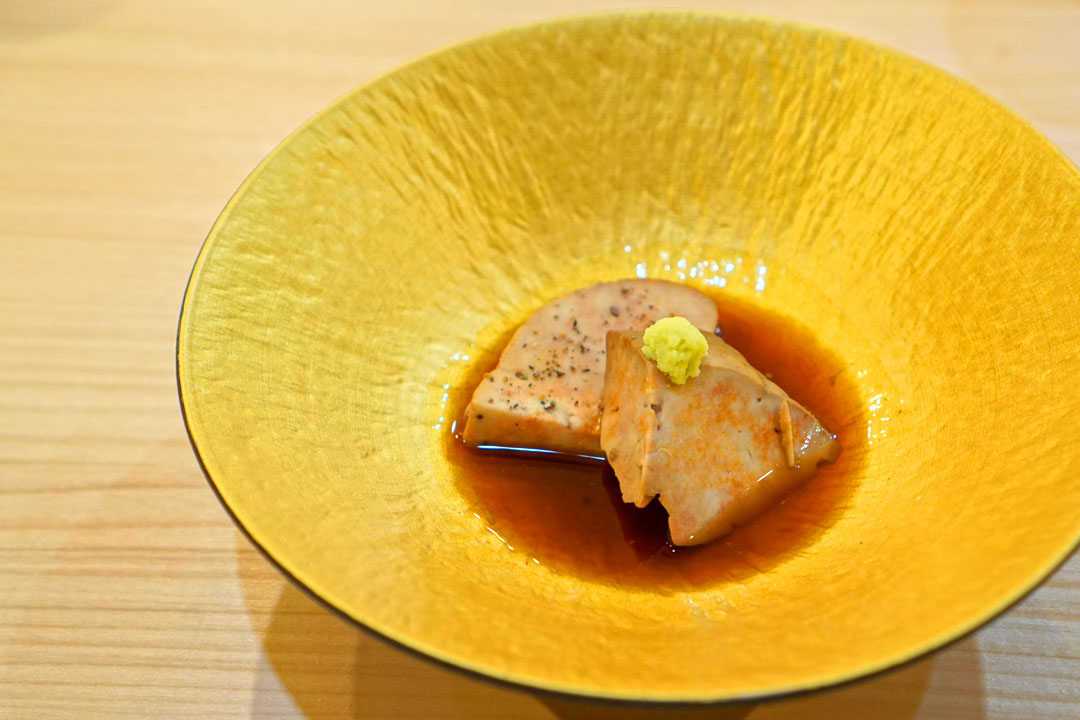 7: 鮟肝 / Ankimo
Slow-braised monkfish liver came two ways. The rich, savory flavors of the ankimo were on point, and made a lot of sense with the classic accoutrement of wasabi. However, I ended up preferring the non-traditional (and actually French-inspired, per the Chef) accompaniment of black pepper, which really seemed to draw out the sweetness of the liver. A great pairing with our sake.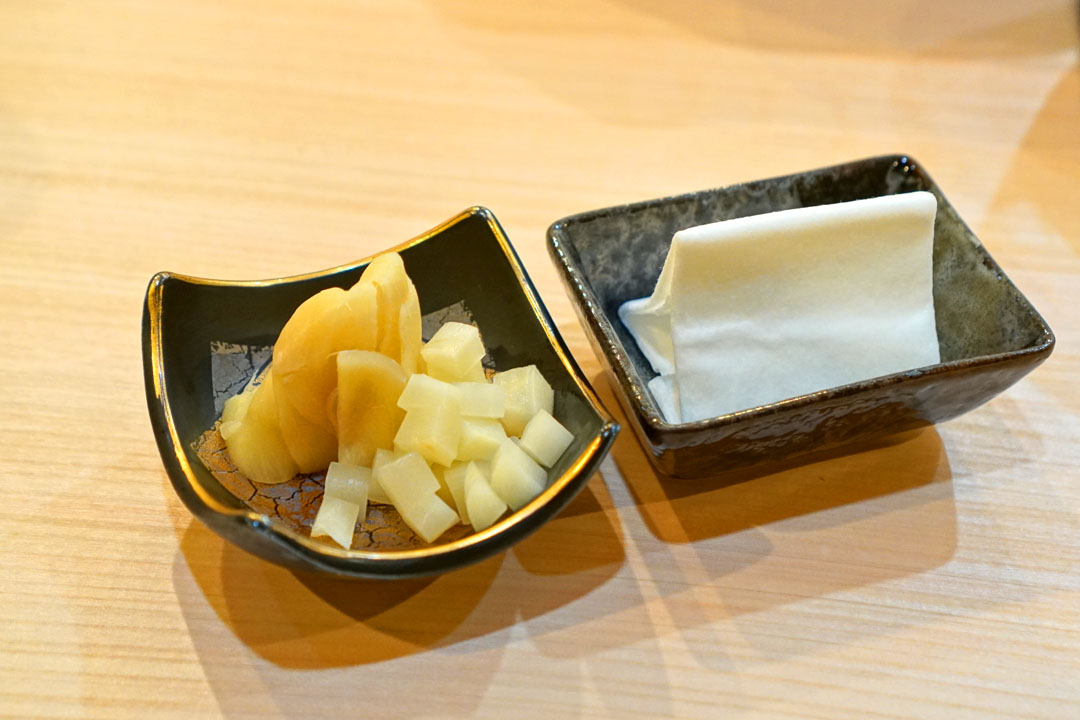 The arrival of ginger and a finger napkin signaled the start of the nigiri portion of our meal. As we can see, two types of
gari
were provided, and I appreciated the differences in taste and texture between them.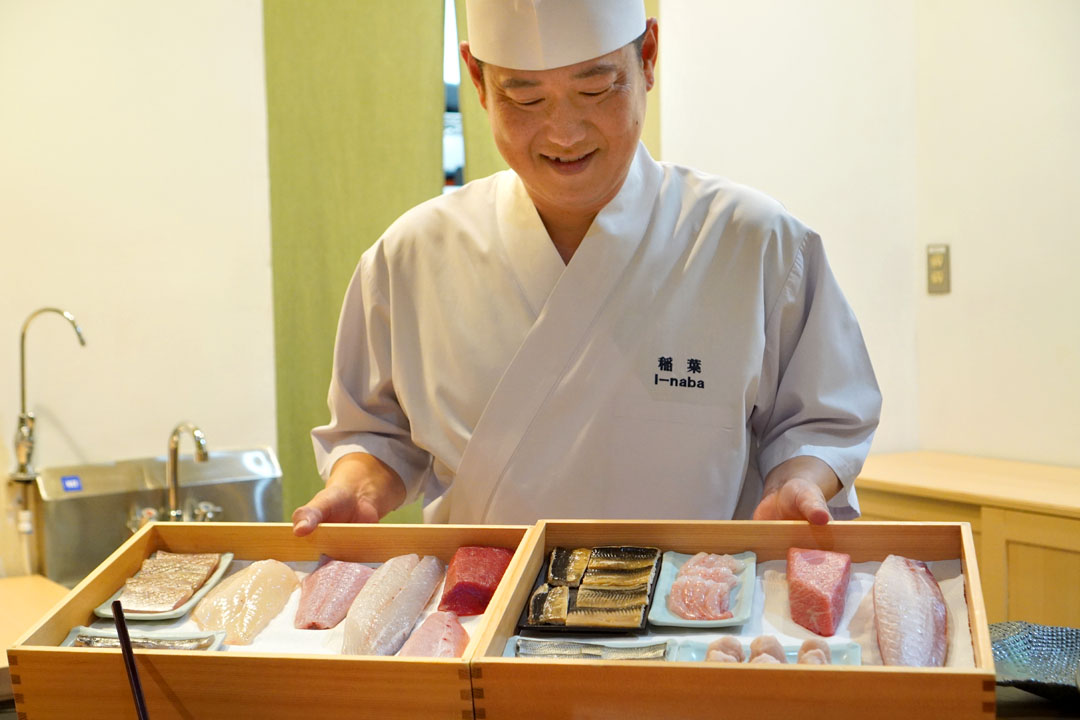 Chef Yasu Hirano shows off the various
neta
we had in store for the rest of our dinner.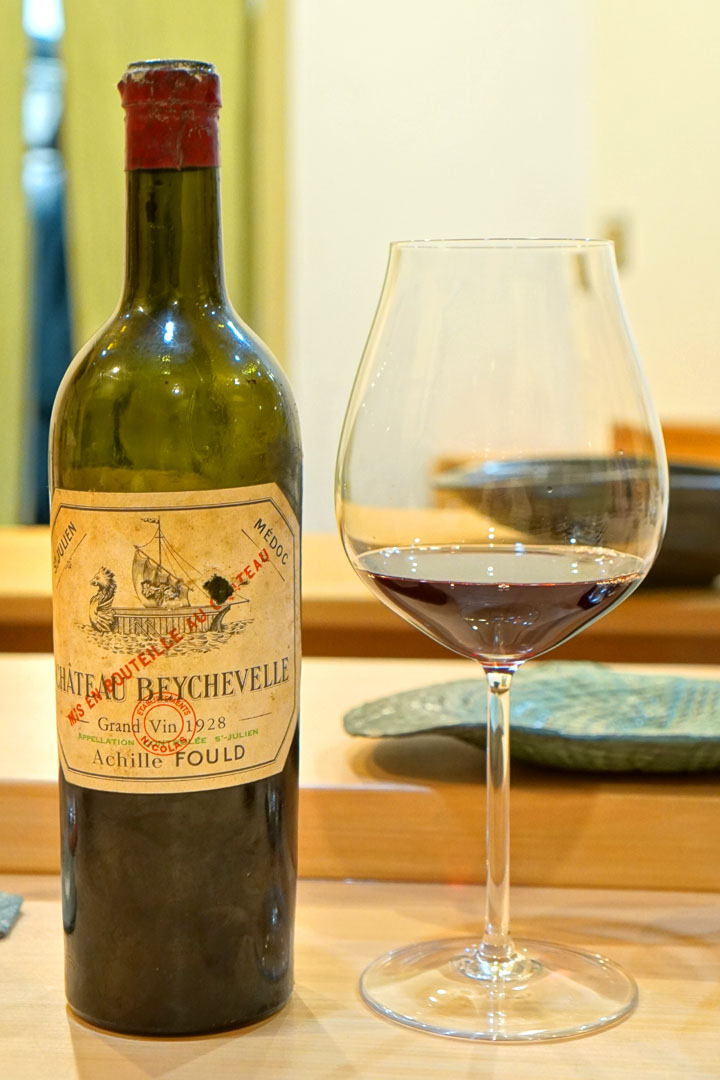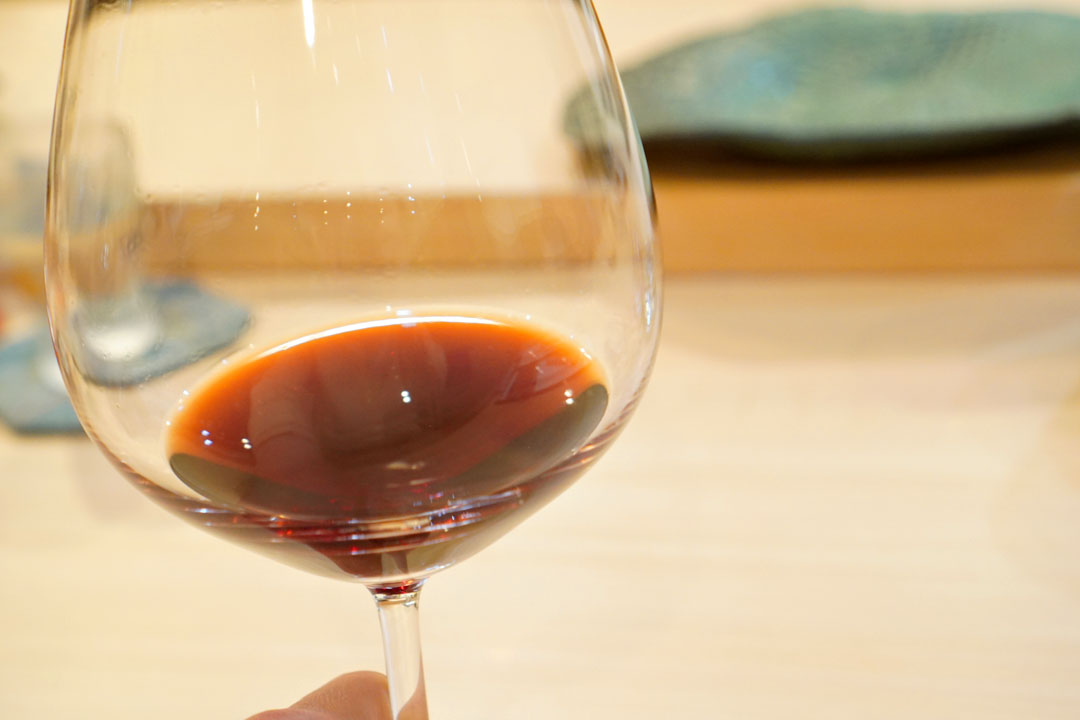 And now for something completely different: we stole a page from
Shibucho
's playbook and decided to pair old Bordeaux with some of our sushi. And when I say old, I mean
really
old: the
1928 Château Beychevelle
, from Saint-Julien. We didn't decant for fear of over-exposing the wine, and its initial aromas were heavily smoky and earthen, with supporting elements of spice, herbs, mature fruits, iron, and even brine. On the palate, I found it slick and velvety, its slight tannic tartness up front giving way to dusty, musty cherry-ish fruits, cedar, tobacco, and an almost tuna-like quality that I found quite endearing; I was also impressed by the claret's unexpectedly sweet, luscious undertones. Toward the end of the night, the bouquet demonstrated a vellichor-like component, while its flavor profile got even more harmonious, with the fruit actually becoming more vibrant, and I also got a discernable mintiness. I didn't have high hopes for this bottle, but it ended up being far, far better than anticipated. A seductive, enchanting wine that's unquestionably mature, yet somehow still lively, it's no doubt one of my top tipples of 2022.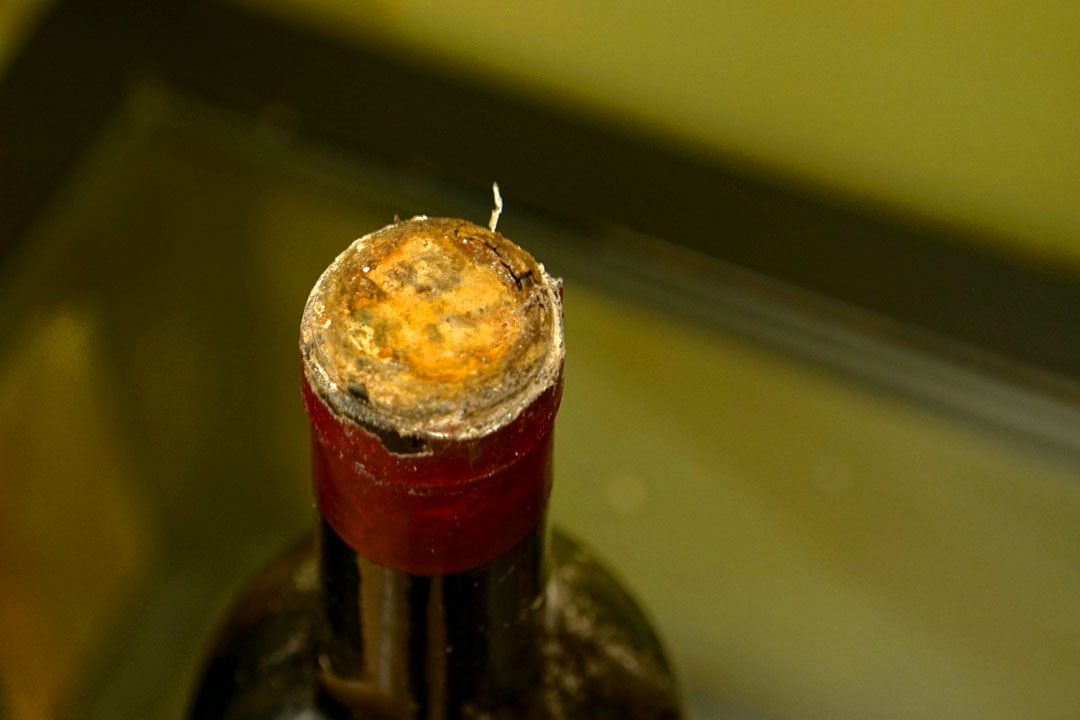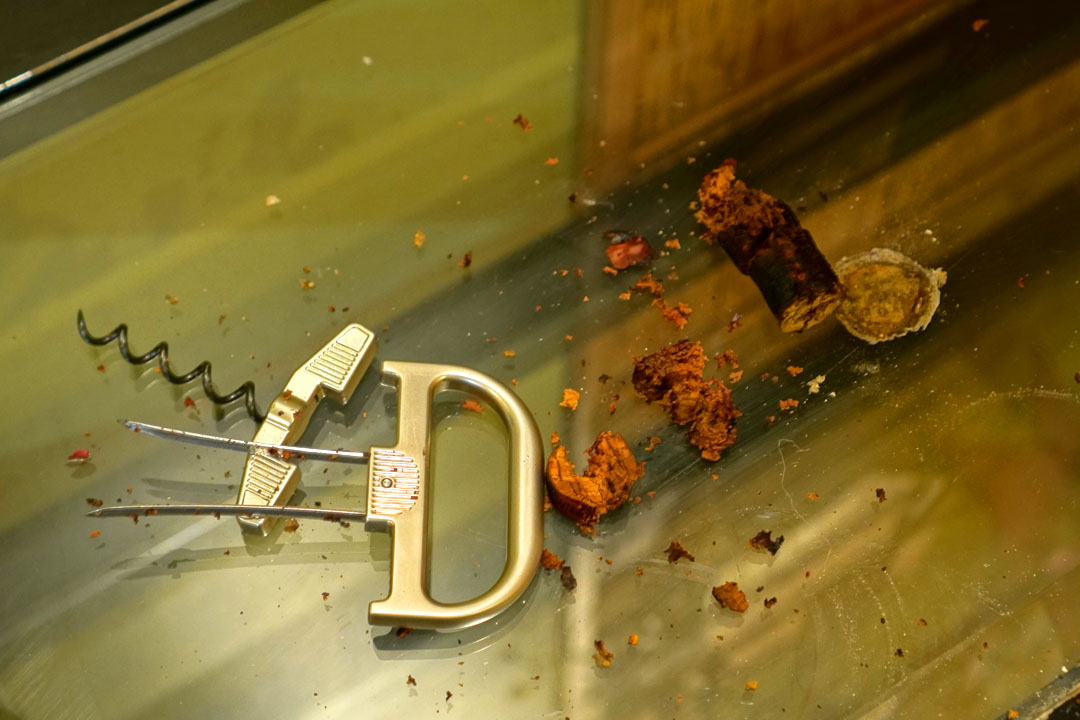 As for why my hopes weren't high initially, I'll say that the bottle wasn't exactly in tip-top condition, and was of unknown provenance. Expectations didn't rise when I took a look at the cork, which had definitely seen better days, and promptly crumbled upon extraction, even with the use of a Durand opener. I guess the quality of the wine is just a testament to the legendary reputation of the 1928 Bordeaux vintage, and in fact, I bet that this bottle would've been drinking well even into its 100th birthday coming up.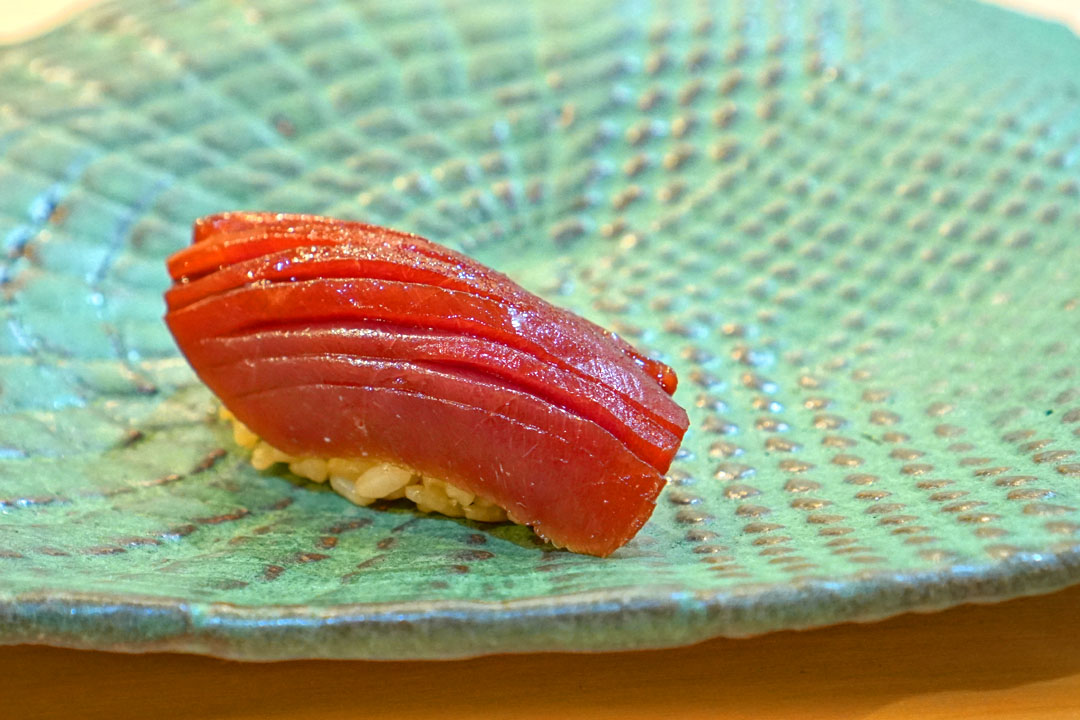 8: 赤身漬け / Akami Zuke
Up first was Australian bluefin, aged 13 days and marinated. The tuna flaunted massive amounts of umami, while is supple consistency contrasted well with the firmer bite of the
shari
. I found that this paired superbly with the Beychevelle, as the wine tended to somewhat mimic the taste of the fish.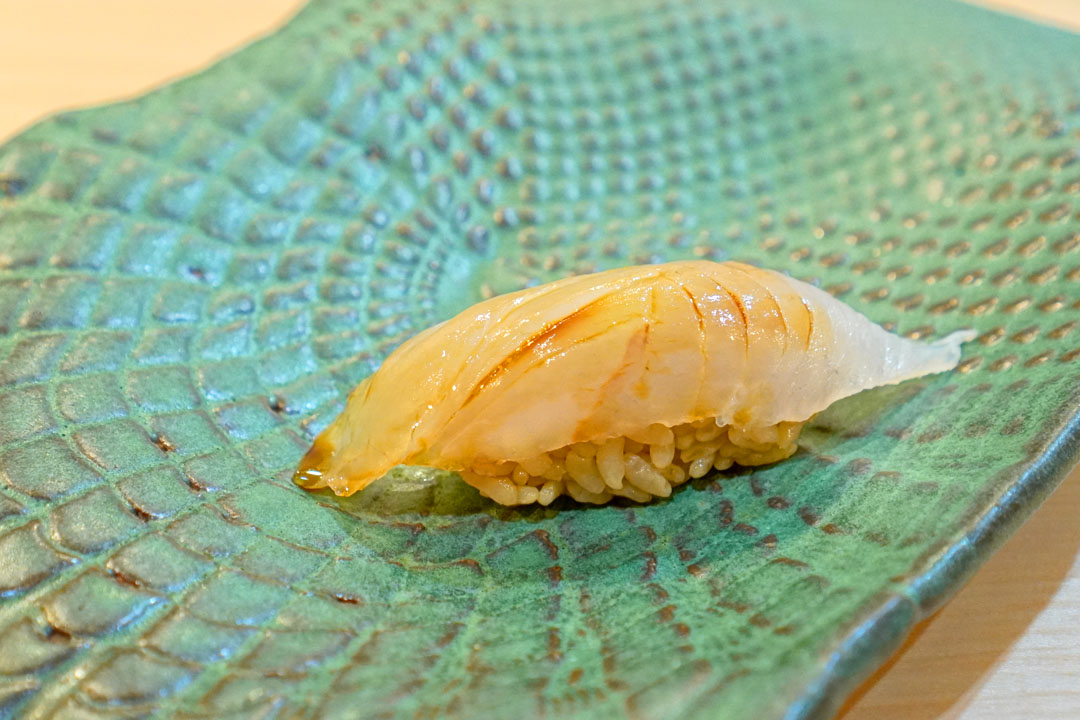 9: 平鱸 / Hira Suzuki
This might've been my first time having blackfin sea bass, and I found the fish eminently delicate, its finespun flavors tending to emphasize the sweetness of the Chef's rice.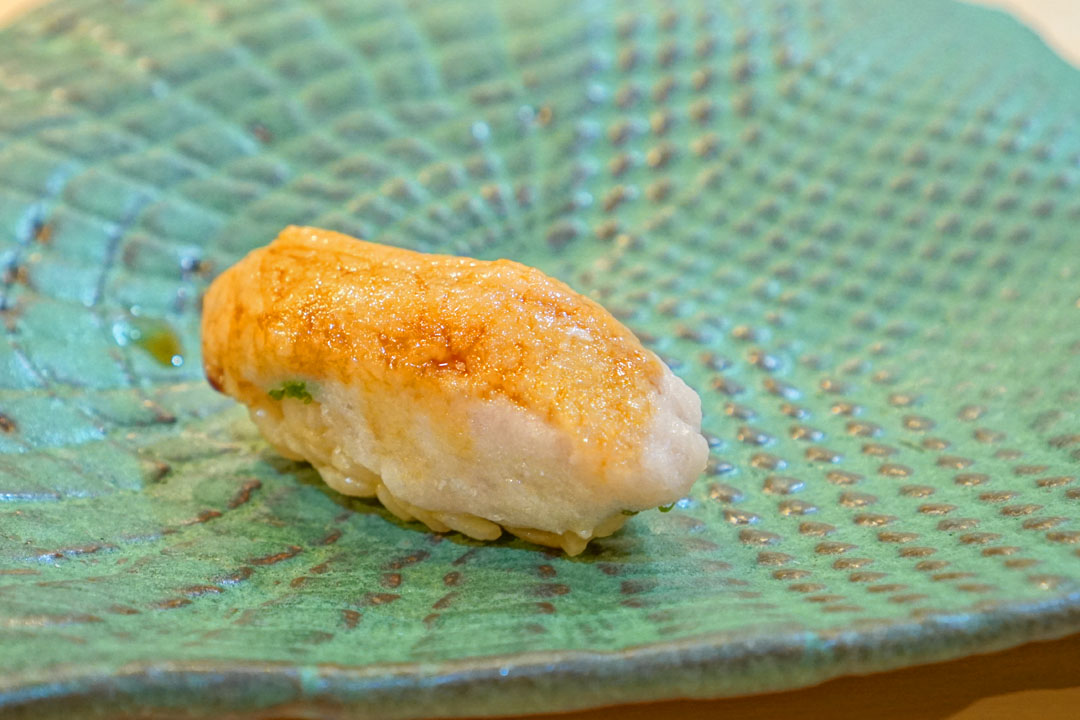 10: 鰆 / Sawara
Spanish mackerel was intriguing texturally, and showed a refined brine and smoke that linked up flawlessly with a touch of shiso.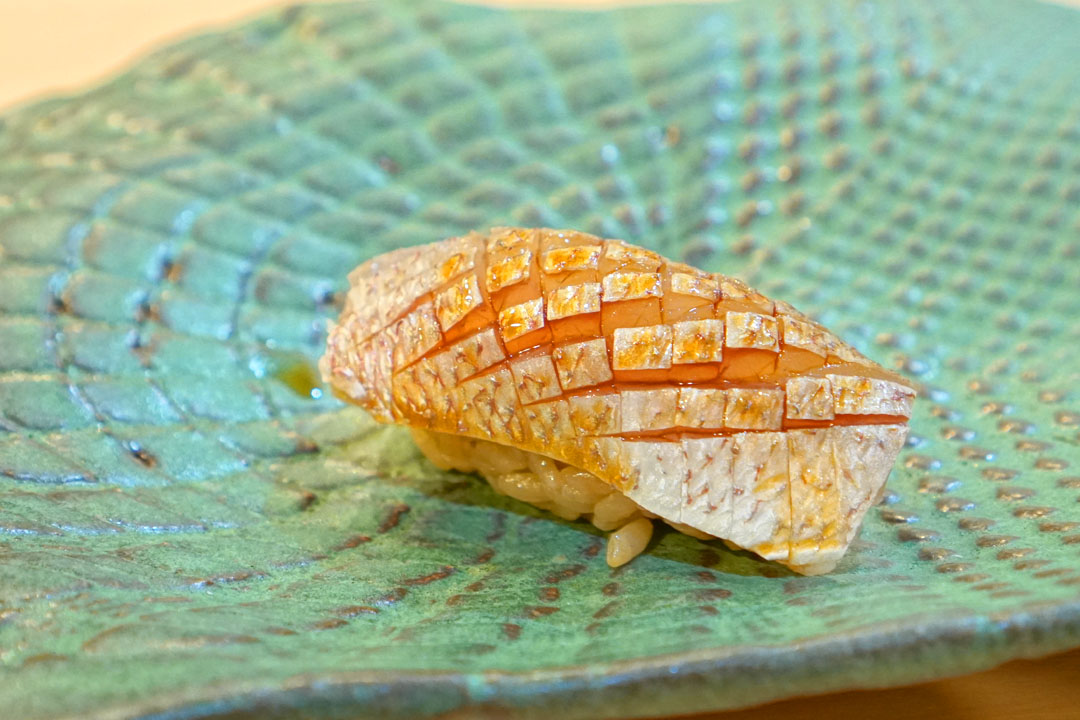 11: 春子鯛 / Kasugo Dai
A beautifully-scored cut of baby sea bream was subjected to
kobujime
treatment. This appeared to heightened the fish's umami qualities, which were well juxtaposed against the nuttiness of the
sumeshi
.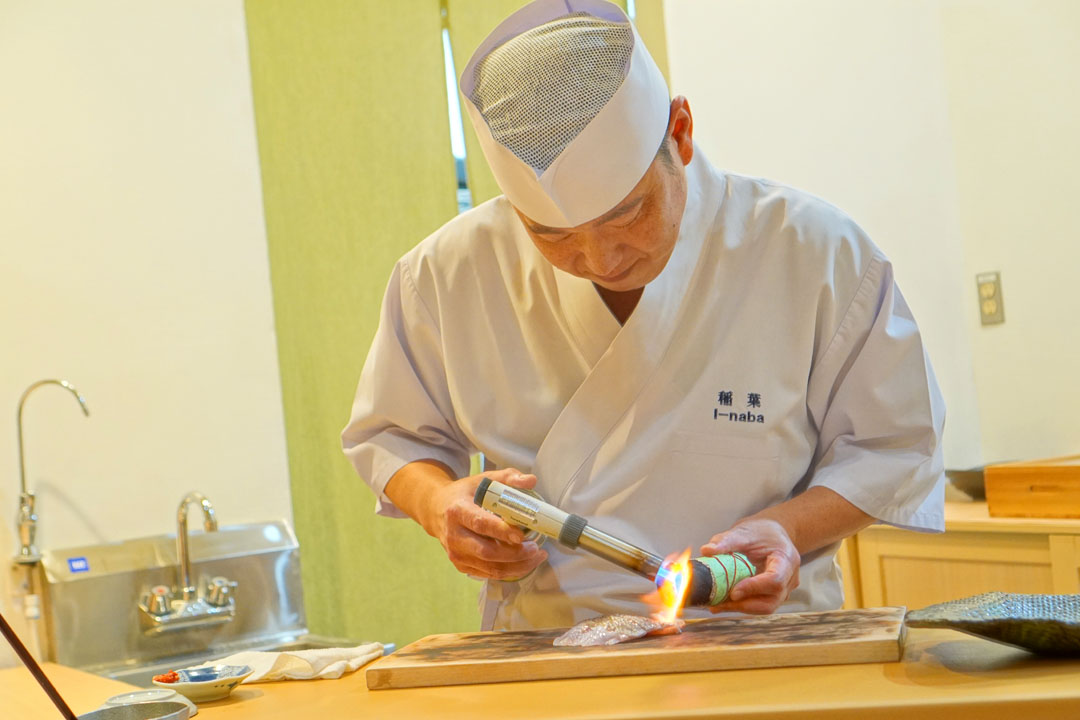 Chef Yasu once again incorporating binchotan charcoal is his searing process.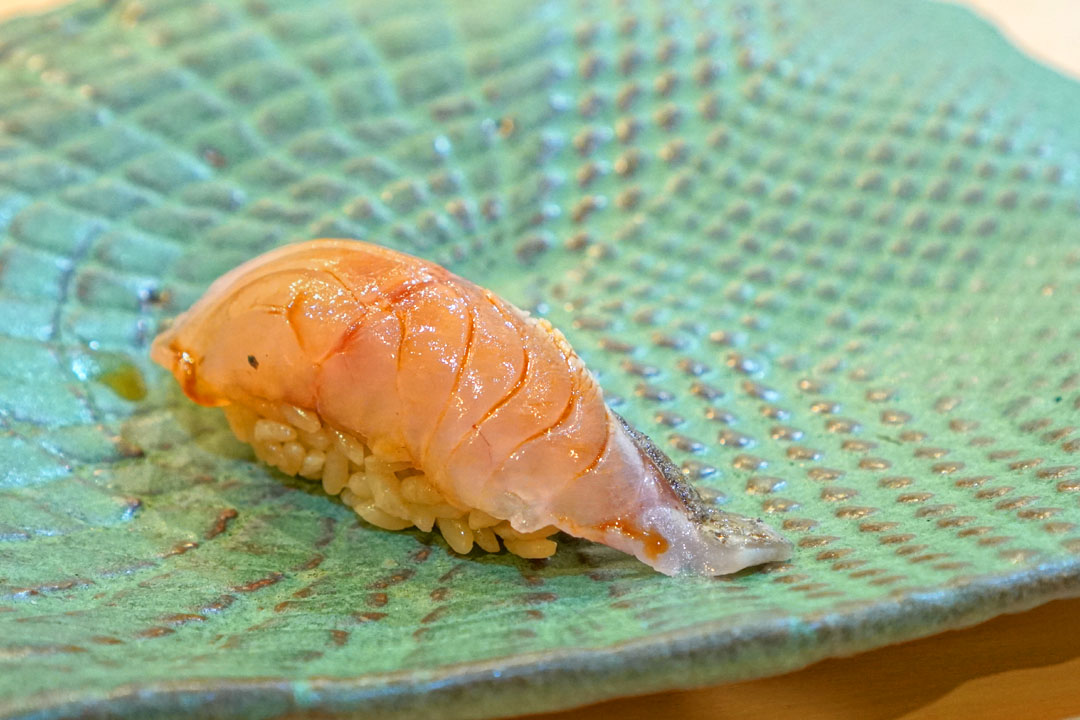 12: 黑鯥 / Kuromutsu
Blue fish is another rare treat, so I was glad to see it on the menu tonight. I was certainly a fan of its smoky-savoriness and how that played with the stickiness of the rice, and I believe that
yuzukosho
was utilized here in place of wasabi. Surprisingly great with the Bordeaux.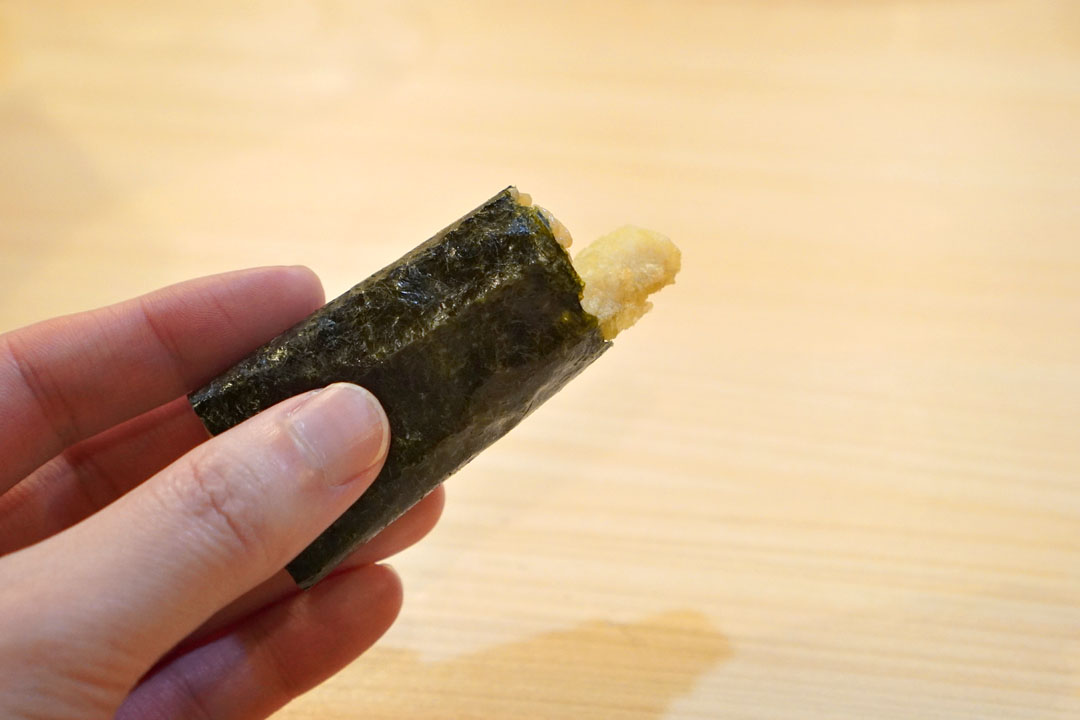 13: メヒカリ / Mehikari
Known by the curious name of greeneye, this fish was another uncommon sight, and another favorite. I loved the interplay between its fried exterior and its delicate flesh, and how that all combined with the seaweed, which made this course a surprisingly effective pairing with our claret.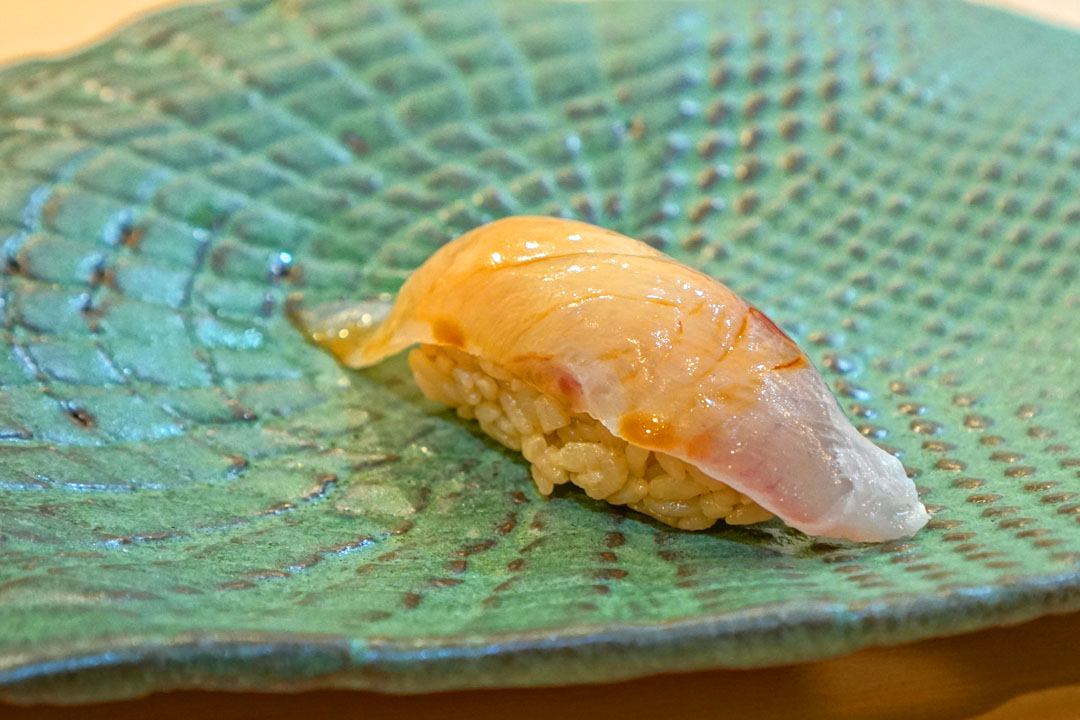 14: しま鯵 / Shima Aji
Aged striped jack exhibited a heightened amount of umami, and had a simultaneously soft and snappy consistency that made a lot of sense with the stickiness of the rice.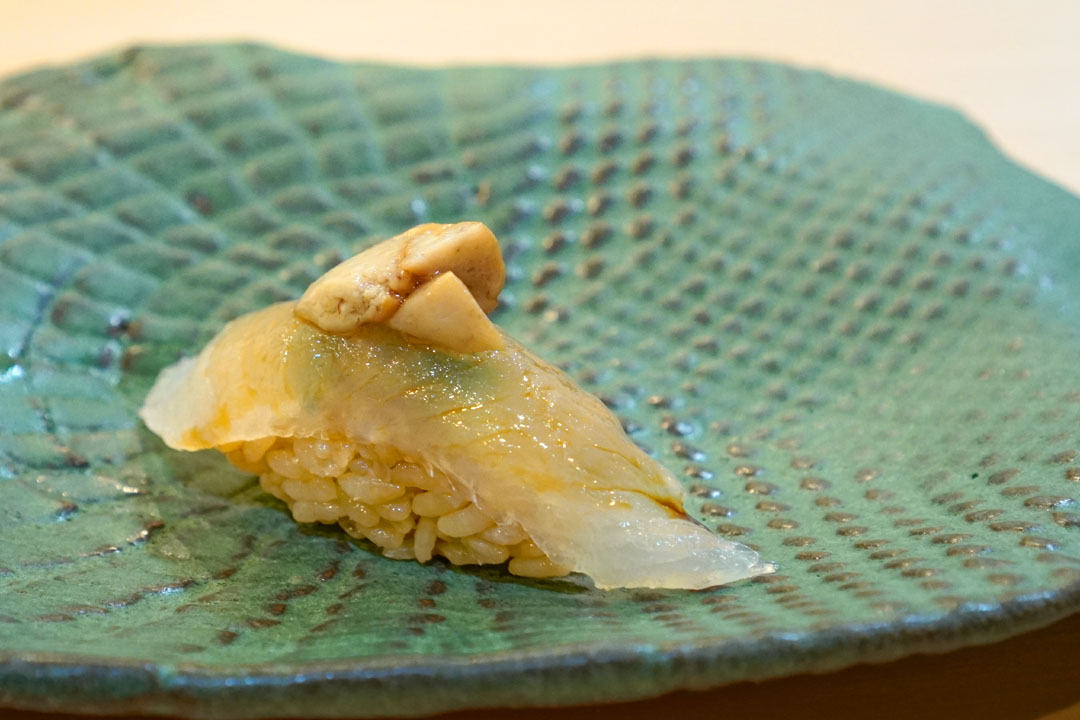 15: 皮剥ぎ / Kawahagi
This was perhaps the best presentation of filefish I've had due to how tasty its topping of liver was. It had an almost onion-y savor that really worked with the comparatively mild taste of the fish.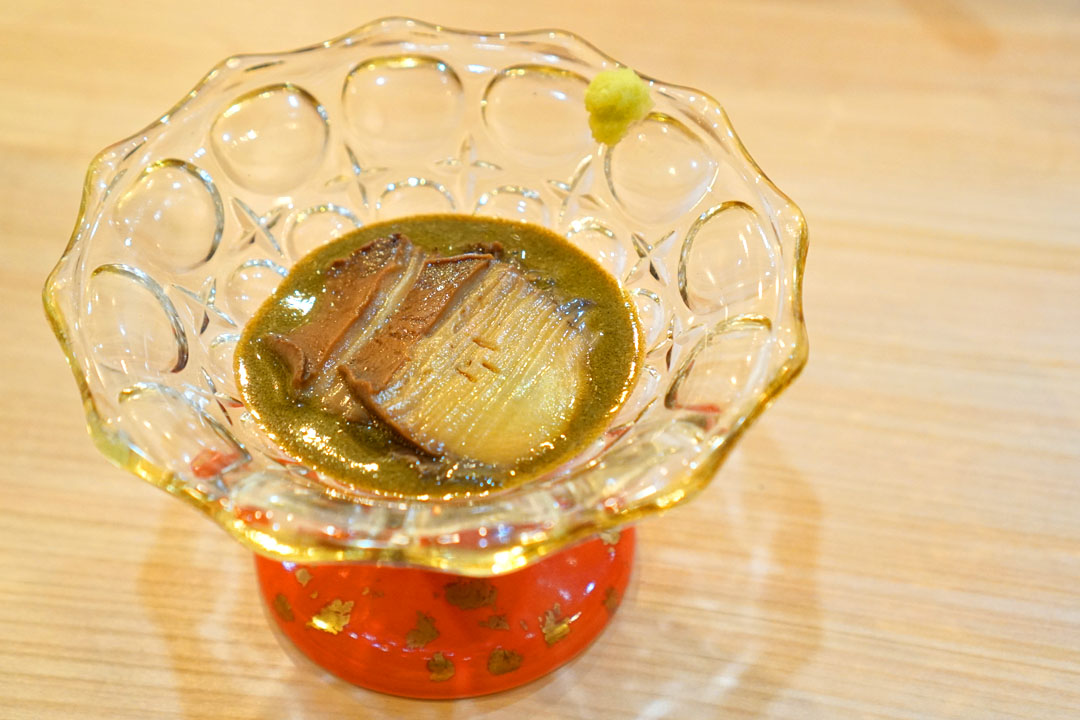 16: あわびの酒蒸し / Awabi no Sakamushi
Ezo
abalone from Hokkaido was cooked for a reported eight hours, resulting in an amazingly soft, slippery texture quite unlike anything I've had before. Its considerable amount of umami was kicked up a notch by the depth of the accompanying
kimo
sauce, which also made this dish pair gorgeously with the Bordeaux.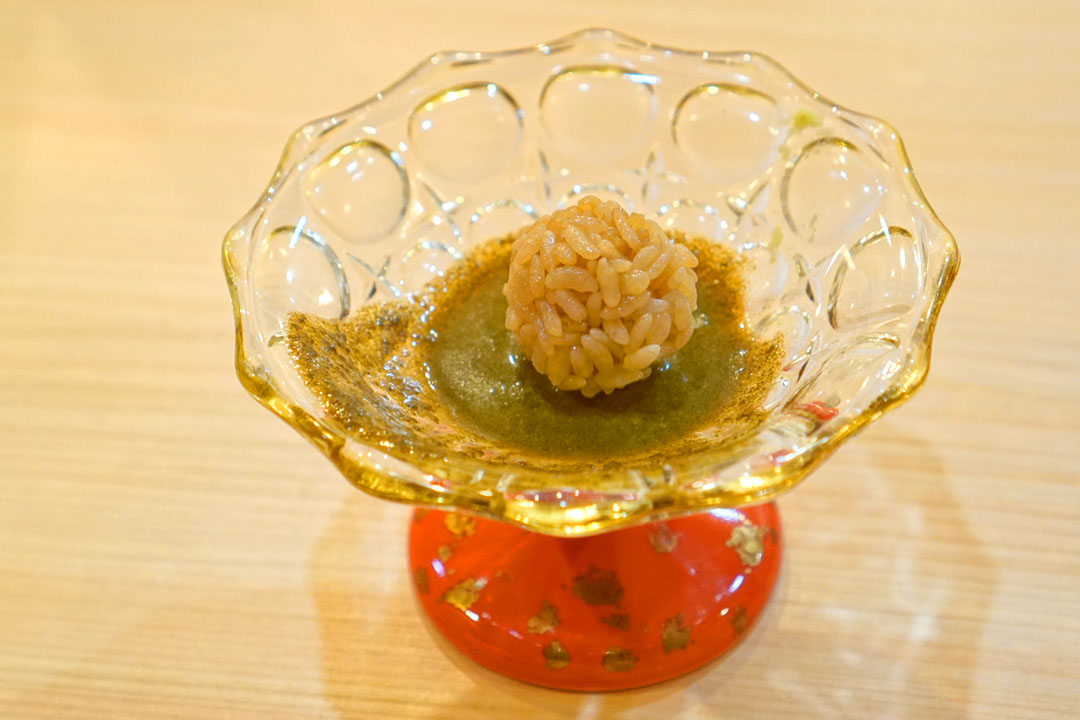 A ball of rice was subsequently provided to mop up the remainder of the sauce with.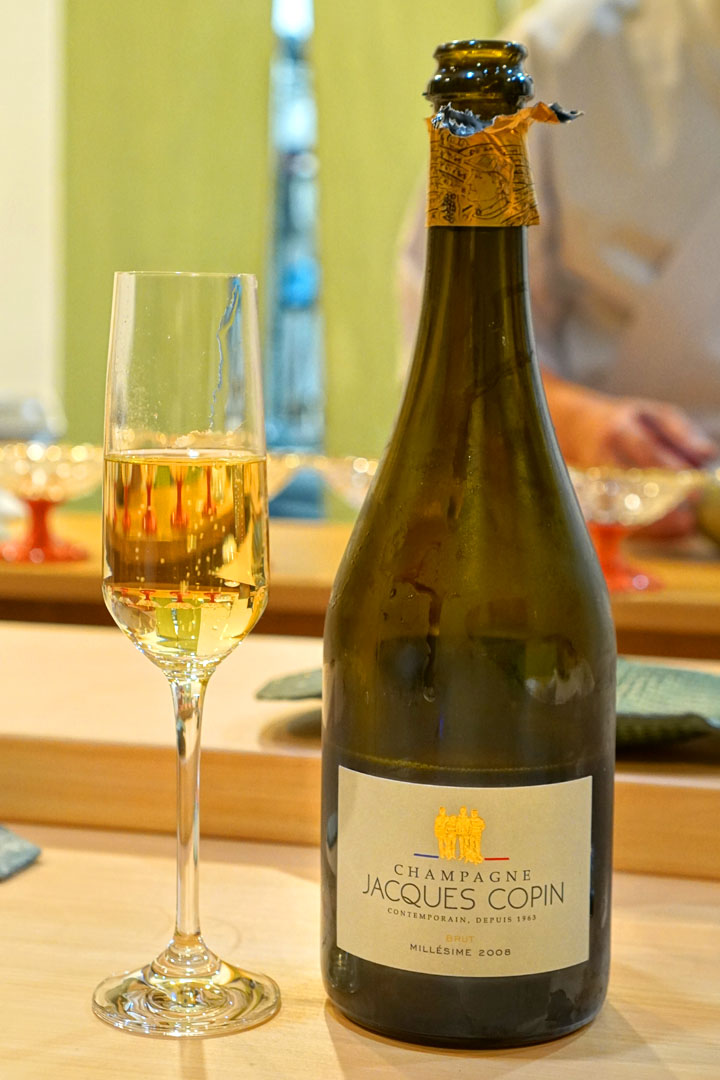 The
2008 Jacques Copin Champagne Brut
was actually brought as a backup, just in case the Beychevelle turned out to be undrinkable, but we ended up opening it anyway. A 50/50 blend of Chardonnay/Pinot Noir aged for 135 months, it smelled great, recalling peach preserves spread over toasted brioche. Taste-wise, this was on the richer, creamier, complex, full-flavored side, demonstrating plenty of orchard fruits commixed with a plethora of toasty, nutty, caramelized elements.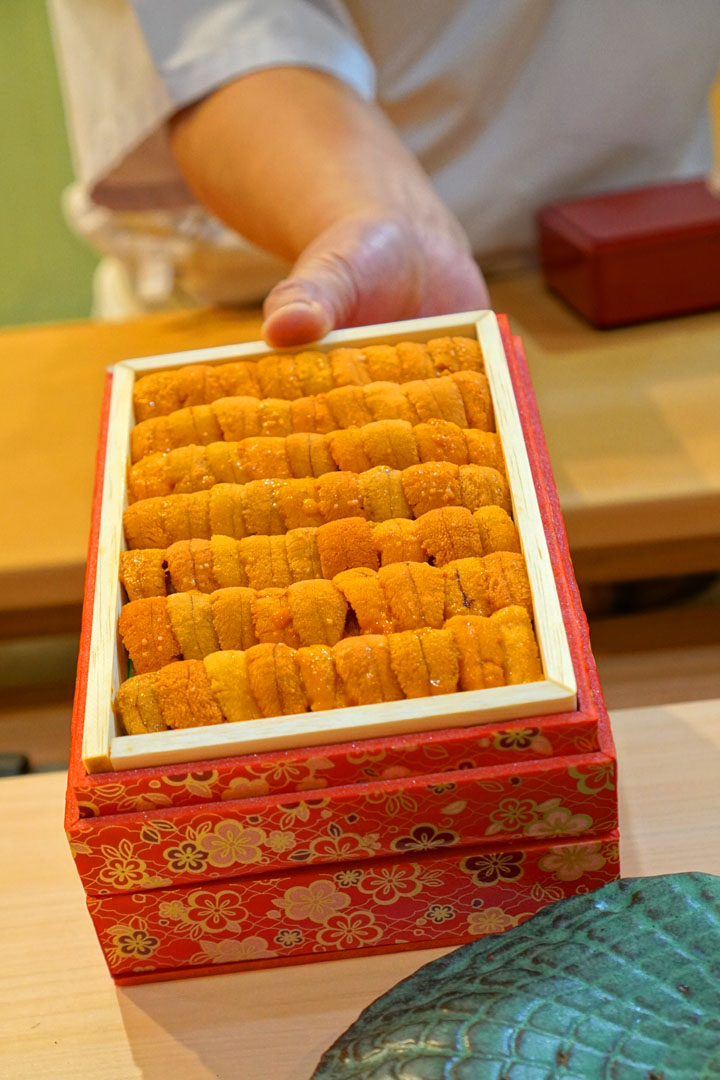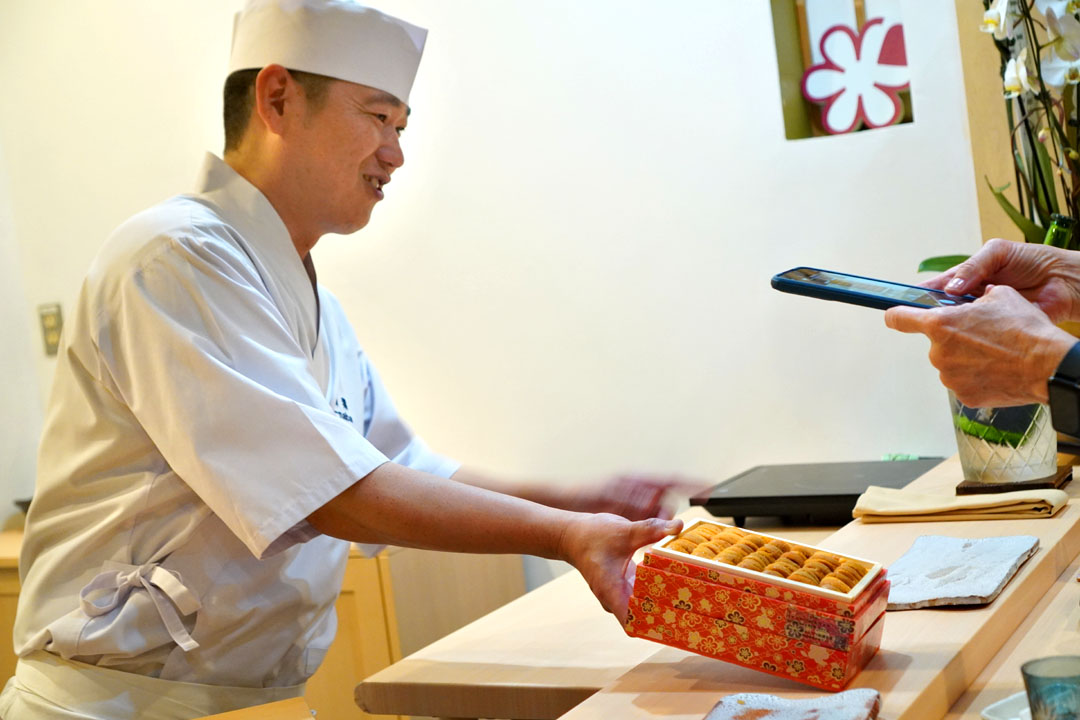 Yasu-san proudly showing off a colorful box of uni, to be used for our next course.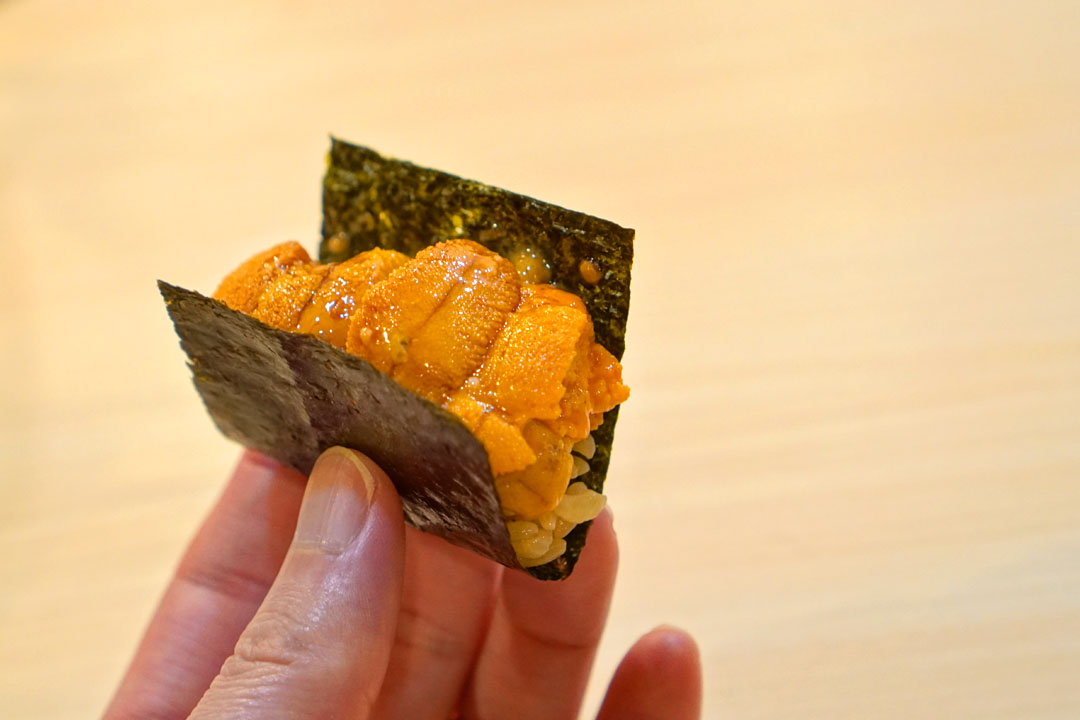 17: バフンウニ / Bafun Uni
This was such a prototypical example of Hokkaido sea urchin. Think a cool, creamy, mineral-driven sweetness, set against rice and the grassy, salty flavors of nori seaweed. It was just what I wanted.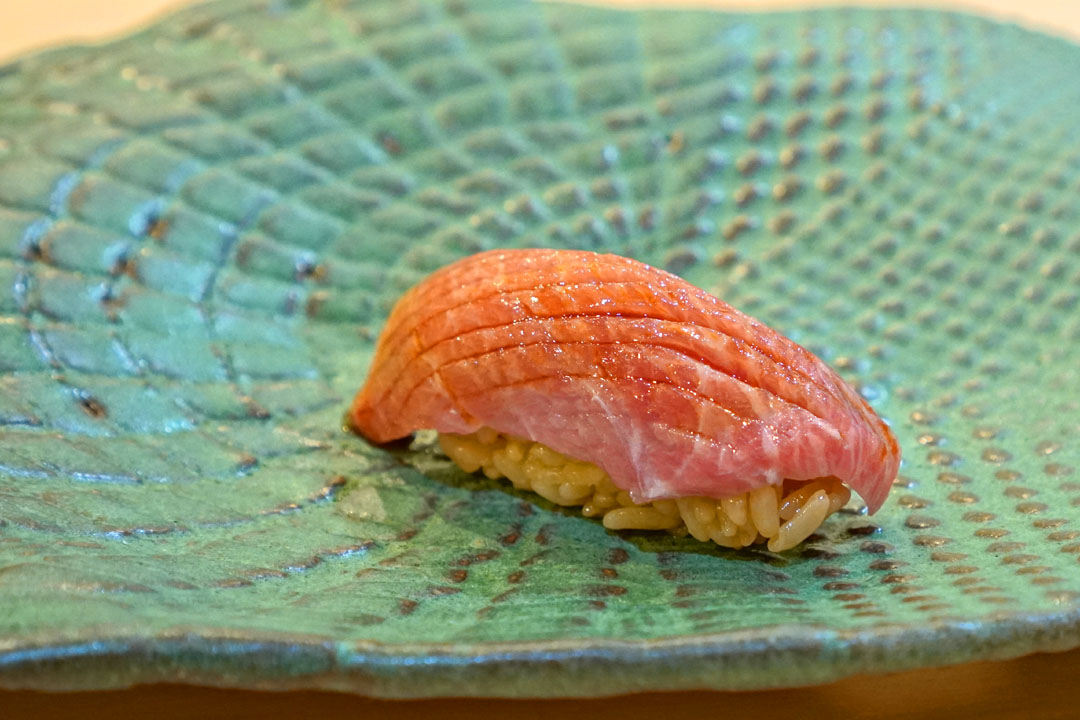 18: とろ / Toro
20 day-aged Miyagi bluefin was warmed slightly using a plate that had been placed in a hot water bath. This was a technique that I hadn't seen before, and appeared to loosen up the fat present in the fish, resulting in a particularly luxurious eating experience. The rice was crucial for balance, and again, this ended up pairing rather well with the red wine.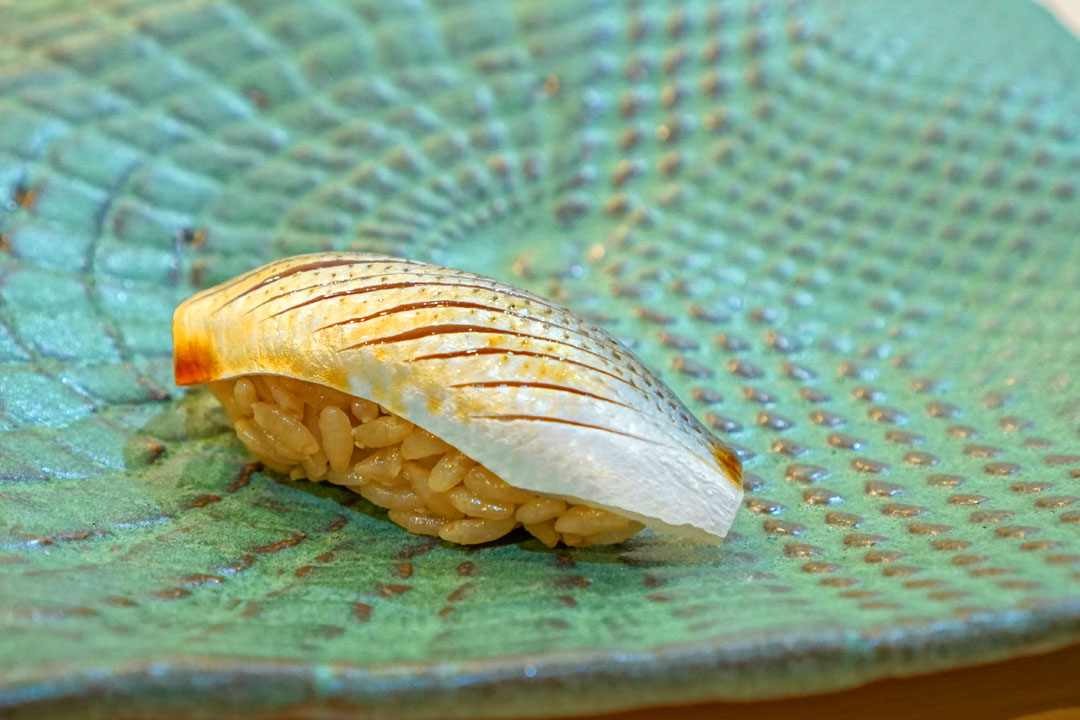 19: 小鰭 / Kohada
A silvery shard of gizzard shad had its signature salinity complemented by noticeably sweet, almost fruity flavors.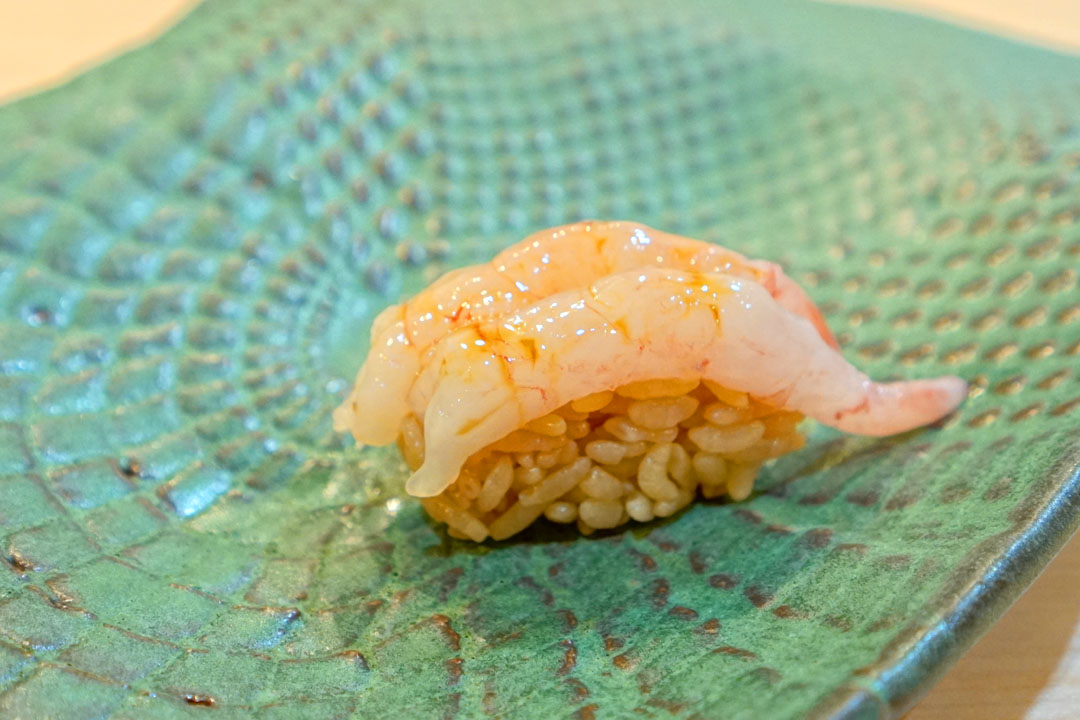 20: 甘海老 / Ama Ebi
Hokkaido sweet shrimp showed off that creamy, sticky consistency I was looking for, while its sweetness was matched by the kick of wasabi.
21: 潮汁 / Ushiojiru
A clear soup with asari clam featured a wonderful marriage of salinity and green onion zing that I enjoyed much more than I thought I would. Cozy and homey.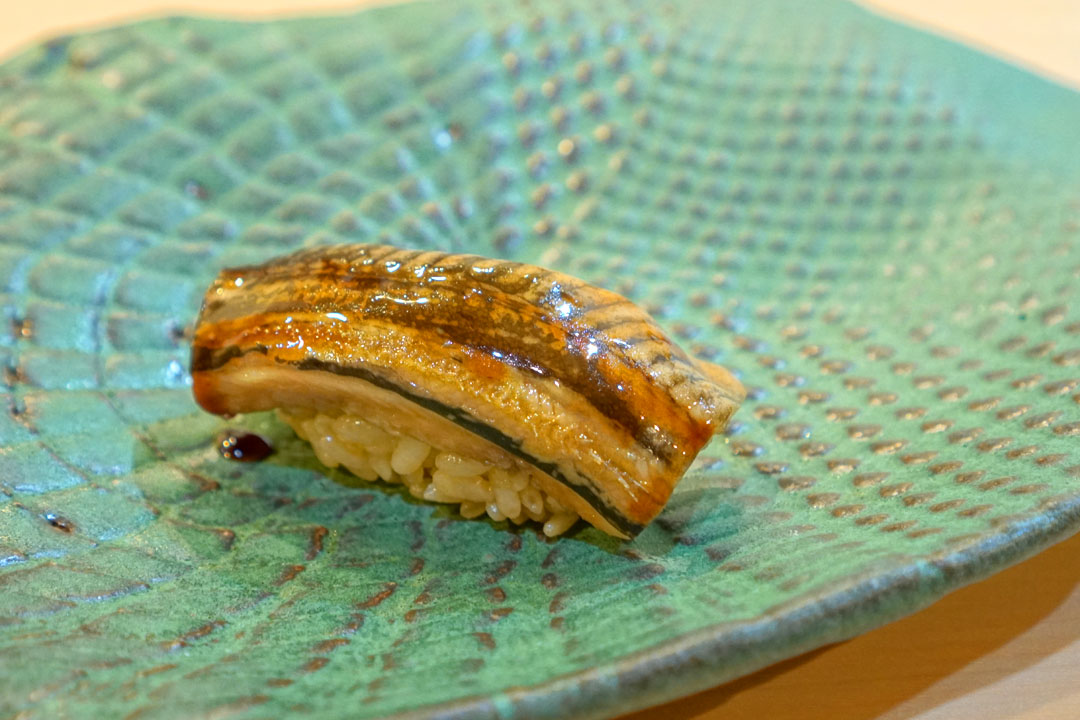 22: 穴子 / Anago
This was probably the softest sea eel I'd even eaten, and I liked the contrast between that tenderness and the comparatively firm rice. In terms of taste, the fish's sweetness was countered by the mintiness of shiso on the finish, and overall, the bite really seemed to draw out the fruitiness of the Champagne above.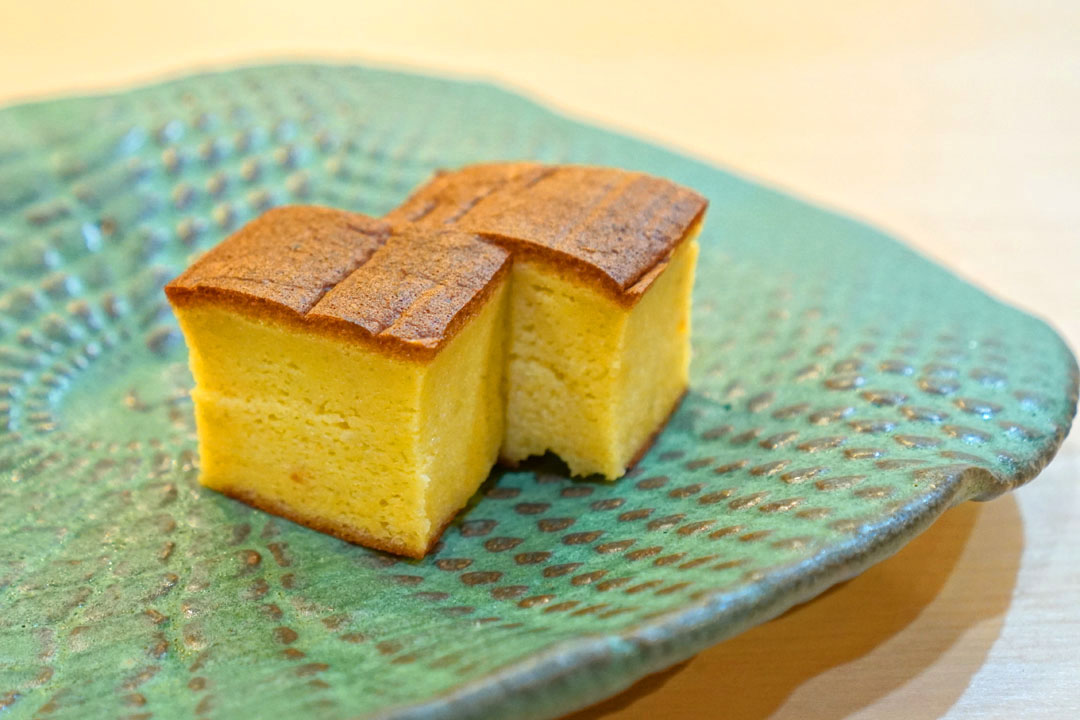 23: 卵焼き / Tamagoyaki
We closed out the meal with one of the better preparations of tamago that I've had in a while. Done in the castella style and incorporating shrimp and scallop, the egg omelette represented an exquisite balancing act between sweetness and umami. Yum.
This was an excellent meal to close out the year with, so hats off to Hirano and his team (including Saori, who managed the FOH). The dinner served as a reminder that I-Naba's the best sushi spot in the South Bay, and a top-echelon contender for LA as a whole. As for next steps, the team is reportedly still looking for a new location in the Manhattan Beach area, but it's unclear when they'll be able to relocate. When that happens, I'm hoping that Tempura Nagomi can make a return, but the Chef didn't seem to think that would happen, so I'm curious as to what will eventually take over this space.