Genever (Los Angeles, CA)
Genever Bar
3123 Beverly Blvd, Los Angeles, CA 90057
213.908.5693
www.geneverla.com
Tue 01/24/2023, 10:50p-12:15a

My last post detailed one last meal at
Eszett
before its shutter on the 30th, and following that dinner, I made my way to Historic Filipinotown for drinks at Genever before
its own closure
on the 25th. I'd actually wanted to check this place out numerous times before, but my hand was finally forced by these unfortunate circumstances. Apparently, I wasn't the only one who was aiming to give this place one last go, since when I arrived, there was a line snaking out the door, and I ended up waiting over an hour for entry (and I'm glad I stuck it out).
A bit of history
: Genever is the brainchild of Roselma Samala, Christine "Tinette" Sumiller, and Patricia "Trisha" Perez (Pho Show, 310 Coffee), three Filipinas who met while studying at UCLA and who collectively form Red Capiz Partners. Apparently, they first conceptualized their idea for a cocktail bar back on New Year's Day 2013, and work on the bar commenced not too long afterward. In February 2016, the partners launched a
Kickstarter
, and the campaign ended up raising nearly $39,000, easily exceeding its $30,000 goal. They received their liquor license later that year, and after numerous delays, the bar finally opened in March 2018 with Beverage Director Kelso Norris at the helm.
Genever established itself as one of the premier drinking spots in LA, though its momentum was blunted due to the pandemic, when the bar was forced to resort to takeaway sales. However, the place was able to reopen on July 17th, 2021, and was back with a vengeance. The team achieved an "Outstanding Bar Program" semifinalist nod from James Beard in February last year, and not long after, was awarded a position on the "
North America's 50 Best Bars
" ranking. Things appeared to be going well, but in late January, to the surprise of many, myself included, the news dropped that Genever would be shutting down due to landlord issues, and so here we are.

Genever resides in a Westlake storefront that was previously occupied by Home Room, a performance/art venue, and 룸카페 (Room Cafe) Today before that. The roughly 1,100 square-foot space was penned by
Natalie Kazanjian
, and features a warm, inviting aesthetic with a bit of an Art Deco edge. Note that the photo above was taken at the end of night, after last call. The place was pretty much packed wall-to-wall for most of the evening.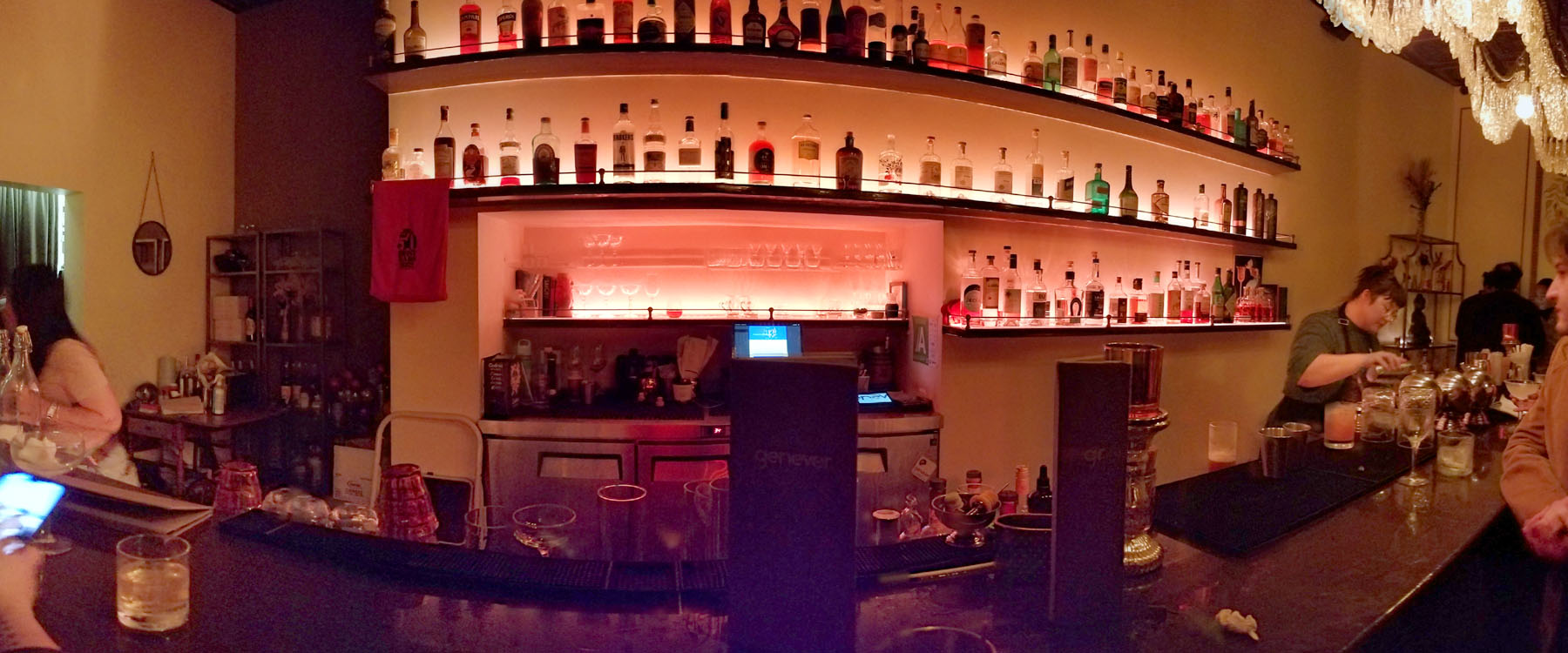 And here's the view from the bar. It took me 40 minutes to get a seat, but it was worth it.



Pictured above is Genever's cocktail list. Wines and beers are also offered, as are bar snacks (though not tonight, apparently). Click for larger versions.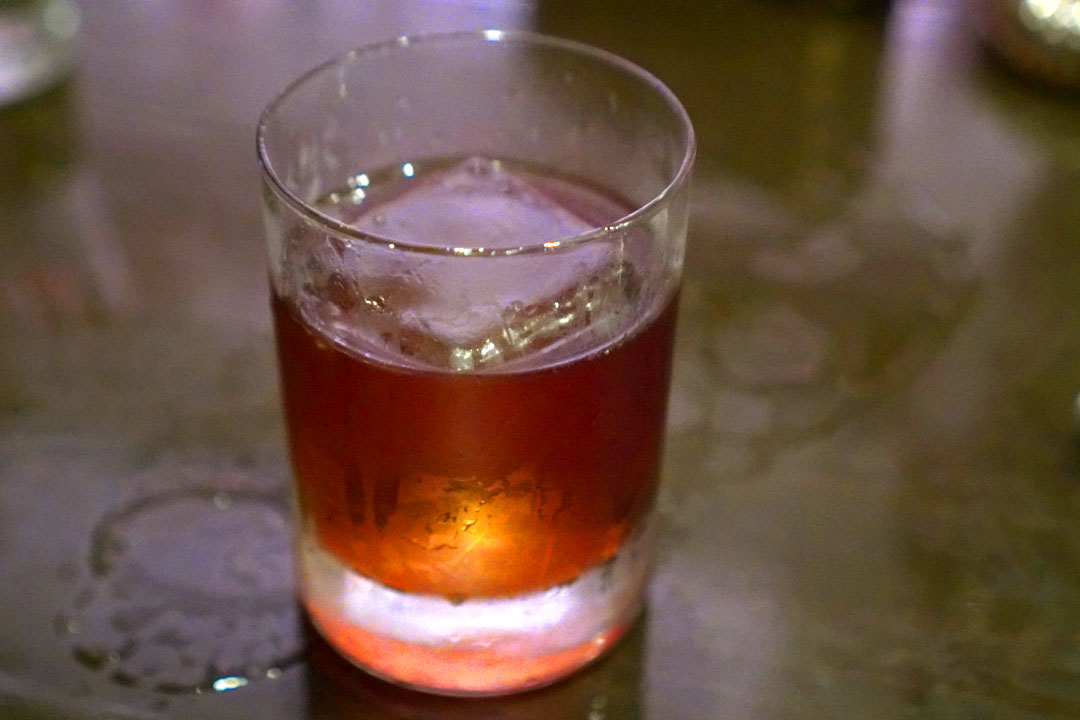 50/50 Clown [$14.00]
| Kabocha Infused Cognac, Sweet Vermouth, Corbin Cash Liqueur, Brown Butter, Bolivar Bitters
I chose my first cocktail based on its inclusion of kabocha-infused cognac. I didn't actually detect any of the squash on the nose, which was unexpectedly light and citrusy. However, taking a sip, I was definitely greeted with its sugary, vegetal qualities, commingled with the warm, sweet spice of the Corbin Cash and the aromatics of the bitters, all while the cognac imparted the necessary heft. My favorite drink of the night.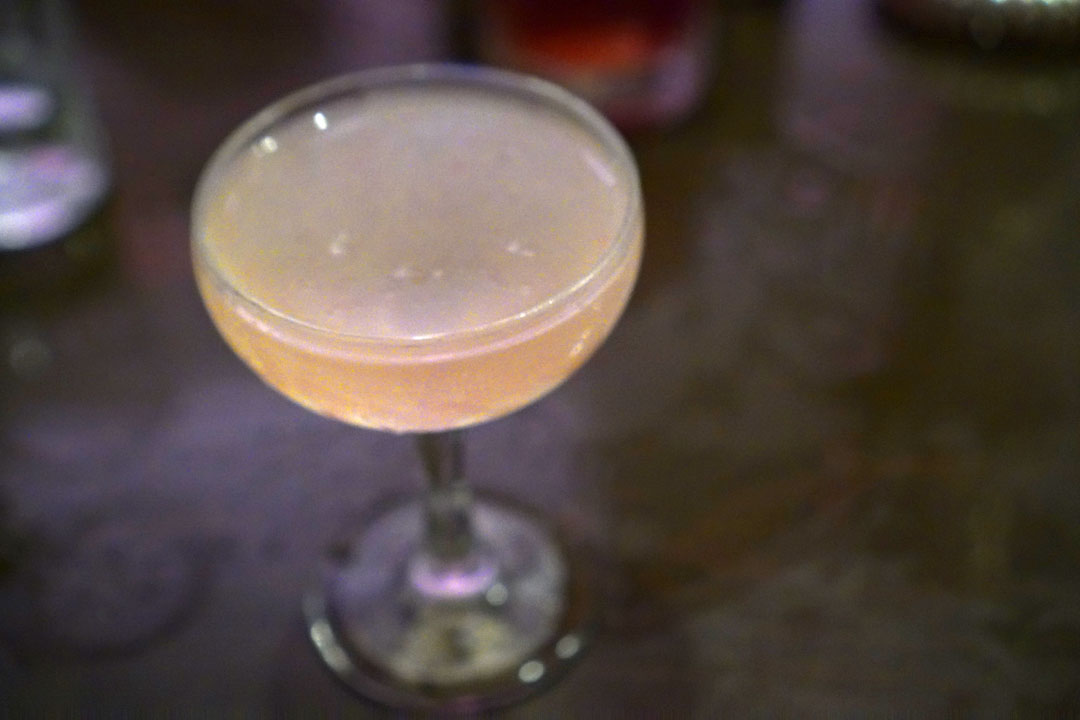 Datu Datu [$14.00]
| Gray Whale Gin, Dry Vermouth, Datu Puti Vinegar, House Fish Sauce, Chicken Salt, Onion
Our second cocktail could certainly be viewed as polarizing, and is certainly not for everyone. I found it intensely, aggressively savory, with supporting elements of nuttiness and funk making themselves clearly known as well. I'll liken this to drinking a liquid form of pancit.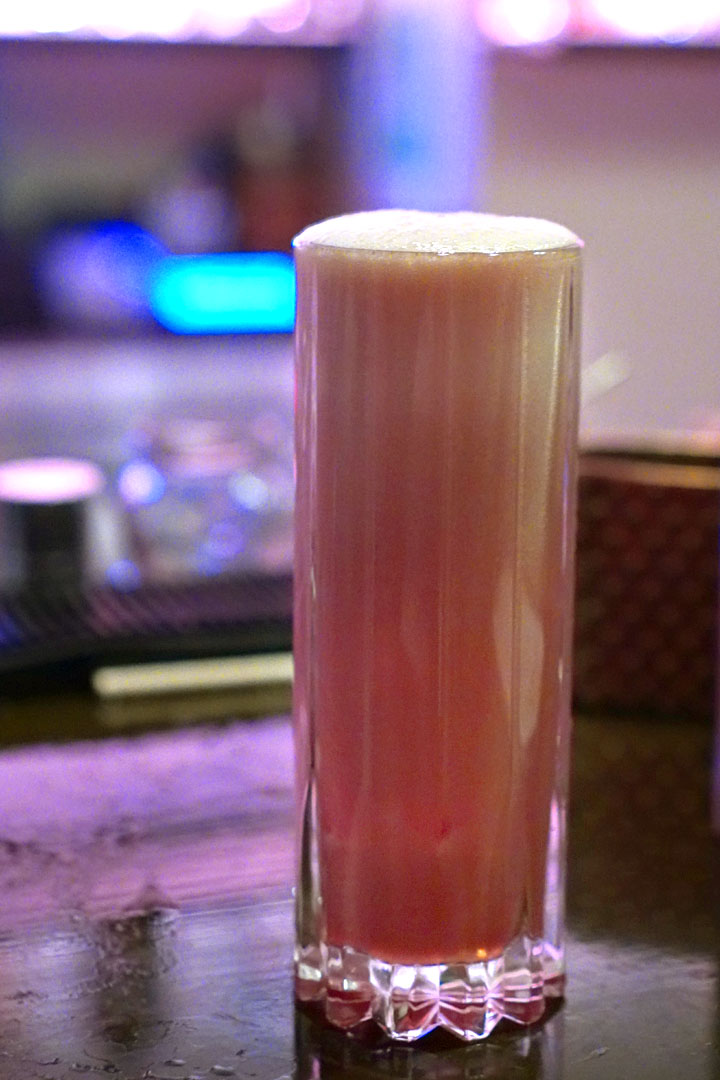 Cherry Coloured Funk [$14.00]
| Kikori Whisky, Cherry Heering, Lemon, Piquette, Egg Free Fizz
Next up came undoubtedly the easiest-going cocktail of the bunch. Think soft and smooth, with bright, juicy cherry flavors offset just enough by elements of citrus and fizz.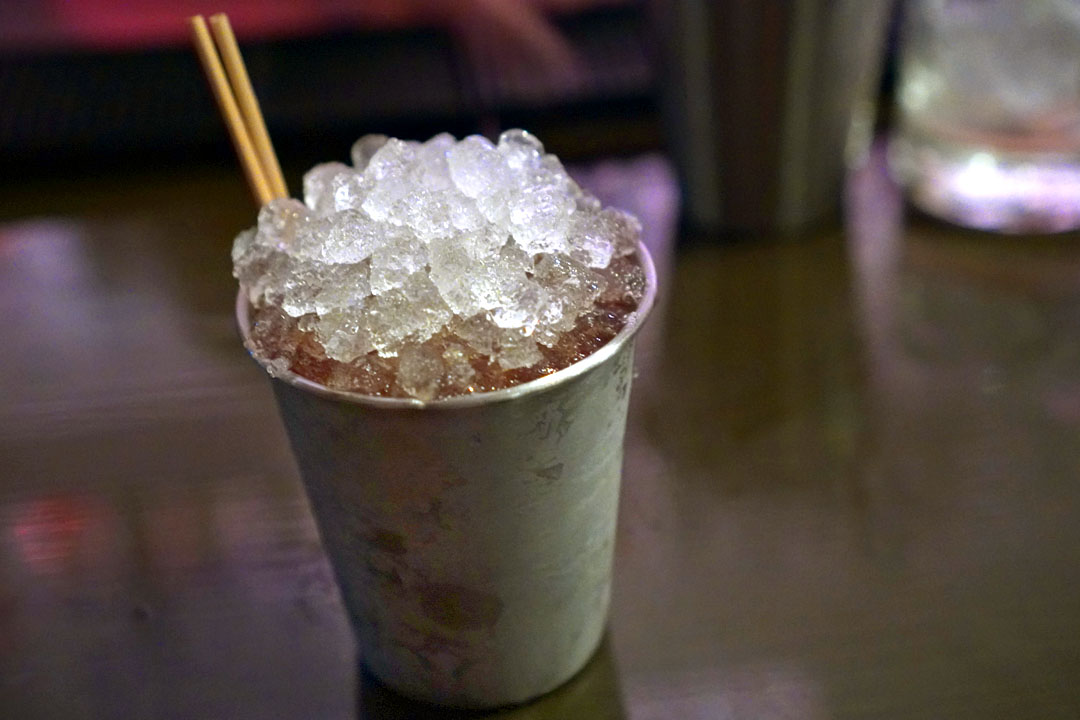 Midsummer Fox [$14.00]
| Kuleana Nanea Rum, Redemption Rye, Oloroso Sherry, Apricot + Demerara
My final cocktail demonstrated a lovely fruitiness right up front, with contrasting notes of spice from the rye-rum combination. The crux here, though, was that sherry, which contributed a delightful oxidative and nutty character to the drink that served as a great finishing touch.
My experience at Genever wasn't ideal given the massive crowds this evening, but I'm still really glad I finally made it out here. Despite how hectic things were tonight, the cocktails were still well-made, and I could totally see this place as a neighborhood-y type of bar that's also a bit of a destination spot. I'm very curious as to what the partners have in store next. Hopefully they're able to recreate the magic of Genever at a different location, and if so, I'll be certain not to wait this long again to check it out.