Café Basque (Los Angeles, CA)
Cafe Basque at The Hoxton
1060 S Broadway, Los Angeles, CA 90015
213.725.5850
www.cafebasque.com
Fri 01/20/2023, 08:05p-10:00p

Situated in the historic Los Angeles Railway Building, Downtown's Hoxton hotel opened in October 2019, and along with it came two outlets for food and beverage: Sibling Rival and
Pilot
. However, when Boka Restaurant Group took over F&B operations for the property, they quickly turned Pilot into
Cabra
(with
Stephanie Izard
), while the flip for Sibling Rival arrived at a slower pace. In summer last year, it was announced that the ground floor eatery would be replaced by Café Basque, which was to feature, as the name implies, French-leaning Basque cuisine, but from Daniel Rose, which was a bit of a surprise to me. I was somewhat familiar with the Chef from his well-regarded French spot Le Coucou in NYC, but never expected him to open something in LA. Thus, my curiosity was piqued, and I put the place on my short list to check out following its debut on December 22nd.
About the Chef
: Chef Rose was born in June 1977 and hails from Wilmette, Illinois, a tony suburb north of Chicago. After graduating from New Trier High School in 1995, he went to St. John's College in Santa Fe, where he studied philosophy, Greek literature, mathematics, and music, but ended up transferring to the American University of Paris in 1998. He attained his bachelor's degree in 2000, then, enamored with French gastronomy and way of life, spent a year at Institut Paul Bocuse in Lyon, during which time he apprenticed at Jean-Pierre Bruneau's eponymous restaurant in Brussels. Following completion of his culinary degree in 2001, Rose served as a commis under Jean-Luc L'Hourre at Auberge des Abers in Lannilis, Brittany. In 2002, he transitioned over to a similar role at Le Pré Du Moulin in Sérignan-du-Comtat, near Avignon, and also spent time at the legendary Jamin in Paris. 2003 saw Rose relocate to Panajachel, Guatemala for his first head chef position at Hotel Atitlán, but he returned to France the following year and took on a short-lived chef de partie job at Hotel Le Meurice, under Yannick Alléno.
After spending some time pursuing other endeavors, he eventually opened his first restaurant in Paris in October 2006. Named Spring, the place is oft considered part of the bistronomy movement of the late 2000s, and became a smashing success, garnering months-long waiting lists. It was a one-man show to start, but in August 2007, Rose was joined by fellow chef Marie-Aude Mery, whom he later fell in love with and married in 2012. However, the restaurant was quite small, and in order to expand, he shut it down in August 2009 in order to move the business to a larger storefront. Just two months later, the Chef turned the original Spring space into Table 28, a temporary rotisserie concept, and in November 2009, he debuted a retail shop called Spring Boutique (it lasted until 2013). Meanwhile, the second incarnation of Spring bowed in July 2010, and was also hugely popular. Its success allowed Rose to open a bistro-style eatery called La Bourse et la Vie in September 2015.
He also began attracting international attention around this time, and was eventually persuaded by Stephen Starr to launch Le Coucou in New York City in June 2016. The contemporary-classic French spot was well-received, and even landed "Best New Restaurant" honors from James Beard and a "Restaurant of the Year" nod from
Food & Wine
. Rose's next project (also in concert with Starr) dropped in October 2016, and was a revival of Chez La Vieille, a much-loved bistrot first opened in 1958 by the famously grumpy Adrienne Biasin. She (and her sister Madeleine) ran it until February 1994, when she retired, and it continued chugging along under different owners until its closure in 2012; Rose, for his part, fell in love with the place when he first ate there in 2009.
Spring would close in the fall of 2017, and things were relatively calm until Rose resumed talks with Boka in 2019 (he'd initially discussed collaborating with them in 2015). The result of those talks was Le Select, a brasserie that just opened on January 28th in Chicago's River North neighborhood, and, of course, Café Basque, which was originally slated to debut in July last year but was delayed. Apparently, the Chef opted for Basque cuisine for SoCal given our region's similarity to the
Pays Basque
, and since he's not going to be in LA full-time, he's installed Sous Chef Anna Walter (who comes to us from Colorado) as his second-in-command, while the FOH is run by General Manager Darryl Jenkins and AGM Sydney Park.

As mentioned above, Café Basque takes over a long, slender first floor expanse that was previously home to Sibling Rival. The space really hasn't changed all that much, but was refreshed by
AIME Studios
to give it a somewhat warmer, more elegant feel. Do note that there's also extensive patio seating available.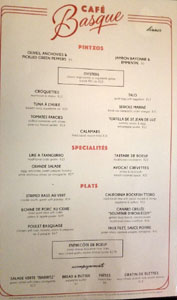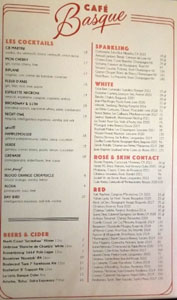 Here we see the menu, which lists a collection of Basque-inspired dishes with a Southwestern French inclination. To imbibe, you get cocktails, a handful of beers, and a brief, Old World-centric wine list. Click for larger versions.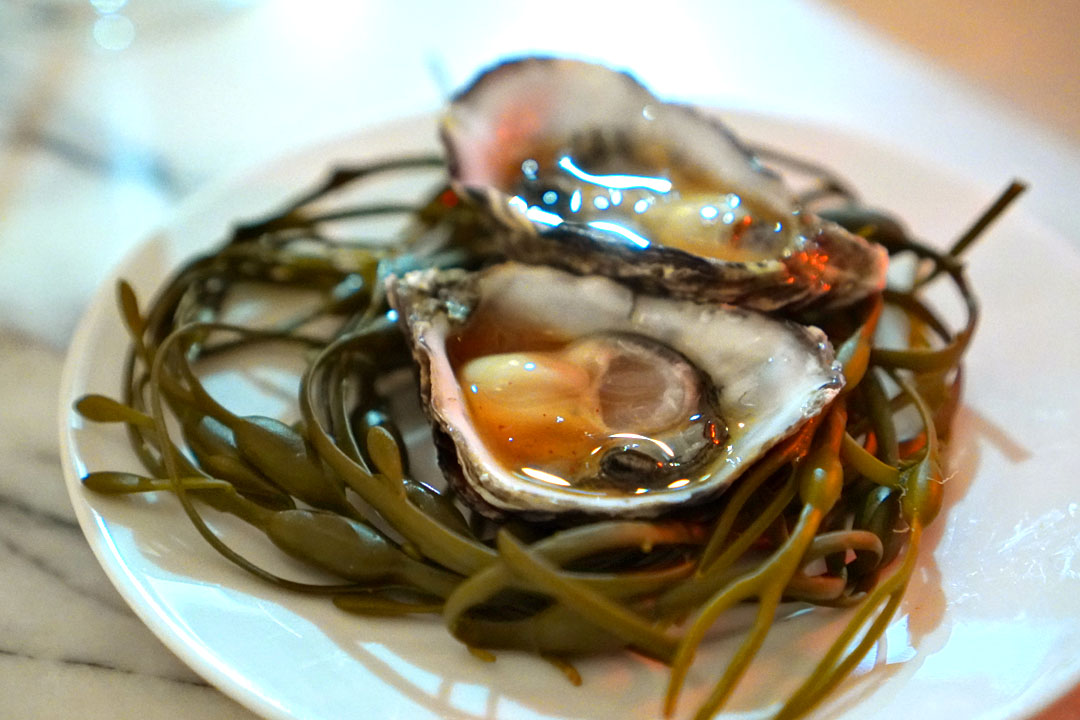 Oysters [$8.00]
| espelette gelée
A couple of oysters gave up all the saline notes I was looking for up front, but quickly transitioned to the overly sugary notes of the Espelette gelée. It was a bit much.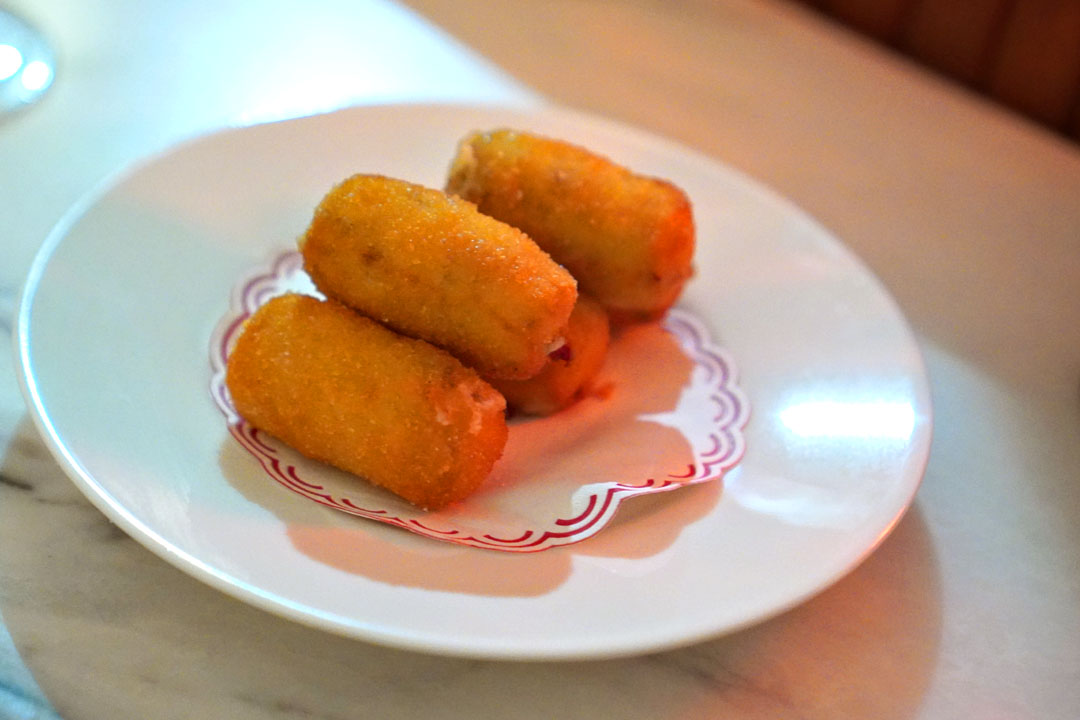 Croquettes [$11.00]
| mushroom & sherry
Croquetas had that crispy on the outside/creamy on the inside contrast that I was hoping for, while their aggressive, mushroom-y funk played with a nutty, oxidative bent from the sherry that was pretty unexpected.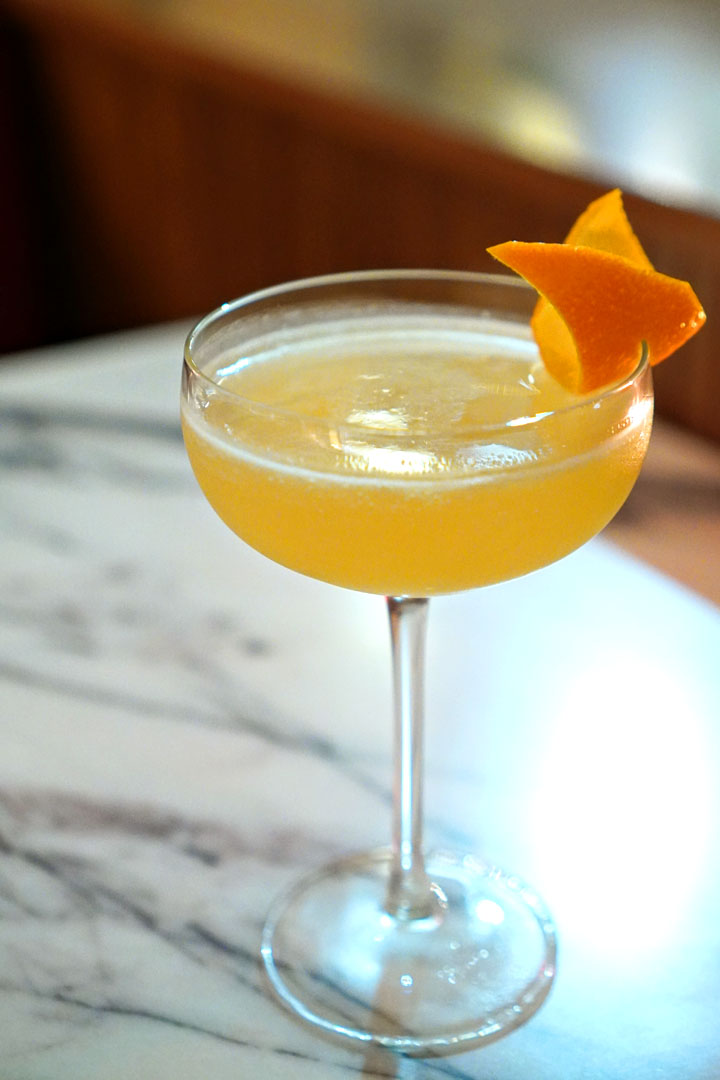 Biplane [$17.00]
| cognac, rum, creme de banane, curacao
We opted for cocktails this evening, and our first combined the trademark characteristics of cognac with a plethora of citrusy, astringent, and nutty nuances, all tempered by the sweetness of banana.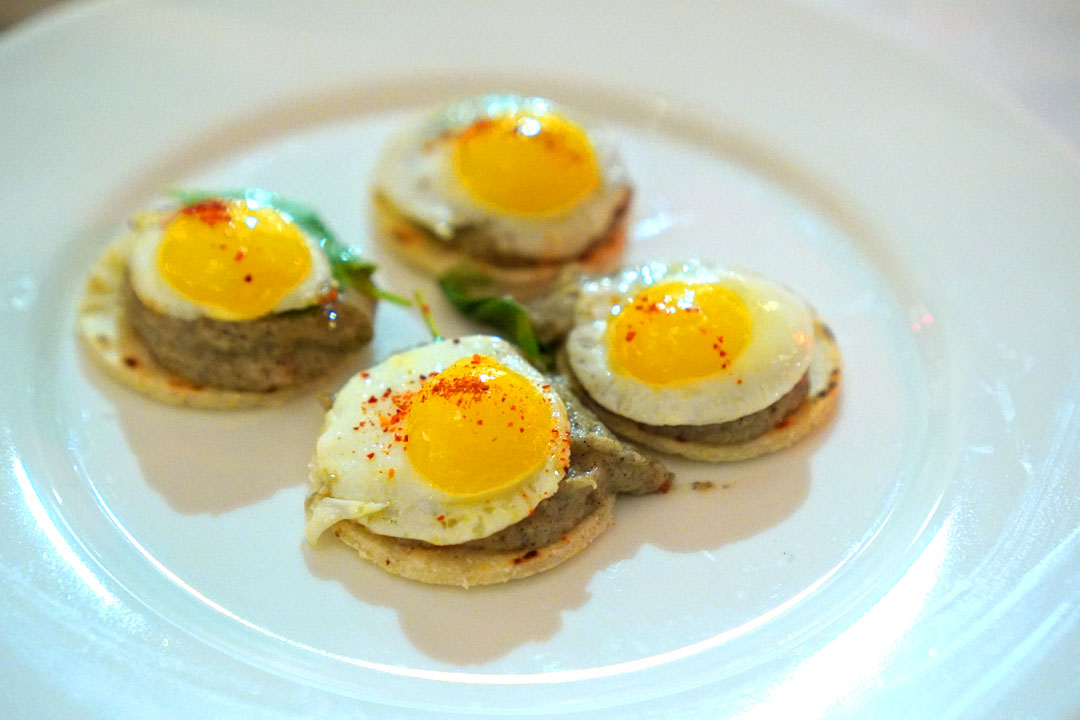 Talo [$12.00]
| quail egg with eggplant
I believe that this was my first time seeing talo on a menu in LA. The corn flatbread offered up a satisfying texture, and had a subdued sweetness that meshed well with the smoky eggplant, all while the eggs provided an enveloping sort of lushness.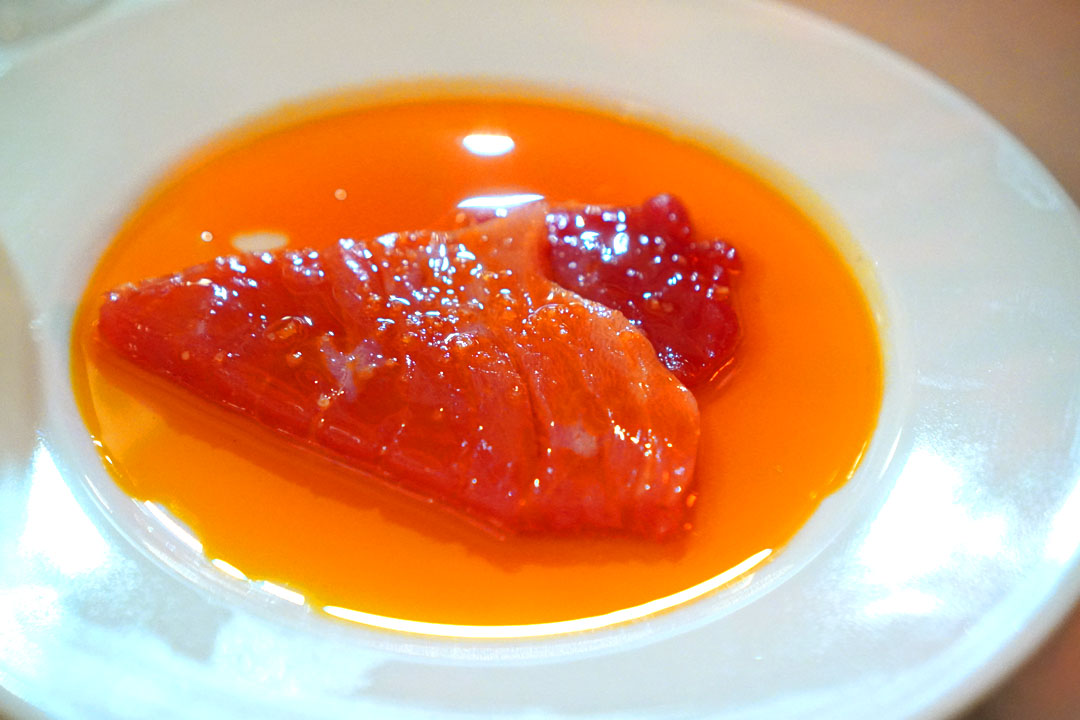 Tuna à l'Huile [$23.00]
| bluefin tuna, espelette oil
Ruby-hued shards of tuna demonstrated a satisfyingly sweet salinity that paired beautifully with the warmth of espelette oil.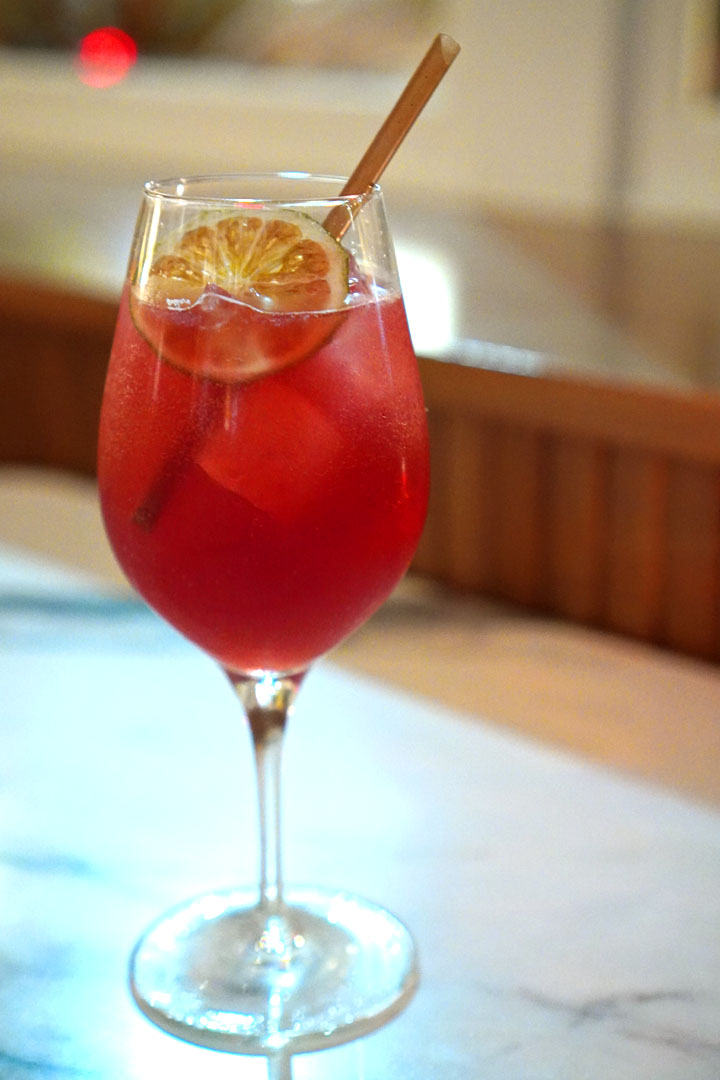 Grenade [$18.00]
| pomegranate, elderflower, lime, cava
This cocktail came from the spritz section of the list, and made for a fitting apéritif due to its fresh, zippy fruity and citrus flavors, backed by sweet spice.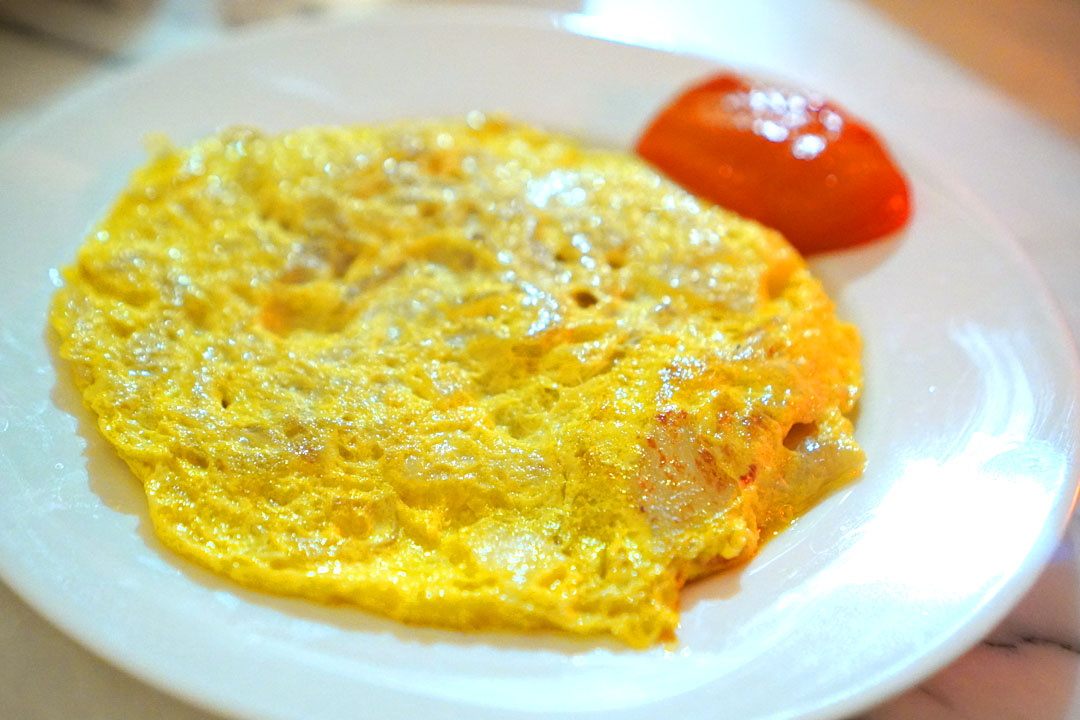 Tortilla de St. Jean de Luz [$11.00]
| potato, onion, & egg, red pepper purée
Rose's version of the iconic tortilla española was thinner and squishier than I'm accustomed to. What worked for me here was the back-and-forth between the sweetness of the onion and the comparatively milder egg-potato combo, and I appreciated the tartness from the dollop of pepper purée on the side, too.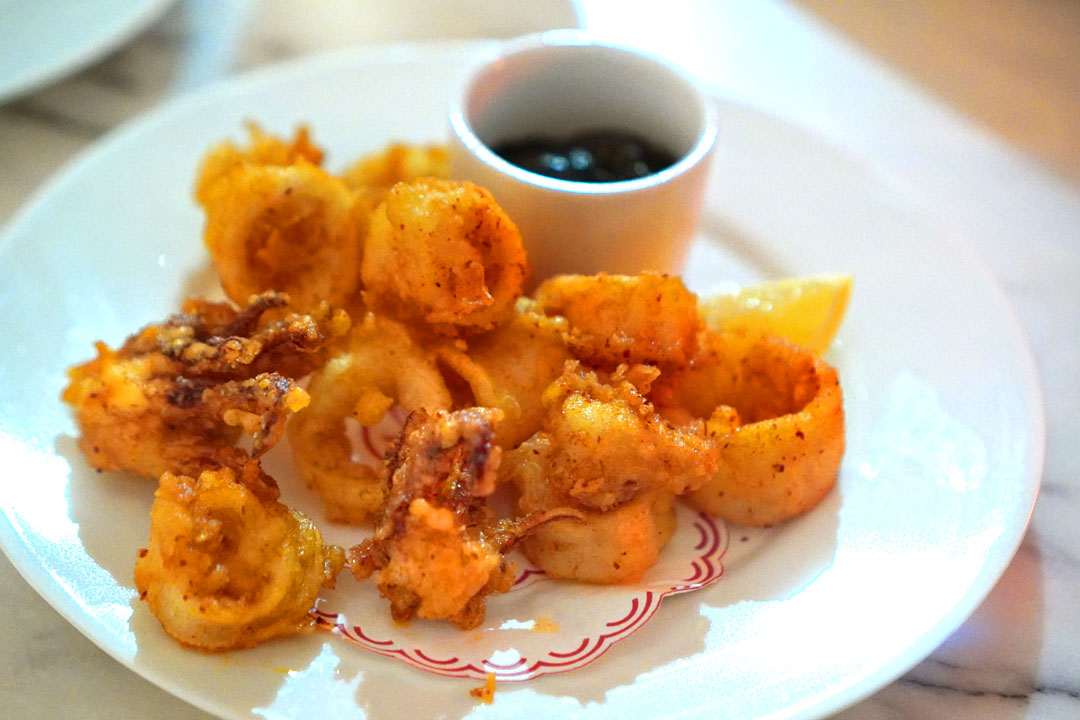 Calamars [$16.00]
| fried squid, sauce tinta
Calamari ate salty and satisfying, and showed off extra crunchy exteriors, while their interiors were still tender, but with a bit of chew. The sweet, grassy, briny squid ink sauce on the side offered extra complexity, but wasn't strictly necessary.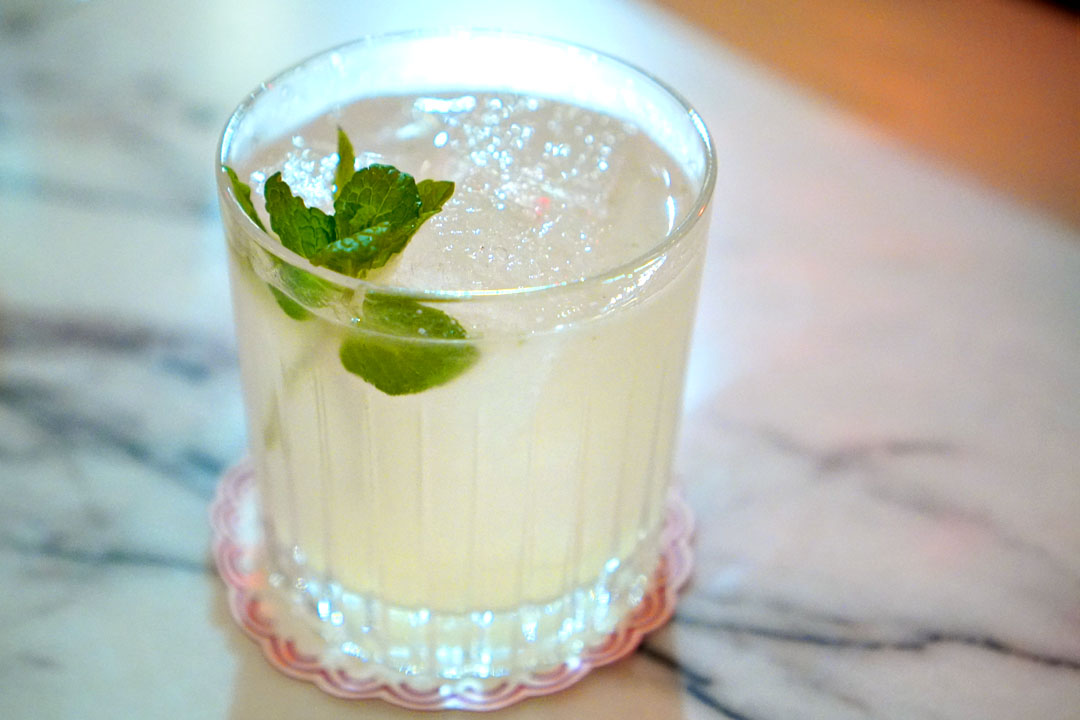 Fleur d'Anis [$18.00]
| gin, lillet, mint, lime, pastis
Anise was the main thrust of this cocktail, but the pungent nature of the pastis was effectively softened by a bevy of fruity, citrusy notes.
Avocat Crevettes [$21.00]
| shrimp & avocado, french cocktail sauce
The combination of avocado and shrimp sounded appealing, and indeed, the firm-ish texture on the latter really melded well with the lusciousness consistency of the former. The cocktail sauce did help tie together the two components, but I found it too heavy-handed, though fortunately, the herbs did work to balance out and brighten the dish.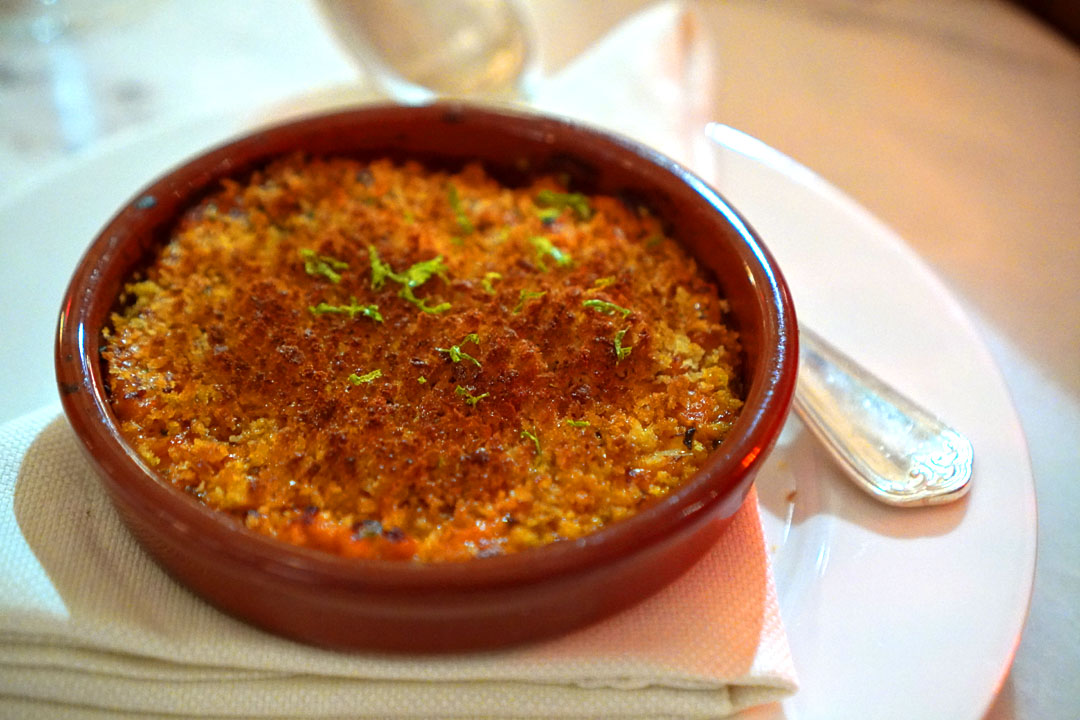 Like a Txangurro [$23.00]
| traditional crab gratin
An ode to the classic
txangurro a la donostiarra
married the sweet salinity of the crab with tangy flavors of tomato, all while the dish's browned crust served as a textural juxtaposition.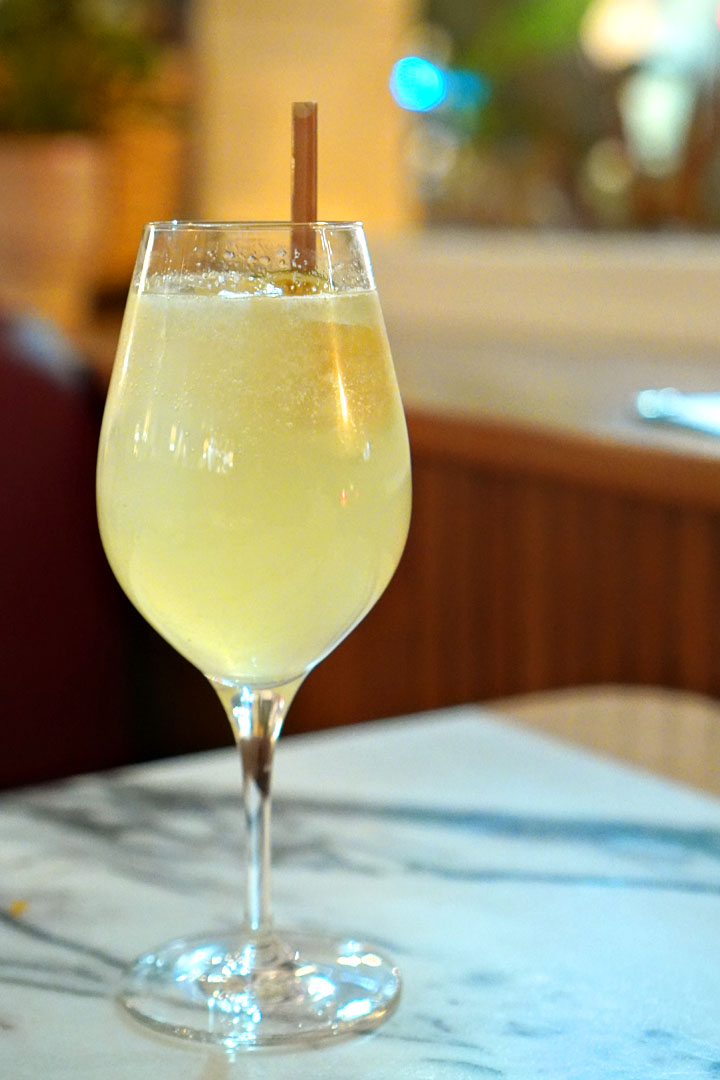 Verde [$18.00]
| genepy, comoz blanc, pastis, lemon, cucumber
Our second spritz-type cocktail was also easy-going, but a bit more contemplative due to all the bittersweet, herbal nuances present, I'm assuming from the génépi.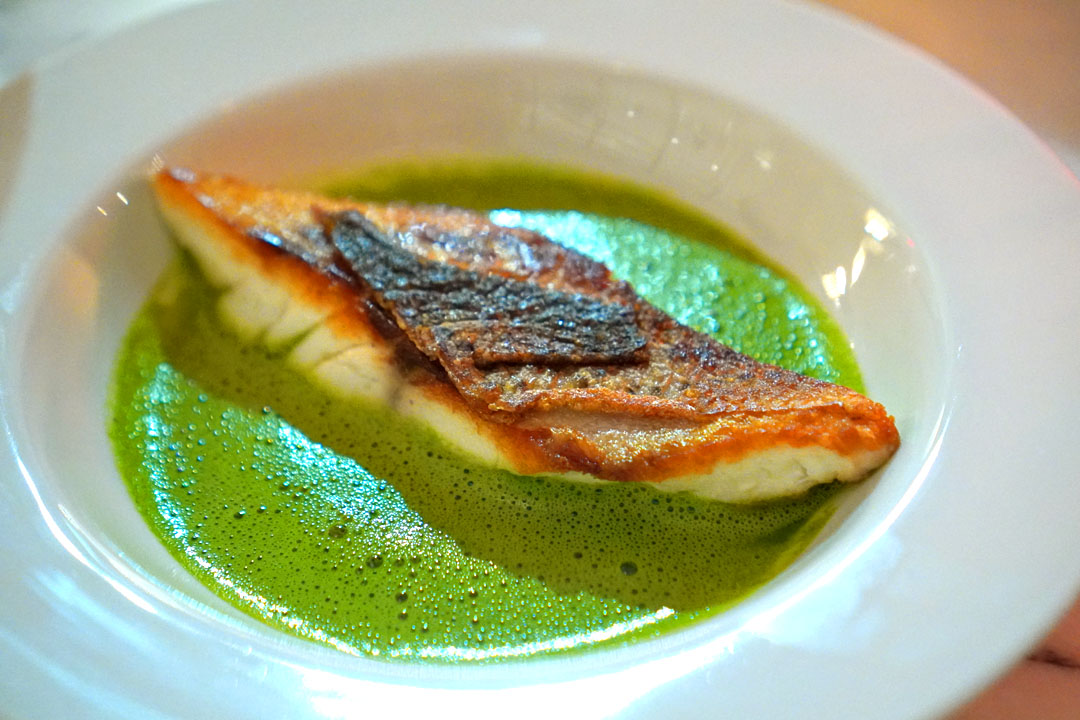 Striped Bass au Vert [$34.00]
| cockle broth, green with parsley
The striped bass ended up being my favorite dish of the night thanks to its wonderfully crispy, flavorful skin and juicy, saline, nicely flaked flesh. The fish was thoroughly enjoyable on its own, but what took this over the top was the zesty nature of that vibrantly green-tinted broth.
Canard Grilée "Souvenir d'Irouleguy" [$36.00]
| grilled duck breast, almond purée, traditional cherry confiture
Duck arrived deeply flavored, with a rich, smoky, almost "hammy" savor that made a lot of sense with those sugary cherries. My complaint here was that I wanted both crispier skin and juicier insides.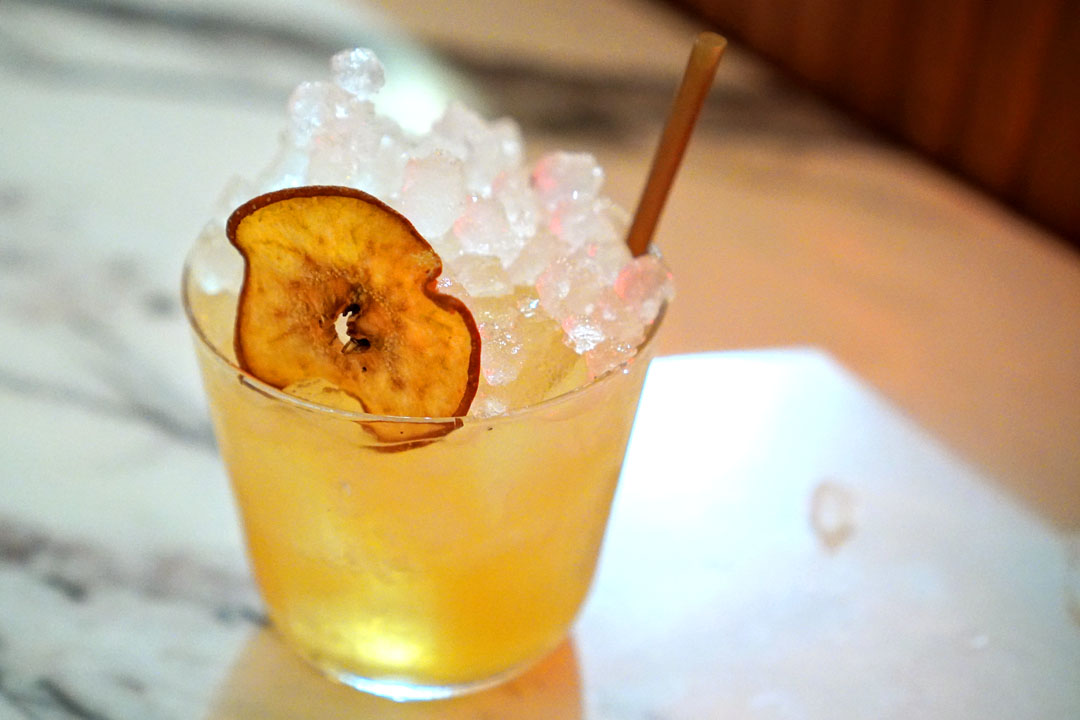 Broadway & 11th [$19.00]
| blended scotch, japanese whisky, pear, cardamaro
This was the booziest cocktail of the bunch, and conveyed the robust flavors you'd expect from the whiskies, but evened out by some fruitier qualities and elements of herb and spice.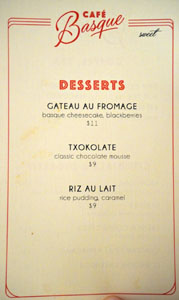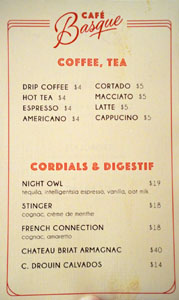 The dessert menu is brief, and supplemented by a selection of after-dinner drinks. Click for larger versions.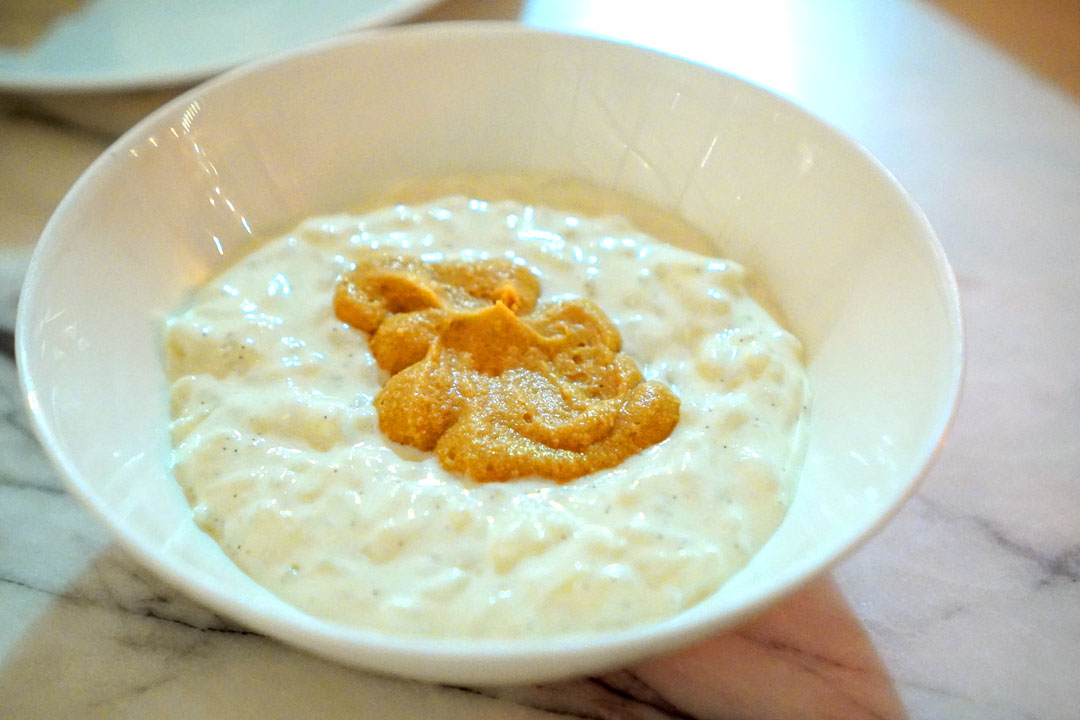 Riz au Lait [$9.00]
| rice pudding, caramel
Rice pudding arrived teeming with fragrant vanilla, reminding me of the Danish butter cookies of my childhood, while a dollop of caramel provided a blast of sugar that prevented the dessert from becoming too monotonous.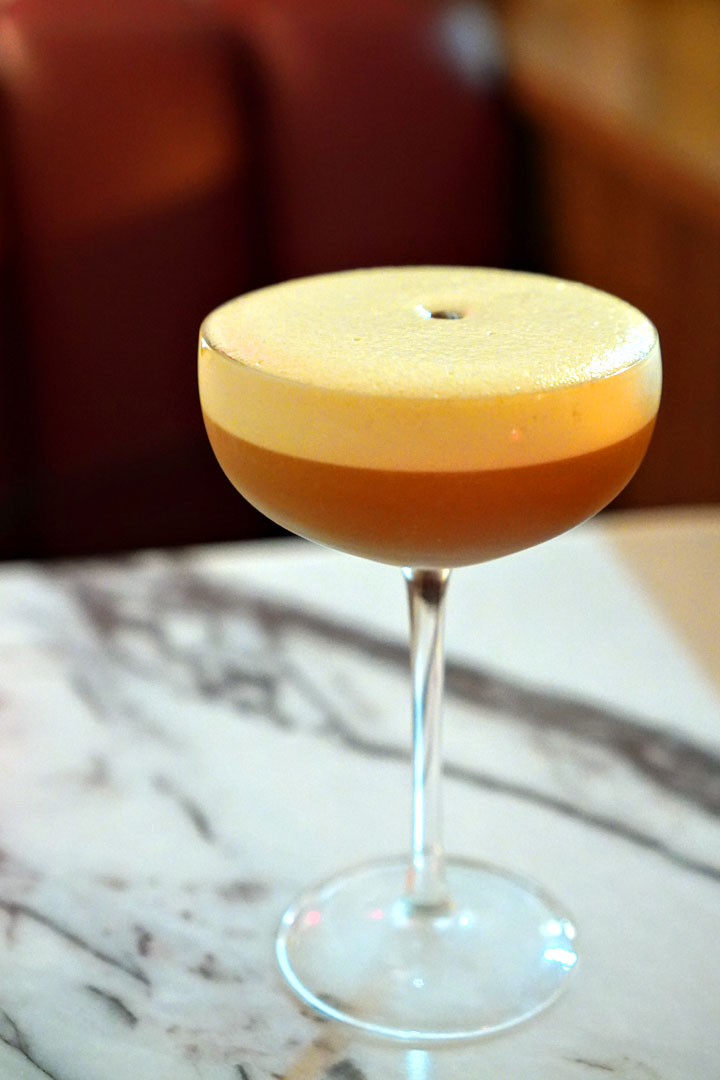 Night Owl [$19.00]
| tequila, intelligentsia espresso, vanilla, oat milk
My dessert cocktail showcased plenty of roasty coffee flavors layered over a base of sweet vanilla, with nary any trace of tequila.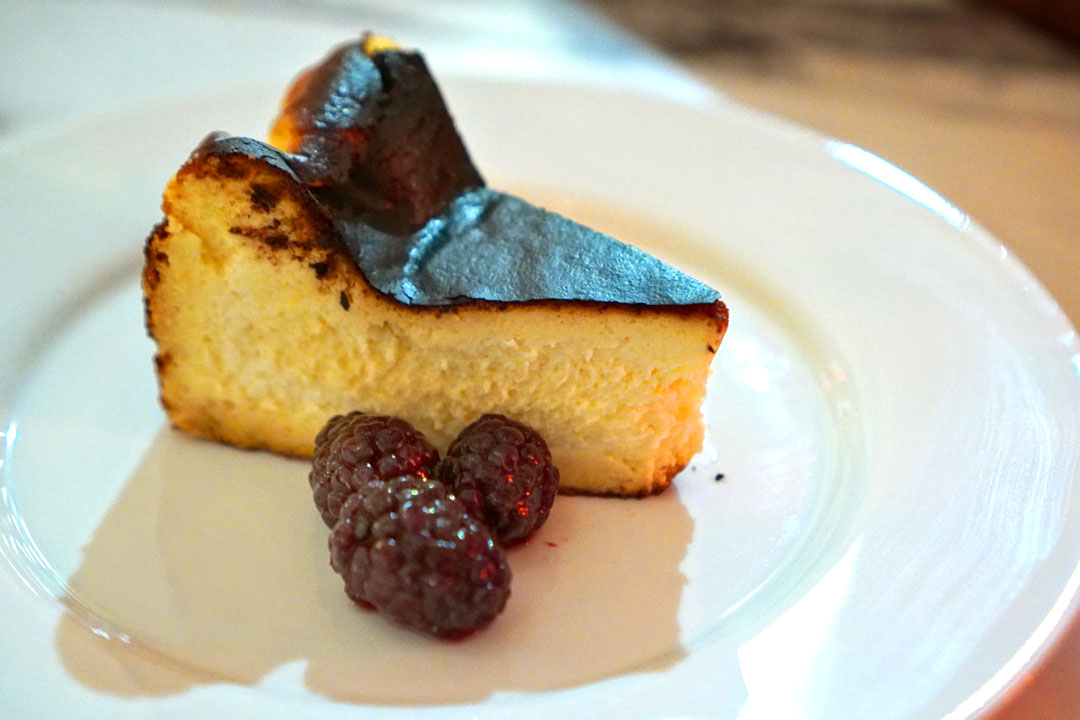 Gateau au Fromage [$11.00]
| basque cheesecake, blackberries
The Basque cheesecake is perhaps the breakout dessert of the past couple years, so it wasn't surprising to see it on the menu tonight given the theme of the restaurant. I'd say that this might be the smokiest, most heavily scorched example I've had, though its char did help cut through the heft of the cake.
Basque cuisine isn't particularly well represented in LA, and French-leaning Basque cuisine even less so, if at all, so I was pleased to find out about this place's opening. The cooking here represents a pretty unique point of view given the Chef's classical training and the restaurant's location in Southern California, and though there were areas for improvement, I was generally content with my meal. The food veers towards the straightforward, relaxed side of the spectrum, but there's a certain appeal, so I'm glad to have this spot available as another DTLA dining option.