Wagyu House by The X Pot (Rowland Heights, CA)
Wagyu House by The X Pot
18558 Gale Ave, City of Industry, CA 91748
866.610.0609
www.thexpot.com/los-angeles-location/
Sat 01/14/2023, 01:10p-04:40p

A large group of us were recently considering restaurants appropriate for a birthday celebration. We ended up choosing Wagyu House, an offshoot of The X Pot in Las Vegas that has got to be the most-hyped hot pot spot to debut in the Los Angeles area in years. I don't think I've seen any other place as puffed up on social media as this one, but it looked promising, so I was interested in giving it a shot.
A bit of history
: The story begins with Haibin Yang (a.k.a. Harby Yang), a native of Inner Mongolia whose family operated an outpost of Little Lamb (小尾羊), a Mongolian hot pot chain with hundreds of restaurants worldwide. He eventually found his way to the United States, and in 2014, at age 20, he was connected with another 20-year-old: Dawei Zhao (a.k.a. David Zhao), founder of digital marketing firm NXTFactor. Yang was working with the owner of a Little Lamb location in Flushing, NY (open February 2014) and was looking to debut a similar eatery in Las Vegas, and when Zhao found out, he decided to get in on the action as well. Work on Chubby Cattle thus began in 2015, and the restaurant eventually opened in Chinatown in August 2016, quickly making a splash for its novel refrigerated conveyor belt-based hot pot. Yang and Zhao eventually bought out the Little Lamb franchisee, and Wen-Jie Li (a.k.a. Joyce Li) was added to the team for her operational prowess.
The success of Chubby Cattle allowed the partners to expand in 2018. A second outpost bowed in Denver in February that year, a third in Plano, TX in April, and a fourth in Philadelphia in November. However, such expansion wasn't without hiccups. In December 2018, the Denver restaurant flipped to the sushi-centric Rolls by Chubby Cattle, while Plano followed suit in October 2019. The former later reverted back to more of a hot pot focus, but the Texas eatery wasn't as fortunate, and is now shuttered. Despite those setbacks, the team was approached by The Palazzo in 2019 and offered a vast space inside the Grand Canal Shoppes at The Venetian.
The goal was to build a Strip-appropriate hot pot dining destination, and Yang and Zhao were up to the challenge. Initially, the restaurant was going be an incarnation of
Xiang Hot Pot
, a Chinese chain founded in 2003 also known as Spicy World, Xiang Tian Xia, or
香天下 香全球
. Xiang had two New York locations in Flushing (open October 2018) and Brooklyn (open February 2019), but for Vegas, a more provocative moniker was ultimately chosen. The X Pot therefore opened in August 2020 with a properly ostentatious dining environment, and proved to be a massive moneymaker, eventually spawning an outpost in Chicago's South Loop in October 2021.
As for the subject of this post, it was well in progress by early 2021, but was still known as Xiang Hot Pot (香天下火锅). The name was later adjusted to the somewhat clumsy Wagyu House by The X Pot (I'm not sure why they didn't just stick with the X Pot branding), and the place eventually debuted in late October 2021. And Yang and Zhao didn't stop there. Also in their portfolio is a dessert spot called Xtra Sweet, opened with Pastry Chef Qi Guan in August 2022 in Las Vegas' Chinatown. We also have Niku X, a high-end yakiniku joint inside The Wilshire Grand in DTLA that dropped in November last year, as well as the AYCE-focused Mikiya Wagyu Shabu House in Temple City, which graced us at the start of December.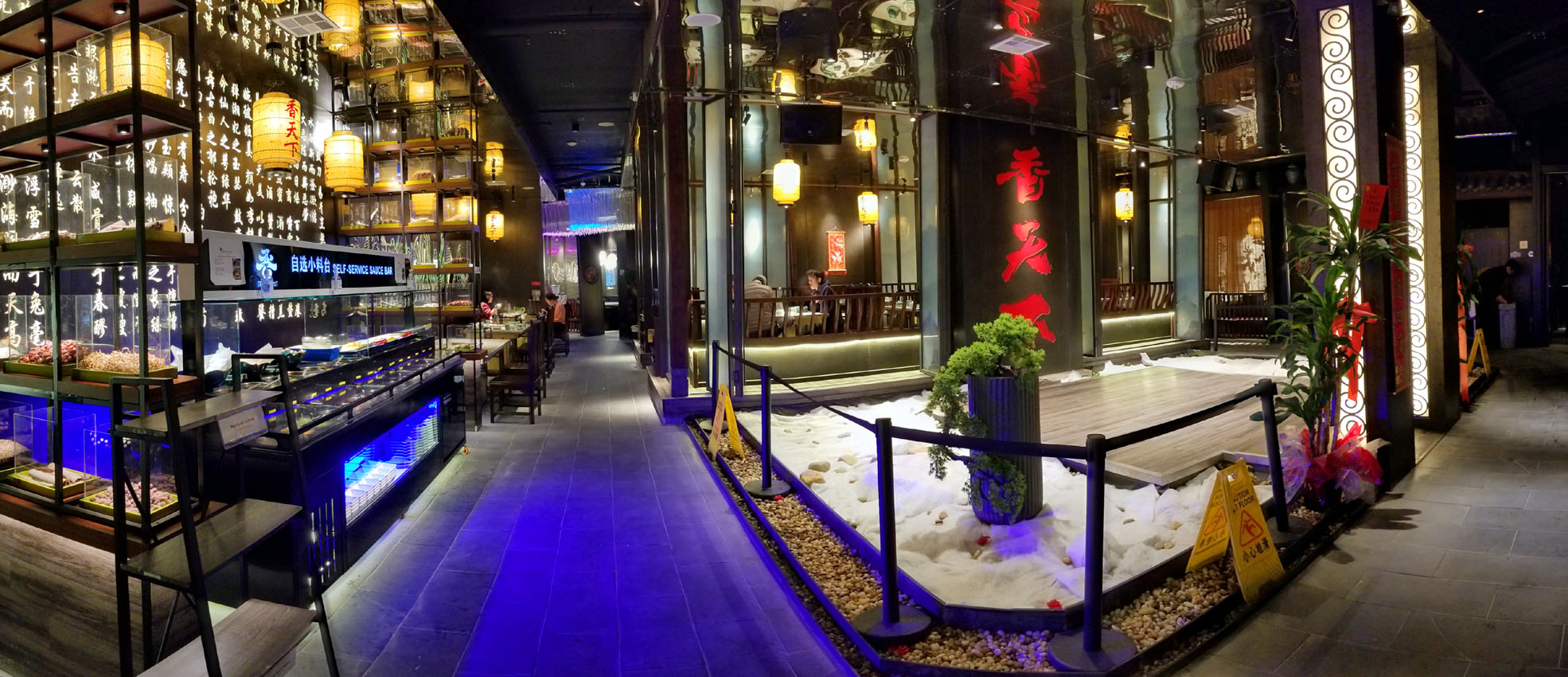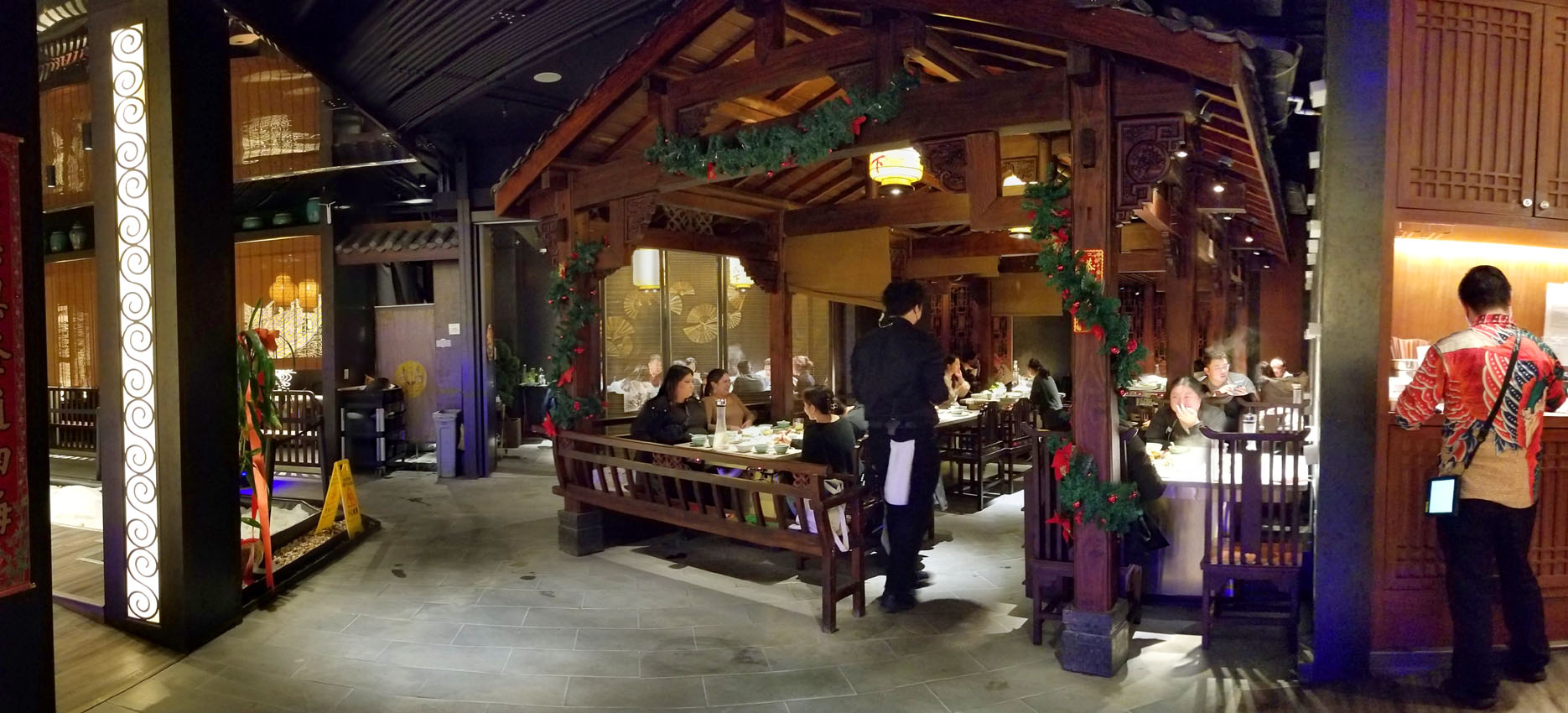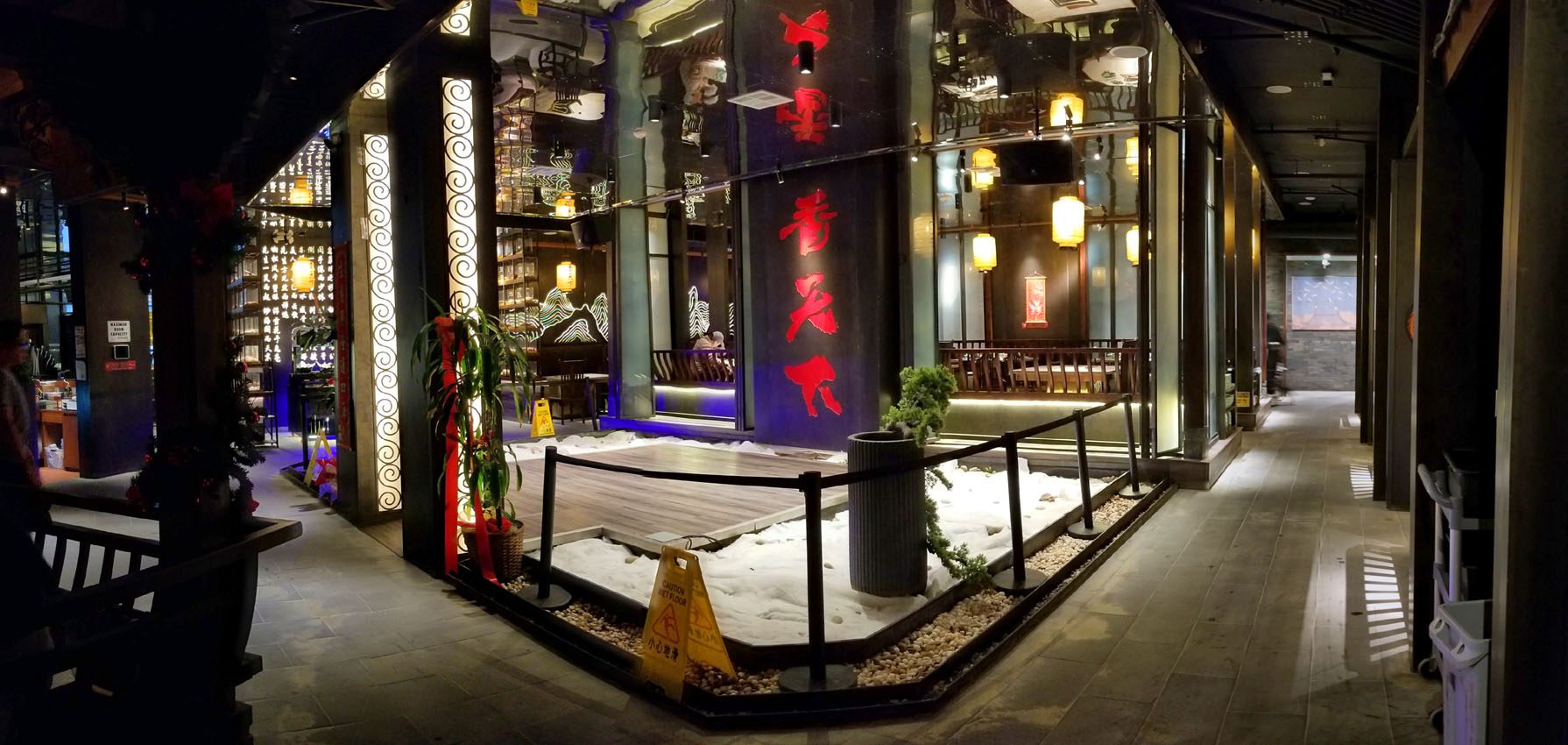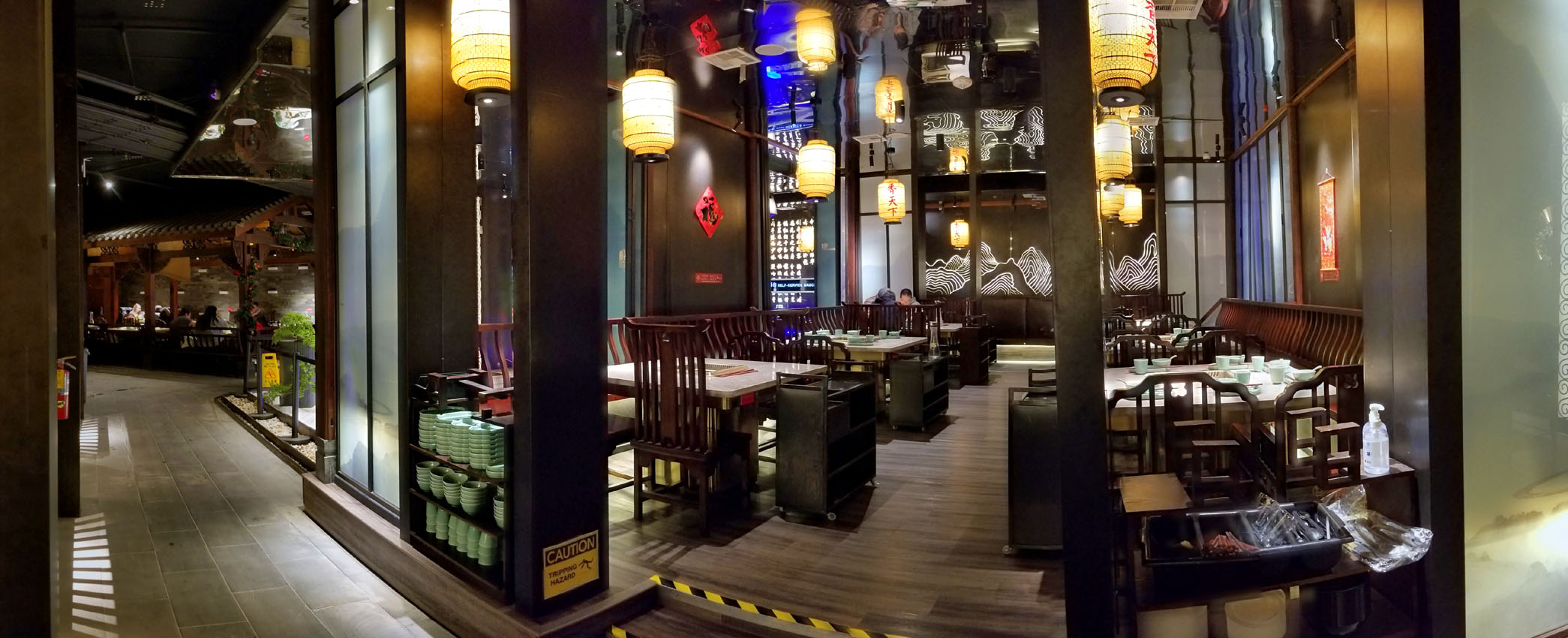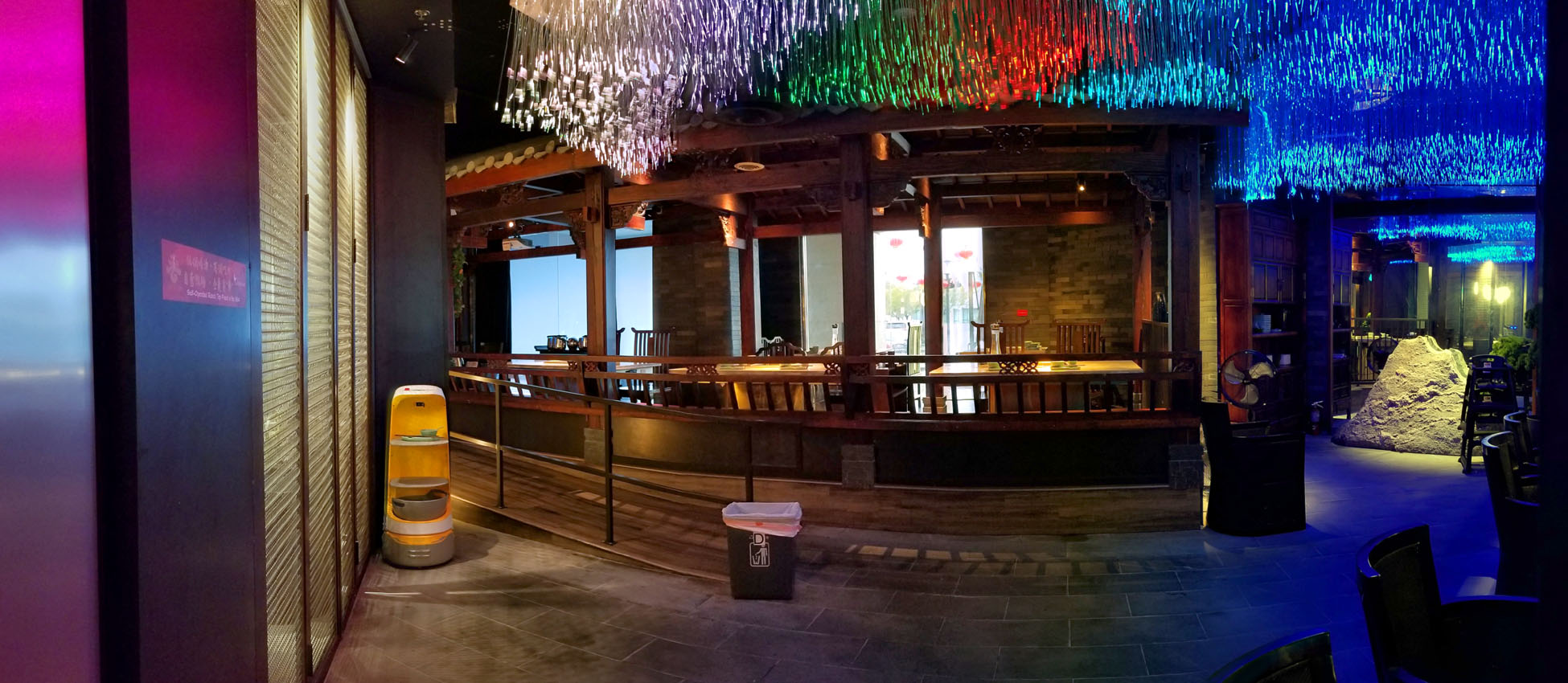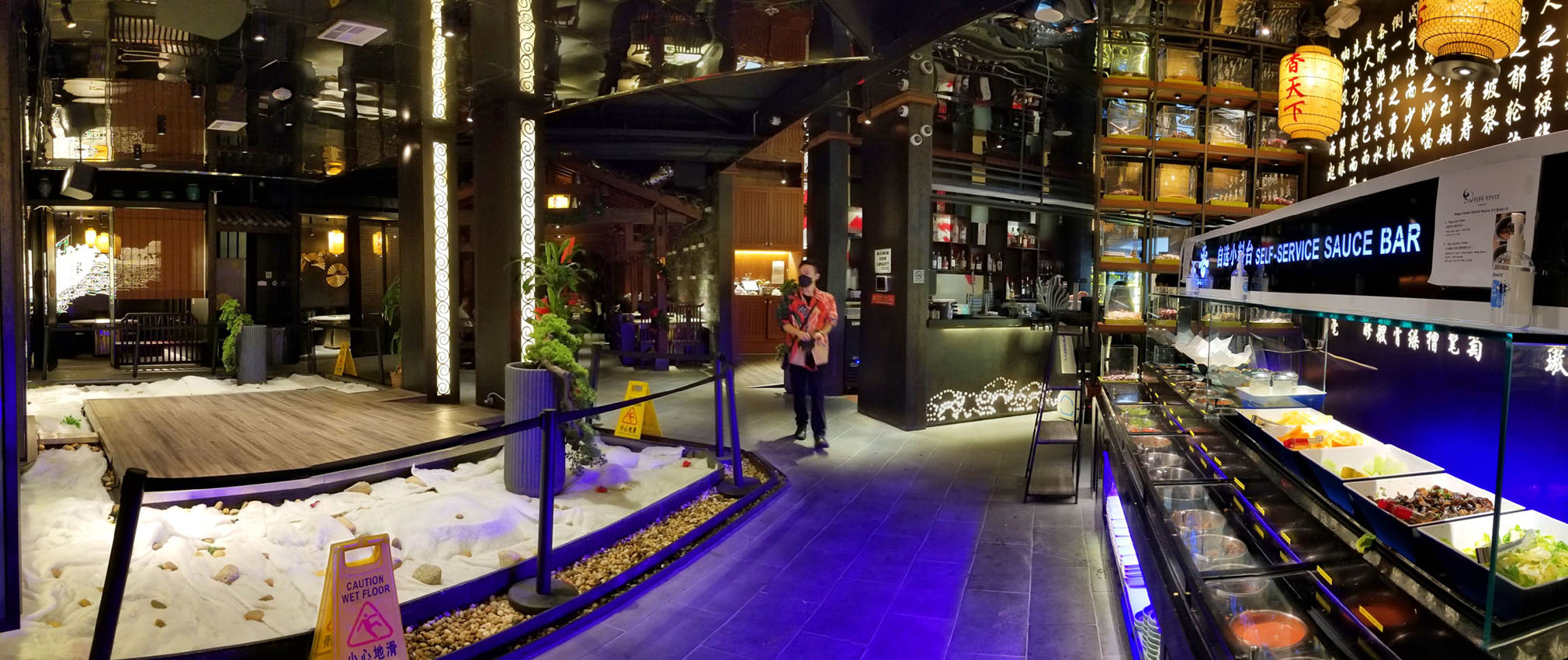 Wagyu House takes over a space at the
Seasons Place (四季廣場)
development that was previously home to Golden Valley (金悅軒海鮮酒樓), and Four Seasons Seafood (四季新皇宮) before that. As we can see, it's a large, expansive restaurant, and the decor is definitely on the fancy side, especially for a hot pot spot, but at the same time, the vibe is decidedly less over-the-top than what you'd find in Las Vegas.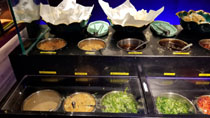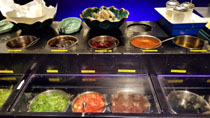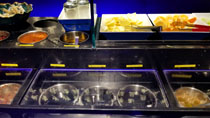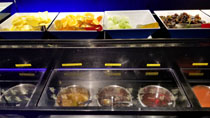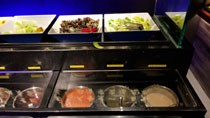 One of the draws here is the self-service sauce bar, which features more than just sauces. Click for larger versions.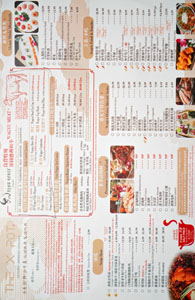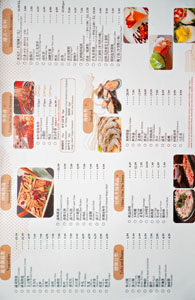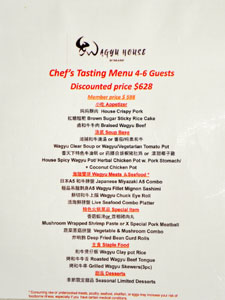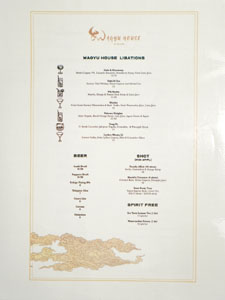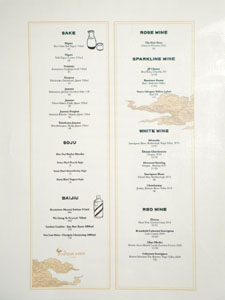 And here we see the menu, which is pretty vast, but seems more traditional and less gimmicky compared to what you'd get at the other X Pots, I'm guessing to cater to the substantial Chinese/Taiwanese population in the area. In addition to à la carte, there's also a $628 group tasting menu option, which is what we opted for (two orders for our party of 11). Note that the restaurant offers "memberships," which allow for discounts on certain menu items; priced at $38, it actually saved us $60 today and thus already paid for itself. As for booze, the restaurant didn't have a liquor license when it opened, but management seems to have obtained one in September last year, so now there's a limited selection of cocktails, beer, sake, soju, baijiu, and wine. Corkage is $50, but was graciously waived for us by our server (I'm assuming because we were already spending four figures). Click for larger versions.
1: 極品吊龍刺身 A5 Wagyu Fillet Mignon Sashimi
Our first course arrived super quickly, and comprised fatty, melt-in-your-mouth, yet delicately flavored slices of filet that really opened up with a brush of that delightfully piquant dipping sauce. Note that we also had the beef cooked in our hot pot, which was an altogether different experience, but still eminently enjoyable.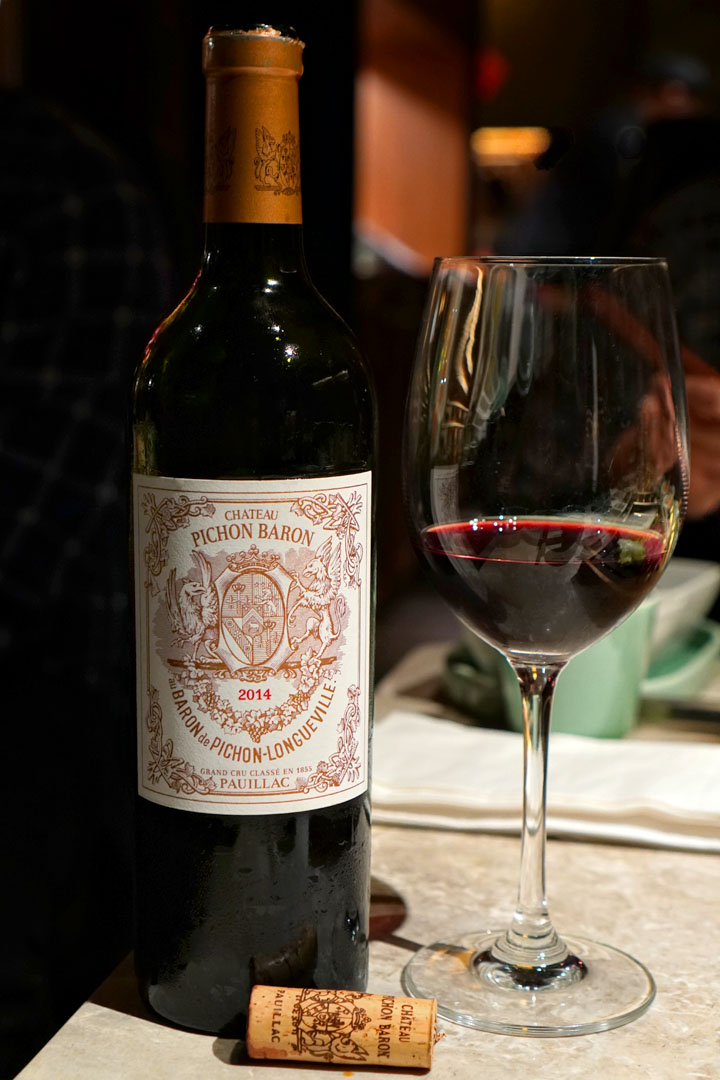 Given the beefy nature of our meal, I brought along a bottle of the
2014 Château Pichon-Longueville Baron
to pair, which we popped and poured. The Bordeaux smelled pretty great, its aromas of inky purple fruit backed by a healthy amount of earth and graphite. On the palate, the wine displayed palpable, yet finespun tannins that were just what I was looking for, while its dark berry notes were commingled with tobacco, minerals, and a zippy herbaceousness. Overall, a lovely claret that was drinking well today, but would likely improve with more time in the cellar.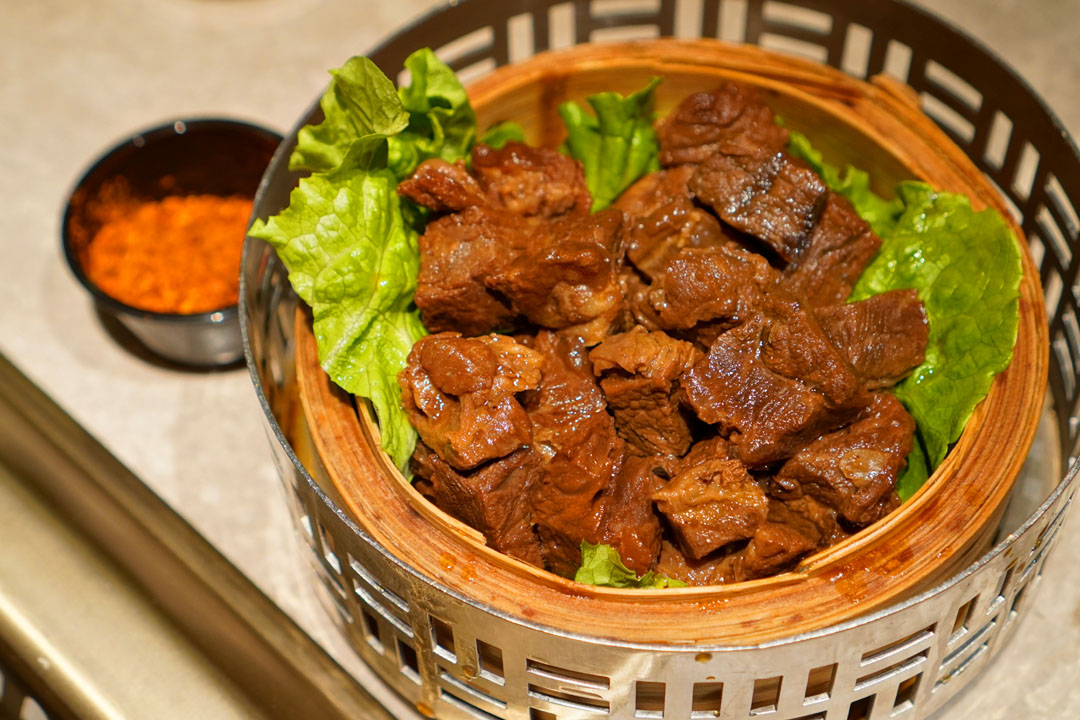 2: 鹵和牛牛肉 Braised Wagyu Beef
Long-cooked chunks of beef were a touch dry, but conveyed a hearty, herby, dark-toned flavor profile that meshed beautifully with the accompanying spice mixture.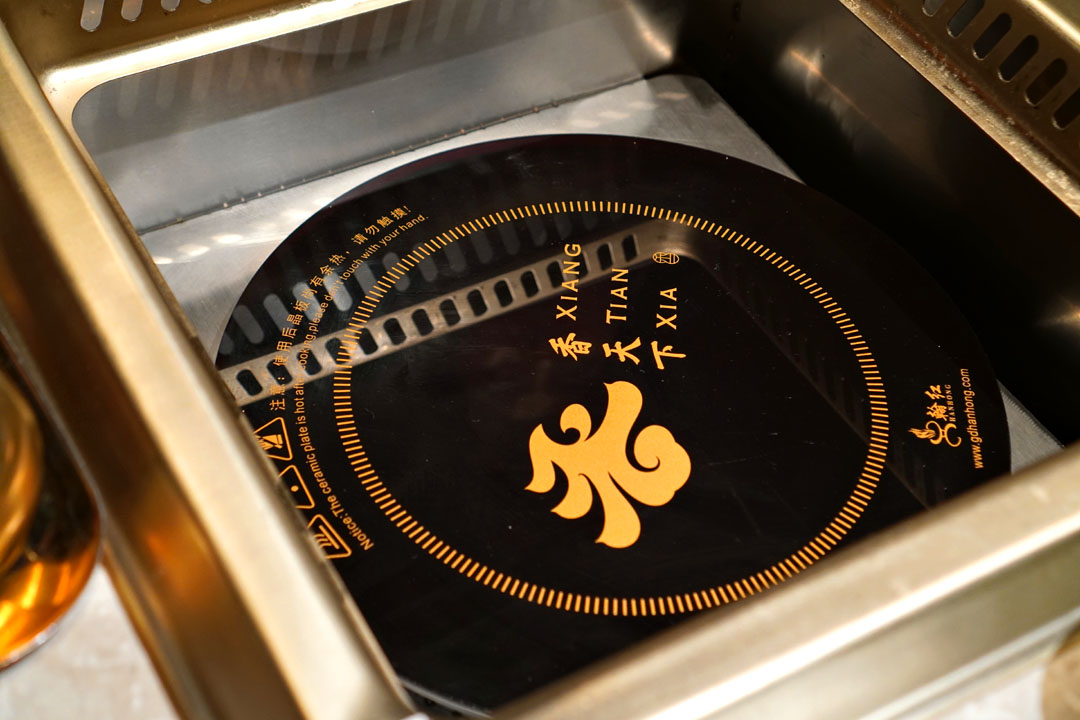 The burners still bear the place's originally intended Xiang Tian Xia (香天下) branding, which would seem to imply that the rebrand to Wagyu House by The X Pot came relatively late in the game.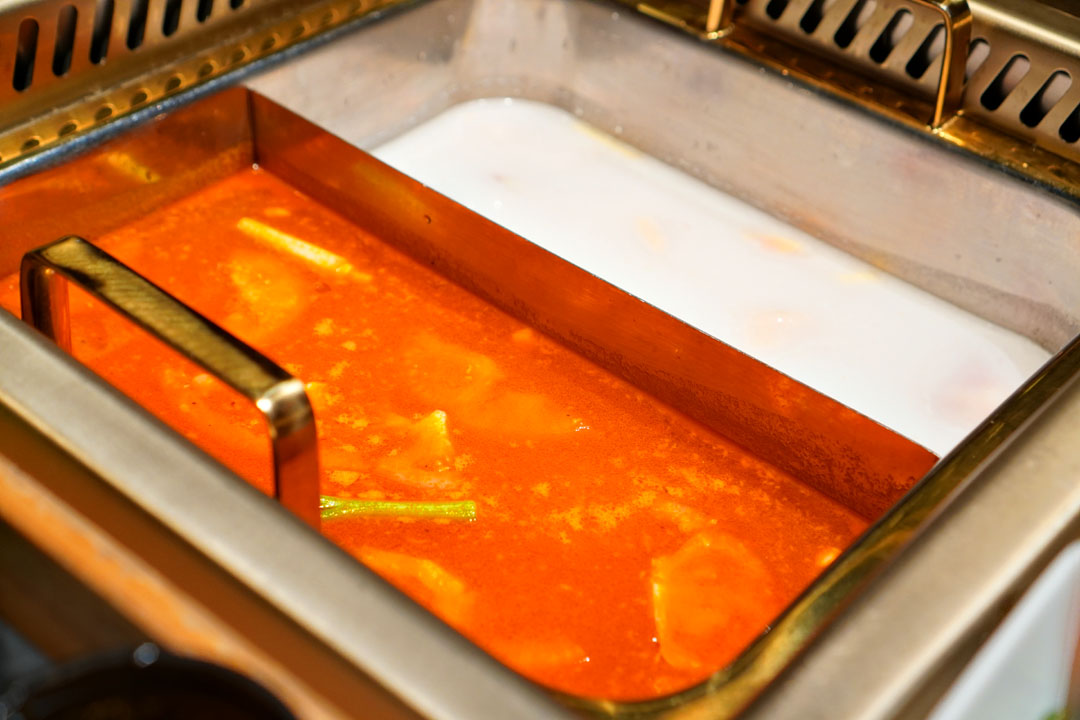 3a: 番茄和牛 Wagyu Tomato Pot / 清甜椰子雞 Coconut Chicken Pot
You get your pick of two soup bases, and our first choice was the wagyu-tomato, which came highly recommended by our server and featured a nice tanginess that played well with the richness of the meat. We also had the coconut-chicken, which tasted fruity, herbal, and decidedly "healthy." In fact, we were instructed to first drink the majority of the soup stock, which was then replenished with a lighter broth for the actual cooking of the beef later on.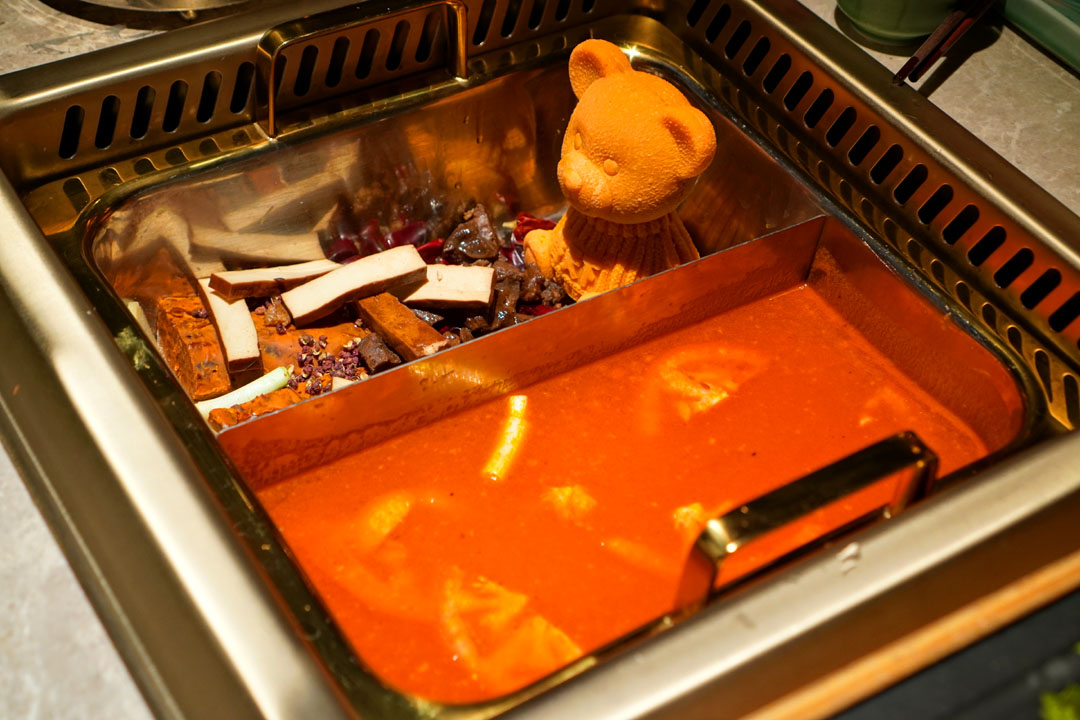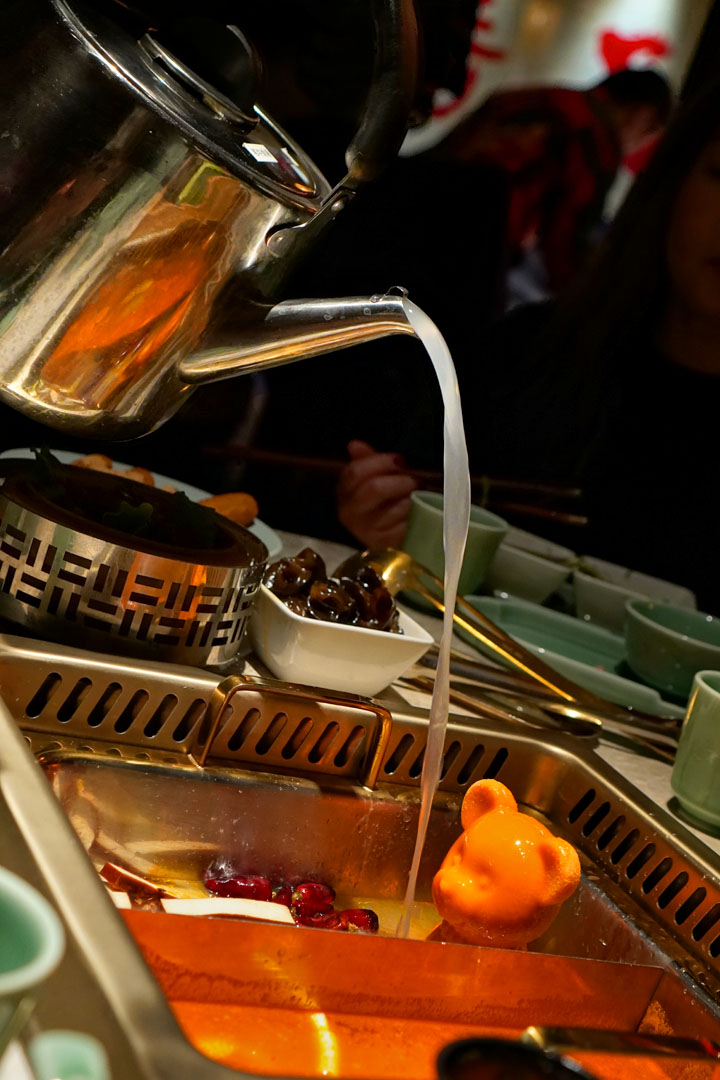 3b: 番茄和牛 Wagyu Tomato Pot / 秘制和牛牛油火锅 (小辣) House Special Wagyu Spicy Dripping Pot (Mild) + 牛油小熊 Teddy Bear [$3.00]
The other half of our party opted for the wagyu-tomato too, but also got the spicy soup, replete with an add-on bear apparently loaded with even more spices. Note that the bear is also branded with the 香天下 logo.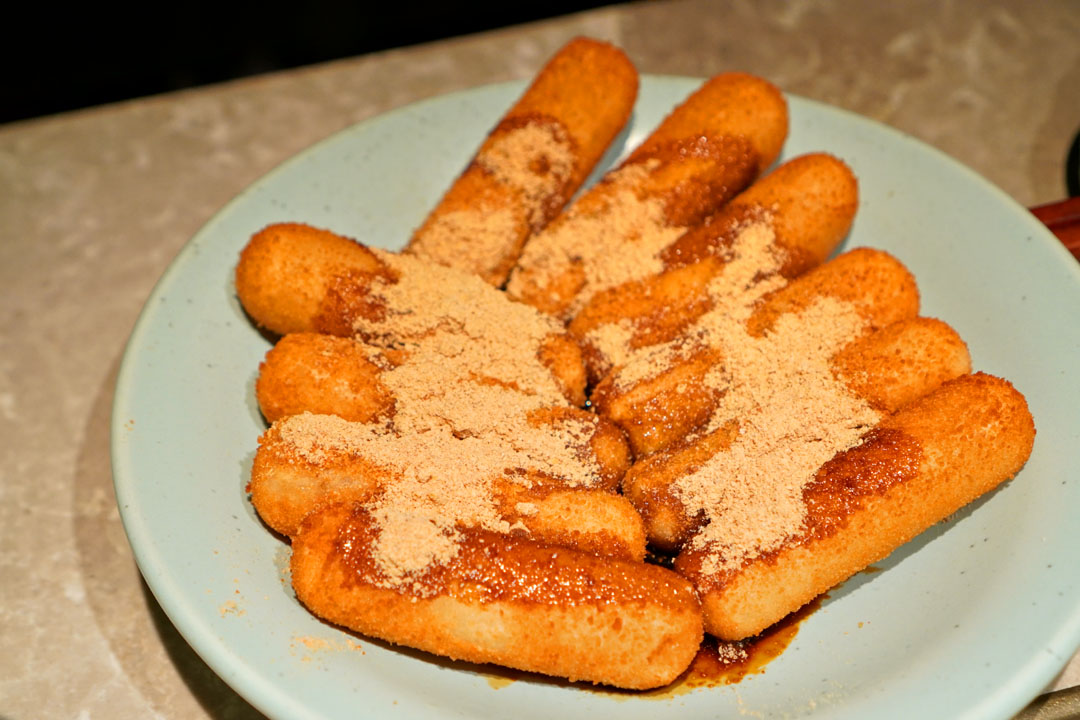 4: 紅糖糍粑 Brown Sugar Sticky Rice Cake
Ciba
(glutinous rice cakes) showed off a gratifying chew, along with a restrained sweetness that went well with a dusting of roasted soybean flour.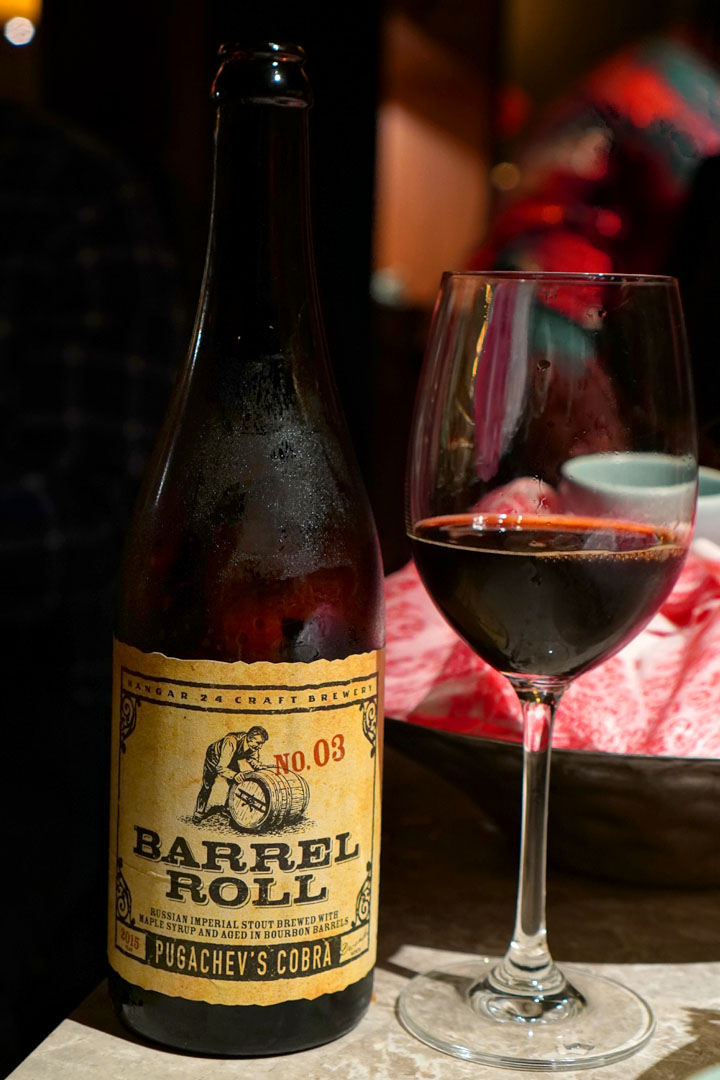 With the wine drunk up, we moved on to some beers, beginning with the
2015 Hangar 24 Barrel Roll No. 3 Pugachev's Cobra
, a Russian imperial stout brewed with maple syrup and aged for eight months in freshly emptied bourbon barrels. The nose here was all about roasty malt laced with chocolate and bourbon. Tasting it, I got a good amount of oak up front, as well as more roast, cocoa, coffee, dark fruit, and whiskey, though I didn't detect much of the advertised maple.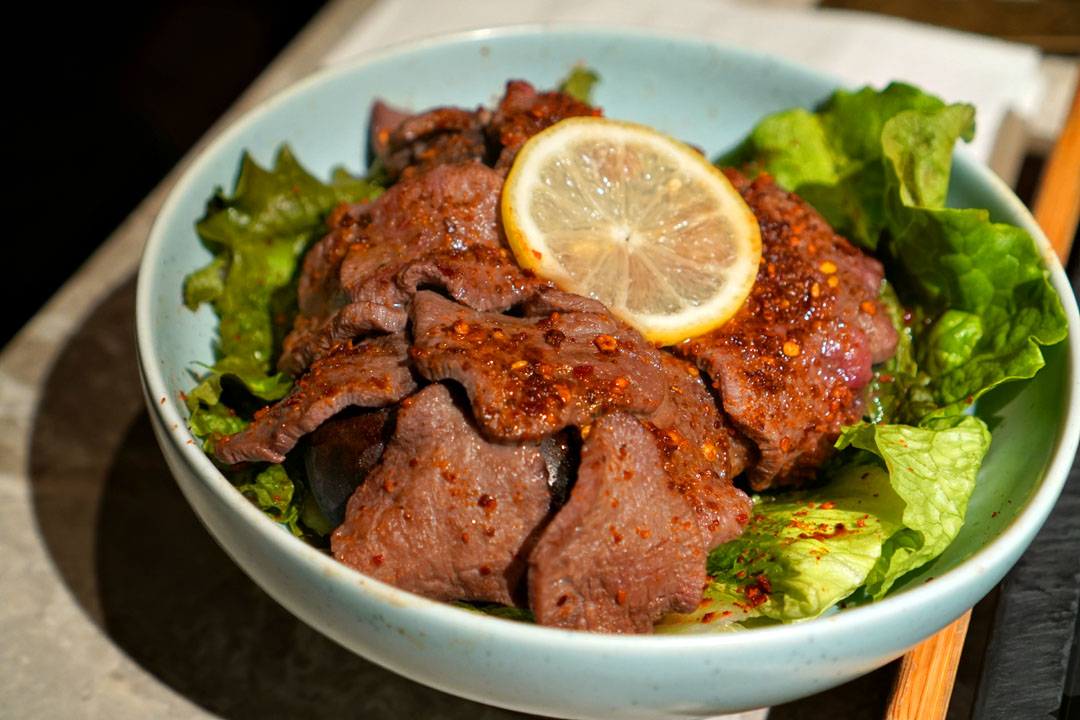 5: 烤和牛牛舌 Roasted Wagyu Beef Tongue
Beef tongue arrived chewier than I'd like, but had a fantastic
mala
-boosted seasoning that married beautifully with the meat's slight funk.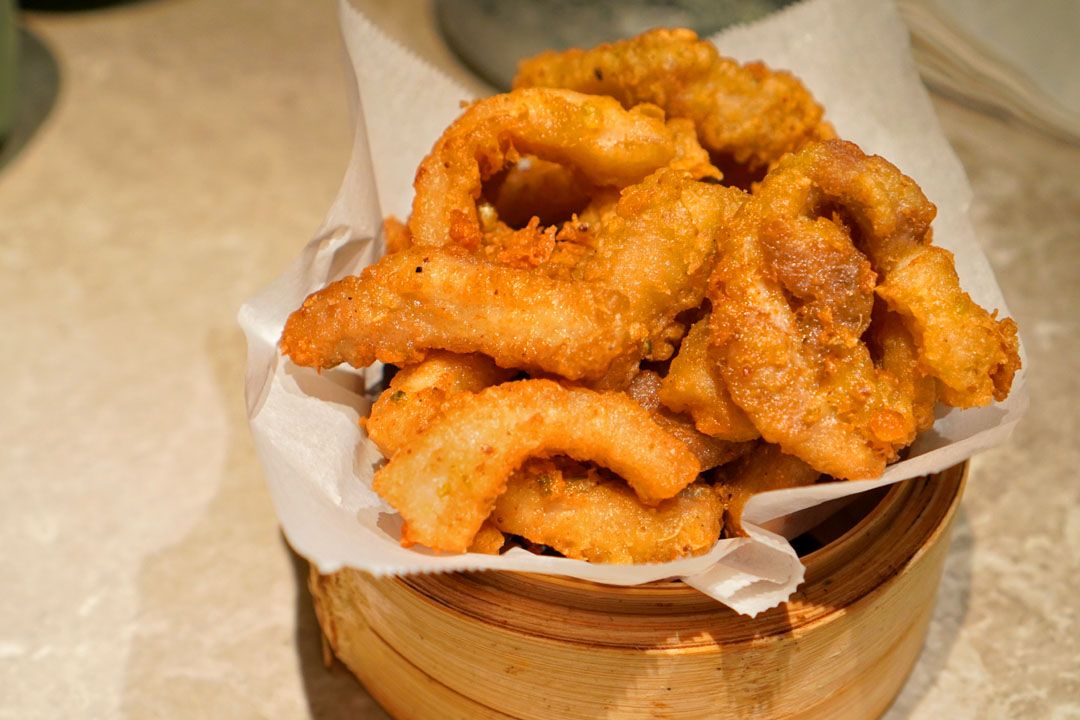 6: 妈妈酥肉 House Crispy Pork
The crispy pork was a surprise favorite thanks to the juxtaposition between its crunchy crust and fatty, juicy interior, which was loaded with an herbal spice that really complemented the richness of the meat.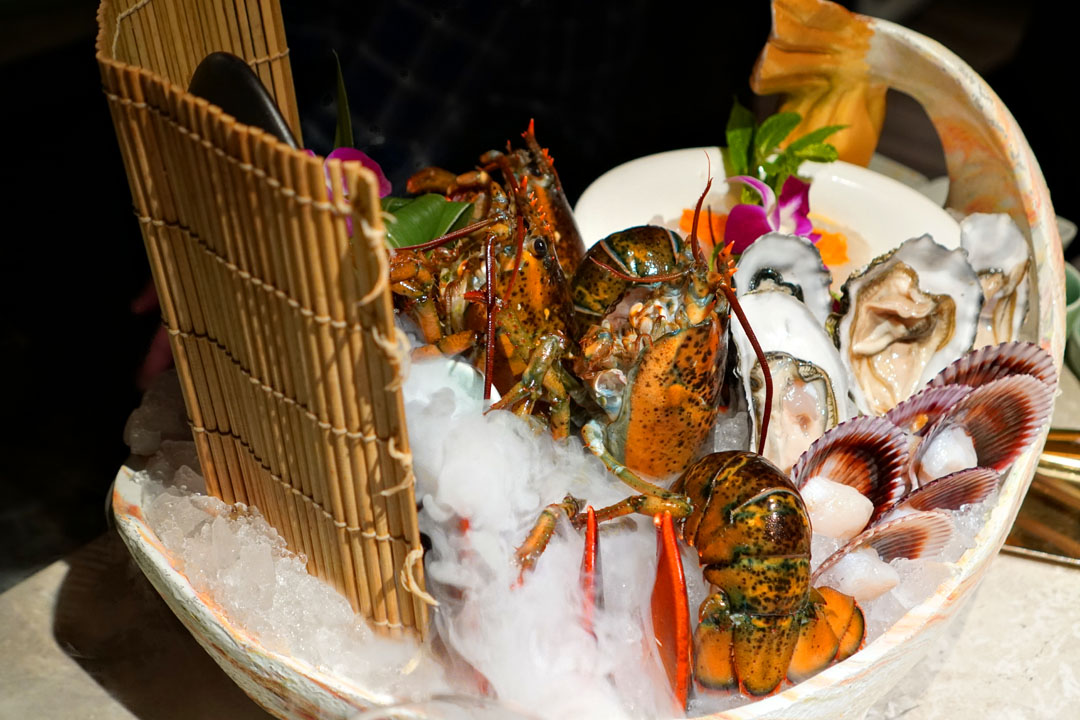 7: 活海鮮拼盤 Live Seafood Combo Platter
Next up was an impressive display of live seafood, complete with dry ice presentation. I started with the soft, sticky scallops, which I actually ate raw. I then moved on to the oysters, which were dunked into the soup in order to achieve a sort of half-cooked texture that was pretty pleasing. Last up were the three lobsters. We dunked the shells and bits into the stock in order to ramp up its headiness, and also cooked the claws. However, the star here was the tail meat, which ate wonderfully sweet, with a nice snap to boot. I had the tail raw first, then cooked, and the meat really sang with the tartness of the tomato broth.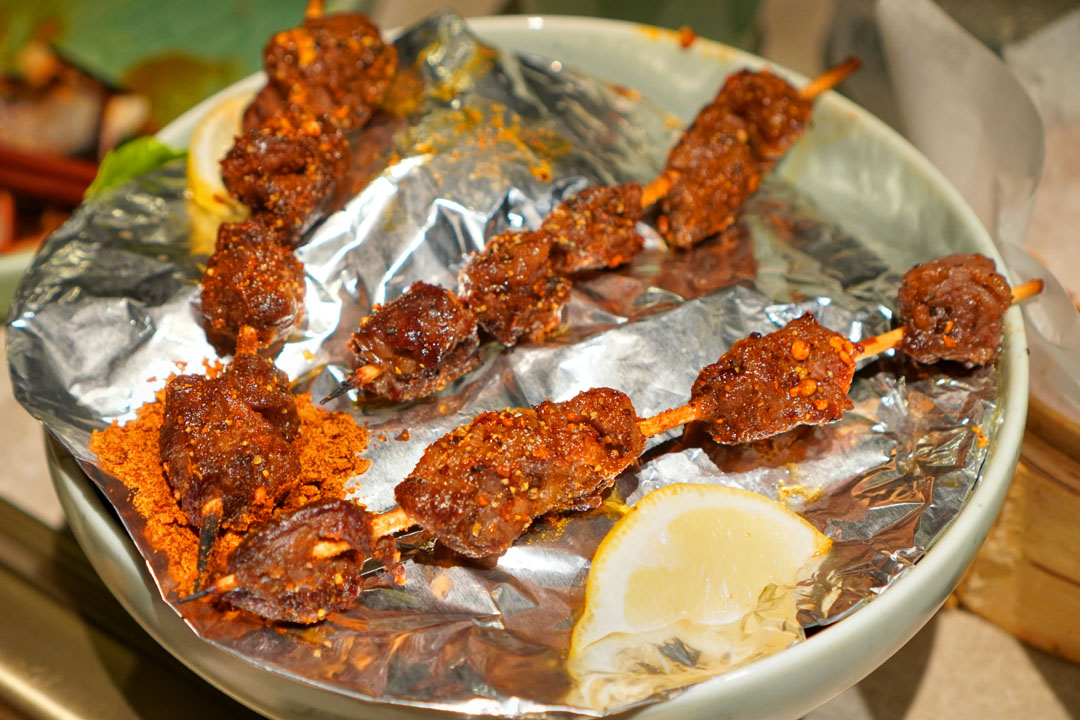 8: 烤和牛串 Grilled Wagyu Skewers (3pc)
The
chuan
were another unexpected standout. We were all impressed by the beef's sheer tenderness, as well as its mouthwatering spicing.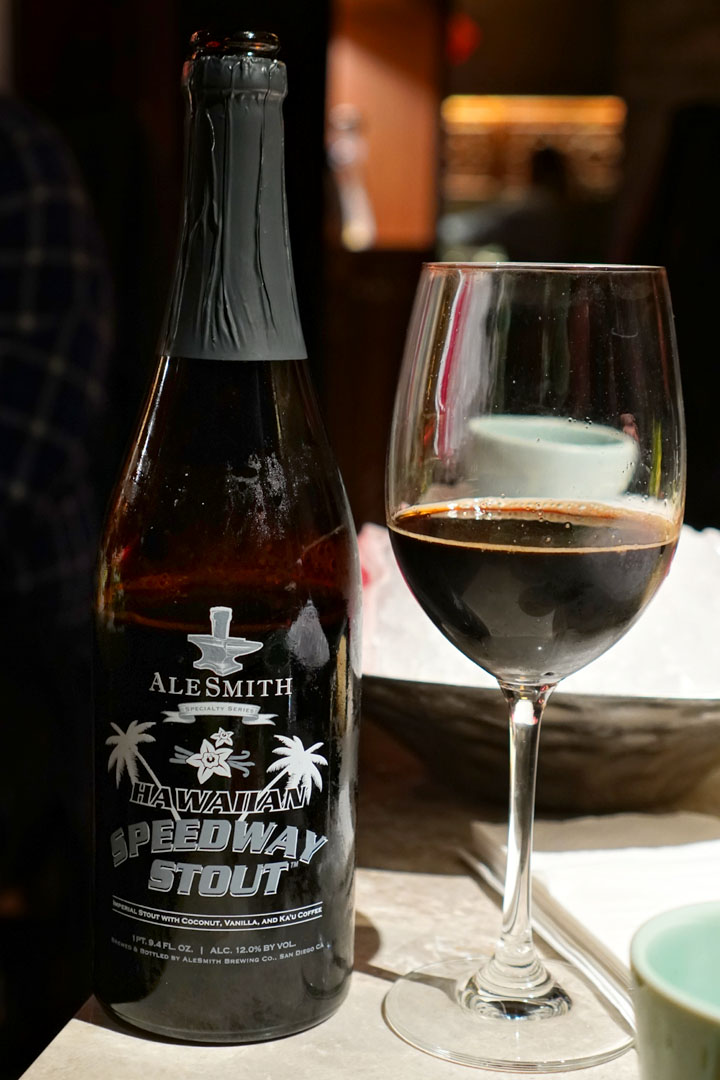 Next to imbibe was the
2015 AleSmith Hawaiian Speedway Stout
, which had coconut, vanilla, and Ka'u coffee added. The nose here was all about roast, dark malts, and even darker fruit, with a metallic tinge and nary any coconut. Taste-wise, there was also virtually no trace of that coconut, but I did get sweet notes of vanilla, along with more dark berries, cacao, and a slight amount of roasty coffee. The last time I had this beer was
back in 2015
, and unfortunately, it's definitely fallen off since then.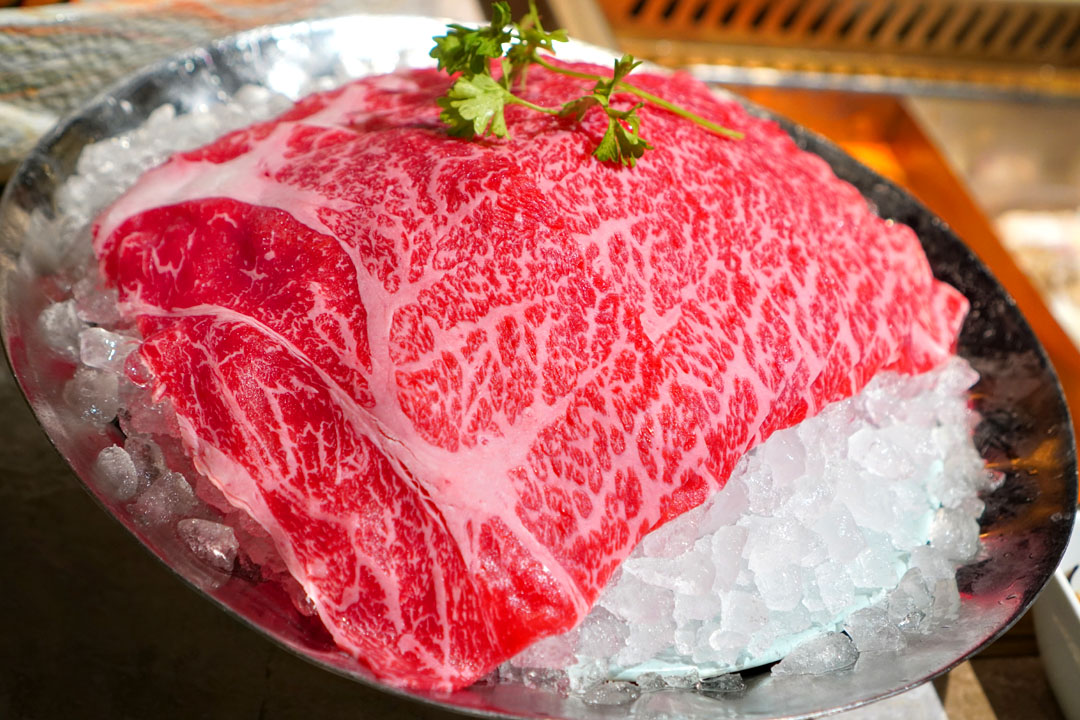 9: 鮮切和牛上腦 Wagyu Chuck Eye Roll
Bright slices of chuck roll were richly flavored, yet somehow restrained, and represented a delectable middle ground between Japanese wagyu and your usual cuts of beef.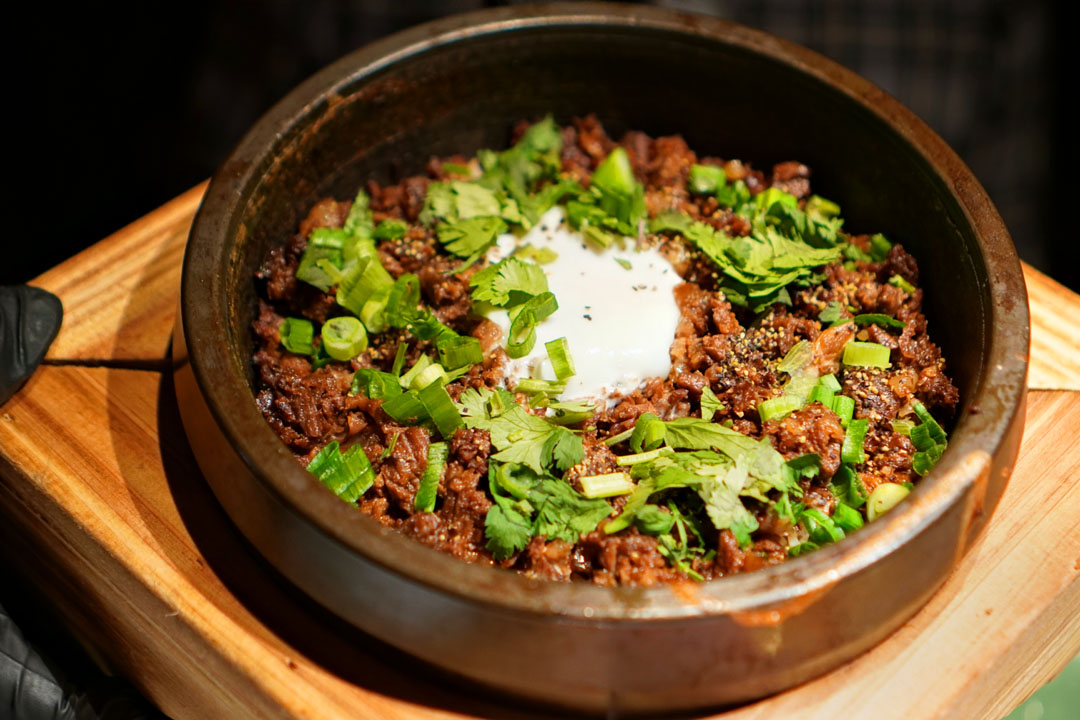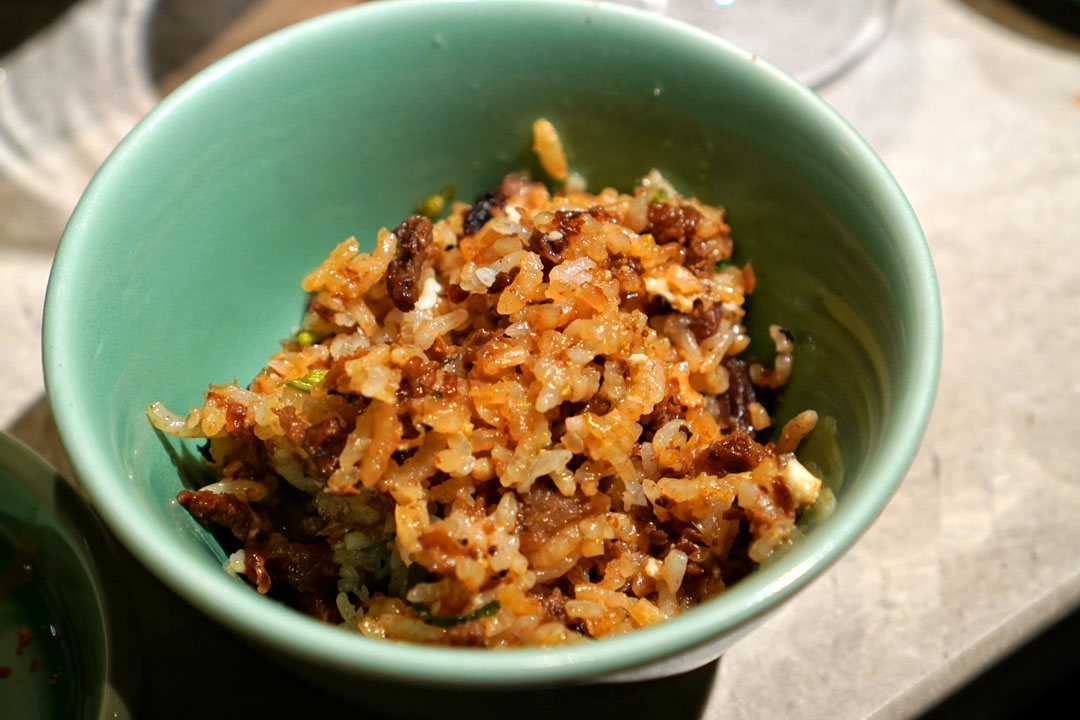 10: 和牛煲仔飯 Wagyu Clay Pot Rice
The
bao zi fan
was another highlight, and probably some of the tastiest rice I've ever had. The key was how flawlessly the fat and richness of the beef was infused into the rice, while the zippiness of green onion and cilantro served as the perfect finishing touch.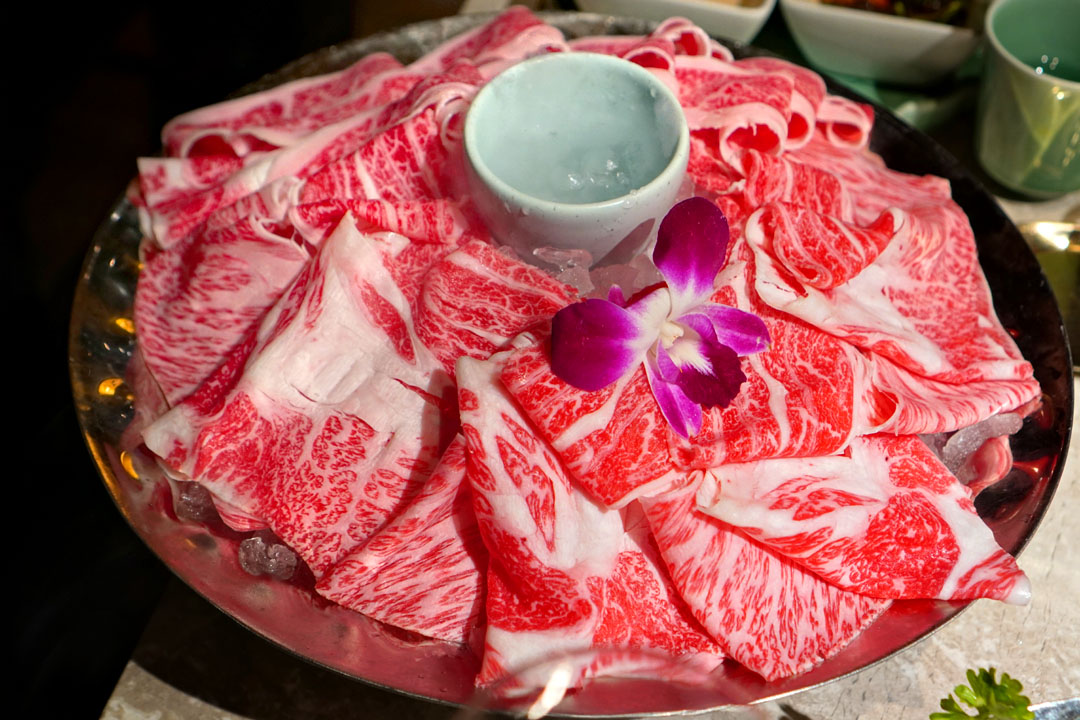 11: 日本A5 和牛拼盤 Japanese Miyazaki A5 Combo
Our meal's
pièce de résistance
was this platter of Japanese wagyu, again presented with a dry ice cloud. I began with the rib cap, which was pleasurable indeed, as the meat displayed a fattiness and a sweetness that really melded seamlessly with the tart tomato broth. Our other cut was rib eye (I think), which delivered an even richer eating experience along with a more substantial mouthfeel as well. Yum.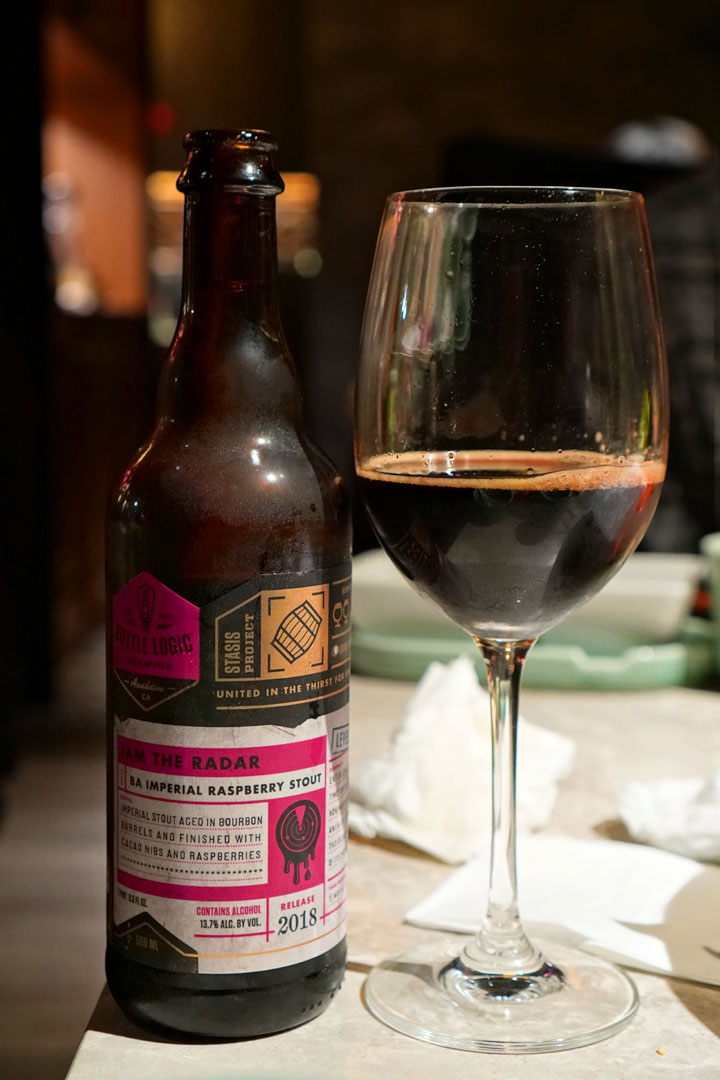 Our final beverage was the
2018 Bottle Logic Jam The Radar
, an imperial stout aged in bourbon barrels and finished with cacao nibs and red/black raspberries. The bouquet on this one was indeed as jammy as its name would imply, and was brimming with ripe fruit and underpinned by nuances of chocolate. On the palate, the beer drank rich and decadent, its lush berry flavors combining with notes of cocoa in effortless fashion. This has held up superbly over the years, and truly did recall its chocolate truffle inspiration.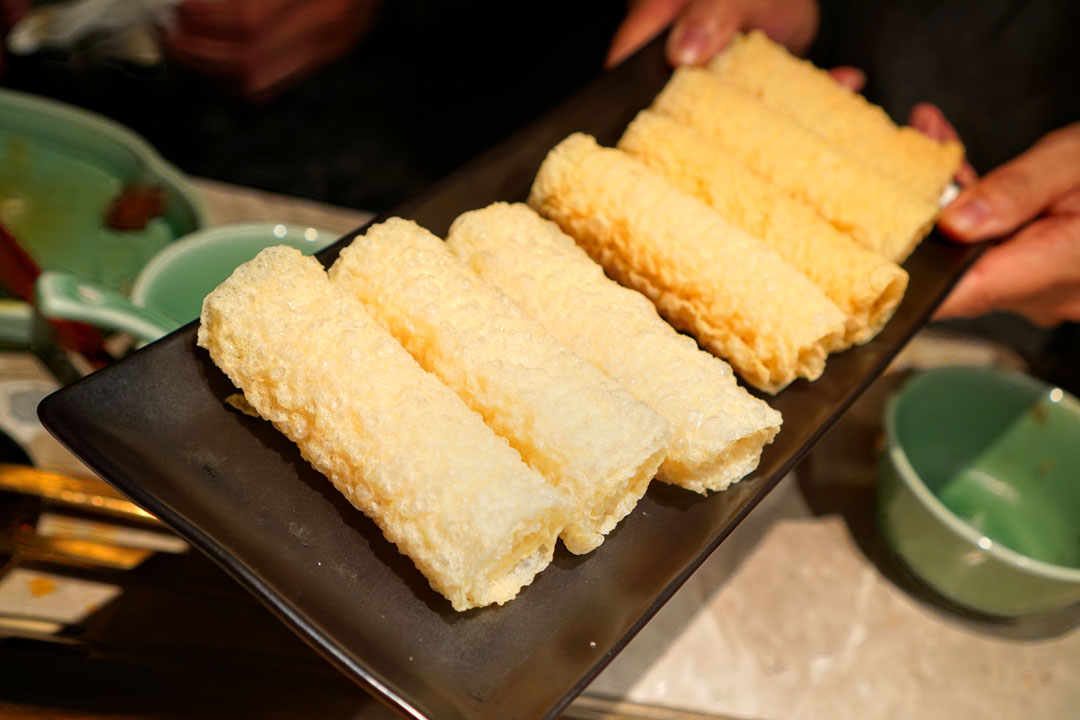 12: 炸响鈴 Deep Fried Bean Curd Rolls
Tofu skin rolls effectively soaked up the flavors of the soup.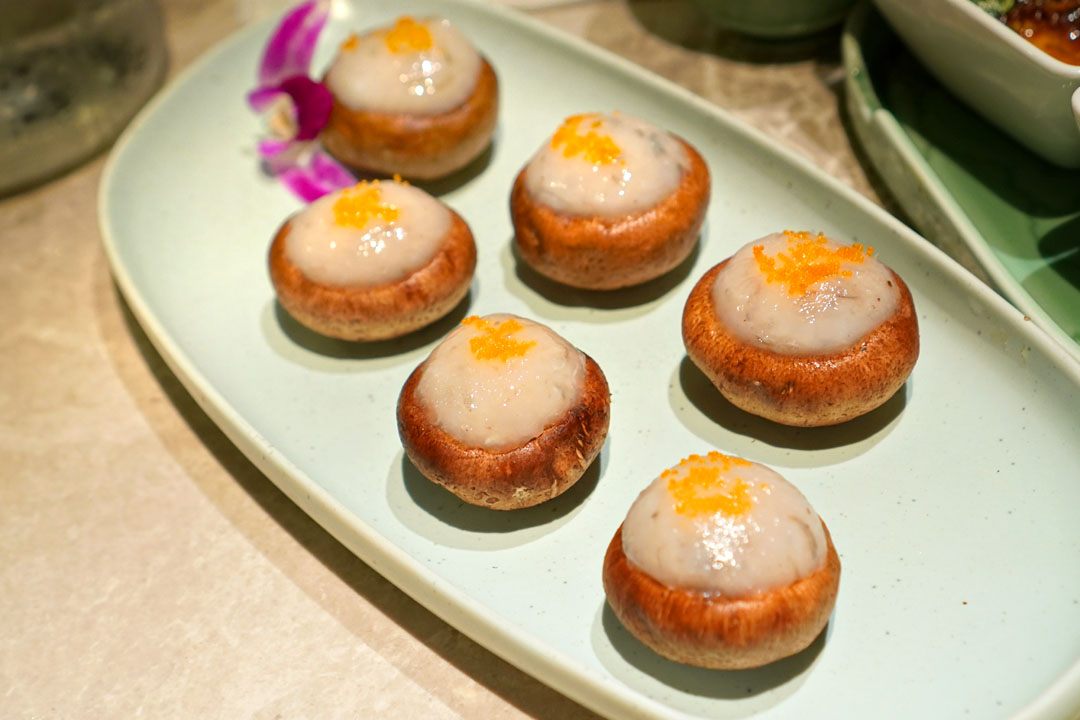 13: 香菇蝦滑 Mushroom Wrapped Shrimp Paste
'Shrooms took a while to cook, but had a firm bite and a pleasant woodsiness to go along with their comparatively sweet, delicate shrimp filling.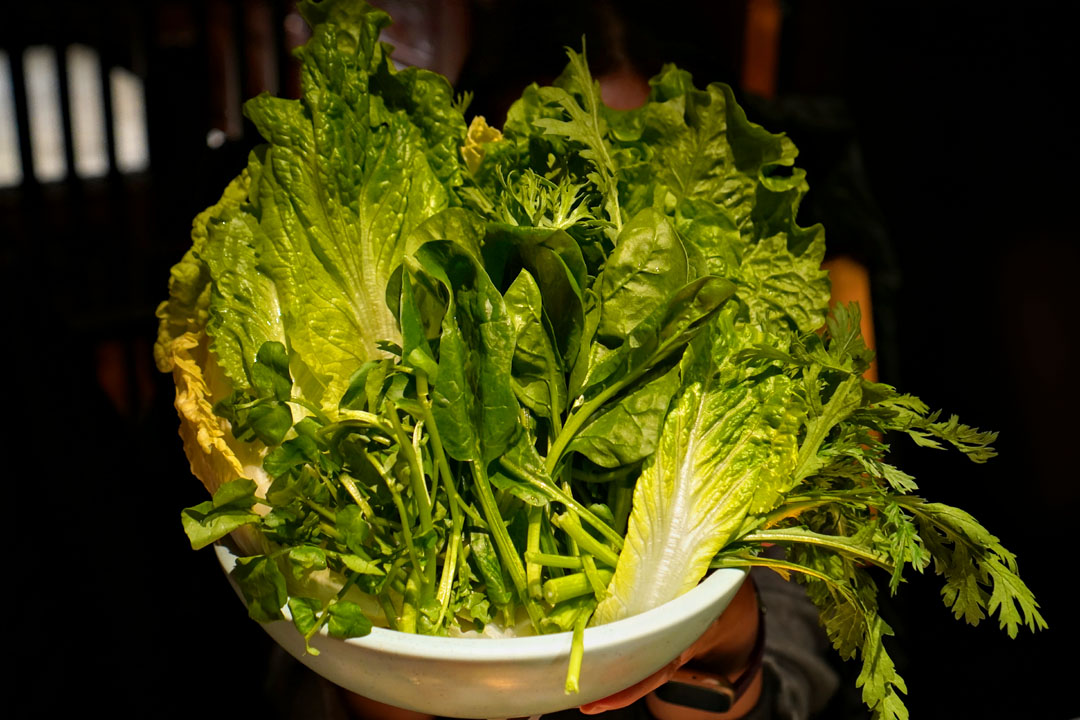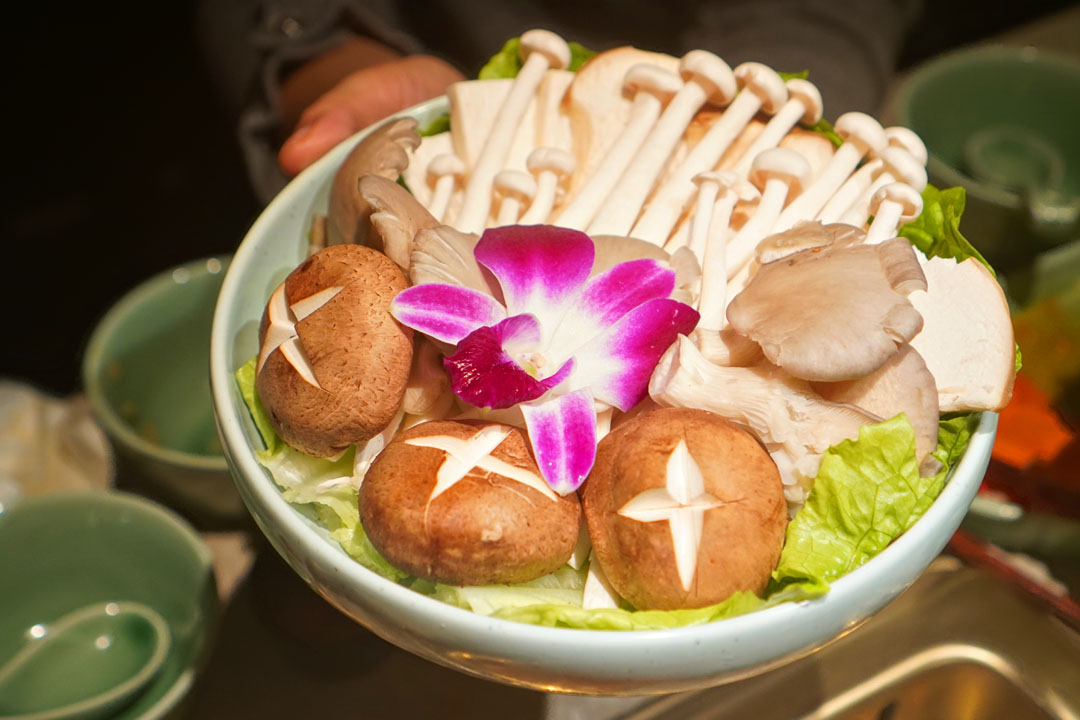 14: 蔬菜菌菇拼盤 Vegetable & Mushroom Combo
A variety of greens was appreciated, while even better was the texture and umami offered up by the mushroom quartet (shiitake, maitake, hon shimeji, eringi).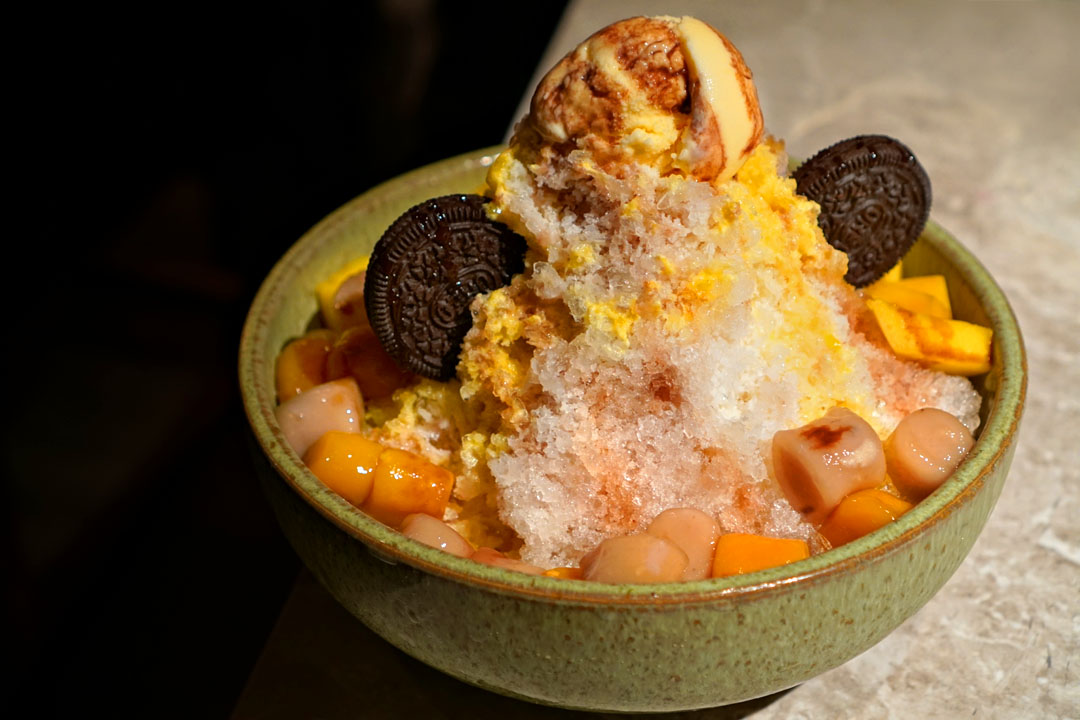 15: 季節限定甜品 Seasonal Limited Desserts
芒果 水果冰 (大) Signature Shaved Ice W/ Mango Flavor (Large)
For dessert, we were provided one of the better versions of
baobing
that I've tried. I enjoyed its robust melon-like flavors, as well as the chew from the rice cakes, and even the Oreos made sense.
Coming into Wagyu House, I was afraid that the restaurant would be all about style over substance, but fortunately, that wasn't the case. Ingredient quality here was a cut above most, and in fact, I'd probably say that this was my best hot pot experience in LA yet. Service (coordinated by Jerry L.) was also better than expected, so I can see why people hype the place up so much. As for next steps, given the success of the burgeoning X Pot empire, the owners are looking to expand, in a big way. A Chubby Cattle is slated to land in Monterey Park in the very near future, and according to this
NFT web site (groan)
, ownership is also planning further locations in Charlotte, Las Vegas, Atlanta, Rowland Heights, New York, and Little Tokyo, so I expect we'll see plenty more from the team in the coming years.