Eszett (Los Angeles, CA) [2]
Eszett Restaurant
3510 Sunset Blvd, Los Angeles, CA 90026
323.522.6323
www.eszettla.com
Tue 01/24/2023, 07:55p-09:40p

Regular readers may recall that, during the depths of the pandemic, I blogged about a takeout meal from
Eszett
, an informally upscale Silver Lake strip mall spot from the husband-and-wife team of Chef Spencer Bezaire and Sabrina Bezaire. I had a promising meal, and vowed to document a proper experience at the restaurant once things got back to normal. Well, I finally got around to it, but the impetus for this dining report was some unfortunate news: on January 23rd, the Bezaires
announced
that Eszett would be closing permanently following their final dinner service on the 30th. The reason for the closure was attributed to issues stemming from COVID-19, as the spot debuted just months before everything shut down, so it looks like the place never truly found its footing. Given the impending shutter, I wanted to make it back here for one last meal.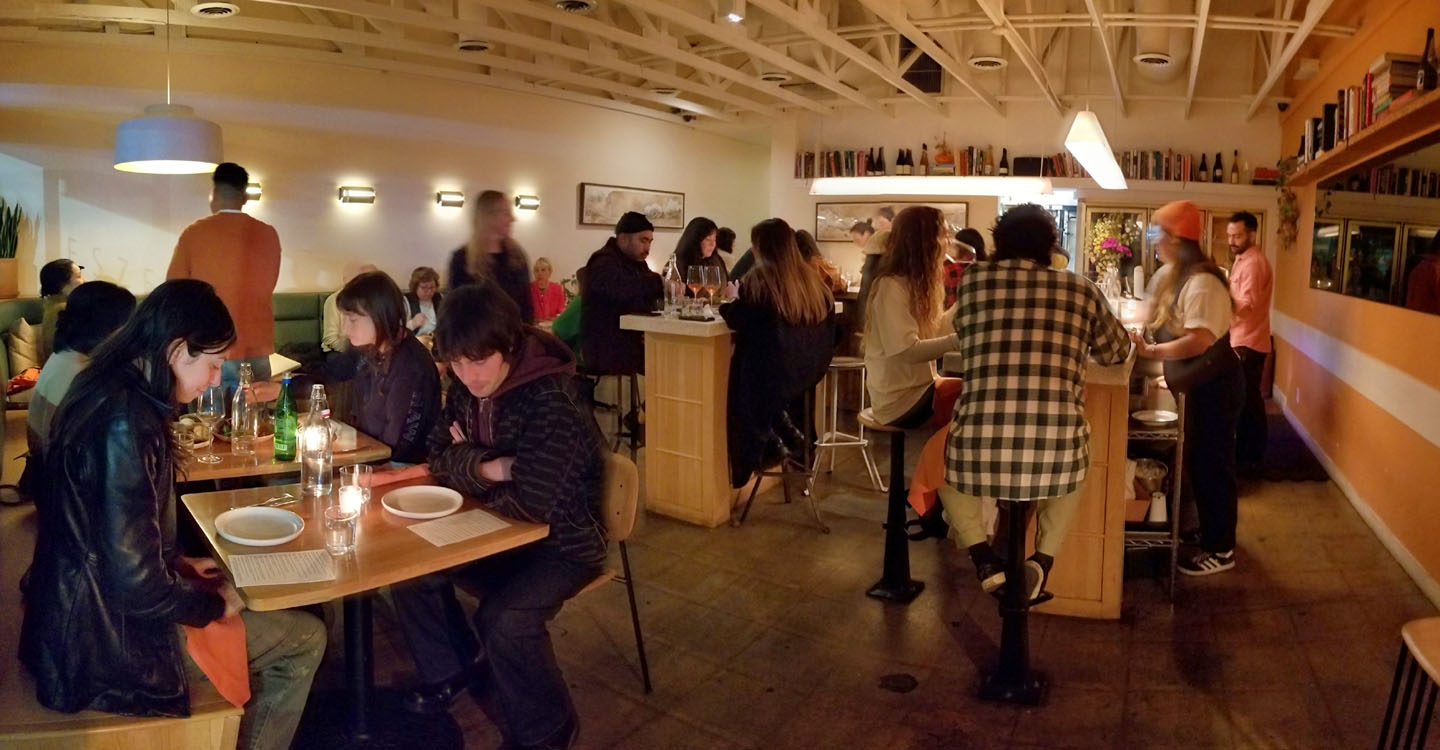 Inside, things were buzzing for a Tuesday, I'm assuming because others also wanted to get in one final visit before it was too late.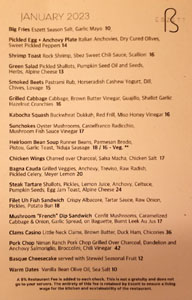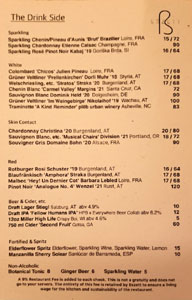 Here we see Eszett's menu, which, especially with its charcoal oven focus, was always one of the more interesting in the area, and the same could be said for the spot's wine list. Click for larger versions.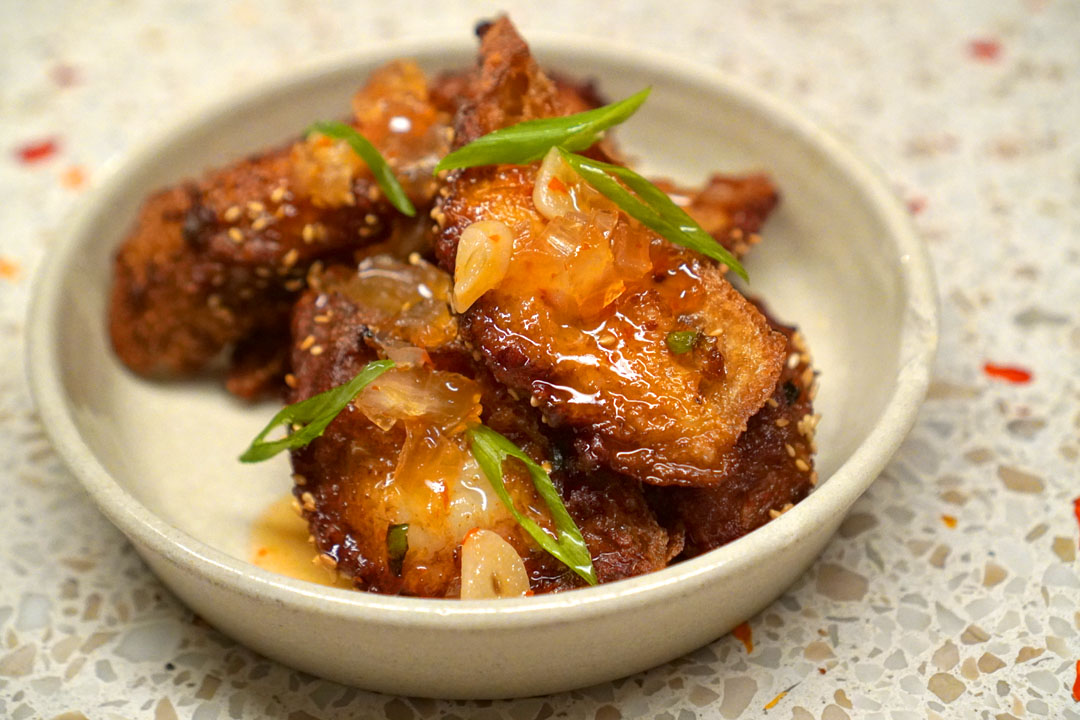 Shrimp Toast [$16.00]
| Rock Shrimp, Sbez Sweet Chili Sauce, Scallion
I'm a sucker for shrimp toast, and Bezaire's made for a delicious start to the meal. The shrimp were spot-on texture-wise, and had their saline notes perfectly matched by the dish's warm spices and sweet underpinning, all while a creeping heat snuck up on me. A favorite of mine for sure.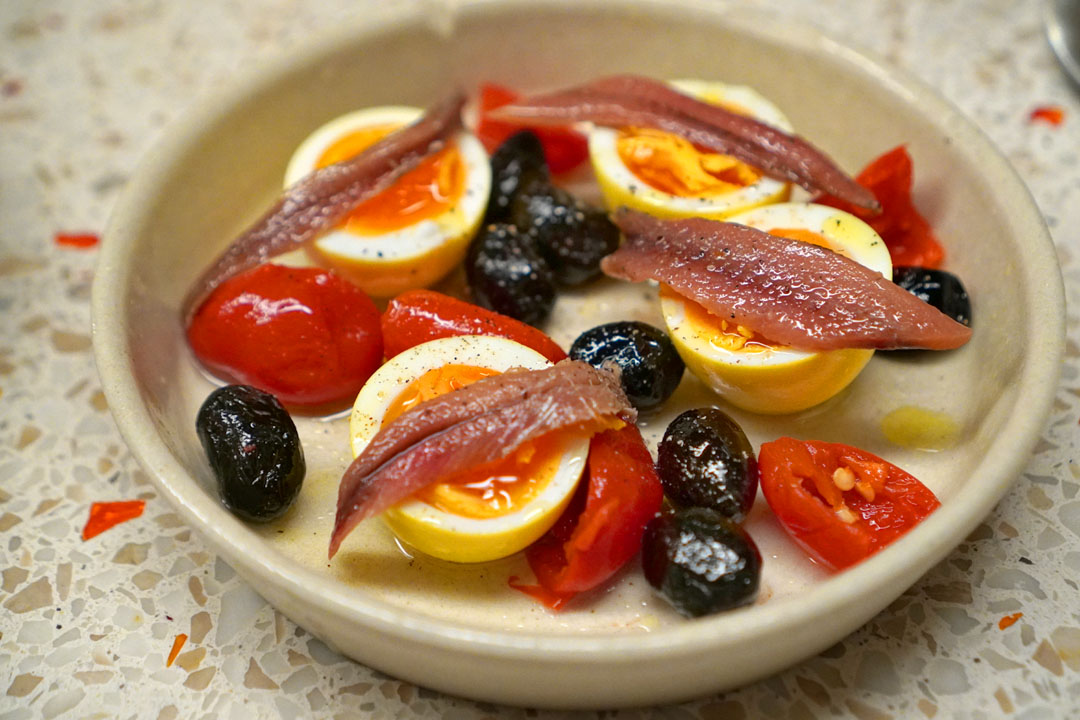 Pickled Egg + Anchovy Plate [$14.00]
| Italian Anchovies, Dry Cured Olives, Sweet Pickled Peppers
Next came a surprise standout of tonight's meal. The crux of this plate was how the luscious, creamy nature of those eggs so effectively evened out the flashes of intense brine from the anchovy. And if that wasn't enough, you also got further assistance from those sweet peppers and pleasantly piquant olives.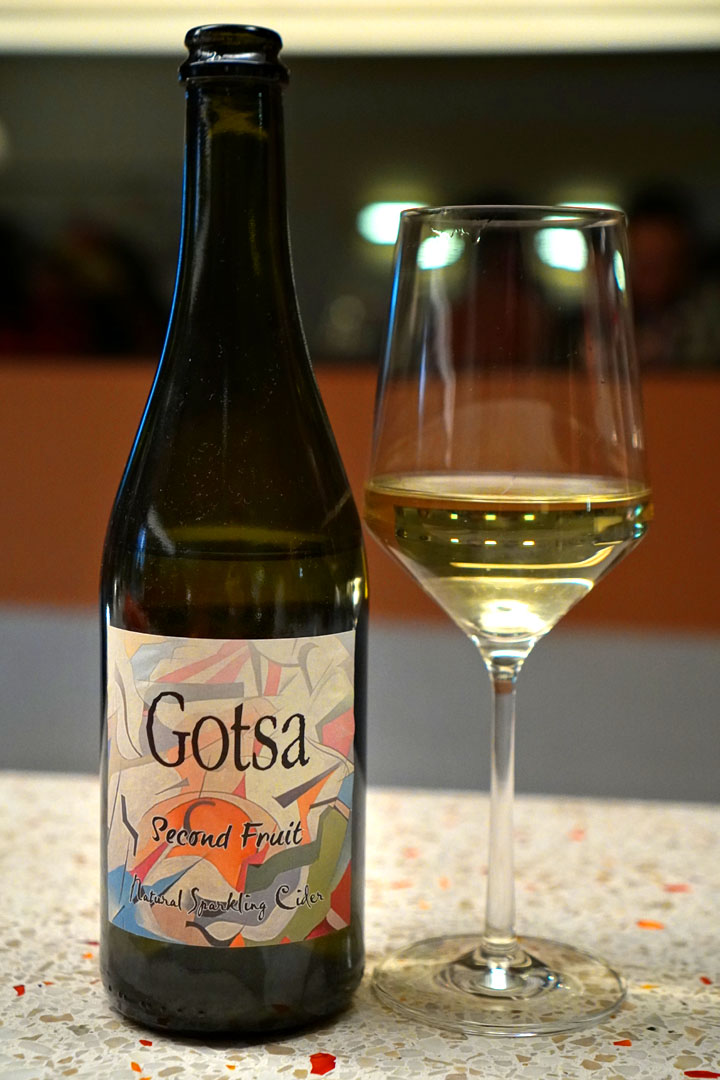 To drink, I went with a bottle of the
'Second Fruit' Gotsa, GA 2019 [$60]
, a cider hailing from Asureti, a village in the Kartli region of Georgia (the country). Made using the
methode ancestrale
with wild yeast and six different types of apples, this was aged a year on lees in traditional beeswax-lined
kvevri
before bottling. The nose offered up a healthy dosing of dusty, barnyard-y orchard fruits. On the palate, think tart, tannic, dry, and crisp, with refreshing notes of juicy apples joined by a marked earthiness and a backbone of minerality. Quite nice.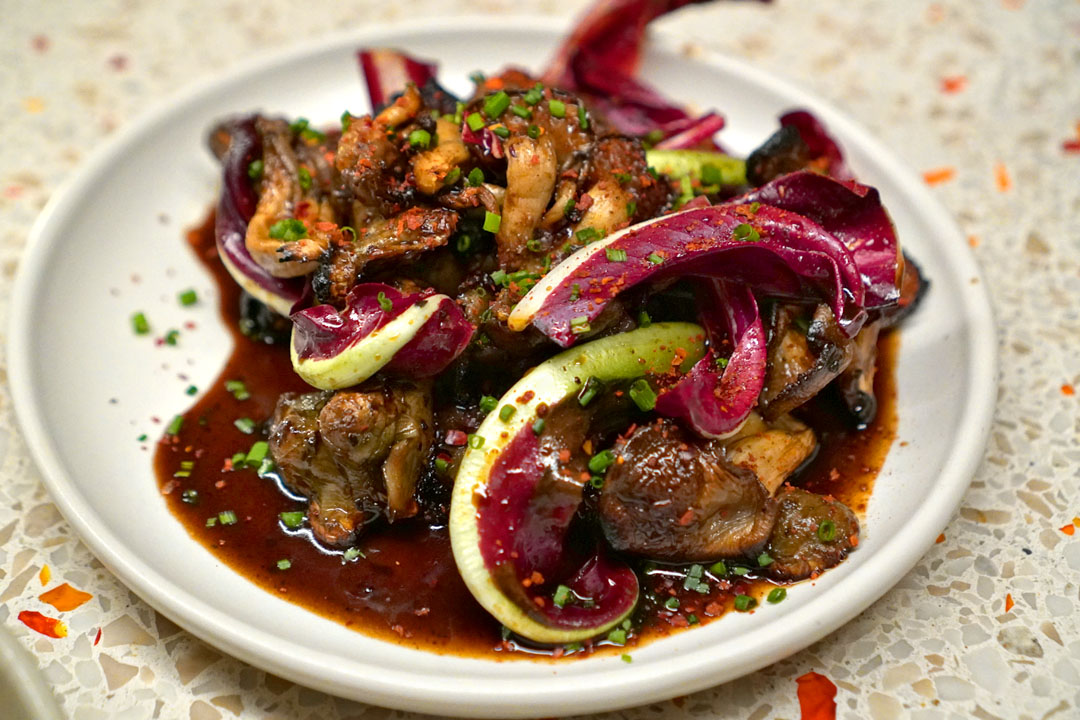 Sunchokes [$17.00]
| Oyster Mushrooms, Castelfranco Radicchio, Mushroom Fish Sauce Vinegar
Sunchokes were great in terms of texture, and their intrinsically sweet, nutty qualities made a lot of sense with the boatloads of smoke and umami in the dish. The bitterness of the radicchio provided a necessary offsetting bitterness, and I liked the touch of heat present too, but I would've preferred a less aggressive tang from the vinegar.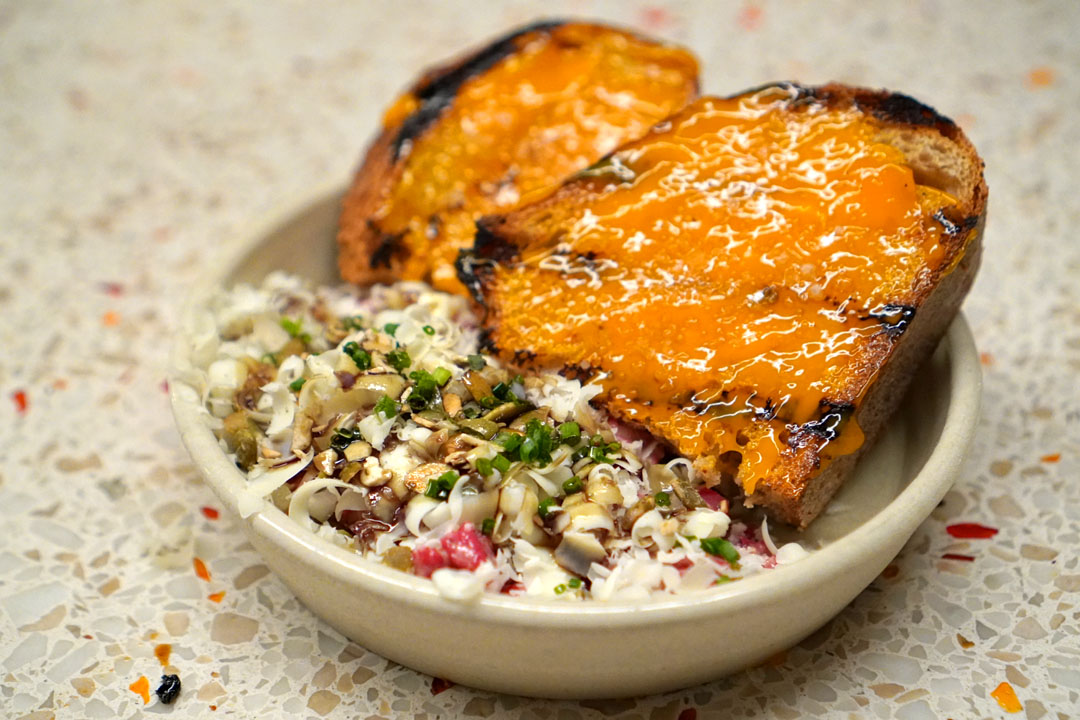 Steak Tartare [$24.00]
| Shallots, Pickles, Lemon Juice, Anchovy, Celtuce, Pumpkin Seeds, Egg Jam Toast, Alpine Cheese
I generally opt to order a beef tartare when I see one on the menu, and it looks like tonight was no exception. The steak itself showed off a satisfying chew, and the relatively subdued nature of the meat was joined by some forcefully salty, pickle-y, and even horseradish-y notes, all while the cheese imparted a lushness that toned things down. I appreciated the juxtaposition of the pepitas both in terms of taste and texture, but my favorite thing here was actually the toast, specifically that egg jam, which paired masterfully with the tartar, effectively smoothing out its assertive flavors.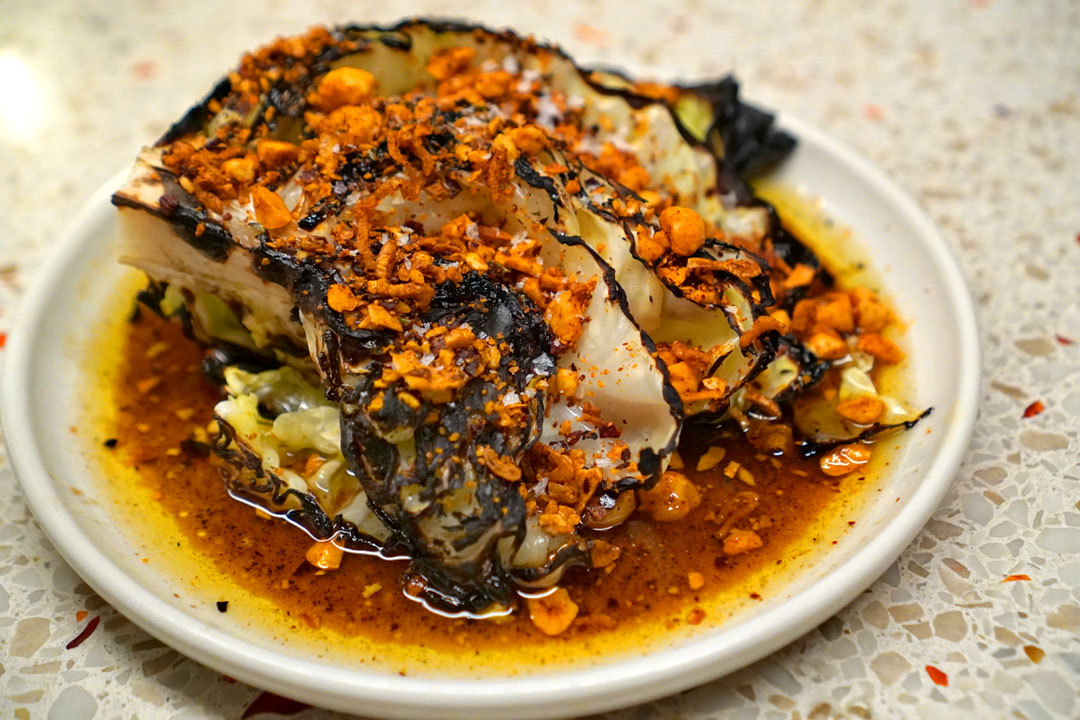 Grilled Cabbage [$16.00]
| Cabbage, Brown Butter Vinegar, Guajillo, Shallot Garlic Hazelnut Crunchies
I have a soft spot for cabbage, so this was a must-try for me. The leaf veggie had that firm-yet-supple consistency that I like, and its slight pungency played well with the bitter, charred flavors imparted by its live fire cooking. At the same time, the brown butter imparted a certain warmth, and the sheer nuttiness of the dish made pretty good sense, too.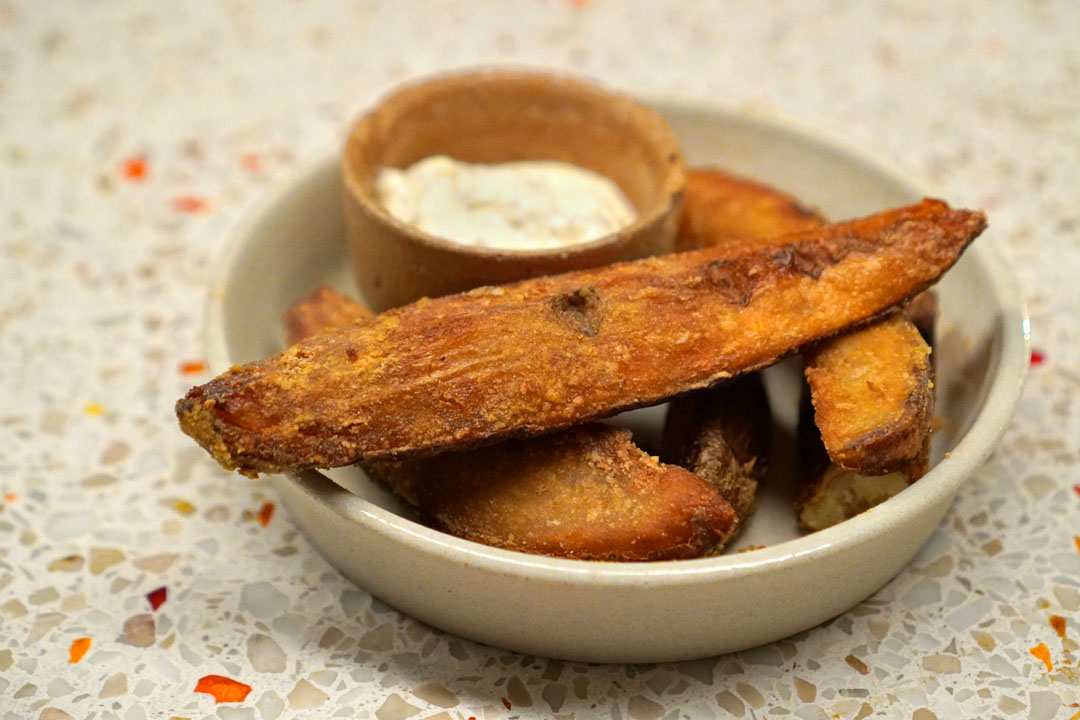 Big Fries [$10.00]
| Eszett Season Salt, Garlic Mayo
Bezaire's "big fries" had been on the menu from the (very?) start, but I'd never had them until today. Basically a cross between potato wedges and steak fries, they were delectably seasoned, and demonstrated a great contrast between their fluffy insides and crisp, almost shattery exteriors. A creamy, garlicky dipping sauce was provided, though I would have liked a condiment with more acidity.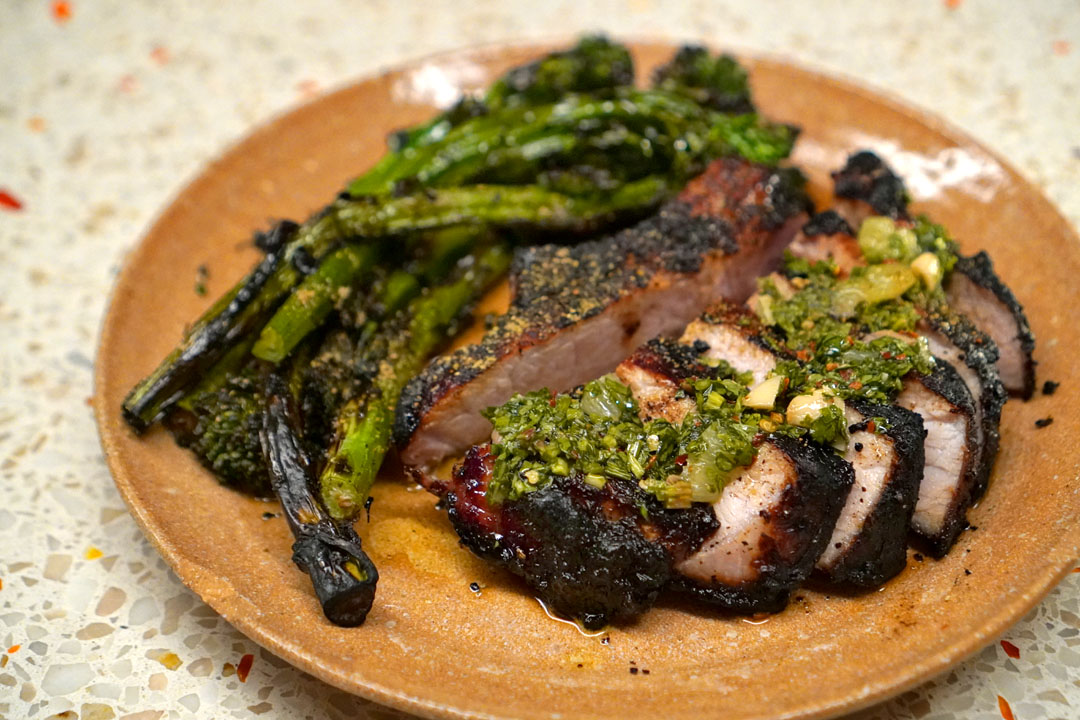 Pork Chop [$42.00]
| Niman Ranch Pork Chop Grilled Over Charcoal, Dandelion and Anchovy Salmoriglio, Broccolini, Chile Vinegar
My final savory was the pork chop, which ate properly juicy, with a gratifying chew, and conveyed a potent amount of char and smoke courtesy of its coal-fueled cookery. An in-your-face topping of salmoriglio amped up the robustness of the dish further, and even the broccolini was imbued with a heady dosing of live fire.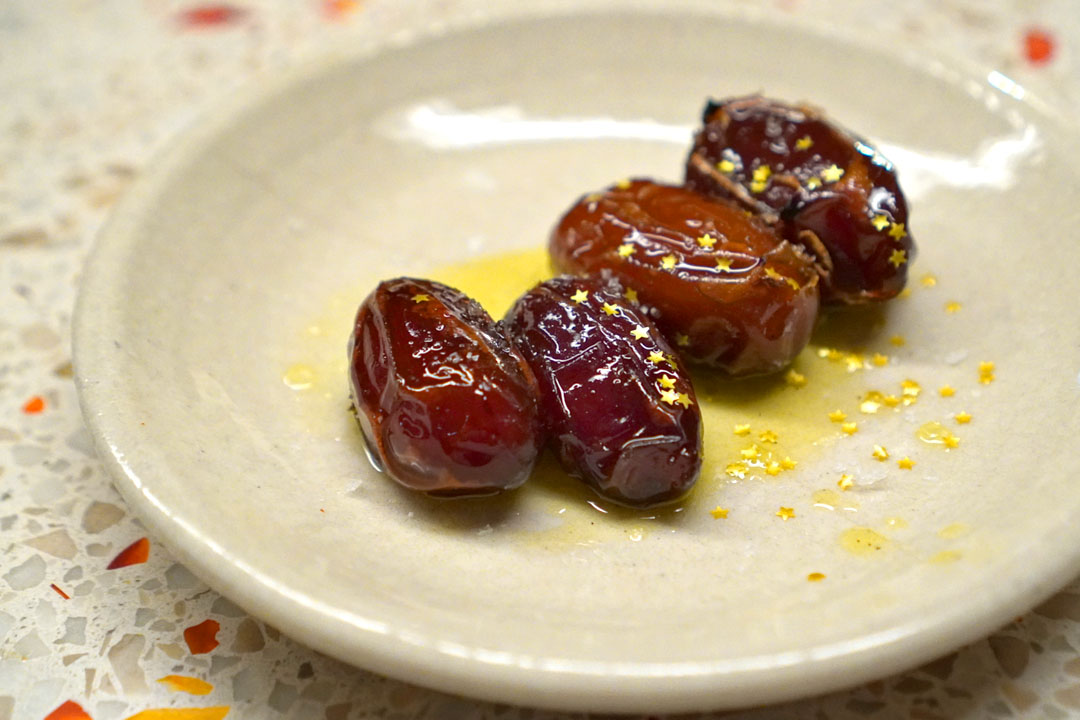 Warm Dates [$10.00]
| Vanilla Bean Olive Oil, Sea Salt
For dessert, I opted for the dates, which managed to be an unexpected favorite of mine. The sweetness of the fruit paired beautifully with the olive oil, and its finish of fragrant vanilla was really the key to the dish. I got some welcomed pricks of salinity from the sea salt to boot.
This was a bittersweet meal to be sure, since I always thought of Eszett as a quintessential sort of neighborhood-y spot, one serving cozy, creative, and somewhat irreverent cuisine that was just fancy enough. I'm sure the place will be missed. As for what's in store for the space, it's being taken over by
Mara Herbkersman
(Eszett's GM) and Emily Bielagus (a server at Eszett), who plan on turning it into
The Ruby Fruit
, a lesbian wine bar that should be debuting very soon.