Vedge (Philadelphia, PA)
Vedge Restaurant
1221 Locust St, Philadelphia, PA 19107
215.320.7500
www.vedgerestaurant.com
Tue 01/31/2023, 7:00p-08:50p

For my second meal of this recent Philly visit, I opted for a Center City vegan/vegetarian spot that'd been highly recommended to me by a colleague. Vedge opened in November 2011, and comes to us from the husband-and-wife team of Rich Landau and Kate Jacoby, two pioneers of the American plant-based cooking landscape who are oft credited for raising the bar in terms of what's possible in vegetable-centric fine dining.
About the Chefs
: The story of Vedge begins with Richard Landau, who was born in 1967 and grew up in the Philadelphia suburb of Elkins Park. After first cutting out red meat, he subsequently gave up other animal products and became completely vegan in his late teens. Following high school, he decided to skip college, and instead got into the golf course landscaping biz in New Jersey. He then took bartending classes, and secured his first hospitality job as a bartender at the now-demolished Adam's Mark Hotel at 4000 City Avenue in Wynnefield Heights. Landau then moved over to Derek Davis' Sonoma in Manayunk, which is where he began spending time in the kitchen, steadily improving his cooking chops.
He was doing some light catering at this point, and also had the idea of running a mobile lunch kiosk, but after being offered a space inside a health food store, decided to strike out on his own there instead. Horizons Café thus opened in 1994 inside Nature's Harvest in Willow Grove, operating as more of a juice/snack bar during this period. As business grew, he expanded to a proper restaurant next door, then to a larger storefront a few doors down. It was here where Landau would first encounter Kate Jacoby.
A Philly native, Jacoby was born in 1980, and had also turned vegan by the end of her adolescent years. After graduating from Georgetown (studying French and sociology) in the summer of 2001, she got a job at the Fair Housing Council of Montgomery County, and during this time, worked nights as a hostess at Horizons Café (where she was already a customer). She quickly fell in love with Landau, but had to leave for Paris that September to teach English. However, she soon returned, decided to pursue a doctorate in sociology, then continued to work at the restaurant, expanding her purview to prep, cooking, and eventually pastry. The two lovebirds got married in September 2004 (son Rio Jacoby-Landau was born in November 2007, as is apparently only vegetarian), and eventually decided to move their restaurant to Philadelphia proper.
Thus, Horizons (
sans
"Café") debuted in February 2006 at 611 South 7th Street in Philly's Bella Vista/South Street District neighborhood. The place was well-received, and the Chefs even served the first ever vegan dinner at the James Beard House in 2009. However, they ended up shuttering Horizons in July 2011 in favor of Vedge, which dropped just four months later. The goal with Vedge was to move away from the "one large protein as your main course" type of approach to a more tapas-style paradigm. The new restaurant proved to be a success, earning
3.5 stars
from
Philadelphia
magazine in 2012 and a "
Most Outstanding Restaurant
" award from
GQ
the next year. This was followed by a
4 Bells
rating by the
Inquirer
in 2016, and in 2018, Vedge was deemed one of the
most important restaurants of the past 40 years
by
Food & Wine
.
Given all the accolades above (in addition to no fewer than 10 James Beard nods and a win on
Chopped
), it was now time for expansion. Landau and Jacoby launched the street food-inspired V Street in Philly's Rittenhouse Square/Penn Center neighborhood in October 2014. In October 2016, they opened a fast casual cheesesteak shop called Wiz Kid inside a Whole Foods in Art Museum District/Fairmount, which was followed by another location next door to V Street in August the next year. However, the first Wiz Kid had closed by April 2018, and the second was gone by May 2019, when it merged with V Street. Meanwhile, V Street itself shuttered in July 2020 due to the pandemic. The couple expanded outside of Philadelphia in March 2018 with the debut of Fancy Radish in DC, which is still going strong as far as I'm aware. Their latest project is Ground Provisions, a country store-slash-restaurant in West Chester that opened at the start of this year.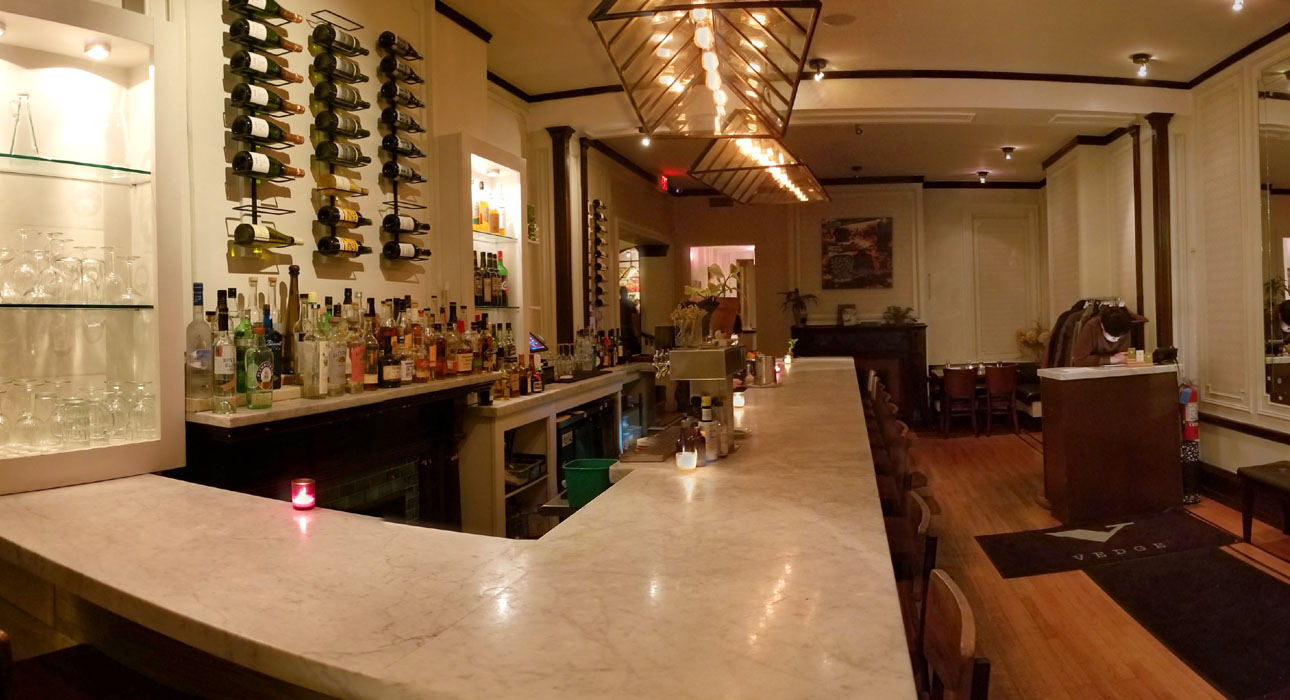 Vedge resides in a Washington Square West/Gayborhood/Midtown Village structure known as the Princeton Club or the Tiger Building. Built in the late 1800s, it was the home of Chef Fritz Blank's high-end French eatery Deux Cheminées from 1988 to 2007. Pictured above is the restaurant's entry/bar area. Off to the left of the photo is a small dining room that was previously used as a lounge (not shown).

Here we see Vedge's wood-paneled central dining room, where I was seated.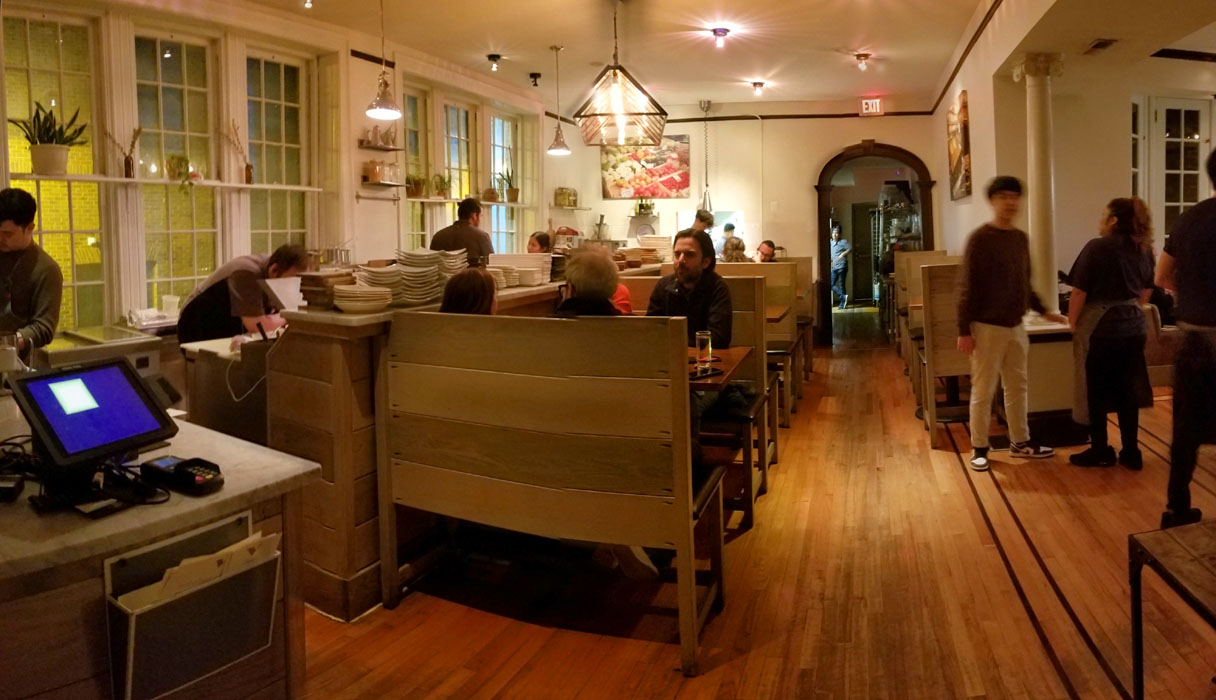 And this is the rear dining area (well, at least part of it--there's another room to the right, as you can sort of see), with the kitchen in the back.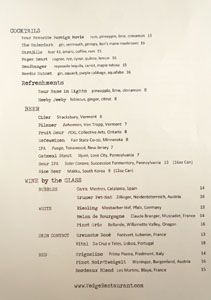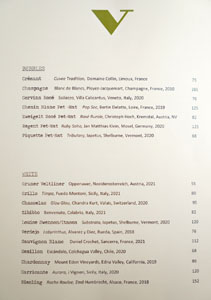 Vedge's veggie-focused menu is pleasantly compact, and features "medium plates" that are ostensibly portioned to encourage sharing and exploration. Drink-wise, you get some surprisingly creative cocktails, beers, and natural-leaning wines, all overseen by Jacoby. Click for larger versions.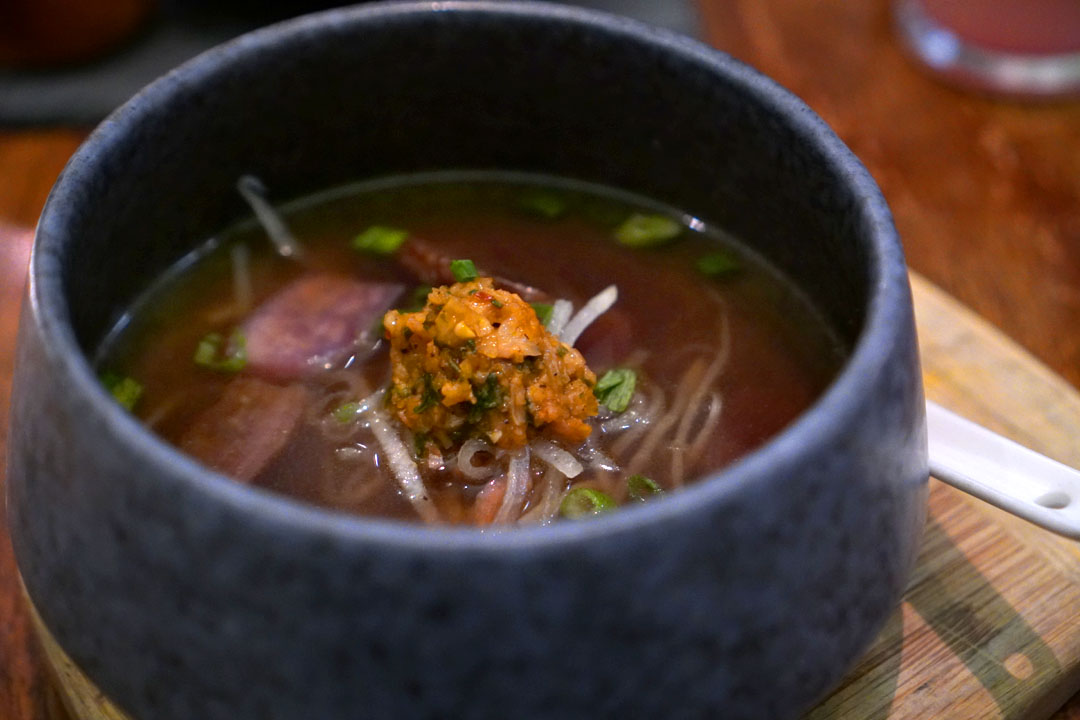 Hot Pot of Winter Radishes [$14.00]
| daikon noodles, pho broth, purple ninja, watermelon radish sambal
My meal got off to a superb start thanks to this reimagined bowl of pho. The key here was that broth. Utterly fragrant and imbued with warm spices and a legit undercurrent of heat from the sambal, it really captured the essence of the traditional soup. At the same time, the radishes served as a bitter counterpoint to the headiness of the liquid while also providing some great textural play. Cozy, familiar, delicious.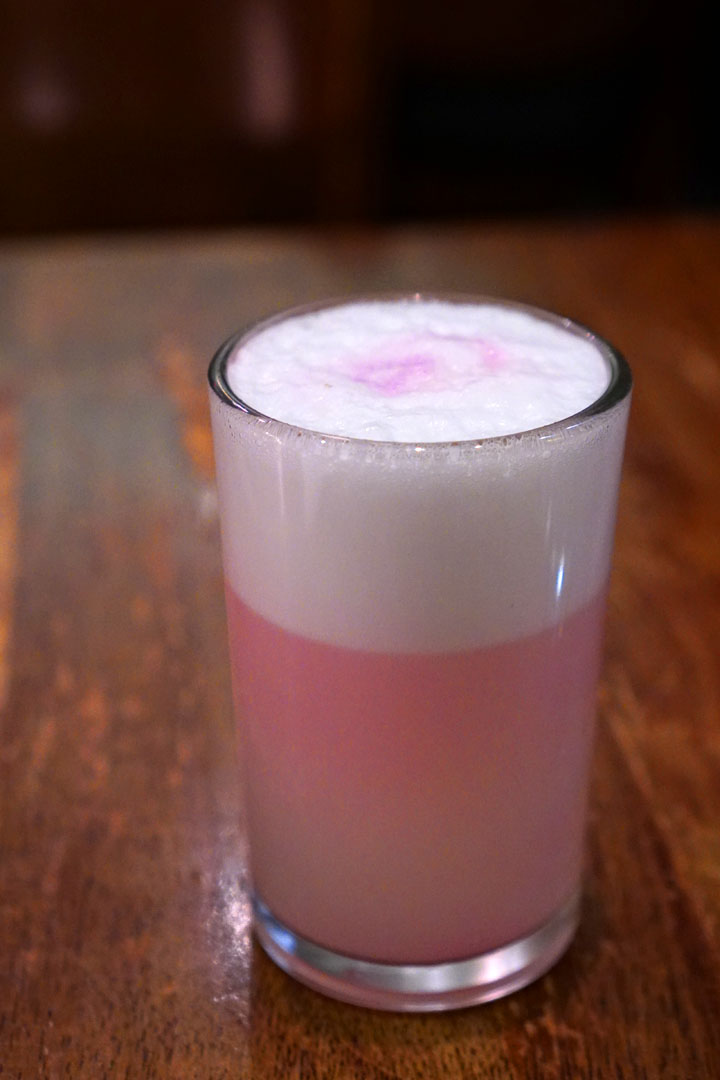 Nordic Sunset [$16.00]
| gin, aquavit, purple cabbage, aquafaba
I sampled four cocktails this evening, and my first was rather intriguing. What struck me was how the caraway-fueled spice of the akvavit combined with the bittersweet, vegetal nuances from the cabbage, layered over a base of subdued, nondescript sweetness, all while the aquafaba foam mixed things up in terms of mouthfeel. Delicate and contemplative, and quite unlike anything I've had before.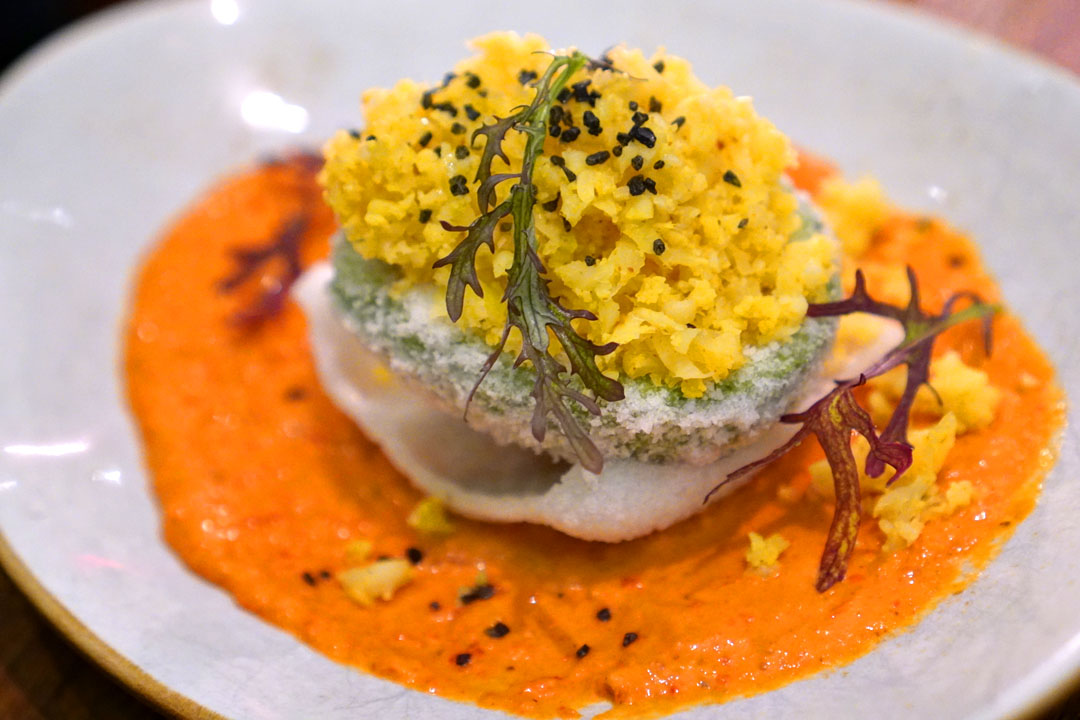 Stuffed Avocado [$14.00]
| pickled cauliflower, almond romesco, crispy rice, black salt
I'm a bit of a sucker for avocado, and tonight the fruit demonstrated a slightly too firm, yet still luscious consistency, which contrasted with the crunchy rice crackers and tangy cauliflower. I was also a fan of the anise-like spice that permeated the dish, but the crux was that romesco, which offered up a piquant, nutty flavor profile that really tied everything together.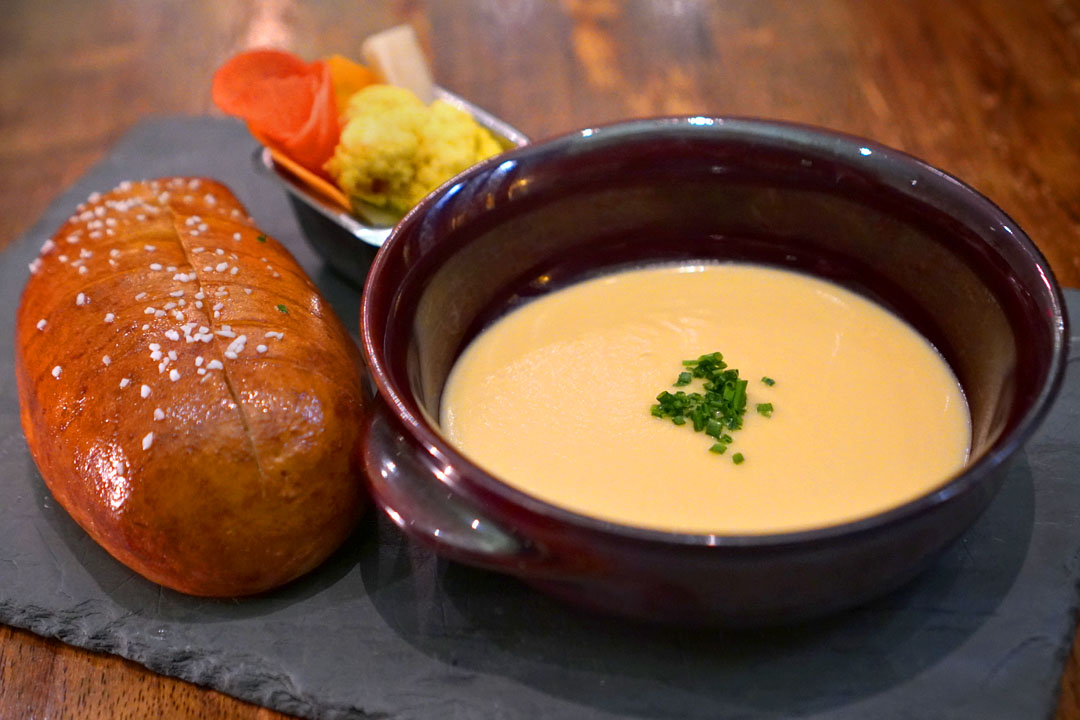 Rutabaga Fondue [$15.00]
| today's soft pretzel, yesterday's pickles
This decidedly non-traditional fondue was a success. The "cheese" had a nice viscosity to it, and really showed off the bittersweet qualities of the rutabaga, and I think I even detected a slight mustard-y nuance in there. The liquid paired beautifully with the pretzel, which was a joy to eat just by itself thanks to its spot-on taste and texture (I found the skin especially impressive), and of course, I appreciated the crunch and acidity provided by those pickles, too.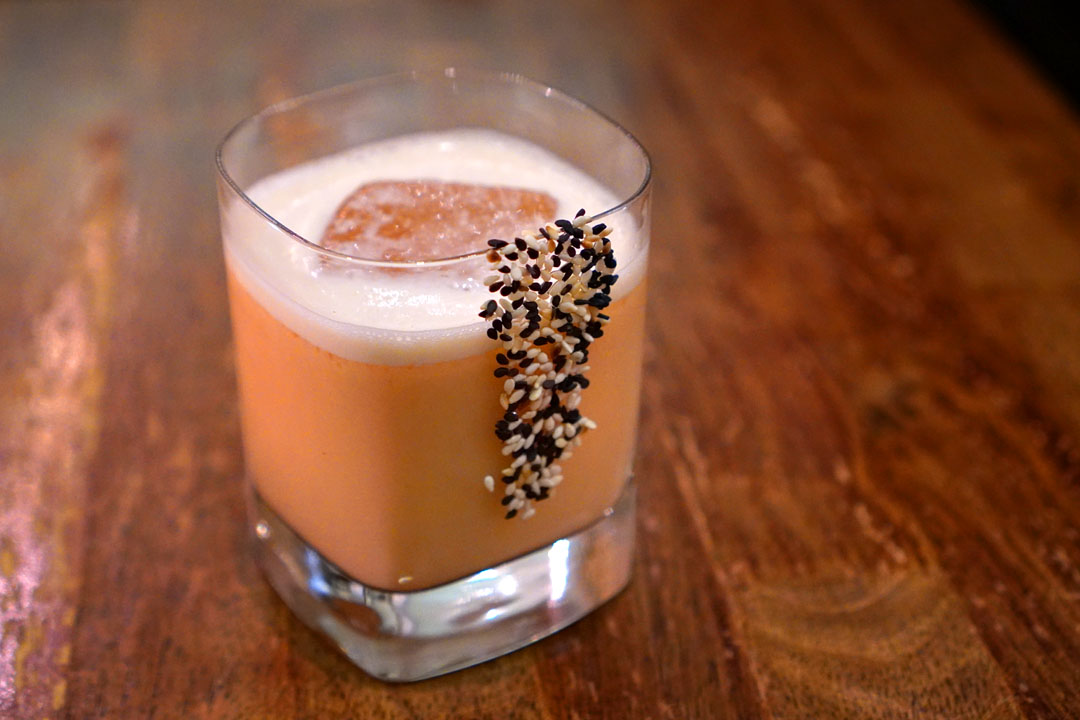 Headbanger [$15.00]
| reposado tequila, carrot, maple tehina
My second cocktail was also a winner due to its neat interplay between sugary carrots and that nutty, maple-boosted tahini. The tequila's agave notes came in toward the rear and worked for balance, and I appreciated the drink's super nutty sesame rim, too.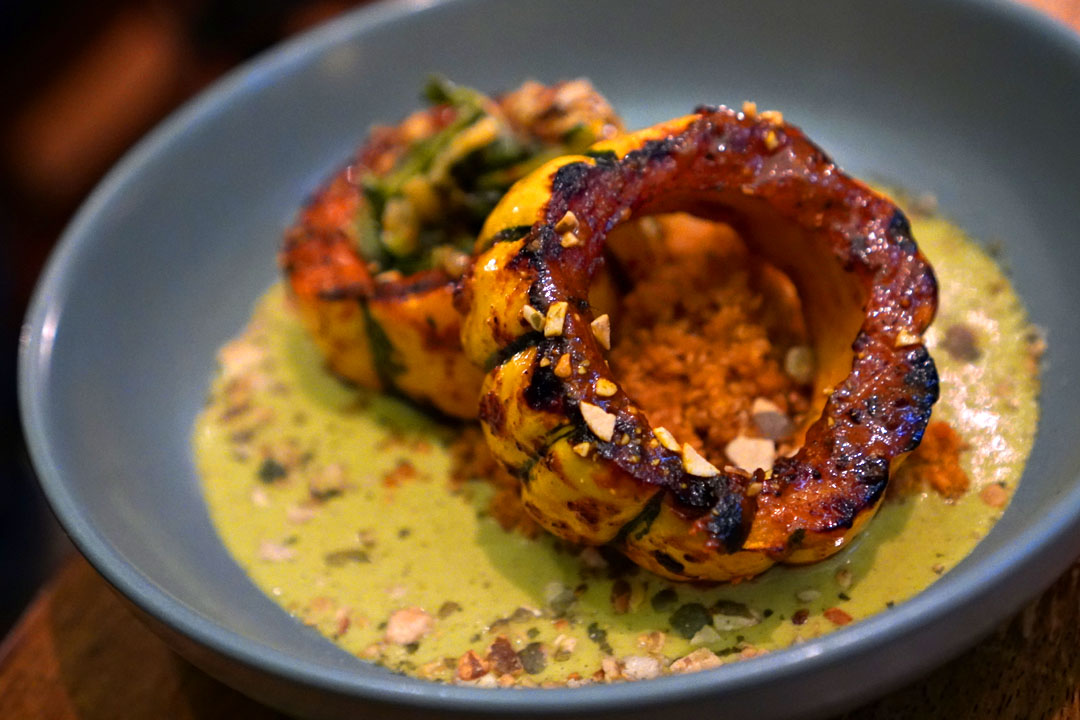 Charred Delicata Squash [$16.00]
| achiote adobo, peanut pipian verde, refried quinoa, shaved zucchini
I typically shy away from squash, but ended up enjoying this preparation. The delicata showcased a firm-yet-fleshy consistency, along with a "snappy" rind, and took beautifully to its charring. The sweetness of the squash was also well displayed, and paired wonderfully with the pipián's zip and nuttiness.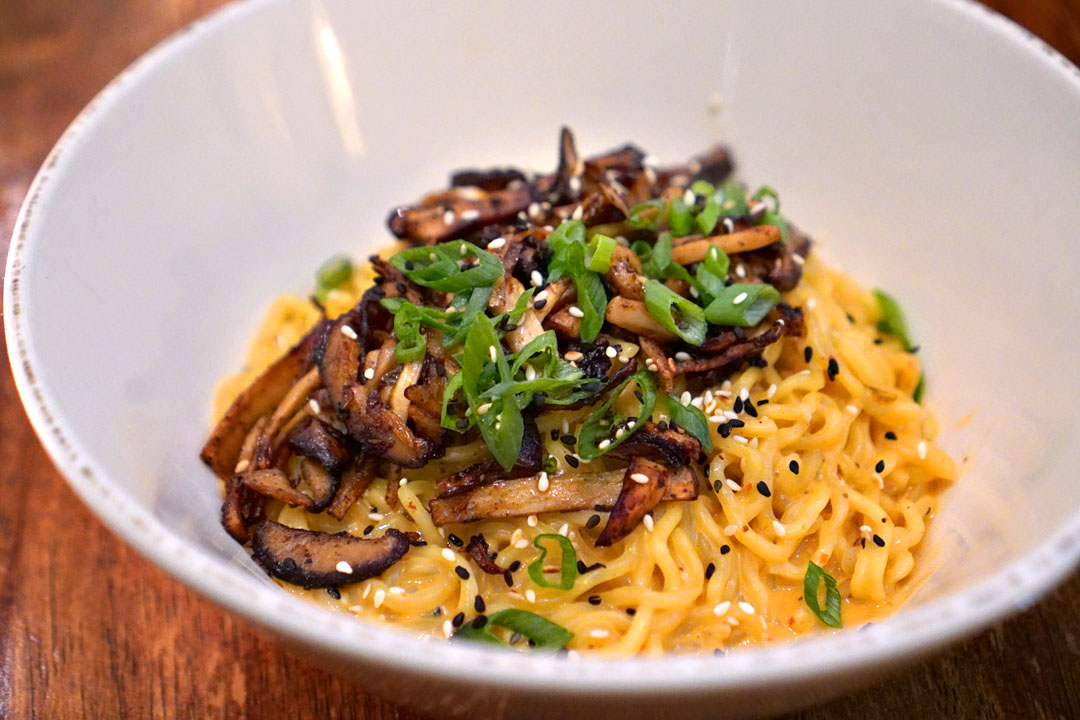 Spicy Dan Dan Noodles [$18.00]
| sichuan pepper, creamy sesame, black vinegar glazed trumpet mushrooms
This riff on
dandanmian
was another highlight, one that effectively conveyed the core elements of the classic Chinese dish. The noodles were great texturally, with the right amount of chew, and I loved how the nutty sesame, numbing heat of the peppers, and loads of umami from the 'shrooms all coalesced.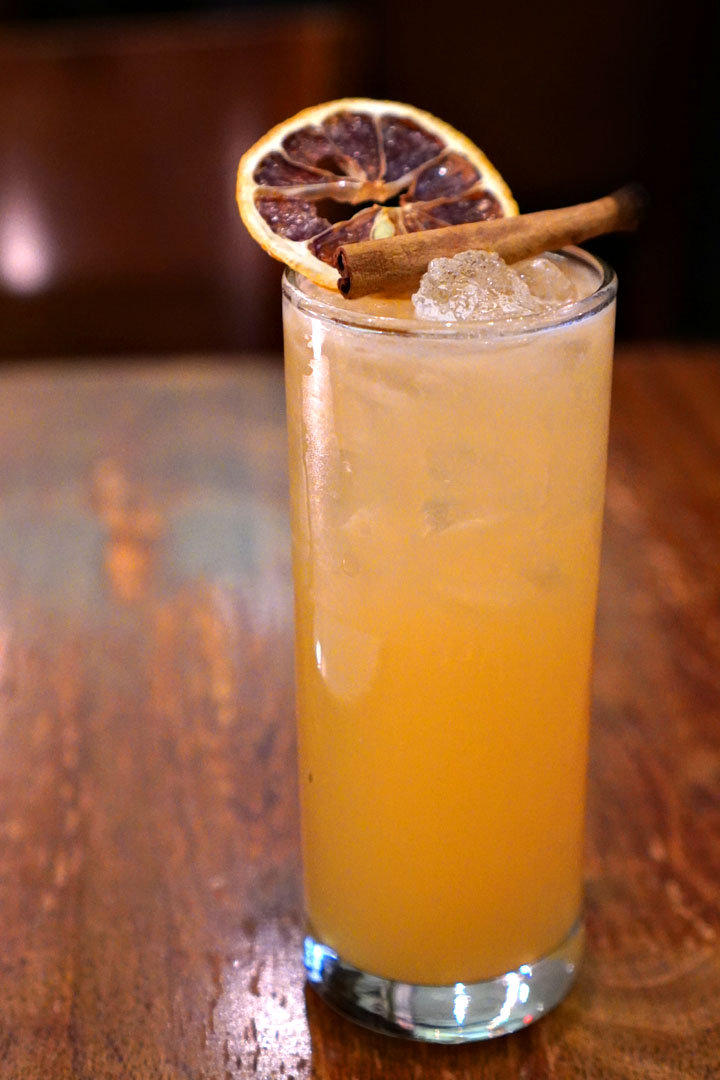 Your Favorite Foreign Movie [$15.00]
| rum, pineapple, lime, cinnamon
My one long cocktail of the night featured a smart back-and-forth between citrus and sweet-spicy cinnamon, all set over a subdued layer of rum. Easy-drinking for sure.


Vedge's desserts largely follow the same ethos as the main menu, and are joined by a variety of after-dinner beverages. Click for larger versions.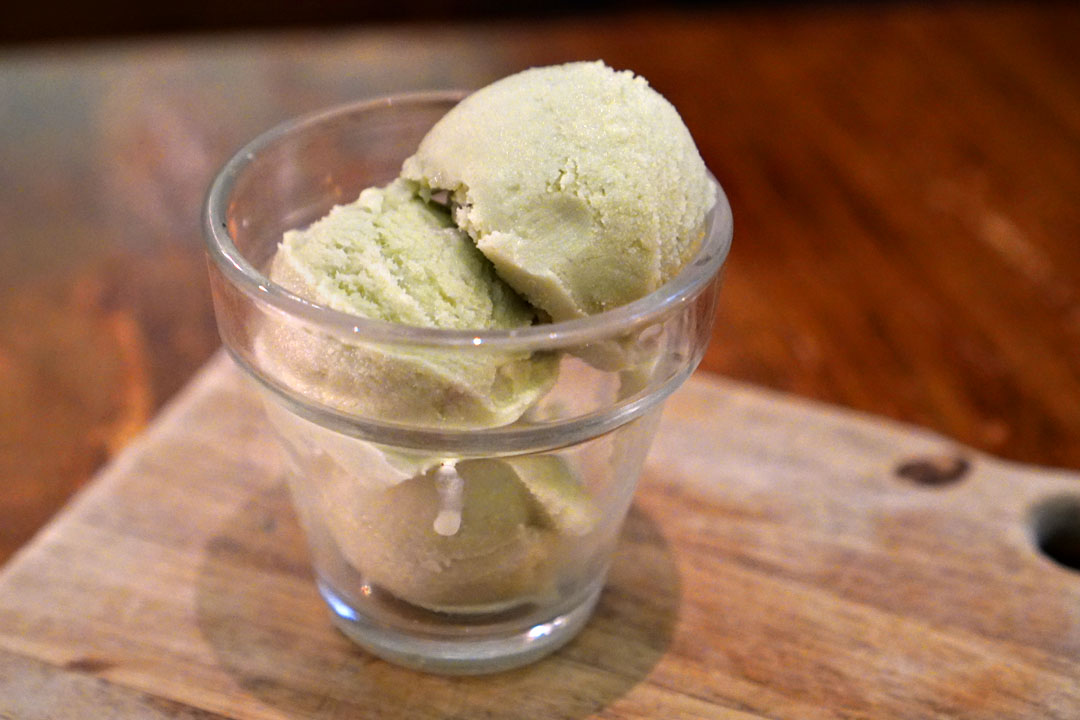 Coconut Matcha Ice Cream [$7.00]
I enjoy both coconut and matcha, so my interest was immediately piqued here. However, somehow, the ice cream ended up tasting like neither coconut nor green tea. Instead, I got fruity, melon-like flavors with a touch of pickle-like tang. Texturally, the dessert wasn't quite there either, as it was on the icy side, and lacked the creaminess I was looking for.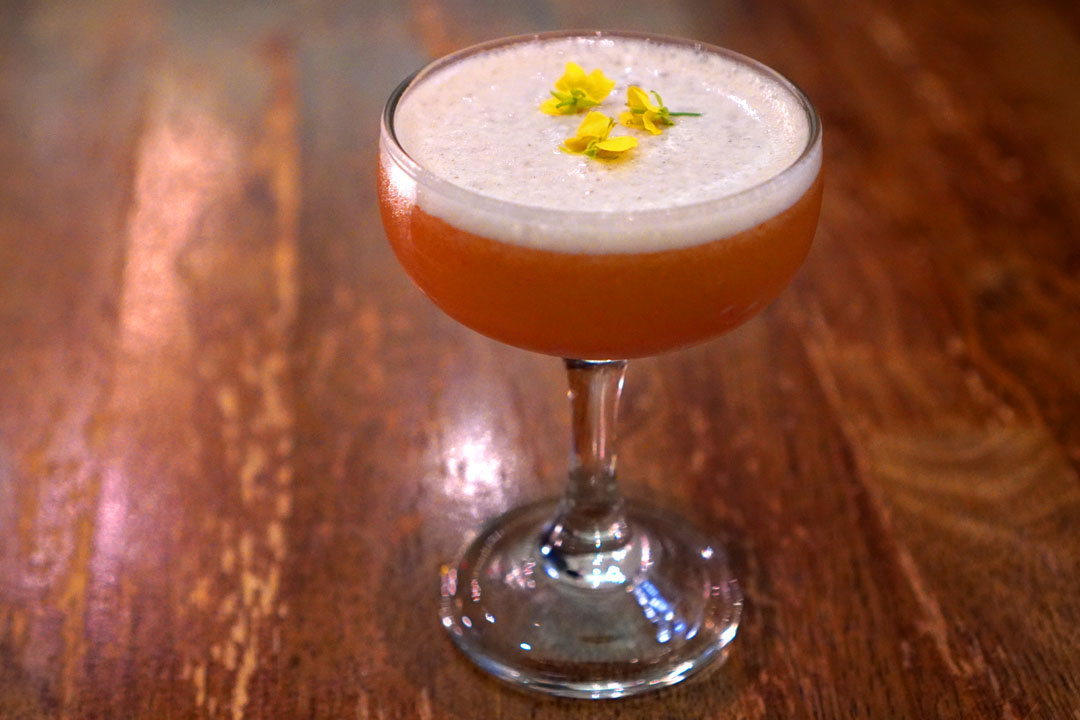 Paper Heart [$16.00]
| cognac, rye, cynar, quince, lemon
My final cocktail was certainly the booziest of the bunch on account of its marriage of rye with cognac. What made it all work was how the fruitiness of the quince interacted with the herbal, astringent notes from the Cynar, with the lemon providing an overarching citrusy accent.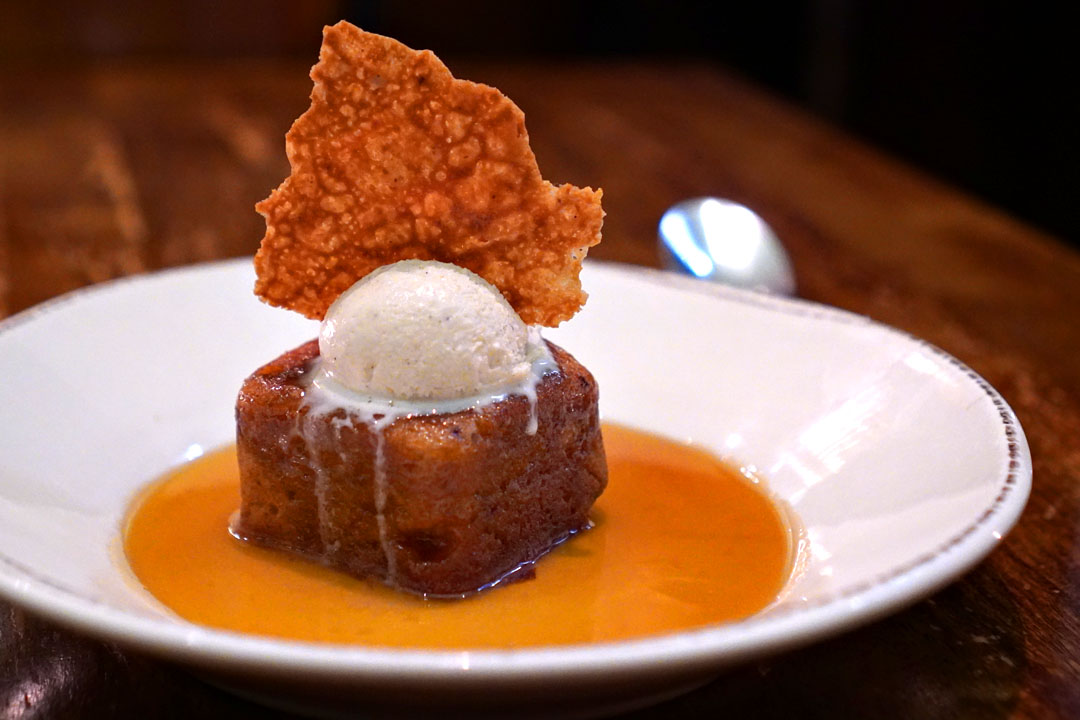 Sticky Toffee Pudding [$13.00]
| date cake, cardamom ice cream, hazelnut tuile
I'm quite the fan of sticky toffee pudding in general, and Vedge's didn't disappoint. The cake itself was properly rich and moist, and paired swimmingly with both the sugary, maple-y toffee sauce and that delightful cardamom ice cream. Overall, I got a bevy of warm, churro-esque spices that certainly satisfied.
I was pretty impressed with my meal at Vedge. I've heard that Landau approaches cooking from a carnivore's perspective, and I think that's apparent in the plates the kitchen is putting out. Not once did I "miss the meat," so to speak, and I was surprised by the level of depth, savor, and satisfaction that the cuisine was able to achieve. In fact, I'm tempted to say that this was the best vegan food I've ever had.