Fiorella (Philadelphia, PA)
Fiorella Pasta Restaurant
817 Christian St, Philadelphia, PA 19147
215.305.9222
www.fiorellaphilly.com
Mon 01/30/2023, 7:15p-09:50p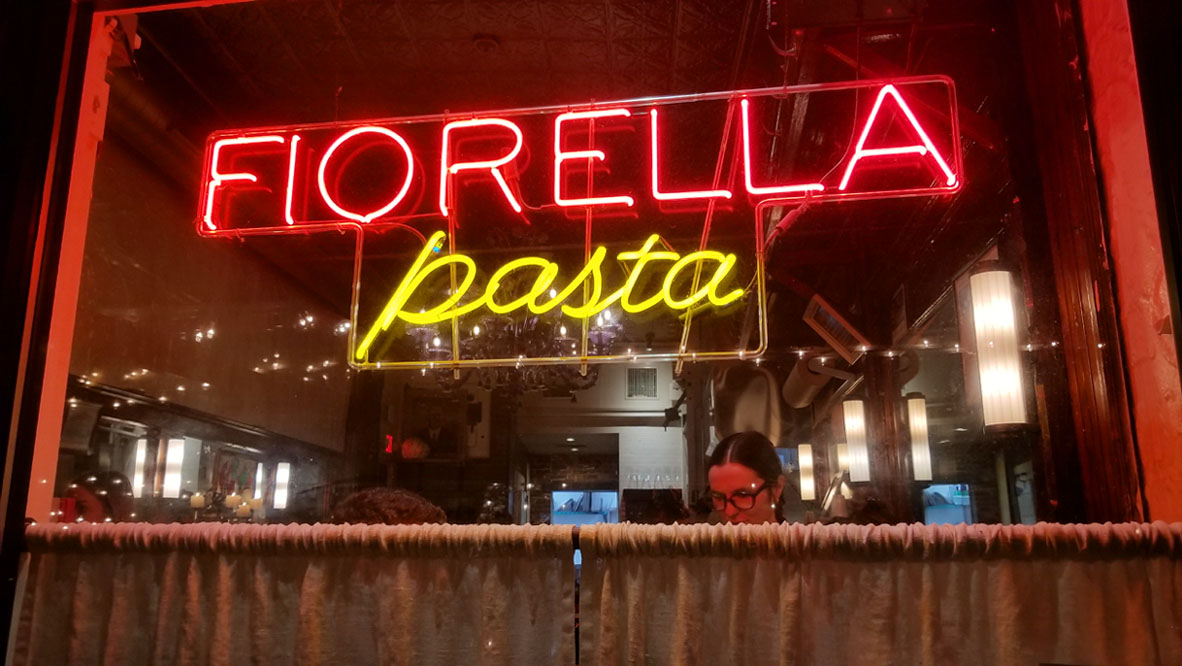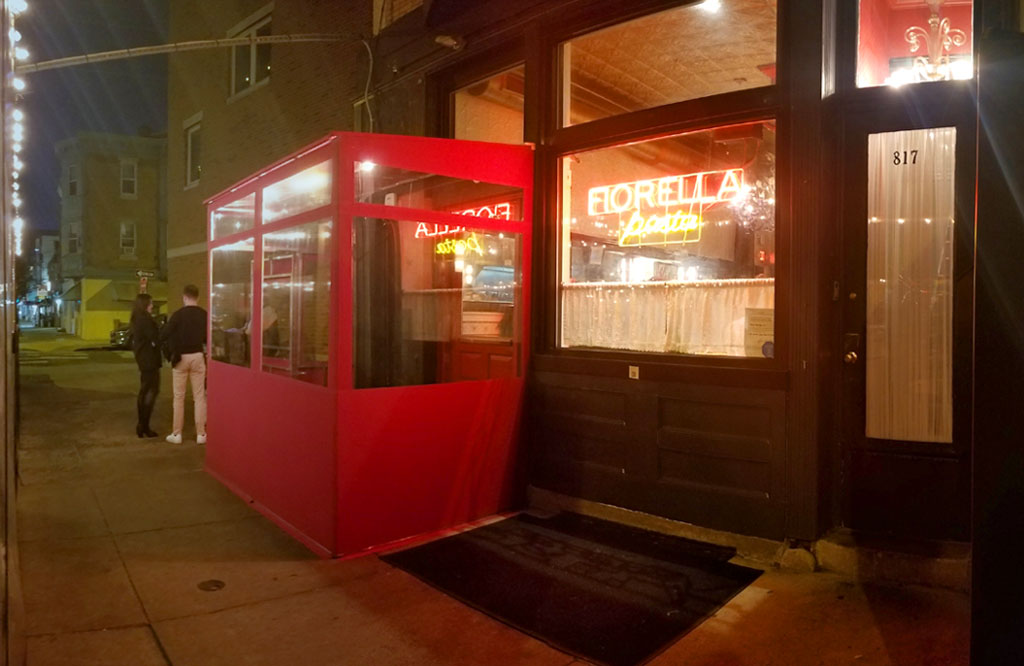 Back at the start of 2020, I enjoyed my first ever meal in Philadelphia at
Vetri
. Shortly after that dinner, on February 13th, Chef/Owner Marc Vetri opened up Fiorella, a pasta bar set inside the old Fiorella's butcher shop (he also debuted Mr. Maurice's at the Ace Hotel in Kyoto around the same time). Fiorella was inspired by the pasta pop-ups that were held at Vetri a few years ago; they'd become quite popular, and thus the idea for a permanent restaurant with the same concept was born. I recently found myself in Philly for work, and thus decided to check the place out. Head chef duties here are handled by CdC Matt Rodrigue, though he was actually out tonight, so running the show in his stead were a trio of cooks: Peter, Max, and Thomas.
About the Chef
: A native of Lewiston up in Maine, Matthew Rodrigue was born in February 1985 and, following high school, moved to Philadelphia in 2003 to study history at Temple University. He achieved his bachelor's degree in 2007, and during this period, worked at clothing retailer Diesel. Following graduation, he began his master's degree at Temple (c/o 2010), and in July 2007, also began working as a server at Stephen Starr's El Vez. He spent four years there, then, in July 2011, became an AP History teacher at the George School in Newtown. Rodrigue was drawn back into hospitality, however, and thus started a server role at Cantina Los Caballitos in July 2014. That gig only lasted a few months though, and in September that year, he transitioned to the back-of-the-house and became a cook at Marc Vetri's Lo Spiedo. From there, he went to Osteria (another Vetri property) in March 2015, and in 2017, was promoted to sous at Vetri proper, where he really honed his pasta skills before beginning work on Fiorella in 2019.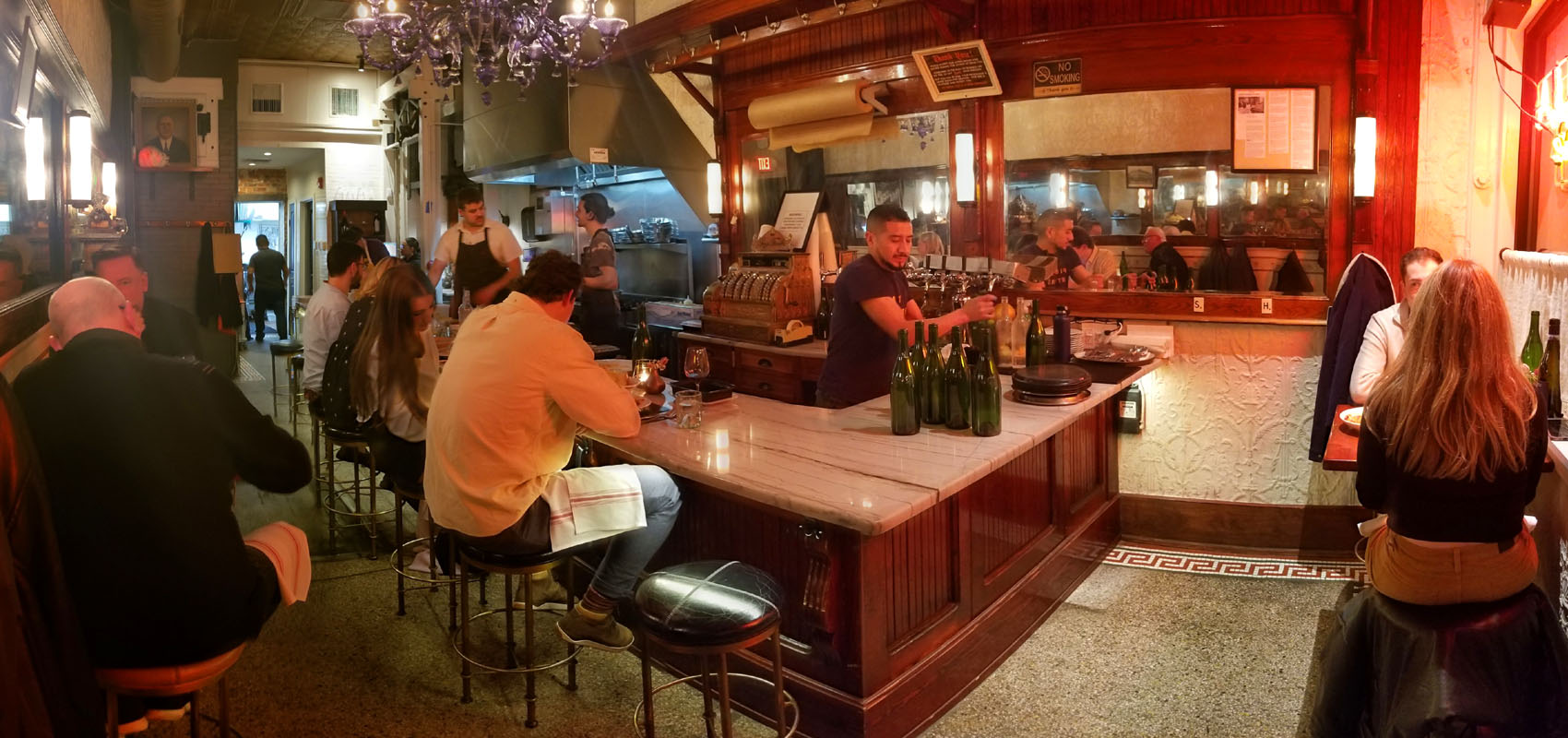 As mentioned above, Fiorella resides in the former Bella Vista/Italian Market home of Fiorella's Sausage, which was opened in 1892 by Luigi Fiorella and closed in 2018. Vetri and his team have kept much of the space intact, though the chandelier is indeed new. Indoor seating comprises the pasta counter, a couple of two-tops, and a private dining room upstairs.

Here's my view from the end of the pasta bar.

There's a semi-enclosed patio set up out front as well.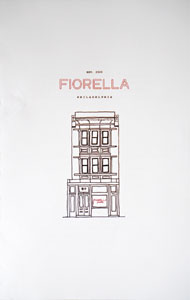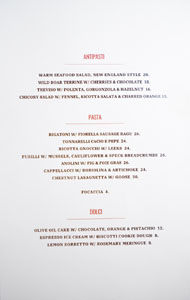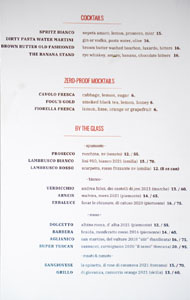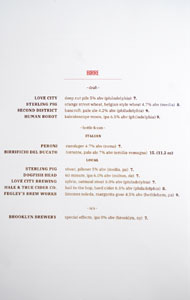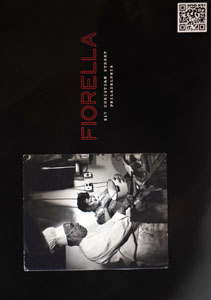 The menu at Fiorella is certainly centered on pasta, though appetizers and desserts are also offered. Meanwhile, beverage options include beers, a quartet of cocktails from Bartender Dylan Nicol (Tredici Enoteca, Barcelona Wine Bar), and a selection of Italian wine curated by GM/Sommelier Kyle O'Neill (Vetri). Also pictured above is my placemat. Click for larger versions.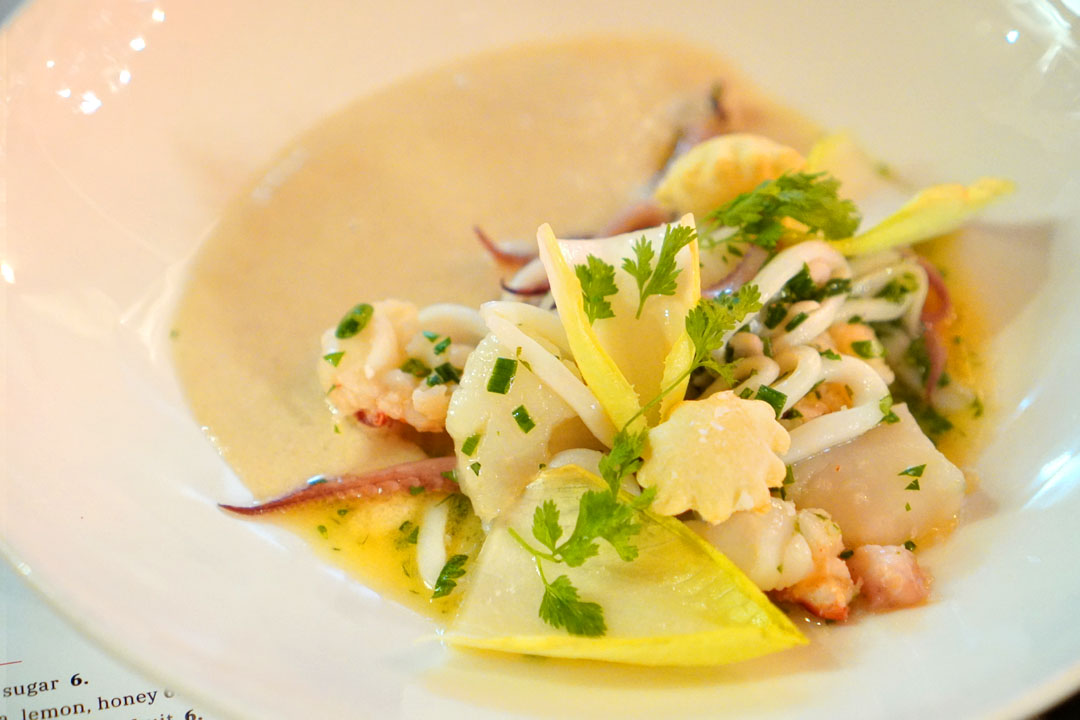 Warm Seafood Salad, New England Style [$20.00]
First up was what seemed like a mash-up between a salad and a chowder. The various seafood arrived well-textured, and showed off a salinity that was evened out by chunks of potato and oyster crackers, all while the heady soup helped bind everything together.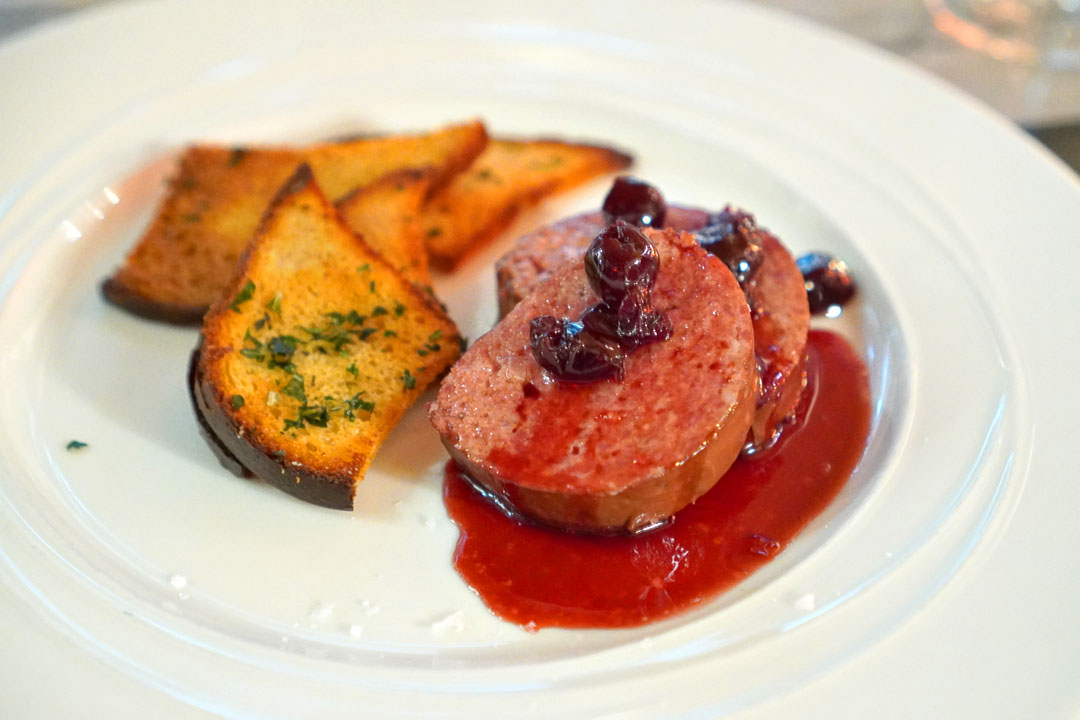 Wild Boar Terrine w/ Cherries & Chocolate [$18.00]
I'm generally drawn to forcemeat preparations on a menu, and tonight was no exception to that rule. The terrine offered a pretty finespun consistency, and its familiar porcine flavors married easily with the dish's fruity notes. Great crunch from the bread, too.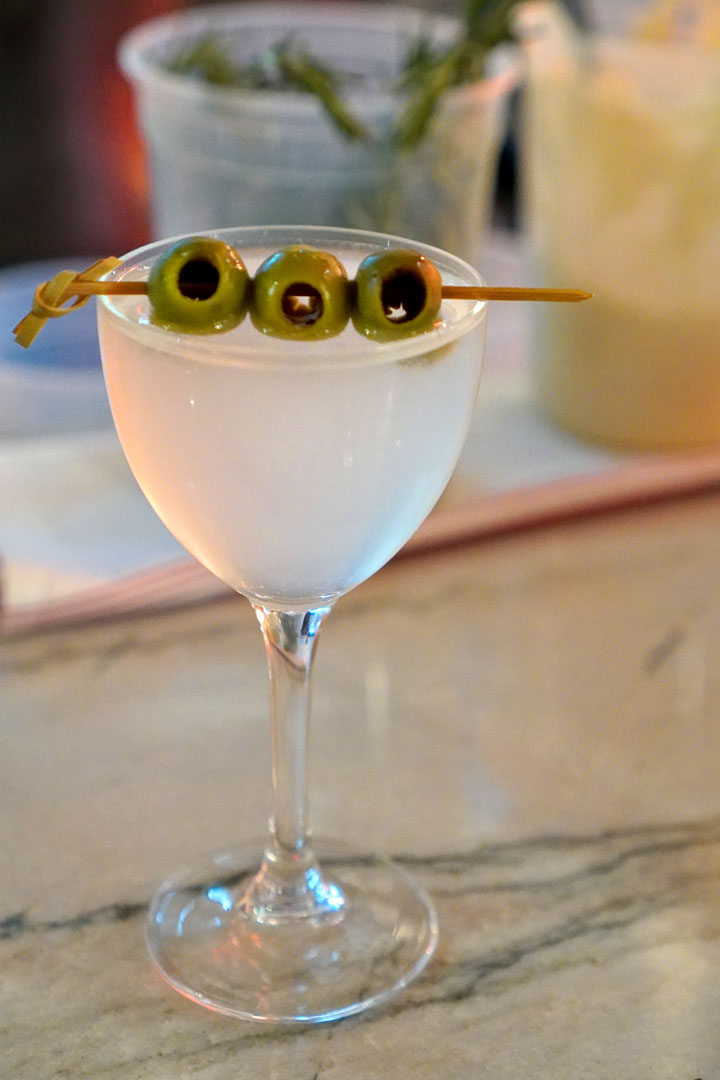 Dirty Pasta Water Martini [$16.00]
| gin or vodka, pasta water, olive
I opted for cocktails with my meal, and up first was this riff on the iconic martini. The drink delivered the classic, cool, clear taste of vodka in spades, but with a hint of starchiness from the pasta water and overarching notes of piquant olive.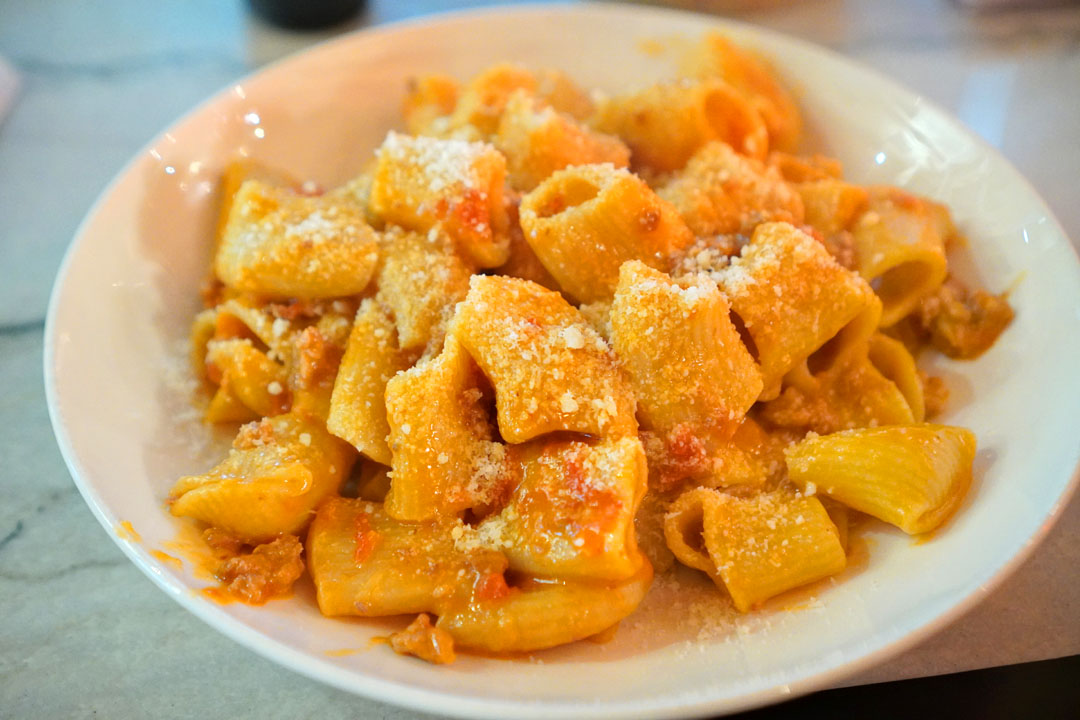 Rigatoni w/ Fiorella Sausage Ragu [$26.00]
It was now time to get into the pasta, and first to arrive was this surprisingly large portion of rigatoni. The tubes were spot-on texturally, and served as a fitting stage for the delectable back-and-forth between tangy tomato and those savory, cozy chunks of meat, all perked up by a touch of heat. This is something that I'd just want to eat a big bowl of (and I pretty much did!).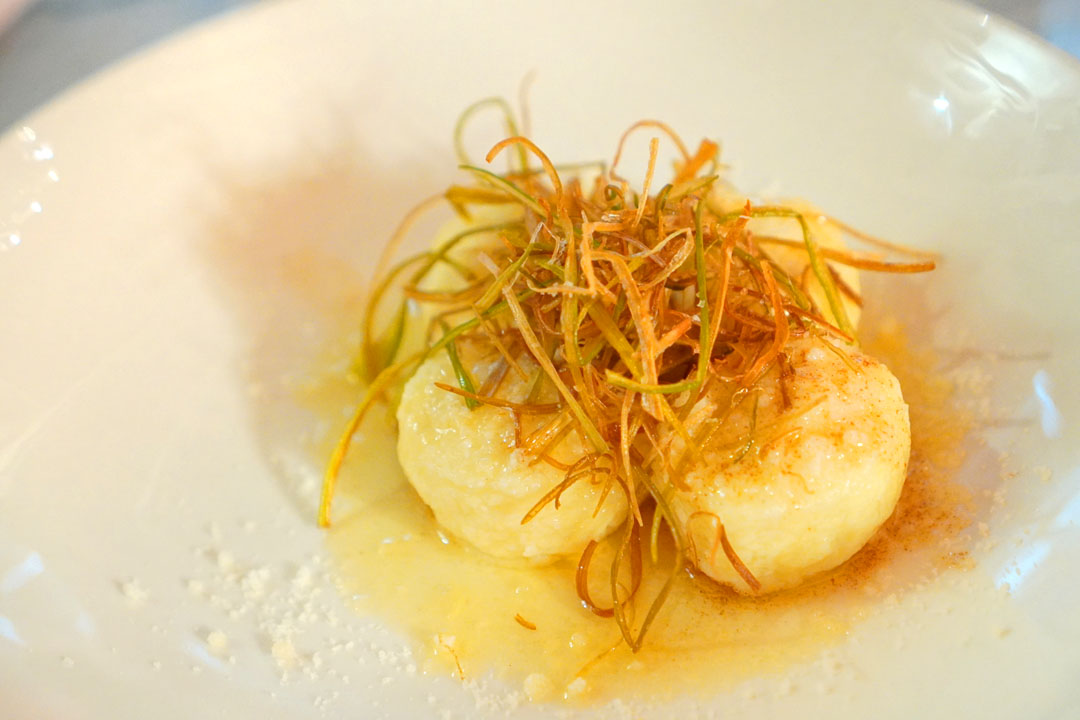 Ricotta Gnocchi w/ Leeks
I was then gifted a complementary half-serving of gnocchi, I'm assuming because I'd ordered so much. They were probably the supplest, most luscious version of the dumplings I've ever had, and their sheer creaminess just yearned for the astringency of the leeks as a counterbalance.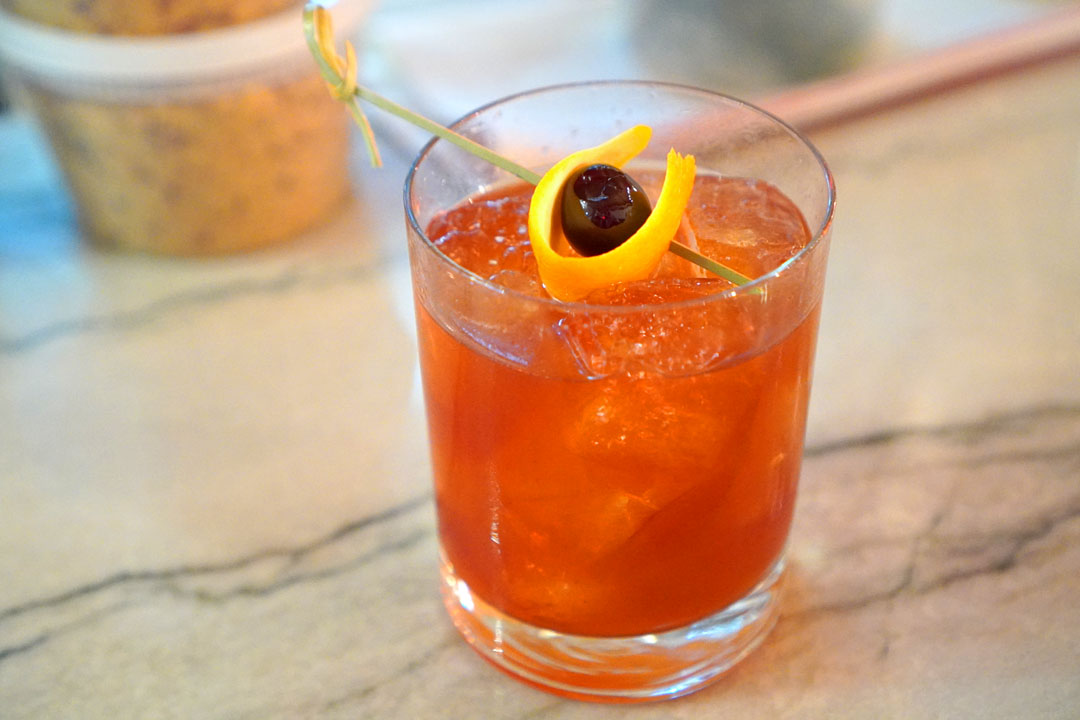 Brown Butter Old Fashioned [$16.00]
| brown butter washed bourbon, luxardo, bitters
Fiorella's interpretation of the most classic of cocktails was to my liking. The drink demonstrated boatloads of chocolate up front, joined by rich brown butter and caramel notes on the mid-palate, along with dark fruits, while bitters and spices became apparent on the back end.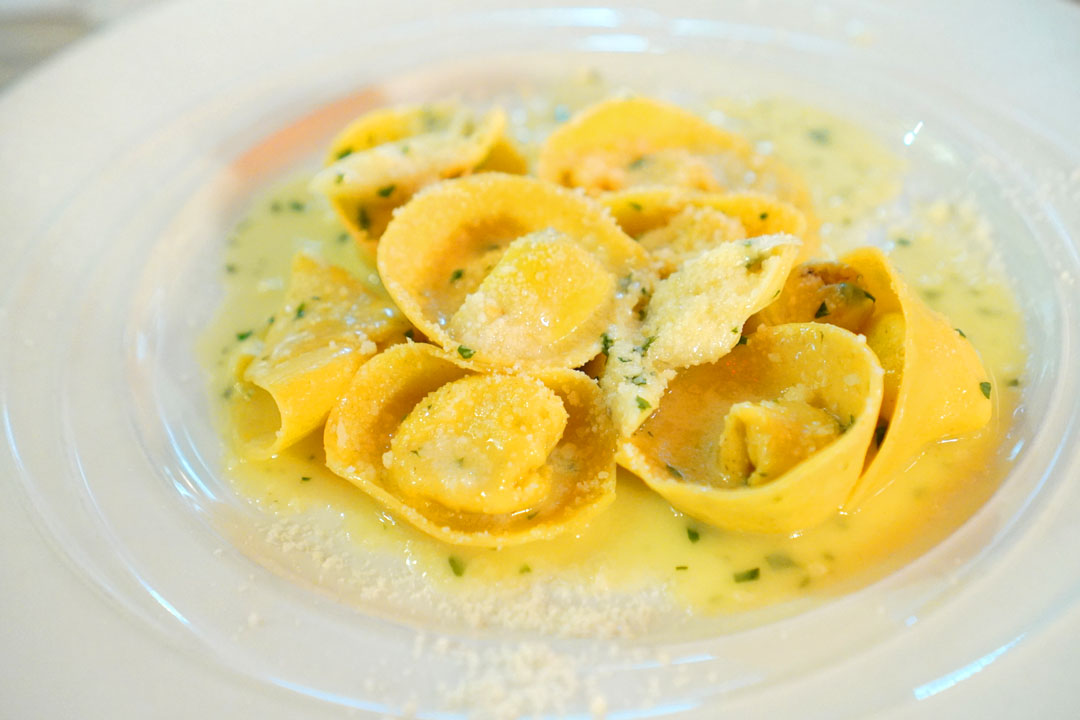 Cappellacci w/ Robiolina & Artichoke [$24.00]
I do have a bit of a penchant for filled pasta, so this was a must-try for me, and didn't disappoint. I was a fan of the dish's unabashedly herby, buttery, almost boozy flavors, while the crux here was the artichoke, which offered a vegetal note that really worked for contrast.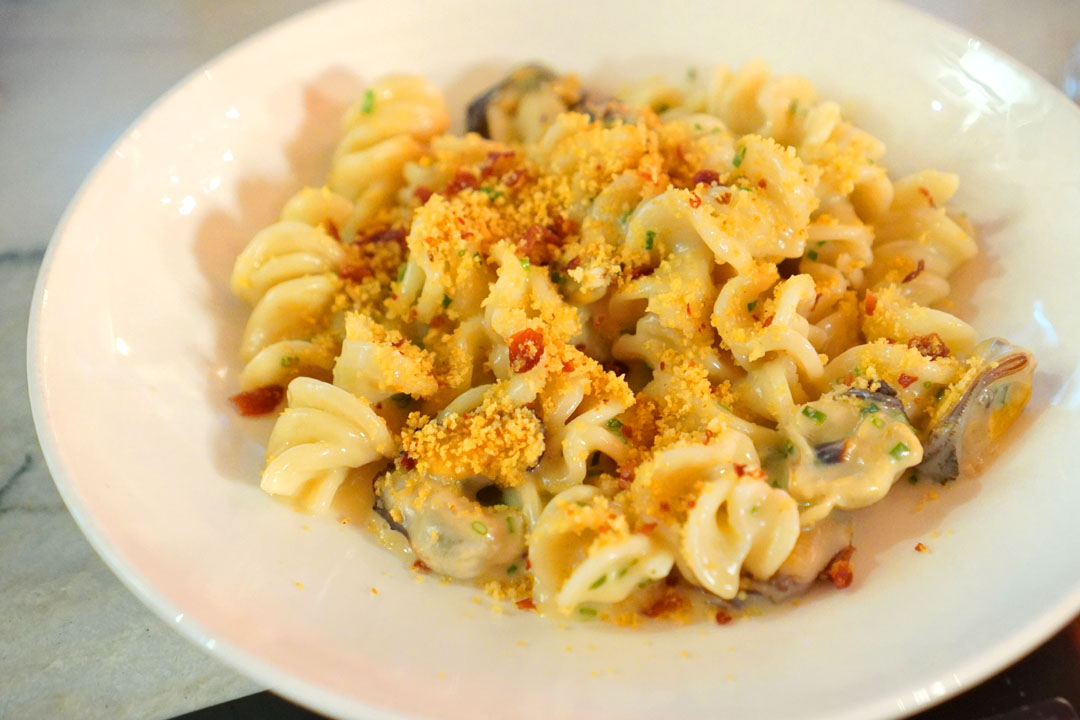 Fusilli w/ Mussels, Cauliflower & Speck Breadcrumbs [$26.00]
Fusilli were great texturally, but I wasn't quite as sold on the interplay between the mussels and the cauliflower. The combination didn't quite jibe with me, though I did appreciate the salt and crunch offered up by the breadcrumbs.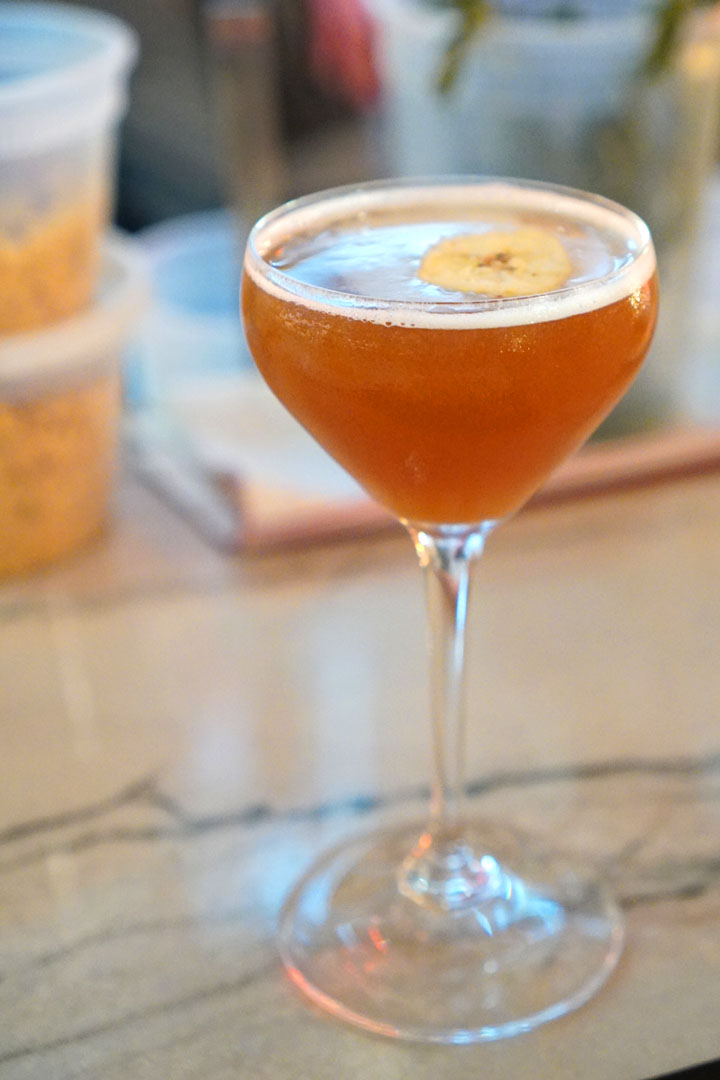 The Banana Stand [$16.00]
| rye whiskey, amaro, banana, chocolate bitters
Next up was my favorite cocktail of the bunch. I loved the drink's in-your-face presentation of sweet, warming spices, supported by notes of chocolate and a fruity backbone of banana.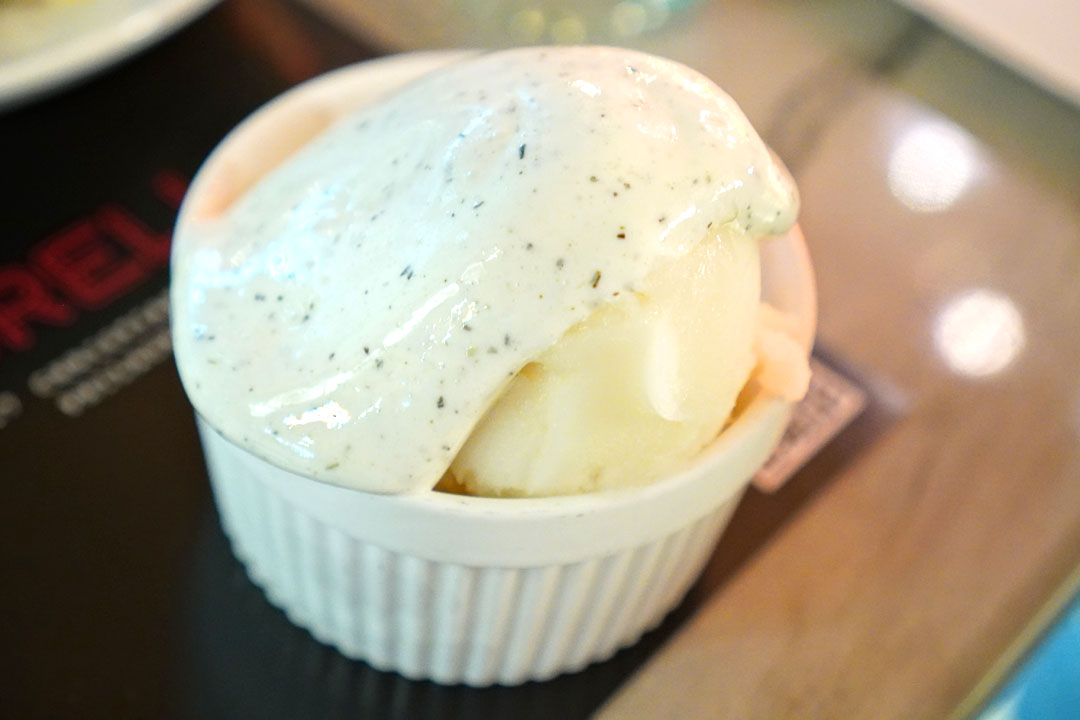 Lemon Sorbetto w/ Rosemary Meringue [$8.00]
It was now time for dessert, which I actually shared with the party next to me. A lemon sorbet was as bracing and citrusy as I was expecting, but also had a welcomed herbal accent from that rosemary meringue.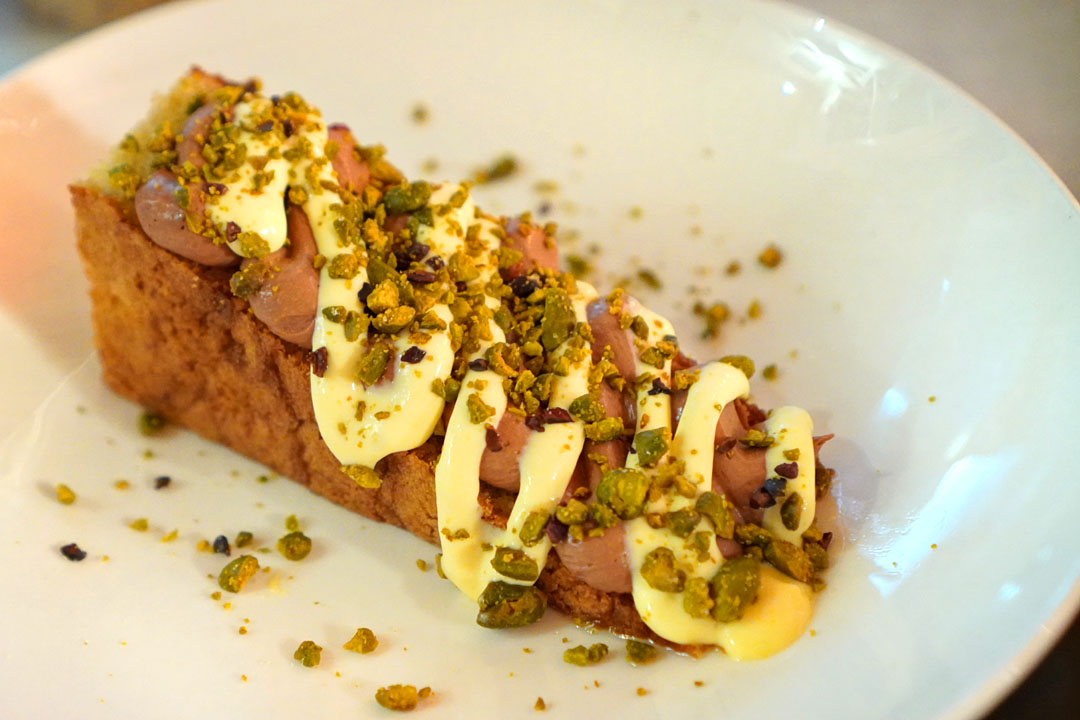 Olive Oil Cake w/ Chocolate, Orange & Pistachio [$12.00]
Humorously, I actually didn't get to try this cake, since the people I shared it with ended up accidentally eating it all before I could get in there! I assume then that it must've been quite tasty.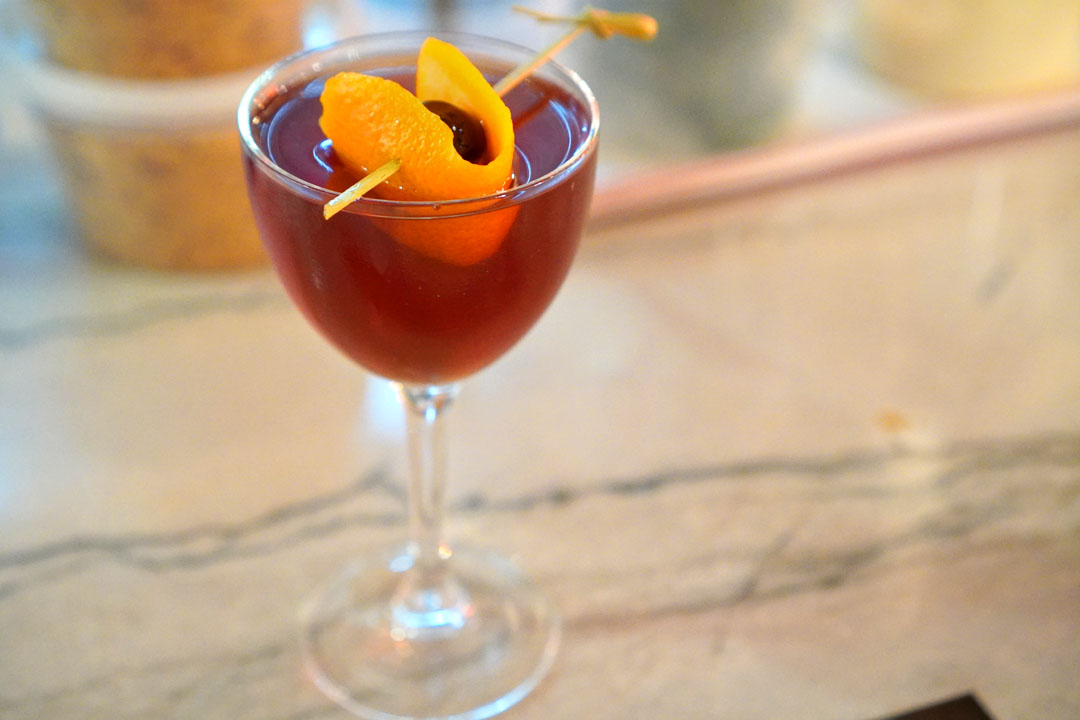 "Twist on a Manhattan" [$15.00]
For my final cocktail, I requested a "twist on a Manhattan," and this was what the bar came up with. I'm actually not clear what exactly the twist was, but I believe it had something to do with agrodolce. In any case, the drink tasted pretty much like a traditional preparation, which wasn't necessarily a bad thing, though I believe I did detect a tanginess from the sweet and sour sauce.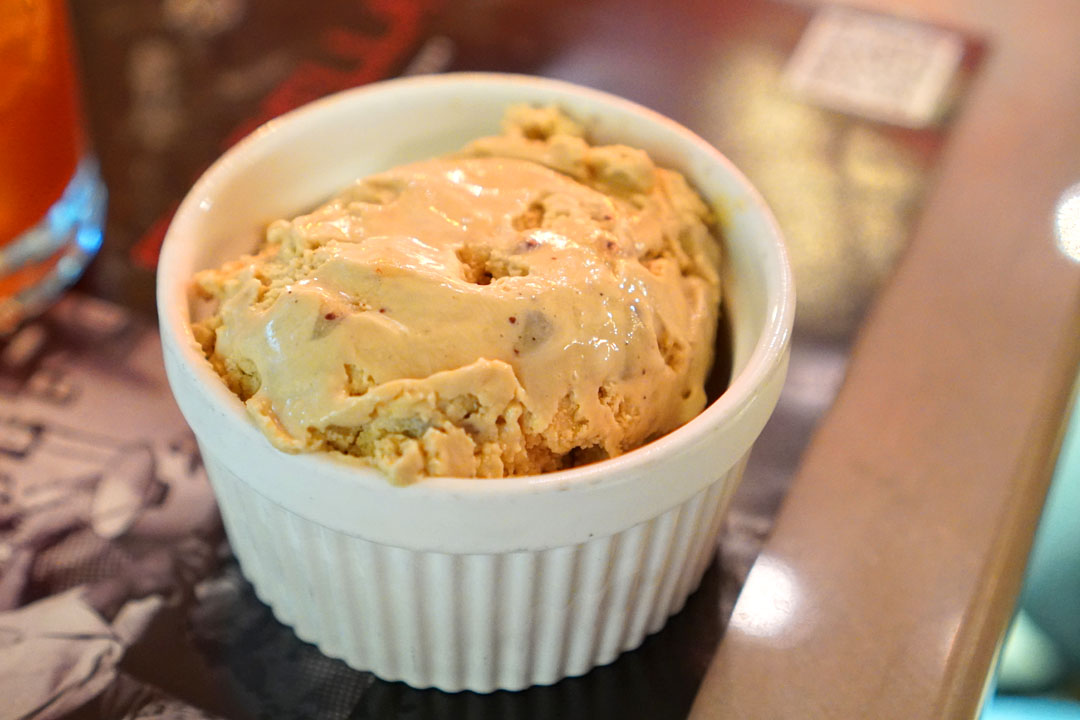 Espresso Ice Cream w/ Biscotti Cookie Dough [$8.00]
This final dessert was my favorite thanks to its focused, finessed coffee flavors, smartly matched by the gratifying bite of that biscotti-boosted cookie dough. Delish.
Fiorella is a popular spot, and I can see why. The place looks to be a worthy follow-up to Vetri, and serves as a brasher expression of Italian cookery compared to its more buttoned-up older brother. Besides the food, I also loved the energy and excitement of sitting at the bar. I don't think I've ever been at a restaurant where I was so "in the action," perhaps because I was seated right next to the expediting station. If I lived in the vicinity, I could see myself being a semi-regular here.