Detention (Santa Ana, CA) [2]
Detention Restaurant
220 E 4th St, Santa Ana, CA 92701
714.560.4444
www.detentiondtsa.com
Sat 01/28/2023, 7:30p-10:40p

My
last
two
posts both detailed experiences at businesses that were about to close, and sadly, this latest dining report makes it three in a row. Recall that
Detention
opened in January last year as a very worthy replacement for the super popular
Playground
, which was arguably my favorite restaurant in OC. Well, it turns out that Detention would barely last over a year due to the departure of Executive Chef John Parker, as well as other key personnel, including GM-slash-beverage guy Jarred Dooley, who'd been involved since Playground opened in 2012. The final night of service was January 28th, and I absolutely felt the need to pay the place one last visit.


The photos above show Detention's bar/lounge, which, in a prior life, was the room that comprised the entirety of the original, pre-expansion Playground.


Pictured above is Detention's primary entrance area (replete with liquor lockers), as well as the rear section of the main dining room. I'm curious as to what will happen with these spaces.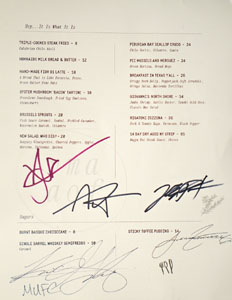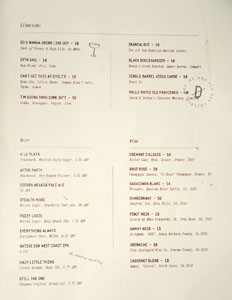 And here we see Detention's closing night menu, which, not too surprisingly, was a bit abbreviated. Given its brevity, we opted to "run the gamut" and order one of everything listed. Note the signatures of Chef Parkie, as well as cooks Andrew, Joel, Kevin, and Jordan (a fellow beer nerd whom I've encountered a couple times before at the restaurant). Click for larger versions.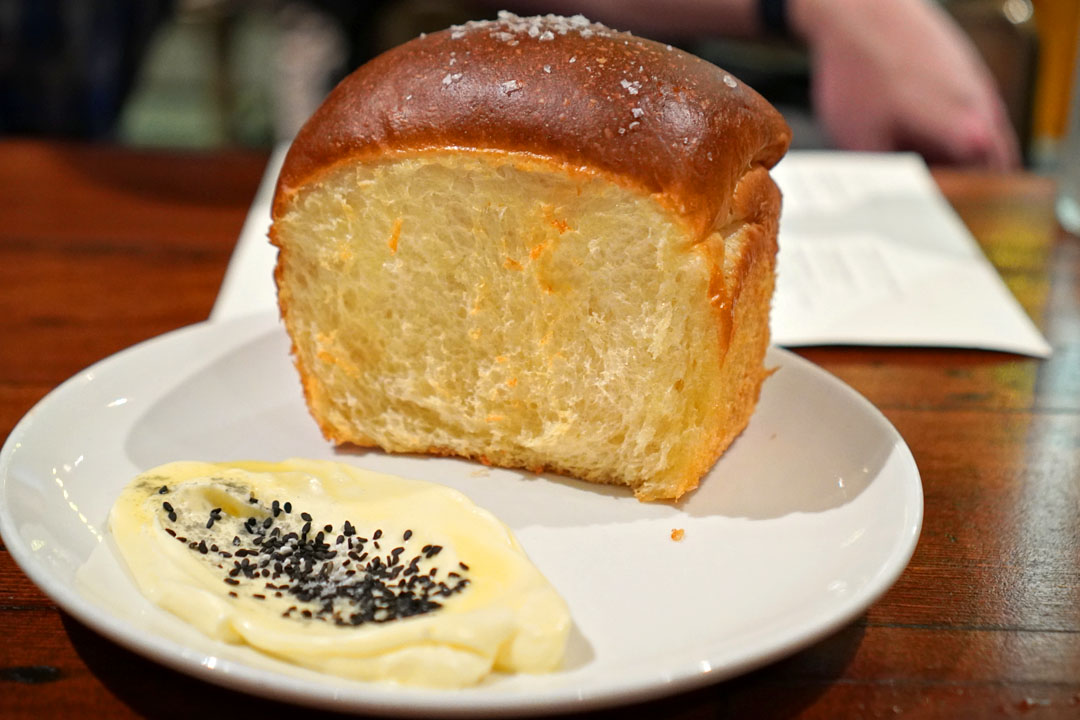 Hokkaido Milk Bread & Butter [$12.00]
First up was Detention's take on the increasingly popular
shokupan
. I'd say that it was a success given the bread's sweet, soft, fluffy interior and just-crusty-enough outsides, while that super smooth, just-salty-enough butter made things all the better.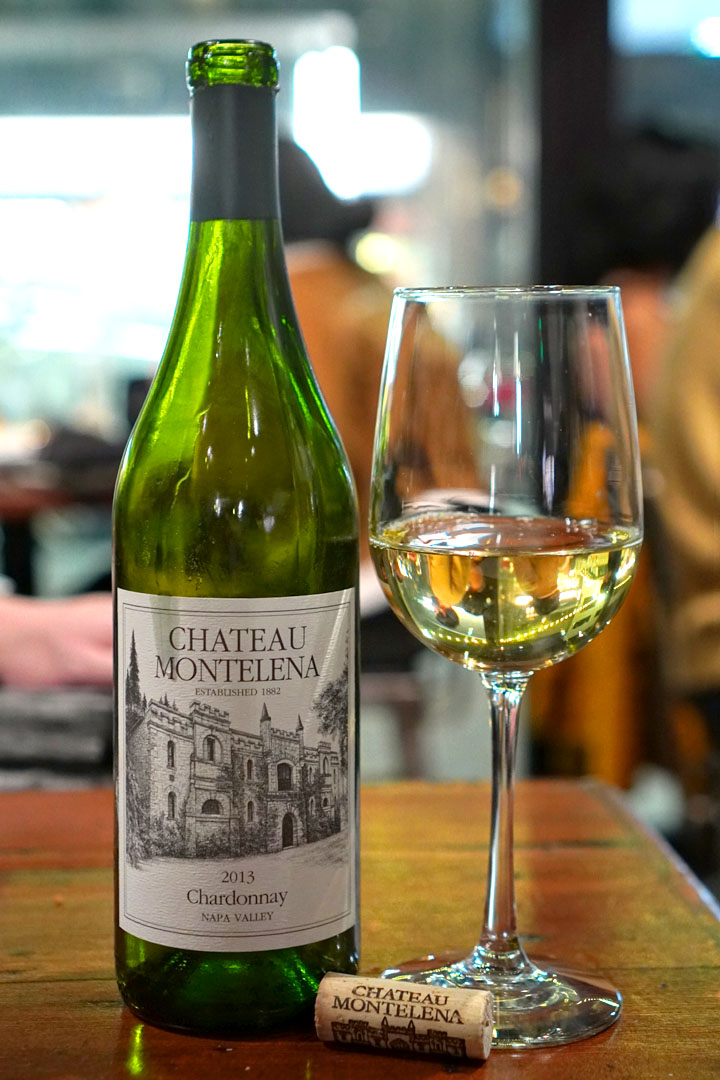 To drink, we brought along three bottles (we weren't charged corkage), the first of which was the
2013 Chateau Montelena Chardonnay
. On the nose, I got a discernable grassiness at first blush, along with slight butter and a good amount of stone fruit, but as time went on, the aromas here became noticeably juicier and more tropical. The wine was fairly full-bodied, with a pleasant acidity, and demonstrated loads of those aforementioned tropical and juicy notes alongside citrus, peppery spice, and a light oak influence. Overall, the Napa Valley Chard was pretty youthful, and I imagine still has quite a bit of life left in it.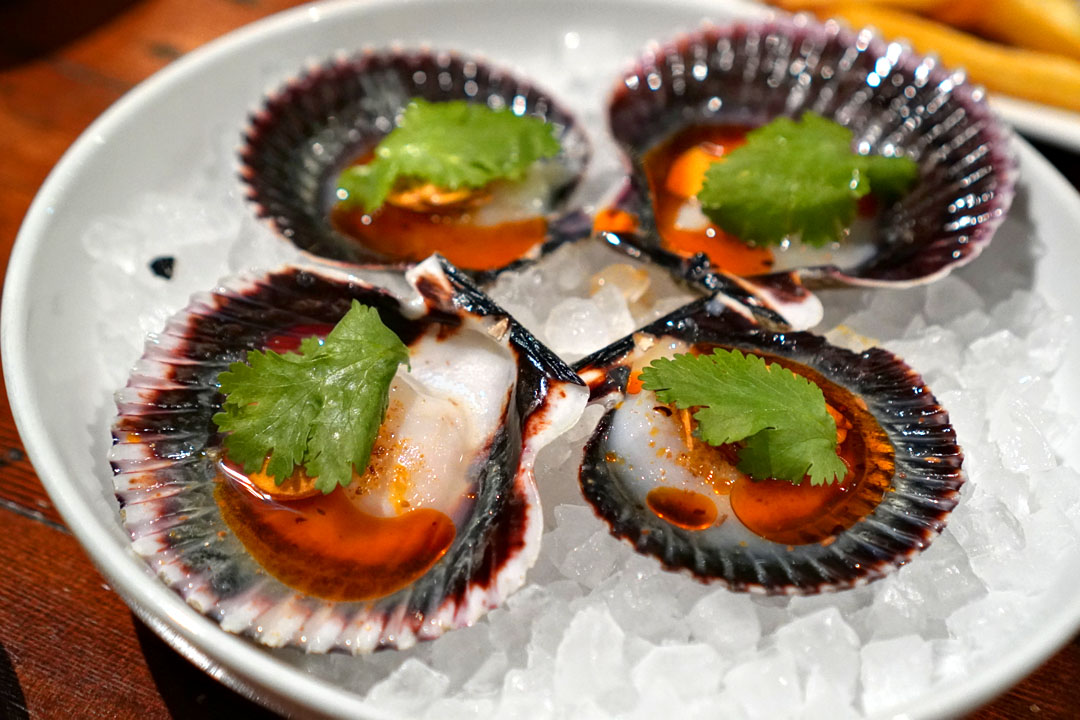 Peruvian Bay Scallop Crudo [$24.00]
| Chile Garlic, Cilantro, Cumin
Scallops were a definite standout, conveying their trademark sweetness up front before transitioning to tangy-savory nuances, then finishing with a wonderfully nutty, warm heat that never overwhelmed the delicate nature of the bivalve.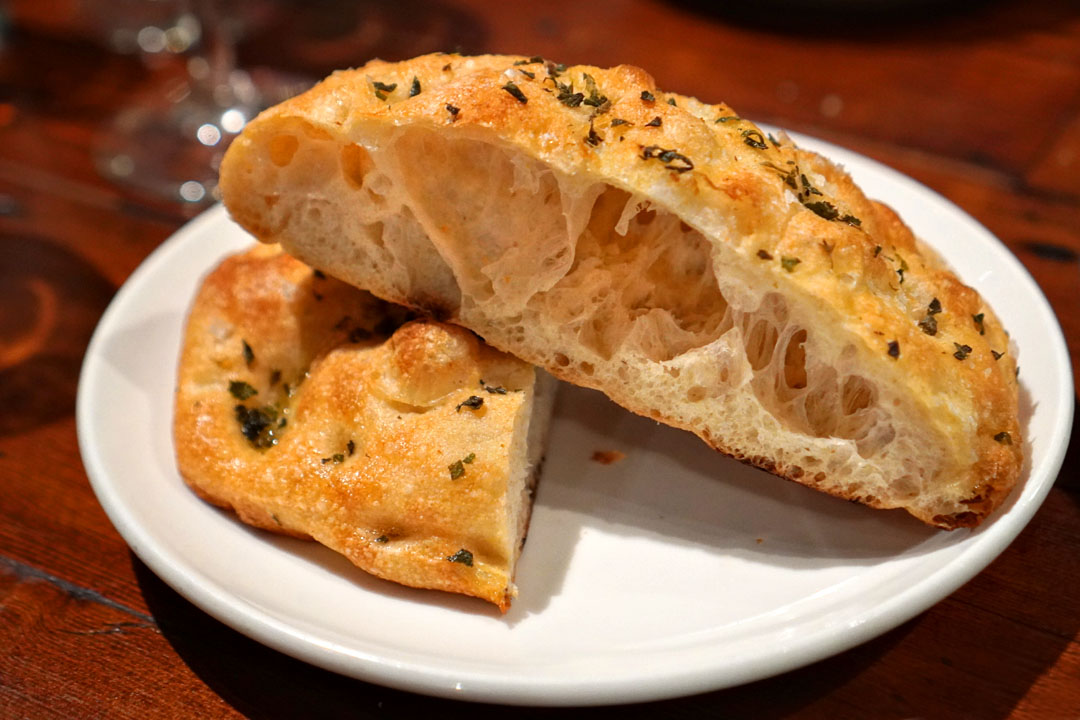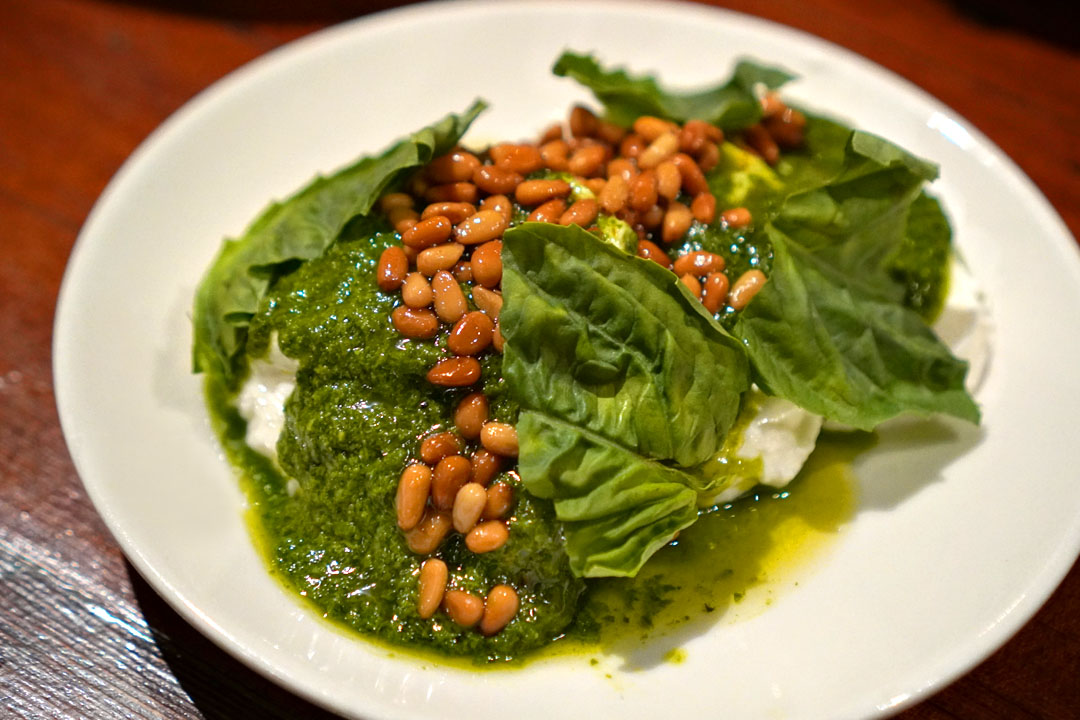 Hand-Made Fior di Latte [$18.00]
| A Bread That is Like Focaccia, Pesto, Brown Butter Pine Nuts
A properly creamy, luscious presentation of mozzarella made a lot of sense with the zippiness of pesto. I was also impressed by the crunch and salt from the pine nuts, while the dense, herby focaccia offered up some variation in both taste and texture.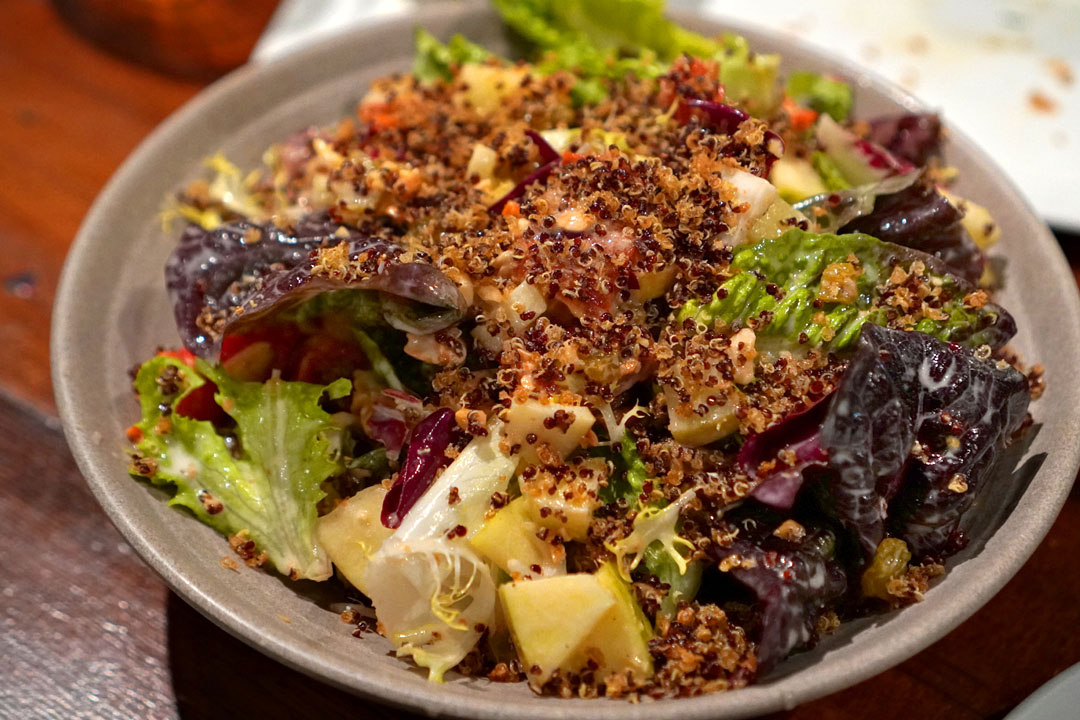 New Salad, Who Dis? [$20.00]
| Banyuls Vinaigrette, Charred Peppers, Apple, Marcona, Sultanas, Quinoa
Detention's signature salad didn't disappoint. I loved the interplay here between the bright, bitter veggies and the dish's sweet, nutty components, all while the dressing helped bind everything together. There were some fantastic textures at play as well, particularly the crunchy quinoa and the chewiness of the dried fruit.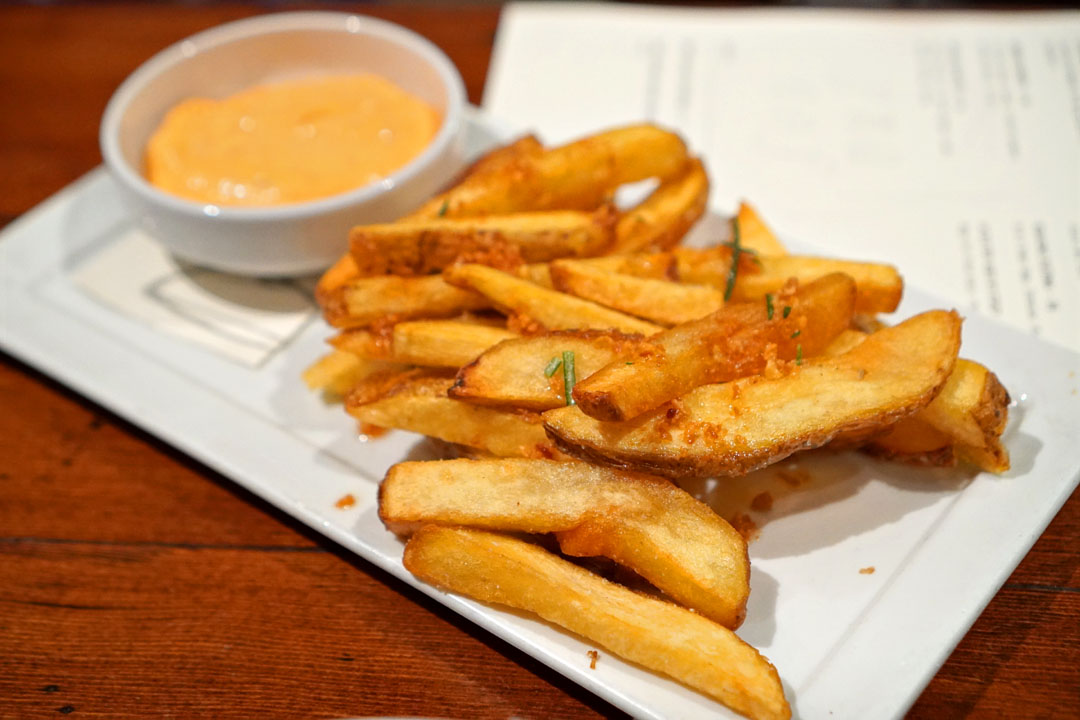 Triple-Cooked Steak Fries [$8.00]
| Calabrian Chili Aioli
The frites were a delight thanks their combination of crispy outsides and pillowy interiors. Tasty alone, or paired with the creamy heat of that aioli.
Next to drink was the
2001 Charles Noellat Clos Vougeot Grand Cru
, which we popped and poured. The wine's aroma was of intense, inky cassis and violets--very appealing. On the palate, I found it silky, with its dark red fruit character joined by a distinct cedar-like note and strangely, a sensation of vanilla ice cream on the back end. With further time, the Burgundy began smelling more and more like a vanilla stout, and began tasting like one too(!), while even more time resulted in the appearance of some marked herbaceous elements. This was a delight to drink and witness the evolution of.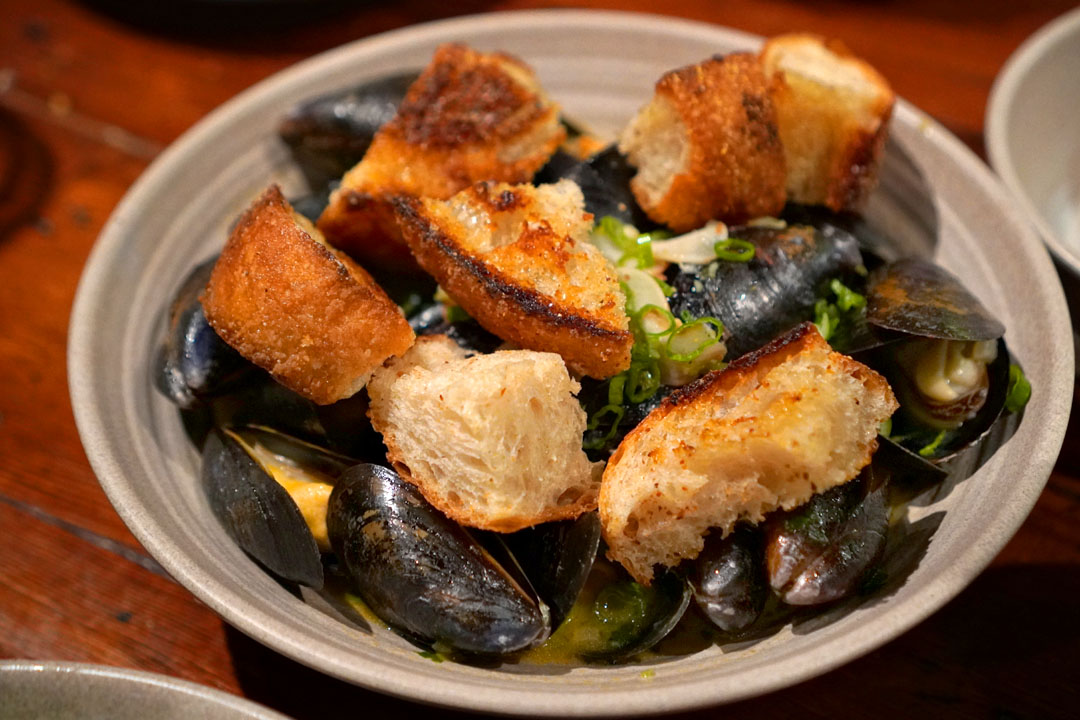 PEI Mussels and Merguez [$24.00]
| Green Harissa, Bread Mops
Mussels arrived perfectly textured, with just the right amount of squish, and their brine married beautifully with a fragrant, heady, garlicky broth, the sausage adding a welcomed savor and spice. This was the best mussel dish I've had in a while.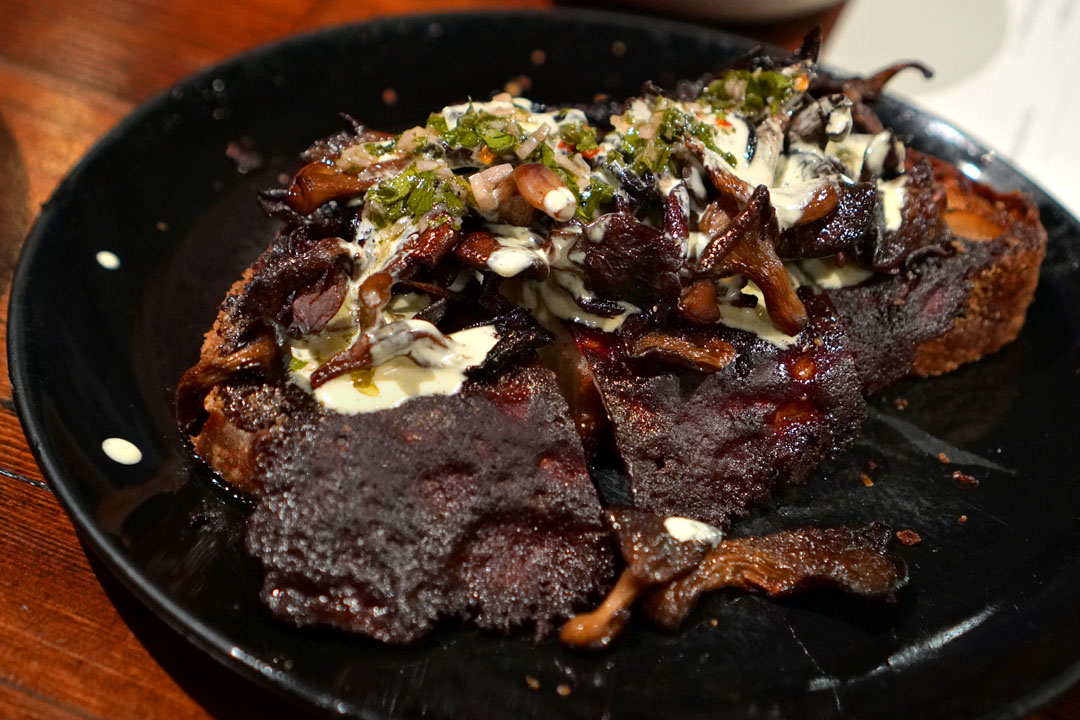 Oyster Mushroom "Bacon" Tartine [$18.00]
| Provolone Sourdough, Fried Egg Emulsion, Chimichurri
Mushrooms came out smoky and loaded with umami, and linked up nicely with the cheesiness of the bread. A sprinkling of chimichurri helped lighten the mood, though I actually would've liked more of it.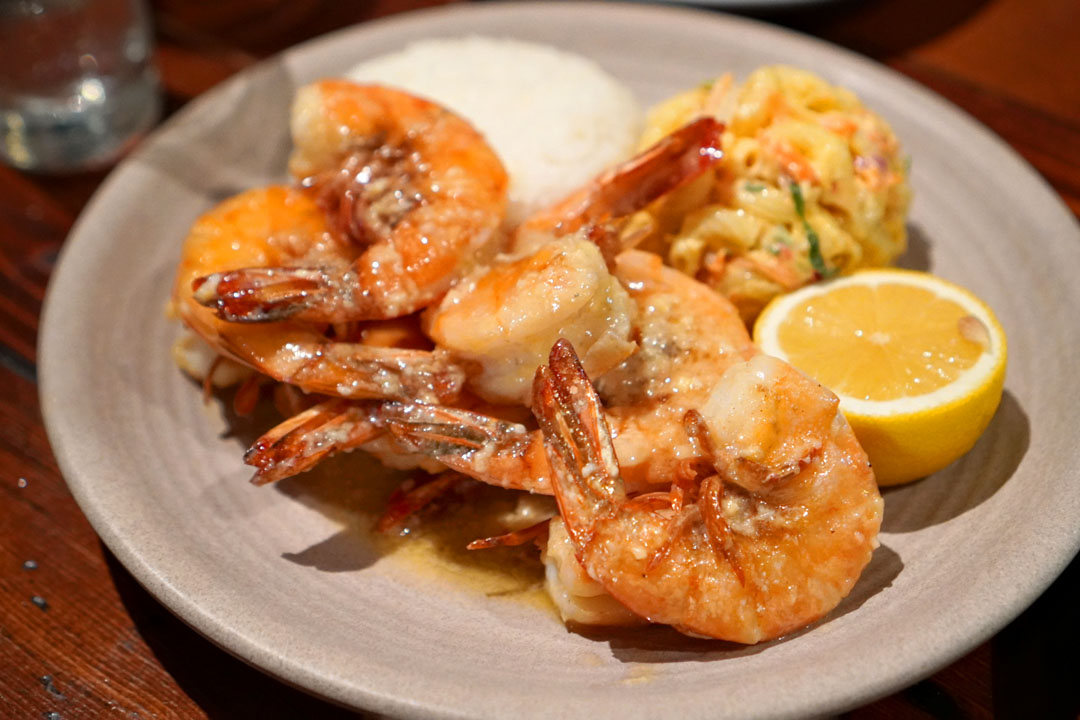 Giovanni's North Shore [$34.00]
| Jumbo Shrimp, Garlic Butter, Tamaki Gold Rice, Classic Mac Salad
An homage to Giovanni's Shrimp Truck in Oahu featured firm, meaty shrimp set in a delectably garlicky butter. I was a fan of the accompanying macaroni salad as well, and the rice was also welcomed, but was a tad gummier than I wanted.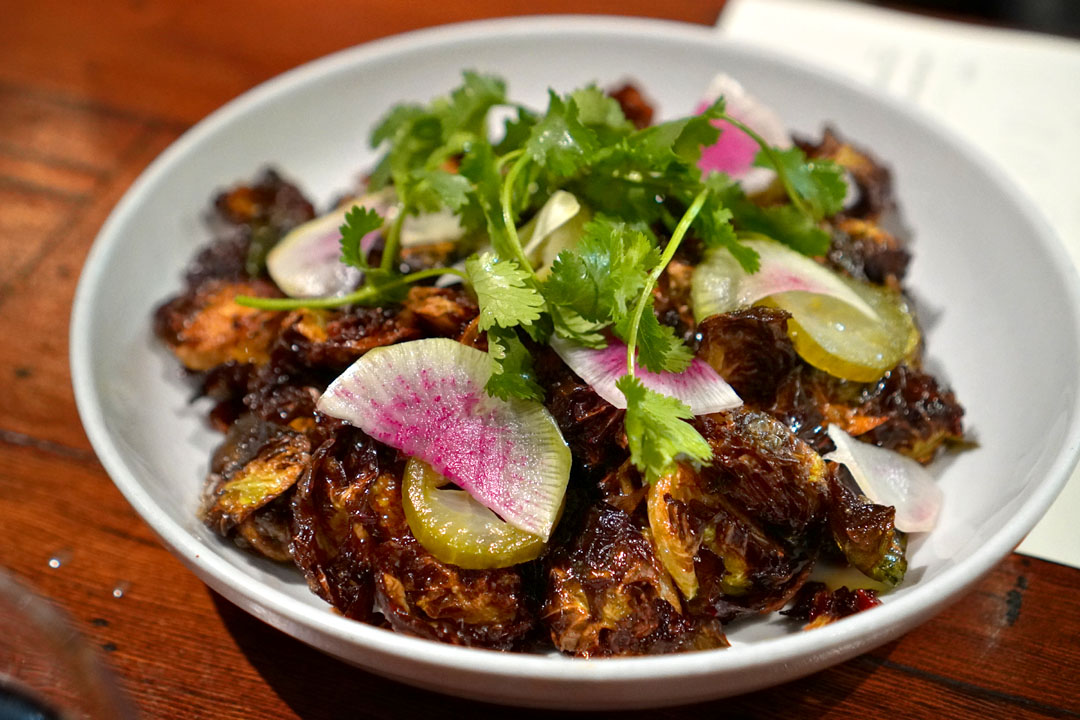 Brussels Sprouts [$20.00]
| Fish Sauce Caramel, Sambal, Pickled Cucumber, Watermelon Radish, Cilantro
A dish of Brussels combined the vegetable's signature bitterness with plenty of smoke and some pickle-y accents, with the caramel imparting an extra layer of oomph that really tied it all together.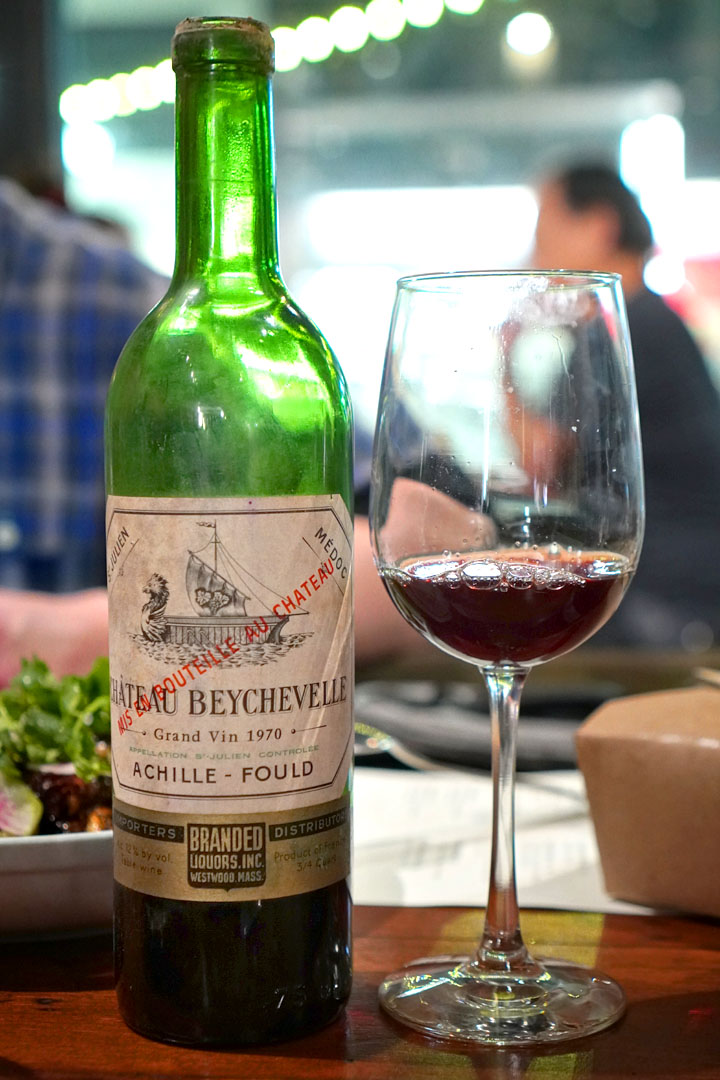 Our final beverage was the
1970 Château Beychevelle
, which we decanted briefly. Initially, the Bordeaux had a bouquet filled with earth and herb, backed by cassis and florals. Tasting it, I found the wine largely silken, its flavors of cool dark fruit joined by a discernable brine. With time, the nose on this one got more vegetal and minty, and its taste began showing more acerbic, sous bois qualities. And the end of the night, the tannins got a lot more noticeable, and there was a very apparent mushroom character that made itself known. Overall, I quite enjoyed the claret, though I will say that I preferred the 1928 vintage that I had recently at
Sushi I-naba
.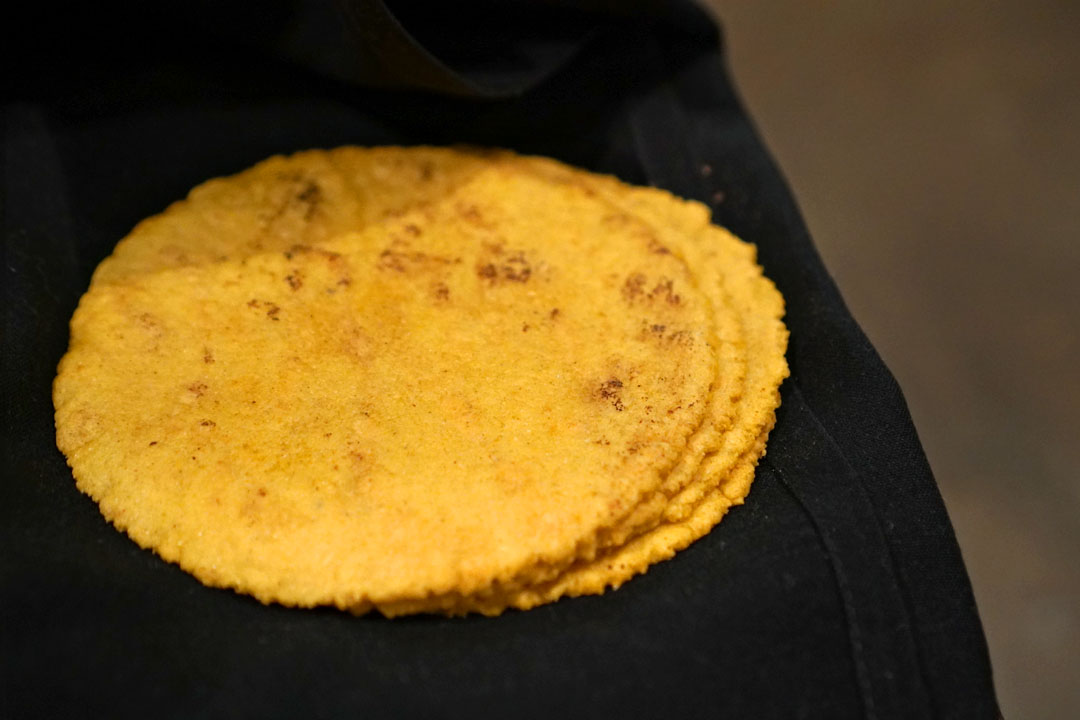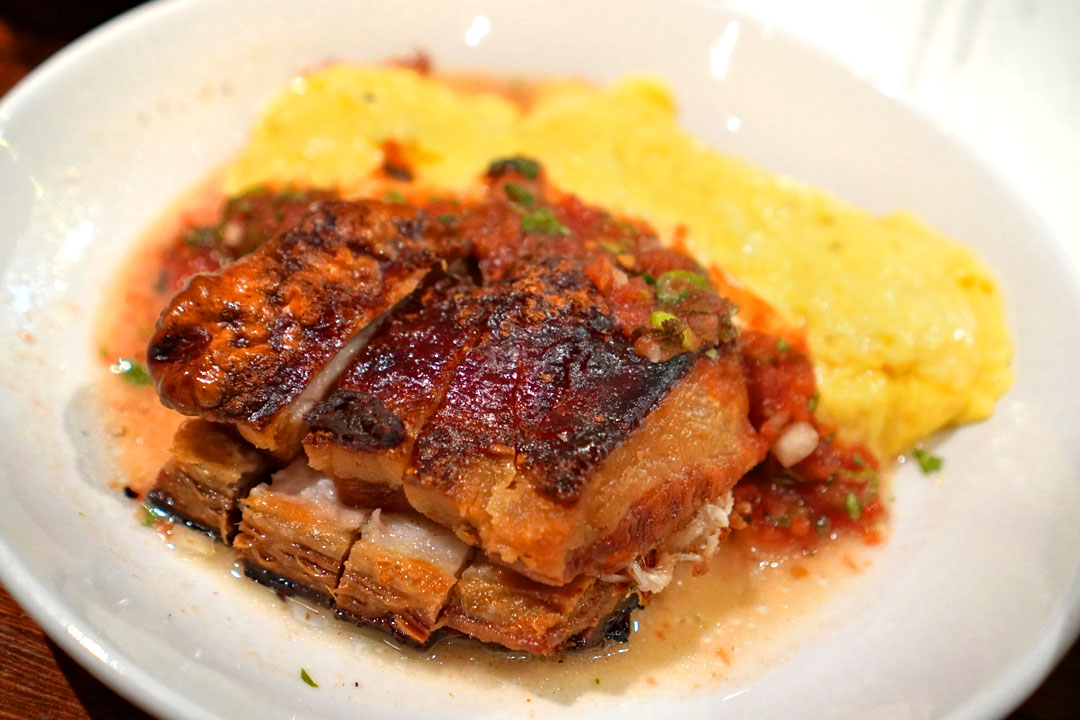 Breakfast in Texas Y'All [$26.00]
| Crispy Pork Belly, Pepperjack Soft Scrabble, Gringo Salsa, Macienda Tortillas
I'm a sucker for breakfast food for dinner, and this fit the bill nicely. The pork juxtaposed super juicy, falling-apart tender bits with a dry, crispy crust, and matched up swimmingly with those fluffy eggs. The dish was accompanied by some hefty, masa-forward tortillas, which helped moderate everything going on. Fantastic with the Bordeaux above.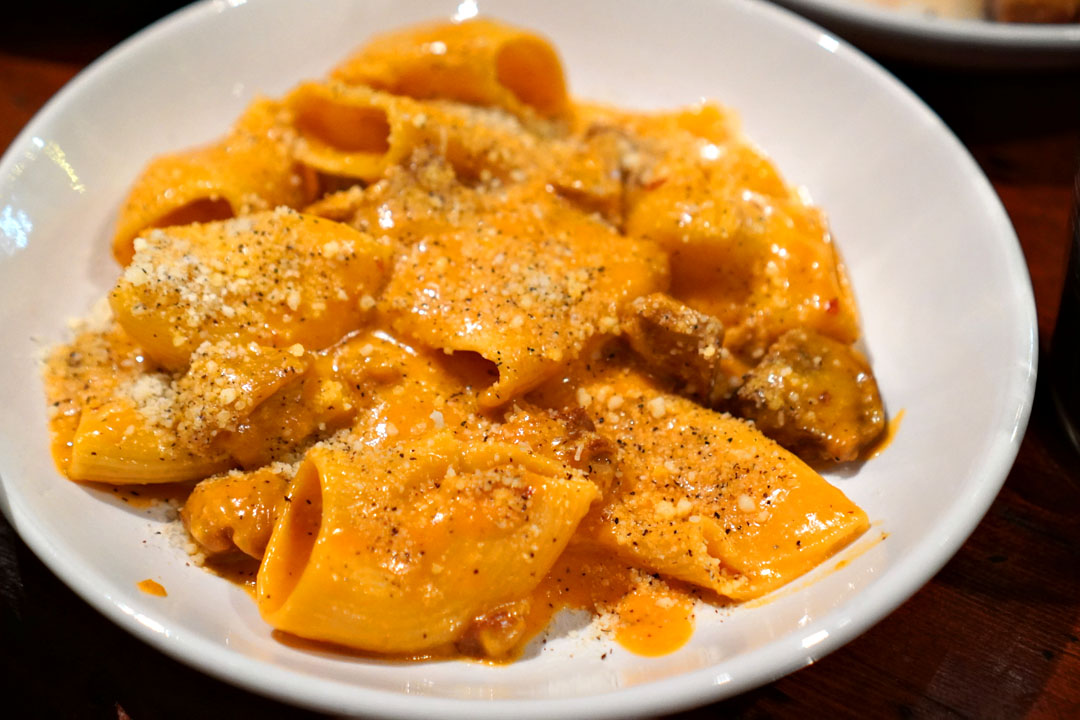 Rigatoni Zozzona [$36.00]
| Pork & Tomato Ragu, Parmesan, Black Pepper
Rigatoni were well-textured, and served as a great stage for a delicious back-and-forth between tomato, cheese, and an unabashedly porcine ragù. My only quibble was that some of the pieces of pork were a touch dry.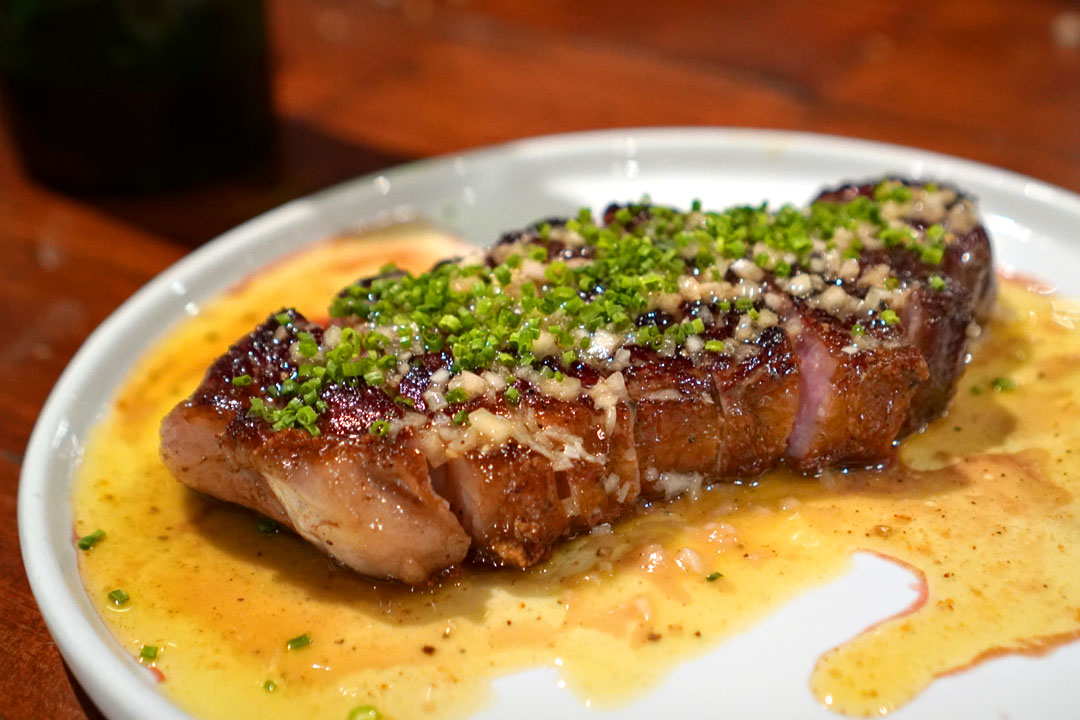 14 Day Dry Aged NY Strip [$85.00]
| Wagyu Fat Steak Sauce, Chives
Our final savory showcased the funk and tang that you often encounter with a dry-aged steak, set against a palpable butteriness, a bit of brightness from the chives, and a legit amount of sear.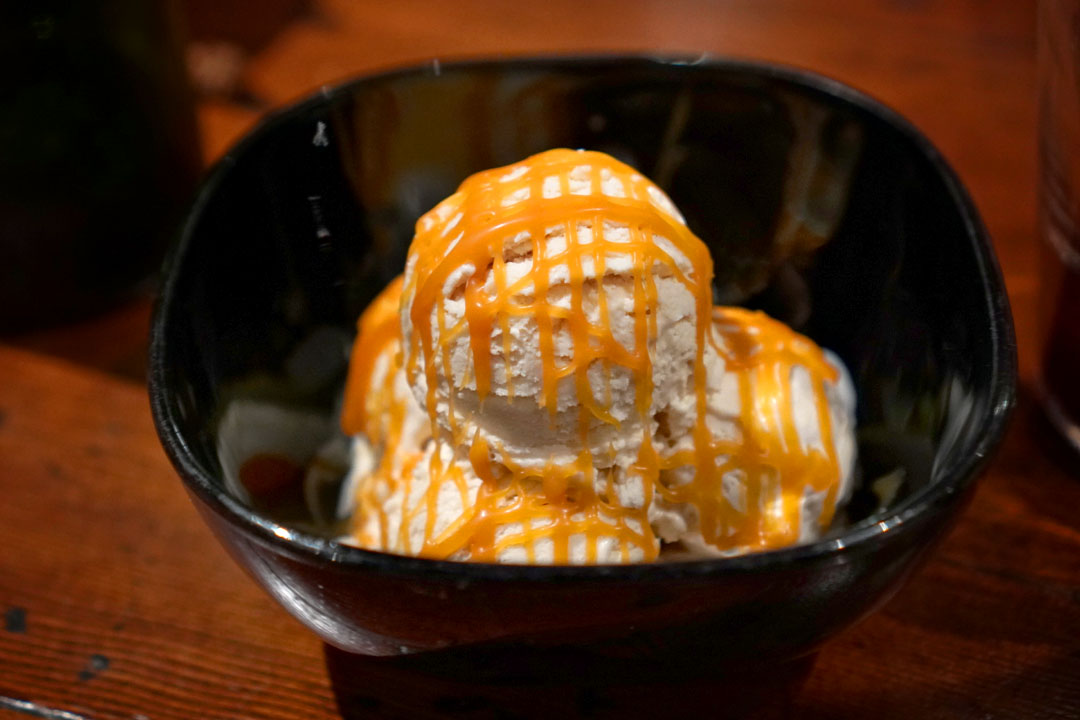 Single Barrel Whiskey Semifreddo [$10.00]
| Caramel
The kitchen actually ran out of two of the three desserts, so the semifreddo that we did receive ended up being comped. It was a mighty fine semifreddo though, with a spot-on consistency and just the right amount of whiskey conveyed, all while the caramel functioned as the perfect finishing touch. Yum.
To be sure, the loss of Detention is a loss for the Orange County dining scene as a whole, but on the bright side, all is not lost, it turns out. Detention will be transforming into DTTN 2.0 (Detention 2.0), an intimate, personalized, members-only cocktail bar, one serving a customized cocktail tasting paired with a multi-course meal prepared by Chef/Owner Jason Quinn (it'll be nice to see him back in the kitchen). DTTN 2.0 is slated to launch on Valentine's Day, so I'm definitely looking forward to checking it out in the near future. In fact, I've already purchased my membership (they apparently sold out pretty quickly).