Little Pan (Santa Ana, CA)
Little Pan-Fried Bun
2 Hutton Centre Dr, Santa Ana, CA 92707
657.232.0154
www.littlepanfriedbun.com / www.littlepan-friedbun.com
Tue 02/07/2023, 07:40p-09:05p

I recently had to be in Orange County on a Tuesday night, and decided to pick up some food in the area. After consulting my spreadsheet of potential restaurants to try, I settled on Little Pan (生小煎), a
shēng jiān bāo
(生煎包) specialist spot founded by Jiayi Liu (a.k.a. Vicky Liu).
A bit of history
: Liu hails from northern China, but came to the United States in 2010 during her final year of high school. Following graduation, she attended UC Irvine, majoring in business economics, and during her junior year at UCI, started selling snacks on the WeChat/QQ app. She attained her degree in 2015, then started a food delivery service in early 2016 called Ban Ban Delivery, which was subsequently merged with her snack business. It proved to be quite successful, and apparently even attracted $500,000 in angel investment funds, but folded in 2020 due to increased competition from the likes of Uber Eats et al. Just months later, Liu co-founded a takeout-only food venture that operated multiple brands: 生小煎 (Little Pan-Fried Bun), 东北银 (Live in Northeast), 鸡飞蛙跳 (Chicken and Frog Hotpot), and 949烧烤 (949 Grill), but it ended up shutting down at the start of 2021.
From there, she started Food Trace Management LLC and began selling food from those aforementioned concepts out of Jo Gae Chang Go (조개창고), a seafood-focused KBBQ spot in Tustin that had closed down at the start of the pandemic. Liu soon secured suite #204 at the MacArthur Plaza strip mall, the former home of Bright Night, Coco Monster, and Thai Spice. There, she established the skewer-focused 949 Grill Lounge (烧烤夜宵摊) in late January 2021, with Little Pan-Fried Bun moving in to share the space at the start of May. The place did quite well for itself, even receiving a round of venture capital funding, and Liu was slated to open a second location at Tustin's Union Market, but those plans fell through. Instead, in August 2022, she ended up moving Little Pan-Fried Bun two doors down to suite #202, a storefront that previously held Yang's Braised Chicken Rice and Togo's. With the move, the restaurant became known simply as Little Pan, and suite #204 transformed into 949 Grill and Pot Lounge (鸡飞蛙跳酒是酒), with a hot pot component joining the existing skewers.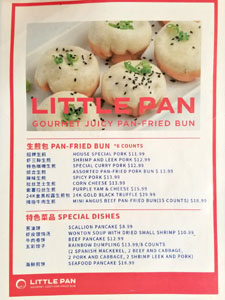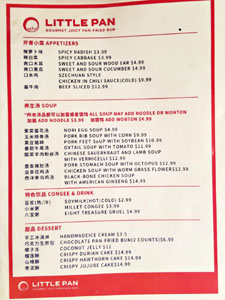 Here we see Little Pan's menu, which is centered on
sheng jian bao
, of course, but also features a wide array of other sorts of dishes. Click for larger versions.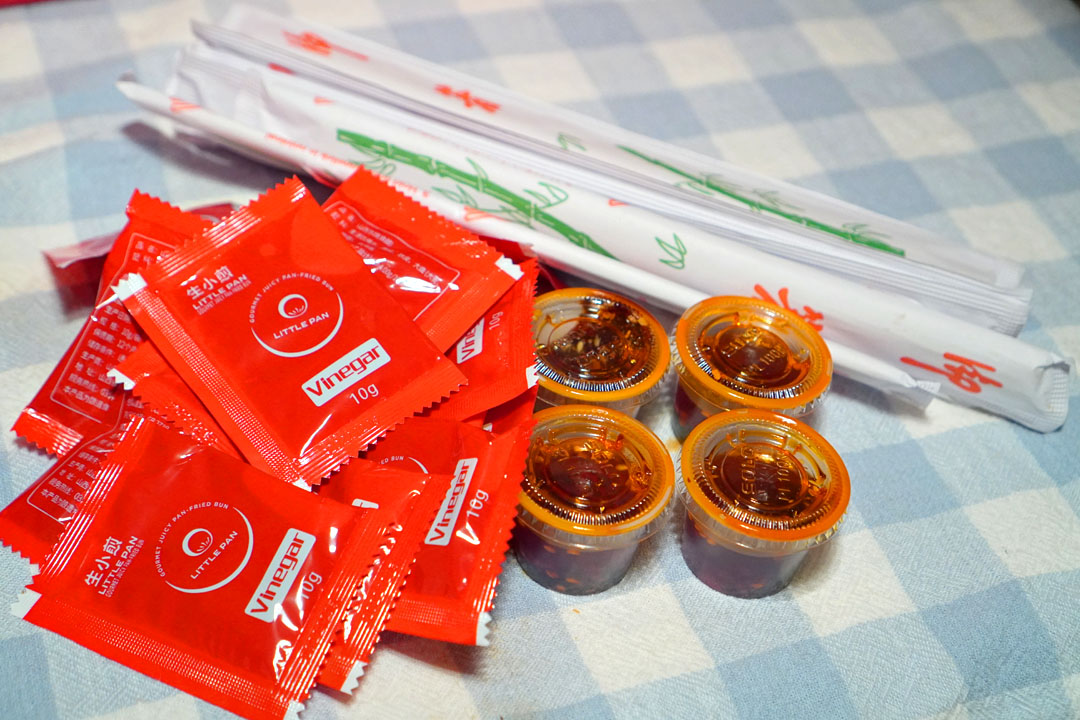 Complimentary accessories included with my order: chili sauce, chopsticks, and far too many vinegar packets.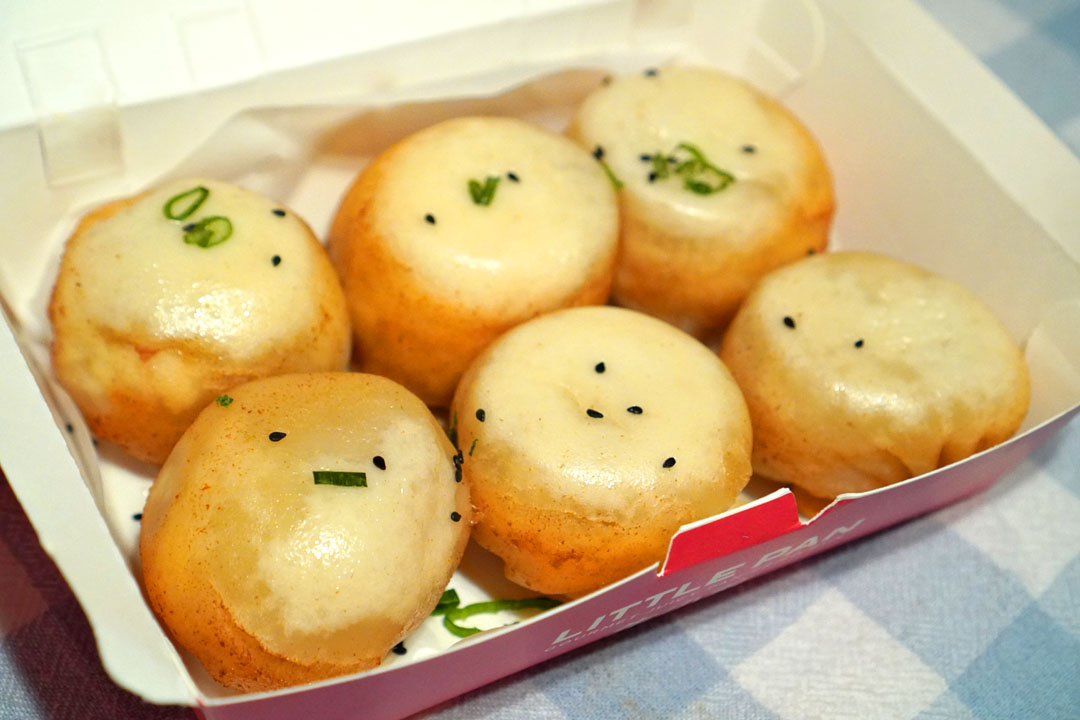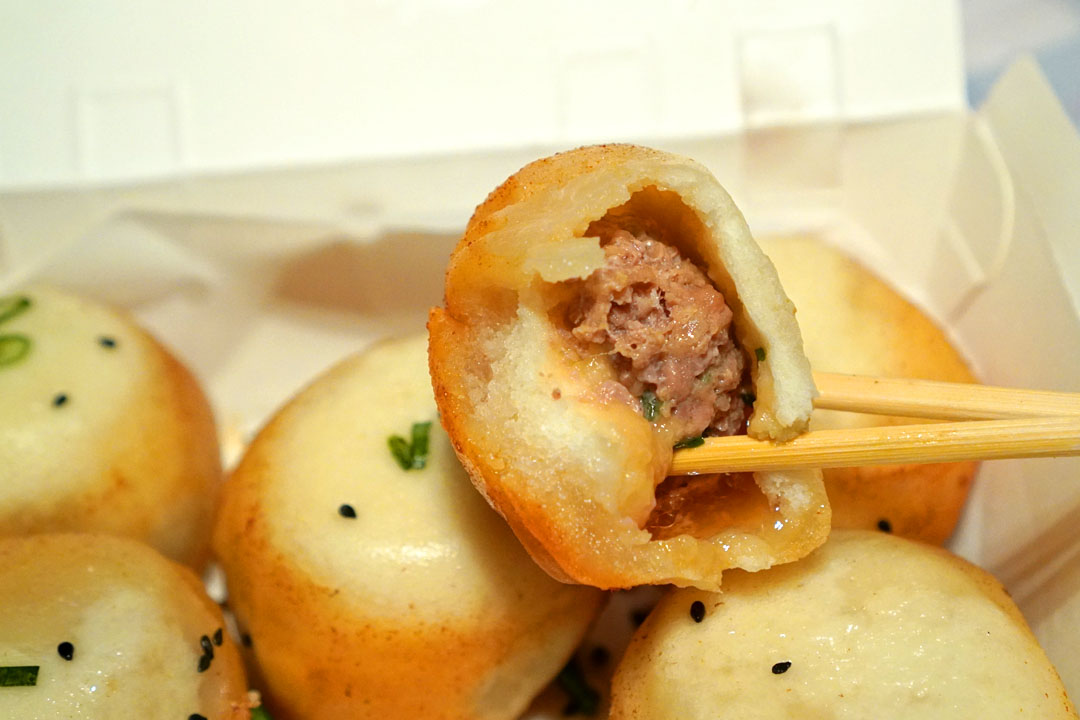 招牌生煎 House Special Pork Pan-Fried Bun [$11.99]
We'll begin with Little Pan's signature
shēngjiān bāo
, which came stuffed with a pretty standard filling of juicy pork. The beauty here really was that skin, which featured a wonderfully crispy bottom that was more substantial than most, and which formed a great textural contrast with the bun's soft, almost "bready" top.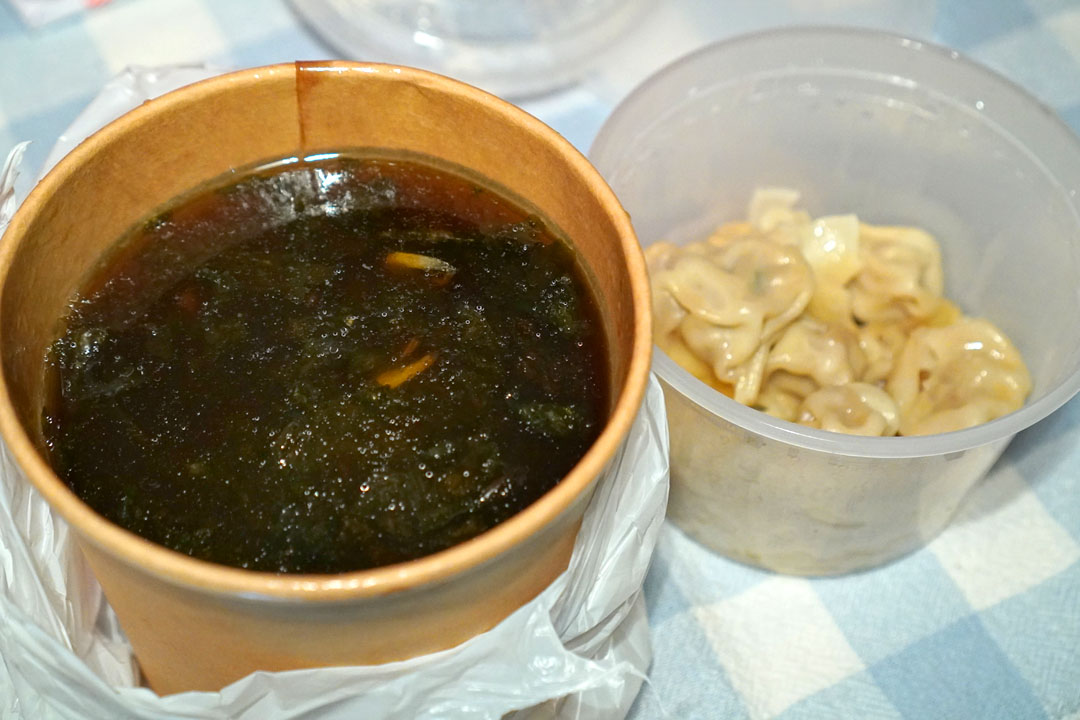 虾皮馄饨汤 Wonton Soup with Dried Small Shrimp [$9.99]
I often have a hard time resisting wonton soup, and tonight was no exception it seems. The dumplings themselves had that prototypical porky flavor profile, but lacked the delicacy I was looking for. They really yearned for the broth, which showed off boatloads of umami from both the seaweed and the
xiāpí
(dried shrimp). The liquid was super cozy and delicious just by itself, and I reveled in swigs of the stuff.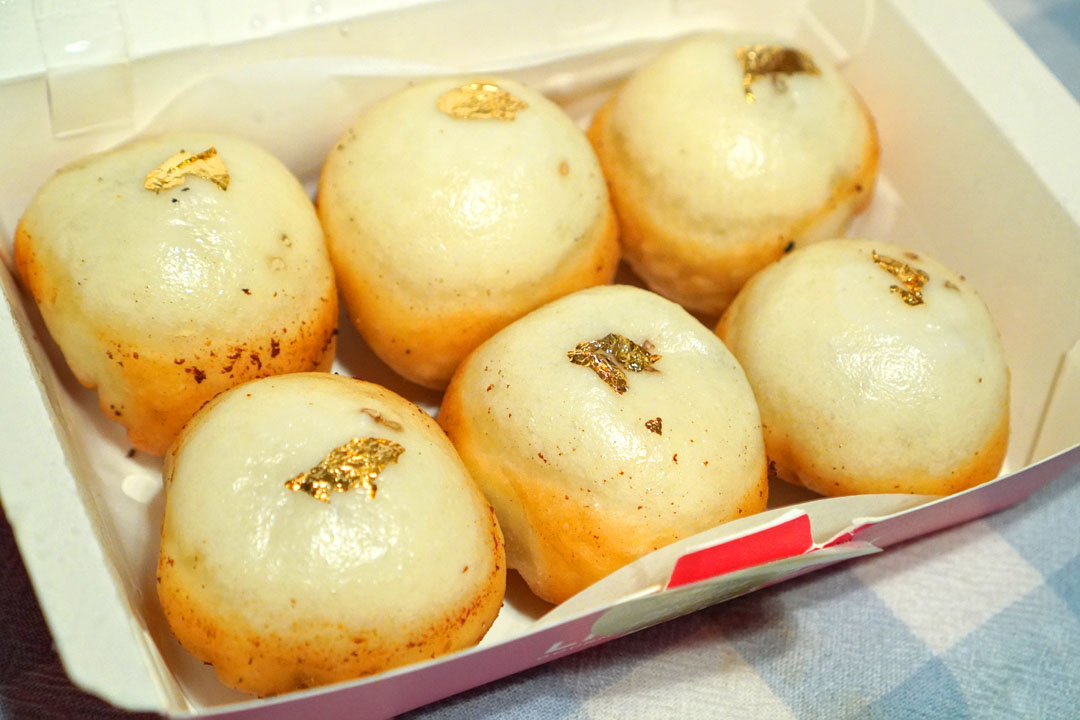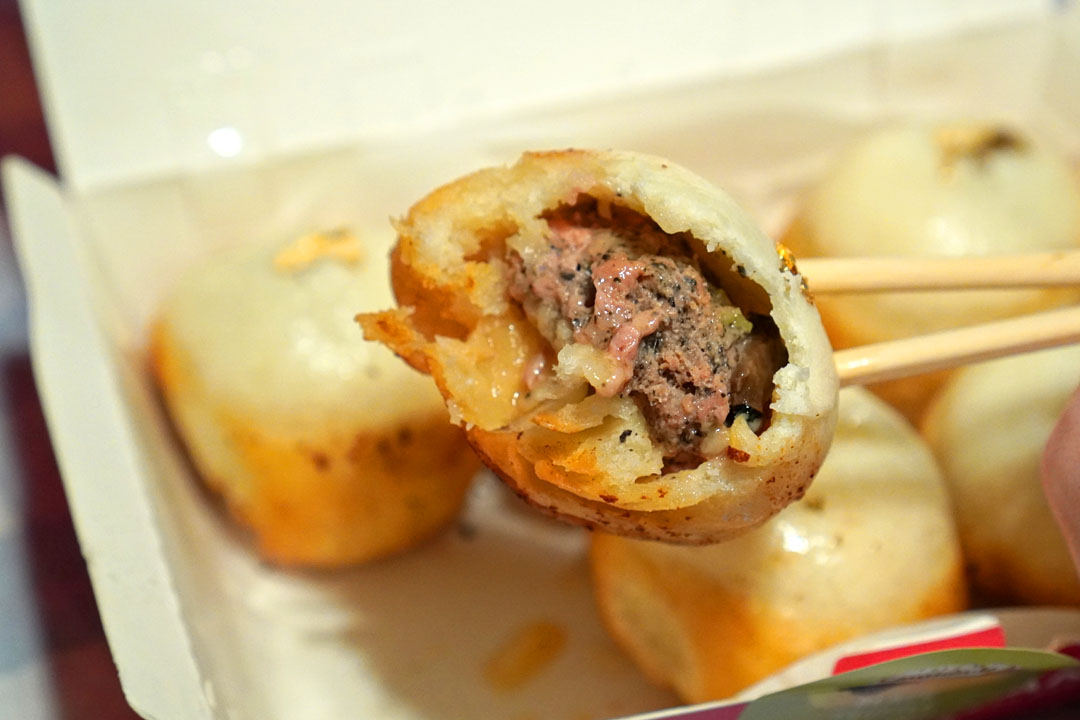 24K金黑松露生煎包 24K Gold Black Truffle Pan-Fried Bun [$29.99]
This somewhat gimmicky
shengjian bao
did indeed convey the trademark musk of black truffle, though I would've preferred a more forceful presentation. I do wonder if they mixed in something else other than truffle with the pork though, as the meat ate noticeably creamier and more luscious compared to the version above.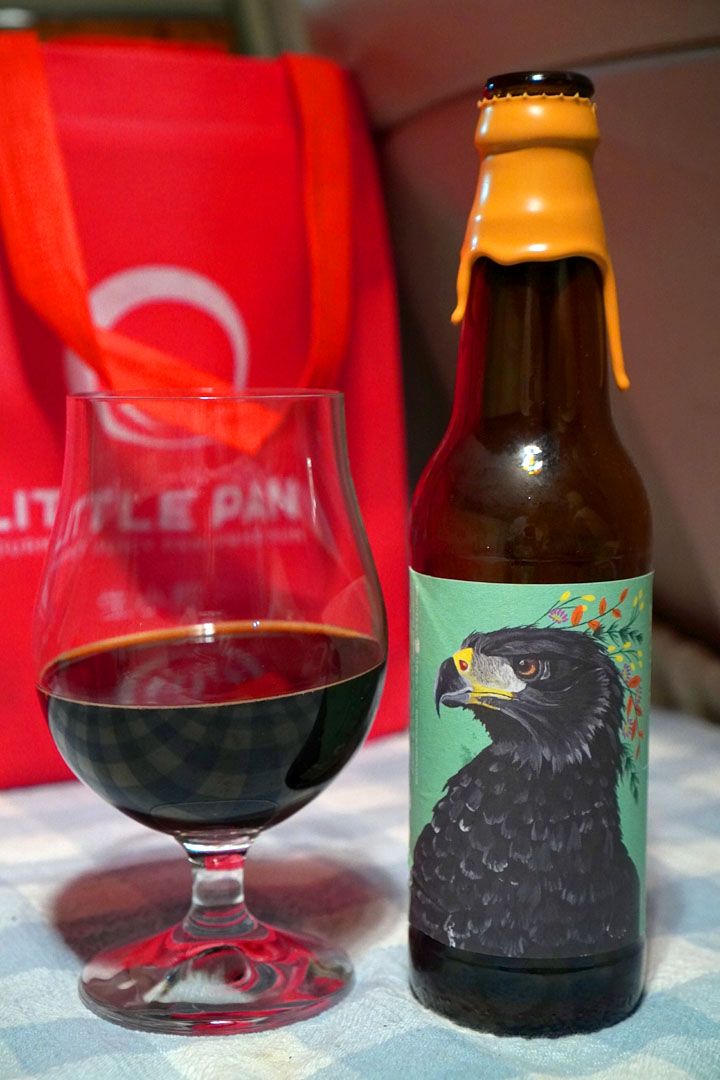 I had two bottles on me, the first of which was the
2022 Horus Brazilian Eagle's Speed
, an imperial stout aged 27 months in Amburana wood. The pricey barrels really made their presence known, giving the ale a wondrous aroma of dark fruit, cigar box, leather, toffee, tobacco, spicy wood, and cocoa. I found those same notes on the palate, which made this easily the most cigar-like beer I'd ever had. Super memorable, and quite unlike anything else I've encountered before.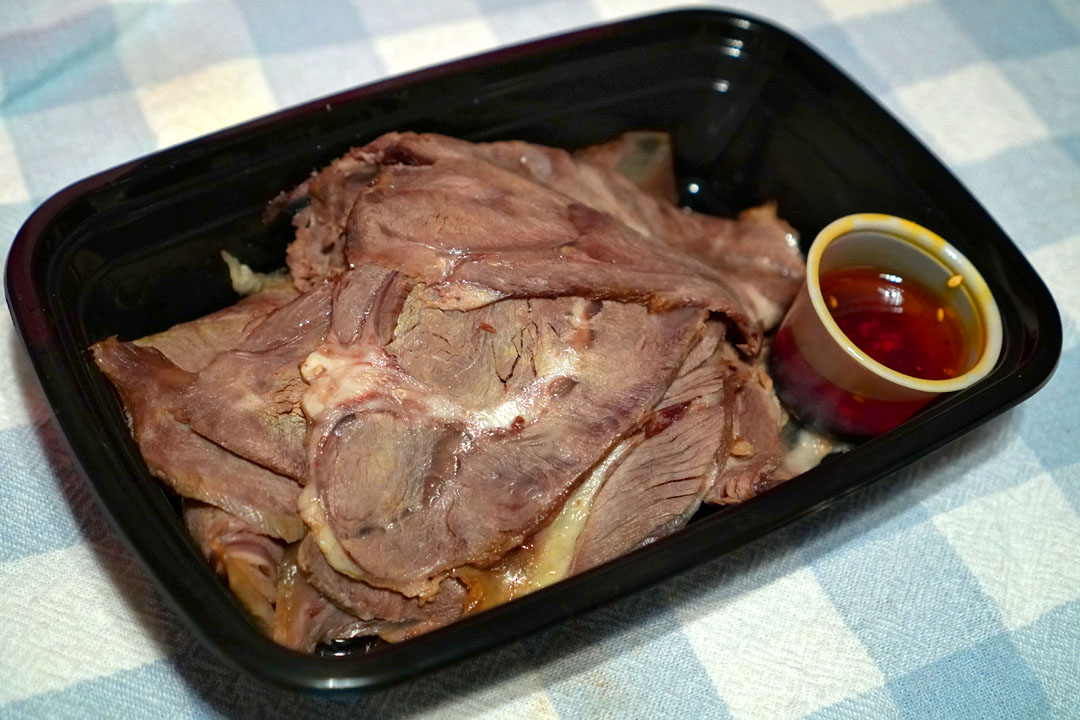 酱牛肉 Beef Sliced [$9.99]
The
jiàng niúròu
arrived in thin, delicate slices, with some nicely integrated gelatinous bits and a restrained spicing that I found comfortingly familiar. Quite good by itself, but the included chili oil did indeed open up a new dimension of enjoyment.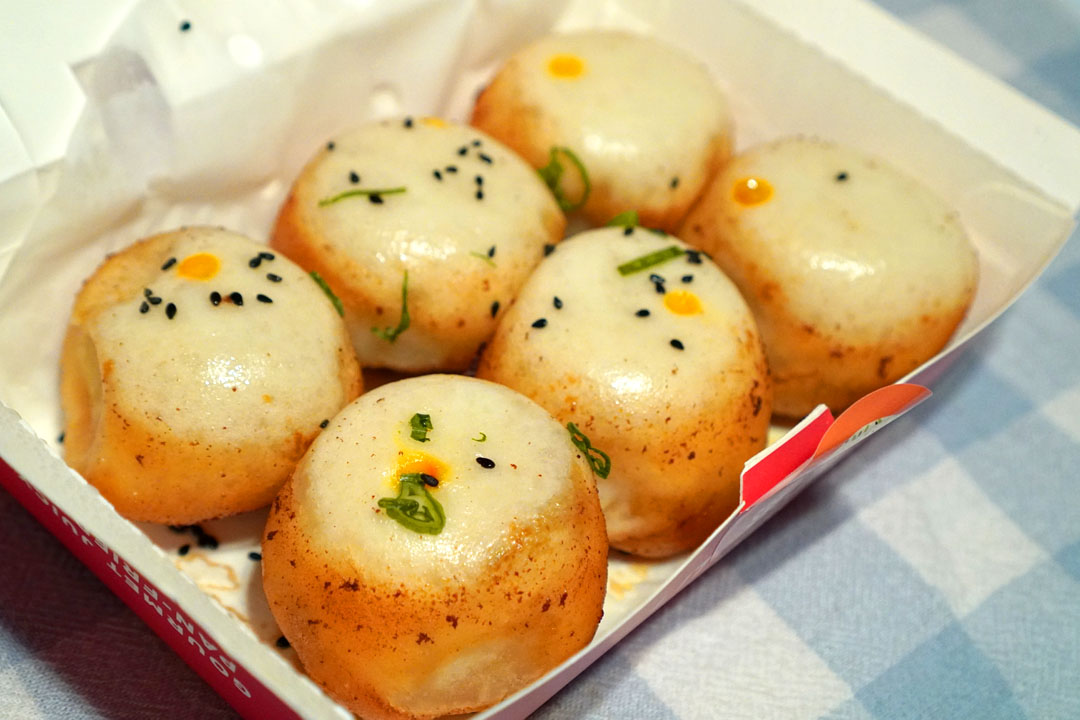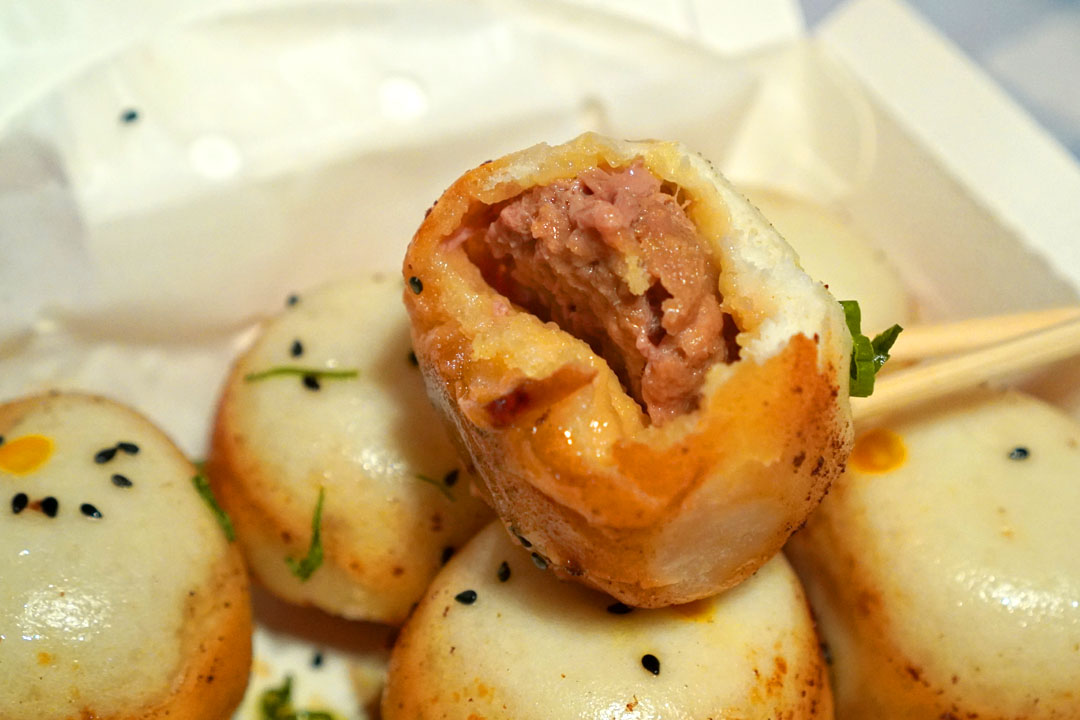 特色咖喱生煎 Special Curry Pork Pan-Fried Bun [$12.99]
This next sextet of buns showcased classic, yet restrained curry flavors that made a lot of sense with the pork. And again, the textural juxtaposition from the skin was absolutely crucial.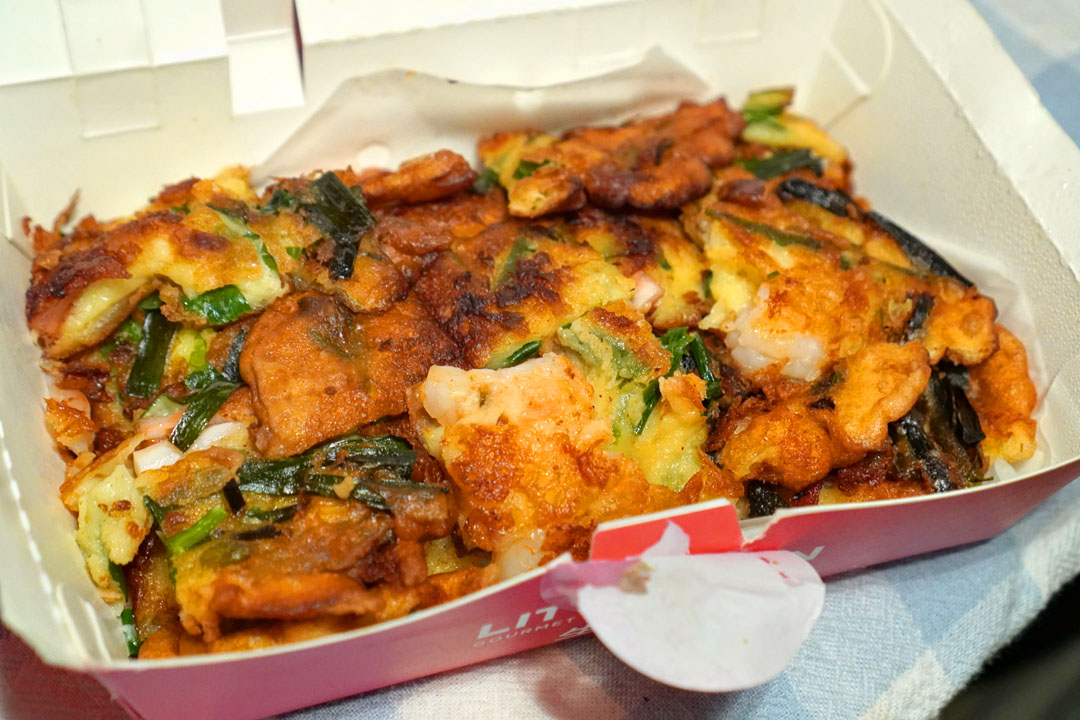 海鲜煎饼 Seafood Pancake [$16.99]
I felt compelled to order the
hǎixiān jiānbing
, and enjoyed its crisp, caramelized bits, while the squid and shrimp were well-textured and offered a pleasant brine that played well with the leeks. In addition, the pancake was accompanied by a tangy, savory dipping sauce with a distinct
málà
note. If you're familiar with Korean
haemul pajeon
, this is pretty much the same idea.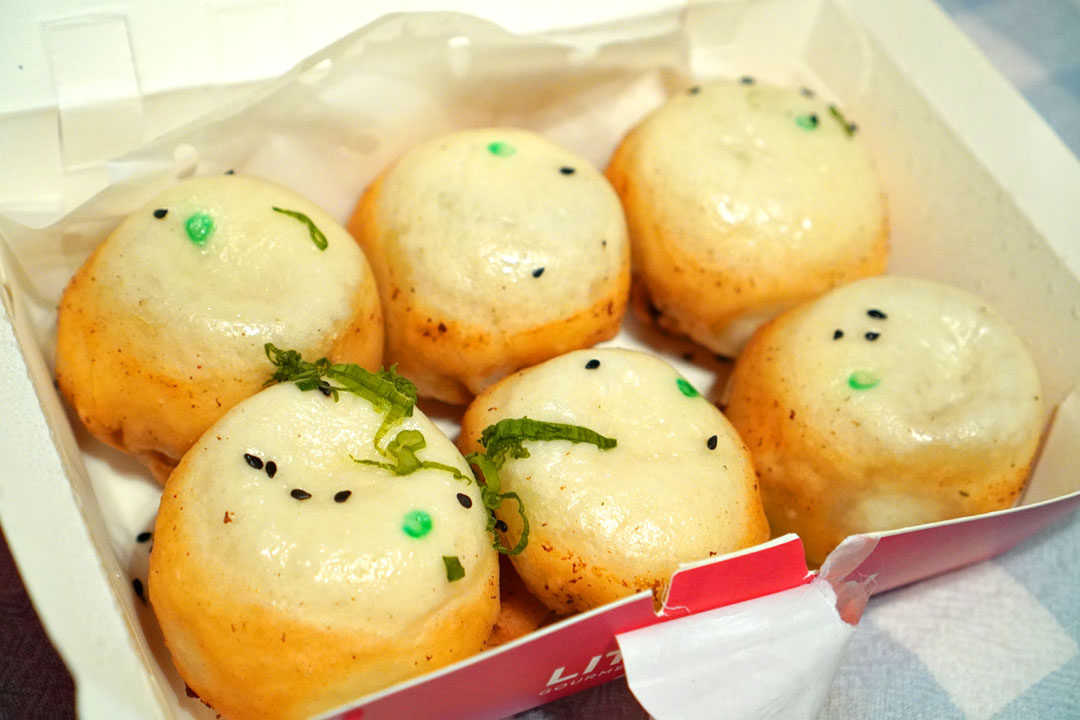 虾三鲜生煎 Shrimp and Leek Pork Pan-Fried Bun [$12.99]
My final order of
shengjianbao
was also my favorite. I was a big fan of the shrimp here, which were spot-on texturally and demonstrated a salinity that married beautifully with the zesty
jiǔ cài
.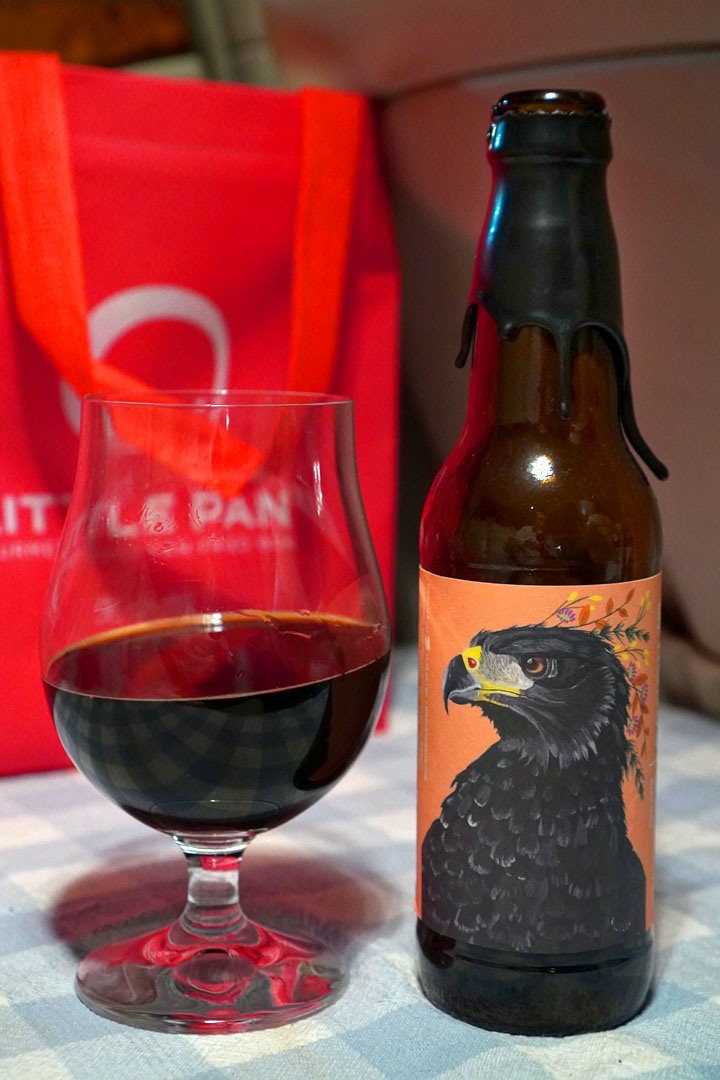 Next to drink was the
2022 Horus Brazilian Eagle's Grace
, a variant of my first beer that was aged an extra month in Amburana barrels and saw the addition of Bahiana vanilla beans. The stout had an unexpected nose brimming with black licorice, backed by an undercurrent of tobacco. Tasting it, I got loads of spice-filled wood and cigar box up front, with supporting nuances of tobacco and leather, while rich, fragrant notes of vanilla appeared on the mid-palate and lingered long. With more time, I began detecting a sweet smokiness that actually reminded me of
dalgona
. Delish.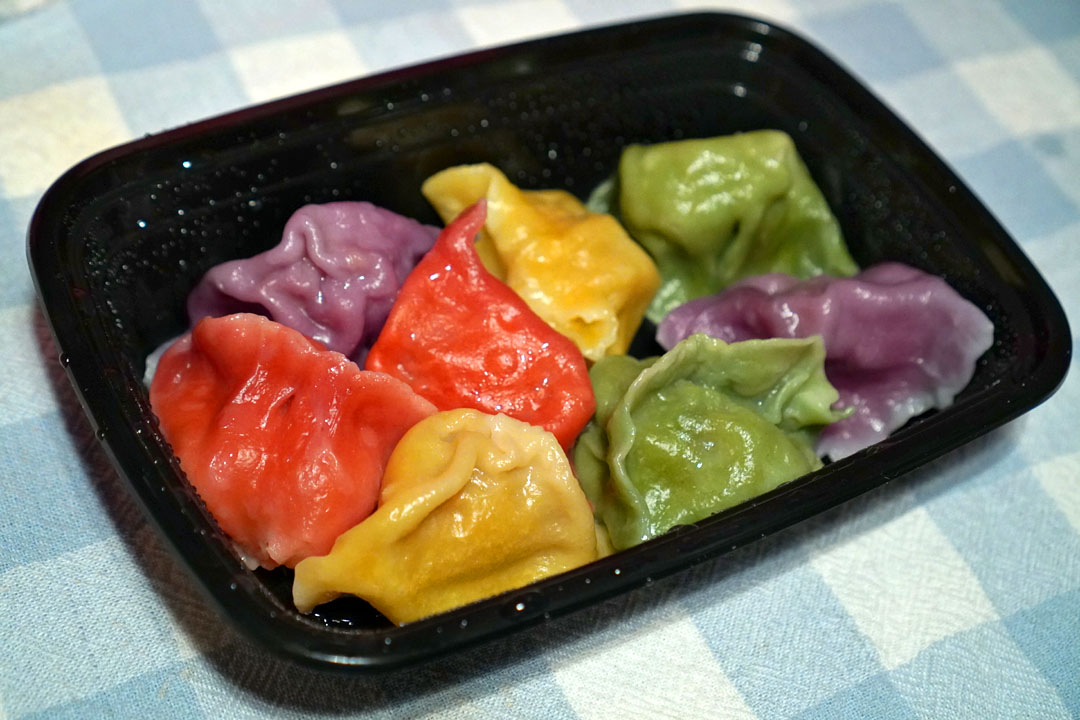 五彩饺子 Rainbow Dumpling [$13.99]
| 2 Spanish Mackerel, 2 Beef and Cabbage, 2 Pork and Cabbage, 2 Shrimp Leek and Pork
Spanish Mackerel (Purple) – Think juicy, finespun texture, with a welcomed counterpoint from the leek.
Beef and Cabbage (Red) – Easily the meatiest of the foursome; savory and straightforward, with the thickest skin.
Pork and Cabbage (Yellow) – Textbook porcine flavors with a decent juiciness and some nice herby accents.
Shrimp Leek and Pork (Green) – My favorite of the quartet, these displayed a delectable brine from the shrimp that matched up seamlessly with the jiu cai.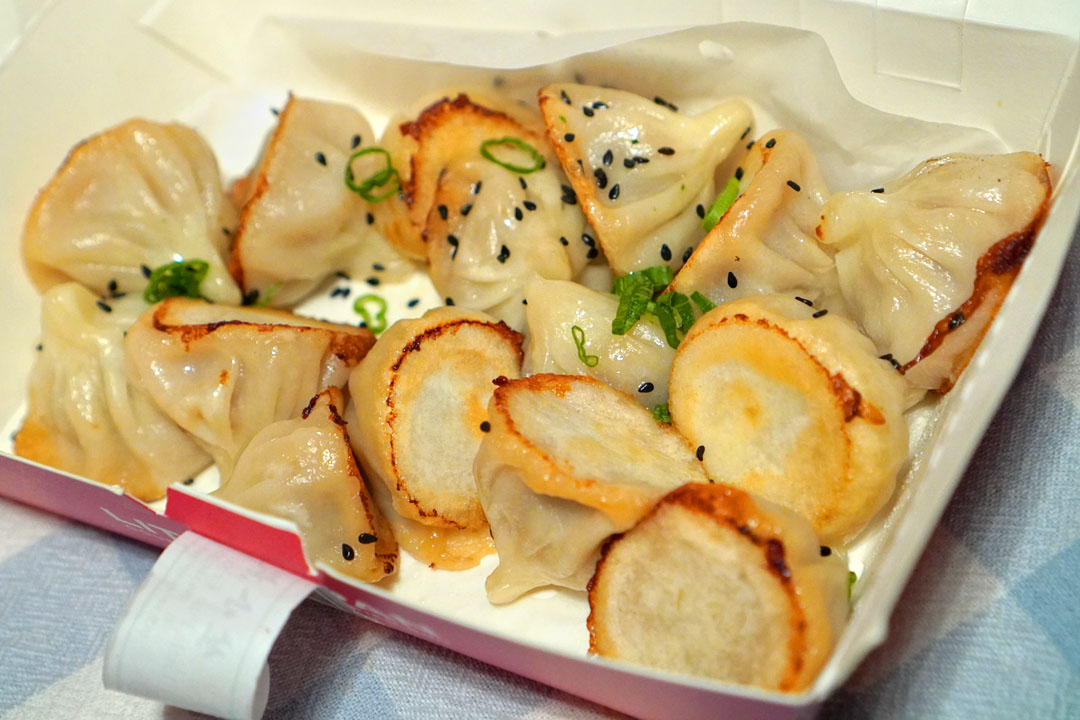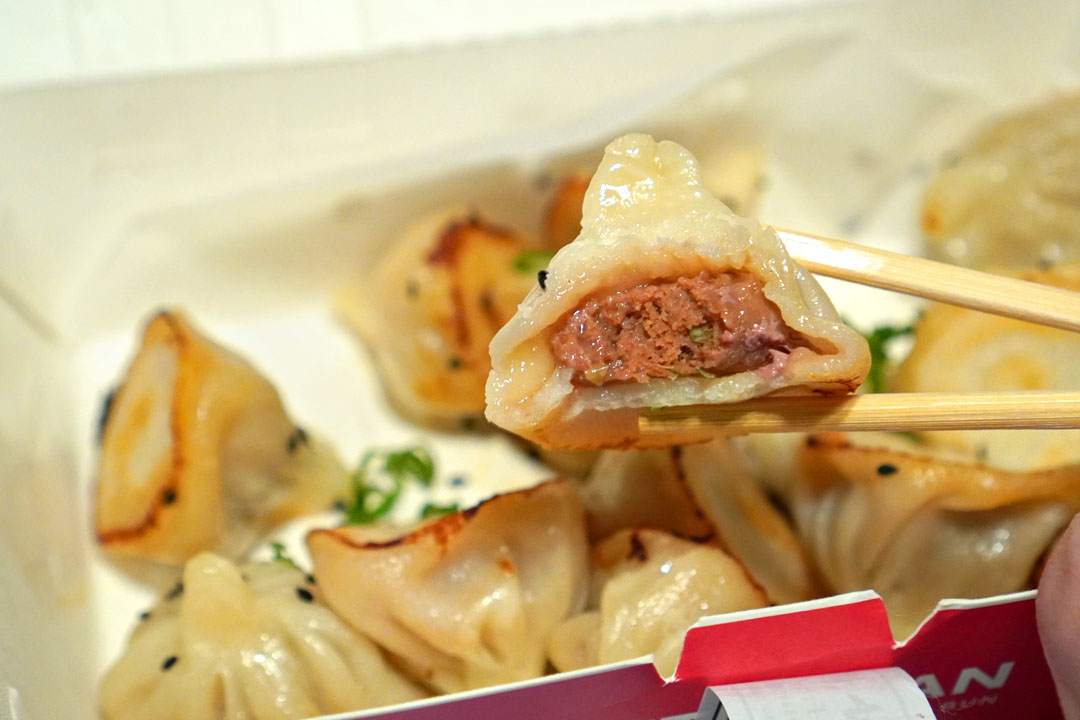 拇指牛肉生煎 Mini Angus Beef Pan-Fried Bun [$18.99]
These miniature
shēngjiānbāo
were well-spiced, but on the dry side, though they did really open up with a dab of that included
là jiāo yóu
.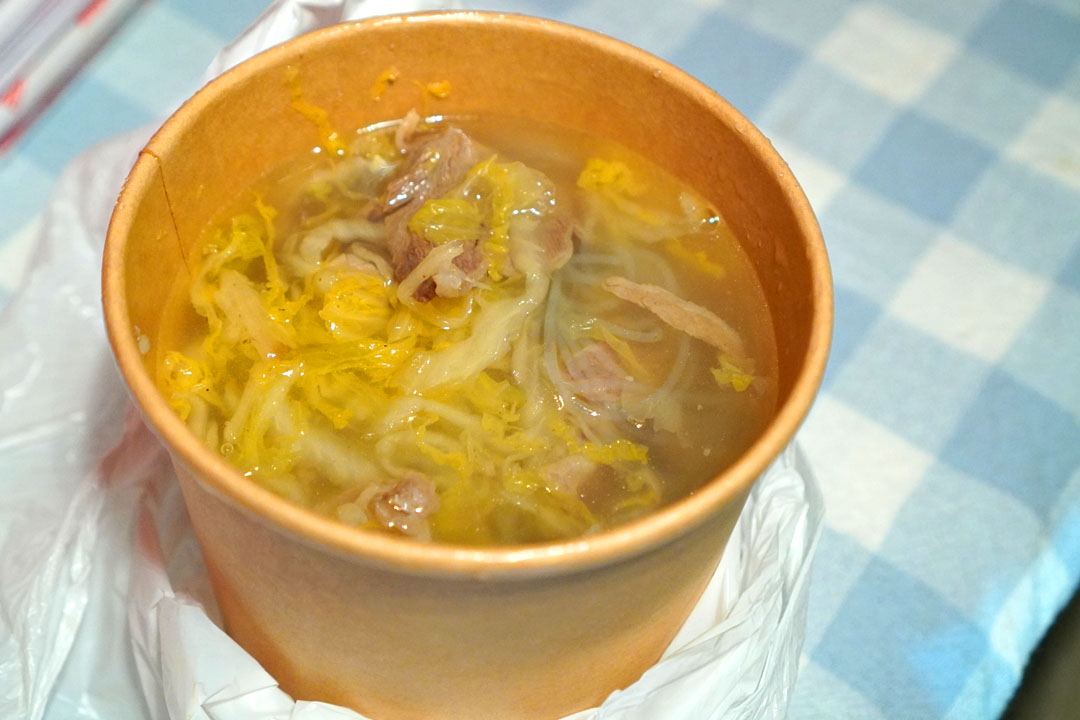 酸菜羊肉粉丝汤 Chinese Sauerkraut and Lamb Soup with Vermicelli [$12.99]
Thin-cut, flavorful slices of lamb worked hand-in-hand with the funk of the
suāncài
-boosted broth, while
fěnsī
noodles offered up a gratifying chew. Homey and heartwarming, the soup was a great match for the nippy weather we'd been experiencing.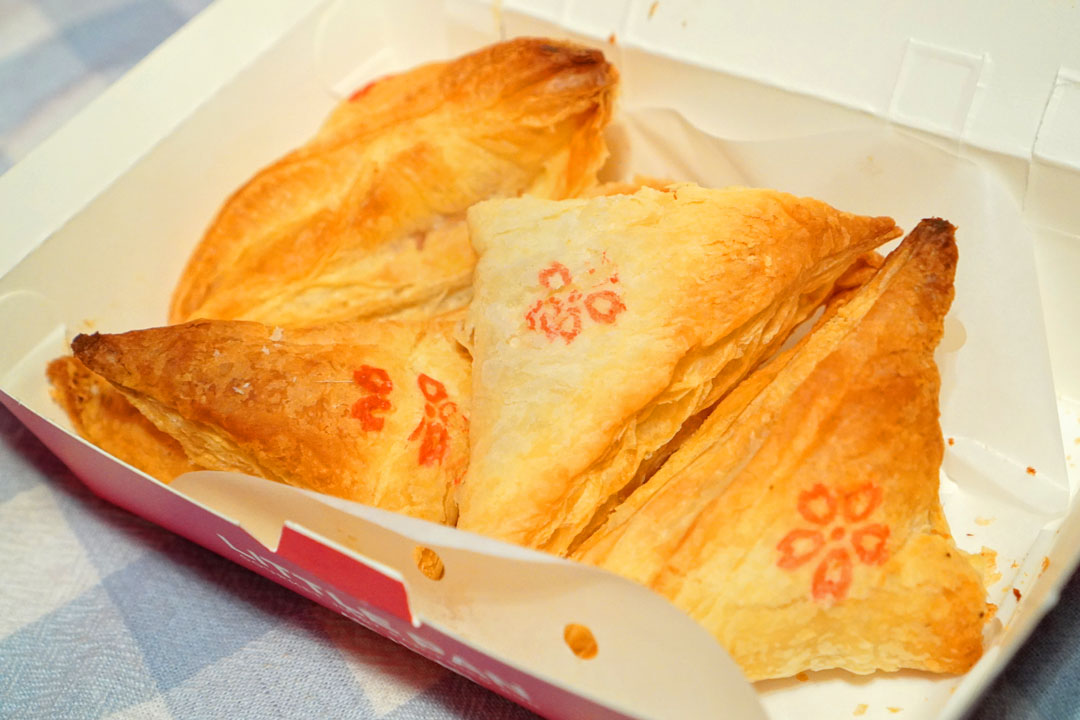 山楂酥 Crispy Hawthorn Cake [$14.99]
For dessert, I opted for these delightfully flaky pastries, which were imbued with a slight smoke and linked up swimmingly with the sweet-tartness of
shānzhā
.
I was pretty satisfied with the food from Little Pan, and I could see myself getting takeout from here semi-regularly if I lived close by. Actually, I wouldn't be too surprised if a location did eventually open up near me. This is a concept that seems well-suited for expansion, and in fact, a pop-up Little Pan debuted in El Monte back on November 3rd, and I would guess that there's a good chance that it'll become permanent, so we'll see how far Liu can take this.