Taira Sushi & Sake (Garden Grove, CA)
Taira Sushi & Sake
8851 Garden Grove Blvd, Garden Grove, CA 92844
714.591.5225
Sat 02/11/2023, 9:00p-11:40p

A while back, a friend of mine told me about Taira, a new sushi option in Orange County from the husband-and-wife team of Chef Ben Sato and Ayako Sato. Strangely enough, the restaurant is located in Garden Grove, which is decidedly
not
a hotbed for sushi activity. This unexpected locale piqued my interest, so I decided to check the place out recently.
About the Chef
: Sato Ben hails from Tokyo, and started his culinary career at age 19. After cooking in Japan for a number of years, he decided that he wanted to venture outside of the country. He thus applied to some overseas jobs, and was hired by Oki Doki in Tustin. He therefore moved to the US in 2013 to make sushi at the izakaya-type spot. It was here where he first met Ayako, a native of Ichihara, Chiba who'd been a server there since October 2010. Though they were just coworkers to start, the two eventually fell in love, and got married around five years ago.
The couple soon decided that they wanted to open their own restaurant together. Though they were initially planning on doing something in Tustin (where they live), Ayako discovered that the Thai owner of Yuuko Sushi in Garden Grove was looking to sell. The Satos seized the opportunity, figuring that there'd be little competition when it came to legit sushi in the area. As a result, they took over Yuuko in July 2022, and quickly transformed it into Taira (平, an alternative reading of the kanji for "Ben"), which officially debuted on November 1st last year.

As mentioned above, Taira resides in a New Seoul Plaza strip mall storefront that was previously home to Yuuko Sushi. Before that, the space held Sushi Warriors, Spicy Lao, and Sakana-Ya, and was once the
hwareo-hoe
(raw seafood) component of Go Goo Ryeo (고구려), the former KBBQ joint next door. Going back even further, I believe the address was occupied by Katana, another Korean-style live seafood specialist.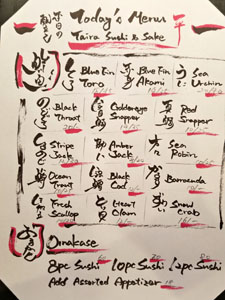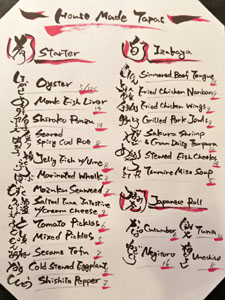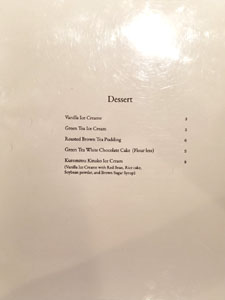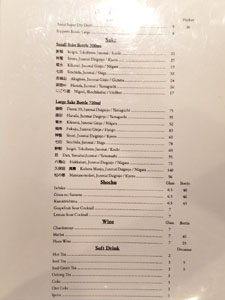 Taira's menu is apparently hand-written by Ayako, and is divided into two sections: one for sushi and one for izakaya dishes. Sushi-wise, you can order à la carte, but you also get three omakase options, and naturally, we opted for the flagship, which is priced at a mere $80 a head. To drink, you'll find a couple beers, sake, shochu, and wine you probably don't want, while corkage is $30. Click for larger versions.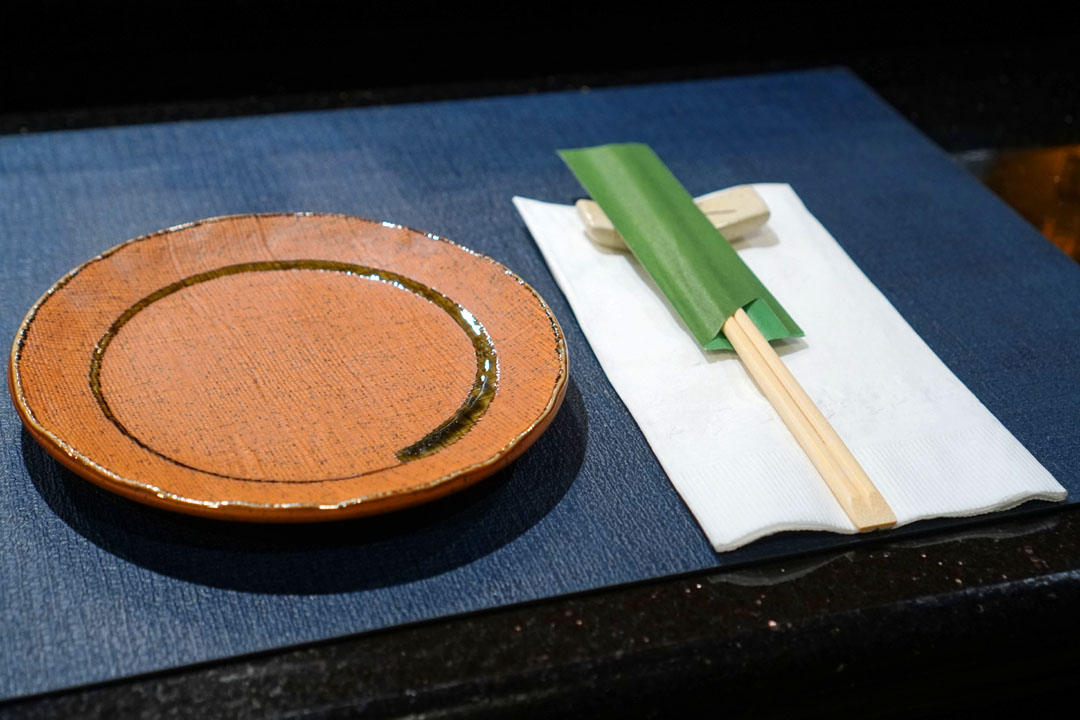 My place setting was straightforward enough.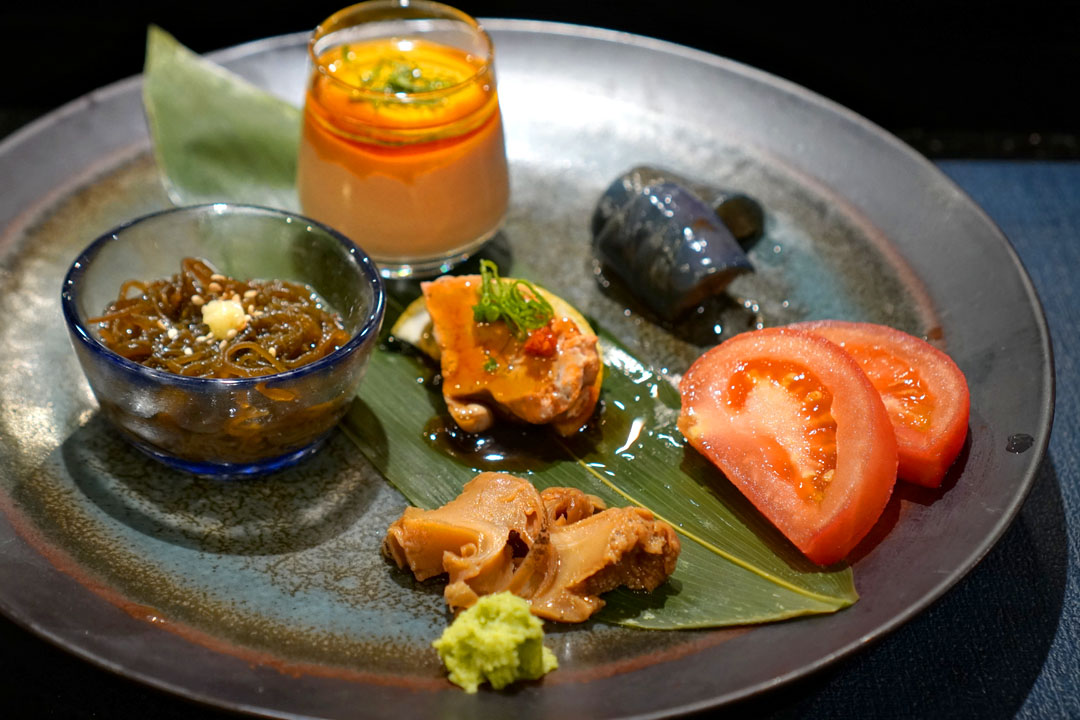 Assorted Appetizer [$18.00]
Tonight's meal commenced with a
zensai moriawase
comprised of six small items:
とまと Tomato Pickles – Tomatoes showed off a rich katsuobushi-esque umami note that worked well with the fruit's juicy tartness.
なす Cold Stewed Eggplant – Nasu ate soft and spongy, and came loaded with smoky, savory, dashi-fueled flavors.
もずく Mozuku Seaweed – Tangy, savory strands of vinegared seaweed had a slick, crunchy consistency that was almost noodle-like, and took well to the ginger.
つぶ貝 Marinated Whelk – Tsubugai displayed a firm, satisfying chew, and its sweet-savoriness was smartly accented by a touch of wasabi heat.
あん肝 Monkfish Liver – Ankimo had a crumblier than usual texture, while its almost chicken-y flavor profile paired effortlessly with the zing of those scallions.
Housemade Tomato and Cheese Tofu – An original creation of Chef Sato, the was likely the creamiest, richest tofu I've had, and almost recalled burrata. If that wasn't enough, the use of dashi soy mixed with olive oil definitely gave this an Italian-ish bent.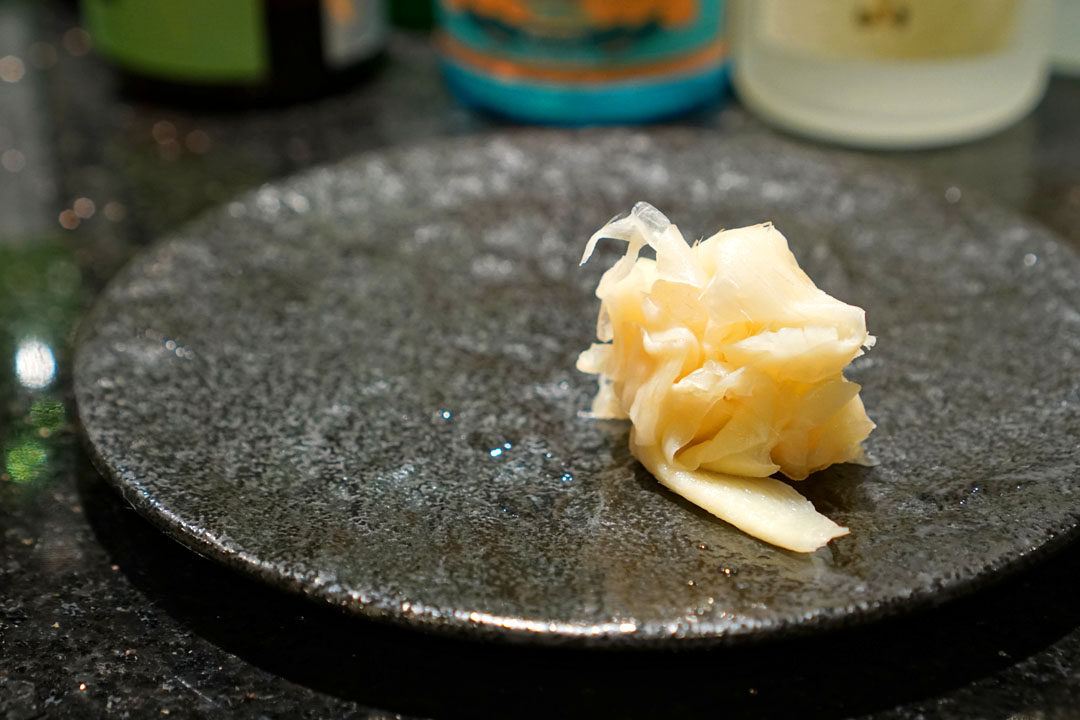 Sato-san's ginger was a toucher sweeter than usual I'd say.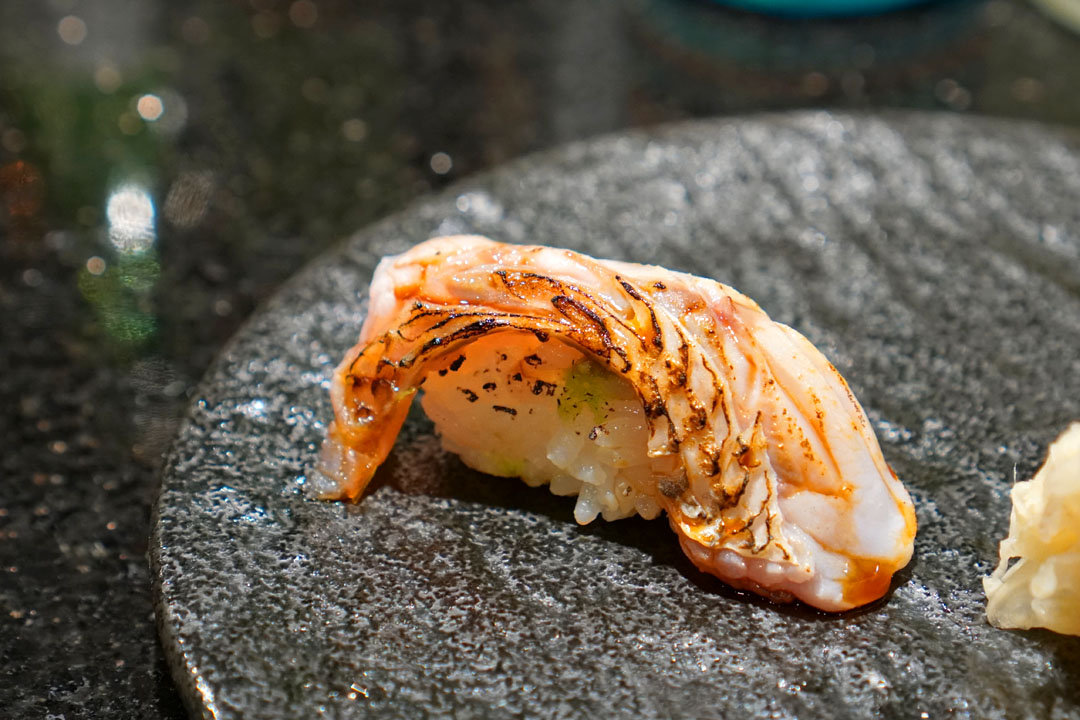 1: のどぐろ Black Throat (Niigata)
Our parade of
nigiri
got off to a promising start thanks to the
nodoguro
. The fish's sear and smoke meshed well with its cool, fatty flesh, while the Chef's slightly soft, slightly sweet, generally neutral
shari
worked as a counterpoint.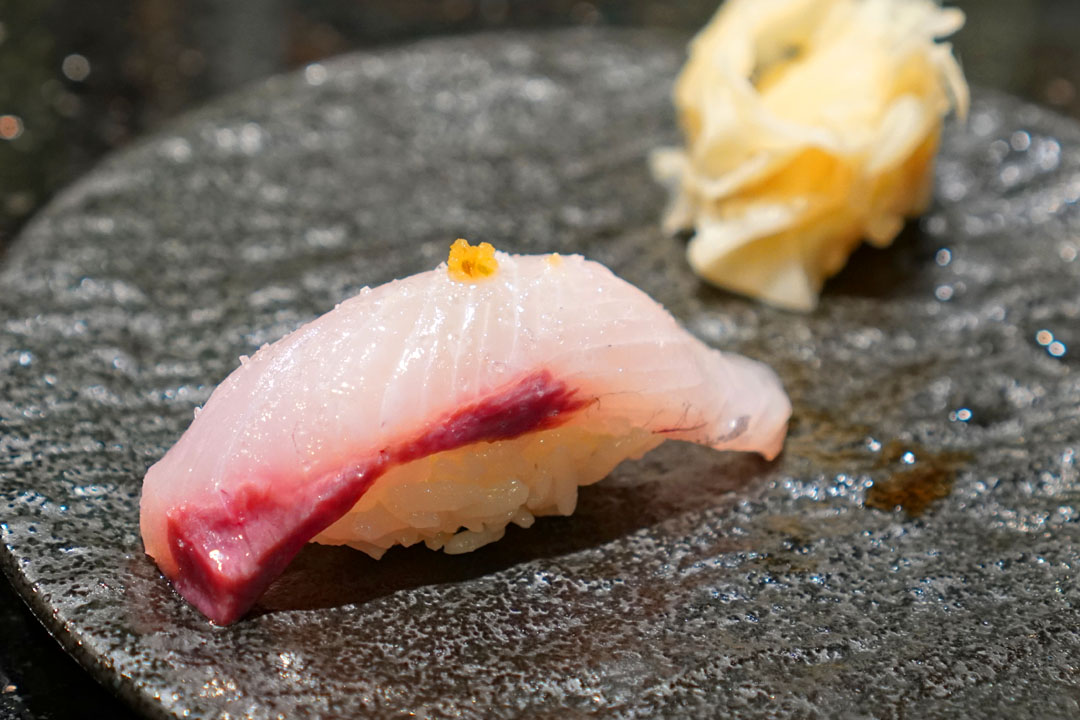 2: 勘八 Amberjack (Kyushu)
Kanpachi
had a lovely bite, and made a lot of sense with its toppings of salt and
yuzukosho
. And again, the rice really made itself known on the finish.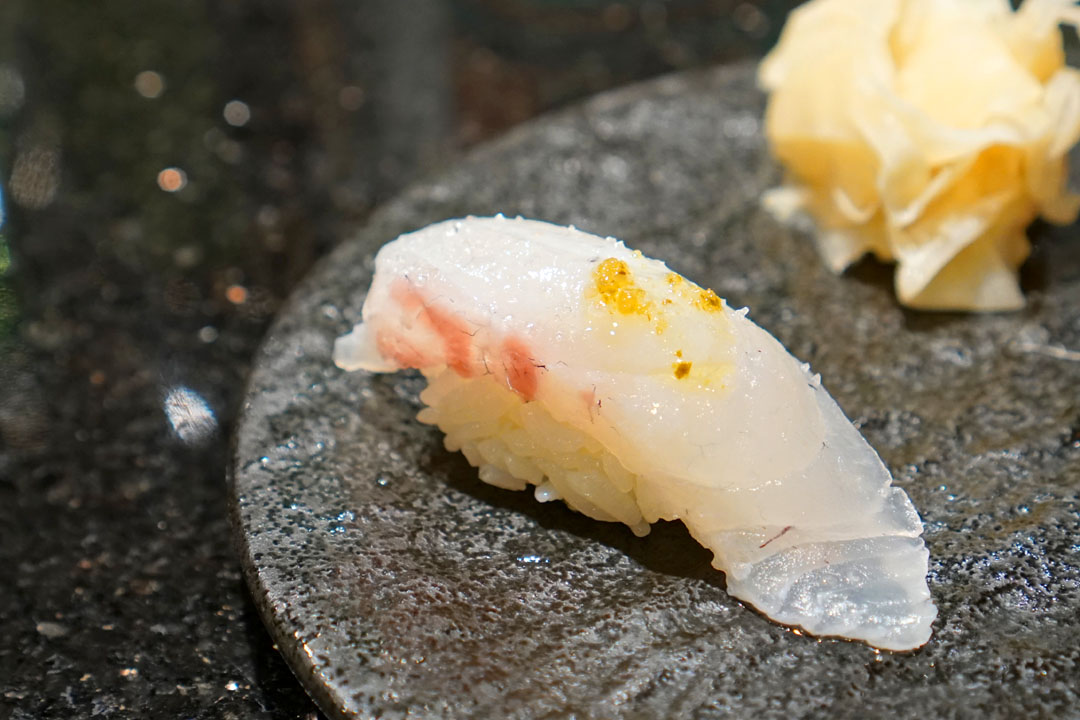 3: 真鯛 Red Snapper (Kumamoto)
A supple cut of
madai
was more interesting than usual due to Sato's use of basil, which offered up an herbaceousness that worked surprisingly well with the restrained nature of the seabream.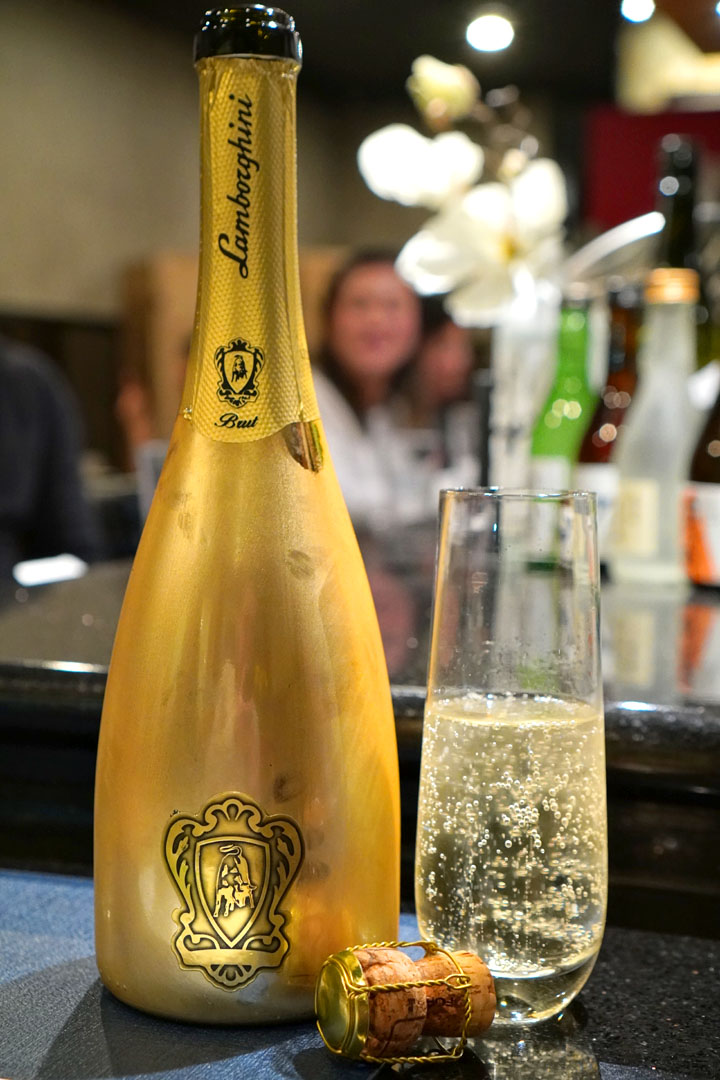 To drink, I brought along a bottle of
NV Tenuta Lamborghini Oro Vino Spumante
. A Chardonnay-based sparkling wine from Valdobbiadene, those nose on this one was teeming with juicy orchard fruits, pear in particular, and light citrus. On the palate, the sparkler was bright, lively, and refreshing, with a distinct apple pie-like character that made this rather easy-drinking.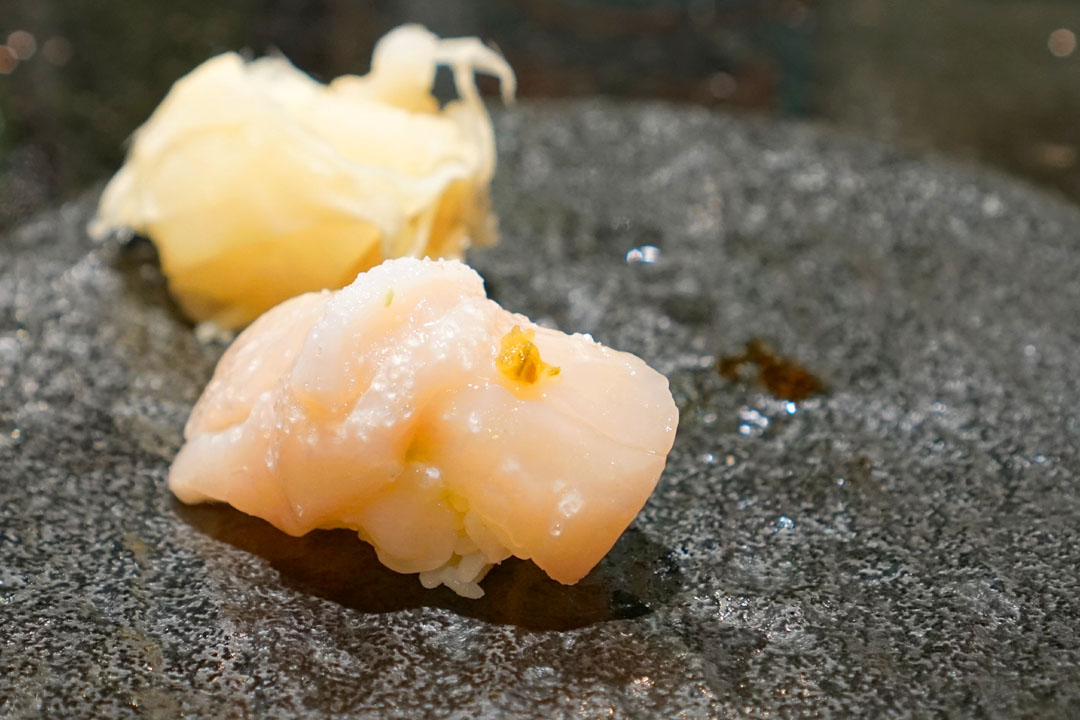 4: ほ帆立 Fresh Scallop (Hokkaido)
Hotate
featured a firm, yet yielding consistency, its sweet salinity well conveyed and well matched to pricks of salt and citrus.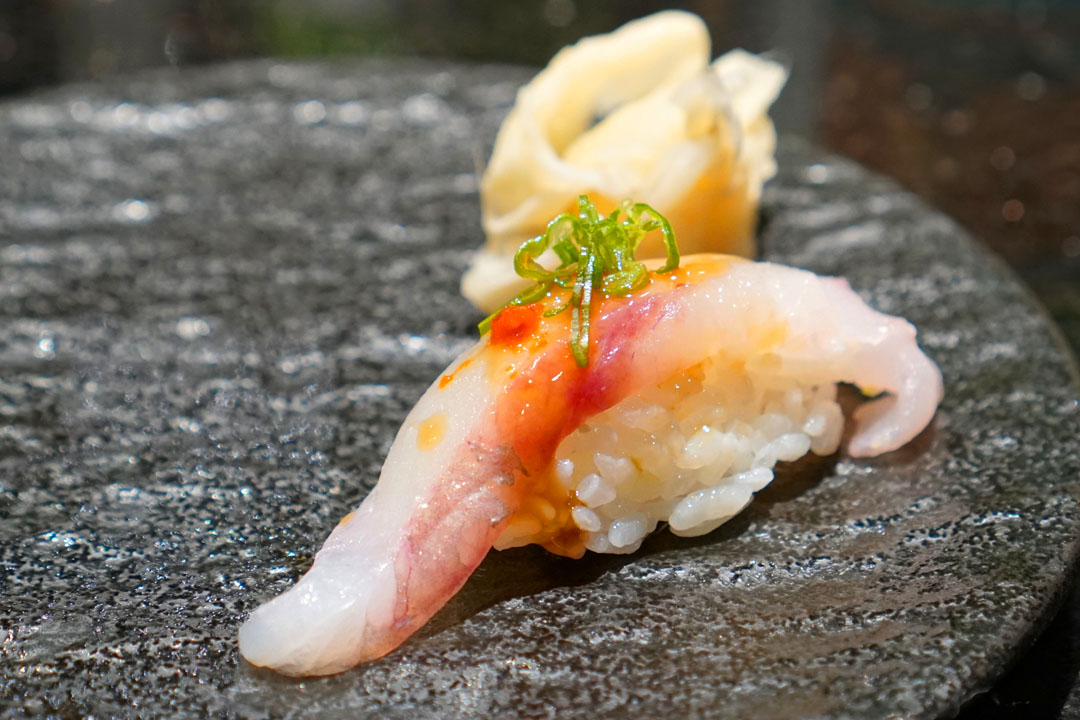 5: 方々 Sea Robin (Nagasaki)
Hobo
is a rare sight at sushi bars, so I was glad to see it on the menu tonight. The thing that stood out the most here was the fish's uncommonly gratifying texture, while flavors were centered on the interaction between ponzu and scallion, with wasabi appearing toward the rear.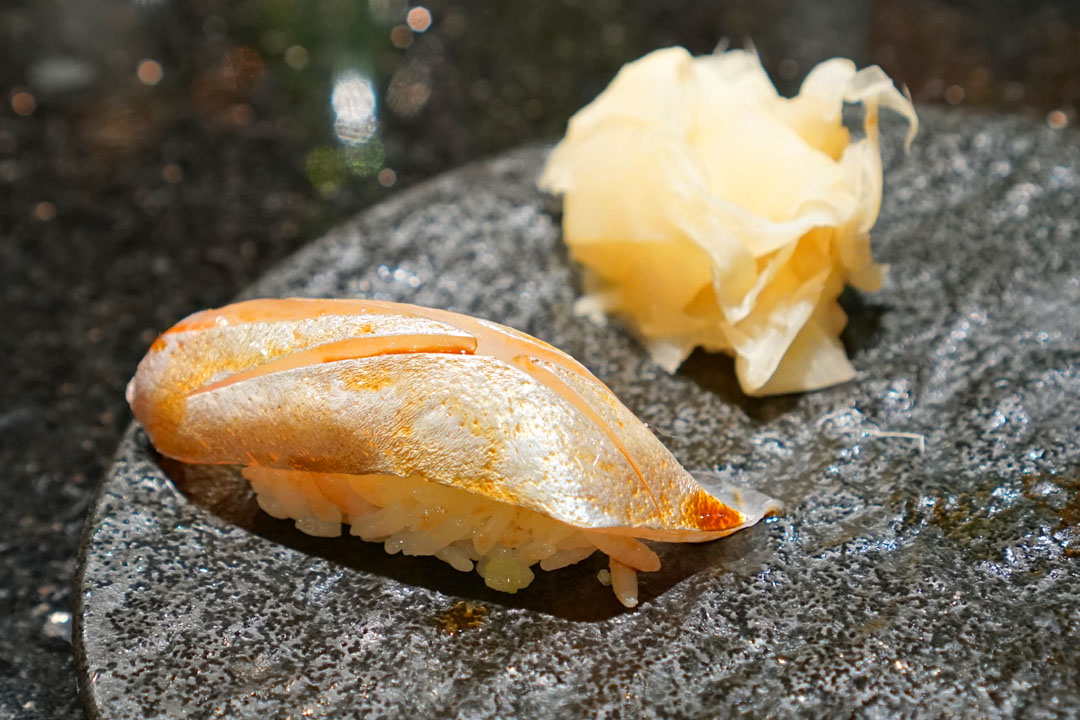 6: しまあじ Stripe Jack (Kagoshima)
Also a treat texturally was the
shima aji
, and the umami 'n' brine factor was on point with this one, too.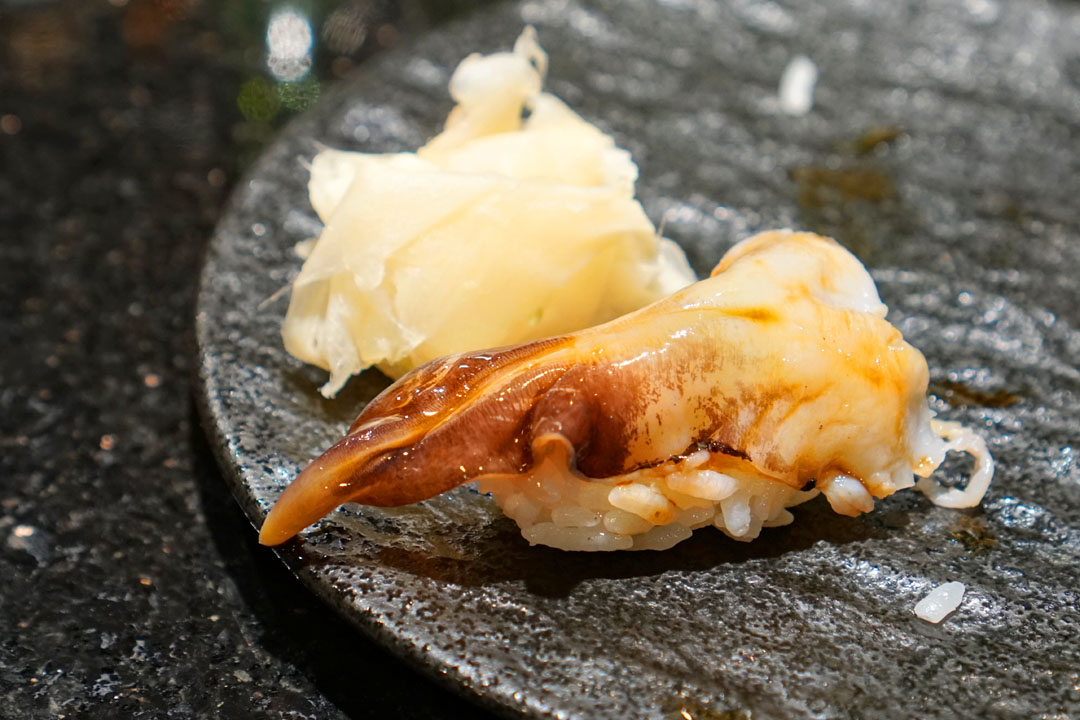 7: 鳥貝 Heart Clam (Hyogo)
The
torigai
was another uncommon item we enjoyed tonight. The cockle had a spongy consistency, and its sweet salinity was nicely offset by the burn from the wasabi.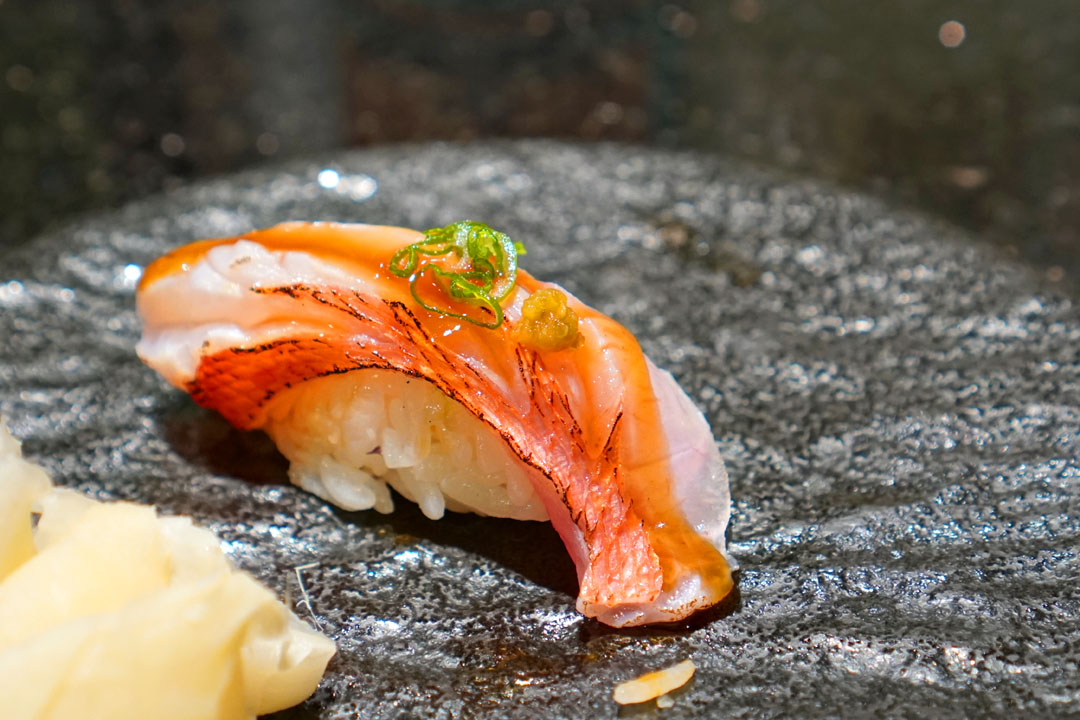 8: 金目鯛 Goldeneye Snapper (Chiba)
I always look forward to the
kinmedai
, and the fish didn't disappoint tonight with its pleasing texture, sear, and sweet-savory flavors.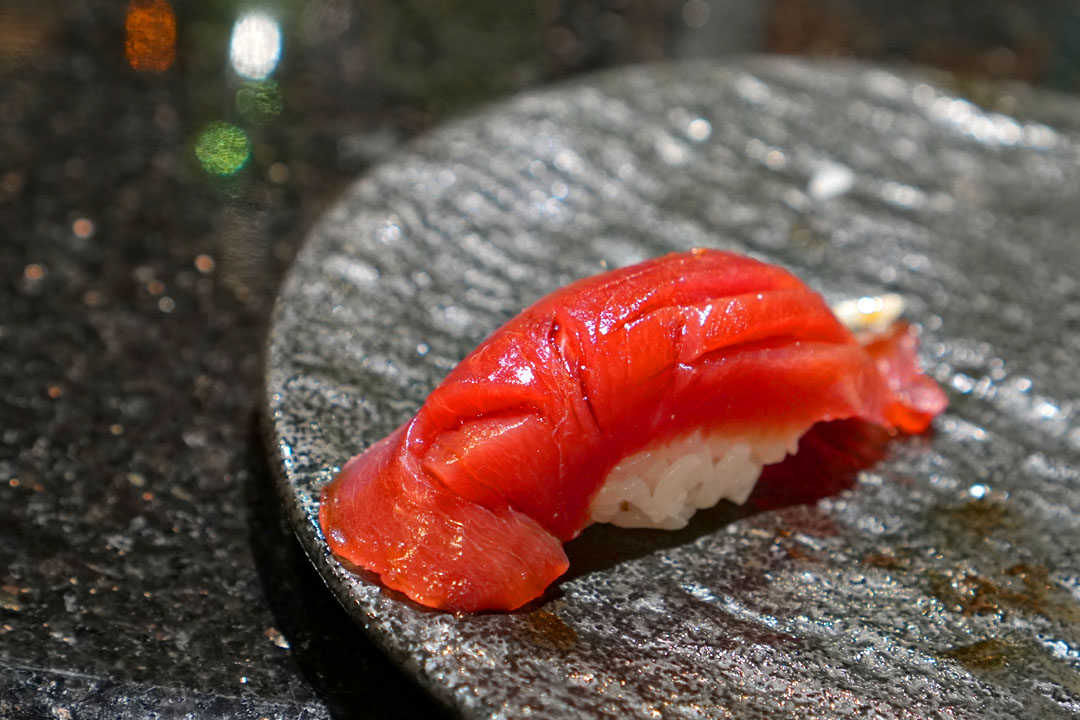 9: 赤身 Blue Fin Akami (Mexico)
A ruby-hued cut of
honmaguro
tuna conveyed a classic, cool brine that led to a combination of both sweetness and umami.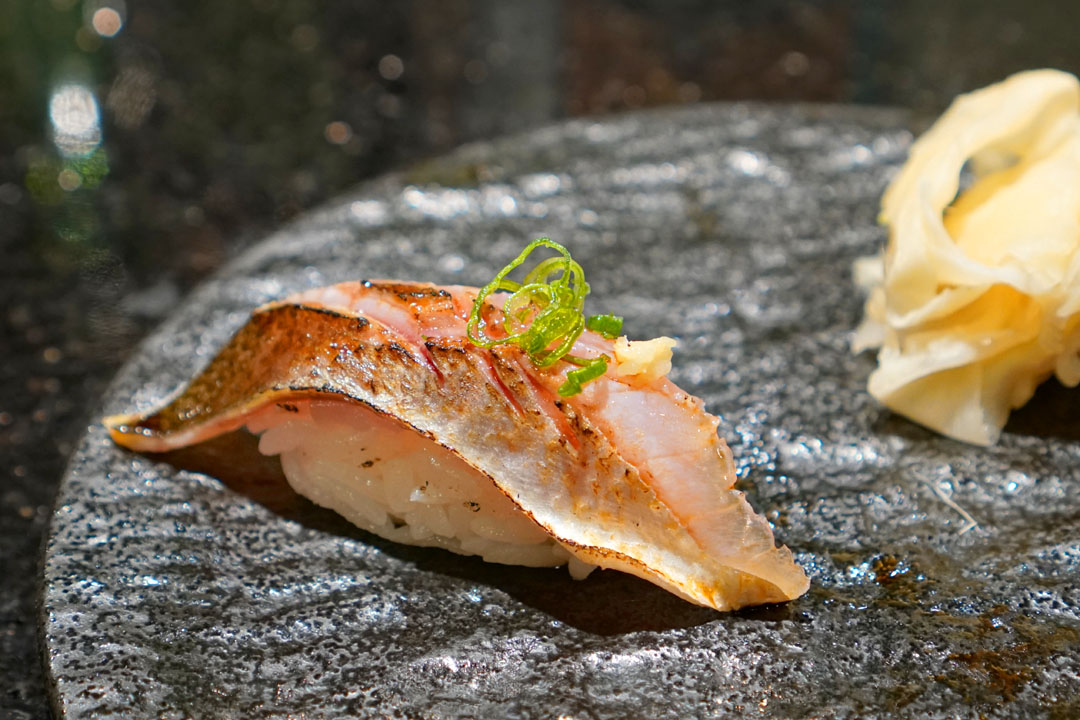 10: かます Barracuda (Nagasaki)
Kamasu
offered up a delectable smoke up front, then a potent salinity, then the sweet tang of vinegar, then a moderating element from the rice.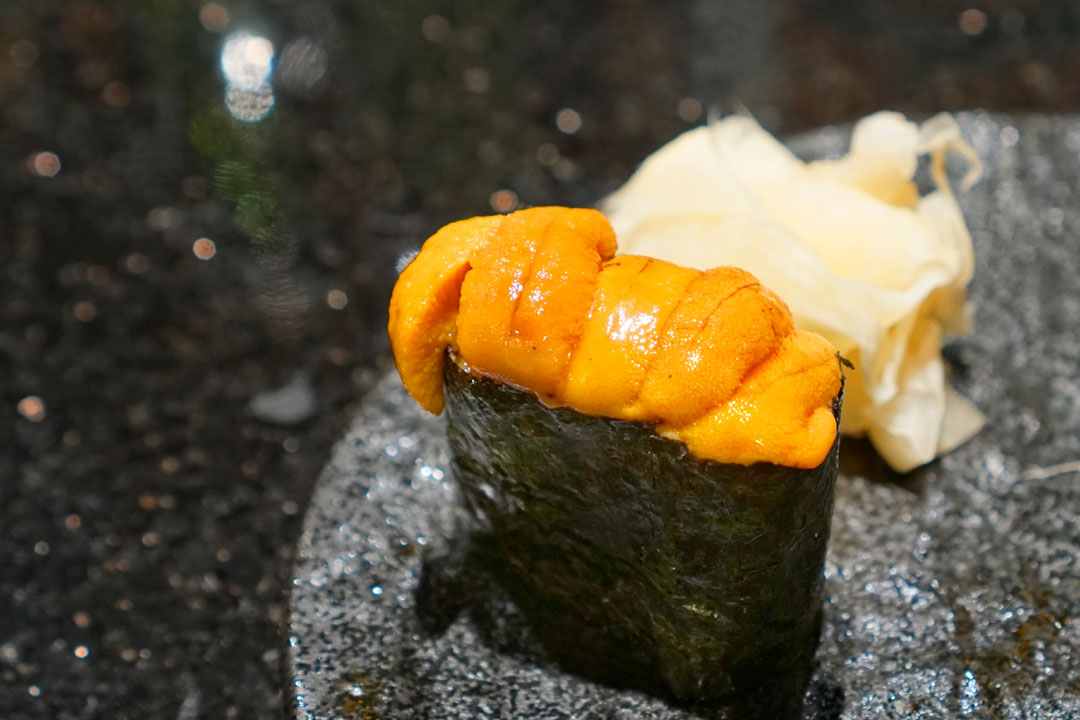 11: うに Sea Urchin (Hokkaido)
Uni had its mineral-driven qualities on display here, deftly set against the grassy, umami notes from the nori. However, I would've liked a crispier texture on the seaweed.
12: とろ Blue Fin Toro (Mexico)
Tuna belly made an appearance towards the end of the meal, and demonstrated a delectable marriage of sear and melt-in-your-mouth goodness. The rice was absolutely crucial for balance.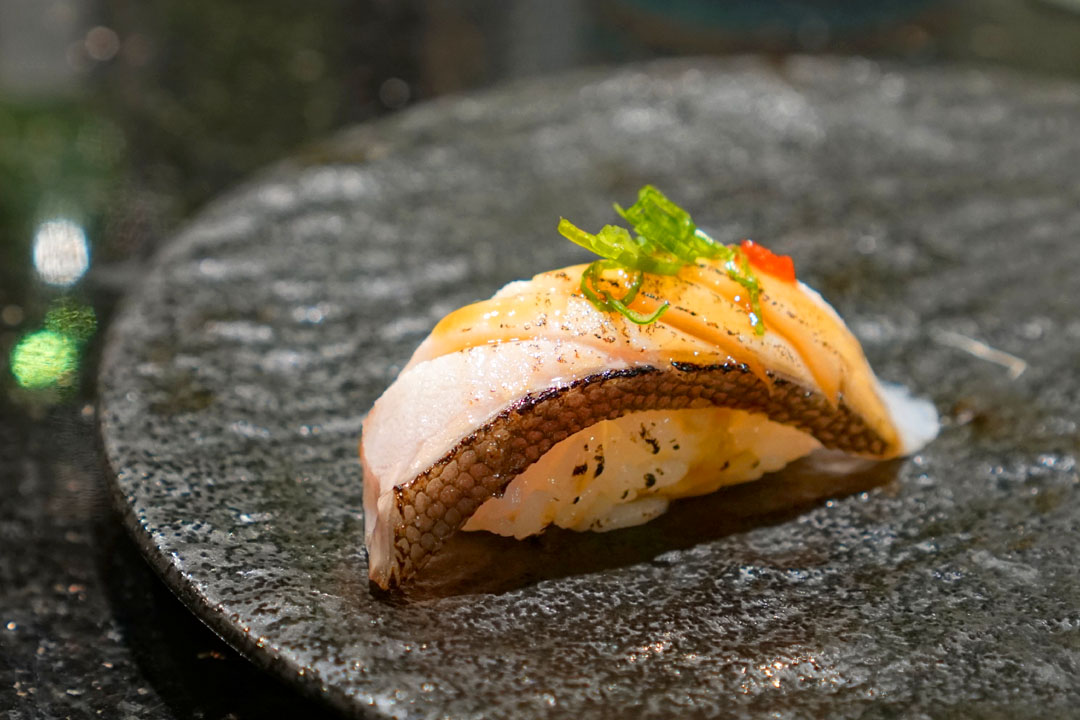 銀鱈 Black Cod (Oregon) [$12.00]
Gindara
arrived lush and fatty, its richness smartly matched by char and smoke, with the rice again working to moderate it all.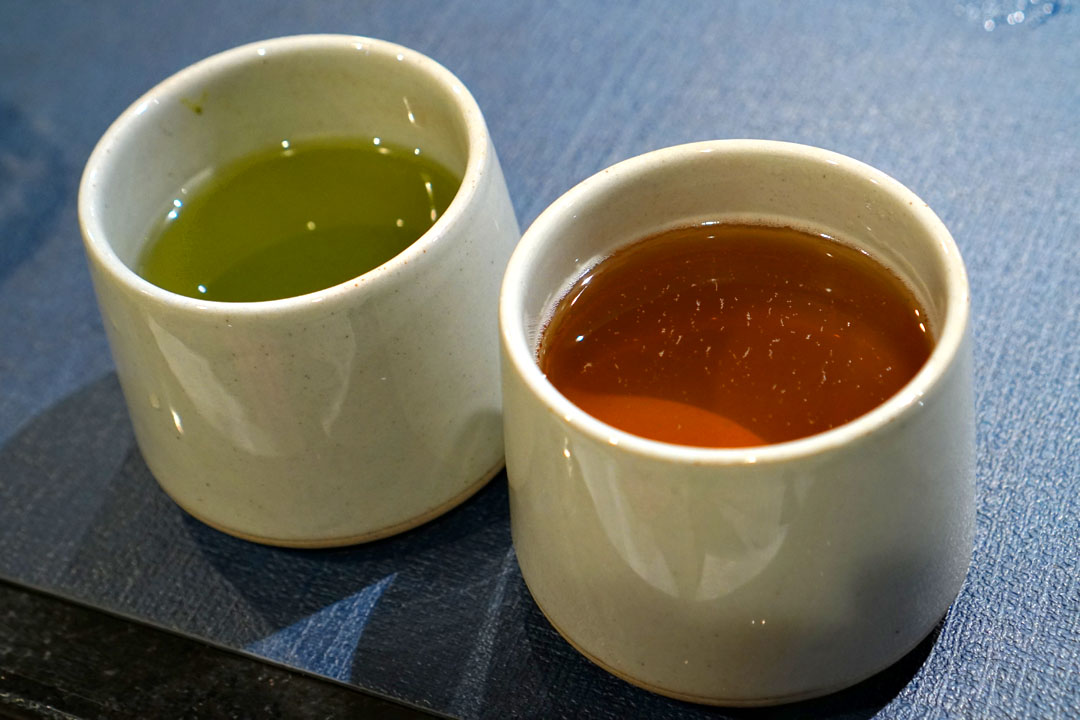 Hot Tea [$2.00]
Oolong Tea [$3.00]
We ordered some tea to go along with dessert. I found the oolong particularly fruity and floral, with some distinct passion fruit notes, while the green tea was fairly textbook.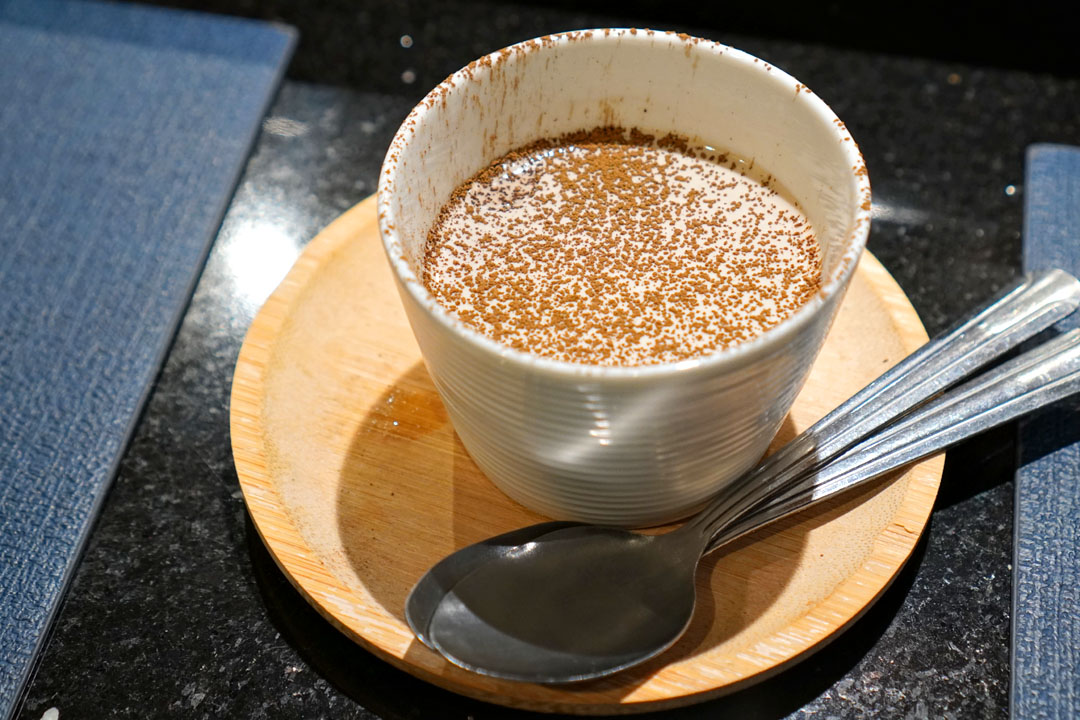 Roasted Brown Tea Pudding [$5.00]
A
hojicha
-enriched pudding made by Ayako was a delight thanks to its delicious combination of roasty, sugary, and cocoa flavors.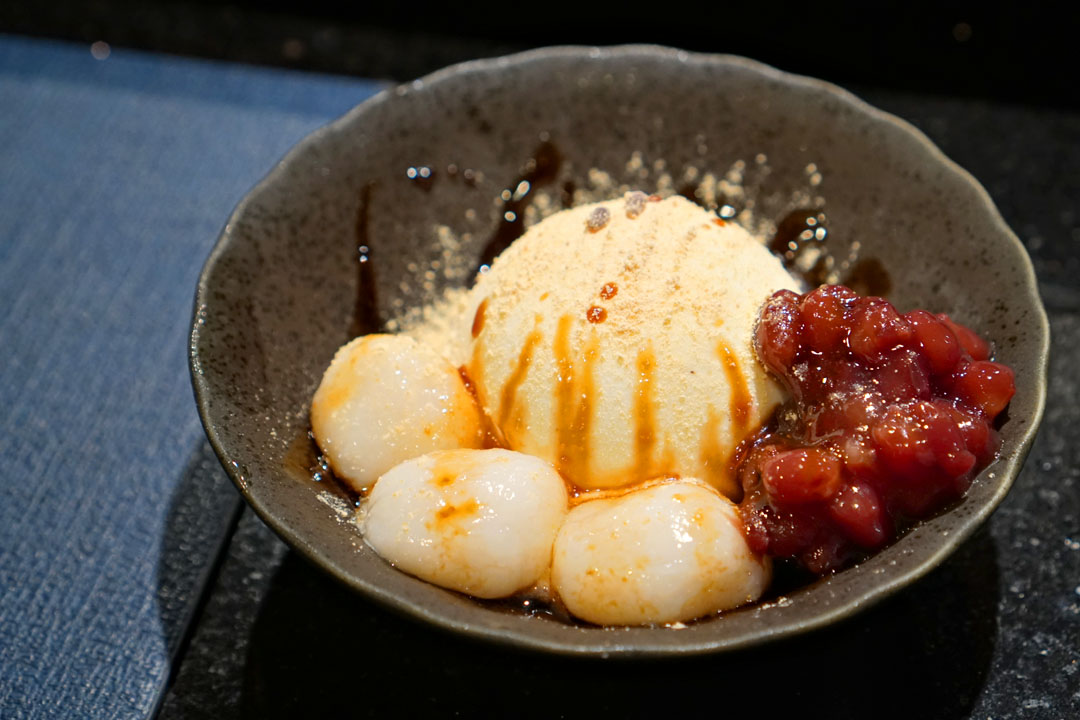 Kuromitsu Kinako Ice Cream [$8.00]
| Vanilla Ice Cream with Red Bean, Rice Cake, Soybean Powder, and Brown Sugar Syrup
I quite enjoyed the ice cream as well, particularly how it played with both the nuttiness of the roasted soybean flour and the syrupy black honey, all while the
adzuki
contributed further sweetness to the mix. Nice texture from the mochi, too.
I was rather satisfied with my dinner at Taira tonight. As far as I know, this is the first proper sushi spot in Garden Grove, one that doesn't mess with nonsensical rolls and whatnot. I think there's a real audience for this style of Japanese cuisine in the area, so perhaps the Satos were prescient in opening up here. In addition, we have to remember that the highest-end omakase at Taira is priced at only $80, which means that this meal probably represented the best value in terms of sushi experiences I've had in years. The restaurant was still busy when we left near midnight, and I can understand why.