Anajak Thai (Sherman Oaks, CA)
Anajak Thai Cuisine
14704 Ventura Blvd, Los Angeles, CA 91403
818.501.4201
www.anajakthai.com
Wed 03/01/2023, 08:15p-10:00p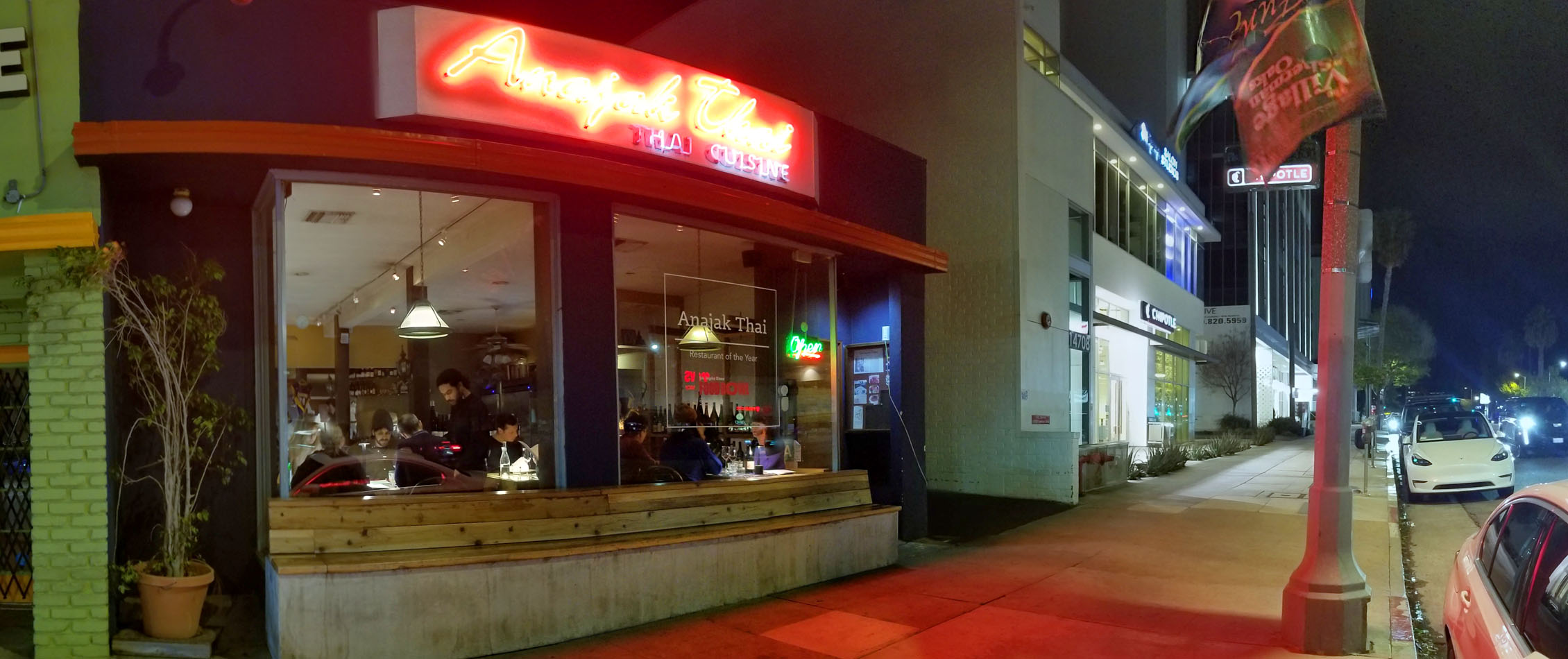 I can't even remember the last time I ate in the San Fernando Valley, but I made the trek out there a short time ago to finally check out the much bandied about Anajak. Named after the Thai word for "kingdom" (อาณาจักร), it's probably the most hyped Thai spot to ever hit LA. However, it's not new. The place has actually been around for over 40 years, but only recently achieved its level of fame thanks to the efforts of second-generation operator Justin Pichetrungsi.
A bit of history
: The story begins with Chavalit Pichetrungsi (a.k.a. Ricky Pichetrungsi), who was born in Thailand in August 1948 to a family with Cantonese roots. After spending the bulk of his youth in Bangkok, he immigrated to the US in 1970, settling in the Los Angeles region, where he began his culinary career at a deli, and later worked at a sushi bar. In 1981, he was able to open Anajak Thai in Sherman Oaks, which was one of the earliest Thai eateries in the SFV. Chavalit also met and married a southern Thai woman named Rattikorn (who would subsequently run the dining room at Anajak), and the two gave birth to son Justin Rick Pichetrungsi in November 1986.
Justin grew up in his family's restaurant (both the FOH and BOH), and in fact, it's the only professional kitchen he's ever worked in. Artistically gifted (like his grandfather, who was reportedly a painter for the Thai royal family), he attended Viewpoint School in Calabasas, graduating in 2004, and following, studied at ArtCenter College of Design in Pasadena, majoring in entertainment design. After completing his BFA in 2008, he went back to the school for his MFA in film, which he finished in 2011. Justin was able to land a job at Walt Disney Imagineering R&D as a concept designer, then moved over to Disney Interactive in the middle of 2012, where he focused on designing worlds for video games. Some of his freelance clients have included the likes of Sony Computer Entertainment, Propaganda Games, Indy Racing League, and Mattel. He's also taught at his alma mater, as well as at Gnomon School of Visual Effects and Brainstorm School, and co-authored
In the Future
and
Alien Race: Visual Development of an Intergalactic Adventure
.
In 2012, Justin started working at Anajak again on a part-time basis and soon began making changes. He trimmed the menu while adding new dishes, and even implemented a wine program highlighting natural, organic, biodynamic, and small-production bottlings. In November 2017, Justin married fellow ArtCenter grad Juno Chen (they're no longer together), and in late 2019, after his father suffered a stroke, made the decision to leave Disney and run Anajak full-time. When the pandemic struck, he instituted Thai Taco Tuesday (#TTT) in an adjacent alley; the series proved very popular, and would eventually feature collaborations with numerous guest chefs. In addition, he started serving sporadic "omakase" dinners, which only further grew Anajak's acclaim. And speaking of acclaim, in February 2022, Justin was deemed a Best Chef: California semifinalist by James Beard (a feat repeated this year), while July saw the
LA Times
name Anajak its
Restaurant of the Year
.
Food & Wine
awarded
Best New Chef
honors in September, and in December, Anajak landed at the #2 spot on the
Times
' list of
101 Best Restaurants
.

Here's how things look inside. What struck me first was how much wine there was just strewn throughout the dining room. Note that when it first opened, Anajak only occupied about half this space, as the restaurant later expanded to the storefront next door.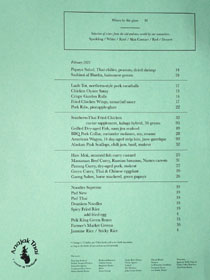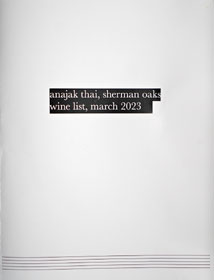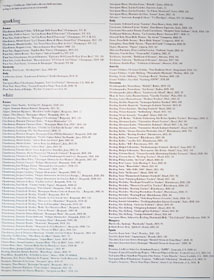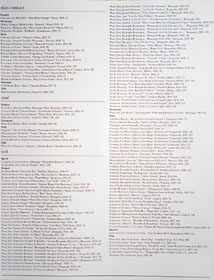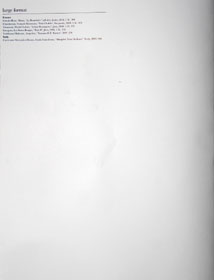 Anajak's selection of dishes is pretty compact for a Thai place, which I appreciate. Beverage-wise, the thing to drink here is clearly wine, and the ever-changing wine list, curated by John Cerasulo, is likely the best I've seen at any Thai restaurant short of
Lotus of Siam
(though the bottles definitely skew young). Unfortunately, corkage is an unusually high $75, which doesn't seem justified given the casual level of service (e.g. we had to refill our own glasses). Click for larger versions.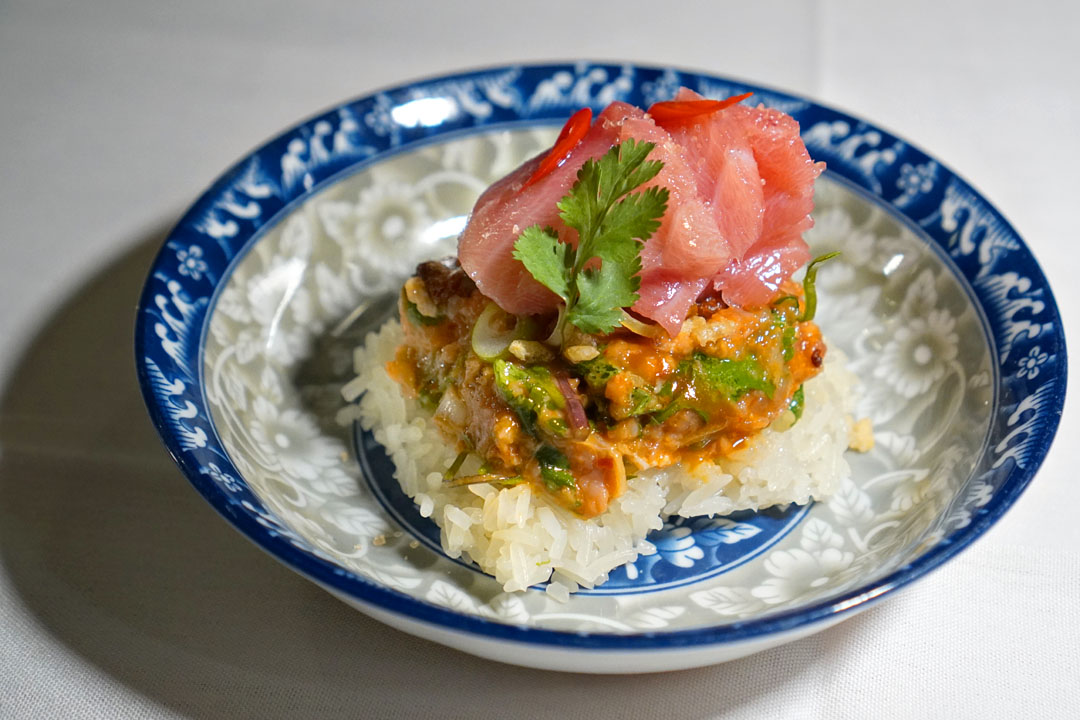 Sashimi of Bluefin, hainanese ponzu [$24.00]
Up first was something that was quite unlike any other Thai dish I've tried before. I'm not exactly sure what "Hainanese ponzu" is supposed to be, but it was damn good, providing a multifaceted tang and fruitiness that served as a complement to the fat and brine of the tuna, all while rice worked to moderate the strong flavors at play. A fantastic start to the meal, and a real statement of intent.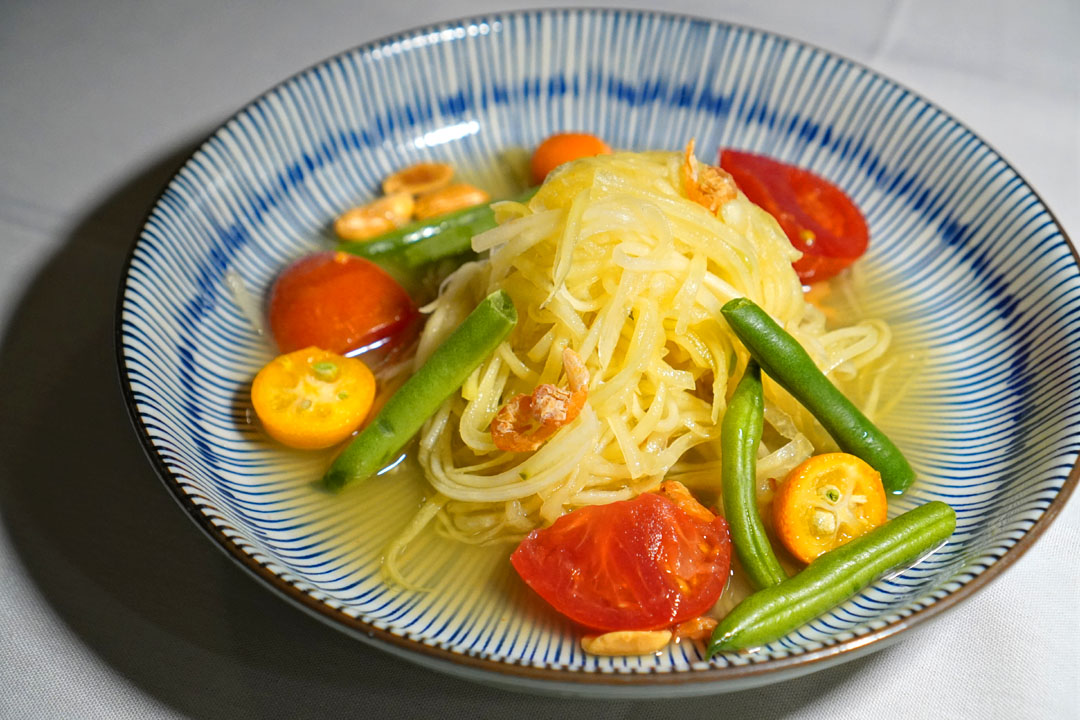 Papaya Salad, Thai chilies, peanuts, dried shrimp [$14.00]
Som tum
is one of the essential dishes of the Thai cuisine canon, and Anajak's was a familiar, finessed version of the staple. I got a nice balance of acid, funk, and sweetness, all set over a base of crisp, refreshing papaya, but my favorite part was actually the crunch and salt imparted by the peanut.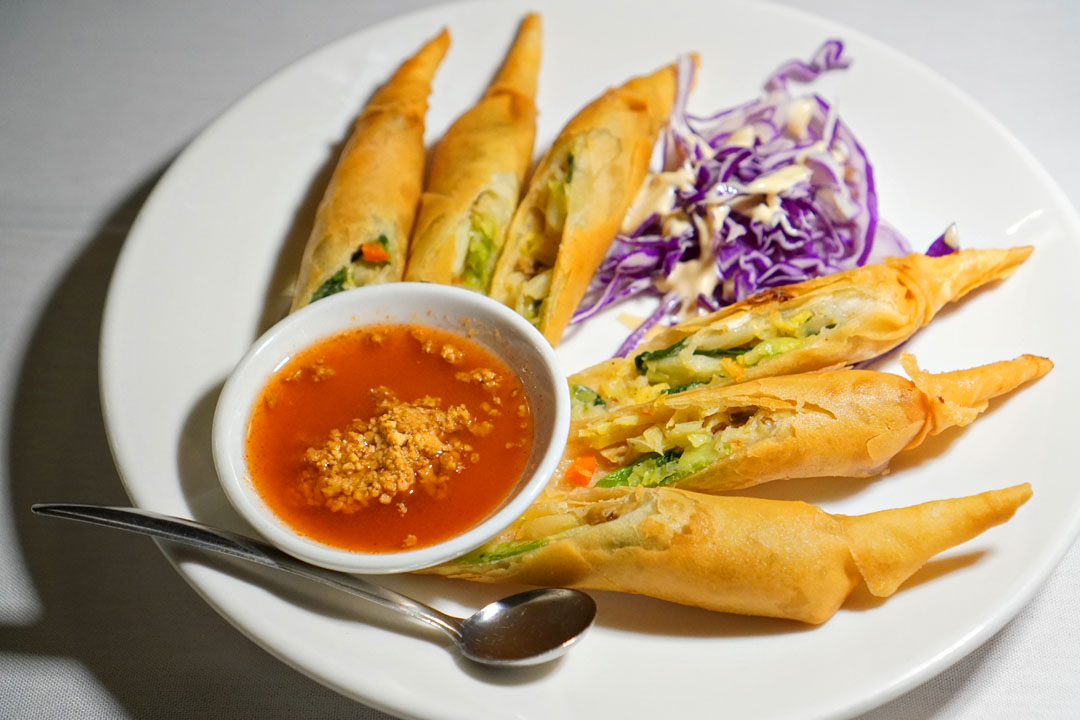 Crispy Garden Rolls [$14.00]
Fried spring rolls showed off properly thin, delicate wrappers, while their filling of mildly-seasoning veggies was pretty textbook. A dip into that sweet-ish condiment on the side was key.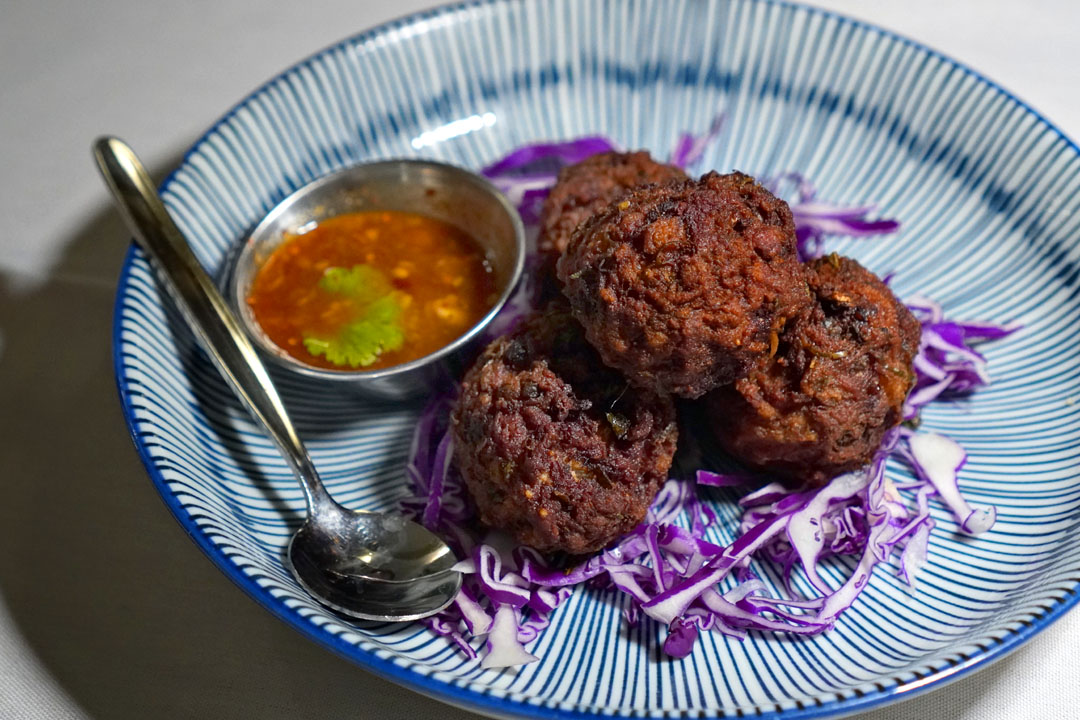 Laab Tot, northern-style pork meatballs [$16.00]
I'm a sucker for meatballs, and these
larb tod
were surely some of the tastiest I've had in a long while. I loved the juxtaposition between the balls' crisp fried exteriors and juicy insides, while flavors were wonderfully heady and herbaceous, and paired perfectly with the fruity heat of the accompanying sauce. Another standout.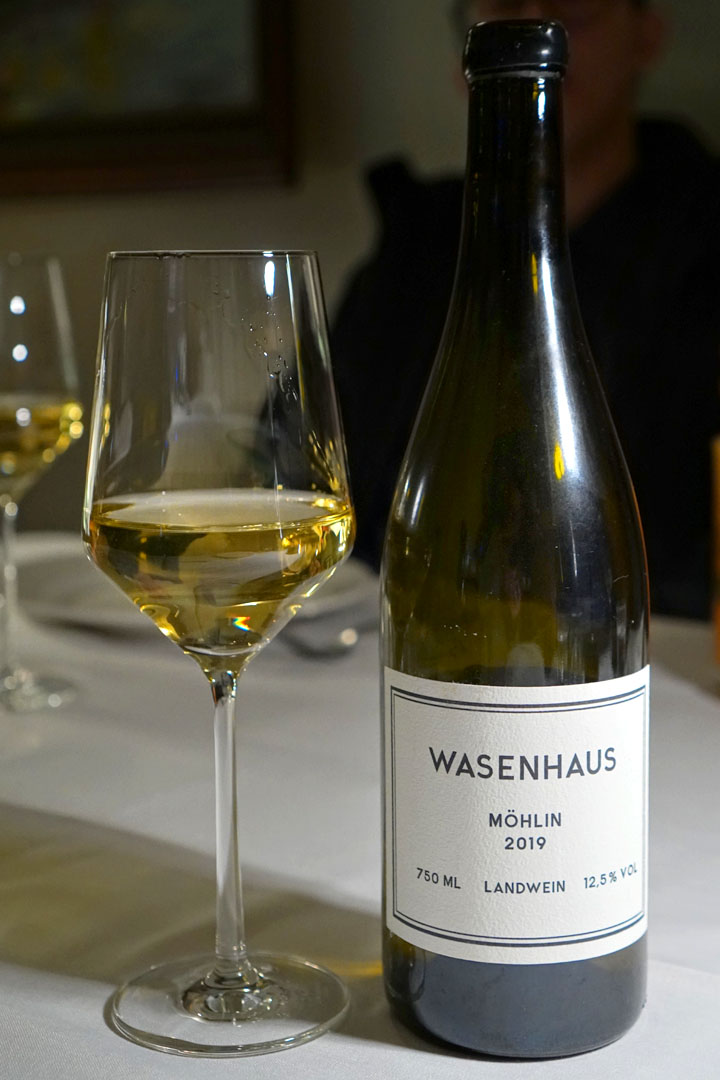 To drink, we opted to order a bottle off the wine list, the
Weissburgunder, Wasenhaus, "Möhlin", Baden, 2019 [$135]
. The Pinot blanc displayed an almost Burgundian nose, with particularly prominent nuances of lemon. These citric notes continued on to its velvety palate, where the wine conveyed a bright, lively, eminently vivacious character, with marked notes of tart green apple at the fore, all backed by a subdued core of minerality. A delight.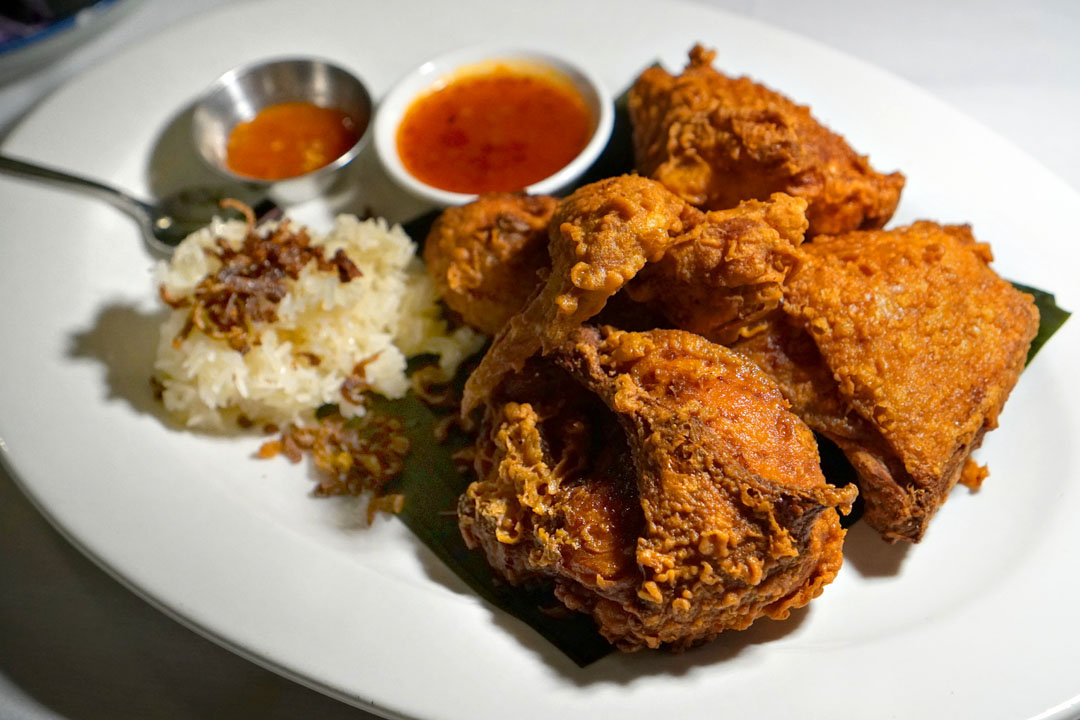 Southern-Thai Fried Chicken [$32.00]
Inspired by a preparation from the Southern Thailand region where Justin's mom comes from, the fried chicken is apparently Anajak's most popular dish, and I can see why. We were given two breasts, so that's what I began with. I really enjoyed the back-and-forth between the bird's crunchy, shattery skin and juicy, tender flesh, while seasoning was right on point. The thigh, meanwhile, was even slicker and more succulent, as expected, and showed off a darker-toned flavor profile. I didn't get to sample the wing, so I ended with the drumstick, which was like the thigh, but even better. We were also provided two
nam chim
, which weren't strictly necessary given the inherent deliciousness of the chicken, but appreciated; one had a sweeter disposition, while the other featured a more forceful heat. Finally, we also had a small serving of fried shallot-topped sticky rice to help tone things down.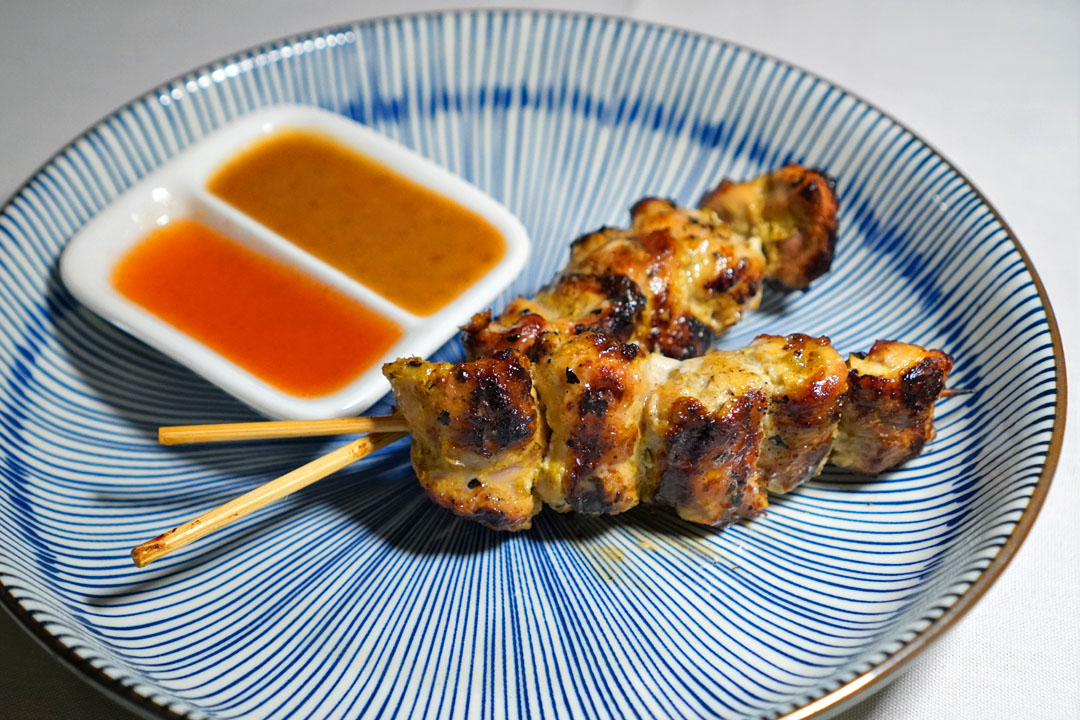 Chicken Oyster Satay [$13.00]
Chicken oysters are one of those things that I always tend to order, and that was certainly the case tonight. The
sot-l'y-laisse
had that gratifyingly firm texture I expected, and showcased an inviting amount of smoke and sear. In addition, two dipping sauces were provided. The sweeter, reddish one was fairly prototypical, while the peanut sauce was my pick thanks to its subdued sugariness and more herbaceous bent.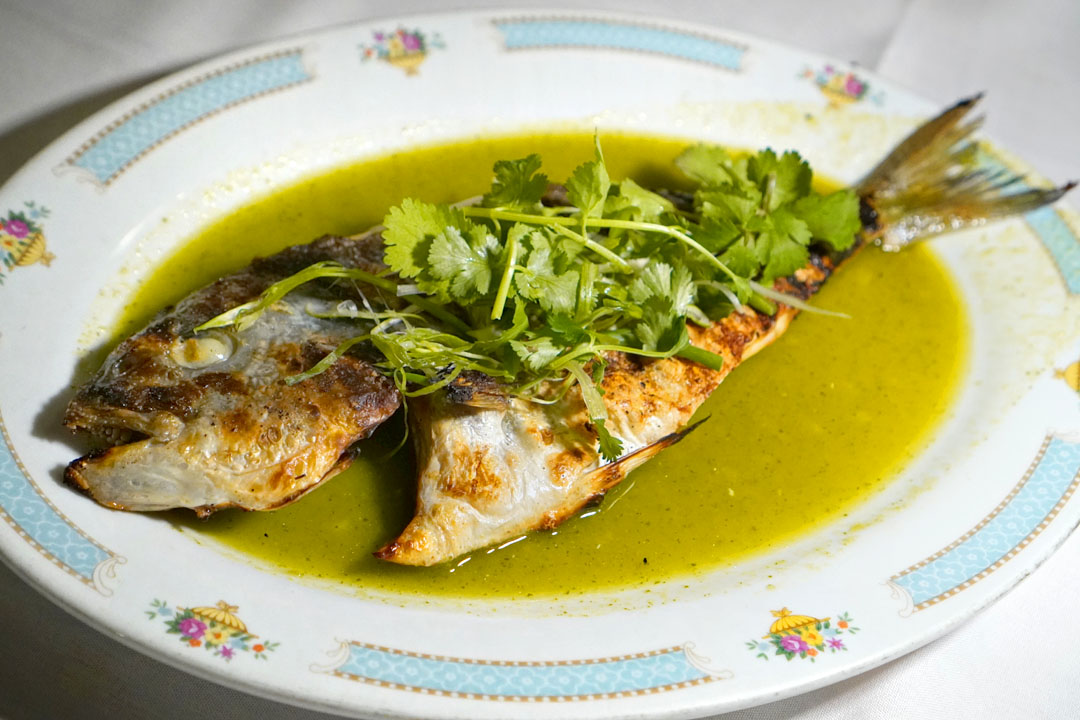 Grilled Dry-aged Fish, nam jim seafood [$49.00]
Dry-aged fish is all the rage these days, and this black seabream was a delectable example. The
kurodai
offered up a wonderful depth and salinity that I reveled in. However, the hero here was that salsa verde-hued
nam jim
, which had this super bright, zippy quality that paired perfectly with the bream. I sort of wanted it on everything, and actually took the remainder of the liquid with my rice. A table favorite.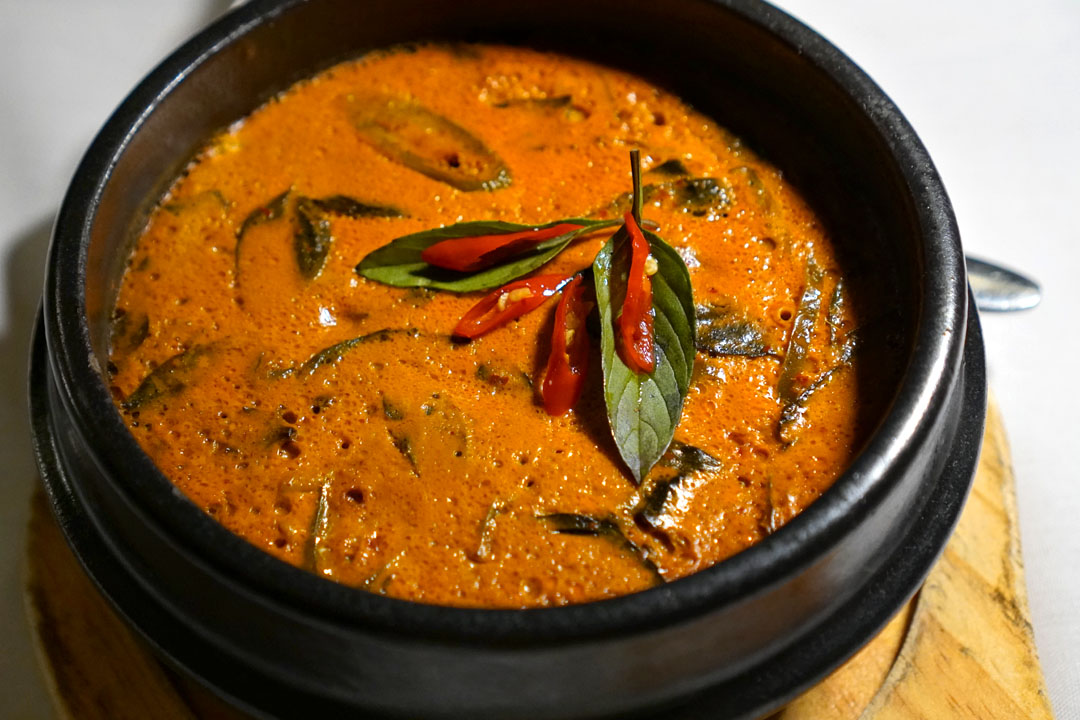 Haw Mok, steamed fish curry custard [$25.00]
Ho mok pla
is a relatively uncommon sight on Thai menus here in LA, so I was pleased to see that Anajak offers it. Texturally, this was somewhat similar to
gyeran-jjim
(hell, it was even served in something resembling a
ttukbaegi
), while taste-wise, I was definitely a fan of how the saline characteristics of the fish coalesced with all those sweet, fragrant, and herbaceous components in the custard. Yet another standout for me.
BBQ Pork Collar, coriander molasses, soy, sesame [$28.00]
Pork collars had a heavy, meaty chew, while their unabashedly porcine flavors combined flawlessly with elements of sweetness and char.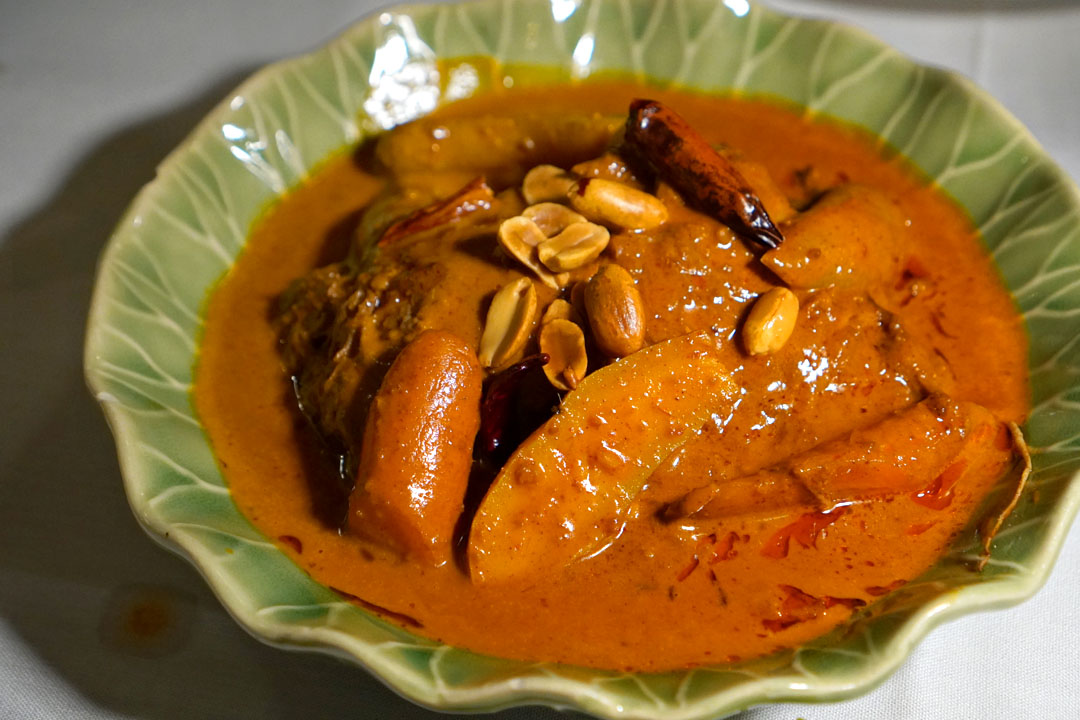 Massaman Beef Curry, Russian bananas, Nantes carrots [$31.00]
Anajak's rendition of this quintessential Thai curry presented a wonderfully complex, comforting, invigorating spice layered over a base of luscious, coconut-fueled sweetness. Potatoes and carrots worked to temper the potency of the dish, and I loved the addition of those peanuts, too. My only complaint was that I would've liked a more tender texture on the brisket.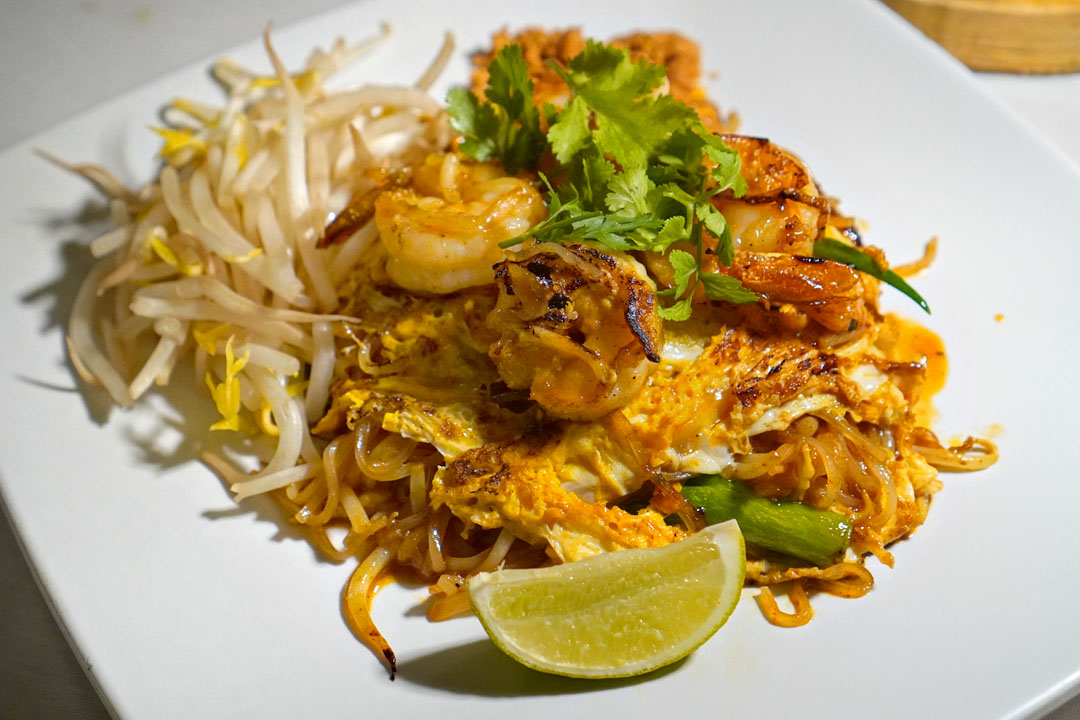 Pad Thai – Shrimp [$19.00]
Last up was perhaps the most iconic of Thai dishes (though one with a somewhat cloudy origin story). I often find Stateside preparations overly sweet, so fortunately, said sweetness was restrained here. Instead, the focus was on the shrimp (well-cooked and not overdone) and a general, permeating, satisfying savoriness, with the bean sprouts providing a refreshing, uplifting crunch that was key.
It's taken me far too long to get out to Anajak, but I'm certainly glad I made it out at last. I'm happy to report that the place mostly lives up to the hype. In fact, I'd even say that this was some of the best Thai food I've had. There's a comfort, a coziness, a familiarity to the cuisine to be sure, but Justin also manages to keep the cooking fresh, exciting, and venturesome enough. Given the strength of the meal, perhaps a revisit is called for in order to experience Thai Taco Tuesday or one of the Chef's omakase dinners.