DTTN 2.0 (Santa Ana, CA)
Detention 2.0
220 E 4th St, Santa Ana, CA 92701
714.560.4444
www.detentiondtsa.com
Fri 03/03/2023, 7:05p-11:10p

You may recall that I recently posted about a closing night meal at
Detention
, which shuttered back on January 28th. The loss of Detention was a blow to the Orange County dining scene for sure, but fortunately, Chef/Owner Jason Quinn had something in mind as a replacement. Taking inspiration from the private cheffing he'd been doing over the past year, he wanted to create something that was a bit out of the ordinary, something that would allow for an ultra-customer-centric experience. As a result, the decision was made to transform Detention into DTTN 2.0, a members-only cocktail bar/lounge concept that grand-opened on Valentine's Day.
Memberships went on sale on January 17th, and were priced at $350, though there were discounts for early adopters. Meanwhile, VIP status could be had at $1,500, and VIP+ (which provides spouse access) at $2,000; limited to a mere 50 purchasers, these included a $750 restaurant credit and further benefits. Memberships actually sold out surprisingly quickly, so I'm glad that I secured mine early on. However, membership isn't the only way to get in here, as access is also offered to guests of
Trust Kitchen
next door on the evening of their reservation.

DTTN 2.0 primarily resides in the old Detention's lounge/bar area, which was also the original dining room of its predecessor,
Playground
. Decor-wise, things haven't really changed (except for the now-frosted windows, I suppose), which isn't a bad thing. As for the rest of the place, it's being used as an extension to the main space, and also plays host to private events and pop-ups.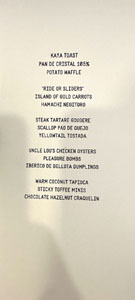 There is no printed cocktail list as far as I know. Rather, the focus here is the Personalized Cocktail Experience, a flight of three custom cocktails developed via conversation with your bartender (Miguel for us tonight, who did a great job), priced at $85. The drinks were joined by Quinn's 10-course menu of small-bites at $100, and both prices were inclusive of tax and tip. However, do note that you can also order food/beverages à la carte, and we ended up supplementing with another round of cocktails ($18 each) and the five food items that weren't already included ($10 each). Click for a larger version.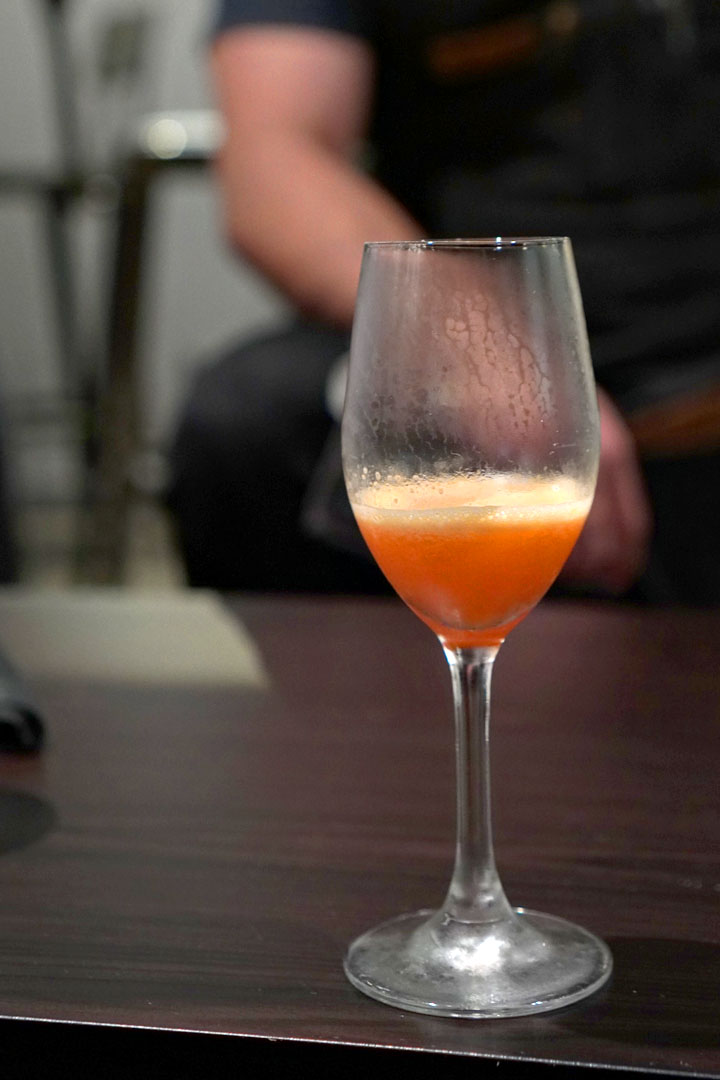 Upon being seated, head bartender Dany provided us with an apéritif in the form of a Garibaldi, which was comprised solely of orange juice and Campari. I quite fancied the back-and-forth between the signature bittersweetness of the liqueur and the refreshing nature of the OJ, but the key here was the drink's almost "fluffy" mouthfeel.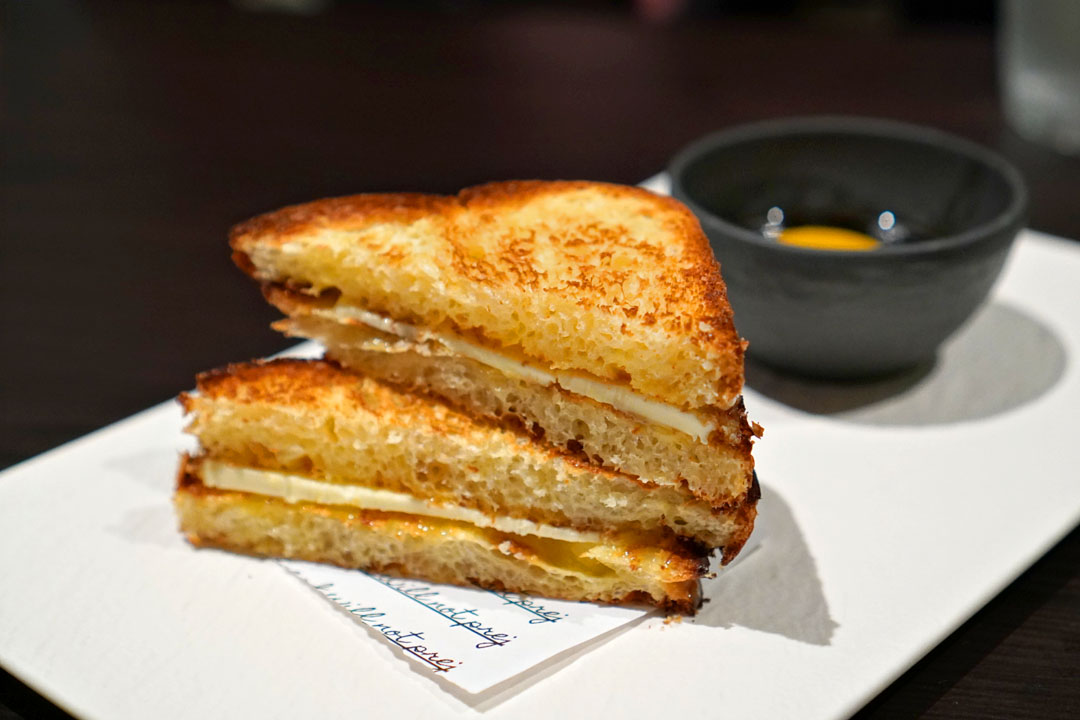 1: Kaya Toast
The food portion of our experience got off to a strong start thanks to this rendition of kaya toast, which did a bang-up job playing the coconut-y sweetness of the jam with toasty slices of bread. An accompanying soy sauce-egg yolk dip provided a super savory contrast, though it wasn't strictly necessary.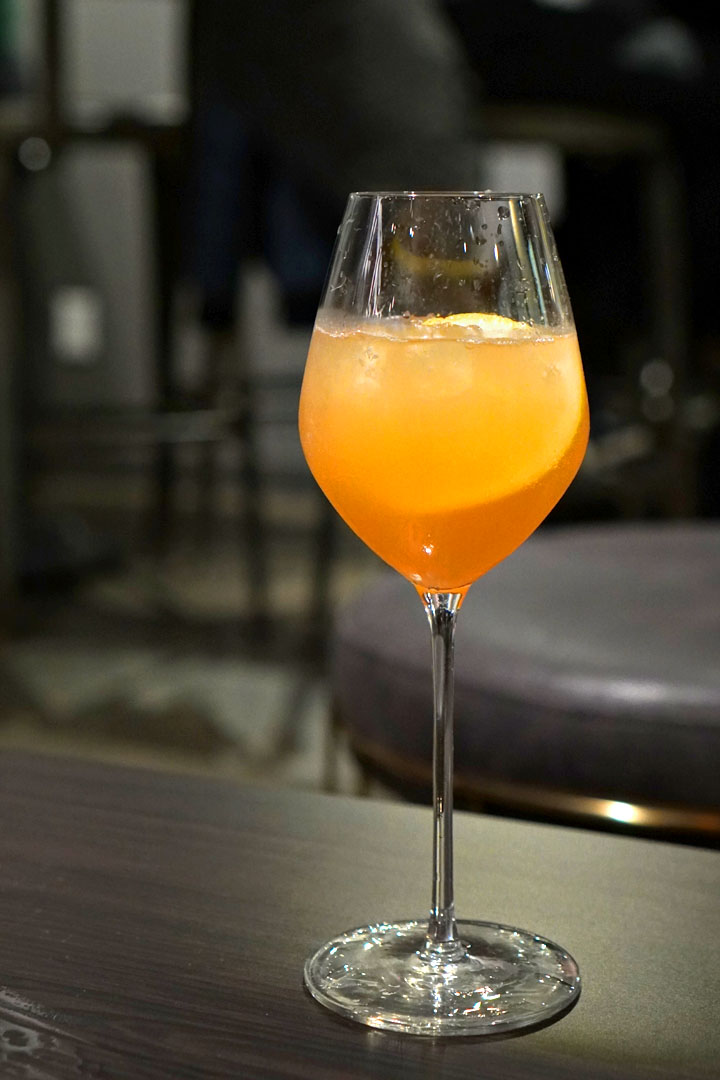 A-1: 50/50 French 75
One of my dining companions requested a lighter gin cocktail to start, and was thus served this variation of the French 75 that incorporated cognac. The result was a more complex version of the classic drink, one with a discernable sweet spice up front, offset by booze and bitterness.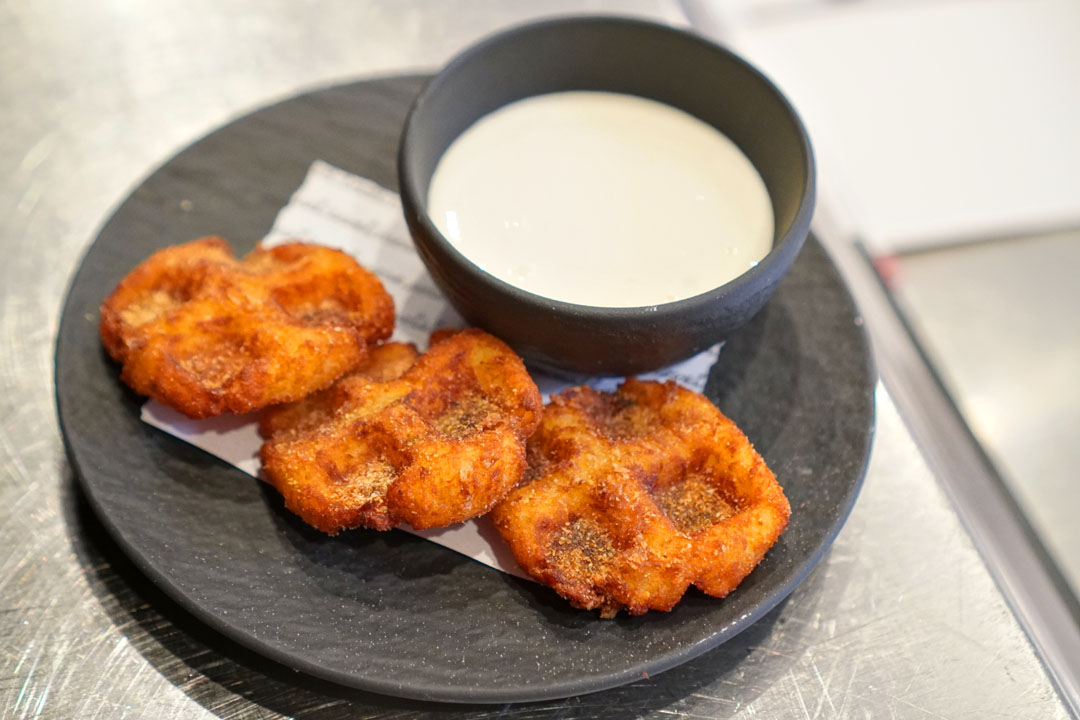 2: Potato Waffle
We were brought to the kitchen to enjoy our time-sensitive second course. What we had were steamed Yukon Gold potatoes, grated with egg, mochi flour, and sauerkraut, then pressed in a waffle iron for 90 seconds, finished in the fryer by Eman (one of the cooks), and seasoned with sauerkraut flour. The end result was basically like the best version of waffles fries you've ever had. I loved the juxtaposition between their crisp outsides and supple, "shreddy" interiors, as well as how well the 'kraut was incorporated, all while a gooey Gruyère-water-sodium citrate sauce completed the package.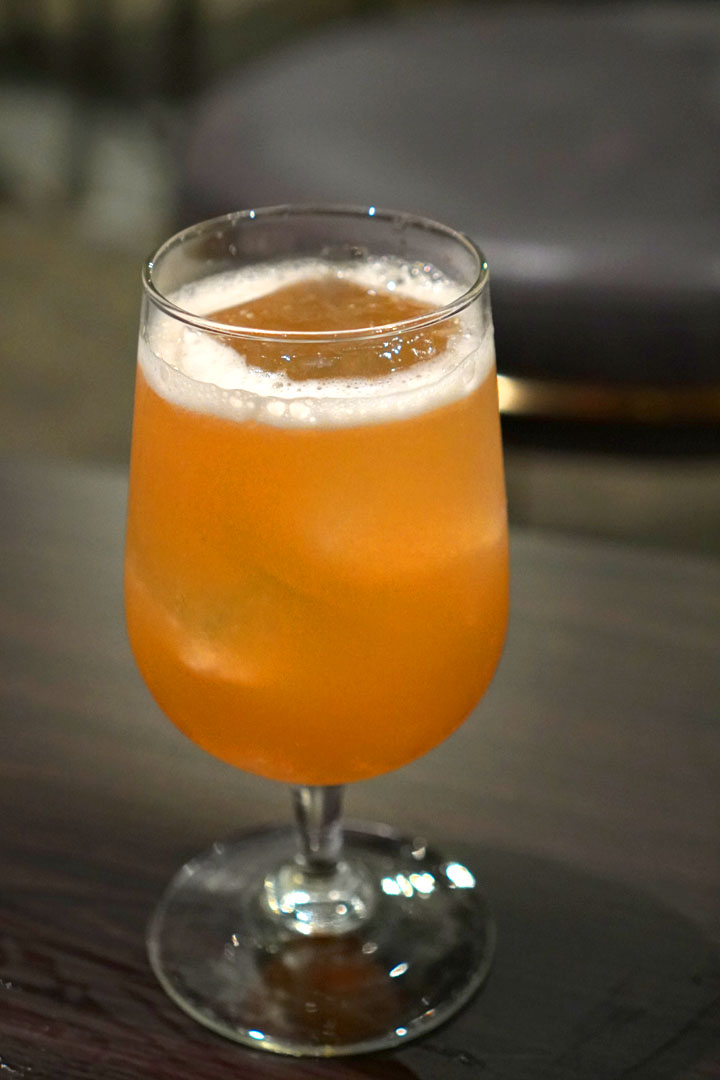 A-2: Champs-Élysées
I decided to go all-brandy for my cocktails this evening, and was thus provided a take on the Champs-Élysées, which I believe featured cognac, white peach liqueur, Yellow Chartreuse, aromatic bitters, and orange bitters. I got potent, juicy notes of stone fruit right up front, transitioning to offsetting nutty and bitter tastes, all set over a subdued cognac base. A good start for me.
3: "Ride or Sliders"
Here was a chopped 'n' tossed version of Justin Werner's signature Ride or Die Salad, served in an endive cup. I think this was actually better than the original, since you got all the fruitiness, the nuttiness, the tanginess, the bitterness, the textural variation, but everything just seemed to come together even more cohesively, as this could be taken in a single bite.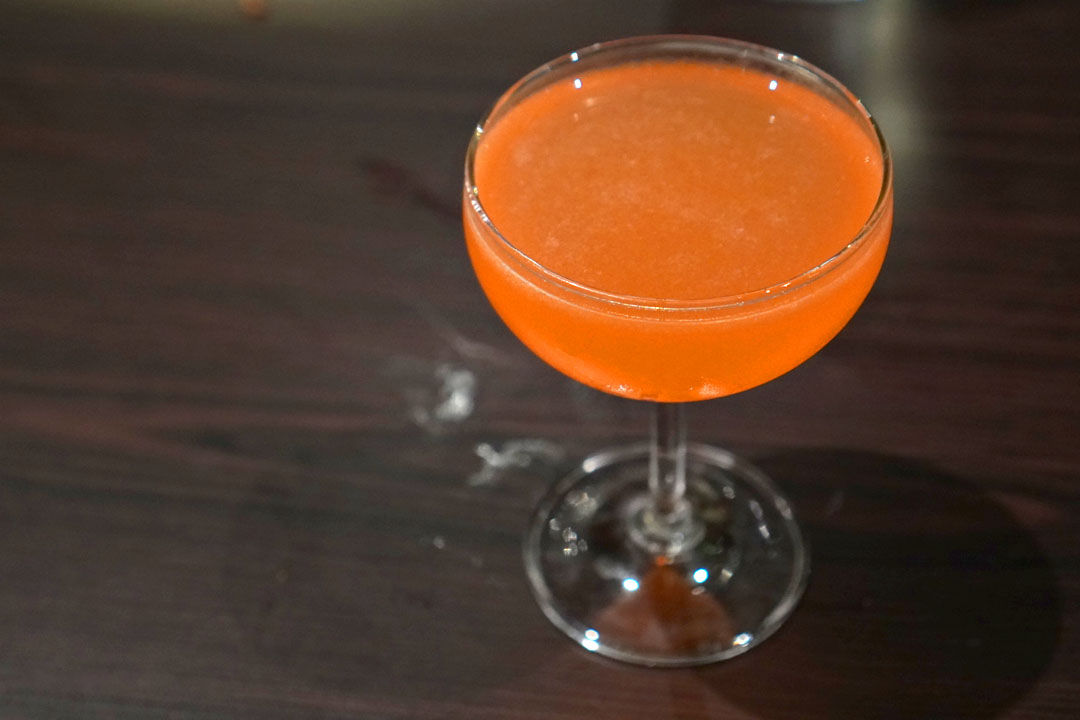 A-3: Naked and Famous
My other dining companion opted for mezcal the entire night, and up first for him was a pretty much by the book execution of a
Death & Co
classic, one which did a commendable job blending the smoky astringency of mezcal with a bevy of bittersweet, citric notes.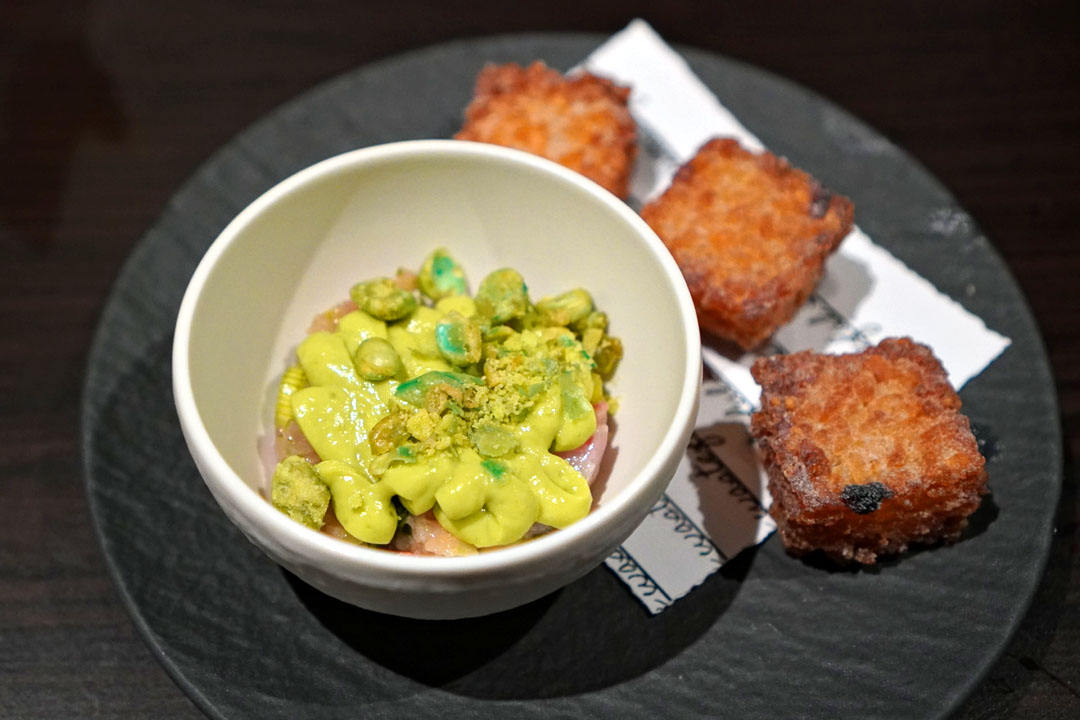 4: Hamachi Negitoro
My second favorite course consisted of hamachi (collar and belly) from Sakurajima, chopped with scallion and ginger, topped with an avocado-
kizami
wasabi mousse and fresh wasabi peas, and served with fried sushi rice. I loved the interplay here between the familiar, zesty combo of ginger-scallion and the fatty nature of the fish, all set against crispy, somewhat tangy squares of rice. A winning combination for sure.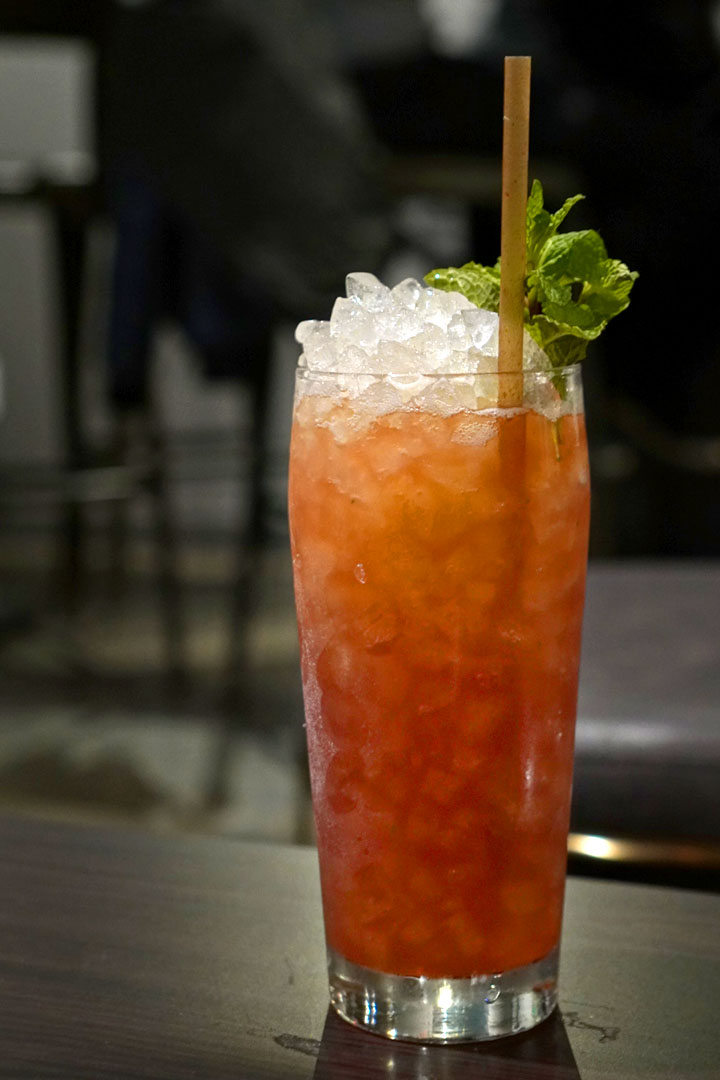 B-1: Unnamed Whiskey Cocktail
For our second round of cocktails, my first dining companion went with whiskey, and was thus given this concoction of bourbon and rye, with cinnamon syrup, lemon juice, and Cassis Noir blackcurrant liqueur. I liked the drink's powerful sweet 'n' spicy flavors, and how that coalesced with the herby and dark fruit elements present. Nicely balanced.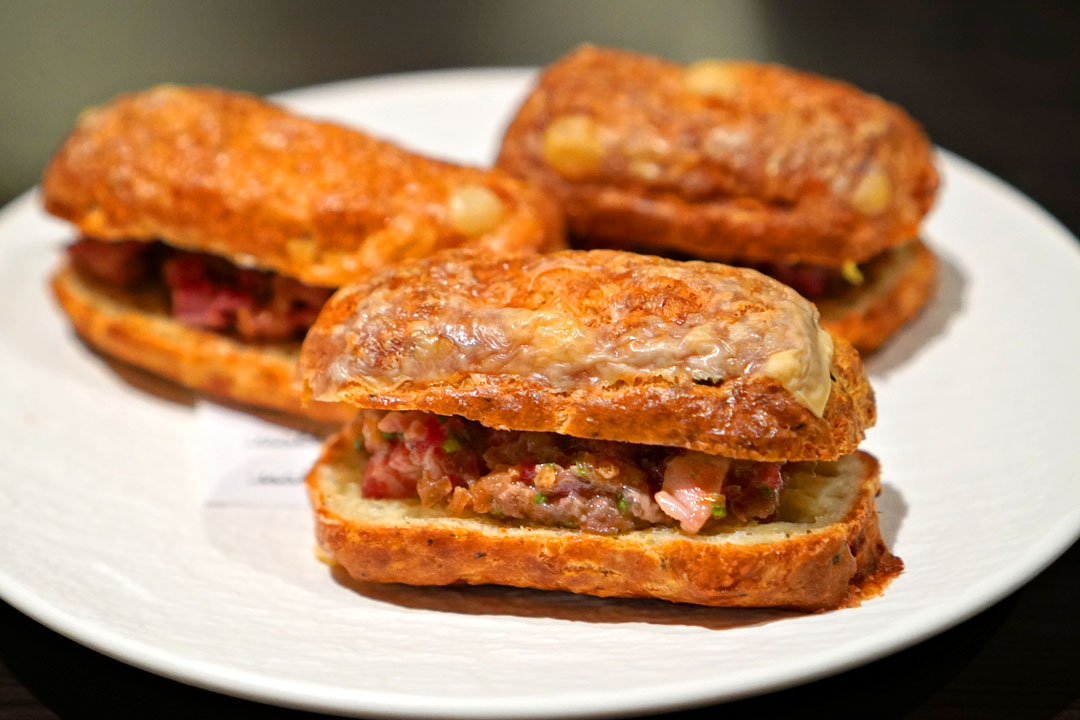 5: Steak Tartare Gougere
I'm generally a fan of gougères, and these oblong examples--made with Gruyère, black pepper, and thyme--were definitely up my alley. However, what was even more interesting was what was stuffed inside the pastries: a beef tartare incorporating shallots, pickled shallots, Dijon mustard, chive, and shiro dashi-cured egg yolks (meant to mimic the texture of American cheese). I was enamored with the sheer onion-y savor of this course, and appreciated how deftly seasoned the meat was. Familiar yet novel at the same time.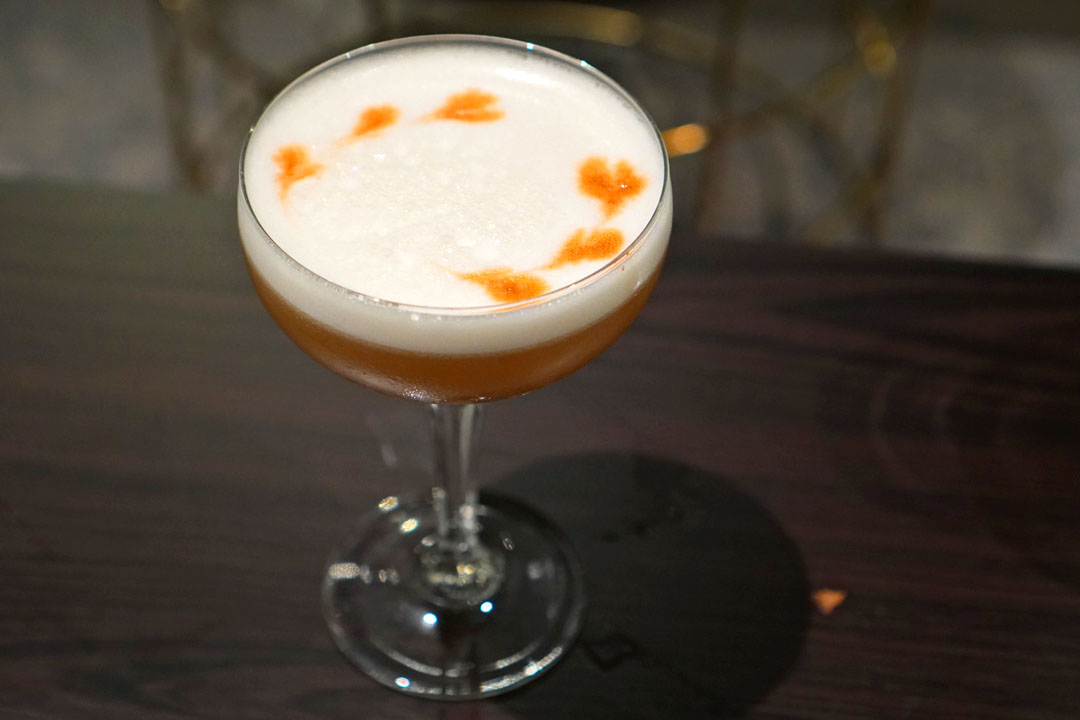 B-2: "Miguel Sour"
Sticking with the brandy theme, here was an original creation featuring pear brandy, oloroso sherry, demerara, lime juice, and a little bit of white cacao liqueur. I was smitten by the drink's nutty, oxidative characteristics, and how those meshed with the fruity, juicy, sweet-spicy nuances present. This was very well-integrated, and probably my favorite cocktail of the night.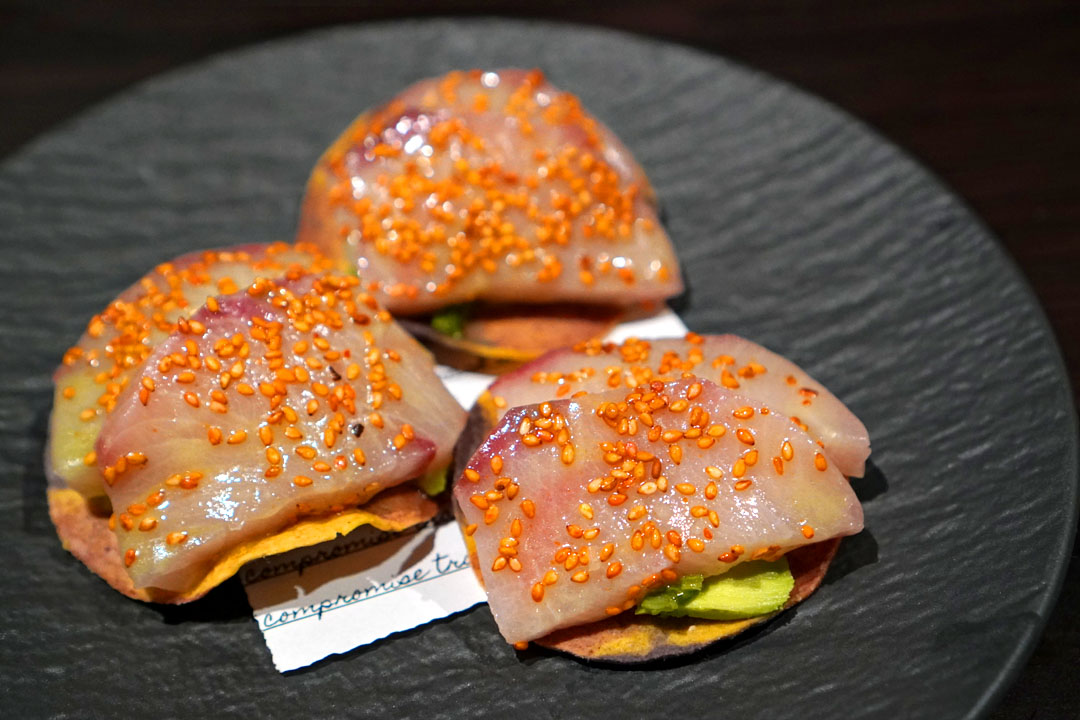 6: Yellowtail Tostada
This was my pick for the dish of the night, and the key to its success was a so-called "salsa separada" created by "Chuy" Jesus Mejia, who basically heads up DTTN 2.0's kitchen (along with Eman and Patrick I believe). The condiment was made by mashing together herbs, chilies, lime juice, olive oil, and fish sauce, letting the mixture sit for an hour, and separating out the chunky bits (put under the fish) from the liquid (brushed on top). The salsa showed off a wonderful sort of vegetal zestiness and depth that married beautifully with the fatty, briny yellowtail, all while slices of avocado moderated the interaction. I was also a huge fan of the super crunchy three-corn (blue, red, yellow) tortillas, which were apparently baked for an hour at 400°F.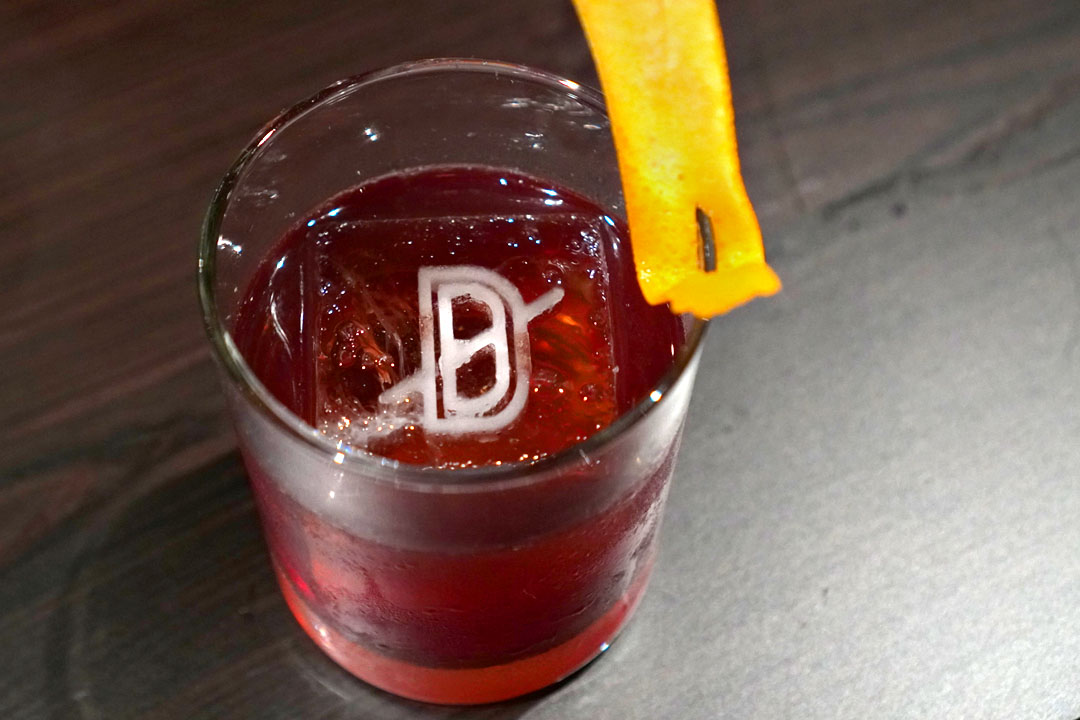 B-3: Hanky Panky
Miguel's take on the classic Hanky Panky cocktail used gin, equal parts mezcal and sweet vermouth, Cynar, absinthe, and a touch of maraschino syrup. I found it bittersweet, aromatic, and dry, as expected, but with an intriguing smoky, earthy component courtesy of the mezcal.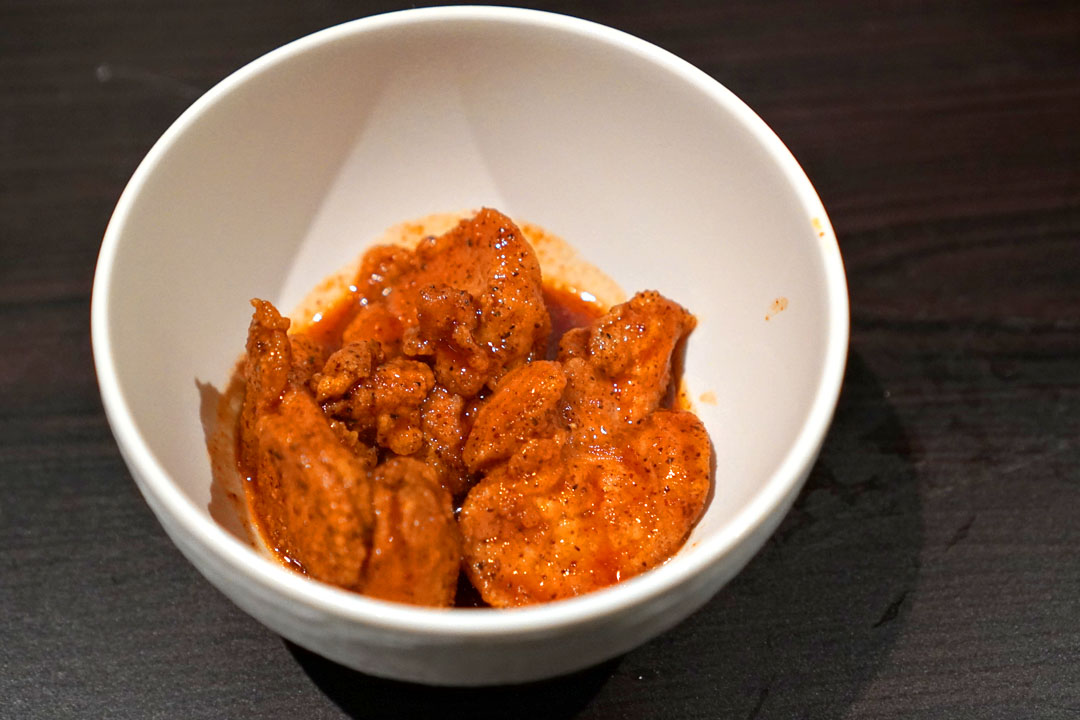 7: Uncle Lou's Chicken Oysters
I always look forward to enjoying the gratifying texture of chicken oysters, and these didn't disappoint. The bird also delivered in the taste department thanks to its sour, pungent, vinegar-y flavor profile that seemed to yearn for a boozy pairing.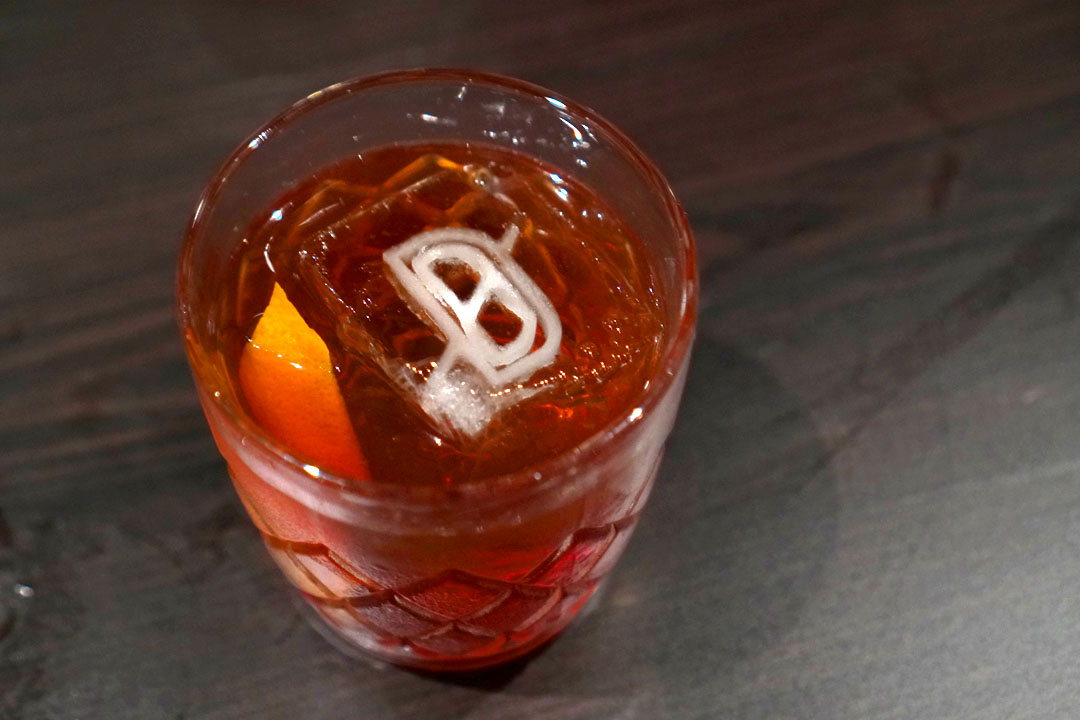 C-1: Unnamed Scotch Cocktail
Round #3 kicked off with this commixture of Speyside scotch, demerara, aromatic bitters, and Bénédictine(?). I got an appealing, astringent nose rife with sweet smoke, while the taste went in a similarly smoky, sweet, almost lush direction, with a distinct brown sugar note becoming quite apparent.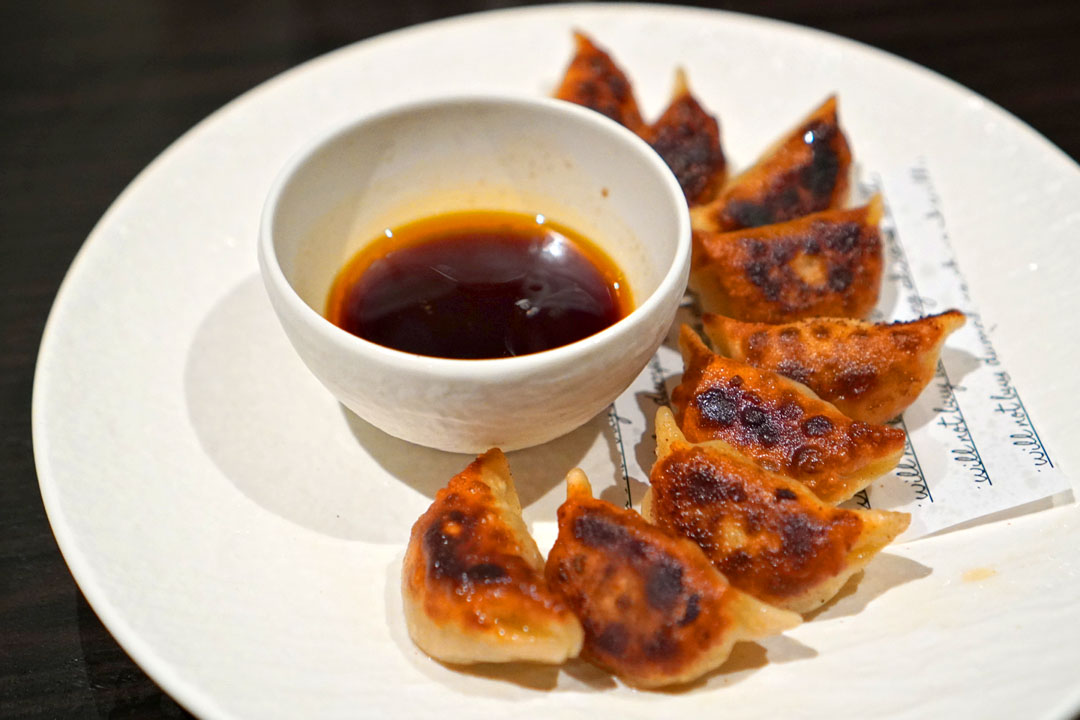 8: Iberico de Bellota Dumplings
Apparently, Chef Quinn came up with the idea for these miniature
jiaozi
after his kid requested cheeseburger dumplings. A nod to
Din Tai Fung
's XLB, they were stuffed with ibérico pork as well as a gelatin made from grilled ibérico racks. I enjoyed the dumplings' unabashed, unadulterated porkiness, not to mention their seared crisp housemade wrappers, while a condiment of soy sauce/vinegar/sesame oil/chili oil served as a savory, tangy finishing touch.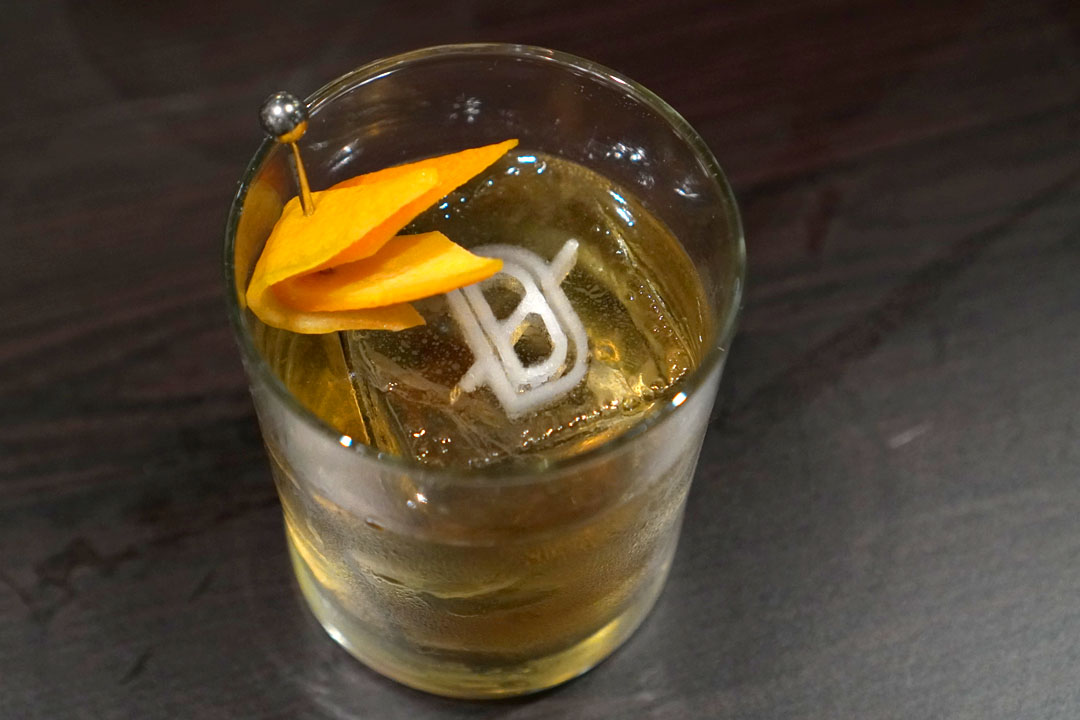 C-2: Unnamed Pisco Cocktail
A base spirit of pisco was joined by white vermouth, PX sherry, white cacao, Italicus bergamot liqueur, and bitters. Aromas here were savory and almost funky, white the palate went in a sweet, sherried, multifaceted, almost caramel-y direction. The standout of our third round for me.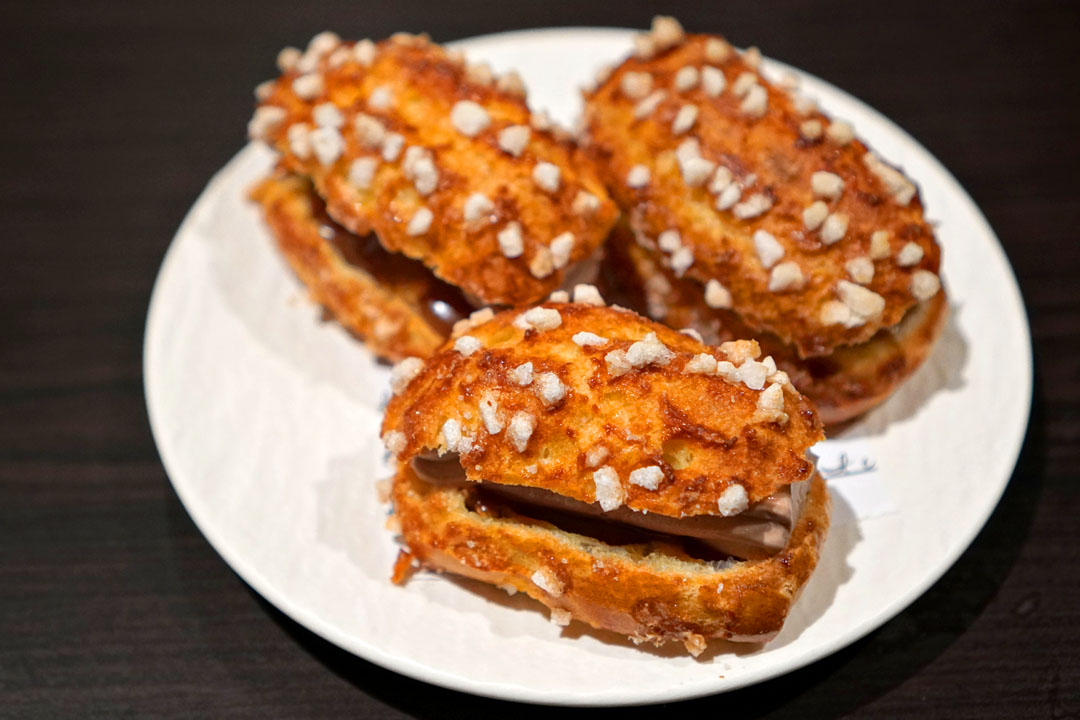 9: Chocolate Hazelnut Craquelin
Inspired by Quinn's wife's love of Ferrero Rocher, these were chouquettes (baked, sugar-topped pâte à choux) stuffed with a Valrhona Azélia chocolate-hazelnut mousse, hazelnut praline, and salted caramel. They had a great balance of chocolate and nutty flavors, with some welcomed textural play as well, and we actually thought that they tasted like a combination of Ferrero Rocher and Almond Roca.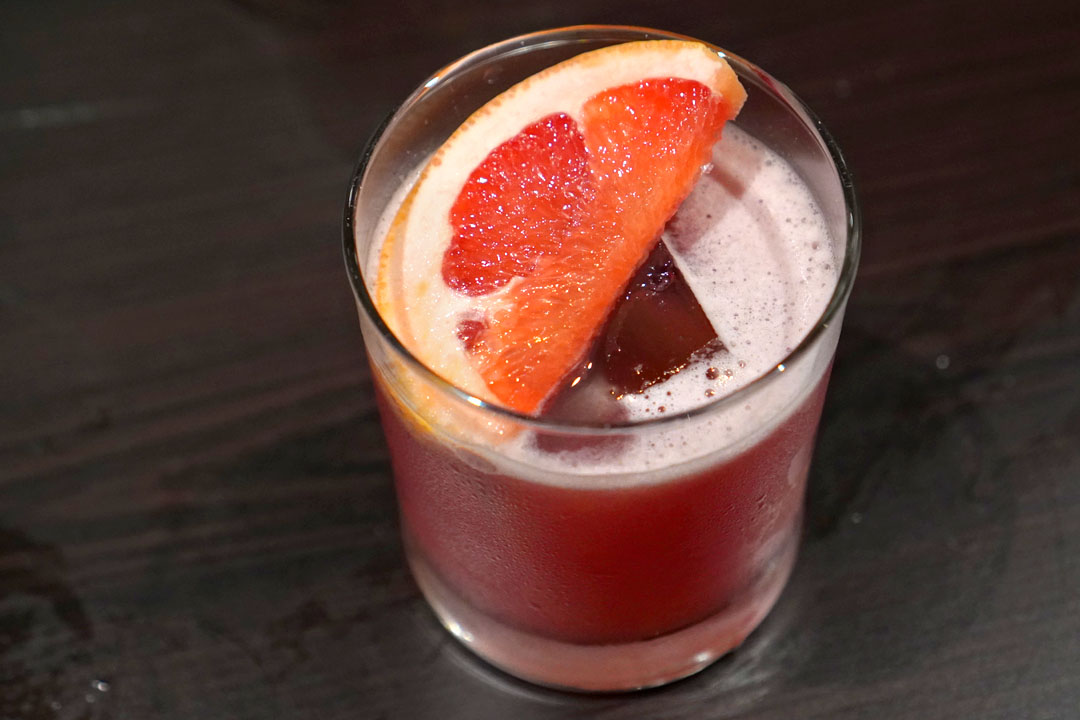 C-3: El Diablo
Our third mezcal cocktail utilized sherry, ginger syrup, lime juice, a Maldon saline solution, and Hellfire bitters. This one smelled of rich fruit and sweet smoke, but its taste highlighted the bracing nature of the mezcal-ginger-citrus combo.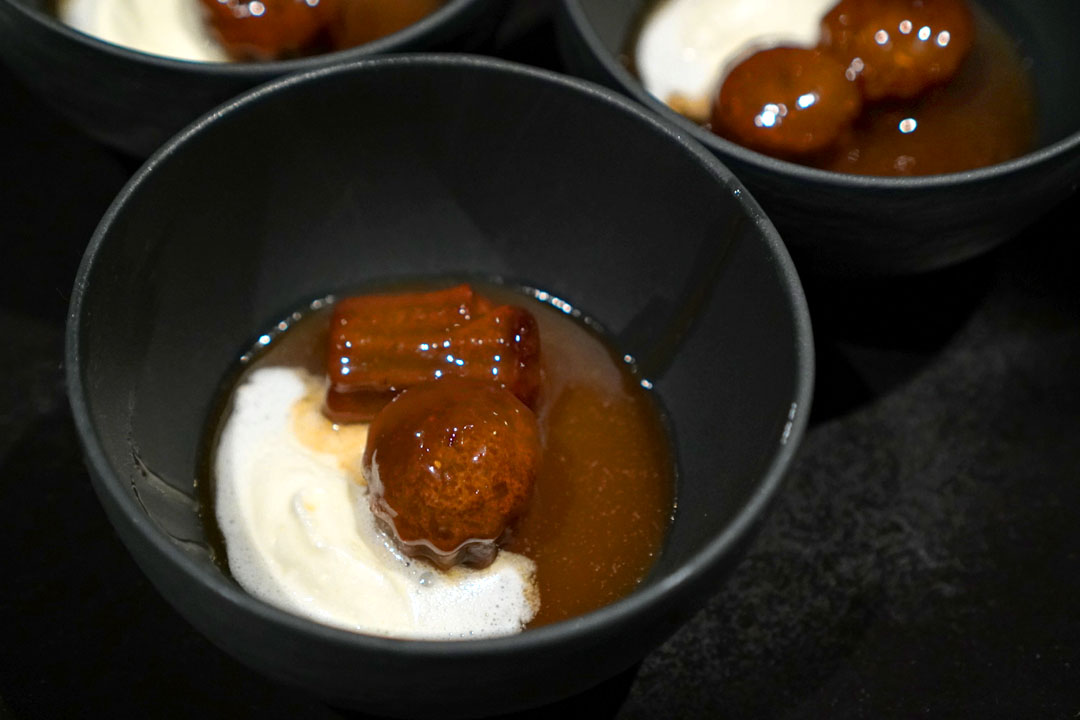 10: Sticky Toffee Minis
A miniaturized version of Playground's signature sticky toffee pudding was, pound for pound, even stickier, darker, and sugarier than its full-sized sibling.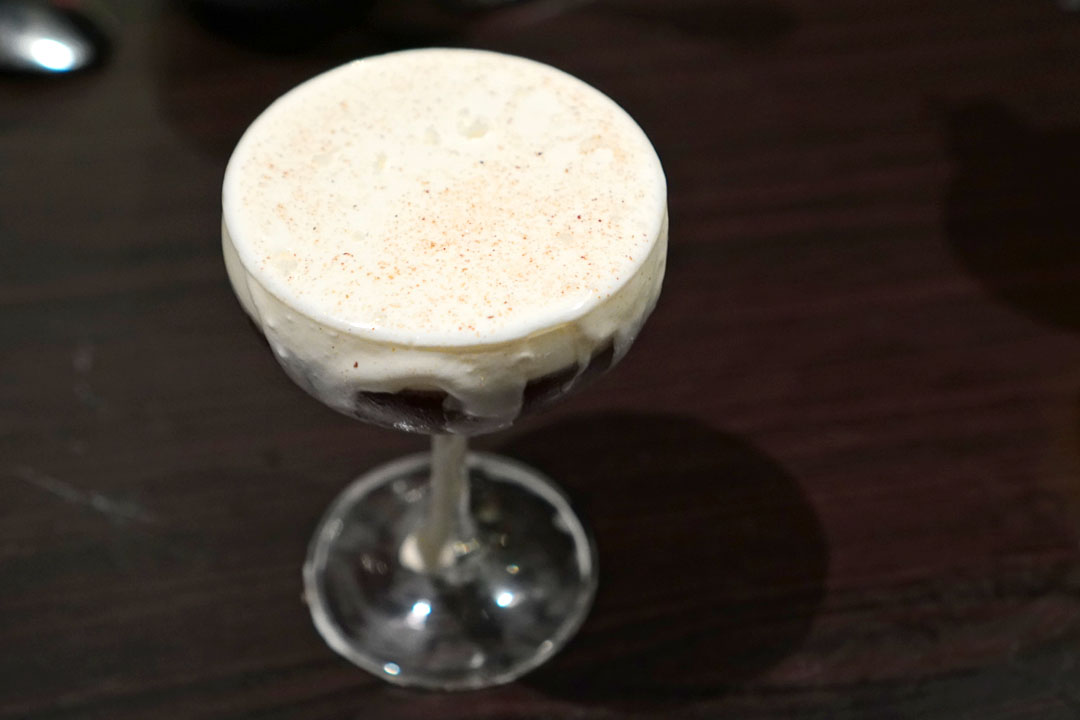 Dominicana
At this point, we added on a fourth round of cocktails, and my dining companion requested something dessert-y, hence this brew of aged rum, coffee liqueur, salted cream, and Maldon sea salt. This one was definitely easy to enjoy with its super creamy, softly coffee-forward flavors, undergirded just enough by the dark rum.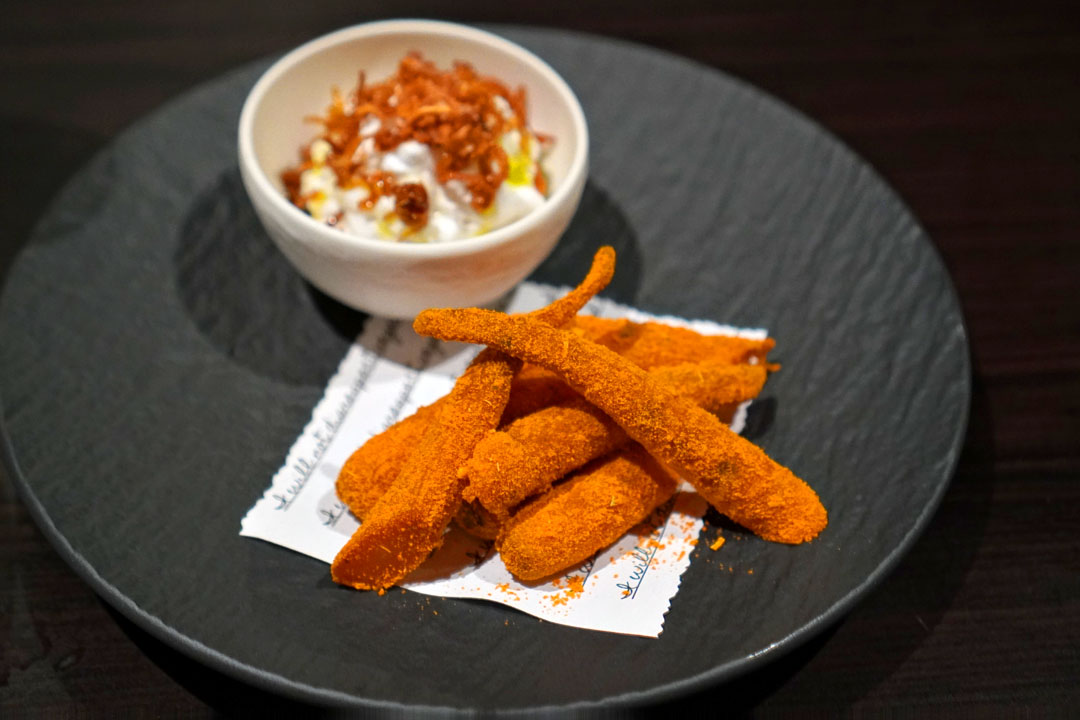 Island of Gold Carrots
We also added on all five dishes that we weren't already served. Up first were these roasted carrots, lithe and supple in consistency and dusted with a curry-esque spice mix from
See Smell Taste
. The accompanying dip was a cool, creamy coconut espuma with crispy shallots and kaffir lime oil, and taken together, the two elements were supposed to imitate the flavors of
khao soi
.
Unnamed Grappa Cocktail
Keeping with the brandy theme, this vibrantly yellow-hued cocktail was made from Spanish grappa, Licor 43, Yellow Chartreuse, and lemon juice. It was lovely, with the interplay between the
orujo
and citrus at the forefront, while the Licor contributed an almost cacao-like component that I quite liked.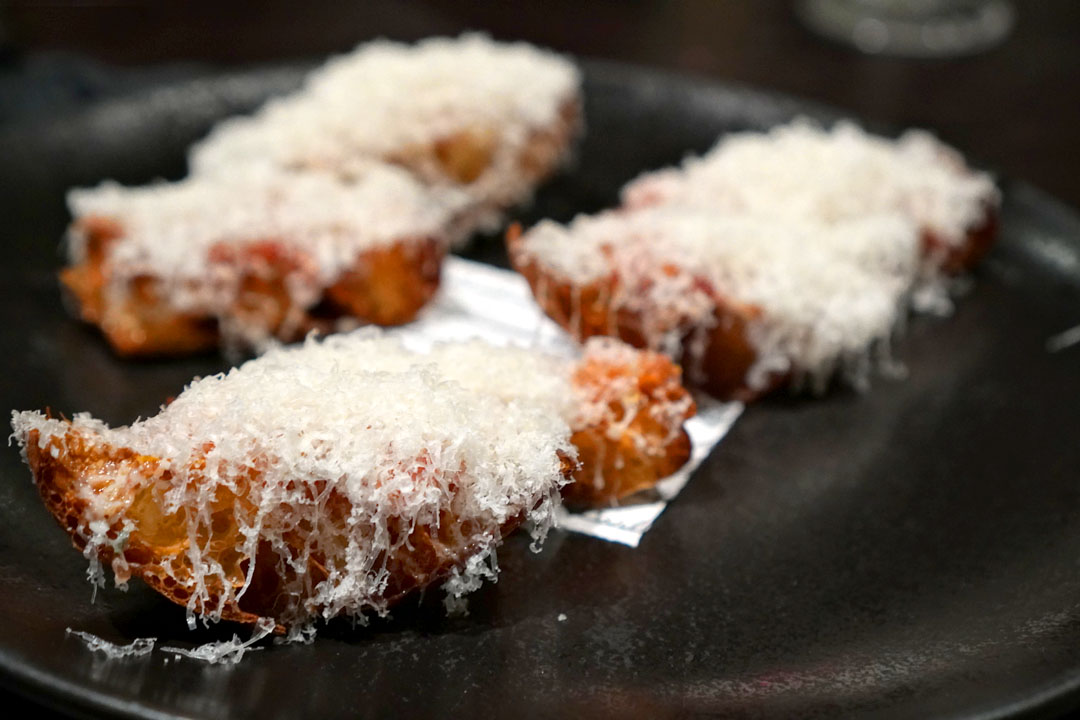 Pan de Cristal 105%
Quinn's high hydration "glass bread" had a wonderfully crunchy, shattery consistency that worked hand-in-hand with airy shavings of Zamorano cheese, all while the tomato helped tie the two together.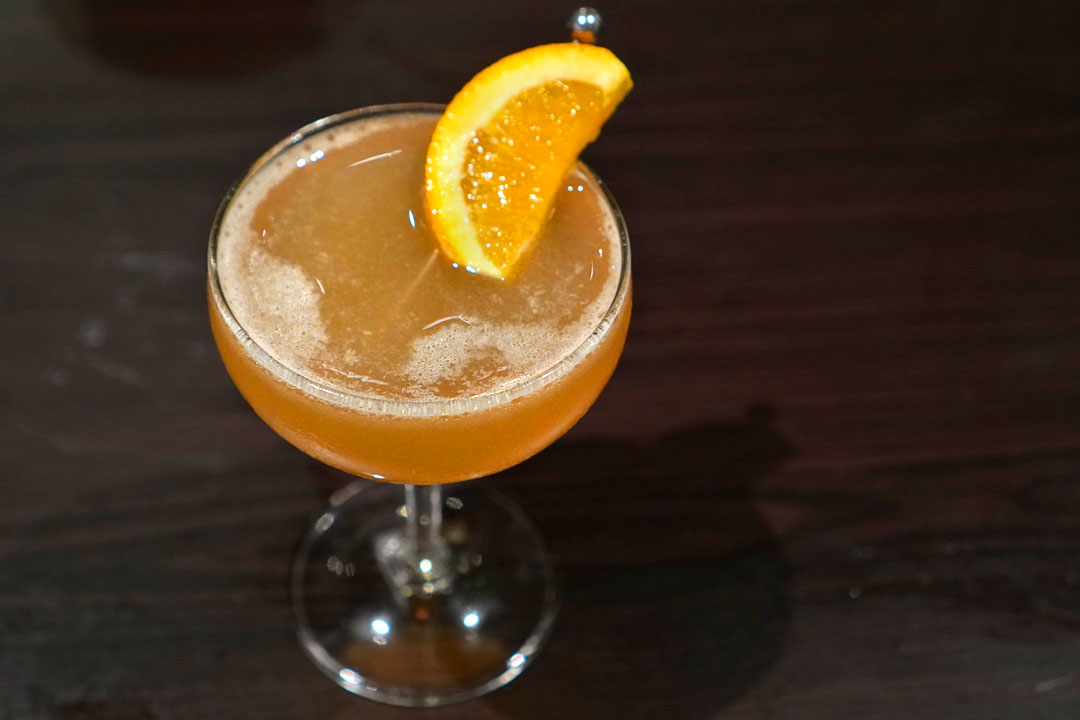 Unnamed Mezcal Cocktail
Our final mezcal drink combined the spirit with tepache syrup, chile pasilla liqueur, and lemon juice. The end effect was a balanced amalgamation of heat, smoke, and sweet spices that had a nice kick to it.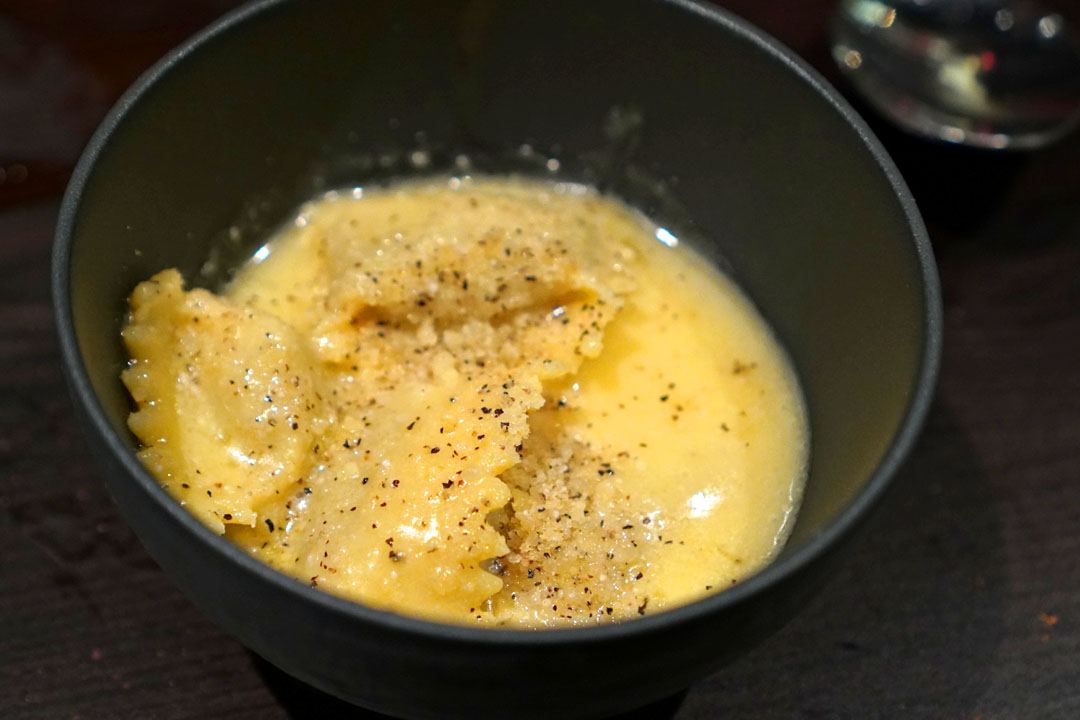 Pleasure Bombs
This cheekily-monikered dish was actually pasta stuffed with a purée of brown butter-caramelized wild sunflower roots, topped with Parmigiano, Pecorino, and black pepper. Think sweet (probably overly so) and vegetal, with a great texture on the parcels.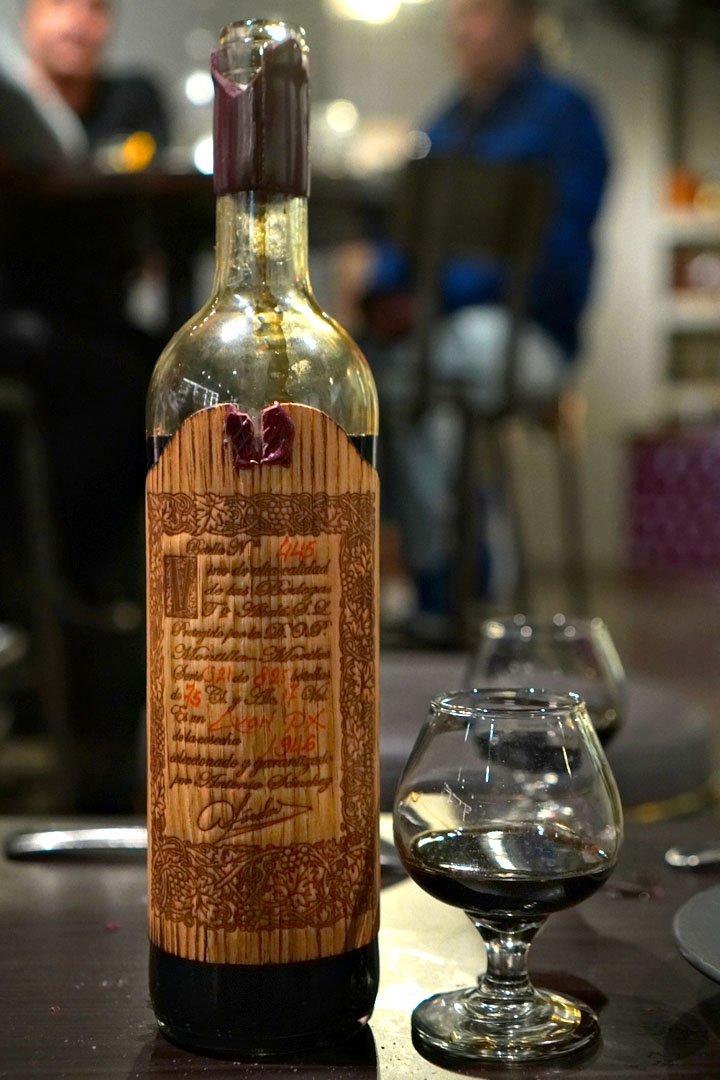 I had brought along a
1946 Bodegas Toro Albalá Don PX Convento Selección
, which I opened towards the end of the night (there was no corkage fee). An ultra aged Pedro Ximénez bottled in 2013, this had a massive nose of concentrated, raisin-y fruit and subdued spices. On the palate, the sherry was round, soft, viscous, with more of those in-your-face, luscious, dark-toned fruit flavors, cut by a smidge of acidity. Interestingly, I was surprised at how "fresh" this tasted, and Bob Quinn (Jason's dad) had the same idea, and commented on the dearth of tertiary notes. I recorked the bottle at the end of night, and I'm looking forward to seeing how it evolves over the years, since I actually don't think the wine has reached maturity yet.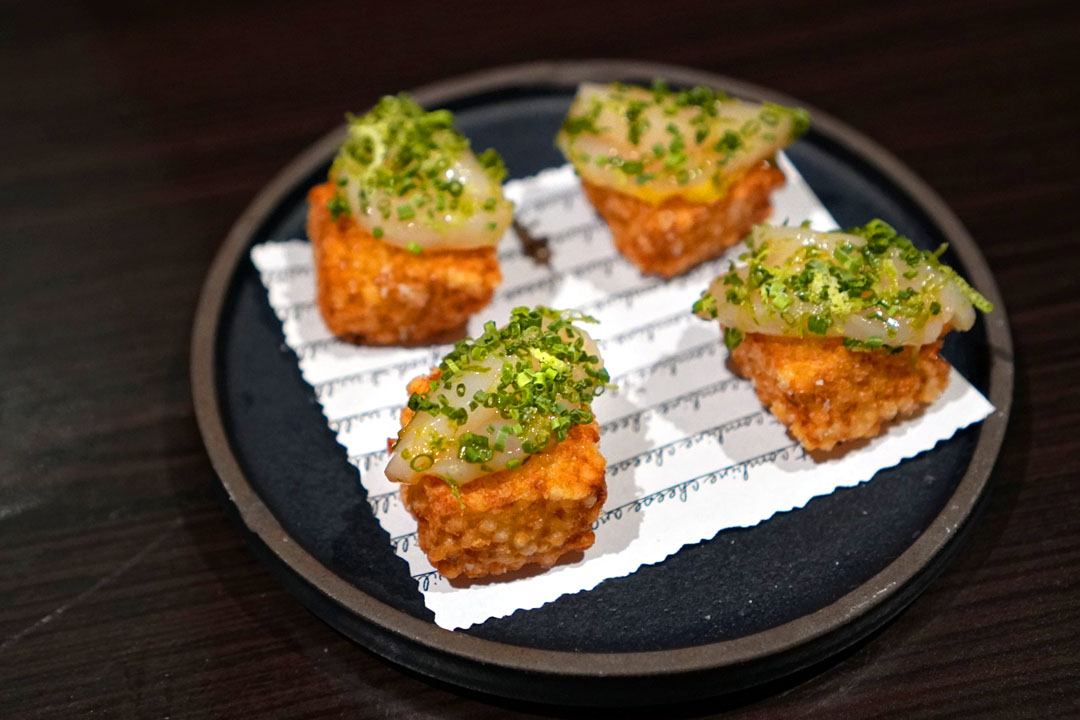 Scallop Pao de Queijo
Another favorite dish of mine fused delightfully textured, toasty cubes of tapioca with cool, expertly seasoned cuts of Hokkaido scallop that were marinated in
tamari
and sprinkled with chives and lime zest. Yum.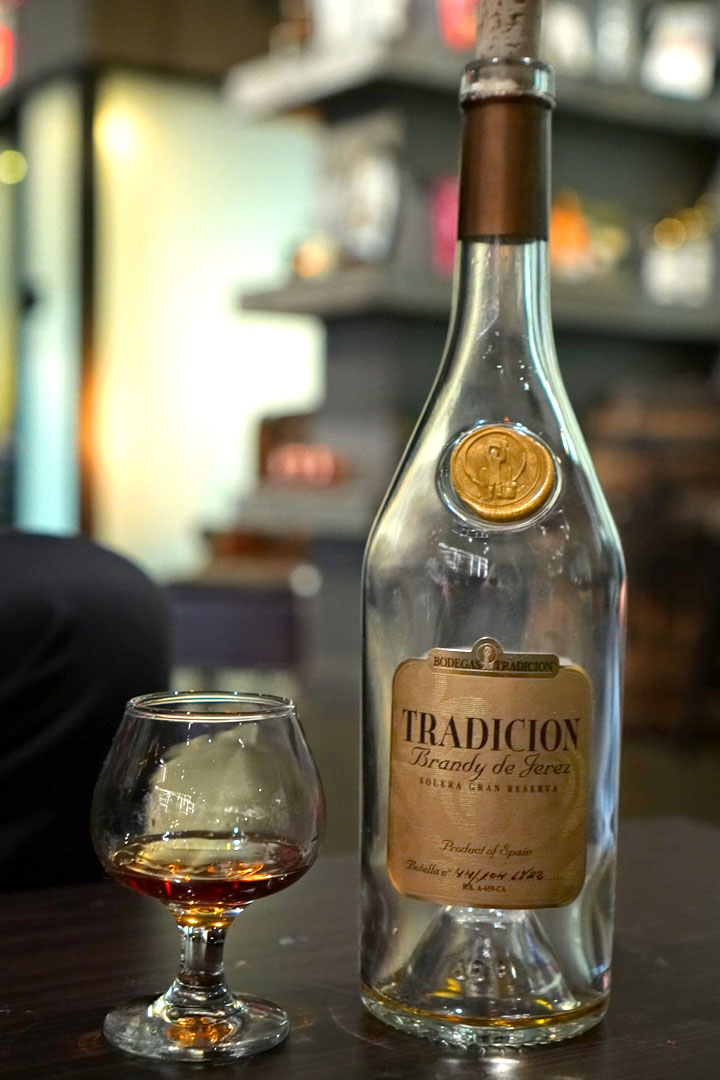 Bob then pulled out a bottle of
Bodegas Tradicion Brandy de Jerez Solera Gran Reserva
to share with us. I found the spirit superbly put-together and delicious, yet easy-drinking, with a bevy of spicy, fruity, nutty, and cacao-like elements all in harmony.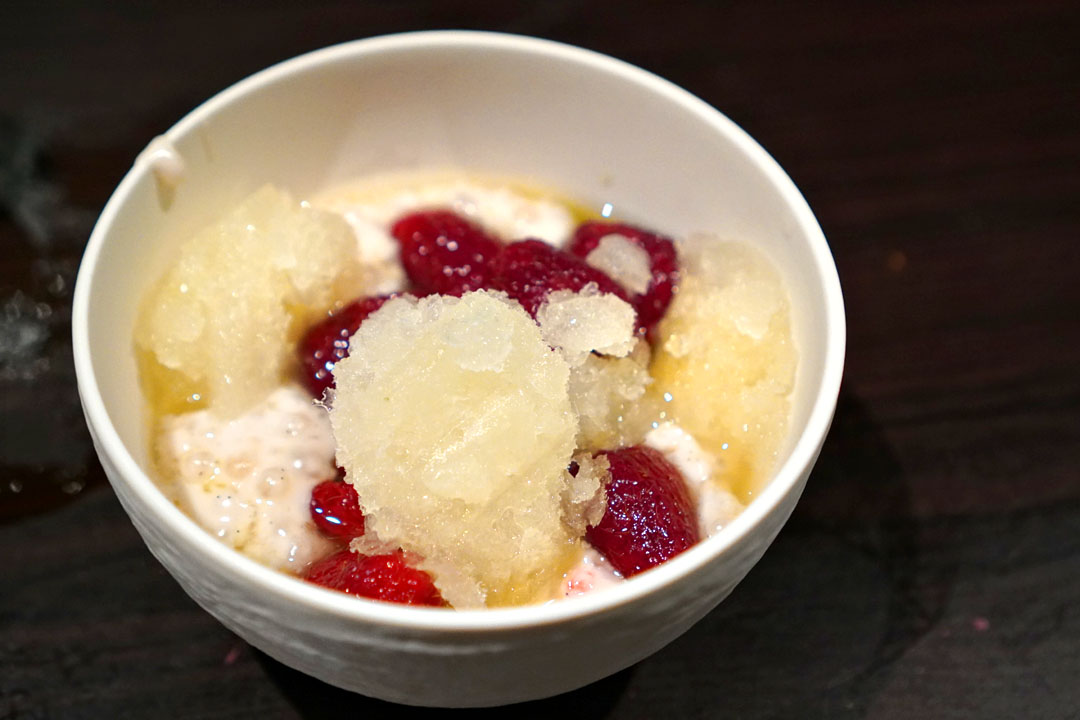 Warm Coconut Tapioca
Last up was a cozy coconut tapioca, set against piquant Thai basil syrup-marinated raspberries and what I believe was yuzu granita. Some nice temperature contrasts going on here.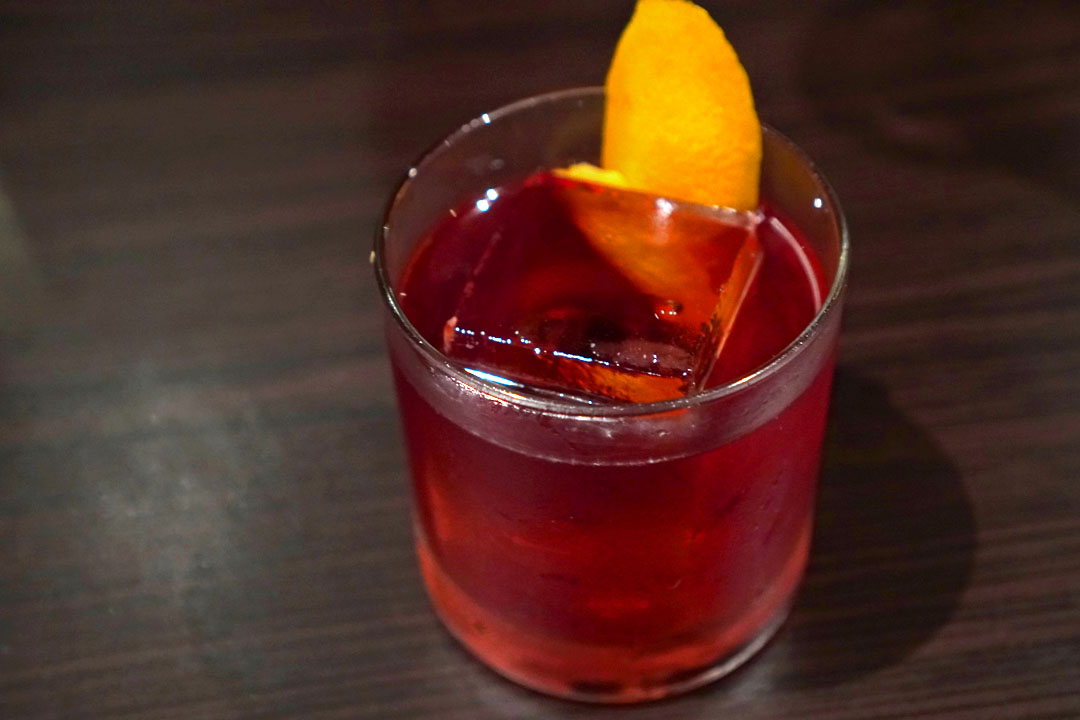 Left Hand
Bob then suggested that we try one final cocktail: the Left Hand, which, according to Miguel, is an evolution of an Old Pal, which itself is an evolution of a Boulevardier, which itself is an evolution of a Negroni. I definitely got a classic bittersweetness right up front, but then the cacao hit me, right before the drink finished in a medicinal sort of manner. And strangely enough, I even tasted some
baijiu
in there.
As you might expect, I was bummed about the closure of Detention, but I'm glad to report that DTTN 2.0 is a more than worthy replacement. In fact, thanks to the format, the intimacy, and the personalized, personable service, the place is unlike any other I've experienced--it's special for sure. I'm looking forward to seeing how this all evolves over time, and I hope that Quinn and company are able to make their unconventional business model work in the long term.