Niku X (Los Angeles, CA)
Niku X Yakiniku
900 Wilshire Blvd, Los Angeles, CA 90017
323.920.0302
www.nikux.com
Sat 03/25/2023, 7:00p-11:20p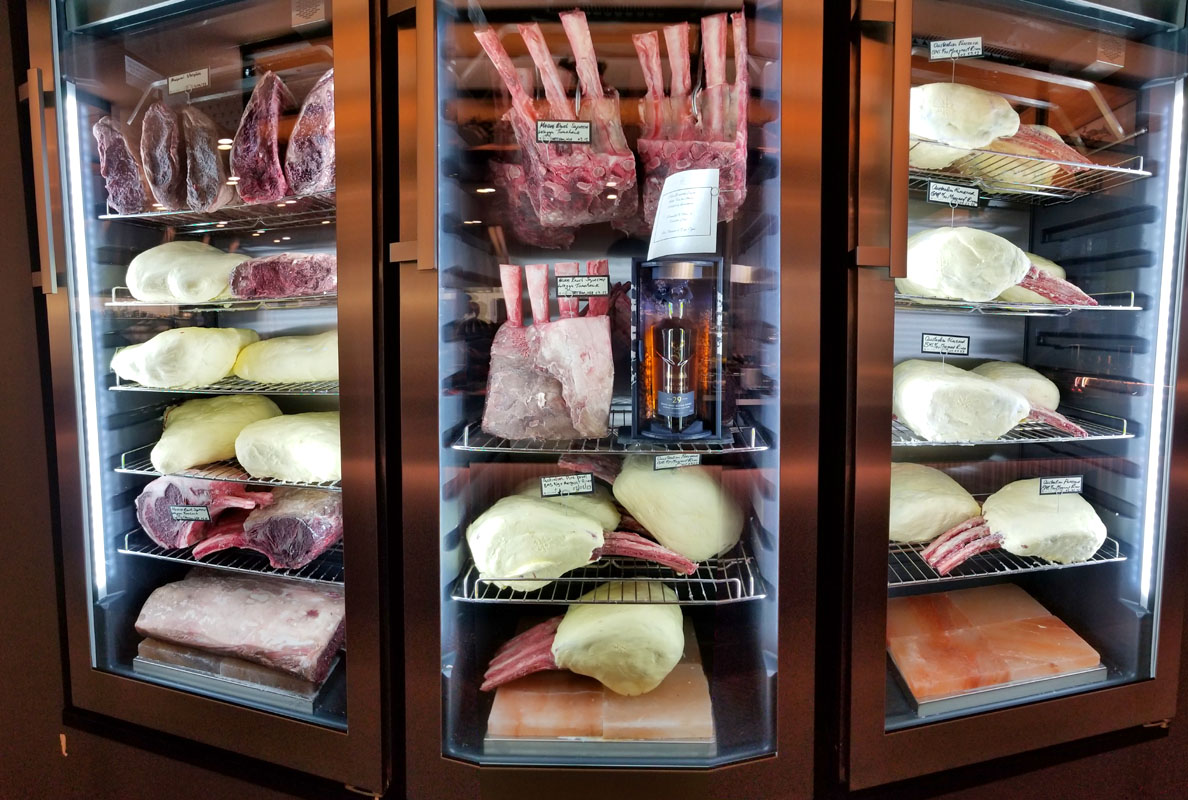 Back at the start of the year, I enjoyed a hot pot meal at
Wagyu House by The X Pot
over in Rowland Heights. Its ownership team (Haibin "Harby" Yang, Dawei "David" Zhao, Wen-Jie "Joyce" Li) is currently on a major expansion streak, and one of the company's latest debuts is a high-end yakiniku-slash-steakhouse concept called Niku X. The restaurant opened back in November last year inside Downtown's Wilshire Grand Center, and in charge of the kitchen is Chicago transplant Chef Shin Thompson.
About the Chef
: The progeny of a Japanese mother and an American father, Shin A Thompson was born in January 1980 in Honolulu. However, his family moved to Japan when he was a baby, and he thus spent much of his early childhood in Yamaguchi. They did eventually come back to the US after a few years, trying out Boston and San Francisco before settling in the Chicago suburb of Evanston. Thompson got interested in food at an early age due to both his time spent in Japan and the traveling he was able to do thanks to his father's job with United Airlines. Following graduation from Evanston Township High School, he decided to attend the University of Iowa because of its strong wrestling program. He only spent a year there, but during that time, dabbled in cooking due to a work-study job and fell in love with the craft. Thus, in 1999, he enrolled at Kendall College in Chicago, earning his associate degree in culinary arts in 2001, and during this period, also worked at Karma, an Asian fusion spot in Mundelein. From there, Thompson went to Roosevelt University, where he achieved a bachelor's degree in hospitality management in December 2003.
He then relocated to Washington DC and worked for almost two years at the Grand Hyatt hotel before returning home and securing a gig at Soldier Field's Cadillac Club. In early 2006, he and some colleagues began catering and hosting underground dinners, which eventually became quite popular. This led to Thompson and fellow Soldier Field compatriot Kurt Chenier to take over the former home of Frech eatery Savoy Truffle in Logan Square. The two turned it into Bonsoirée, which opened in September 2006 serving a casual menu (with a retail component), but the cooking gradually became more and more sophisticated, and they even brought back those "underground" dinners. Chenier would leave Bonsoirée in 2008, but that didn't seem to blunt the restaurant's growth; in fact, Thompson's Japanese-inflected European cooking was even able to earn a Michelin star in November 2010, a feat repeated the following year. However, the Chef stepped away in August 2012, and brought on board Beverly Kim and Johnny Clark to run things.
Kim and Clark made the place quite a bit fancier, but their reign was short-lived, and the wife-and-husband team was out by October. Thompson opted to partner with Matt Sussman to turn Bonsoirée into an Alpine-inspired eatery called Table, Donkey and Stick, and after auditioning six chefs via pop-up dinners, he chose Scott Manley to helm the kitchen, with the place formally debuting that December. While all this drama with Bonsoirée was going on, Thompson was working on opening a new restaurant in the West Loop called Kabocha with Ryan O'Donnell (the two met at Kendall back in the day). Kabocha ended up launching in April 2013, serving Japanese-French-American fare, but despite a seemingly solid start, the spot shuttered in February 2014. In April that year, it was announced that the Kabocha space would be turned into Bar Takito, from partners Anshul Mangal and Mario Ponce of Takito Kitchen.
Thompson then teamed up with Mangal/Ponce and conceived a counter-service ramen joint called Furious Spoon, which was reportedly inspired by the Chef's grandfather's 1960s-era ramen shop in Hokkaido. The first Furious Spoon opened in Wicker Park in February 2015, and proved to be quite the hit. Its success resulted in the expansion of the concept, and seven more locations would eventually open: Logan Square (June 2016), Revival Food Hall (August 2016), Pilsen (May 2017), Evanston (August 2017), Lakeview (December 2017), Andersonville (April 2018), and Wells Street Market (June 2018). Said success also allowed the team, in concert with barman Dustin Drankiewicz, to open Deadbolt (February 2017) and The Pink Squirrel (December 2017), two bars both situated in the same building as the Logan Square Furious Spoon. In addition, through 2016 and 2017, the partners opened five locations of FireFin Poké with Rodelio Aglibot and Frank Fronda, and there were even plans for a food hall called Lakeview Market.
Unfortunately, the group might've been trying to grow too quickly. That food hall never came to fruition, and all five FireFin outposts were unceremoniously shuttered in October 2017. Furthermore, the Furious Spoon in Andersonville closed in June 2019; Evanston and Wells St. Market were done by early 2020; and Revival Food Hall, Pilsen, and Wicker Park appear to have shut down during the pandemic. Only Logan Square and Lakeview remain. In September 2020, Thompson and girlfriend Liga Sigal commenced operation of Bokuchan, a ghost kitchen-based Japanese curry restaurant. There were plans for further ghost kitchen concepts, but those never happened. Bokuchan itself was finished by June 2021, and plans for a permanent version fell through. With his Chicago projects in flux, Thompson moved to LA to begin work on Niku X, and the Chef's involvement was revealed last June.


Niku X is large, spanning roughly 9,000 square feet and holding around 160 diners. Penned by
DWDW
(a Chicago-based firm that's worked with Chef Thompson before), it's a handsome space befitting the restaurant's concept.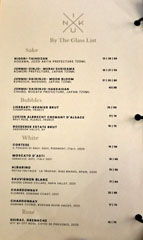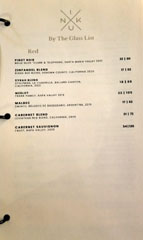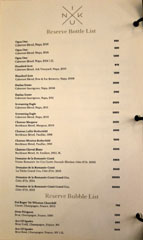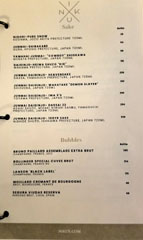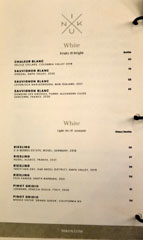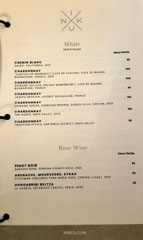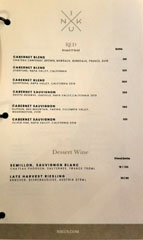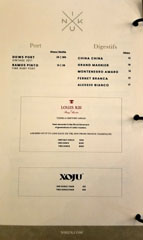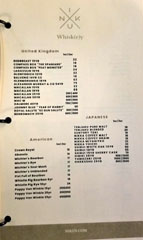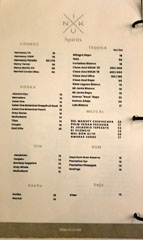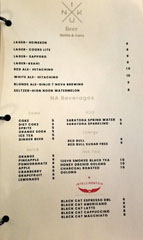 Our table wasn't ready when we arrived, so we took a seat in the lounge area, where I had a chance to peruse the restaurant's drink menu. Think theme-appropriate cocktails, sake, spirits, a handful of beers, and a wine list managed by Sommelier Marcus Matthews (The Continental by Sean Brock,
The Arthur J
). Click for larger versions.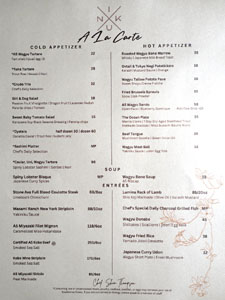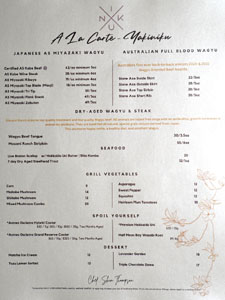 There are three ways to dine at Niku X: a 14-course yakiniku tasting menu at $245pp (our choice), a nine-course tomahawk tasting menu at $335 to $499 (for a party of two) depending on the type of beef chosen (not pictured), or à la carte. Click for larger versions.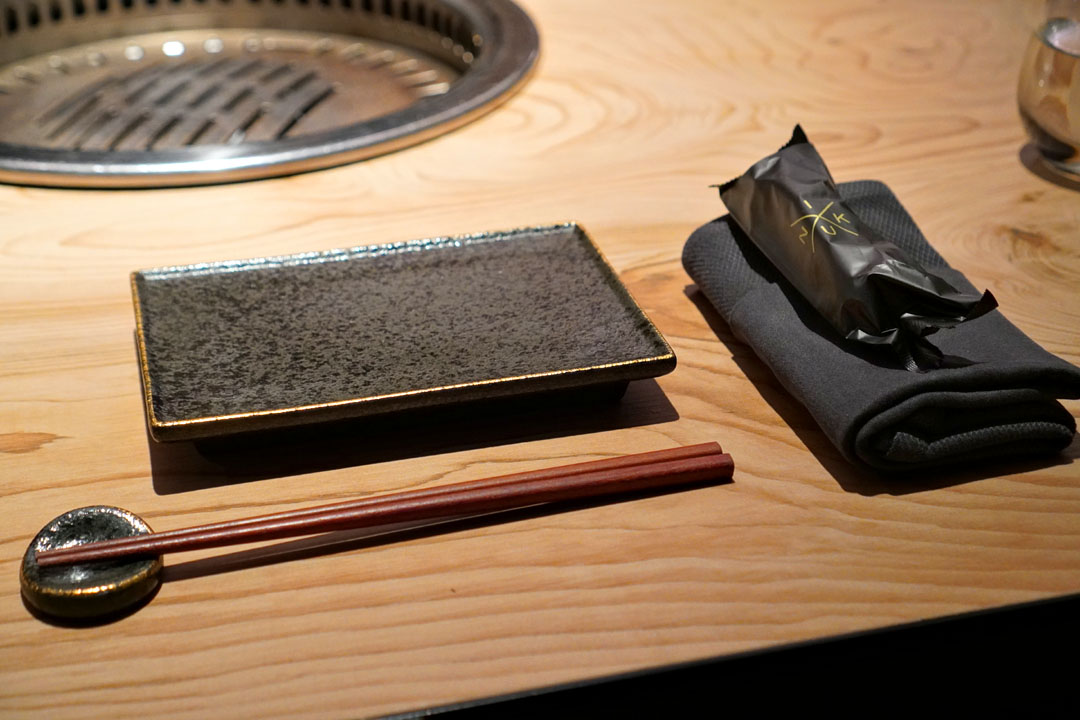 The restaurant's place setting included a warm
oshibori
, which was a nice touch.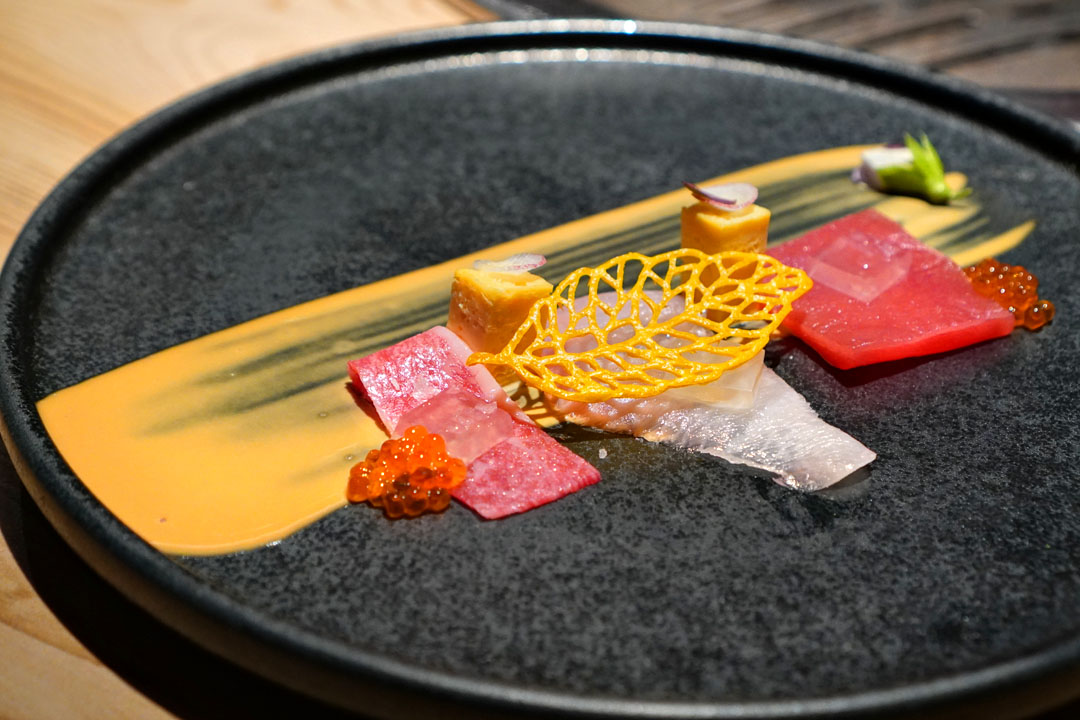 1: Crudo
| A4 Toriyama Ribcap Wagyu, 21 Day Dry Aged Spanish Bluefin Tuna, Kampachi, Tamago, Trout Roe, Sudachi Jelly, Sweet Shoyu Crème Fraîche
Our meal began with a trio of sashimi. We were instructed to eat starting from the left, with the "leanest" selection, an odd descriptor given the rather fatty nature of the Wagyu. In any case, the beef did have a welcomed savoriness from the soy, and I did appreciate the pricks of salt present. Hawaiian kampachi, meanwhile, ate thick and sticky, and made sense with the fruitiness of the sudachi, while the dense cut of aged tuna showed off a distinct sweetness. Do also note that the blocks of tamago worked surprisingly well as palate cleansers in between the bites.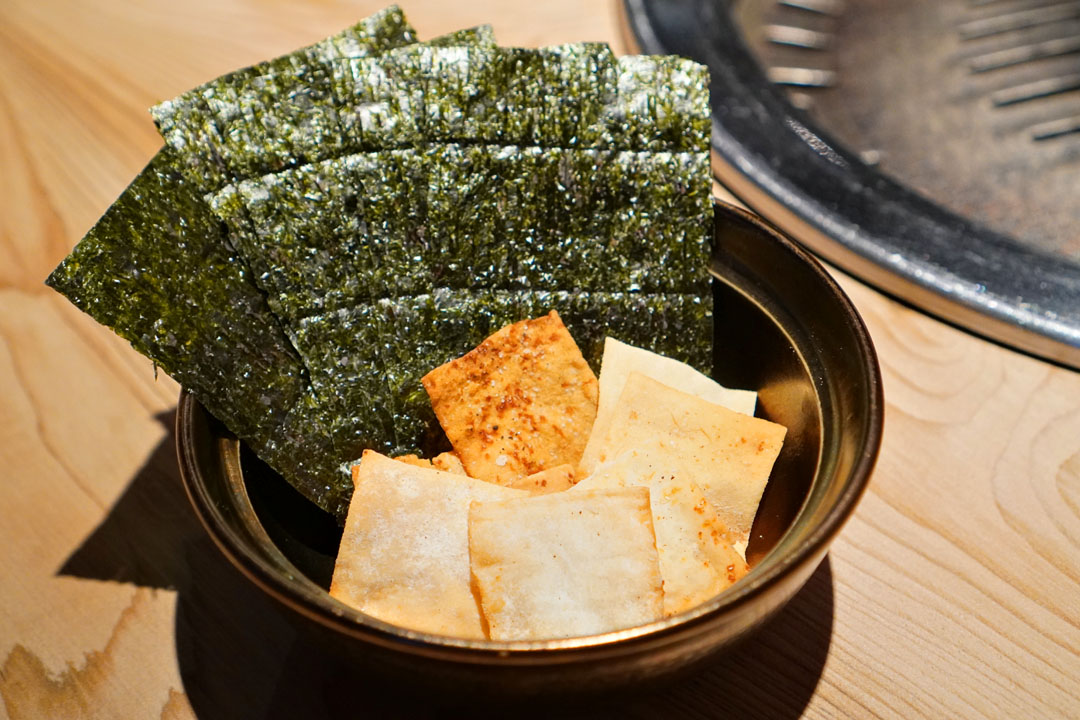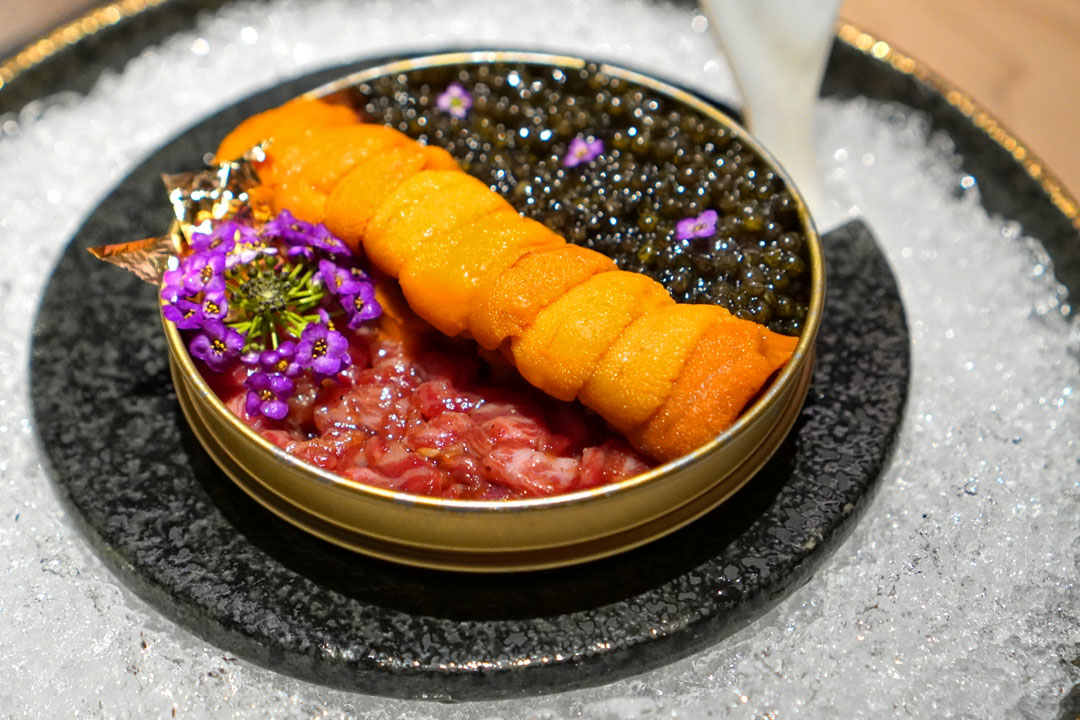 2: Caviar
| Astrea Osceitra Caviar, Hokkaido Uni, Stone Axe Wagyu Tartare, Senbei, Nori
This unabashedly opulent course highlighted a delectable back-and-forth between the beef and sturgeon roe, with the sea urchin providing a lingering sweet salinity on the back end. Crackers worked to tone things down a notch, but I preferred the grassy umami from those crispy sheets of seaweed.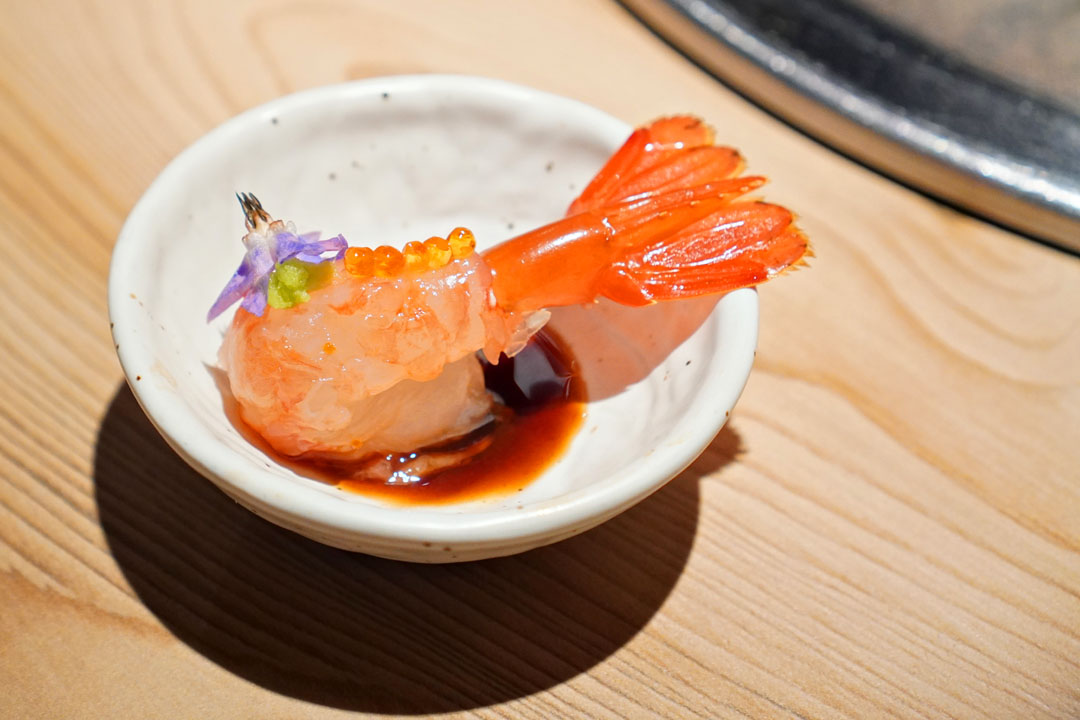 3: Live Spotted Prawn Sashimi
| Live Spotted Prawn, Black Vinegar Ponzu, Wasabi Root
Spot prawn had a delightfully "snappy" consistency, as well as a clean, sweet flavor profile well-accented by the burn of wasabi.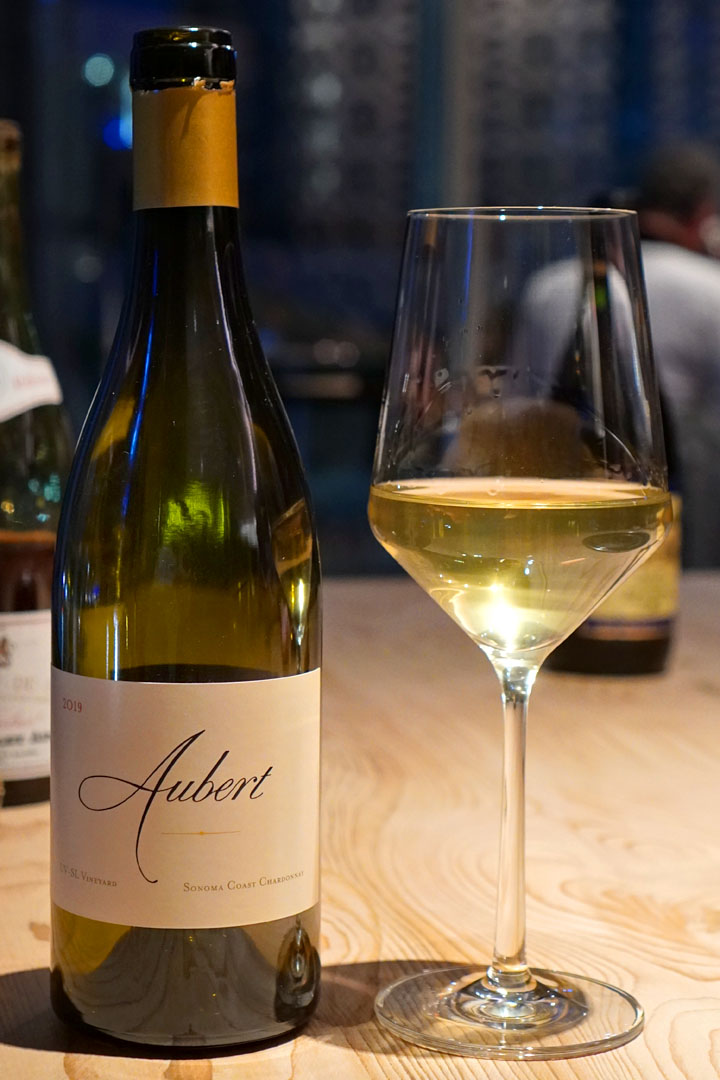 We brought our own wine, and paid a corkage fee of $65 a pop (though our server was gracious enough to only charge us for two bottles instead of three). Up first was the
2019 Aubert Chardonnay UV-SL Vineyard
from Sonoma Coast, meant to pair with our seafood courses. The Chard had a vibrant nose filled with citrus and tropical notes, along with a bit of grassiness. Its palate was on the creamier side of the spectrum, with more of those tropical flavors--pineapple in particular--cut by a backing of minerality, all leading to a subdued butteriness on the close. With time, I found that the wine got noticeably juicier in terms of aroma, while its taste demonstrated more of a spicy character.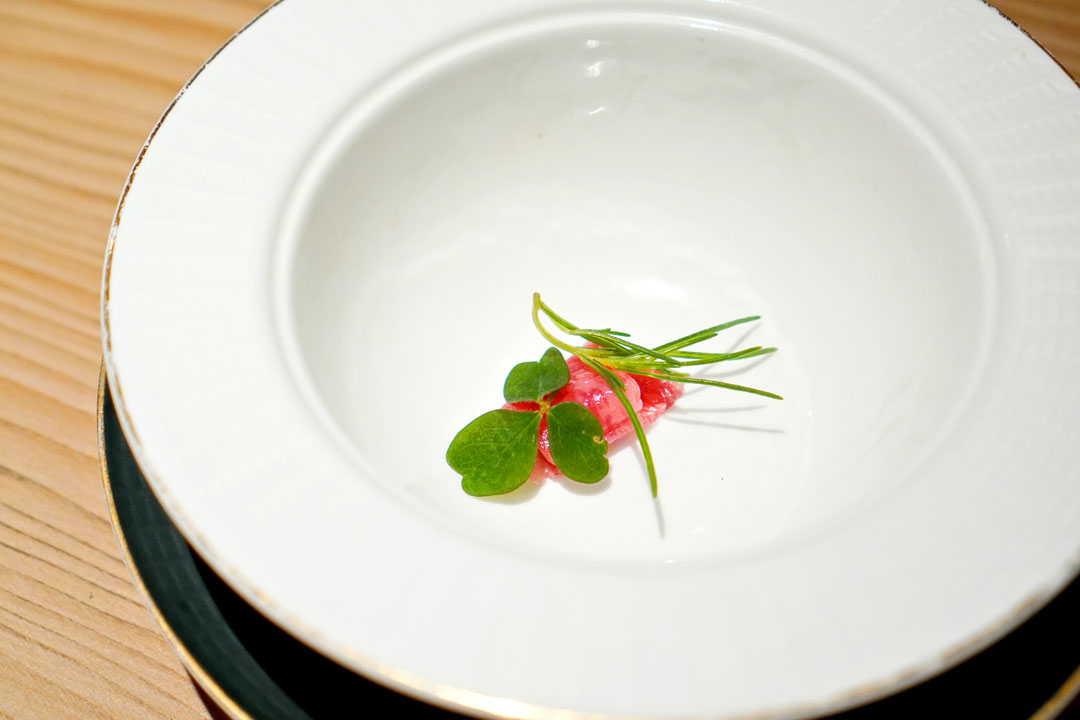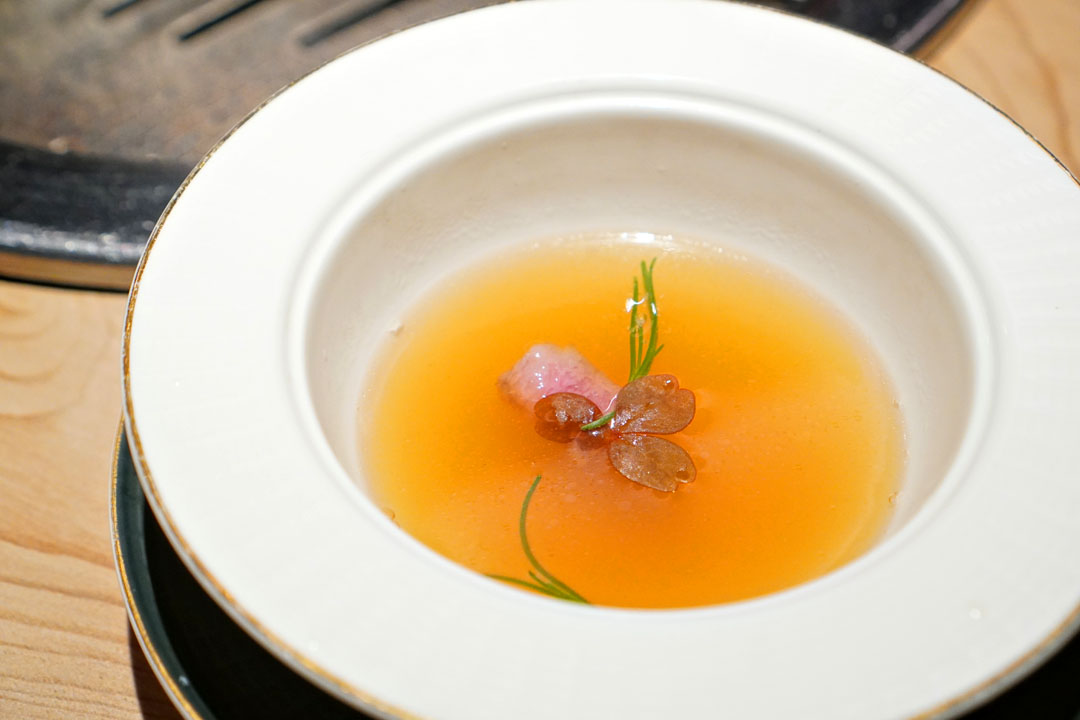 4: Consommé
| Masami Ranch Wagyu Bone, A4 Wagyu Rib Cap, Amaranth, Seagrass
A small portion of Toriyama ribcap was enveloped by a relatively light beef bone soup.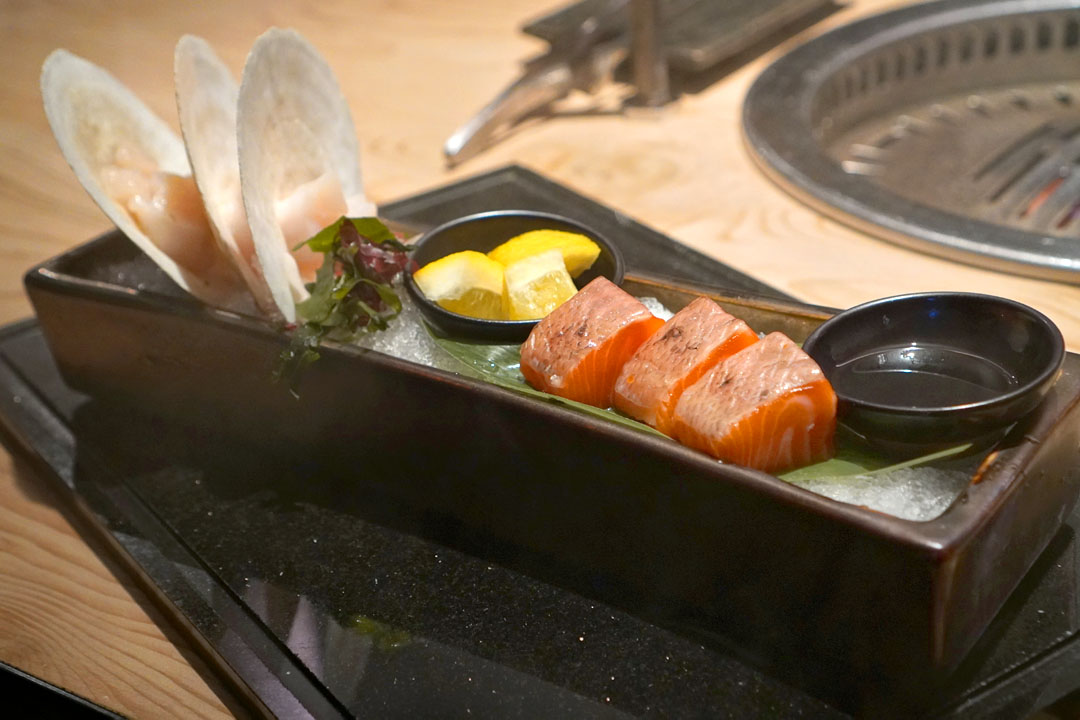 At this point, our grill was fired up, and we were presented with our seafood selections for the evening.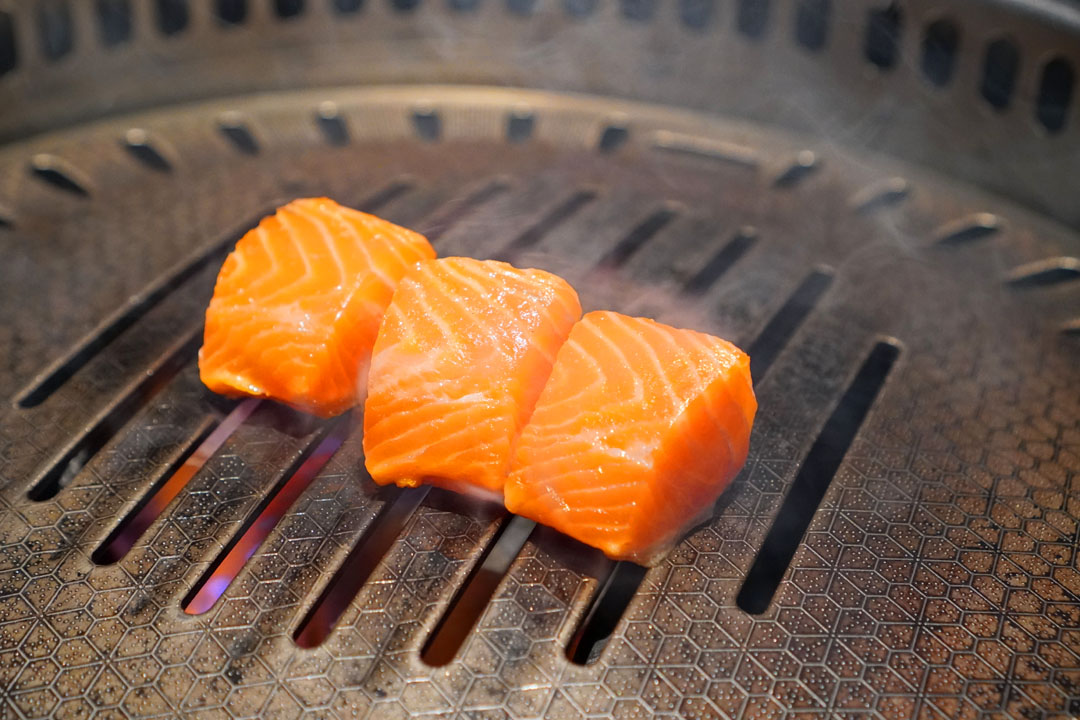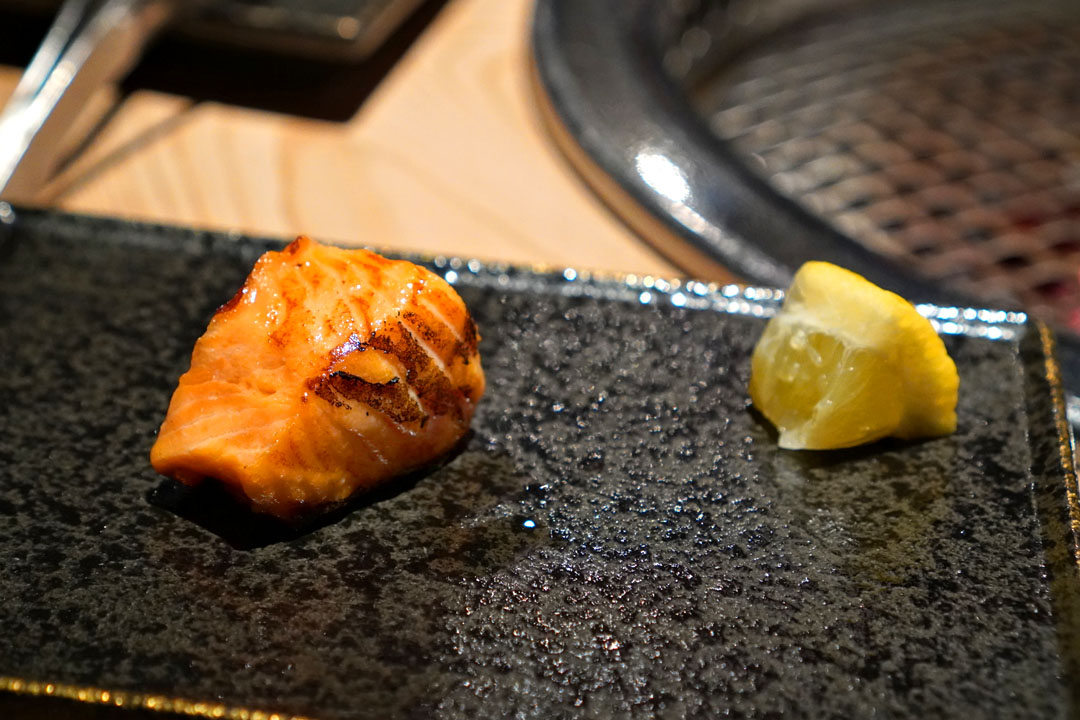 5: 7 Day Dry Aged Steelhead Trout
| Sekokani Salt
Steelhead came out fatty, flaky, and flavorful, with a lovely sear. Do note that all cooking at the table was done for us by our server Rob, who was great tonight.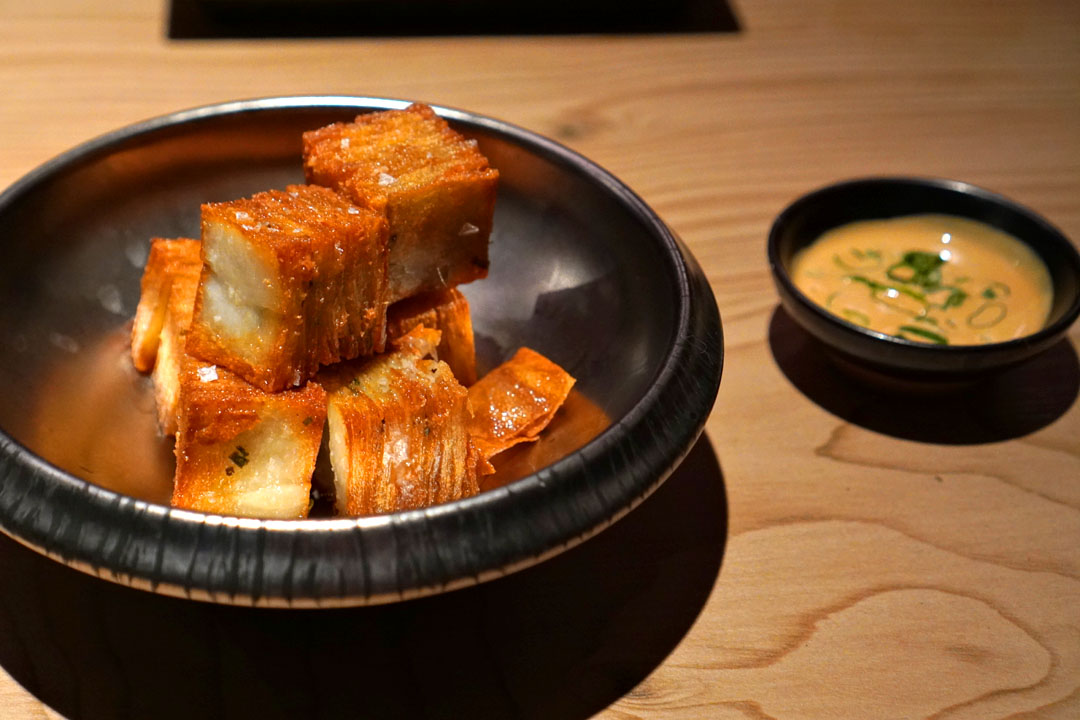 Wagyu Tallow Potato Pave [$16.00]
| Sweet Shoyu Crème Fraîche
Given my proclivity for potatoes, the pavé was a must-try, and didn't disappoint. I loved the multilayered texture of the taters, while flavors were salty and satisfying, and even better with a dab of that sauce on the side.
6: Live Boston Hotate
| Hokkaido Uni Butter, Shio Kombu
Scallops were cooked (back in the kitchen, not at our table) more than I would've liked, though I did appreciate how their sweet brine meshed with the dish's butteriness.
Mixed Mushroom Combo [$28.00]
A mushroom threesome (portobello, shiitake, maitake) showed off a multifaceted woodsiness, and I liked different textures offered up by the three 'shrooms, too. At the same time, sprigs of ice plant lightened the mood.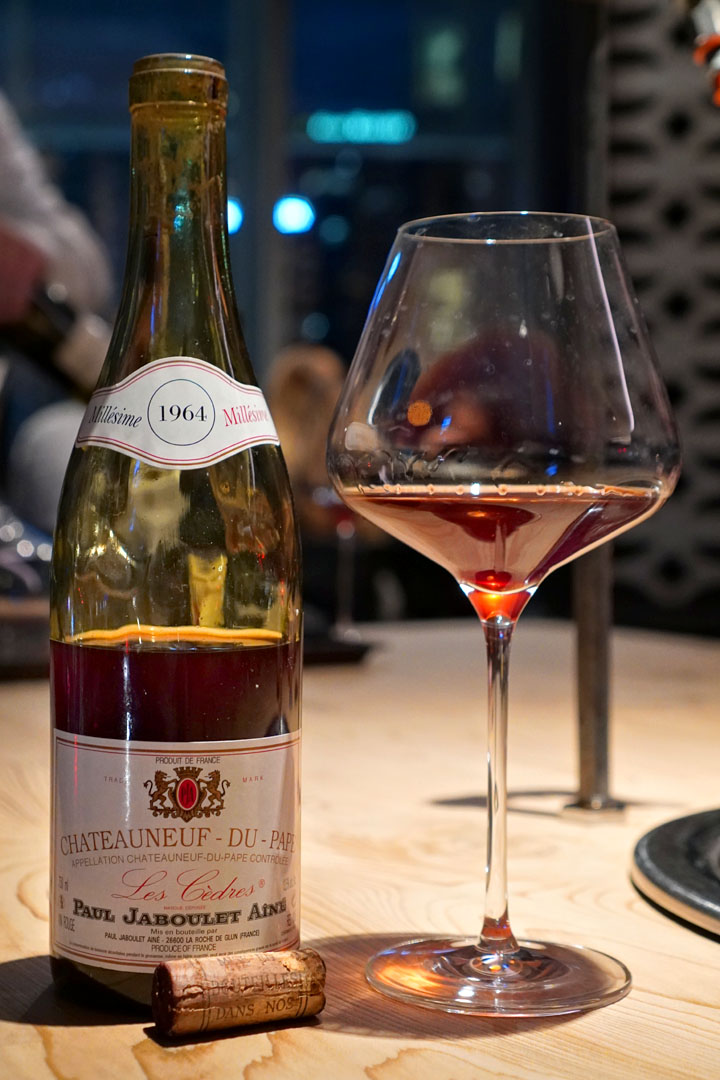 Our first red was an ex-domaine bottle of the
1964 Paul Jaboulet Aîné Châteauneuf-du-Pape Les Cèdres
(a.k.a. La Grappe des Papes). The wine had an intense, intriguing bouquet filled with
animale
and
garrigue
, plus sour plum. I found its palate soft and silken, with tangy red fruits at the fore, well-integrated with a backbone of herb. With further time in the glass, the aroma took on elements of Chinese medicine, and flavors became spicier, but with a distinct sugary undercurrent. At the end of the night, this one gave up absolutely massive amounts of herbs on the nose, with tinges of blood, but this was juxtaposed against an even softer palate, one that was so mature, so elegant. You might recall that I had the '66 version of this wine back at
Osito
, and while this vintage didn't quite reach the lofty heights of its sibling, it still made a strong showing for itself tonight.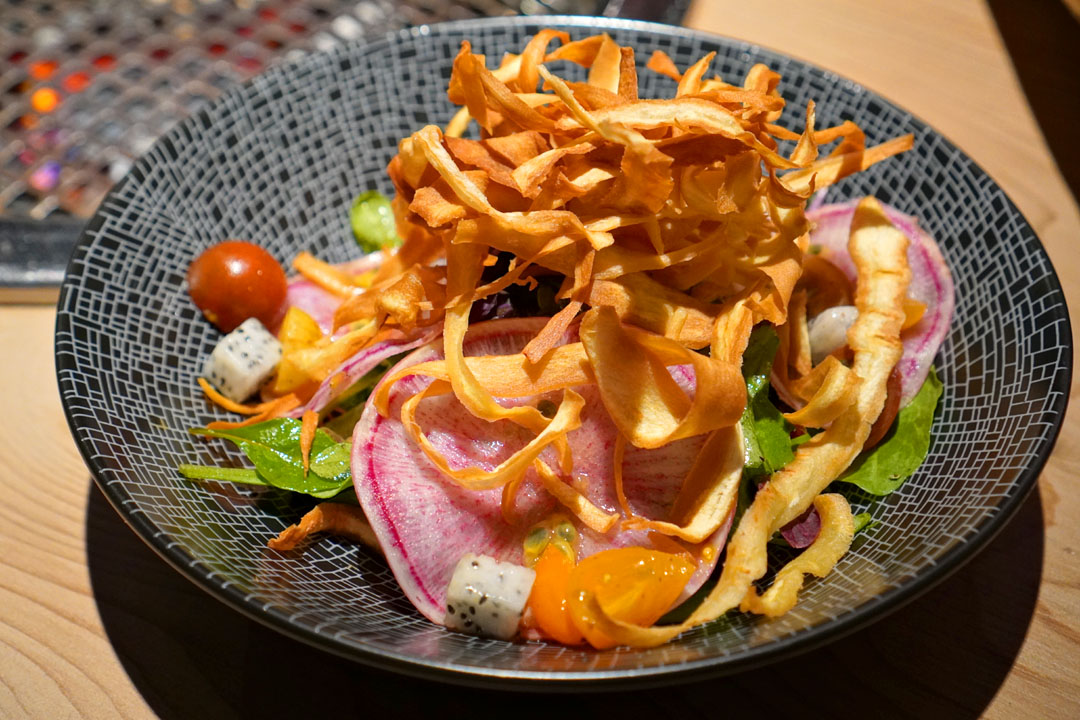 Girl & Dug Salad
| Passion Fruit Vinaigrette, Dragon Fruit, Lavender Radish, Parsnip Chips, Tomato
A complimentary salad (not part of the set menu) possessed an appealing mix of sweet, savory, and bitter flavors, and I liked its contrast in textures, too.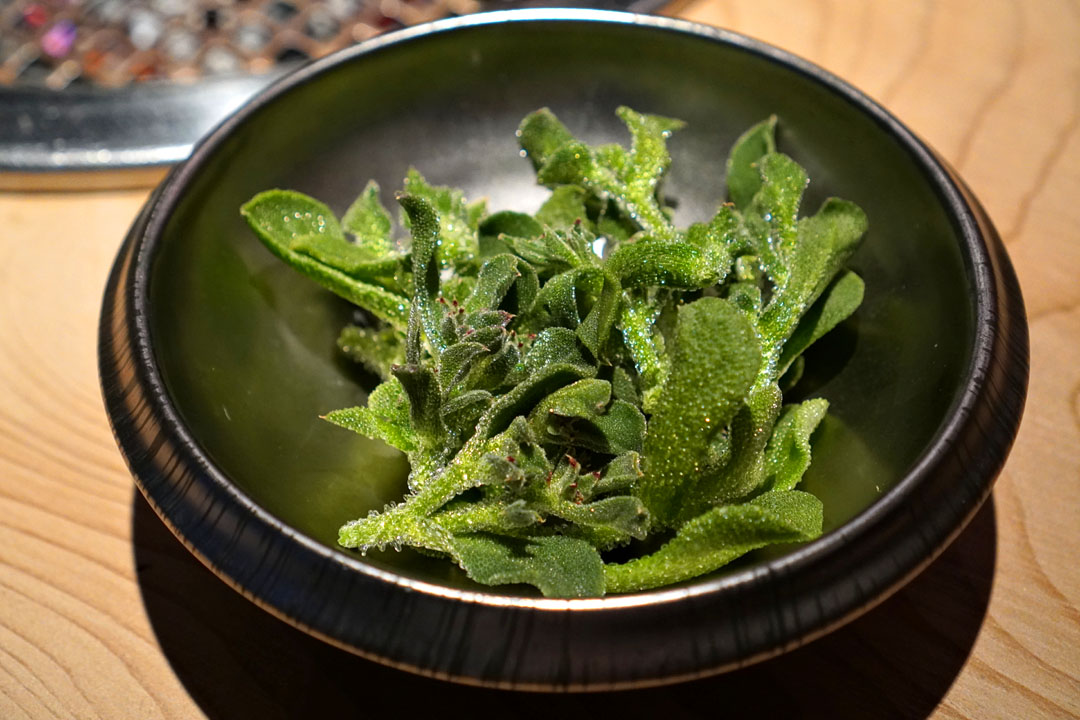 A bowl of ice plant arrived with the salad above, and again, worked to counteract the heft of all the meat to follow.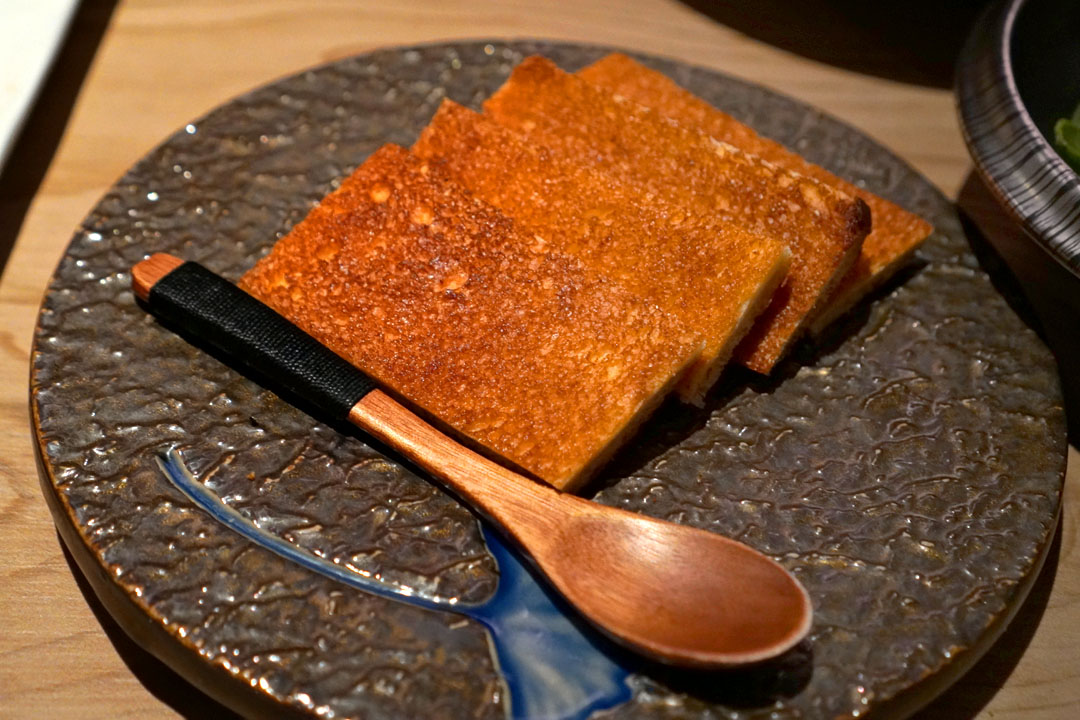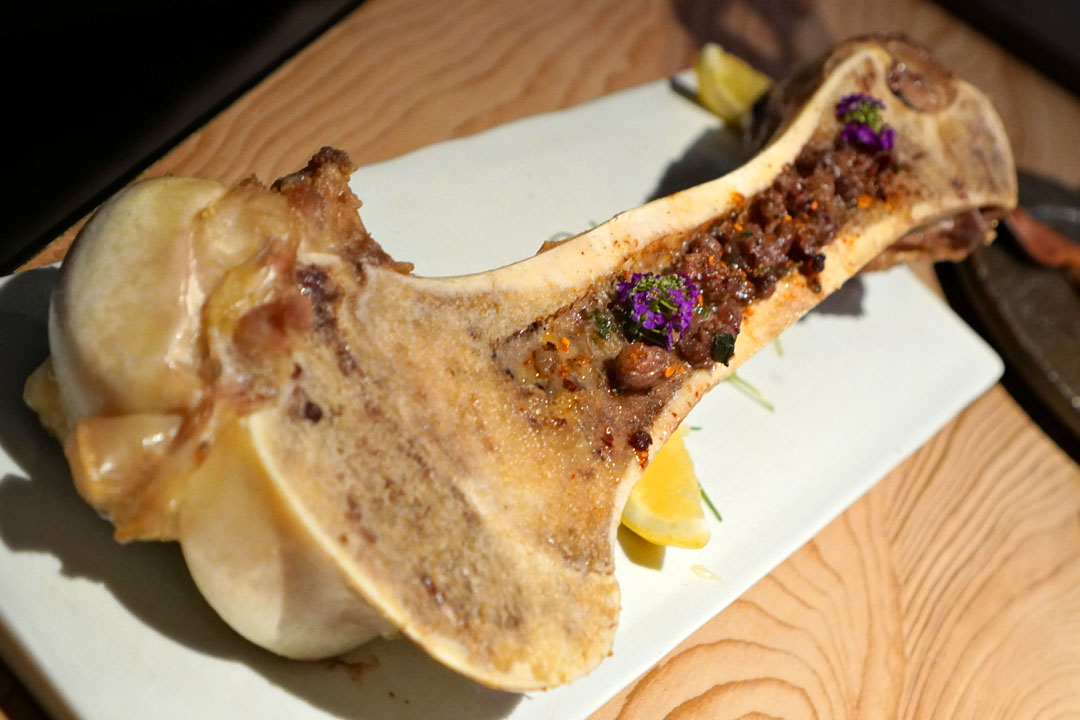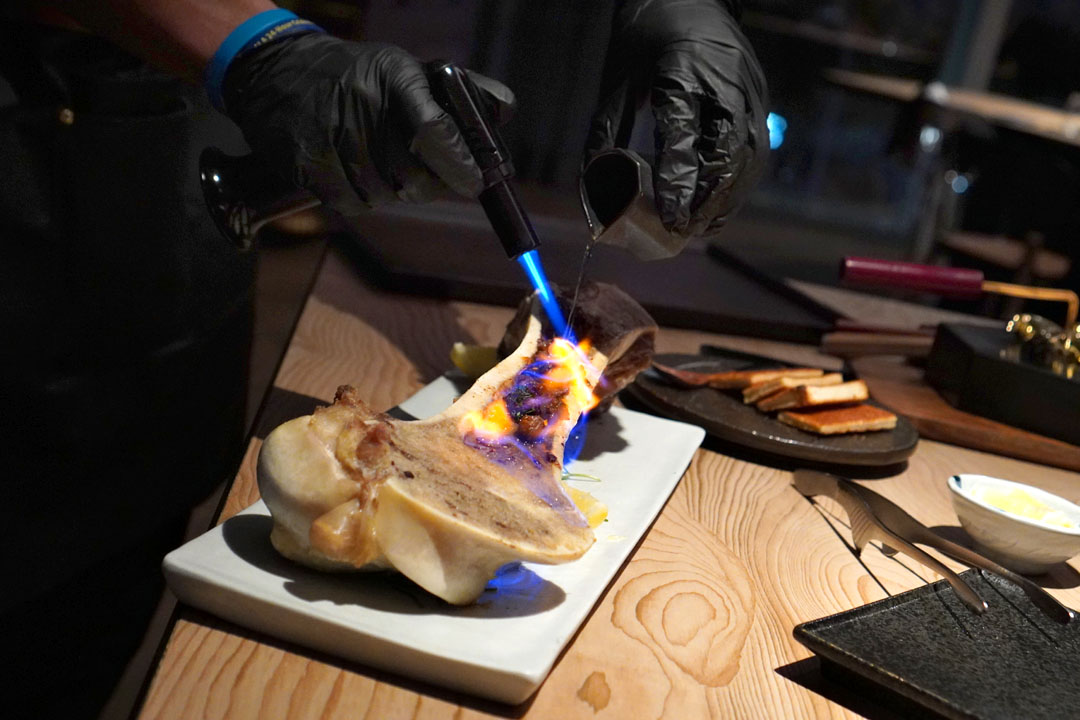 Roasted Wagyu Bone Marrow [$35.00]
| Whisky, Japanese Milk Bread Toast
I've had bone marrow countless times, but never presented with the entire bone, which made for quite the spectacle, even without the flaming whiskey. The marrow came topped with A5 wagyu trimmings, chili spice, and edible flowers, all of which added visual interest, but weren't really necessary. In fact, the meat had this almost galbi-esque sweetness that actually overshadowed the marrow itself.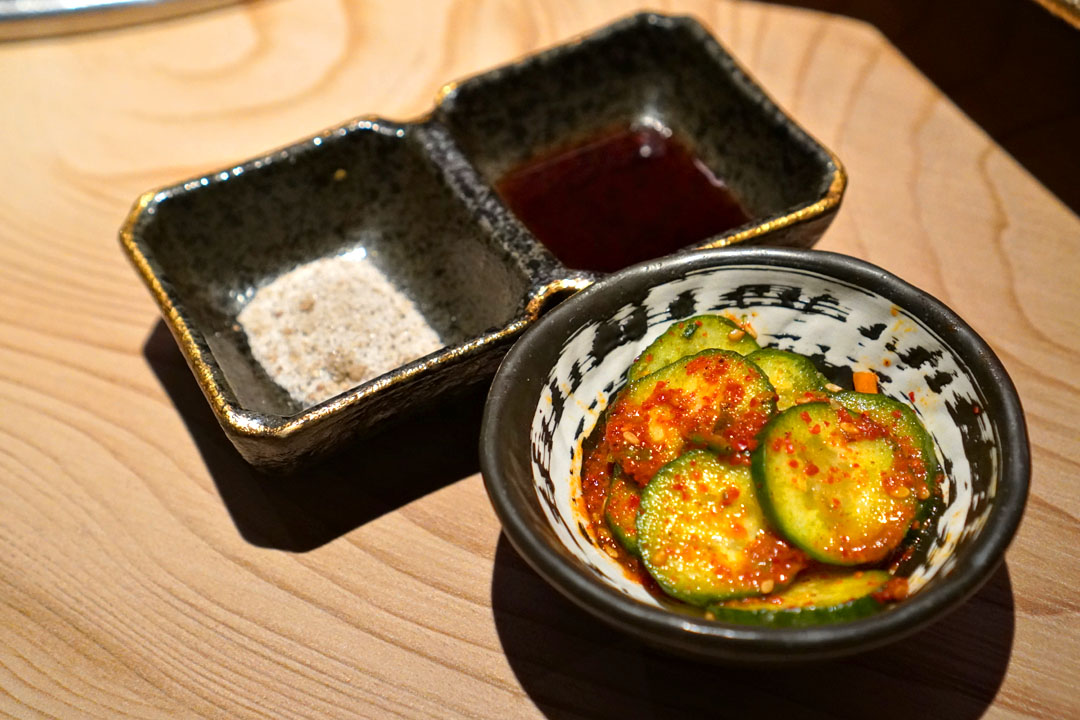 A troika of condiments signaled the start of the yakiniku portion of our meal.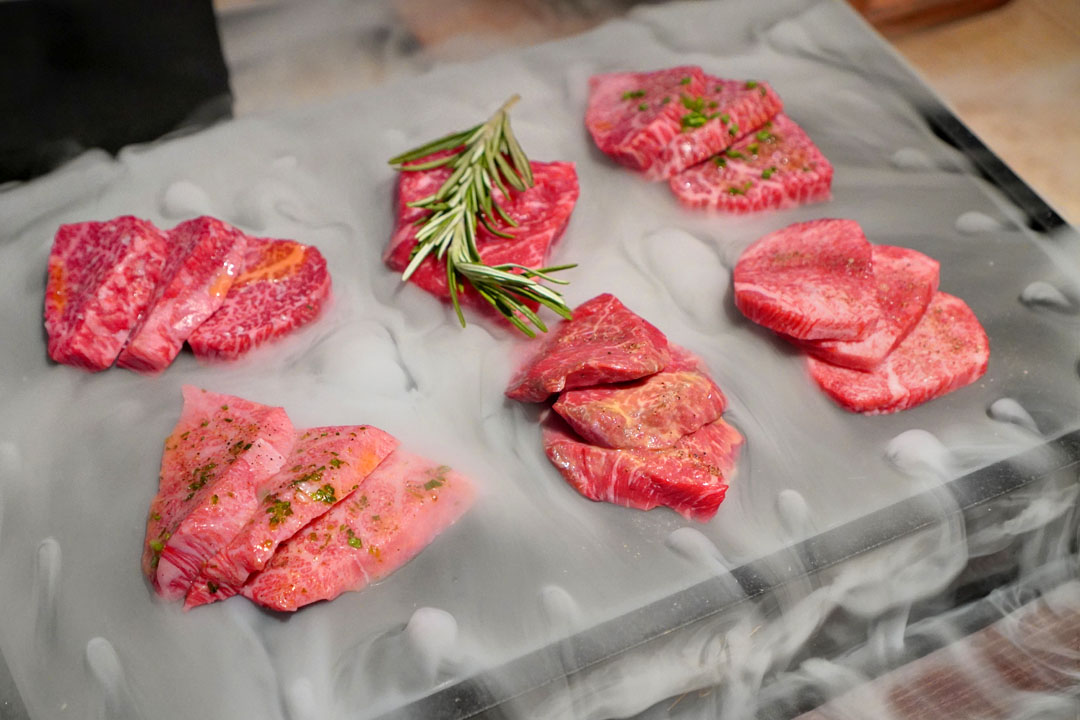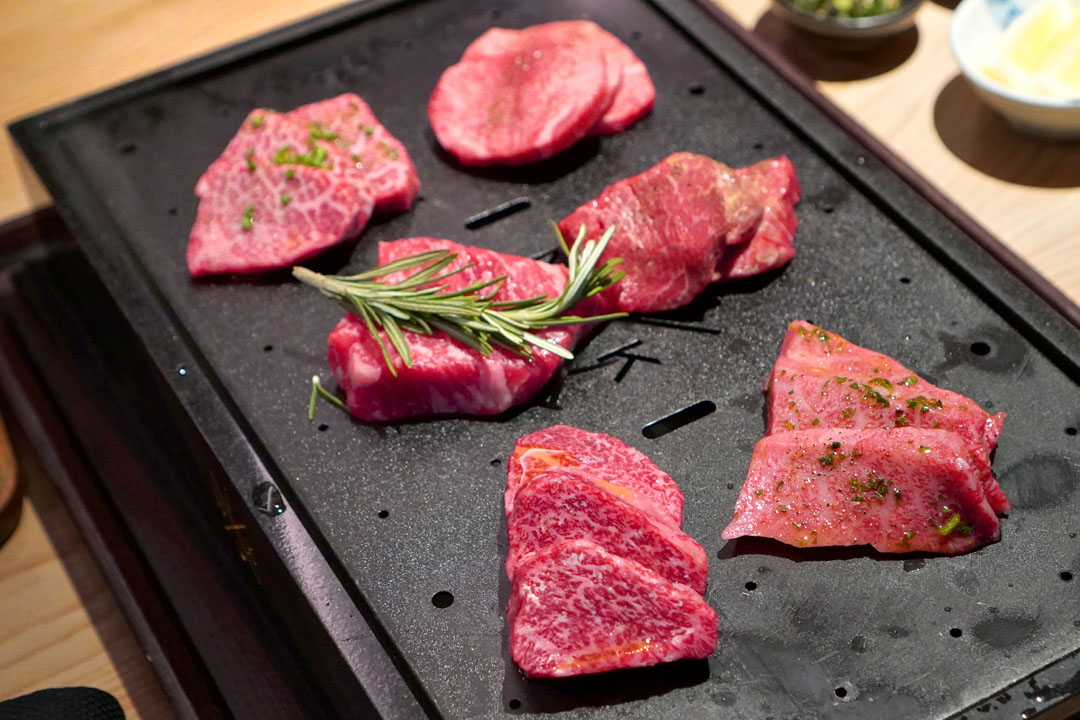 Our platter of meats arrived enrobed in a dry ice-induced fog, which shouldn't be unexpected given the owners' penchant for dramatic tableside presentations.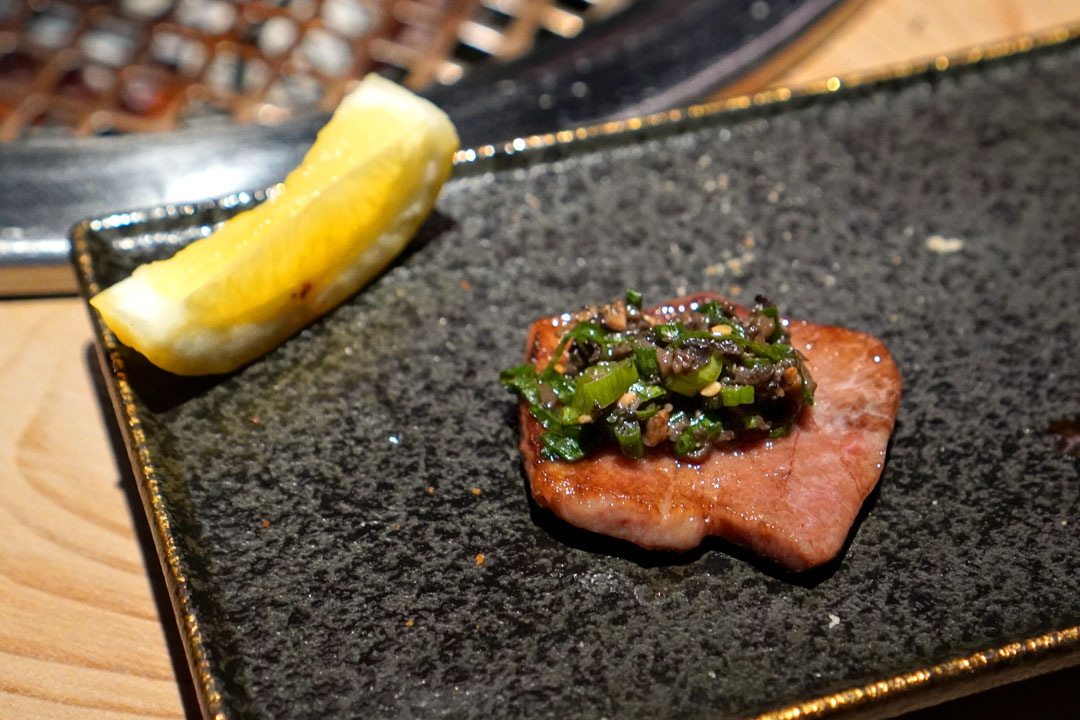 7: Mishima Reserve Wagyu Beef Tongue
| Mushroom Duxelles, Japanese Black Vinegar, Tokyo Negi
I'm quite the fan of beef tongue in general, and Niku X's did not disappoint. It had that trademark texture I was looking for, and I appreciated the zippiness imparted by the green onion.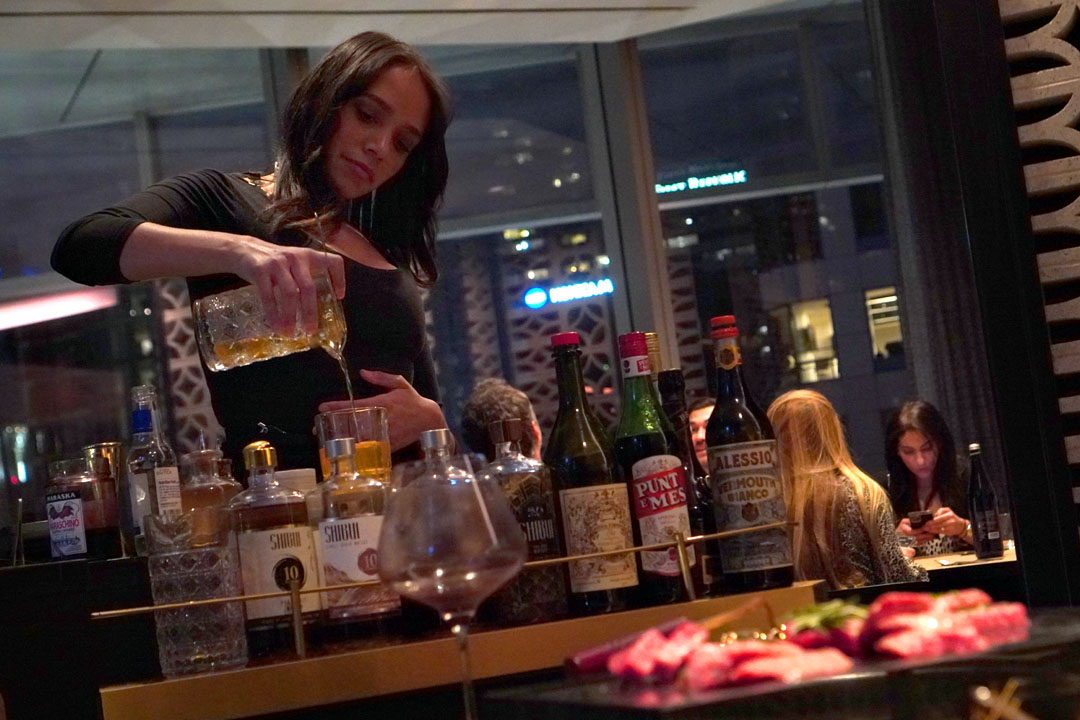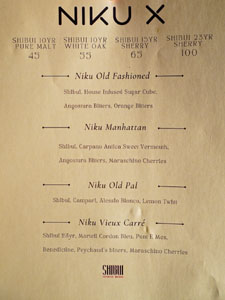 Making an appearance now was a roving cart serving cocktails incorporating Shibui Japanese whisky. We wound up getting three drinks, all utilizing the 10yr White Oak expression. Click for a larger version.
Niku Old Fashioned [$55.00]
| Shibui, House Infused Sugar Cube, Angostura Bitters, Orange Bitters
Our most classic of cocktails was seemingly extra rich and viscous, with a potent helping of brown sugar and caramel, offset just enough by spice, bitters, and a nose of bright citrus.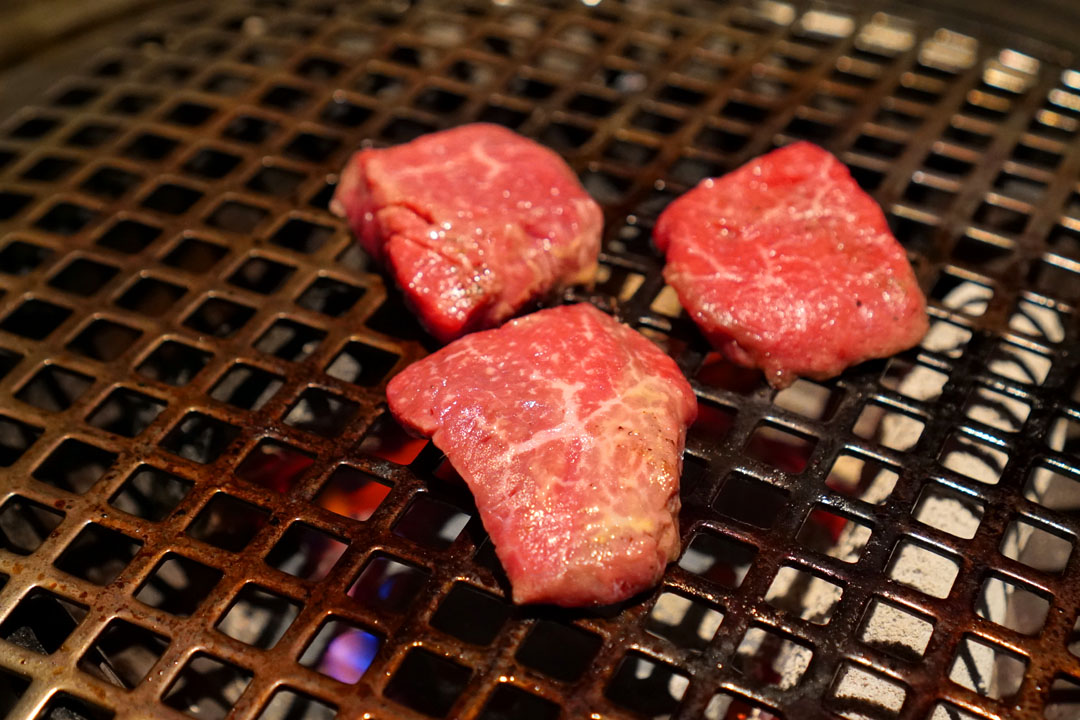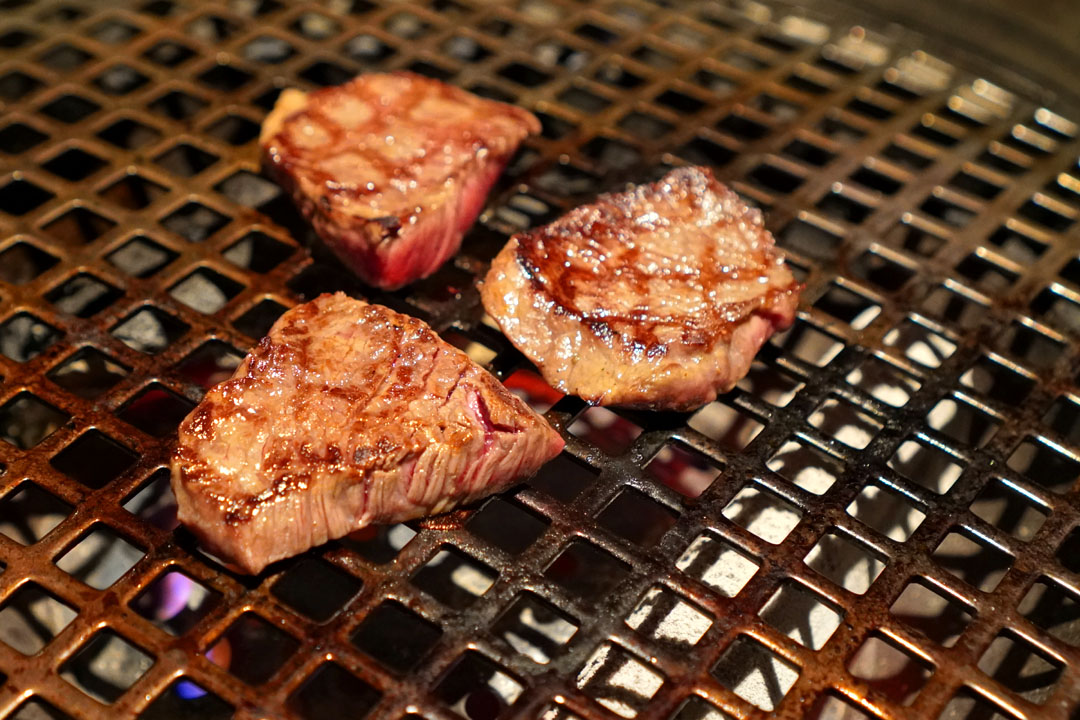 8: Stone Axe Top Sirloin Cap
| Port Wine Yakiniku Tare, Jidori Egg Yolk
Ichibo
was a very balanced cut, both in terms of taste and texture, and had this unexpected pepperiness that I rather enjoyed.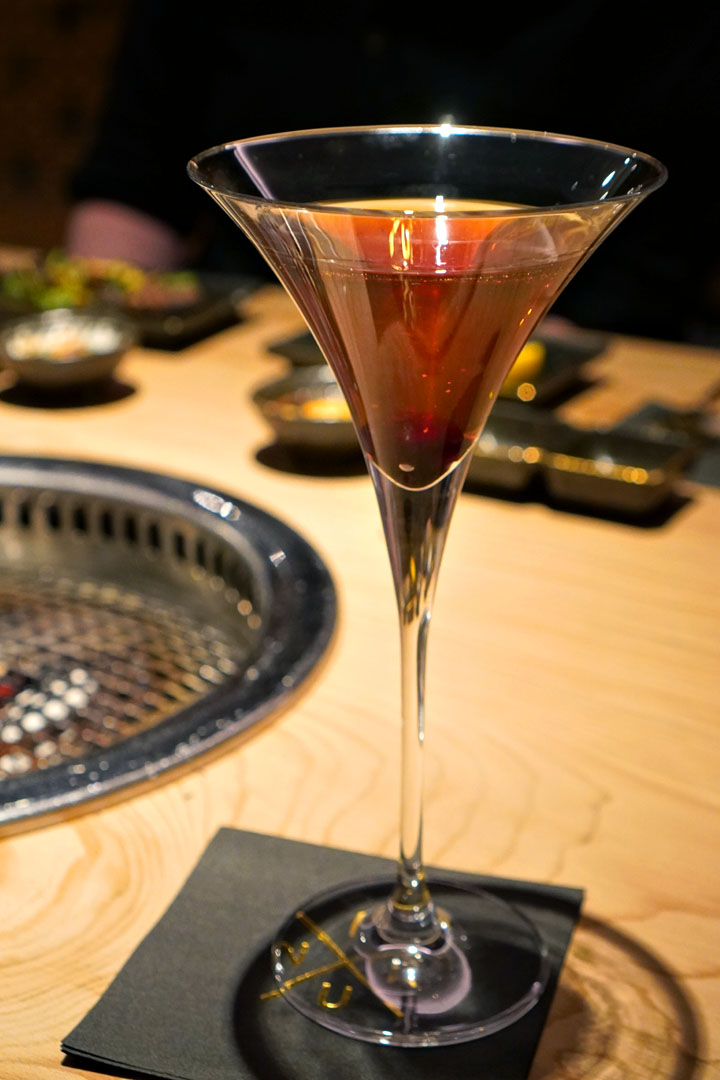 Niku Manhattan [$55.00]
| Shibui, Carpano Antica Sweet Vermouth, Angostura Bitters, Maraschino Cherries
The Manhattan is pretty much my go-to classic cocktail these days. I found tonight's version more herbaceous than most, and there was almost a brine to it, but this was all evened out by a particularly fruity quality that worked for me.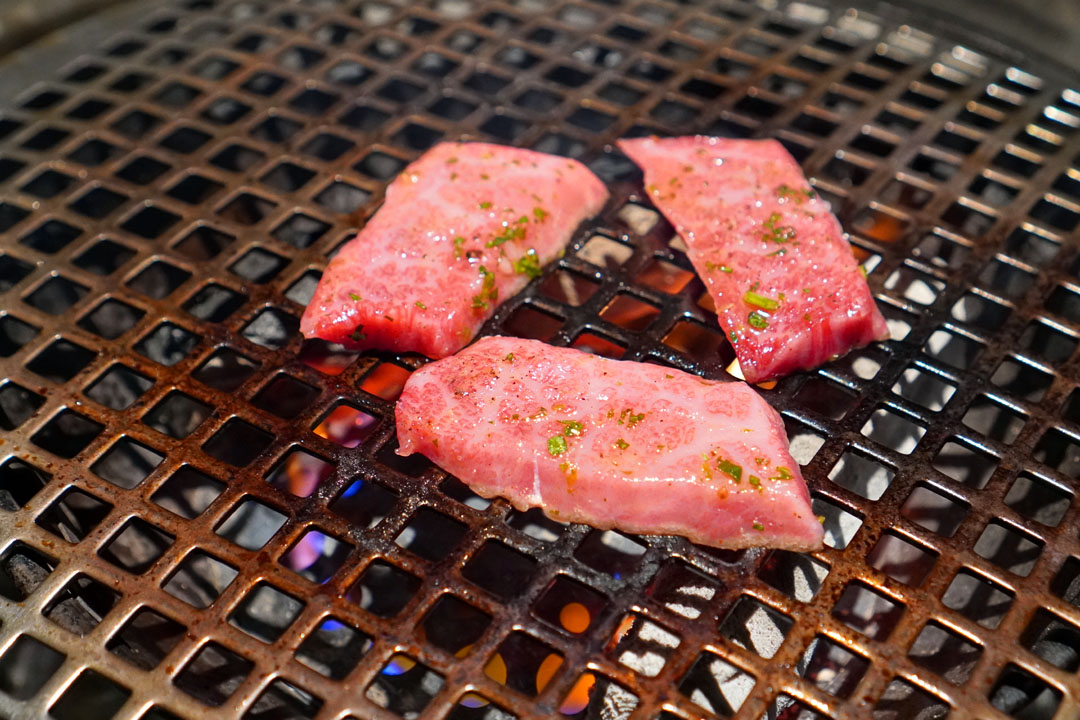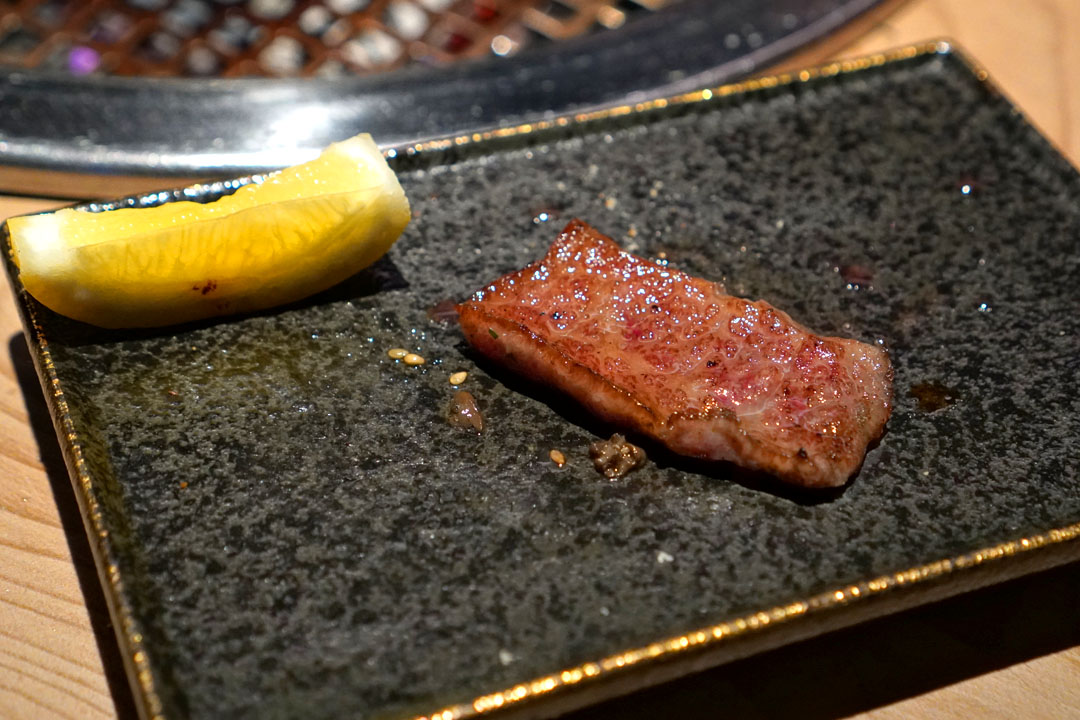 9: A4 Toriyama Short Rib
| Umeboshi Salted Plum Chimichurri
Not surprisingly, short rib arrived overtly fatty, with a nearly melt-in-your-mouth consistency. Its lusciousness was balanced out just a tad by the chimichurri.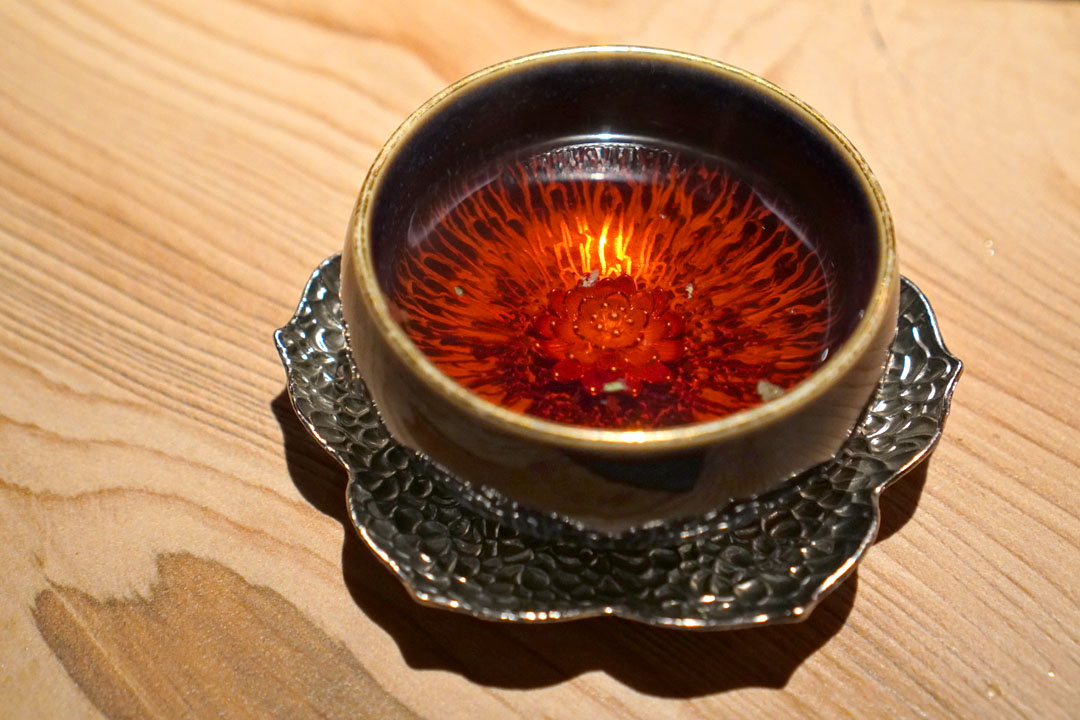 We were also served a sweet-tart, floral tea that utilized hibiscus mixed with apple and pineapple.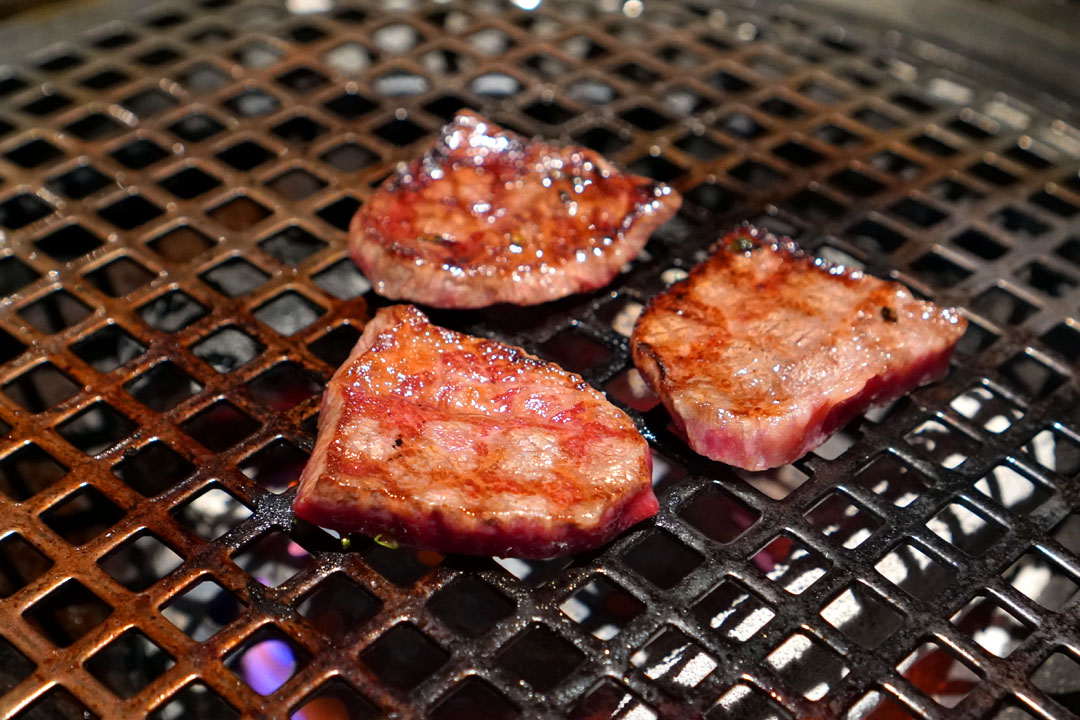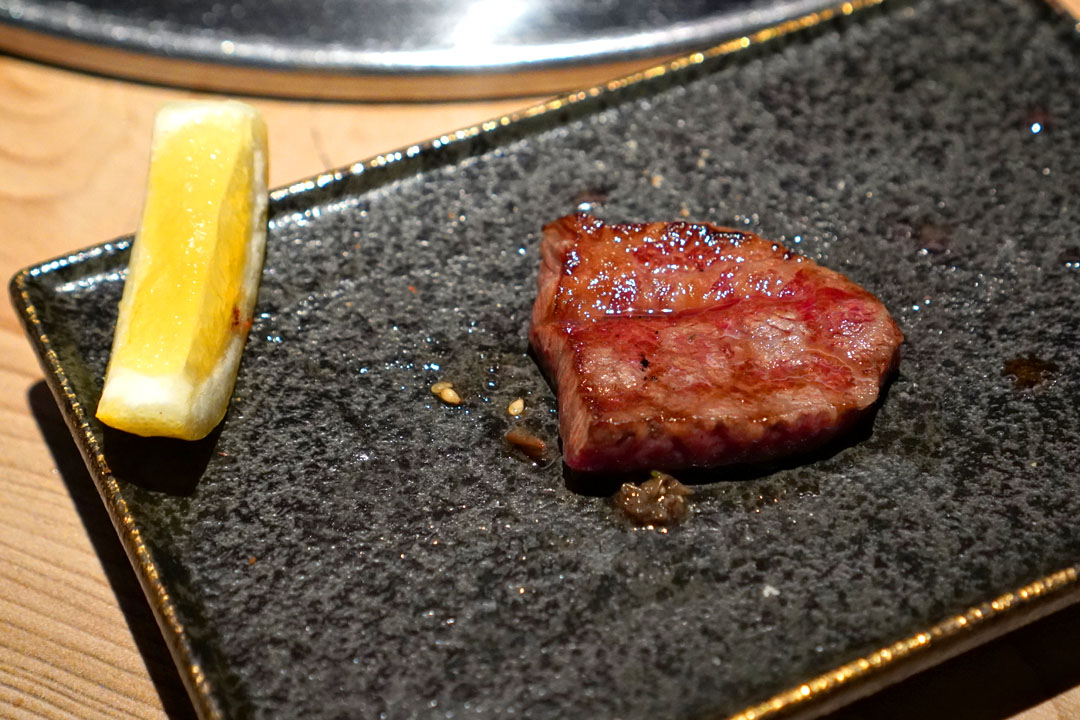 10: Stone Axe Misuji/Top Blade
| Pear Marinade
As tasty as the short rib above was, the
misuji
might've been even richer in flavor, though its consistency wasn't as sumptuous.
Niku Old Pal [$55.00]
| Shibui, Campari, Alessio Bianco, Lemon Twist
Our third and final cocktail had a super fresh nose of citrus that belied its dense, caramel-laden nature, all countered by plenty of grassy, herbaceous nuances.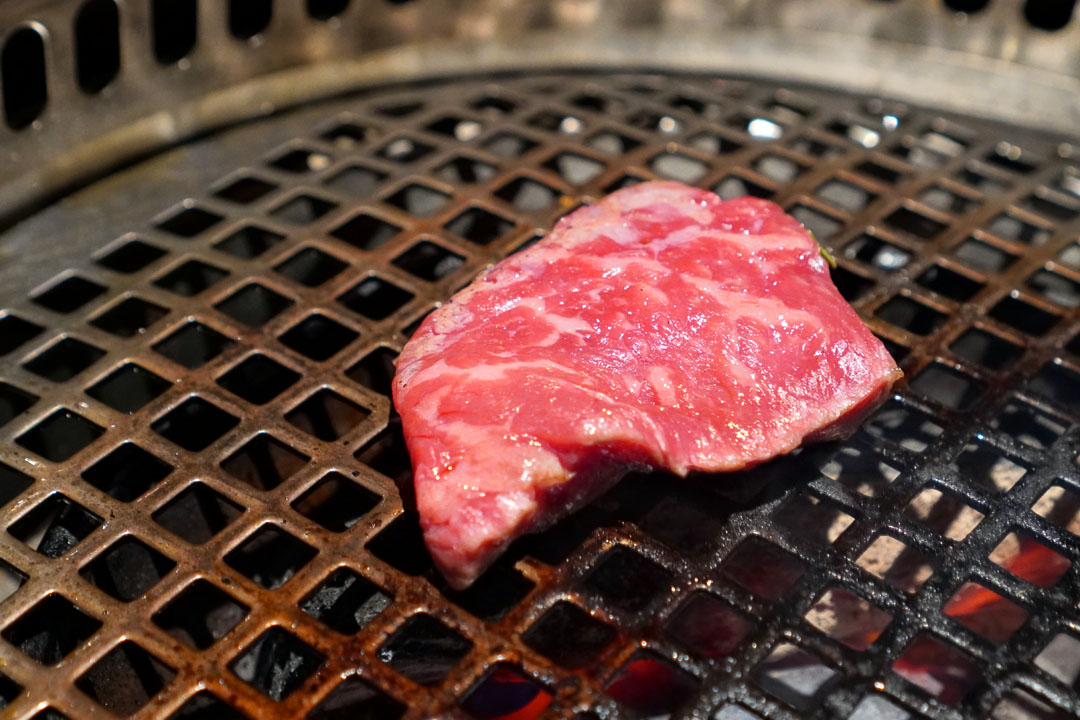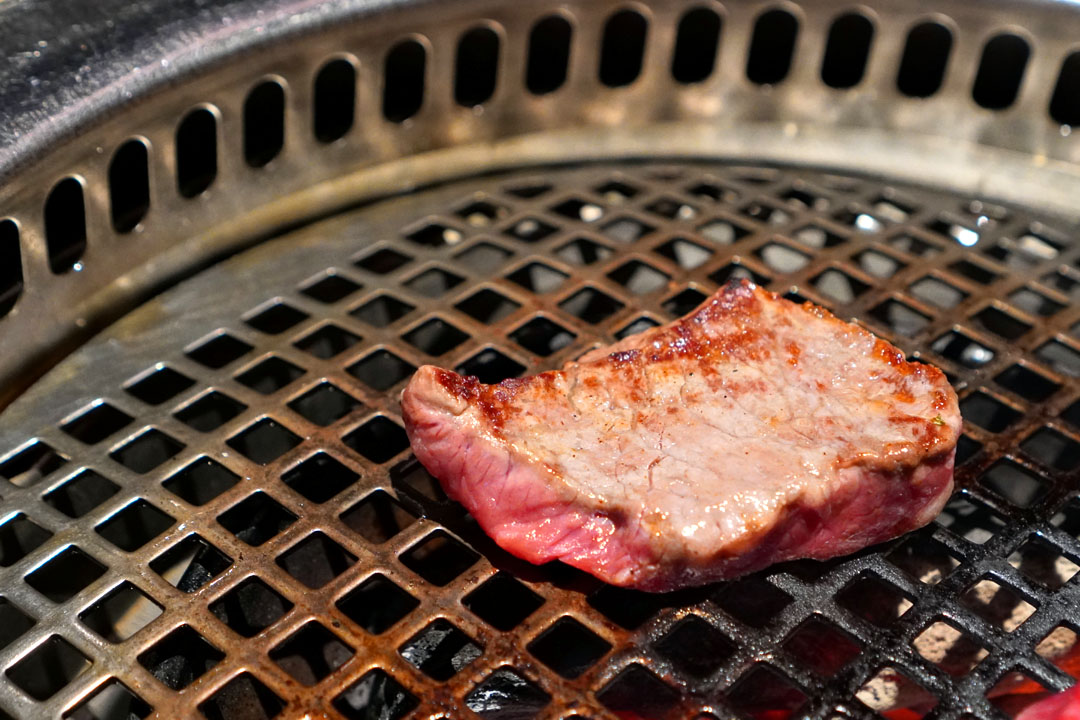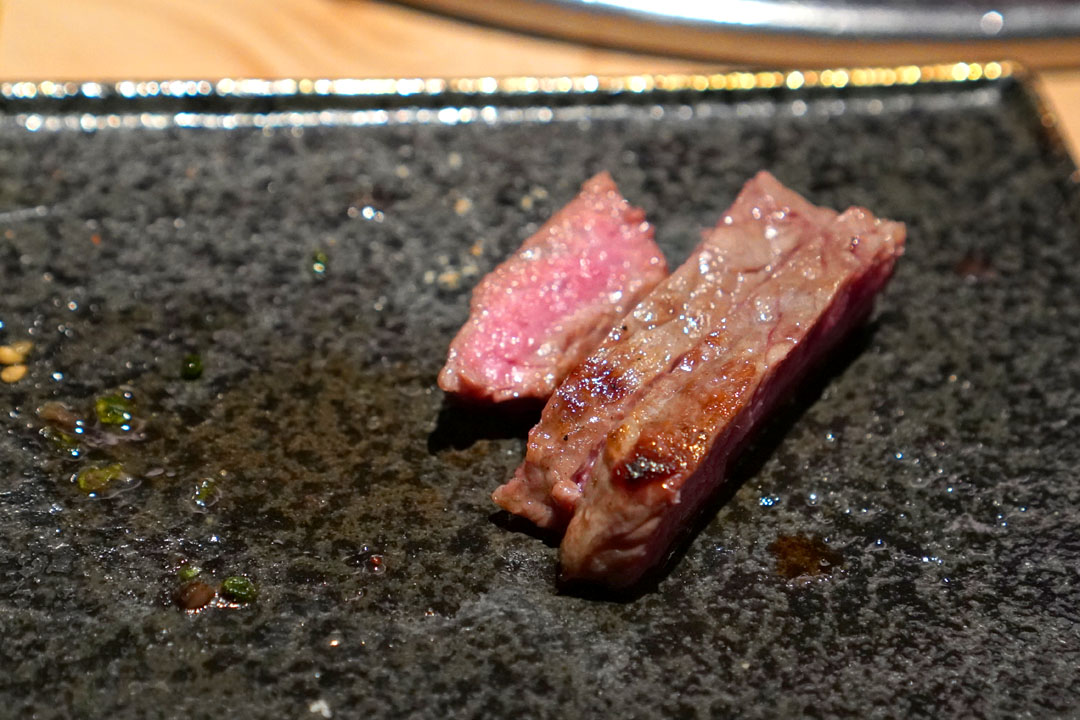 11: Masami Striploin
The strip loin was the most "classically steak-y" cut we tried, if that makes sense.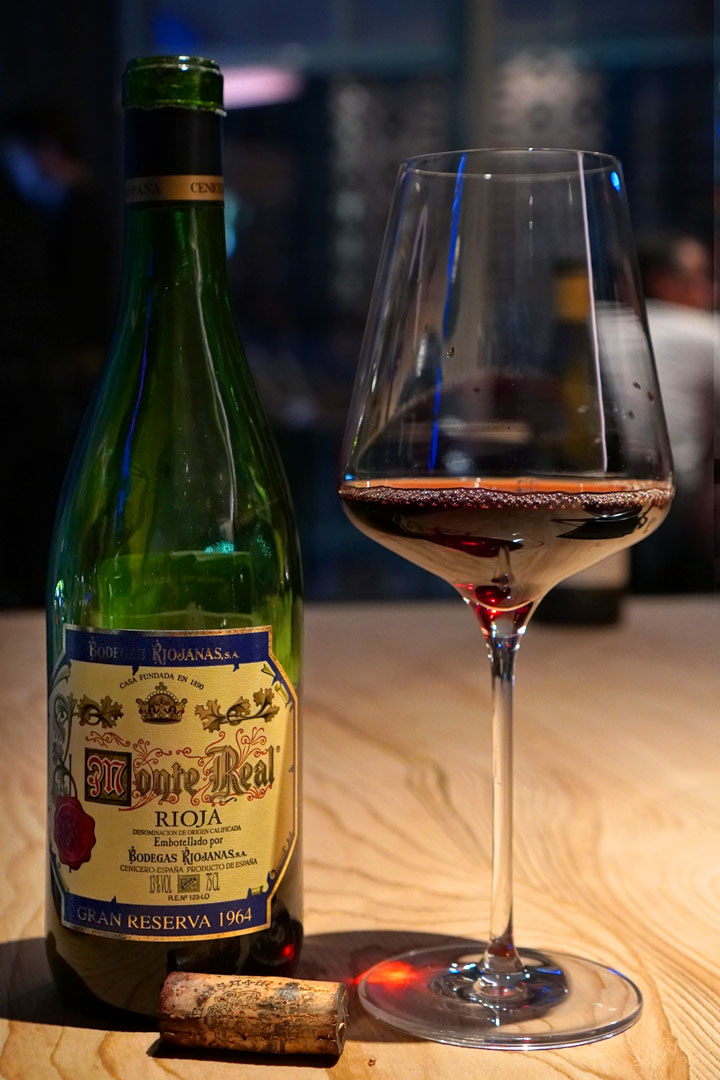 Next to imbibe was the
1964 Bodegas Riojanas Rioja Monte Real Gran Reserva
, which was actually released from the winery's collection in 2021. The was the first wine created by winemaker Felipe Nalda Frias, and was reportedly aged six years in oak. I got a stellar nose rife with cool blue fruits intertwined with aromatic cedar box. On the palate, the Rioja was undeniably supple, with loads of ripe berries beautifully blended with an amalgam of herbaceous, earthy, and tertiary elements. Utterly graceful and sophisticated--a magnificent testament to the legendary status of the '64 vintage.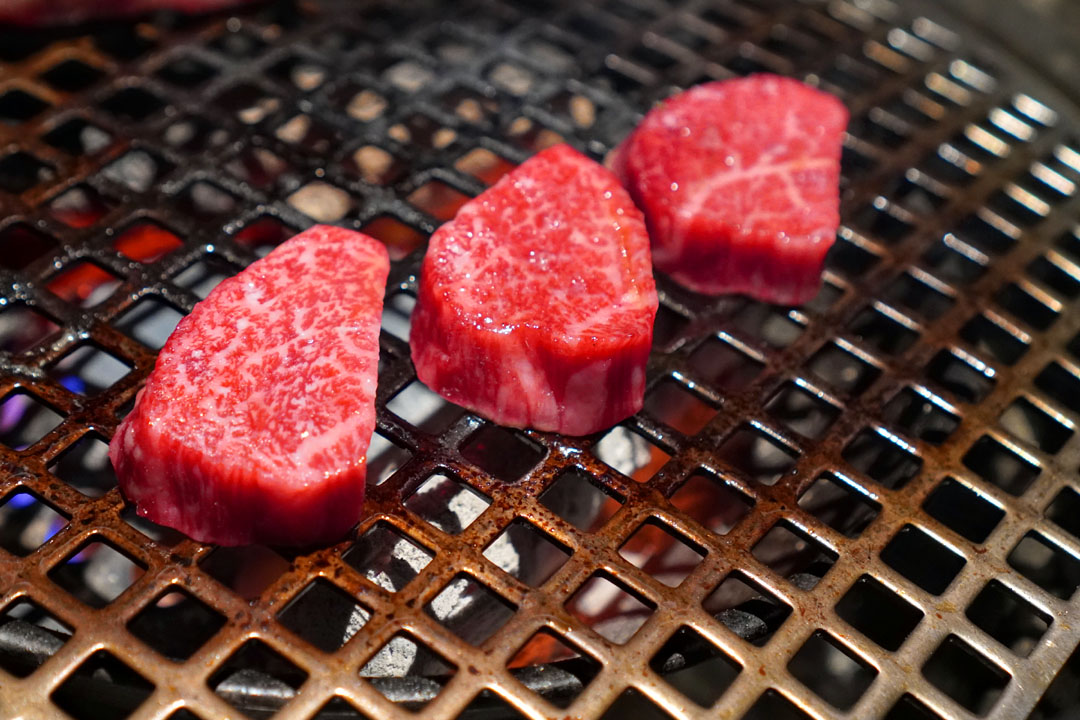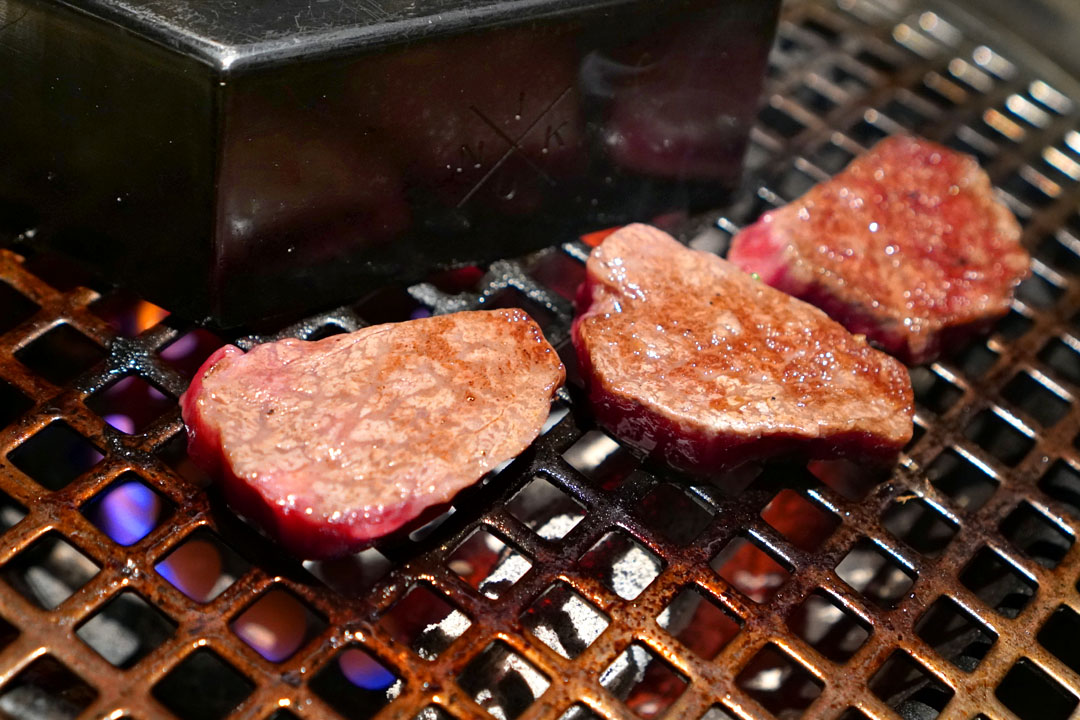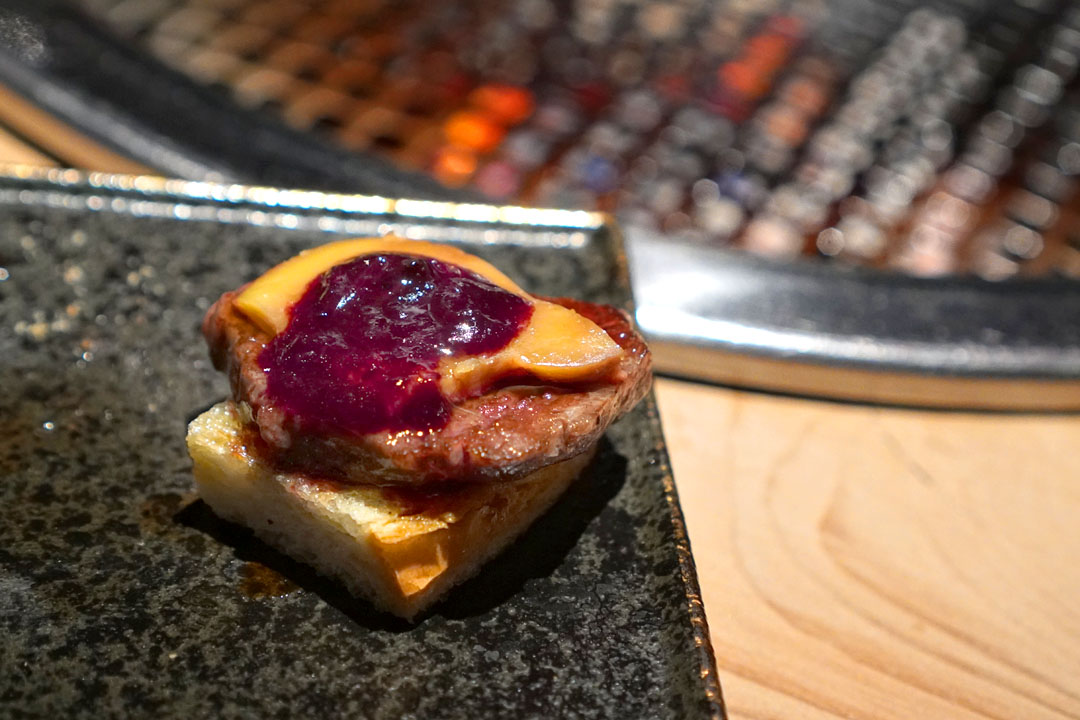 12: A5 Miyazaki Tenderloin
| Ginza Nishikawa Milk Bread, Foie Gras, Blueberry Gastrique
Filet was incorporated into a sort of mini open-faced sandwich. I quite liked the sweetness of the blueberry here, and appreciated the moderating effect of the
shokupan
, though the foie wasn't as apparent as I would've preferred.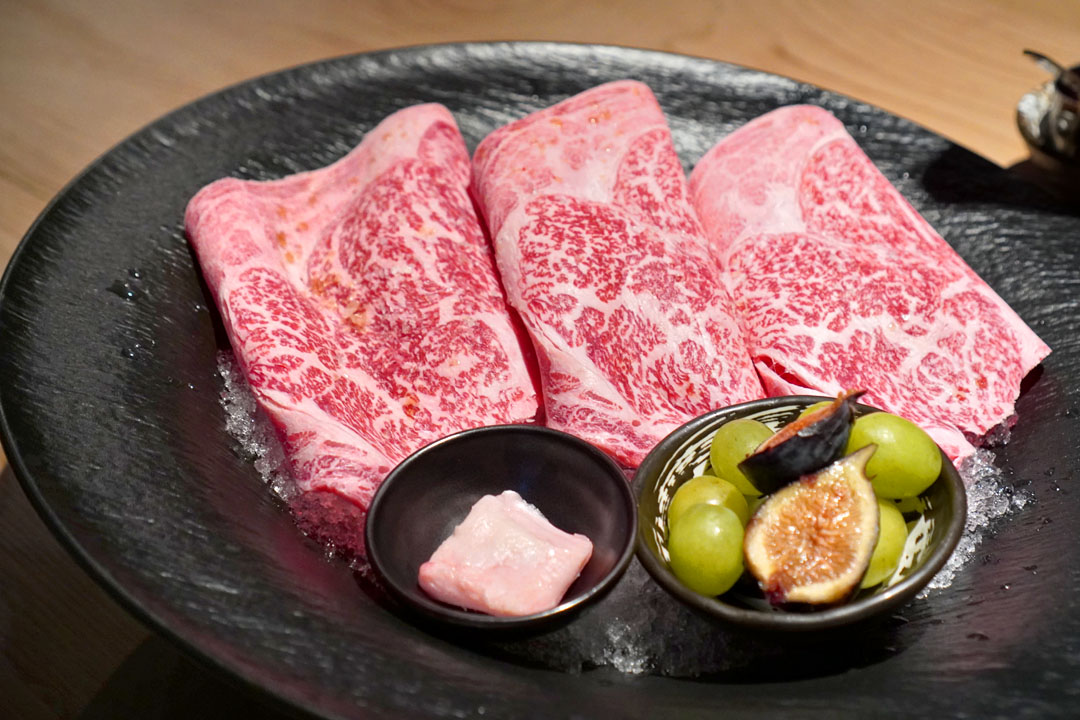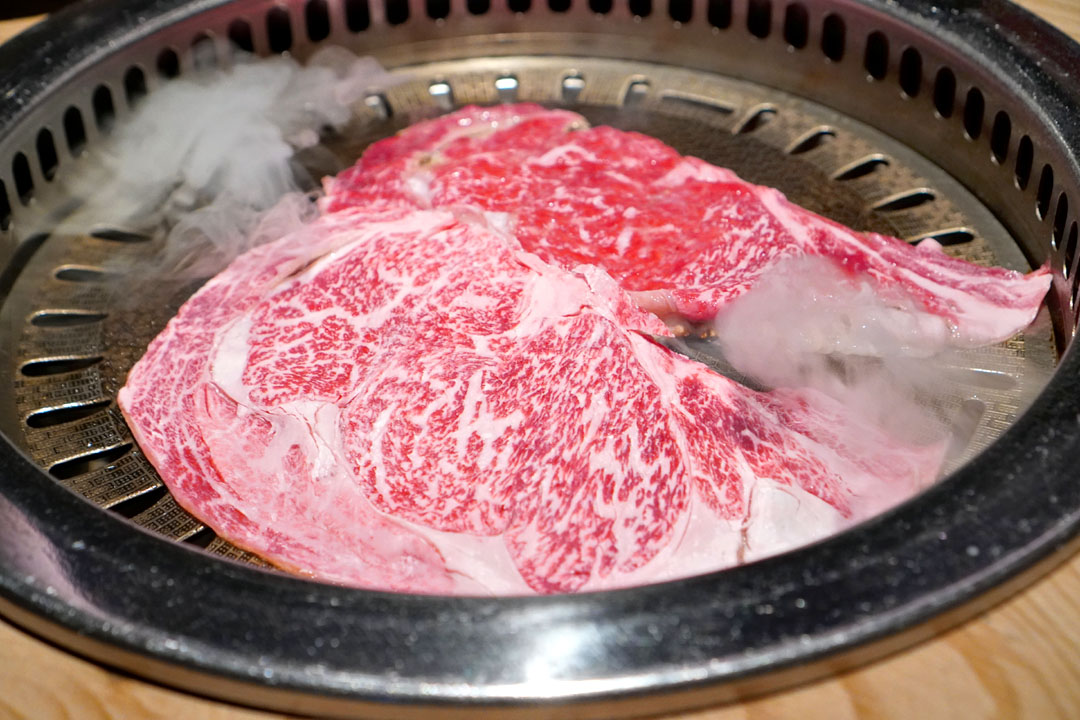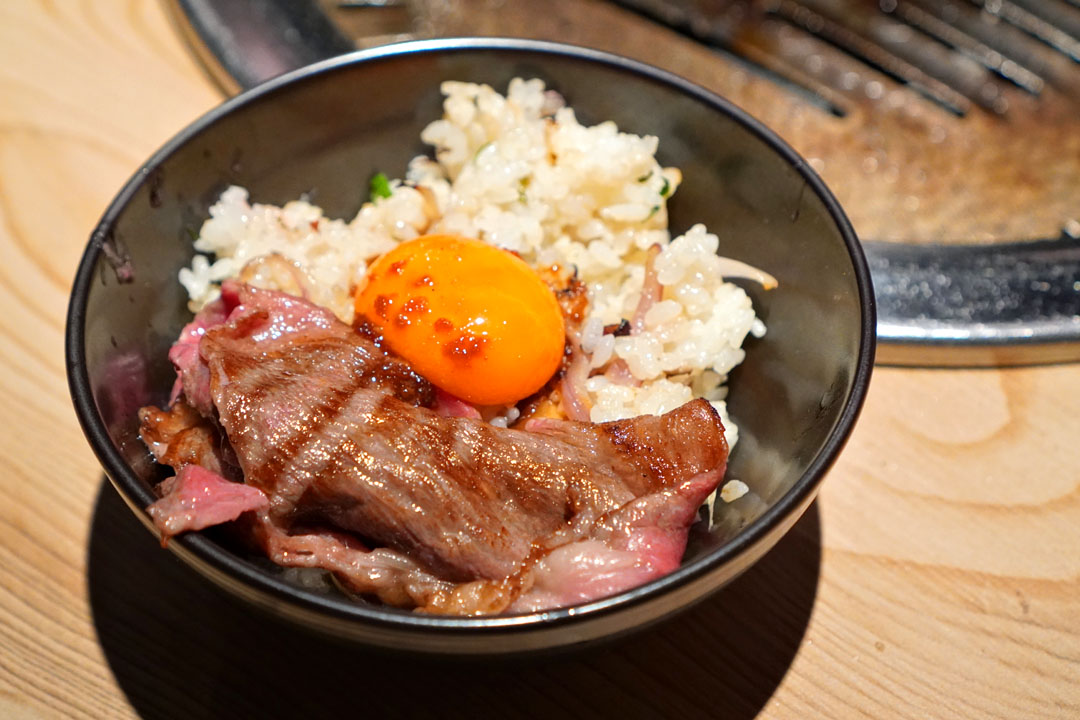 13: A5 Ribeye
| Rice Donabe, Hijiki Salt, Fresh Wasabi, Grill Style
Super-marbled slices of rib eye were a joy to eat, and paired effortlessly with that well-textured, shiitake-boosted rice.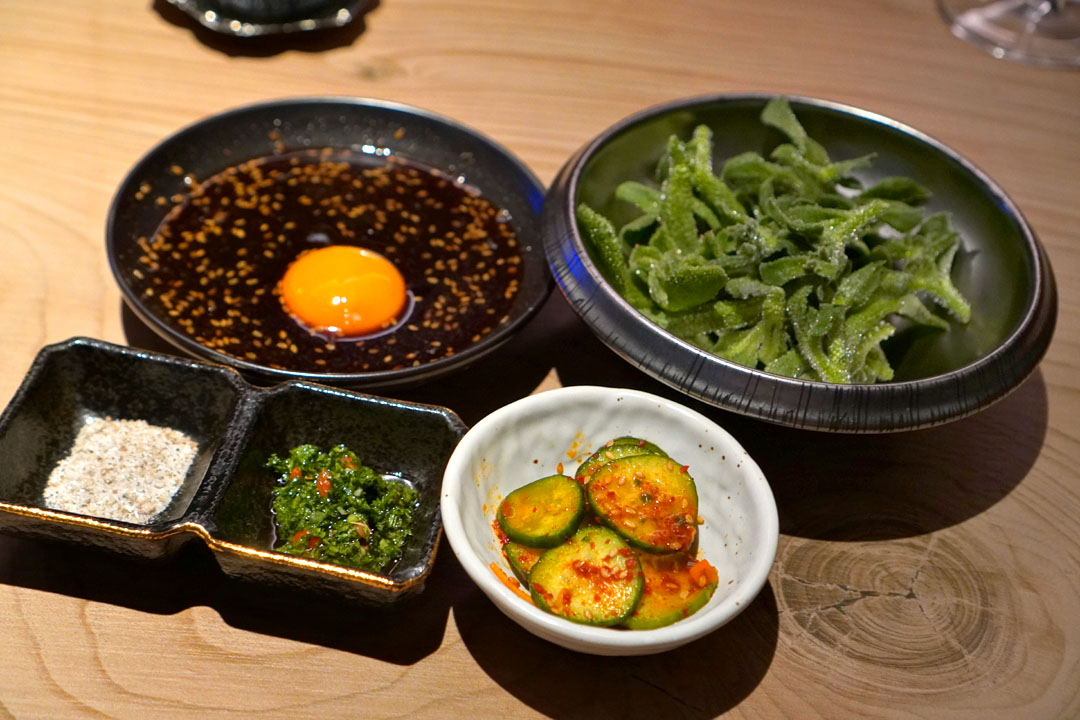 Now arriving: accompaniments for our steak.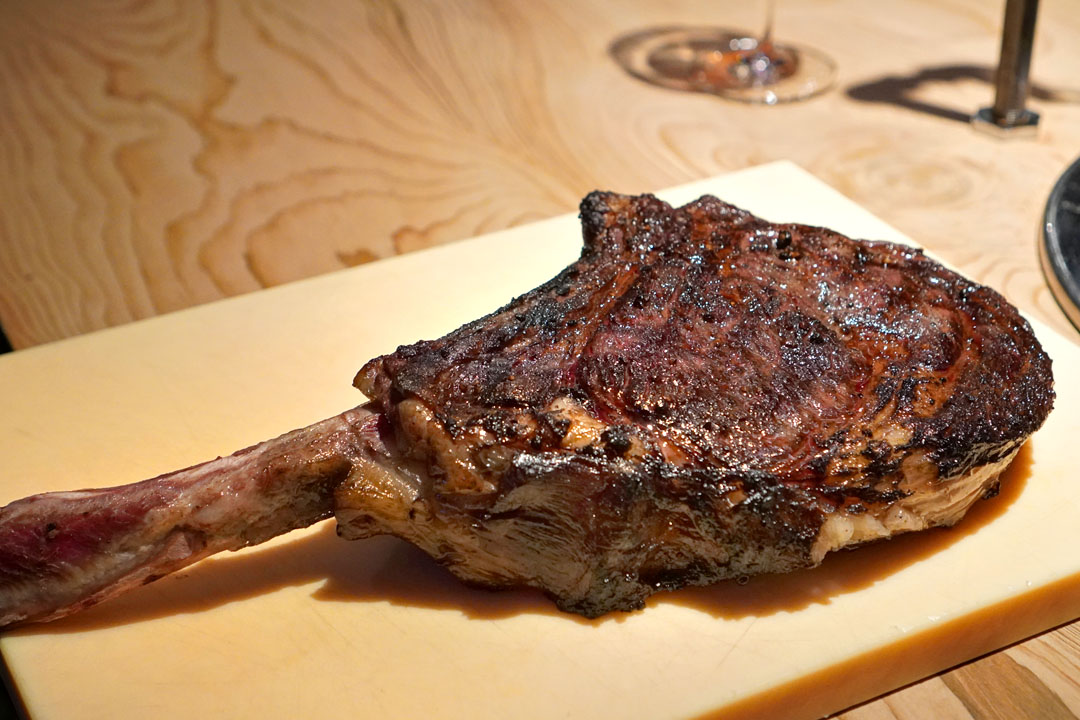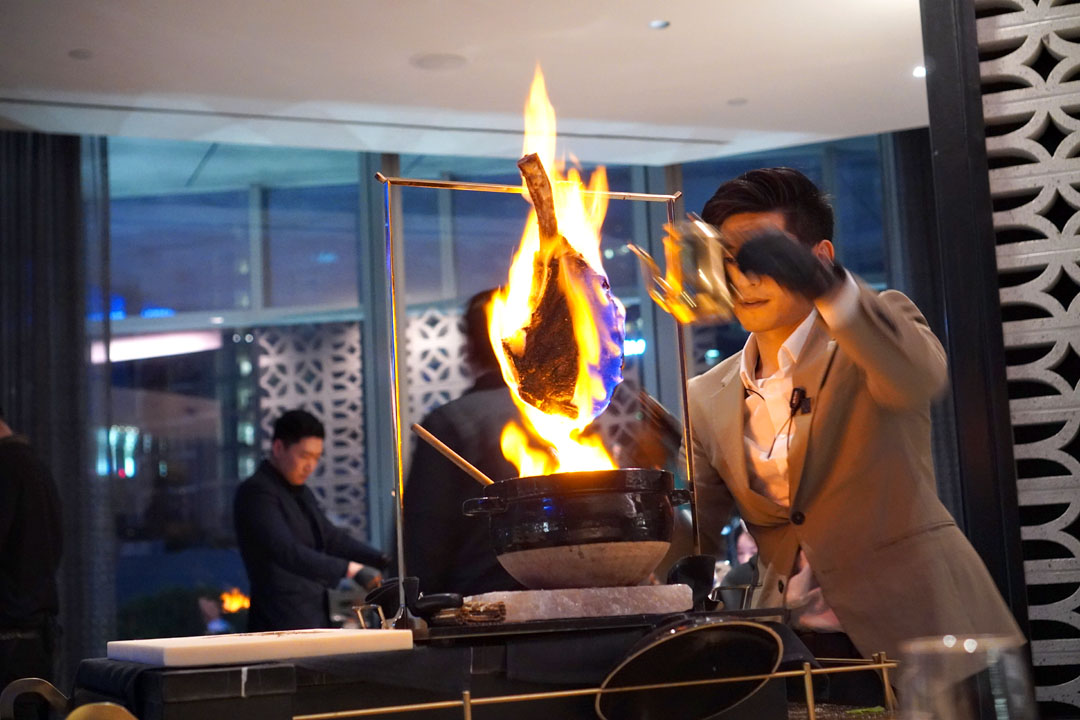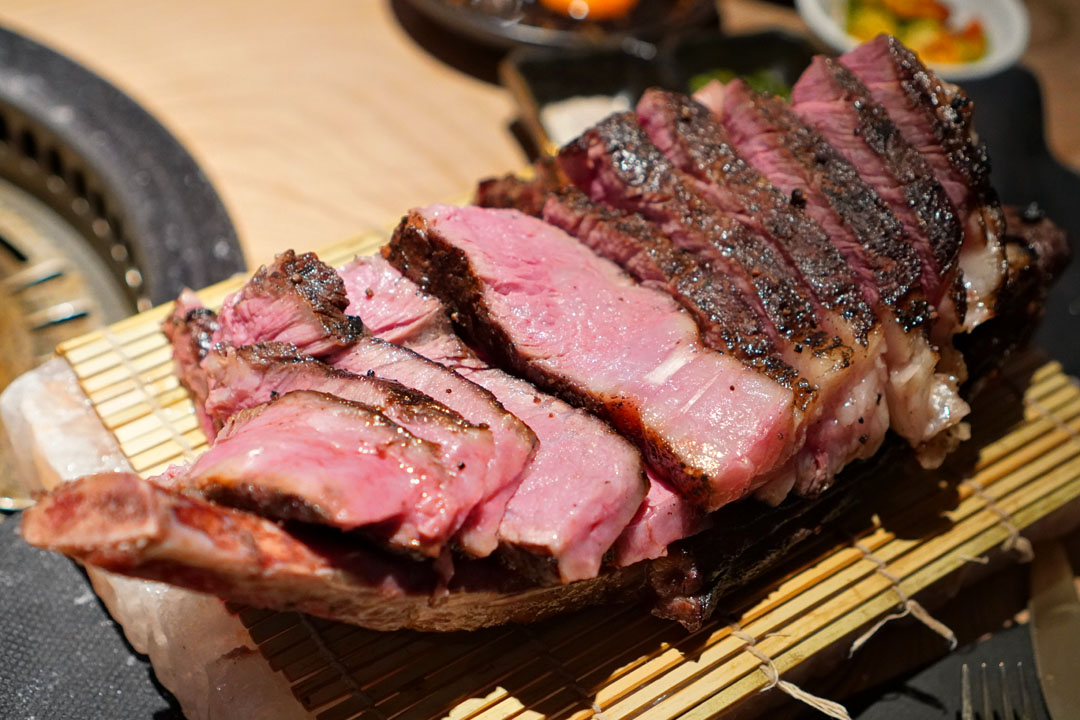 45 Day Dry Aged Supreme Wagyu [$325]
We supplemented our meal with this impressive-looking tomahawk ribeye, which was finished tableside, again with plenty of showmanship. The steak boasted a great sear, along with a delectable pepperiness, and was properly tender, almost silky. Interestingly, I actually found the meat surprisingly refined--not as funky as you'd expect for being dry-aged, and not as fatty as you'd expect for being Wagyu.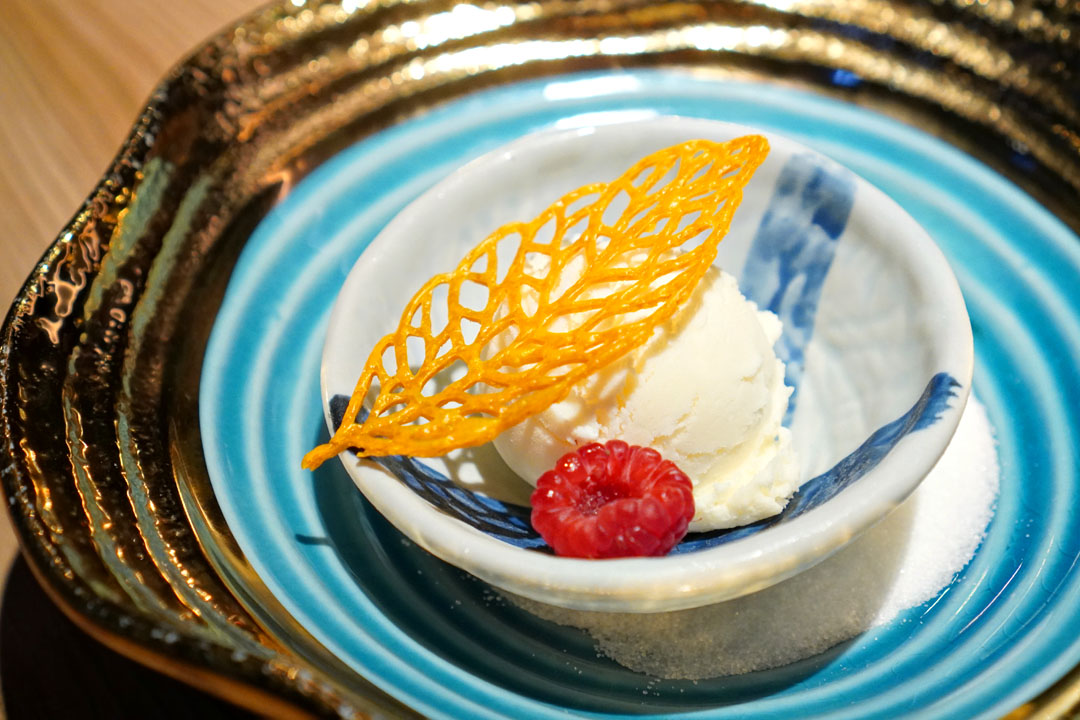 14a: Yuzu Lemon Sorbet
It was now time for dessert, and we ended up trying all four options. A citrus sorbet arrived tart and bracing, and was rather refreshing given all the meat we'd been having.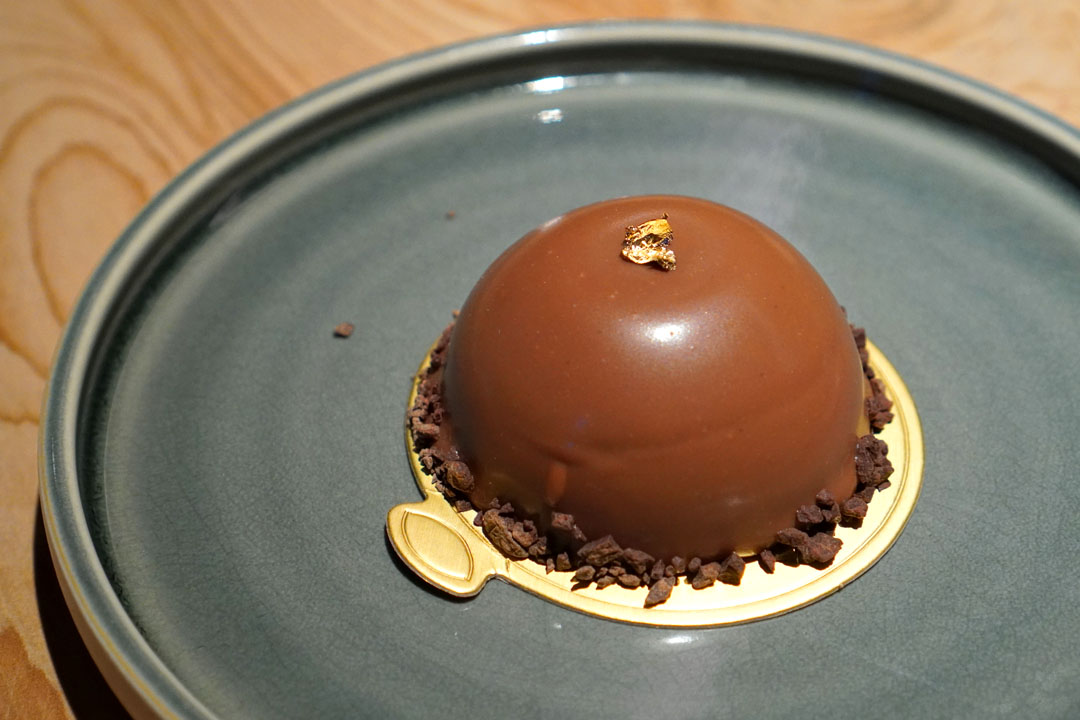 14b: Triple Chocolate Dome
This demispherical chocolate cake had a cocoa-like quality that recalled the Nesquik of my childhood.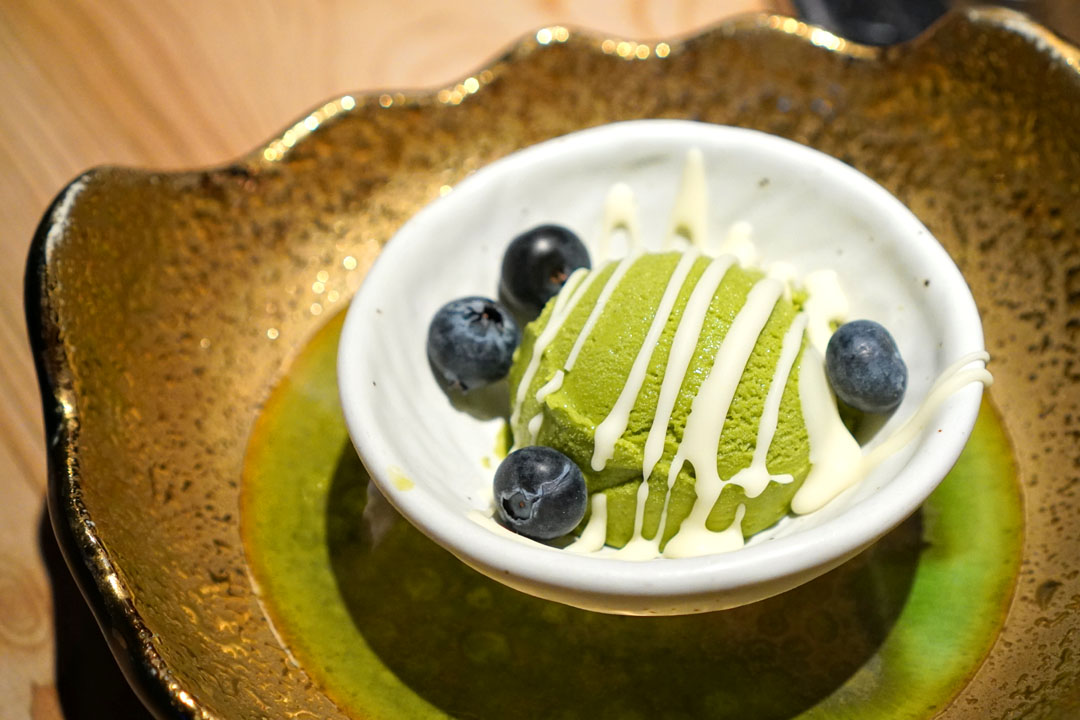 14c: Matcha Ice Cream
The green tea ice cream displayed the bitterness that I wanted, offset just a smidge by those juicy blueberries.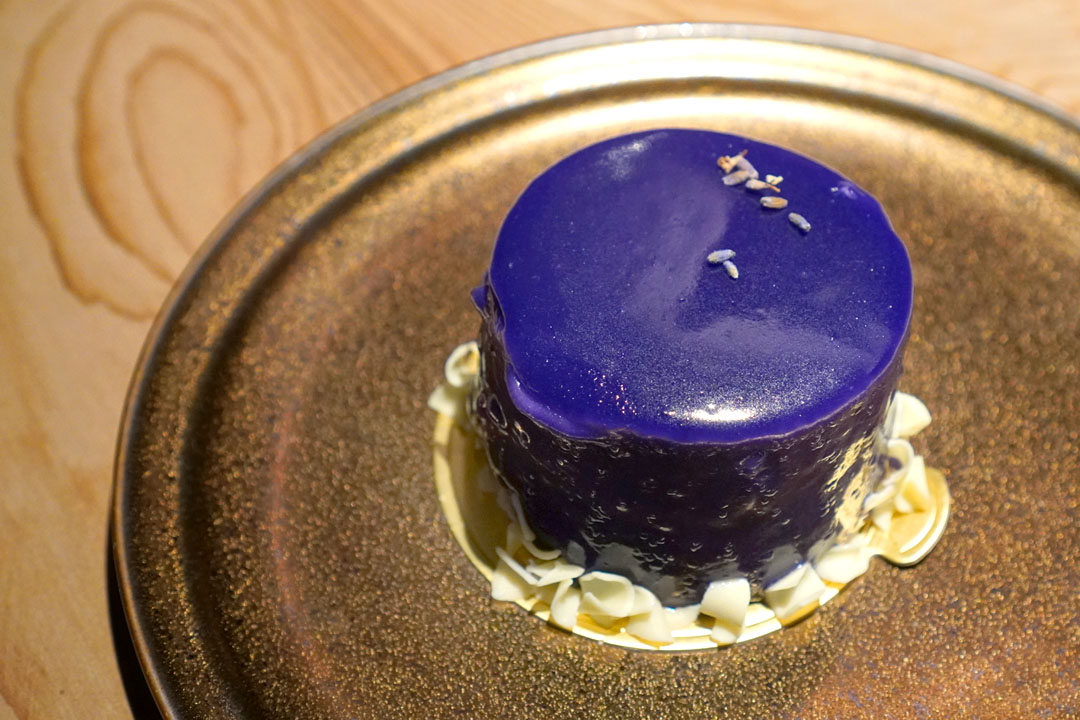 14d: Lavender Garden
Last up was my favorite of the desserts: an indigo-tinted cake that did a nice job conveying the floral, herby nature of lavender.
We had a great time at Niku X, and it's absolutely the best "Chinese-style" yakiniku place around. Indeed, the restaurant is not about subtlety or restraint, but nearly over-the-top decadence and luxury, with a dash of theatrics thrown in for good measure. It's a welcomed addition to the DTLA dining scene, and appears to be doing quite well right out of the gate. In fact, from what I've heard, the ownership team is already thinking about opening up more Niku X locations across the country, and I could see them doing very well with that.