Corridor 109 (Los Angeles, CA)
Corridor 109 | Test Kitchen
727 N Broadway, Los Angeles, CA 90012
www.instagram.com/corridor109/ / www.corridor109.com
Sat 03/18/2023, 08:30p-12:15a
One the most intriguing projects to launch during the pandemic has got to be Corridor 109. The creation of Chef Brian Baik, the restaurant started life as a pop-up in K-town, but is now run out of a semi-permanent spot in Chinatown. The menu here is decidedly focused on high-end seafood preparations, and combines Baik's French culinary training with his distinctly Korean- and Japanese-inflected point of view. The precision and intimacy of the cuisine has made Corridor 109 one of the toughest tickets to score in town, but fortunately, I was able to land a reservation recently.
About the Chef
: Brian K Baik was born in April 1984, and spent his childhood around LA. Family members Dana Baik and Eun-yup Baik were actually the founders of famed
bossam
specialist Kobawoo House in Koreatown (open 1983), but he initially opted not to pursue a career in hospitality. Instead, he went to USC, where he achieved a BS in Business Administration, with a focus on real estate. However, after spending some time in finance, he was eventually drawn back to the food world, and thus decided to attend culinary school at the International Culinary Center in New York, during which time he cooked at David Bouley's eponymous Bouley in TriBeCa. After finishing his studies in 2012, he worked at Daniel Humm's Eleven Madison Park and Cesar Ramirez's Chef's Table at Brooklyn Fare. Most recently, he honed his seafood skills as part of the opening team at Sushi Noz, under Nozomu Abe. Baik thought about opening up a restaurant in New York, but the pandemic resulted in him scrapping those plans and returning to SoCal.
Now back in the Southland, he decided to launch a pop-up called Corridor 109 inside his parents' restaurant, and the first dinner was held in late August 2021. With a name inspired by Guillaume Guedj and Shinichi Sato's Passage 53 in Paris (Kobawoo's storefront is #109), the dinner series started out on Mondays only (when Kobawoo's closed), and offered a mere eight seats a night. Corridor 109's renown grew substantially in the early parts of 2022, but Baik ended up shutting things down on May 23rd last year, shortly after collaborating on a dinner with ex-
Tokki
toque Sunny Jang. Following the closure, the Chef began working on opening a more permanent home for his first solo project. He eventually decided on a location at Far East Plaza (遠東商場), and dinners at the new address commenced back in January.

Corridor 109 takes over a second-floor storefront at Far East Plaza that was previously home to Taiwanese spot
Lao Tao
. The dining room is on the spare side to be sure, and seats just eight guests.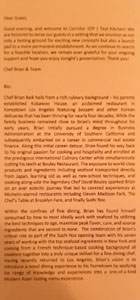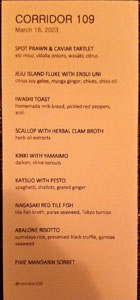 And here we see Corridor 109's tasting menu, which spans nine courses and is priced at a pre-paid $250 per person, plus 20% service, 9.5% tax, and a $2.25 Tock fee. This is up from a base price of $225 when the place first opened in Chinatown, and a big step up from the $150 that Baik was charging when he started out in K-town. Click for larger versions.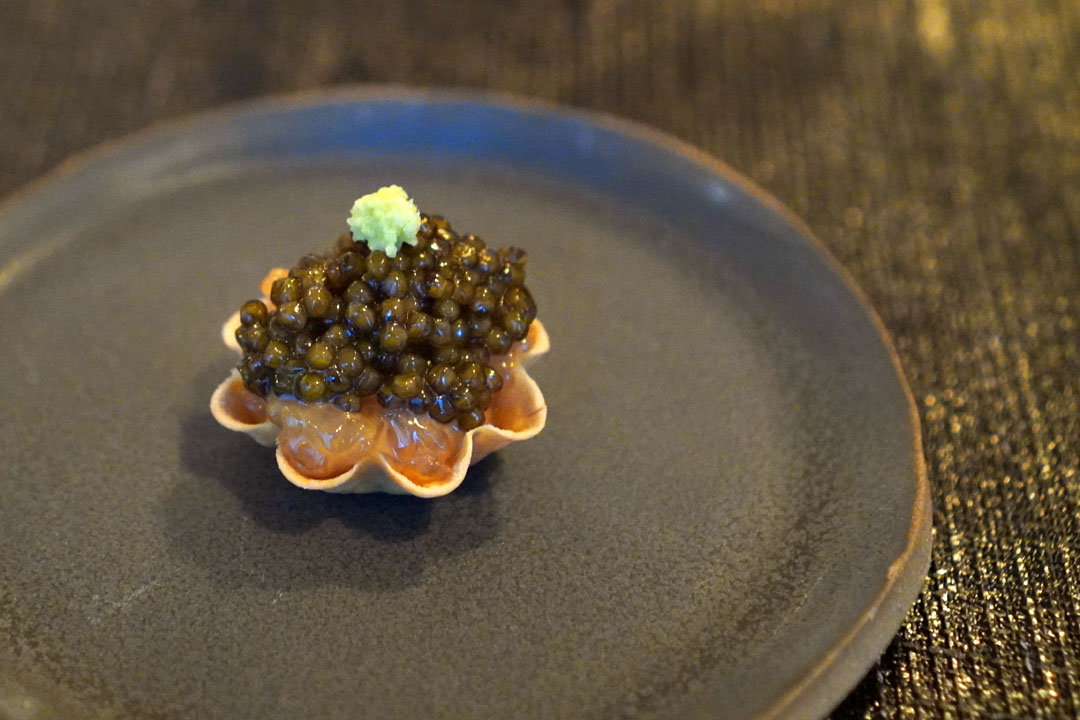 1: Spot Prawn & Caviar Tartlet
| ebi miso, vidalia onions, wasabi, citrus
Up first was this one-biter amuse bouche that expertly combined the sweetness of prawn with zesty wasabi and the savoriness of an onion marmalade. At the same time, the caviar served as an overarching briny component that functioned as the perfect accent piece, and I got a nice lingering taste of that pastry crust, too. This was super well-integrated, and a fantastic start to the evening that really set the tone for the rest of the dinner.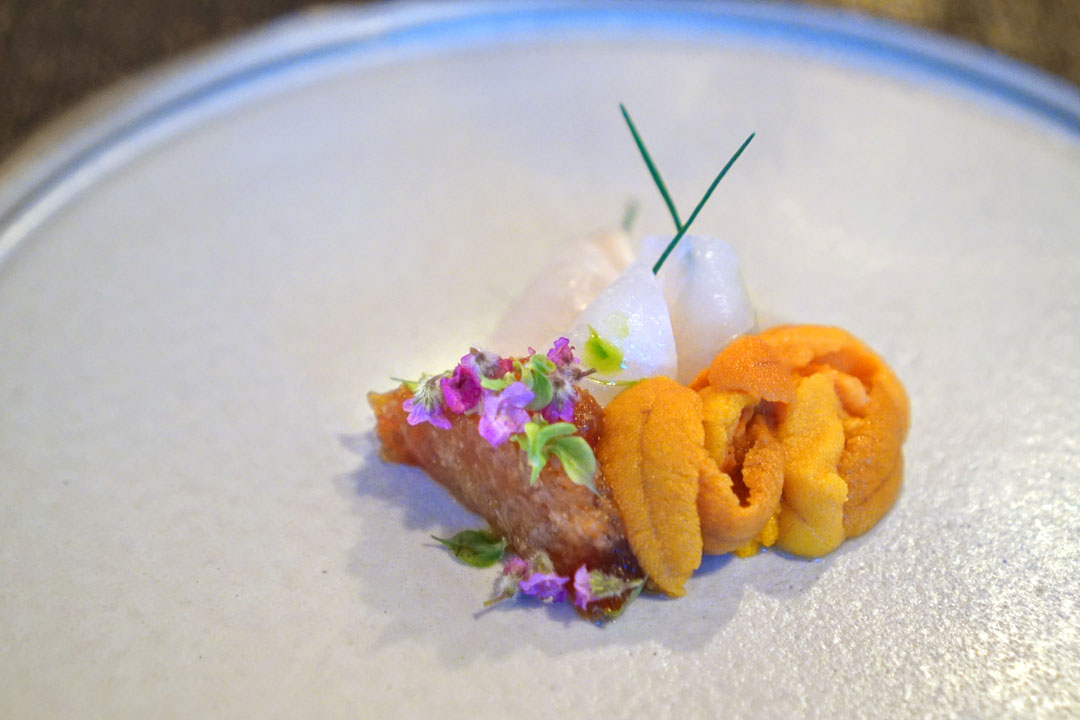 2: Jeju Island Fluke with Ensui Uni
| citrus soy gelee, myoga ginger, chives, shiso oil
Cuts of
Jejudo
flounder ate super clean and lean, and were essentially "seasoned" by the delightfully sweet-n-saline nature of that Hokkaido uni. However, the crucial ingredient for me was the zesty
myoga
-chive-shiso combo, while a soy gelée helped bind it all together. The key here was really to get everything in one bite, so that everything could harmonize.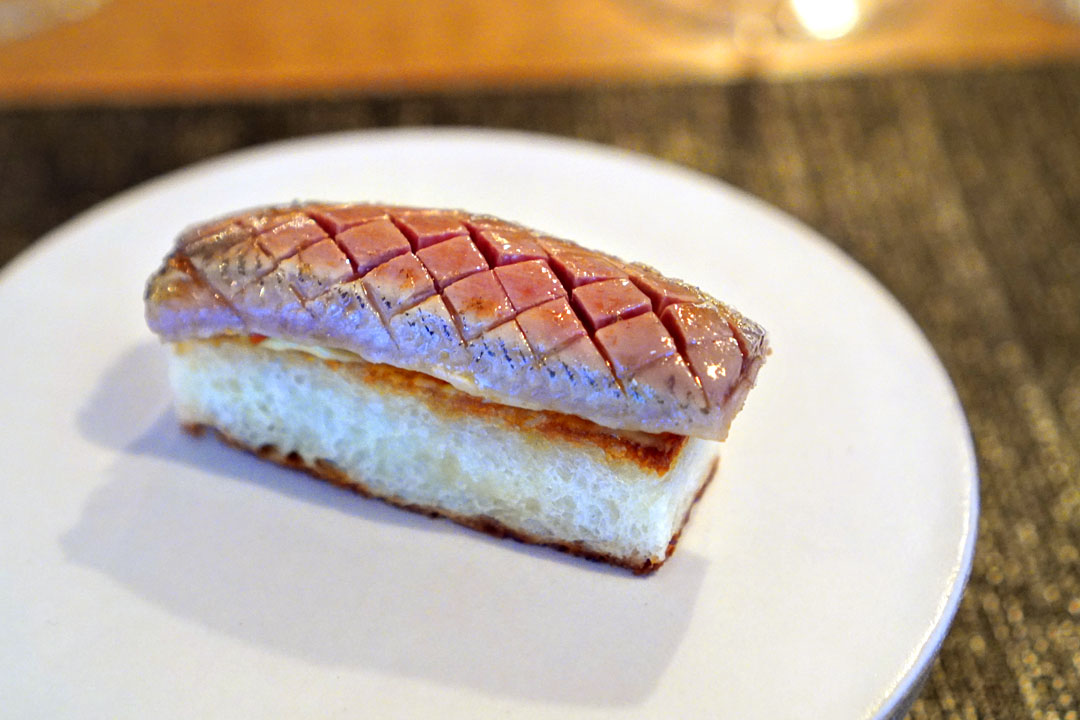 3: Iwashi Toast
| homemade milk bread, pickled red peppers, aioli
This pintxo-inspired course was certainly a highlight. Japanese sardine from Hyogo was salted and cured, and showed off an intoxicatingly briny aroma that really drew me in. Its taste was expectedly saline, yet sweet and finessed, and the fish combined perfectly with the piquancy of those pickled peppers, all while a housemade
shokupan
moderated the interaction.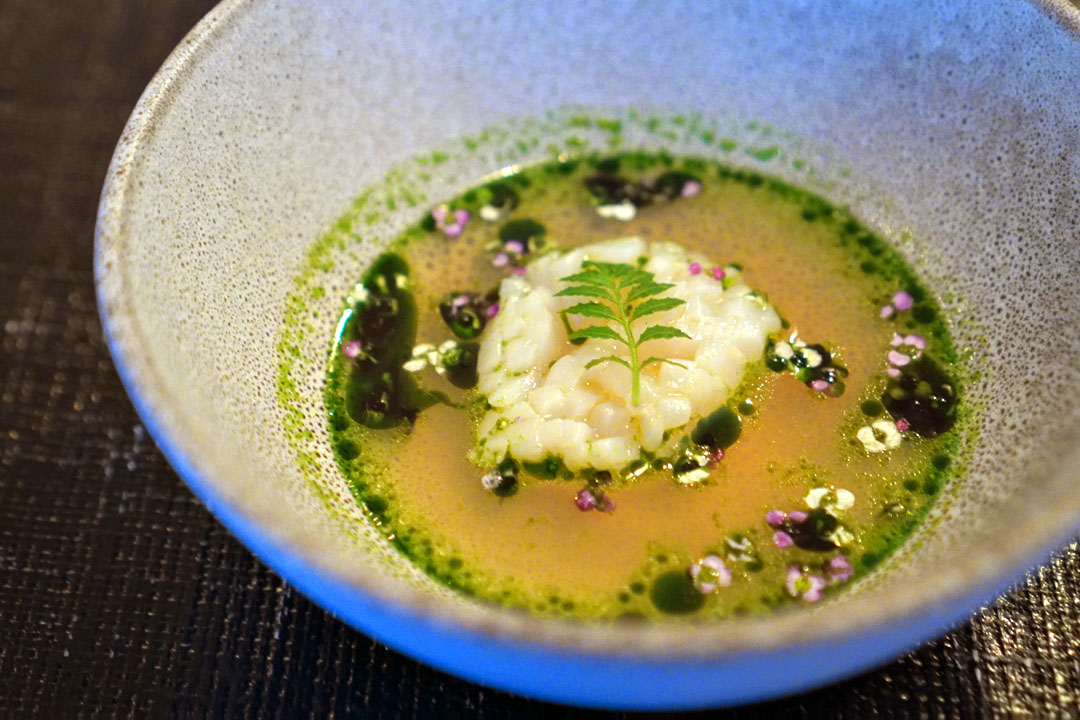 4: Scallop with Herbal Clam Broth
| herb oil extracts
Here we have simply one of the best scallop preparations I've had in a while. Garnished with a
kinome
leaf, the scallop itself was spot-on texturally, and that great marriage of sweetness and brine that I was looking for. However, the hero was the broth, a wonderfully heady, aromatic soup incorporating manila clam and extracts of parsley/dill/basil/chive. It was a cozy, yet intriguing liquid that did a beautiful job combining herbaceous and oceany flavors.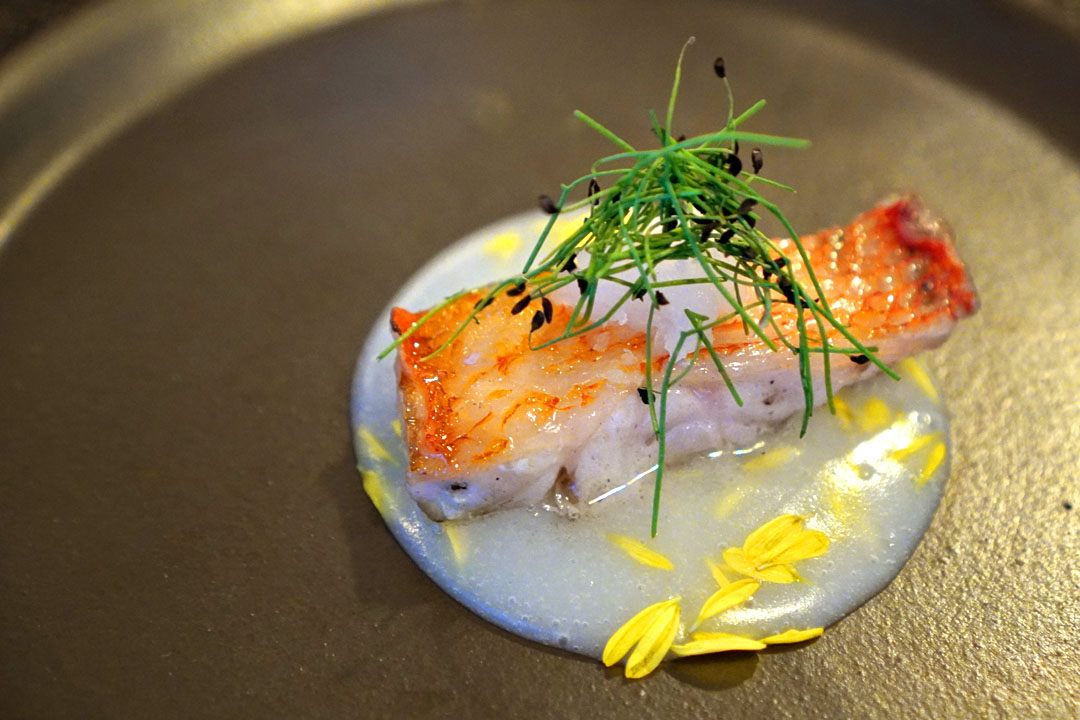 5: Kinki with Yamaimo
| daikon, chive sprouts
Shortspine thornyhead, also known as idiot fish, is a high-class fish with an unfortunate name. Tonight's charcoal-grilled example hailed from Hokkaido, and ate fatty, yet so clean and delicate, and boasted a wonderfully crisp skin to boot, not to mention garnishes of grated daikon and baby chive sprouts. Yet, the star of the show was that mucilaginous mountain yam sauce, which had a zinginess (from the chrysanthemum flowers I assume) that I just loved; think restrained, yet a bit profound.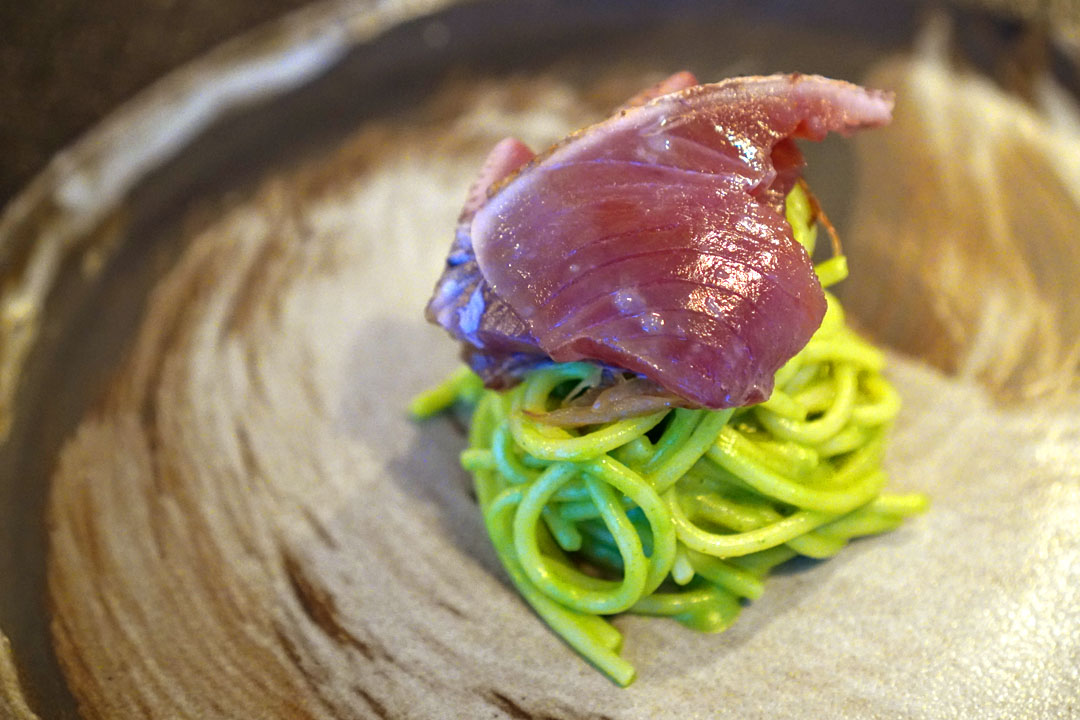 6: Katsuo with Pesto
| spaghetti, shallots, grated ginger
Skipjack tuna from Mie was smoked over hay, giving the fish a gorgeously smoky-savory taste that was only heightened by the use of charred shallots. As good as the bonito was though, the pesto pasta was crucial for contrast thanks to its bright, acidic flavors that linked up swimmingly with the bite of ginger.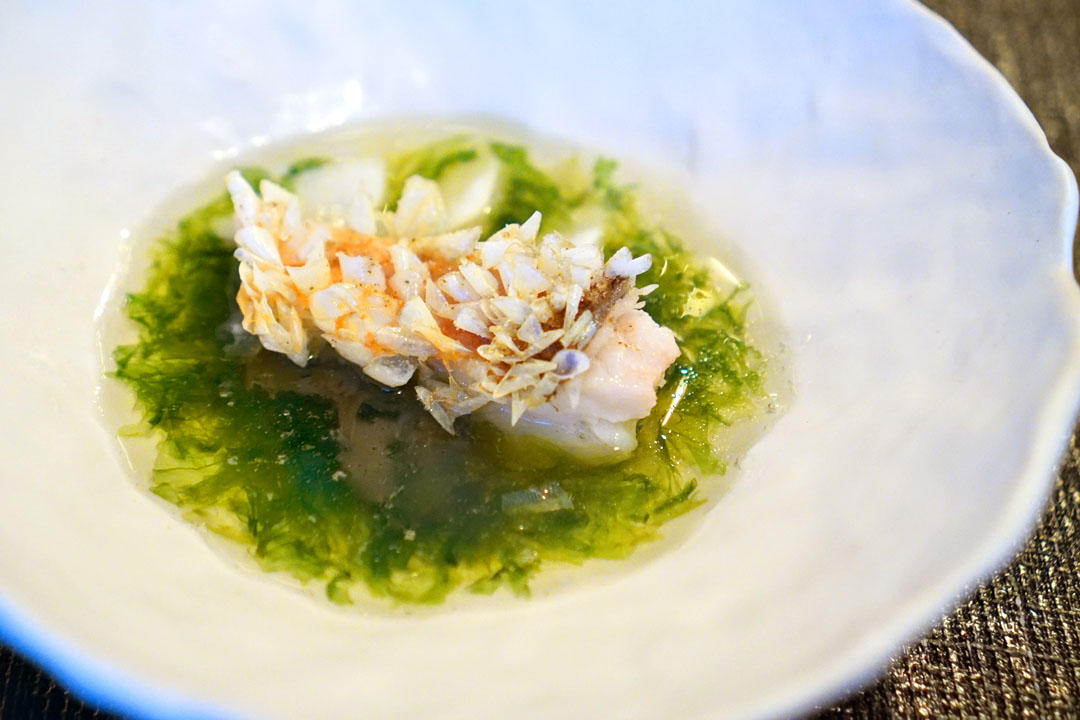 7: Nagasaki Red Tile Fish
| tile fish broth, parae seaweed, Tokyo turnips
Aka amadai
arrived expertly cooked, with a savory, sweet, elegant character and perfectly crispy scales. What set this dish apart, though, was the use of that seaweed broth, which contributed an oceanic sort of grassiness and umami that served as the ideal complement to the fish.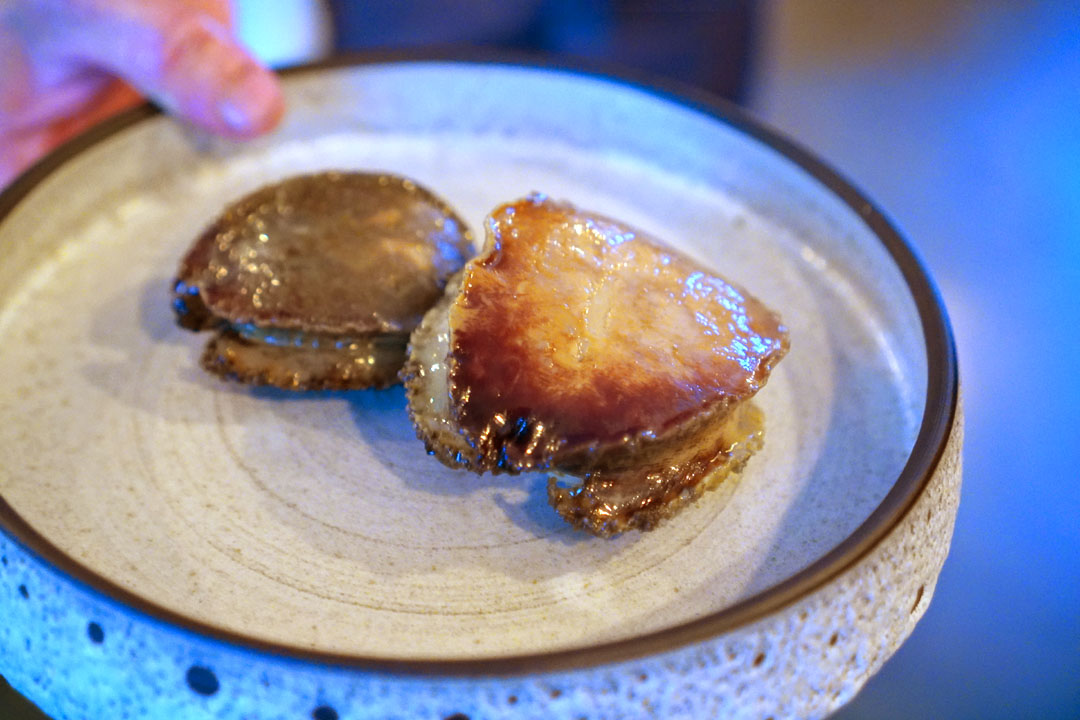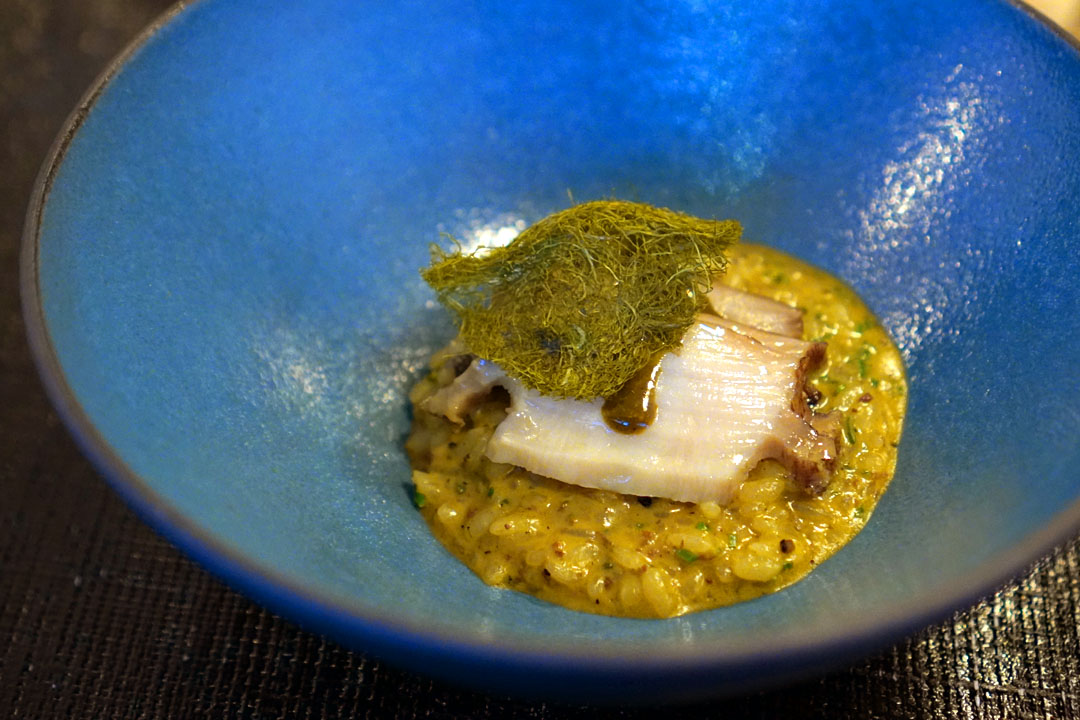 8: Abalone Risotto
| sumidaya rice, preserved black truffle, gamtae seaweed
Our final savory was likely one of the best abalone preparations I've ever had. The crux here was the
kimo
, which contributed massively deep, earthy flavors that paired perfectly with the
awabi
's inherent savoriness. The subtle musk of the truffle and
gamtae
added further facets to the dish, and I also loved the textural interplay between the sheer suppleness of the abalone and the gratifying bite of the rice. This was another favorite of mine for sure, and something I'd just want to eat a big bowl of.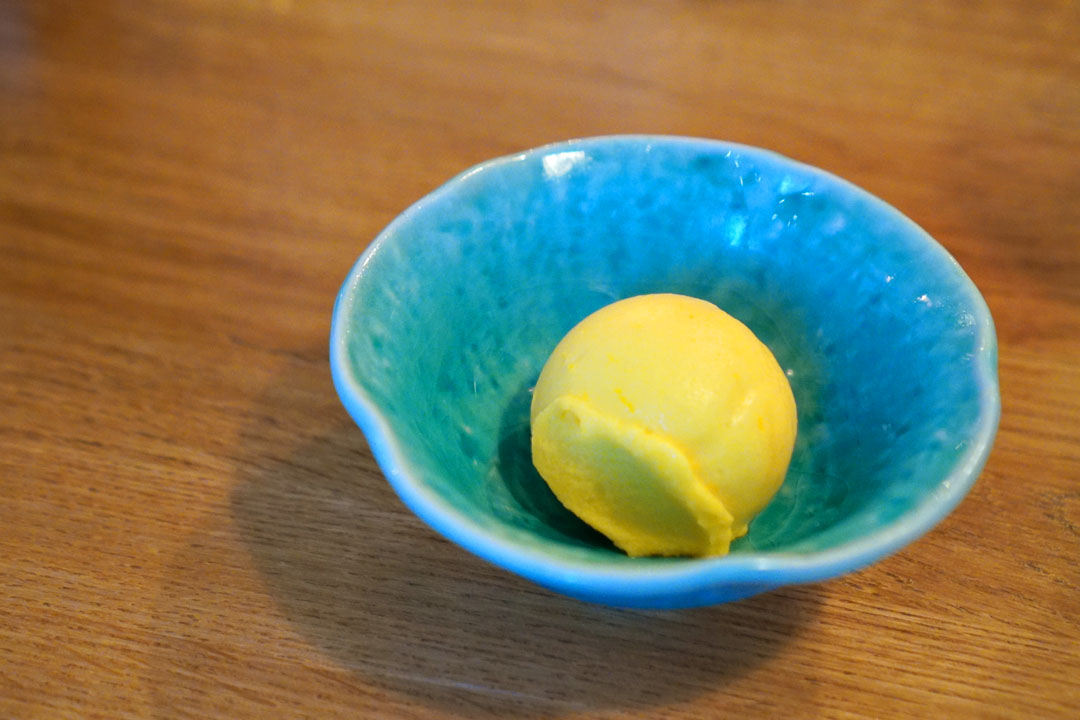 9: Pixie Mandarin Sorbet
To close out the meal, we were given a mandarin orange sorbet (made from fruit from The Mandarin Man in Chino Hills), which featured probably the most intense, true-to-life citrus taste I've ever experienced in a dessert. This was almost like a palate cleanser of sorts.
Quite simply, this was my best dining experience of 2023 thus far (though admittedly, we're still very early in the year). Baik's classic training and penchant for Korean-Japanese flavors came together in delicious fashion tonight, and his treatment of seafood was masterful, often speaking to his time spent at a top sushi-ya. This was some precise, meticulous cooking we're talking about, real Michelin-type stuff, the sort of cuisine that gets me excited. As for the Chef's next move, it seems like this Far East Plaza location is a mere stepping stone to a proper restaurant, and that's something we should all look forward to.