Gucci Osteria da Massimo Bottura (Beverly Hills, CA)
Gucci Osteria da Massimo Bottura
347 N Rodeo Dr, Beverly Hills, CA 90210
424.600.7490
www.gucciosteria.com
Sun 03/26/2023, 07:15p-09:40p

I'd been wanting to dine at Gucci Osteria ever since it opened about three years ago, but the spot's previously arcane reservation process and a couple pandemic-induced closures kept me away until now. The place is, of course, the brainchild of Massimo Bottura, creator of the famed Osteria Francescana in Modena, oft considered one of the best restaurants in the world.
Apparently, the idea of putting Bottura eateries at Gucci stores came about because the Chef is childhood friends with Marco Bizzarri, the company's CEO. Thus, the first Gucci Osteria debuted in early 2018 at Palazzo della Mercanzia in Florence (where the fashion house is headquartered), serving a version of the contemporary Italian cuisine that Bottura is known for; it was awarded a Michelin star in November 2019. This Beverly Hills outpost, helmed by Mattia Agazzi, opened in February 2020, and was followed by Tokyo Ginza in 2021 and Seoul in 2022. BH landed its own Michelin star in September 2021, which it successfully retained last December.
About the Chef
: Mattia Agazzi was born in August 1989, and hails from Alzano Lombardo, Bergamo in the Lombardy region of northern Italy. He developed an interest in food early on, and was cooking by the age of 11, though he began more seriously focusing on the craft five years later. Following high school (he attended IPSSAR Alfredo Sonzogni in Nembro), one of his teachers was able to get him a job at the three Michelin-star Da Vittorio in Brusaporto, where he trained under Chef Enrico "Chicco" Cerea for four years; he also cooked at Ezio Gritti's L'Osteria di Via Solata during this period. From there, Agazzi spent seven years at various restaurants around the world in order to grow his experience, with his first position abroad being in Bucharest.
He spent time in Paris at Alain Ducasse au Plaza Athénée (following its re-opening under Romain Meder), in London at L'Atelier de Joël Robuchon (and Con Gusto Catering), and in San Cassiano at Norbert Niederkofler's St. Hubertus. In April 2016, he moved to Australia for a job at Brent Savage's vegan spot Yellow in Sydney, and also worked in Melbourne, but by the end of that year, was back in Bergamo to help open Ristorante Ezio Gritti for his old boss. By the latter half of 2017, Agazzi was about to depart for another international gig, but was hired by Osteria Francescana. In early 2018, he was transferred over to the original Gucci Osteria in Florence, where he was sous for Karime Lopez, then moved to the US to launch the Beverly Hills restaurant.
Rounding out the leadership team in the kitchen is Sous Chef Vanessa Chiu, a Canadian who was on the opening team at Gucci Osteria in Florence, and Pastry Chef Tamara Rigo, another O.G. G.O. alum from South Tyrol. As for the front-of-the-house, Restaurant Director duties are handled by Christian Philippo (
NoMad
, Chateau Marmont,
Otium
,
Redbird
,
Republique
,
Saam/The Bazaar
,
Patina
), while Damiano Brescia (Eataly) serves as AGM and Jon Cross as Wine Director.

Pictured above is the view from my seat in the dining room, much of which is actually part of a covered patio. Decor-wise, the interior is about what you'd expect from a restaurant situated inside a Gucci store, and that's not a bad thing.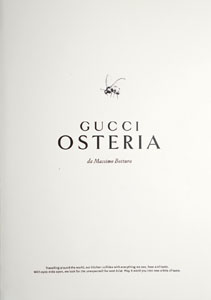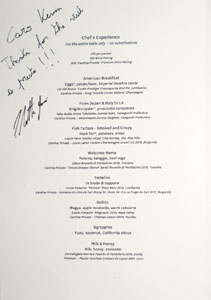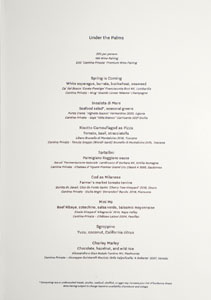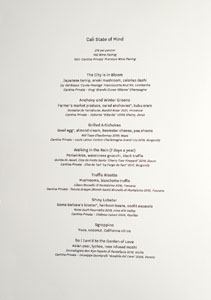 While you can order à la carte at lunch, dinner is strictly a tasting menu affair, with three options, all eight courses. The flagship Chef's Experience (my pick) is priced at $275 plus $195/$500 for wine pairing, but there's also the Under the Palms menu at $220 plus $195/$500 (classic dishes that reflect more of Bottura's influence), as well as the pescatarian Cali State of Mind at $275 plus $195/$500. Click for larger versions.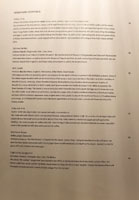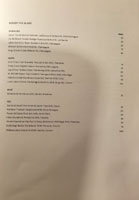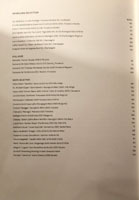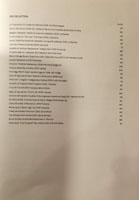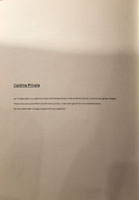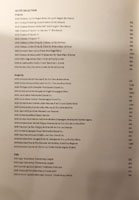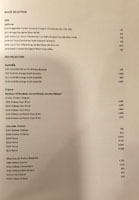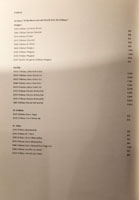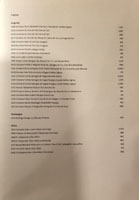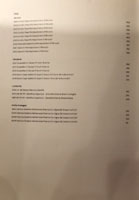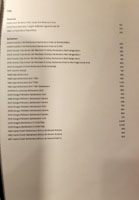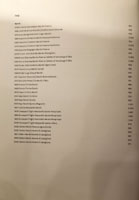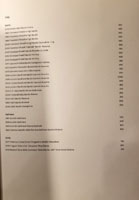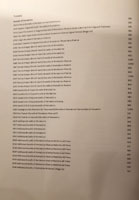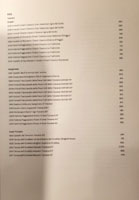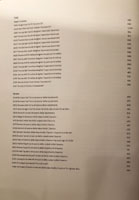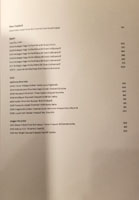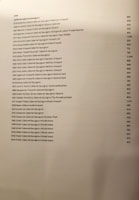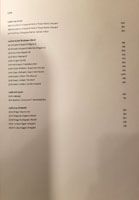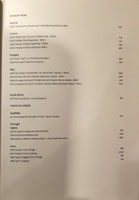 To drink, you get an extensive wine list comprised of mostly Italian, French, and Californian selections, and there are also a handful of rather pricey, but intriguing cocktails. Corkage is not allowed, unfortunately. Click for larger versions.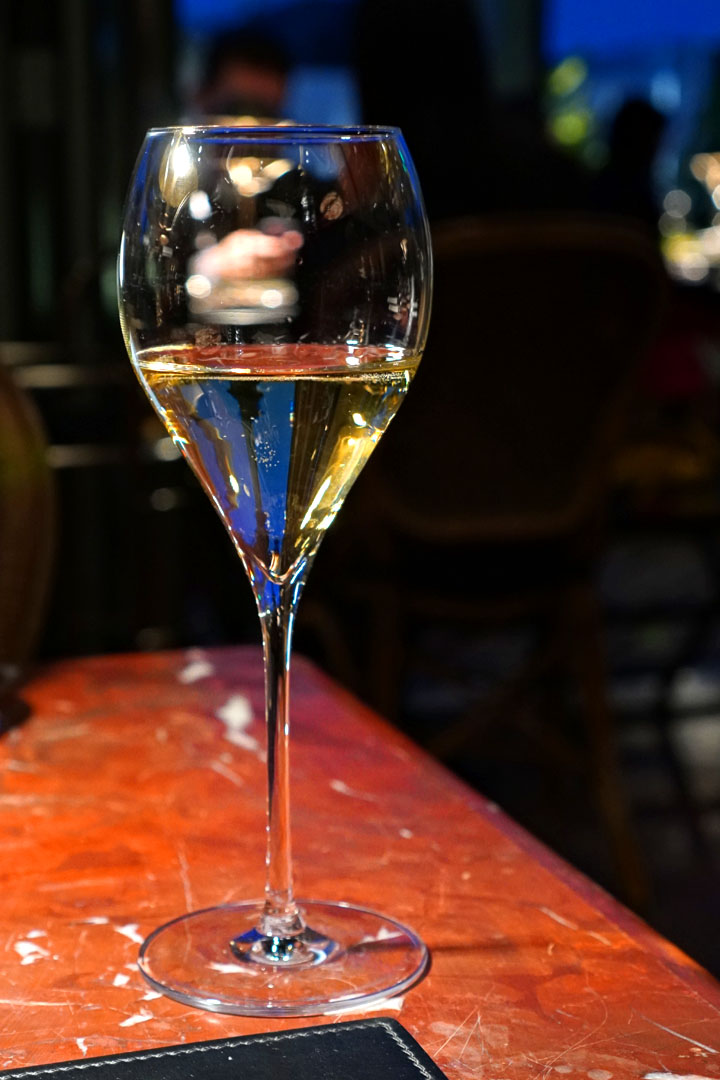 Shortly after being seated, I was presented with a complimentary pour of the
Ca' del Bosco 'Cuvée Prestige' Franciacorta Brut NV, Lombardia
, which served as a fitting aperitivo. The wine featured lush aromas of rich stone fruit, with light florals and citrus. The sparkler wasn't quite as luxuriant on the palate, but still demonstrated a core of orchard fruit, laced with minerals and a marked nuttiness.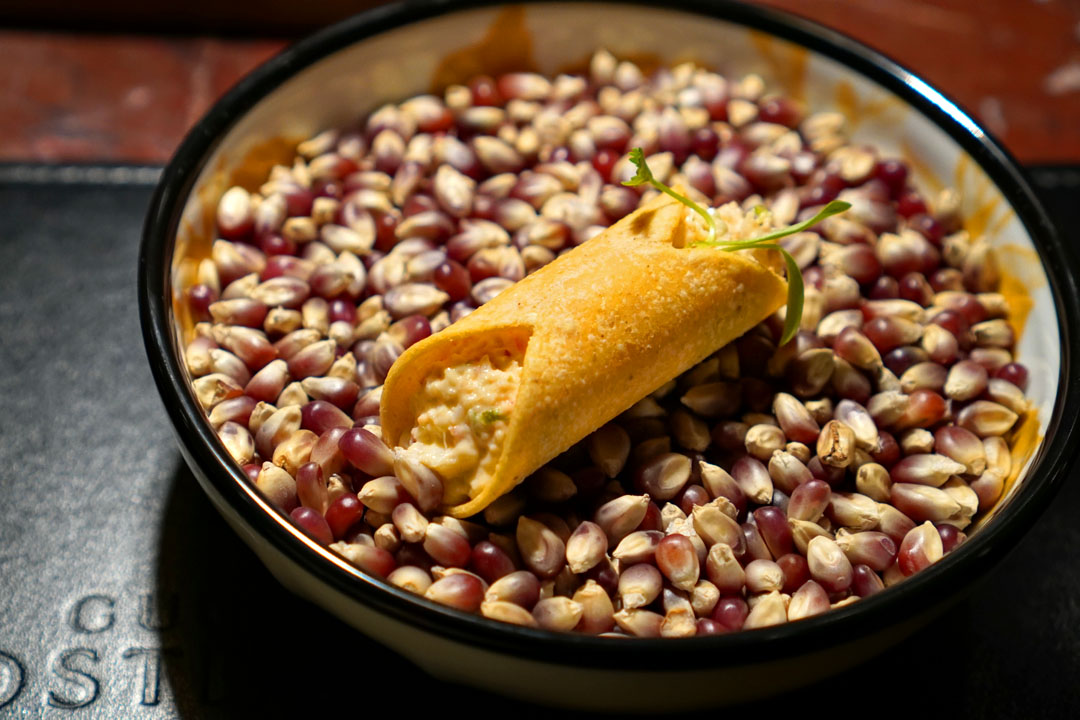 My first amuse bouche was a rolled taco stuffed with Santa Barbara spiny lobster, seasoned with a dressing incorporating
yuzukosho
, and accented by the herbaceousness of micro greens. I appreciated how the sweetness of the lobster was expressed (and seemingly drawn out by the wine above), and well as the lingering brine on the back end, while the corn tortilla offered up a counterpoint in both taste and texture.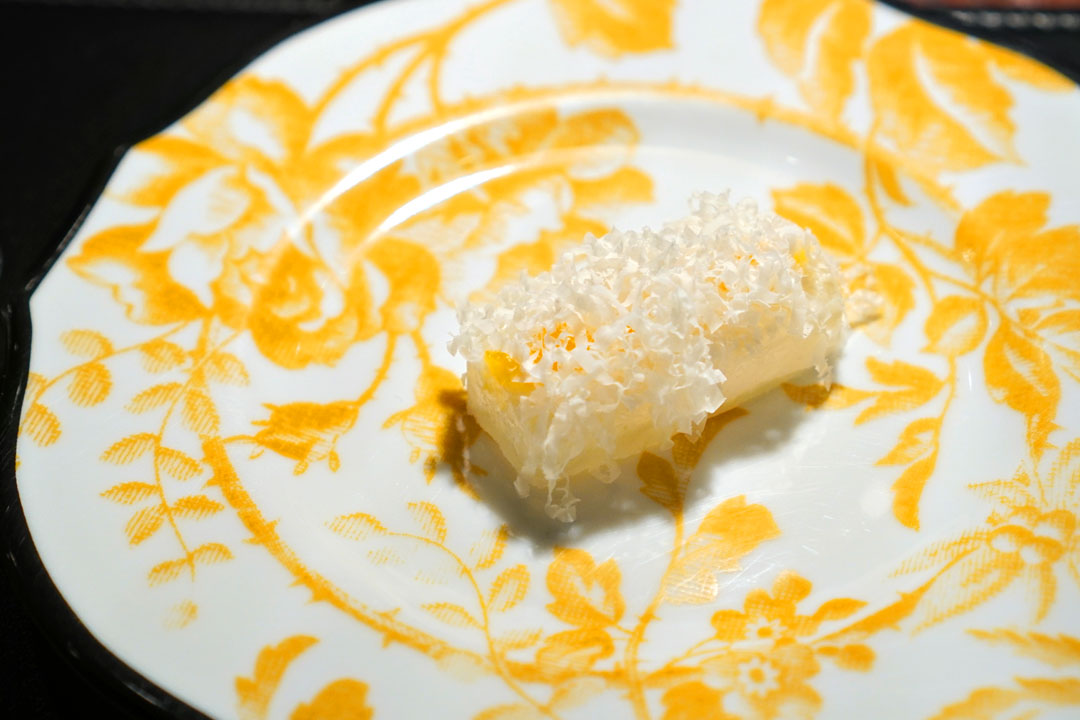 My next one-biter was a delightfully airy, crunchy Parmigiano Reggiano wafer, which had its saltiness deftly evened out by a sugary dried apricot jam.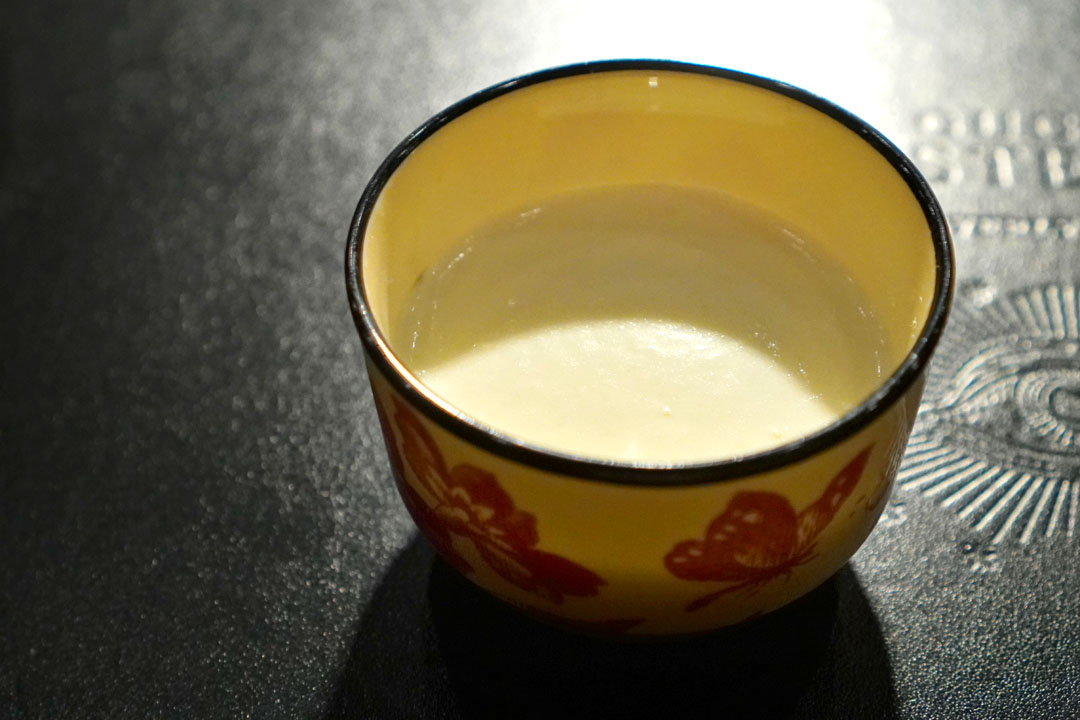 1: American Breakfast
| Eggs, potato foam, Imperial Ossetra caviar
The first "proper" course of the night was decidedly minimalist in presentation, but absolutely delivered in the taste department. The key here was how the familiar, cozy combination of quail egg and potato stood in stark contrast to the sharp salinity of the sturgeon roe, while there was also a juxtaposition in textures between the caviar and the creaminess of the rest of the dish. A promising start--yum.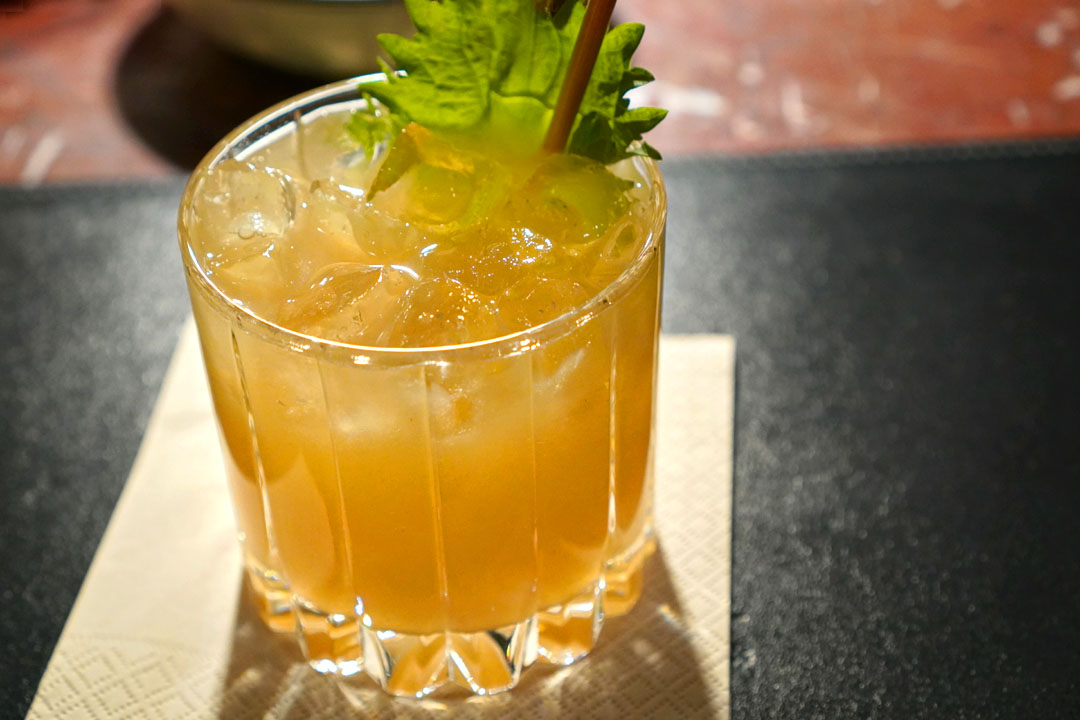 Calirosa Garden [$30.00]
| Calirosa Tequila, Dragoncello, Pear, Lime, Shiso
I opted for cocktails tonight, and my first was this riff on a margarita. The thing that stood out to me was the refreshing, focused presentation of the pear, and how that melded with the herby, spicy nuances from the Dragoncello, all while the tequila's trademark agave notes made themselves known on the finish.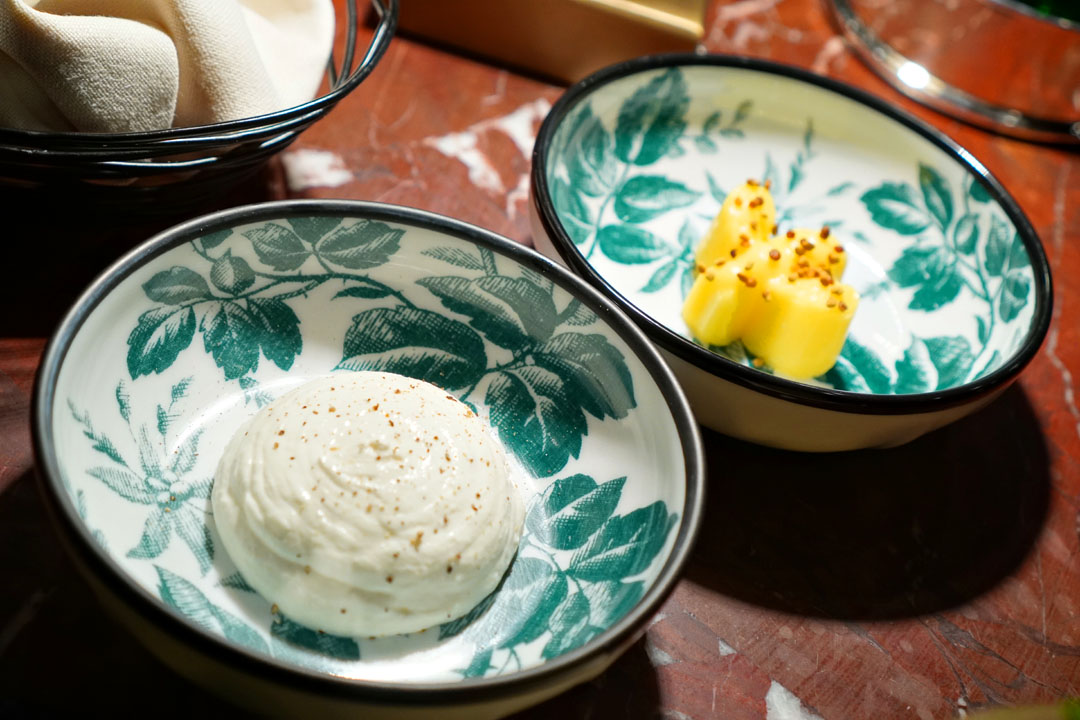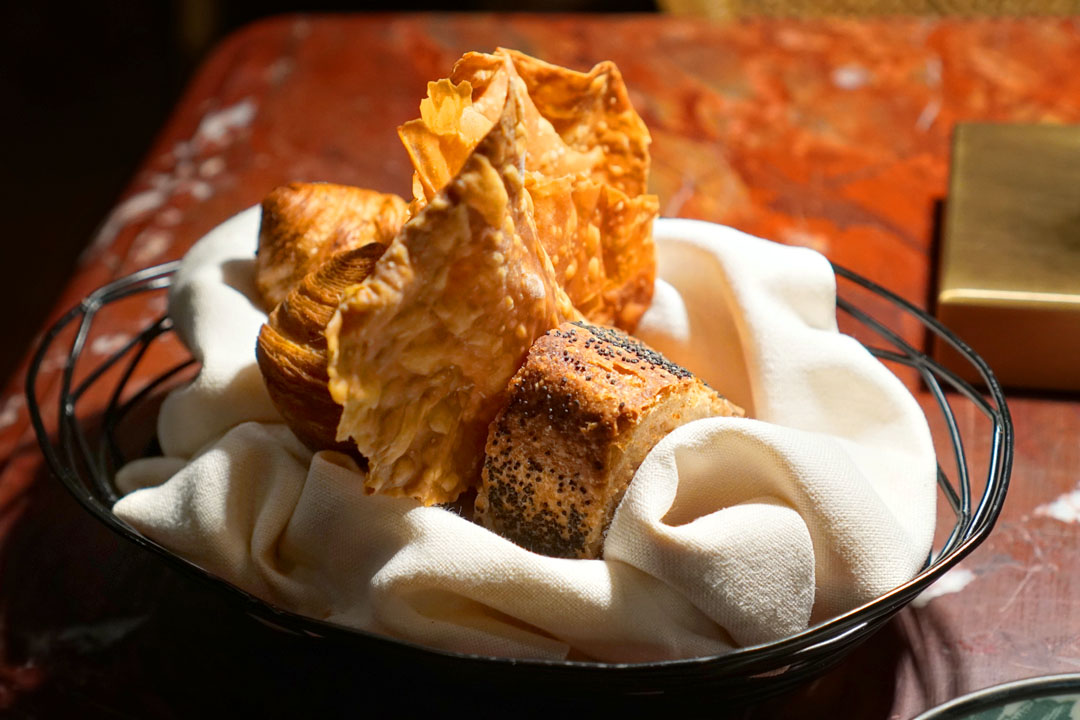 Bread service consisted of a shattery lavash, crisp-crusted poppyseed sourdough, and flaky, fragrant olive oil-rosemary buns. Meanwhile, accompaniments were a cool, creamy, slightly tangy ricotta cheese, as well as some spot-on Normandy butter.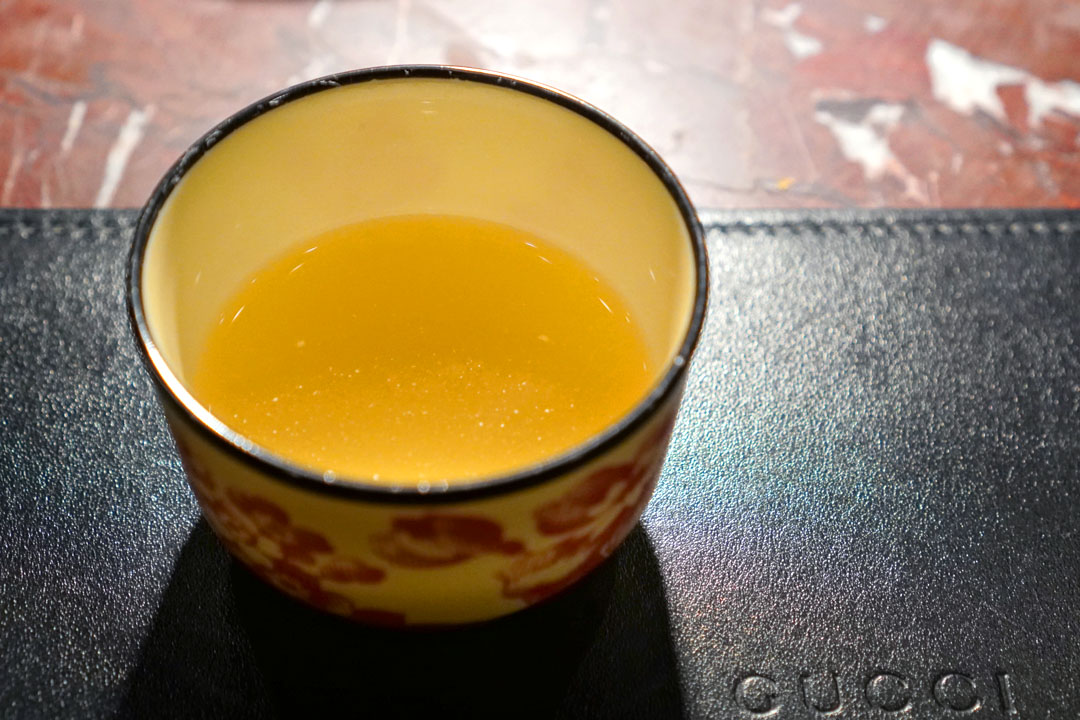 2: From Japan & Italy to LA
| Shigoku oyster, prosciutto consommé
A lone Shigoku (one of my favorite varieties) showed off a piercing brine, yet was creamy at the same time. A cool bowl of consommé featured a clean, concentrated savoriness from the ham, which served as an unexpected counterbalance to the oyster. However, I kept wondering if this would've been improved had the soup been served warm, since that way you'd both intensify the character of the prosciutto and explore a contrast in temperature.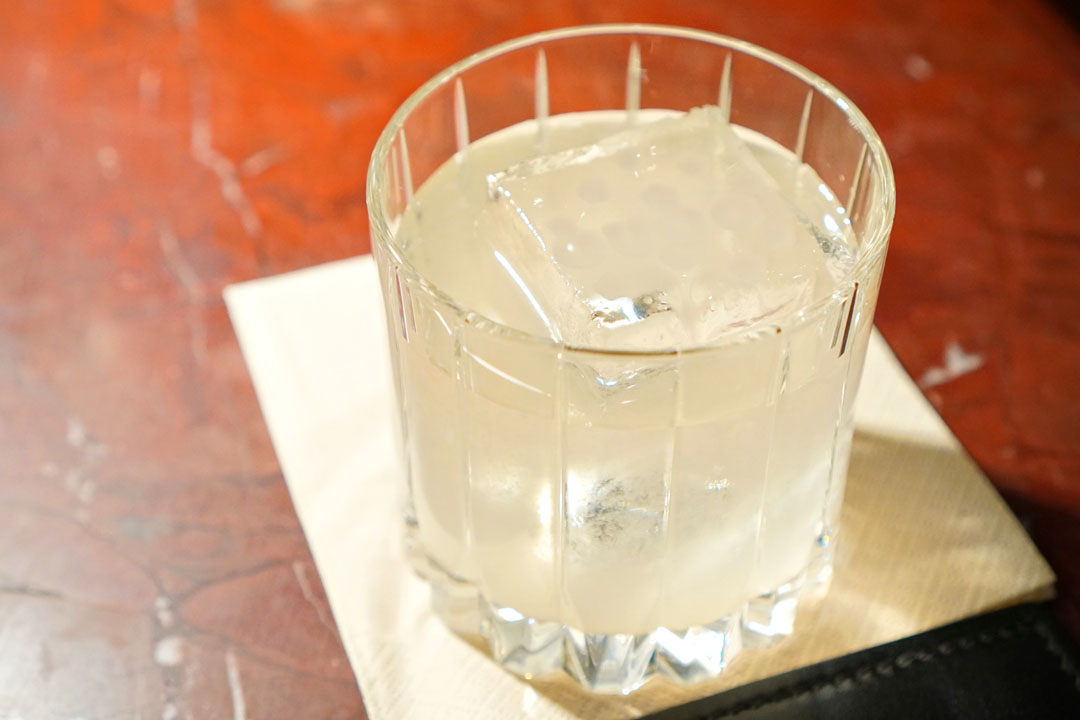 Coffy with Milk [$32.00]
| Nikka 'Coffey' Gin, Nigori Sake, Pio Cesare Vermouth, Luxardo Bianco
Meant to be a marriage of both Italian and Japanese sensibilities, this next cocktail certainly highlighted the bracing, botanical, citrusy nature of the gin. Nonetheless, the crux here was the tempering effect of the sake, as well as the combo of vermouth and Luxardo liqueur, which lent a certain gravity to the drink that really worked for me.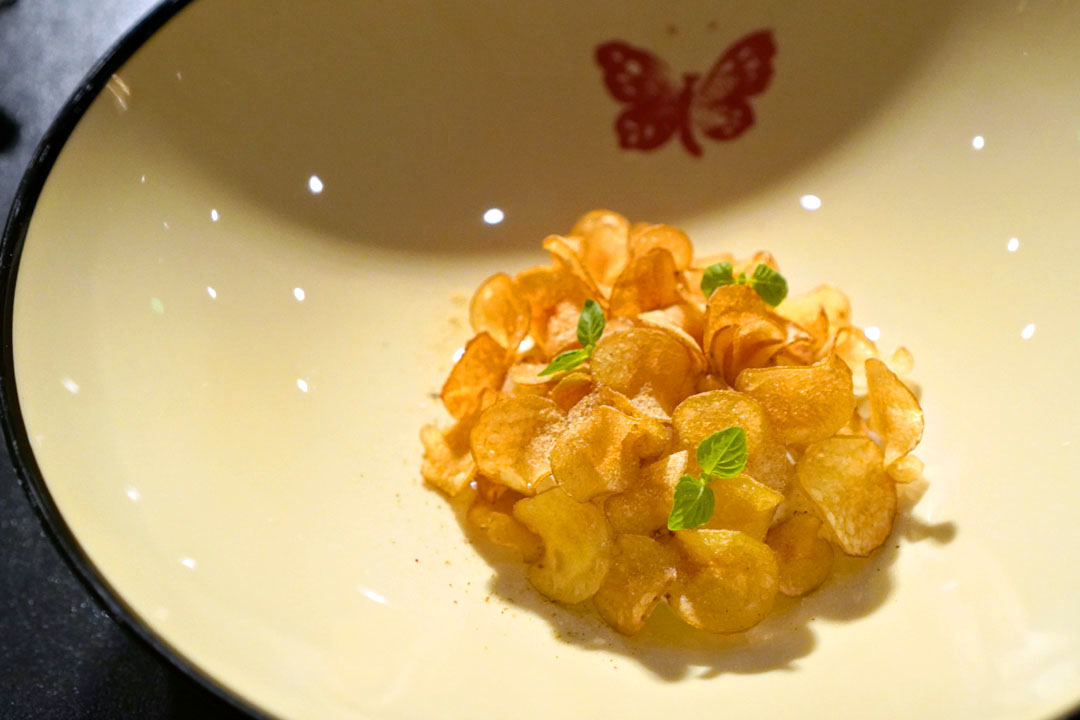 3: Fish Tartare - Smoked and Crispy
| Rock fish, potatoes, shiso
I'm quite the fan of tartares in general, so I guess it shouldn't be too surprising that this next course ended up as one of my favorites. The rockfish had that meaty-yet-supple consistency I was looking for, which worked hand-in-hand with the crunch of the potatoes. Even more pleasing, though, was the sheer elegance of the smoke here, and how that meshed with the dish's base of sweetness and the saltiness of those miniature chips, all without overpowering the delicacy of the fish.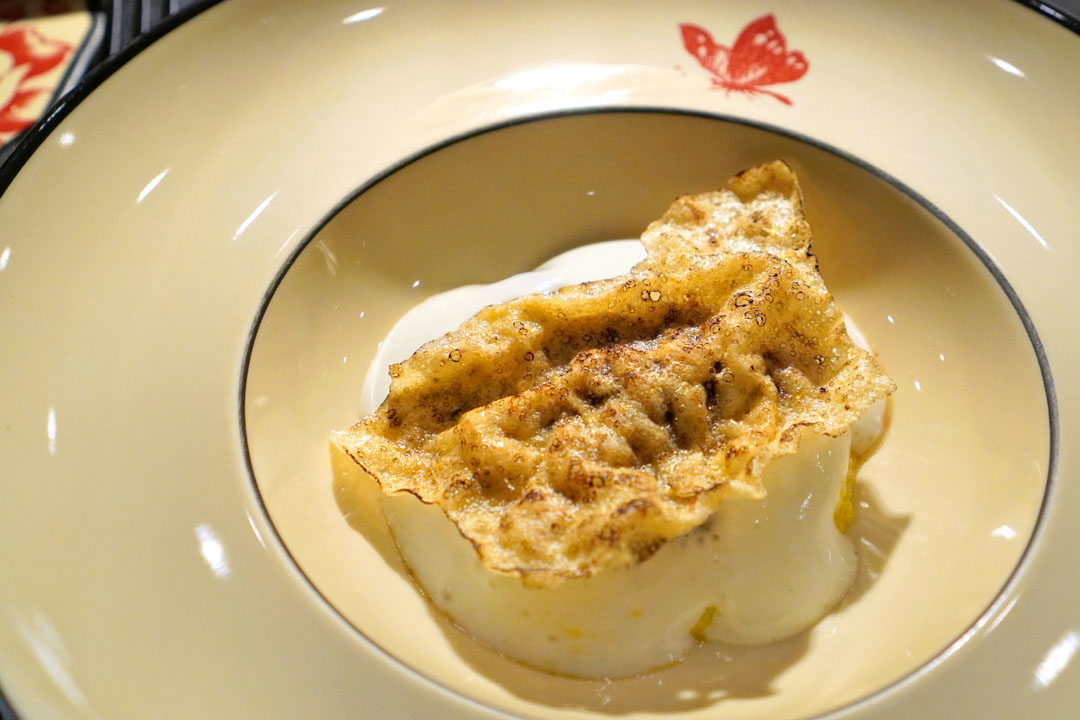 4: Welcome Home
| Polenta, taleggio, beef ragu
Here was a reworked version of polenta, a popular dish from Chef Agazzi's hometown. I loved the deep, dark flavors of the beef, and how that combined so seamlessly with the unabashed cheesiness of the dish, with the actual polenta setting the stage for everything. There was some welcomed textural variation from the crispy bit up top, too. This was pure comfort, but rendered in a nontraditional form--another highlight.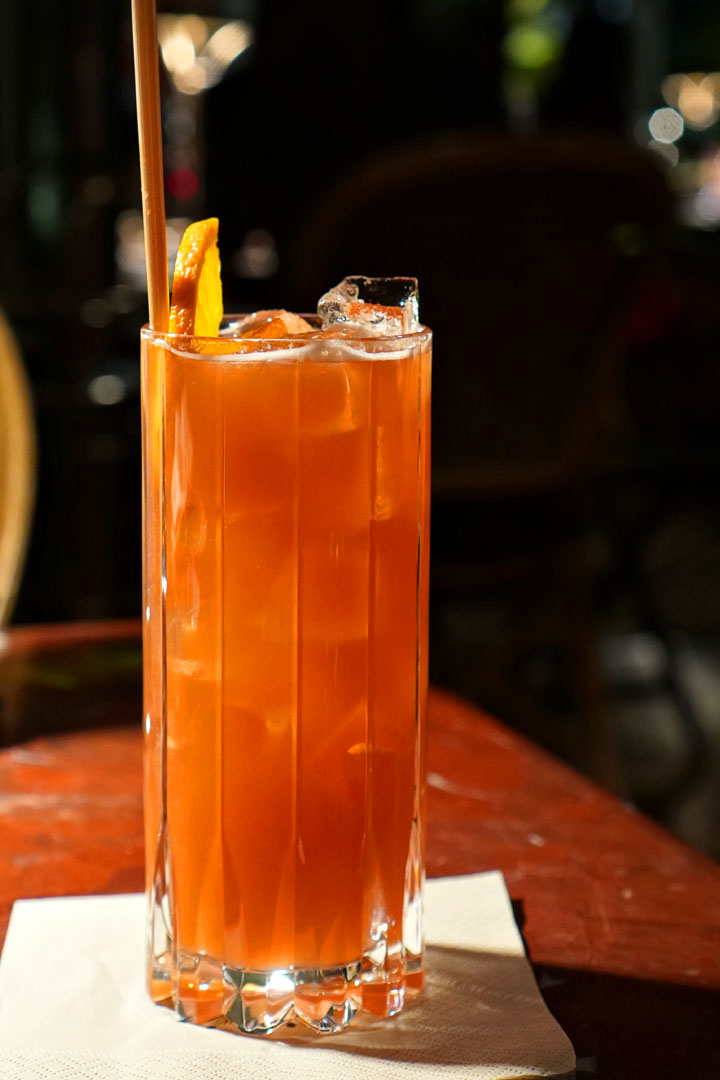 Flight of the Jungle Bird [$28.00]
| Dark Rum, Campari, Pineapple, Pear, Lime, Tiki Bitters
This variation of a classic tiki cocktail was expertly constructed, and did a great job combining a sweet, almost cinnamon-y spice with plenty of fruitiness and just a smidge of astringency from the Campari.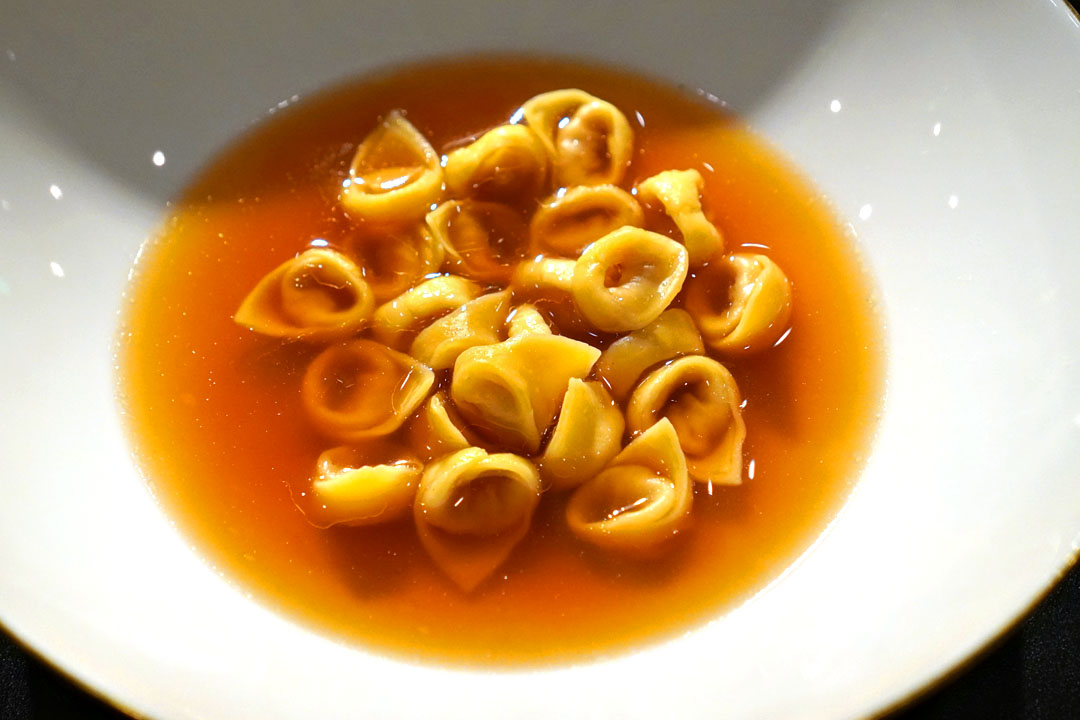 5: Tortellini
| In brodo di cappone
The tortellini were quite enjoyable texturally, and really packed a punch, forcefully imparting the flavors of their mortadella filling. Equally as important, though, was that capon broth, which had this heady, homey intensity to it that made a lot of sense with the pasta.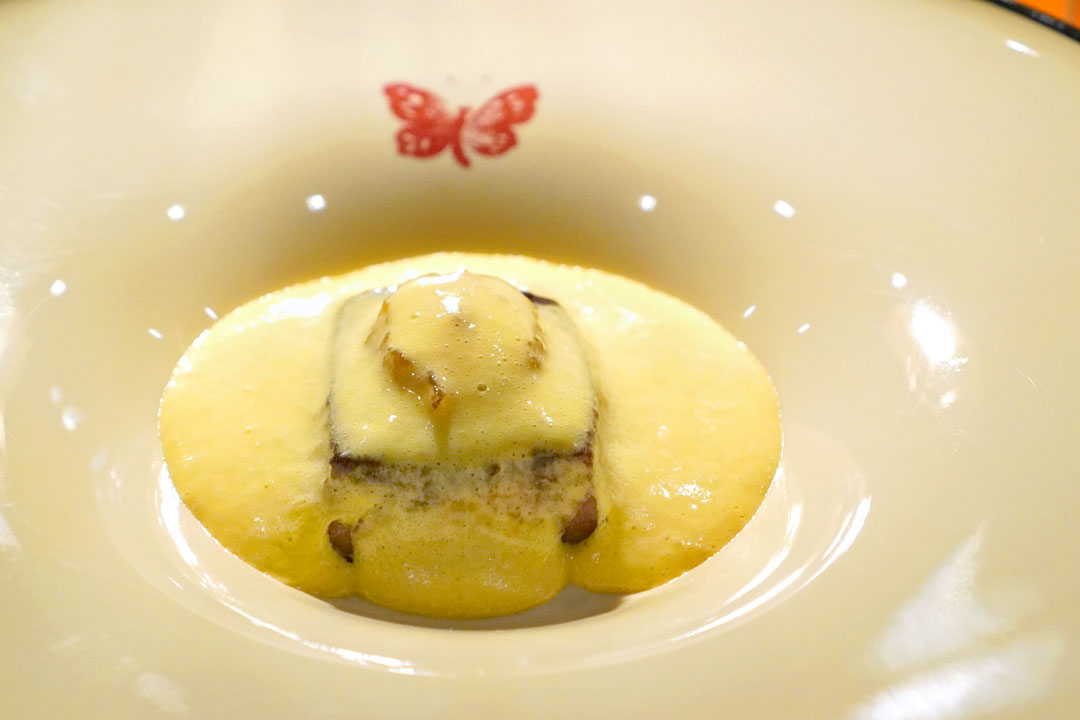 6: Bollito
| Wagyu, apple mostarda, warm zabaione
My final savory was the Chef's take on bollito misto. The dish showcased slow-braised Wagyu, which possessed all the rich, sticky, dark-toned flavors you'd want and expect. Given the heft of the meat, the fruity, mustard-y zing of that mostarda was crucial for balance, while a warm egg custard helped tie everything together. I got a nice crisp crust on the beef, too.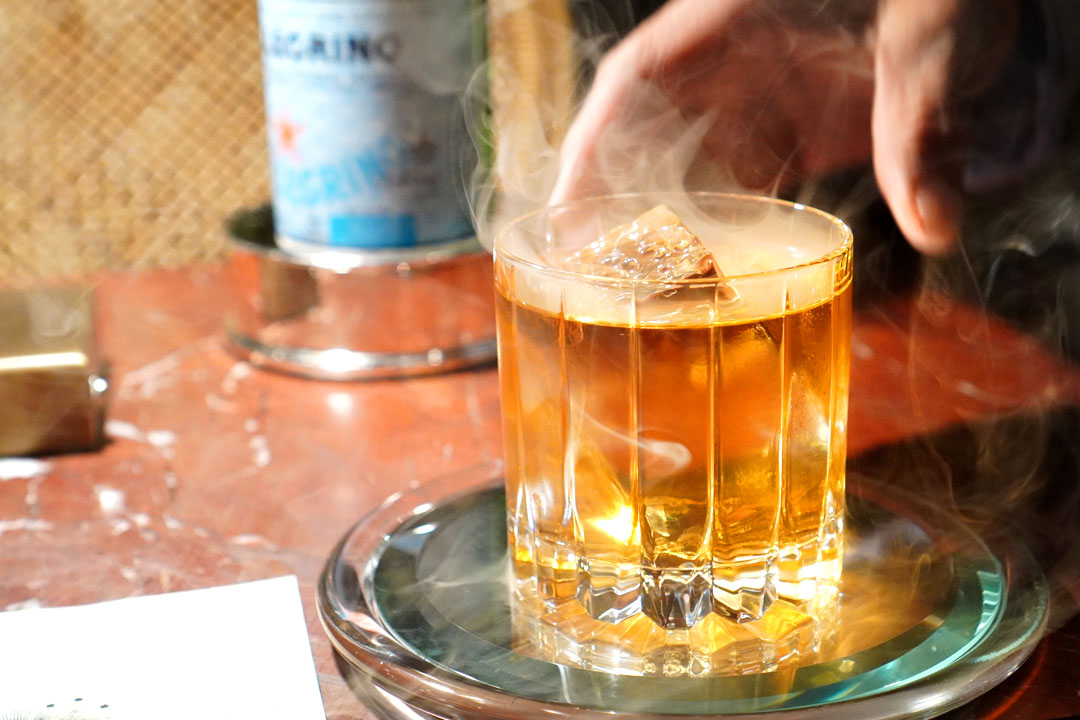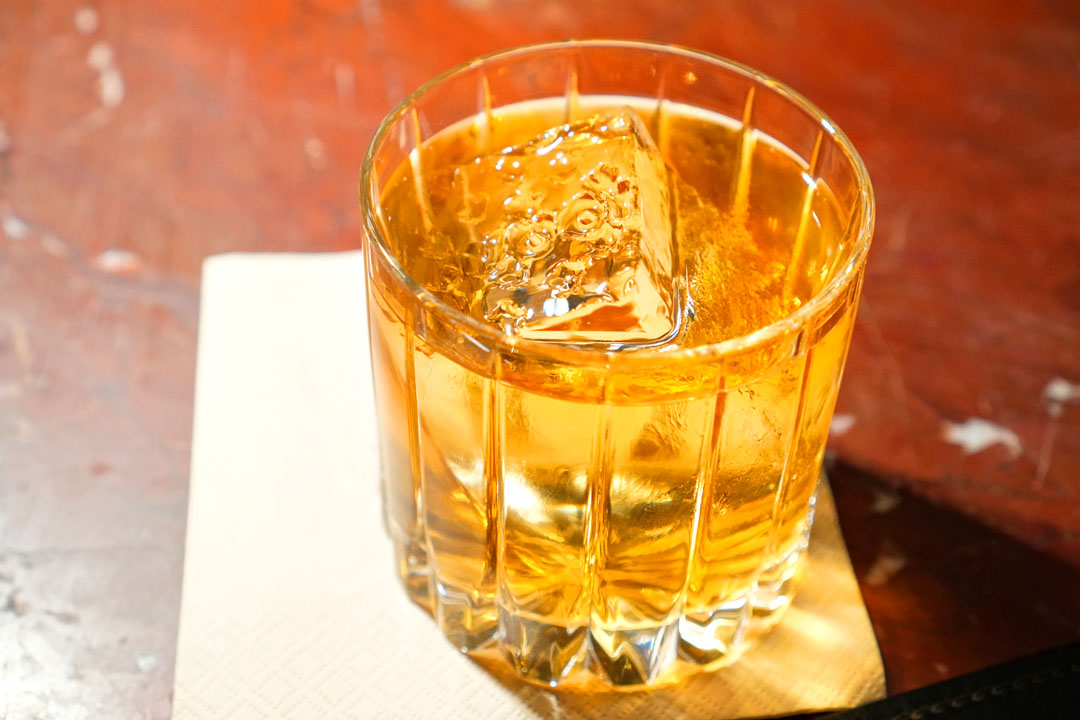 Still, Castle [$52.00]
| Premium Bourbon Blend, Angelino, Maraschino, Bitter Blend, Wood Smoke
The evening's last cocktail was this smartly reworked Old Fashioned that arrived with some tableside theatrics. Indeed, I was a big fan of the enveloping hickory smoke here, which was backed by some distinctly fruity aromas. This was medium-weight on the palate, with flavors that were herb-driven, bitter, and medicinal at the fore, but there was also this multifaceted sugary underpinning to the drink that was crucial.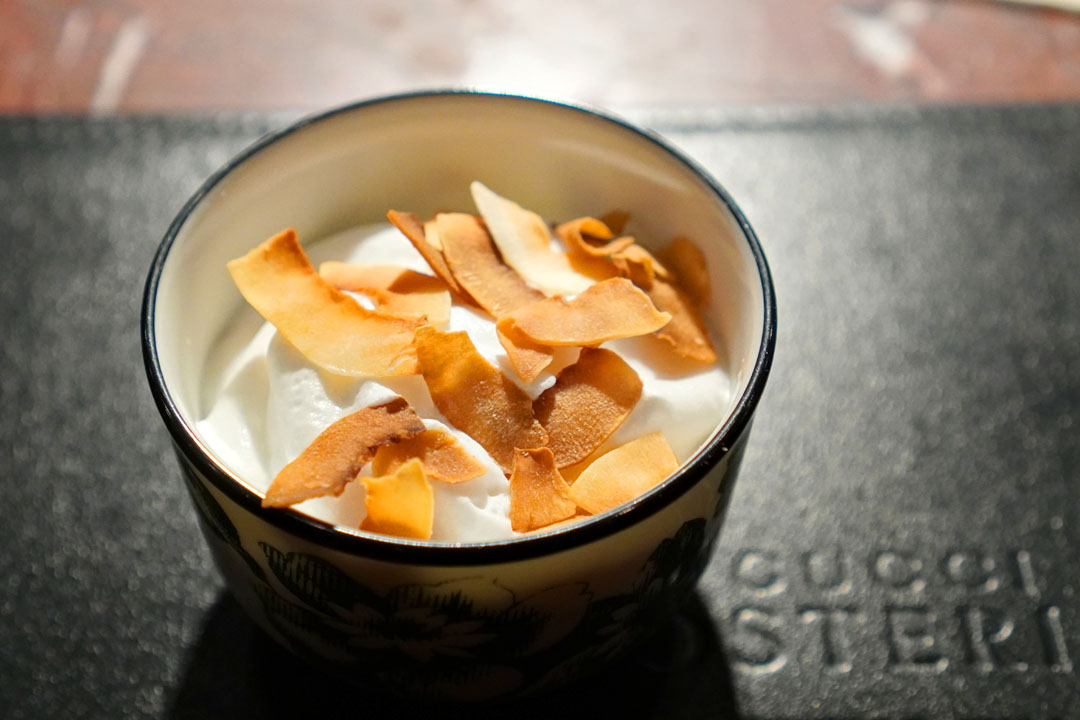 7: Sgroppino
| Yuzu, coconut, California citrus
The intermezzo course served as a bit of a palate cleanser. It had loads of super toasty coconut up front, set over an airy cream and a floral, fruity base, the whole thing accented by a ginger-y bite.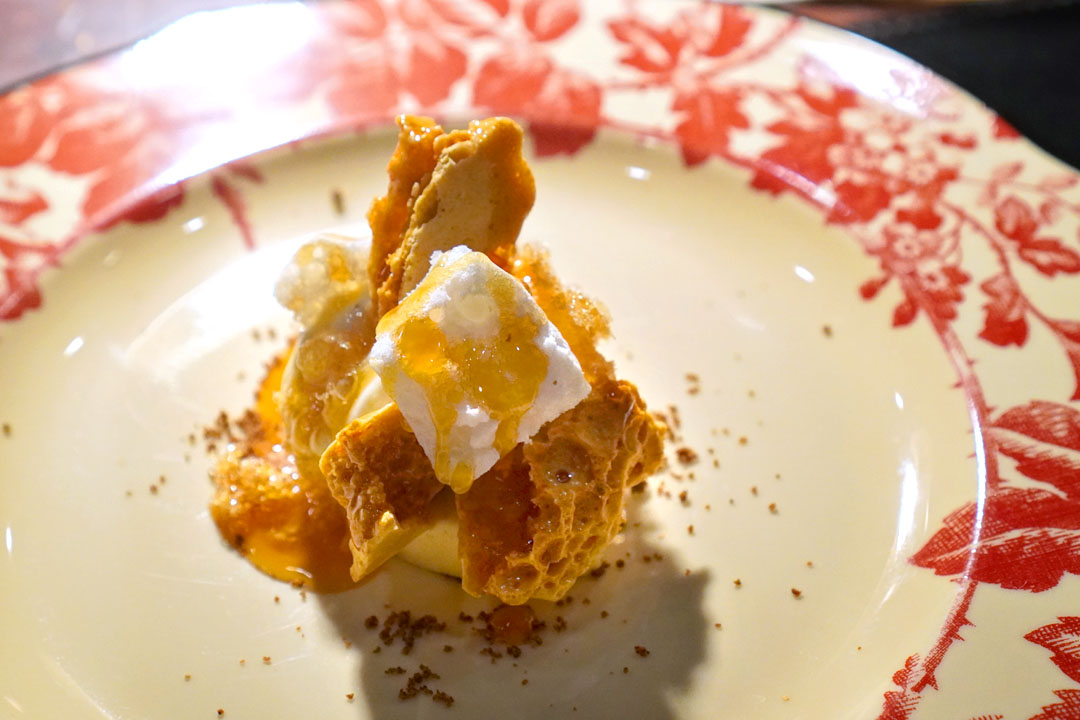 8: Milk & Honey
| Milk, honey, coriander
Dessert was apparently inspired by a dish that Chef Rigo's mother used to make (meant to aid in digestion), and was comprised of a milk-honey semifreddo, almond-coriander crumble, buttermilk sorbet, freeze-dried milk meringues, and lime juice-infused local honey. It was a definite winner. I was smitten by how forcefully, yet gracefully the honey was conveyed, as well as how complementary the various forms of milk were. There were also some great textures at play, and I even got a
dalgona
-like smoke that I enjoyed, too.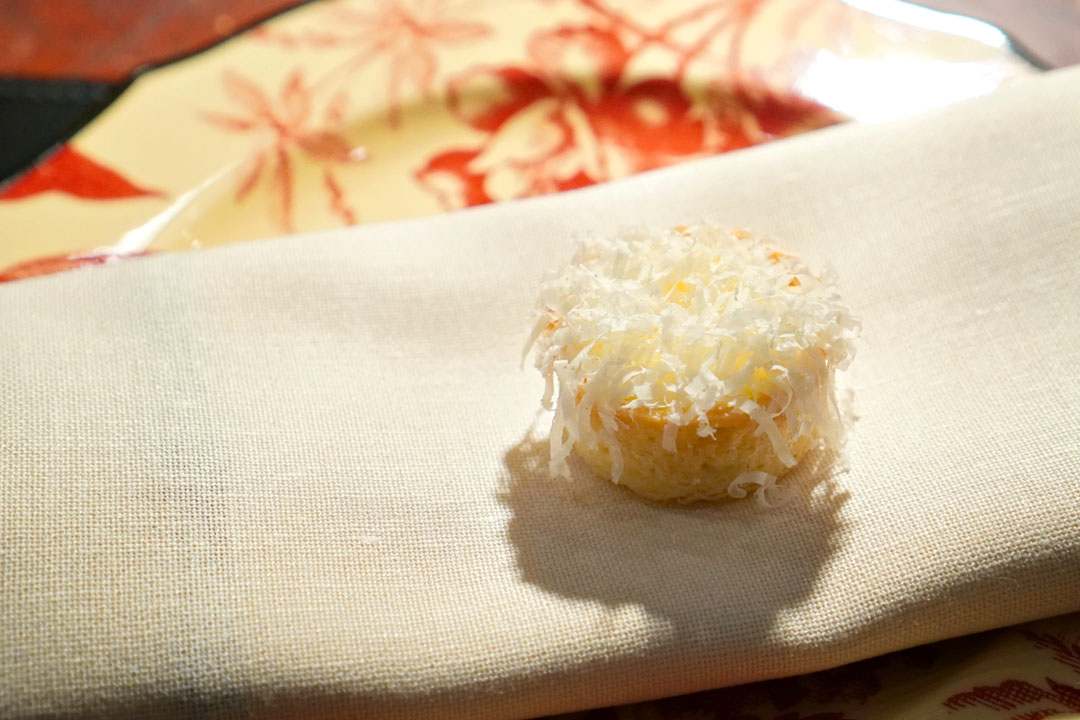 Formaggio duties were handled by this Parmigiano Reggiano cheesecake tartlet, which showed off light, salty shavings of the cheese, paired with a slight sweetness and a lingering butteriness from the pastry crust.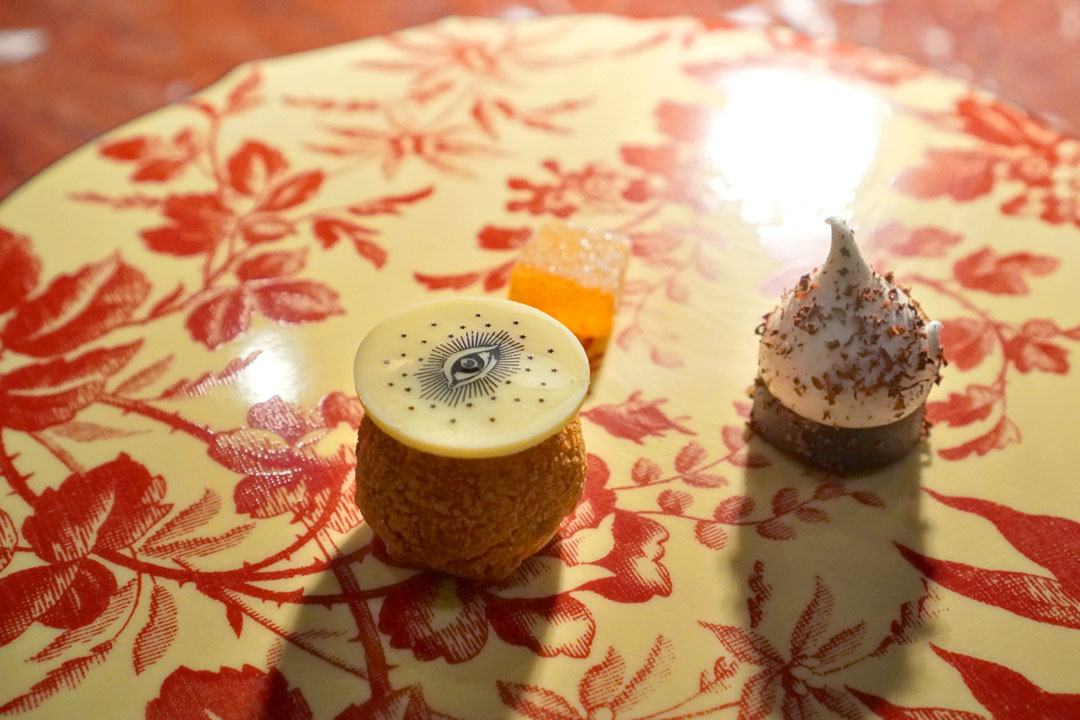 Next came a trio of petits fours:
My favorite was the bignè, filled with lush raspberry-vanilla cream and topped with a white chocolate disk.
The so-called "Bailey's Bite" comprised a chocolate ganache with hazelnut, marshmallow, and Bailey's--lovely nuttiness on this one.
Finally, we had an intensely tropical passion fruit jelly (a pâte de fruit basically).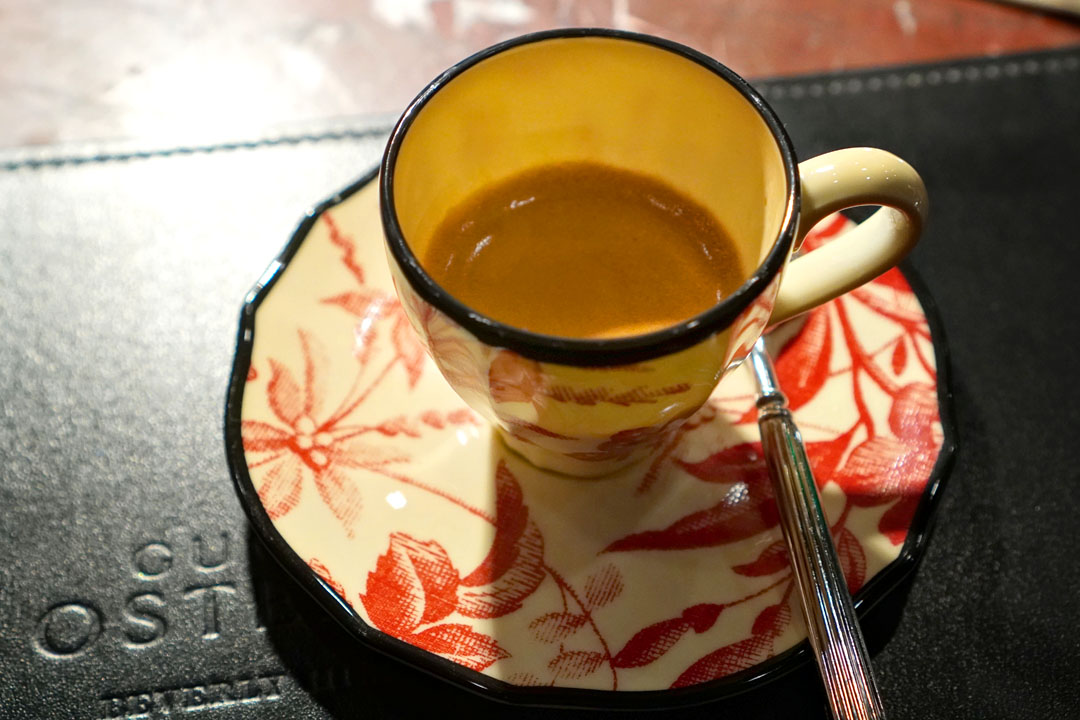 Espresso [$5]
to go along with the mignardises.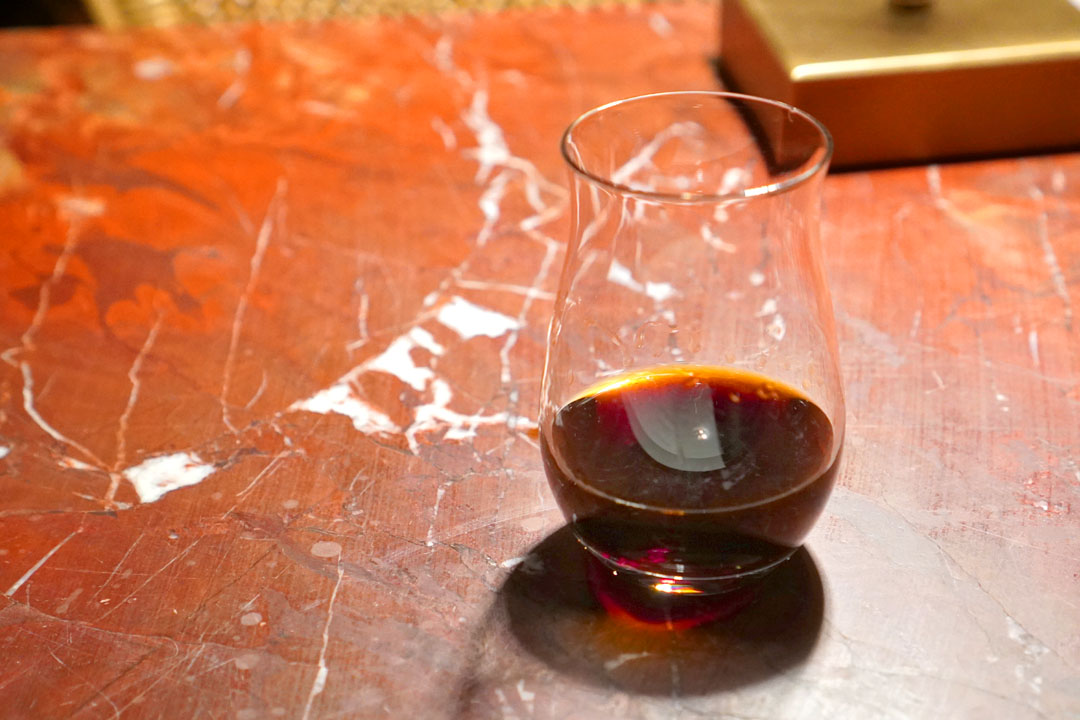 To close: a complimentary pour of pleasantly bittersweet, herby Amaro Zarri, which served as an apt digestivo.
I wasn't quite sure what to expect coming into here, but what quickly became apparent is that nobody else is doing Italian food like this in Los Angeles. It's a different approach to the cuisine to be sure, and I think the crux is how Agazzi and his team are able to blend modernity with flashes of whimsy and just enough of a Californian influence. It's a playful, creative form of Italian cooking, and I have to commend the service as well, which was also at a high level. Overall, I ended up really enjoying my time at the restaurant, and in fact, I'm already thinking of a return trip to try the rest of the menu. It's a shame that people don't talk about this place nearly as much as they should.