Dos Besos (Pasadena, CA)
Dos Besos Restaurant
99 Union St, Pasadena, CA 91103
626.696.3741
www.instagram.com/dosbesospasadena/
Sat 06/24/2023, 08:30p-10:20p
If we're talking about Old Town Pasadena restaurants, the place that's been the most recommended to me as of late is easily Dos Besos ("two kisses"--a nod to the Spanish tendency to greet women with two pecks). The place grand-opened back on March 30th last year, and is the creation of husband-and-wife team Chef Alejandro Llobet Domenech and Catherine Romano-Llobet, who runs the front-of-the-house. The latter, also known as Kit Romano, is a Pasadena native and comes from the video editing world, having served as sales director at Pivotal Post for over a decade. Chef Llobet, meanwhile, hails from Barcelona, and previously ran a local paella-focused catering company called
Via Paella
.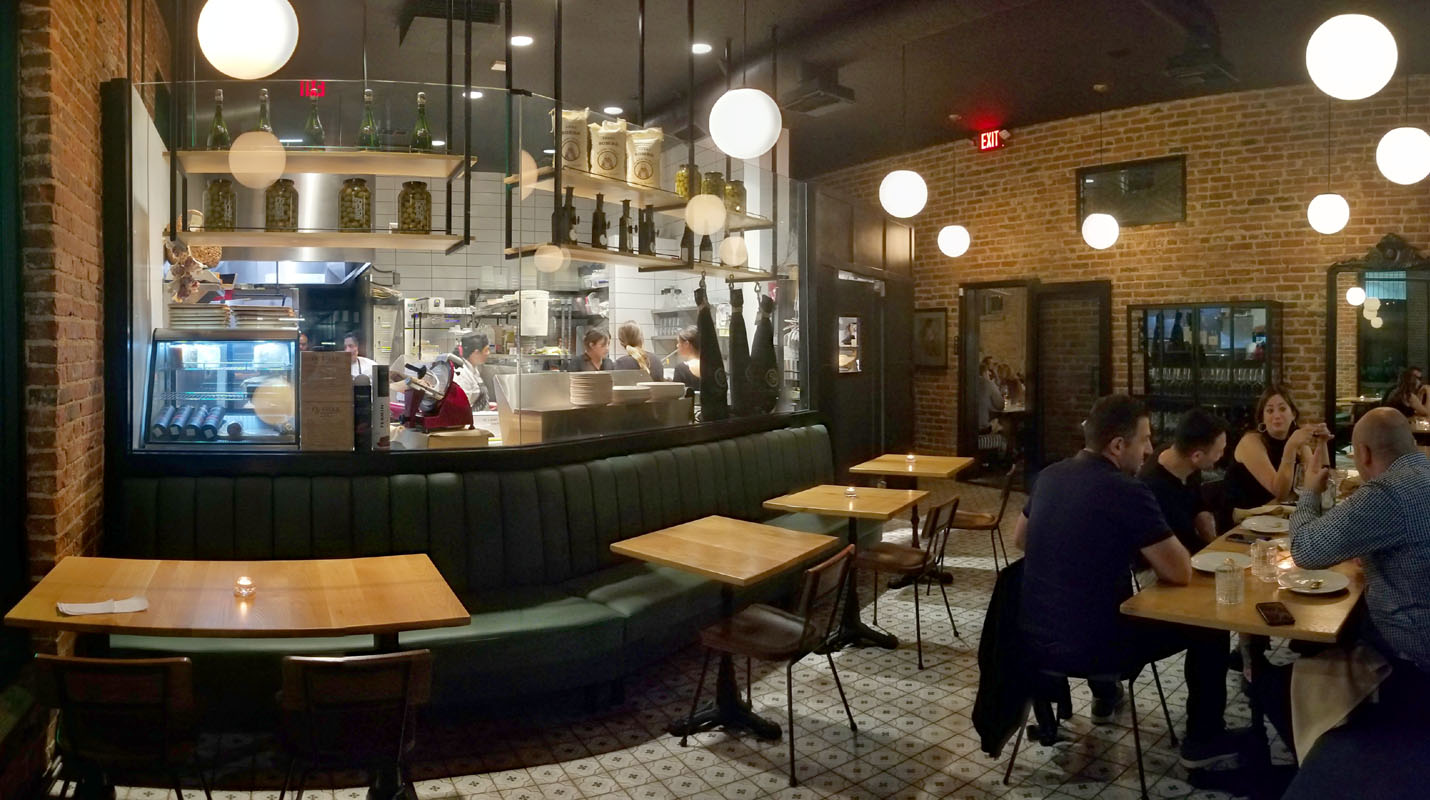 Dos Besos occupies the former home of CrepeStudio. The space has been gussied up for sure, but is still rather small, spanning roughly 900 square-feet...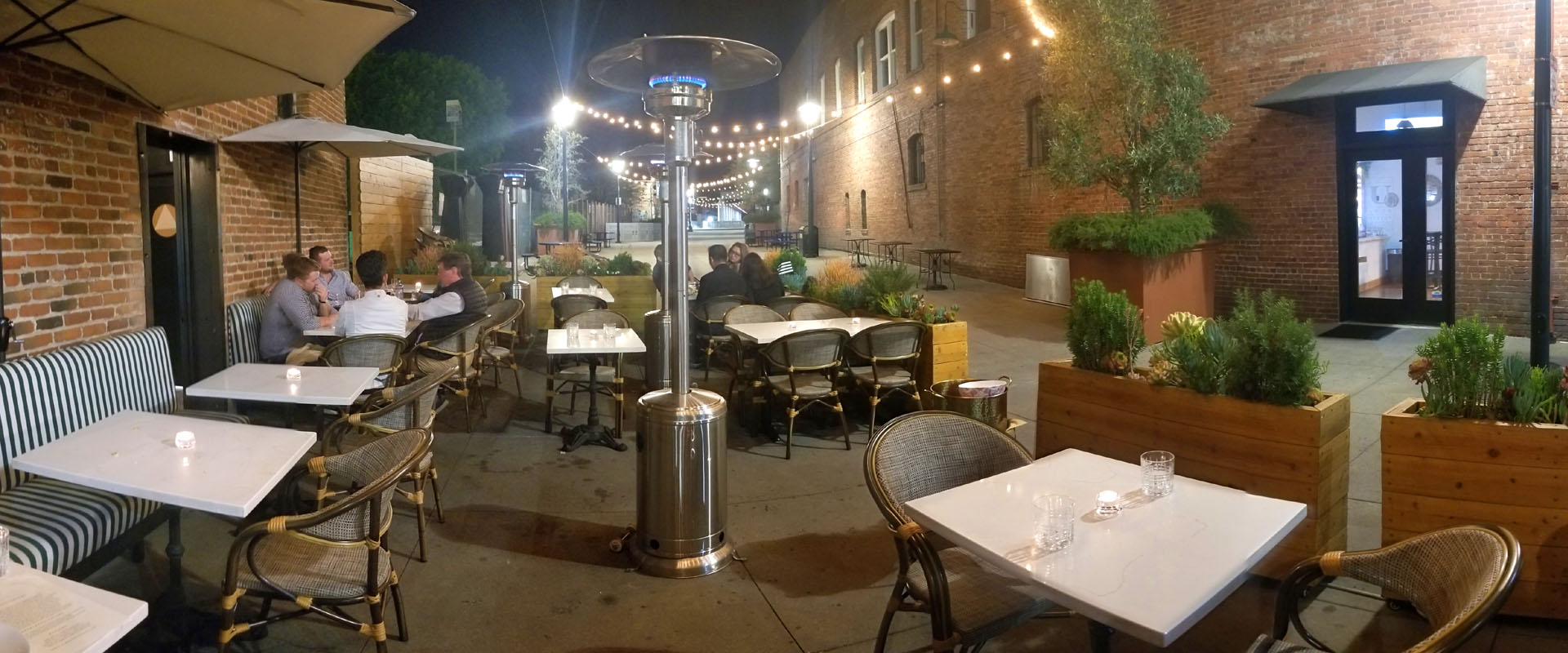 ...Thus, much of the seating is on the patio, which abuts Big Bang Theory Way.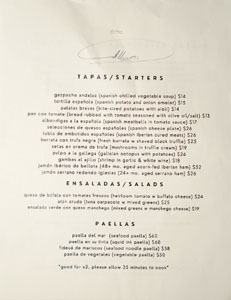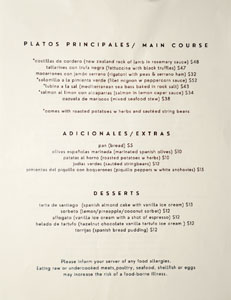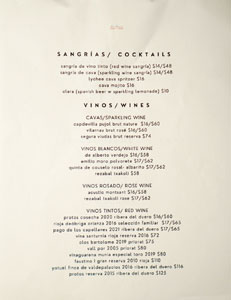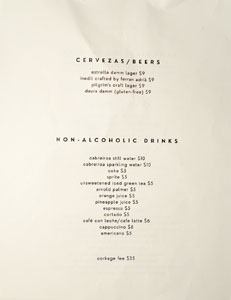 As for the menu, you get a selection of tapas joined by larger plates and even larger paellas, while beverages include a short list of Spanish wines as well as a smattering of beer and cocktails. Corkage is $35 a bottle. Click for larger versions.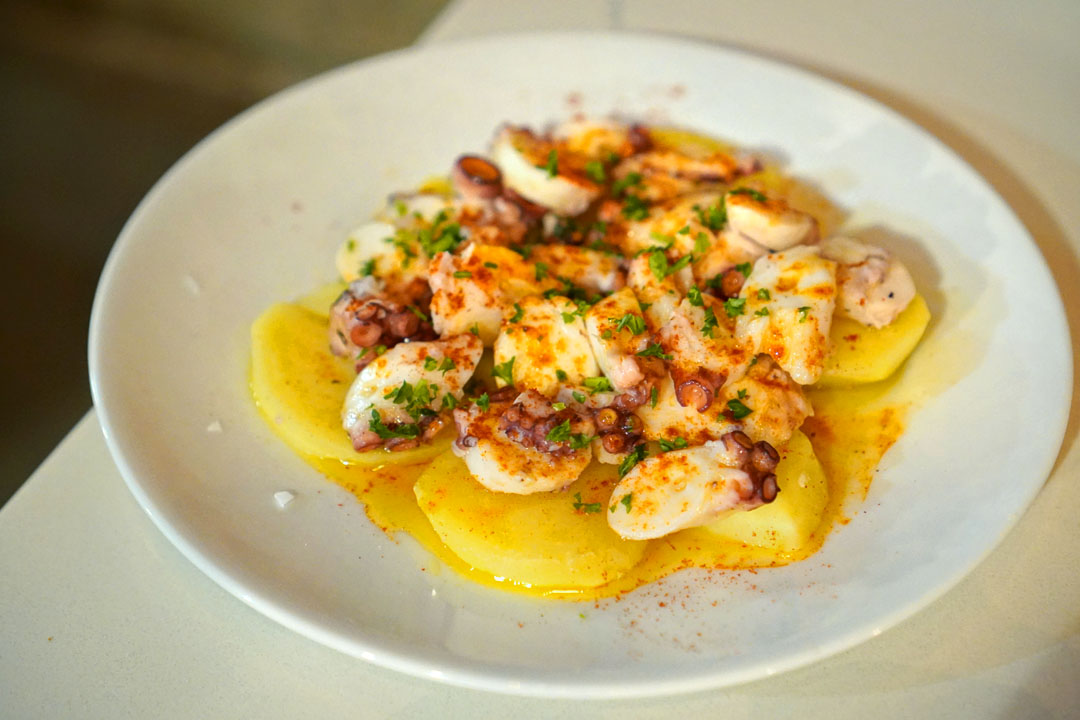 pulpo a la gallega [$26.00]
| galician octopus with potatoes
The octo was a must-try for me, and came out just tender enough, with an assertive brine that worked hand-in-hand with hits of salt and plenty of olive oil. The potatoes were also crucial, moderating everything and providing some textural contrast.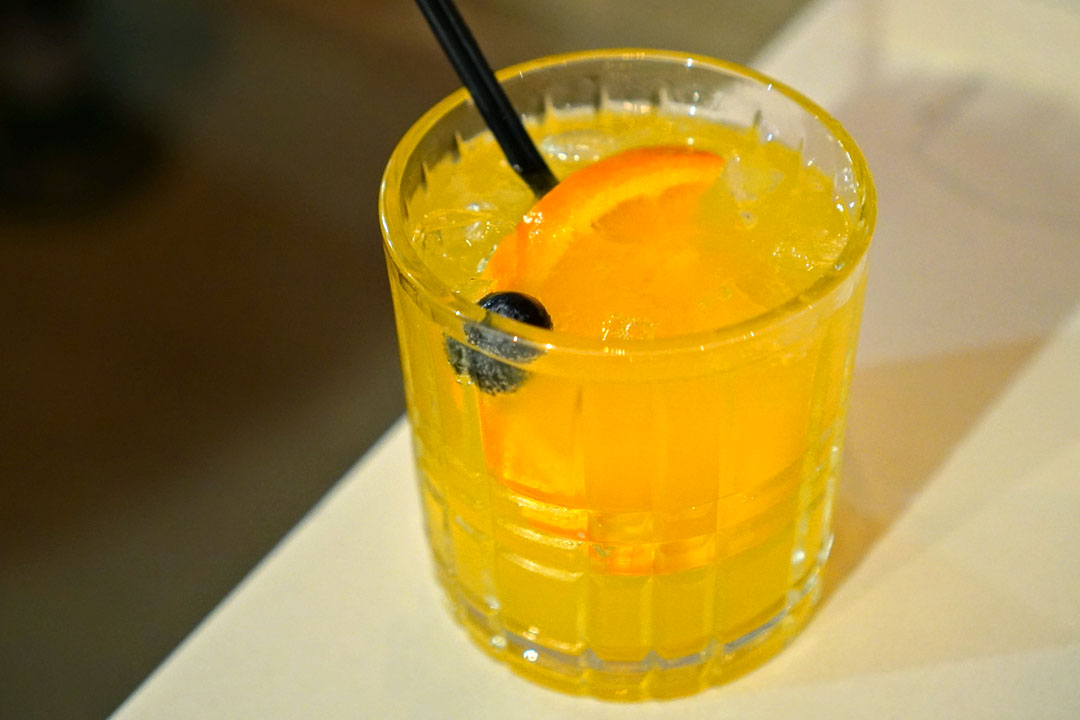 sangría de cava [$14.00]
| sparkling wine sangría
My sparkling sangria was as fizzy and fruity as I expected, making it just about the perfect summertime quaffer.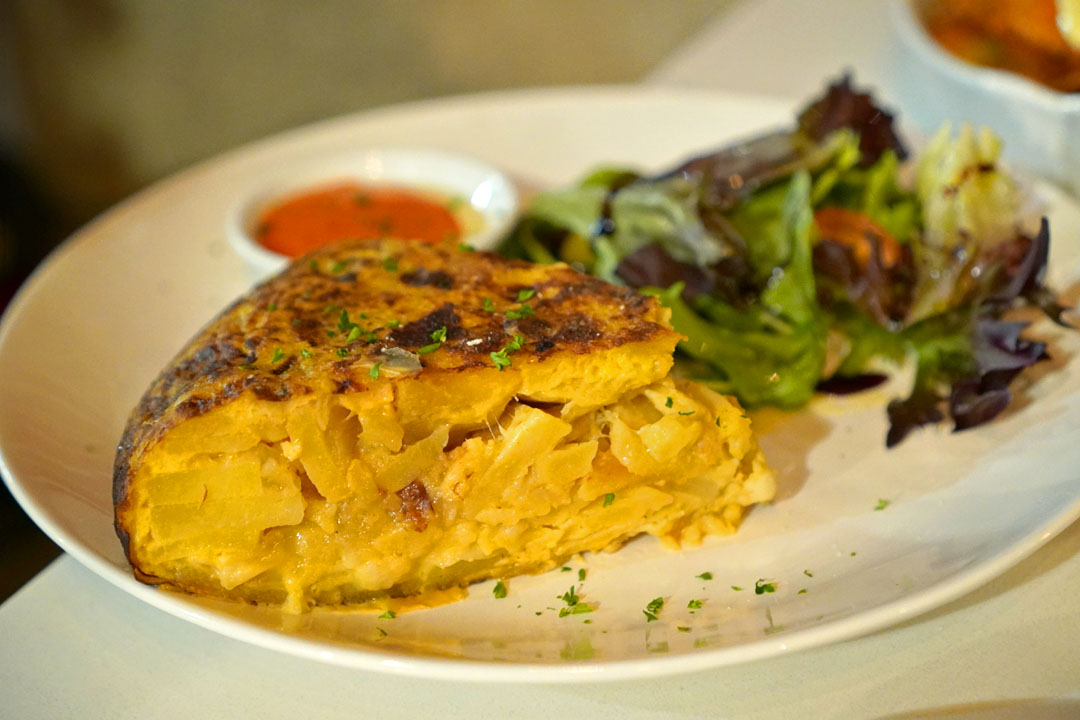 tortilla española [$15.00]
| spanish potato and onion omelet
The Spanish omelette was another must-order dish for me, and didn't disappoint. I enjoyed the tortilla de patatas' eggy-potato goodness and semi-creamy consistency, as well as the additional zestiness imparted by the onions. The salad ate tart and acidic, while more crucial was the accompanying sauce, which appeared to be a mix of romesco and a super potent aioli.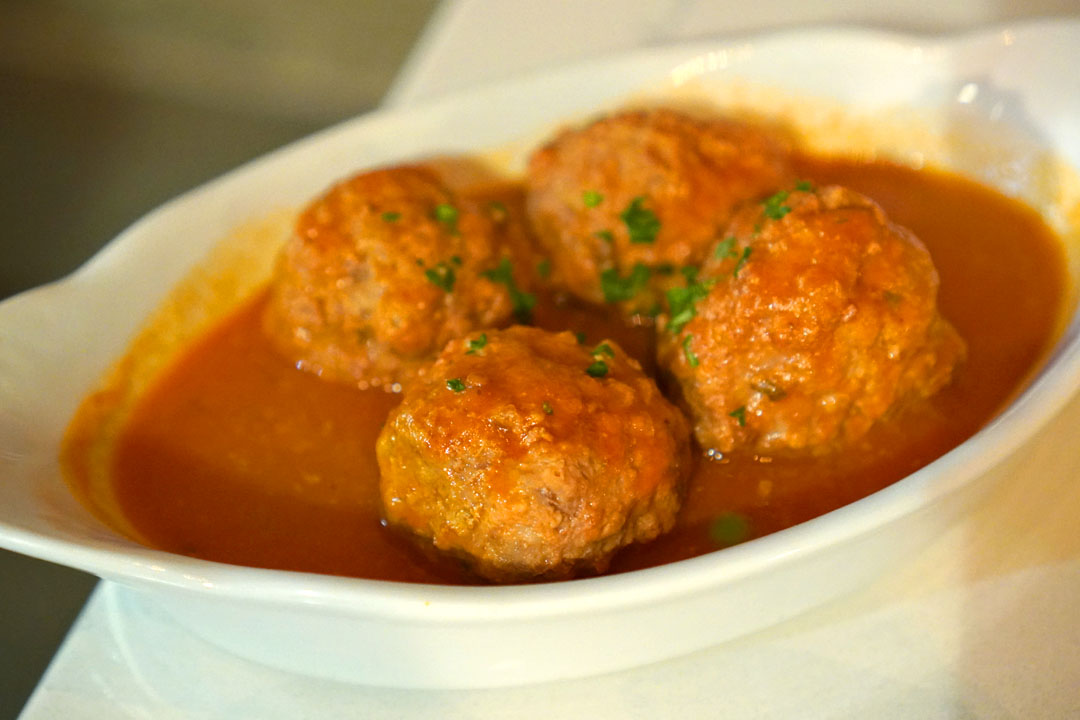 albondigas a la española [$17.00]
| spanish meatballs in tomato sauce
Meatballs were tightly packed and showed off a homey, familiar flavor profile that made a whole lot of sense with that thin, tangy tomato sauce.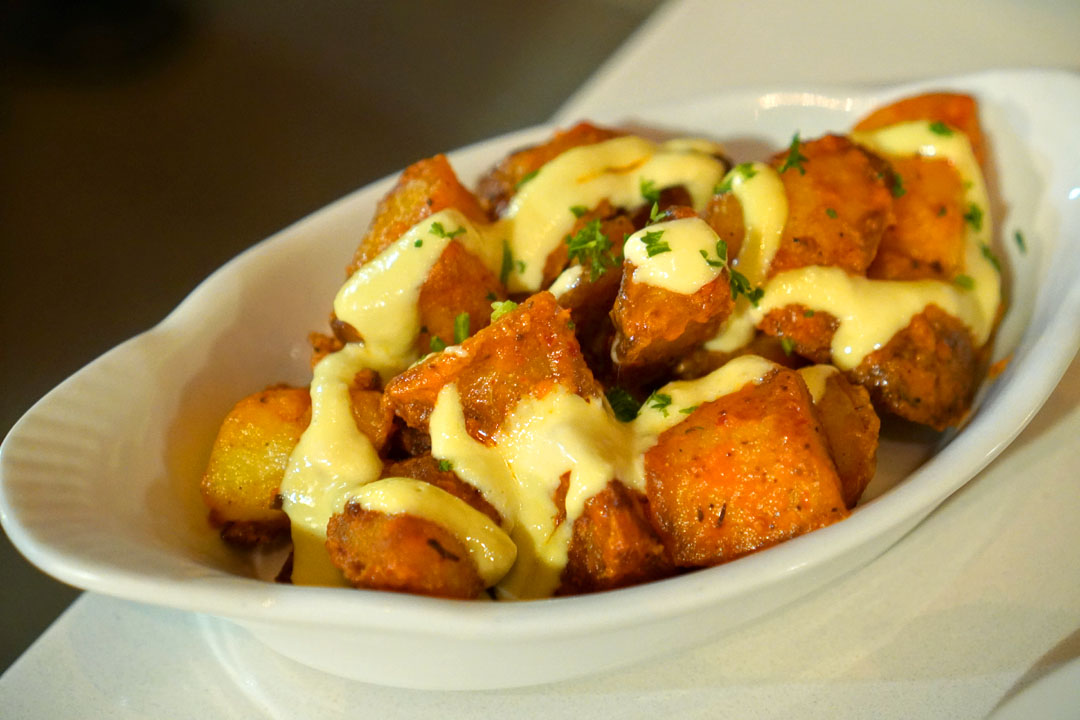 patatas bravas [$14.00]
| bite-sized potatoes with aioli
Patatas bravas were superb, with crisp-seared outsides but supple, almost fluffy interiors. The taters were also well-seasoned, but really sang when paired with the garlicky punch of the aioli.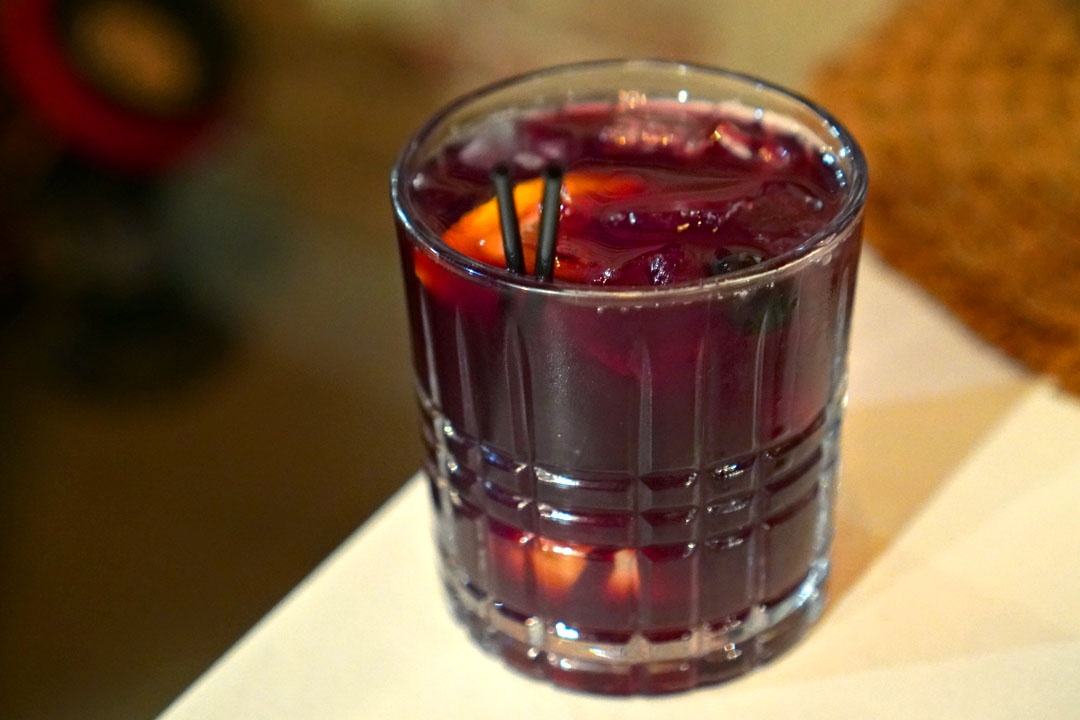 sangría de vino tinto [$14.00]
| red wine sangría
The more traditional red wine sangria drank fruity and spicy, just as you'd want. Rather gluggable.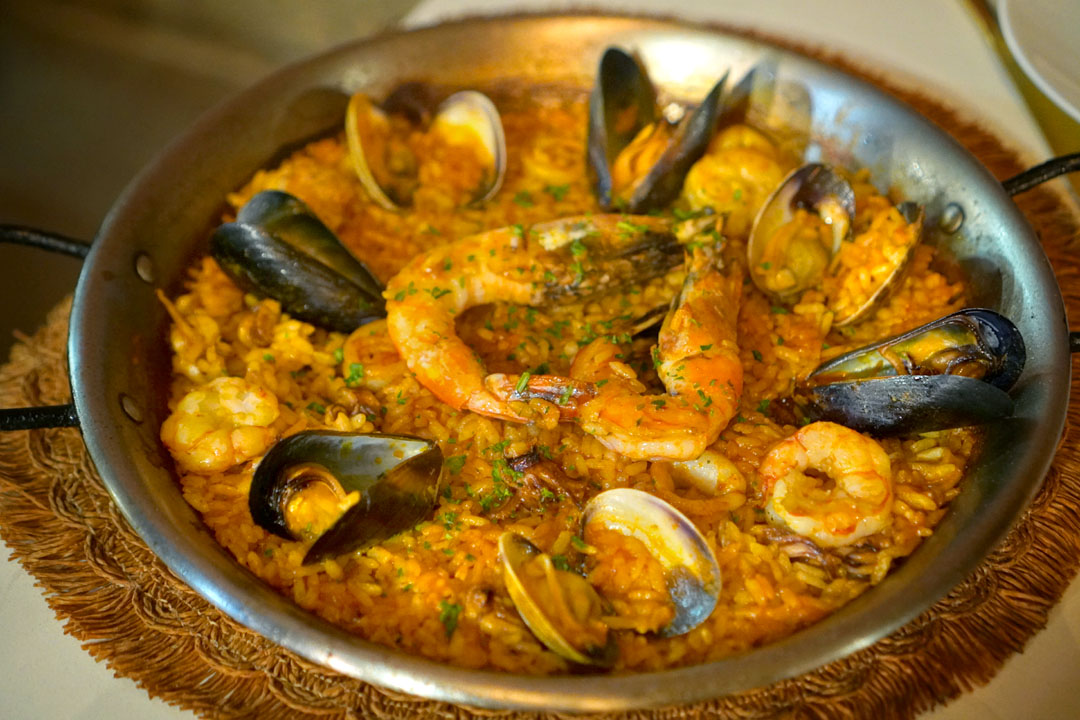 paella del mar [$60.00]
| seafood paella
The Chef is known for his paella, and indeed, I'd say that it was one of the best I've had. I was impressed by how every single piece of seafood was spot-on in its cookery, while just as important was the actual rice, which was delectably seasoned, well textured, and boasted a good amount of socarrat, too.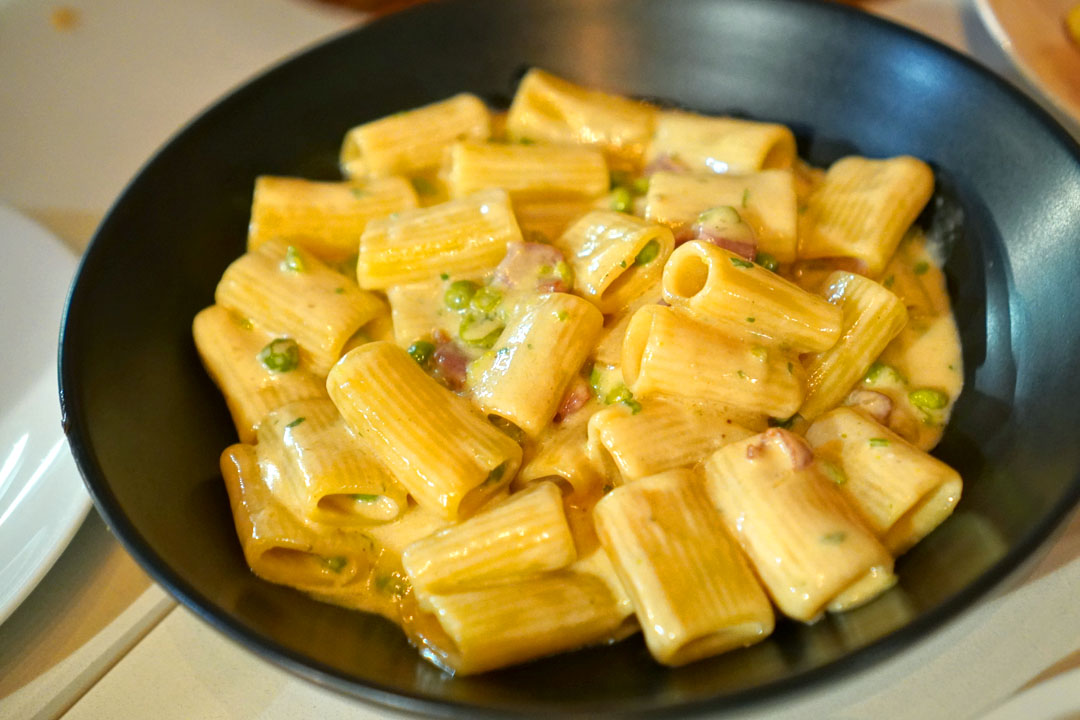 macarrones con jamón serrano [$32.00]
| rigatoni with peas & serrano ham
The pasta had that semi-firm, semi-chewy texture that I like, and really set the stage for the back-and-forth between salty ham and those bright, sweet peas.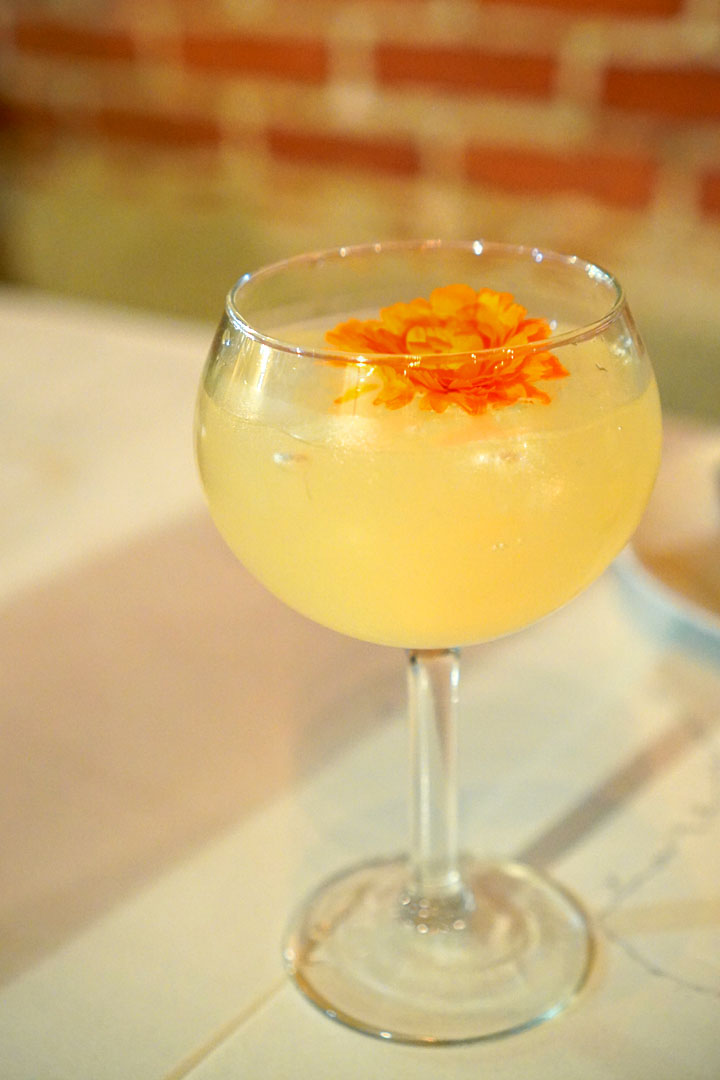 lychee cava spritzer [$16.00]
Not surprisingly, the spritzer was another easy-drinker, and featured a surprisingly elegant presentation of lychee.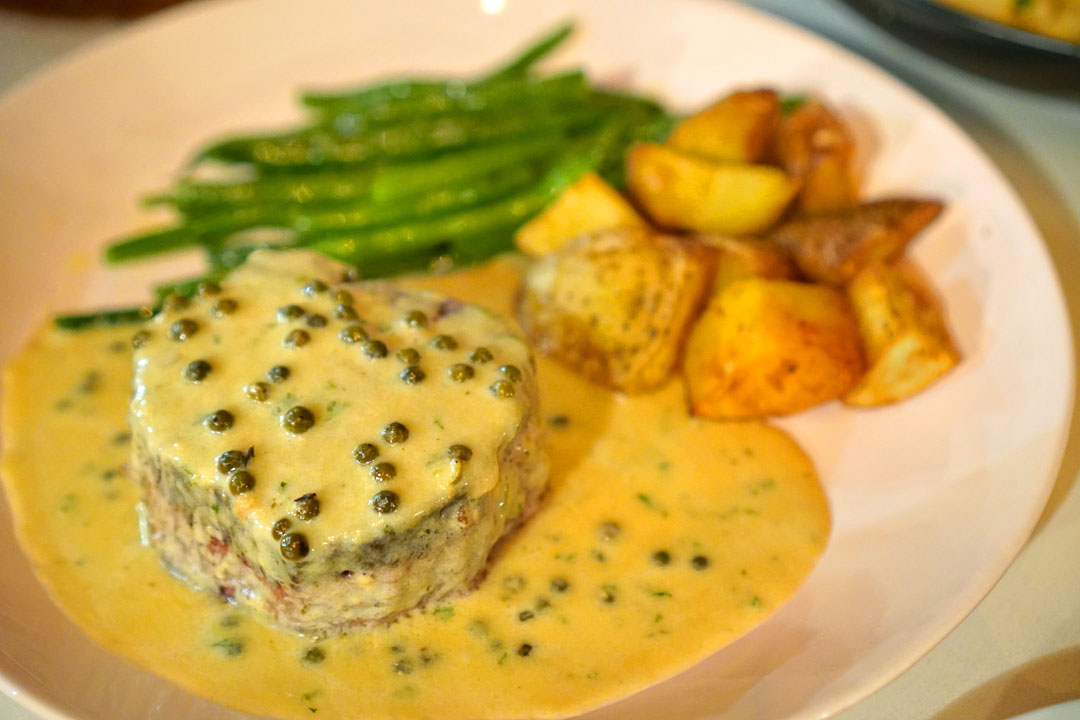 solomillo a la pimienta verde [$52.00]
| filet mignon w peppercorn sauce
I tend to shy away from tenderloin these days, but this was a damn fine preparation. The steak arrived well-seared and with a lovely medium-rare cook, while its refined beefiness matched up swimmingly with that mustard-y, peppery sauce. I also enjoyed those herby roasted potatoes, and didn't mind the levity provided by the sautéed string beans, though they were a bit limp for my liking.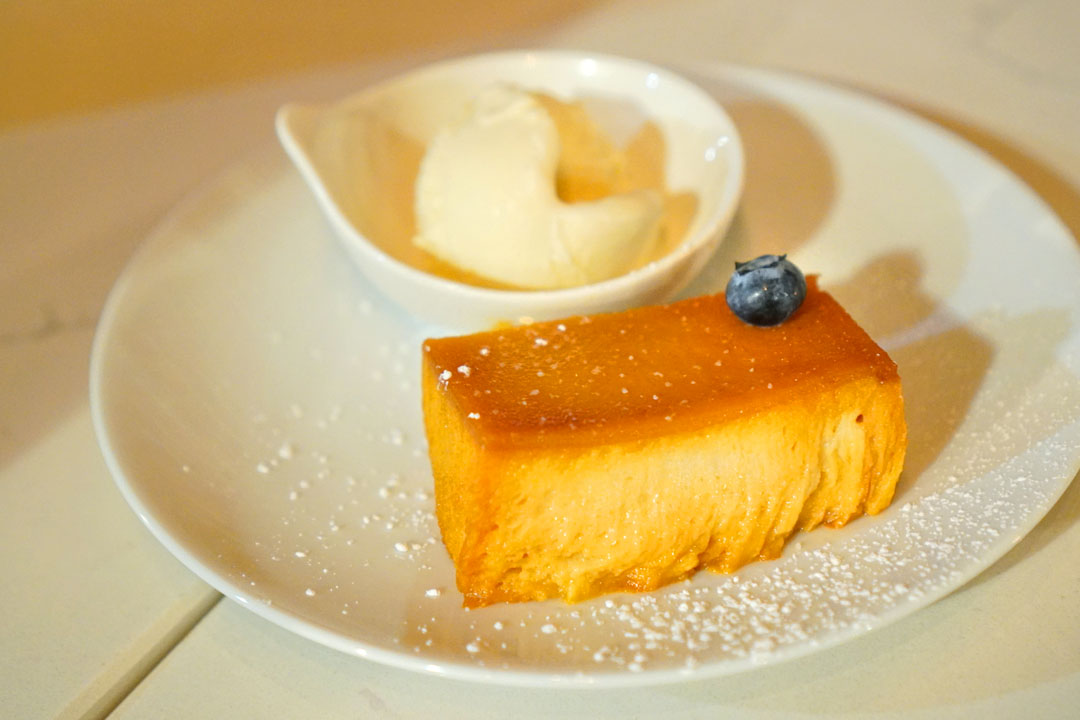 torrijas [$12.00]
| spanish bread pudding
Time for dessert. The torrija came out super soft and creamy, with a light sweet-spicing, and really opened up nicely when taken with that vanilla ice cream.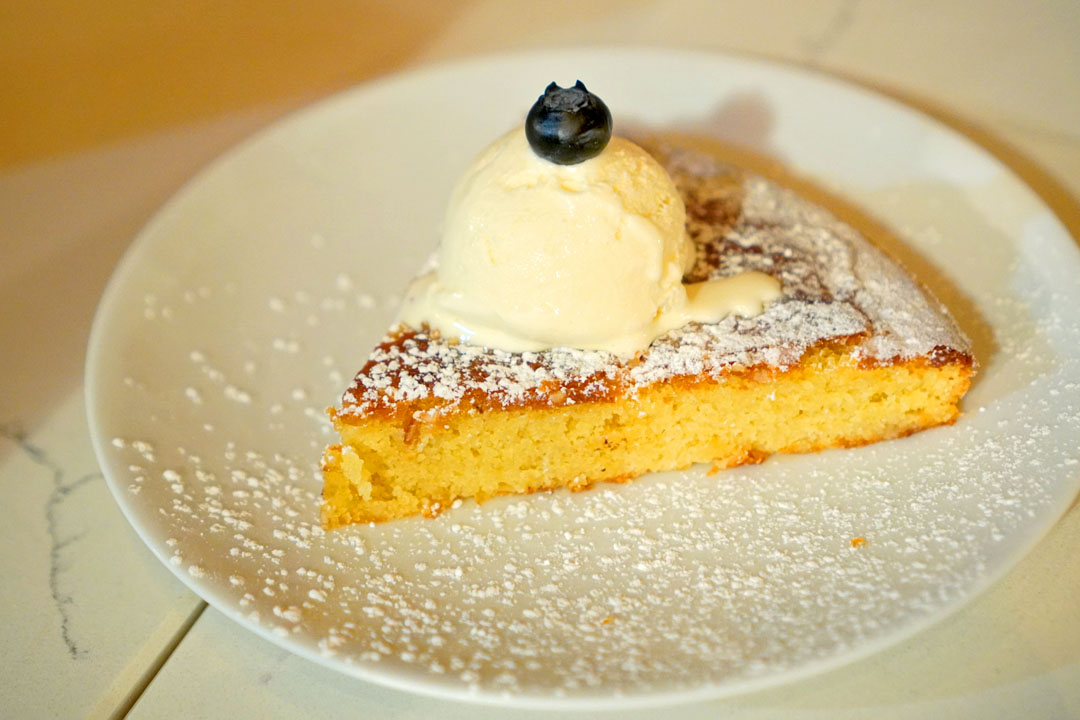 tarta de santiago [$13.00]
| spanish almond cake with vanilla ice cream
The torta boasted a gratifyingly moist texture, and wasn't shy at all about the almond, while again, the ice cream was key.
It turns out that my friends were right: Dos Besos was indeed pretty great, delivering mostly classic Spanish fare executed with aplomb, paired with some congenial service to boot. In fact, this is probably my favorite Los Angeles-area Spanish restaurant debut of the past couple years, and will likely be a go-to dining option of mine when I'm hanging around in Old Pasadena in the future.