Vernick Fish (Philadelphia, PA)
Vernick Fish at Four Seasons at Comcast Technology Center
1 N 19th St, Philadelphia, PA 19103
215.419.5055
www.vernickfish.com
Tue 06/13/2023, 08:00p-10:20p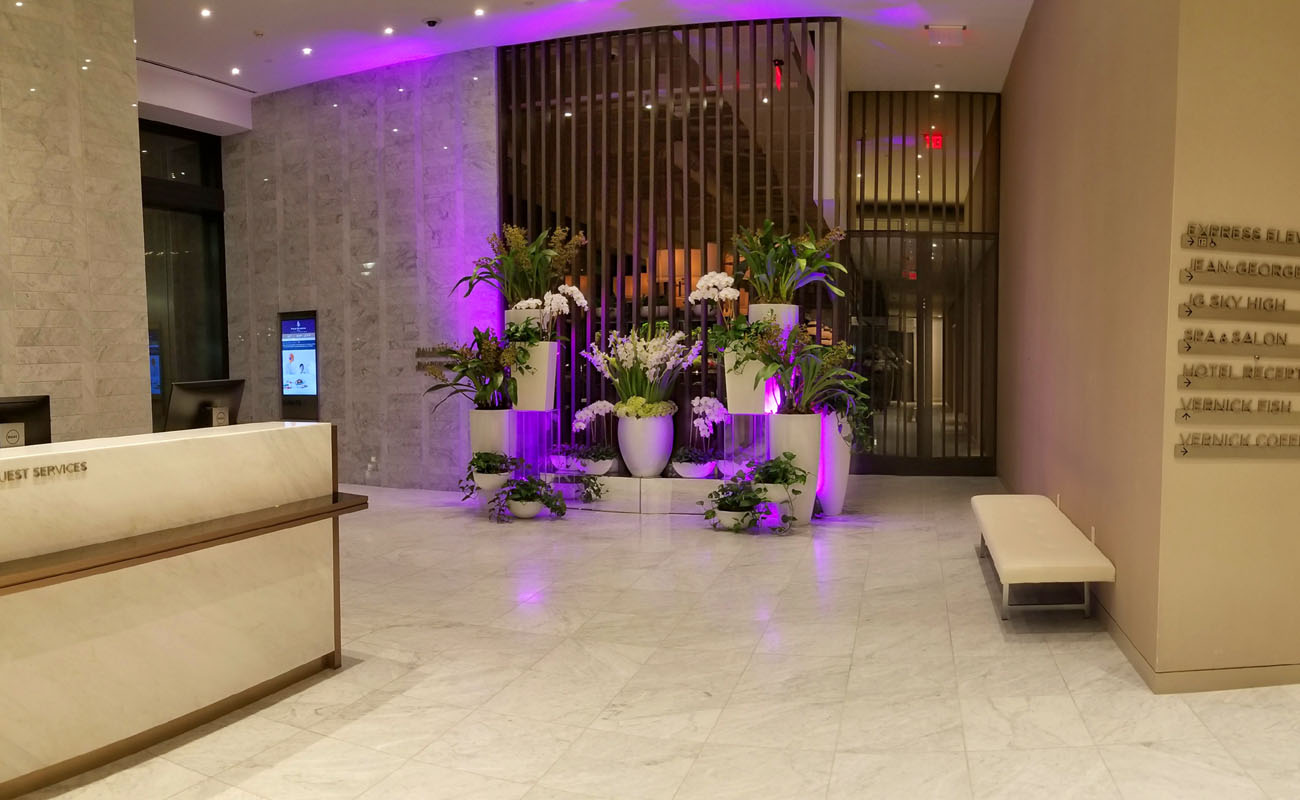 If we're talking about "essential" Philadelphia dining spots, Greg Vernick's
eponymous eatery
in Rittenhouse Square certainly fits the bill. I enjoyed a meal there back in August 2021, so for my latest trip to Philly, I decided to pay a visit to the Chef's seafood-focused Vernick Fish, located at the Four Seasons in Logan Square/Penn Center. The restaurant was first announced back in 2017, and was initially slated to debut in late 2018, but was delayed (of course) and wound up opening on August 12th, 2019.
Initial Chef de Cuisine duties here were handled by Drew Parassio, who was part of the opening team at the original Vernick and its first CdC. However, he's since been supplanted by David Paterniti, a Culinary Institute of America grad (c/o 2014) who previously worked at Talula's Garden before joining the opening crew at Vernick Fish.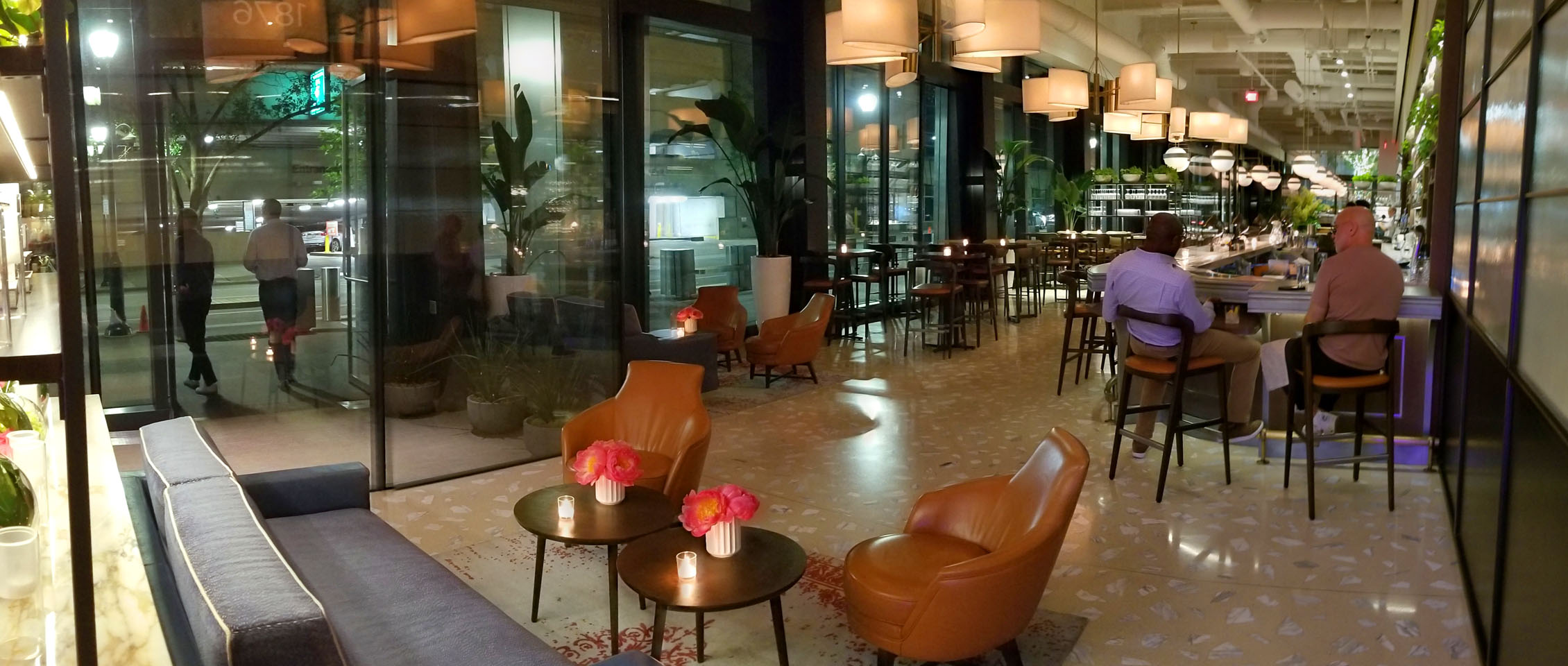 Vernick Fish resides in a 3,400 square-foot space on the ground floor of the Comcast Technology Center skyscraper, and accommodates about 200 diners. The restaurant was penned by
Tihany Design
, and boasts an industrial-meets-MCM-meets-maritime sort of aesthetic.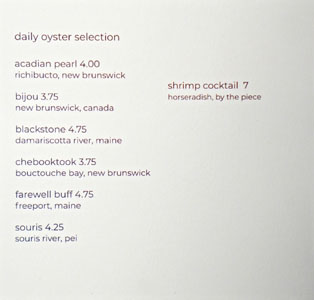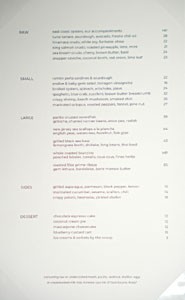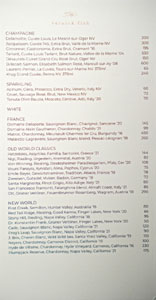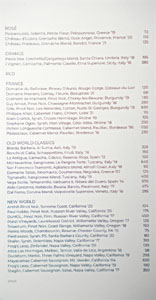 And here we see the menu, which features globally-inflected seafood preparations of sundry styles. To imbibe, you get a generally lighter-leaning selection of wines, a smattering of beers, and some pretty interesting cocktails. Click for larger versions.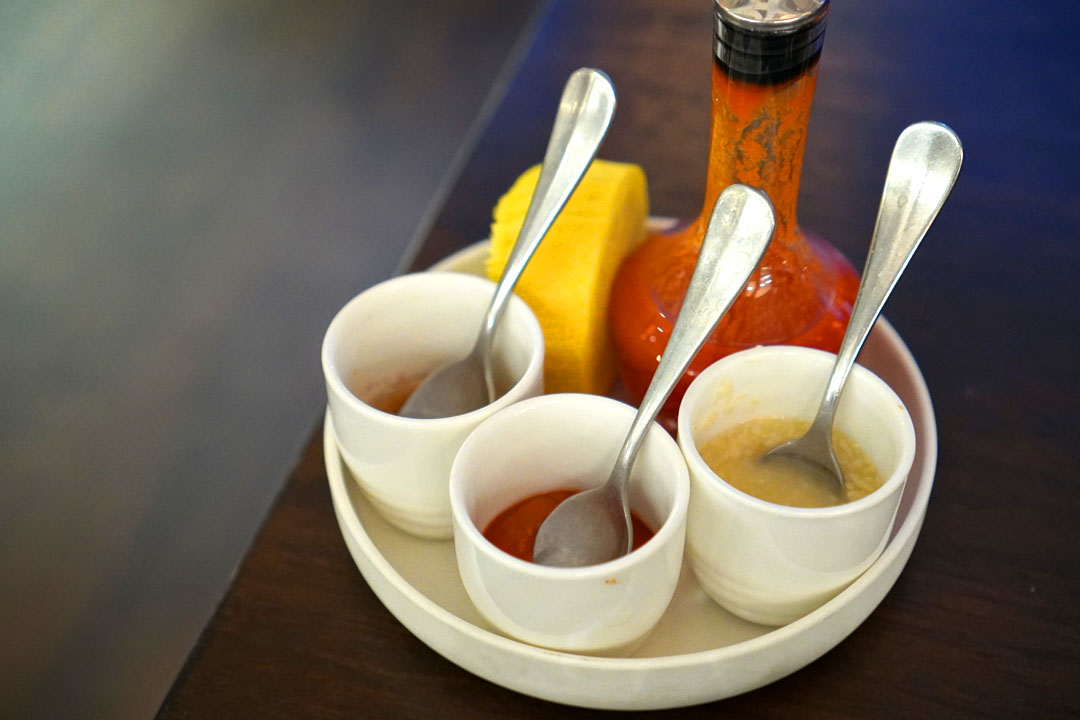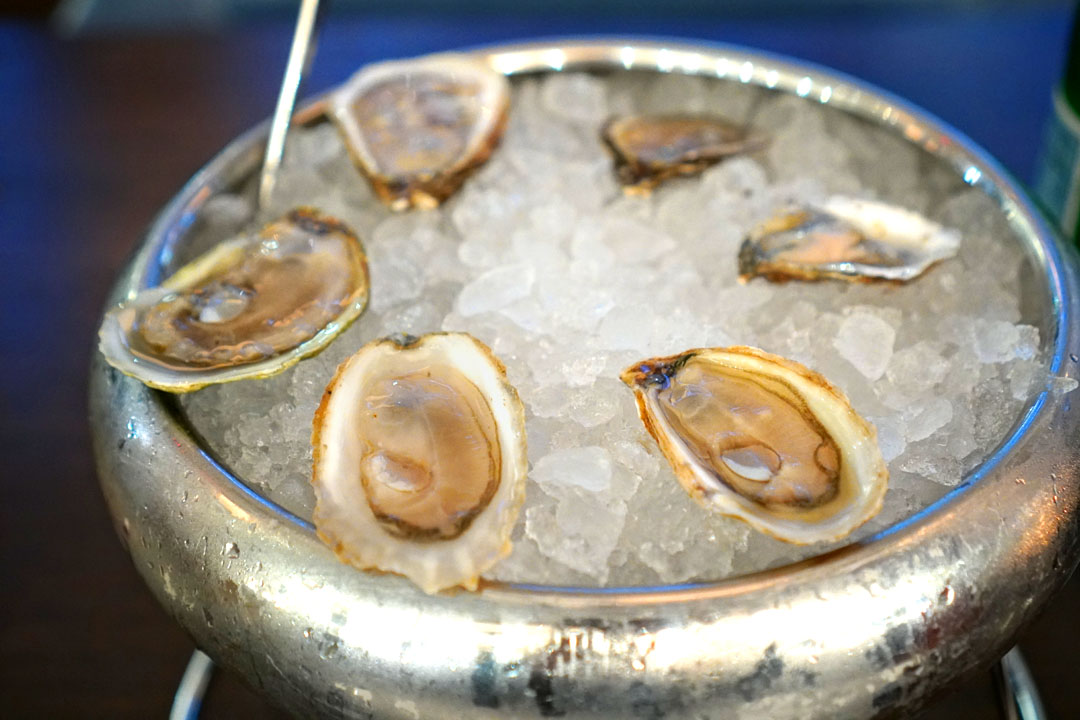 east coast oysters, our accompaniments [$MP]
Given where I was, it made sense to start with a sextet of oysters. Clockwise from the fork, I had:
acadian pearl [$4.00] | richibucto, new brunswick – Soft in terms of mouthfeel, with a mild salinity that only intensified toward the finish.
bijou [$3.75] | new brunswick, canada – Firm to the bite, this one was briny from the start and didn't let up.
blackstone [$4.75] | damariscotta river, maine – This oyster showed off a lovely backbone of umami, and was on the creamier side.
chebooktook [$3.75] | bouctouche bay, new brunswick – Crisp both in terms of texture and brine, with a nearly blue cheese-esque finish that I quite liked.
farewell buff [$4.75] | freeport, maine – The juiciest of the bunch, with a moderate level of saline.
souris [$4.25] | souris river, pei – I found this last oyster to be the most balanced and easiest-slurping of the six I tried.
Accompaniments included lemon, a somewhat "buttery" mignonette, a surprisingly savory cocktail sauce, a relatively mild serving of horseradish, and my favorite: a delightfully funky fermented chili hot sauce.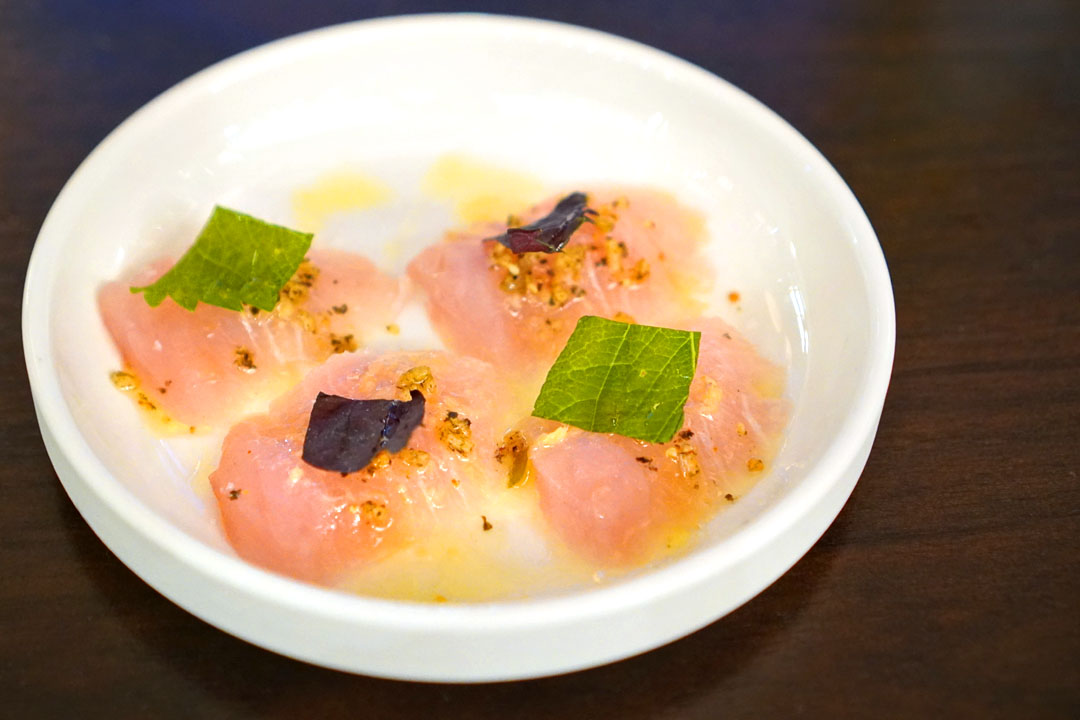 hiramasa crudo, white soy, furikake, shiso [$22.00]
My first of three raw seafood preparations featured yellowtail amberjack. The fish was spot-on texturally, and took well to the umami imparted by both the soy and the crunchy bits of furikake, while the minty shiso lightened the mood.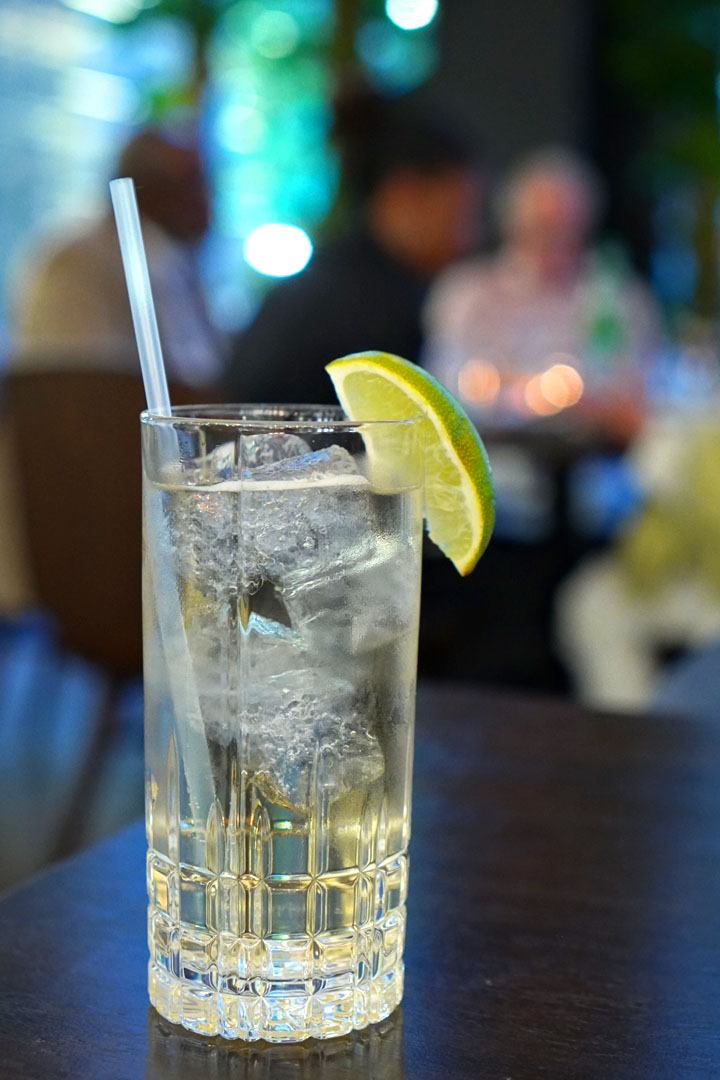 southampton iced tea [$22.00]
| clarified long island iced tea
I ended up trying four cocktails tonight, and up first was this thoroughly reworked Long Island. I'm not sure what they put in here, but the concoction had this sweet, autumnal spice to it, as well as hints of vanilla, not to mention a persistent tartness. This all made for a drinking experience that was pretty different than what you'd expect from the traditional "tea."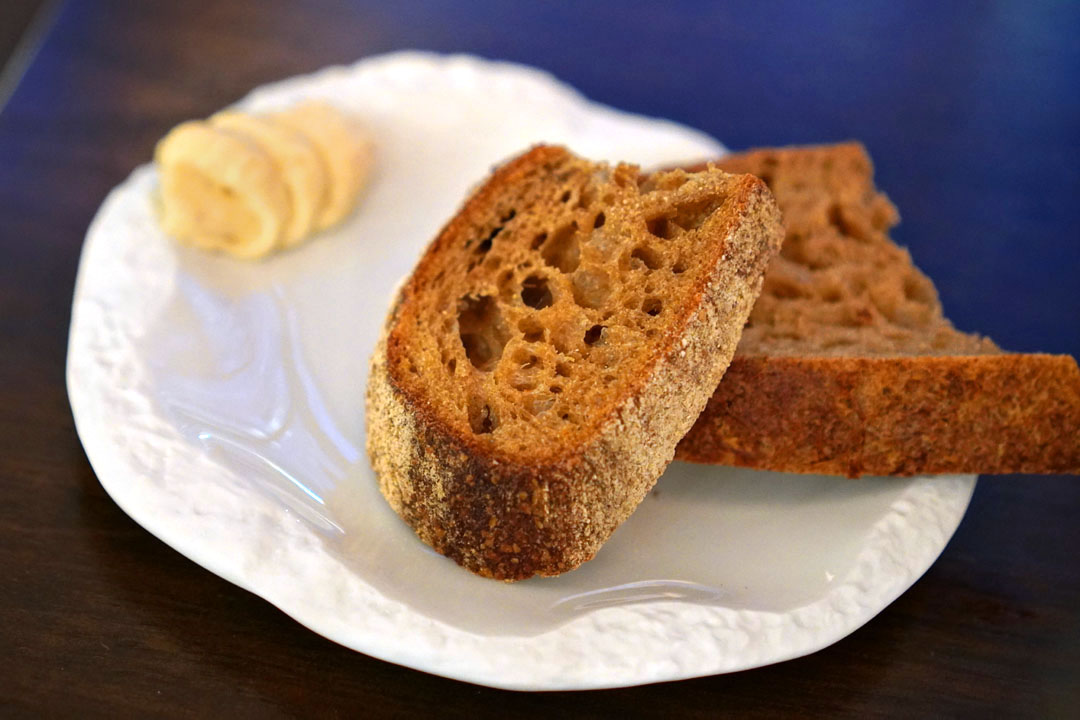 Bread service comprised a pleasantly smoky sourdough (which could've used a crisper crust), served with a sweetly spiced butter.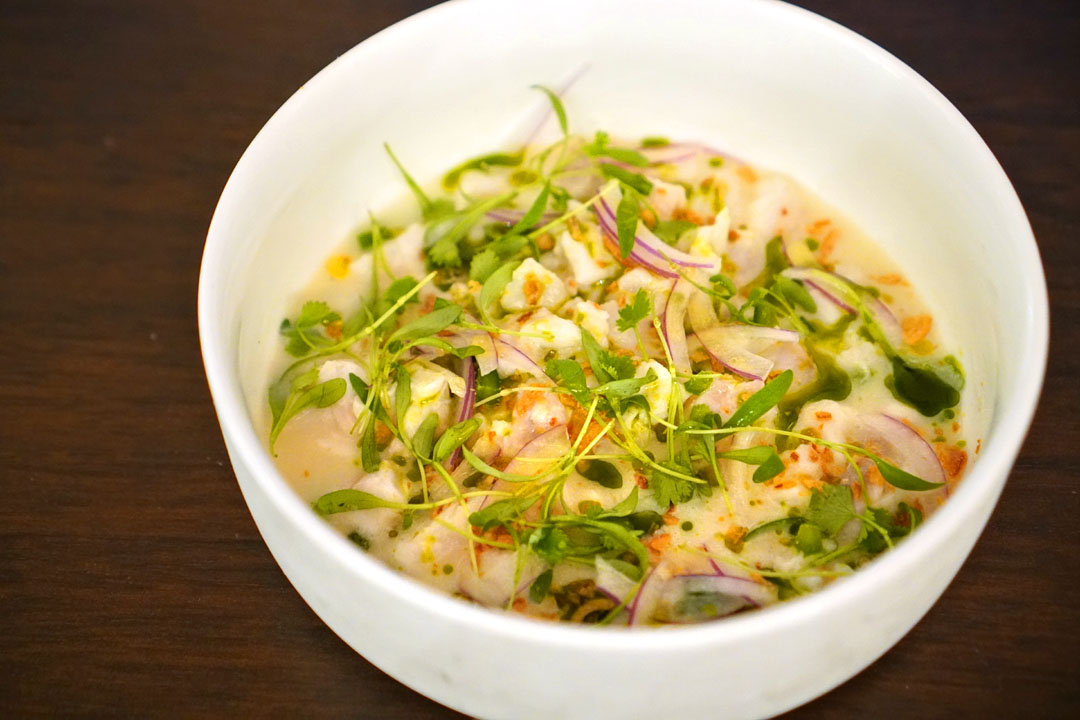 snapper ceviche, coconut broth, red onion, lime leaf [$23.00]
I'm a sucker for ceviche, and fortunately, the dish was a highlight. The snapper had a lovely "cook," and I really appreciated the zestiness of those Southeast Asian-y herbs, while dish's marinade combined acidity with an underpinning of coconut-y sweetness. I got some nice crispy-savory bits here, too.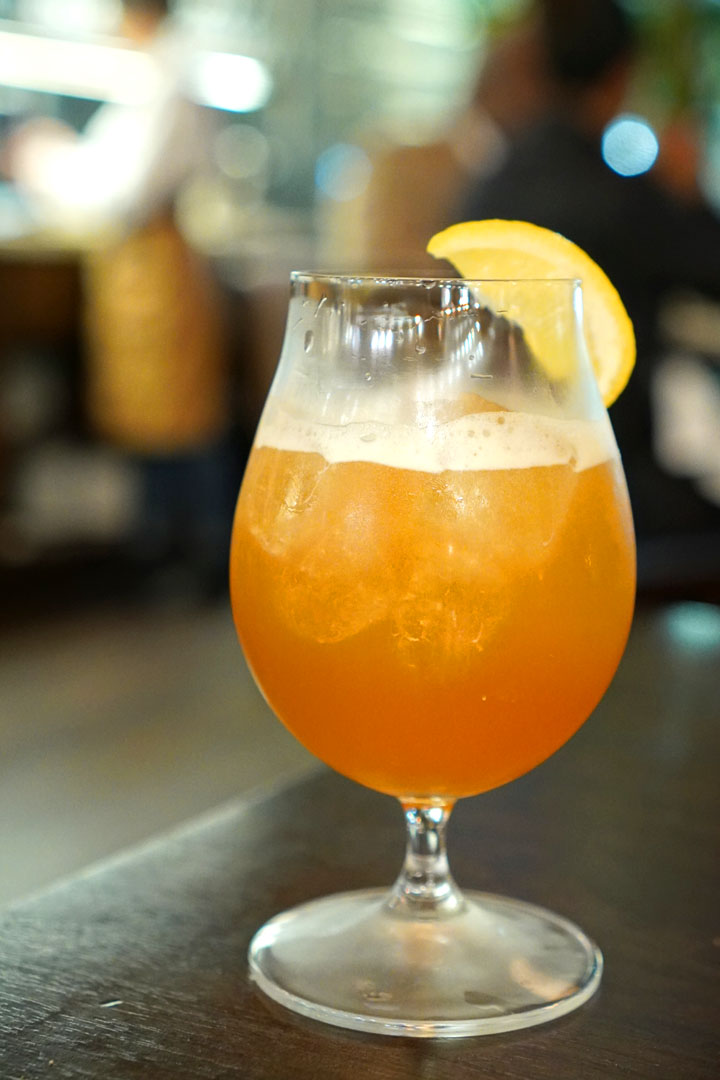 vernick fish house punch [$22.00]
| overproof rum, caribbean rum, cognac, peach brandy, lemon
The fish house punch did indeed pack a punch. The cocktail did a pretty good job blending fruity, boozy, and astringent flavors, with the complexity of the cognac in particular making itself known.
sea bream crudo, cherry, brown butter, basil [$24.00]
Shards of bream arrived slick and supple, their delicate flavors augmented by a surprisingly potent butter sauce that was just on the verge of being overpowering. Fortunately, the fruit and basil did help keep it all in check.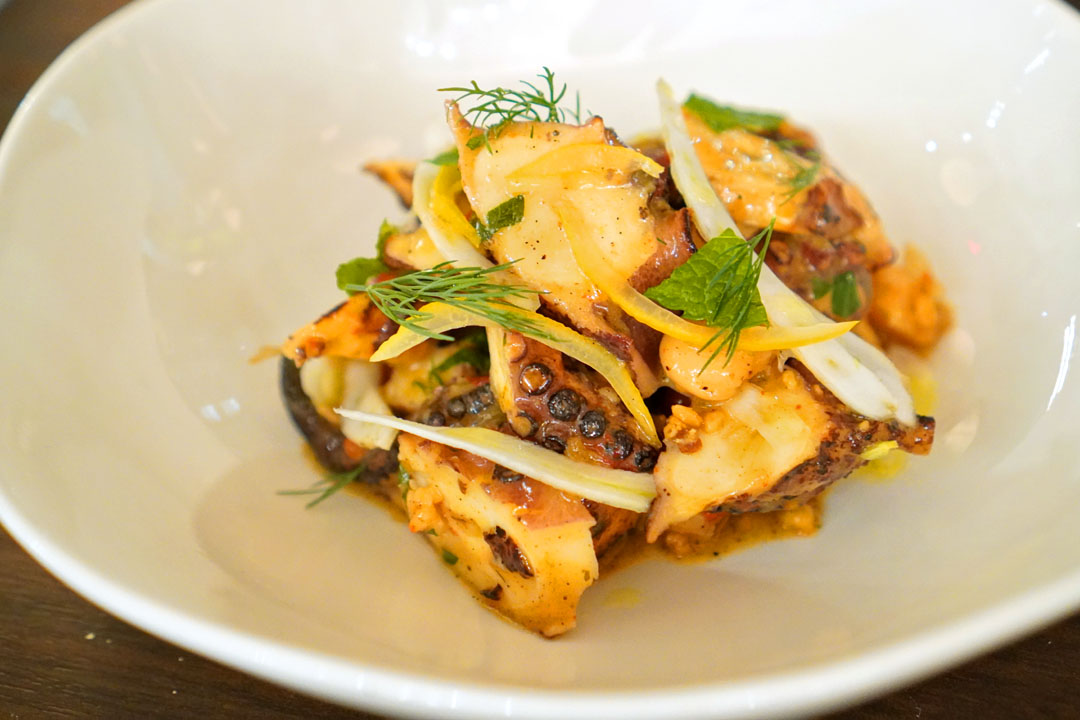 marinated octopus, roasted peppers, fennel, pine nut [$27.00]
Octo was imbued with both salinity and spice, and was further bolstered by the bite of those roasted peppers. The herbs and fennel offered up a crucial contrast to those heavier tastes, while the gigante beans softened all the flavors at play. My gripe here was that the octopus could've been more tender.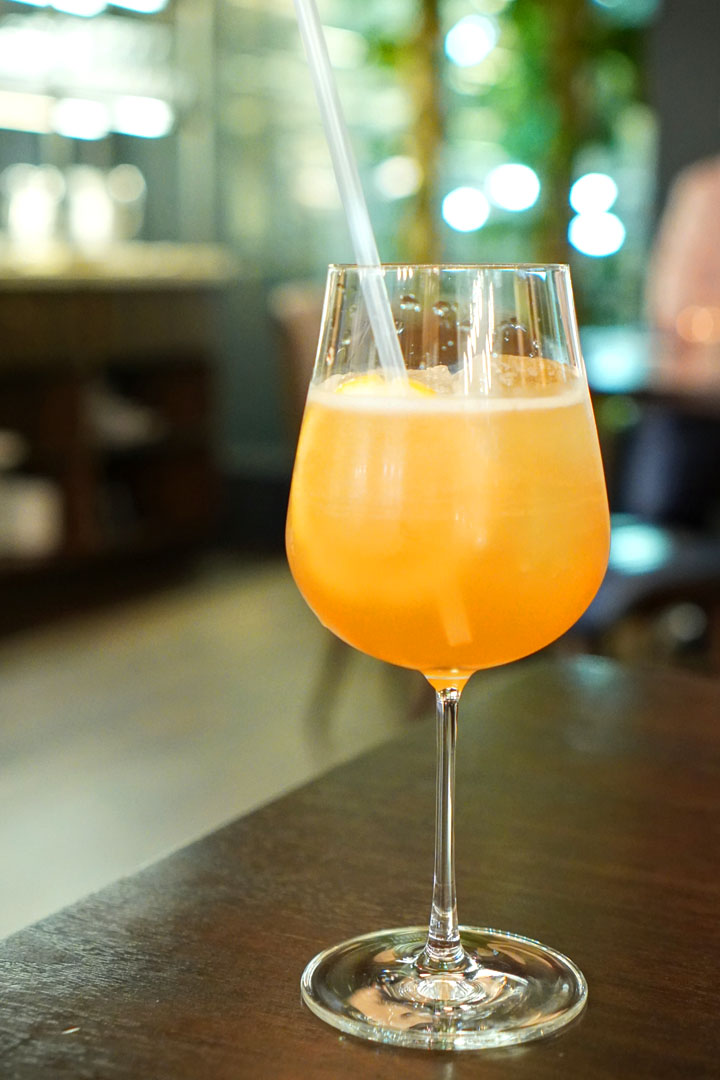 arandes spritz [$21.00]
| blanco tequila, oloroso, pear brandy, honey, celery bitters
My next cocktail was one of the more intriguing spritzes I've had thanks to its interplay of vegetal, herbaceous nuances and soft, sugary fruit, all finished with a long-lasting savoriness. Pretty neat.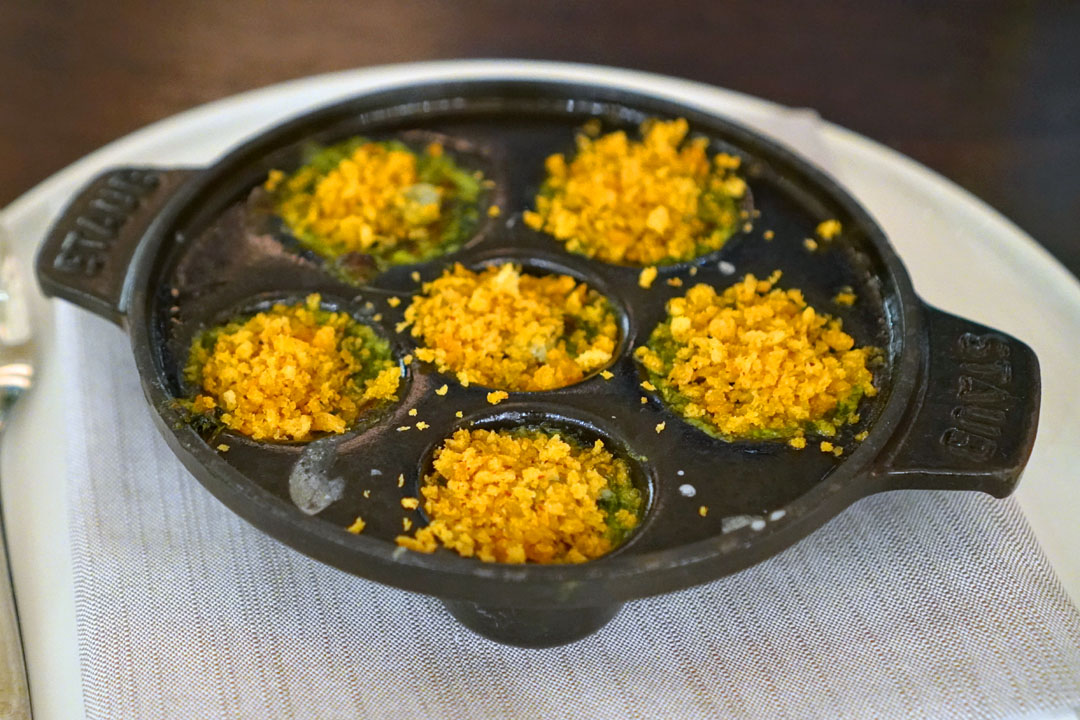 broiled oysters, spinach, artichoke, piave [$24.00]
A seemingly escargot-inspired presentation of cooked oyster was another standout. I loved the back-and-forth between the oysters and the bright, bitter flavors of the spinach, while the cheese imparted further interest to the dish. Nice crunch here, too.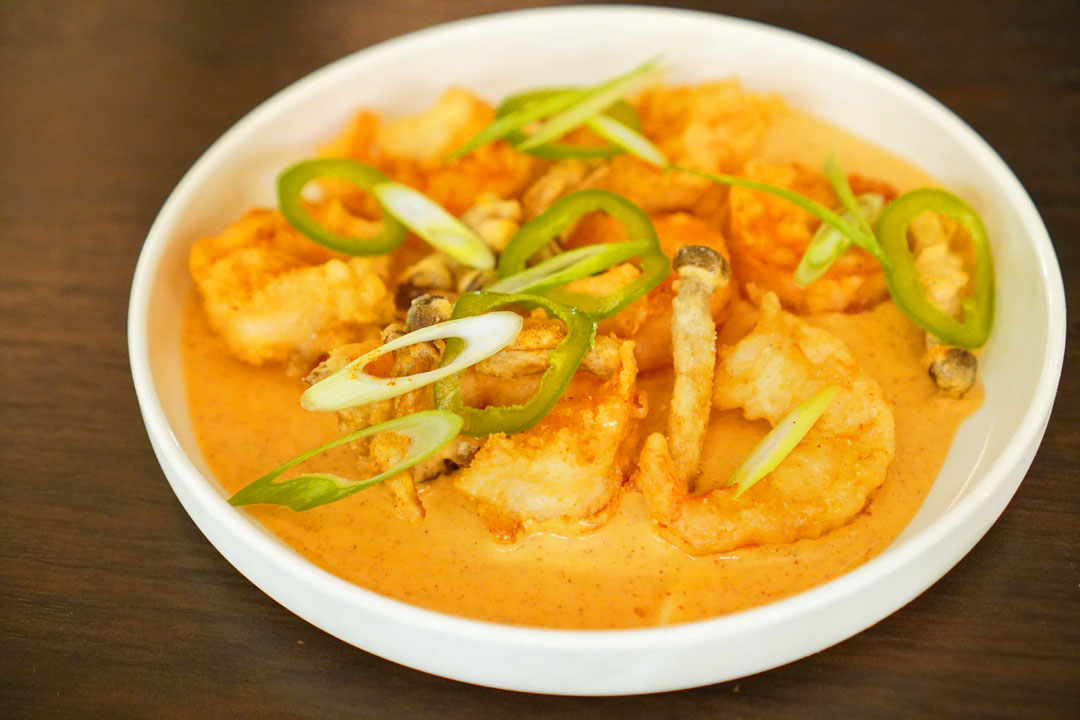 crispy shrimp, beech mushroom, smoked chili [$25.00]
Shrimp came out deftly cooked, with supple, snappy insides and exteriors that were as crispy as advertised. Taste-wise, I got plenty of sweetness, brine, and umami, all of which paired swimmingly with the piquant depth of the accompanying sauce. Also crucial were those green onions, which provided a much-appreciated levity.
oaxacan cooler [$21.00]
| mezcal, cointreau, hazelnut, citric acid
My final cocktail was also on the more quaffable side, with its smoky notes of mezcal commingled with a nutty, vanilla-like sweetness and some requisite citrusy nuances.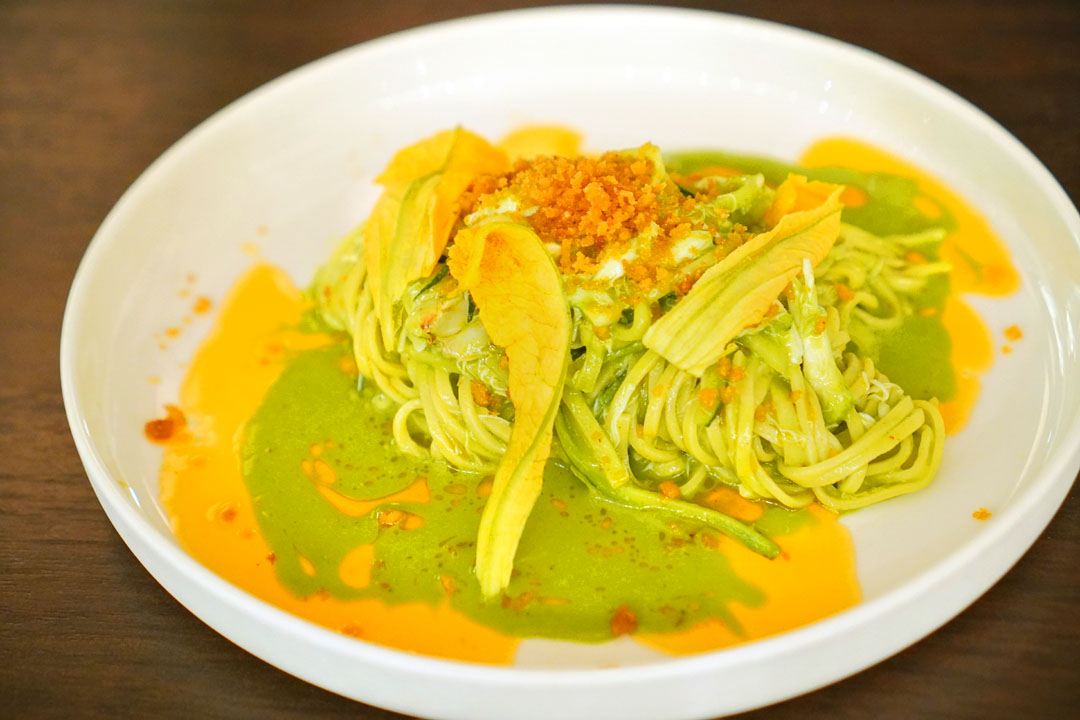 spaghetti, blue crab, zucchini, brown butter breadcrumb [$32.00]
The spaghetti was successful in marrying the sweet, oceany taste of blue crab with the dish's light, vegetal notes, and I liked the added oomph imparted by those breadcrumbs. However, I will say that I wanted a more al dente cook on the actual pasta.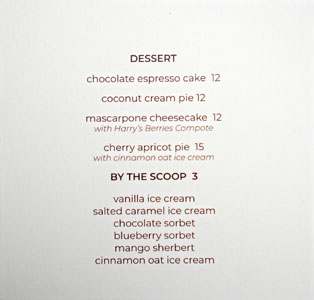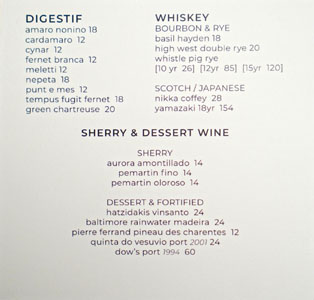 I was quite full by this point, but made sure to save room for dessert and an after-dinner libation. Click for larger versions.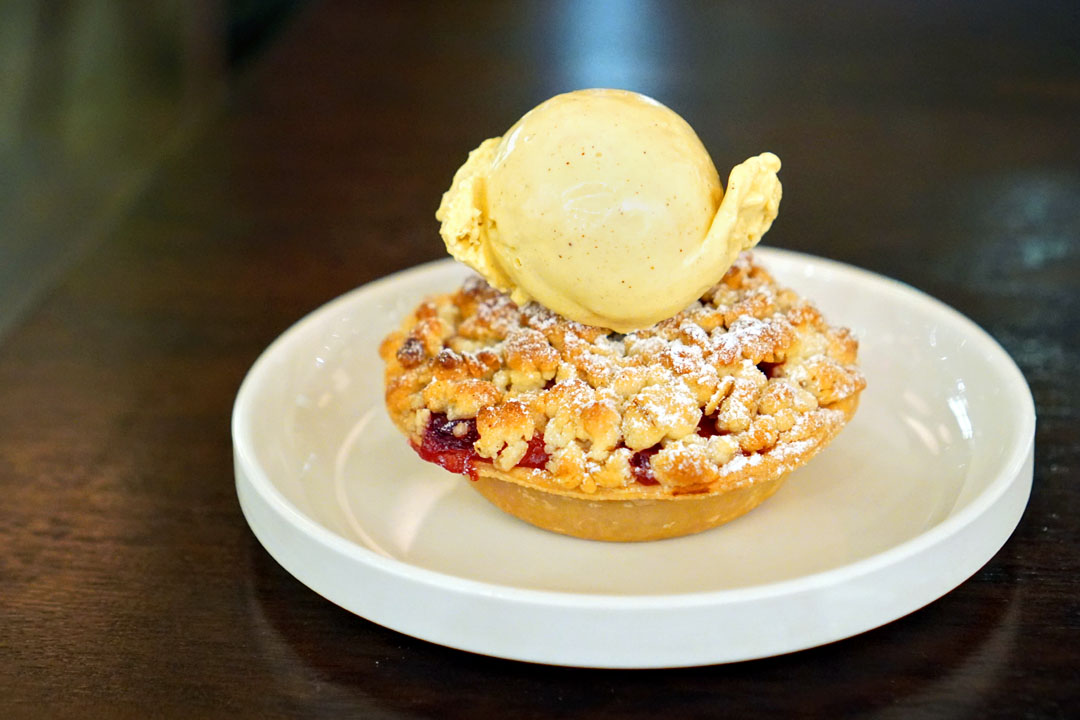 cherry apricot pie [$15.00]
| with cinnamon oat ice cream
I only had the stomach capacity for a single dessert, and opted for this miniature pie, which saw its tart, nutty flavors taken up a notch by that wonderfully sweet-n-spicy ice cream (think Cinnamon Toast Crunch).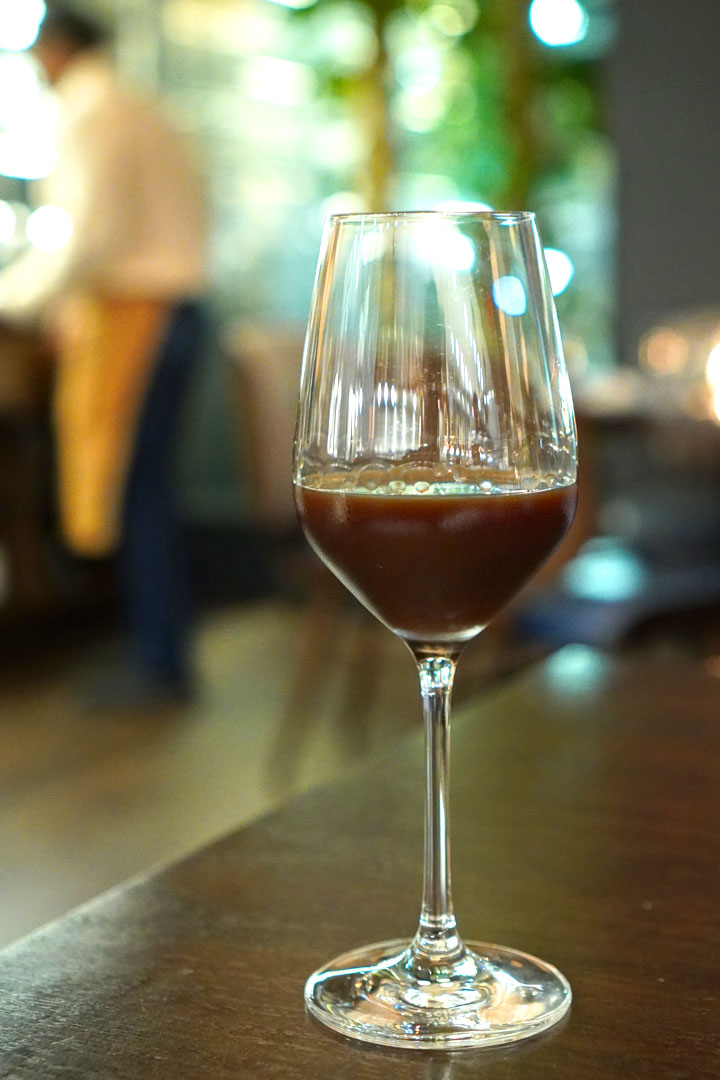 To pair with dessert, I requested a glass of the
hatzidakis vinsanto [$24]
. The nose demonstrated boatloads of raisin alongside baking spices. Meanwhile, the palate was full and soft, with primary flavors of cool dark fruit evened out by more spices, touches of mineral, and a zippy acidity.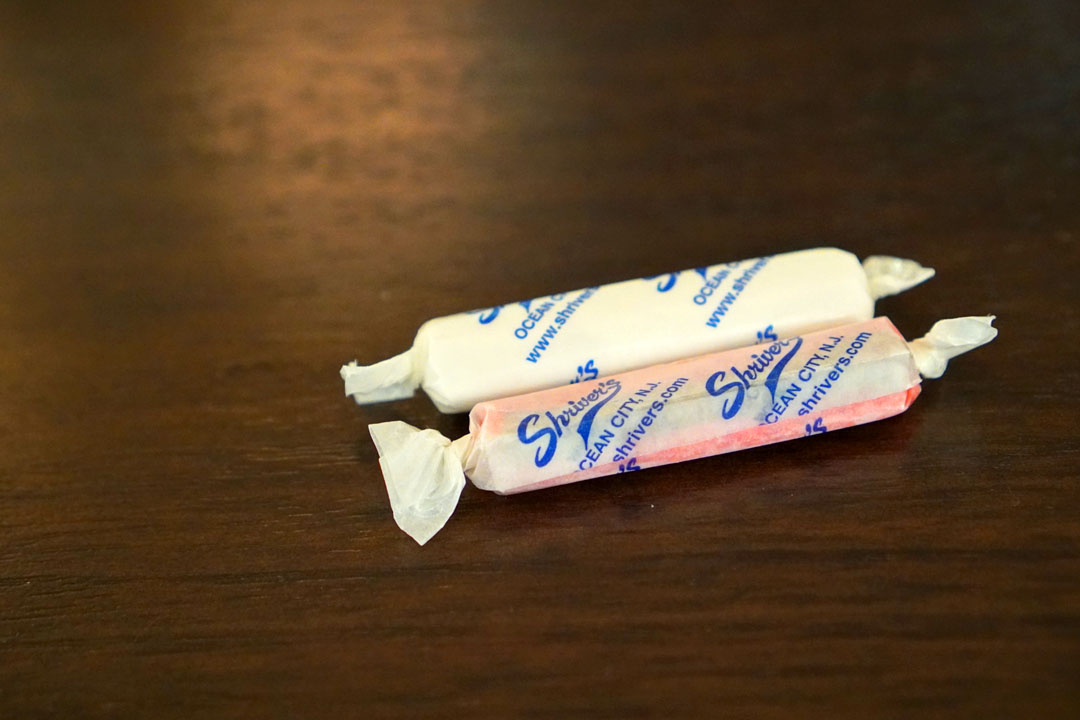 In place of your typical mignardises, I was instead given salt water taffy (in licorice and cherry flavors, I believe) from Shriver's out of Ocean City, NJ. I'm assuming that this was a nod to Chef Vernick's formative years spent on the Jersey Shore.
Despite a couple quibbles here and there, this was a successful meal overall. It does seem that Vernick's style of cooking translates pretty well to this sort of "reimagined oyster bar" format. The food has a casual, approachable elegance to it that makes sense given the restaurant's environs, and does a nice job blending tradition with some more modern, globally-driven elements. I can understand why the place has become a Philly favorite over the past few years.