Her Place Supper Club (Philadelphia, PA)
Her Place Supper Club
1740 Sansom St, Philadelphia, PA 19103
www.herplacephilly.com
Mon 06/12/2023, 08:30p-10:40p

I've been dining somewhat regularly in Philadelphia for a couple years now, and one of the places that I'd been hearing more and more about is Her Place, a spot that seems especially popular among industry types. The Rittenhouse Square restaurant was opened by Chef/Owner Amanda Shulman back in June 2021, and actually started life a decade ago as a college-era underground dining series advertised via Facebook. Her Place was pretty much an immediate hit, and has since become one of the toughest tables in town to score. Thus, I made securing a reservation here a top priority for my latest visit to Philly.
About the Chef
: Amanda Libbie Shulman was born in July 1992 and grew up in the tony town of Greenwich, Connecticut as part of a Jewish family. She helped out her mom in the kitchen starting at an early age, but really began getting serious about the craft while she was attending high school at Rye Country Day School (where she also excelled in field hockey). She even started a food blog (stayhungree.com) during her senior year, which curiously enough, was apparently private for eight months before being made public. After graduating in 2011, Shulman enrolled at the University of Pennsylvania, majoring in political science and minoring in journalism, with the hope of becoming a foreign correspondent.
In the summer after her first year, she interned at food discovery site Taste Savant, and when classes started back up, served as an intern at
Philadelphia
magazine's Foobooz blog for a few months. In February 2013, she landed the editor-in-chief role for UPenn's chapter of Spoon University, a position she held until graduation. That summer, Shulman spent three months at Le Cordon Bleu in Paris, while fall 2013 saw her intern at Food52 as well as visit Rome via Penn's study abroad program; it was here where she fell in love with pasta making. In March 2014, she underwent her first ever
stage
at Marc Forgione in New York. Shulman ended up being offered an internship, but had already accepted a summer position at Tasting Table, after which she did another
stage
at Gabrielle Hamilton's Prune.
During this period, the budding chef also won a Heled Travel and Research Grant, which allowed her to visit San Miniato and Perugia in Italy that summer to research the role of truffles in cuisine. From September 2014 to May 2015, she
staged
at Marc
Vetri
's Amis Trattoria, a position she apparently secured while interviewing Sal Vetri, the Chef's father; she also worked at The Bakeshop on 20th during the spring of 2015 (where she learned babka making). In case all that wasn't enough, Shulman also started a supper club while at UPenn. The name of this venture was called Her Place, and she'd cook five-course meals for both friends and strangers in her apartment, charging $35 a head.
She finished her studies at Penn in 2015, but still held those dinner parties on occasion. After spending the summer back at home, she returned to Philly in July and continued her
stage
at Amis. This turned into a
stage
at Vetri Cucina, then an internship, then a proper garde manger job in August 2015; she stayed there for about two years. In September 2017, Shulman went to Bergamo to work for three months at Osteria della Brughiera, a stint that was made possible by Vetri's connections. She cooked at Momofuku Ko for a couple months starting in February 2018, then switched over to Roman's, an Italian spot in Brooklyn; it was also around this time where she started thinking about turning Her Place into an actual restaurant.
In August 2018, she returned to her old boss' side and became opening exec sous at Vetri Cucina in Las Vegas, but in June 2019, relocated to Montreal to be with boyfriend Alex Kemp Roussy (they met at Momofuku). Shulman cooked at Joe Beef for a year, and the couple ended up moving back to Philly in September 2020 to begin work on Her Place (she also began consulting for
Kiitch
around this time). The restaurant eventually opened in June 2021, and soon became one of the hottest tickets in town. In February 2022, Shulman was named an "Emerging Chef" semifinalist by James Beard, and in March this year, she was deemed a finalist for the same award. Meanwhile, in October 2022,
The Philadelphia Inquirer
named Her Place the #1 restaurant in the city, and just months later,
Philadelphia
did the same.

Her Place is situated at a Penn Center address that was previously home to the likes of Swiss Haus Cafe, SliCE pizza shop, Bish Bish Cafe, and Philly Falafel. The dining room has a bit of a shabby chic aesthetic, which is befitting the concept, and seats two dozen.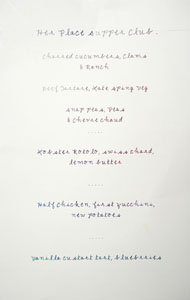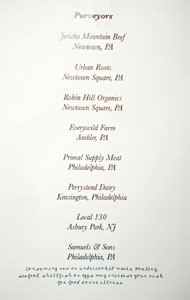 Her Place's Italian-Jewish-French-American menu changes regularly, and we were fortunate enough to be here for the first day of this particular set of dishes. The cost is a reasonable $90 a head, or $110 at the chef's counter. Click for larger versions.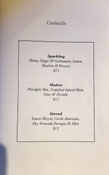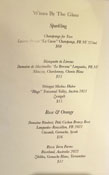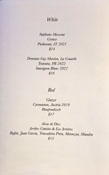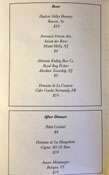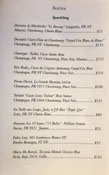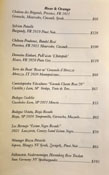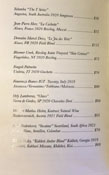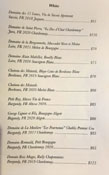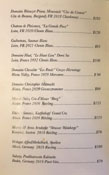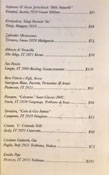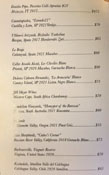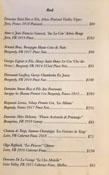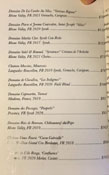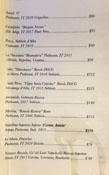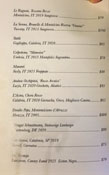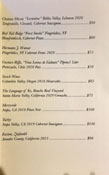 Beverage director duties at Her Place are handled by Julianna Bursack, and she's put together a surprisingly lengthy wine list supported by a handful of cocktails and beers. Click for larger versions.
1: Charred Cucumbers, Clams & Ranch
Our meal got off to a strong start for sure. The combination of cool ranch, cucumber, and parsley was deftly set against binchotan-fueled smoke and the brine of the clams, all while a zesty Dijon-white wine vinaigrette tied the plate together. I got a great mix of chewy and crunchy textures, too.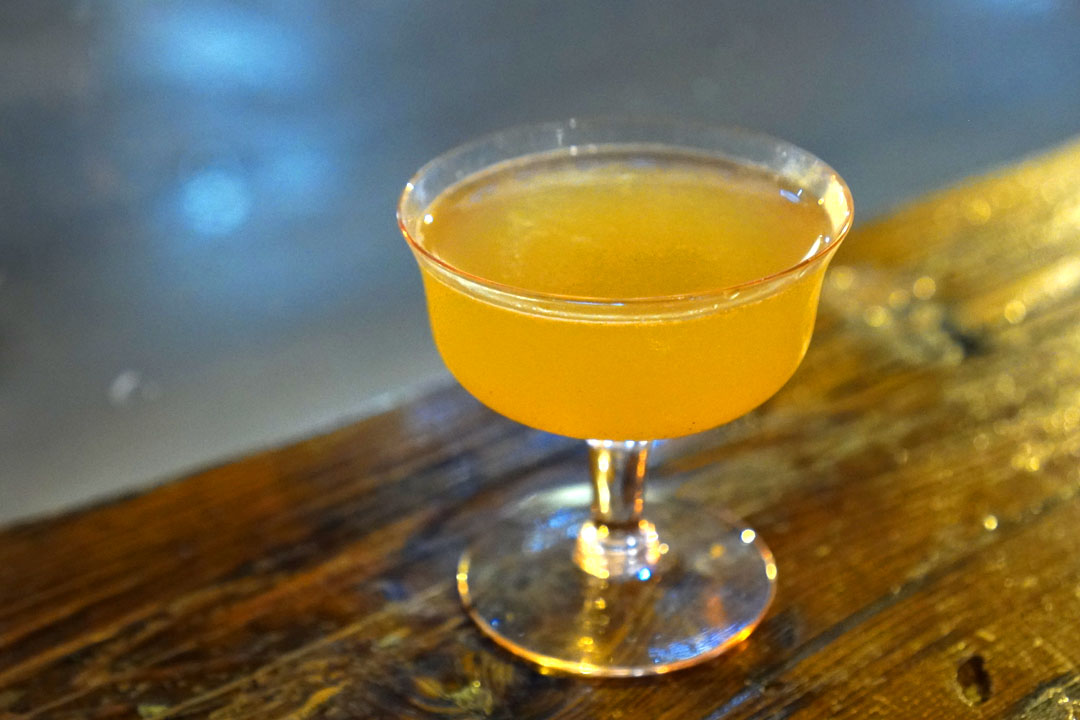 Shaken [$15.00]
| Pineapple Skin, Grapefruit Infused Rum, Lime & Absinthe
I sampled two cocktails tonight, and my first melded tropical fruit and zingy anise with overarching hits of citrus.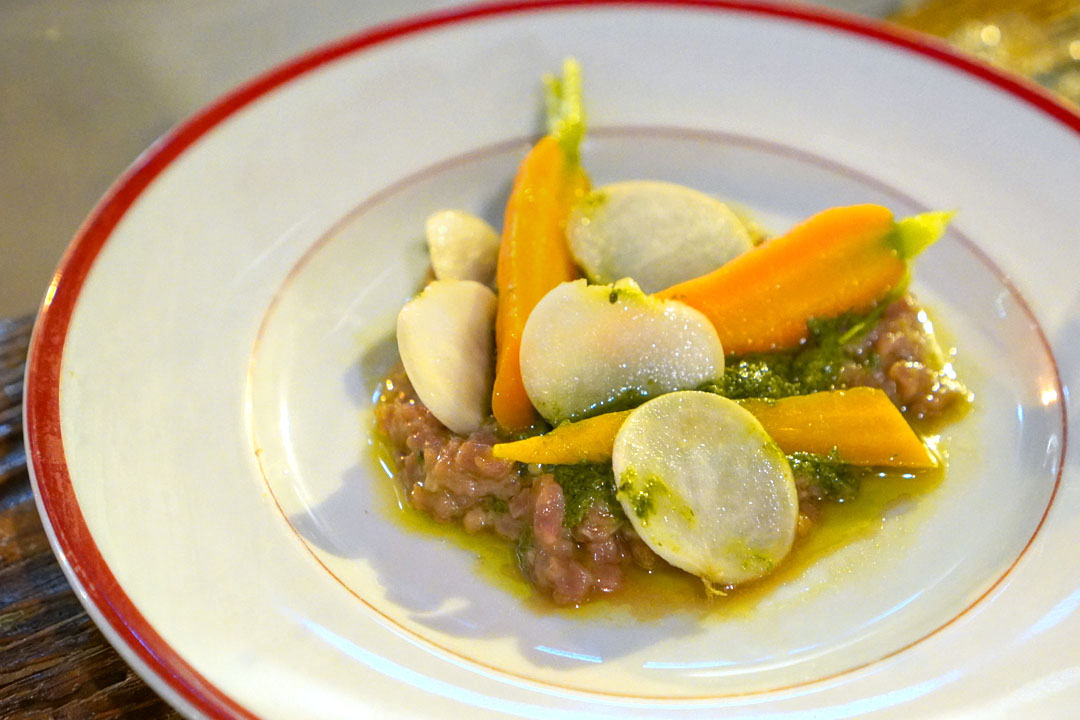 2: Beef Tartare, Late Spring Veg
Slick, supple cuts of Jericho Mountain beef coalesced with egg yolk, shallots, Worcestershire, and Dijon to great effect. The meat was tasty alone, but really shined when taken with that delightfully zippy nettle-tarragon pesto. I also loved the crunch and contrast offered up by the blanched carrots and thin-cut turnips.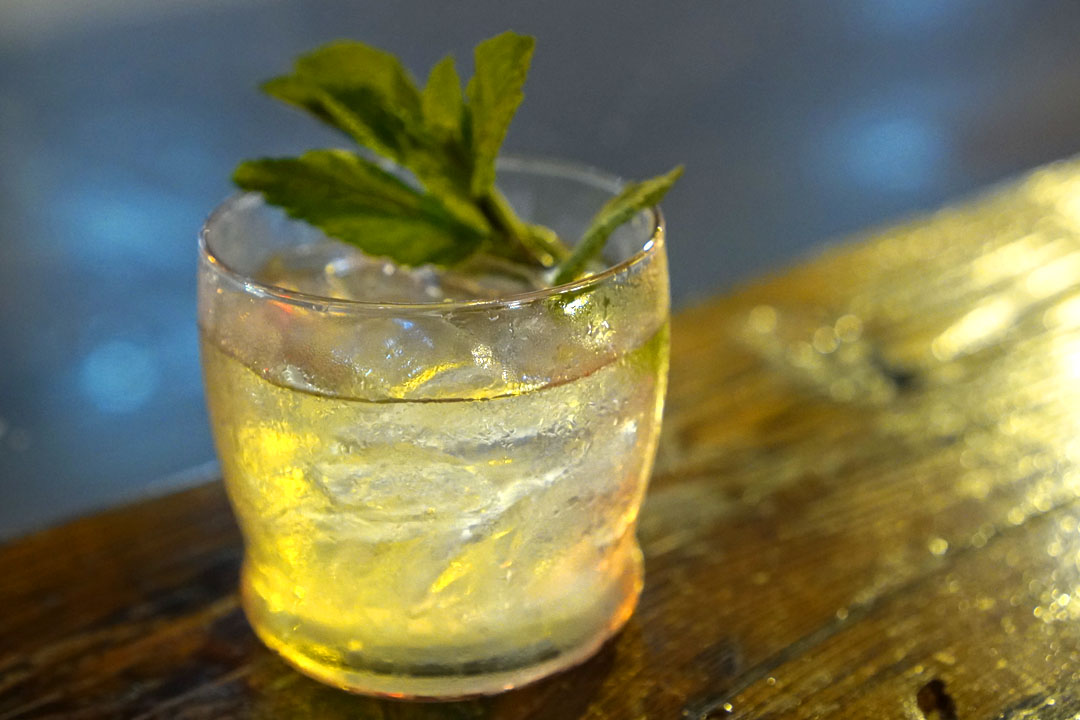 Stirred [$15.00]
| Lemon Mezcal, Cocchi Americano, Dry Vermouth, Tarragon & Mint
My second cocktail was definitely heftier, and showed off a nose of smoky vanilla, while taste-wise, I got a bacon-esque salty-sweetness perked up by herbs and a bit of what seemed like fennel.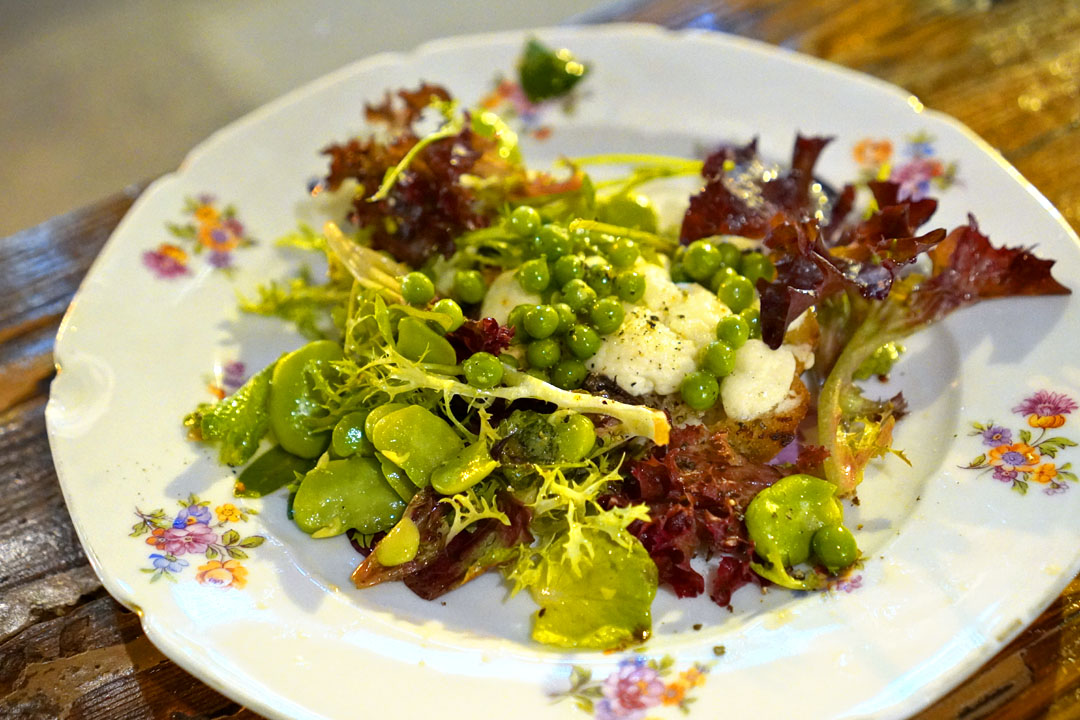 3: Snap Peas, Peas & Chevre Chaud
Setting the stage in our next course was sourdough, topped with creamy, pepper-tinged chèvre, then broiled. Also on the plate was a salad of greens, fava beans, and lovage oil-tossed fresh peas, all dressed in a maple-sherry vinaigrette. There was just this lovely juxtaposition of bright, fresh flavors with that homey marriage of cheese and bread.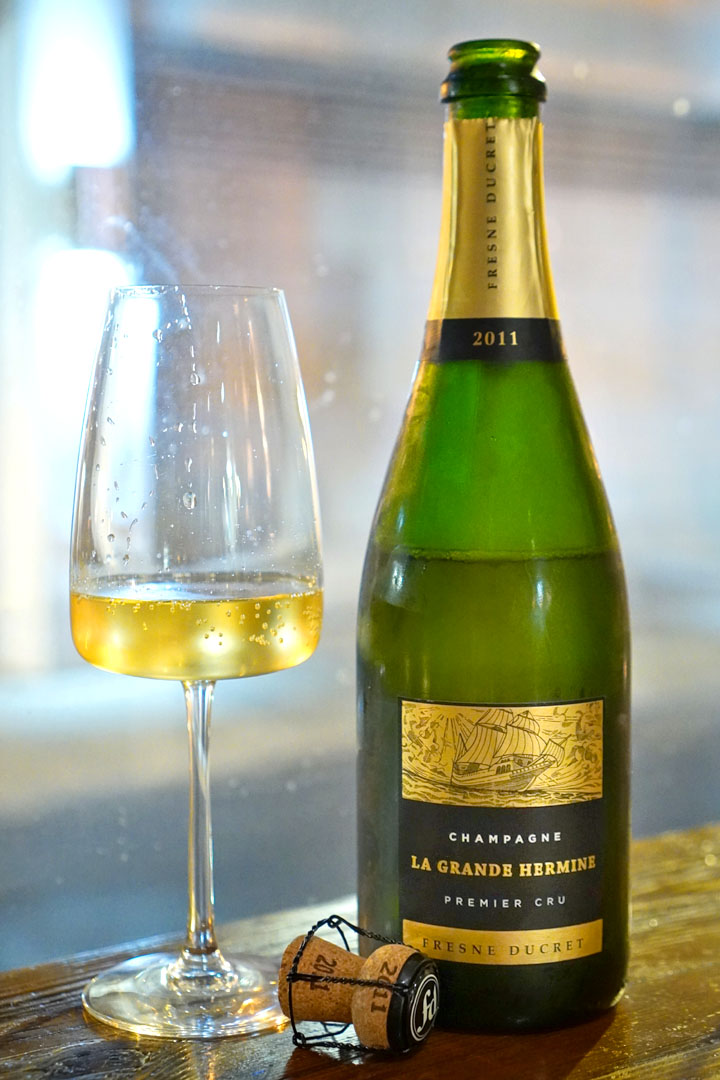 With the cocktails dispensed with, I ordered a bottle of the
Fresne Ducret, La Grande Hermine 1er Cru, Champagne, FR 2011 Chardonnay, Pinot Noir [$180]
. The wine had a lush nose rife with juicy apples and touches of nuttiness, oxidation, and toast. The palate was similarly rich, showing off concentrated flavors of browned apples alongside a dosing of citrus and plenty of acidity. Lovely.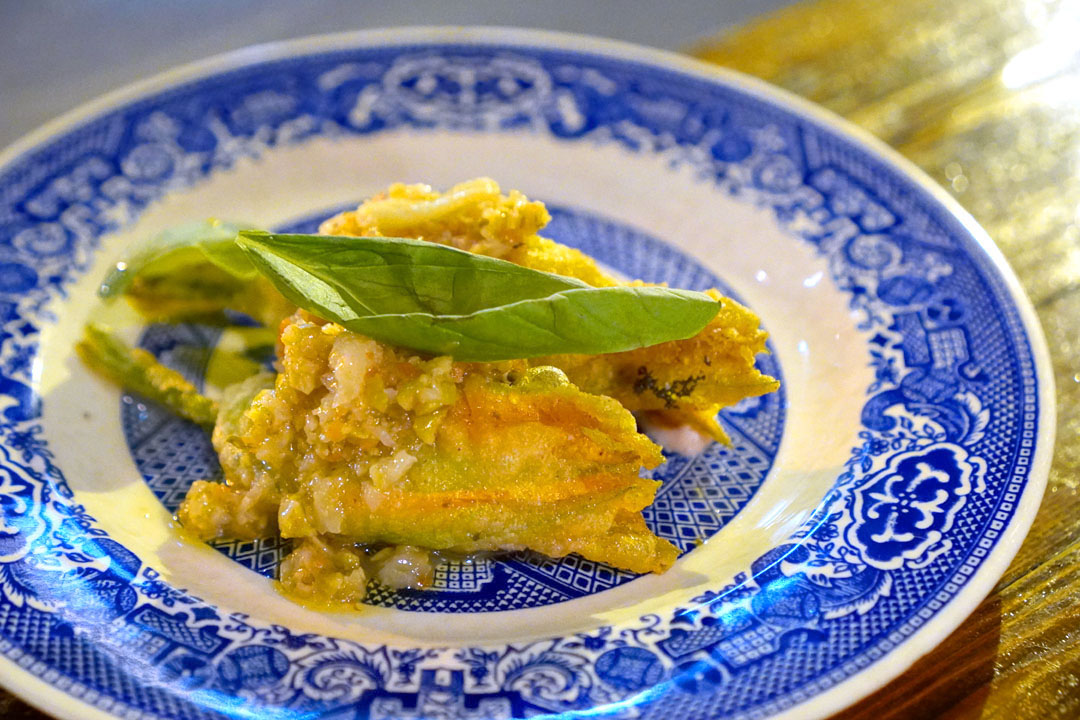 Supplement: Zucchini Flowers, Mortadella, Giardiniera [$16.00]
Here were tempura-fried zucchini blossoms, stuffed with a "hammy" béchamel-based mortadella mousse, then paired with a delightfully pickle-y vinaigrette (incorporating giardiniera, olives, red wine vinegar, oregano, and fennel). It was all a bit hoagie-like, and quite intriguing.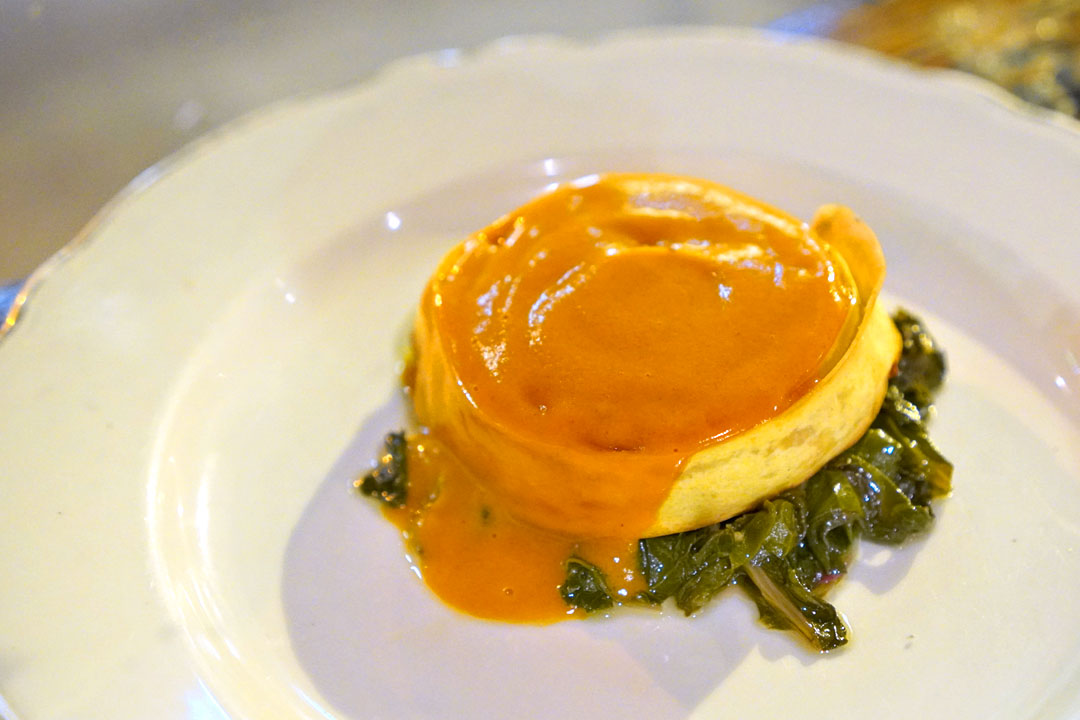 4: Lobster Rotolo, Swiss Chard, Lemon Butter
Lobster, crab, ricotta, lemon zest, and lemon juice were rolled into sheets of fresh housemade pasta, then charred crisp. The sweet salinity of the crustacean duo was well conveyed, and was further taken up a notch by that concentrated, bisque-like lobster-tomato-butter sauce, all while the chard on the bottom imparted a crucial, moderating bitterness.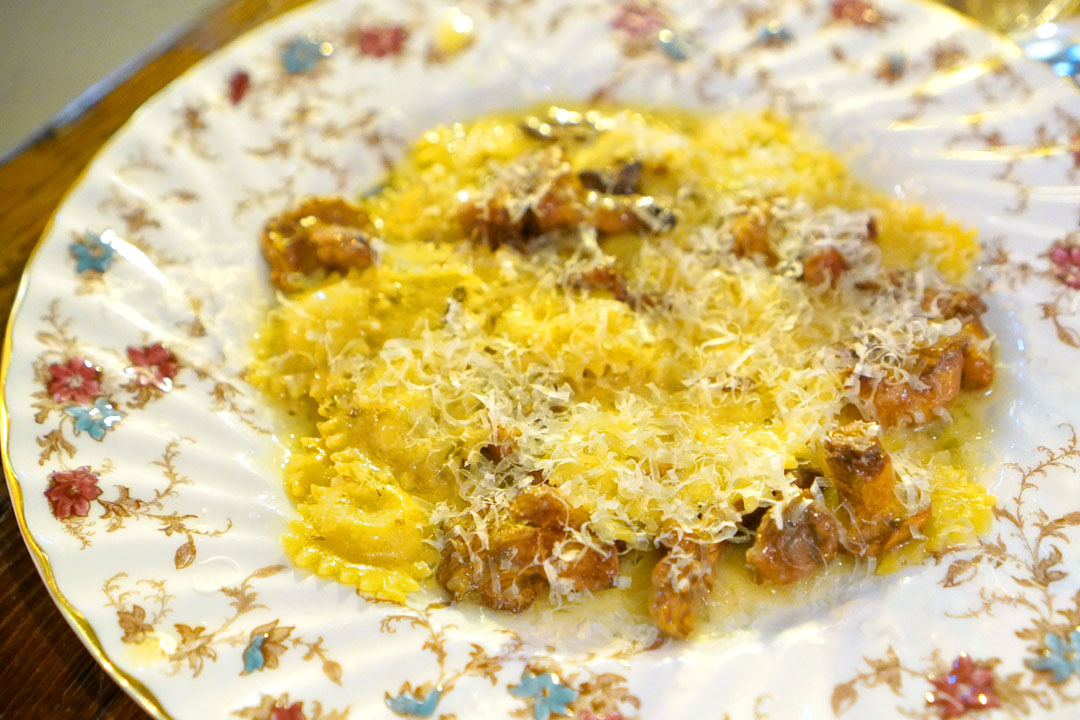 Supplement: Francobolli, Chanterelles, Piave [$24.00]
These were essentially cheese-filled miniature ravioli, tossed in a chanterelle-butter sauce with lots of tarragon and a bit of sherry, then topped with grated Piave cheese. Think rich, woodsy, buttery, and a touch astringent.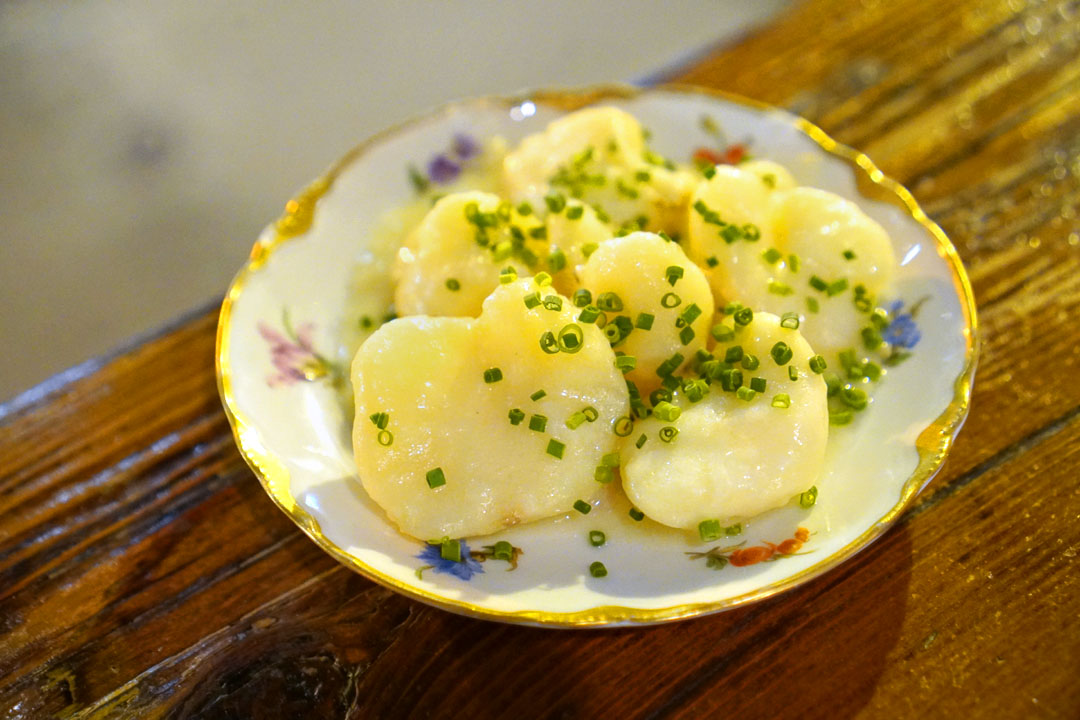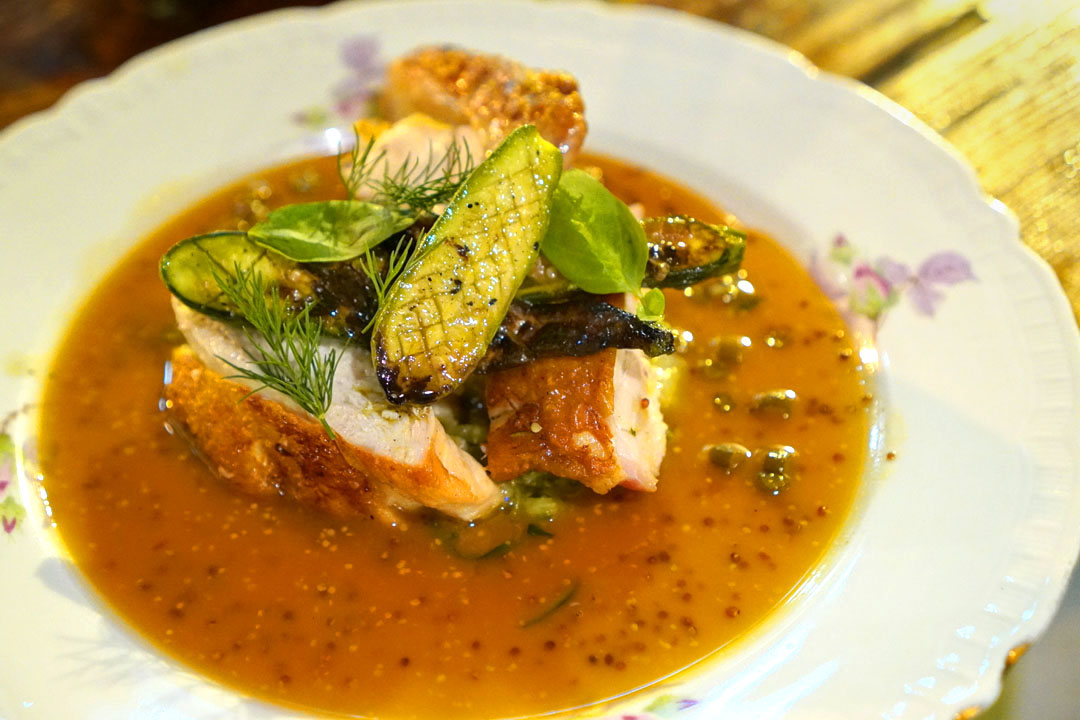 5: Half Chicken, First Zucchini, New Potatoes
Our main course of chicken was impressive, the brined bird arriving tender, juicy, and full-flavored, with some wonderfully crispy skin to boot. I also liked the smokiness of the grilled first-of-season squash and baby zucchini (dressed in basil and lemon juice), while a bed of herbs, mustard seeds, grated zucchini, and pickled last-of-season garlic scapes imparted further interest. Accompanying the dish was a side of firm, mild potatoes cooked in butter and topped with chive, which helped even out the heady flavors of the chicken.
6: Vanilla Custard Tart, Blueberries
Dessert was straightforward but oh-so satisfying, comprising tangy macerated blueberries complemented by a vanilla crème pâtissière filling, an almond flour-enriched pâte sucrée crust, and a dollop of brown sugar-boosted sour cream (reportedly a favorite of Shulman's mom).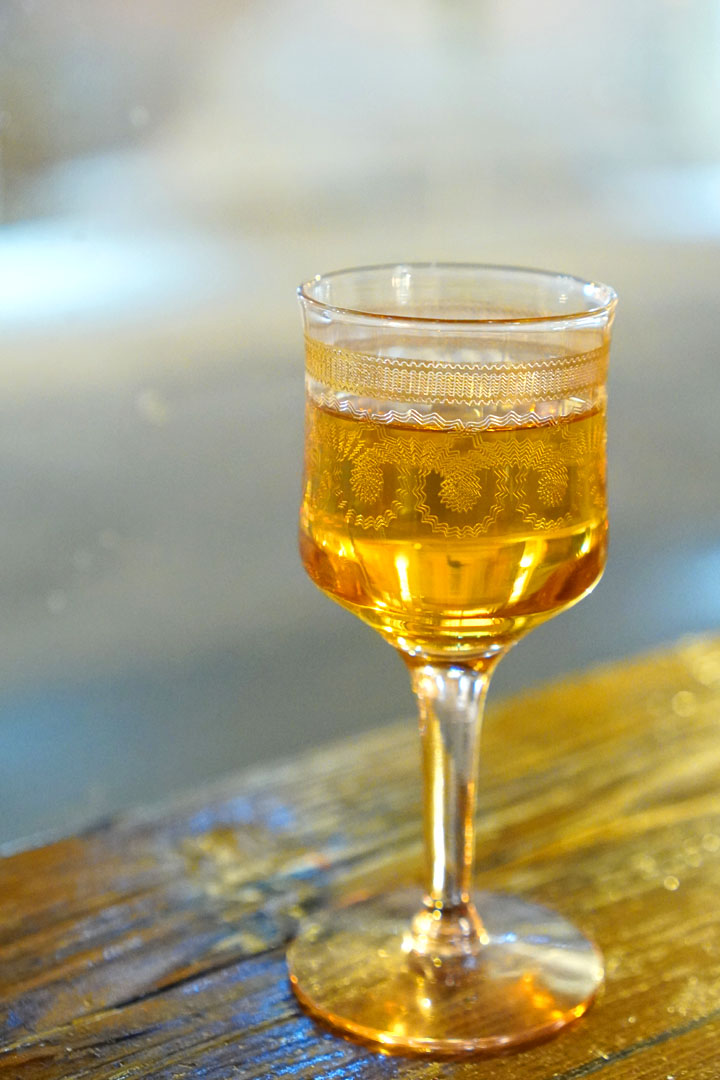 To pair with dessert, I requested a glass of
Madeira [$12]
(unfortunately I forgot to note which one), which displayed all the nutty, oxidative, dusty fruit notes I was looking for; it stood up well to the sweet stuff.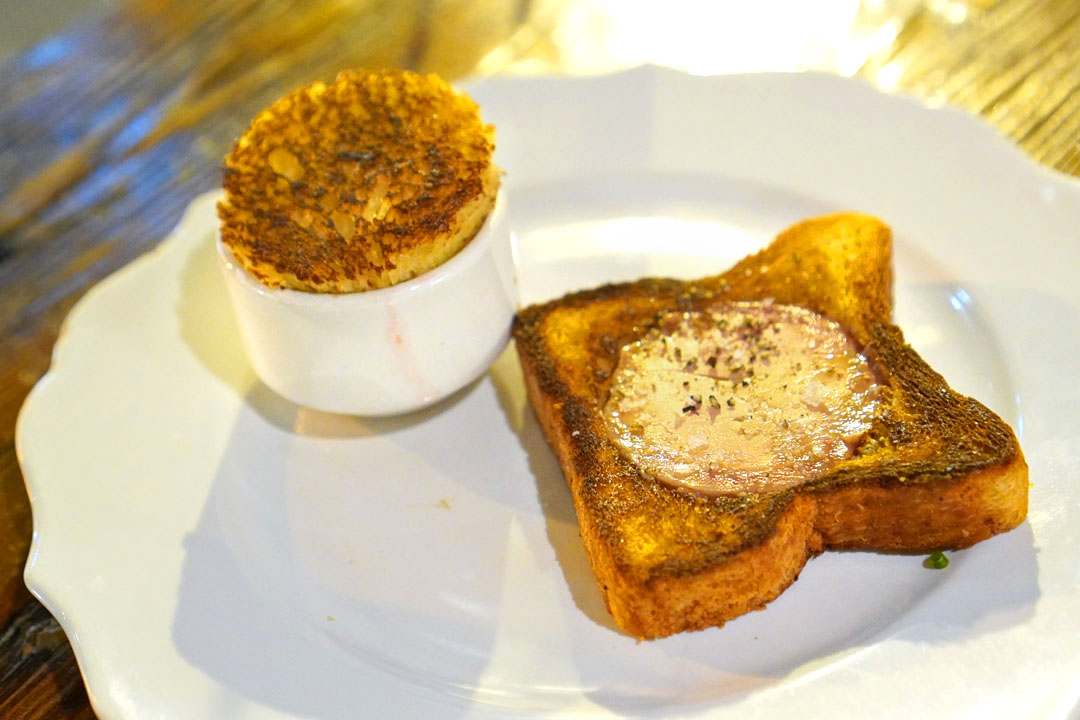 Supplement: Foie Gras Torchon, Strawberry, Brioche [$30.00]
I also augmented my meal with this classic pairing of salt/brown sugar/whiskey-cured foie gras and strawberry jam, perked up by hits of salt-n-pepper and tempered by that buttery toasted brioche. Yum.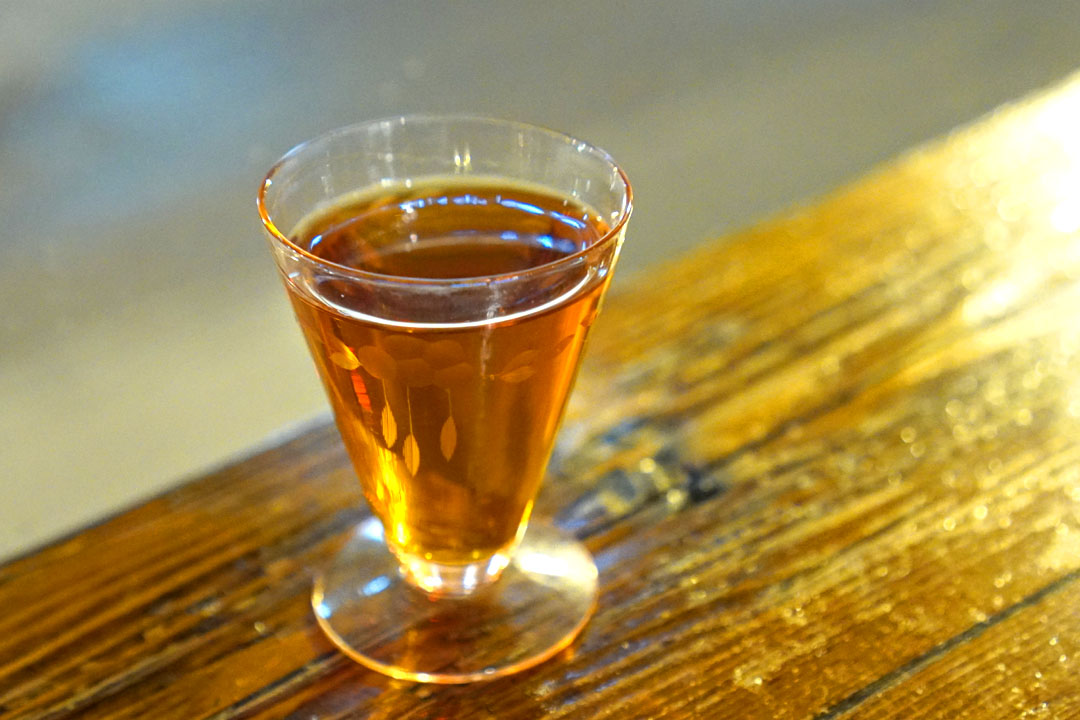 Also arriving with dessert was a pour of the
Domaine de La Margotterie Cognac XO 20 Years [$20]
, a dry, contemplative brandy that definitely showed off the interplay between grape, oak, and age.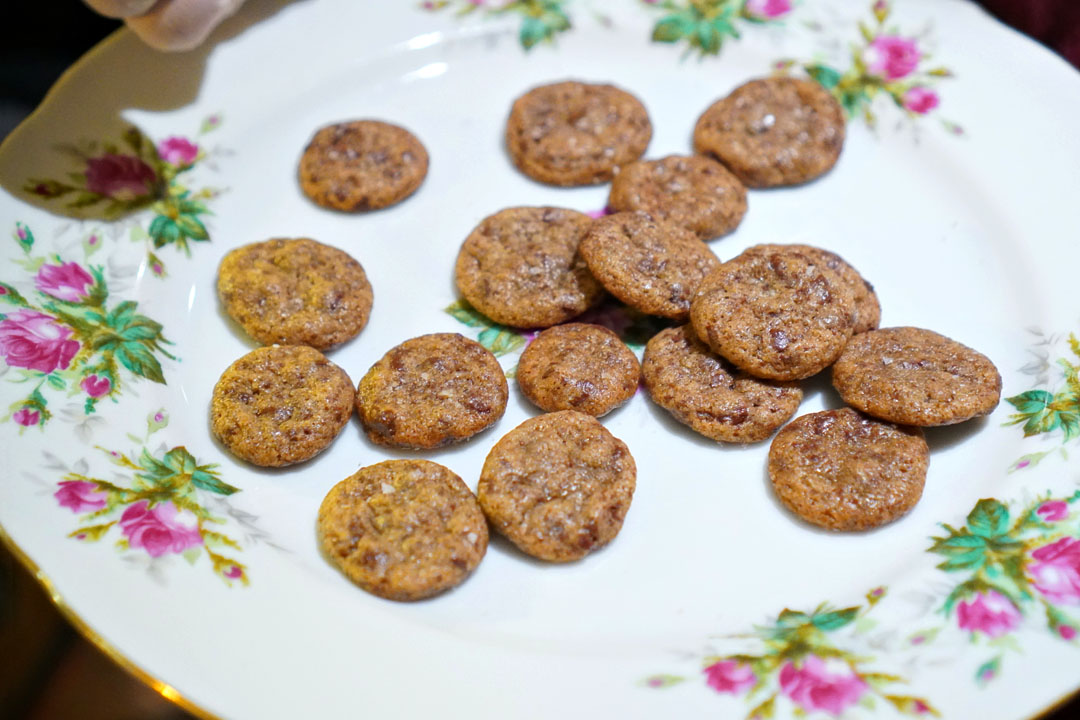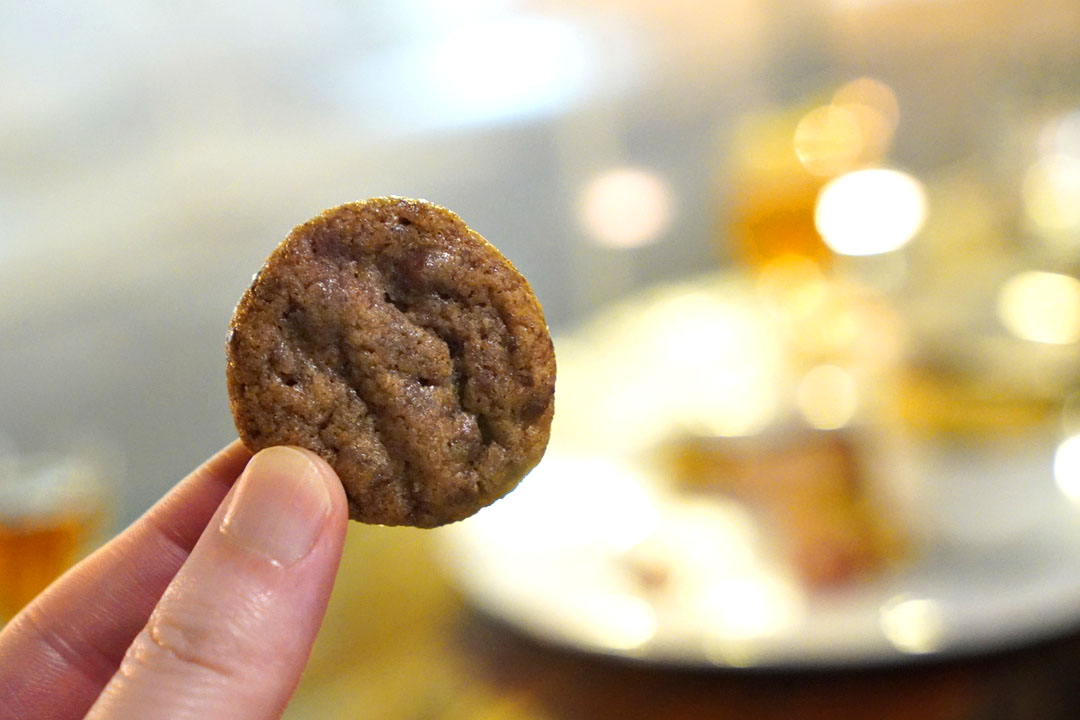 Mignardise duty was handled by these mini sourdough chocolate chip cookies, which incorporated a bit of the restaurant's sourdough starter, and also utilized brown butter and a pinch of Maldon salt.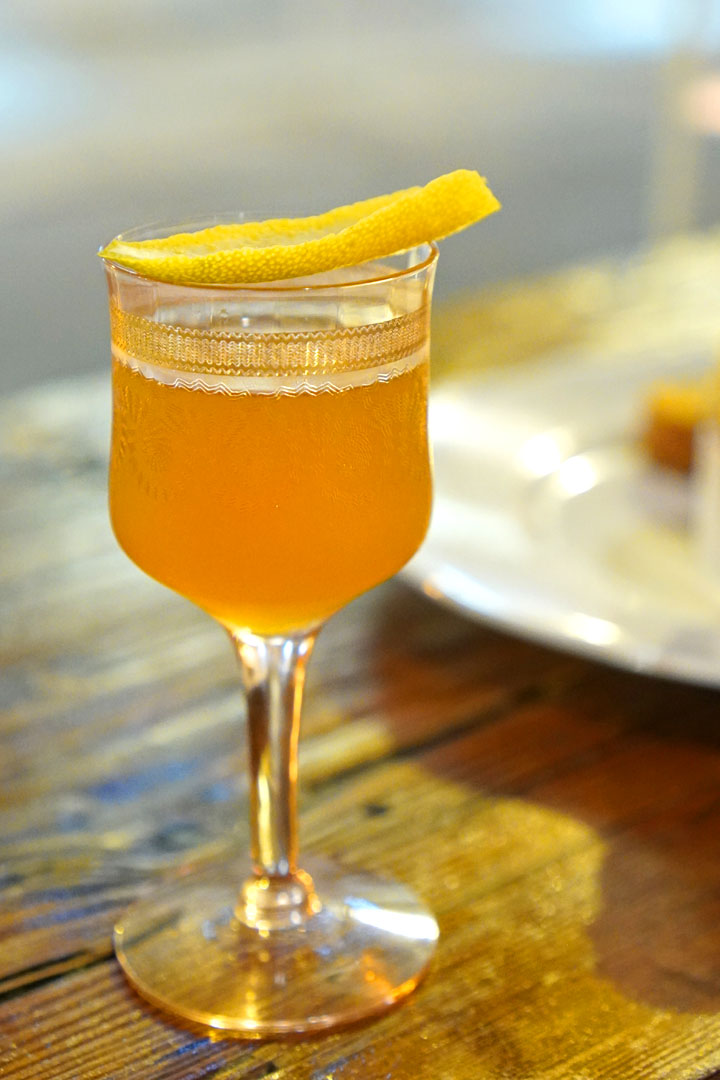 Last to imbibe was the so-called
Petite Cocktail [$10]
, a semi-sweet, citrusy, minty, herbaceous concoction composed of amaro, vermouth, lemon, and ginger. A fitting digestif.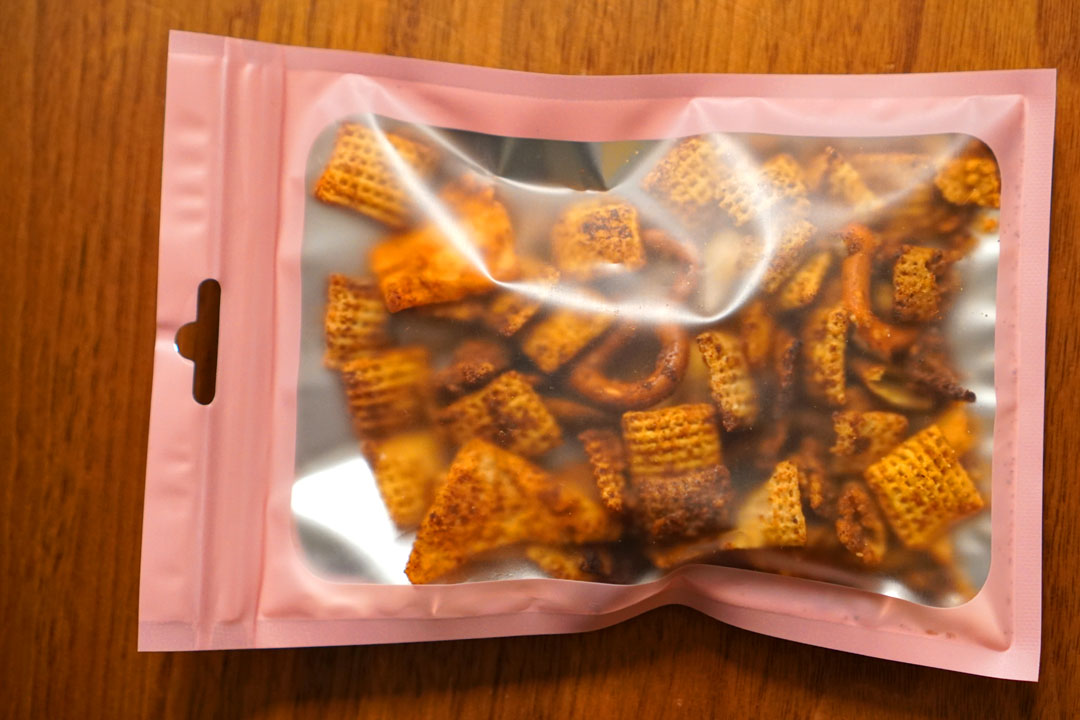 And to take home: a packet of duck fat Chex Mix.
I had a great experience at Her Place. The restaurant did a commendable job maintaining its "supper club" feel thanks to both its casual interpretation of fine dining and its convivial, energetic setting. In fact, I even made a new friend with the customer sitting next to me, and we ended up sharing our supplemental courses and drinks. As for the Chef's next steps, given the success of Her Place, Shulman and her now-fiancé Alexandre Kemp-Roussy (they're getting married in August) have followed up with another eatery. Located a mere five-minute walk away, My Loup debuted at the start of May serving a French-ish menu that's primarily the responsibility of Kemp (Shulman will maintain a focus on Her Place). The food at My Loup looks super promising from what I've seen so far, so it's absolutely going to be near the top of my list to check out next time I'm in town.