Pijja Palace (Los Angeles, CA)
Pijja Palace Restaurant
2711 Sunset Blvd, Los Angeles, CA 90026
www.pijjapalace.com
Sat 06/17/2023, 06:40p-09:30p

Some friends and I were recently looking for a birthday spot that could accommodate a large party, and ended up deciding on Pijja Palace in Silver Lake. The brainchild of Avish Naran, the eatery is oft referred to as an "Indian sports bar," which is a concept that I'd never encountered (or even thought of) before. And somehow, against all odds, Pijja Palace has become one of the most hyped LA restaurant debuts of 2022, landing both Michelin Bib Gourmand honors and a "Best New Restaurant" nomination from James Beard. Given all the ballyhoo surrounding this place, we were all curious to see what the buzz was about.
About the Owner
: Avish Dipak Naran was born in January 1992, and grew up in Echo Park as part of a Gujarati family. He went to high school at Edward R. Roybal Learning Center in nearby Westlake, graduating in 2010. He then moved up to the Bay Area to attend California State University East Bay in Hayward, and during this period, really got immersed in the hip hop dance scene. However, Naran soon left CSUEB and moved back down south to take classes at Laguna College of Art + Design, with the goal of attaining a career in streetwear fashion. He even gained experience in the field at local clothing brands Bloodbath, Agenda Show, and Prevail Co., but decided that the industry wasn't for him.
In 2015, going against his parents' wishes, he enrolled at Napa Valley Cooking School, during which time he
staged
at modern Indian spots Campton Place, August 1 Five, and ROOH. Following completion of culinary school, Naran landed a job at Michelin-starred Moroccan eatery Mourad, but later moved to New York. There, he trained at Indian Accent, then attended the Institute of Culinary Education, completing his studies in restaurant management in 2018. It was at ICE where he solidified plans for Pijja Palace, and after coming back to LA, he got to work on turning this dream into reality. The restaurant's build-out commenced in the autumn of 2019, and after numerous delays, Pijja Palace finally grand-opened at the start of May last year with Executive Chef Miles Shorey (Roberta's, Bistro Jolie, Patowmack Farm) helming the kitchen.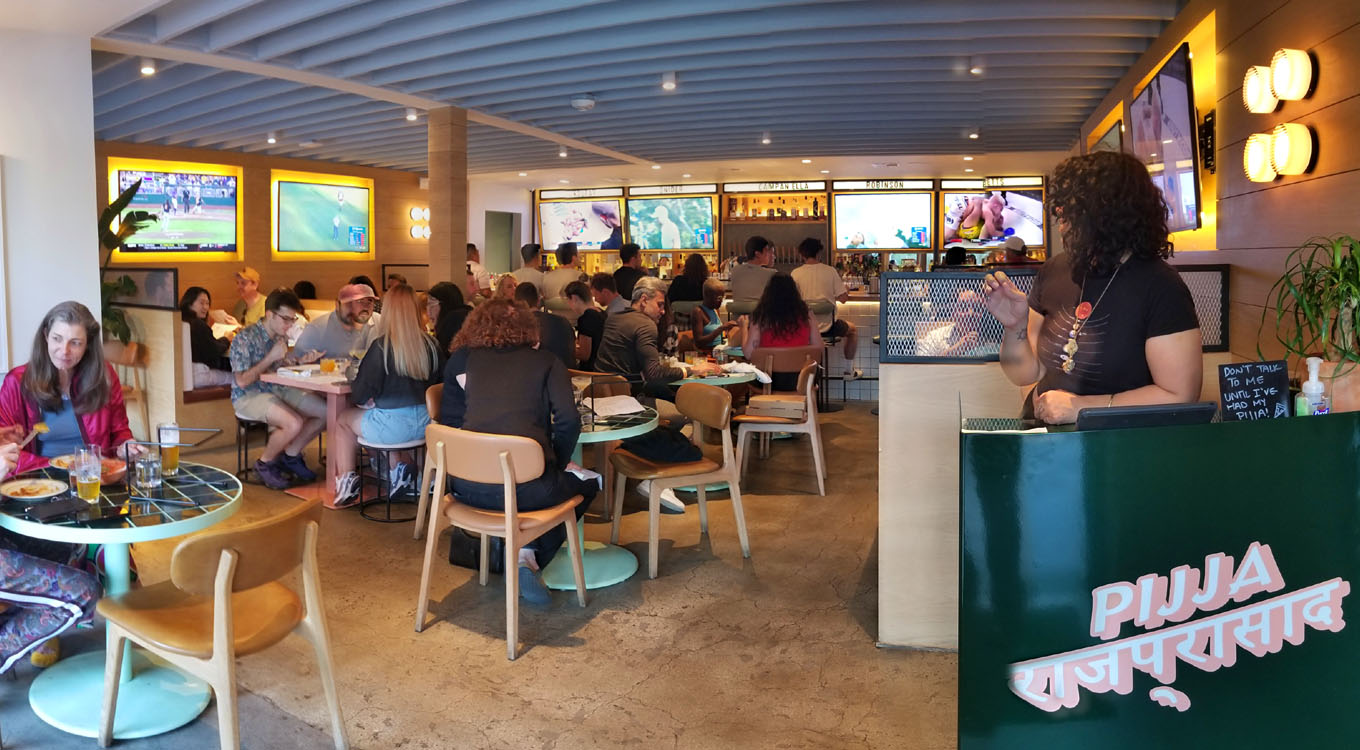 Pijja Palace resides in the former home of the longstanding Sunset Foot Clinic (a.k.a. Happy Foot/Sad Foot), which is actually part of a Comfort Inn owned by Dipak Patel, who happens to be Naran's father (hopefully he's giving his son a good deal on rent). The space was revamped by Casandra Smith at
Brunette
, and features a sort of modern, neutral-toned aesthetic that you wouldn't typically associate with a sports bar.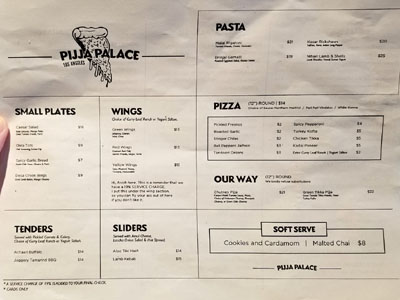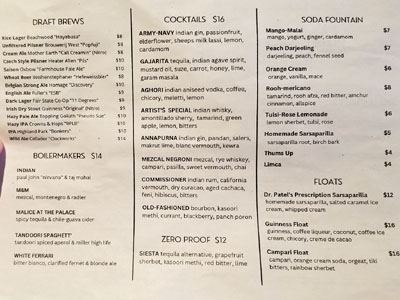 And here we see Pijja Palace's menu, which features all your classic, casual sports bar staples, but infused with an Indian twist. Libation-wise, you'll find a solid beer list, interesting sodas, and theme-appropriate cocktails, all put together by Beverage Director Jason Lee (
n/soto
,
Kali
). However, do note that Lee recently decamped for a position at the new incarnation of
Baroo
, so it remains to be seen how things will change now that he's gone. Click for larger versions.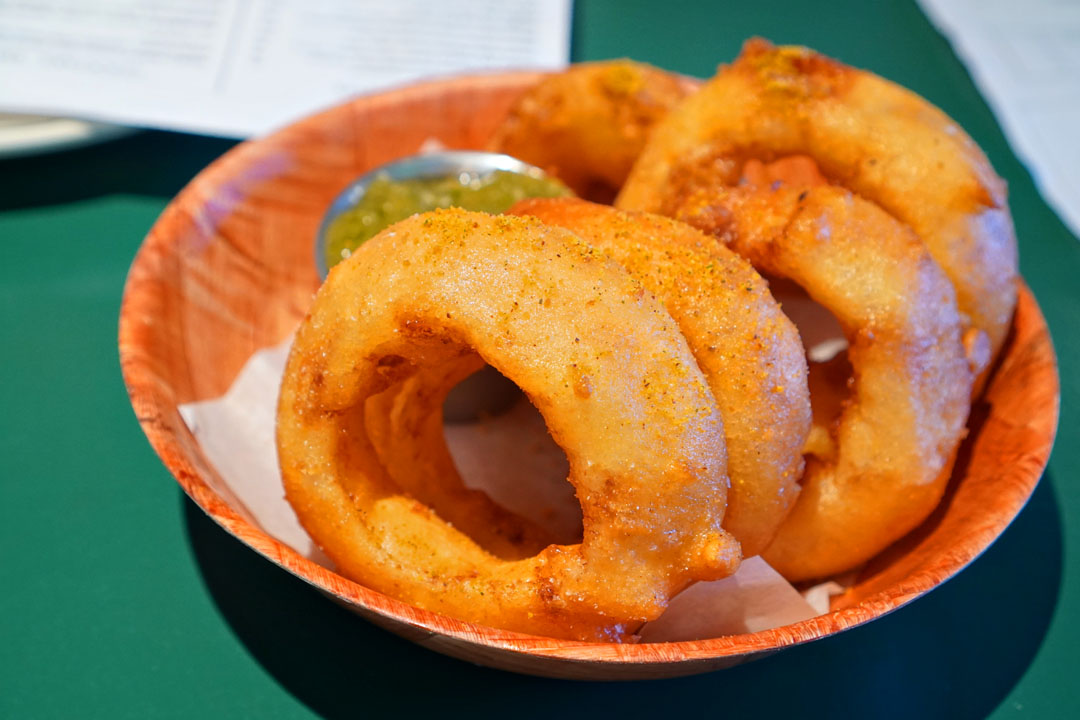 Dosa Onion Rings [$9.00]
| Urad Lentil Batter, Mango Chutney
Our meal commenced with some of the heftiest onion rings I've encountered in a while. Due to the use of dosa batter, they had more substantial, more shattery exteriors than usual, which I quite liked, though the rings were a tad too oily. As for the included chutney, it veered too sugary, as the onions themselves were already quite sweet.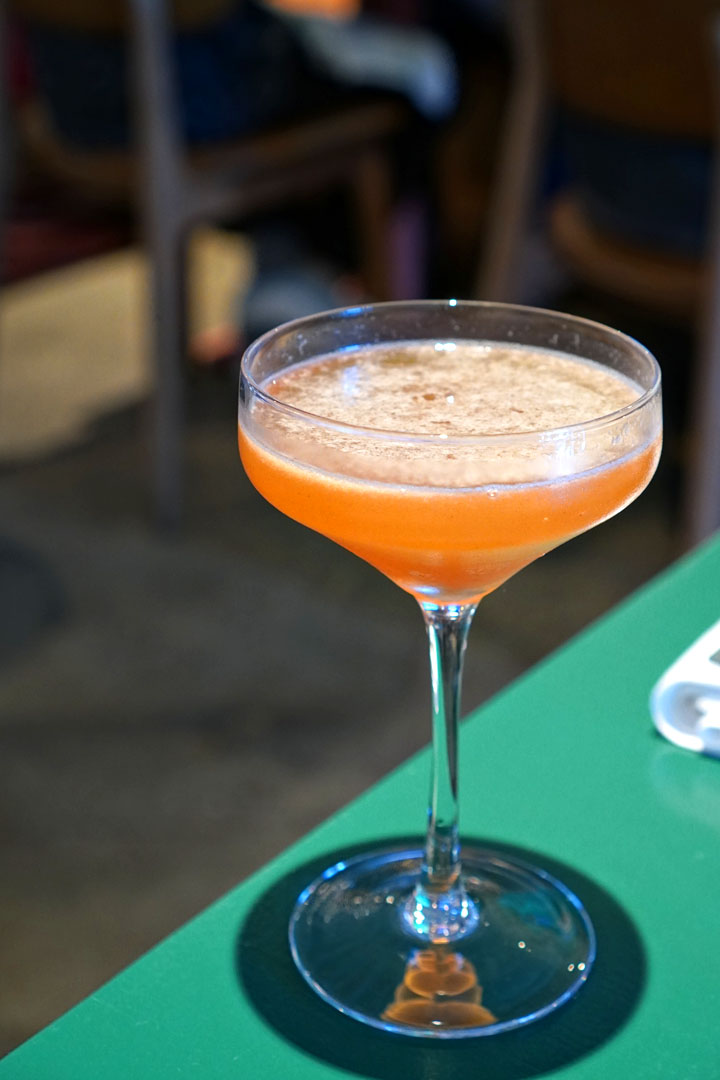 Artist's Special [$16.00]
| indian whisky, amontillado sherry, tamarind, green apple, lemon, bitters
We ended up trying all the cocktails, and our first showcased sugary apples up front, commingled with a nuttiness from the sherry, all while the tamarind imparted an overarching piquancy that was key.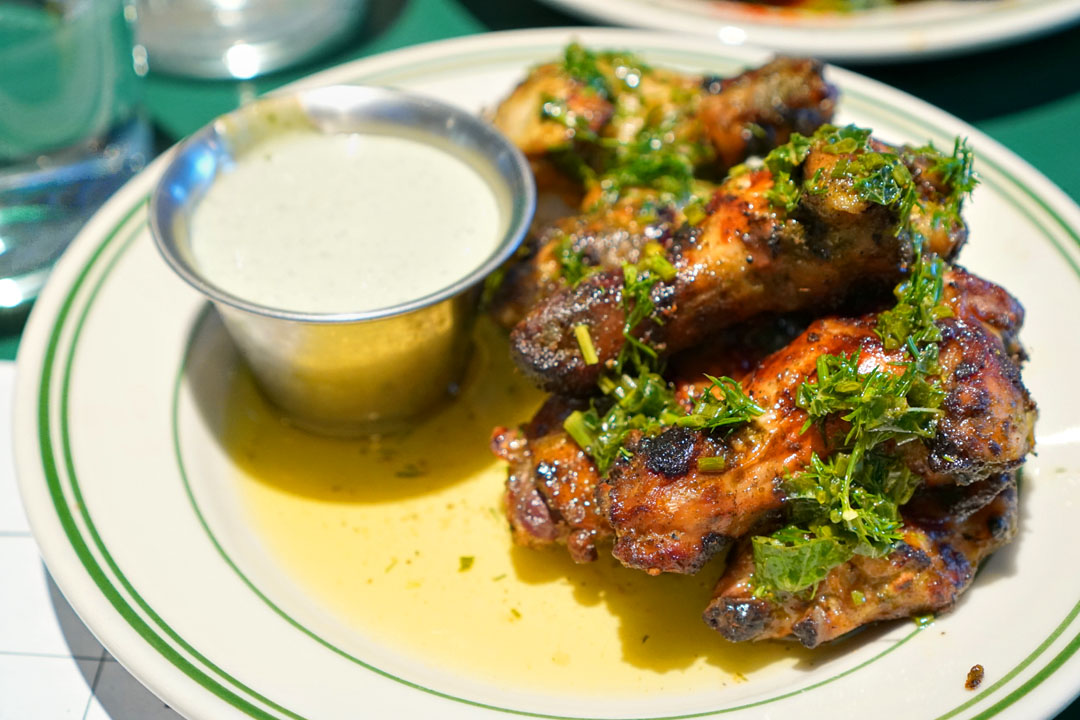 Green Wings [$13.00]
| Jalapeno, Cilantro, Mint, Chive
The wings were of course a must-try. I sampled the drumettes first, and found them a touch dry, but still enjoyable, while the flats were spot-on. I was also a fan of the sheer herbiness of the dish, and I didn't mind the almost celery-like notes of that curry leaf ranch, either.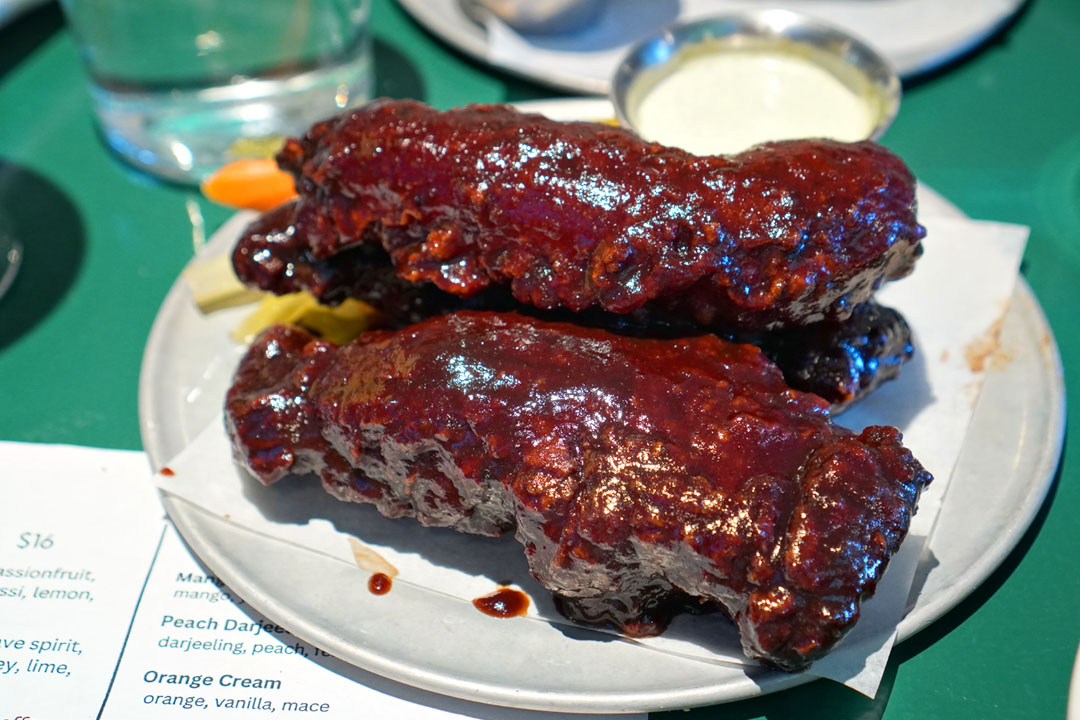 Jaggery Tamarind BBQ [$14.00]
Lacquered chicken tenders were an impressive sight, and equally impressive to eat. I really enjoyed the bird's thick, crunchy crust, and how that played with its tender, juicy insides, all while flavors demonstrated a lovely BBQ-esque amalgam of smoke and sweetness. I quite liked the acidity provided by the pickled carrots and celery, too. Definitely better than expected.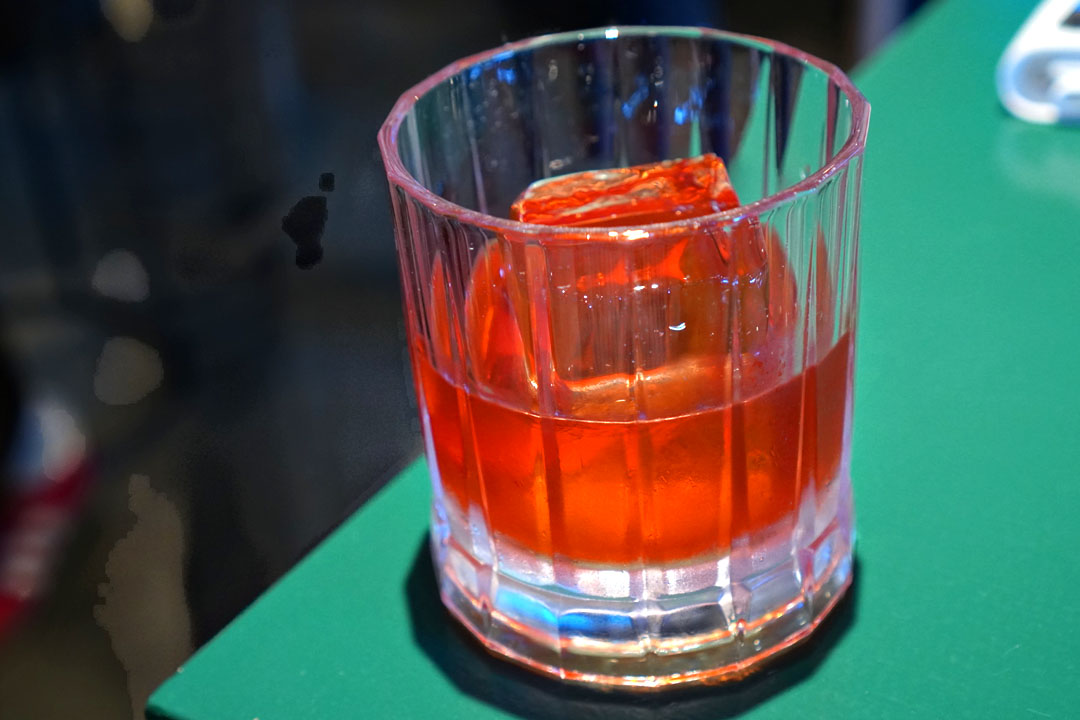 Mezcal Negroni [$16.00]
| mezcal, rye whiskey, campari, pasilla, sweet vermouth, chai
Our second cocktail was a Negroni variation that featured a sugary, spicy, smoky nose that somehow took me back to my elementary school years, but annoyingly, I couldn't figure out why. Taste-wise, I got the classic bittersweet notes that I expected, joined by herbal and chocolate-y nuances.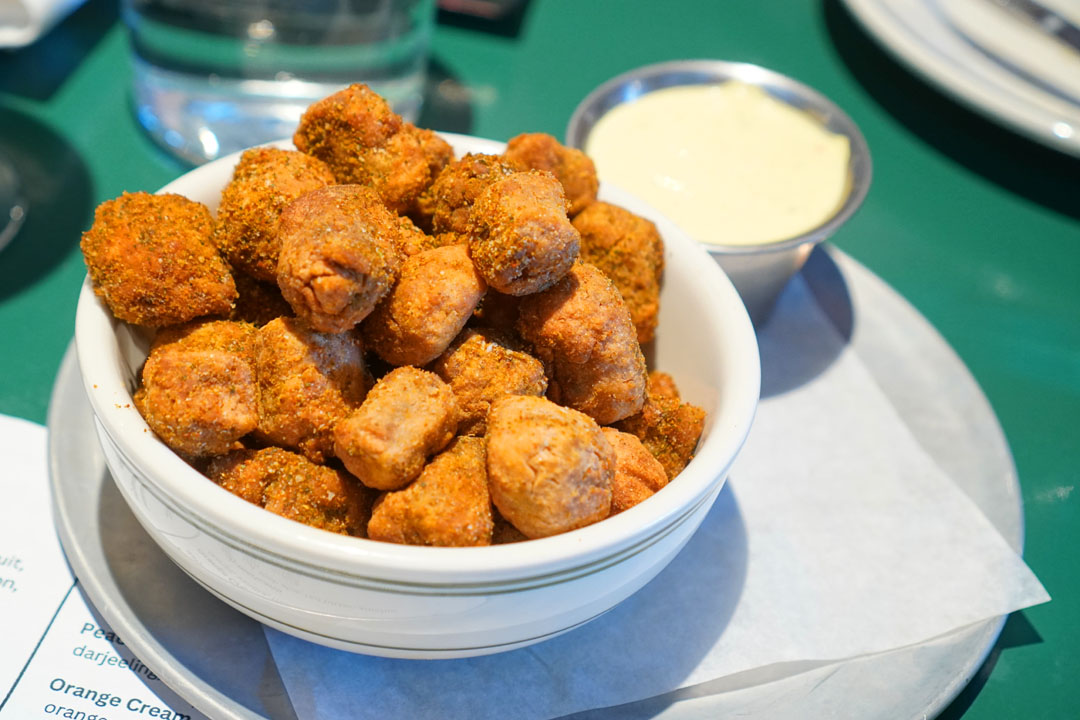 Okra Tots [$9.00]
| Chili Seasoning, Lemon Dip
Okra is often hated on for its mucilaginous consistency. That certainly wasn't a problem here, as the tots were overly dry, and almost crumbly, while the accompanying citrus dip was far too fruity. This was the weakest dish of the night for me.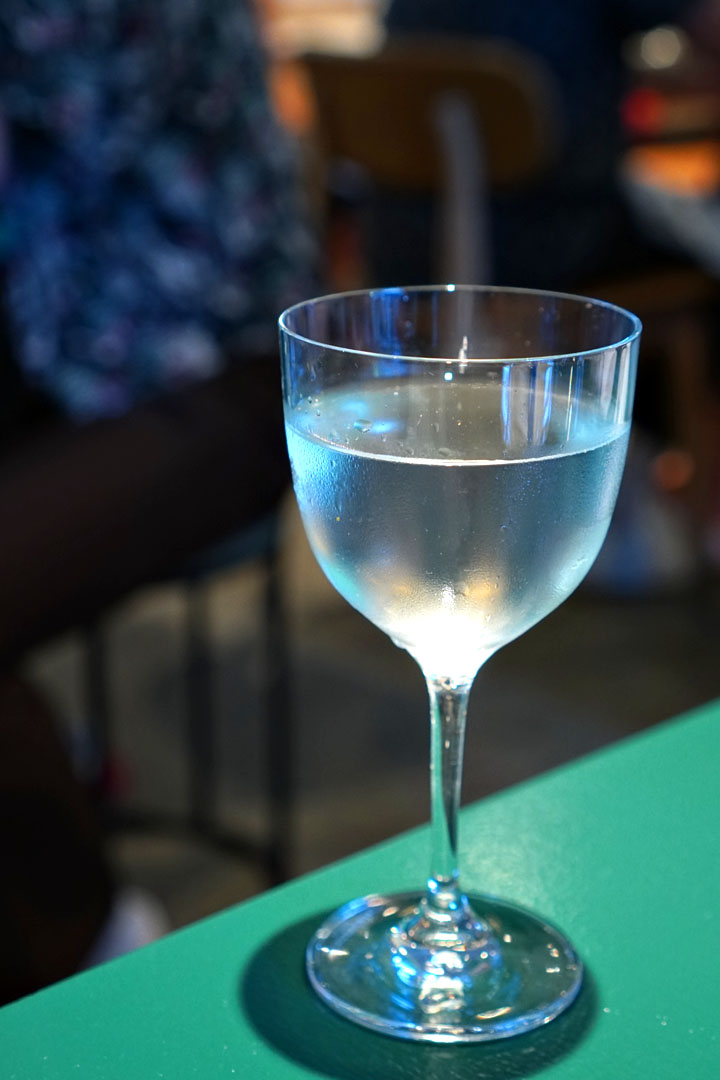 Annapurna [$16.00]
| indian gin, pandan, salers, makrut lime, blanc vermouth, kewra
I suppose no cocktail list would be complete without a martini variation, and this was actually a very good one. Aromas here were briny and olive-y, while in terms of taste, I found the drink quite zingy (from the gentian perhaps), but the hero here was the sweet, grassy warmth imparted by the pandan, which provided a complexity that was hard to nail down. Pretty neat.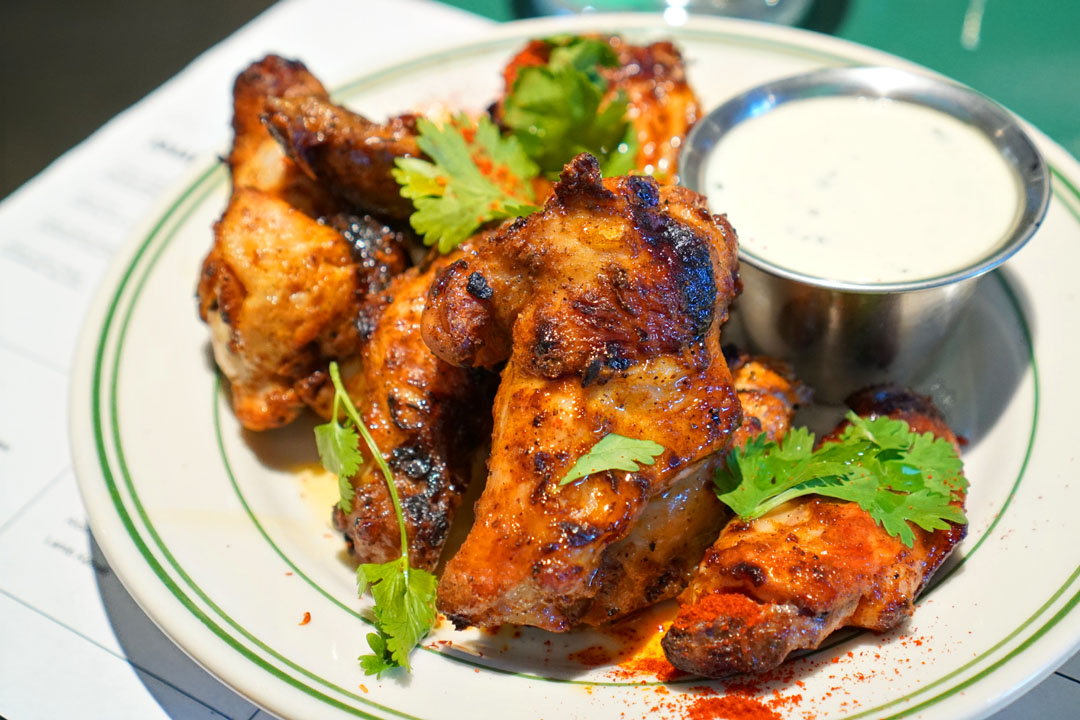 Red Wings [$13.00]
| Kashmiri Red Chili, Garam Masala, Ginger, Garlic
Texturally, these red-tinted wings were superior to their green brethren, and I couldn't complain about their warm, multifaceted spicing, either.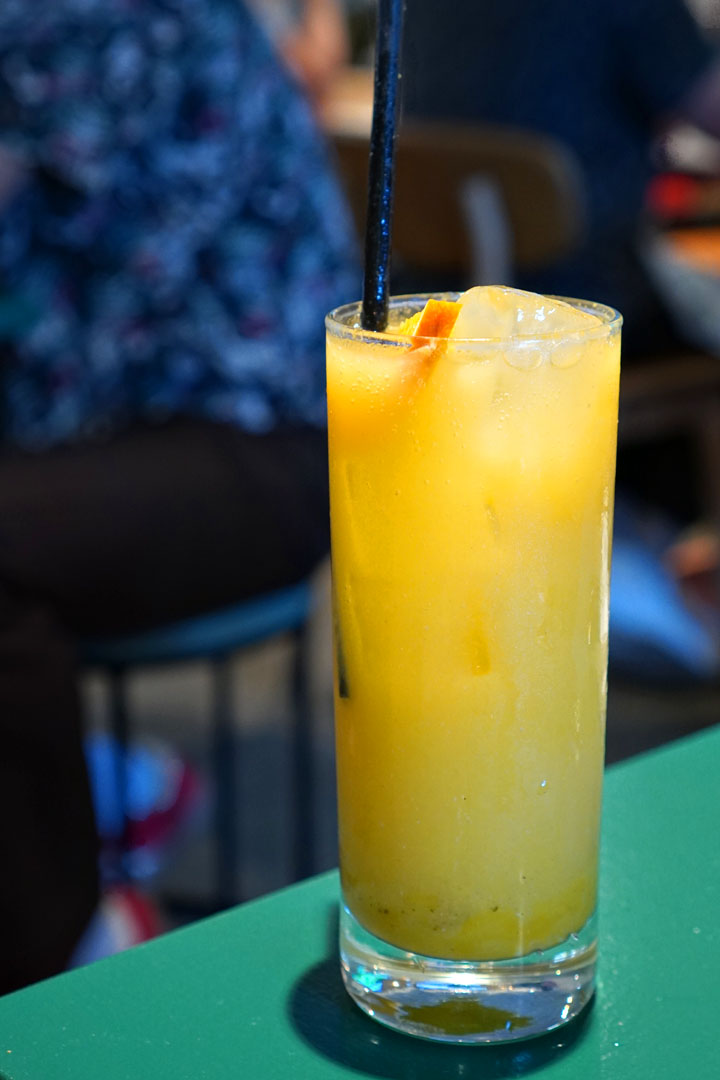 Mango-Malai [$7.00]
| mango, yogurt, ginger, cardamom
The lone non-alcoholic cocktail I tried possessed a layer of prickly astringency to counteract the drink's generally fruity, creamy disposition.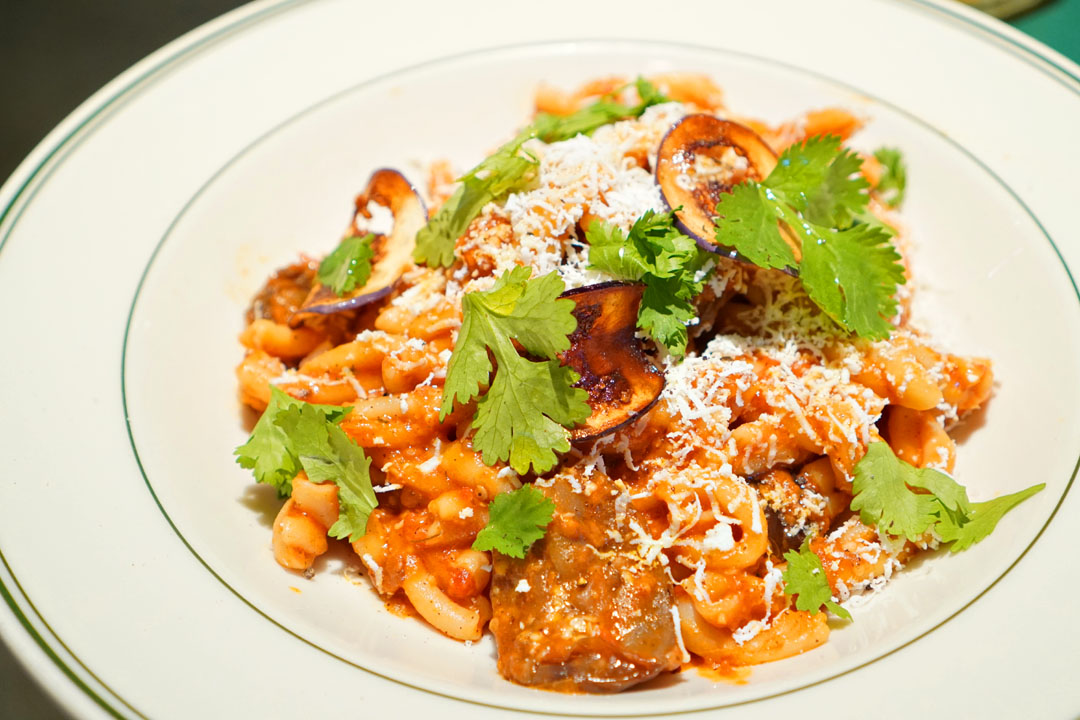 Brinjal Gemelli [$19.00]
| Roasted Eggplant Sabzi, Ricotta Salata
The gemelli in our first pasta course were softer than I'd prefer, but the dish did a great job highlighting the smokiness of the eggplant, set against just enough herbs and cheese.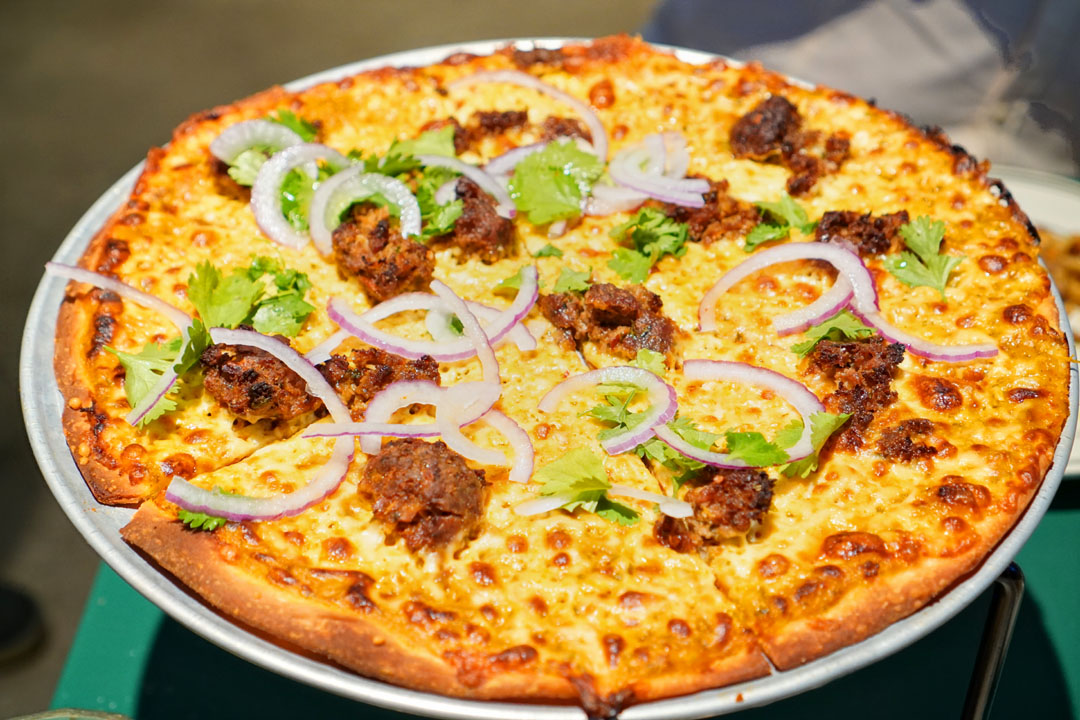 Green Tikka Pijja [$22.00]
| Green Tomato Tikka Masala, Onion, Turkey Kofta
Naturally, we had to try the pizza, and this first one featured some delectably spiced meatballs, paired with a tikka masala sauce and, crucially, zesty raw onions. Also worth noting here was the pie's thin, charred, super crispy crust, which recalled the frozen pizzas of my childhood (think Jeno's), but in a good way.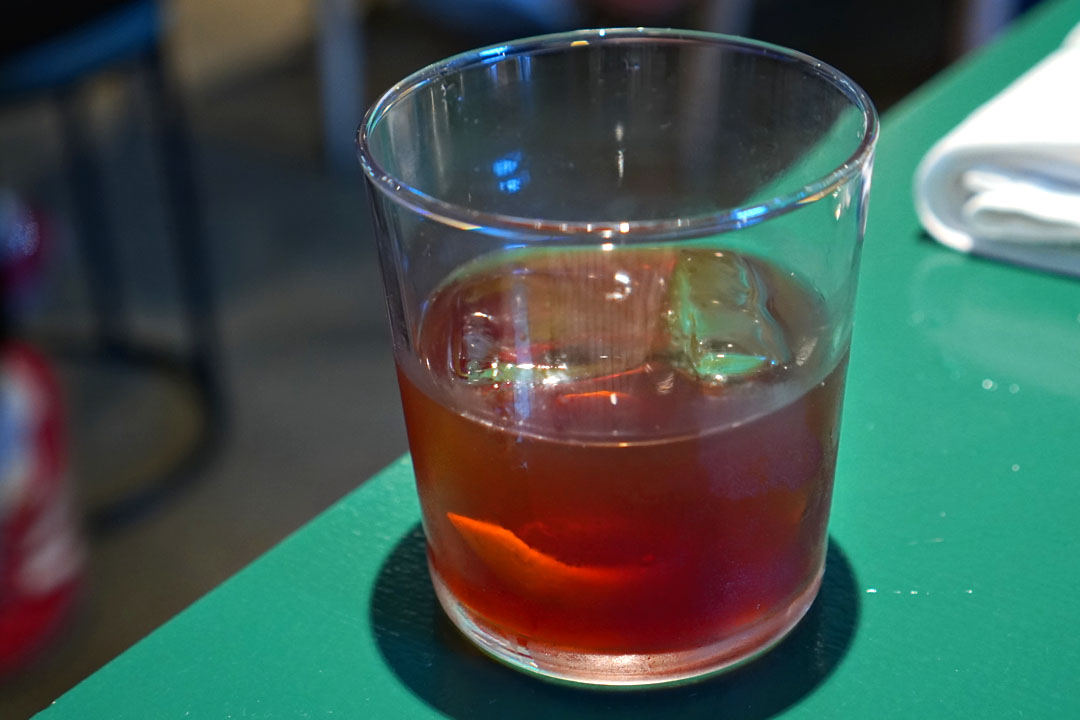 Old-Fashioned [$16.00]
| bourbon, kasoori methi, currant, blackberry, panch poron
And now we come to the booziest cocktail of the bunch. The bouquet on this one was super sugary, surprisingly so. Taking a sip, I got a grapey tartness at first blush, but this soon transitioned to a dry, almost "dusty" character, laced with sweet spice.
Kesar Rickshaws [$20.00]
| Saffron, Parm, Indian Long Pepper
I've never had rickshaw-shaped pasta before (the restaurant sourced custom dies for its extruder), which is a shame, because it was super gratifying texturally. Also quite gratifying were the flavors here, which combined cheese, saline, astringency, and the earthy sweetness of saffron to good effect.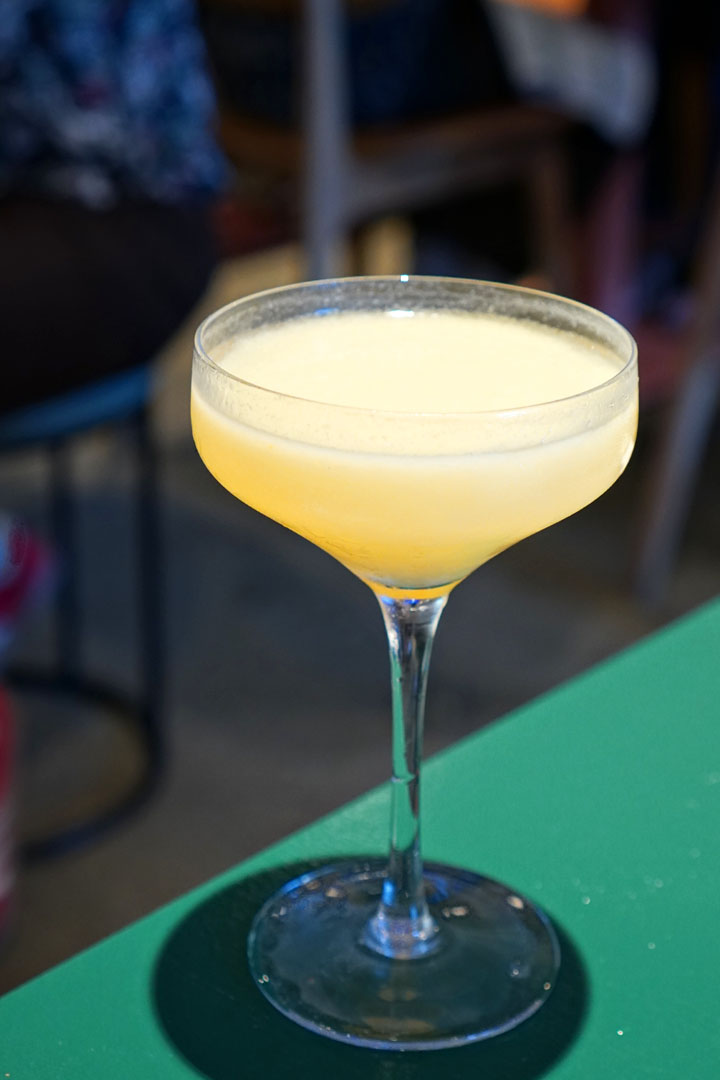 Army-Navy [$16.00]
| indian gin, passionfruit, elderflower, sheeps milk lassi, lemon, cardamom
This riff on the classic Army & Navy cocktail was a table favorite thanks to its appealing amalgam of perky spices and a bevy of sweet, fruity, and botanical notes.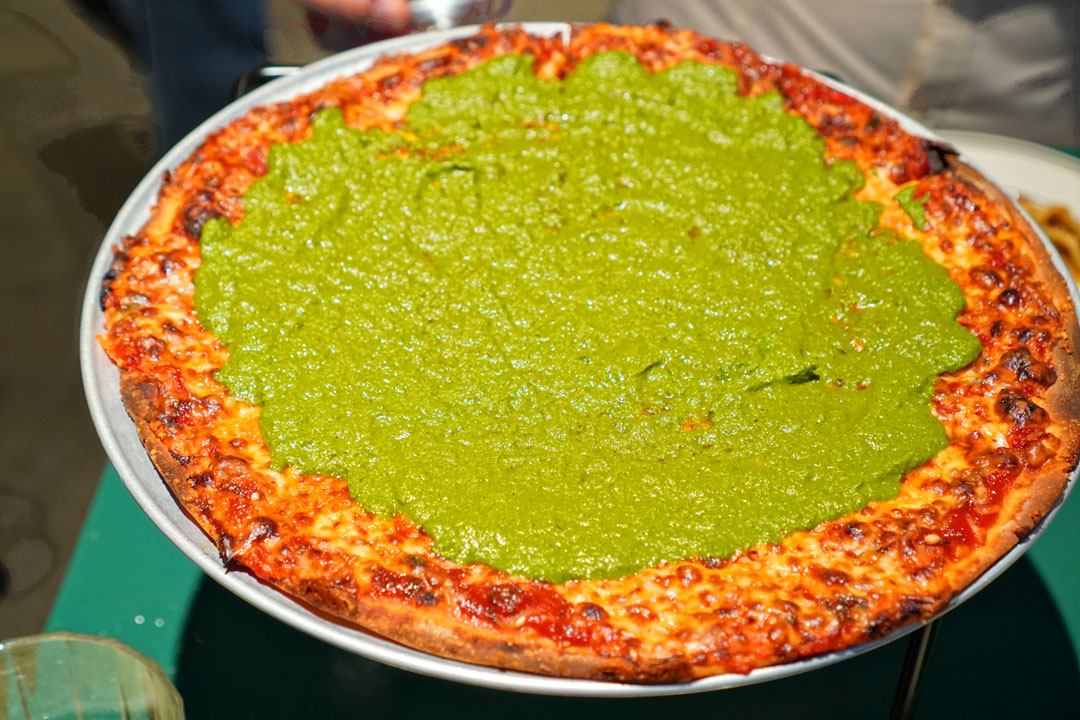 Chutney Pijja [$21.00]
| Kasoori Methi Tomato Sauce, Mozz, Green Chile Chutney
A nod to the desi pizzas served at Laventina's down in Lakewood (a childhood haunt of Naran's), our second pie looked simple, but delivered in the taste department, combining a vegetal zippiness from the chutney with the sweet-tang of that fenugreek-boosted tomato sauce.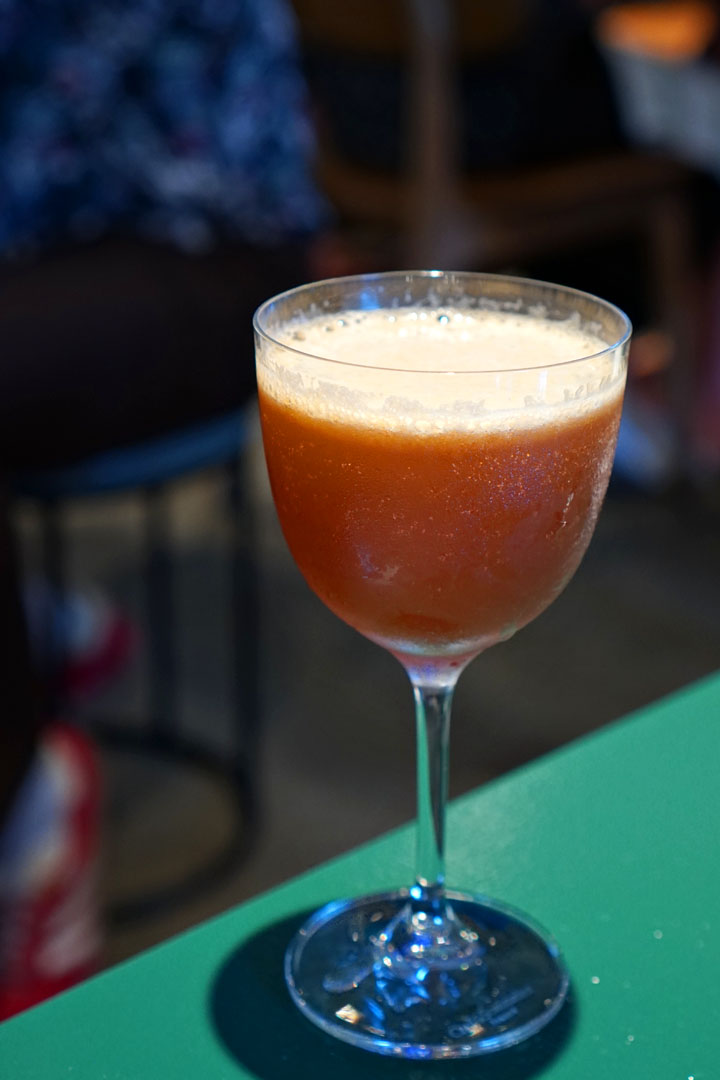 Aghori [$16.00]
| indian aniseed vodka, coffee, chicory, meletti lemon
This next cocktail was one of my favorites, displaying a great interplay between anise and coffee flavors, all accented by the sourness of limoncello.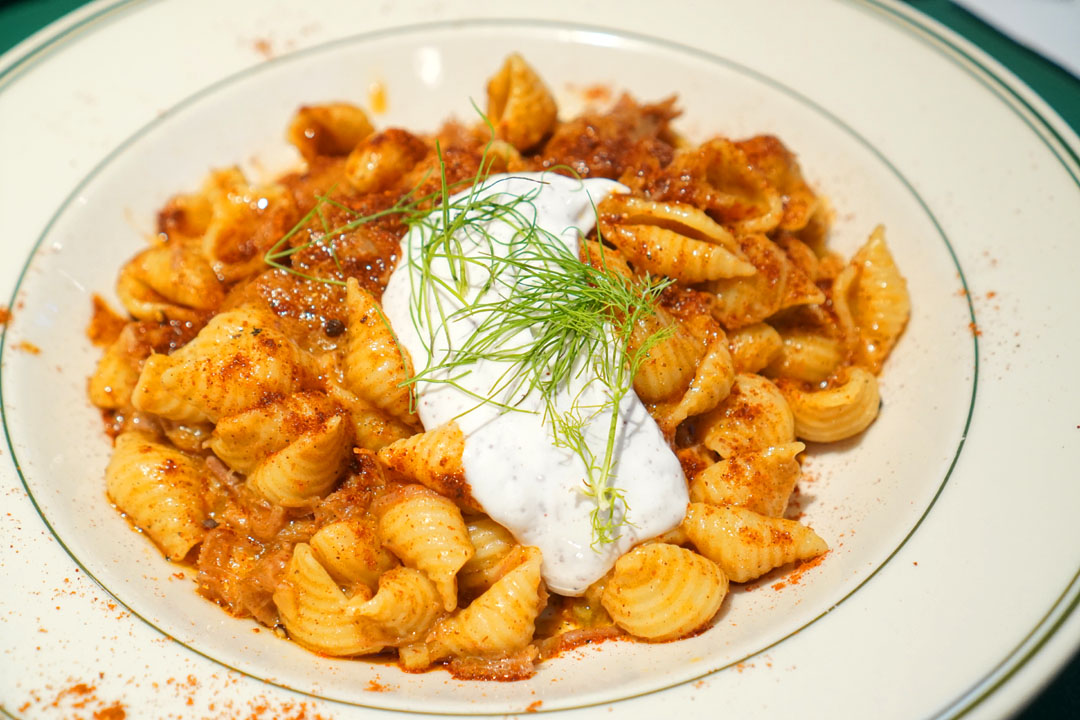 Nihari Lamb & Shells [$25.00]
| Lamb Shoulder, Fennel, Sumac Yogurt
Long-cooked lamb arrived super tender, earthy, and teeming with mild, sweet spices. It was a fitting pairing for the pasta shells, and I much appreciated the tempering effect from the yogurt as well.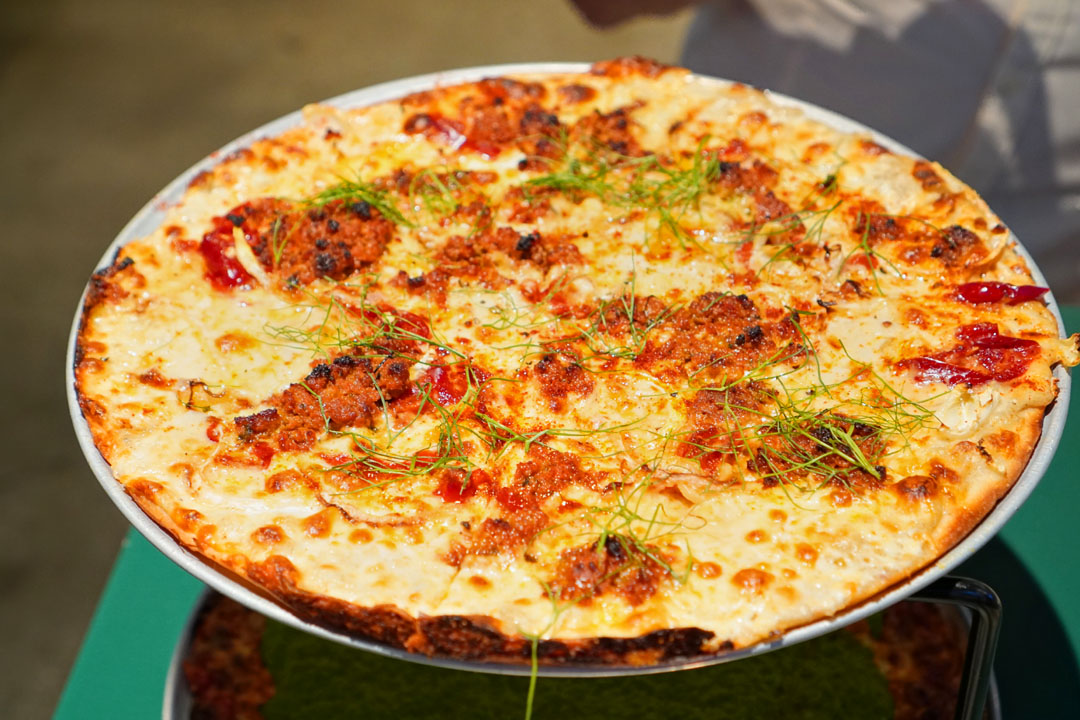 Kema Pijja [$25.00]
| Spicy Lamb, Fennel, Fresno Chile
Our final pizza was one of two "secret" specials on offer (the other featured pepperoni/onion/dill). The keema was actually the most assertively-spiced meat of the night, and made a whole lotta sense when taken with the chilies and fennel.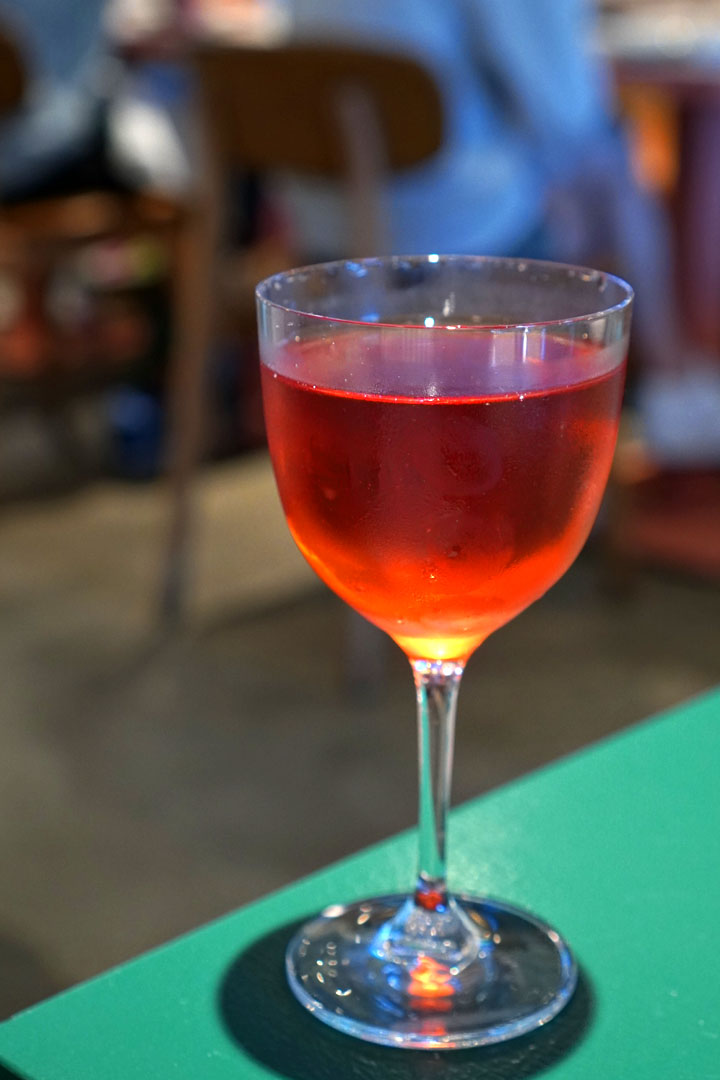 Commissioner [$16.00]
| indian rum, california vermouth, dry curacao, aged cachaca, feni, hibiscus, bitters
Despite its 'Tussin-like aroma (or because of it?), this next cocktail was also a winner. I was a fan of its viscous mouthfeel, while its multifaceted bittersweetness was joined by some cacao-like elements.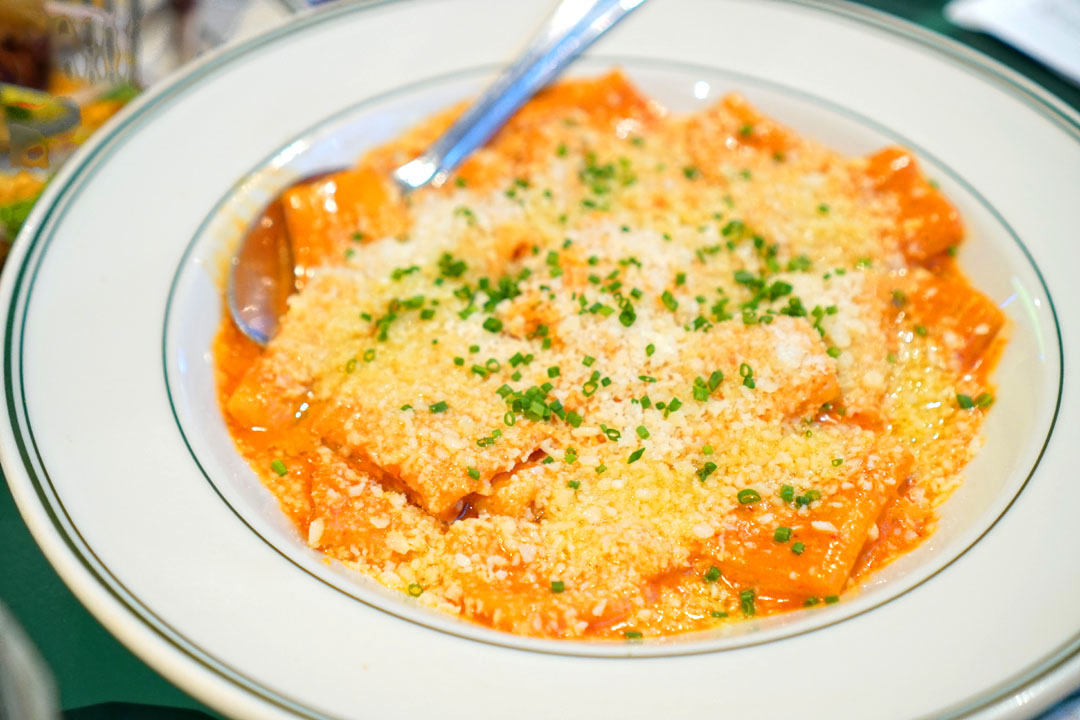 Malai Rigatoni [$21.00]
| Tomato Masala, Cream, Coriander
Rigatoni showed off a pleasingly al dente type of texture, and the pasta really set the stage for the familiar back-and-forth between tomato and cream.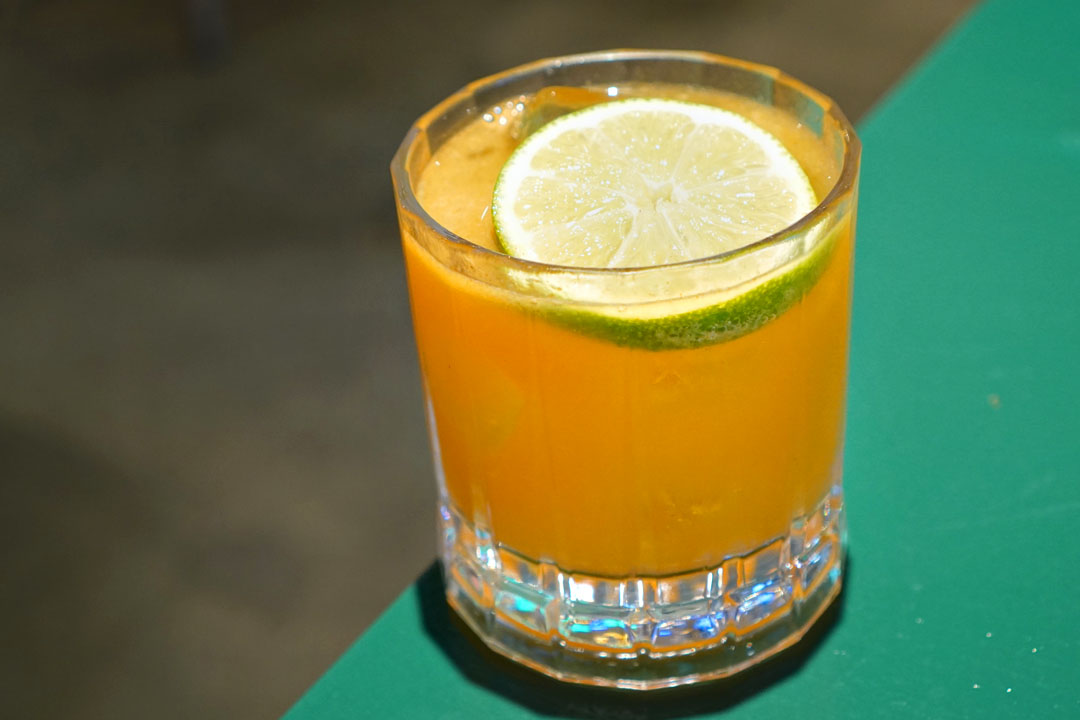 Gajarita [$16.00]
| tequila, indian agave spirit, mustard oil, suze, carrot, honey, lime, garam masala
The final cocktail to try was this margarita variation. I found a beguiling sort of herby astringency here, and strangely enough, there was something in the drink that recalled the aromas I'd associate with a mid-level hotel (think Courtyard by Marriott).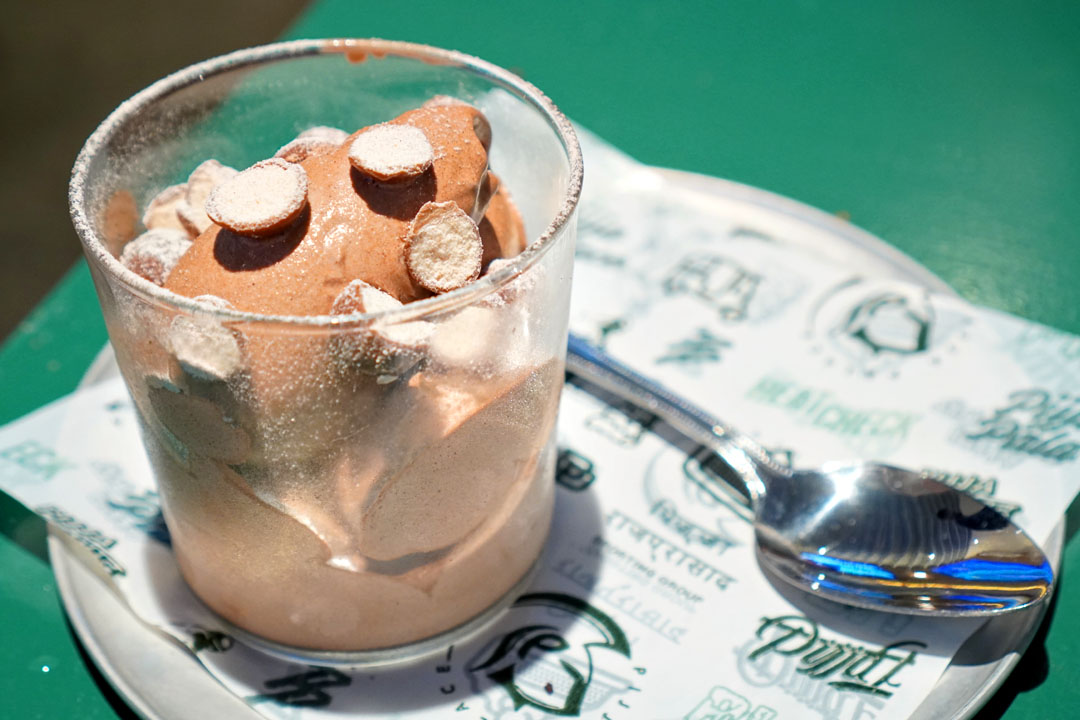 Malted Chai [$8.00]
Dessert here comprises two varieties of soft serve, so naturally we tried 'em both. This first one did a bang-up job conveying the sweet 'n' spicy nature of the tea, and I really appreciated the nutty contrast offered up by the malt.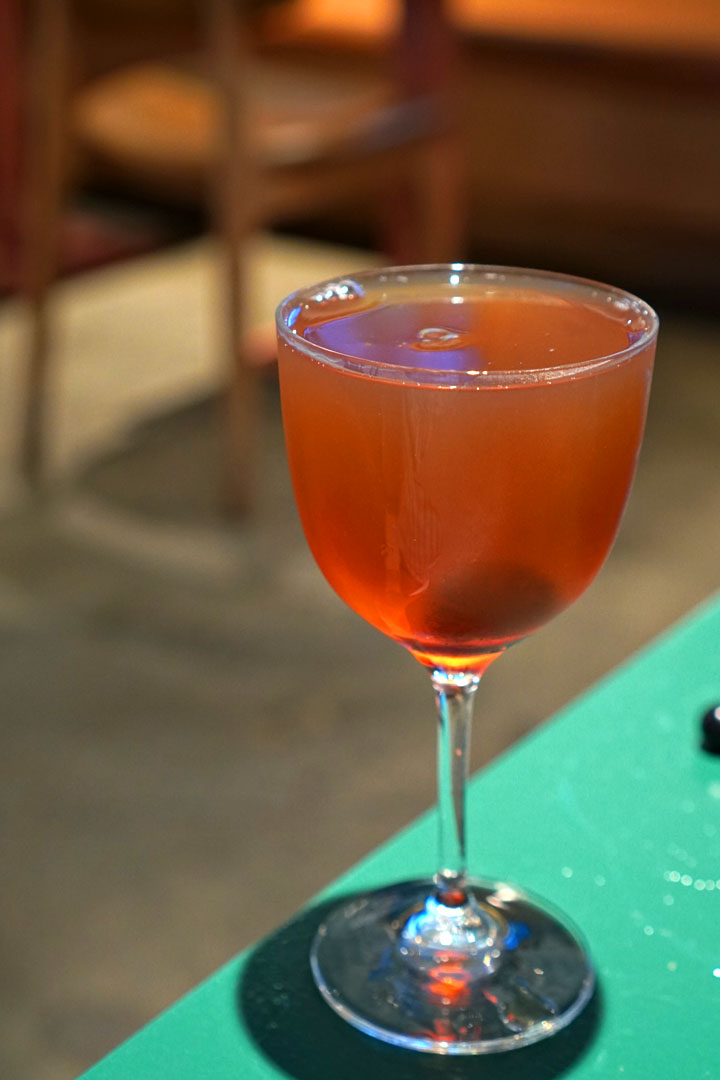 Manhattan [$14.00]
Given that we'd tried every cocktail by this point, we opted for a classic Manhattan, made tonight with George Dickel 8 Year. I found drink unabashedly cherried on the nose, while its taste offered up medicinal, bitter flavors set over a base of sweetness. Pretty prototypical.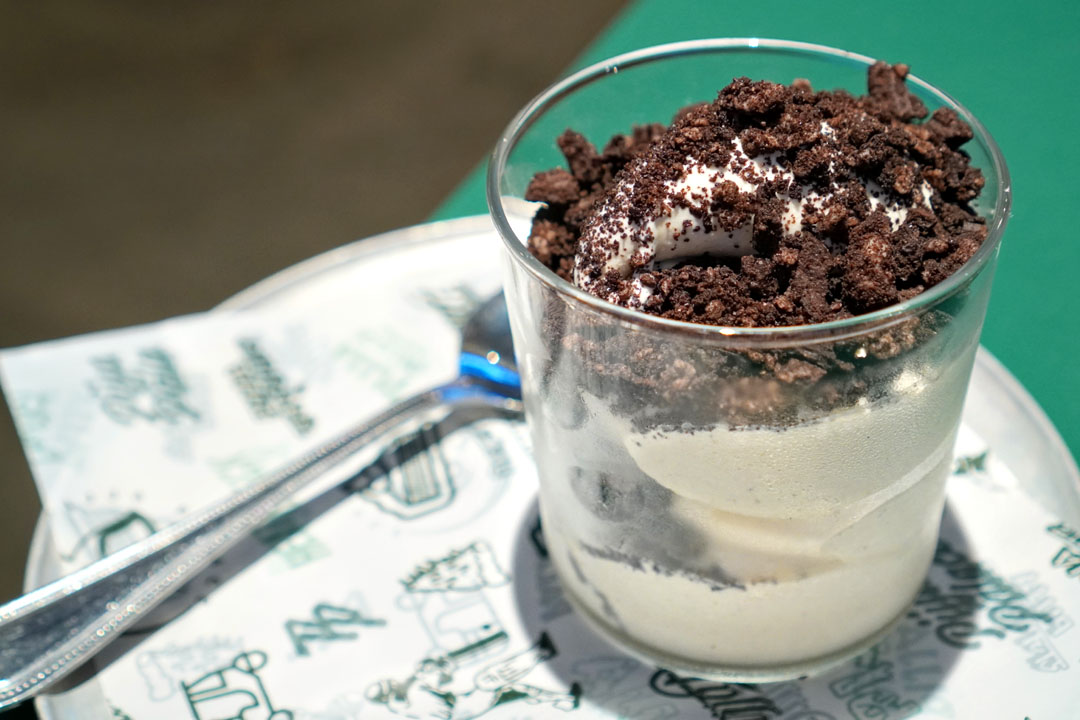 Cookies and Cardamom [$8.00]
Our second serving of soft serve was delicious as well. It had the familiar cookies 'n cream elements I was looking for, but enhanced by the warm spicing from the cardamom.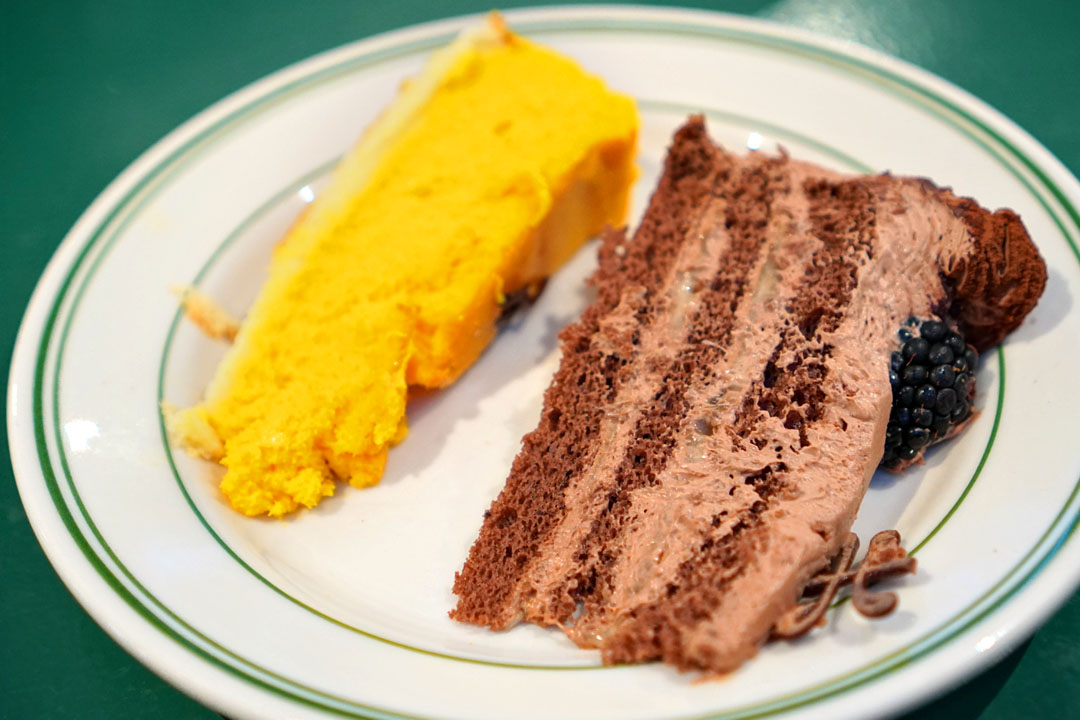 Since we were here for birthday purposes, cake was a must, and so we enjoyed
Mango Cheese Cake
and
Chocolate Cake
, both from Cream Pan bakery out of Orange County. Do note that we were charged a cake fee of $5 per person, which wasn't unreasonable.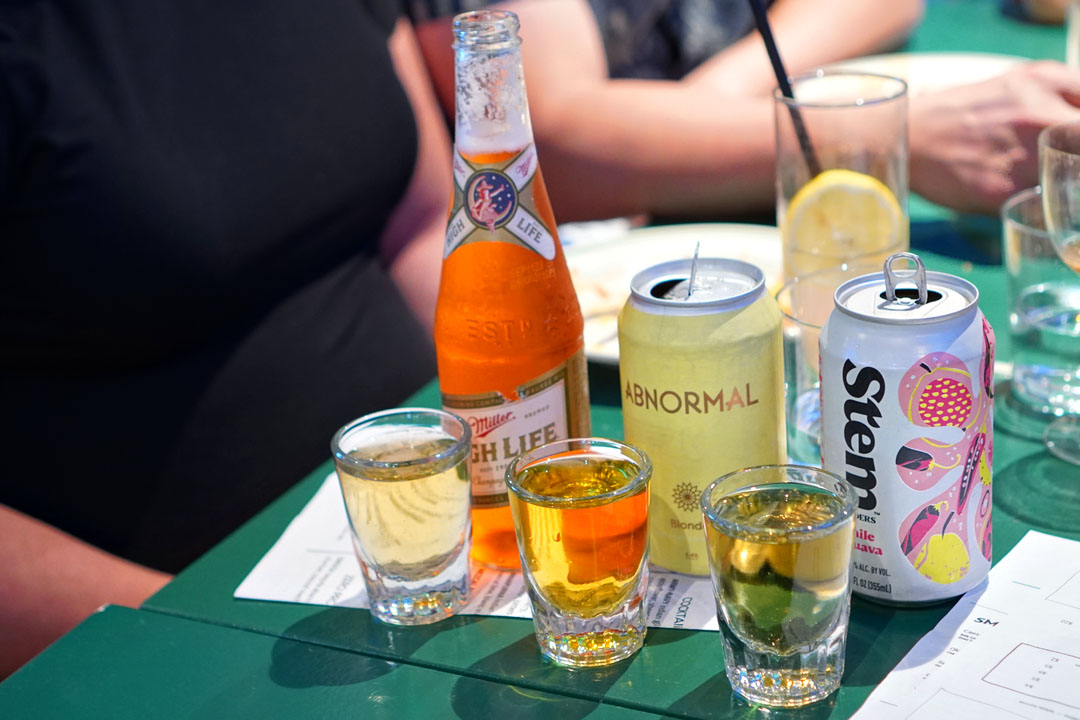 Tandoori Spaghetti' [$14.00]
| tandoori spiced aperol & miller high life
White Ferrari [$14.00]
| bitter bianco, clarified fernet & blonde ale
Malice at the Palace [$14.00]
| spicy tequila & chile-guava cider
Closing out the evening was a trio of boilermakers (a.k.a. a shot and a beer).
This was a successful birthday dinner, and though I may not be as enamored with Pijja Palace as a lot of commentators, I still quite enjoyed my time here. The food was generally as it should be, and did a nice job conveying enough Indian influence while still being approachable and familiar. Meanwhile, the cocktails were way better than they have any business being for an Indian sports bar (or any sports bar, for that matter). In the end, Pijja Palace is the sort of place that makes more sense than it should, and works as a showcase for the Indian-Angeleno experience. Apparently, Naran has a dozen-plus more restaurant concepts in mind, so I'm curious as to what he'll have up his sleeve next.