Suraya (Philadelphia, PA)
Suraya Restaurant
1528 Frankford Ave, Philadelphia, PA 19125
215.302.1900
www.surayaphilly.com
Thu 06/15/2023, 09:00p-11:20p

As far as Philadelphia restaurants go, one of the names that's been recommended to me time and time again is Suraya, so I decided to check it out on my latest visit to the city. The place serves Middle Eastern fare, primarily based on Lebanese culinary traditions, but with influences from across the Levant.
The story of Suraya begins with Beirut native Nathalie Richan (née Kassis), who opened a French-Lebanese brunch joint called Café La Maude back in 2010 with husband Gabi Richan and brothers Roland Kassis and Christian Kassis. Roland boasts a background in real estate development, and because of his career, he was able to connect with Starr Restaurant vet
Greg Root
and Chef Nick Kennedy (
Scott Conant Management
, Del Posto, Oval Room,
Jean Georges
,
Inn at Little Washington
), who were looking to open a restaurant together. He and his sister thus teamed up with the two, and debuted the wine bar-ish Root in Fishtown back in 2016.
All this time though, Richan and Roland Kassis had been toying with the idea of opening up their own spot, and decided that Root and Kennedy were the right partners. Suraya--named after the siblings' grandmother Suraya Harouni, who helped raised them back in Beirut--was thus born. The market/cafe component of Suraya debuted in November 2017, while the restaurant and garden opened the following year to considerable anticipation and acclaim. The place has since established itself as one of Philly's essential eateries.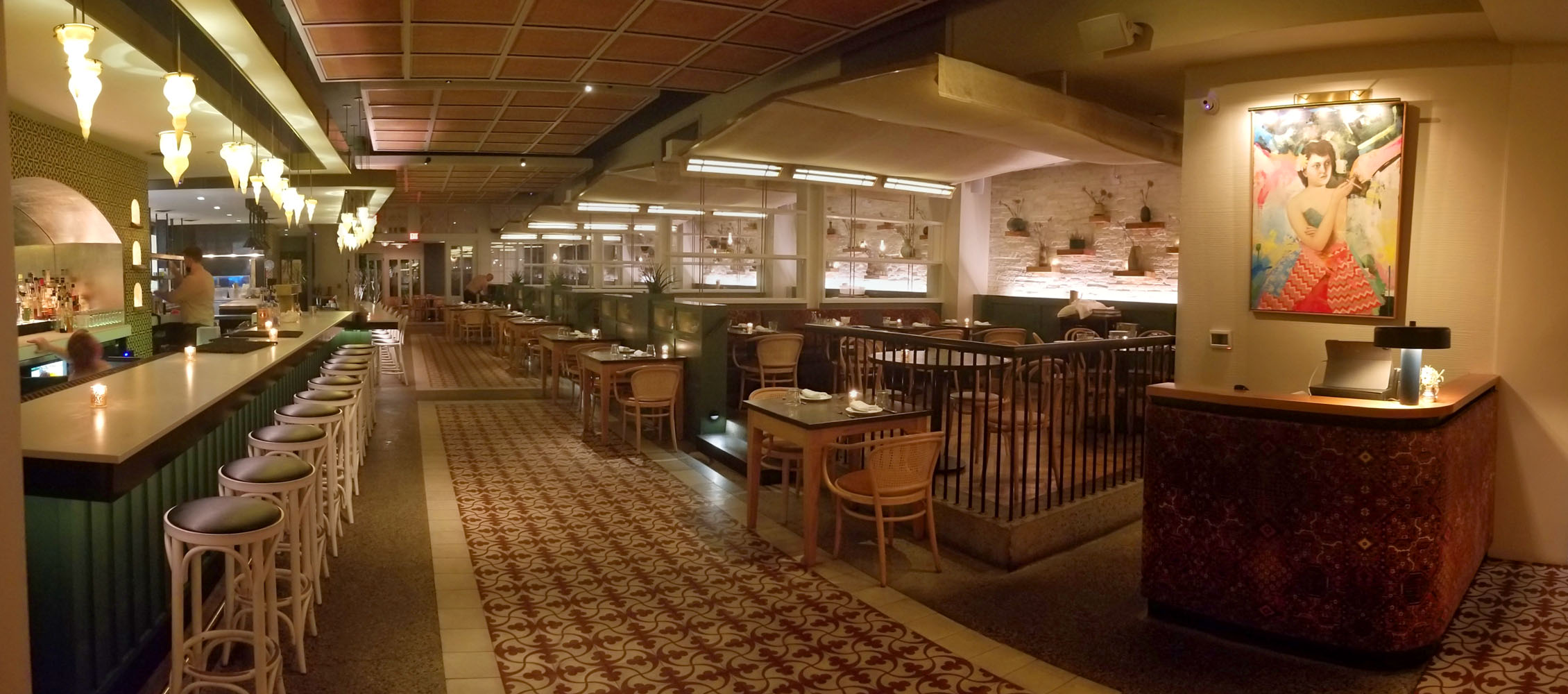 The restaurant is expansive, spanning 12,000 square-feet and accommodating around 120 diners, and occupies a building that was previously home to the Samuel Machinery Company. The space was penned by
Stokes Architecture + Design
, and features an aesthetic that was apparently inspired by Beirut's outdoor bazaars. The first photo above shows Suraya's market area, while the second depicts the main dining room.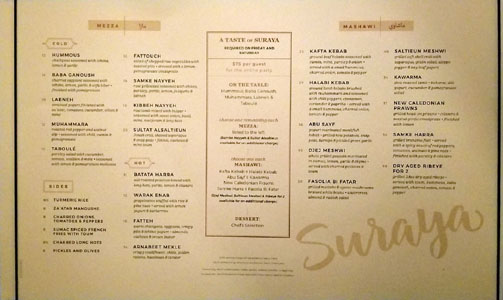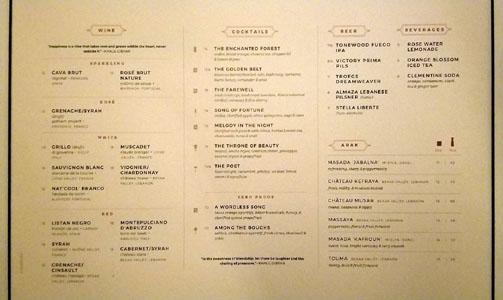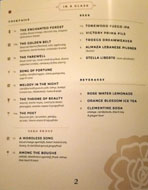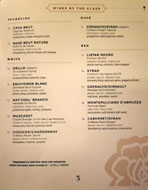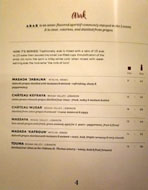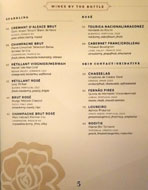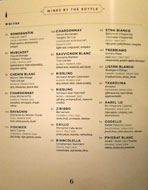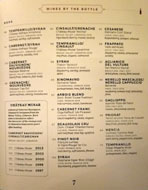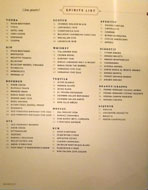 And here we see Suraya's menu, which is overseen by Kennedy but draws from Richan and Kassis' Lebanese heritage as well as the culinary knowhow of their mother, Maude Kassis. There's your requisite
mezza
, joined by a selection of
mashawi
, or dishes cooked on the restaurant's 12-footer charcoal grill. There's also a $75pp prix fixe tasting menu option, which is what I went with tonight. In terms of beverages, you get an Old World-focused wine list, a handful of beers, arak, and cocktails ostensibly named after the writings of Lebanese poet Kahlil Gibran. Click for larger versions.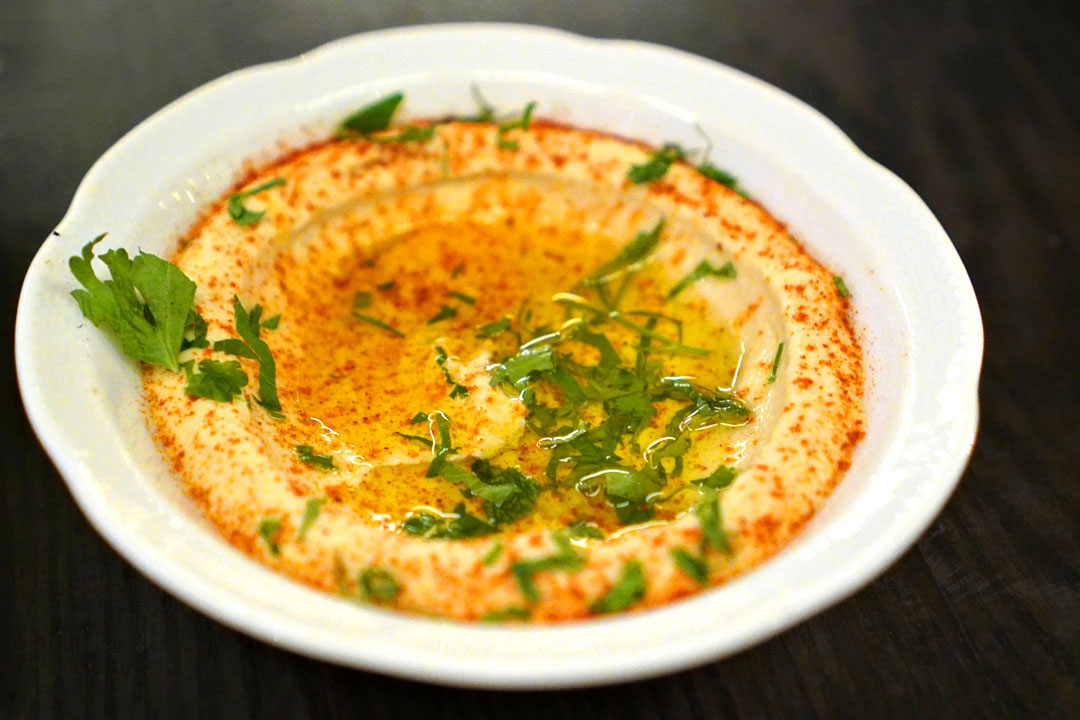 Hummous
| chickpeas seasoned with tehina, lemon & garlic
Up first was one of the finest renditions of hummus I've sampled. I was smitten by its nutty, herbaceous flavors, bookended by the tartness of citrus, all while paprika imparted just the slightest tinge of heat.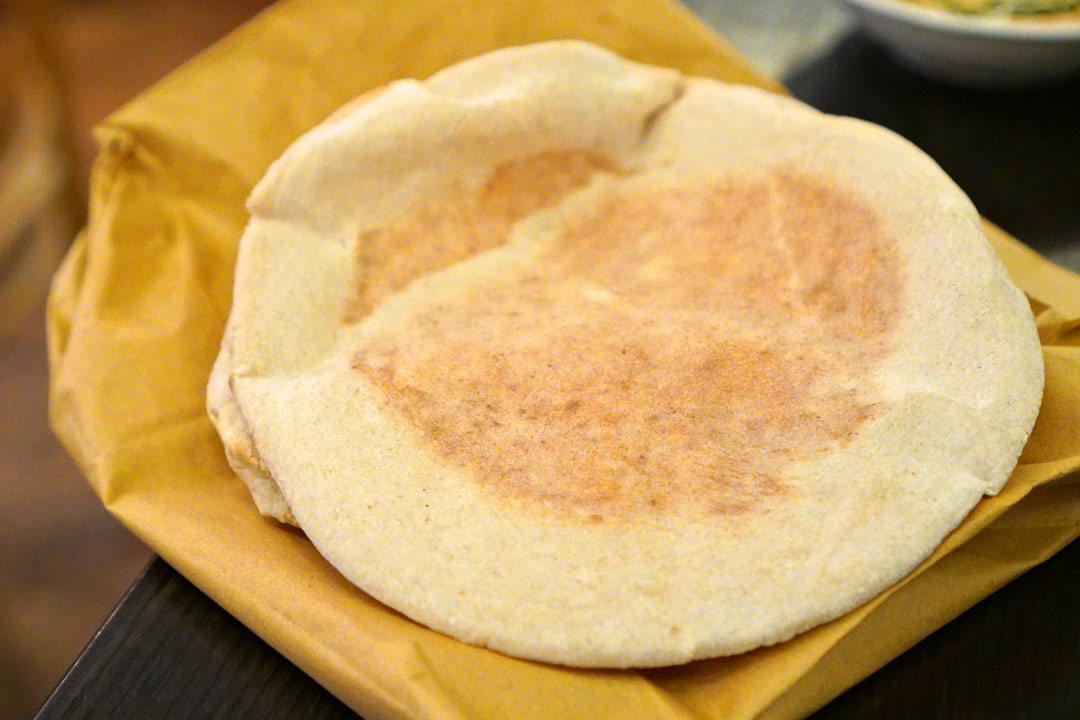 My mezze courses were accompanied by soft, airy pita bread, which tasted subtly of olive oil.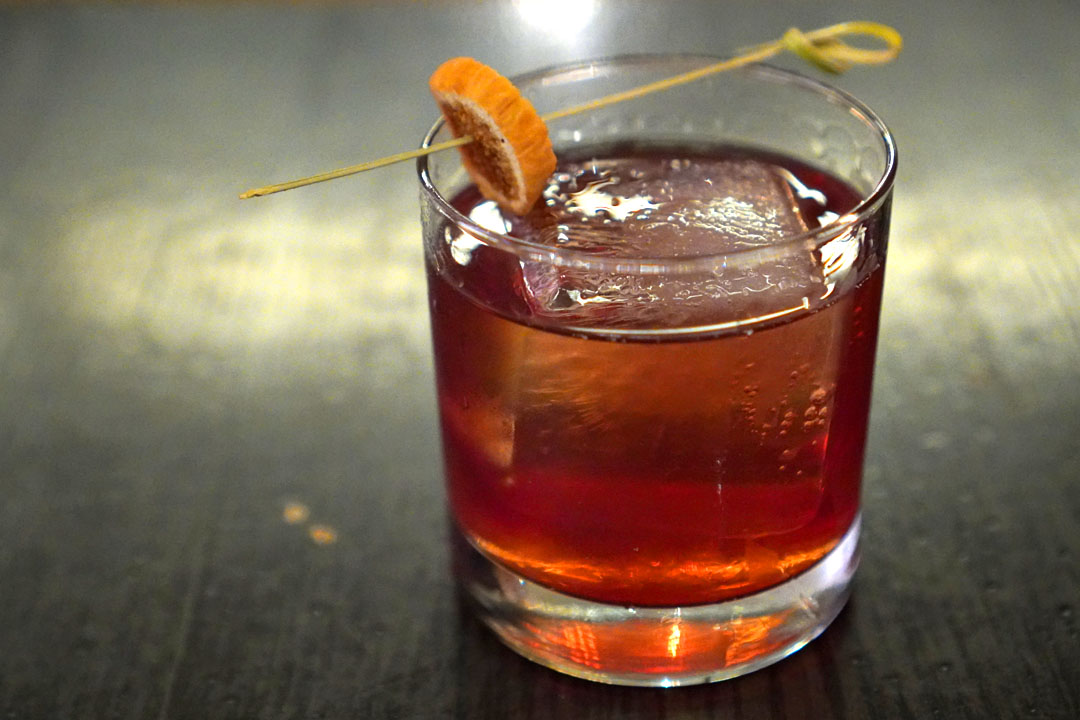 The Farewell [$16.00]
| knob creek rye, knob creek bourbon, Ksara cabernet cordial, caraway & fino sherry
The evening's first cocktail really showcased the Cabernet, presenting loads of tannic, fruit-forward vinous notes, supported by pert spices and a backbone of bitterness.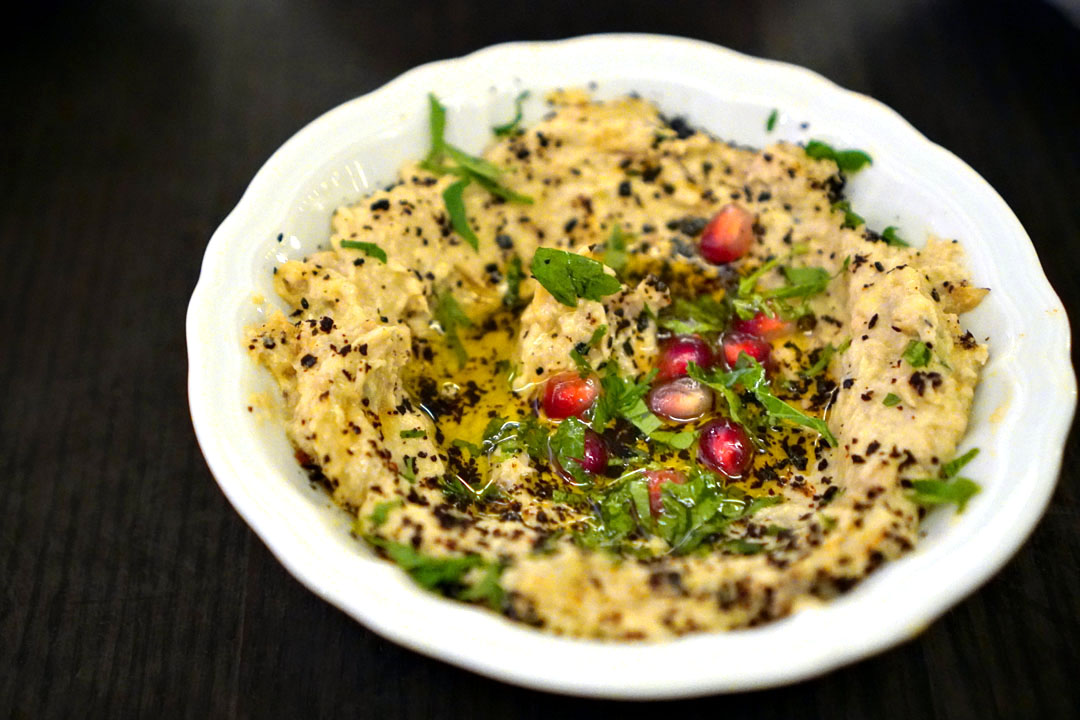 Baba Ganoush
| charred eggplant seasoned with tehina, lemon, garlic & urfa biber • finished with pomegranate
The baba ghanoush was also among the best I've tried, demonstrating a delightfully smoky depth perked up by pomegranate, garlic, and plenty of herb.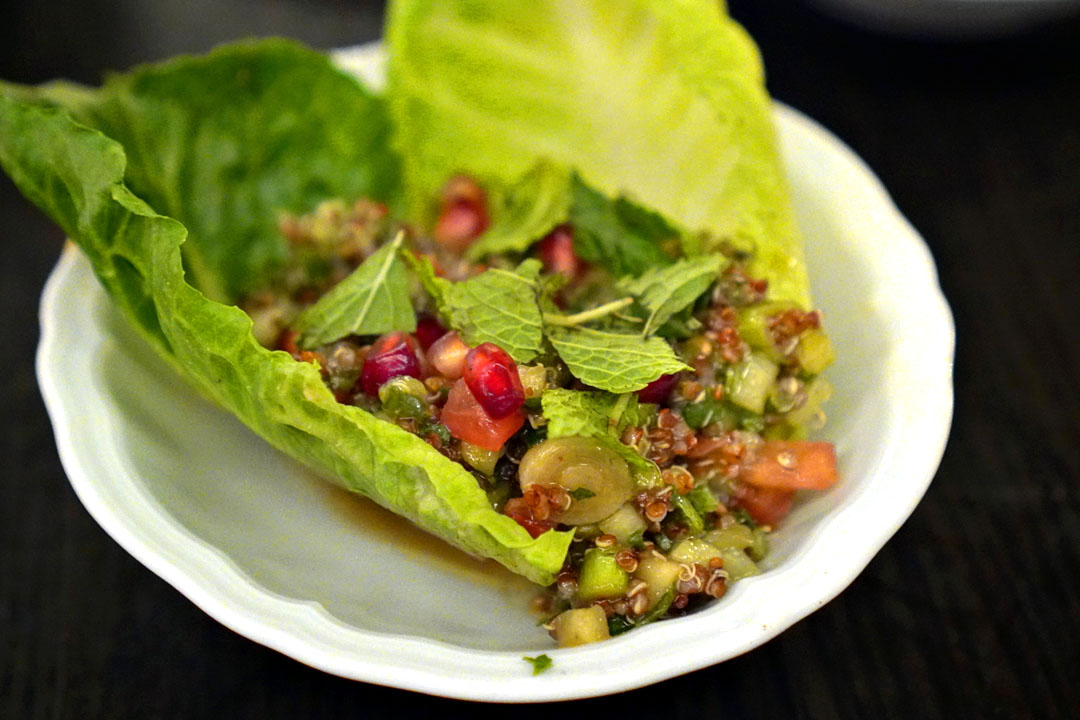 Taboulé
| parsley salad with cucumber, tomato, scallion & mint • seasoned with lemon & pomegranate molasses
This may very well be the best tabbouleh I've had thanks to its utterly bright, refreshing, multifaceted character. Fantastic array of textures, too.
Melody in the Night [$15.00]
| clarified milk punch with citrus, herbal Levant tea, chamomile, rums & arak
Given my penchant for clarified cocktails, this was a must-try for me. As expected, the drink was soft and silky on the palate, its light orchard fruit notes juxtaposed against elements of spice, herb, and tea.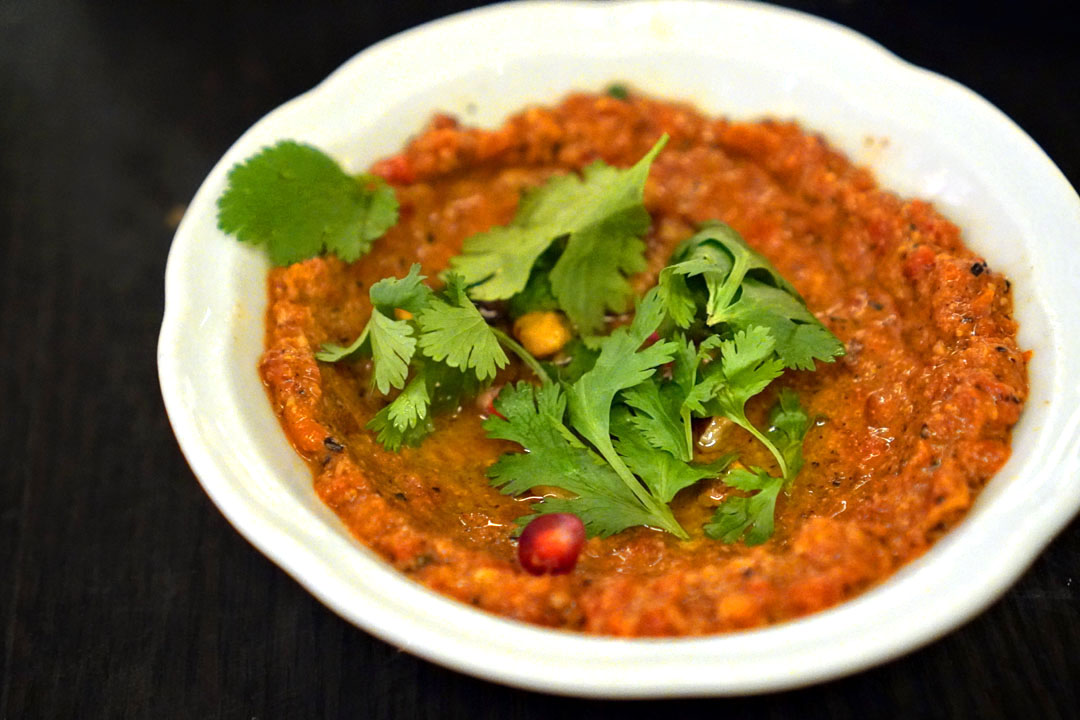 Muhammara
| roasted red pepper and walnut dip • seasoned with chili, cumin & pomegranate
The muhammara showed off a spot-on amalgam of walnuts and sweet-tangy bell pepper, the cilantro serving as a perfect accent piece.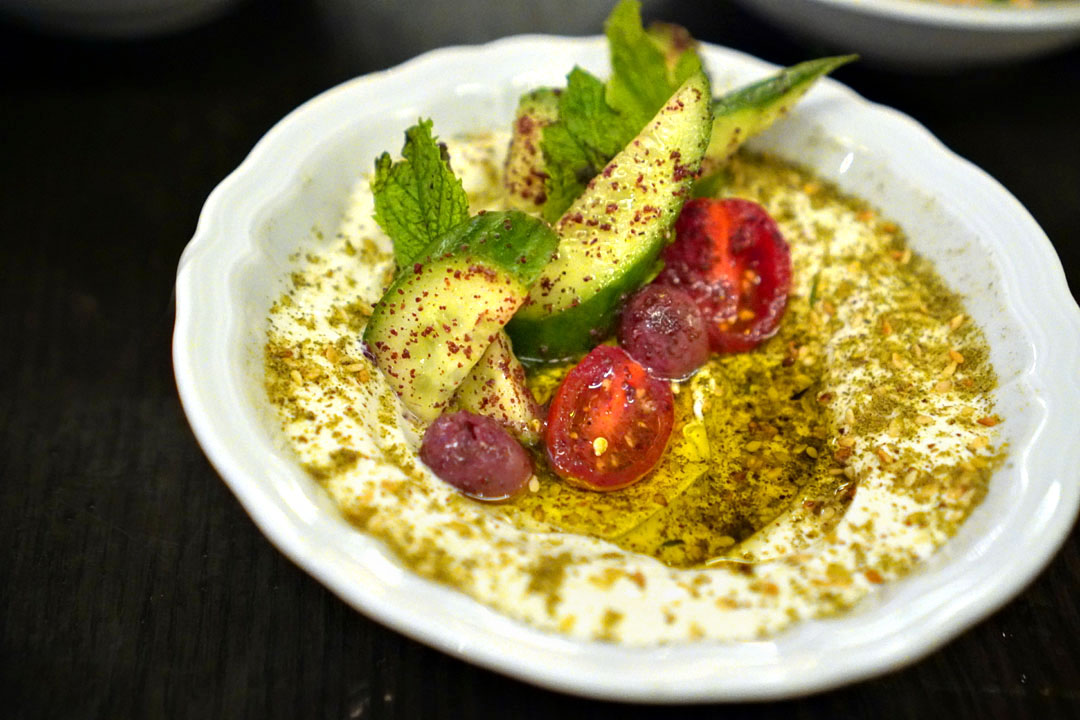 Labneh
| strained yogurt finished with za'atar, tomatoes, cucumber, olives & mint
The labna was also excellent. The yogurt had all the cool, creamy notes I wanted, set against plenty of spice and herb, with tangy tomatoes, piquant olives, and bright cucumbers imparting further interest and texture to the dip.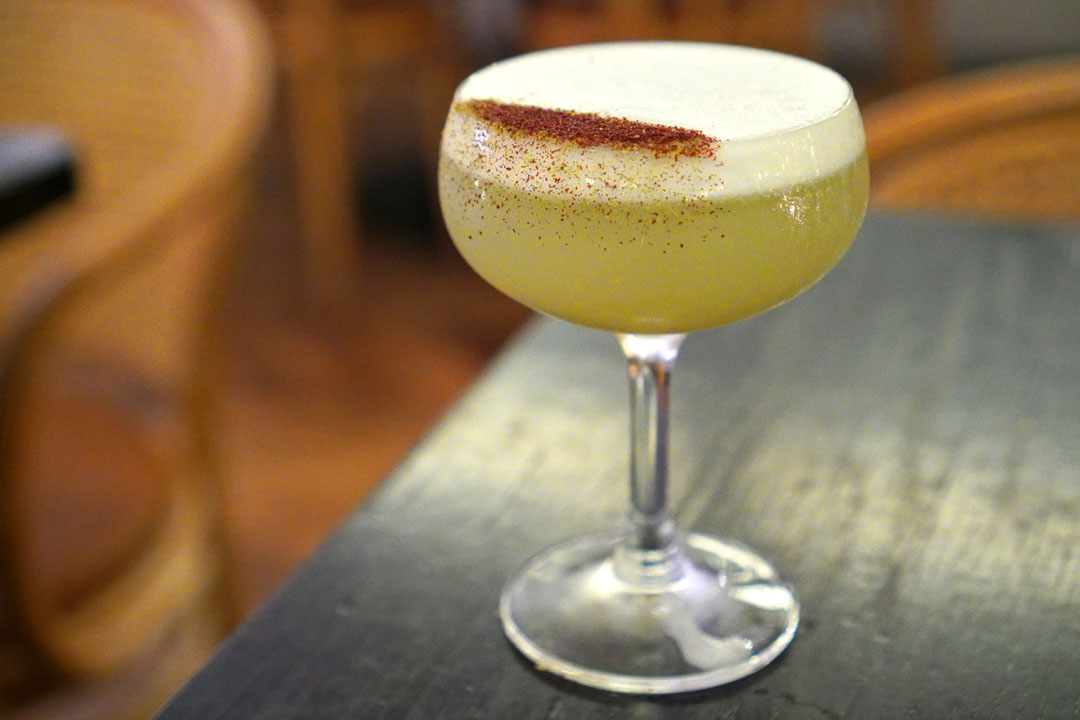 The Poet [$14.50]
| bluecoat gin, cucumber, génépy, za'atar, limon amani & aquafaba
This next cocktail featured soft, fruity notes combined with lots of cool cucumber, all playing off of a bevy of bitter, botanical nuances, with the dried lime providing a nice citric kick.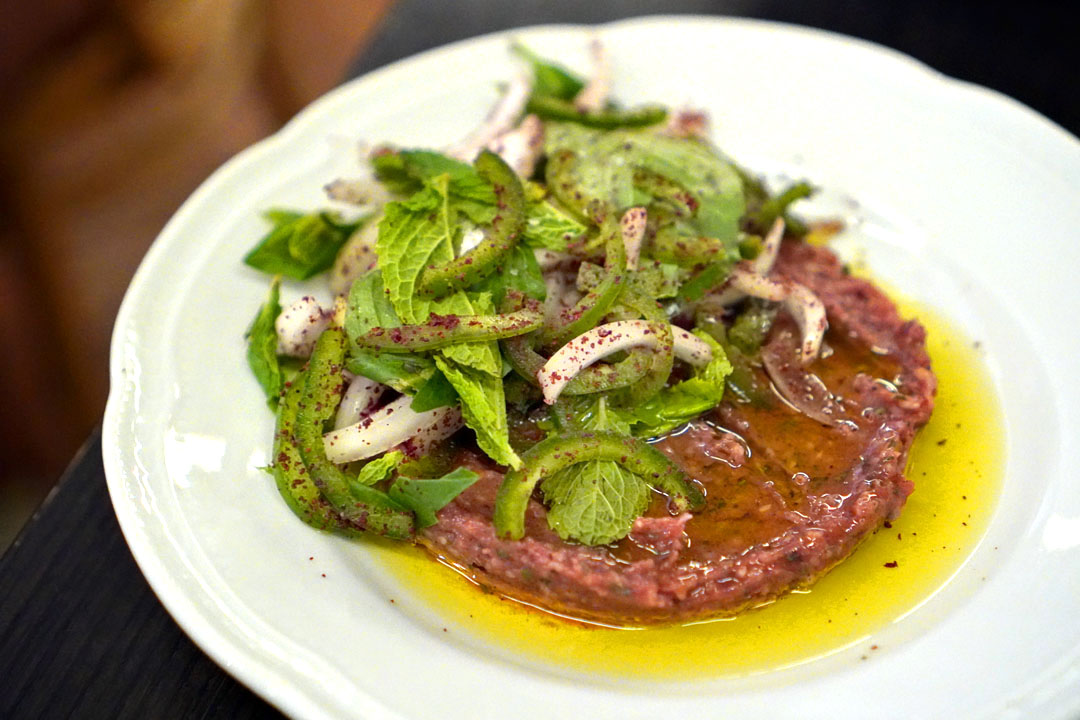 Kibbeh Nayyeh
| raw lamb mixed with bulgur • seasoned with sweet onion, basil, mint, marjoram & long hots
Essentially a Levantine tartare, we had here an uncommonly smooth, dense preparation of raw minced lamb, seasoned with sweet spices. The meat really packed a punch, so given its potency, the veggies and herbs were absolutely crucial for balance.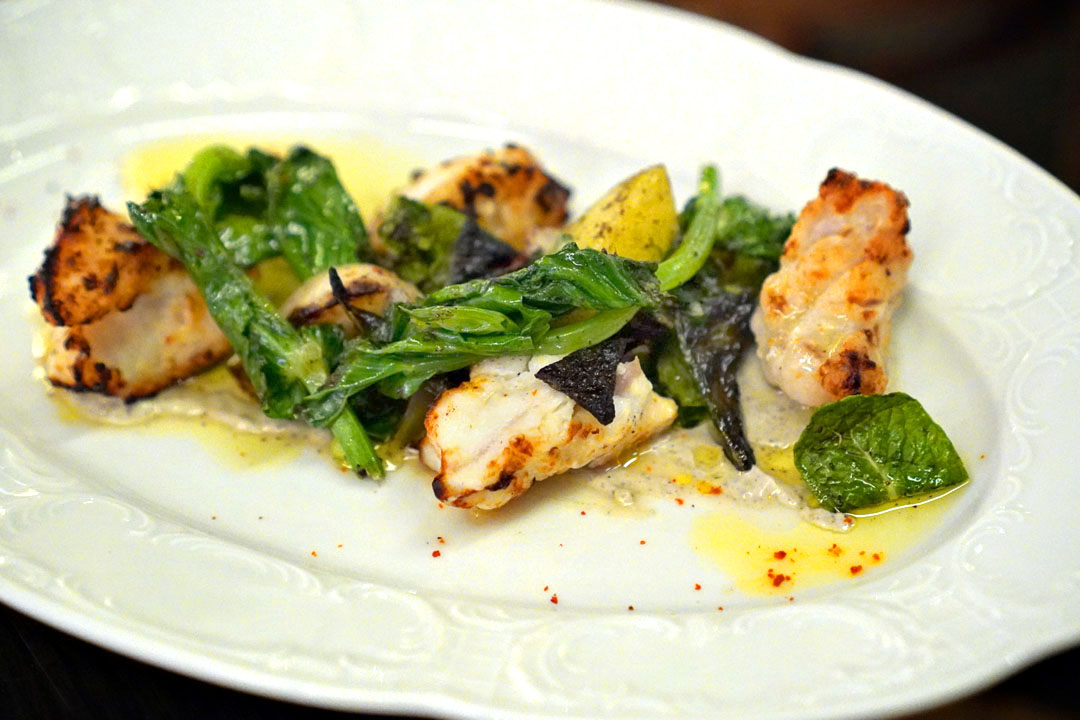 Abu Sayf
| yogurt marinated monkfish kebab • grilled new potatoes, snap peas, turnips & pickled green garlic
Monkish arrived with that supple-yet-meaty chew I was looking for, while its delicate brine was complemented by smoke, sear, and just a whisper of heat. I was definitely a fan of the contrast offered by the bitter greens and root veggies, while there was also this overarching tartness that helped bring everything together.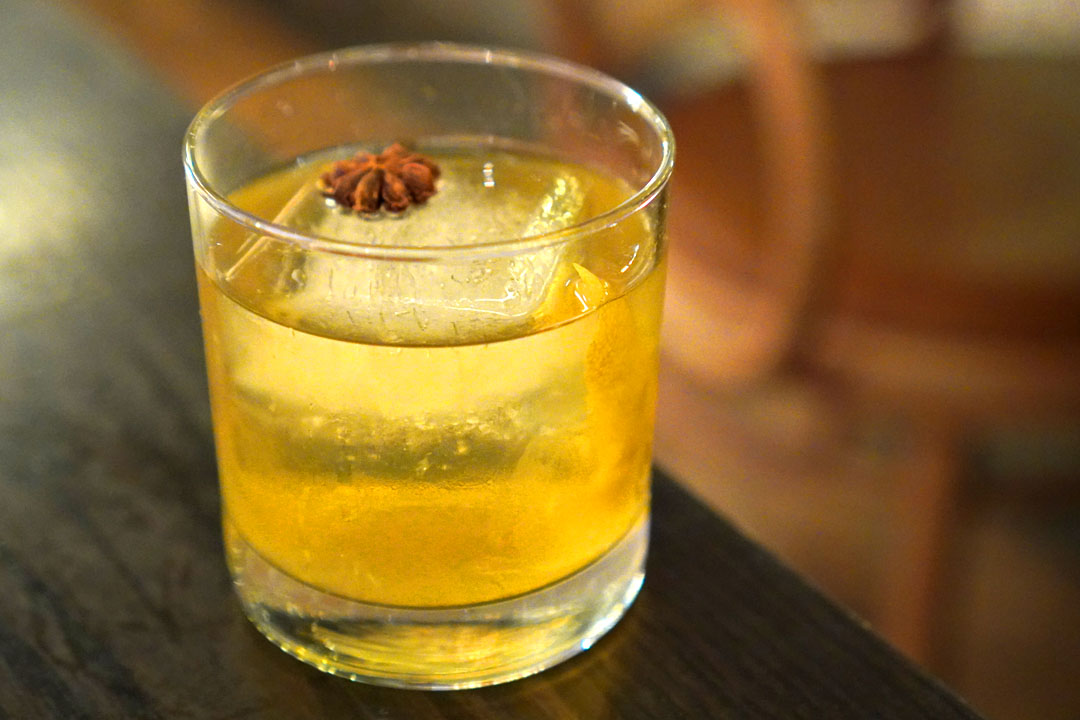 The Golden Belt [$13.50]
| bluecoat barrel finished, toki, laphroaig, turmeric, burnt honey, coriander & arak
My final cocktail was surprisingly thin in terms of mouthfeel, but delivered in the taste department with its floral and spicy notes, layered over an unmistakable base of whisky.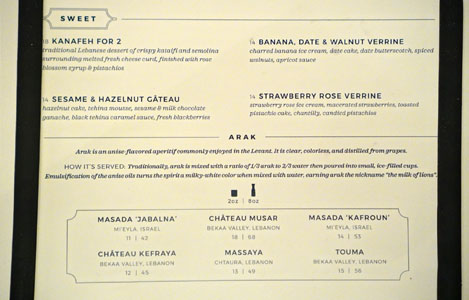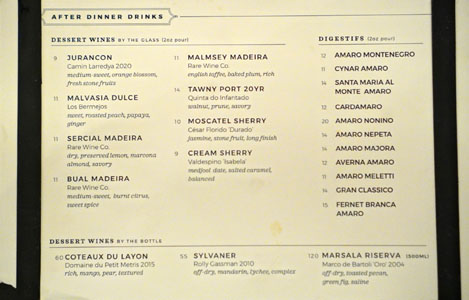 And now we come to Suraya's dessert menu and selection of after-dinner drinks. Click for larger versions.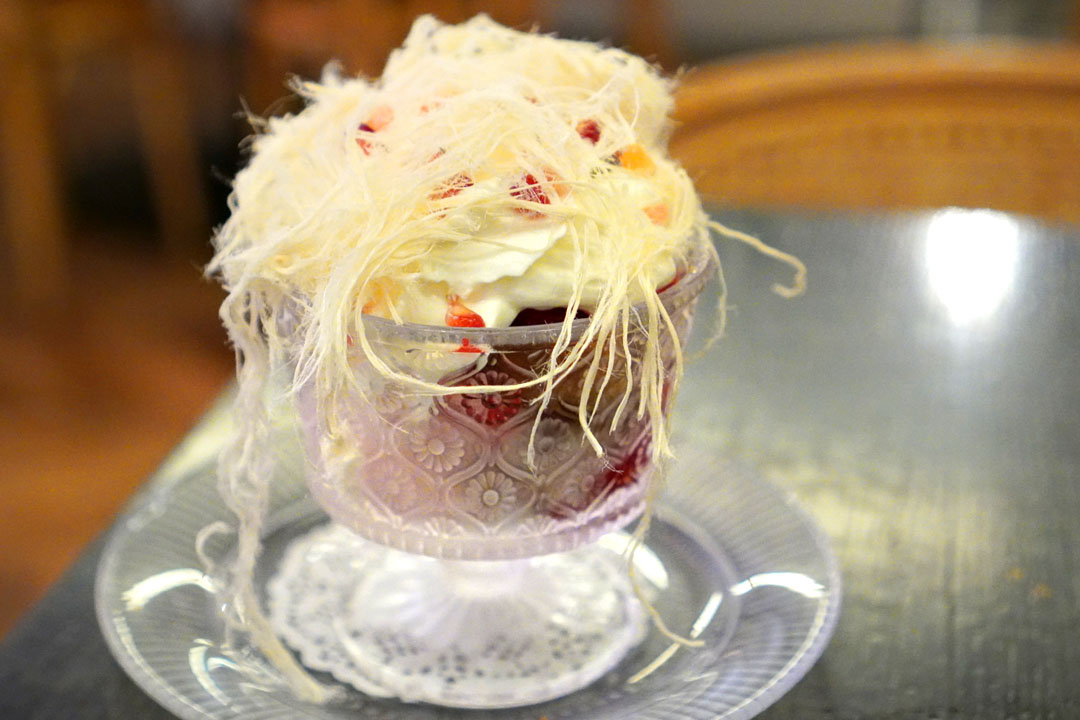 Strawberry Rose Verrine
| strawberry rose ice cream, macerated strawberries, toasted pistachio cake, chantilly, candied pistachios
My included dessert was pretty great, showing off classic, juicy strawberry flavors set against some delectable nutty elements, all moderated by that whipped cream. Everything just came together beautifully.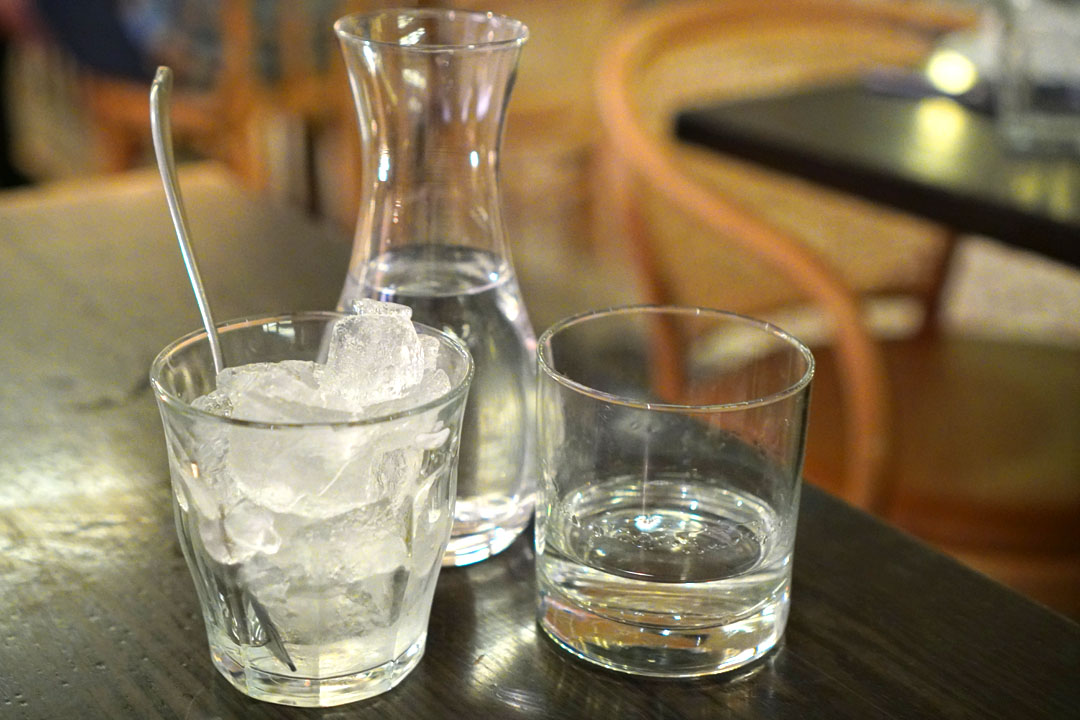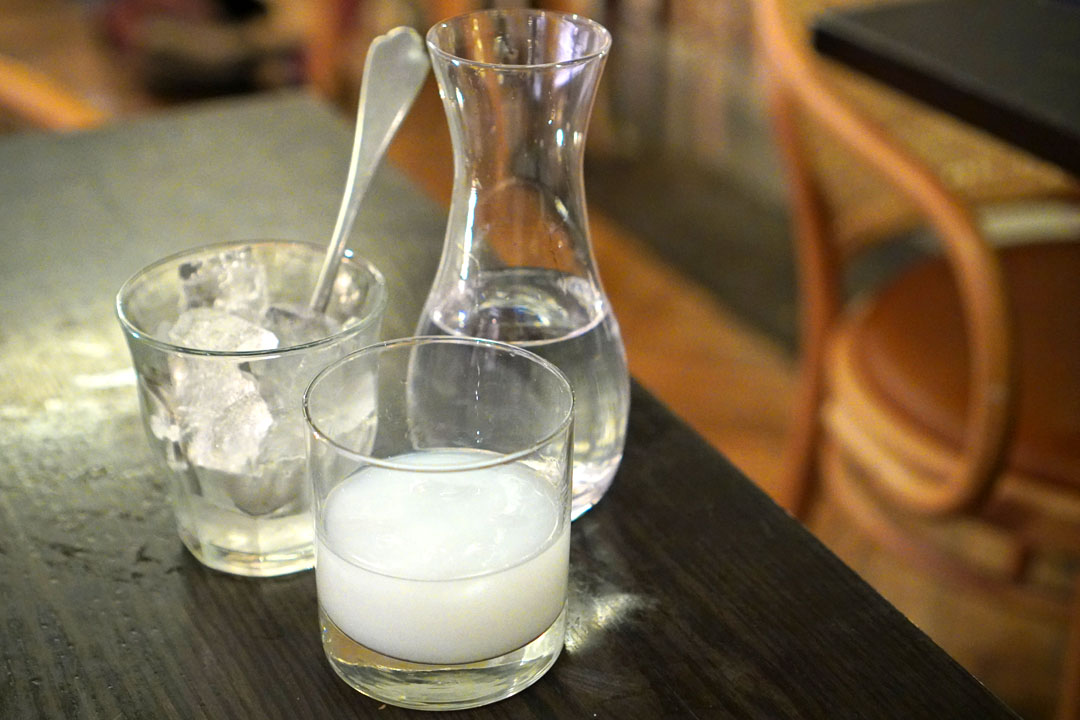 To pair with dessert, I ordered a serving of the
Touma [$15]
, distilled at the Château St. Thomas winery in Bekaa Valley, Lebanon. I sampled the arak neat first, and found plenty of intense anise-y heat, but underpinned by a marked sweetness. With the addition of water and ice, the spirit's licorice-like notes were softened, and the drink's fruitier components were emphasized.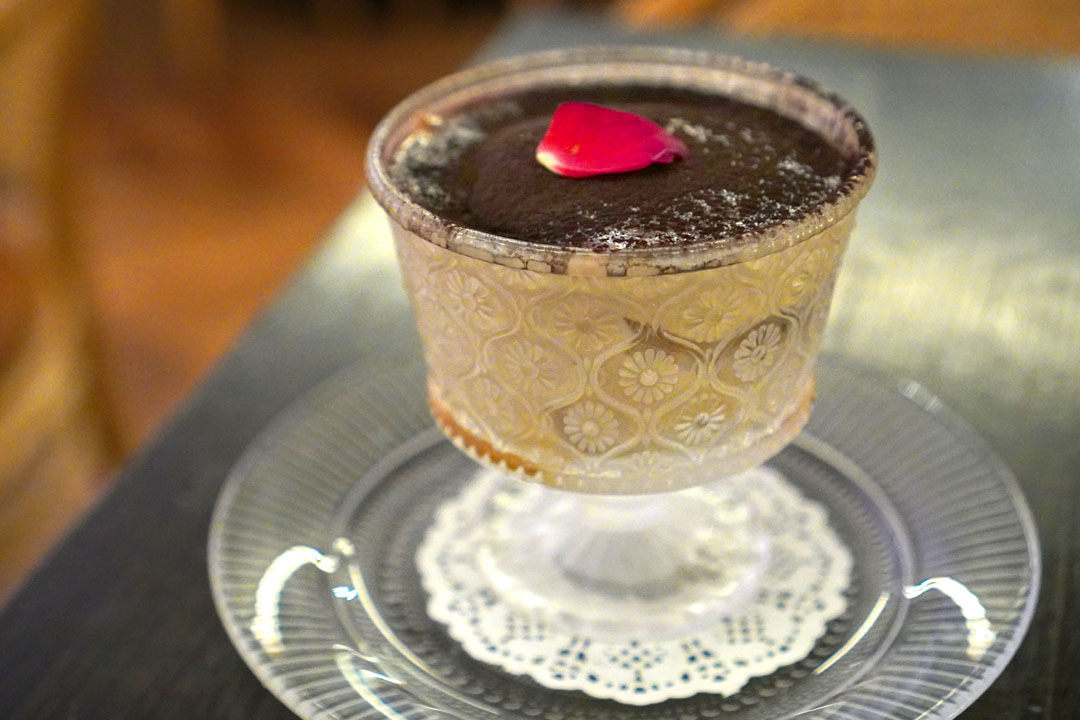 Banana, Date & Walnut Verrine [$14.00]
| charred banana ice cream, date cake, date butterscotch, spiced walnuts, apricot sauce
I augmented my meal with a second dessert verrine, and this one was also a winner due to how simply delicious its marriage of banana, date, and walnut was. Fantastic array of textures here, too.
Suraya is one of the most popular and bandied about restaurants in all of Philly, but the place managed to live up to its hype. The cooking was traditional at its core, but also boasted a modernity to it that really worked for me. In fact, I'd posit that this may actually be the best Lebanese meal I've had, and I sort of regret not being able to try more of the menu.