Agnes Restaurant & Cheesery (Pasadena, CA)
Agnes Restaurant & Cheesery
40 W Green St, Pasadena, CA 91105
626.389.3839
www.agnesla.com
Fri 06/23/2023, 08:25p-10:40p

I recently met up for dinner with a couple colleagues of mine from my Cal days, and we decided on Agnes in Old Town Pasadena as our choice of venue, as the spot had been on my list to check out ever since it opened back in June 2021. The place combines a cheese shop/market and a restaurant serving regional American cooking with Midwestern bent, and comes to us from the husband-and-wife team of Thomas Kalb (Executive Chef) and Vanessa Tilaka (Cheesemonger), along with Allan Liao (who developed the property). As for the name "Agnes," it's a nod to Kalb's maternal grandmother, Mary Agnes.
About the Chefs
: Thomas Alfred Kenneth Kalb was born in May 1989 and hails from Iowa City, Iowa, but moved to Cedar Rapids for high school. He got his start in hospitality via part-time jobs during this period, including a pivotal stint at a local pizzeria. After taking a year off, he began culinary school at Kirkwood Community College, and after graduating in 2010, relocated to Colorado, then to Chicago, where he worked at Lula Cafe under Jason Hammel. In search of more culinary excitement, Kalb subsequently went to San Francisco, where he was able to secure employment at Bar Agricole and Thomas McNaughton's Flour + Water. It was at the latter restaurant that he would meet his eventual partner in both business and life.
A Los Angeles area native,
Vanessa Haema Tilaka
(monkul) was born in October 1983 and grew up in a Thai-Chinese household. Her dad's side was in the restaurant business back in Thailand, and family members opened Bangkok Market in East Hollywood in 1972, which was reportedly the first Thai grocery store in LA (fun fact: this means she's related to none other than Jet Tila(kamonkul)). She graduated from Montebello's Schurr High School in 2001, then enrolled at Cal State LA, where she attained a bachelor's degree in human resources management. Tilaka worked in HR briefly, but soon decided to pursue a career in food, and thus enrolled at the Art Institute of California in Orange County in January 2007, where she attained an associate degree the following year.
She then cooked at Huckleberry Bakery & Cafe, and also at
Bryant Ng
's
The Spice Table
from October 2011 to the restaurant's closure in December 2013. Following the shutter, she took about a half-year off to travel, eat, and
stage
, and upon returning, she decided to relocate to San Francisco for a position at Flour + Water (one of the spots she visited earlier in the year). This was in July 2014, and after being trained by Kalb on the pasta station, she was promoted to sous chef just three months later, and the two eventually became a couple.
During this time, Tilaka discovered the joys of cheese after receiving an educational grant and using the funds to take classes at The Cheese School of San Francisco in 2015. In the latter half of that year, she
staged
at Uchiko in Austin, and also spent some time at Melissa Perello's Octavia. Kalb, meanwhile, eventually transitioned from Flour + Water to a CdC role at another McNaughton project, Cafe du Nord, which opened in the summer of 2015. He then cooked at Al's Place through the end of that year.
By the end of January 2016, both Chefs had decamped from their respective restaurants, and the two then took six months off to travel the world (including roughly three months spent in Southeast Asia). It was during this period where they came up with the idea for Agnes, and also got engaged. They returned to the Bay Area in August 2016, and Tilaka got a sales position at Todd Spanier 's King of Mushrooms in Daly City. She stayed there a year, then helped open Fisher's Cheese + Wine in Larkspur, where she remained until August 2018. Kalb, for his part, landed a job at Hard Water, a restaurant-slash-whiskey bar that was part of Charlie Phan's
Slanted Door
group.
In 2017, while making wedding plans in SoCal, the couple toured the Pasadena address that would become Agnes, even though they weren't really considering opening in the area. However, they ended up taking a chance on the space, and in July 2018, they started an Agnes pop-up series in Oakland, then got married that September. After moving back down to LA, Tilaka worked at Cookbook Market as well as the short-lived M. Georgina. Meanwhile, the build-out for Agnes commenced in early 2020, and after some pandemic-related delays, the restaurant finally grand-opened on June 1st, 2021.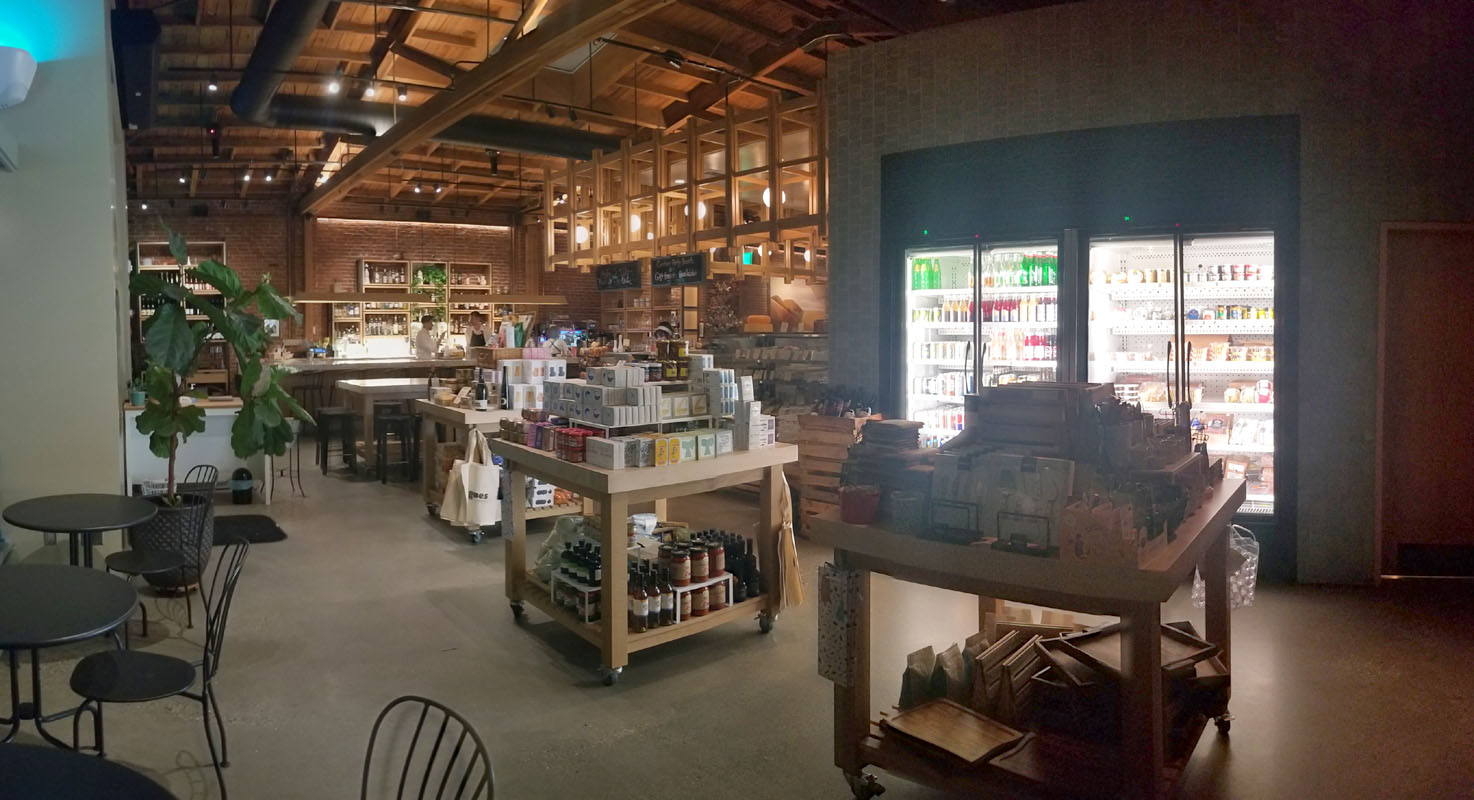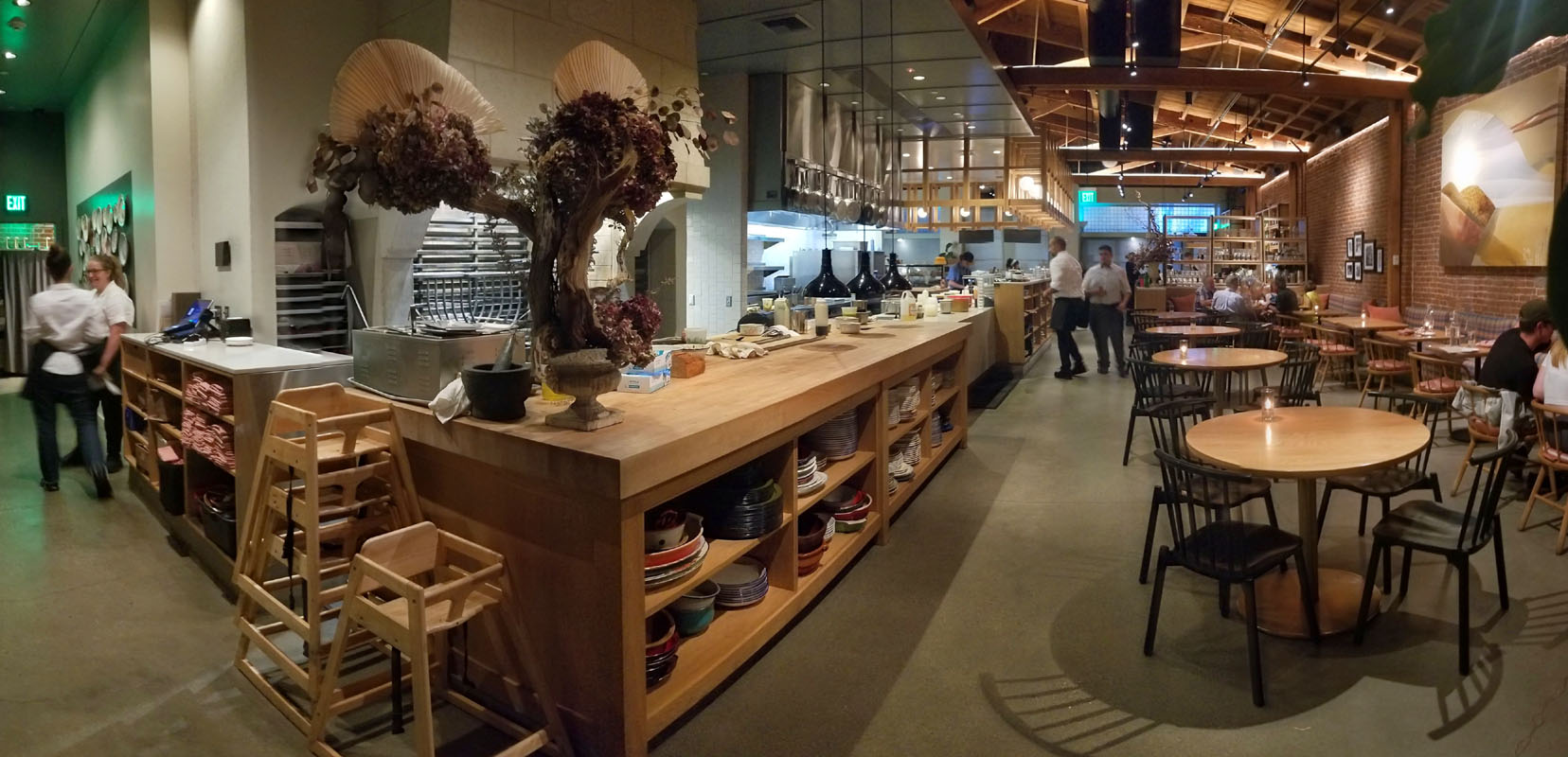 The building that houses Agnes was reportedly built in 1922, and initially served as the horse stable for the Pasadena Fire Department, while more recently, it functioned as a recording studio. The space was redone by Oonagh Ryan of local architectural firm
ORA
, the same folks behind the likes of
Auburn
and
Esters
. "Grandma's house" was the inspiration here, and that certainly comes through with the design. In addition to the retail area up front, there's also a sizeable patio out back, replete with an adjacent private dining room that seats 20. Total capacity is 88.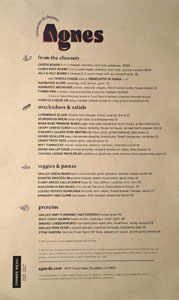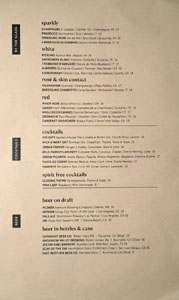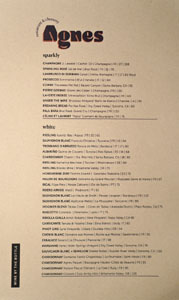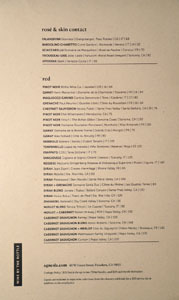 The menu leans into Kalb's Midwestern upbringing, taking inspiration from the food that his grandmother used to cook, though of course rendered in modern form. Drink-wise, you get some fairly interesting cocktails, beers, and a pretty diverse wine list. Corkage is a not-bad $25 for your first two bottles, then $50 thereafter. Click for larger versions.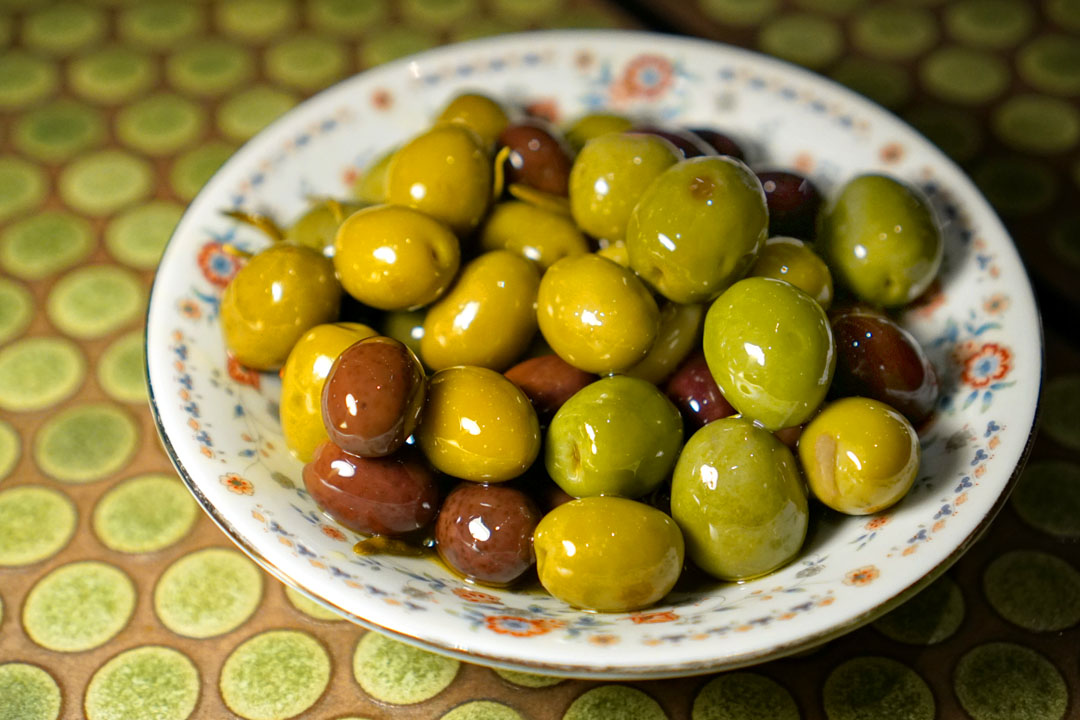 Marinated Olives [$12.00]
| rosemary, chili, lemon, garlic
Starting things off was a bowl of olives. We weren't informed of the varieties presented, but I believe they were the following:
Castelvetrano – The mildest of the bunch, with an almost ham-like savor.
Cerignola – I found these the most piquant and overtly "olive-y."
Kalamata – The smallest and sweetest by my estimation.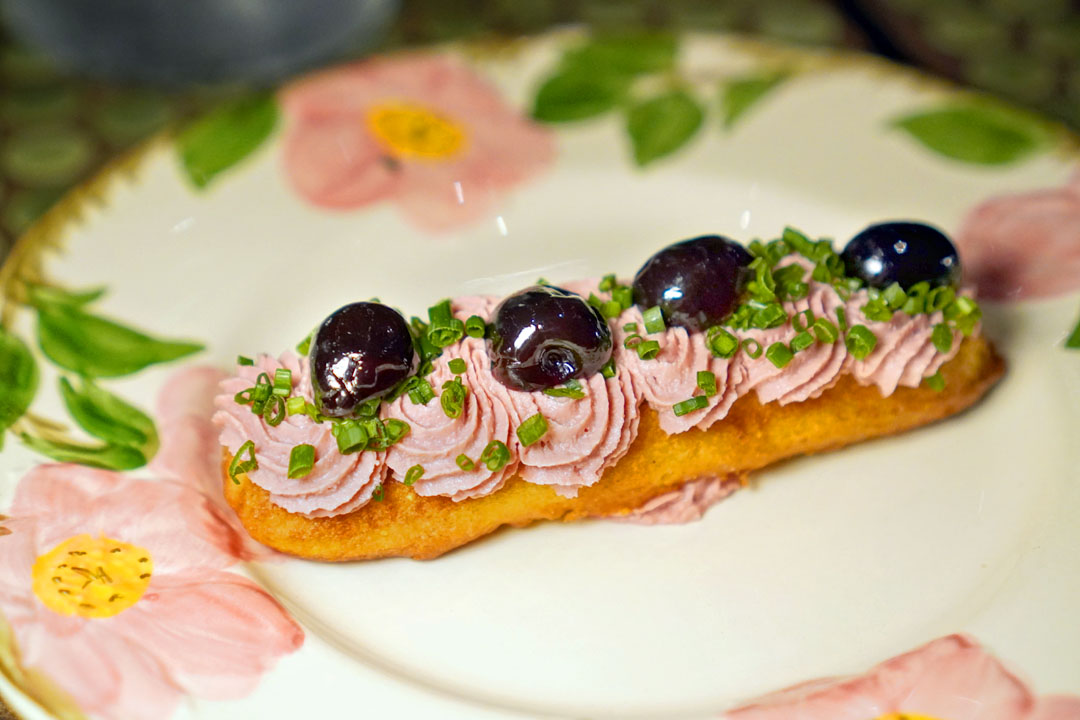 Cornbread Eclair [$10.00]
| chicken liver mousse, chives, luxardo cherry
From what I've seen, the eclair has become sort of a signature dish at Agnes, and for good reason. The balance between the liver and cherry was absolutely spot-on, and was masterfully juxtaposed against the dish's sweet, gritty cornbread base.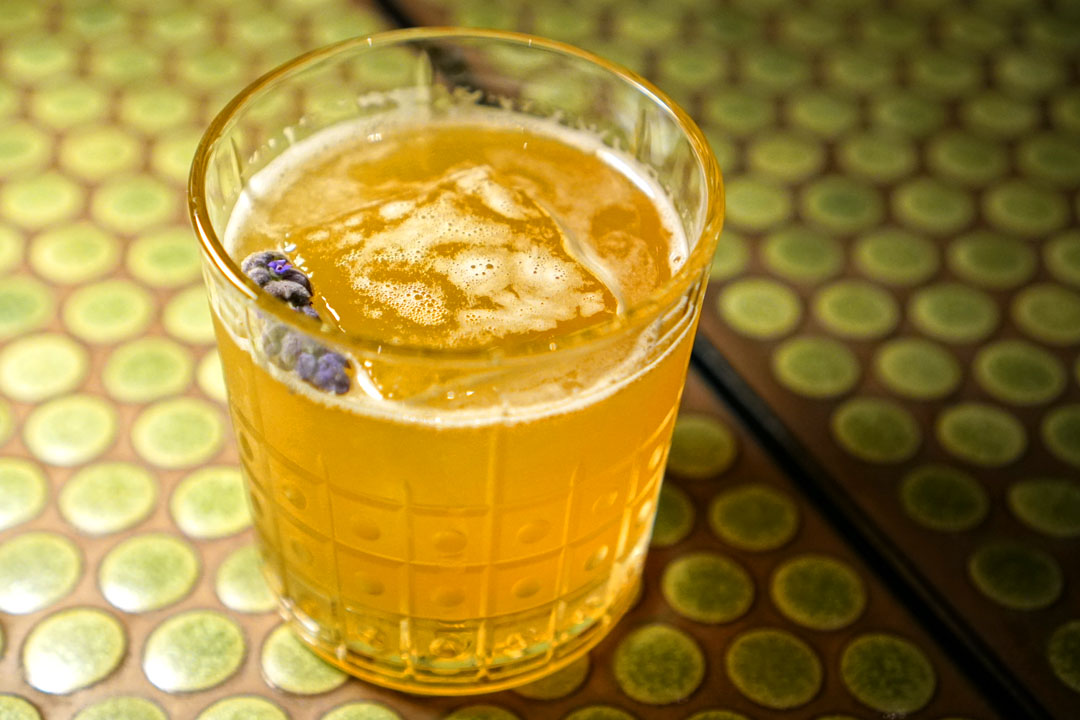 Hawkeye [$16.00]
| Templeton Rye, Licor 43, Cynar, Lemon, Lavender
The evening's first cocktail showcased loads of sweet, cinnamon-y spice up front, commingled with citrus, while the drink's boozy, bittersweet notes made themselves known later on.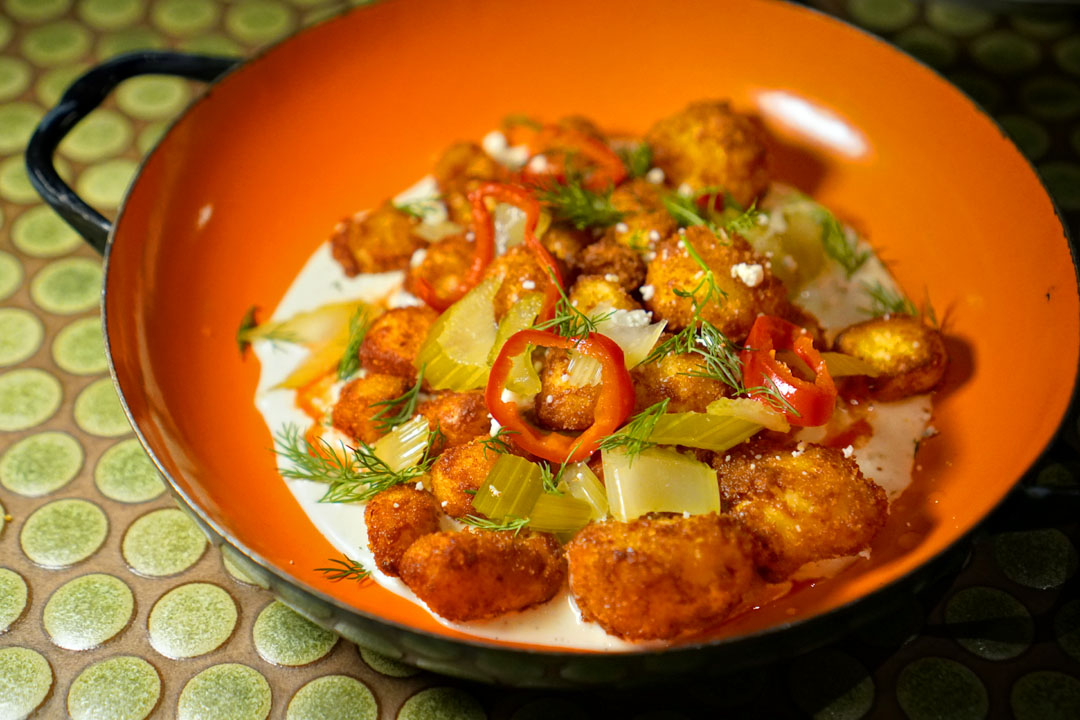 Crispy Cheese Curds [$18.00]
| blue cheese dressing, house hot sauce, pickled fresno pepper, dill
Cheese curds combined springy insides with crisp exteriors, while flavors were subtly salty. The acidity provided by the pickles was crucial for contrast, as was the slight heat in the dish, while that blue cheese dressing helped bring everything together.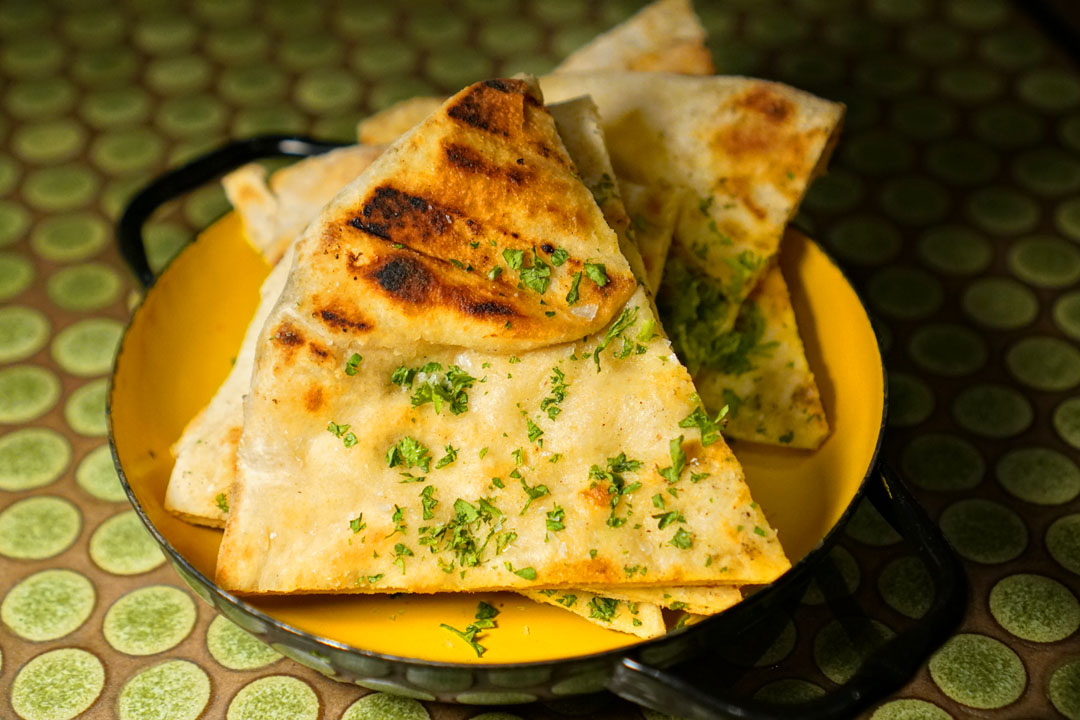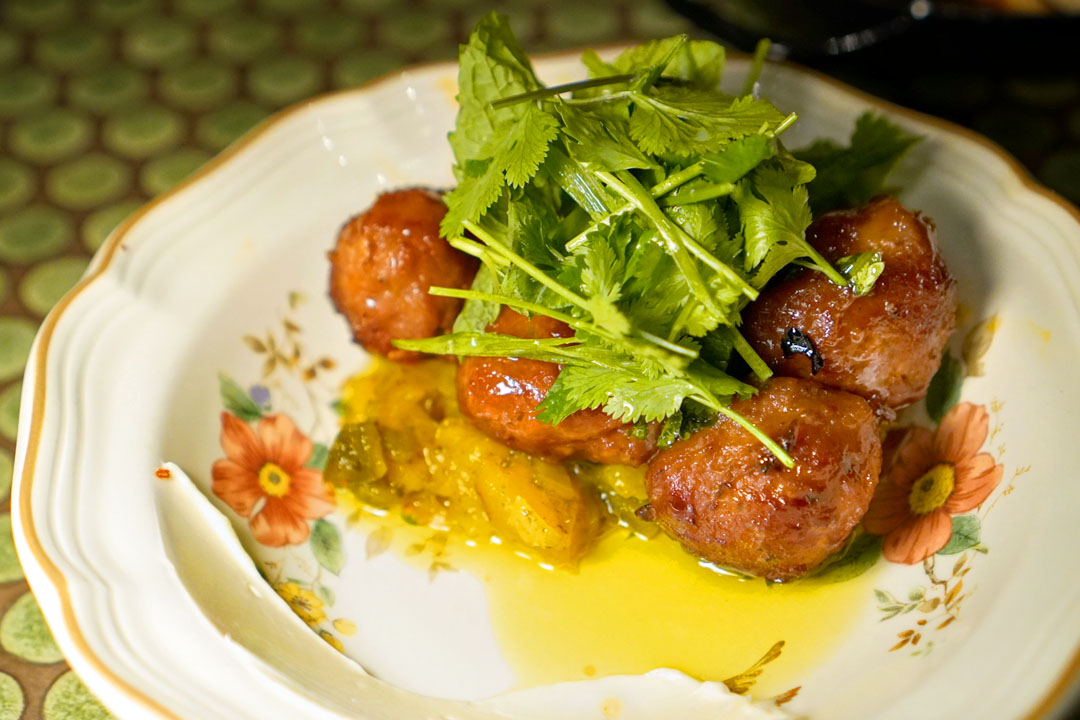 Pineapple Glazed Pork Meatballs [$21.00]
| chow chow, grilled flatbread, hella herbs
Here we had what was seemingly a mash-up of Iowa ham balls and Hawaiian pizza. The meatballs ate dense and uniform, and displayed a familiar sweet-savory interplay that was smartly accented by all the greenery on the plate. The naan-like flatbread worked as an accompaniment, but I really would've liked it softer, chewier.
Green Picarita [$17.00]
| Arette Blanco Tequila, Amaro Angeleno, Jalapeno, Cilantro & Lime
This lime-hued cocktail definitely packed a punch thanks to its piercing, long-lingering, vegetal heat, kept in check by touches of salinity and a palpable sugariness.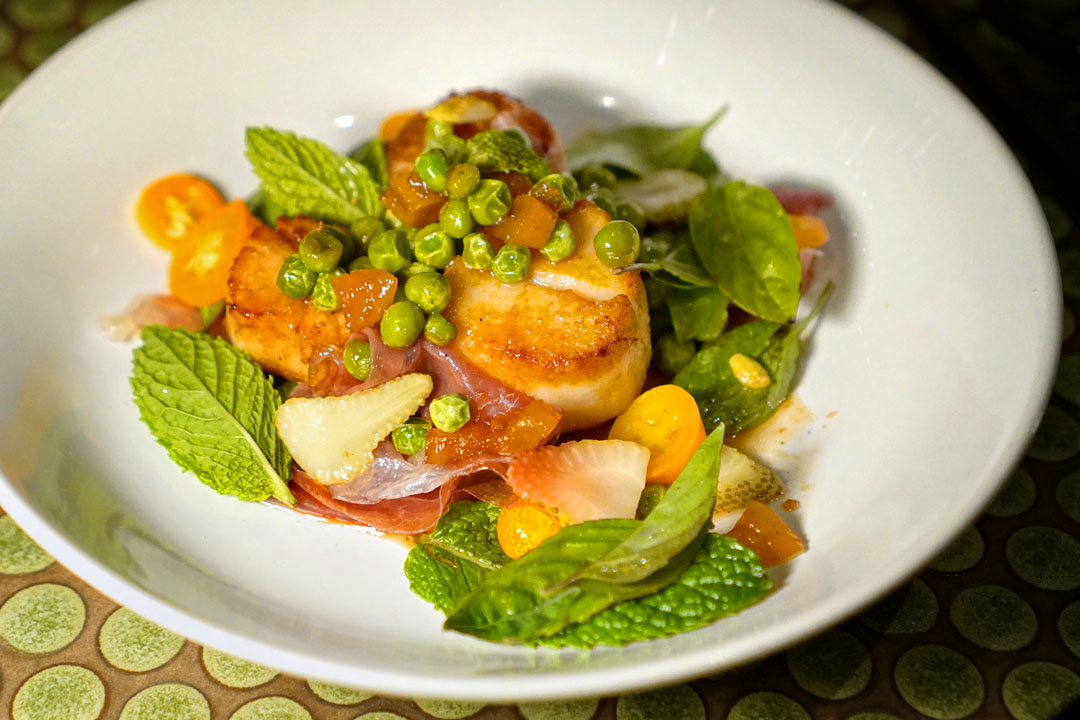 Seared Scallops [$44.00]
| peas, vietnamese dressing, prosciutto, Noah's kumquats, coriander
Scallops were deftly cooked, arriving with a lovely sear and a mouthwatering brine. The herbs and peas made a lot of sense here, and I liked the saltiness from the ham, though the tanginess from the kumquats and strawberries was a bit distracting.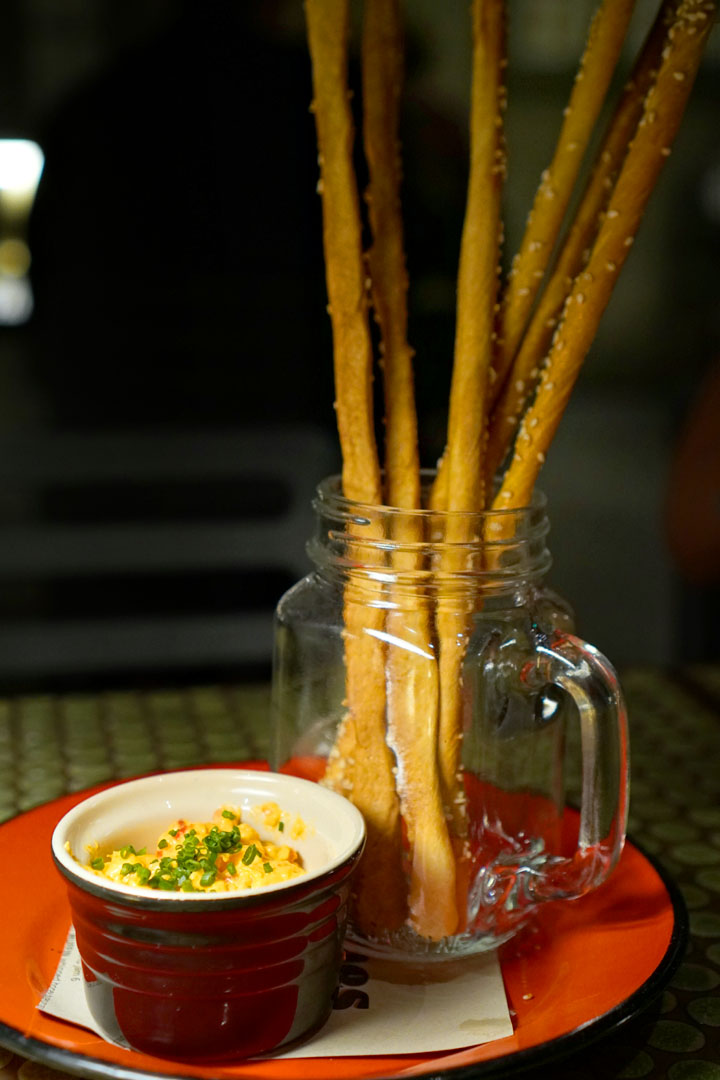 Pimento Cheese Dip [$12.00]
| spicy cheddar cheese spread & crispy grissini-breadsticks
Agnes' pimiento cheese went in a somewhat floral direction, and had this very familiar element to it that I couldn't put my finger on. The grissini worked as a dipping vessel, and showed off a nice nuttiness from the sesame, though certain portions of the sticks weren't as crisp as I was hoping for.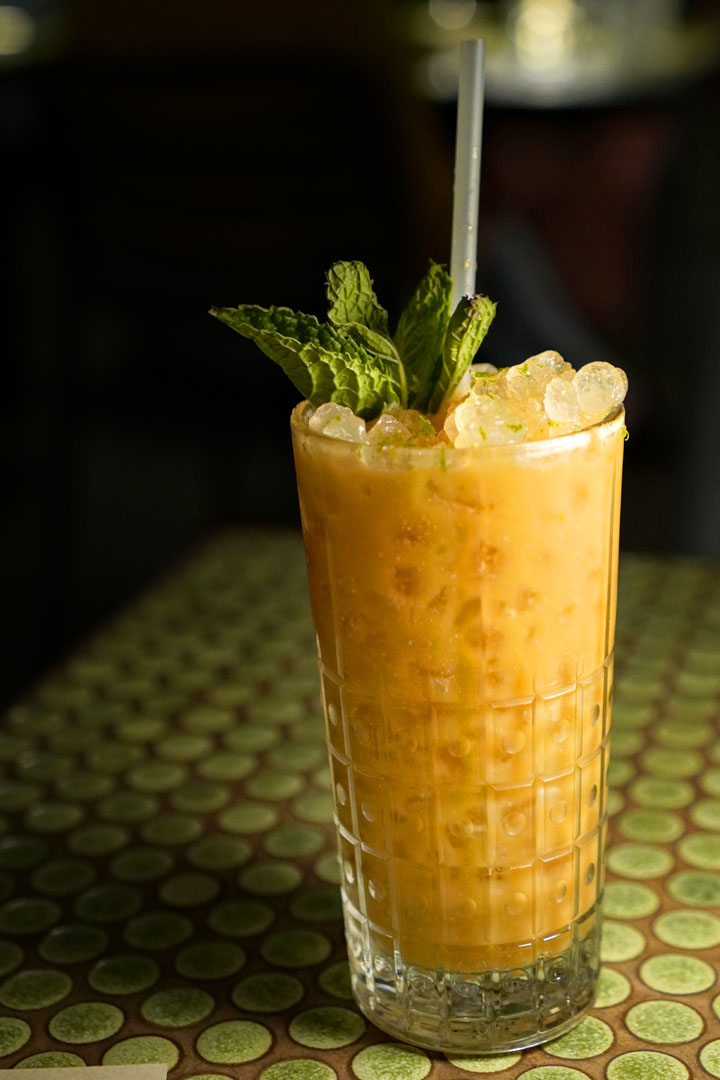 Wild Parrots Aplenty [$16.00]
| Cutwater Rum, Coconut, Orgeat, Cherry Herring, Lime
My third cocktail went in a tiki-ish direction, but was also a bit contemplative with its coffee-like astringency commixed with citrusy tartness and the kick of the rum.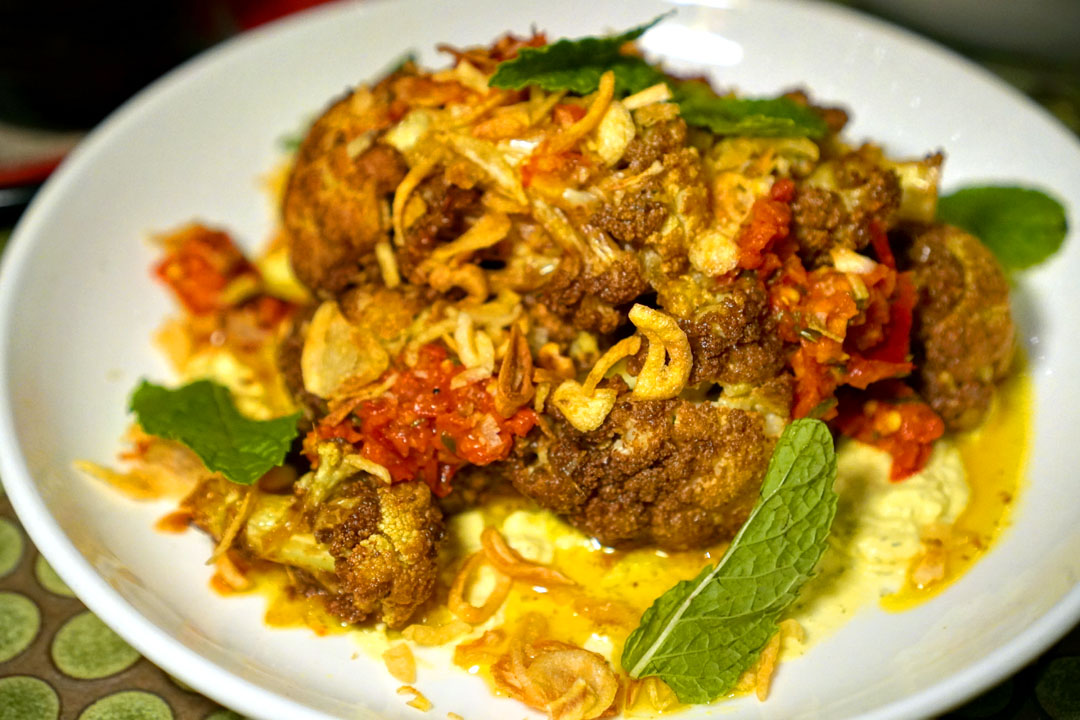 Curry-Spiced Cauliflower [$18.00]
| Essex St. Feta, saffron, calabrian chili, mint
The cauliflower wasn't shy about its curry spices, which I appreciated, and I also enjoyed the contribution from the chilies, mint, and saffron. My complaint here was that the veggie was limper than I would've liked, and lacked crunch.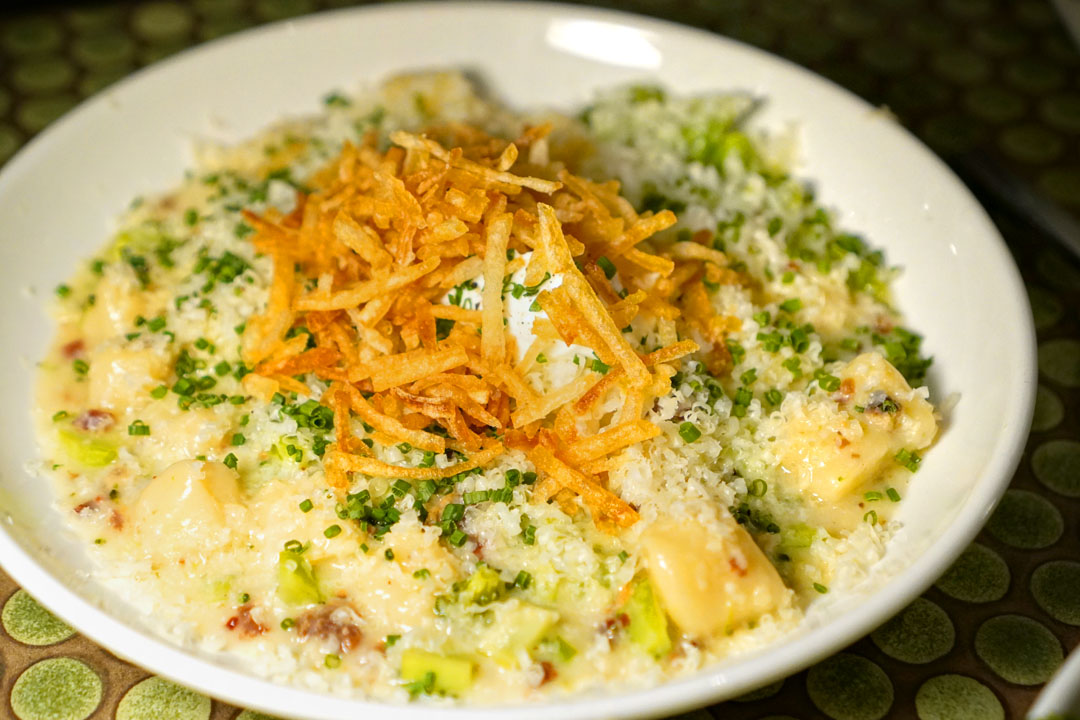 Loaded Potato Dumplings [$27.00]
| broccoli, sour cream, Prairie Breeze Cheddar, bacon
Housemade gnocchi came out hefty, hearty, and satisfying. The various accoutrements gave the dish a homey, cozy sort of feel (I was reminded of the loaded baked potatoes of my childhood), and I especially appreciated the levity offered up by the broccoli.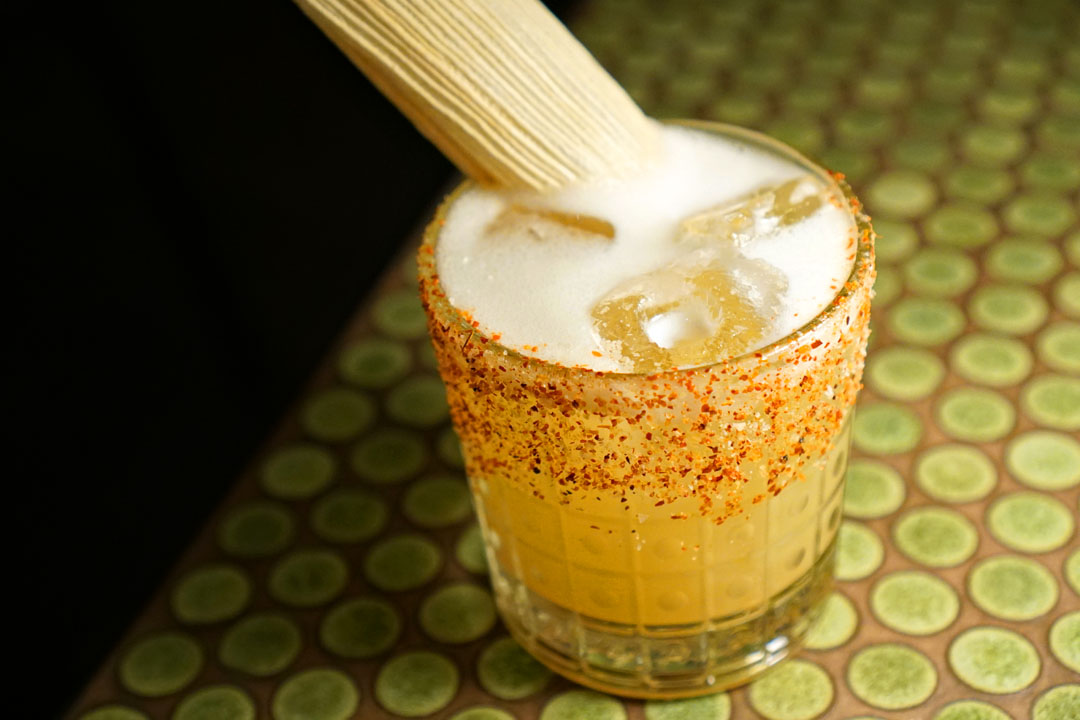 Thats So Corny [$17.00]
| Bahnez Mezcal, Nixta Corn, Lime, Grana Padano
Our final cocktail featured smoky mezcal at its core, but married with a great maize-forward sweetness from the Nixta. I didn't taste much from the cheese, though.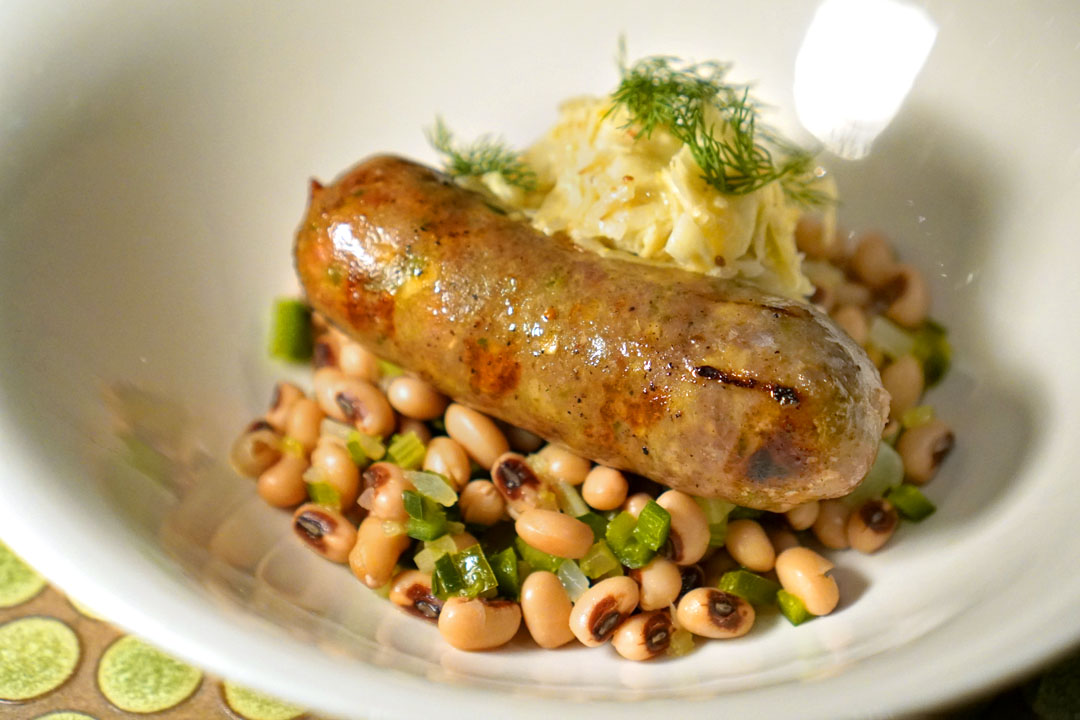 Smoked Cheddarwurst [$28.00]
| marinated black eyed peas, sauerkraut, honey mustard
As you probably know, I'm a sucker for tubed meat, so the cheddarwurst was undoubtedly calling my name. The sausage ate hearty and rustic, with flavors that were unapologetically smoky and savory. The cheddar was a worthwhile pairing, though I wish the cheese were meltier, more luscious. Meanwhile, the kraut and peas provided a welcomed respite from the potency of the wurst.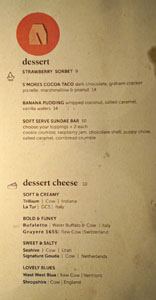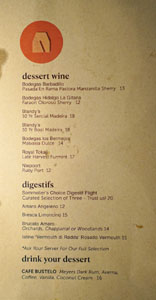 Dessert is a pretty straightforward affair, with three selections plus cheese, of course. Click for larger versions.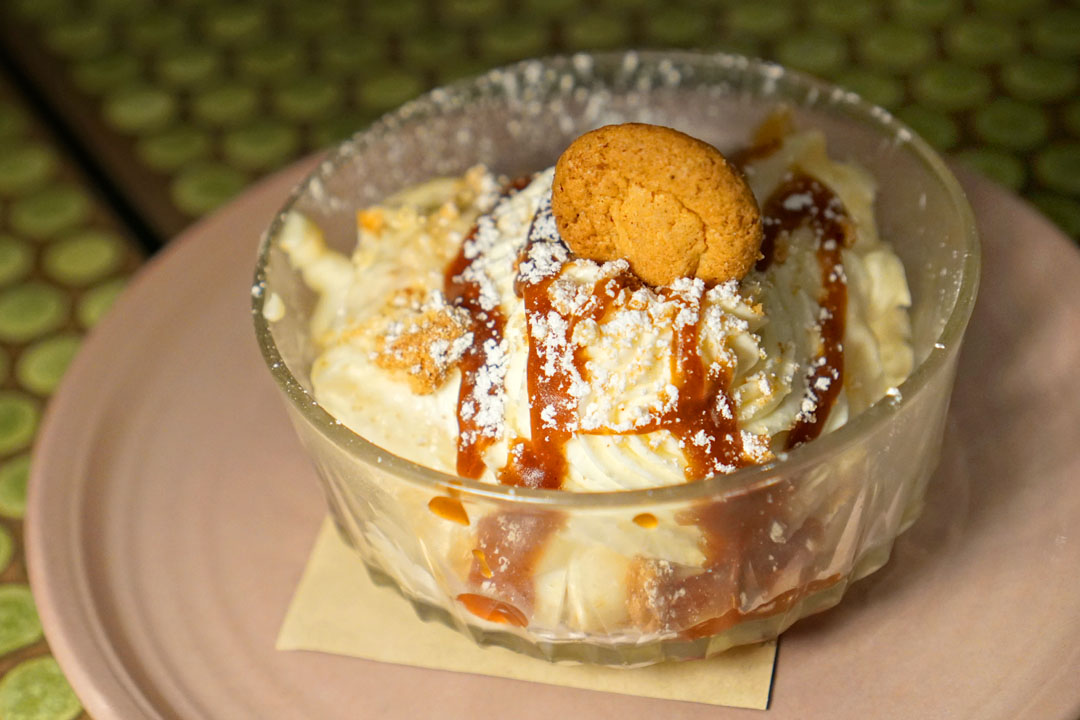 Banana Pudding [$14.00]
| whipped coconut, salted caramel, vanilla wafers
We opted for the banana cream pudding, one that combined the fruit with plenty of coconut, a marked butteriness, and a sugary caramel underpinning to delicious effect.
It was nice to catch up with my college compatriots, and I was generally pleased with my meal at Agnes as well, despite a couple gripes. The cooking of the American Midwest isn't oft celebrated, so it was heartening to see Kalb and company tackle the challenge. The kitchen did a good job reimagining the cuisine while still maintaining its key elements of comfort, familiarity, and nostalgia, and it all made for some interesting eating. I'm glad to have this place as another dining option in Old Pasadena.