Noma (Copenhagen, Denmark)
Noma Restaurant
Refshalevej 96, 1432 København K, Denmark
+45 32 96 32 97
www.noma.dk
Fri 08/11/2023, 06:15p-10:55p

As I mentioned in my
last post
, I recently traveled to Copenhagen with relatively little notice. The reason for the visit was because of Noma, arguably the most acclaimed dining destination on Earth by this point. A friend had secured reservations, and given that I'd never been before, I felt that this might be my only opportunity to dine there. It was basically a "now or never" situation, as earlier this year, it was announced that the restaurant would stop serving customers regularly at the end of 2024, instead pivoting to focus on culinary research and retail product development. Apparently, the shake-up was due to the belief that Noma's current business model is unsustainable in terms of putting out world-beating food at a "reasonable" price while still offering employees fair wages and some semblance of work-life balance.
In case you're not familiar with Noma, the restaurant was launched 20 years ago by Claus Meyer and Chef René Redzepi. It's most known for being the birthplace of New Nordic cuisine (a term Redzepi has come to loathe, curiously enough), which was spearheaded by the two back in 2004 when they held a symposium on the subject, during which time a manifesto was drafted that attempted to codify this then-novel style of cooking. Basic tenets associated with the movement have come to include an emphasis on seasonal, local product (often foraged); clarity, freshness, and focus in terms of taste; sustainability and health consciousness; the rediscovery of forgotten ingredients; and the incorporation of time-tested preservation methods. These principles have unquestionably shaped the landscape of haute gastronomy over the past 15 years or so, perhaps as a reaction to the modernist cuisine era that preceded it, and thus, given the impact that Noma has had, I absolutely felt the need to prioritize a visit.
About the Chef and a bit of history
: Redzepi was born in Denmark in December 1977, one of two non-identical twin sons of a Danish mother and an Albanian-Macedonian father. His parents worked as a cleaner and driver, respectively, and early on, the family lived on-and-off in a rural area around Tetovo, North Macedonia (then part of Yugoslavia), where the Chef and his brother Kenneth had to source much of their food themselves locally. At age 15, Redzepi left high school and decided to attend culinary school on a bit of a whim along with a friend, but he wasn't quite sure what he wanted to do at this point (he started out training as a waiter). After taking classes for six months, he found an internship at Philippe Houdet's Pierre André, a French eatery that had just opened in Copenhagen. He stayed at the restaurant for four years, and it was there where he first discovered his passion for cooking.
Redzepi's next move brought him to the then-Michelin three-starred Le Jardin des Sens in Montpellier in 1997, when he was just 19. He had a tough time there, and after dining at El Bulli in 1998, he was able to land a job there the following year. His experience in Spain expanded his view of fine dining beyond the confines of French haute cuisine, and following, he was able to
stage
at
The French Laundry
after meeting
Grant Achatz
, who trained at El Bulli for a few weeks. Redzepi later returned to Copenhagen and worked at Kong Hans Kælder, a longstanding bastion of high-end French cookery. In late 2002, the Chef was approached by food entrepreneur Claus Meyer to partner with him on the opening of a new restaurant, to be located at the Nordatlantens Brygge, a former seafood warehouse that was being converted to a cultural center.
Noma thus debuted in November 2003, drawing its name from a contraction of
nordisk mad
("Nordic food"). When the place first opened, the cuisine being served was rooted in French culinary tradition, but with a Scandinavian twist, and the restaurant was able to garner a Michelin star in 2004. Redzepi struggled mentally during this period, but really turned the page when Noma decided to fully devote itself to Nordic cooking. Despite a somewhat slow start, the accolades eventually followed. In 2006, Noma made its first appearance on The World's 50 Best Restaurants list, at the 33rd spot, and in 2007, it received its second Michelin star. Things really came to a climax in 2010, when the restaurant topped The World's 50 Best ranking. The feat would be repeated in 2011, 2012, and 2014, and Noma has never fallen below 5th place since then. In 2012, the team held their first pop-up, set inside Claridge's hotel in London from late July to early August (meant to coincide with a remodeling of the restaurant).
However, Noma went through a bit of a rough patch around early 2013, when it suffered a norovirus outbreak and flirted with bankruptcy. The relationship between Redzepi and Meyer was also strained, and in June that year, the bulk of Meyer's majority stake in the business was sold to Marc Blazer of Overture Investment Partners for an undisclosed amount. Following this re-org, the Noma team held residencies in Tokyo (2015) and Sydney (2016), and the restaurant would close in February 2017 in order to reinvent itself. Another pop-up operated in Tulum, Mexico from April to May 2017, and was the most ambitious yet. This was followed by Under The Bridge, a more casual pop-up that took place underneath the Knippelsbro in Copenhagen from July to September 2017, run in collaboration with wine suppliers Rosforth & Rosforth.
Set in an "urban farm" in Christiania, Noma 2.0 would open its doors in February 2018 to considerable anticipation. New partners on board for this iteration included FOH specialists Lau Richter and James Spreadbury (neither of whom are still around), and dishwasher Ali Sonko, who'd been with the restaurant since the beginning. Blazer, meanwhile, sold his stake back to Redzepi in 2019, and also that year, Noma CEO Peter Kreiner (who joined in 2007) was made partner. In 2020, during the pandemic, the restaurant operated as a short-lived burger/wine bar that proved to be wildly popular. September 2021 saw Noma achieve its long-awaited third Michelin star, and a month later, it was named #1 on The World's 50 Best list once again (it was #2 in '19, and didn't qualify in '17 or '18 due to closure, while there was no ranking for '20). Mostly recently, a short Noma pop-up took place in New York in May 2022, while a much more significant residency was held in Kyoto from March to May this year.
Unsurprisingly, Redzepi and company have also gotten involved in a number of other projects. The most notable of these is probably Amass, opened in 2013 by former Noma CdC Matthew Orlando; sadly, the highly-lauded place shuttered late last year. Redzepi was a partner in 108, which was run by Kristian Baumann, another Noma alum. 108 actually started as a pop-up at Noma when the team was cooking in Sydney, but had its proper opening in July 2016. It closed in 2020 as a result of the pandemic, but the space was soon transformed into POPL Burger, a burger joint inspired by the hamburgers that Noma was serving that summer.
In addition, Redzepi is a partner in Barr, which occupies the former home of Noma at Strandgade 93; it opened in July 2017, and is helmed by Thorsten Schmidt. The Chef also invested in Sanchez (open November 2017), the eponymous Mexican eatery from former Noma Pastry Chef Rosio Sanchez, who's known for her Hija de Sanchez taqueria mini-chain as well. Redzepi was involved in Inua in Tokyo, opened in June 2018 by former Noma R&D head Thomas Frebel (another pandemic casualty), and has also invested in Hart Bageri, a bakery opened in October 2018 by Richard Hart (ex-Tartine).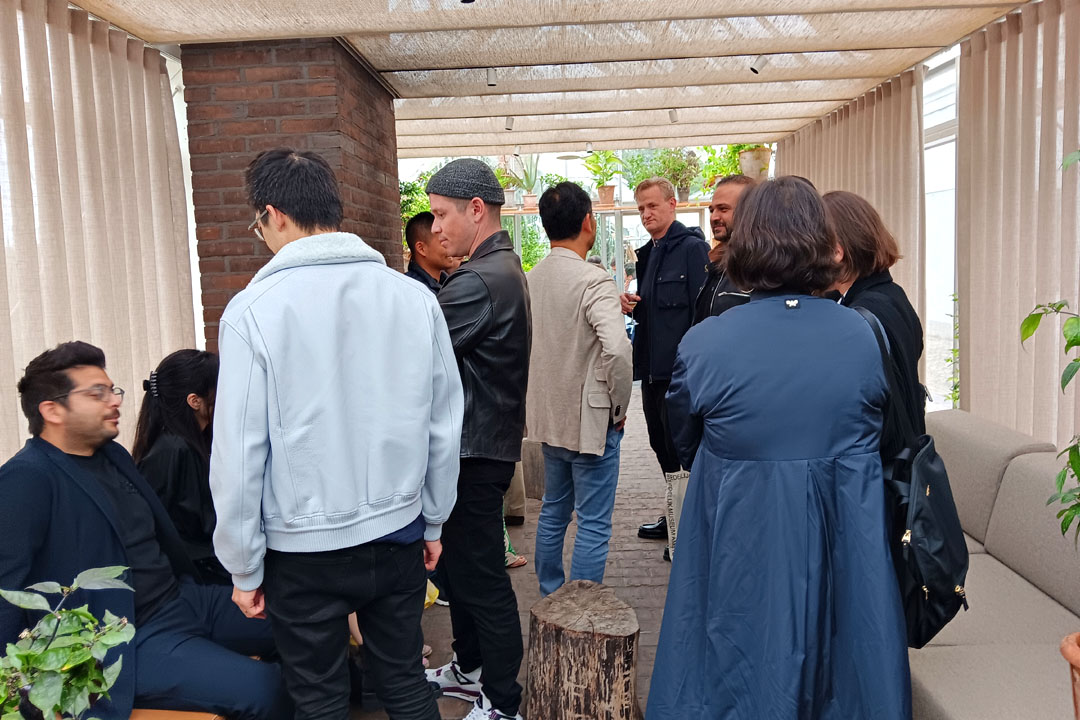 After exiting my taxi and checking in, I was led into a greenhouse of sorts to mingle with some of my fellow diners. It was a cosmopolitan bunch, as you'd expect at a restaurant of Noma's stature.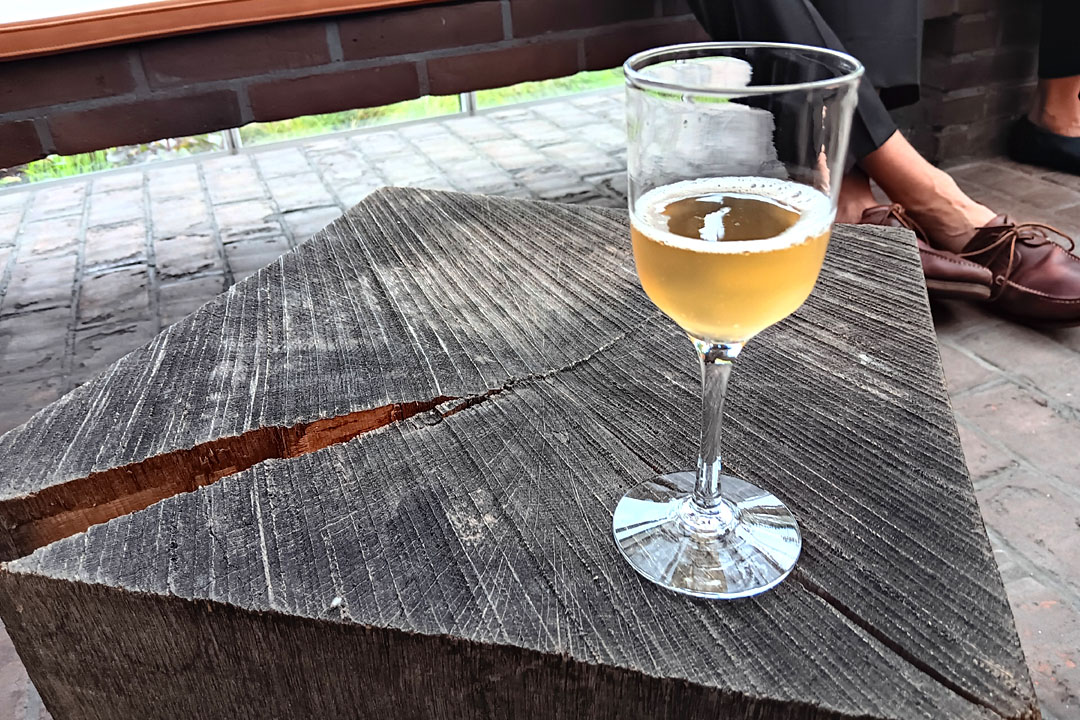 I was then handed a welcome beverage. It was a refreshing, energizing cider of some sort, but unfortunately, I don't recall the details.

Roughly 10 minutes later, we were let out in small groups, and made our way past a couple more greenhouses--one of which was Noma's famed test kitchen (I think I saw Redzepi in there)--and plenty of vegetation.

We then approached this curious-looking structure, which was the actual restaurant.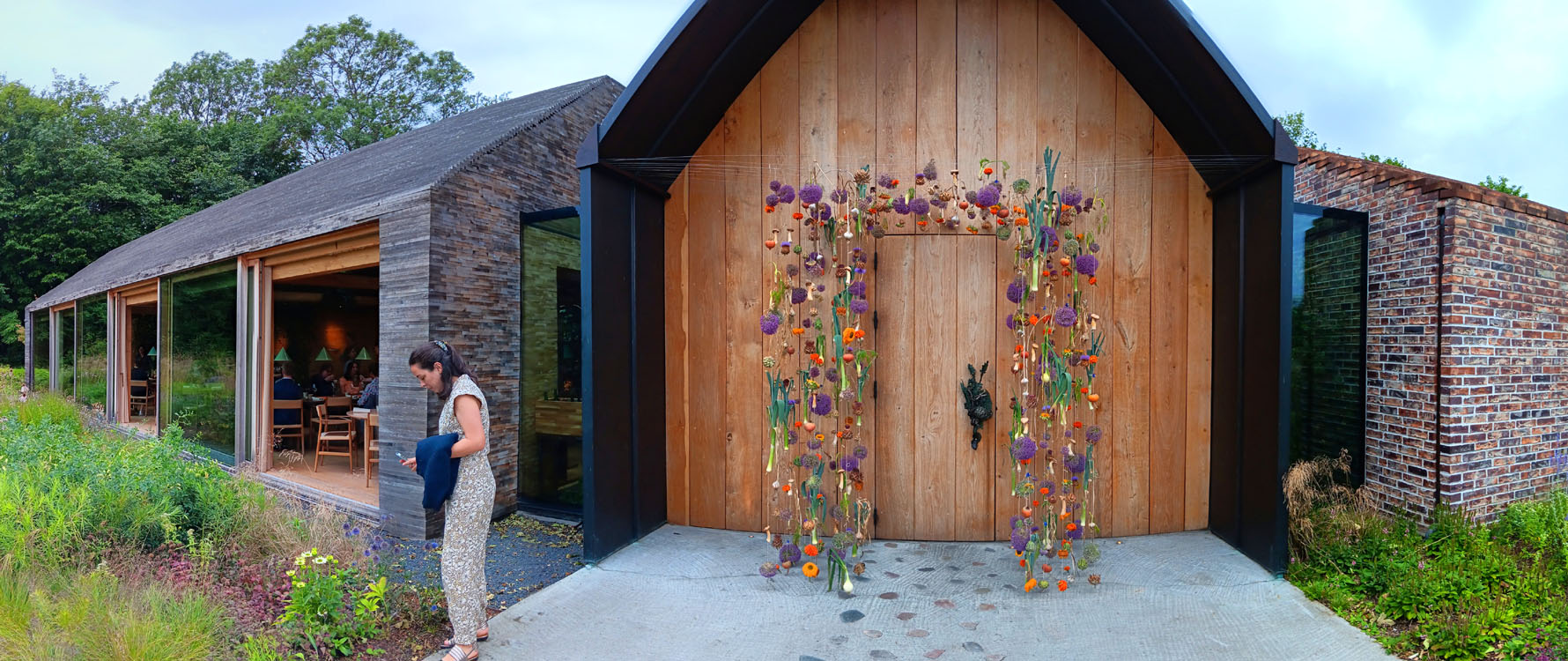 And here we see Noma's entry door, surrounded by all manner of flowers and vegetables. And yes, the decorations do change seasonally.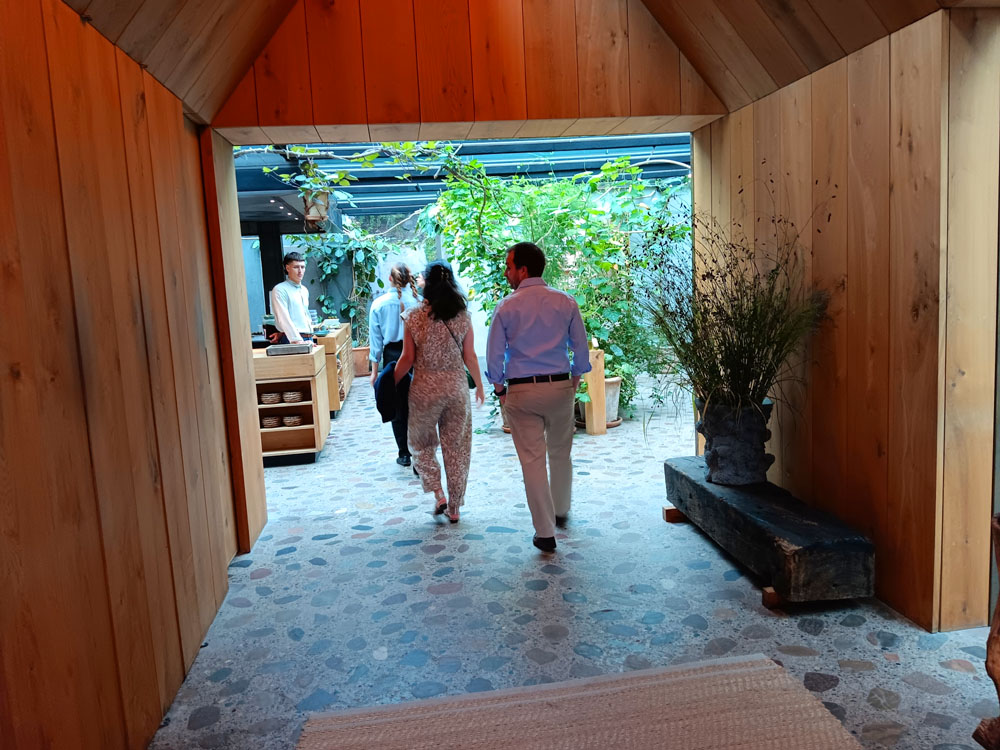 Open the door, and step inside...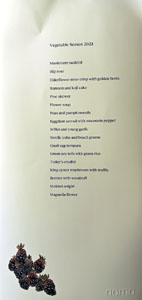 Pictured above is the evening's menu, spanning 17 courses and priced at a pre-paid 3950 kr ($586.62) per person. We enjoyed the plant-based Vegetable Season menu, which runs from June to September. There's also Game & Forest Season from October to December, and Seafood Season from January to May. In terms of beverages, a wine pairing is offered at 2000 kr ($297.02), and a juice pairing at 1500 kr ($222.77). However, I chose to order a bottle off of Noma's considerable
wine list
to pair with my dinner. Click for a larger version.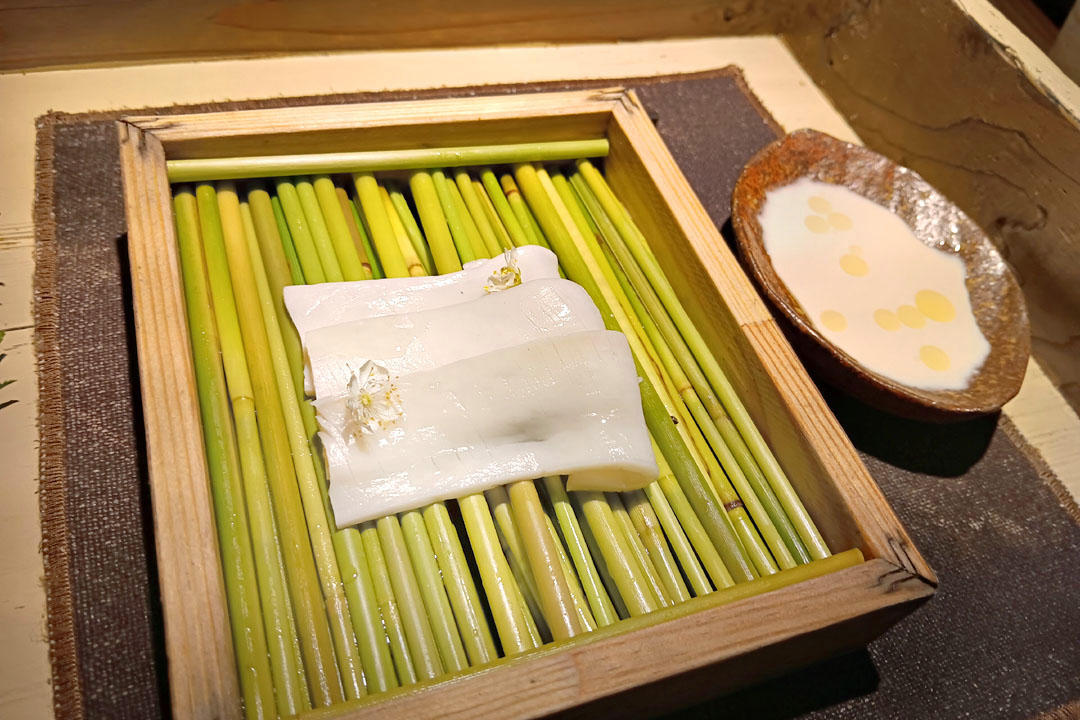 1: Mushroom sashimi
The king oyster is arguably my favorite type of mushroom, but I'd never had it done up like this before. What hit me first was the consistency of the eryngi, oh-so supple and silky, a real textural delight that was quite an achievement. I also loved the floral notes imparted by the meadowsweet flower, which worked way better than I thought they would with the gentle musk of the mushroom. Finally, what really sealed the deal was that sauce on the side; made of hazelnut milk and elderflower oil, it imparted a creamy depth and dimension to the dish, with intermittent pinpoints of piquancy. A nuanced yet somehow profound start that really served as a statement of intent for the rest of the meal.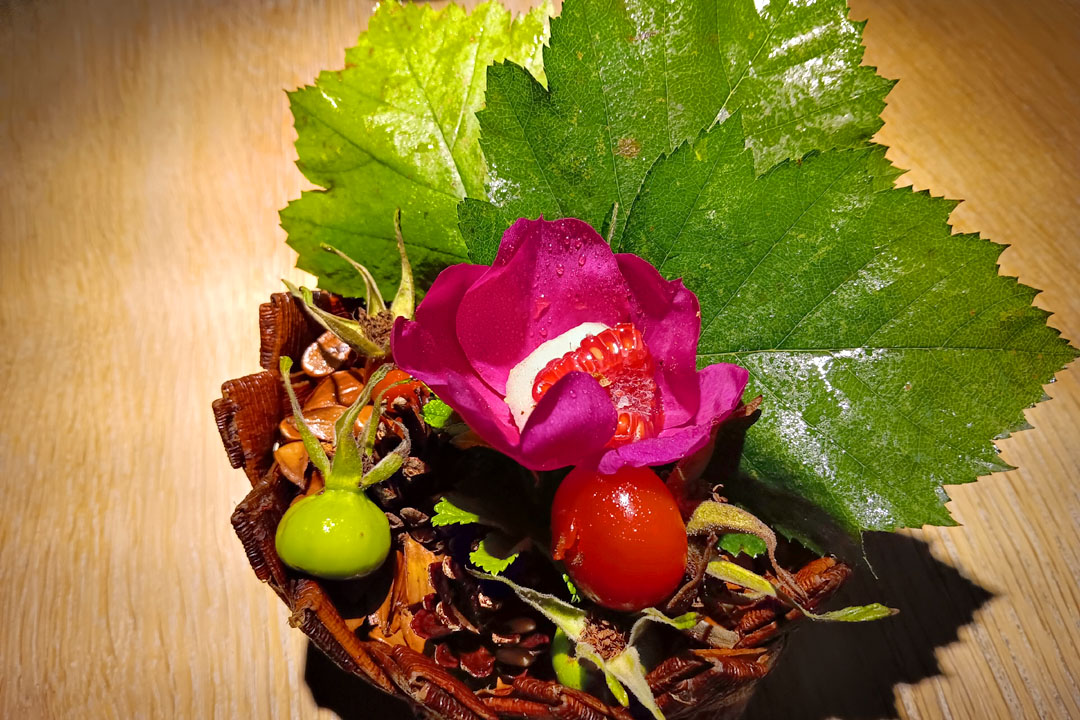 2: Hip rose
Foraged beach rose perked up the palate with its sweet, floral flavors, juxtaposed against the tartness of white currant and raspberry.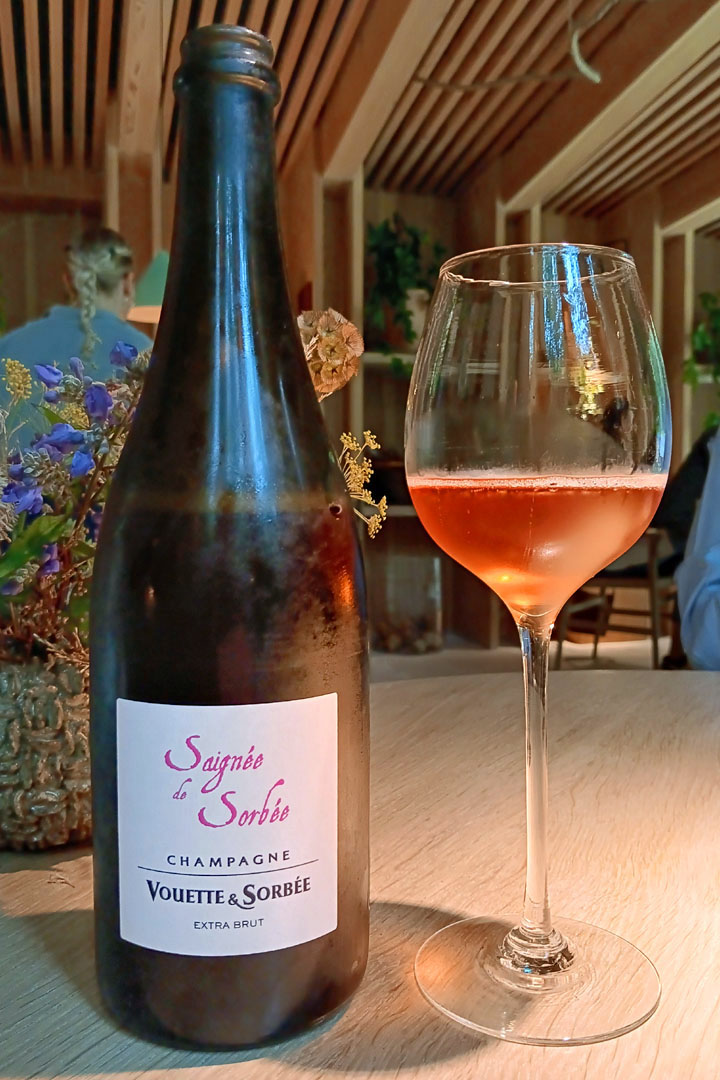 To go along with my meal, I opted for a bottle of the
2012 Saignée de Sorbée Rosé, Bertrand Gautherot [2100 kr ($311.88)]
, from producer Vouette et Sorbée. The Champagne boasted a powerful nose filled with red fruit, caramel, oxidation, and sour plum. On the palate, I got pert
suanmei
-esque elements, joined by more sherried notes, along with a savory, nutty undercurrent and just a hint of anise. As the wine progressed though the meal, it actually showed off more oxidation and more fruit, and became even richer, even more harmonious. Lovely.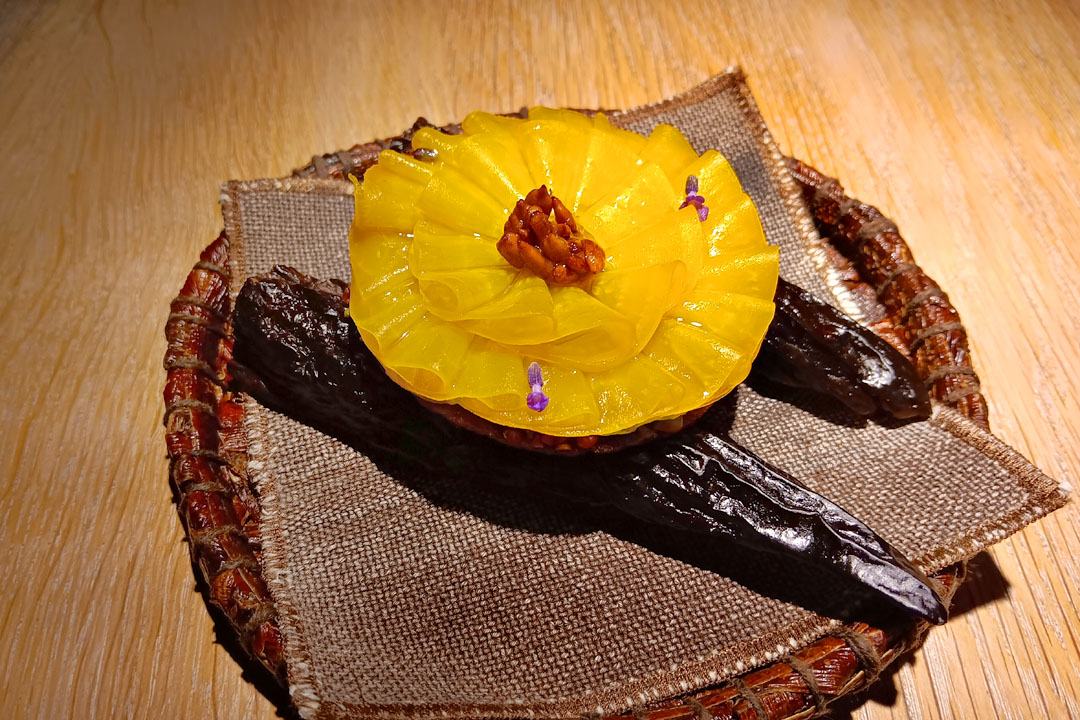 3: Elderflower miso crisp with golden beets
Regular readers will know that I'm no fan of beets, but I can safely say that this was one of the best preparations I've had. The earthy sweetness of the root veggie was conveyed so elegantly, but the heart of the matter was really that one-two punch of smoked pumpkin paste and the miso crisp, which provided this fantastic nutty, bitter, umami sensation that contrasted the beet beautifully, all while providing some textural variation as well.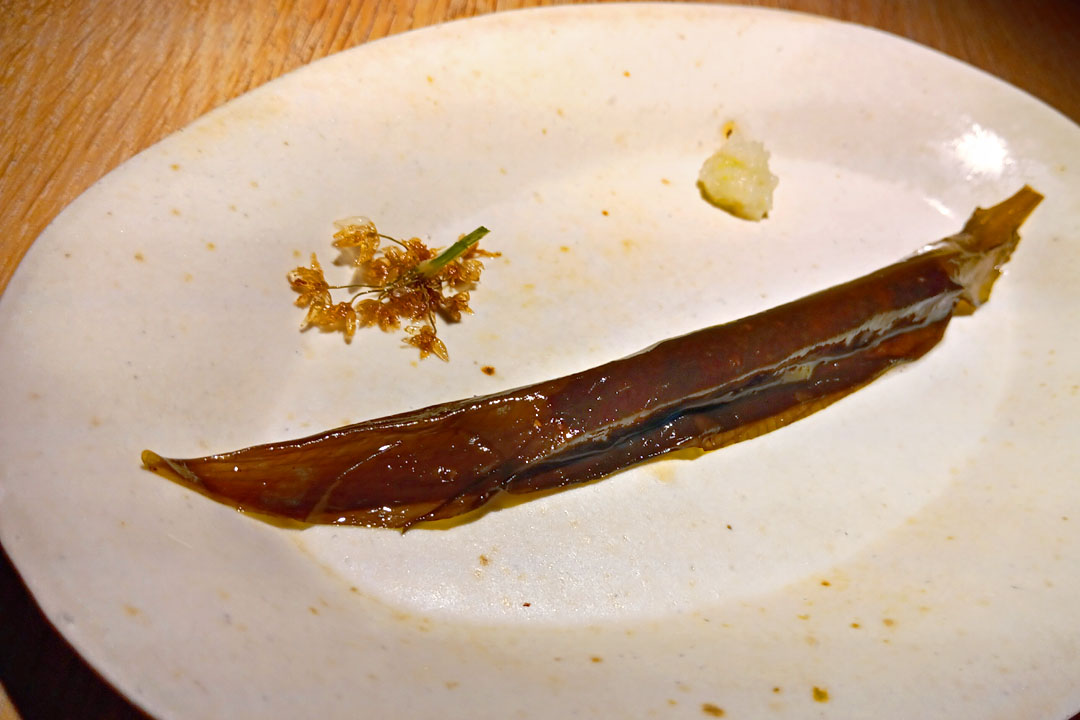 4: Ramson and koji cake
This rather unusual looking course comprised a barbeque barley cake, sheathed in pickled ramsons leaf, with ramsons flowers and wasabi paste. I was impressed by the level of smoky, savory, BBQ-esque depth the kitchen was able to achieve, which made for some hearty, almost "meaty" flavors that I found super satisfying. The barley also contributed a superb backbone of nuttiness to the dish, while the pickled leaf imparted a countering sweet-n-sour, and the wasabi a smidge of zippiness to perk things up.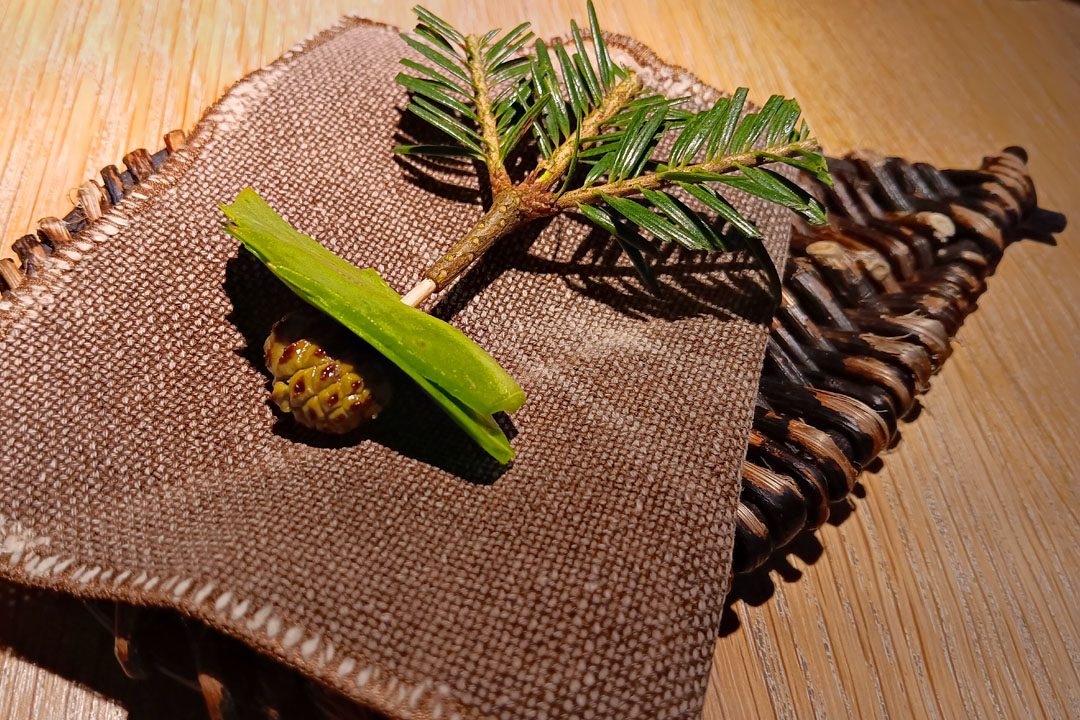 5: Pine skewer
An immature pine cone was teeming with this resinous, yet somehow sweet astringency that really packed a punch, and tasted so clearly of the forest. Think intense and in-your-face, yet with a real refinement.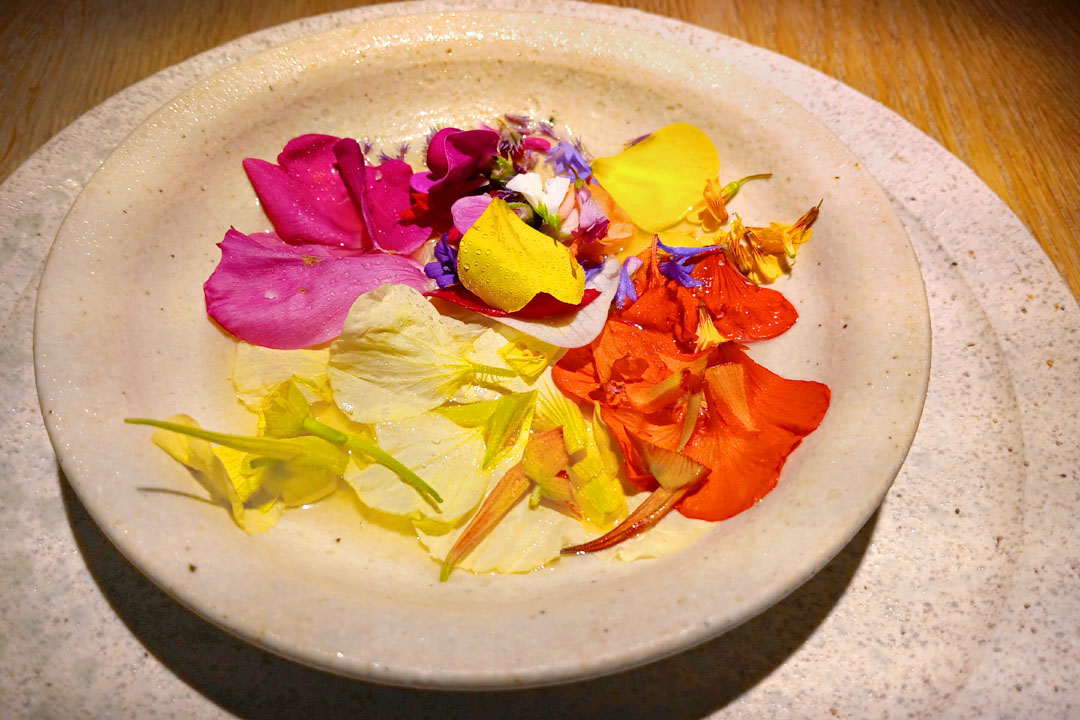 6: Flower soup
Flowers from the restaurant's grounds were scattered (seemingly haphazardly, but probably not) in a magnolia- and ginger-boosted tomato broth. I loved the dish's wonderfully floral, sweet tang, and how it evoked the essence of the garden in such a patent manner. It was just so invigorating to eat this--there wasn't much weight to the course, but there was a lot of substance.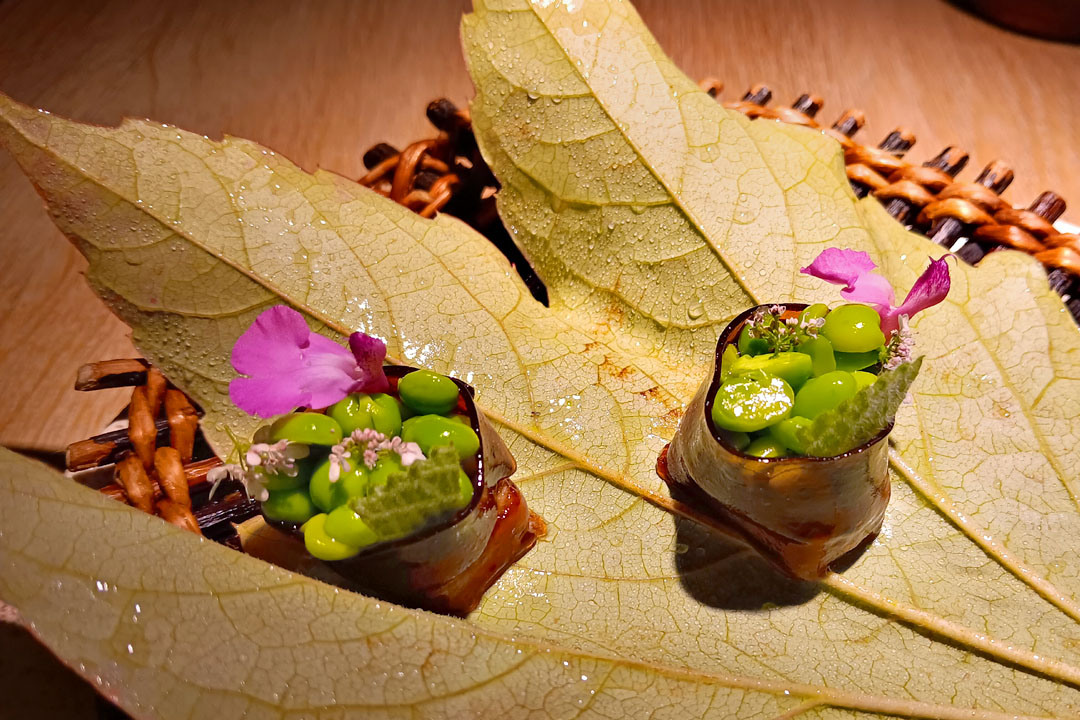 7: Peas and pumpkinseeds
I'm a sucker for peas, but I've never had 'em like this before, wrapped up in white currant leather, over a base of pumpkin purée, and garnished with flowers. The crux here was that reciprocity between the bright, crunchy peas and the super sugary, sticky leather, which walked a fine line, and was just on the verge of being overwhelming.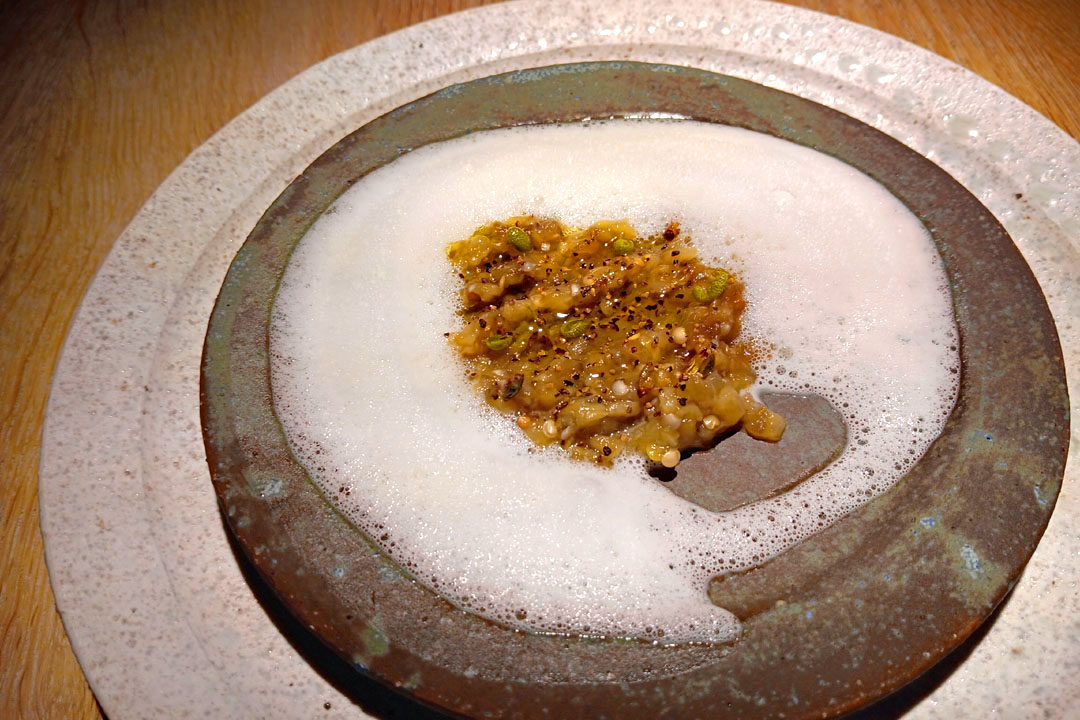 8: Eggplant served with mountain pepper
I'm also not a huge fan of eggplant, but this was another strong contender for the best I've had. The fruit itself was ember-roasted, and thus displayed a fantastic smoke that meshed seamlessly with the prickly spice of sansho. Even better than the pepper, though, was that jasmine tea-Danish cheese sauce, which was so light, so airy, but also brimming with lactic-floral notes that really served as the perfect finishing touch. There was some pretty masterful interplay going on here.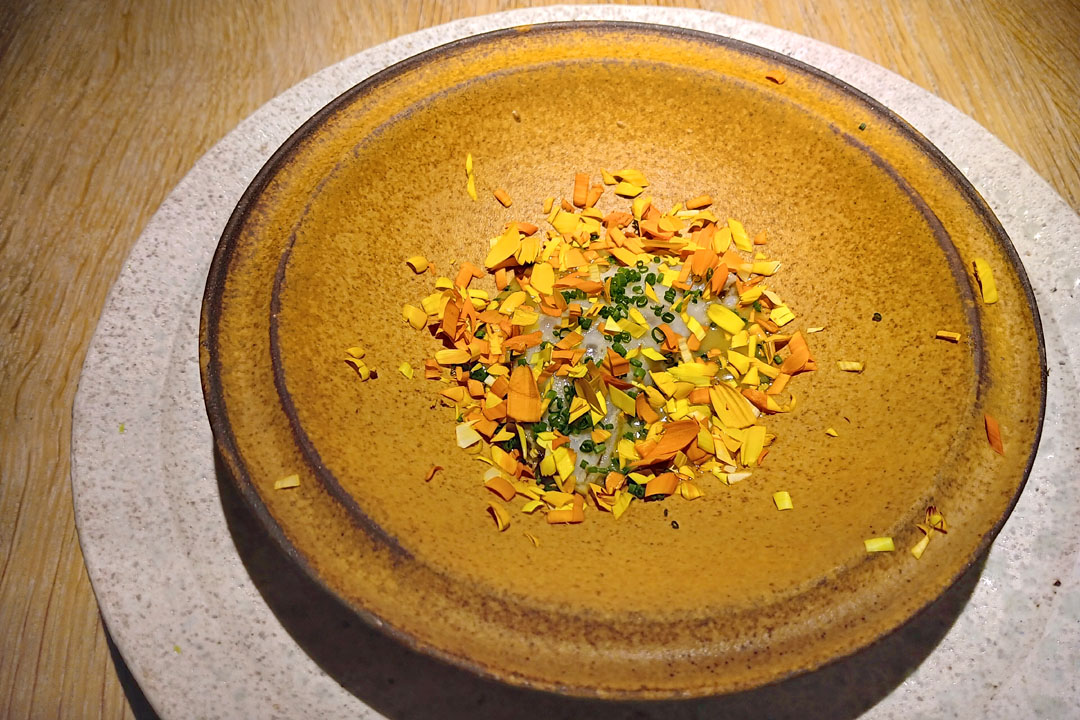 9: Millet and young garlic
A delightfully-textured millet pancake was paired with young garlic, miso-smoked corn sauce, and sprinkled with marigold flowers. This was a super clever course thanks to how effortlessly the nuttiness of the pancake married with the sheer amount of florals present, with the miso-corn working to impart the necessary heft.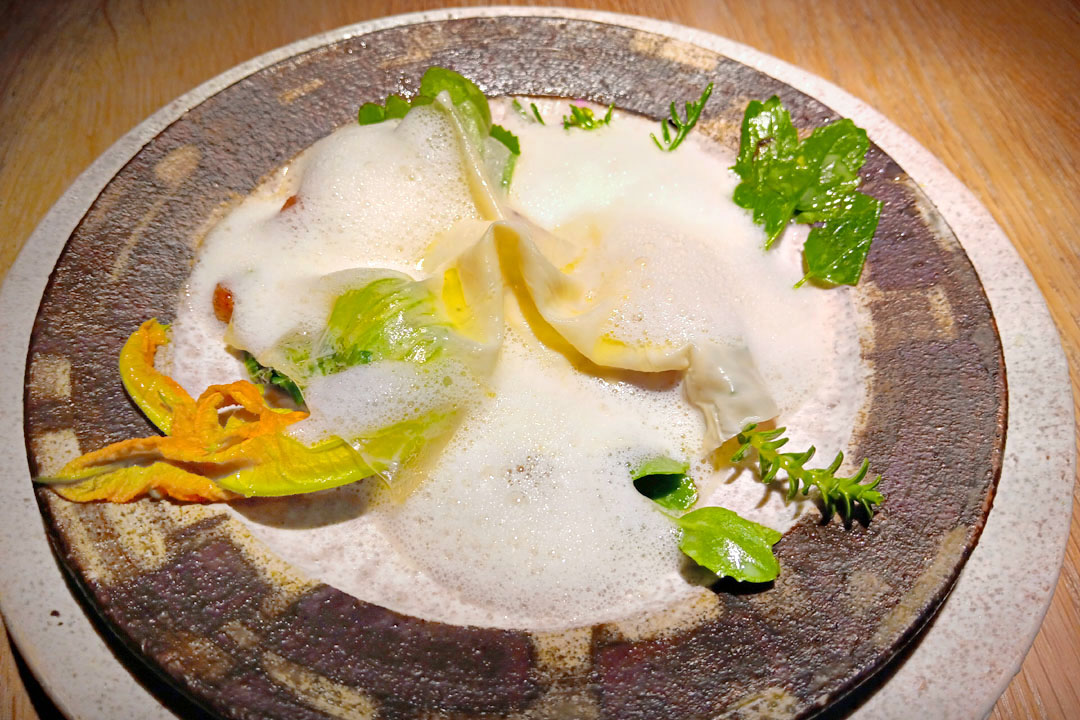 10: Nordic yuba and beach greens
Comprised of Danish soy milk skin, chanterelles, shishitos, beach greens, gooseberries, and squash blossom, this next course may have looked a bit of a mess, but was one of my favorites of the meal. The key was how easily the subtly lactic taste of the yuba coalesced with the floral, fresh, herbaceous components on the palate, the berries providing a hint of overarching fruitiness. However, the best thing here just might've been the shishito peppers, with their focused, vegetal heat that really worked as the perfect accent piece. I liked this way more than I thought I would, and in fact, I can safely say that this is now my favorite yuba dish ever.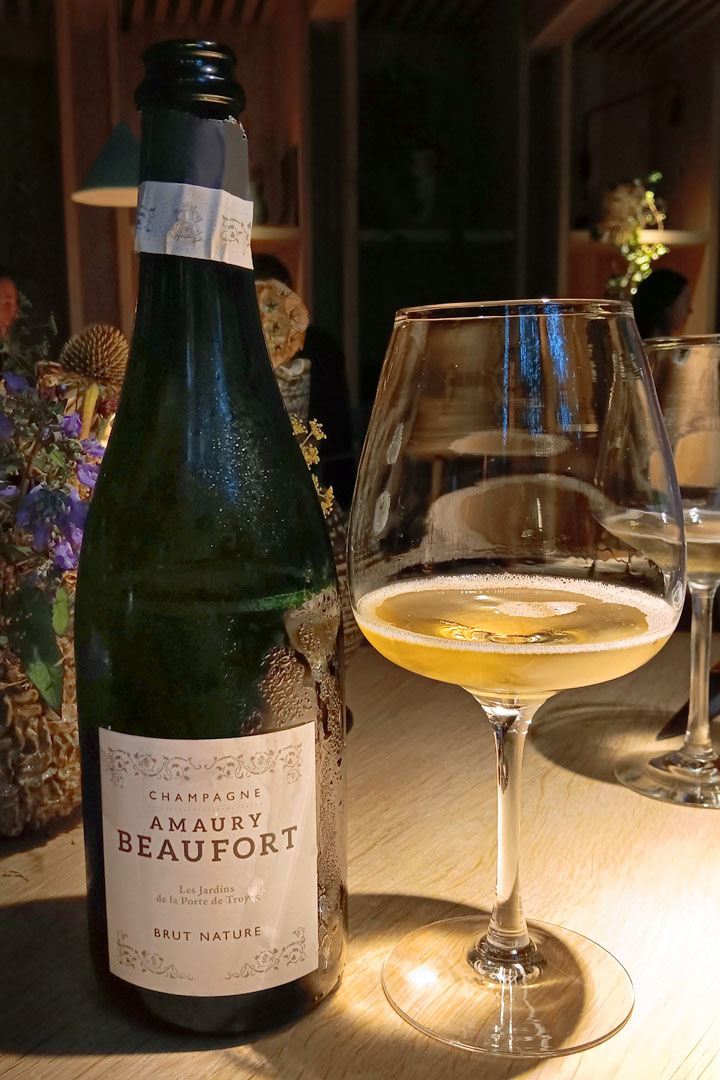 I ended up sharing my wine with a fellow at another table, and he returned the favor with a pour of his
2018 Le Jardinot, Amaury Beaufort [2000 kr ($297.02)]
. The wine showed off a nose of sweet brioche and subdued red fruits, while taste-wise, I got a healthy dosing of minerality to go along with smidges of citrus and more of those fruity, floral elements. A lovely Champagne that I wouldn't have minded exploring further.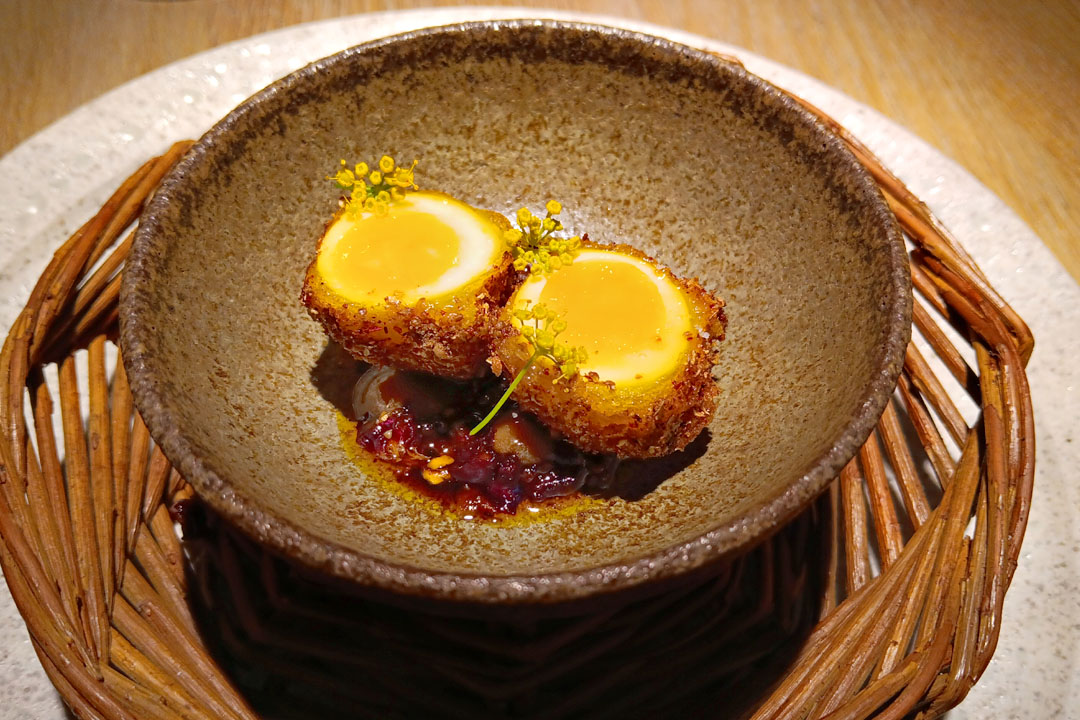 11: Quail egg tempura
Given the egg slut that I am, it shouldn't be too surprising that this was another highlight, and probably the strongest preparation of quail egg that I've had. The eggs were smoked, then fried, giving them a wonderfully creamy on the inside, crispy on the outside texture. They were paired with rose, tomato, smoked pumpkin, and chili, and this is where the magic really happened, since those ingredients made for a sweet, savory, unabashedly nutty heat that almost reminded me of Chinese chili crisp.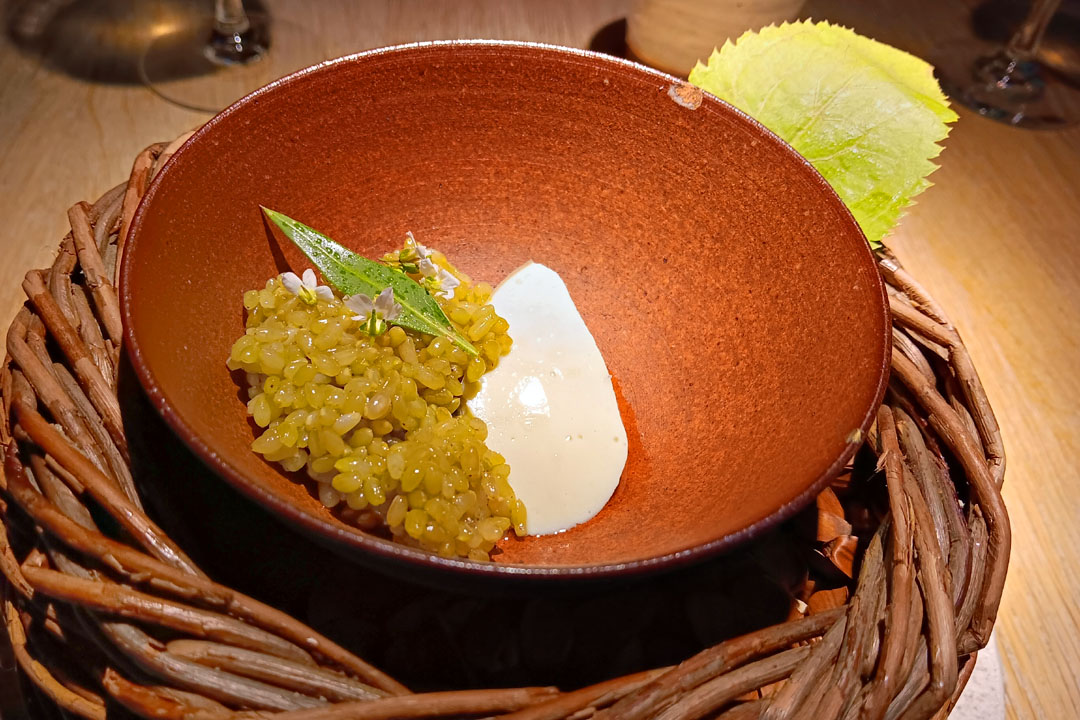 12: Green soy tofu with green rice
The next dish tasted of Japan filtered through a Nordic lens, so I'm assuming that the team must've been inspired by their recent pop-up in Kyoto. I was delighted by the texture on the rice, which managed to be simulatenously firmer and chewier than I was expecting. The rice played foil to that silky dollop of tofu, while complementary flavors of sencha and rose danced with what seemed like wasabi.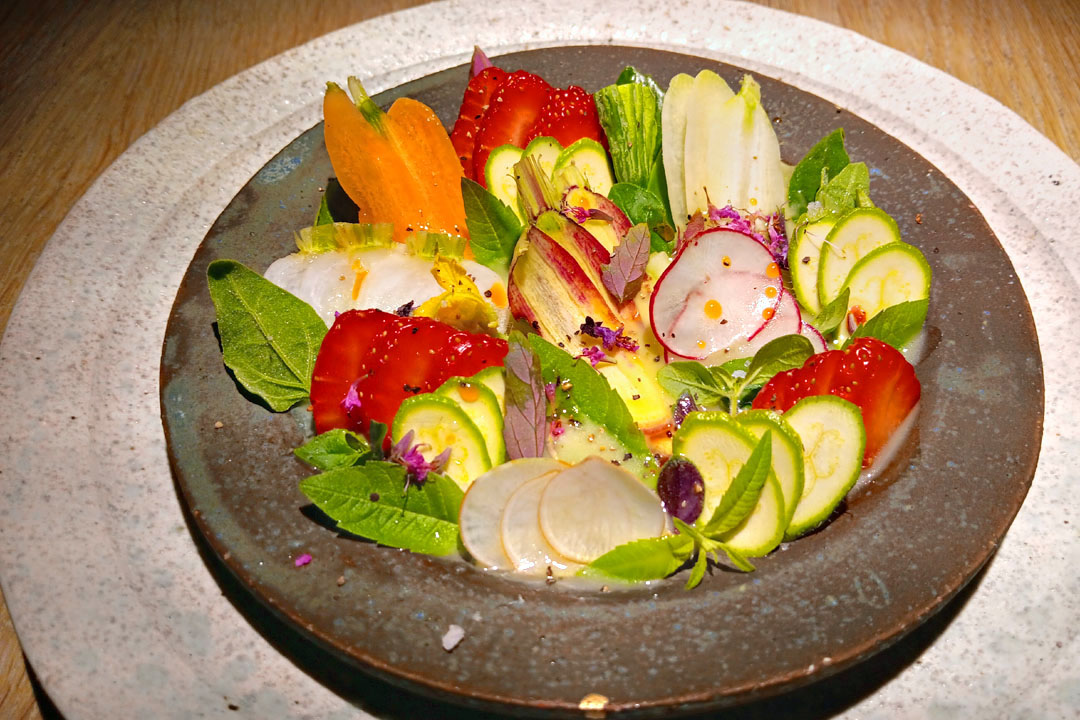 13: Today's crudité
And here we come to undoubtedly the schmansiest crudités platter I'd ever encountered. We had a hodgepodge of raw produce, all vibrant and vegetal and sweet, brought together by smoked tomato butter set in a sort of oil. The dish's light, bright flavors really cleared the way for our next course, and was simply a joy to eat.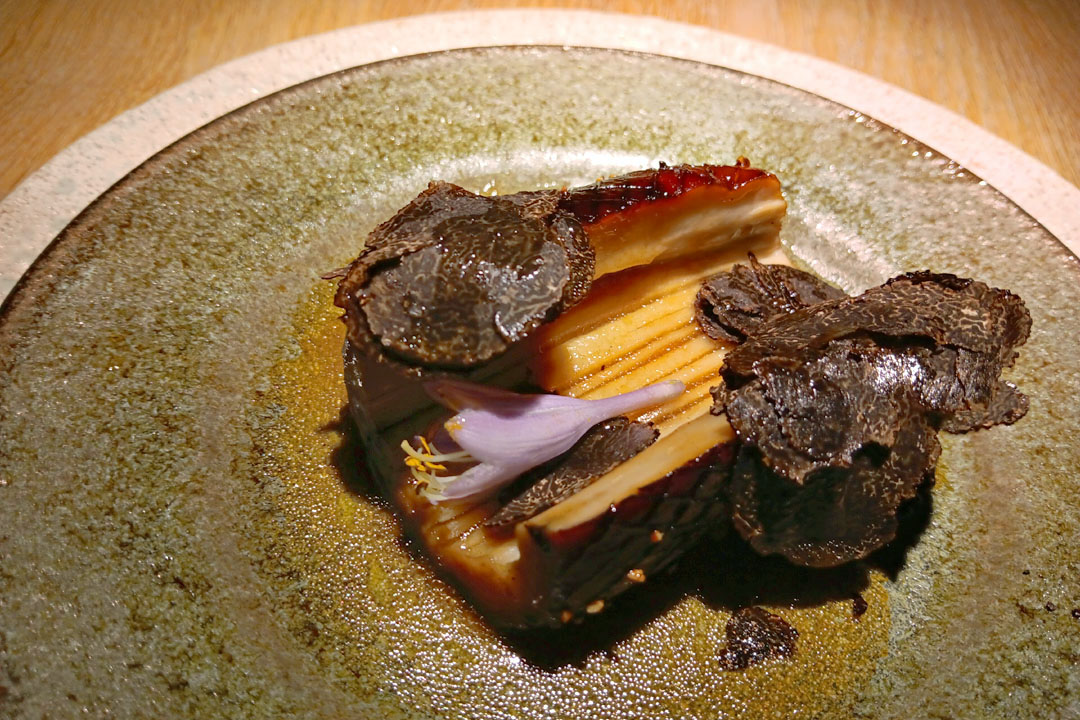 14: King oyster mushroom with truffle
The evening's pièce de résistance was eringi once again, this time grilled, sliced using a cutting technique that the team learned in Kyoto, and served with black pepper and black truffle. That Japanese knifework was some pretty stupendous stuff, since it resulted in a texture that was both meaty and substantial, yet finespun and almost delicate. I also reveled in the woodsy, earthy, smoky qualities of the mushroom, heightened even more by zingy hits of pepper, and of course, those musky slices of truffle made things all the better. When I had the king oyster sashimi above, I was thinking that it might be the best preparation of the mushroom I've had, but nope, it's this.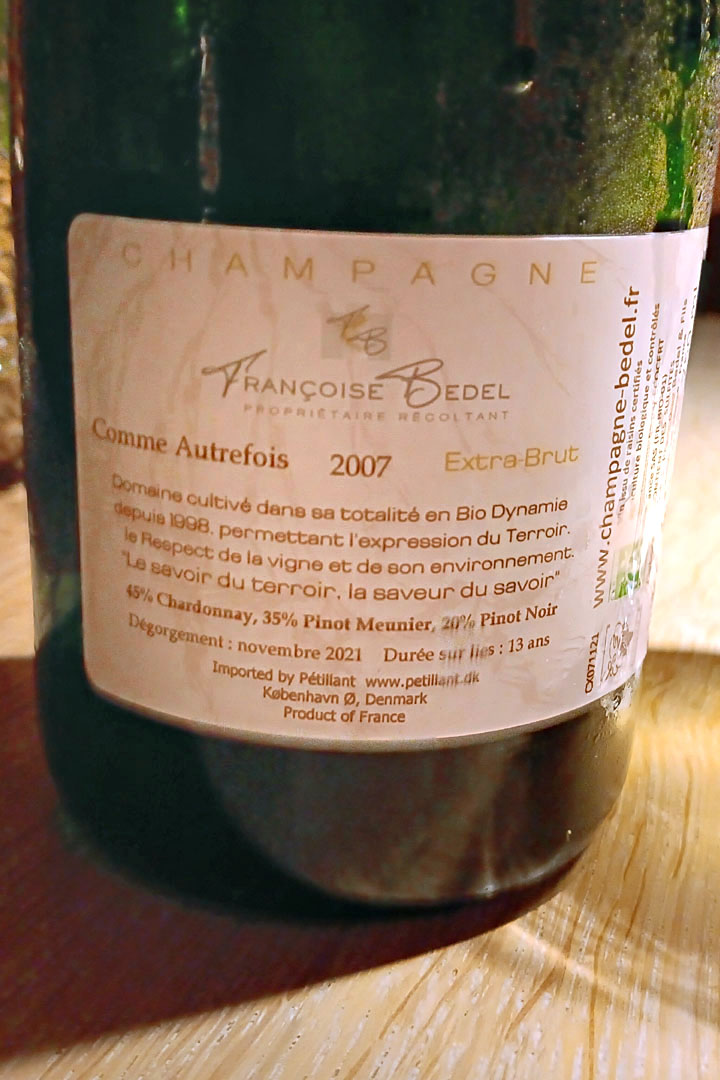 The kind fellow who gifted me the Champagne above also followed up with a pour of his
2007 Comme Autrefois, Françoise Bedel [4000 kr ($594.05)]
. The wine was quite something, showcasing a bouquet filled with yogurt, brioche, and oxidation. On the tongue, think loads of honey and caramel and yellow fruits, undergirded by more oxidative nuances--really neat. Do note that I failed to get a usable photo of the front of the bottle, so all we have is the back label.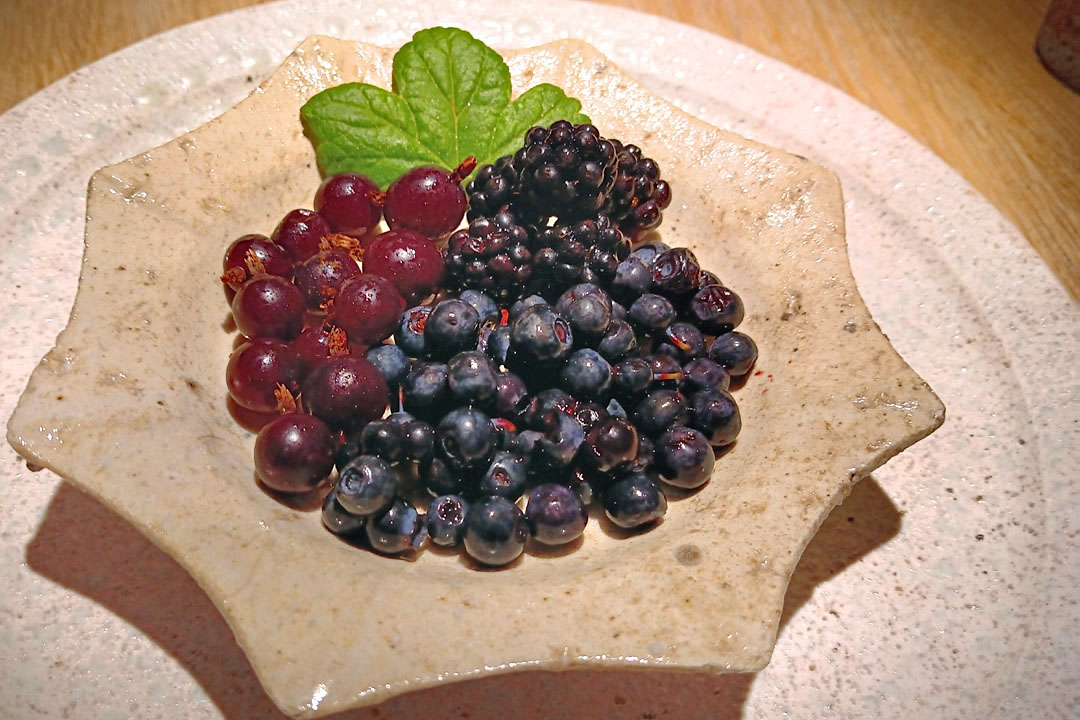 15: Berries with woodruff
For our first dessert, we have a tart-n-tangy three-way of blackberry, blueberry, and gooseberry, set against a spicy-sweet, grassy woodruff cream.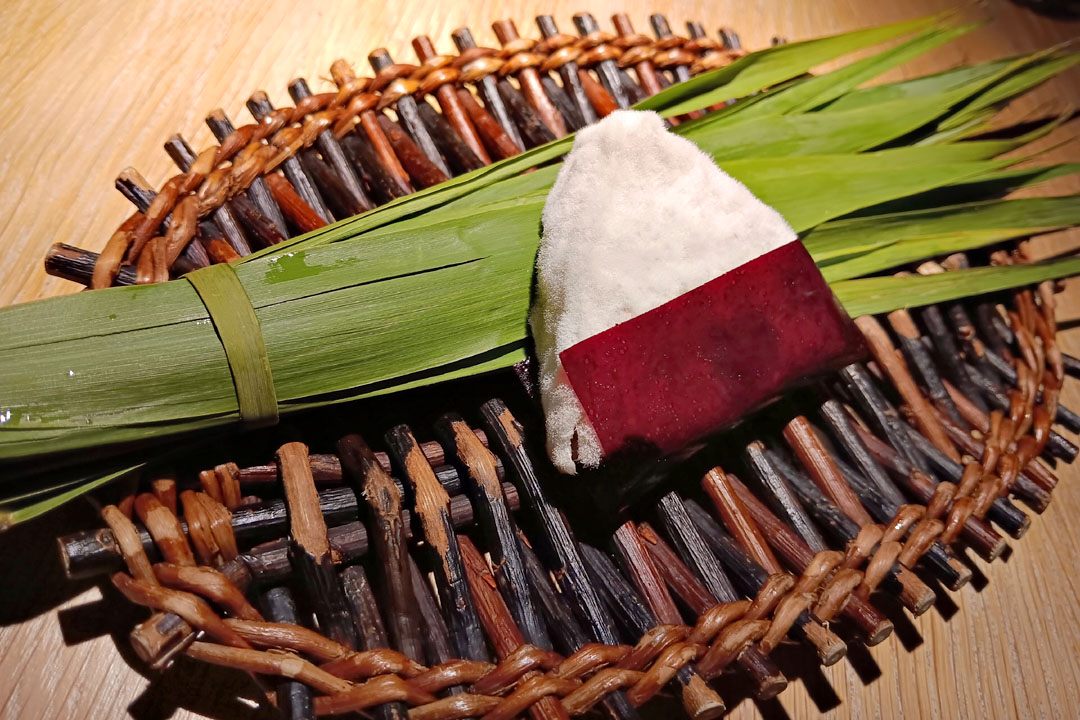 16: Molded onigiri
This ode to Japanese rice balls consisted of Danish bitters ice cream, barley koji, and black currant leather. I loved the ice cream's almost "fuzzy" texture, while the dessert's creamy, nutty flavors were perked up by the fruity tang of the blackcurrant. Definitely a fun take on a Japanese staple.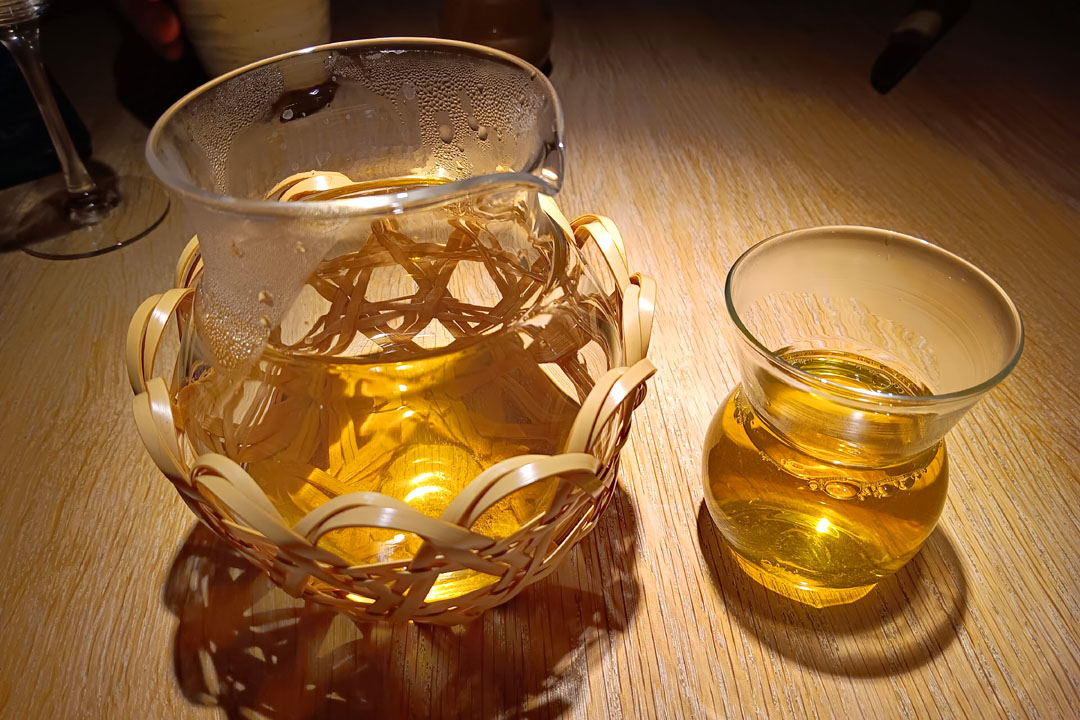 At this point, I also had some
tea with lemon verbena [75 kr ($11.14)]
, a citrusy yet roasty concoction that made sense when taken alongside our sweets.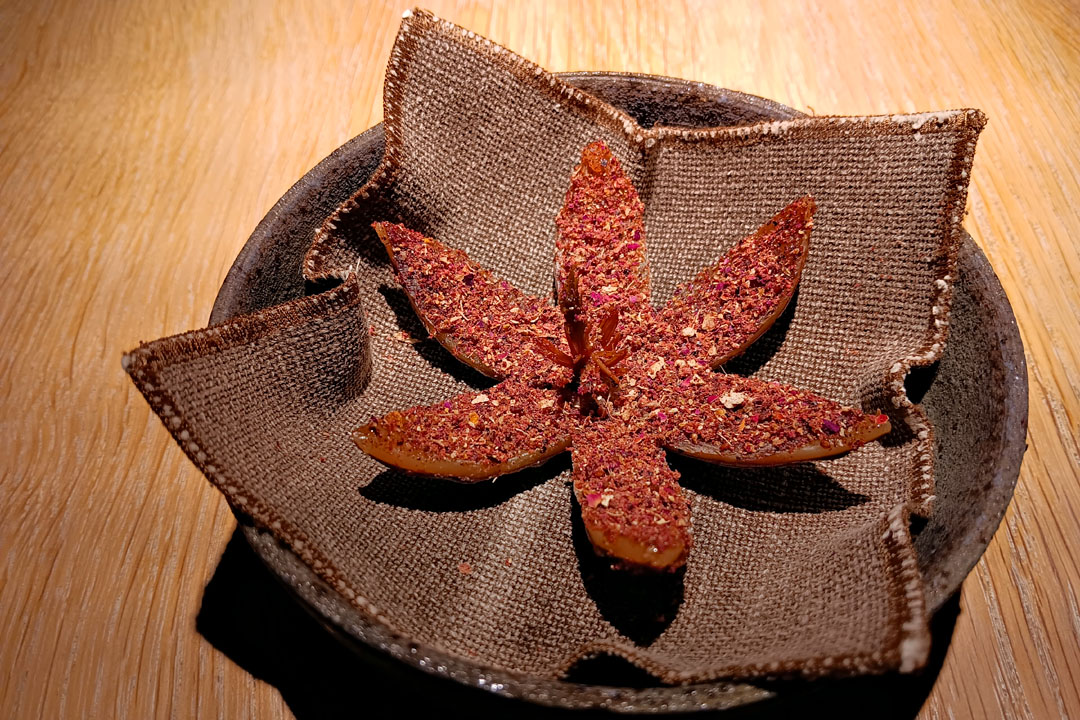 17: Magnolia flower
Our final course was a rather visually striking preserved magnolia, with saffron, caramel, and Mexican chocolate. I was impressed by the texture that the team was able to achieve on the flower, and the overall effect was like sweetly-spiced, chocolate-covered dehydrated oranges.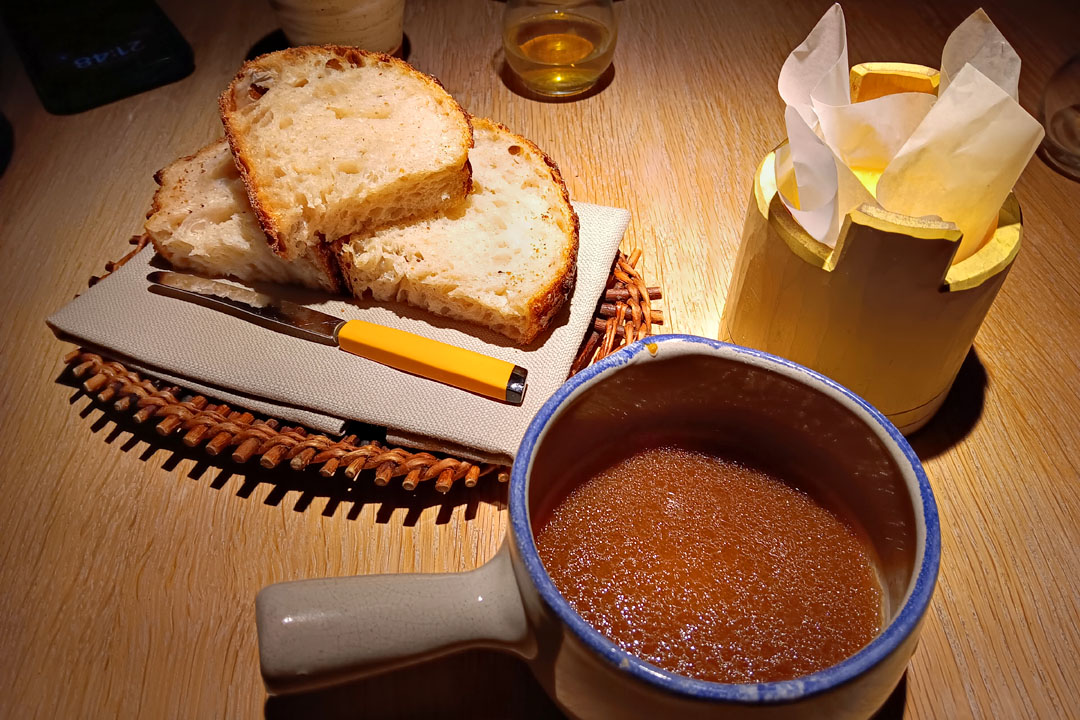 I wasn't quite full by the end of the meal, so I requested some bread, and what I was given was some of the best I've had all year (unsurprisingly--this isn't a place where they'd half-ass the bread). I was impressed by its perfectly crisp crust and pillowy crumb, but the two accoutrements were also notable: a heady mushroom broth that I eagerly sopped up with the bread, and a wonderfully soft, slick, salty butter.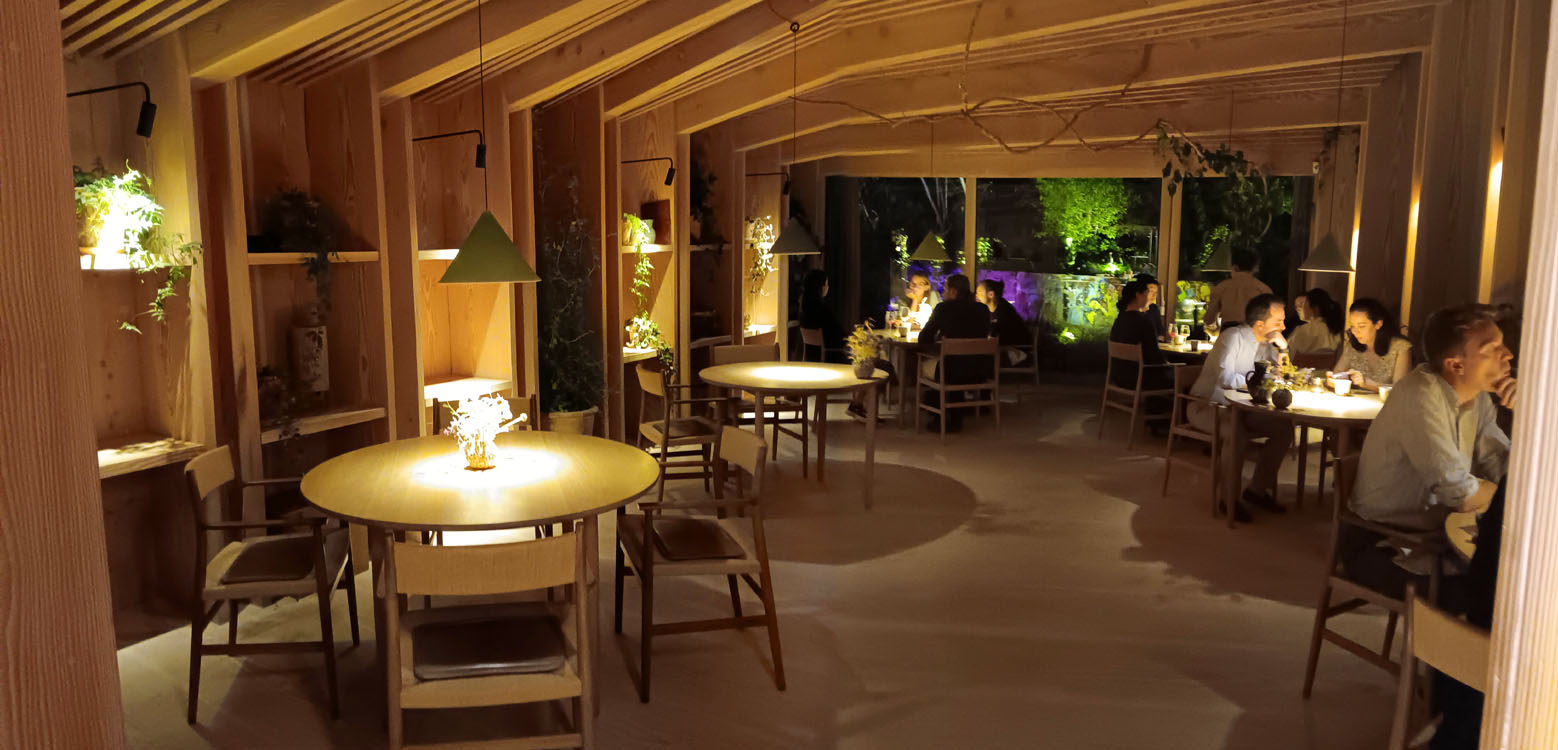 Here we see the dining room where I was seated (the smallest of the three), swathed in what I believe was oak. I'm assuming they're going for more of that
hygge
look, and it works.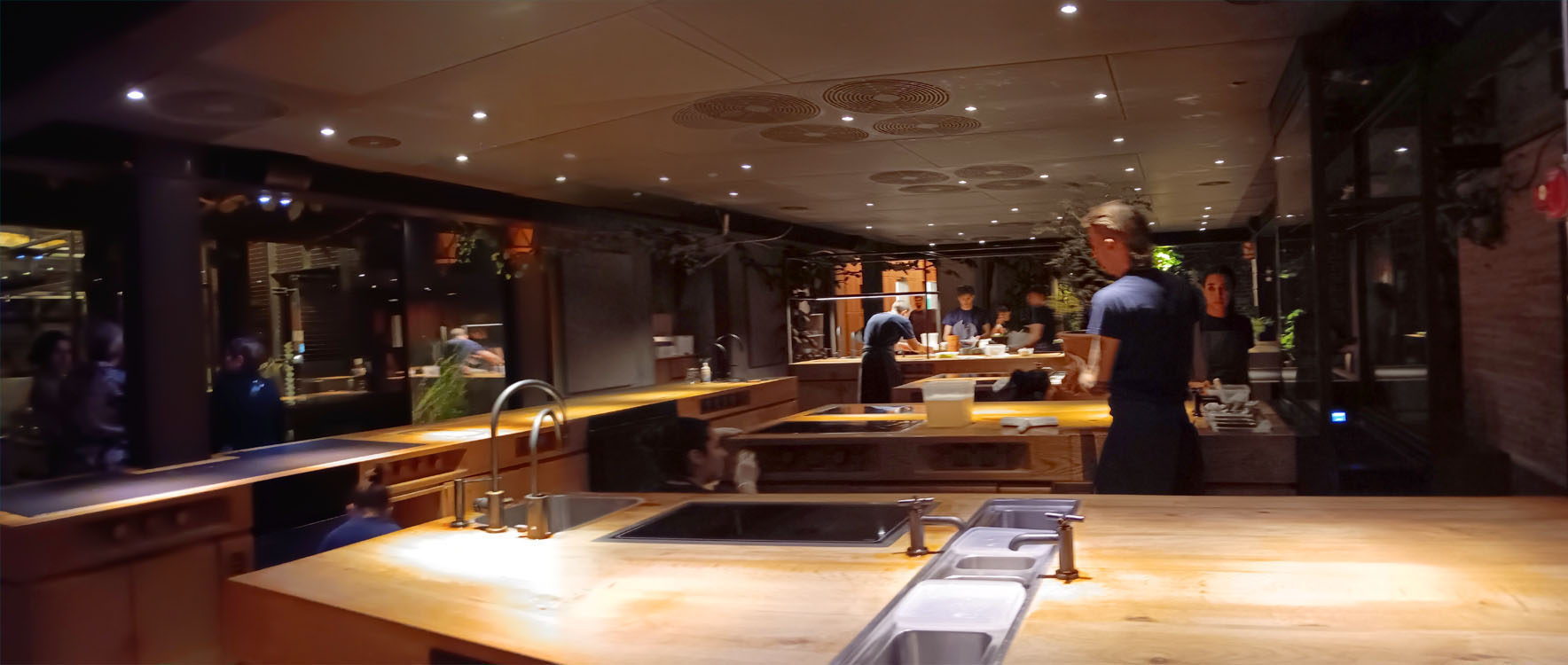 A brief tour was offered after the meal. Shown above is Noma's centrally-located service kitchen, which is one of the slickest I've seen thanks to the use of all that wood. The restaurant was designed by
Bjarke Ingels Group (BIG)
, which, fittingly, is based out of Copenhagen.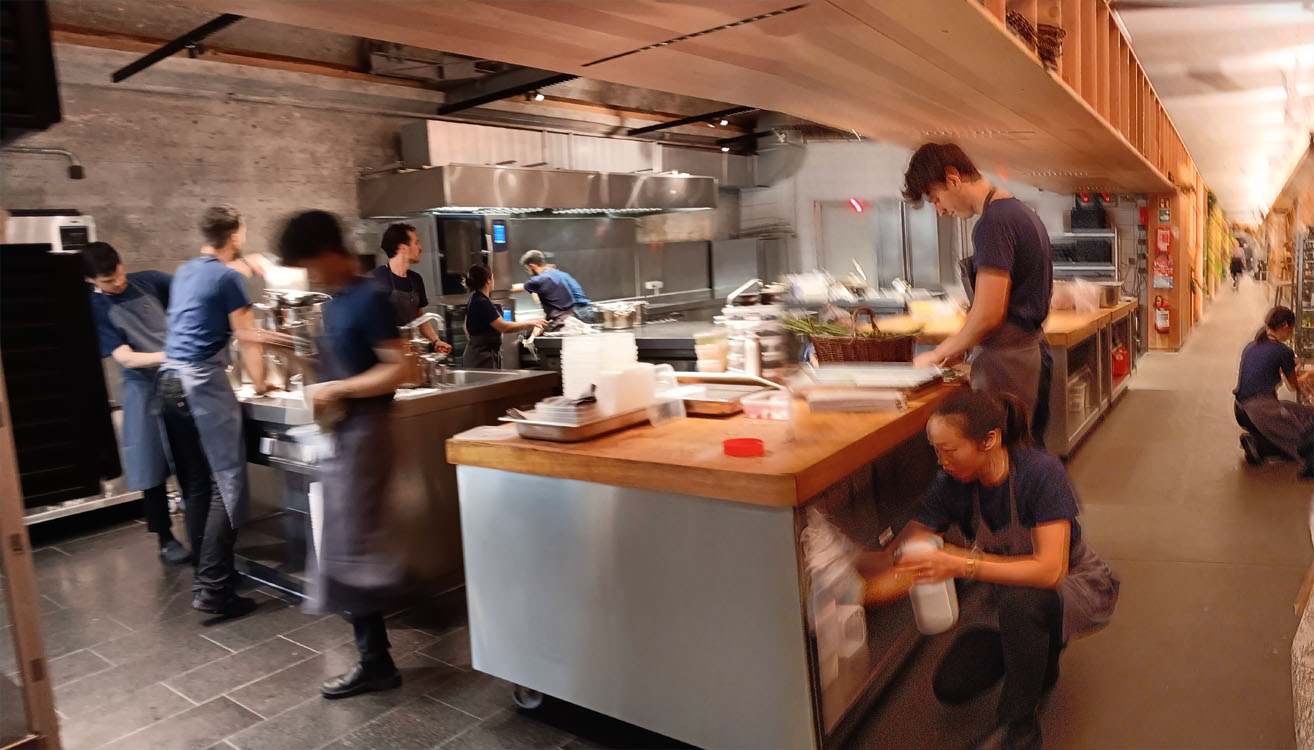 And here we see what I believe was referred to as the production kitchen. This long part of the restaurant occupies a former Royal Danish Navy warehouse.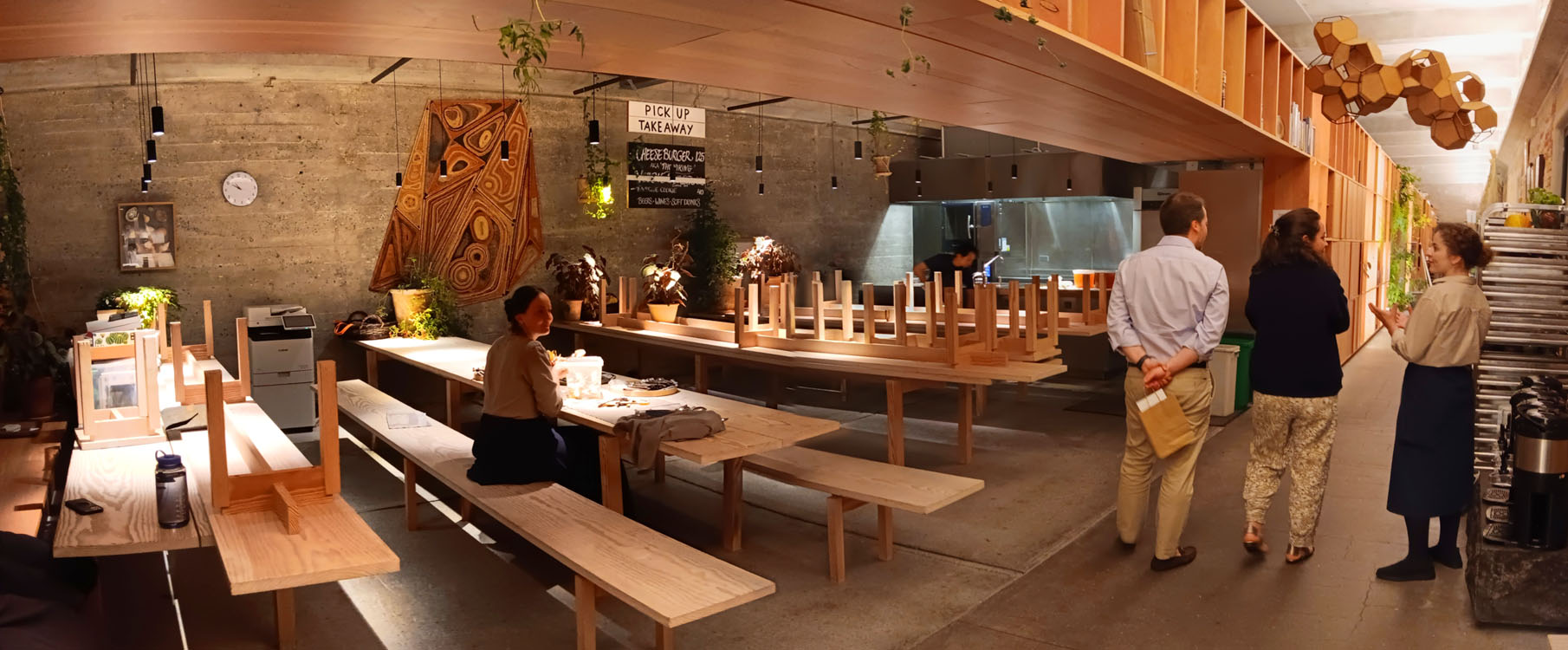 Further down that lengthy hallway is the staff canteen.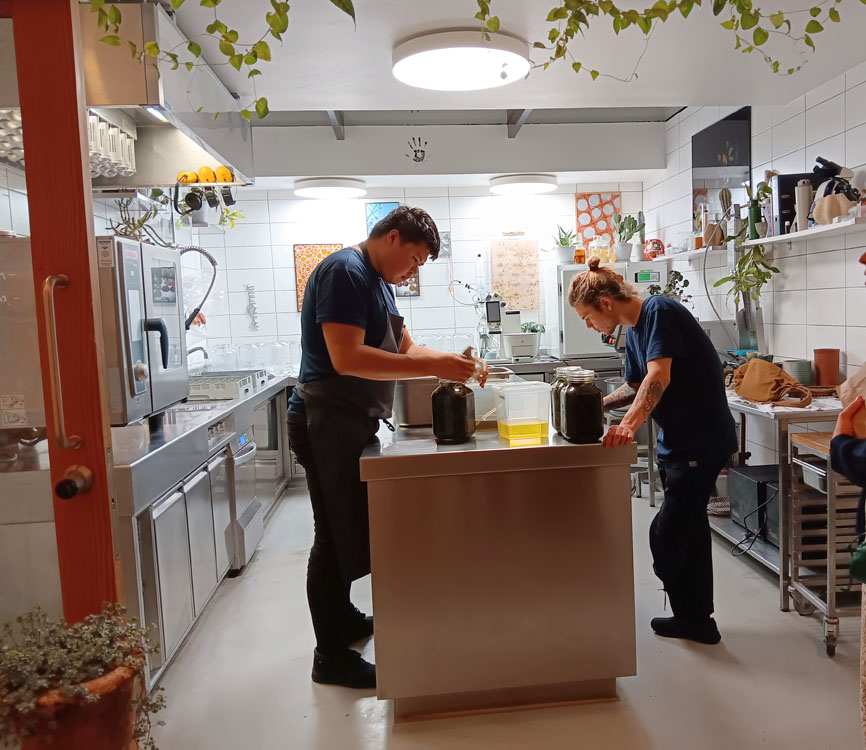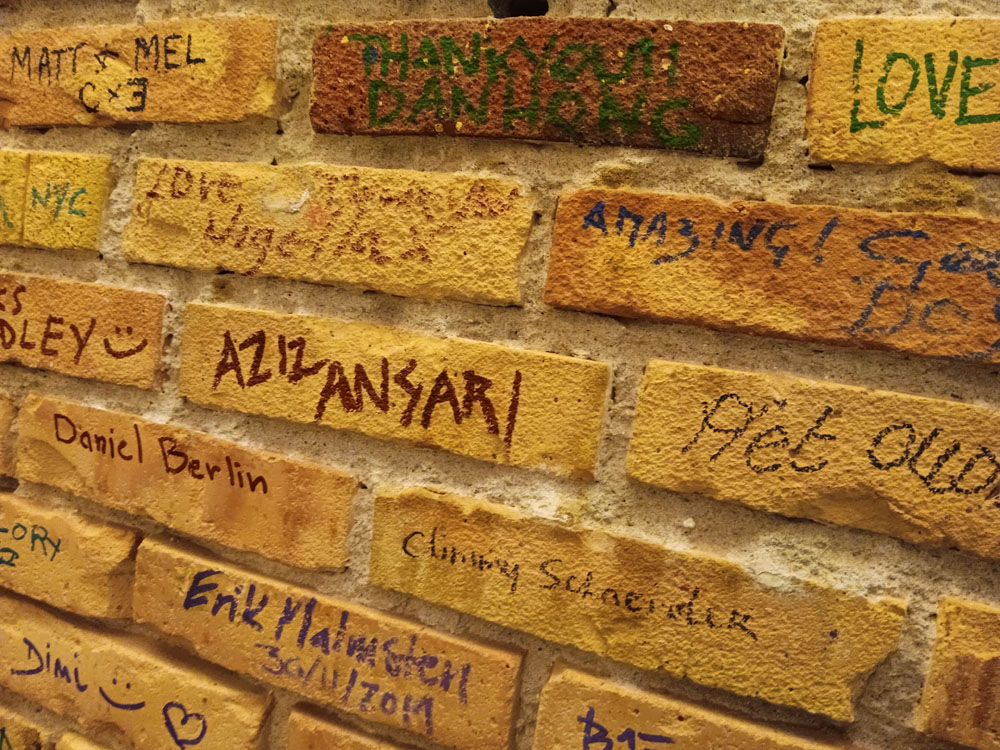 Left
: Noma's famous fermentation lab was staffed tonight by Kevin Jeung and Gaute Schartau Berrefjord.
Right
: Notable diners are allowed to sign their name on a section of exposed brick wall. I was not notable enough.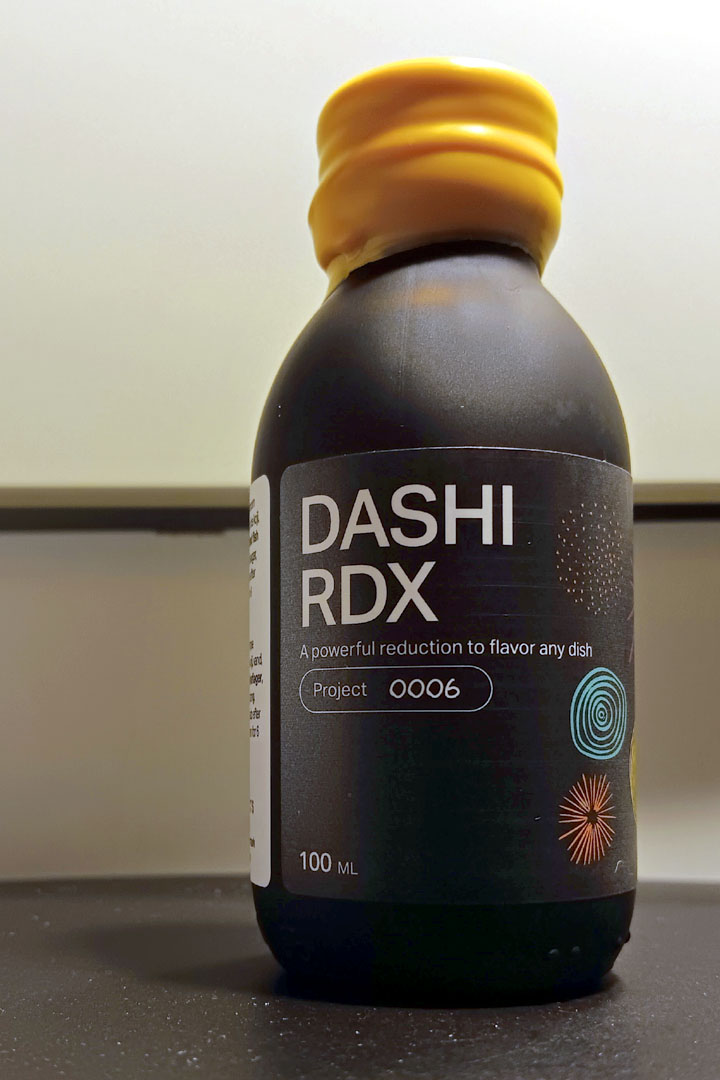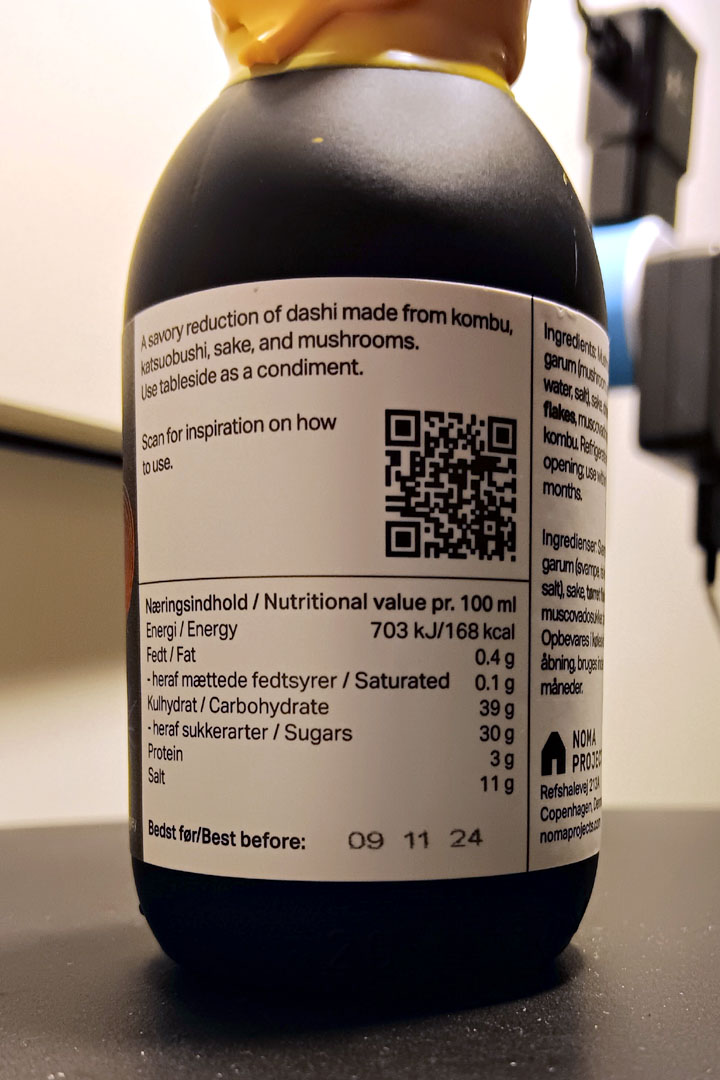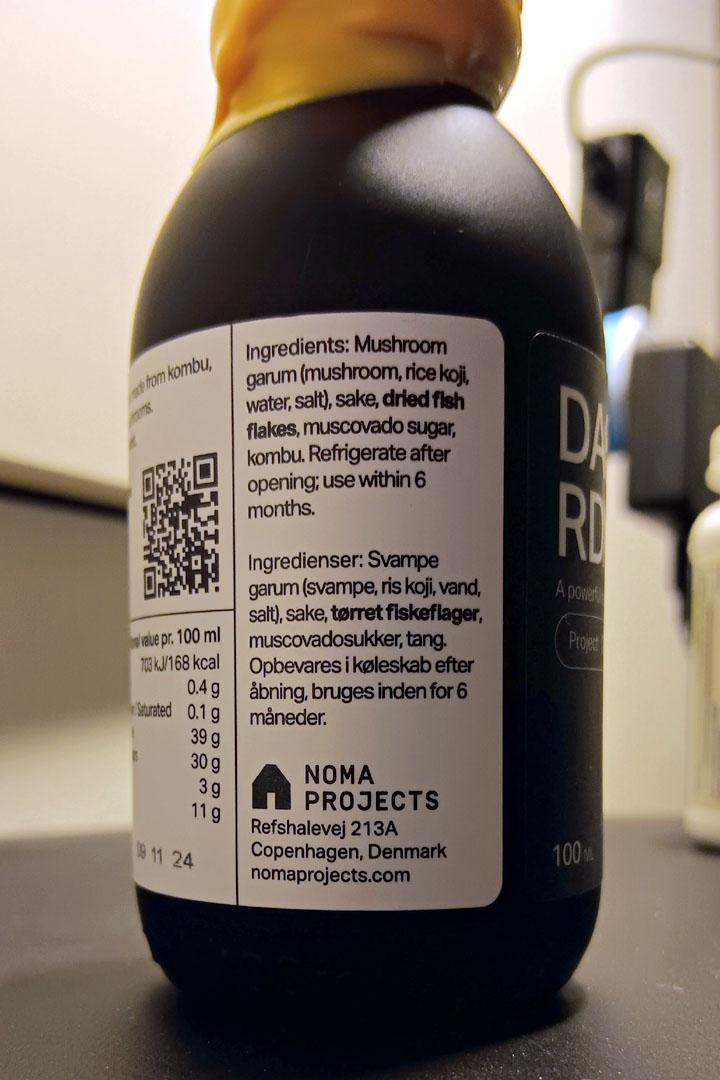 Tonight's take-home gift was a bottle of Dashi RDX created by Noma Projects, the restaurant's arm dedicated to commercial application of its well-known R&D efforts. This was basically a reduced dashi incorporating not only the usual kombu and katsuobushi, but also sake and mushroom. I tried it with some fried rice back at home, and found that the sauce imparted a potent, long-lingering savoriness to the dish, with distinct stout-like and mushroom-y notes, but also a palpably sweet undertone that I wasn't expecting.
Despite the immeasurable hype that Noma has garnered over the years, I have to say that the place actually lived up to my lofty expectations. Unquestionably, I was impressed by the intensity and purity and depth of the flavors that the kitchen was able to achieve. There's this sense of both simplicity and profundity to the cooking that makes you think, but just enough. You know that there's so much that's involved behind producing each dish, but that complexity, that cerebral element never gets in the way of enjoyment. Perhaps more than other dining experience I've had, my dinner conveyed a real sense of time and place that I won't easily forget.
Now given the tremendous nature of this meal, I would of course like to return here in the future. And according to the staff, that could very well be possible. Although Noma 3.0 won't function as a normal restaurant, the plan is still to serve customers on occasion, and there's still opportunity for the team to host pop-ups at various locales across the globe. So all hope is not lost...
Note: As mentioned in my last post, I had forgotten to pack the memory card for my camera, so I had to document this meal using my cell phone, hence the reduced image quality. Unfortunately, the lighting situation here was more difficult than at Kadeau, so the photos turned out even worse. As a result, I ended up making my way to a nearby Elgiganten (an electronics retailer) the next day, and was able to purchase a replacement SD card.